This beaut of a modern city wedding arrived our way via one of our favourite all time wedding photographers, the incomparable Caro Weiss, who frankly I can't rave enough about.
Caro, who you'll find listed in our Little Book Wedding Directory (along with a host of other exceptional photographers), was chosen by couple Joni and Greig, to capture their beautiful and joy-filled wedding, and she had done the most wonderful job. Every image shared here oozes happiness and celebration. I dare even the tiredest amongst you to look through these images and not feel a sense of love and joy.
Joni, a Musician who works for two charities, 'Hear My Music' and 'musicALL', tied the knot with Greig, an Image Retoucher, on 3rd August this year at St Andrews in the Square, Glasgow (a venue sadly no longer available to hire for weddings), which they chose for it's beautiful central location and because they could have the entire day of celebrations there. I love how this couple (to steal the words of their florist) brought the beauty of natural wilderness into the urban jungle of the city….
Images by Caro Weiss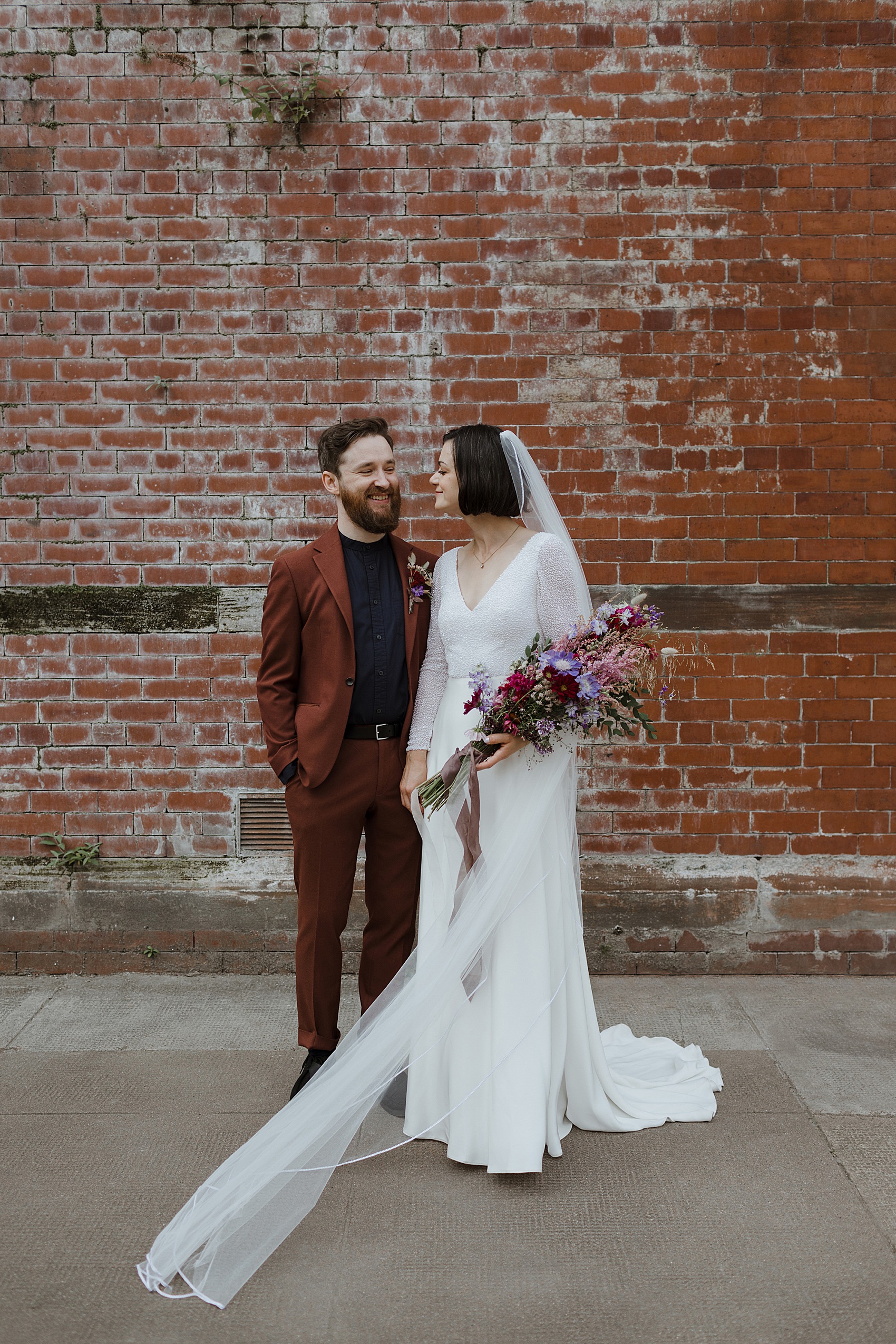 "Caro Weiss was the first person we booked for our day, in fact before we had the venue confirmed we knew we wanted her. We loved her style of photography. On the day, she was truly wonderful to have around and made us feel so at ease and excited about getting pictures taken. She captured our day perfectly!! Cannot recommend her enough!"
The bride wore the most beautiful contemporary wedding dress by one of our very favourite designers, Andrea Hawkes Bridal, who as well as being carried at some of the best boutiques throughout the UK, also has her own boutique in London. On this occasion, the dress was discovered at Rachel Scott Couture of Edinburgh.
"My Bridesmaid Aelrid had looked up Rachel Scott's shop, which was full of absolutely dreamy dresses, Rachel was full of great advice and knowledge and it was nice to know she had selected the collection that was in the shop, it made it more personal. I had been to a fair amount of wedding shops already but today felt different, the first dress I tried on, was the one."
"Rachel had knowledge of fabrics and how they were created and could tell us all about the Andrea Hawkes design. Once I had ordered my dress, lovely treats arrived through the post, a gorgeous bracelet and fabric samples of my dress, a letter explaining the next steps in my dress journey. So thoughtful and made the whole process exciting and personal. My dress felt so comfortable, I felt completely myself wearing it, at the same time, perfect and elegant."
The bride wore a pari of vintage diamond earrings which were here 'something borrowed', via a best friend. Her vintage heart diamond necklace belonged to her Gran. She also chose to wear a Jo Malone scent that had been chosen by the groom.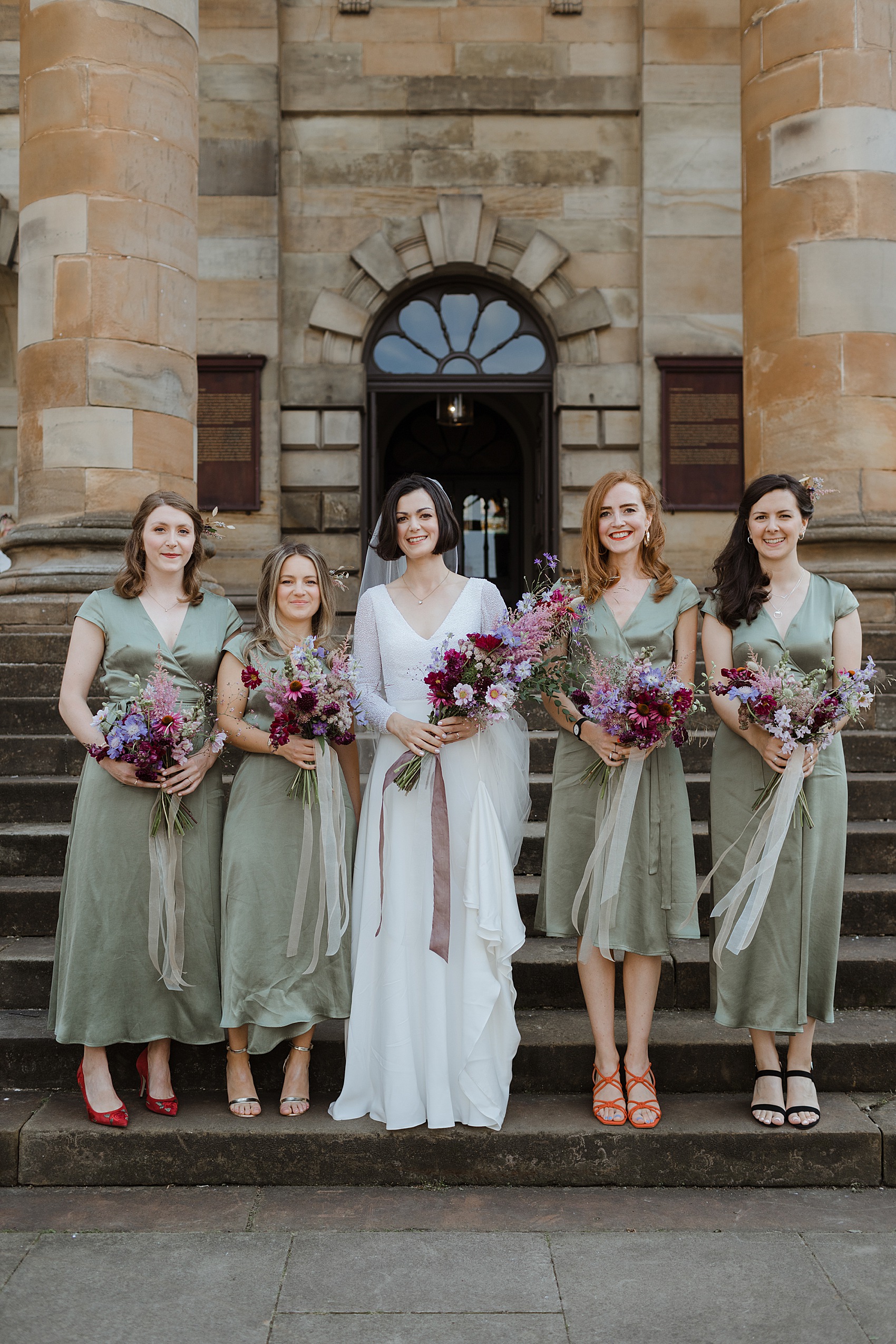 "We were lucky enough to already know our florist Lauren of Days of Dahlia, and her mum, she had done flowers for mutual friends weddings and I had been lucky enough to visit their studio in the past and really loved the setting."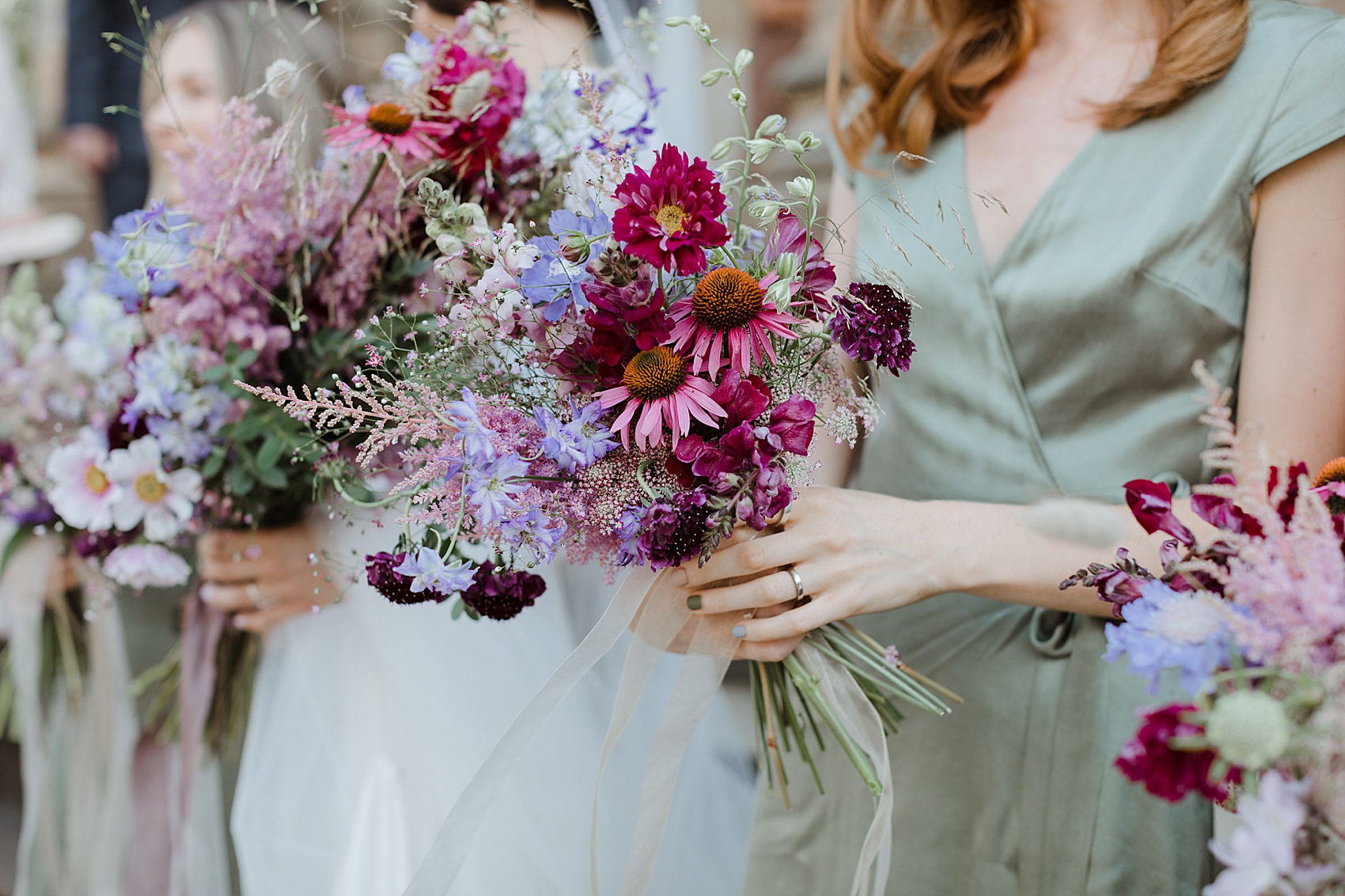 "I had taken some notes of flowers I loved and looked into what flowers my Granny had at her wedding too. We also wanted it to be natural and fitting to the venue. Lauren met with us at St. Andrews in the square to chat through ideas, she then sent beautiful illustrations and ideas set out. "
Greig's wore a suit from
"We got together in January 2005, we met through our mutual friend Dan. Dan told me he had met this guy on his college course who he knew I would like, a few months later he was on a mission to get us together and saying 'He really likes you… just kiss him'. Then he'd be off saying the same thing to Greig. Dans match making worked, he practically arranged our marriage."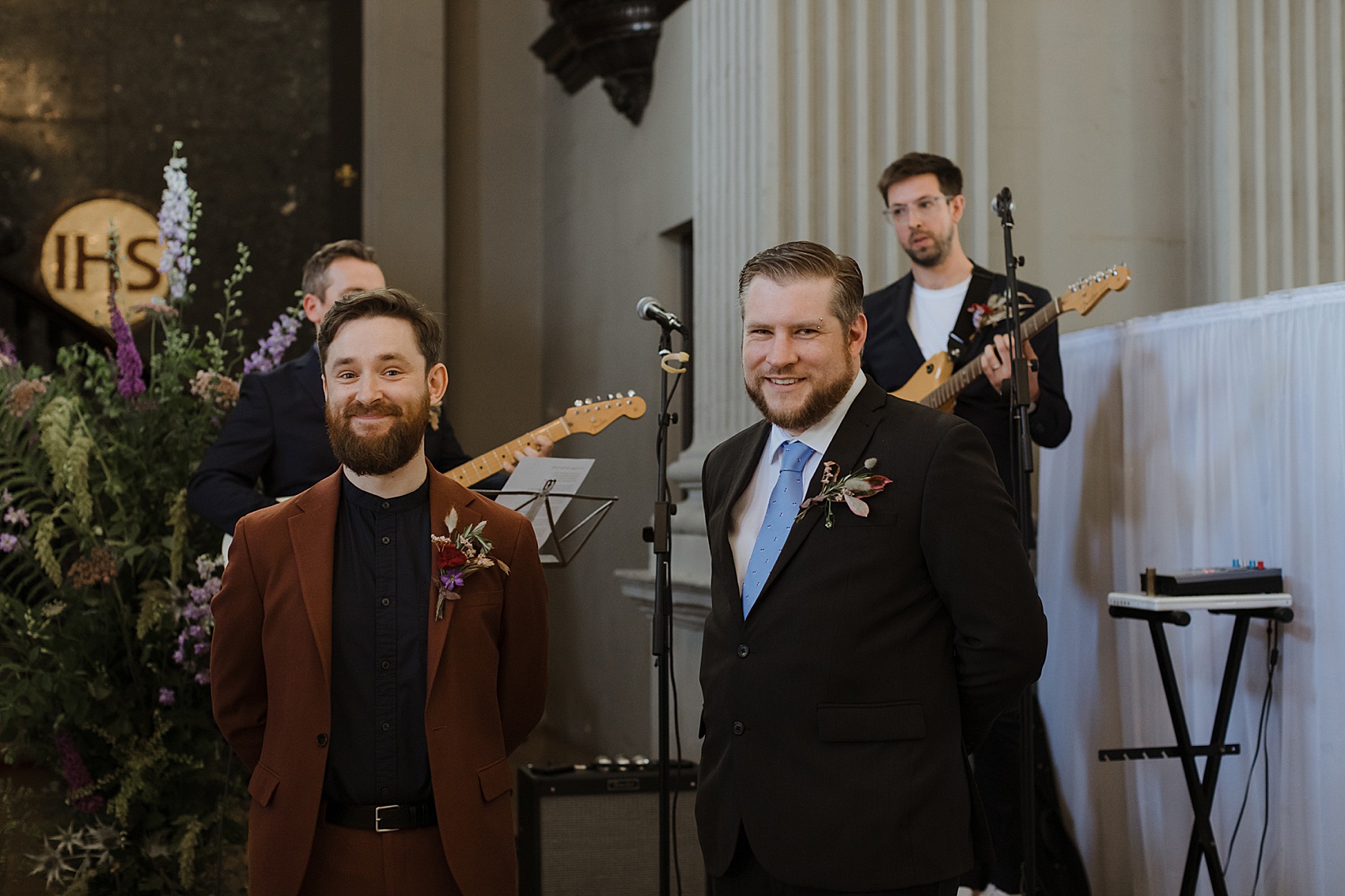 "Greig and I got engaged in 2018 in January on our anniversary of 13 years, whilst on a trip to Mhor 84, Greig planned a walk and we headed off up the hillside, weaving through the trees we climbed to the top of the hill, we stopped a romantic spot overlooking on Loch Voil and there, he proposed."
"It wasn't entirely unexpected but I hadn't seen it coming that day so the proposal was a surprise and delight. And of course I said YES!"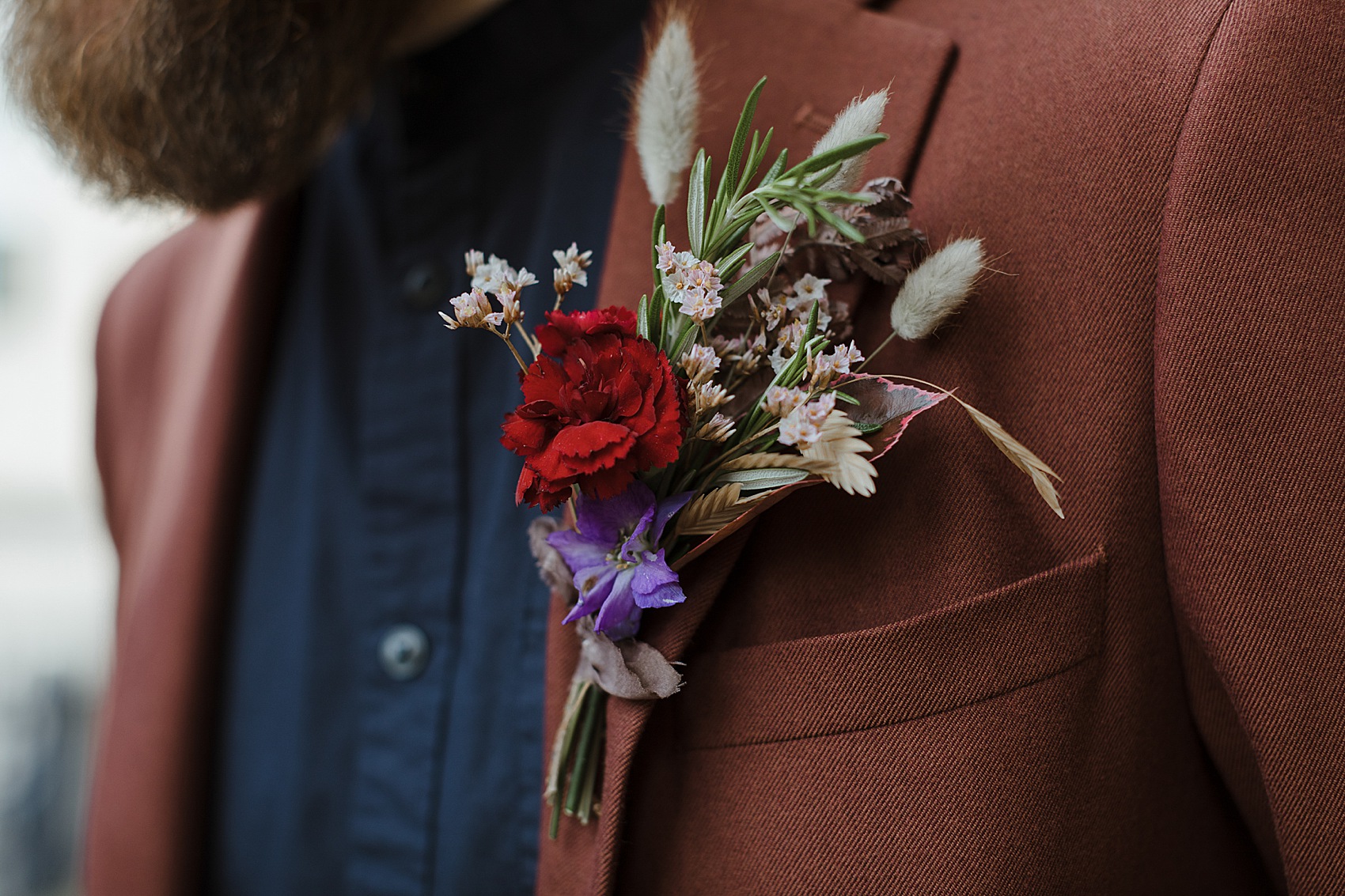 The bride's father accompanied her down the aisle to the sound of 'Our way to fall', by Yo La tengo,  played and arranged by two of the groomsmen Jamie and Joe.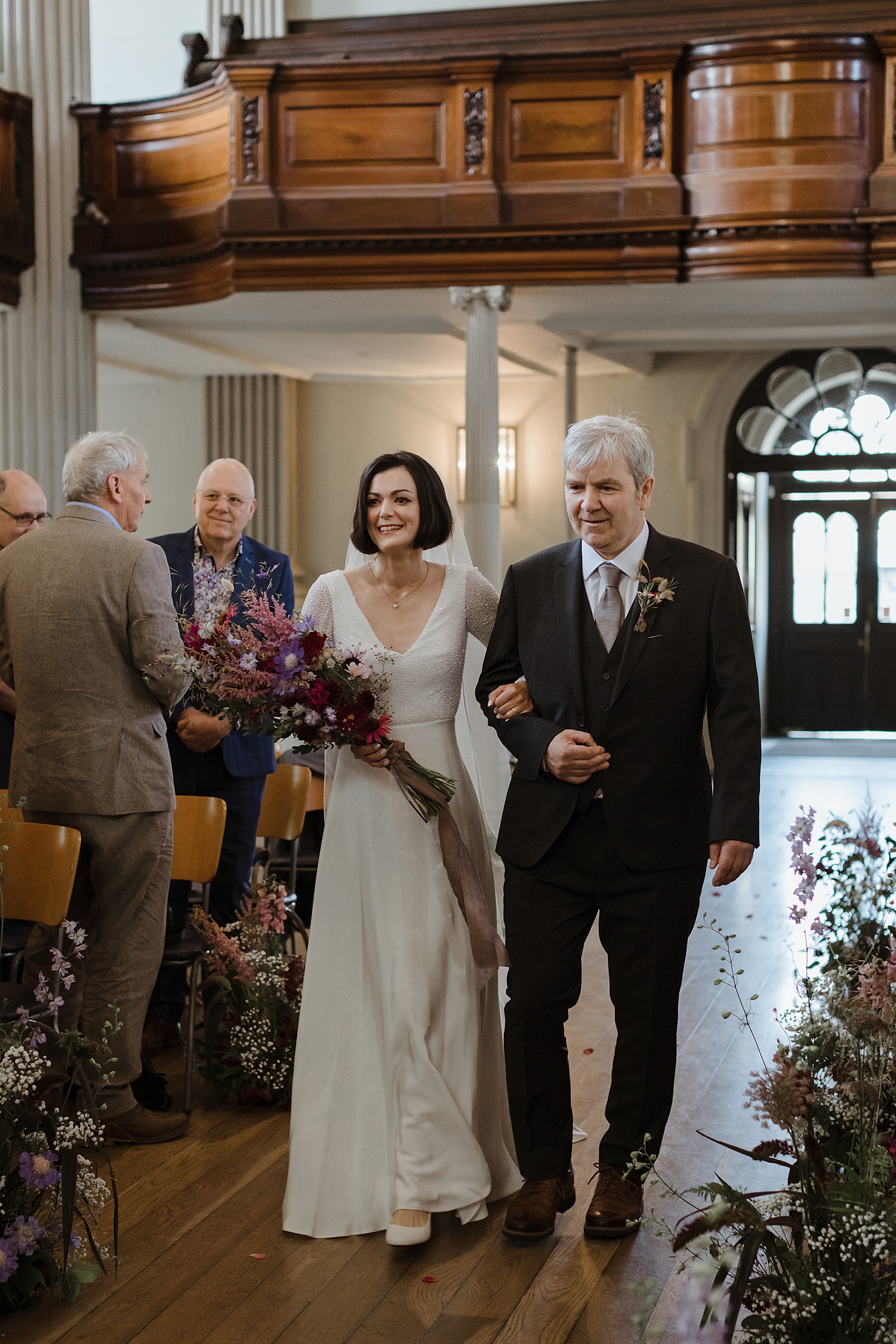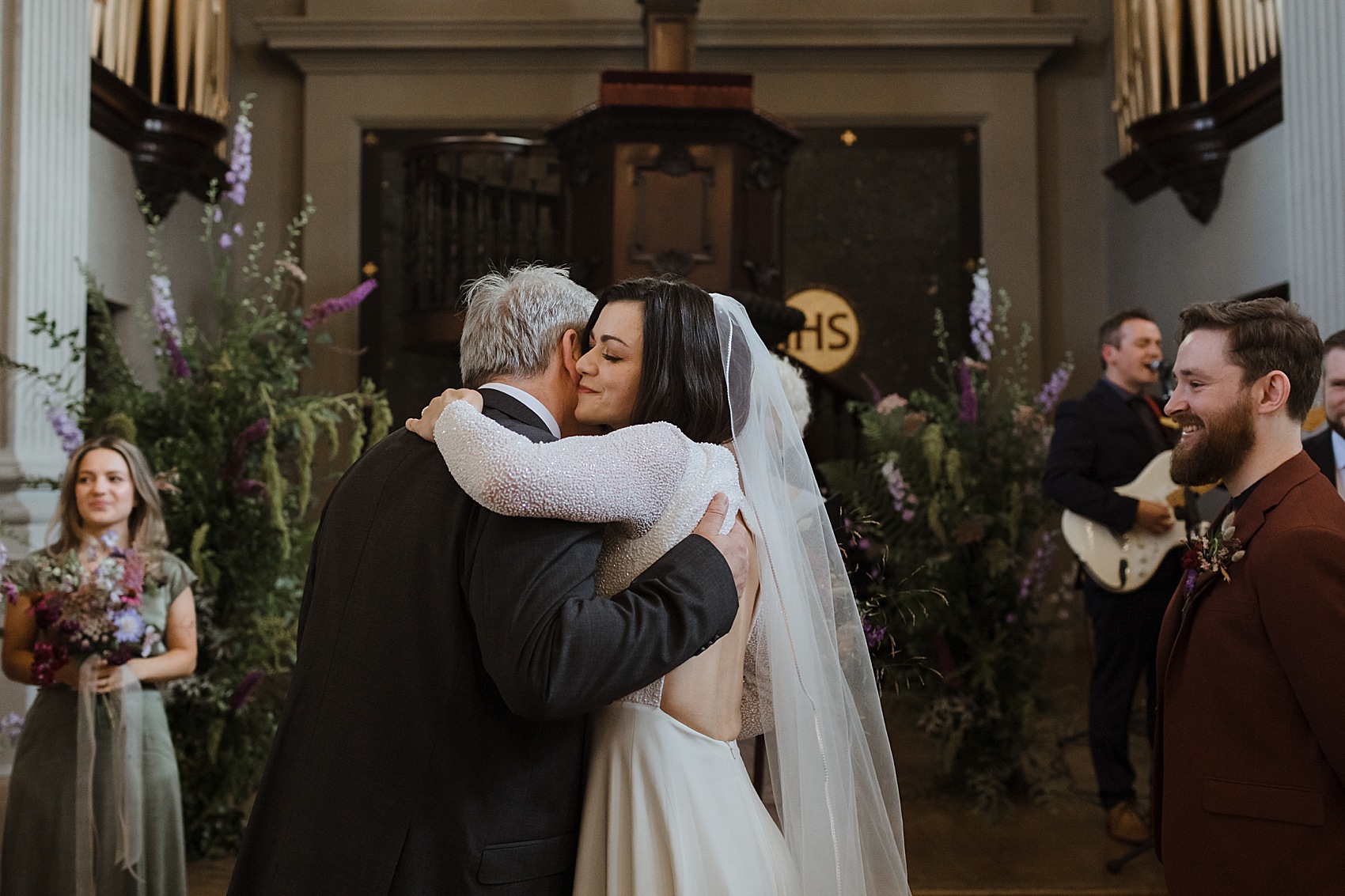 Humanist celebrant Barbara Chamers officiated the proceedings. Readings included 'Song' by Aphra Behn and 'A Valediction: Forbidding Mourning' by John Donne.
"Our favorite part of the day was the ceremony; hearing our story and sharing it with everyone we loved, lighting a candle to remember our friend Dan, tying a knot from vintage material that was sewed together by step mum Mel and drinking a toast at the beginning of our marriage."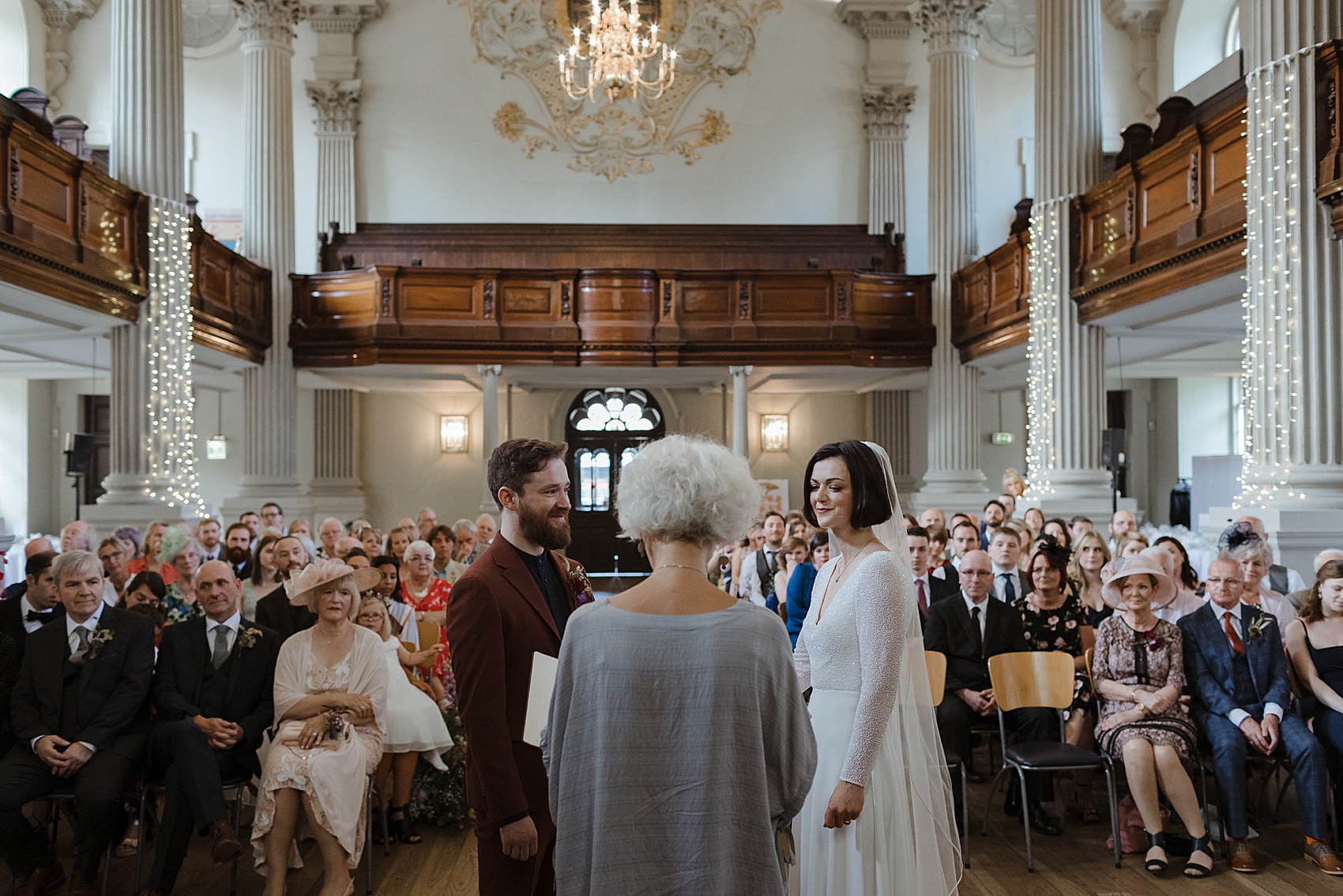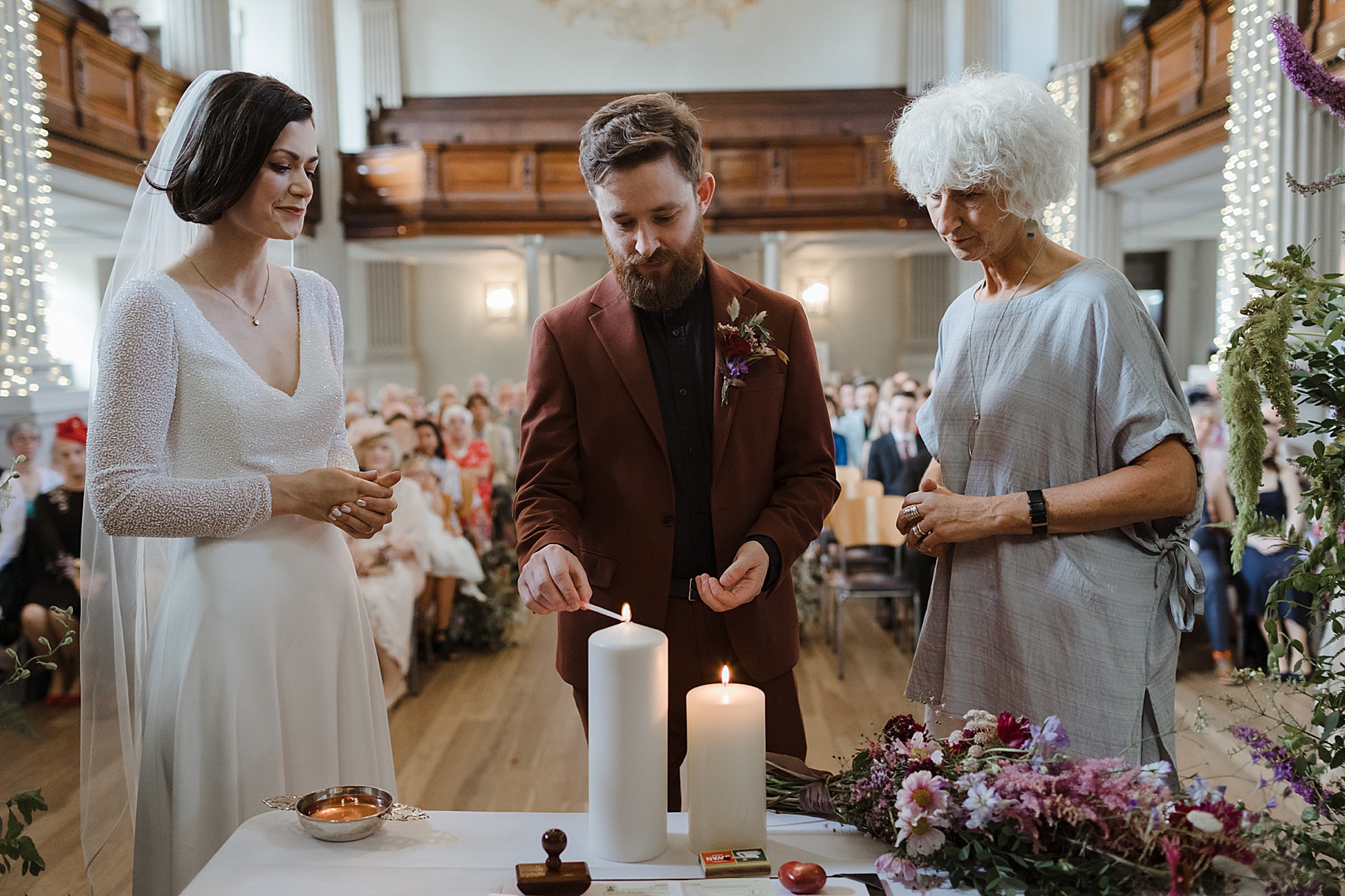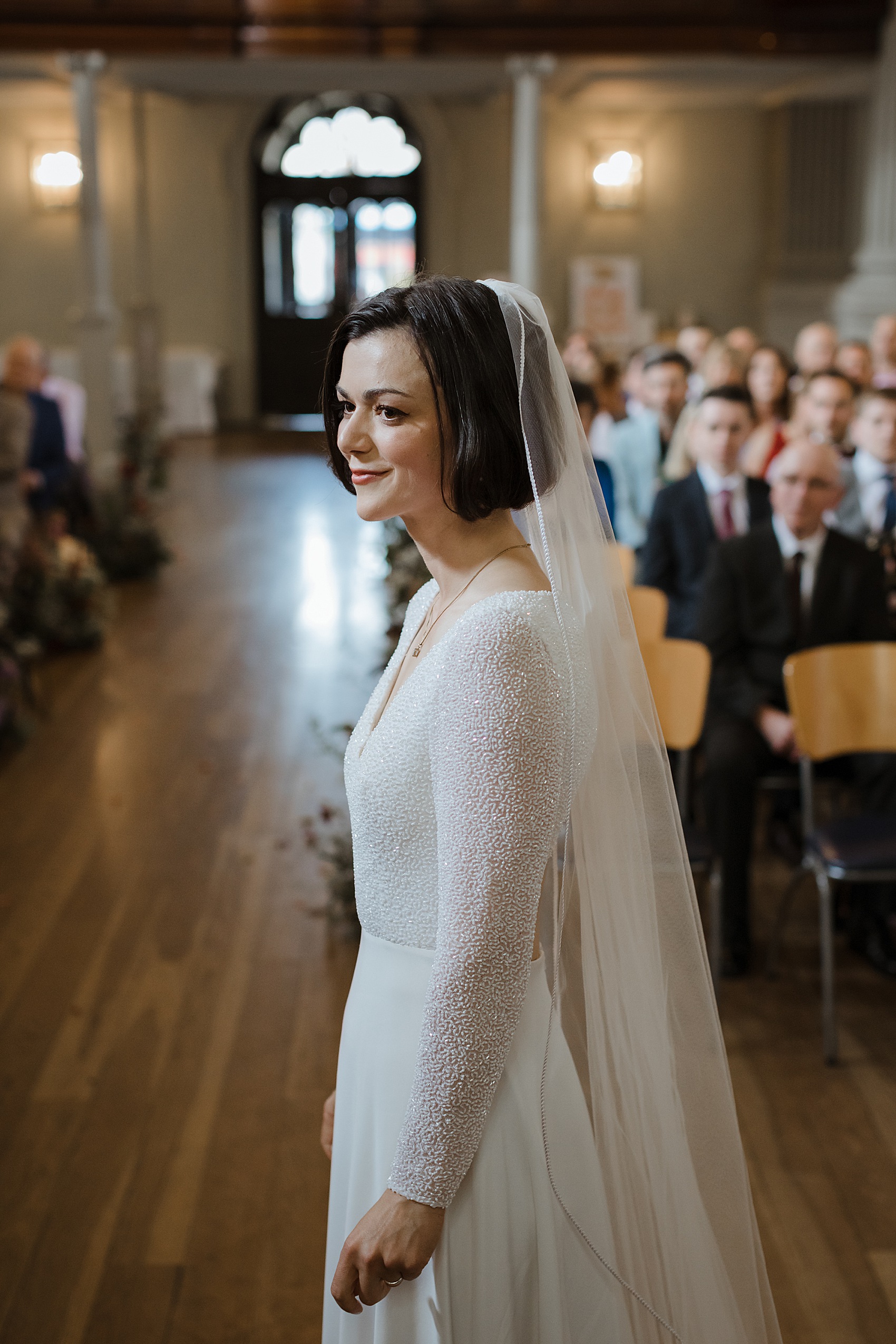 "Greig had an engagement ring made by our jeweller friend Cecilia Stamp. She managed to spy on my hands when we were out for drinks one night and with her expert eye, she managed to work out my ring size. Greig knew my taste and Cecilia created the perfect ring."
"Cecilia Stamp is talented jewellery designer based in Glasgow, she is also a friend and Greig had commissioned her to make my engagement ring. We both love the style of her rings and she met with us to create our beautiful wedding rings."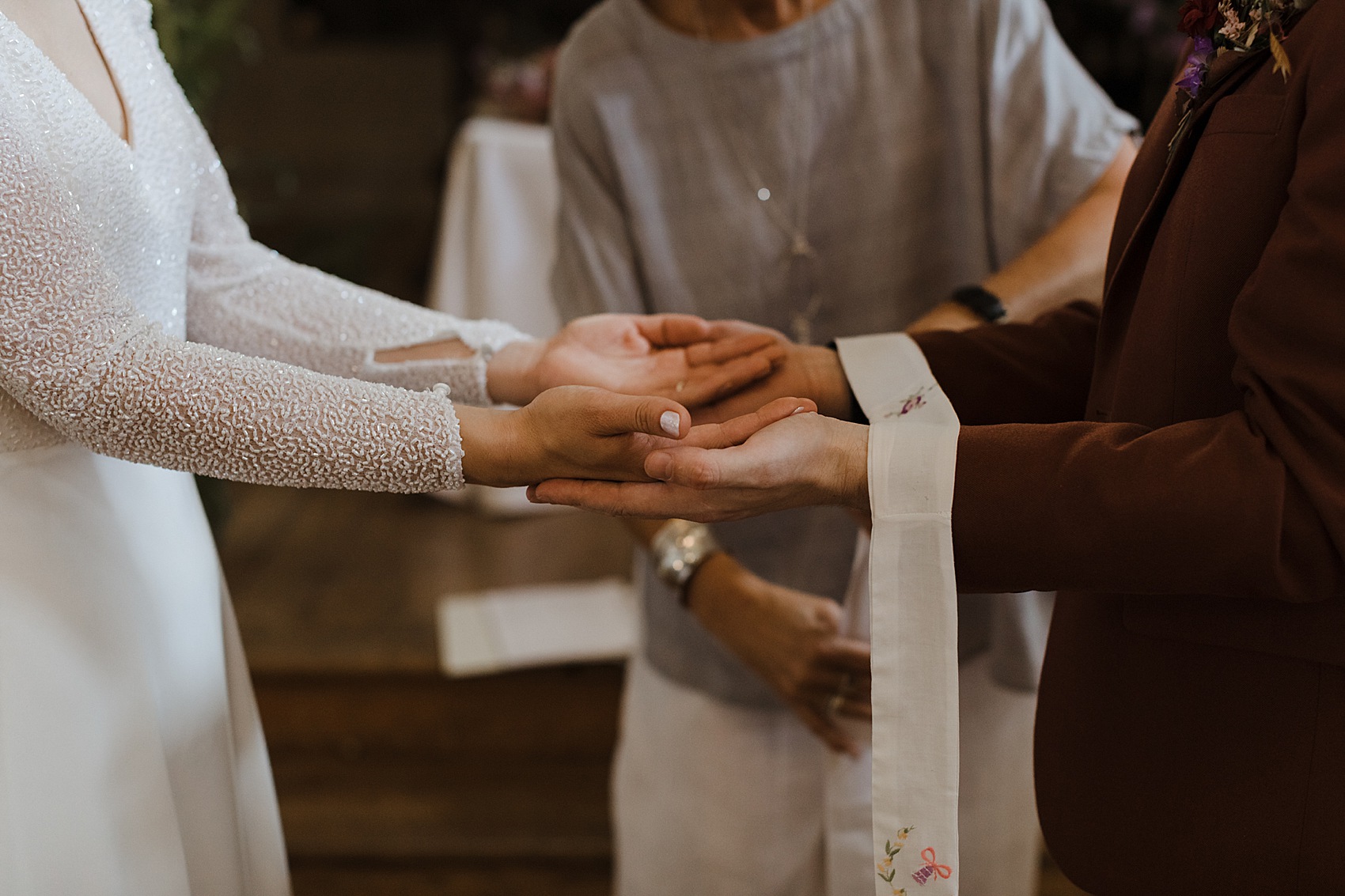 These photographs – that literally 'just married joy' feeling are some of my favourite ever…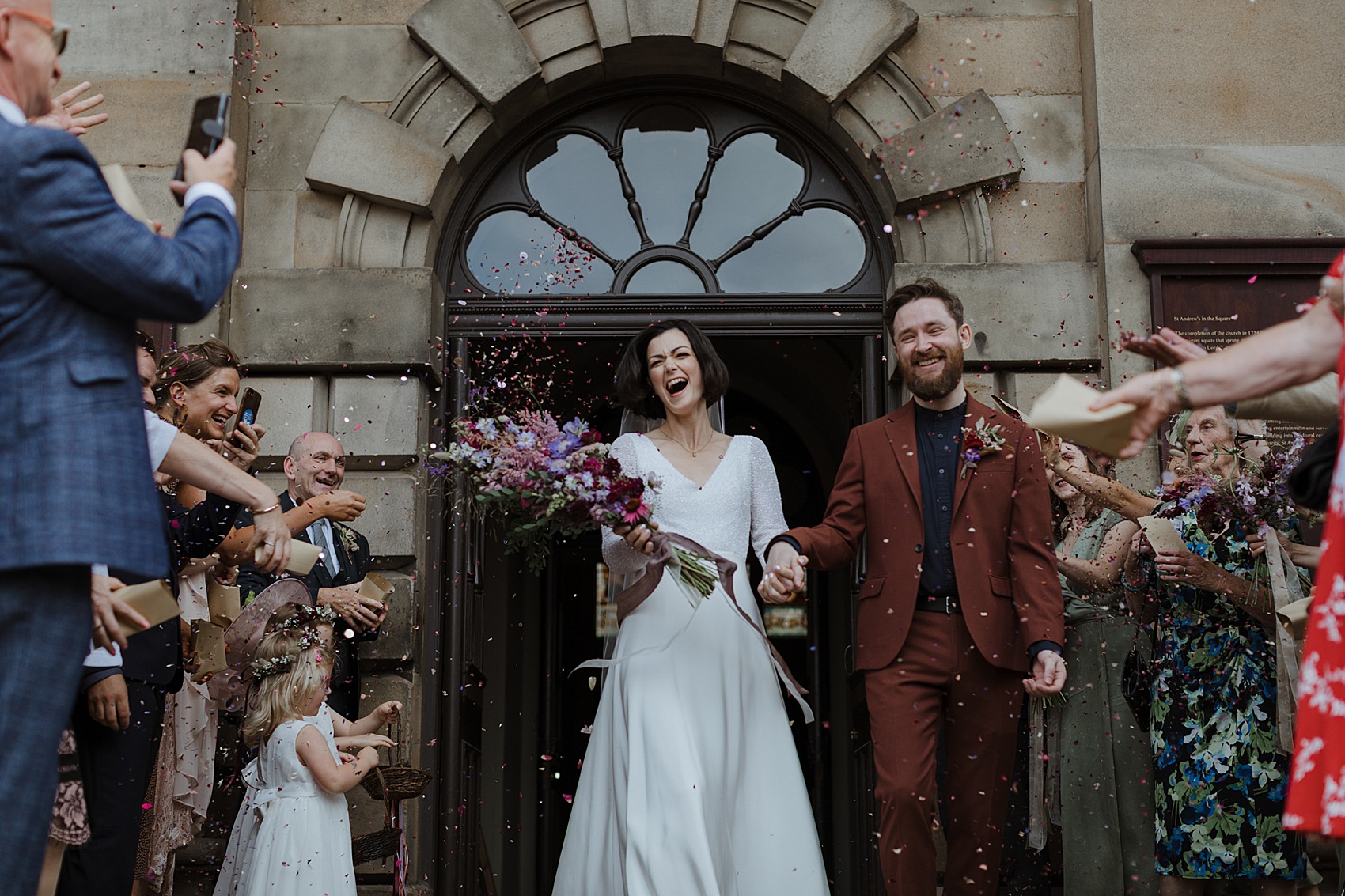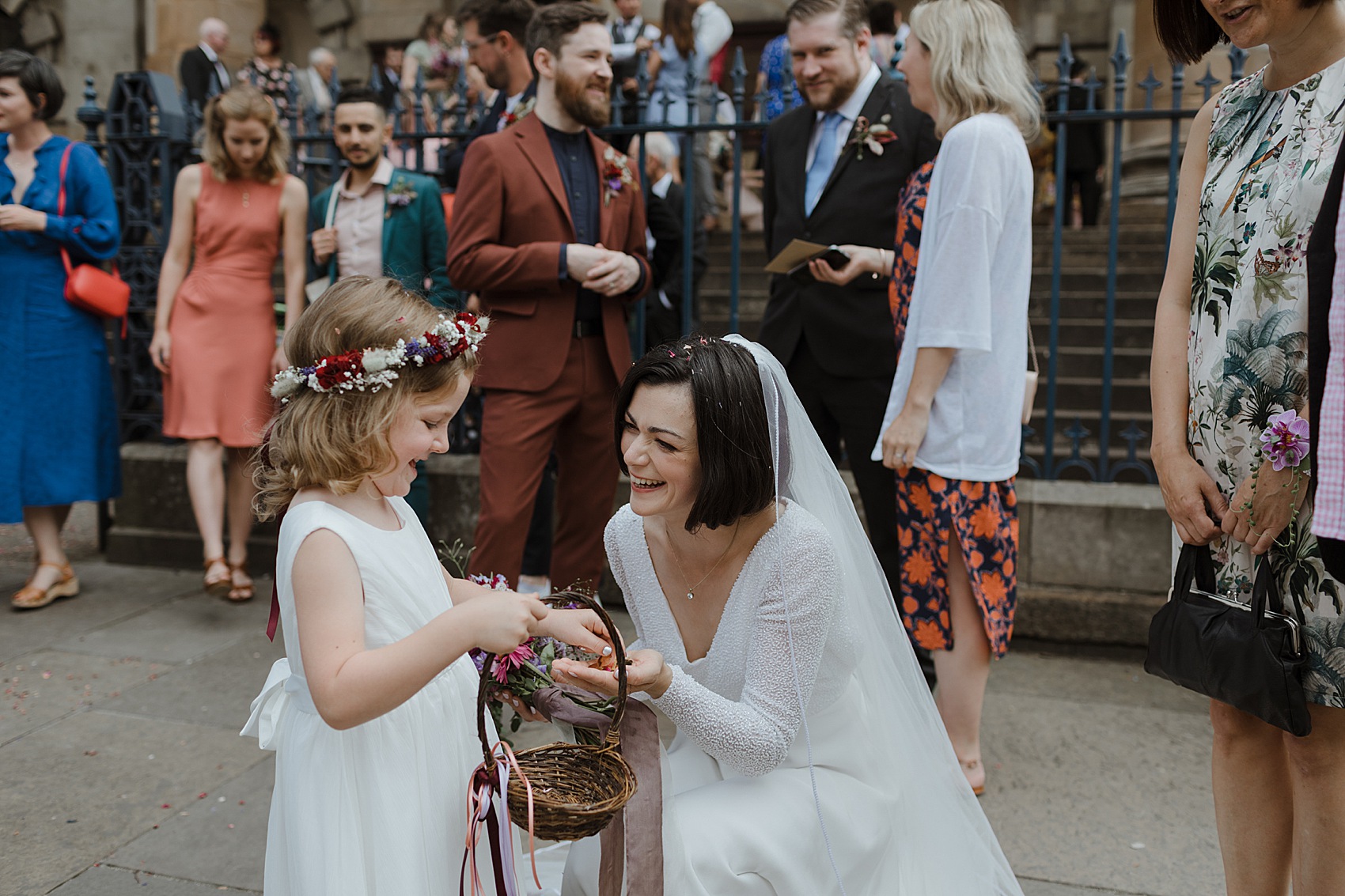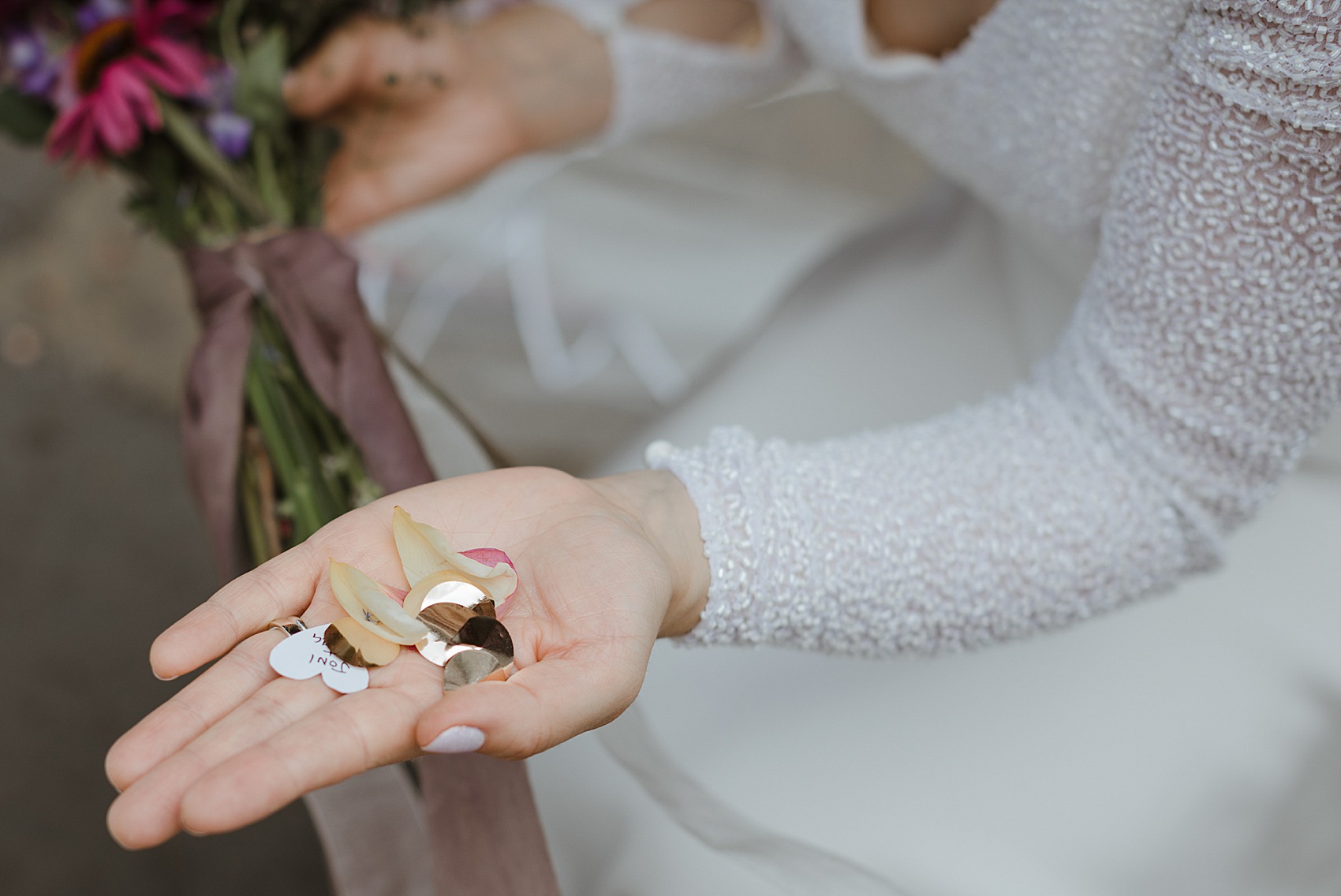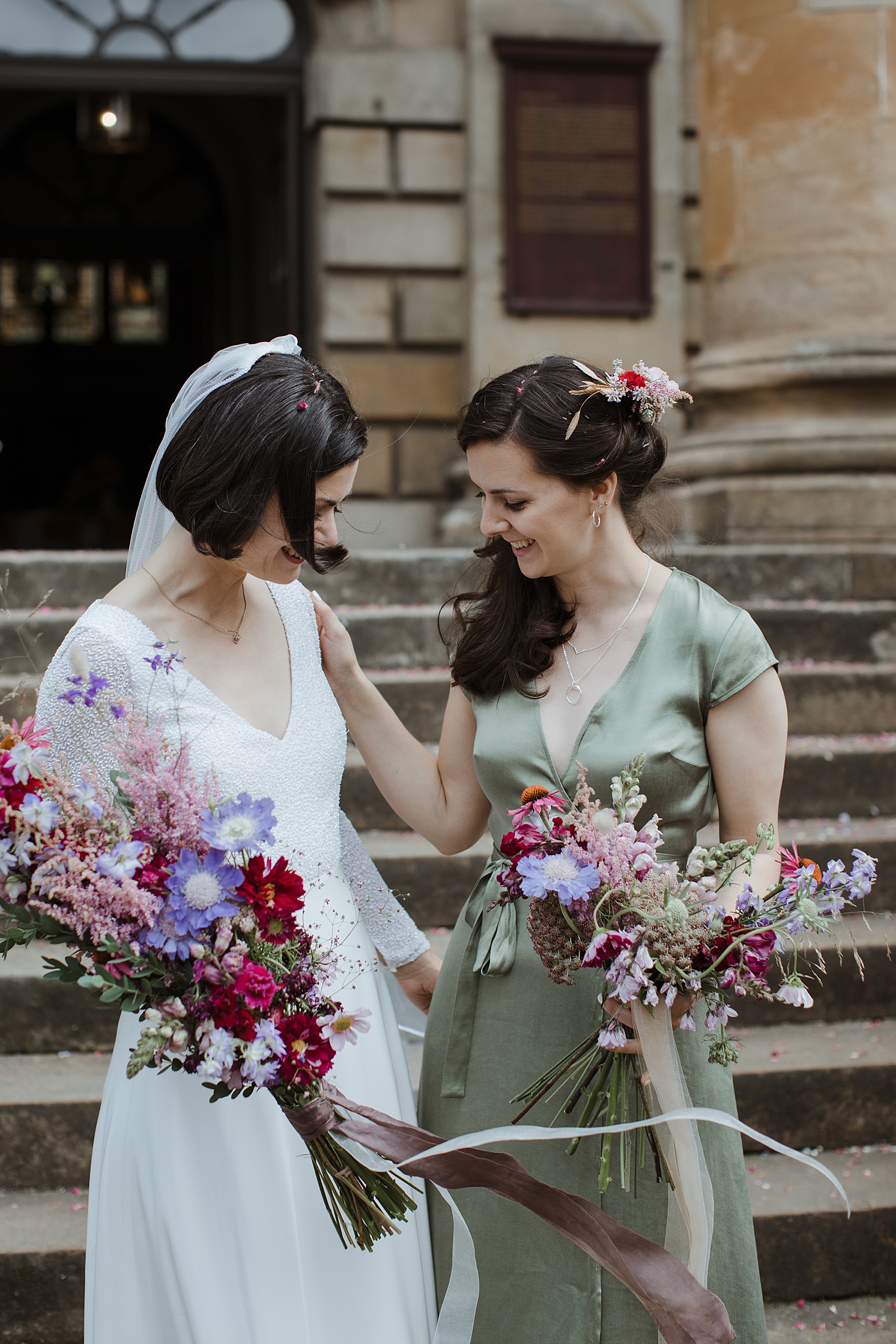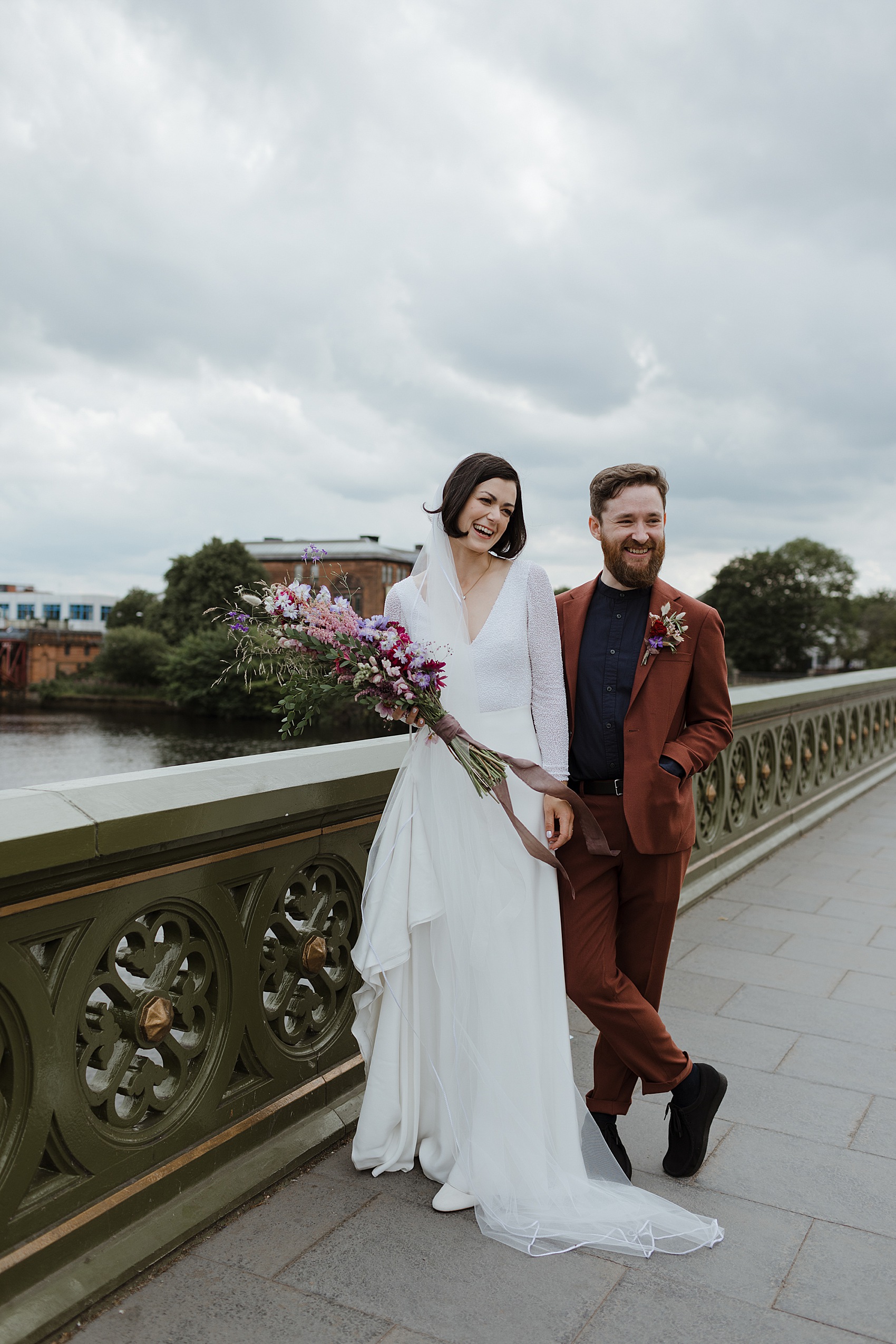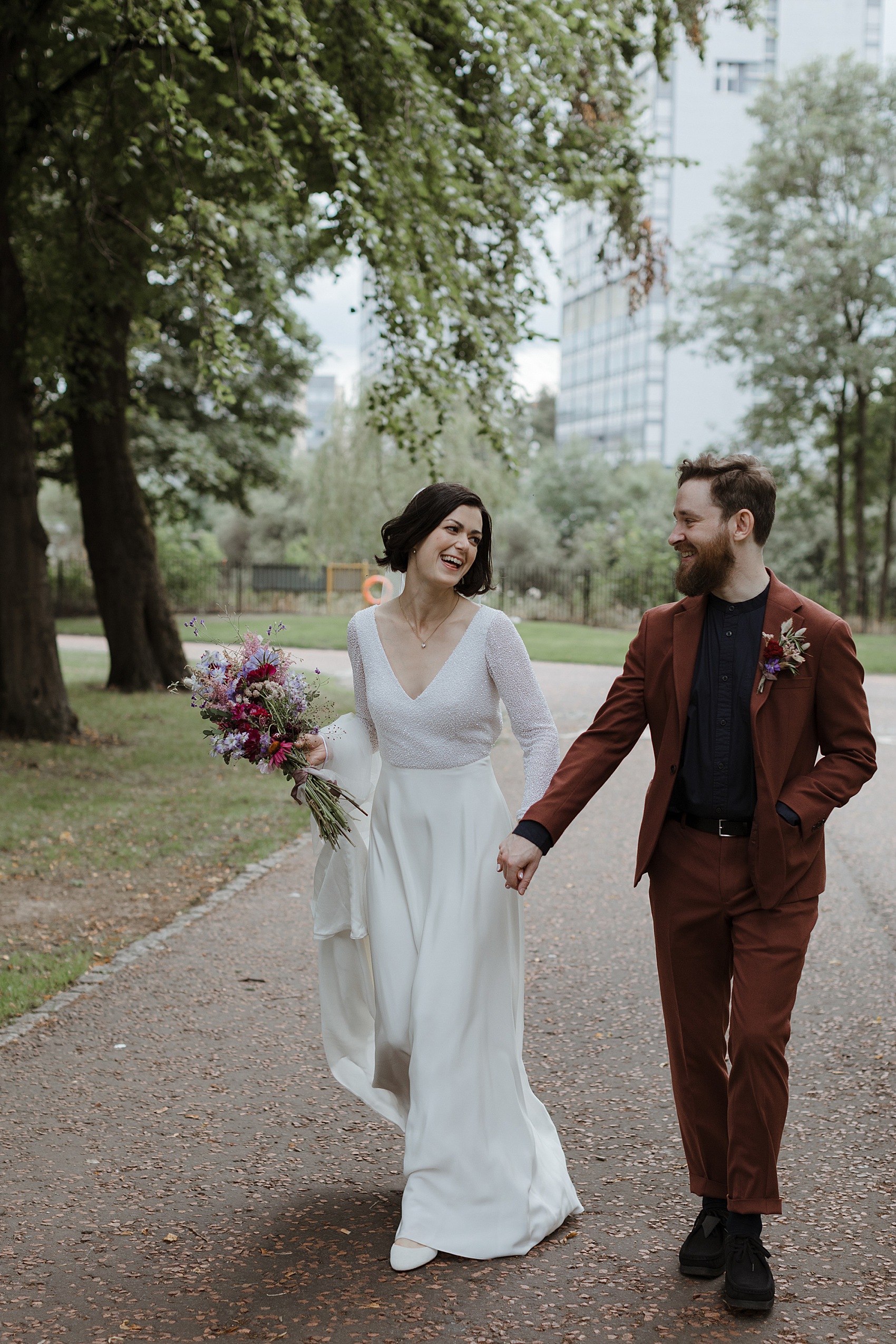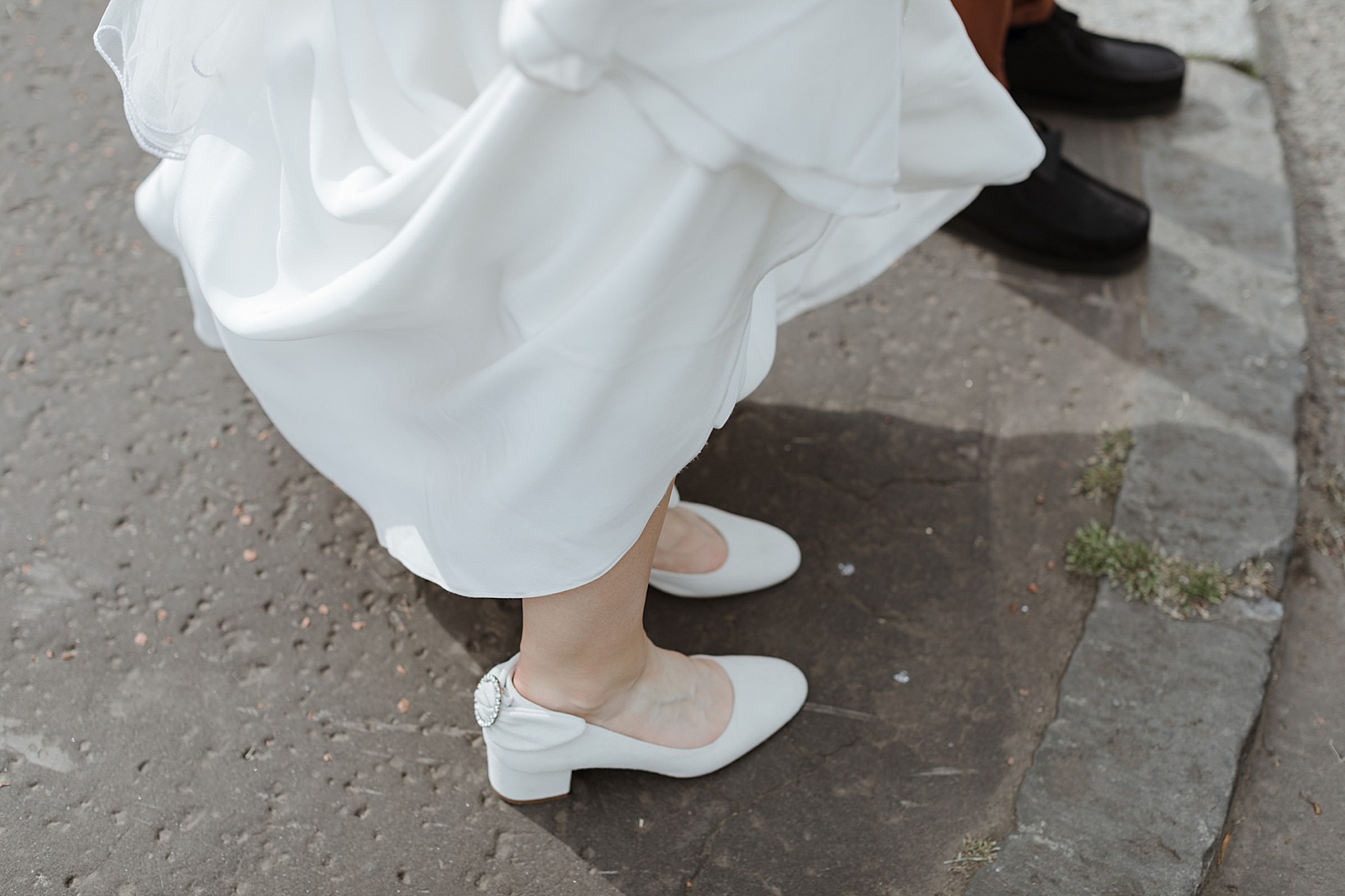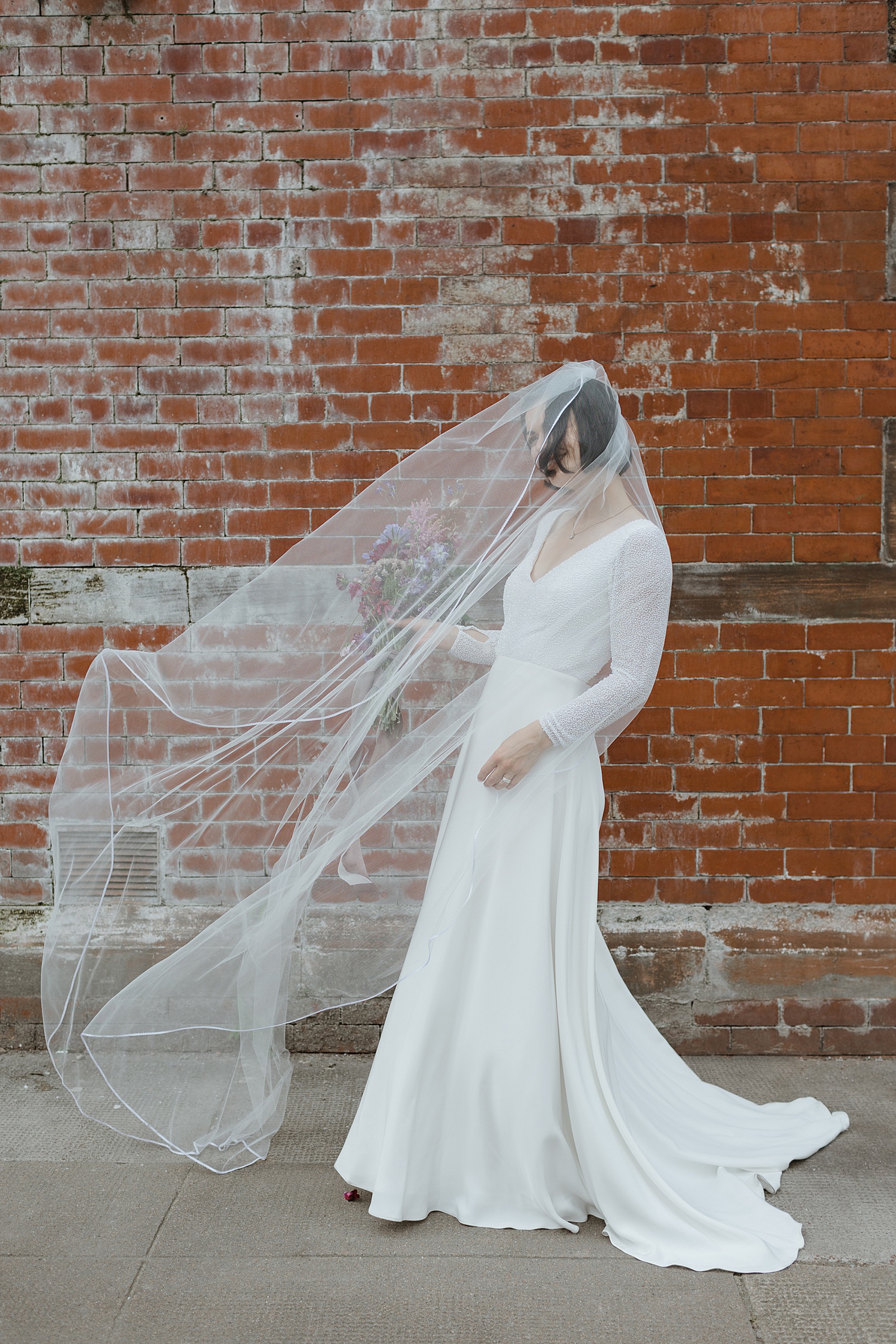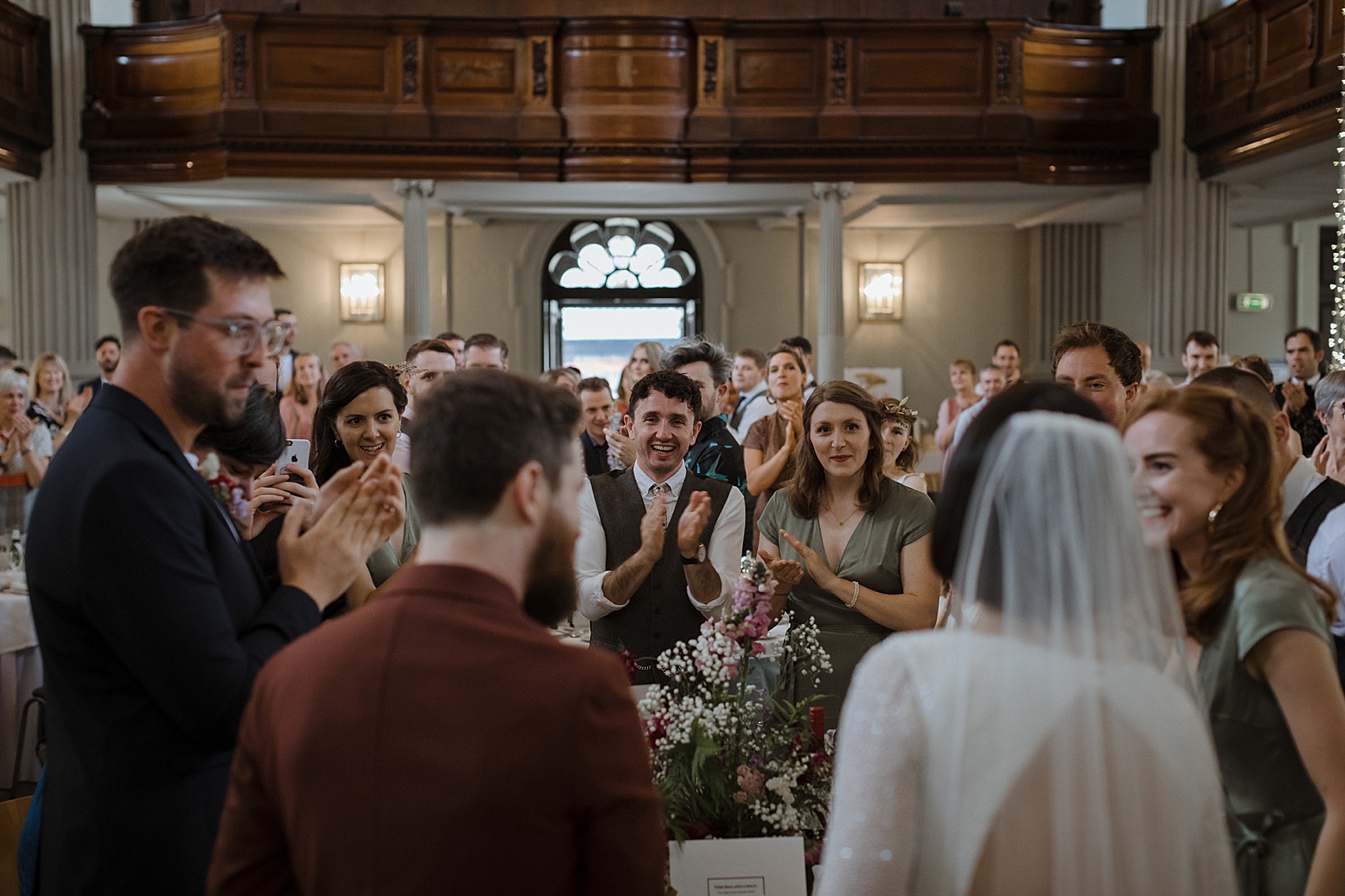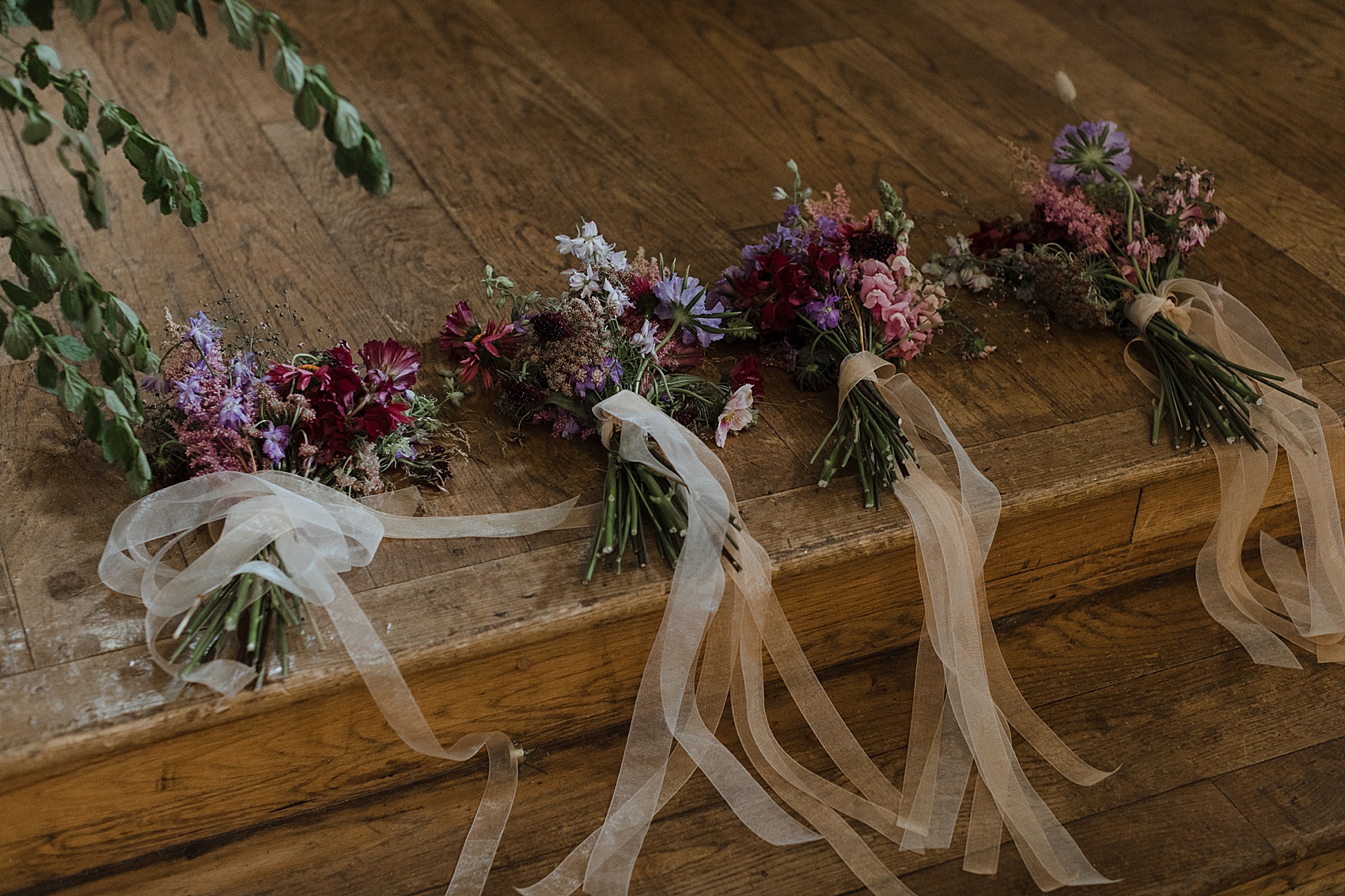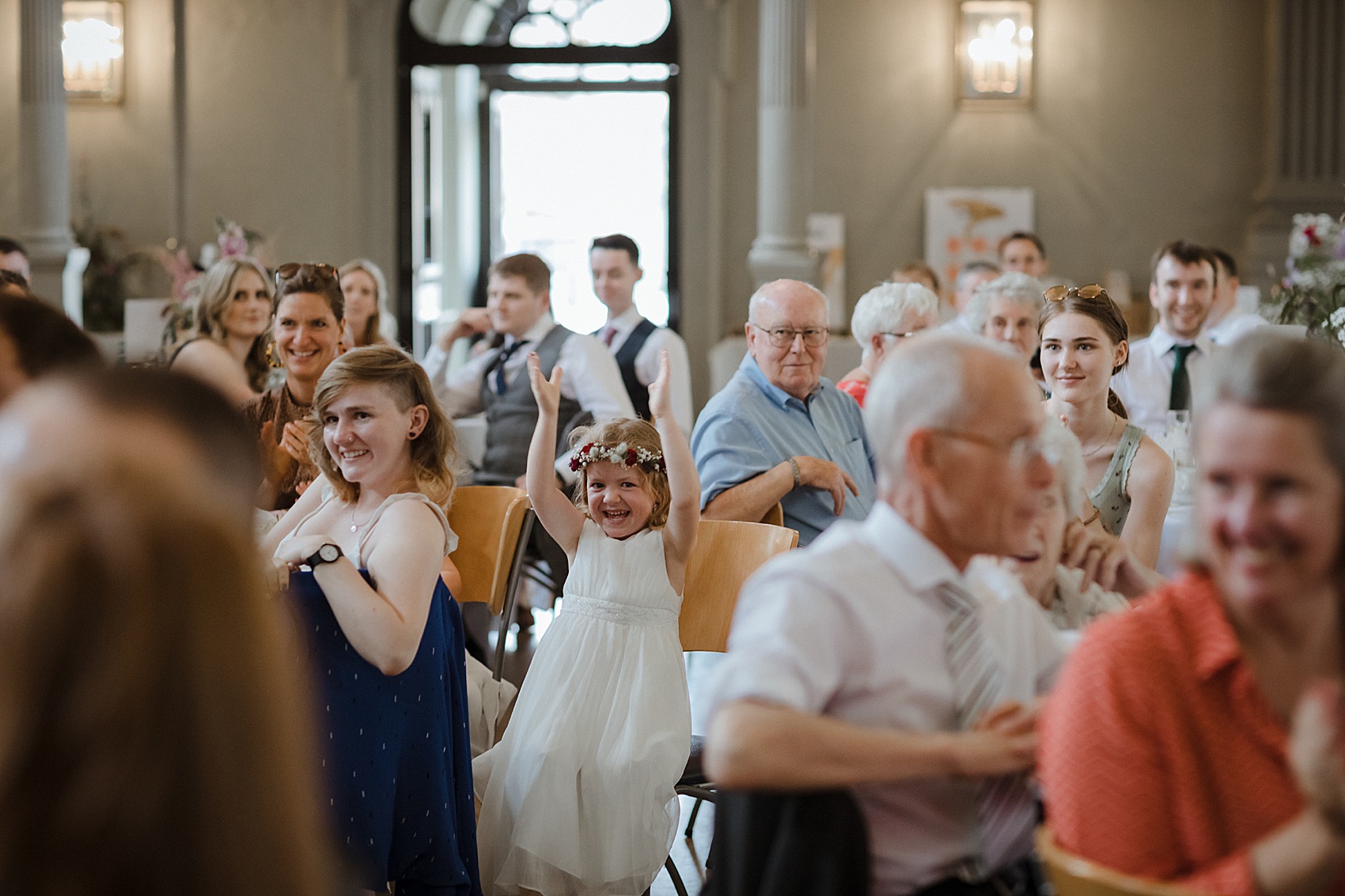 "Days of Dahlia (our florist) styled our venue, I thought it would be good to share what they came up with, here is the wonderful brief that they wrote for us; "A beautiful celebration at St Andrews in the Square, Glasgow with seasonal flowers and styling to create a simple, relaxed, and Scandinavian vibe with a rich colour palette of purples and burgundies."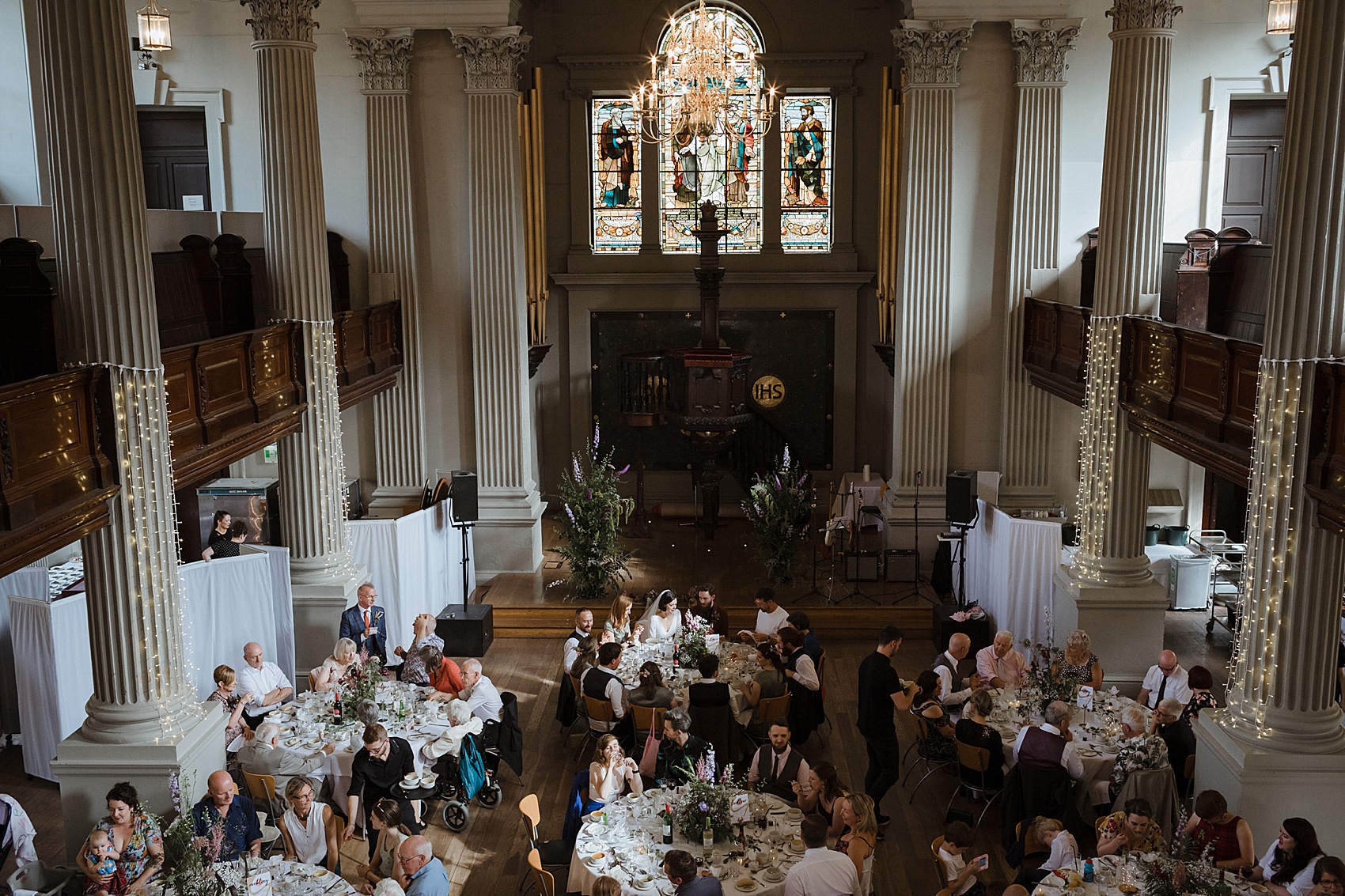 "Floral styling will be wild, thoughtful and creative to reflect the couple, their wedding, compliment the choices they have made, and set the tone for the day. To pare-back the grandeur of their city centre venue, we will include lots of greenery as well as botanical material like branches and mossy rocks to create sculptural arrangements with the inclusion of dried flowers."
" The brief is to create raw and organic styling that focuses on shape, movement and moments to bring the beauty of the natural wilderness into the urban jungle of the city".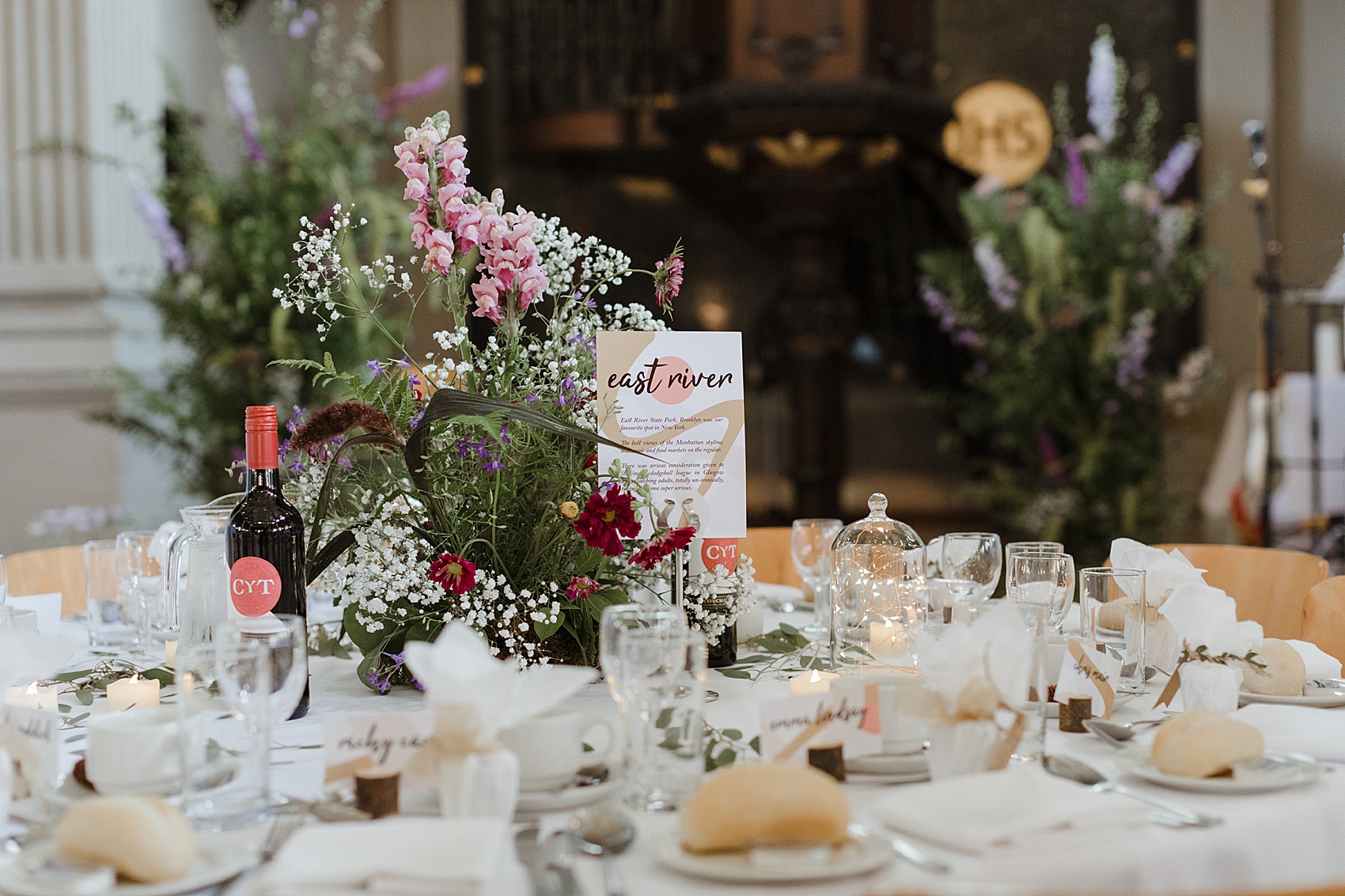 "Greig studied at Glasgow School of Art. It made the invites really personal that he had designed them."
"Our favours were a personalised Plectrum that had 'Joni & Greig' written on it, designed by the groom."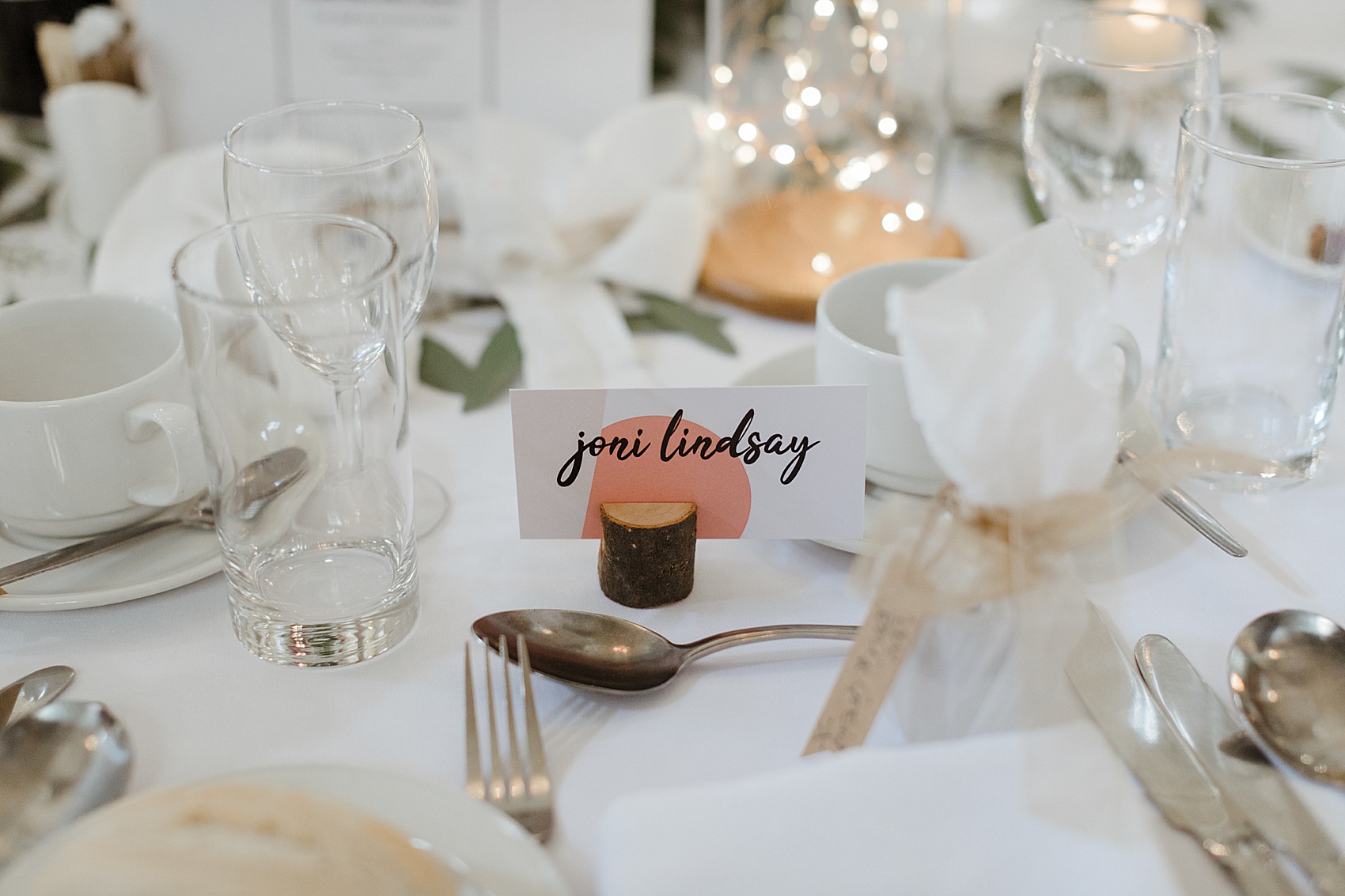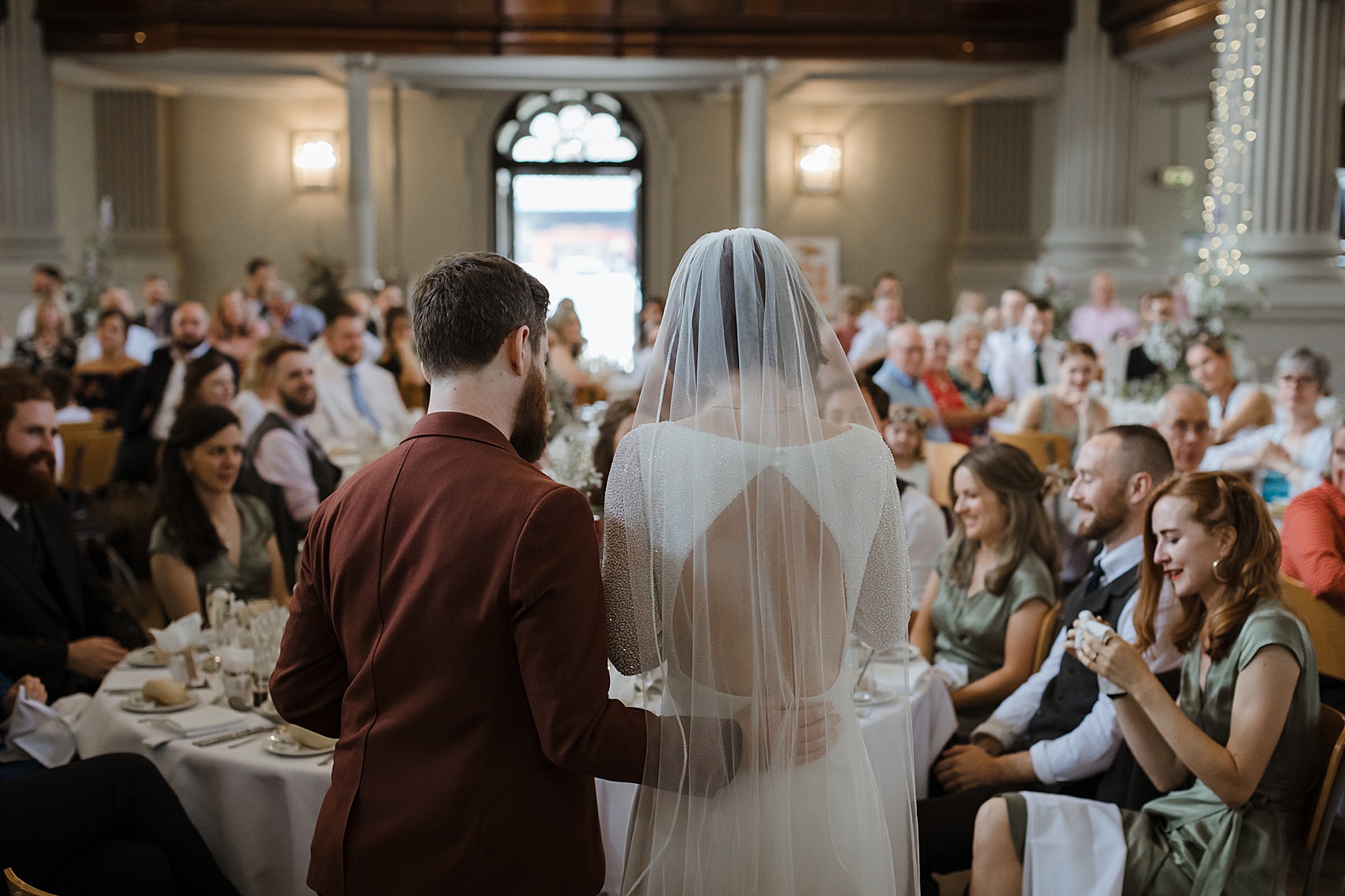 "I love Bakery by Zique – they make the most stunning cakes. I met with Harry and he was delighted to chat through ideas, I wanted a cake table but still with 3 big centrepiece cakes, we chose all our favourite flavours and had 9 varies of cake, so dreamy!! Seeing the cake table set up on the day blew me away, I loved it and so did our guests."
"I have baked friends wedding cakes in the past and really love baking so it just had to be great. Being gluten free and dairy free can have its limits to what I can usually get but Harry and the bakers created exactly what I asked and blew my expectations away, it really was the best cake I have ever eaten."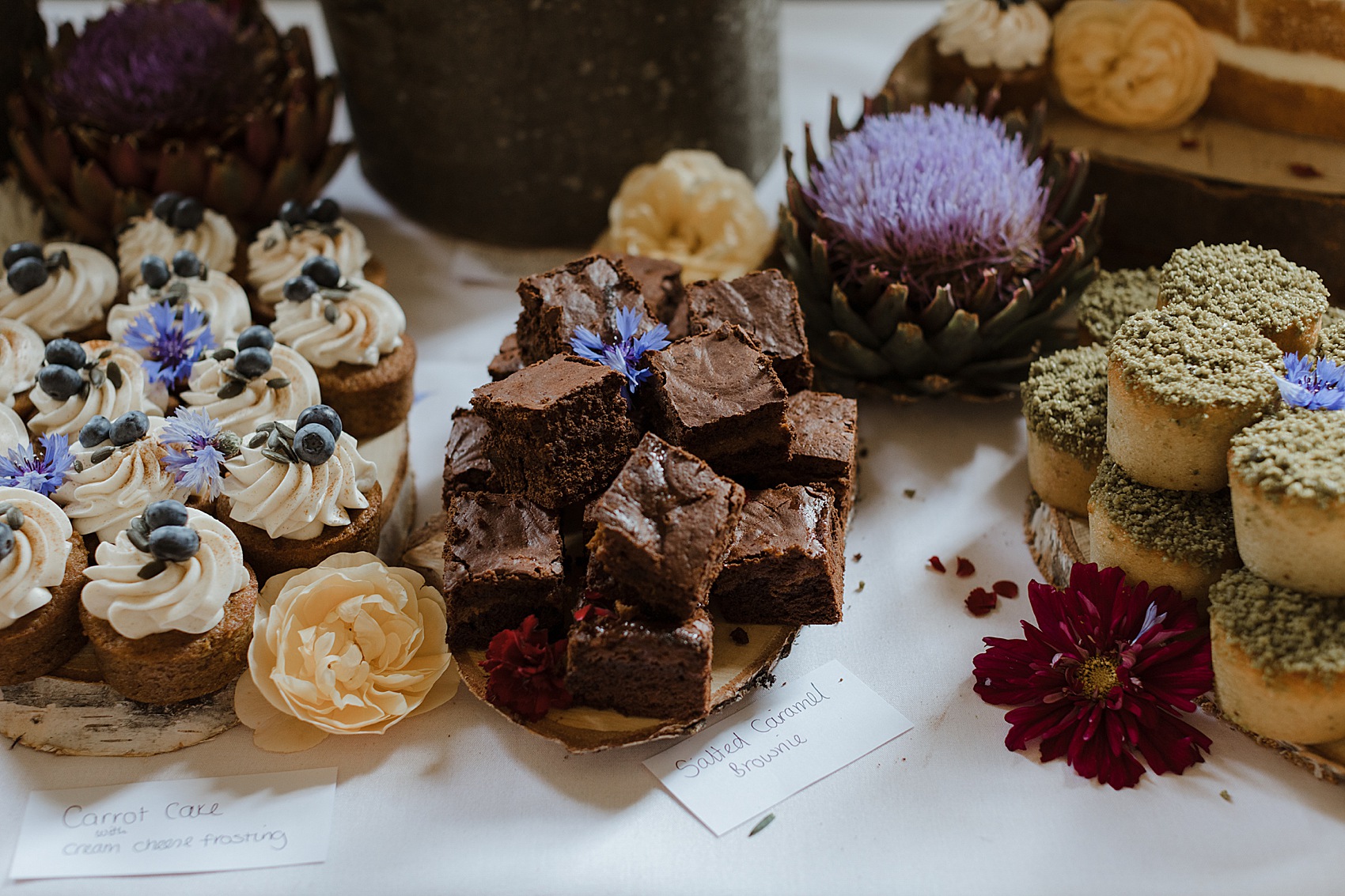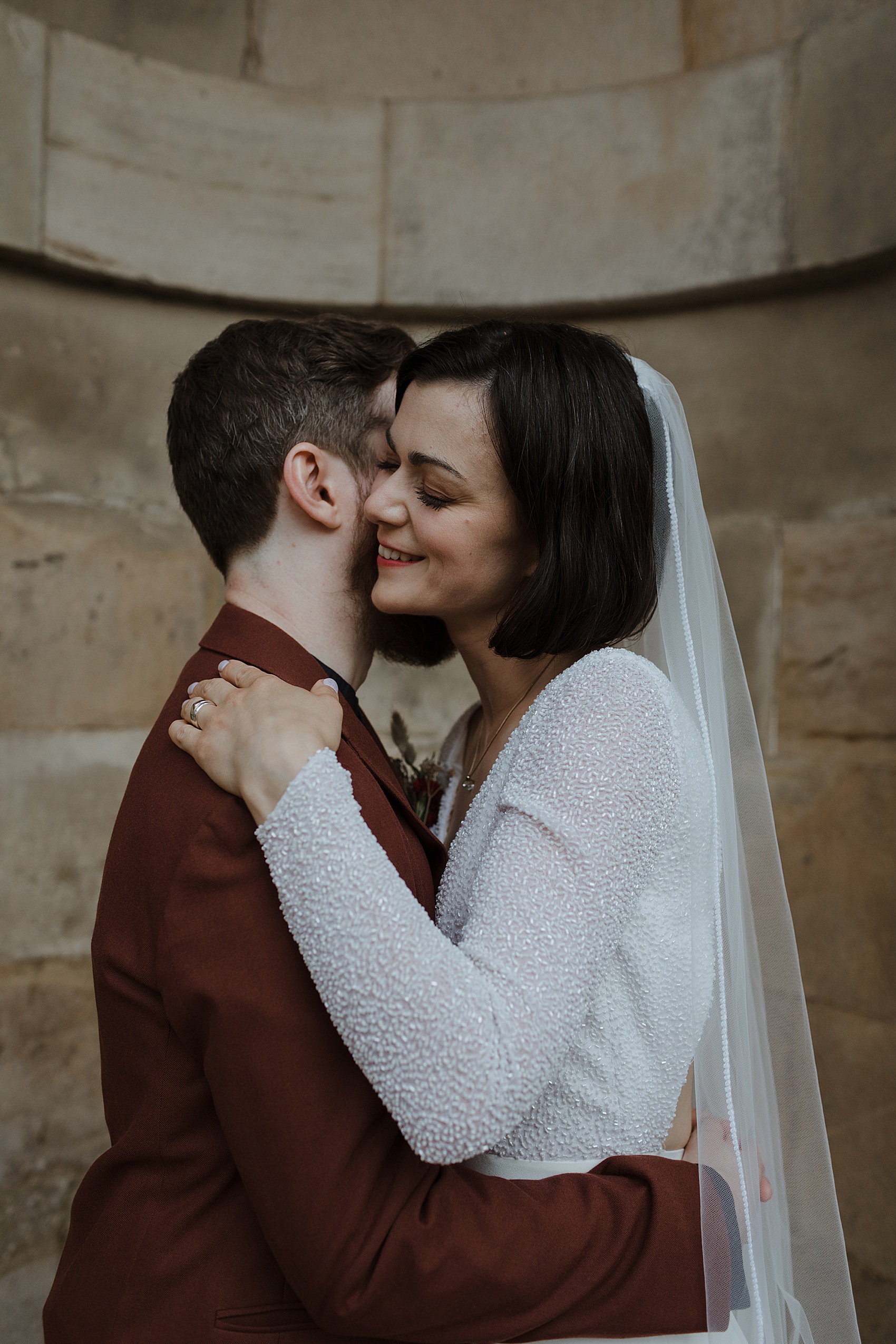 The couple chose Today is the Day', by Yo La Tengo, to dance to.
"We asked our friends Joe and Jamie to arrange and play a version of the track. It's a sad song but we have lots of great memories associated with it."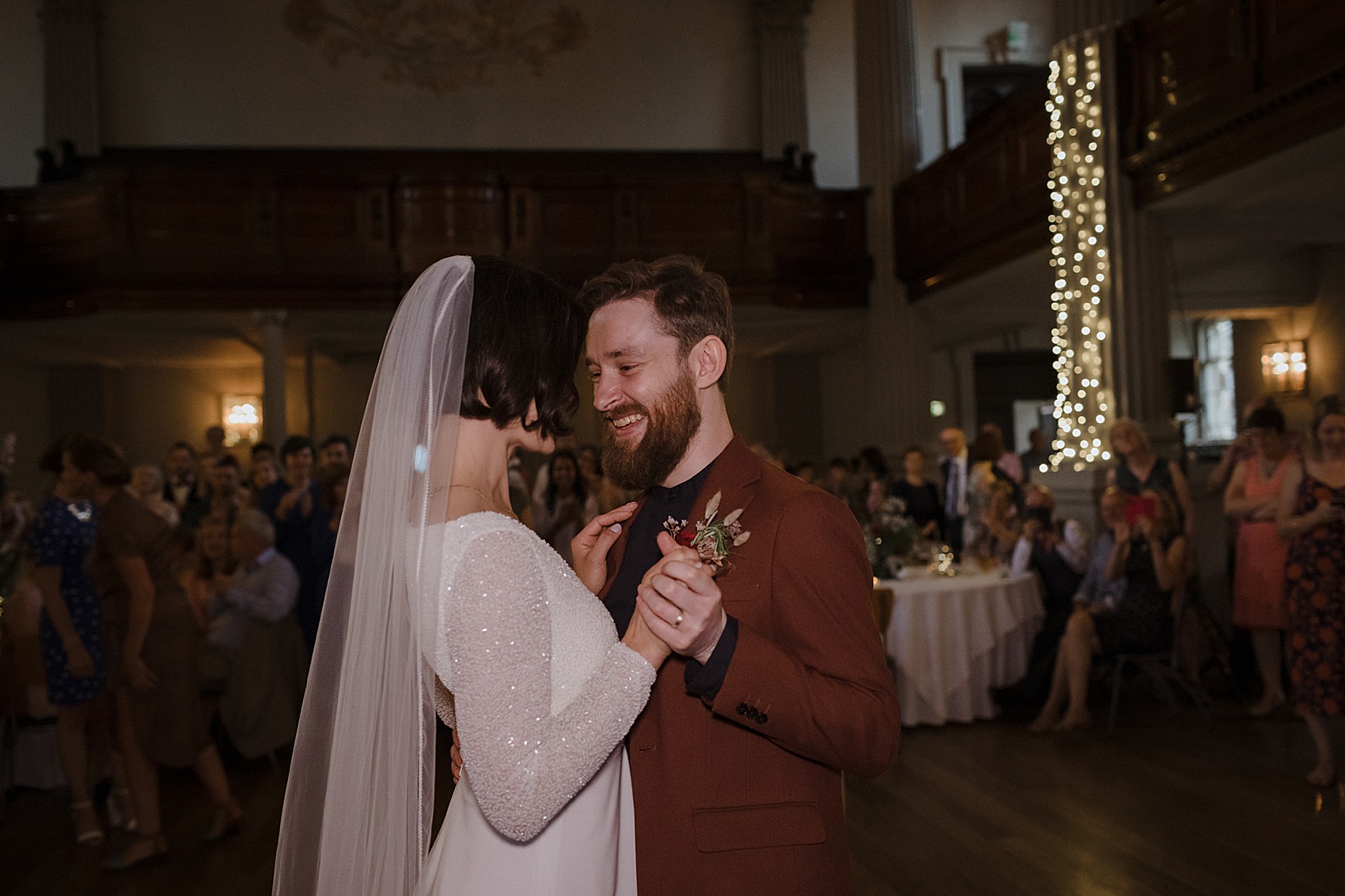 "Being musical, I couldn't pass on the opportunity to perform at my wedding, I play in a band as part of my work so decided to take the opportunity to play the drum kit – 'Shake if off', by Taylor swift and performed with my talented pals. Not sure how many brides have played drums in their wedding dress, but I would recommend!"
"Two of the groomsmen, Jamie and Joe, played for our ceremony and our first dance. Friends who are in a ceilidh band, The Hallanshankers they are wonderful and provided us with Ceilidh and tunes all evening."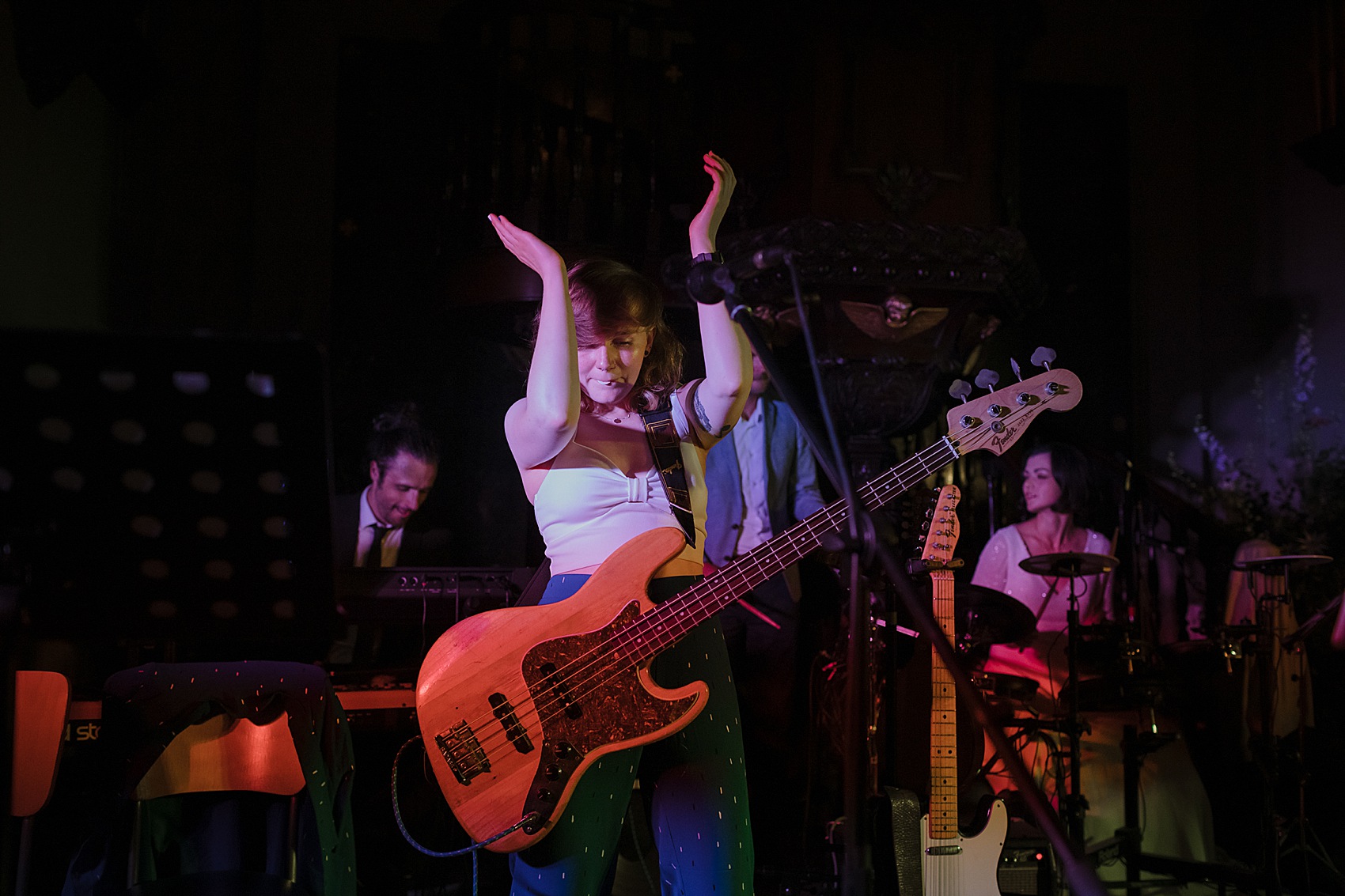 "Other musical treats: My Friend Emily, had written us a waltz and played it for us on the night as a surprise. My friend Karina is an amazing singer and learnt a song we had all been singing on my hen do (Carly Rae Jepson – Call Me Maybe), she got all the Hens on the stage and sang the song as a surprise, it was amazing."
"I loved it!  Finally our friend Calum DJ'd for the last hour and had everyone on the dance floor."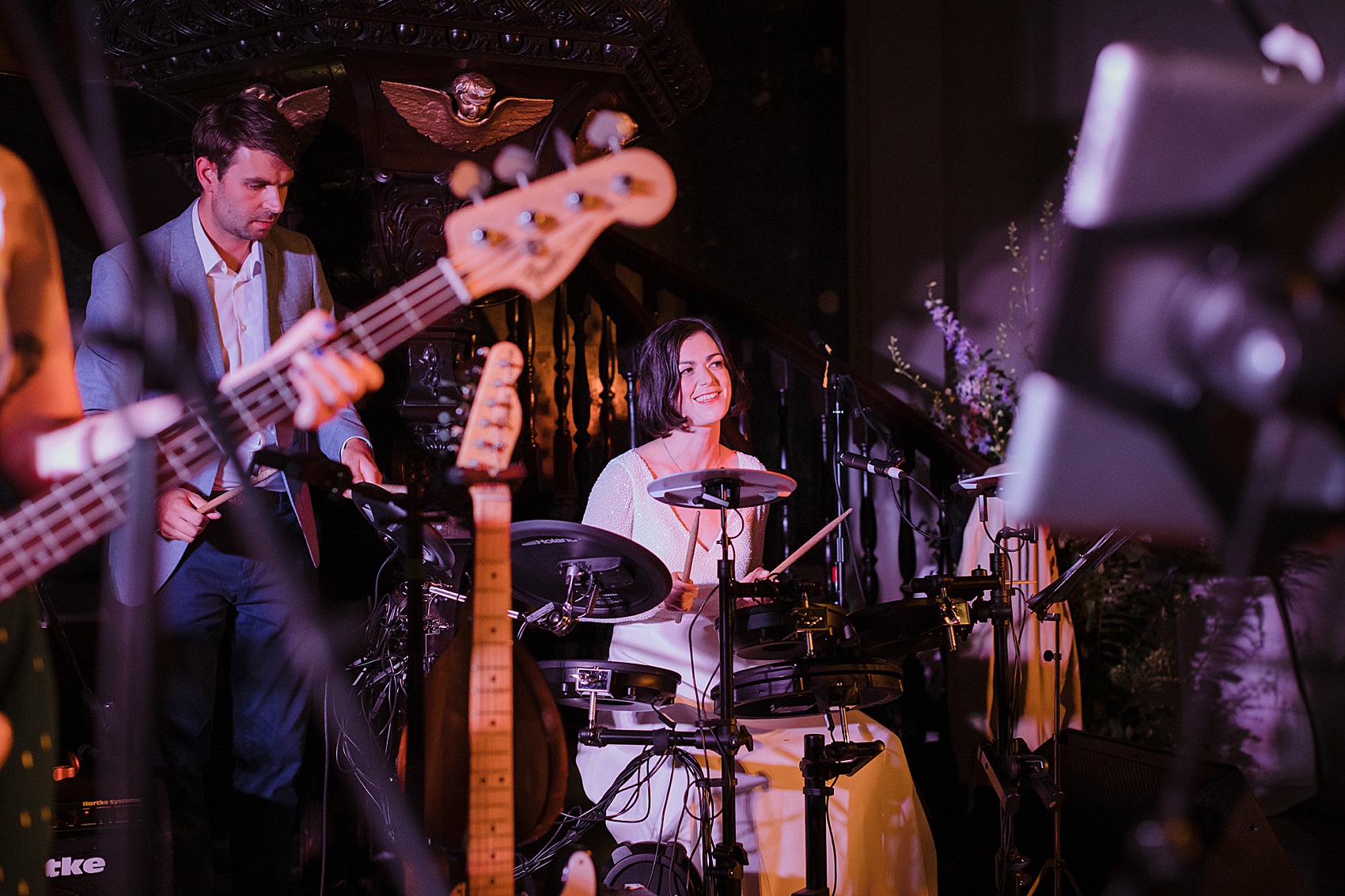 Words of Wedded Wisdom
"No matter how much you plan and prepare, there will always be lots to do in the last few weeks. Make sure to have lots of time together to get it all done. Always run decisions past the groom even when you think he might not be interested in what goes on the tables, he might just surprise you. Keep your dress a secret from as many people as possible, the reveal is so worth it!"
"We set out a realistic budget and pretty much stuck to it. There were so many wee add ons and extra bits to pay for that we started to lose track in the last month. I would budget in at least £1000 for little extras you might not have thought of or just for treating friends and family in the week leading up to it – worth every penny." 
Utterly wonderful and joyous in every way, Joni and Greig – thank you for the absolute pleasure of being able to share your wedding today.
Ladies, I encourage you to find out more about the brilliant British designer, Andrea Hawkes. We're excited to be spending time with Andrea next week in London as she shares her latest collection – we will be filming and photographing on the evening and look forward to sharing with you!.
Have the best day (after pinning all these images to Pinterest),
Love Annabel x