Back in April this year, Philip (who for those new around here, is my husband/business partner) and I were weaving our way discreetly through the many exhibition stands of Barcelona bridal fashion week when one particular stand stopped us dead in our tracks.
In amongst the many friendly front of house faces that smile as you pass each exhibiting space, welcoming you in to explore all the new designer collections, this one particular stand stood out for it's gathering of visitors all excitedly huddled together, pointing their iPhones excitedly at the model swaying gently left to right in this heavenly dress.
It was the coolest and most divine modern interpretation of an elegant 50's silhouette; a full circle skirt in deliciously, light and airy layers of tulle, with a playful high-low hem and utterly flattering off the shoulder detail. I was completely smitten and proceeded to share footage of the model also falling in love with said dress and swishing it around romantically. Lifting my gaze to the nearby signage, I could read the words 'Divine Atelier'.
Skip ahead a few months and today I have the pleasure of introducing you to Romanian based Divine Atelier and their collection of contemporary, feminine, flattering and romantic wedding dresses.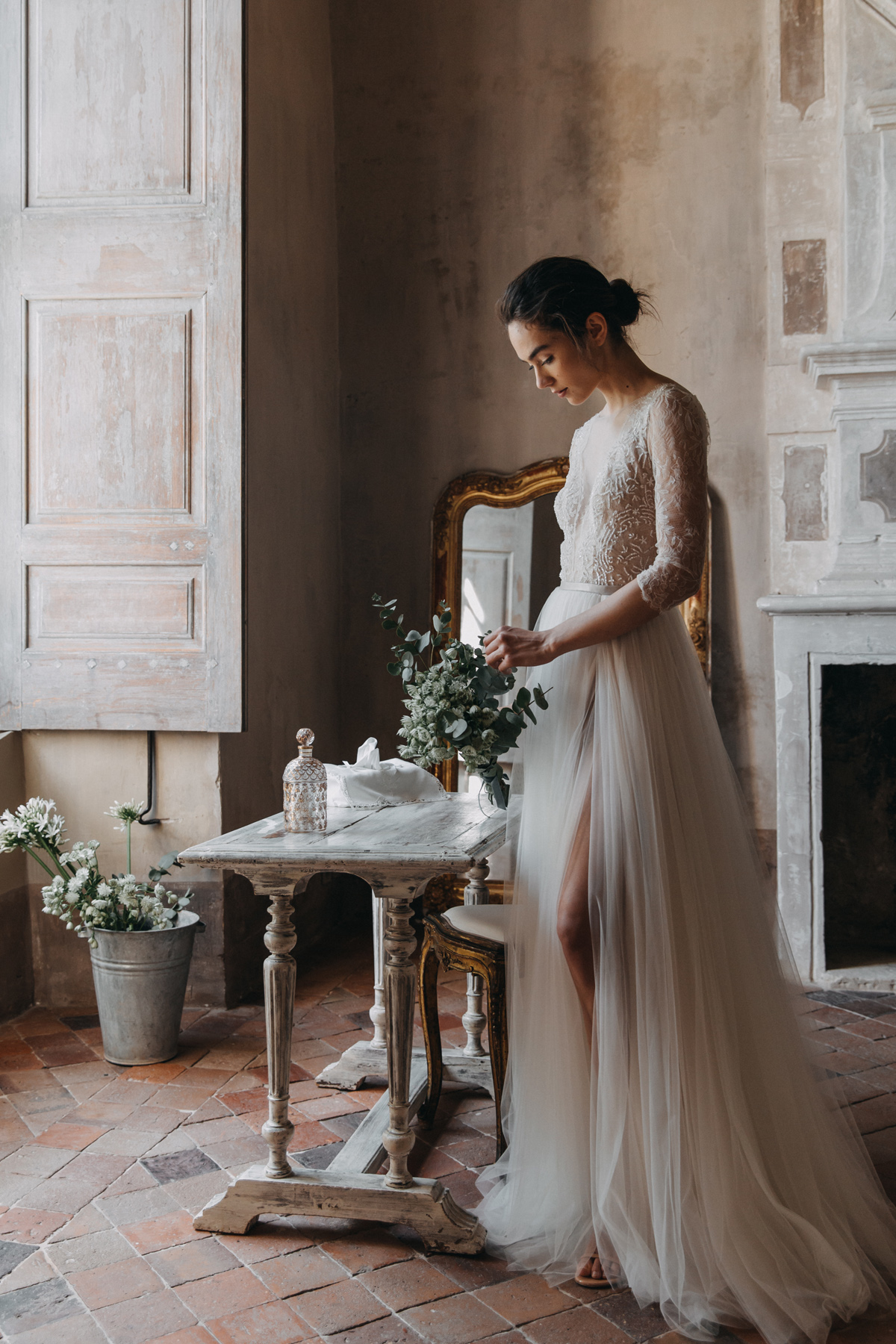 Getting to know the brand on a more personal level since April, I've discovered that Divine Atelier started out in it's home country, where it is a fantastic success story, back in 2006. Their designer Luminita Cosleacara is very much creating for the modern, contemporary bride who doesn't fit the traditional wedding dress mould. There are strong vibes of modernised, minimalist romance and bohemia that combine to this exquisite flawless simplicity. Luminita explains…
"My designs don't resonate with the traditional wedding dress typology – our collections become more and more popular thanks to our unique, bohemian, minimalist style."
"From initial sketches to the final product, everything is created in the Divine Atelier workshop in the historical centre of Brasov in Romania and you can try on our dresses in over 50 stockists in Europe, the United States and Asia."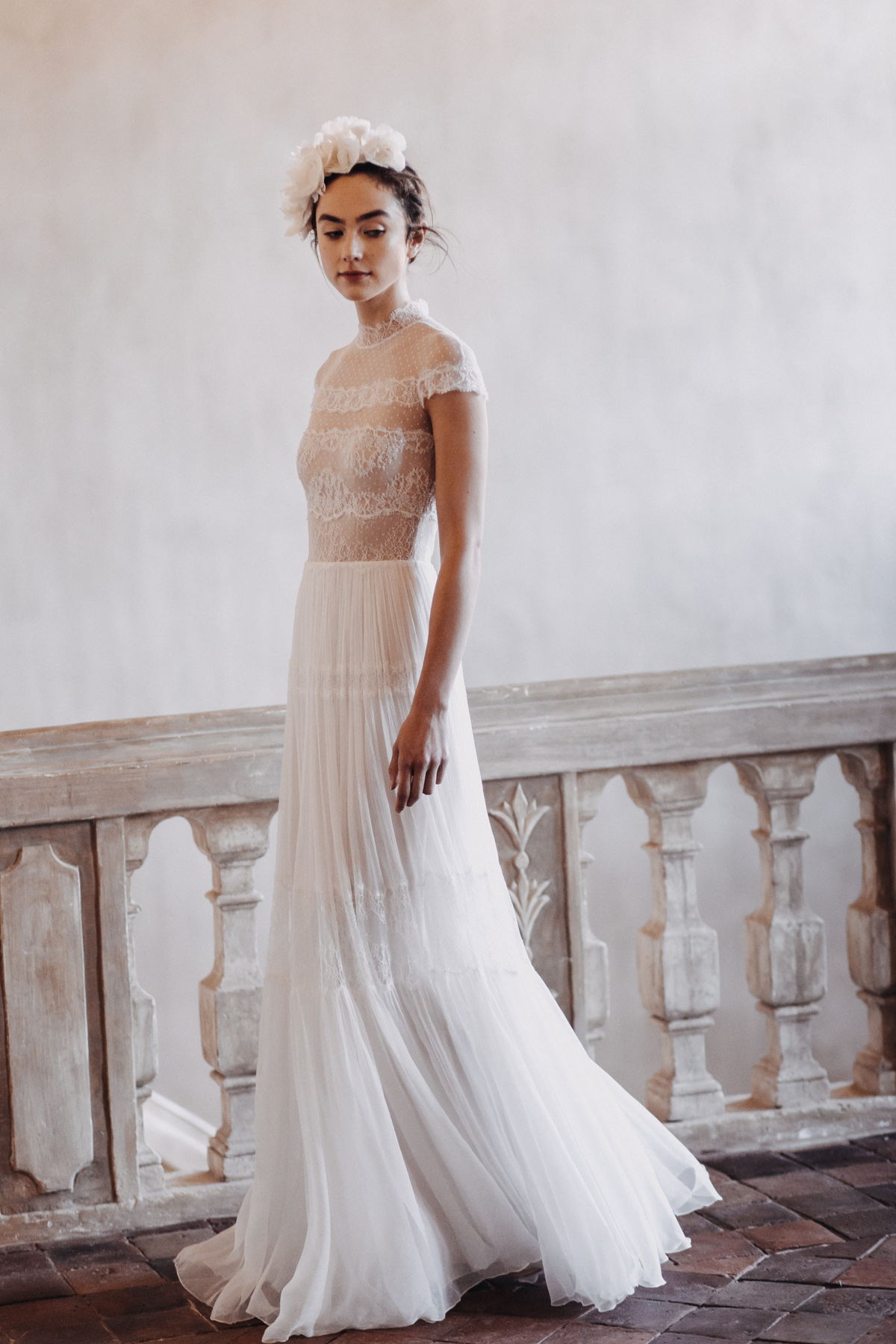 The label is acutely aware of the need to embrace sustainable practices across all of its design and business processes, and does so willingly and with great passion.
"We use natural fabrics of excellent quality, working in collaboration with prestigious textile companies in France and Italy. These companies set strong trends in the world of textiles and their creations, along with our dresses, absolutely reflect our brand's philosophy around quality and sustainability."
The images you see here are from Divine Atelier's brand new and just launched 2020 collection which embraces a strong sense of fresh, minimalist romance. There's a playful and more youthful note about these designs too; a lace bomber jacket, a discreet thigh high slit, a lace 'bolero' that floats to the floor behind the dress like the lightest and floatiest cape, and Peter Pan collar detail with a chic black ribbon tie. Everything just works in a super subtle, cohesive, statement making and unconventionally elegant style.
"The dresses in this collection incorporate precious lace, silky veils and tulle that all create fluid lines, naturalness and a real sense of modernity. The 2020 collection draws inspiration from the bohemian charms of Provence, and the more I've visited and seen this magical place, the more I have been inspired. The new collection really is an invitation for every bride to bring her personality and her uniqueness to her day and these dresses will allow brides to do exactly that."
I've allowed myself the treat of getting rather lost within this beautiful collection over the past few days, so that I can highlight some of it's very best features for our stylish British brides; the 70s, Bianca Jagger vibes of Ursula, and the sophisticated suit-jacket inspired bodice of Dot are stand out looks for me.
A high slit, collar and backless detail make the Natalie gown one of the coolest halternecks.
But if you still love the idea of a sensuous show of back, along with sleeves, take a look at the beautiful Mila.
Grazia has all the Peter Pan collar cuteness and Pina provides a deliciously minimalist and sexy slip dress vibe.
Raisa delivers Grecian-esque simplicity whilst an oversized floppy hat would be the perfect investment to mirror the sensuous curves of the utterly perfect mini cape that is Artis.
But the dress that stole my heart in the first place is the beautiful 'Berry'. I'm keeping fingers crossed that we get to share a real bride wearing this glorious creation soon.
"Choosing your wedding dress is a stylistic challenge but it's also a personal act, related to knowledge and emotion. The only piece of advice I can give brides-to-be who are about to choose their gown is to listen to their intuition. When you choose your wedding dress, there must be chemistry, just like when you fall in love – it needs to 'feel' right. Listen to those feelings your own body shares with you. They are always right."
To find out more about Divine Atelier and to view the 2020 collection, do visit the website. You can also find your nearest Divine Atelier stockist here.
Annabel x