Where to begin with this beautiful and heartwarming city celebration? It's simple yet sweet, intimate, casual and cosy, with a couple who have been together for 20 years making the decision to take their next steps together married. Read on for a gloriously ruffled polka dot dress, a fantastic vintage Volvo, and a delicious array of cream cakes and pastries.
This is the wedding of Kirsten, childrenswear designer and shopkeeper of Bob & Blossom, and Mark, who is a distribution manager. They were married on the 7 June 2019 at Old Marylebone Town Hall, London, followed by afternoon tea at Soho patisserie, Maison Bertaux. – the oldest in London.
Images by Maja Tsolo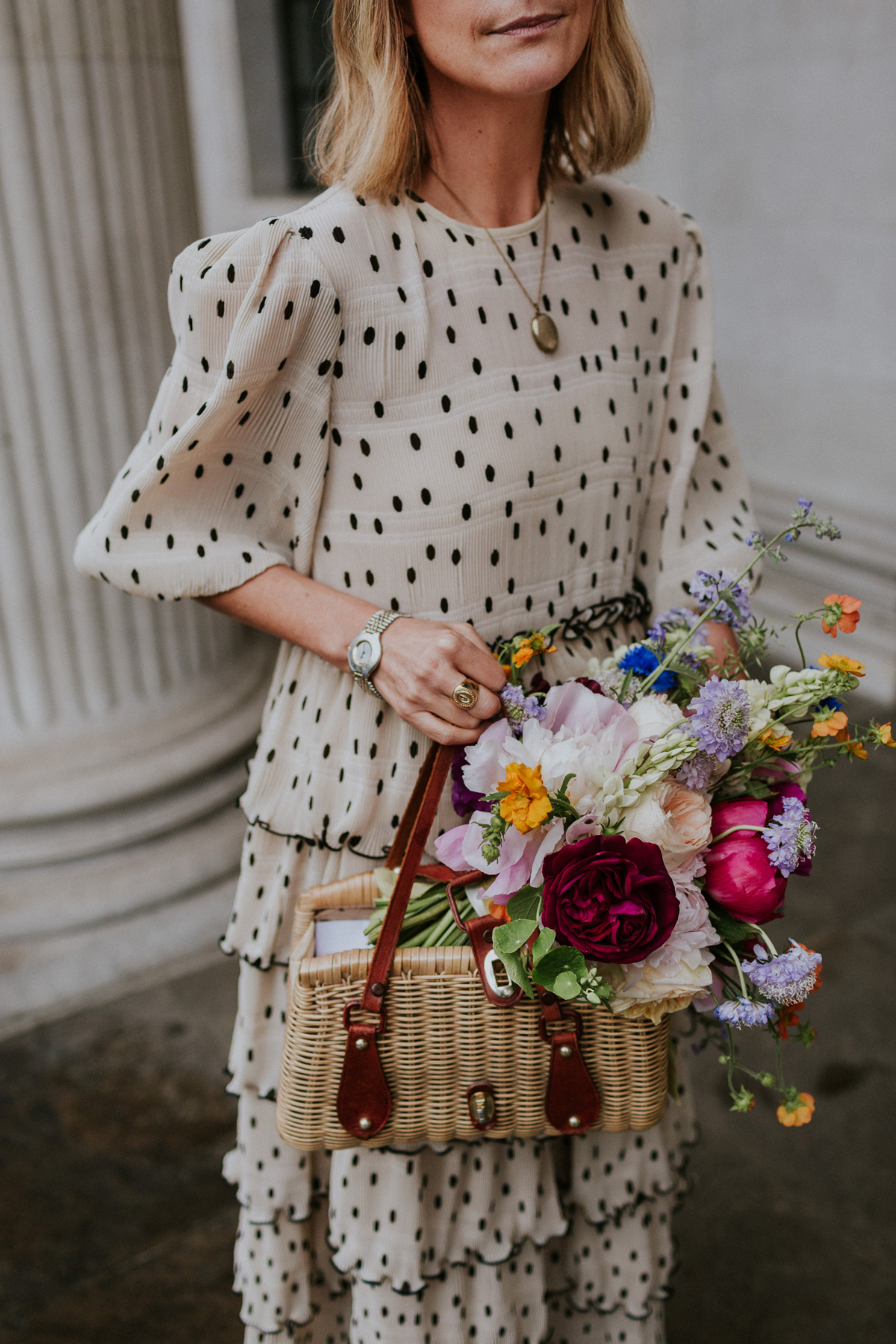 Capturing all of the day's loveliness was photographer Maja Tsolo, and I just love the bursts of bright colour here and there in the flowers, confetti, and even the jewel-like patisserie, contrasting with the grey weather.
"Maja was recommended by my friend Leigh Chappell, who made my amazing bouquet and buttonholes. Leigh knew that I would love Maja's style, and she was right. Her photographs totally captured the feel of the day."
Kirsten carried a gorgeous technicolour bouquet of early summer flowers – blowsy, romantic peonies, white lupins, scabiosa and delicately trailing meadow flowers – made by florist Leigh Chappell.
"I have worked with Leigh on a few projects in the past. I knew I could just ask her to make me something lovely, and that she would totally get me. She did! The loveliest bouquet of colourful, just picked garden flowers tied with a mustard crepe silk ribbon from The Natural Dye Works."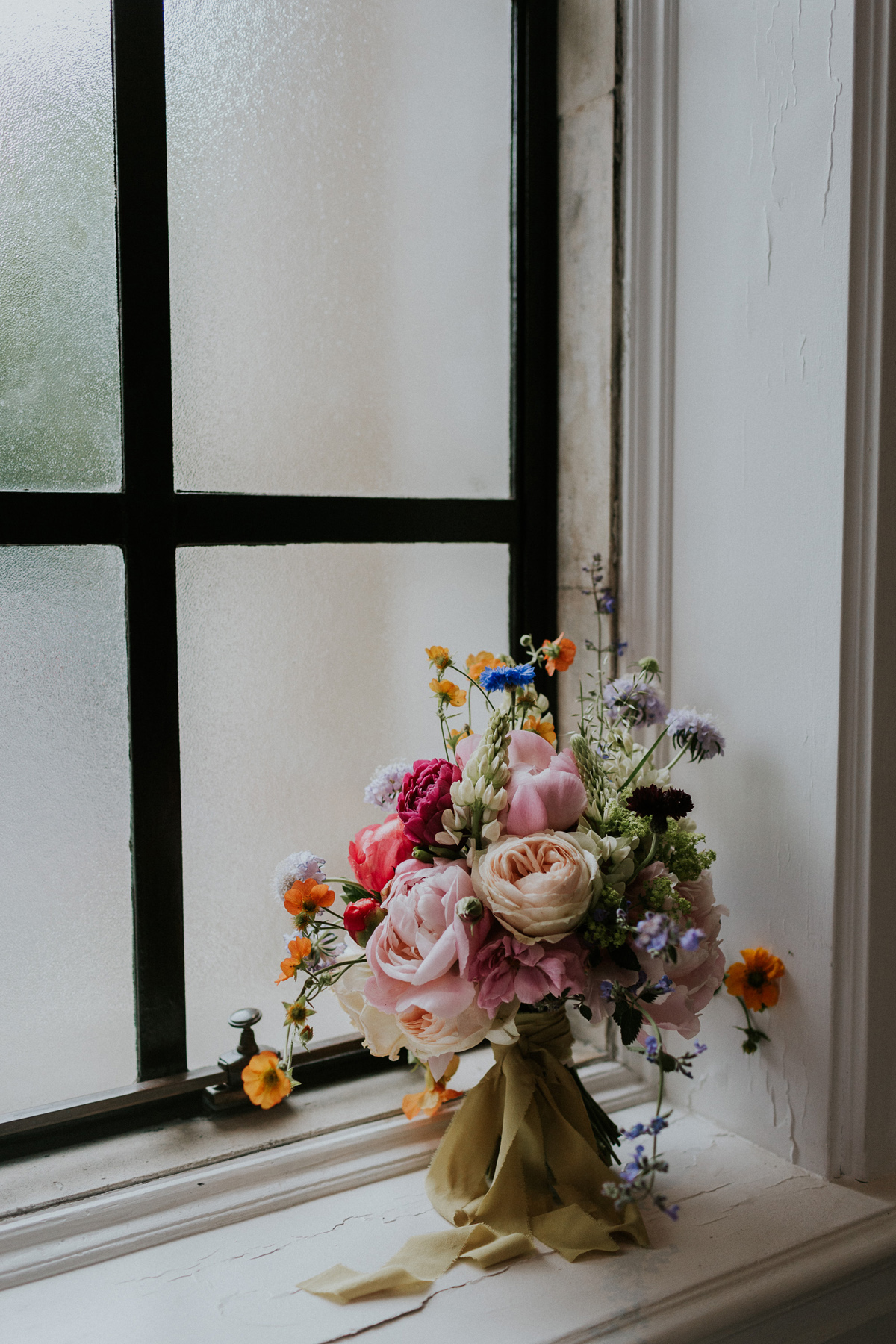 Kirsten and Mark first met 25 years ago at work, have lived together for 20 years, and 2019 was the year they decided it would be nice to get married!
"Ours was always going to be a small wedding, and there was no big planning involved. We just chose a few things that would make us happy."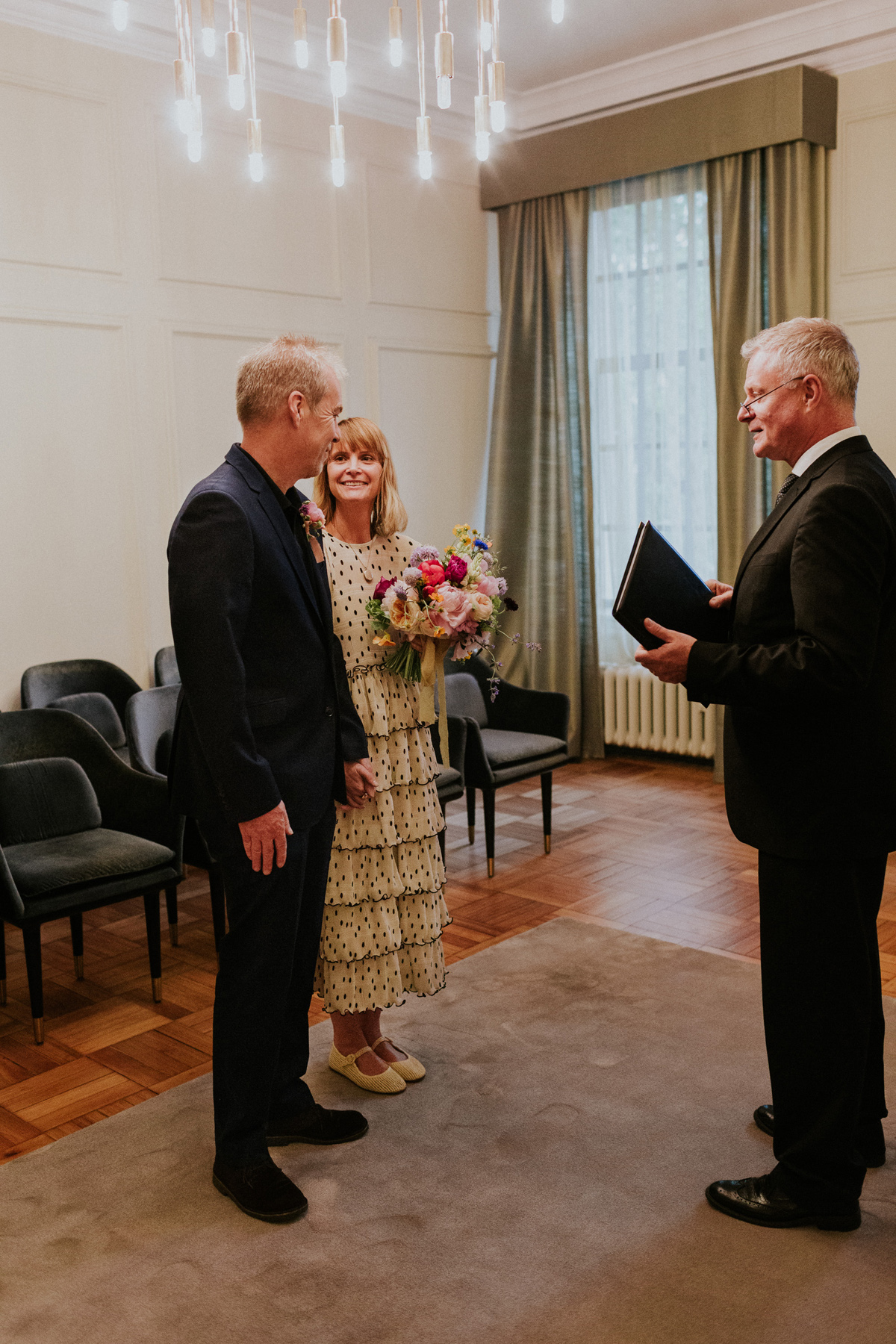 The couple exchanged their vows in the beautiful Pimlico Room of Old Marylebone Town Hall, with their son, Manny, and Kirsten's dad as witnesses.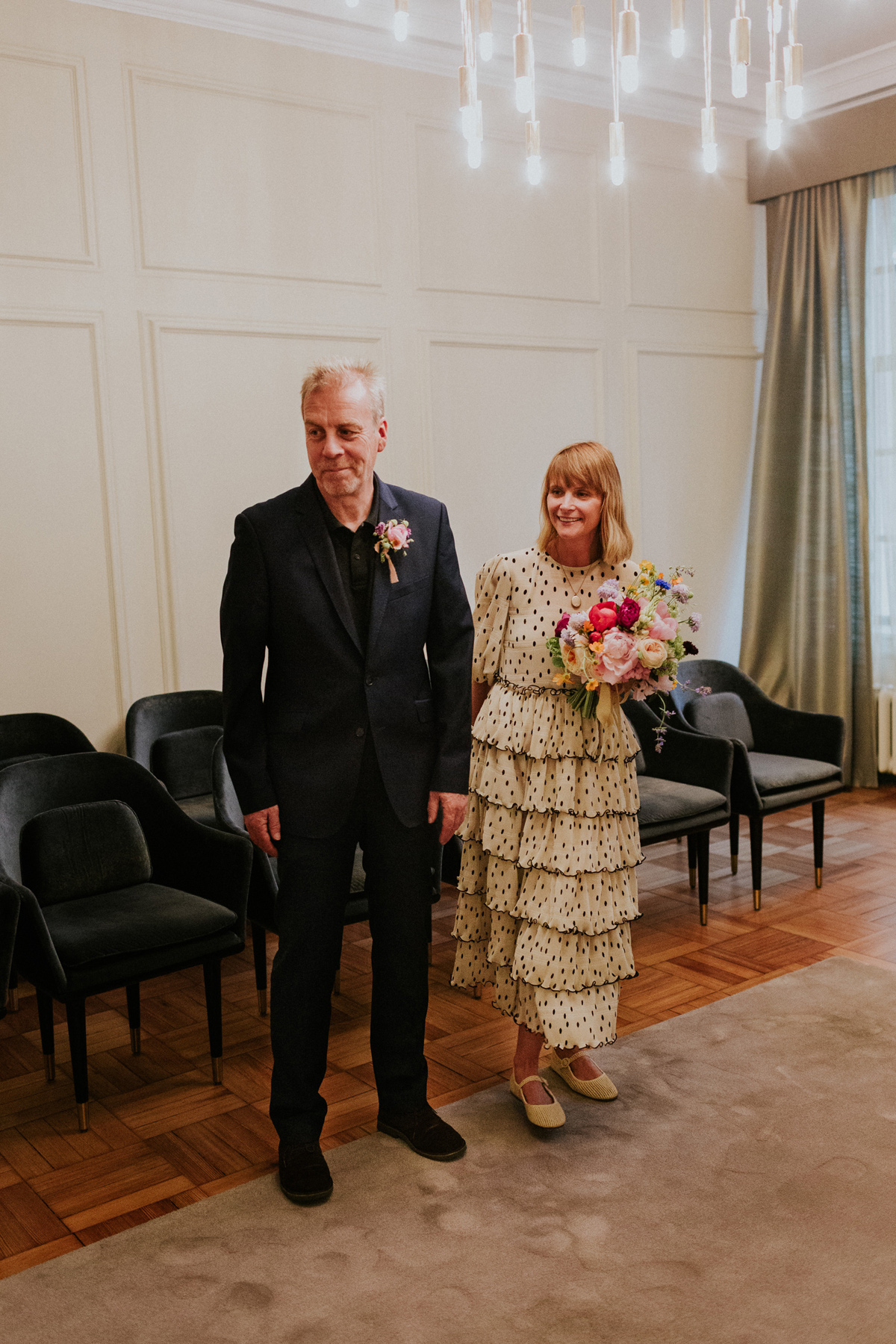 "Old Marylebone Town Hall is a beautiful building that we drive past several times a week. Seeing weddings on the steps always makes us smile, and we always beep our horn and wave if we see a wedding there!"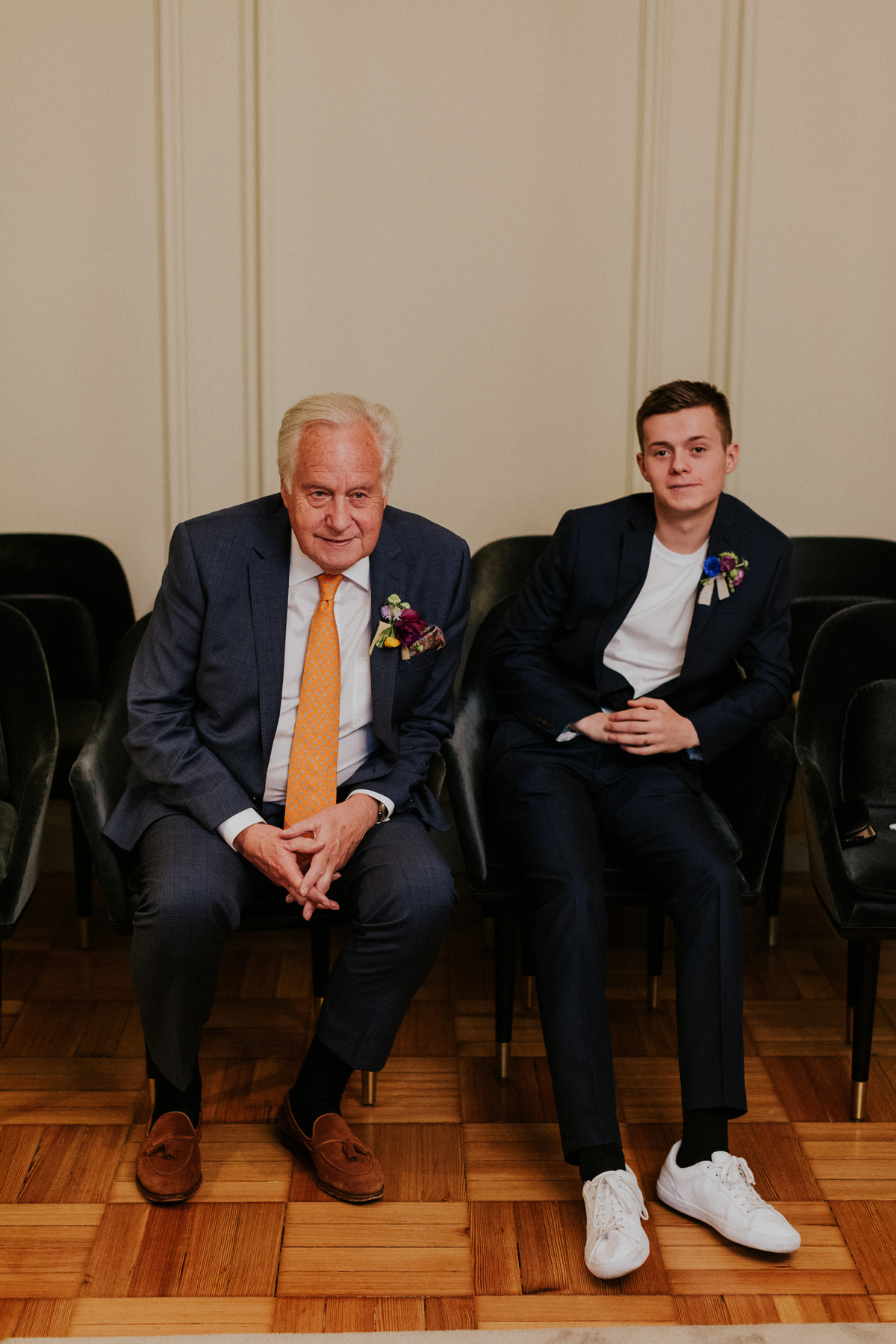 "For the ceremony, we made a compilation of favourite songs (similar to the mix tapes we made each other when we first met – told you it was a long time ago!) and then we asked our son, Manny, to press shuffle at the end of the wedding service."
"It landed on The Style Council – Shout to the Top, but could have been anything from Arctic Monkeys' Mardy Bum to Grace Jones' La Vie en Rose."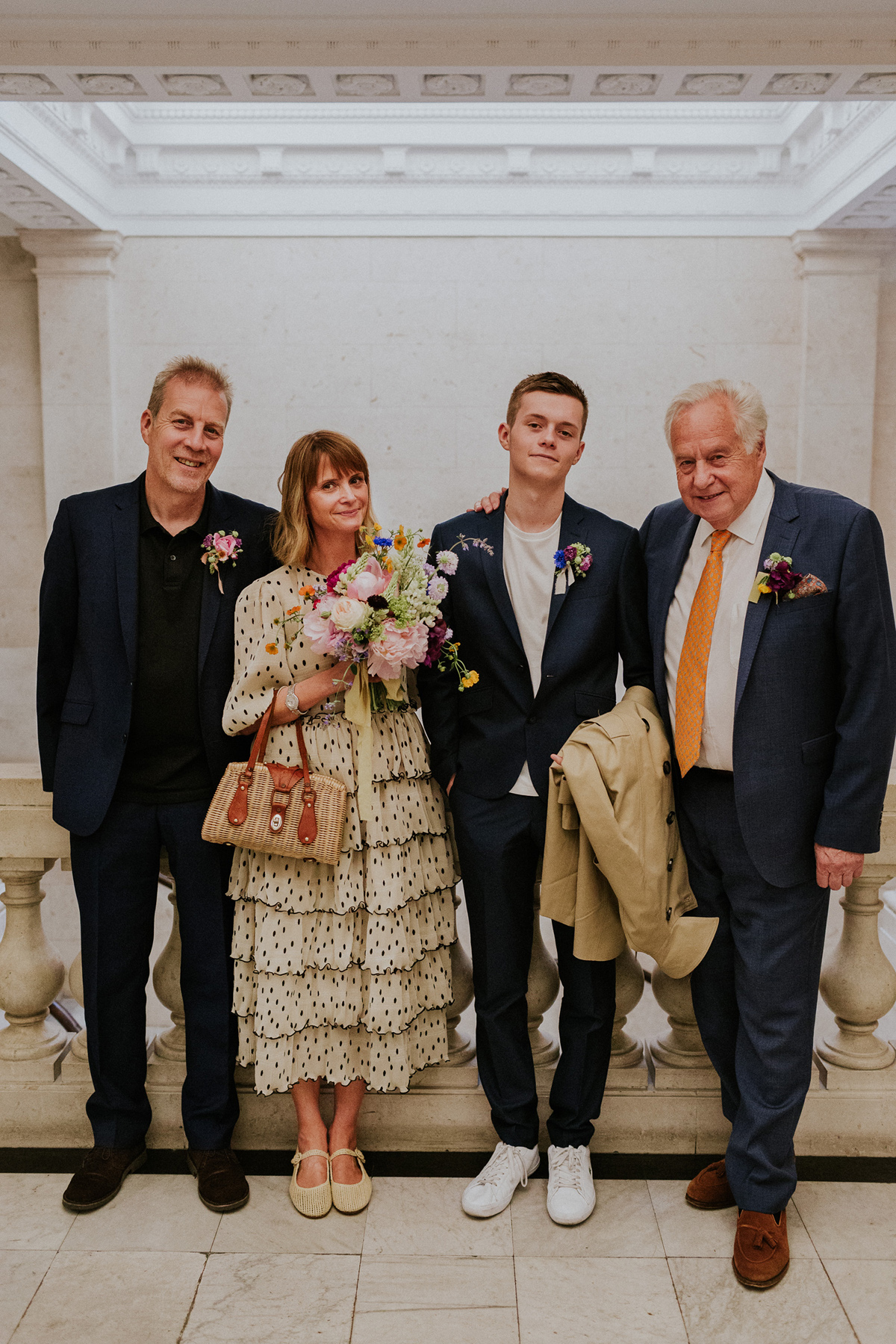 Kirsten's lovely polka dot dress with its tiered ruffled skirt and softly billowing sleeves was by Ganni, which she discovered online just a few weeks before the wedding.
"I had a vintage Ossie Clark dress that I bought on eBay years ago, and I had always thought I'd wear it if I ever got married. I still planned to wear it right up until the day before! However, I found the Ganni dress online a few weeks prior to the wedding and loved it."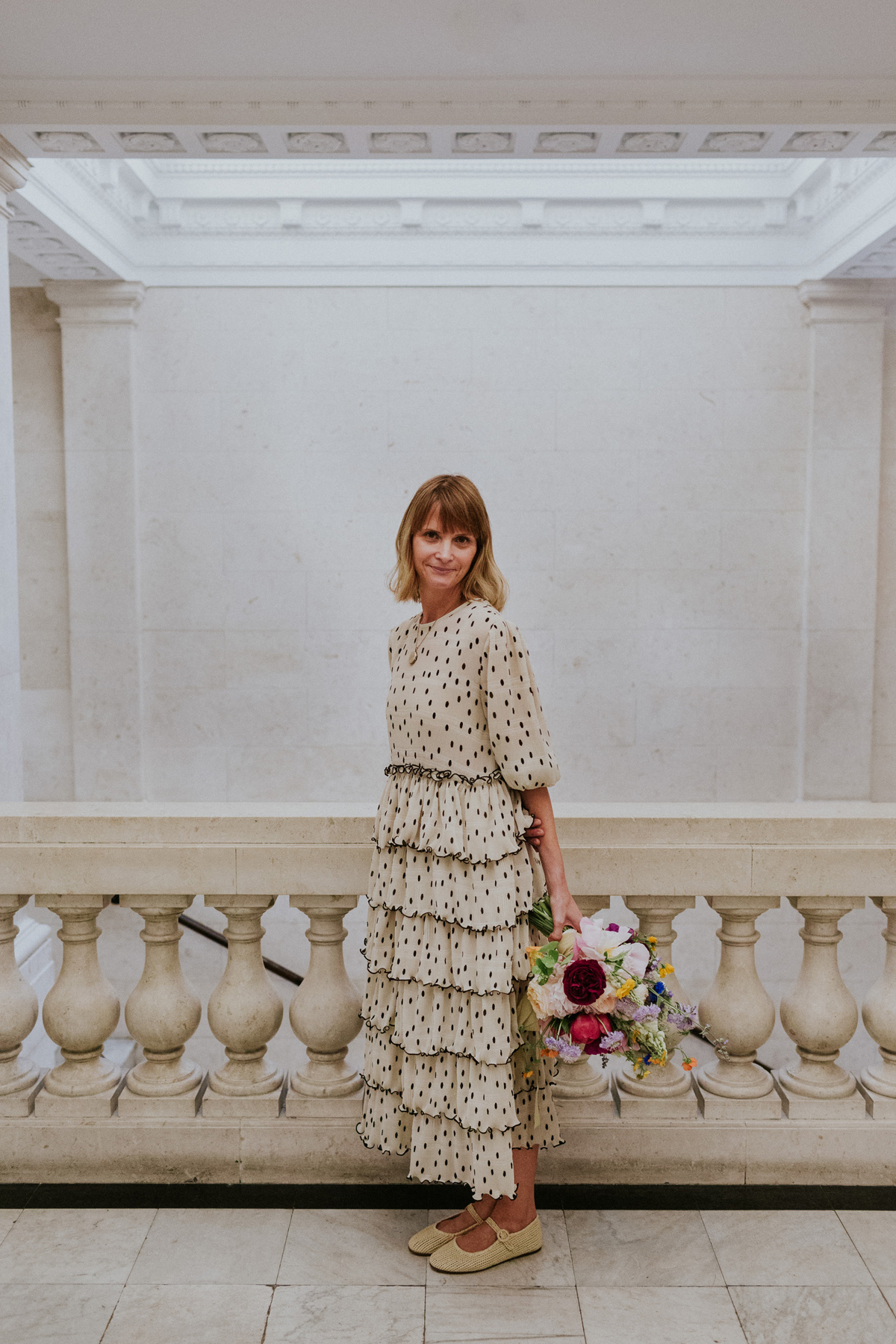 "It was a little bit flamenco dancer, a little bit toilet roll dolly, and it made me happy whenever I tried it on. On the morning of the wedding it was full on rain with grey skies, and I knew the Ganni one would make us both smile."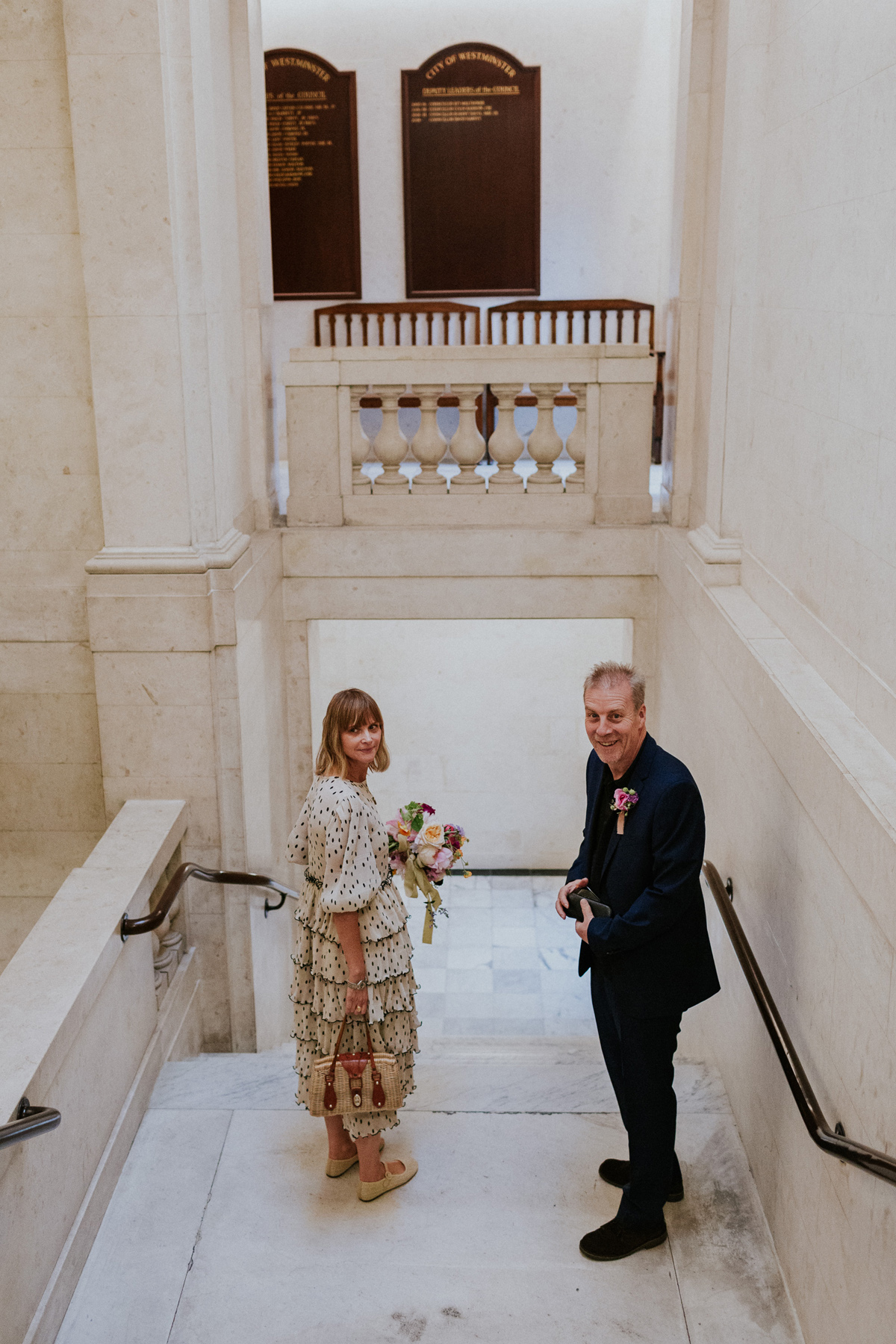 With her cheery dress, Kirsten wore cream shoes from Zara Kids, a gold locket, and carried a cool vintage wicker bag for all the day's essentials, including, at various times, her bouquet!
Mark wore a blue suit from Kin by John Lewis, with a black polo shirt, stylish brown desert boots and a colourful buttonhole in his lapel.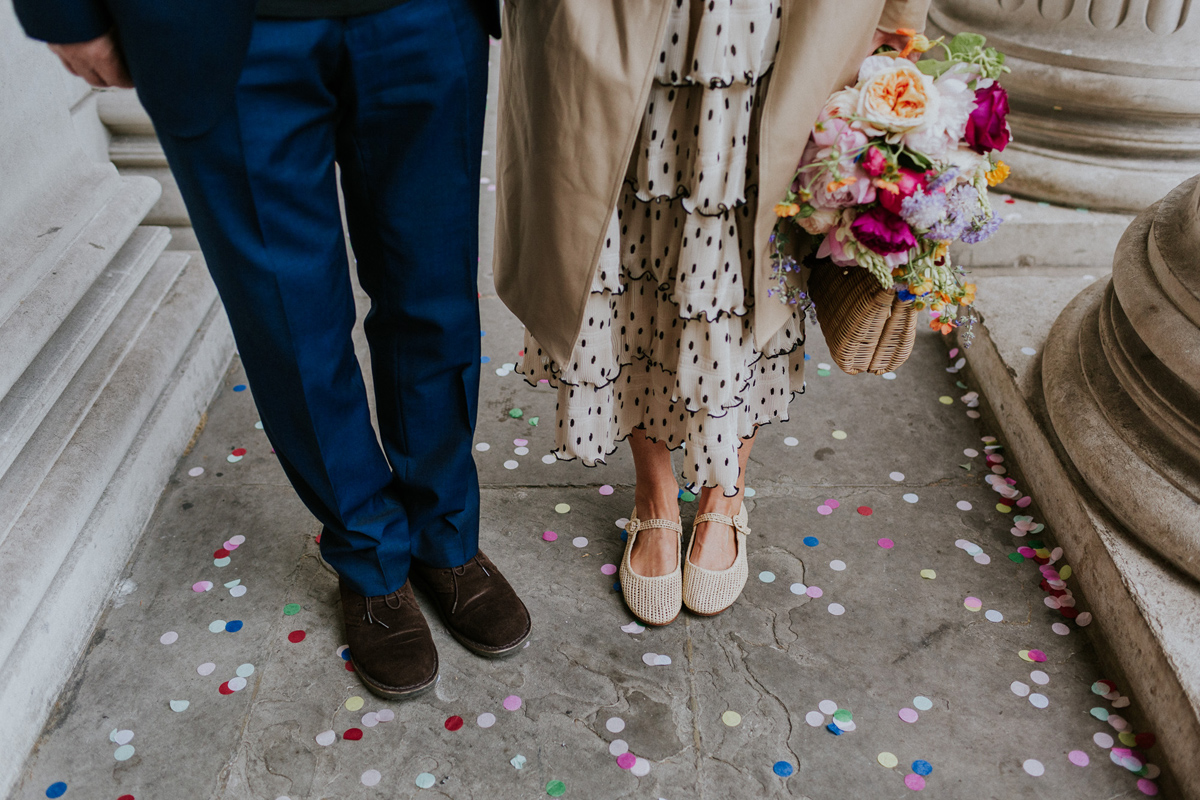 The wedding party hailed a cab to take them from Marylebone to Soho in time for afternoon tea at Maison Bertaux.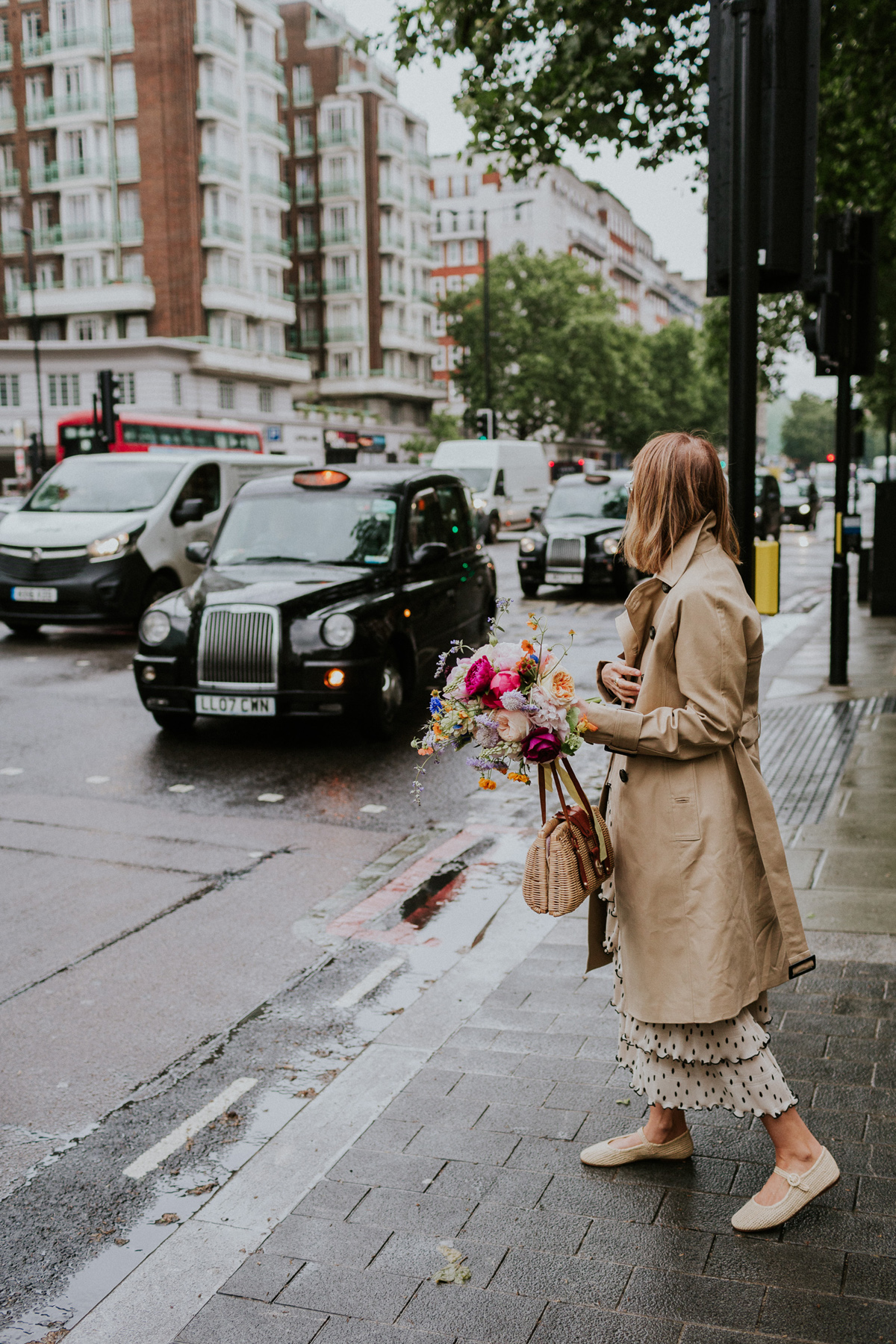 "It's our favourite London cake stop, and they kindly agreed to reserve us a table. We filled up on their amazing cream cakes, scones and pots of tea. We couldn't have asked for a better wedding feast!"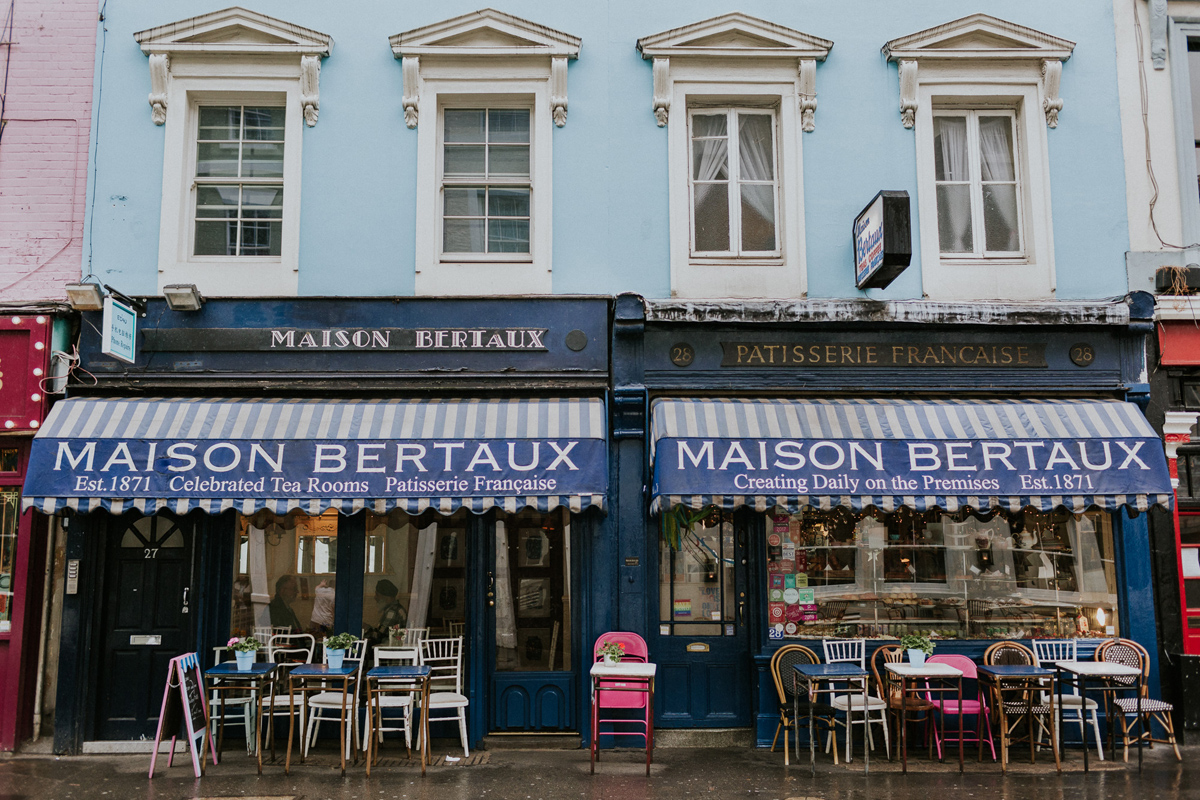 Kirsten, Mark, Manny and Kirsten's dad chatted in between cups of tea with scones, heart-shaped Linzer biscuits, decadent eclairs and raspberry tarts, as the rain fell outside.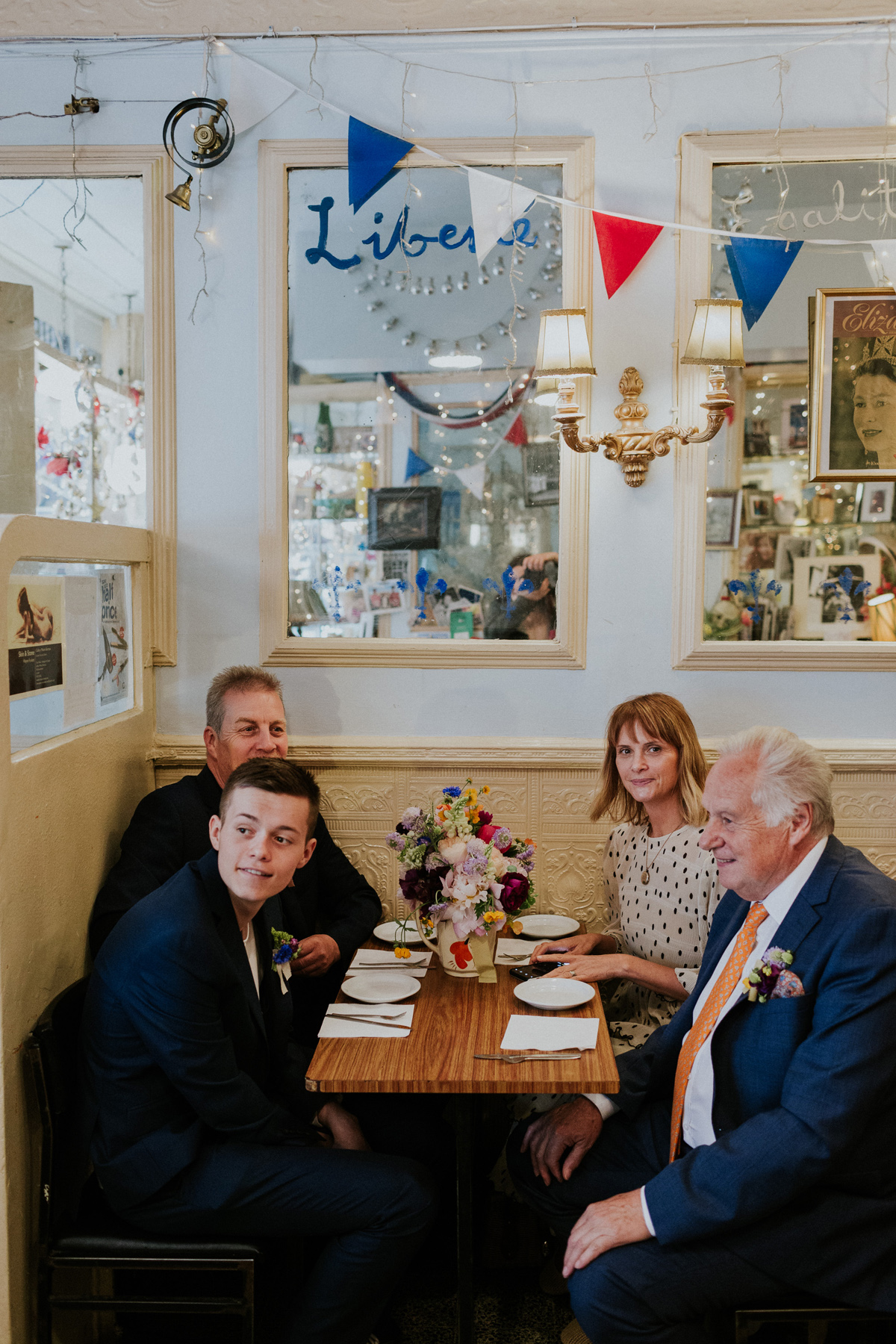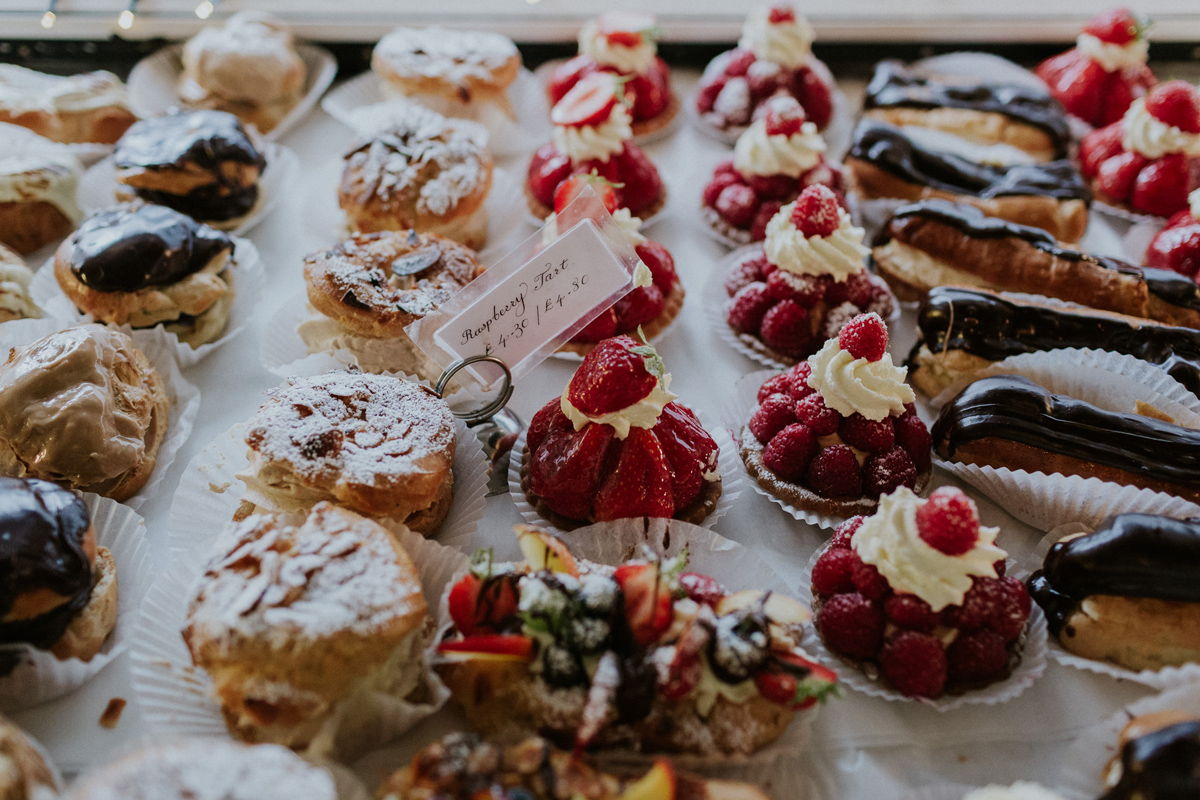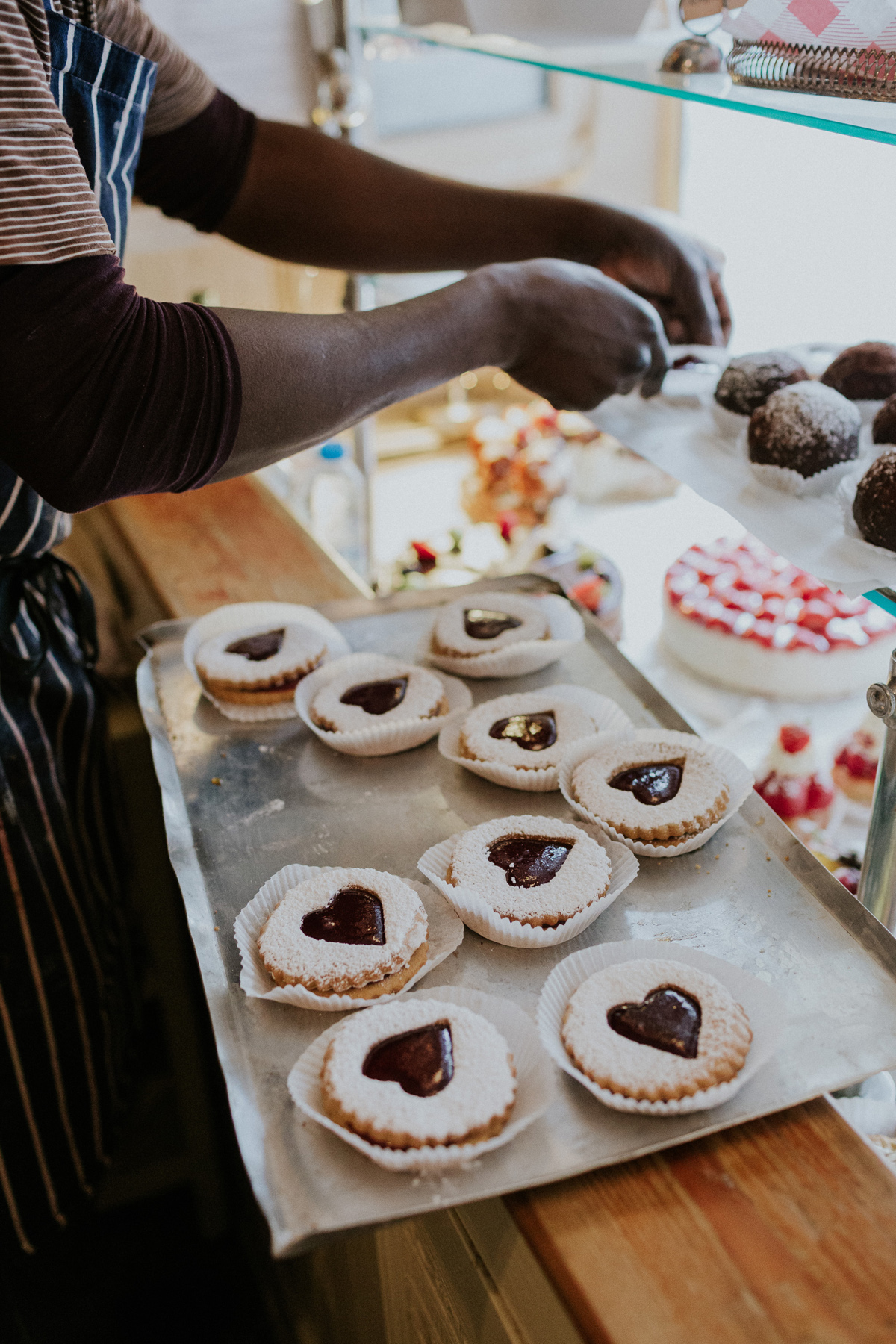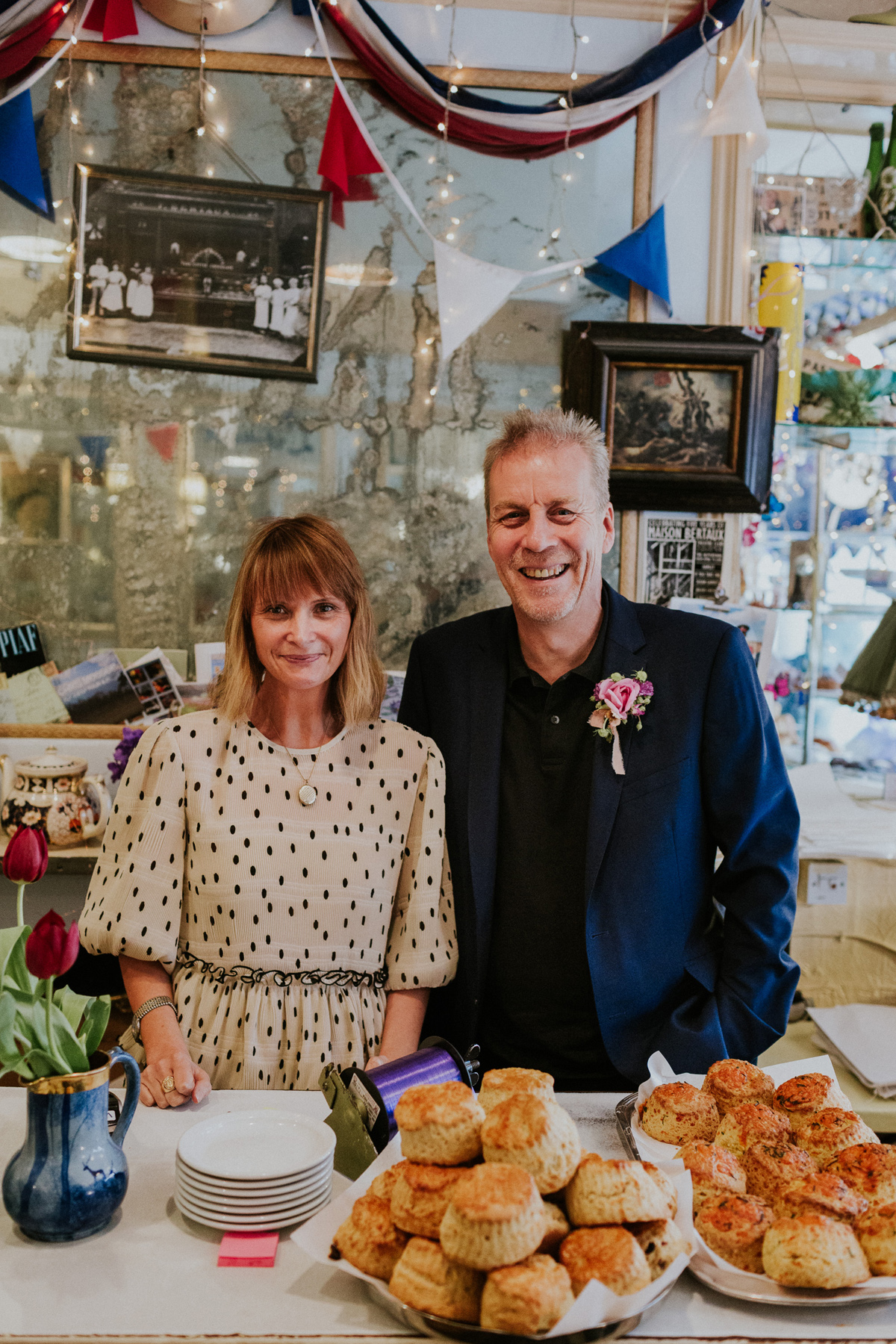 When it was time to leave, the newly married couple did so in serious vintage style – hiring a cream coloured 1967 Volvo Amazon Kombi from Classic Car Club to drive to their beautiful coastal honeymoon destination, Dungeness.
"We loved everything about the day, apart from the traffic getting there, but we were in our funny wedding car so even that was okay. I don't think either of us realised how sweet a day it would be."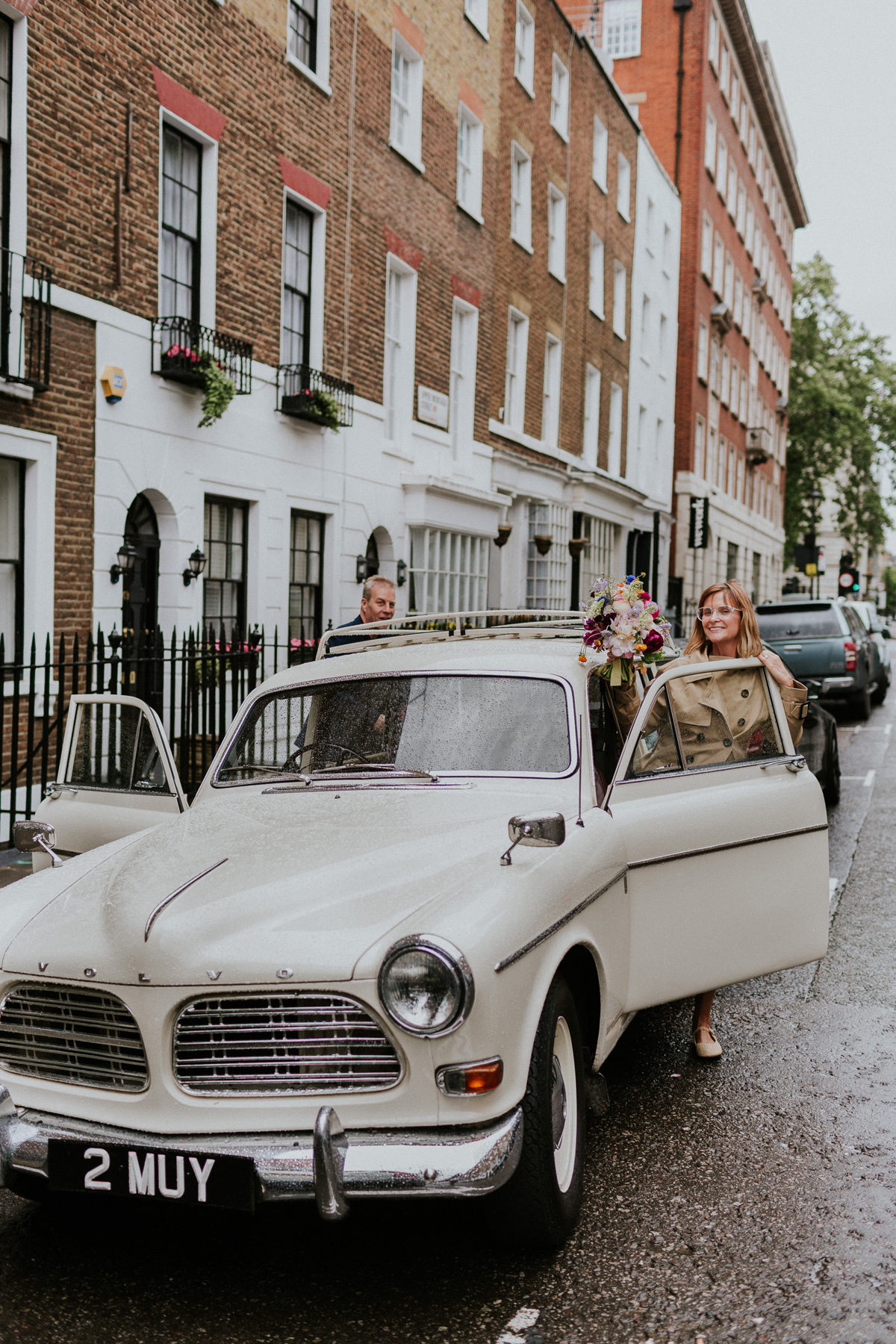 Words of Wedded Wisdom
"Do what you want, don't be swayed by other people and just enjoy!"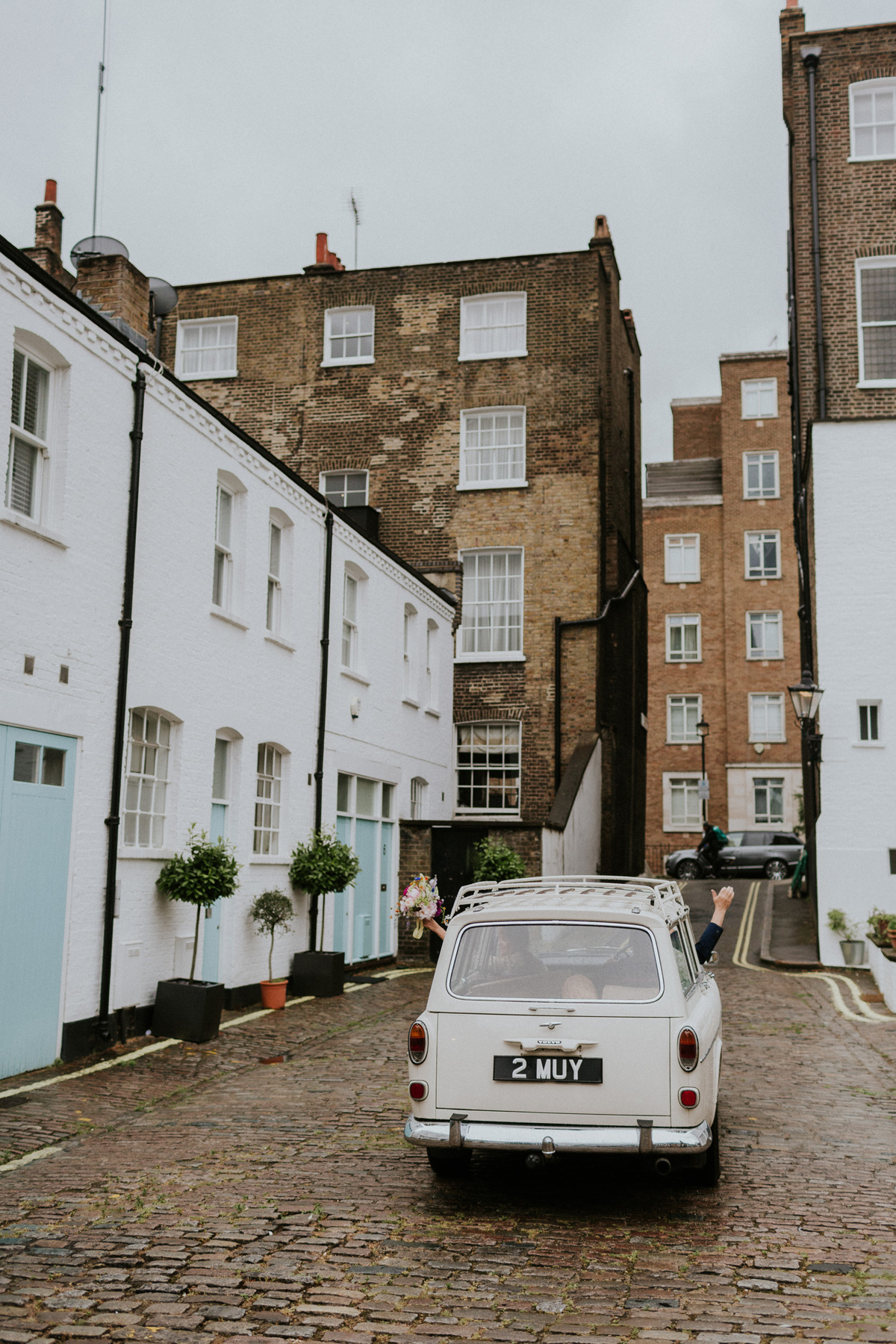 Kirsten and Mark, many congratulations and thank you so much. I can't tell you how much I've enjoyed writing about your beautiful day. Many thanks so Maja Tsolo for these exquisitely sweet images.
You can enjoy more of Maja's wonderful work on our pages, as well as more intimate, low key wedding celebrations, too.
With love,
Laura