Veils have become an iconic bridal accessory over the past century – an opportunity to make a statement, accentuate a look and feel or just be a little playful on your wedding day.
From something chic, simple and fuss free, to something more fashion conscious – perhaps adorned with pearls, to a lengthy cathedral worthy piece that follows effortlessly behind you as you make that walk down the aisle to your beloved. There are lots of choices out there, but knowing where to look and gain inspiration can be confusing.
Today, we're joined by the wonderful Lynsey, Founder and Head Designer at The Wedding Veil Shop as they celebrate the launch of their 2020 collection of stunning veils…
"We're so excited to bring you our new collection of veils for 2020! As ever, we strive to constantly ensure our range covers as many bridal veil styles as possible so that we have something for every bride that walks through our door or visits our website."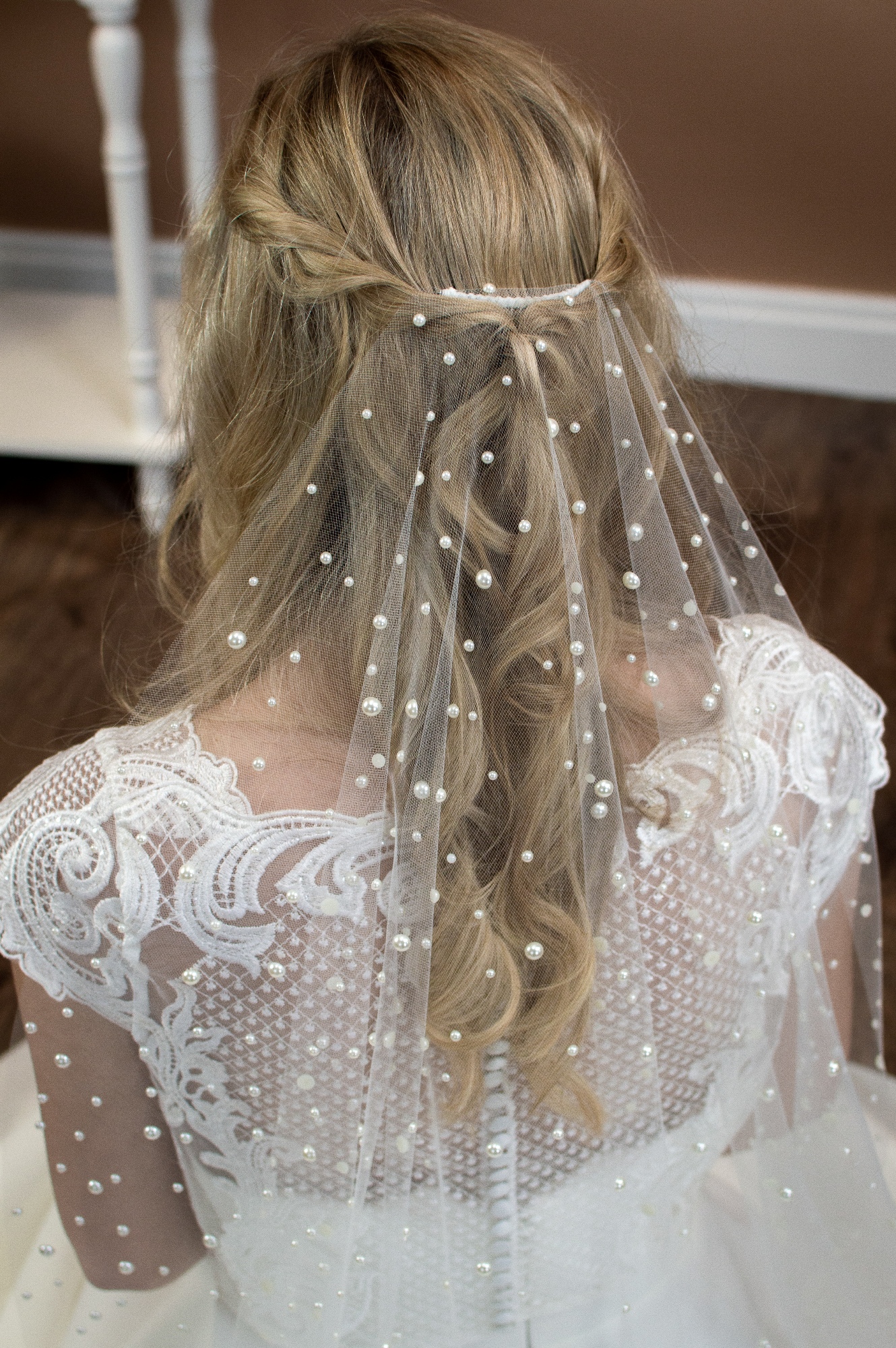 "Whether you're looking for a short, quirky, retro-style veil like Charlie or Priscilla, or a long, dramatic cathedral veil like Alexis or Scarlett, we've got you covered!"
"In addition, if you can't find exactly what you're looking for in our collections, you can always to try your hand at 'building' your own veil online with our Custom Veil Designer. This is something unique to our website that we're rather proud of."
The new veils, all hand-made by The Wedding Veil Shop team, are available in several gorgeous fabric options, including Italian style tulle, silk effect tulle and the fabulous, sparkling shimmer tulle as well as the traditional bridal illusion. I also love Poppy, one of the new veils, made in spotty tulle – perfect if you're looking for a vintage aesthetic. There are also embellishments galore, including glass crystals and pearls, sparkling diamantes and, of course, lots and lots of lace!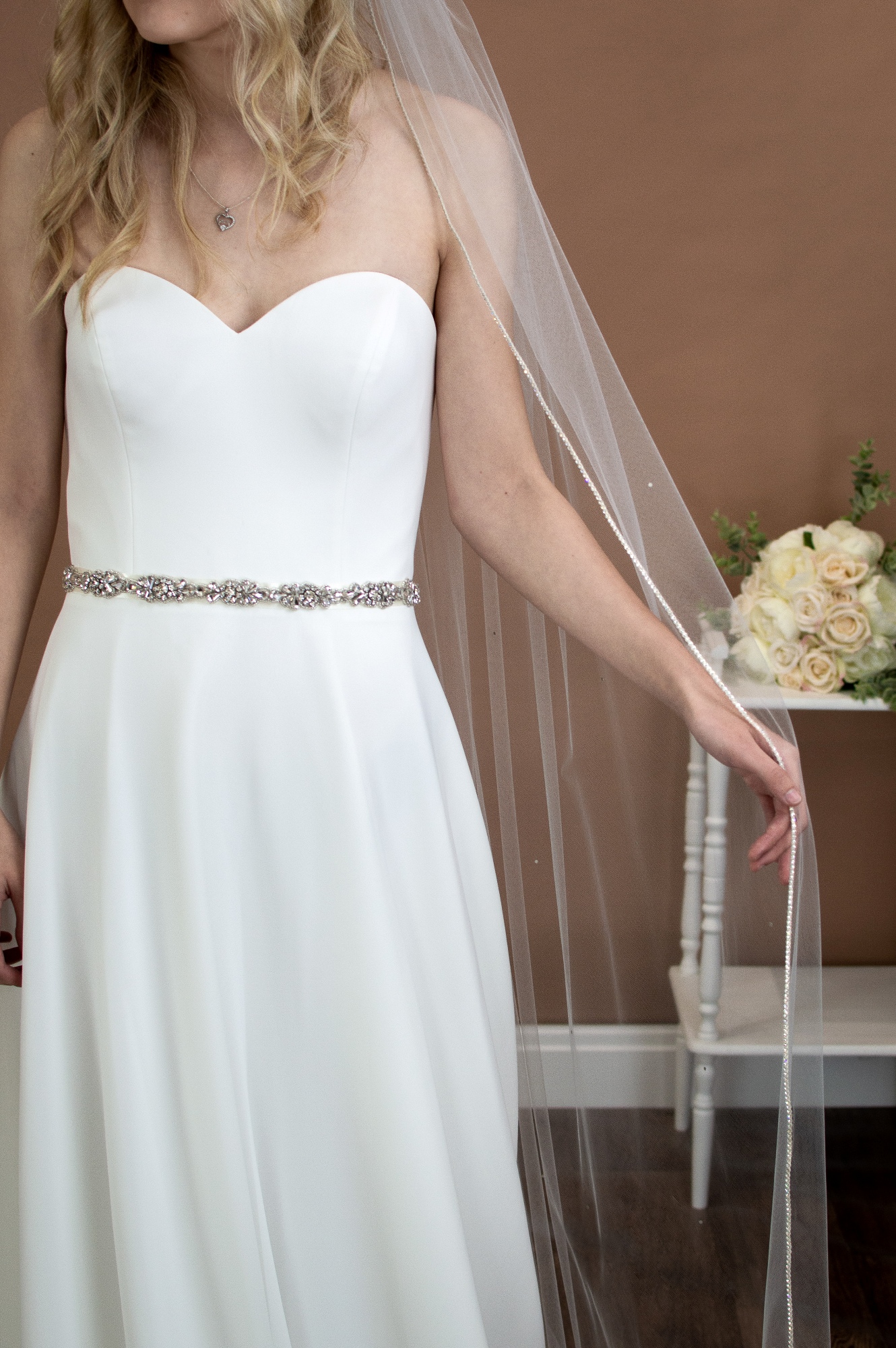 "A lot of the focus for the new collection went towards increasing the number of lace veils we carry. Previously, almost all of our lace veils were bespoke designs created through one-on-one consultations with brides. Now, we have over 30 lace veil designs that they can just pop into their baskets — bliss! This is great for busy brides that don't want to go the bespoke route and want the reassurance that if the veil is not quite 'the one' it can be returned or exchanged."
Moving into 2020, Lynsey predicts that long veils are going to be extremely popular, helped no doubt by celebrity fans such as Meghan Markle, Priyanka Chopra and even Hailey Bieber.
"I'm fully here for the new long veil movement! The longer the better in my opinion! The traditional chapel and cathedral length veils are great, of course, but we'll also see exaggerated, extra-long veils up to 4 or 5 metres in length."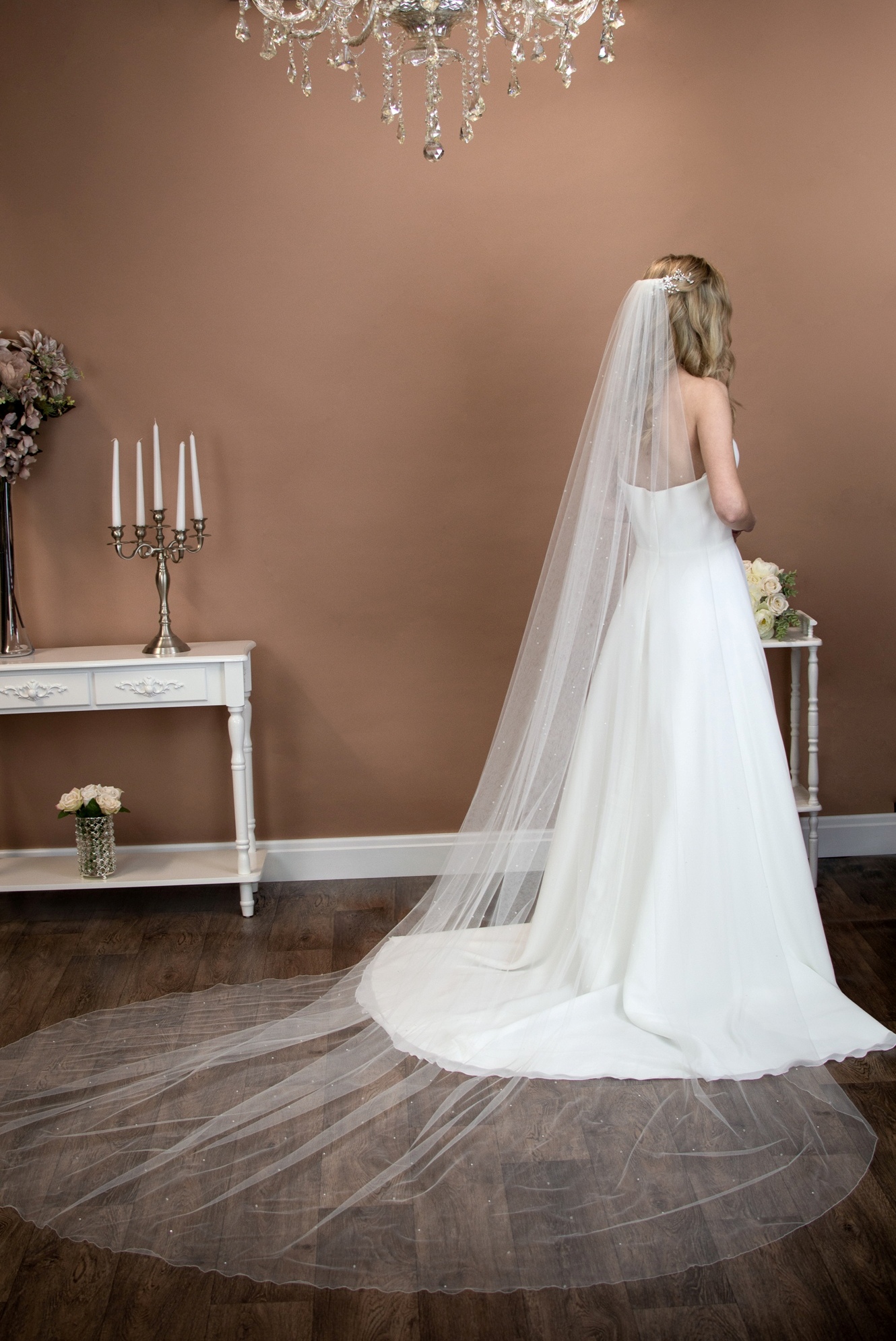 "There's also been a surge in requests for longer, rather than standard blushers on veils and also drop veils, which are the really soft and flowy styles without any gathering. Hence our new veil Caitlyn which features a fingertip length blusher and a delicate hand cut edge."
I've been very happily browsing the new collection on The Wedding Veil Shop's website and I have quite a long list of favourites, varying in style and length. I love the 'barely there' Violet fingertip veil, scattered with pearls and then there's the exquisite lace edging on Tamsin. I've also got a soft spot for Charlie, the super cute two-layer shoulder length veil that would be great for a modern bride looking for a bit of an edgy vibe to her veil. Lynsey also has a favourite:
"I have a definite favourite in the new collection, and that's Elizabeth, a fabulous two layer cathedral length veil with ornate lace and appliques. This veil epitomises everything I love in a veil. It's just me to a tee".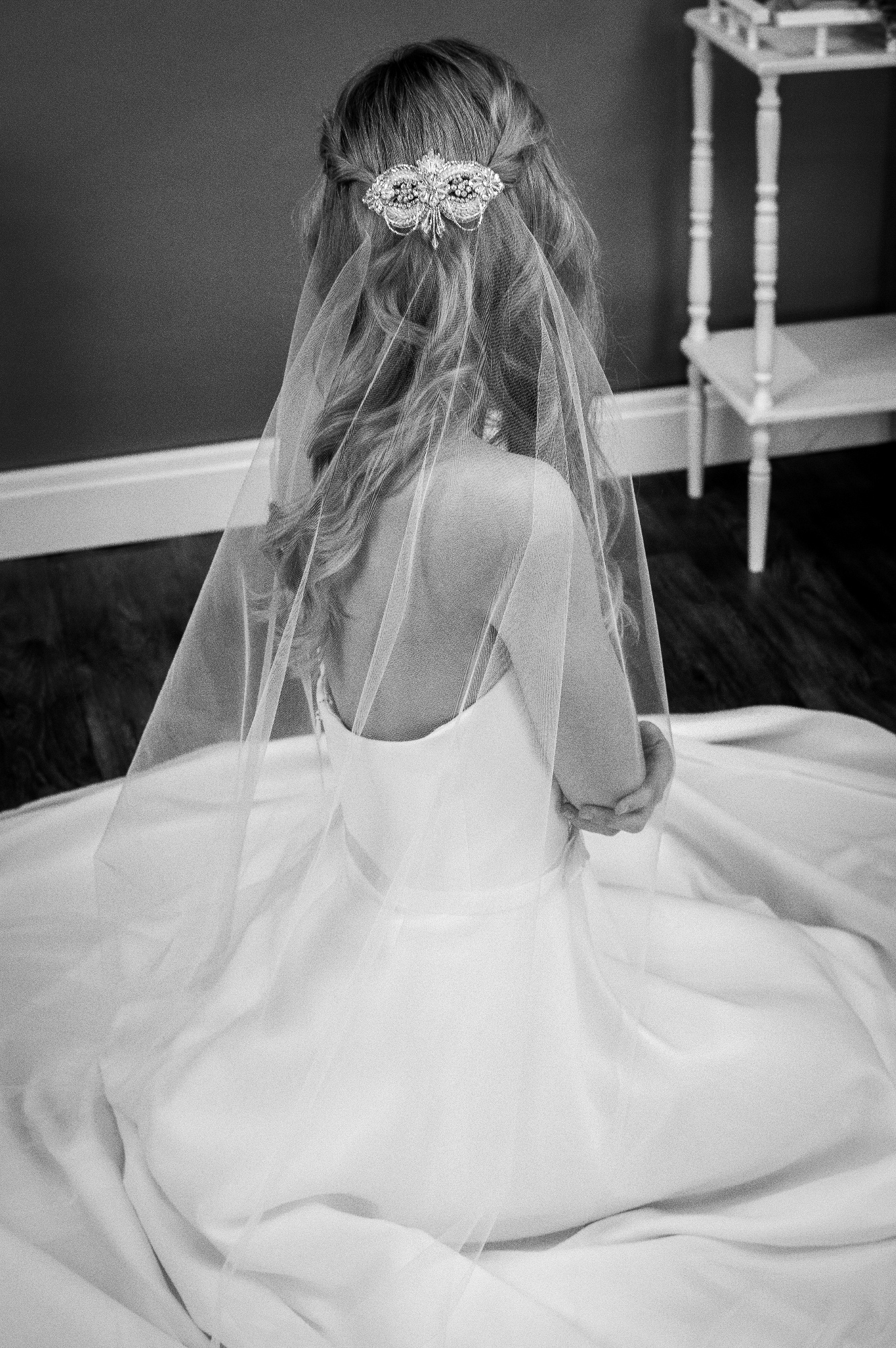 If veils have now leapt up your wedding priority list, it's worth keeping in mind that Lynsey recommends that you have your wedding accessories organised around 4-6 months before your wedding so that you have everything you need for final fittings and hair trials. The majority of the veils from The Wedding Veil Shop take around 3 weeks to make but rest assured, there's a rush option available if time is pressing. But, how do you choose?
Well, Lynsey is, quite literally, here to help:
"Finding the perfect veil is no easy task. There are just so many options; short or long; blusher or no blusher; plain or detailed… The list goes on. But the good news is, if you're feeling completely lost, and you've already talked your bridesmaids' ears off, you are more than welcome to reach out to us. We're always happy to talk to our brides and, hopefully, with our expertise, we can pin down the type of veil you're after relatively painlessly."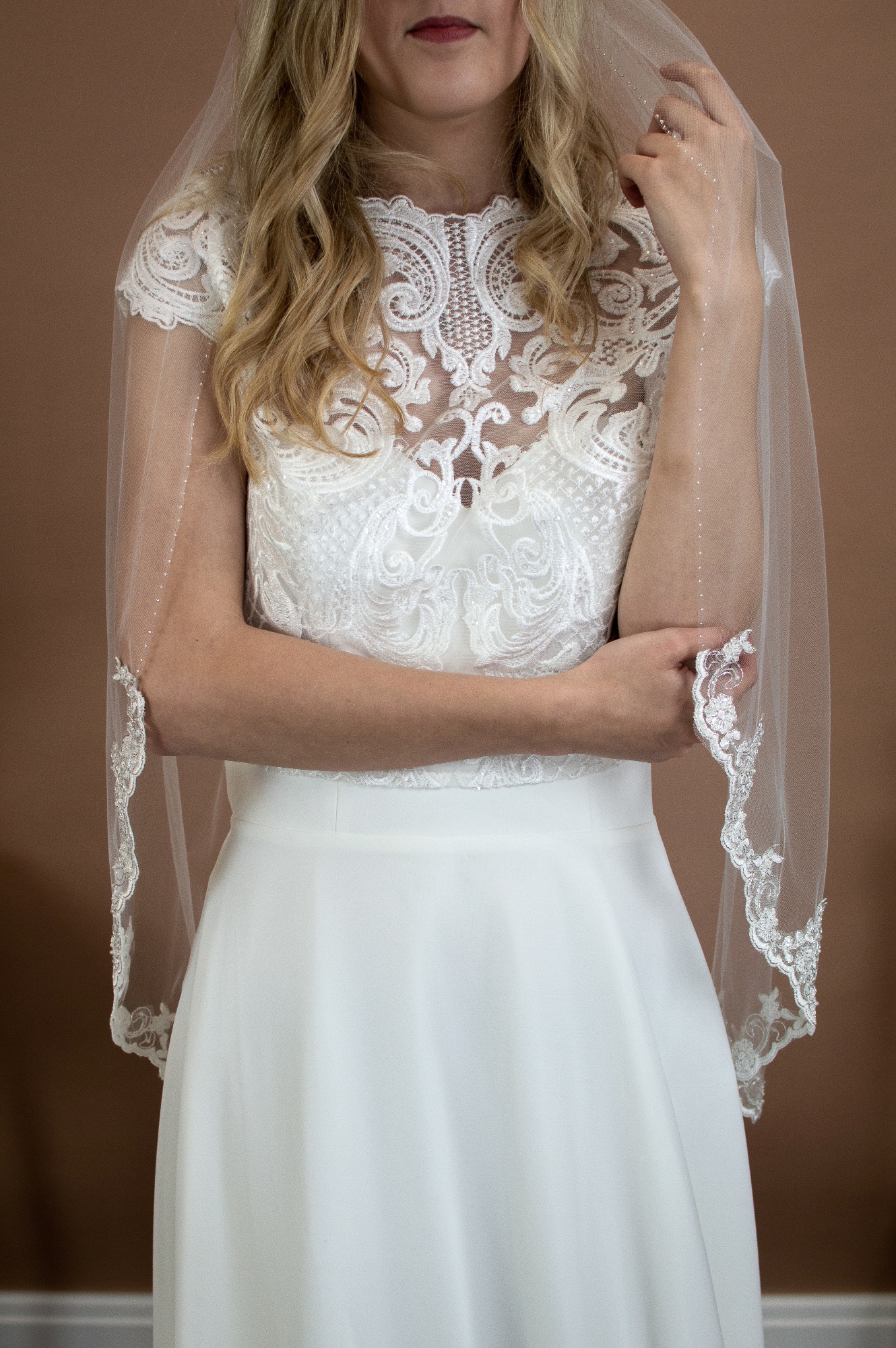 You'll be happy to know that the 2020 collection from The Wedding Veil Shop is now available online so why not click on over to their website now and find the perfect veil for you today. If you'd like to get in touch with Lynsey and the team, you can do so here and if you'd like to view the veils in person, you can make an appointment at the boutique, Taylors Bridal, based in sunny Blackpool.
Love,
Tamryn x