There's something very special about a wedding at a family home, and today's completely charming celebration takes place in the beautiful Kent garden of the groom's parents. Here, our couple were supported by their family and brilliant caterer in planning their day whilst living and working abroad – and it all came off wonderfully.
Shelley, who works in compliance, and Tom, who is a sugar trader, celebrated their marriage on the 18 August in an outdoor ceremony at Tom's family home in Meopham, Kent, followed by a laid back marquee reception.
"Being Tom's family home, it obviously has a very special place in our hearts, and the garden and surrounding fields are gorgeous. It was just the natural choice."
Images by Matt Ebbage Photography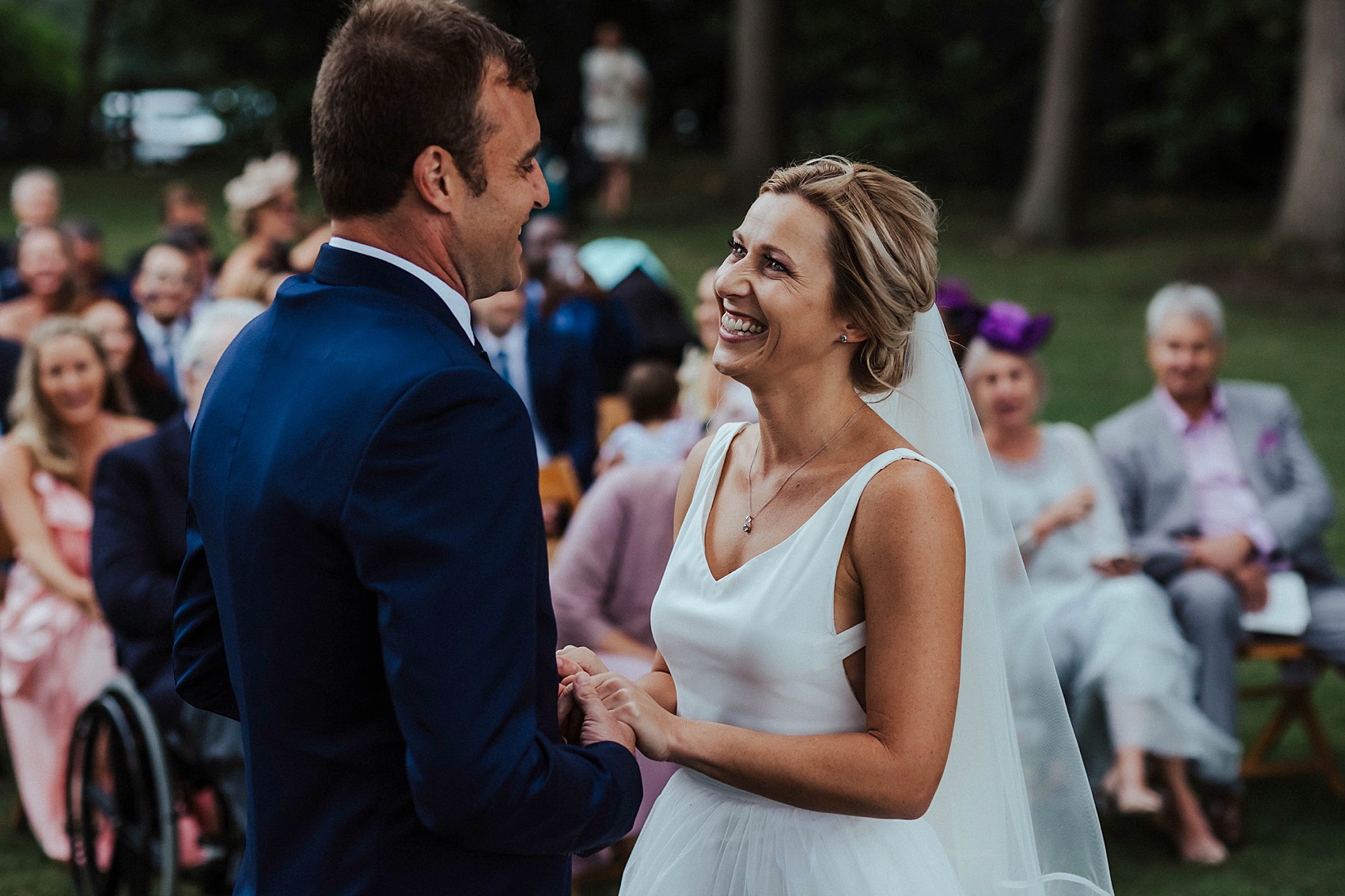 Shelley wore her hair in a loose and pretty chignon, styled for her by Kent Wedding Hair by Karlie, and her lovely and natural make-up look was created for her by make-up artist Louise Victoria Birmingham.
Shelley's backless dress, with its soft, light (and detachable!) tulle skirt and elegant camisole style top was made for her in Bangkok (sadly, no further details as to where), based on a design she found that she liked.
"I wanted something simple, and most importantly comfortable, but I also couldn't decide if I wanted a puffy 'I'm getting married!' dress, or something a little bit more figure hugging. So, I went for the detachable skirt option, so I had the best of both worlds."
On her feet, Shelley wore a comfortable pair of metallic sandals she already owned, which she found at The Tui Collection in Bali, and to accessorise, she wore an aquamarine solitaire necklace and earrings as her 'something blue'.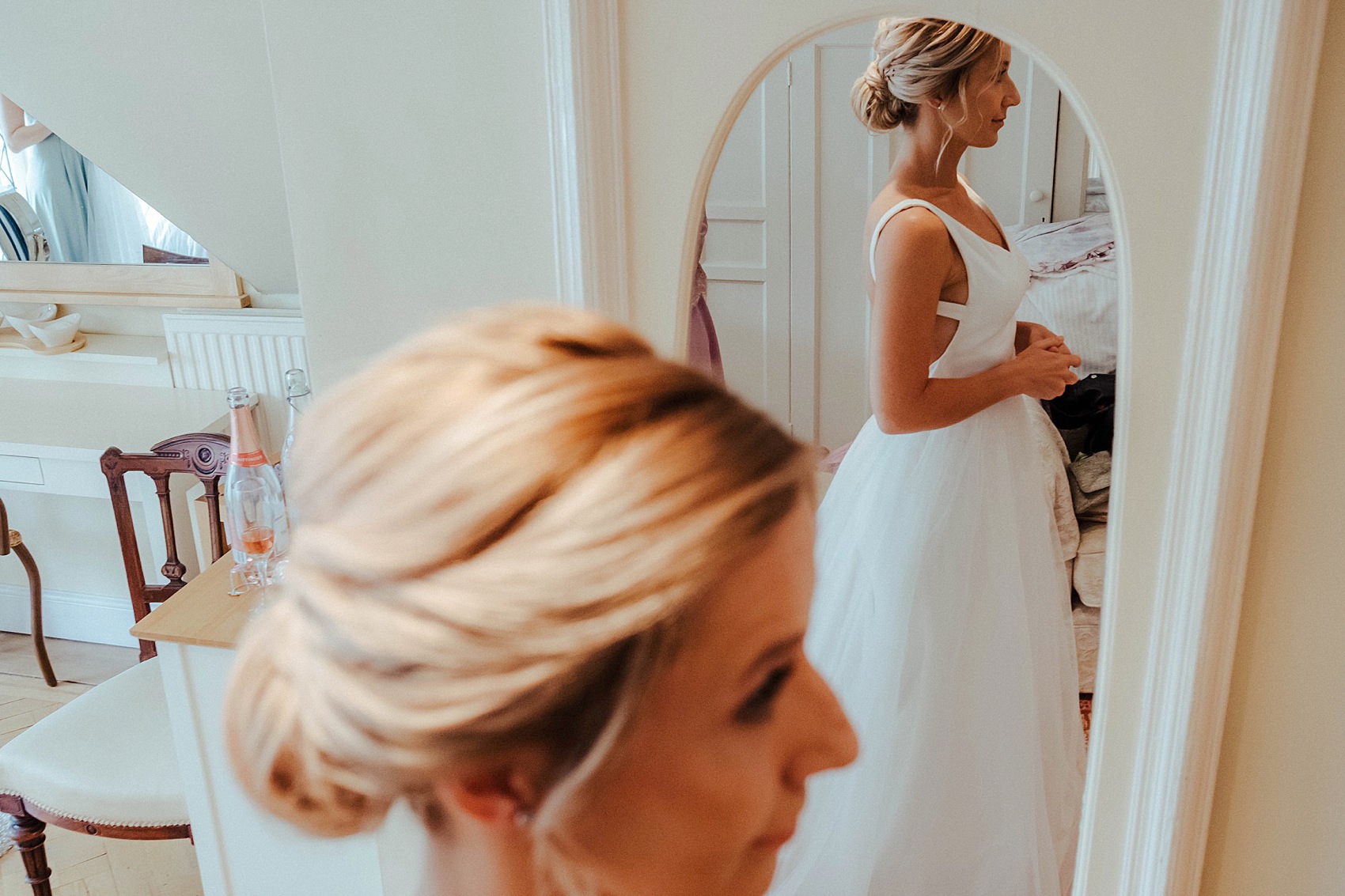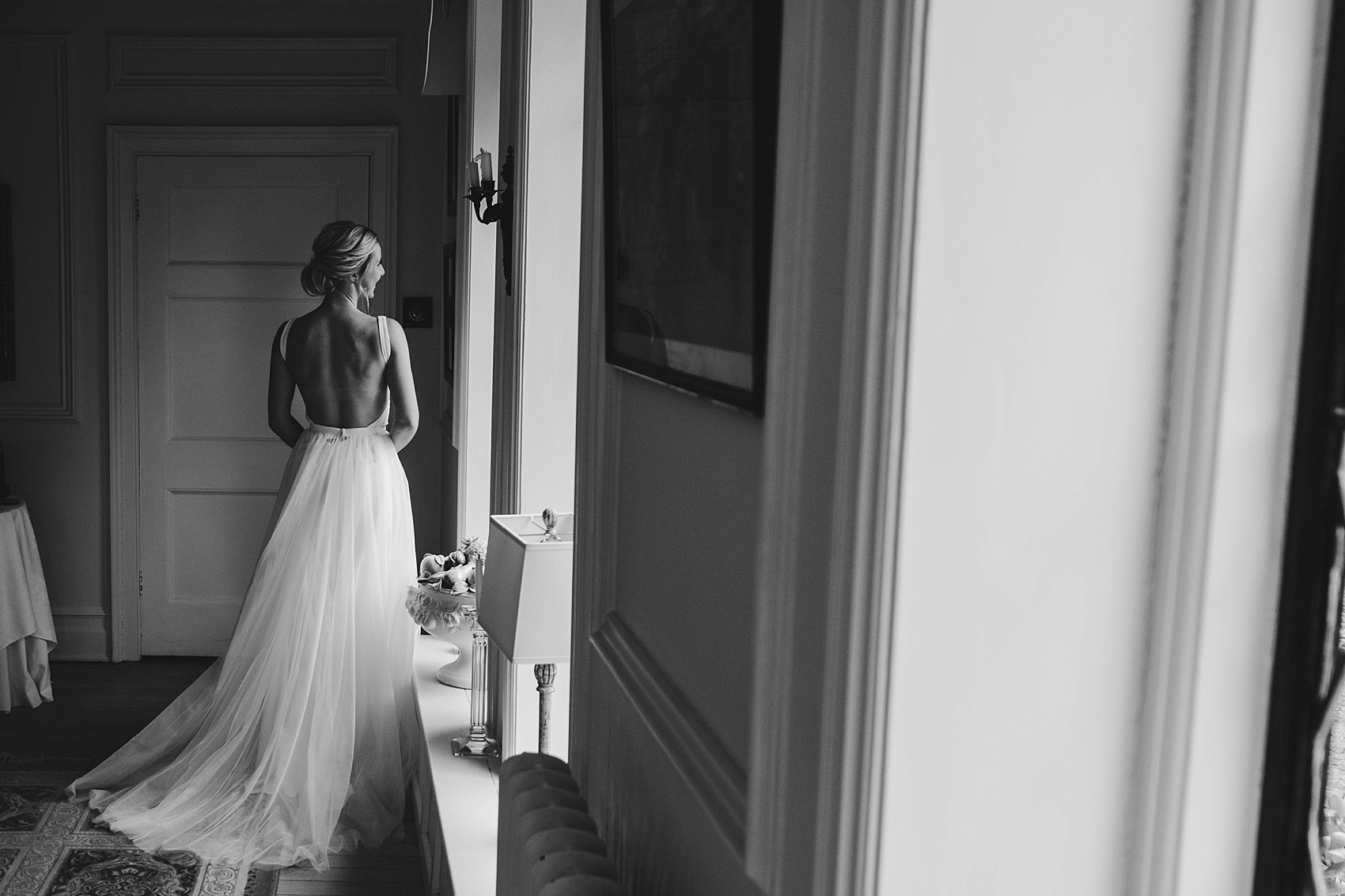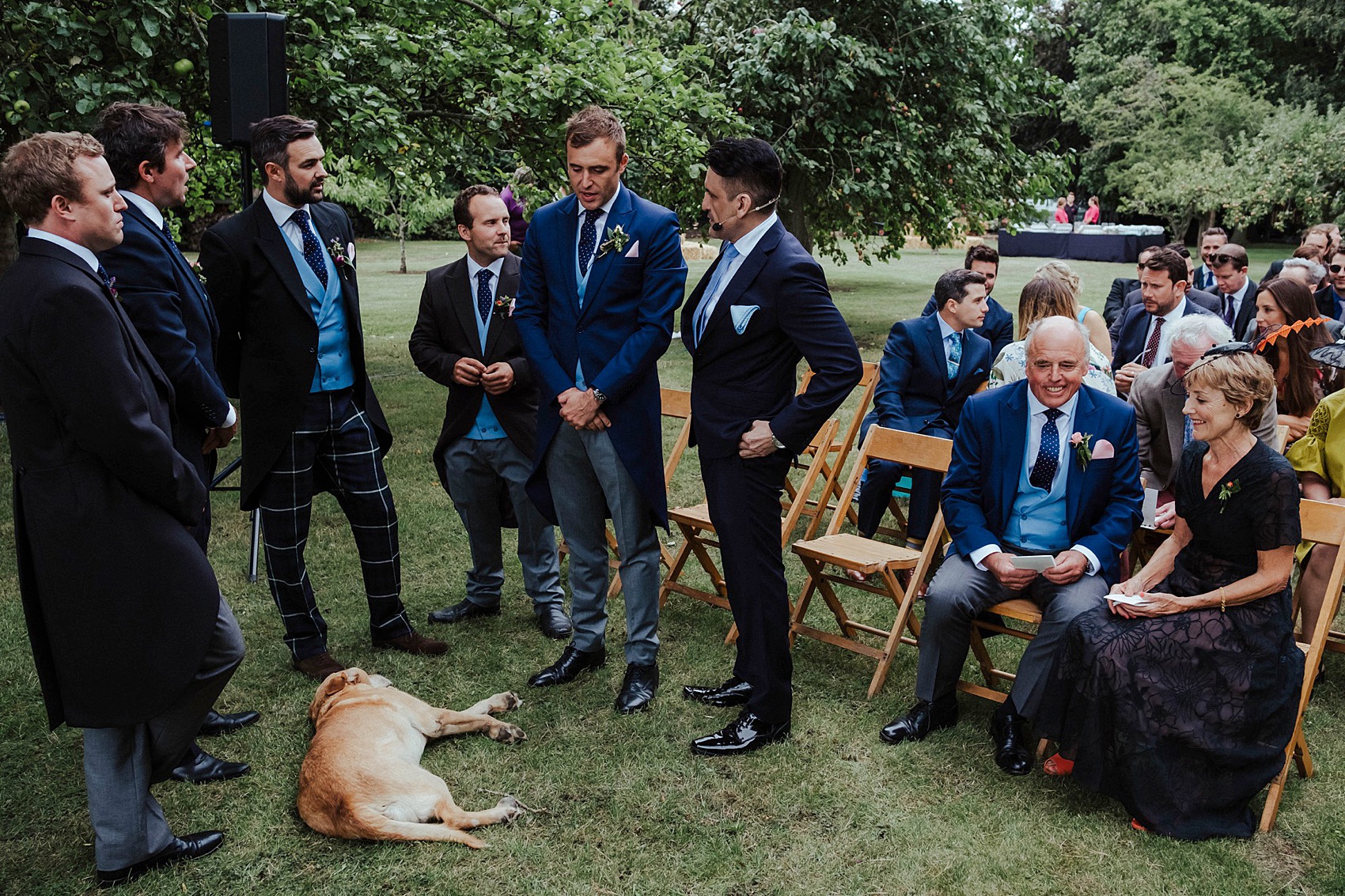 Going ahead of Shelley down the grassy aisle were the sweetest little flowergirls wearing tulle pastel dresses made by Shelley's mum, and a smart page boy wearing an outfit from River Island.
"My dad and my brother accompanied me down the aisle to Here Comes the Sun by The Beatles. My dad is in a wheelchair and thus my brother kindly pushed him – it was obviously lovely having my brother there too!"
To make her dreamy look complete, Shelley wore a simple tulle veil borrowed from a friend, and added a mist of perfume – Love Story, by Chloe.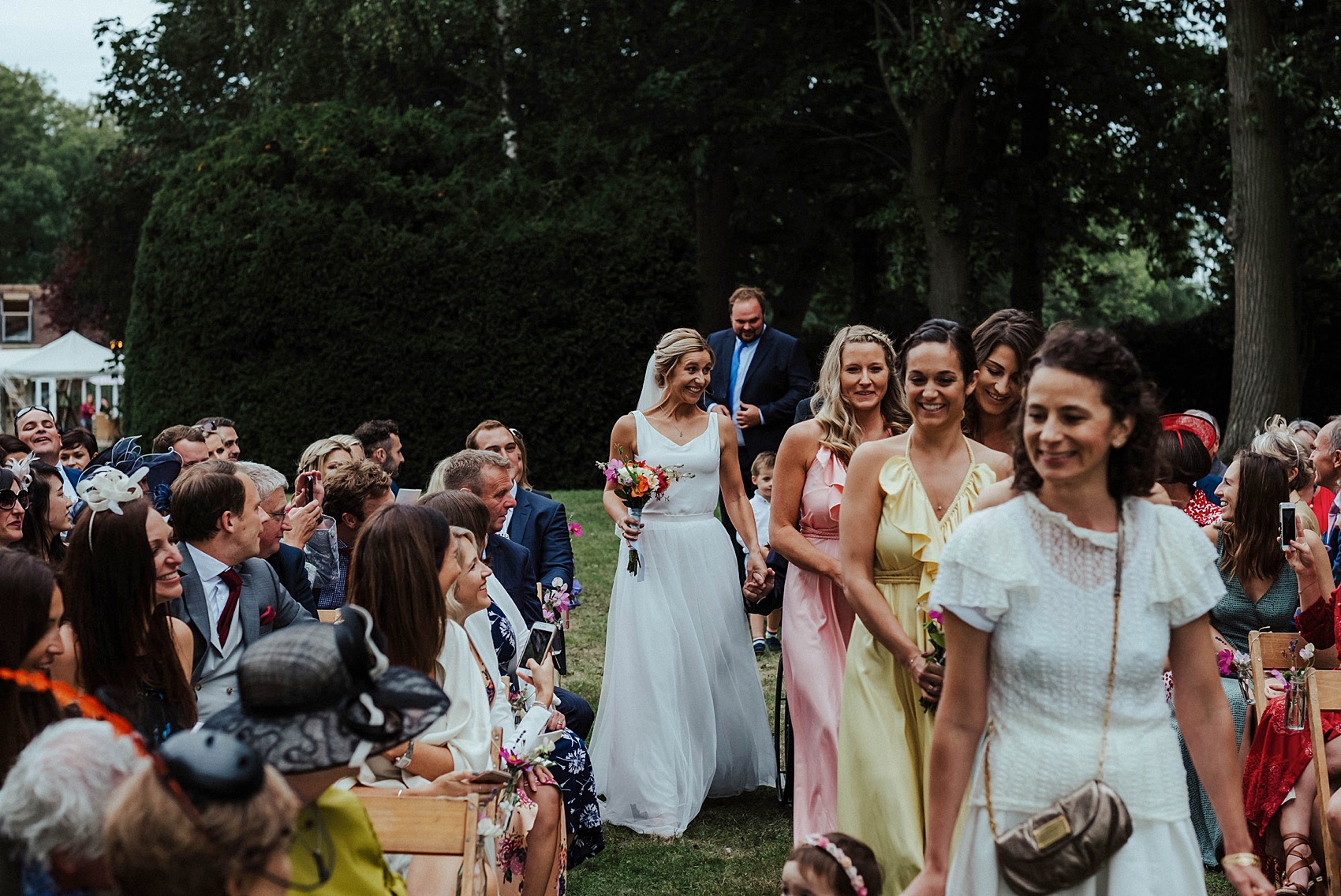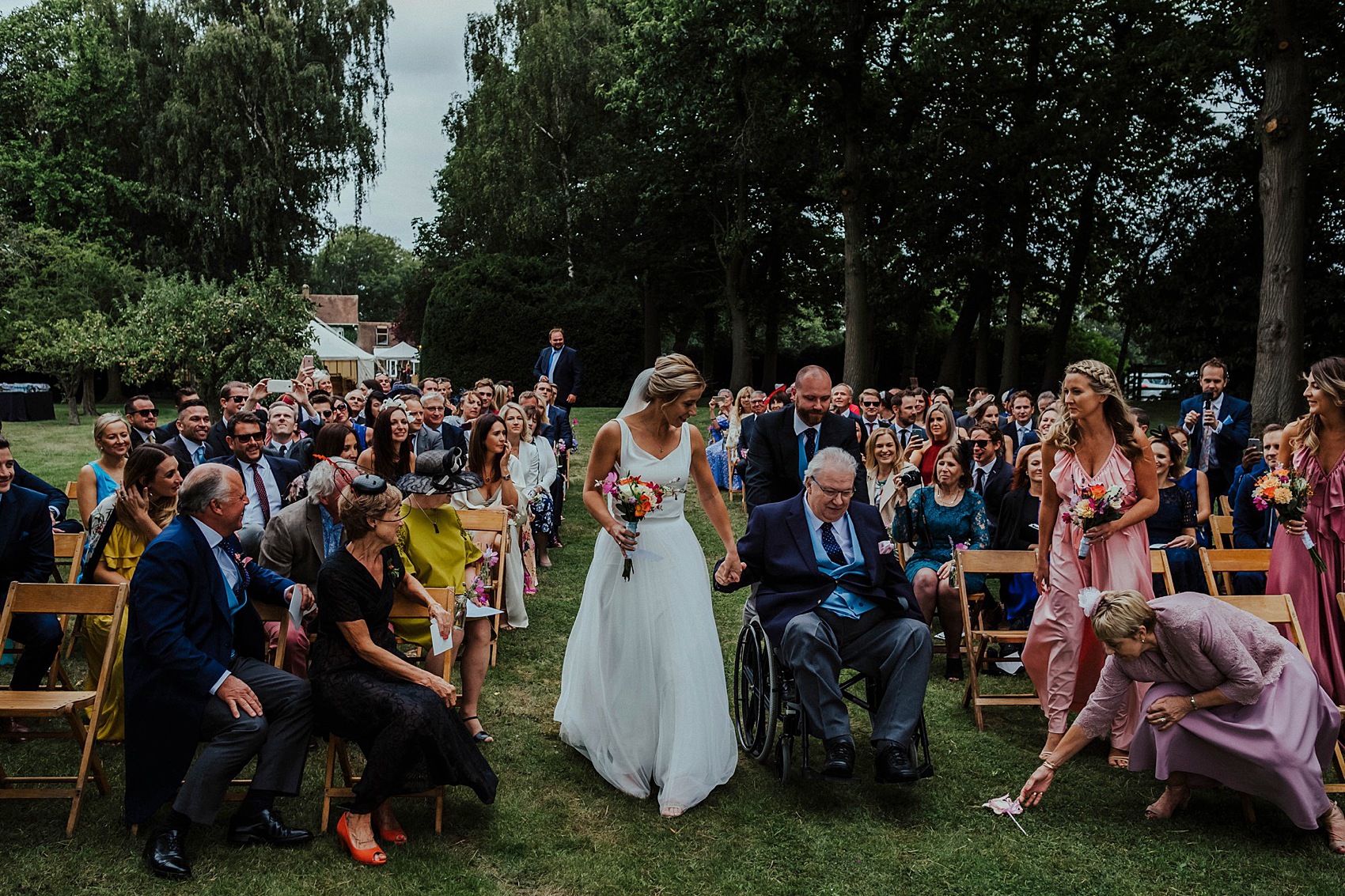 Here, Tom was waiting, wearing a handsome, classic morning suit in navy blue, with a pale blue waistcoat and polka dot tie, which he had custom-made in Bangkok (no further details provided, sadly).
"We're one of those on-and-off couples that got there in the end! We met in 2009, dated on and off, then both moved countries in between, and then ended up in Singapore together and getting engaged 8 years later."
"Our celebrant – well this is a funny story really. Our American friend Chris, who is our equivalent of Joey from Friends, became ordained a few years ago, trying to encourage Tom to propose, so obviously when the time came, he was the one who did it for us."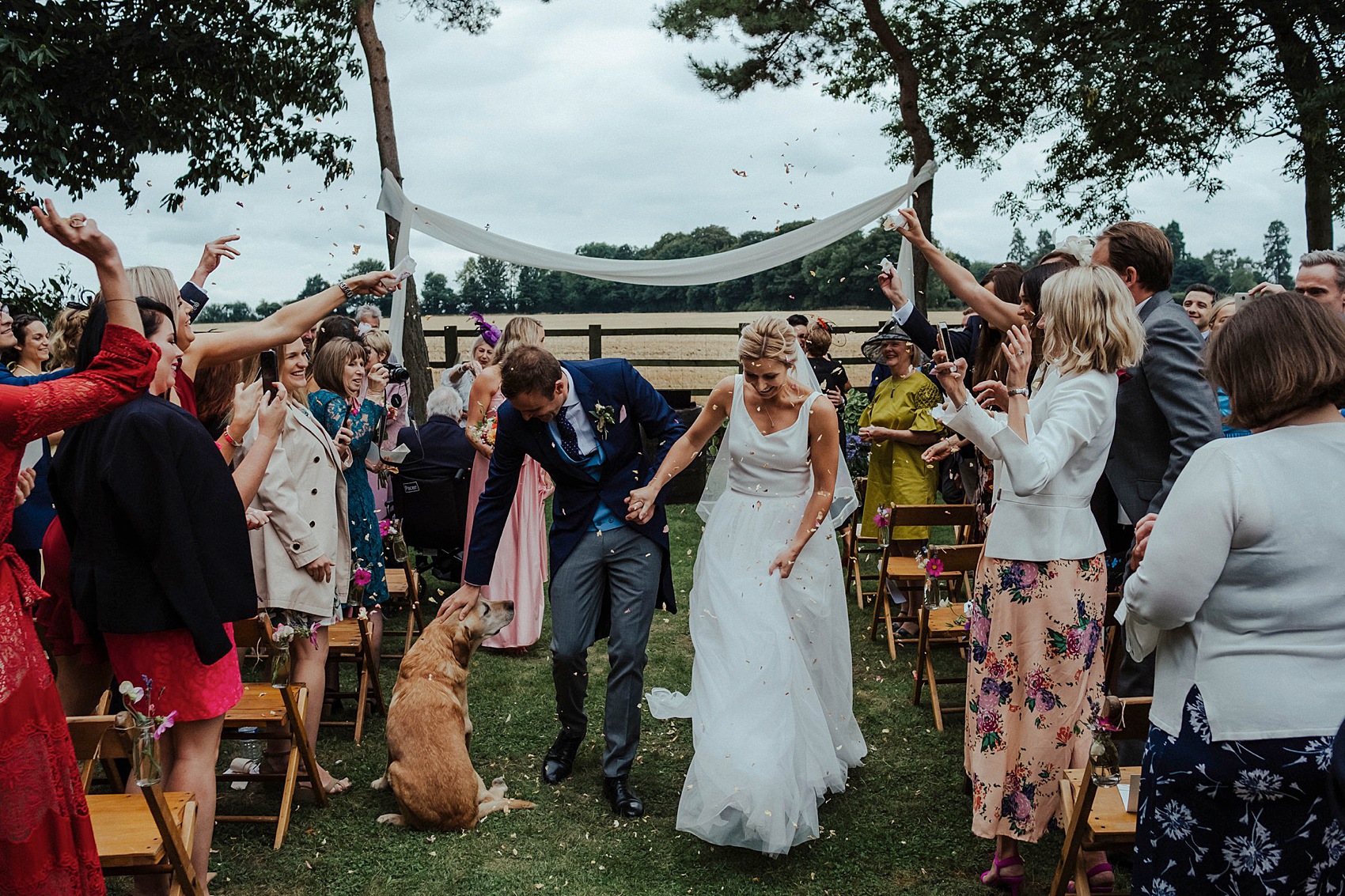 Surrounded by their loved ones, including the faithful family hound, Shelley and Tom exchanged simple vows and gave each other rings, which they both had made in Bangkok (sadly, no further details given).
There were two ceremony readings, too, which were chosen by those who had been asked to deliver them. Tom's aunt chose the very fitting, How Falling in Love is like Owning a Dog, by Taylor Mali, and the second reading was Kahlil Gibran's beautiful poem, On Marriage.
As husband and wife, Shelley and Tom made their merry way back up the garden aisle, showered in confetti, and stopping for a quick canine hello on the way!
They joined their loved ones for relaxed drinks, and took some time for lovely group shots with their wedding party, all captured with a light, fun and effortless touch by their photographer, Matt Ebbage.
"Hire Matt, he is fabulous! He not only captured the feeling and mood of the various moments throughout the day, he captured real, natural photos of everyone, so beautifully. Matt is great fun, constantly making people laugh and always helping out. Honestly, he is just such a talent and an incredible person."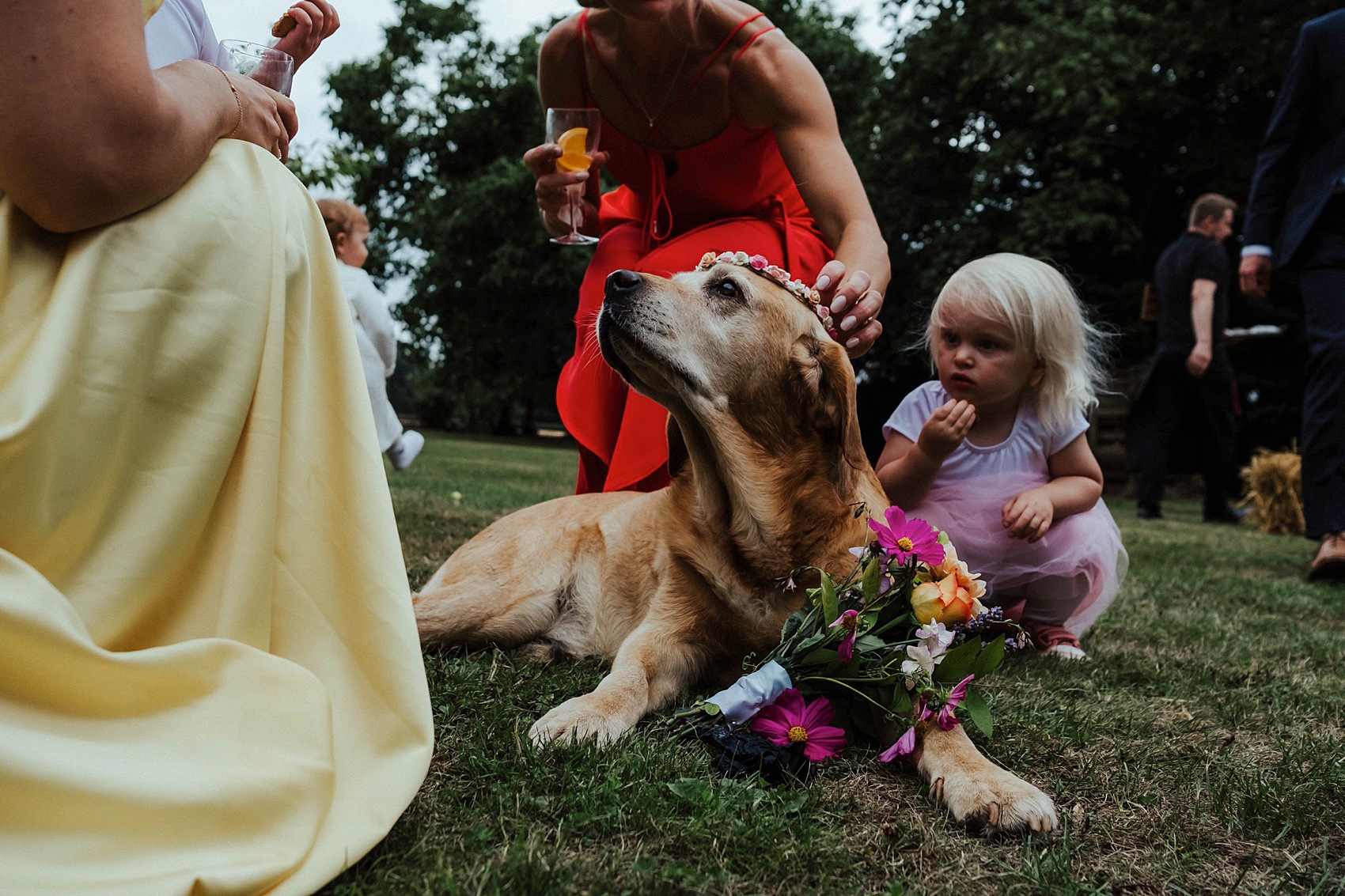 Whilst on her hen party in Bali, Shelley came across the perfect ruffled, halterneck bridesmaids' dresses from boutique and spa, Gold Dust. I love the different fresh and summery pastel colours – they complement one another beautifully.
The gorgeous homegrown bouquets carried by Shelley and her bridesmaids were filled with summer beauties like roses, sweet peas, cosmos and lavender, all made by friends and family the day before the wedding.
"All of the flowers were grown in Tom's folks' garden by his amazing mum or came from his aunt's garden, grown by his fabulous aunt."
For the wedding meal and evening reception, there was an elegant marquee, decorated with paper lanterns hanging from the ceiling canopy. Beneath, there were long wooden dining tables flanked by folding chairs, both courtesy of Rustic Hire, who also provided a chalkboard, wooden barrels, and the bar set up for the day, too.
"Given it was a country garden wedding, and we were doing everything ourselves, we just wanted things to be natural and relaxed, yet chic. It was more about being comfortable and having great food, music and plenty to drink. We just wanted everyone to have a good time."
White chiffon table runners were decorated with candles and more homegrown flowers and greenery, and place settings were white pebbles with guest names handwritten in gold ink.
Shelley changed her look by removing her tulle skirt to reveal a slinky silhouette beneath, and everyone enjoyed more drinks and speeches, before moving inside the marquee to welcome the newly married couple to dinner, all prepared and cooked by Cuisine Studio.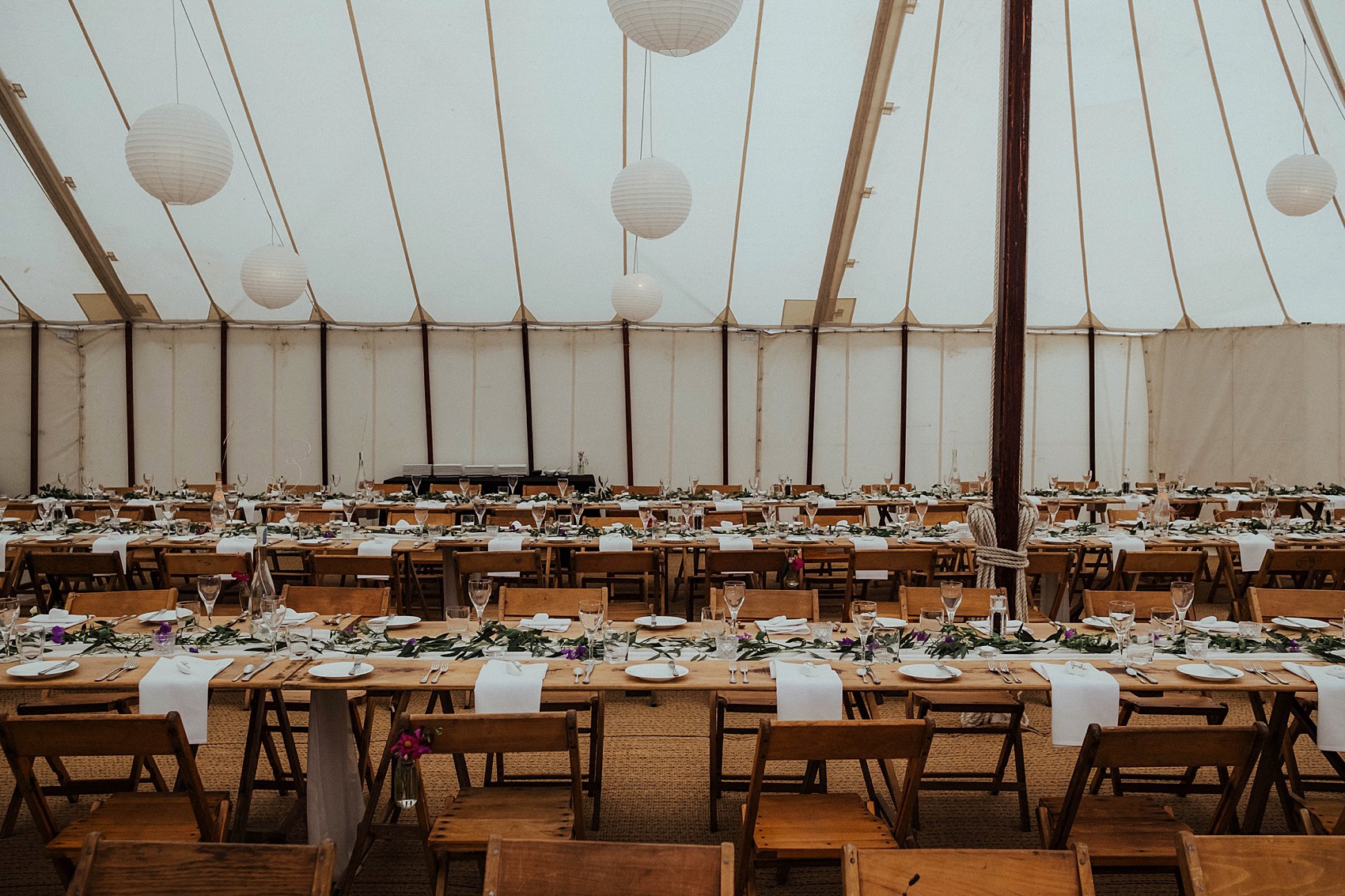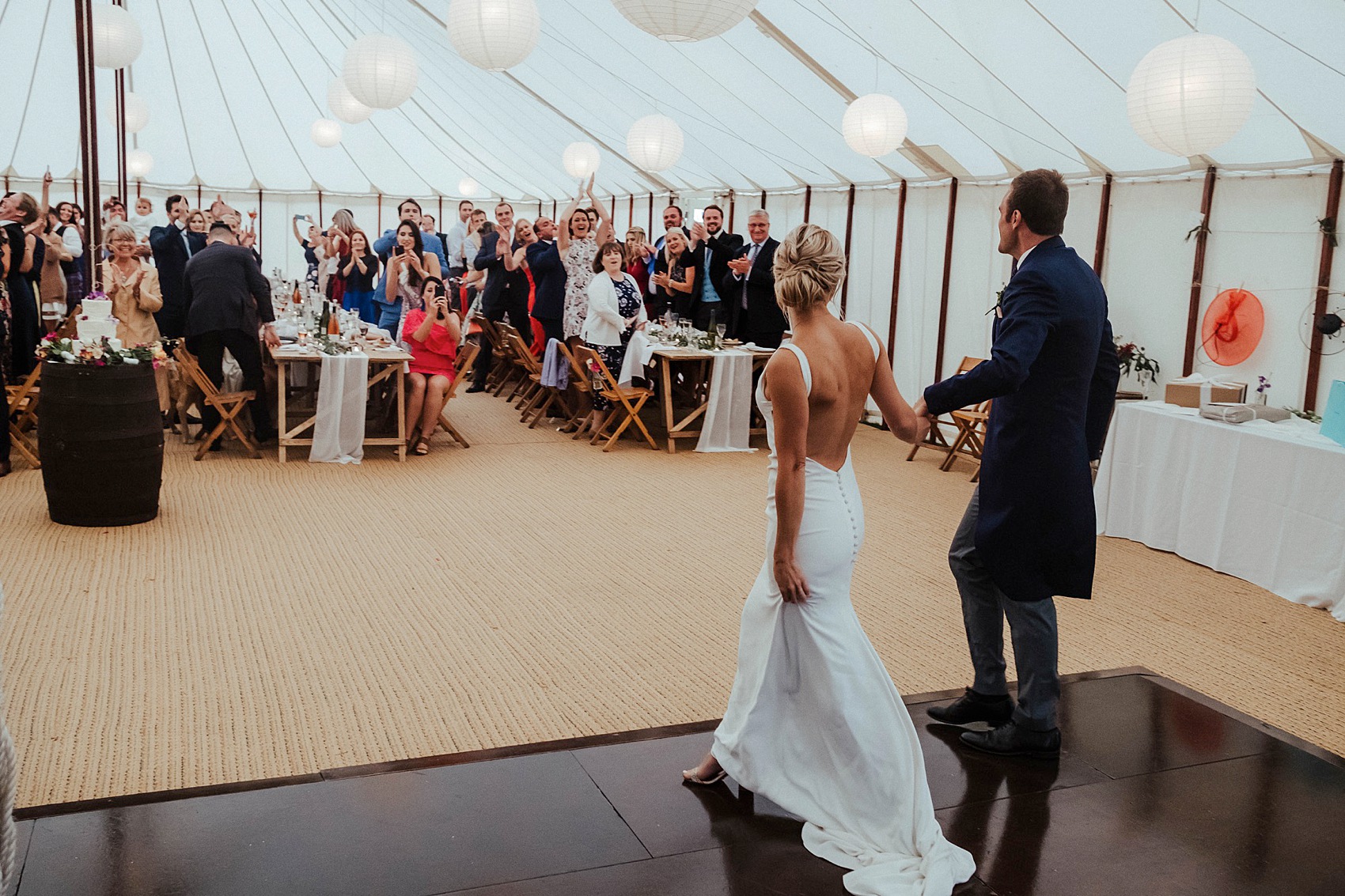 "Our cake was made by Sue Pridie of All Shapes and Slices Cake Co. I actually found Sue on Google and just loved her pictures. She was also so, so kind, and decorated the cake with some flowers from the garden when she delivered it. It looked gorgeous and was delicious."
"Our caterer Joannah, of Cuisine Studio was incredible. Tom and I live in Bangkok, and thus planning a wedding from abroad is tough. I am also South African and have the local knowledge and contacts etc., but between Joannah and my amazing mother-in-law, we had everything covered and more."
"Honestly my in-laws are just phenomenal, the effort they went to was mind blowing, and our wedding was simply perfect."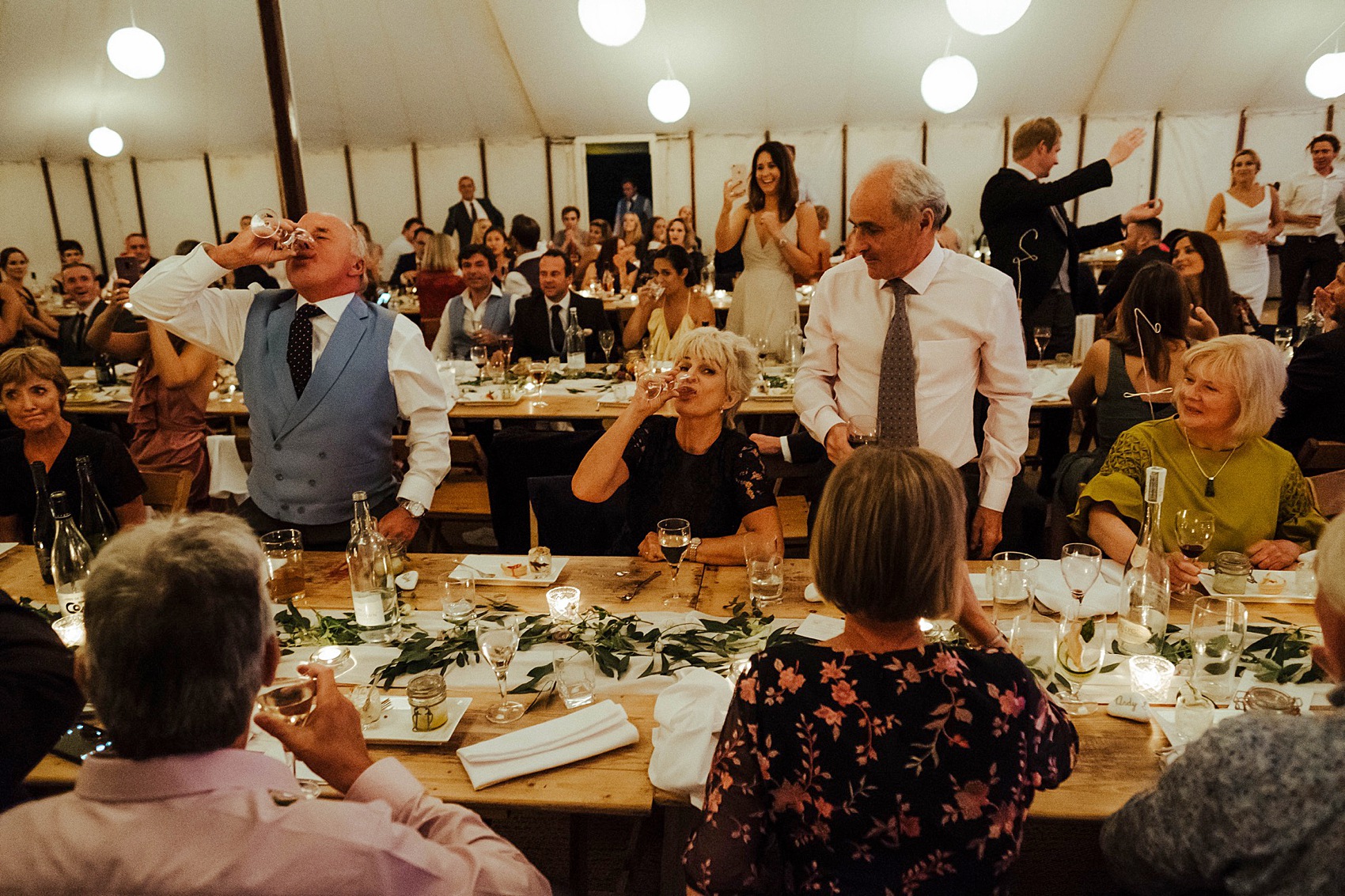 Evening entertainment was something rather special, in the shape of band Not The Rolling Stones – whom a friend of Tom's father is a member of. As a result, Shelley and Tom's first dance together was chosen from the band's set list, and was Wild Horses.
"We basically had an actual concert during the wedding, it was amazing! The guests were blown away, it really was spectacular."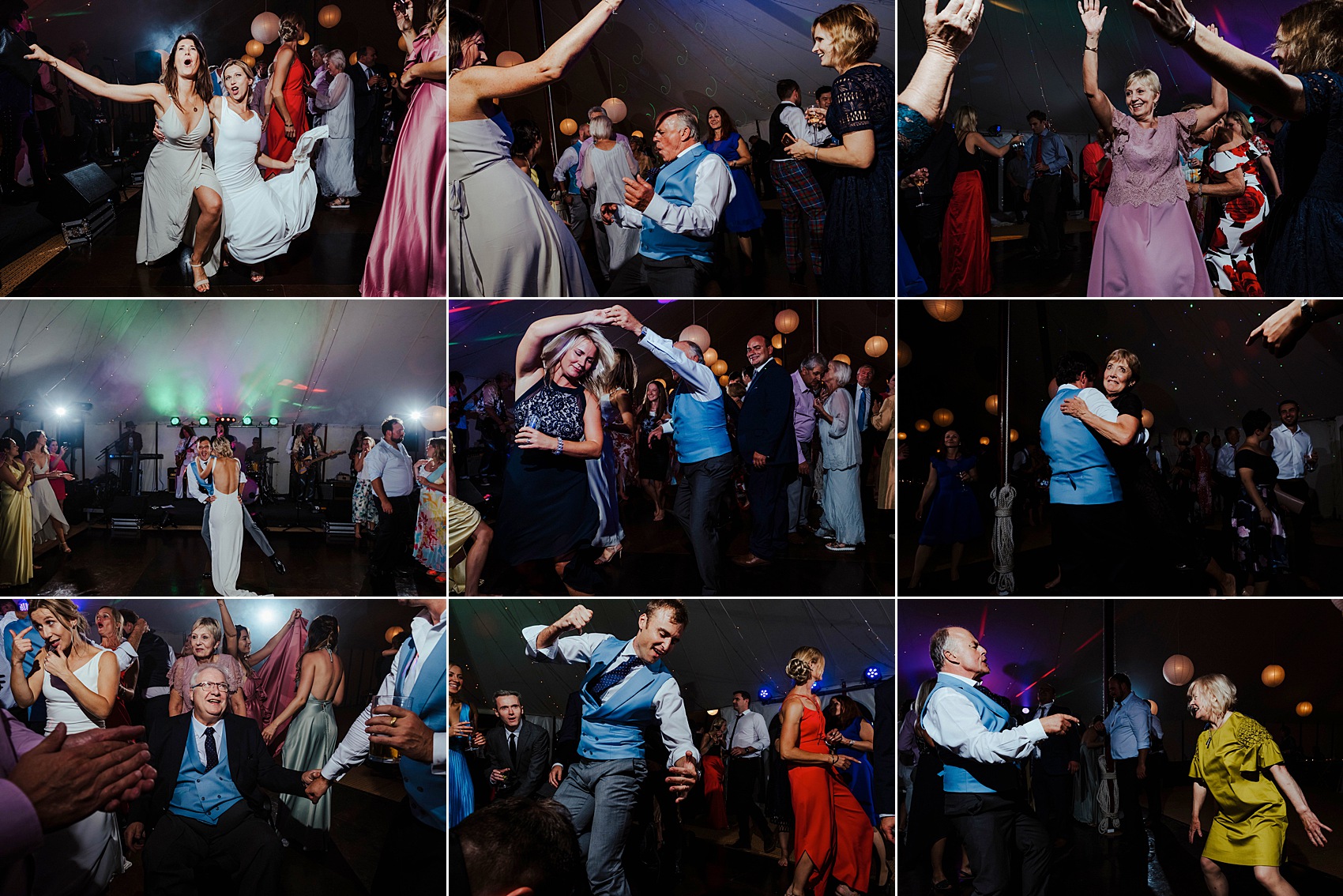 "I honestly can't pinpoint one favourite part. Every moment was so incredible. You are just on such a high, and being surrounded by everyone you love and having the best time is something you cannot even describe or ever replicate. It was just the most incredible time, from the run up to the wedding, to the actual day, and even the next morning, with everyone popping in. We just loved it."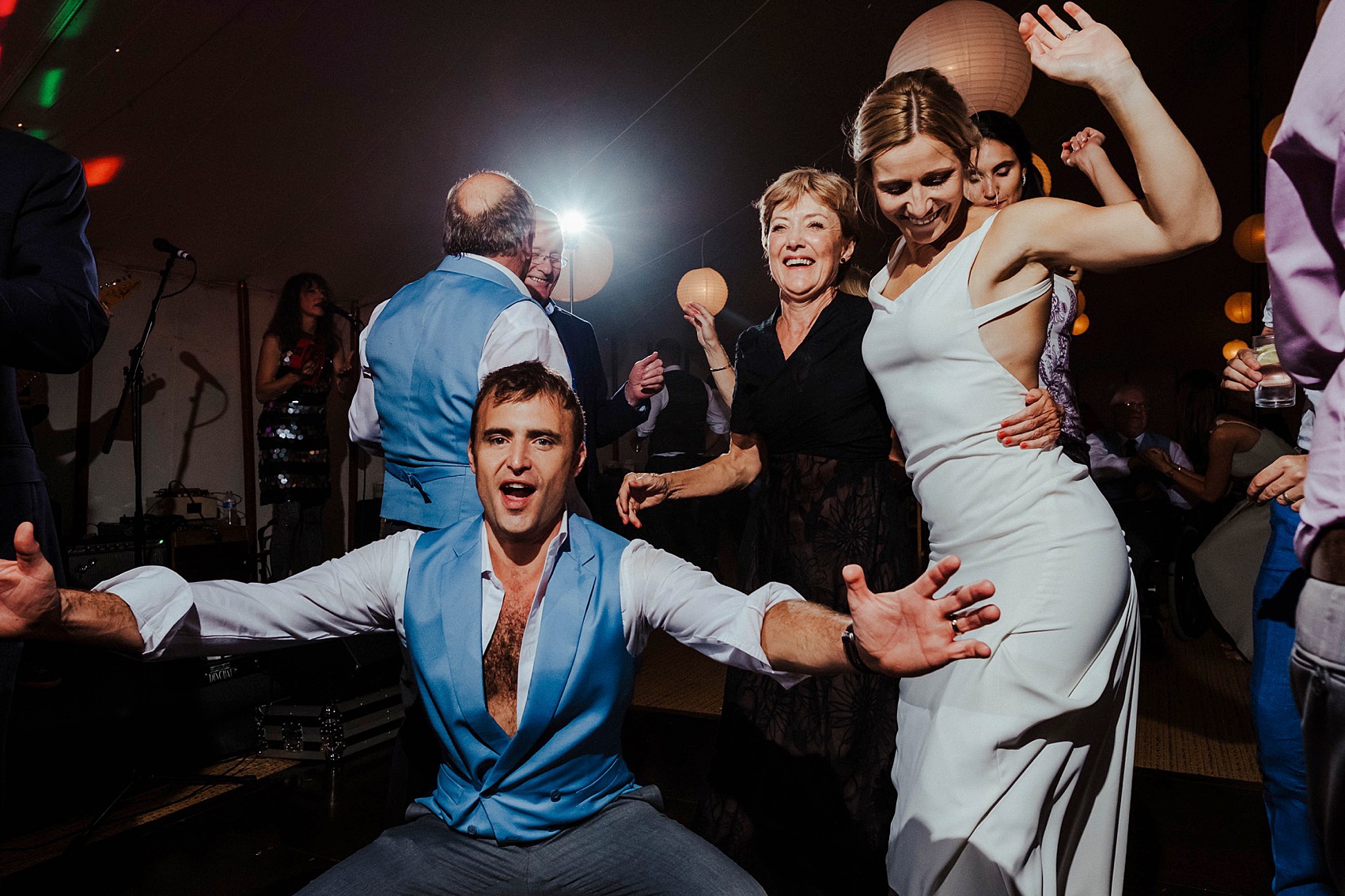 Words of Wedded Wisdom
"For us, the most important parts of the wedding were a comfortable venue, amazing food, loads to drink and great music. You must feel completely comfortable and stunning in what you are wearing. It's a long day and you want to enjoy it."
"Do what makes you happy and remember that everyone that you have invited to your wedding should be someone you love and want there, so just relax and have a good time."
"If you are stressing about someone being judgmental, don't invite them. It's your day – focus on having a great time. No-one else matters."
"On the logistical side, make sure you have someone monitoring your schedule. As I mentioned, we had Joannah who was amazing and kept us on track, timings wise, throughout the day. This was very important, as we were having so much fun, we wouldn't have gotten through the various bits, speeches, cutting the cake, first dance etc., if she hadn't been there shimmying us along."
Shelley and Tom, many congratulations and thanks for sharing your vibrant and charming country garden day. I just love how the contributions of family and friends made for such a personal and touching celebration. Many thanks to Matt Ebbage for his amazing collection of images, too.
Until next time!
With love,
Laura