I have something very special for you, something that I think will go down well for all of our Love My Dress brides contemplating a late winter wedding.
Today's celebration, that of one of our Love My Dress Facebook Group members, is a wonderful example of a modern, elegant day, made even more wonderful by the crisp February weather. It is a real delight to introduce marketing coordinator Amy and Sam, a chartered surveyor, who chose the splendid setting of The Tithe Barn at Bolton Abbey in Yorkshire for their wintry wedding on 22 February 2019.
Film Studio Lester
Weaving together simple and relaxed décor of soft greenery and white blooms, fairy lights and candles for a modern and elegant aesthetic, the couple focussed on celebrating the beauty of the recently-renovated barn and its surrounding countryside.
The day and its styling was inspired by a love for a clean, fresh colour palette of white and green with a touch of romance and magic from hundreds of fairy lights and candles.
"We just wanted everyone to have the best time and for the day to be chilled and full of love and laughter. We knew the venue would speak for itself – it is truly the most beautiful setting and it didn't need much decoration. I wanted to add personal, creative touches by producing all the wedding signs, table plan, place names, photo booth and so on, myself."
"I was a regular visitor to Love My Dress and loved looking at the real wedding stories. I am also a member of the Love My Dress Group on Facebook – loved this! So, so helpful."
Photography Rachel Kenyon Photography
The bride visited bridal boutique Mia Sposa in Huddersfield to select her sophisticated and modern gown; a simply-cut, long-sleeved Justin Alexander design with a sexy back detail.
"I knew I wanted a relatively plain, simple yet sophisticated dress. It needed to be quite figure-hugging as this style suits my shape the most, and I wanted it to flare out slightly at the bottom. I saw my dress online first on the Justin Alexander website and fell in love with it. It was everything I wanted. I loved the neckline, the crêpe material, the simplicity of the front and the wow factor of the back."
I love how so many of Amy's suppliers were friends, and florist Jodie of Eden Floral Styling is the sister of make-up artist Sonia. The team did a wonderful job of creating relaxed and elegant floral displays with fresh green foliage and pure white blooms. Just look at those wild, hand-tied bouquets which the bride and bridesmaids carried.
"I wanted a relaxed, whimsical/boho vibe with lots of greenery and white flowers. I sent Eden lots of images of the kinds of things I wanted and just left them to it. I've known Jodie since primary school so I trusted they would do a fantastic job."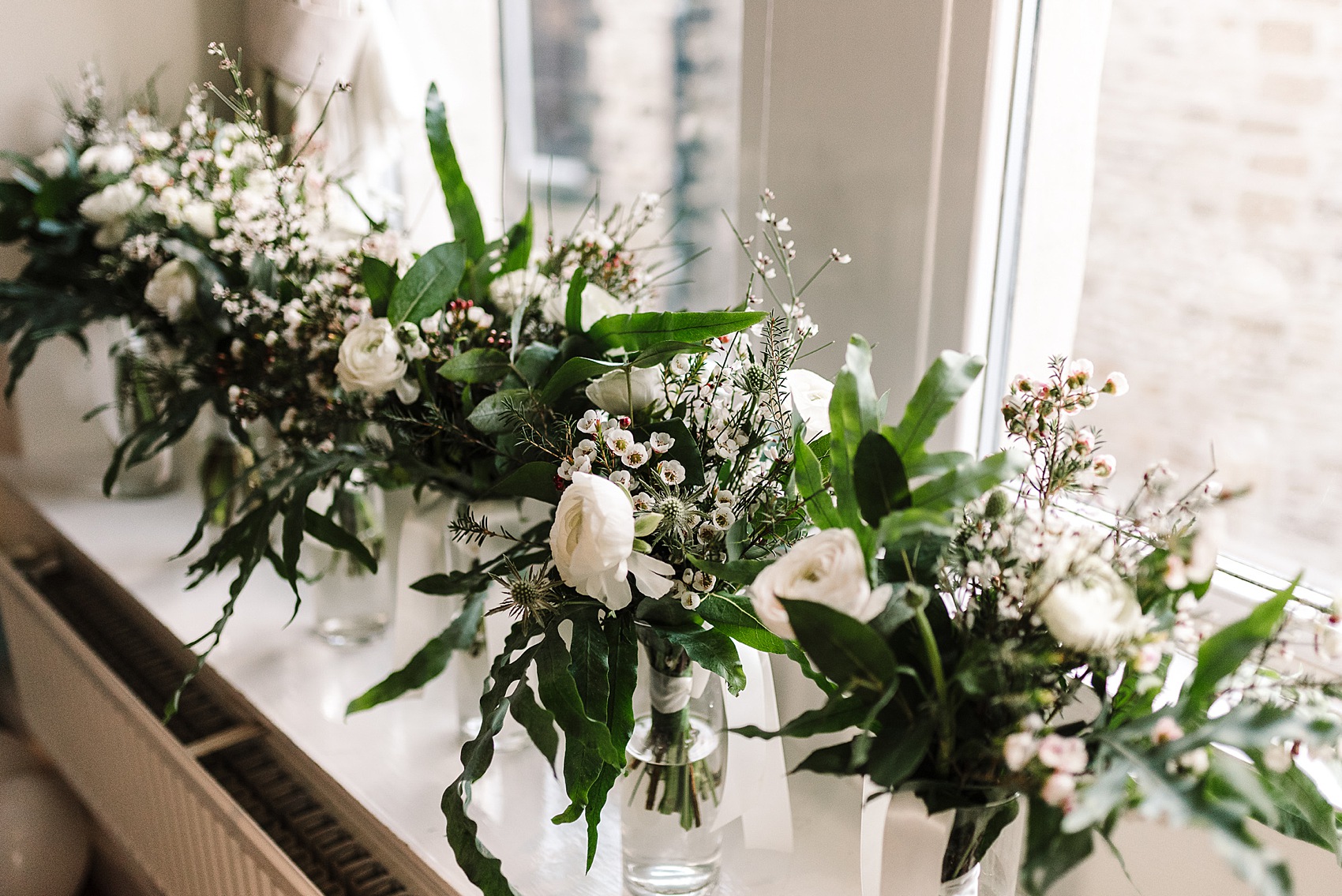 The couple had been together for twelve years before Sam's November proposal on the banks of Lake Como and they spent fifteen months planning their February celebration.
I'm delighted to hear that Amy was both a regular visitor to Love My Dress and an active member of our private Love My Dress Facebook group (which you can join here) throughout her engagement.
"We met at school when we were fifteen; we used to get off the school bus at the same stop and walk up the hill although we never talked to each other! He eventually asked my friend (she was one of our bridesmaids) for my number, although he likes to say it was the other way around… it wasn't!"
"We went to see the venue when it was still being renovated – we had to wear hard hats and hi-vis vests. We fell in love with the barn (especially the wooden beams) and its surroundings straight away. We could see the potential and as we had been to visit one of Cripps' other barns, we knew The Tithe Barn would be done to the same high standard."
In contrast to the elegant grace of her own gown, the groom and his groomsmen channelled a more relaxed vibe.
"Sam, the groomsmen, Sam's dad, my step-dad and Sam's brothers all wore the same – tweed jackets from Slaters, white Charles Tyrwhitt shirts, navy woven dickie bows and navy chinos from ASOS and brown brogue-style shoes from Next."    
"I bought Sam a Daniel Wellington watch which I had engraved on the back with our wedding date and a little message – he wore this on the day."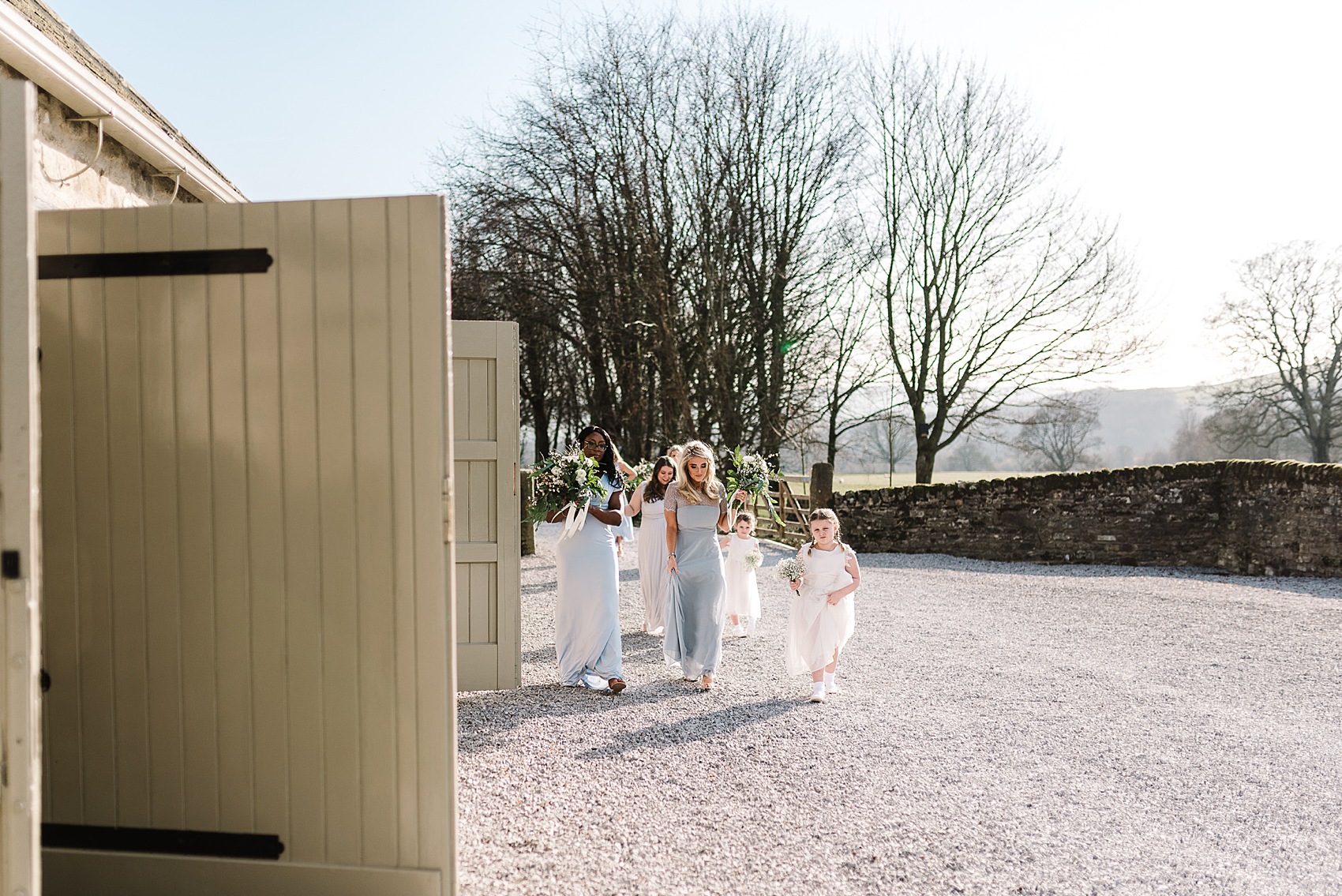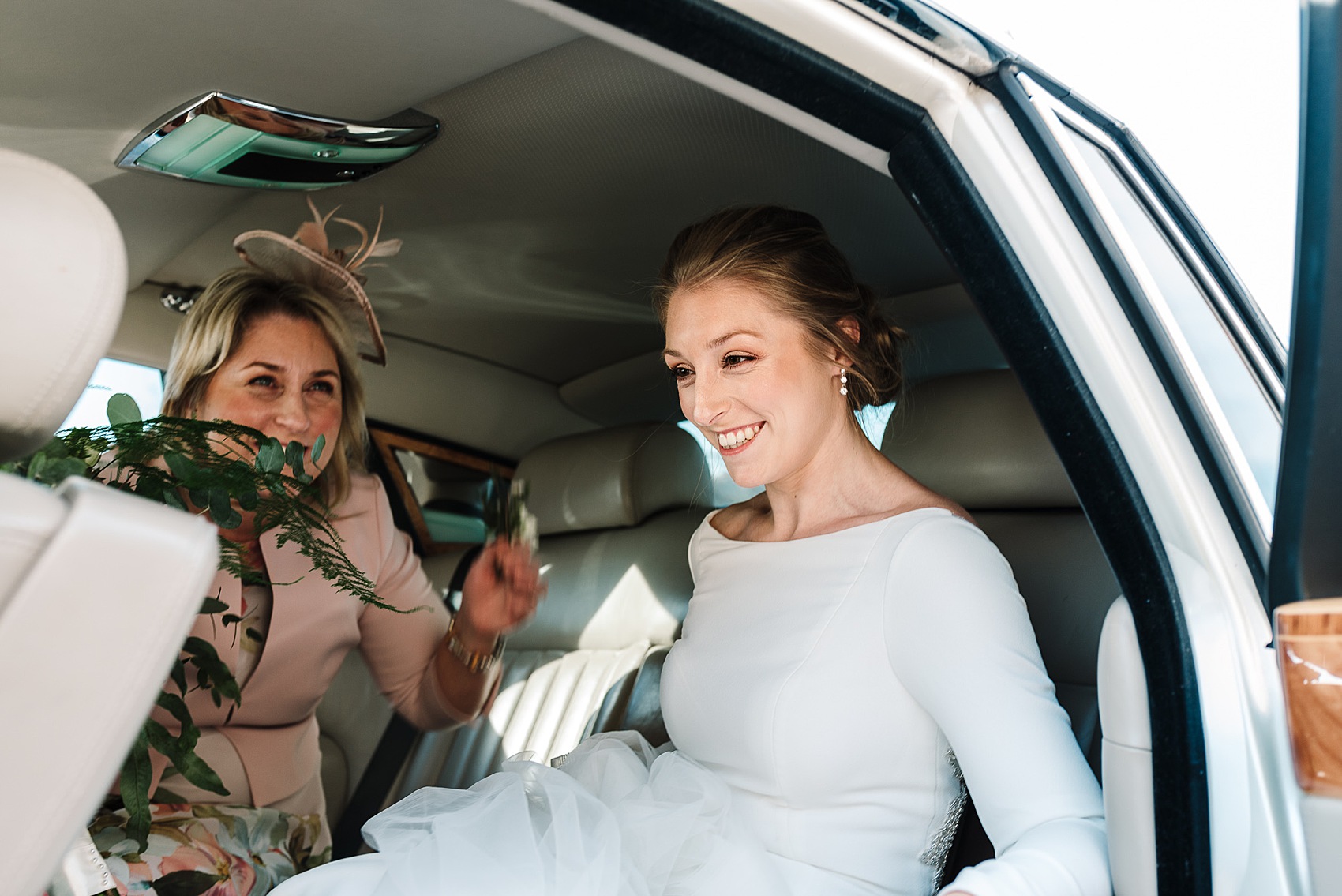 The airy, high-ceilinged Tithe Barn has been so beautifully styled for the ceremony and reception with hundreds of fairy lights, magical candles, more foliage and elegant chandeliers.
"The venue itself was all the décor it needed… those beams, the fairy lights in the ceiling, the tall indoor trees – LOVE!"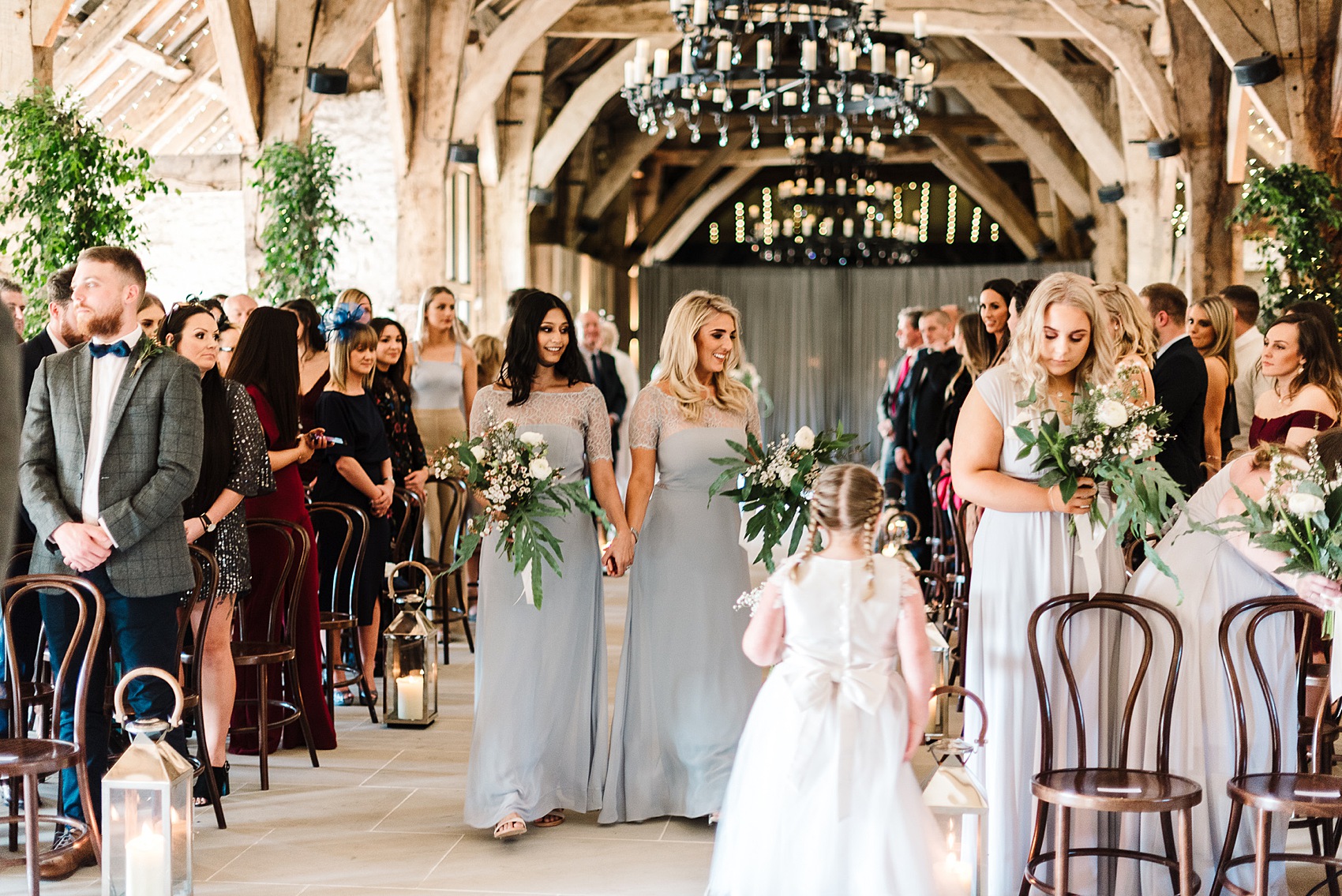 Amy and Sam selected to wed in a civil ceremony, led by North Yorkshire Registration Service.
"My mum surprised me and organised a Rolls Royce from Platinum Limousines for us both to travel in."
The bride entered the barn with her mum and made her way down the aisle to where Sam stood waiting as Ruelle's 'I Get To Love You' played.
"I came across this when I was searching and just knew it was perfect. I thought I would be petrified walking down the aisle with everybody staring at me but I was just too excited. The ceremony was probably the longest time we spent together throughout the whole day."
"We didn't do our own vows but selected our options on the North Yorkshire Registration Service's portal. We chose the more modern options."
Sam and Amy exchanged rings from Jenny Jones Jewellery in Manchester, the same supplier from which the groom chose Amy's antique engagement ring.
"I always wanted an antique ring and he found the perfect one in Jenny Jones. He replaced the diamond as the original was very yellow and had a new band made as the old one was very thin but the claws and shoulders are the originals. We went back and got our wedding rings from them. Sam got a plain band in palladium and mine is a platinum, half-eternity with the same 'dotted edge' as the shoulders on my engagement ring."
The couple's wedding reading was 'On Your Wedding Day'. Lovelies, if you need inspiration, I invite you to visit our dedicated Wedding Readings page right here on Love My Dress where you can find some very beautiful readings for your ceremony.
"We liked it because it wasn't too cheesy or 'lovey-dovey' but just nice, natural and true. My best friend since we were four years old read it."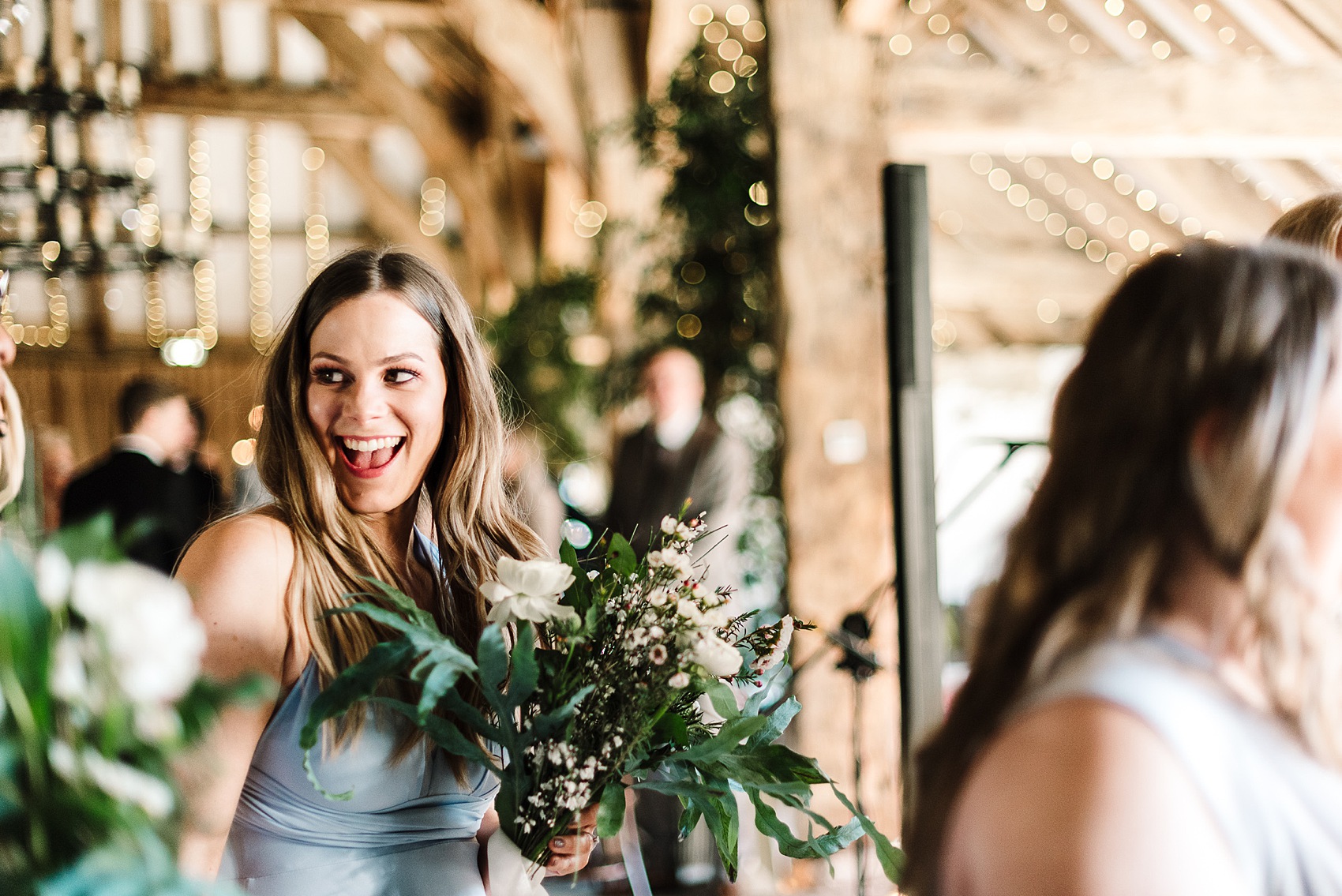 After being declared husband and wife and signing the register, the couple emerged into the crisp February air for time with their guests and photos against a backdrop of the breath-taking Yorkshire countryside. There were also drinks and canapés to enjoy with acoustic songs courtesy of Nicola Jayne.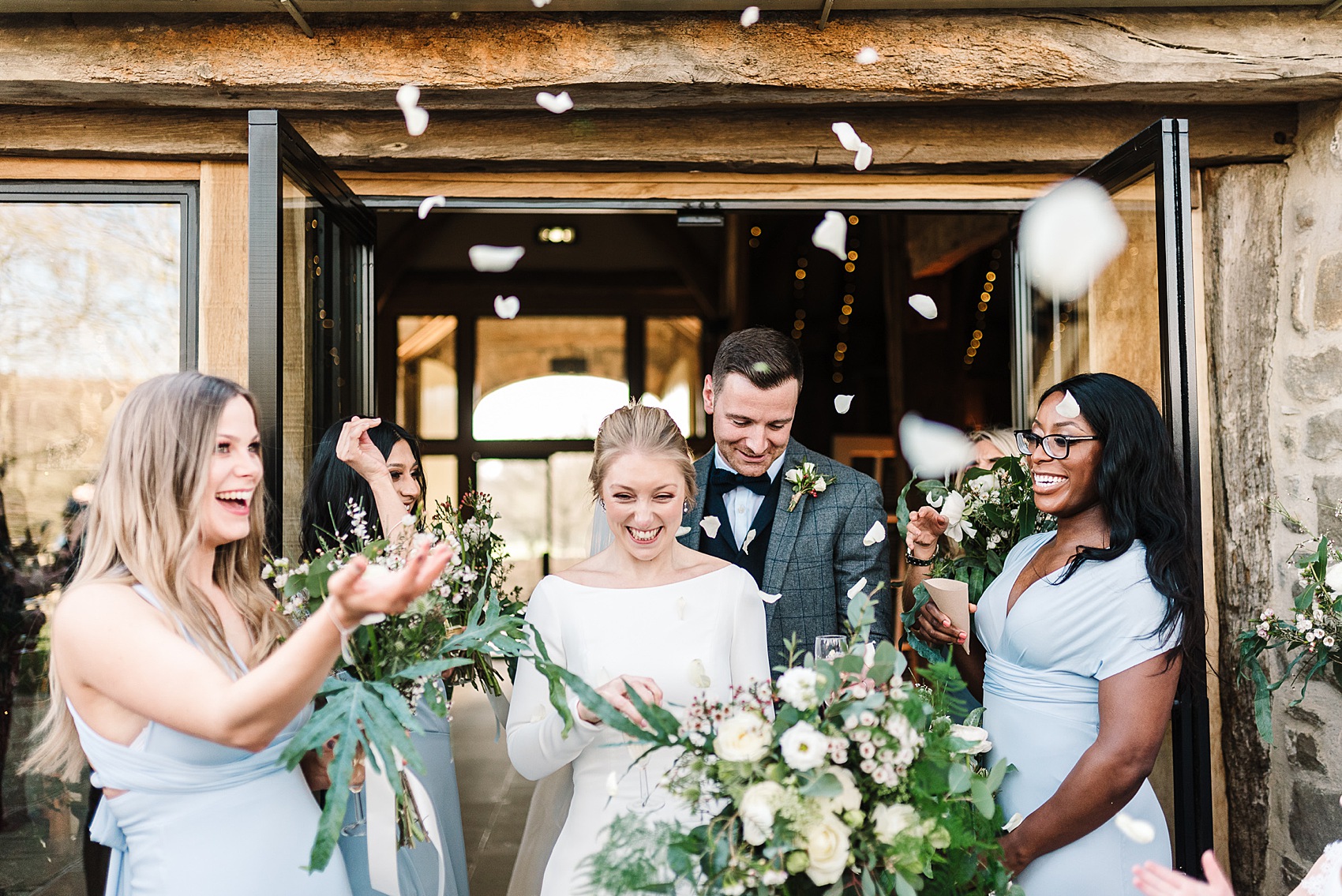 Her veil was a plain, single tier, cut-edge, cathedral-length piece, a bargain from JJ's House.
"I wanted the back of the dress to be seen through the veil. I couldn't bring myself to pay hundreds of pounds for a veil – mine cost £11.25 including postage and I loved it."
Shoes were 'barely-theres' from Boohoo.com and accessories were also elegant and simple. For scent, she wore Clinique Happy, her favourite perfume that she's worn since being a teenager.
"My 'something borrowed' was my friend's bracelet that I bought for her when her son (my godson) was born. The only other piece of jewellery that I wore were some diamanté drop earrings – they were the first ever present that Sam bought me for my birthday when we were about sixteen."
In a nod to the wintry season, the grown-up bridesmaids wore different gowns in a bluey-silver hue, along with their own nude shoes.
"I had a mix of three dress styles for my six bridesmaids, all on the same colour spectrum of blue and grey. Four were from ASOS (the dusky blue dresses with lace and the ice blue, multi-ways) and two were from Debenhams (the silvery-grey, multi-ways)."
"I bought each of my bridesmaids a Bloom Boutique bracelet with their initial on for them to wear on the day."
Amy asked her two nieces to be bridesmaids and don't they look adorable in their pure white Matalan dresses?
All of the girls were styled by Sonia Ramnauth at Be You Styling, and Amy selected a swept-back bun for her hair with flawless yet natural make-up.
"Sonia is one of my best friends from primary school and was also a wedding guest."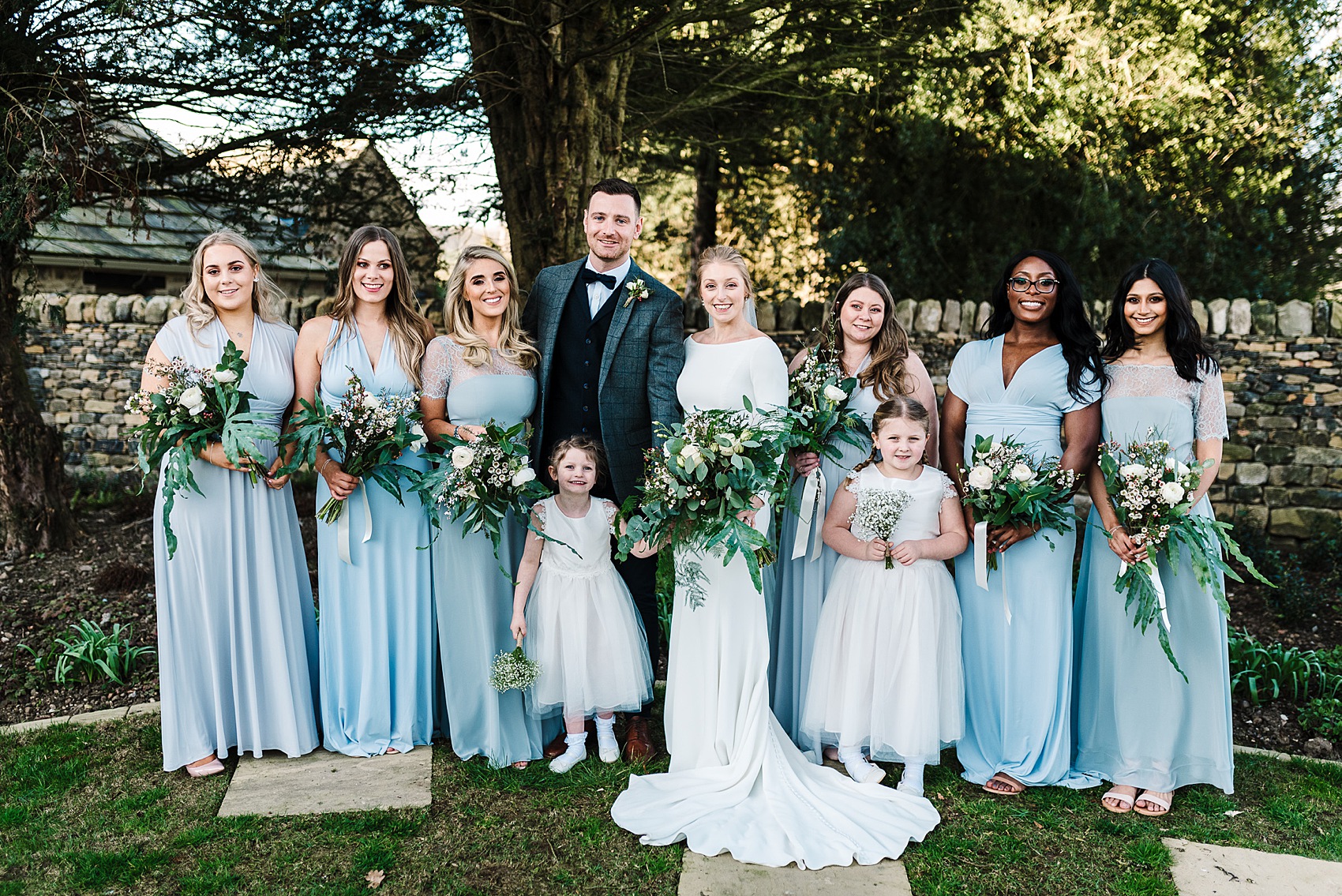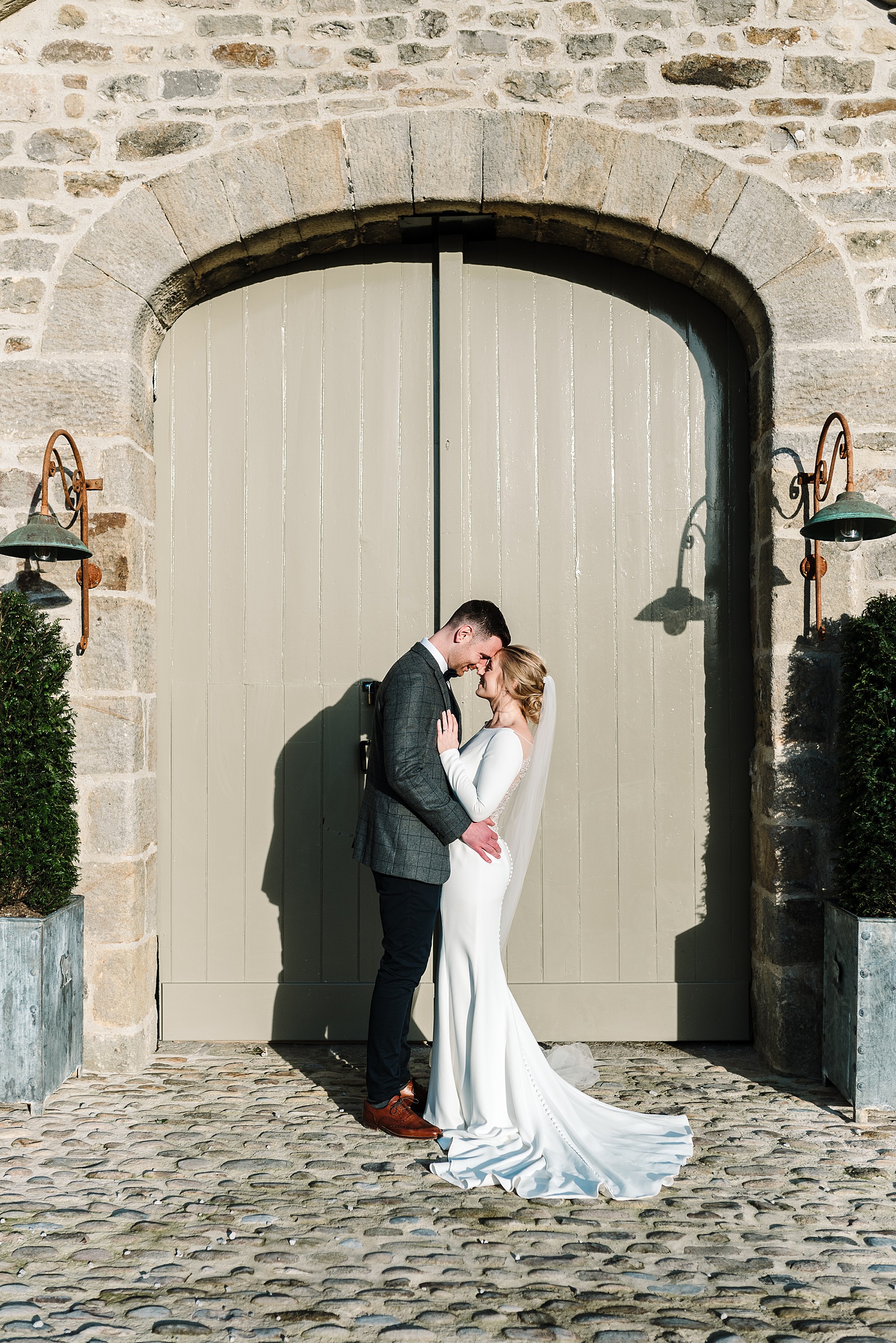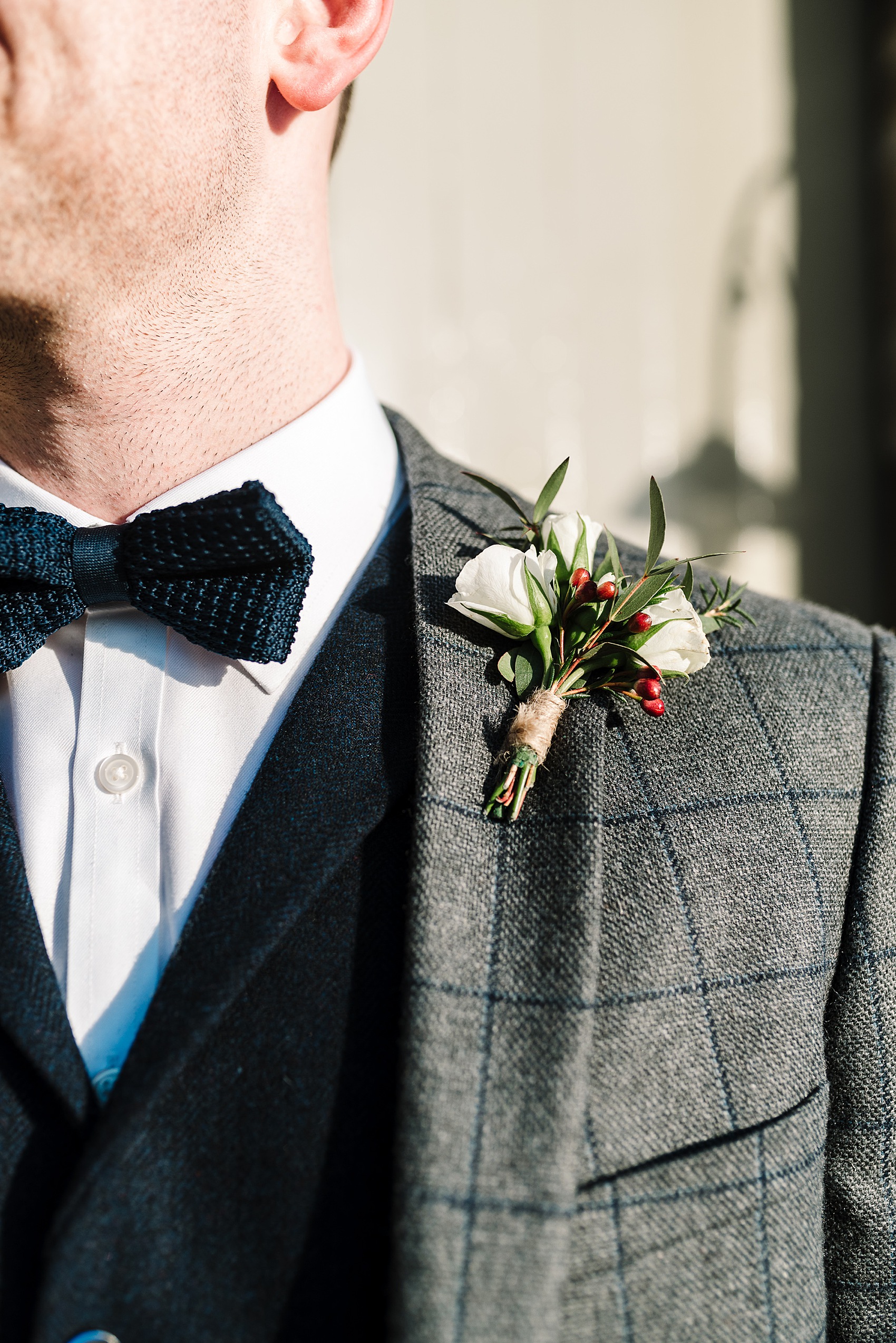 Meanwhile, the barn was being turned around for the wedding breakfast. I think the round wooden tables and the hanging wall of origami paper cranes is just gorgeous.
The wedding breakfast was provided by the Tithe Barn and the elegant, semi-naked cake came from Dottie Bee's Bakery.
"I found Karen by searching the hashtags #yorkshireweddingcake and #leedsweddingcake as I wanted someone fairly local to the venue. I love the rustic look of the semi-naked cakes."
"We had different flavours for each tier; vanilla with raspberry jam and buttercream, salted caramel with salted caramel and buttercream and chocolate with chocolate buttercream. They all tasted amazing."
22 February was such a perfect winter's day with crisp air and lots of sunshine. Photographer Rachel Kenyon has used the pure light so well in these wonderfully romantic, emotion-filled, fine art photographs.
"Rachel was absolutely fantastic and she's just the nicest person! We had a pre-wedding shoot as well. I highly recommend doing this as it makes you feel more at ease in front of the camera. The photos were amazing so I knew we would love our wedding photos even more. She captured our day so beautifully; natural and in the moment, which is completely what we wanted."
The same romantic, intimate vibes were captured by wedding videographer Studio Lester.
"Alex was great and produced the most amazing wedding video."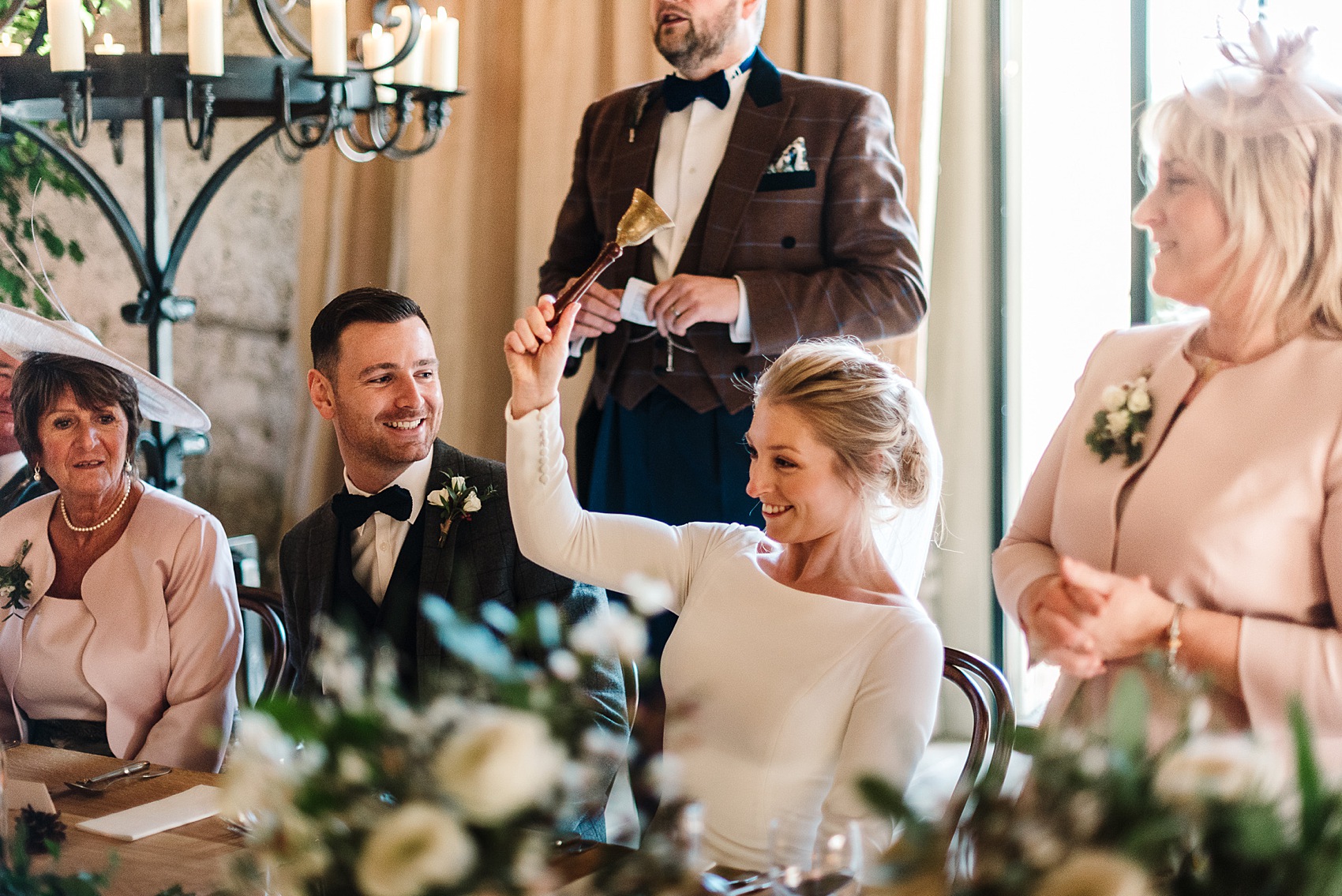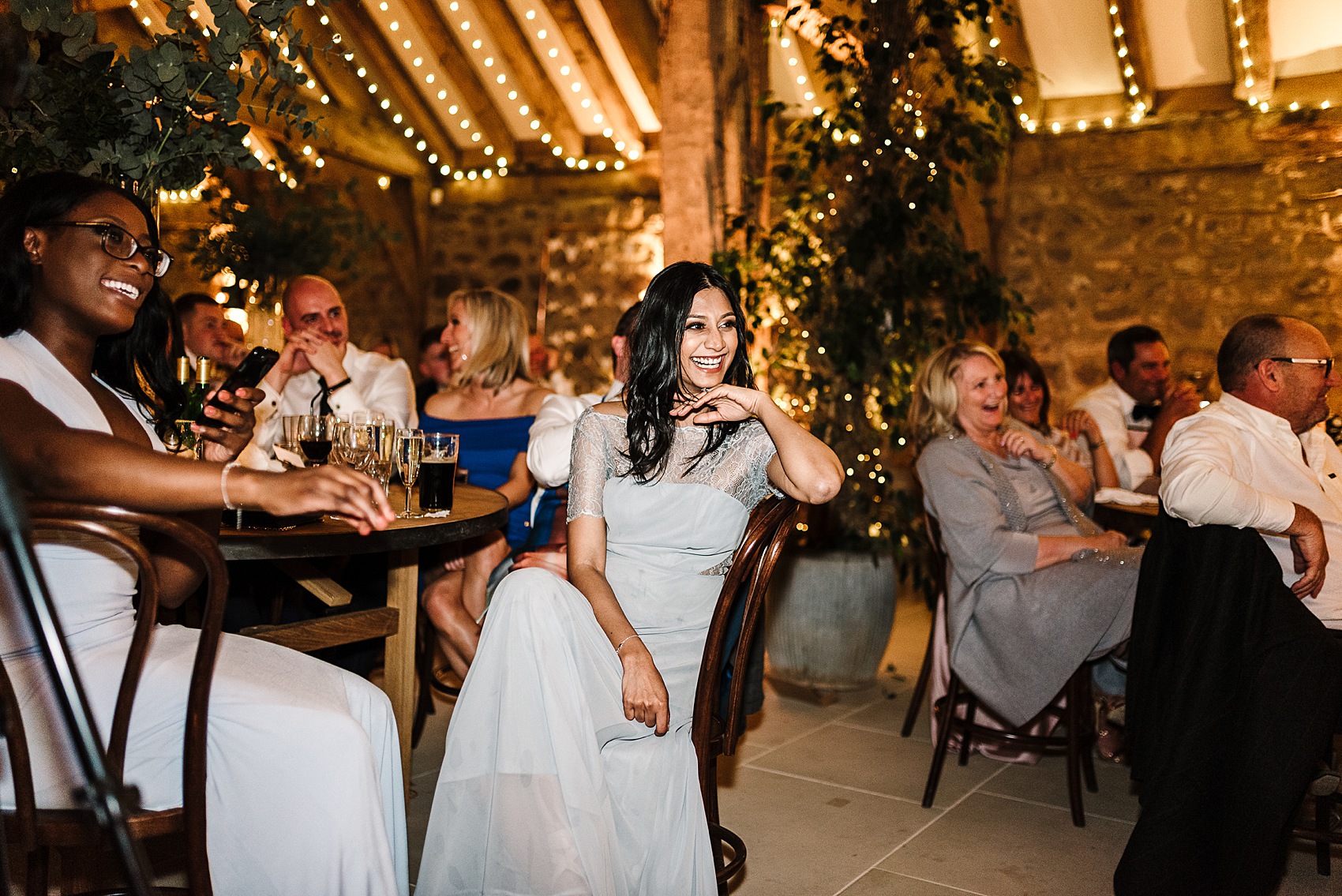 When it came to budget, Amy and Sam were able to create the day of their dreams through thoughtful planning and asking their nearest and dearest for help.
"We had an initial budget in mind but this was before we started getting costs for things so really we had no idea and it was rather unrealistic. We had the wedding we wanted by getting married in February when everything is slightly cheaper and doing as much as I could myself and with the help of family and friends."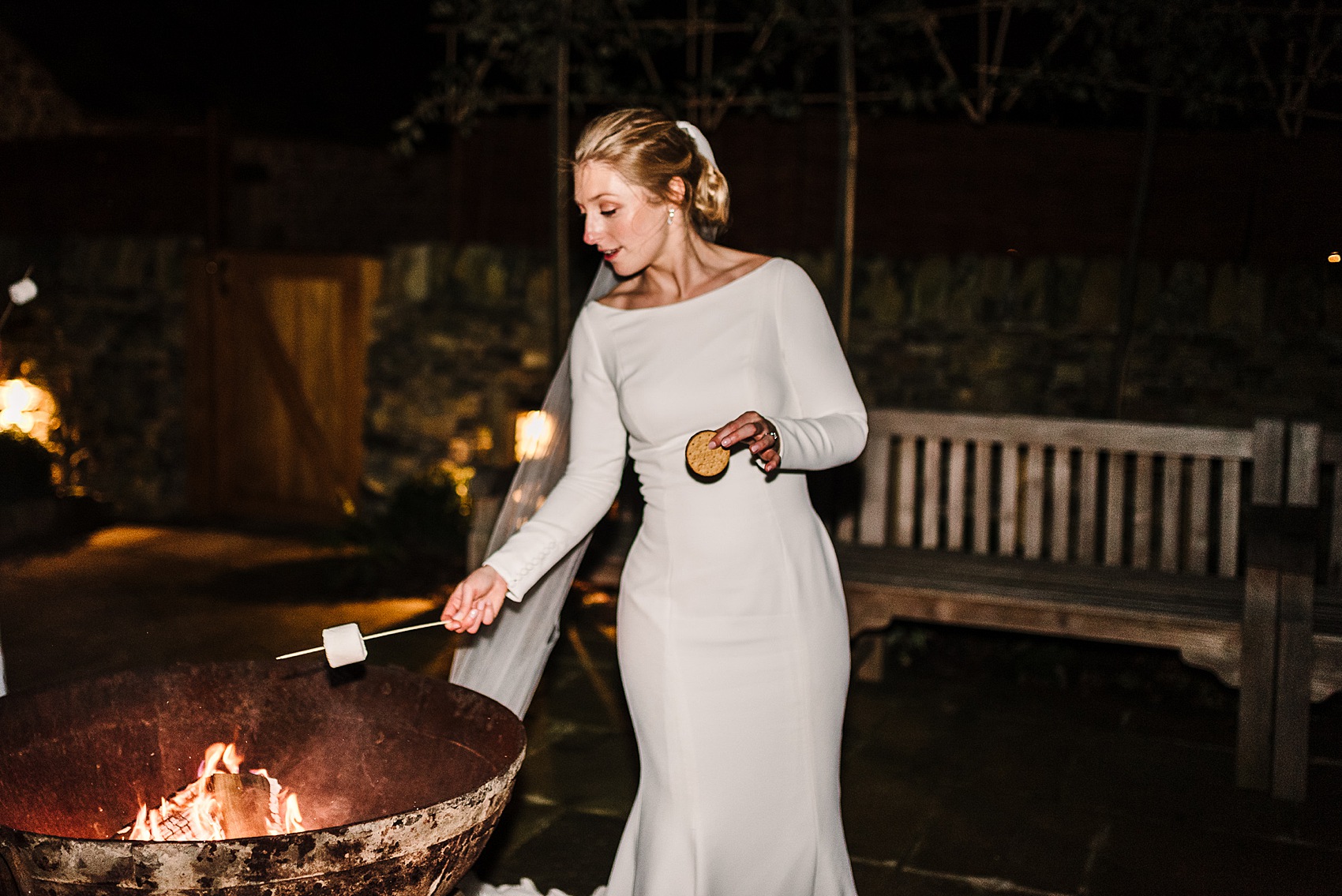 After cutting the cake, Amy and Sam took to the dance-floor for a first dance to 'Stay With You' by John Legend.
"I've always loved John Legend and his was the first concert we went to together so it has a special meaning. Also, the song starts with 'We've been together for a while now', which we have, and the words are so beautiful."
As well as dancing in the cosy barn to music from The Fusion Dukes, there was time to chill outside by the fire pits.
"We bought marshmallows, chocolate biscuits and skewers for everyone to make S'mores in the evening. I put them all in big glass vases on a table near the door for everyone to help themselves."
Words of Wedded Wisdom
"Just remember it's YOUR wedding. If you want to do something, then do it. You only get married once and you'll only regret it afterwards. Try not to worry too much about upsetting people because if you have your reasons for a certain decision, then a close friend or family member should understand."
"Try not to be doing things right at the last minute; relax and just enjoy the day – you are marrying the person you love and that is what it's all about."
"If your budget allows get a videographer. We decided we had just enough budget about three weeks before the wedding."
Such wise words of advice; thank you so much Amy. It has been my pleasure to share yours and Sam's day today, so thank you on behalf of all of us here at Love My Dress. Of course, thank you to Rachel Kenyon Photography too for these light-filled images. For more winter wedding inspiration, I'd love for you to take a look at this selection here.
Ele xx