Our second wedding today is a bit of a country mix up, with the bride having moved from England to Australia and back again.
With her heart lying in both countries, the couple decided to mix it up and incorporate their favourite parts from each country into the wedding. The bride also seemed to have brought some of the gorgeous Australian sun over with her too. Jess and George said their I Do's on 29th September at the 18th-Century Manor Farm Barn in Marsh Gibbon, a village just outside of Bicester in Oxford…
Fim by Hushabye Films
"When we got engaged, we both knew we wanted to get married in the UK. I moved to Melbourne when I was 15 and after travelling and university, decided to return to the UK, where I've been for the last 6 years. Though a lot of my immediate family are in Melbourne, family events are very few and far between and it was important for us to be able to share the moment with our family and friends in the UK too."
"We were really lucky to find a videographer that felt as if we had known her for years. Jade from Hushabye Films was recommended through the Love My Dress Facebook group, and was still available when I got in touch. I battled with my husband to be about the need for a videographer and I'm so glad we did it – it just makes so much sense to have your day captured on film."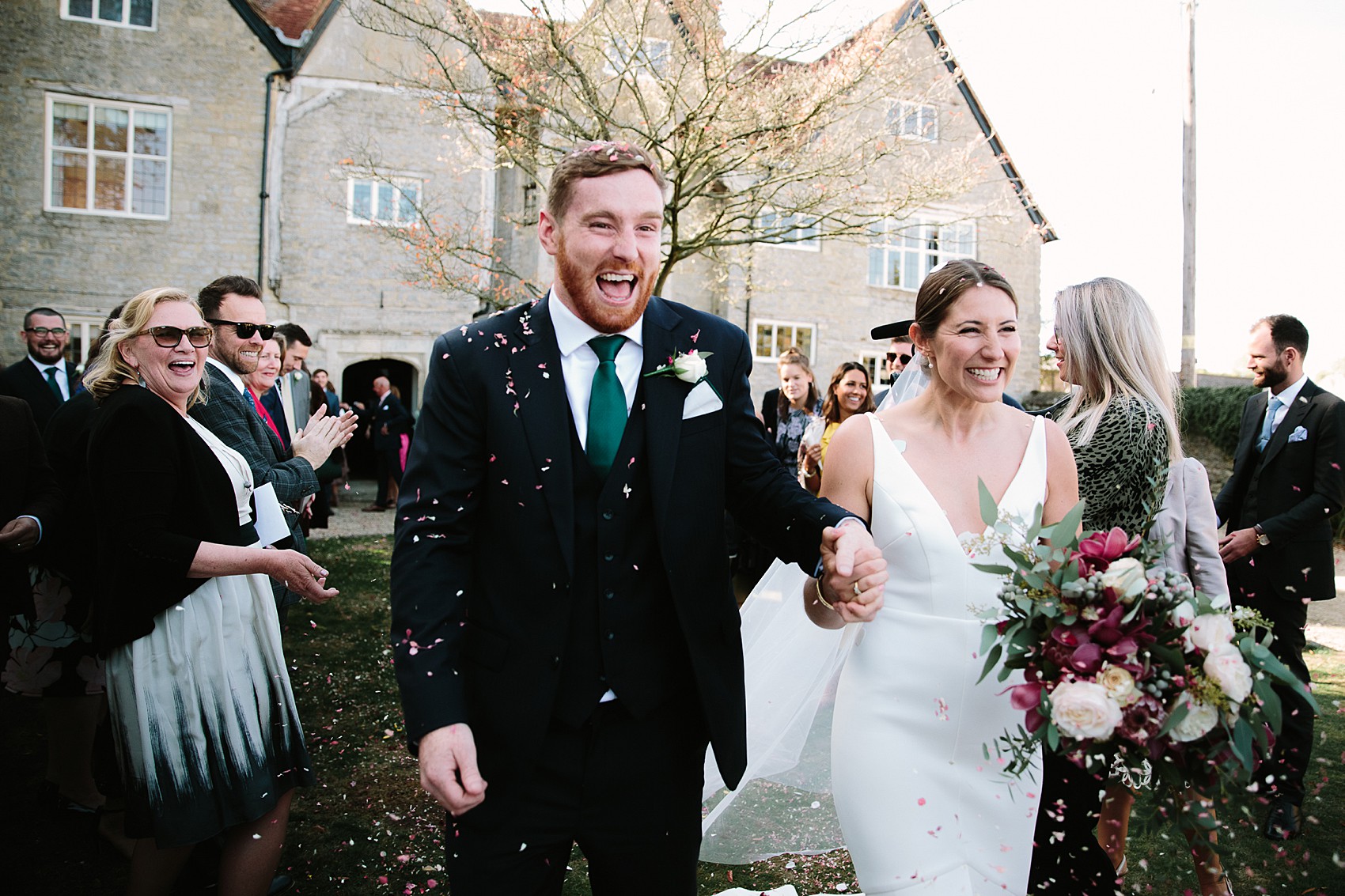 "Philippa James was our photographer and I found her whilst looking for wedding stylists in Oxford. She'd written a blog post about Camille and I instantly fell in love with her candid photography style. She was probably the first supplier we locked down and made everything very easy."
"We managed to chat on the phone and I knew we'd feel comfortable with her. Having suppliers around you who don't demand attention is really important and Philippa made it all super easy (even though she was working her socks off!). We have a huge amount of photos from the day and everyone who has seen them is so impressed at how she managed to capture the day so well. I can't recommend her enough!"
"My veil was also from One Day Bridal. Initially they had me try on a short veil, but after one of the fittings the girls decided I needed a cathedral length veil, which tied the whole look together."
"My shoes were Nine West. I thought I wanted to splash out and get something really fancy, but after trying lots on, I kept coming back to a Nine West patent leather pair of shoes. They were fairly low and really comfortable."
"My nan suddenly passed away shortly after we were engaged and I wanted to wear lots of her jewellery. I wore a chunky gold bracelet that was hers and also some simple gold and pearl drop earrings for the ceremony and drinks reception. For the reception, I removed the veil and put some chunky gold earrings from Sass and Bide in, ready for a dance!"
"Finding someone to do hair and make up was a struggle from overseas and I'm not really big into hair and make up. We found Beauty By Natasha online and she was able to do hair and make up for me and my army of bridesmaids. I was back in the UK a month before the wedding so was able to have a trial too. I had no idea but Natasha managed to work her magic"
" The make up was awesome but the hair trial didn't feel quite right. It did help me understand what I did want though and after emailing some images over, my hair on the day was beautiful. Natasha and her team were gorgeous people and made the morning so easy."
"My dress was Chosen by One Day Bridal. In keeping with the Australian theme, I wanted to wear an Australian designer. My third trip to a dress boutique was to One Day Bridal and I knew I didn't need to look any further. The girls in the shop are awesome and they helped me and my mum and best friend feel very special."
"Everyone says that when you're going to try dresses on that you'll simply not end up with what you initially thought you would, and they were right! I thought I wanted something long sleeved and lacy, but I ended up with a classic ivory fitted dress with no sleeves."
"The material that the dress is made from they specialise in, and it made me feel very secure. Other dresses didn't make me feel as good because they didn't have that support. The fittings were also amazing and they tailored the dress to me. There was something classical and elegant about the dress but at the same time fashionable."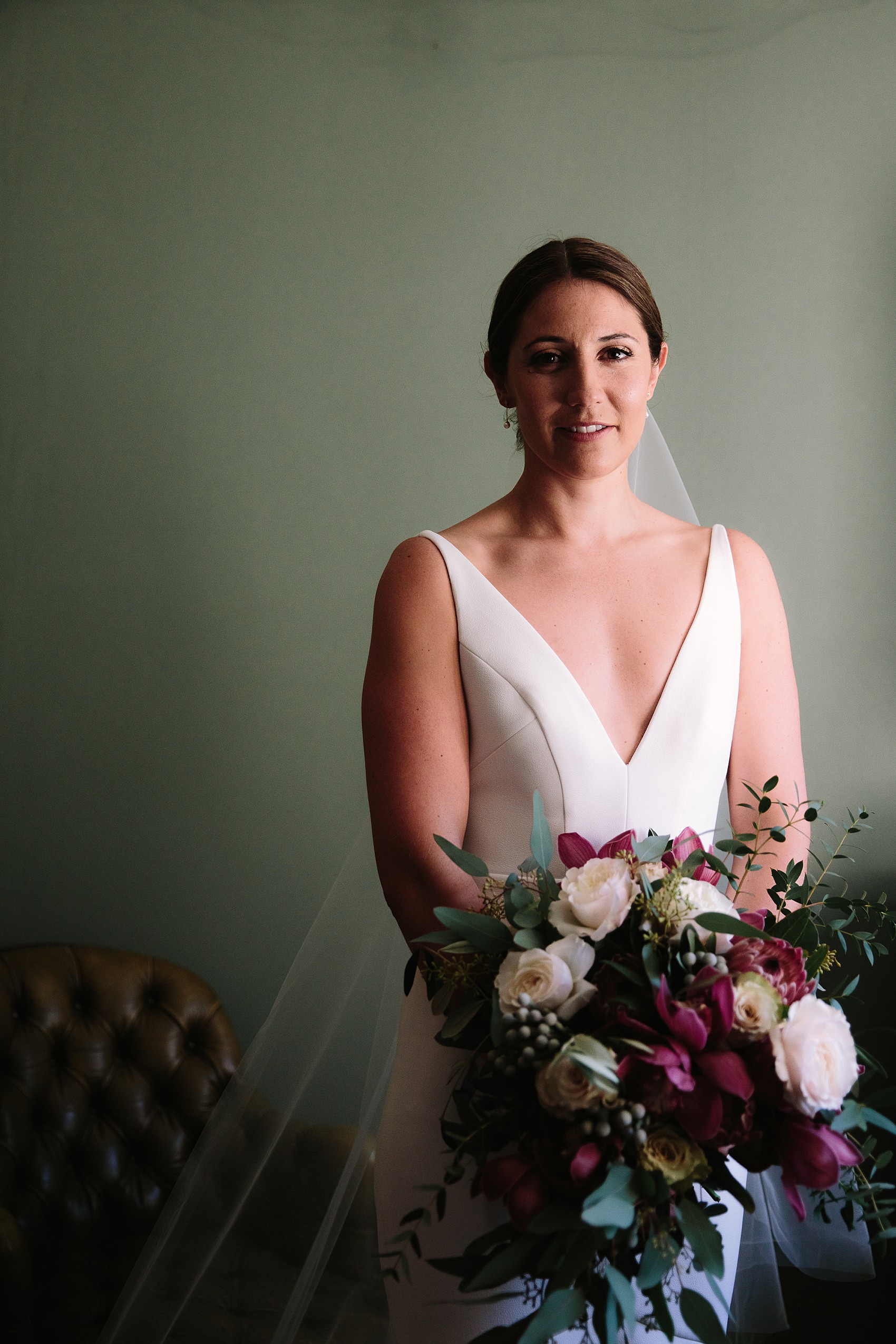 "George and I met at the University of Birmingham where we both studied. He proposed at a winery in the Yarra Valley called Tarra Warra in a beautiful stone circle overlooking the vineyards. He'd also taken me to meet my favourite Australian animal, the wombat, not long before! We were then engaged for a year and a half before we got married."
"George and I are both very down to earth people and we didn't want anything fancy for the wedding. Chatting to our stylist, we mentioned that we'd love to incorporate Australia into the day as much as we could. Camille then designed the day in 3 parts; the ceremony in the barn was relaxed boho and we framed the stage with beautiful greens and golds; the drinks reception an English garden party where we had Pimms and lawn games; and the reception an Australian themed tipi party, for which we had the outdoor seating plan mapped out on a surf board, an inflatable cockatoo and the tables named after our favourite Melbourne cafe's."
"In keeping with the Australian theme, I went with Sass and Bide for the bridesmaid dresses too. They're normally really pricey dresses, but I got them in the sale. They were a burnt orange colour and made from dry silk."
"Essentially I just wanted the girls to have a dress they would love and wear again. I'm not a huge fan of classical bridesmaid dresses and so choosing Sass and Bide, I knew they were going to look awesome and feel awesome too."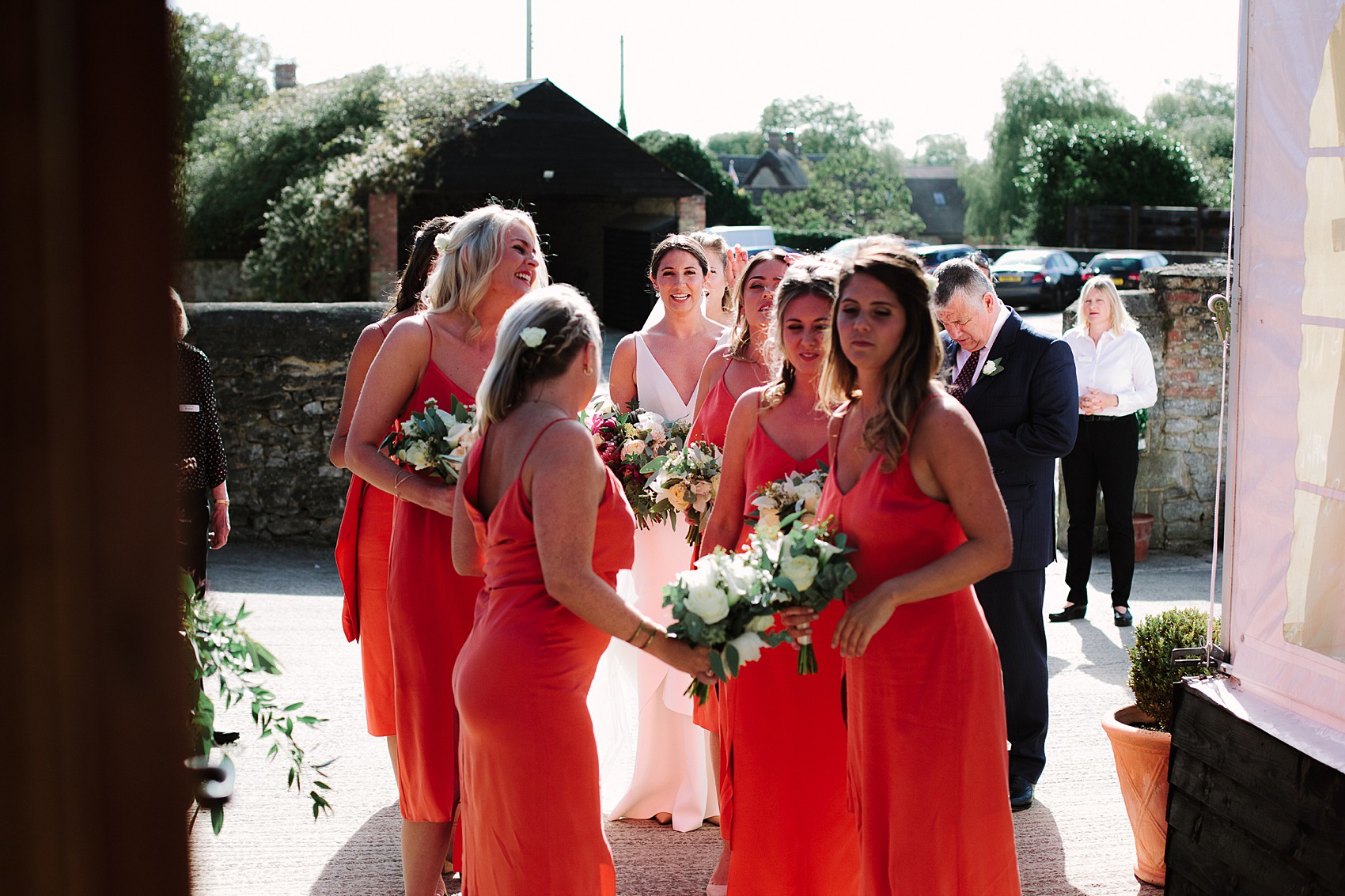 "As a young girl I'd always presumed I'd get married in a church, but having grown up, I'm not religious and it wouldn't have felt right to do that."
"We don't have any religious family members either so the barn ceremony felt perfect for us. We kept some traditions though and my dad accompanied me down that aisle to Songbird by Fleetwood Mac. I love them and the song gives me all the feels!""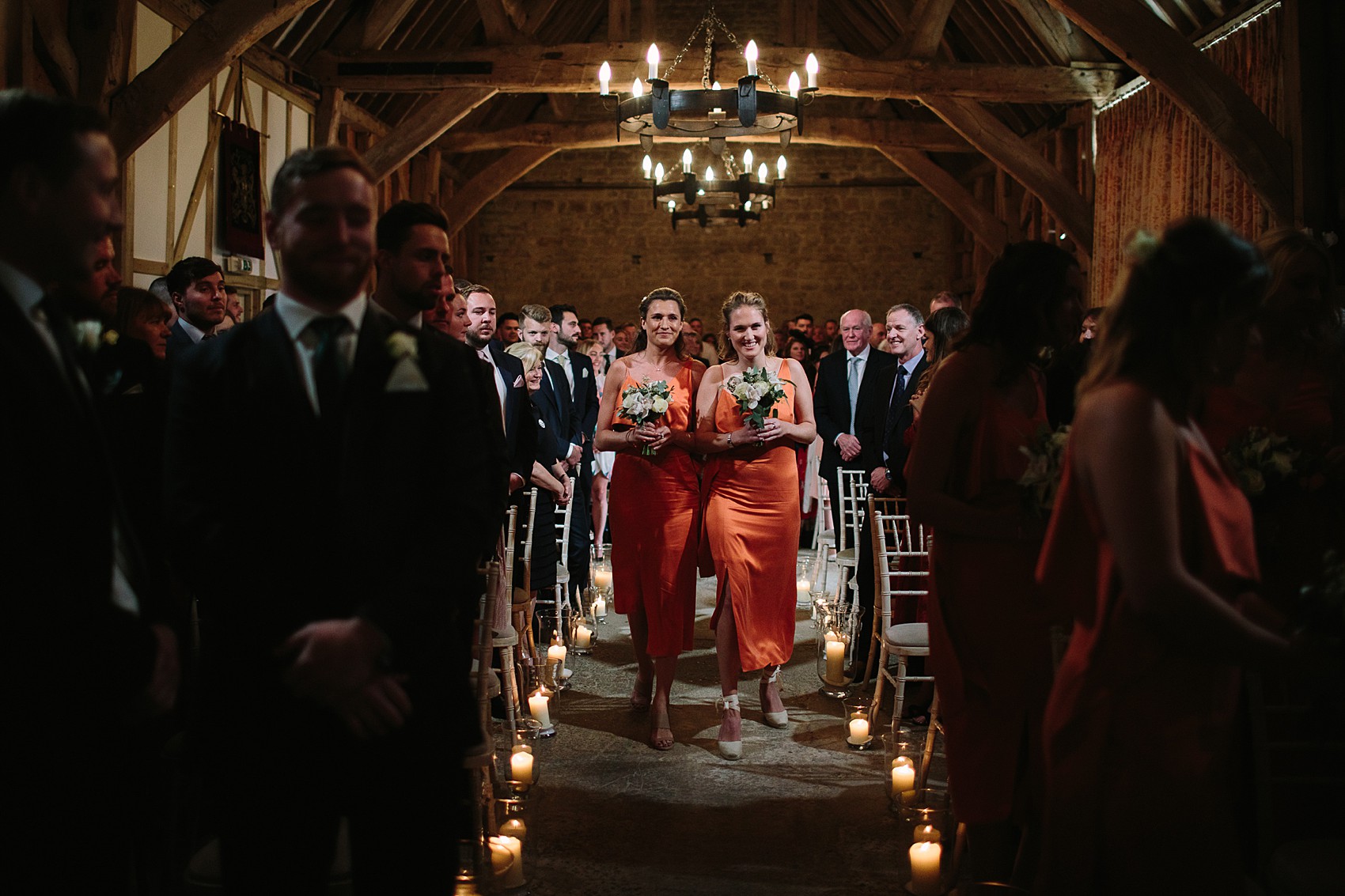 "We had a bit of a nightmare 3 weeks before the wedding and the registrar was refusing to perform the ceremony on the Saturday with that many people at the venue. We ended up having them come to the venue the Thursday before the wedding to perform, what we call the 'legal mumbo jumbo', then last minute we managed to organise a celebrant."
"It's so true when people say things happen for a reason though as we'd always wanted a celebrant. It's something very common in Australia and it makes the ceremony so personal and fun. We couldn't justify paying for both at the time but fate chose for us and it wouldn't have been the same wedding with a registrar!"
"My engagement ring was designed by George, with the help of a jeweller in Melbourne, and we both wanted just plain wedding bands. After my nan recently passed, the idea was floated around that I use her wedding ring and reform it to fit with my engagement ring. George did the same with his late grandma's ring and, although it led to many tears during the ceremony, it's the most special and personal effort we made."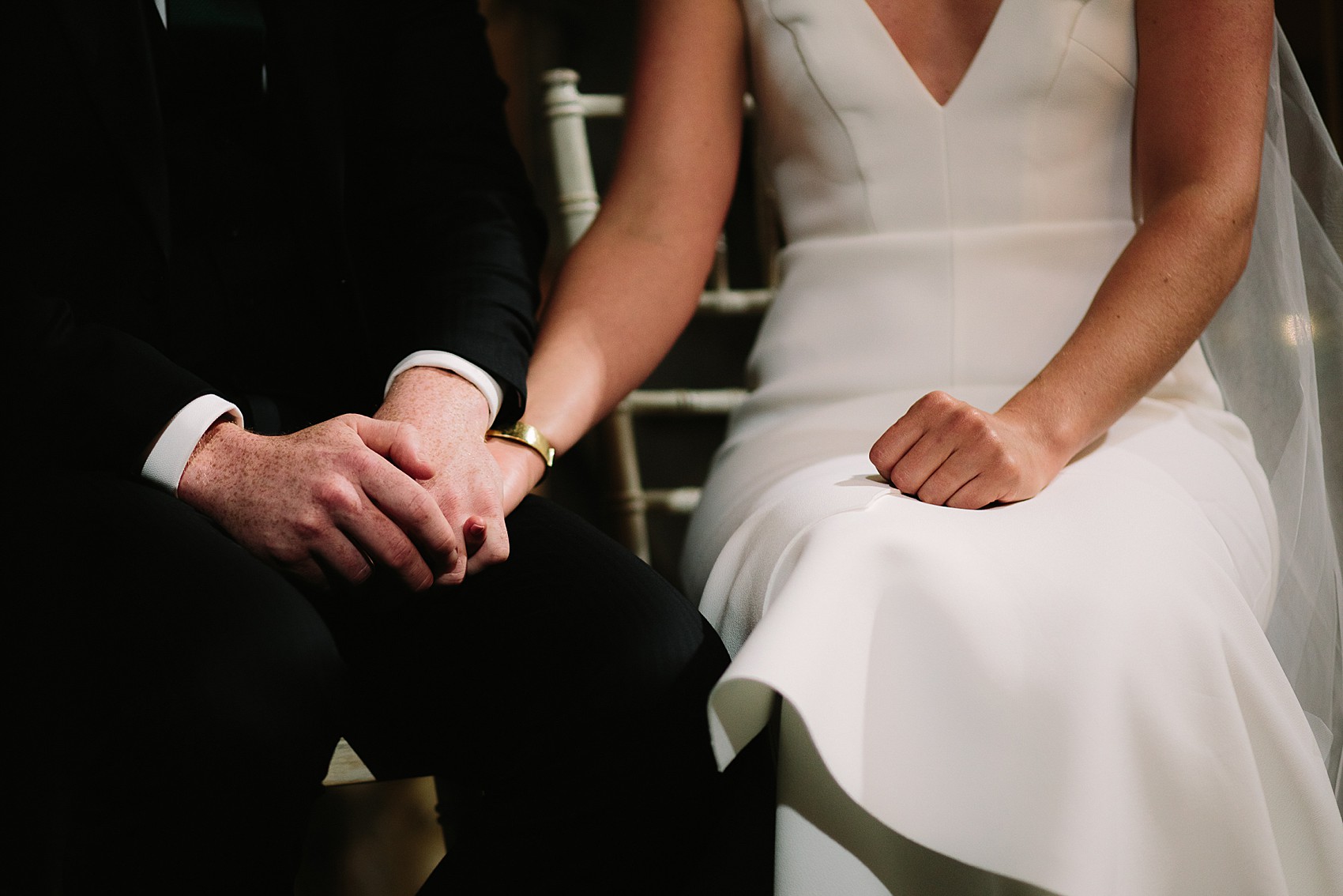 "We wrote our own vows for the ceremony but kept them short and sweet. Sam our celebrant read a few readings such as The Union. Our close friend read a story that he'd written, which was beautiful."
"This is another common thing at weddings with celebrants and it's really personal and allows everyone to reflect on your journey. One of my best friends also read an exert from Winnie The Pooh about friendship, which had me in tears."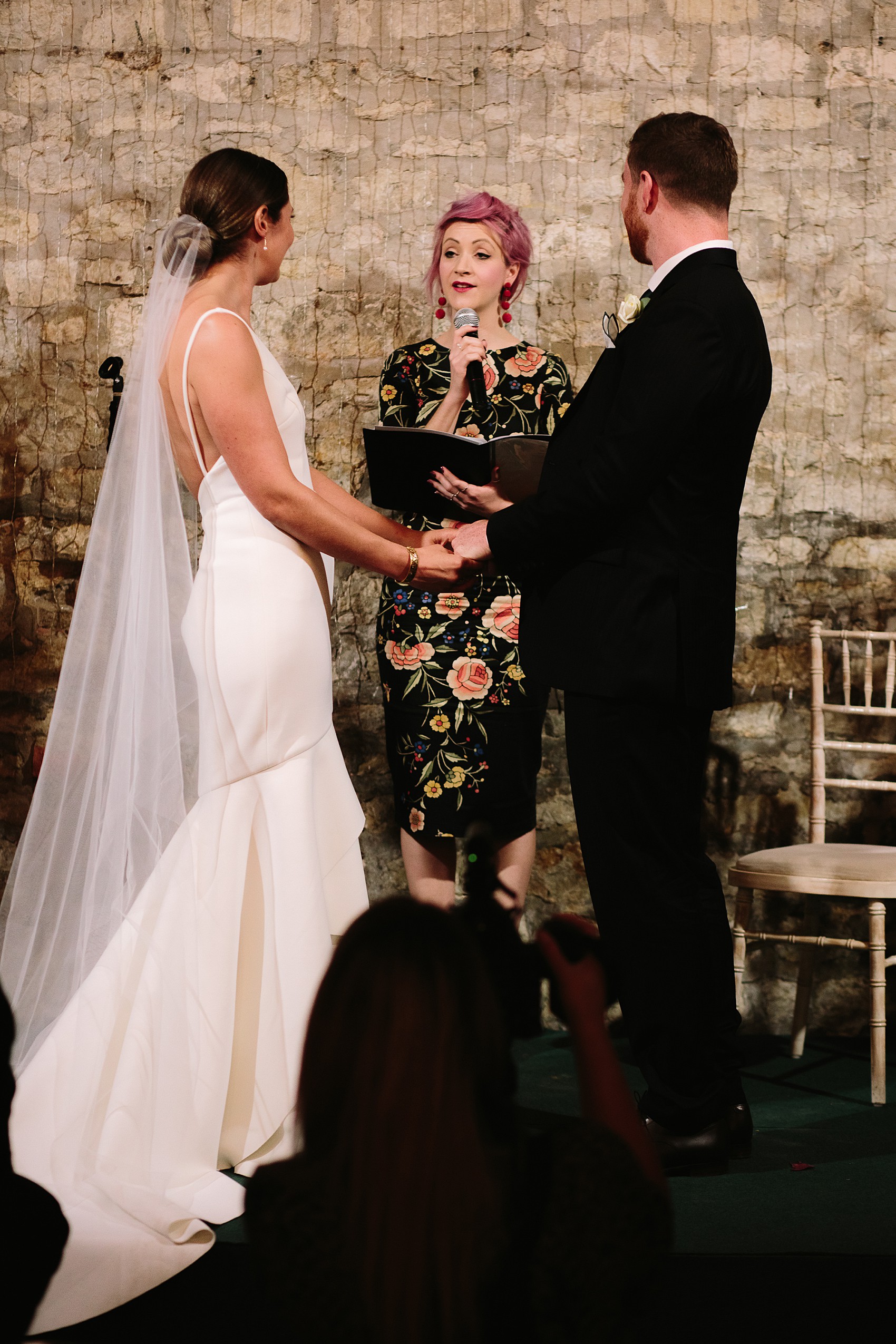 "George got his suit tailor made from Germanicos in Melbourne. At first I squealed at the price tag but when you think how much you pay for hair, make up, the dress, shoes etc. it doesn't even compare. He looked and felt amazing and it was really important for him to feel as good as I felt."
"His tie and pocket square were from an Australian designer called Otaa. He emailed them and they helped recommend a set that would work for him and his groomsmen – they all looked great!"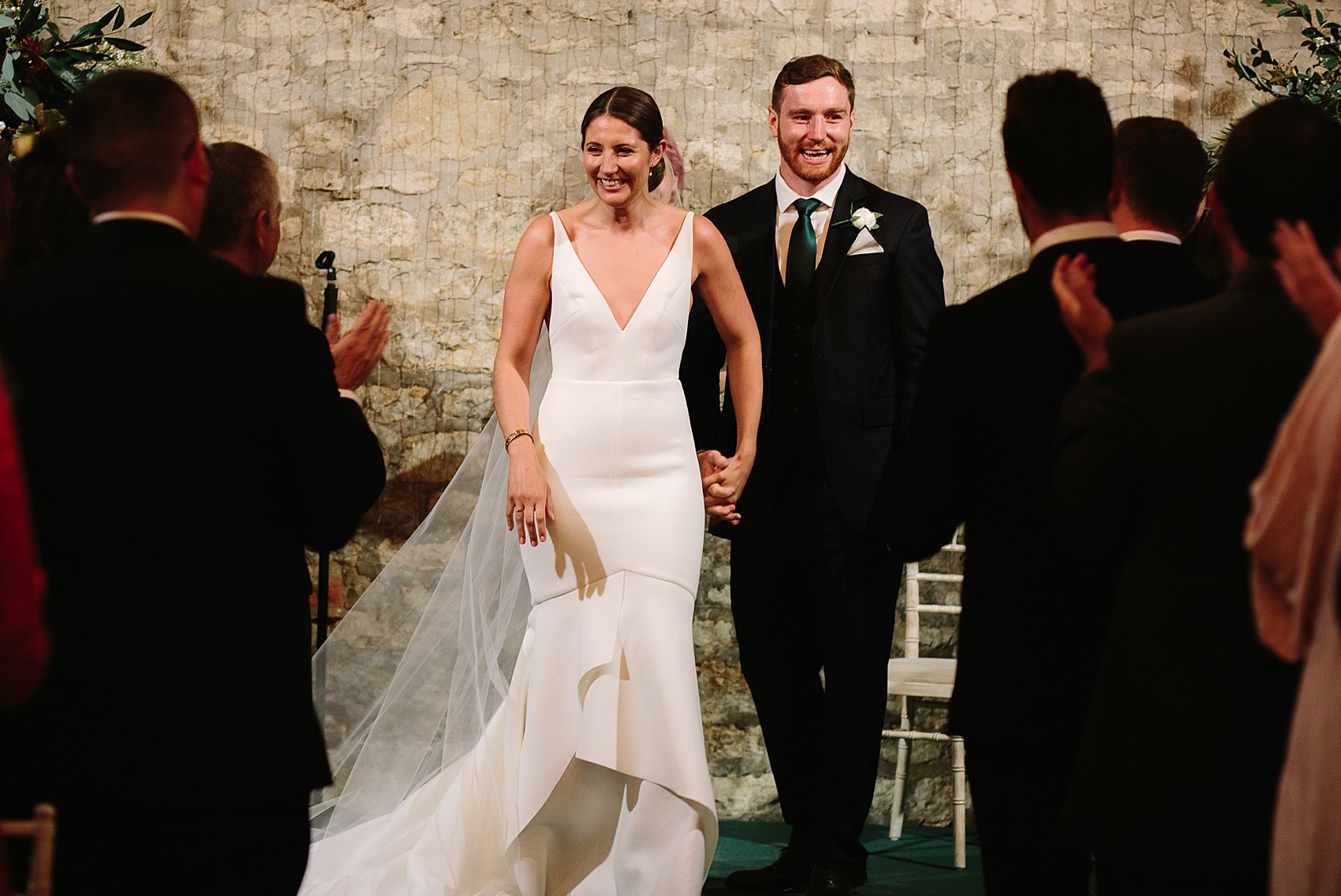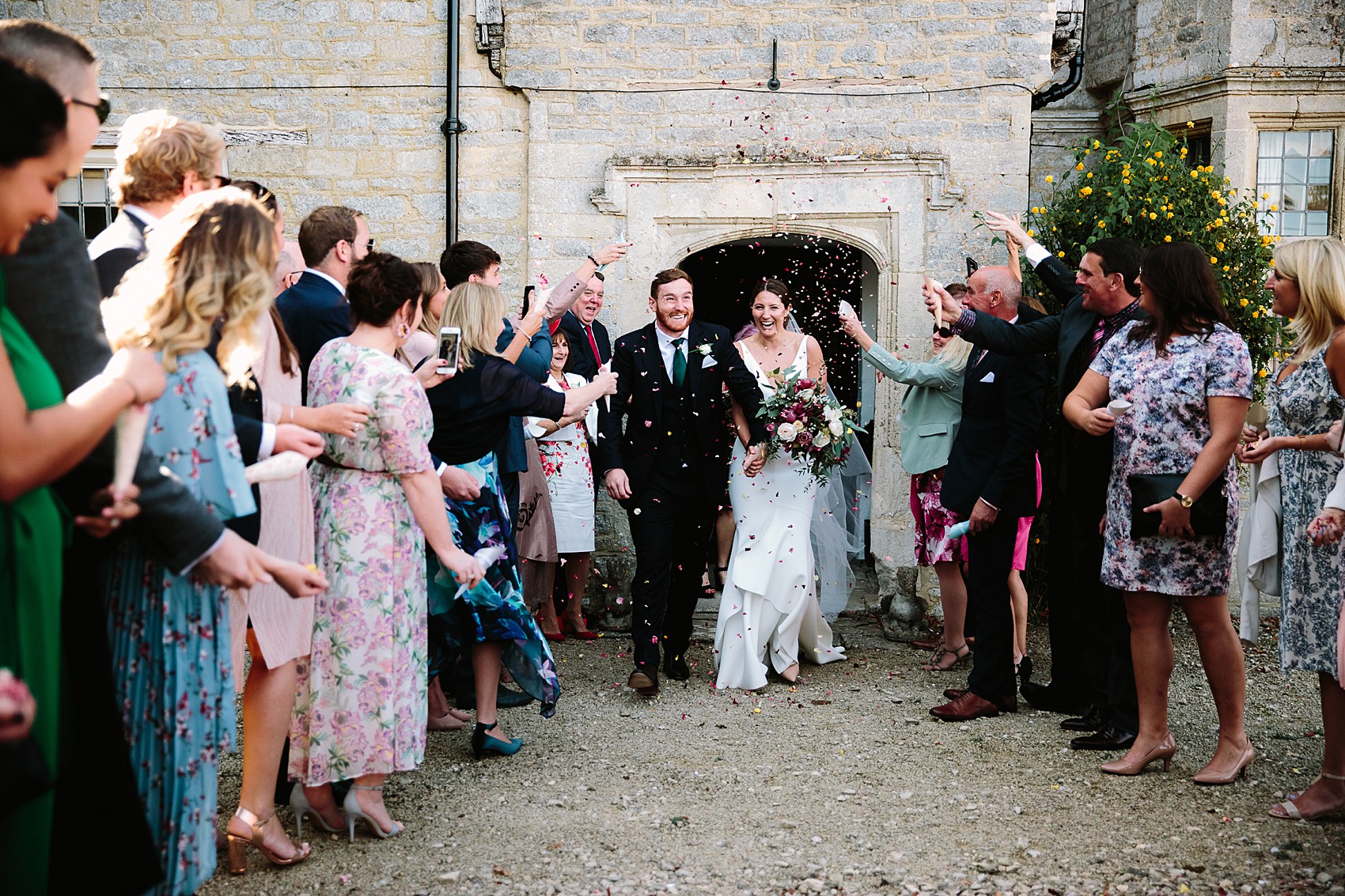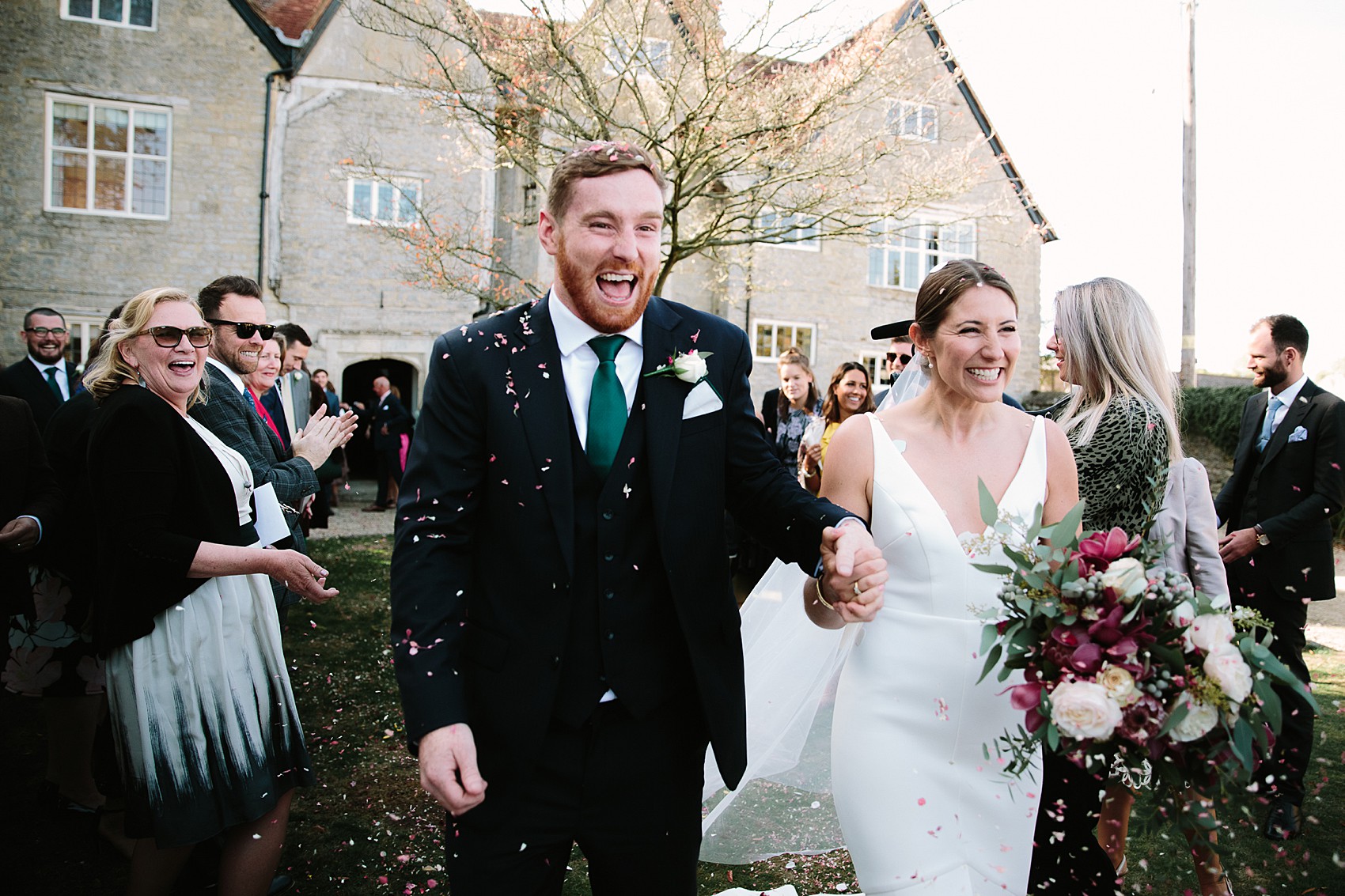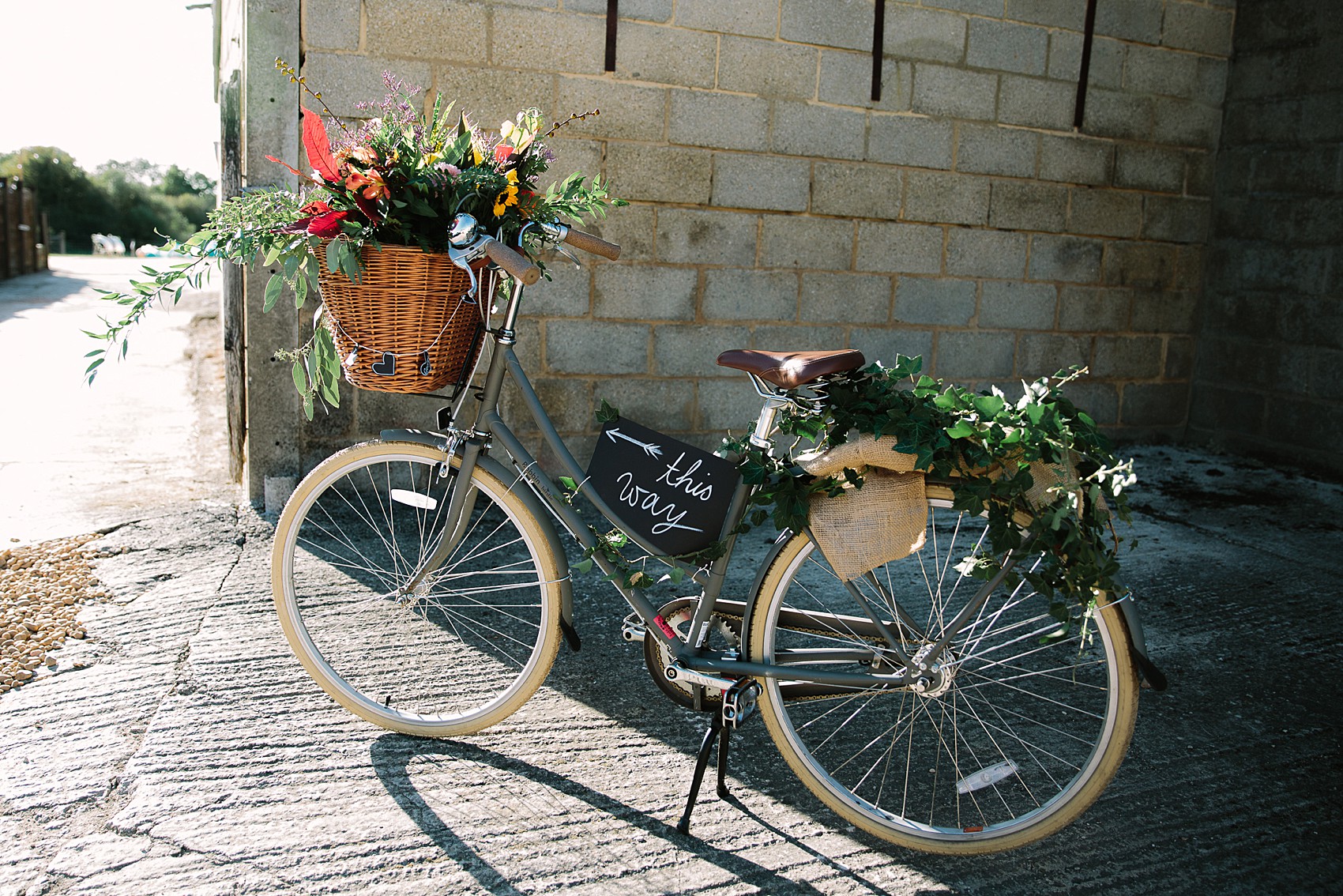 "Manor Farm Barn started doing weddings normally cater for 100 guests but we managed to persuade them to stretch to 200 and put a big tipi up in one of their fields after a beautiful reception in the 500-year old barn. It's set in a gorgeous old village with thatched roofs and great pubs. It's very English and relaxed, which is just what we wanted. "
"Vikki and Tony at Manor Farm Barn act in part as planners and liaised with all our suppliers, such as the caterers and tipi company. They also do the drinks with a team of staff and are with you all the way through the planning process, which makes the world of difference."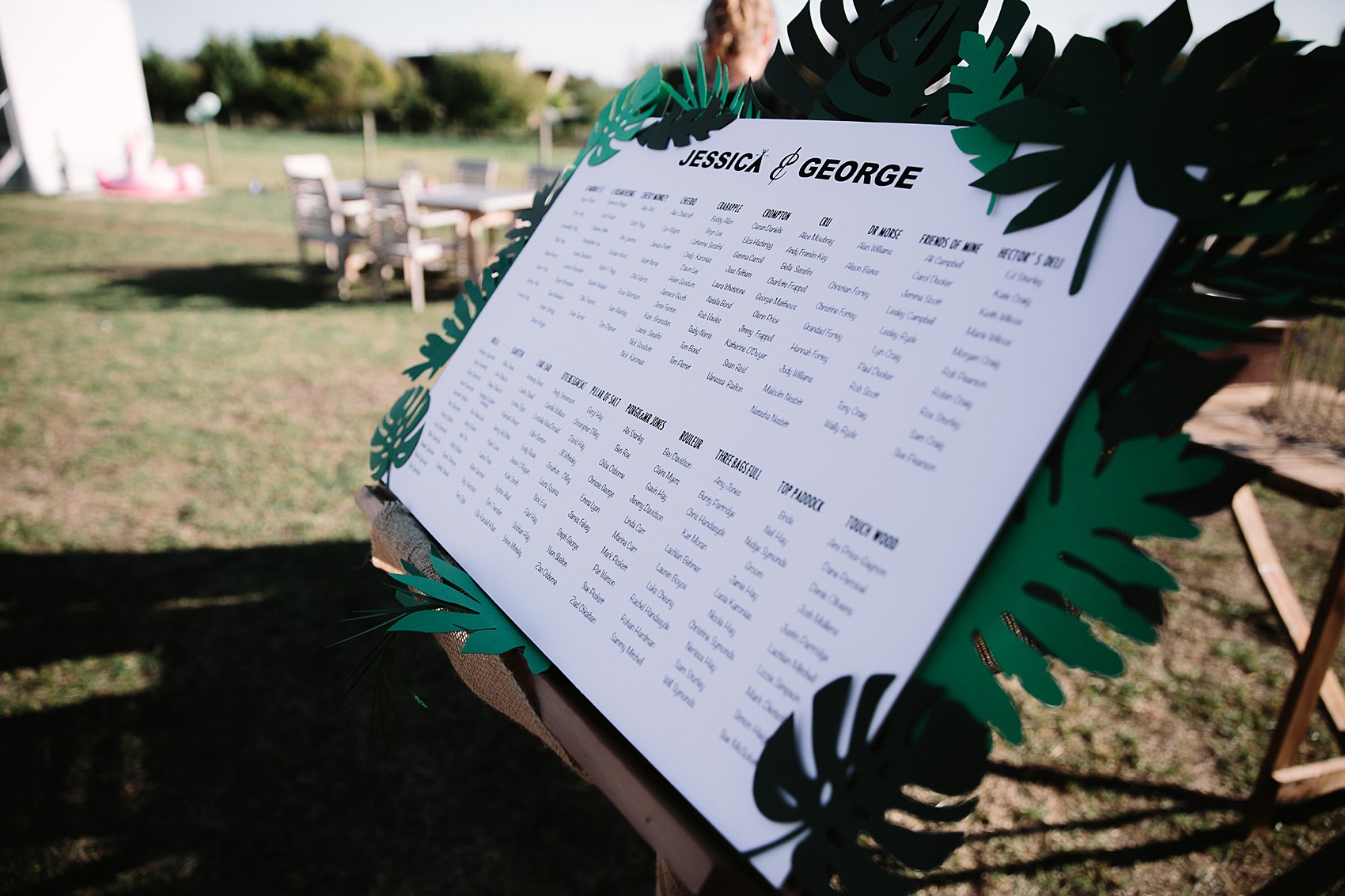 "After meeting with our venue when planning the wedding we researched into their recommended catering suppliers. We figured if they had an existing relationship and the caterers knew the venue then we'd be in safe hands. We found Ross and Ross and they were incredible! A lot of people told us it was the best wedding food they'd ever had."
"They were more expensive than we had planned but worth it. We had amazing sharing boards with salmon, pork belly, slow roasted lamb and a dessert sharing board with the best brownies ever tasted! Becca and the team were so professional and made everything run perfectly."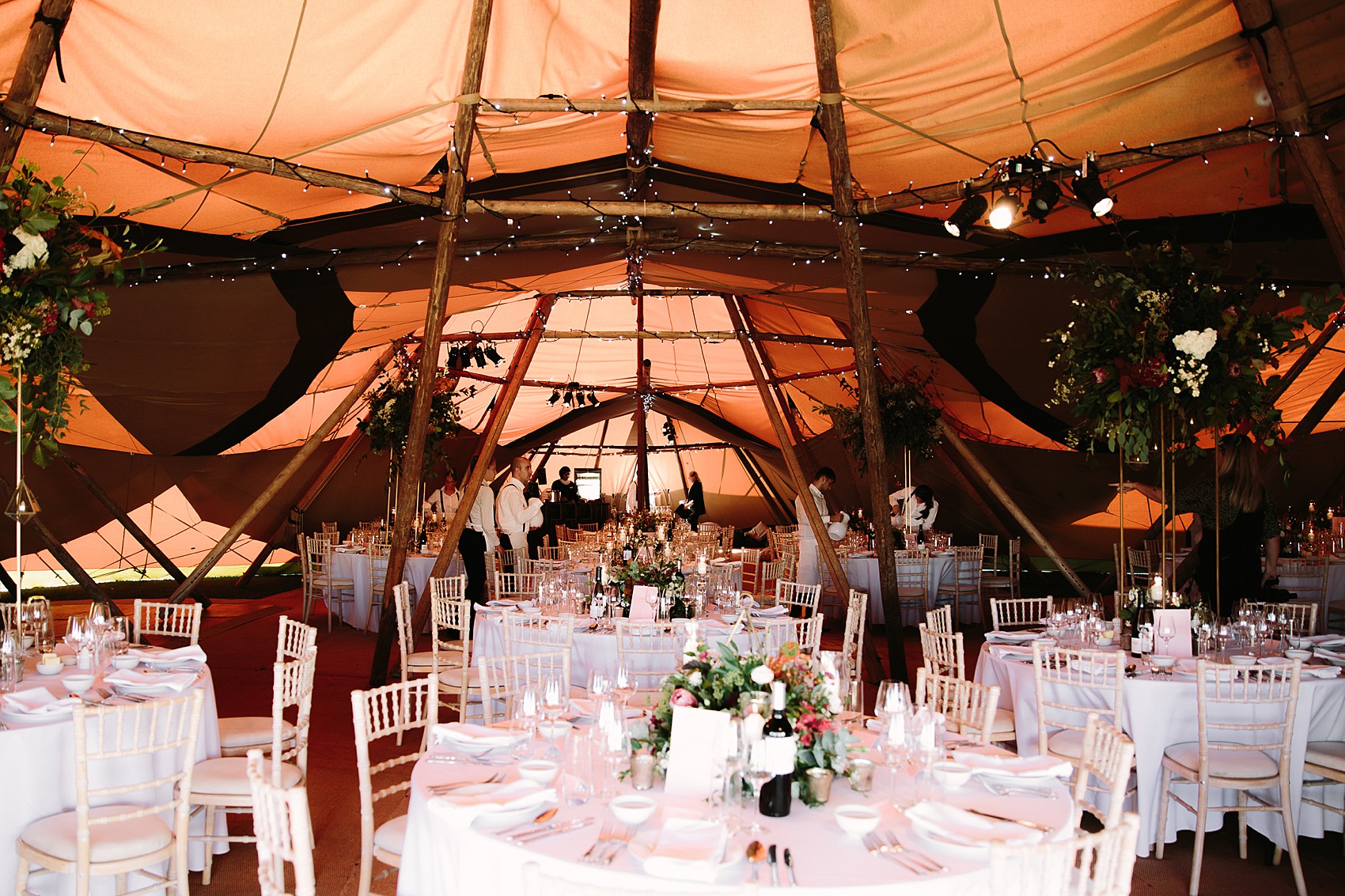 "My friend designed our invited and the stationery for the day, which was very modern and quirky – we loved it! For the favours we designed stubby holders for the beer bottles, which said 'drunk in love' on them, as well as our names, date and location."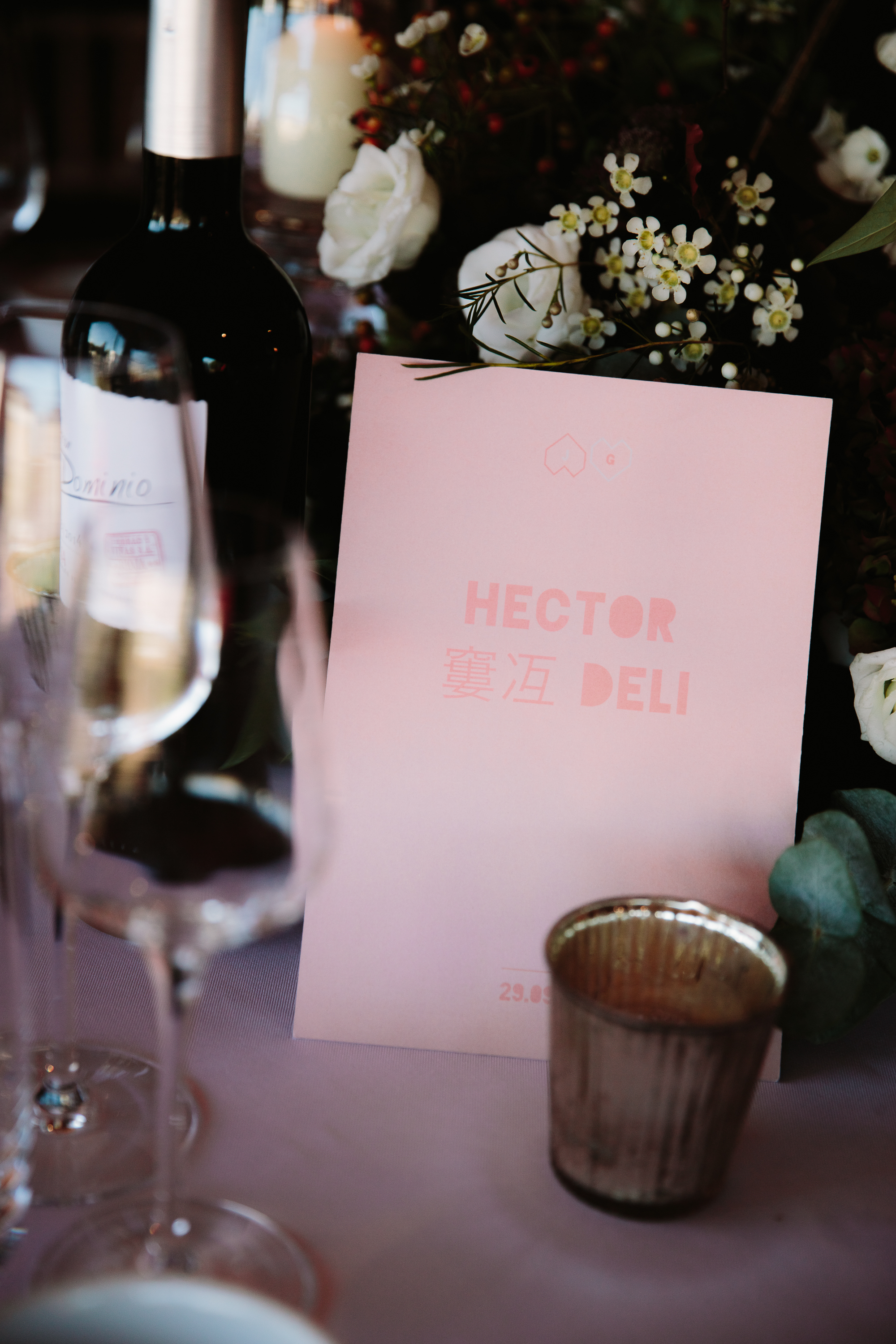 "I'm so lucky that one of my oldest school friends' mum is a renowned florist. When we were younger we would always say that Mary Jane would do our wedding flowers but I never actually realised she would as she's London based. As soon as I suggested it, she was adamant she wanted to do them and made me and my mum feel very special."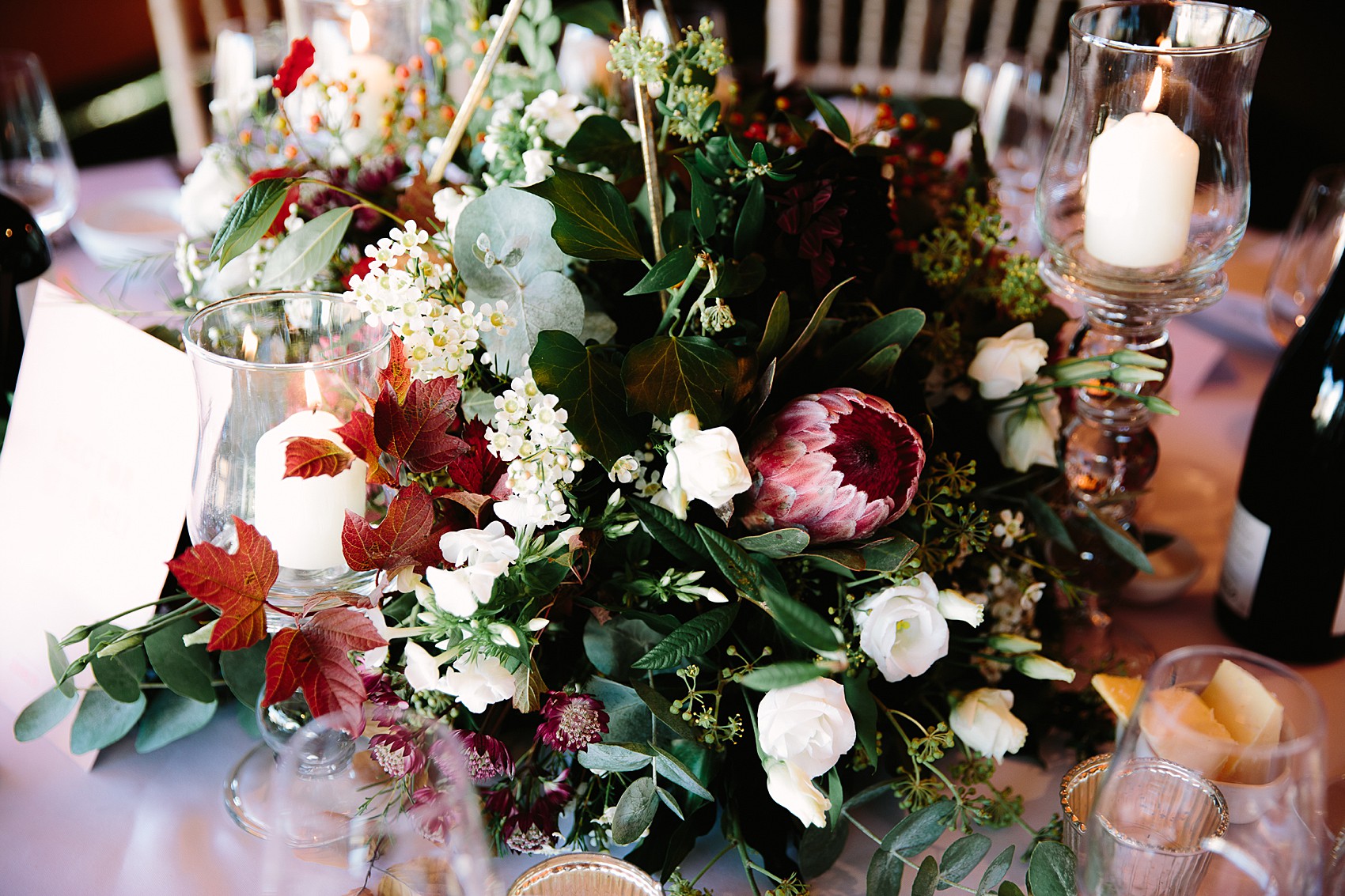 "She's a very special woman who has such a talent for creating the most beautiful displays and I feel very lucky we were able to have her help. I knew I wanted Australian natives and my bouquet was amazing with eucalyptus, orchids and roses."
"She also supplied all the candles in the barn and set up beautiful displays for the tables. Even the bridesmaids bouquets were immaculate."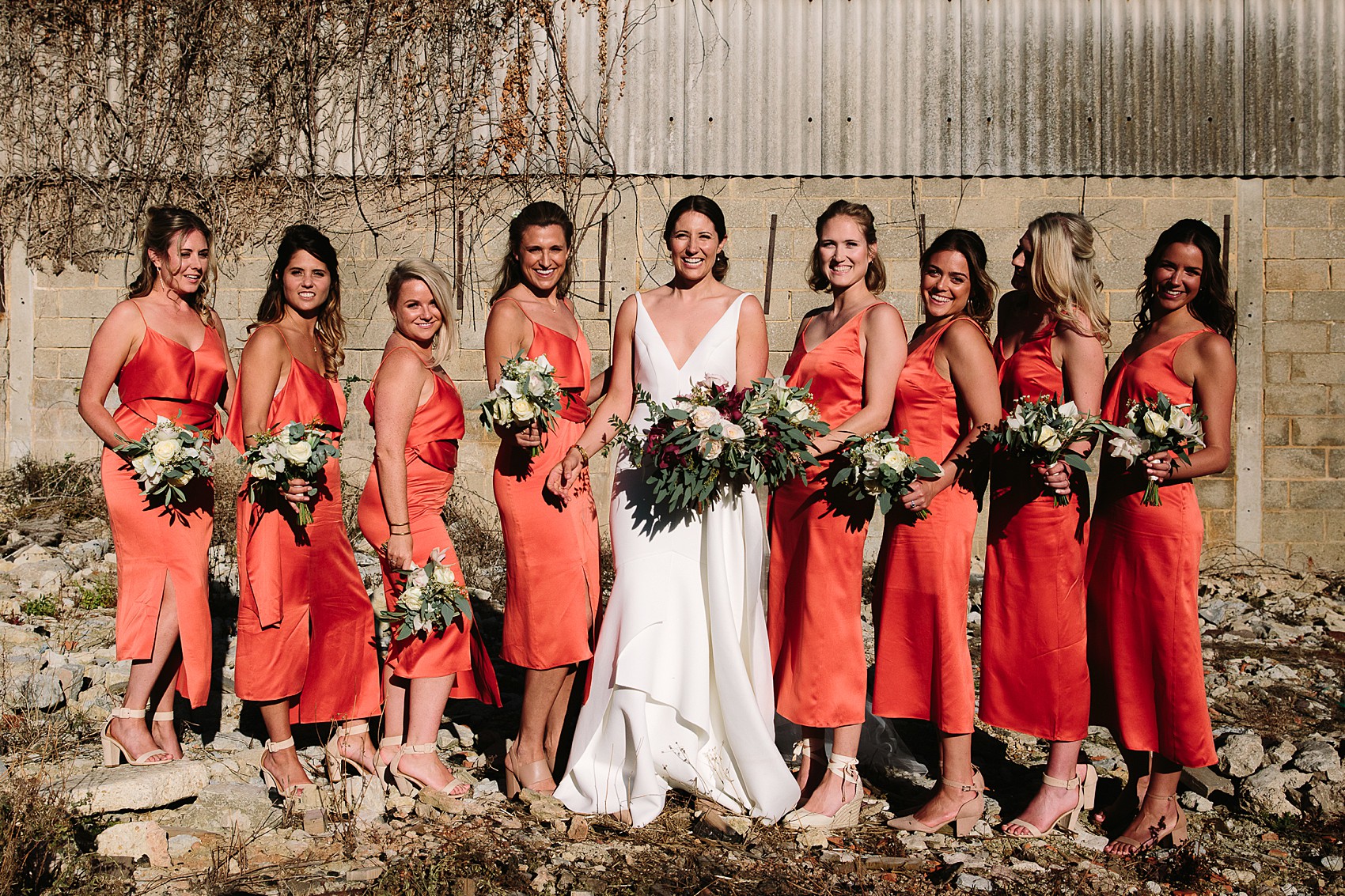 "We did also hire an event stylist, Camille from A Little Je Ne Sais Quoi, who was worth her weight in gold. She's a talented and beautiful person and I found her via our photographer's blog."
"There's only so much I could manage from the other side of the world and Camille was able to fully support us, meaning upon our arrival, there wasn't much to do and we could focus on the moment."
"Camille even met with our florist and helped pick and manage the flowers."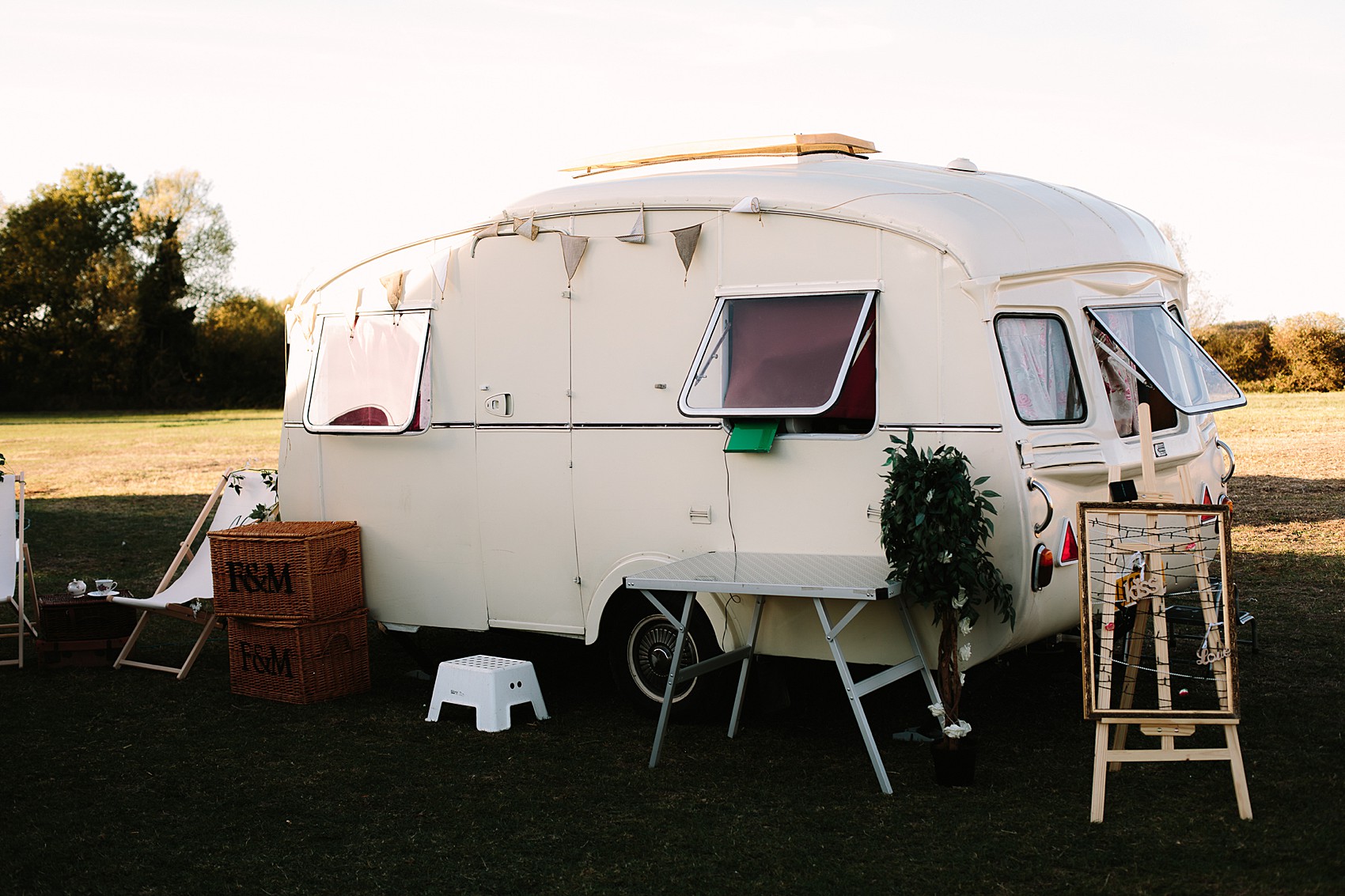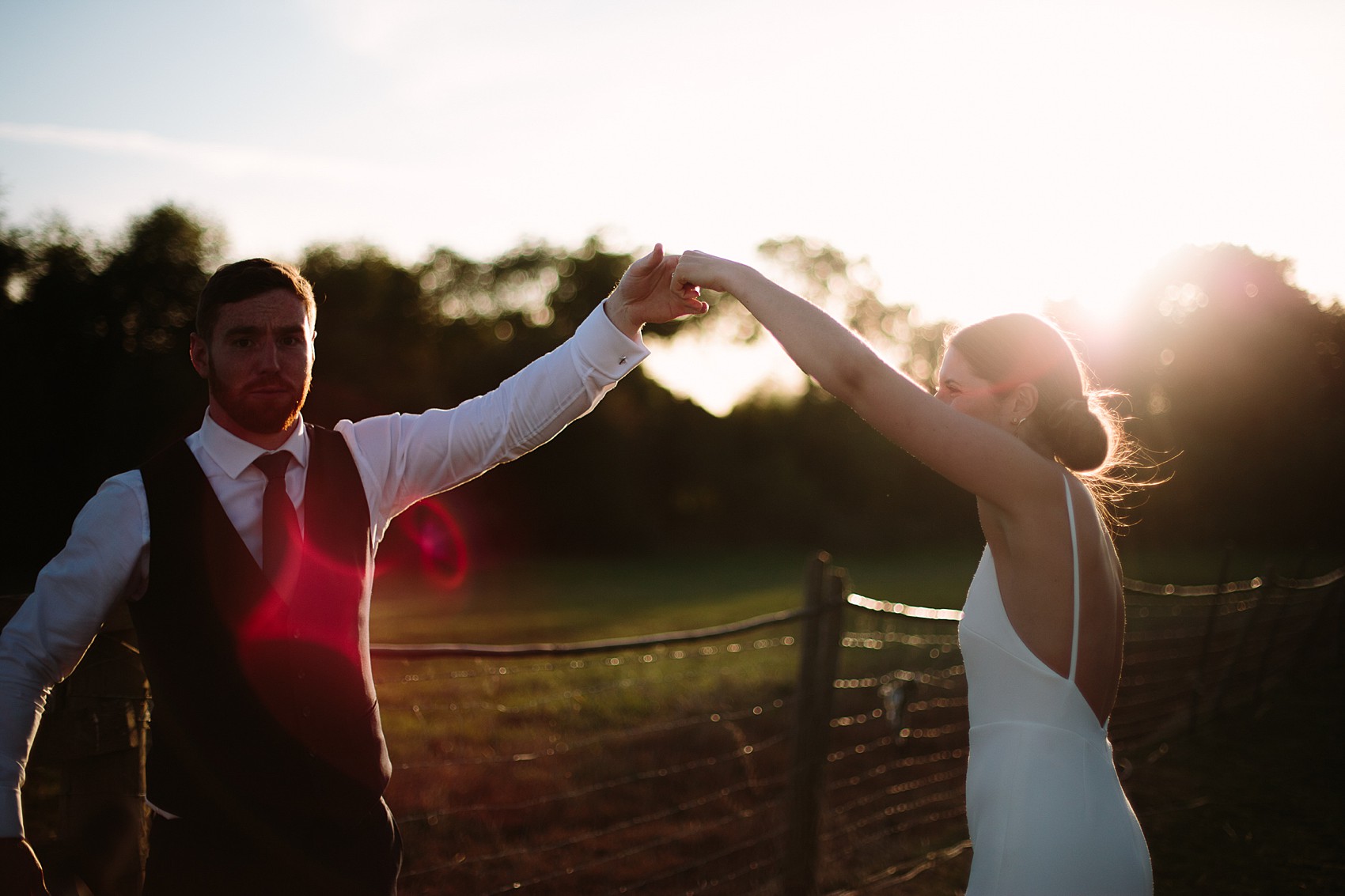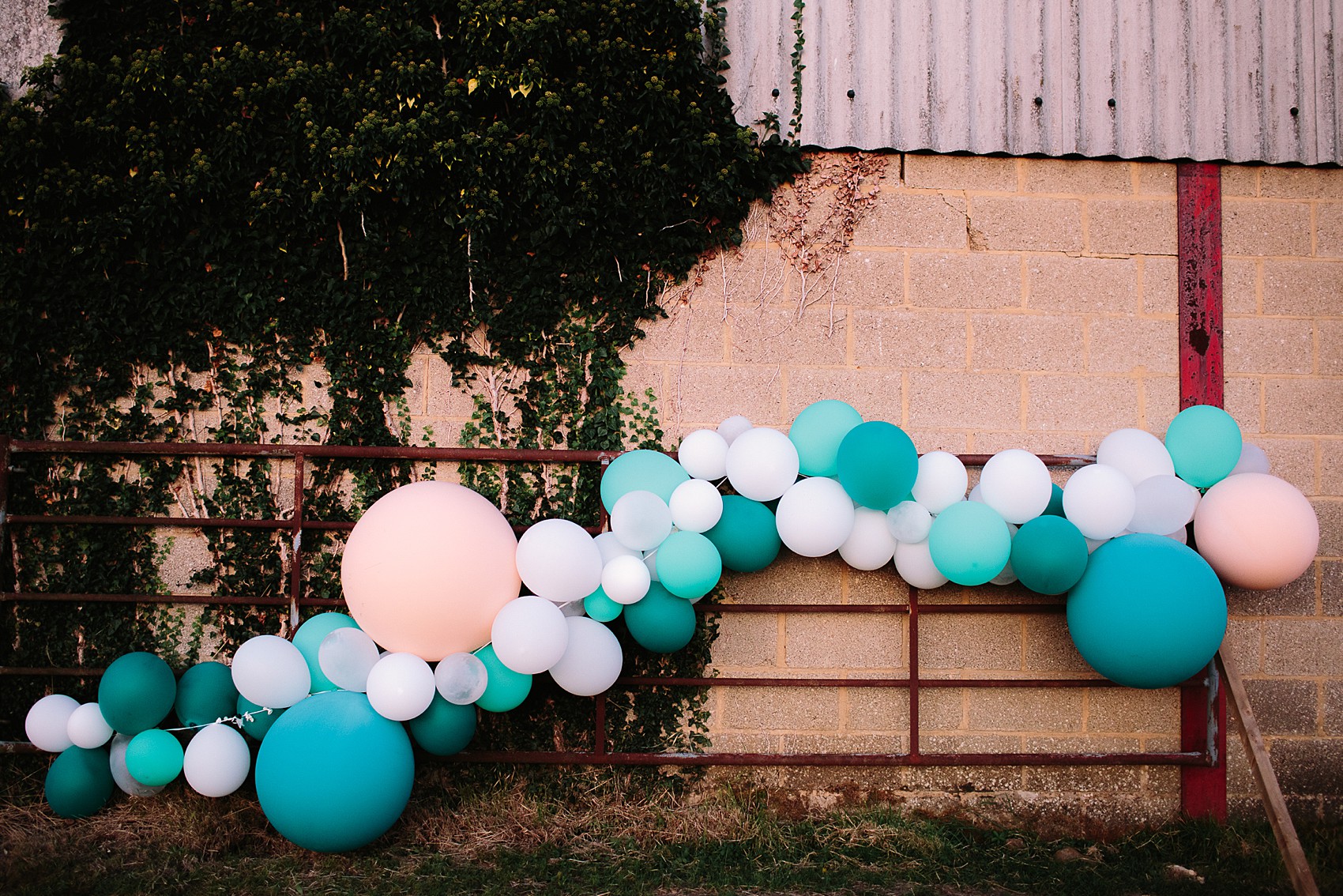 "The wedding cake was made by a family friend of my in-laws called Clare, who's creation and generosity blew us away. It was a multi-tiered cake with chocolate, lemon, champagne and vanilla flavoured sponges. I wanted it to blend in with the tipi so it was a naked cake with berries and beautiful flowers organised with the florist."
"For the entertainment on the day we hired a musician who was unbelievable and had everyone's minds blown at the drinks reception. We booked him through Elle Entertainment. We also booked Jay, an acoustic guitarist, to set the mood for the garden drinks. Our band for the evening was Soul Beat via Articulate Music."
"We had some drama though with the sound checks and the meal being served, but they did have us doing a conga line through the tipi at one point! In the evening we also had a photo booth caravan that Camille had organised. It was lots of fun and we have a gorgeous signed book with all the photos from it on the night."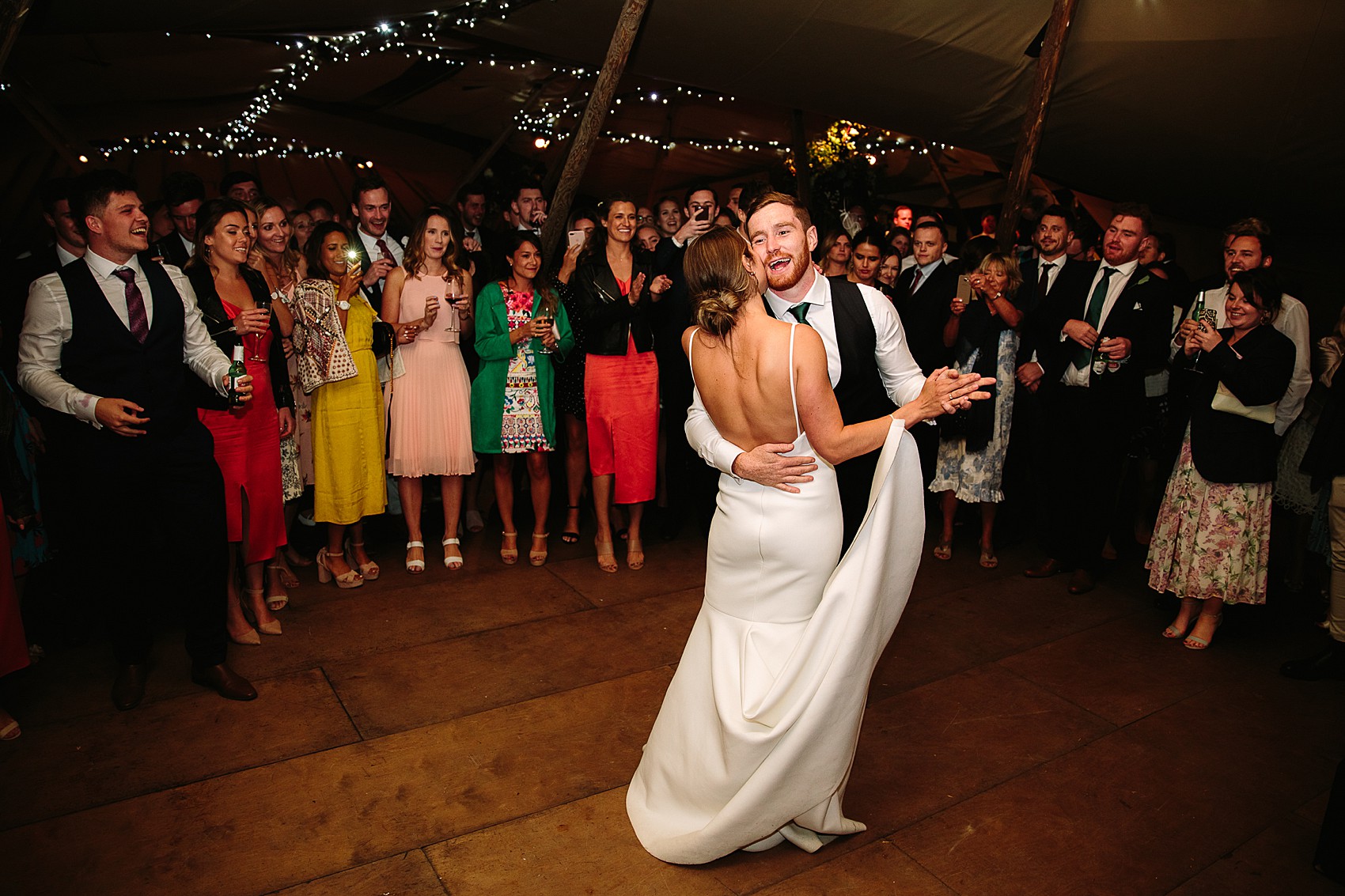 "We did our first dance to Vance Joy Rip Tide, which the band played and learnt especially – so awesome. When George first moved to Australia it had just made the top song of 2014 and was on the radio none stop. It's about a guy who moves away for his girl and this girl always sings along to his songs but never gets the words right…very much us!"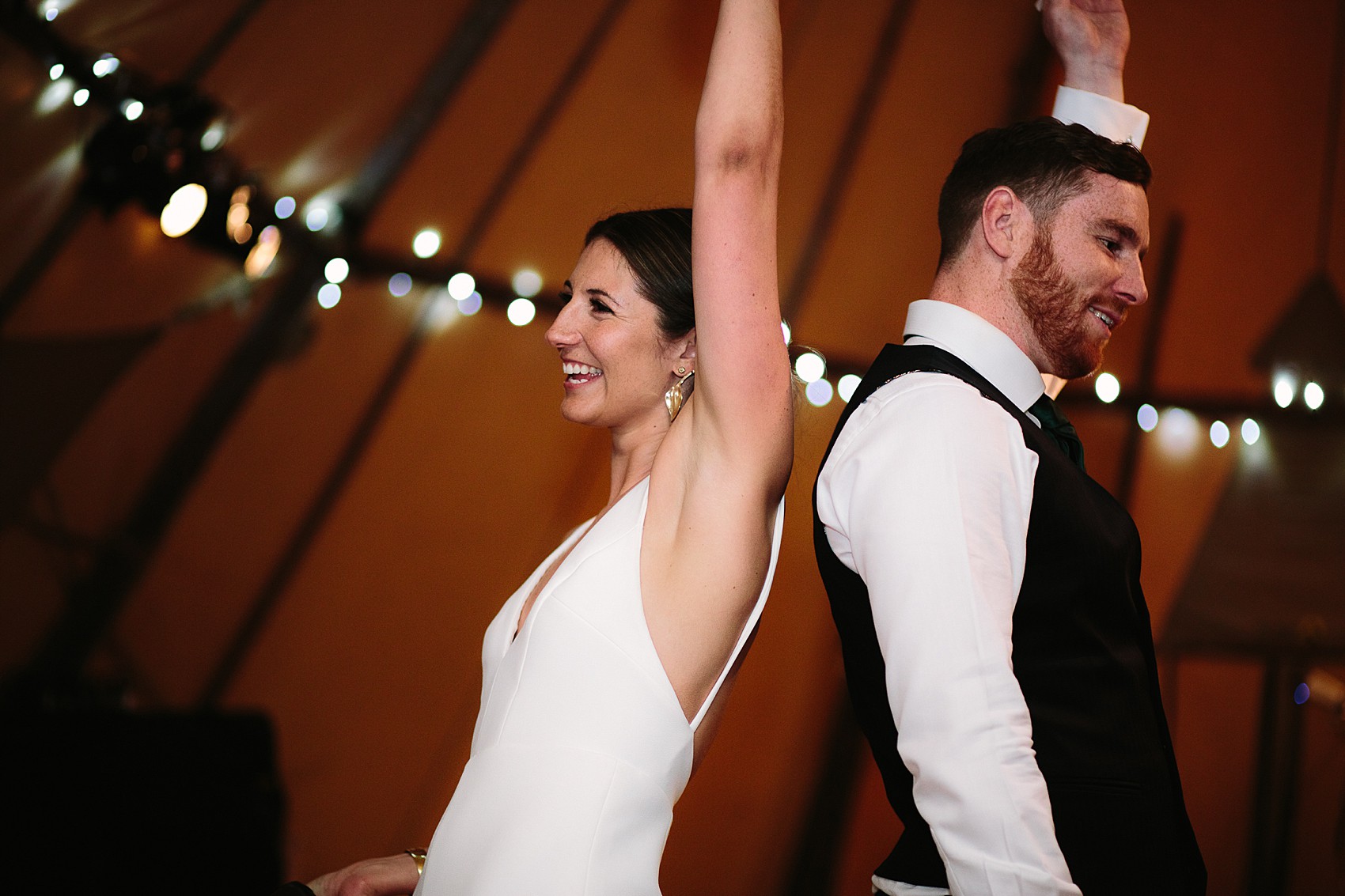 "Looking back, I think my favourite part of the day was the ceremony. We both agree and both didn't think it would be. There was something so special about having everyone you love in one room. It's overwhelming to make a declaration of love like that."
Words Of Wedded Wisdom
"The best advice I got I didn't listen to, but it was exactly right. If you have a budget in mind, just double it now. A harsh but real truth. We were very grateful that we had the support of both of our parents but we were still blown away by how much it all cost – we're still paying off the credit cards now!"
"Think about what it is that makes you and your partner special. George and I always say everything is a laugh a minute and as long as we're laughing long into old age, we'll be happy. We took inspiration from the fact we wanted the day to be a big party with lots of giggles, and by making it laid back and full of entertainment, it was just that."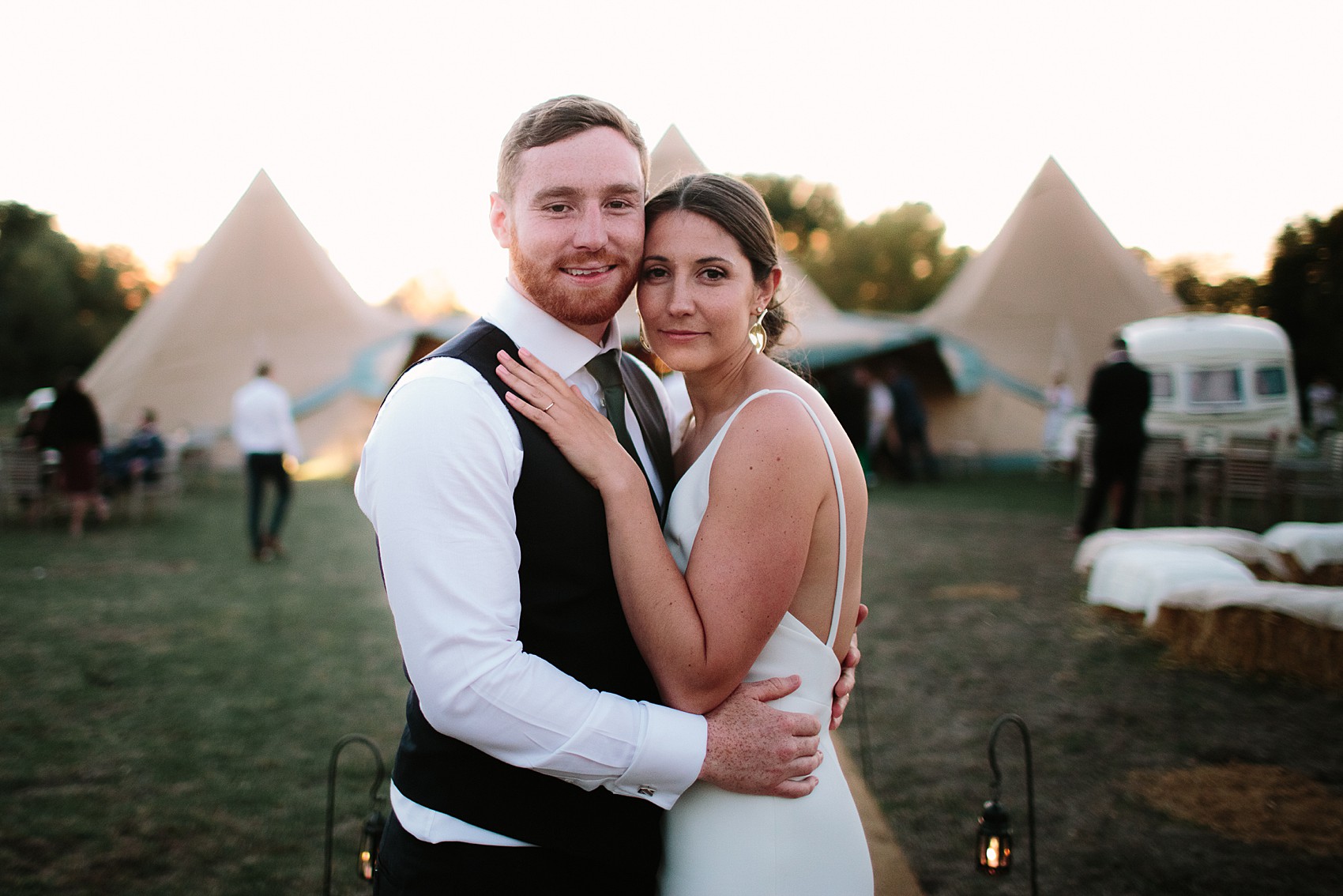 What a wonderful day! Special thanks to the newlyweds for letting us have a glimpse into it, and to Philippa James, for capturing it all on camera.
Until next time…
Much love,
Holly x