On a cold and drizzly day an injection of beauty is just the thing to lift your spirits.
Today's wedding is a real feast for your eyes, combining relaxed boho elements and sumptuous hints of gold with a deep green and white palette and one of the most swoon-worthy gowns. Let's take a look. Let me introduce Kathryn, a professional model and dancer and Ben, a London-based insurance broker, whose wedding took place on 19 May 2019.
Photography D&A Photography
"I wanted a relaxed yet stylish bohemian vibe for our wedding – neither of us are into overly luxurious things and I love everything boho. We are both really into nature and animals and I am a true soulful hippie at heart so I wanted this to reflect in the day."
Echoing the trailing skirt of her own gown, Kathryn's bridesmaids dressed in ASOS gowns of blush pink and gold sequins, worn with their own shoes and floral headpieces.
"I gave each bridesmaid a bracelet from Muru Jewellery and in the morning we all wore robes from Le Rose."
Kathryn's long hair was styled into relaxed, boho waves whilst her make-up was glowing and beautiful.
"Make up was by Abbi Rose Make-Up and my hair was by my good friend and hairdresser for almost 15 years, Emilina Hair Artist."
Setting the scene for the overall boho look was Kathryn's incredible gown. This Riki Dalal creation features the most delicious appliqué floral bodice paired with a pure white, flowing, layered skirt for relaxed boho chic. The bride found it at Dress Dreams Bridal, through whom she also ordered her bespoke Riki Dalal veil.
"I had expressed that I was interested in Israeli dress designers and a friend told me Dress Dreams had a large collection. I dealt with Shereen at the boutique and she was helpful and friendly from the get go. I told her what kind of dress I was after and the first she picked out for me was the one I ended up going with."
"It was like she knew me already! They made us feel very well looked after and I recommend Dress Dreams Bridal to every bride."
"Being a professional model I have worn hundreds of wedding dresses and was worried it would be impossible for me to find 'The One'. I remember putting on the first dress Shereen gave me which was a beautiful two-piece dress covered in appliqué flowers and different textures of lace. I immediately fell in love."
"I turned to my bridesmaids and mum and said, 'It just feels like me!'. I am a huge nature lover and a bit of a hippie so it just seemed right to be covered in flowers on my wedding day."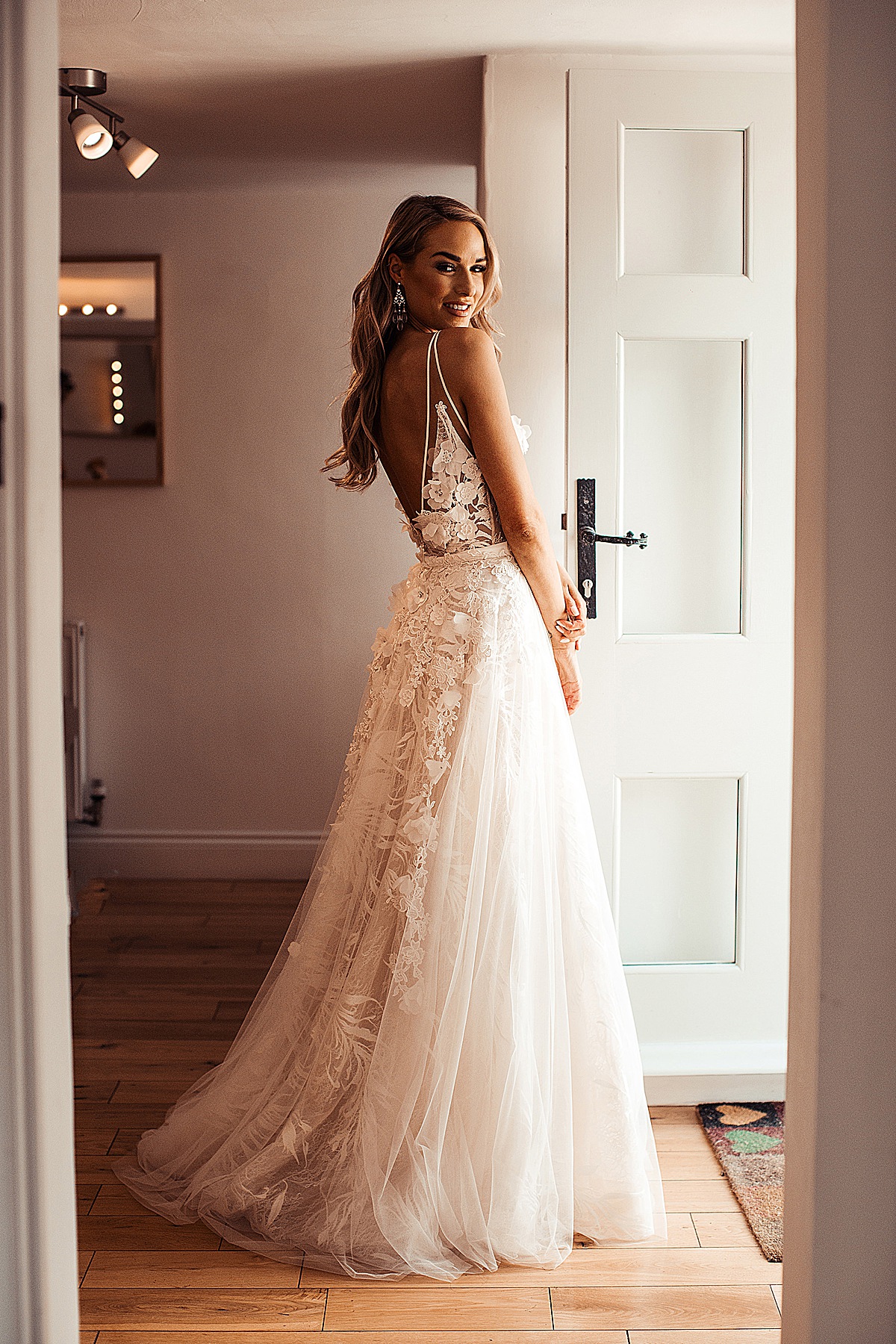 Flowers played a starring role in creating the relaxed, boho feel of the day, starting with the bride's wonderful, wonderful crown of full-blown roses and foliage. She added a dramatic pair of chandelier earrings from BHLDN and a spritz of Chloé Nomade.
"I wore a flower crown and my bridesmaids had floral head pieces made by my hairdresser and dear friend Emily Hunter."
"I wanted quite a long and wide veil for a dramatic effect but also wanted some of the appliqué flowers from my dress on the very bottom edge. We discussed what I wanted and they made it happen. It was perfect!"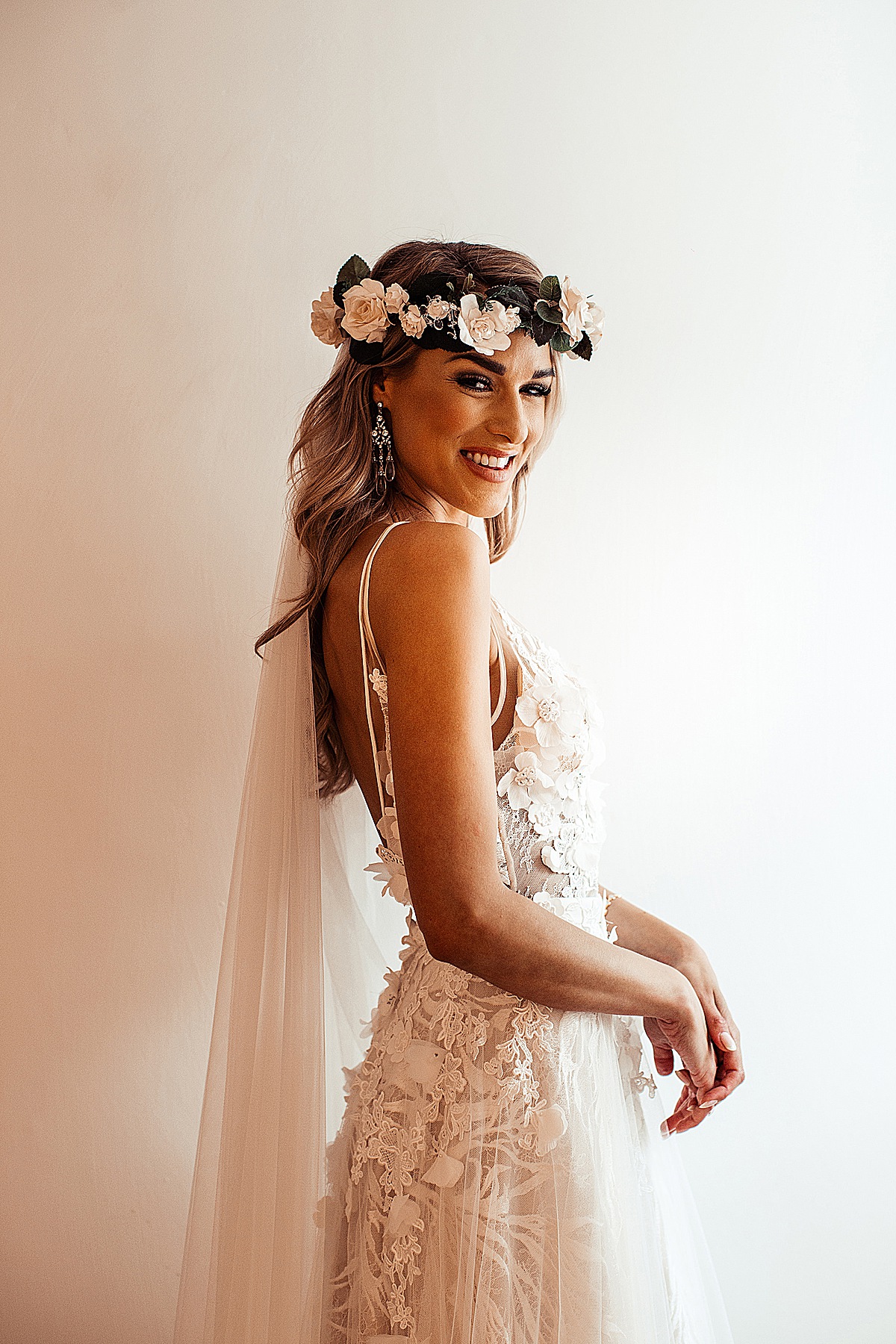 Luckily for the couple the 19th May was a clear, dry day meaning they could marry outside. As the bride and her bridesmaids had stayed at a cottage in the Hall's grounds the night before they could walk to the ceremony barn, whilst Ben and his party took taxis from Essex Executive Travel.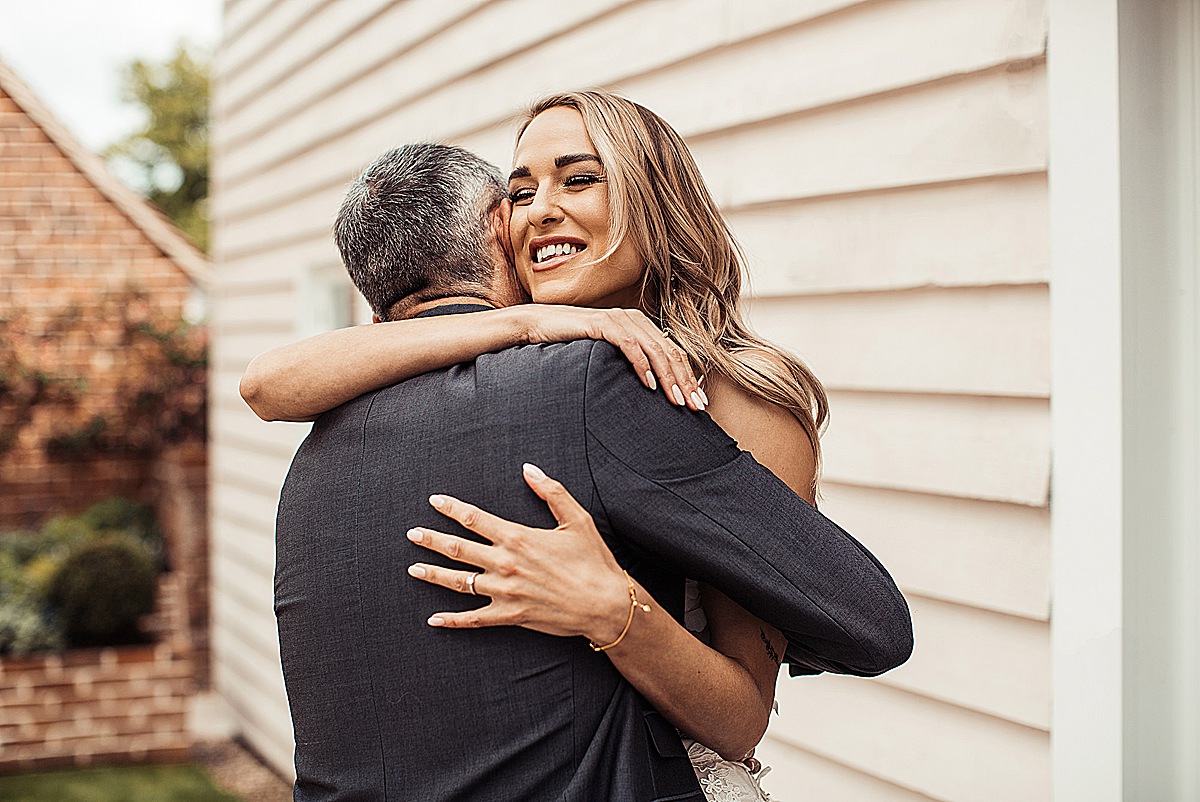 Meanwhile, the groom and his best men and groomsmen were getting ready, dressing in charcoal grey suits with white shirts and off-white ties, all from The Groom's Room in Colchester, Essex. He added The Groom's Room shoes and John Lewis cufflinks.
"Ben had two best men. Jack and Lance are extremely special to him and since being with Ben, his friends have truly become my friends too."
"He had two other very close friends to complete his troupe of four groomsmen, one of whose wife had had a baby two days before and he still managed to make it along to our ceremony and the majority of the reception. That alone shows how much Ben's happiness means to his friends. Ben also had our dads as groomsmen and they were both honoured to be included."
The venue for their outdoor civil ceremony and barn reception was Blake Hall, Ongar in Essex, not too far from the couple's home. It offered a wonderfully flexible space for their day, whose decor channelled a relaxed and stylish boho vibe.
"We wanted to be close to home so that it was easy for all our friends and family to be there. I was desperate to get married outside but wanted a venue where, if the weather let us down, it wouldn't be disappointing if the ceremony had to be inside. Blake Hall had a stunning inside and outside ceremony area. We also loved the large, open and light reception barn area."
Kathryn walked through the grounds with her father – as one of her friends played the ukulele and sang a reggae version of 'Can't Help Falling In Love With You' by Elvis Presley.
"I had my friend Matt Knight sing and play ukulele as I walked down the aisle and he continued to sing throughout the reception drinks. The sound of the ukulele was perfect for the vibe I wanted. I had so many comments saying how good he was and what an amazing voice he has."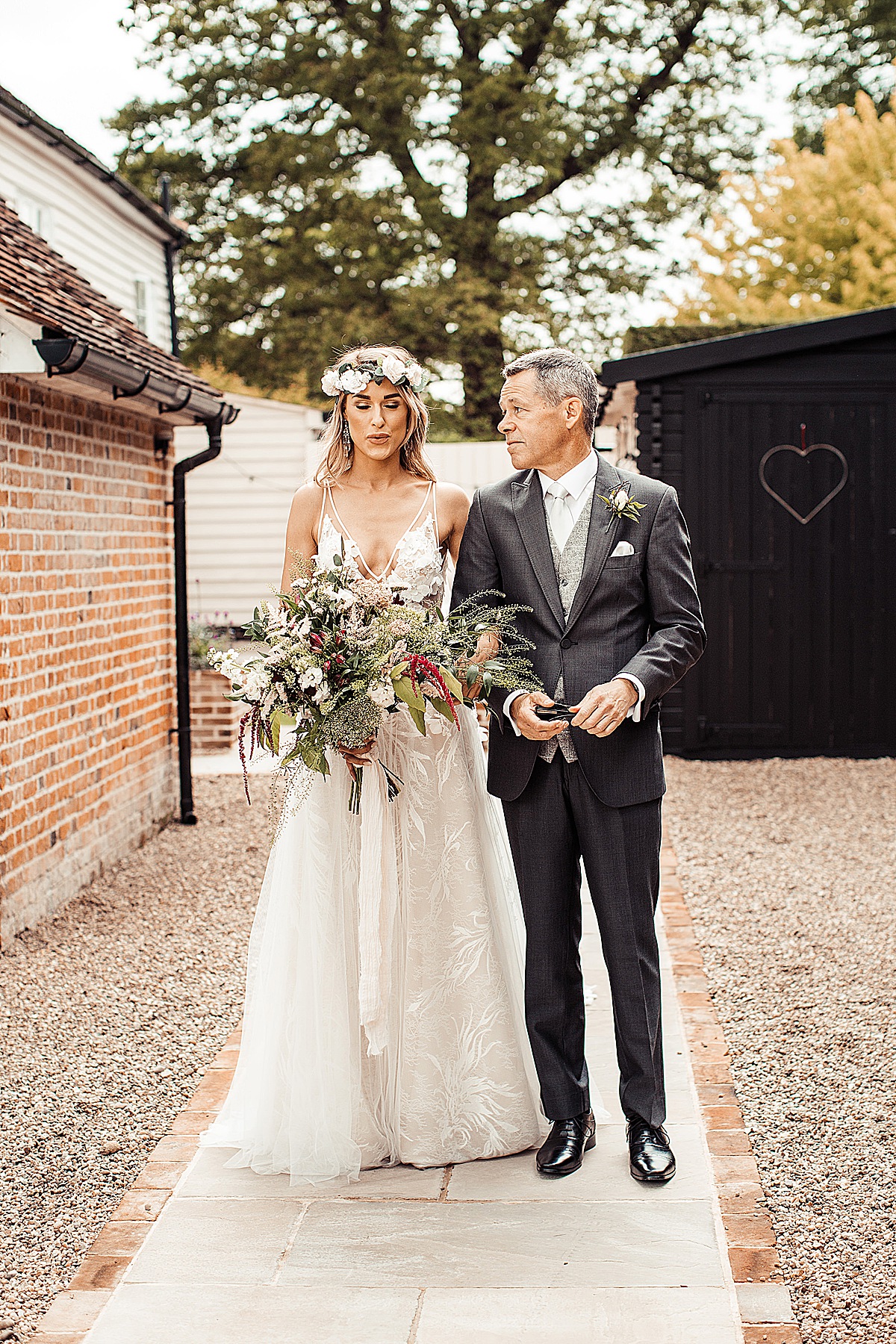 "We chose mostly the vows given to us by the registrar but added a small piece each for our promises. These were only a few sentences and quite personalised. Ben said at one point, 'I promise to say yes every time you want to add another animal (pet) to our sanctuary we call a home'."
Ben and Kathryn chose two readings for the service to add a personal feel.
"We didn't want anything too formal or cheesy so we went with 'Captain Corelli's Mandolin' which my brother read. It speaks about love not being only about passion but about being two people whose roots are intertwined and who you feel at home with. For the second reading, we had one of Ben's nieces read which was very sweet. 'Why Falling In Love Is Like Owning A Dog' is a funny one, especially for people who own dogs, which we do. It was nice to bring a relaxing tone into the ceremony, hearing people laugh."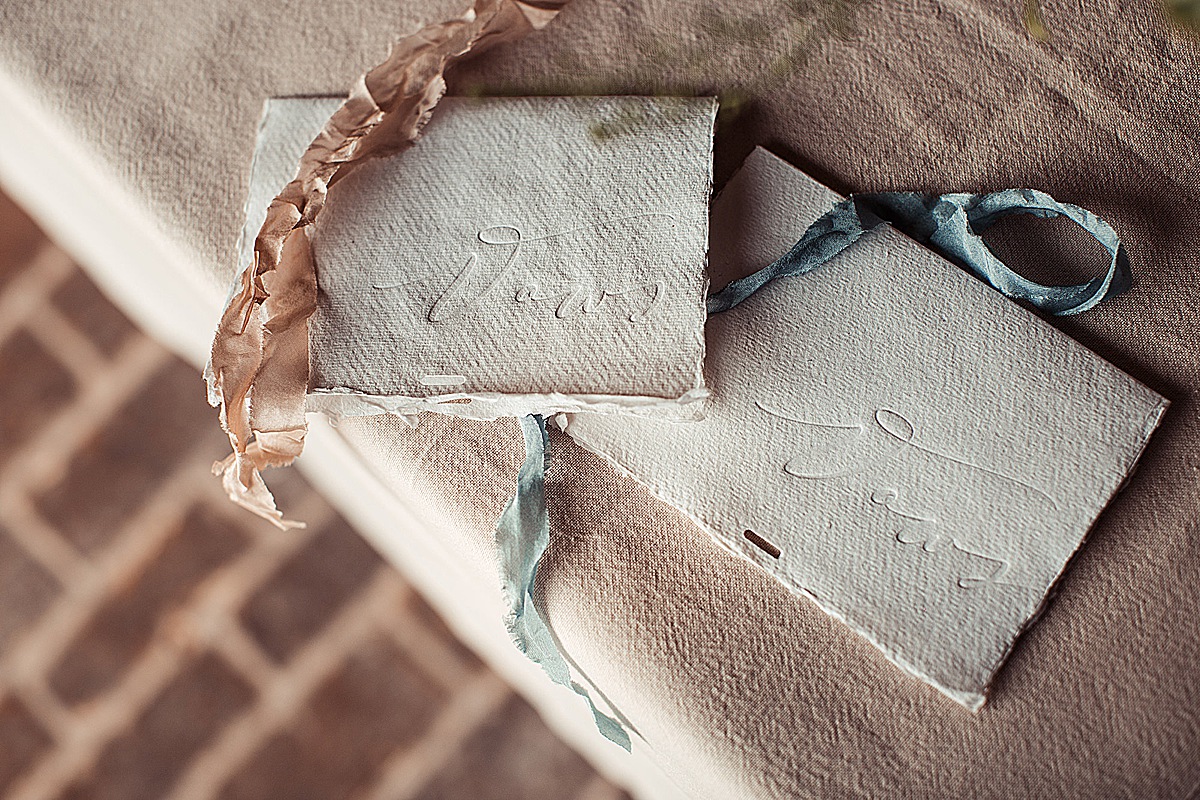 The couple returned to the same place where Ben had chosen Kathryn's engagement ring, Taylor & Hart, for their wedding bands.
"It felt right to get the wedding rings from there too. I showed them the design I liked on Pinterest and they had one just like it so I was extremely happy!"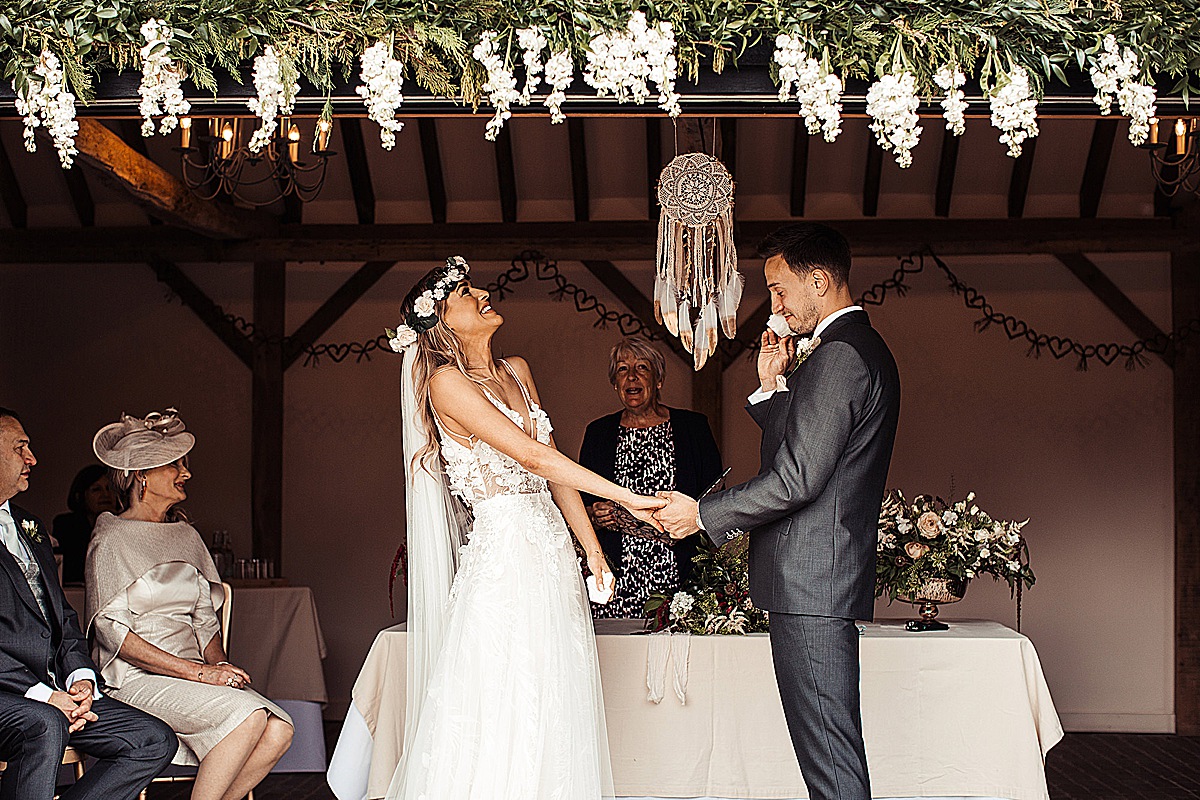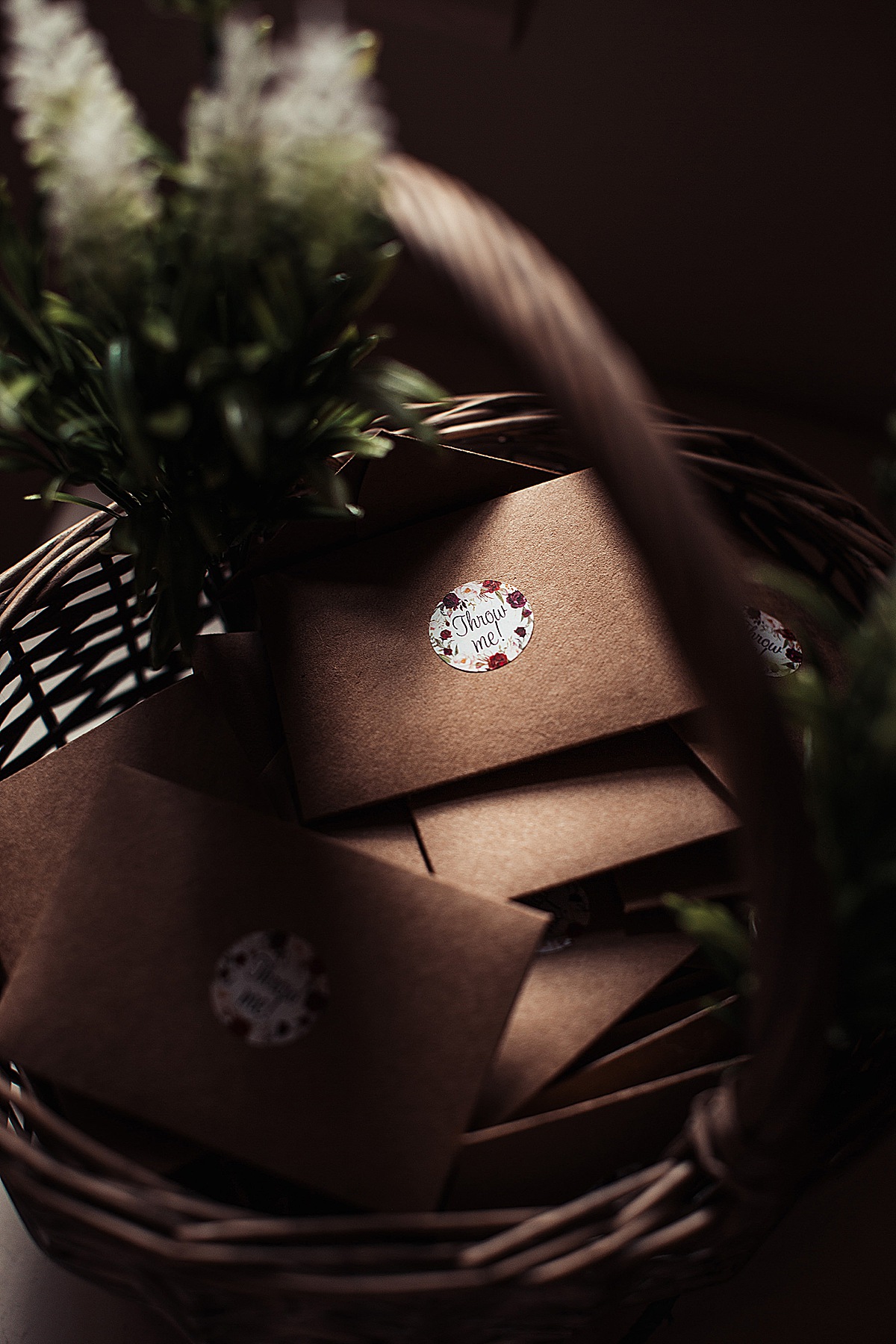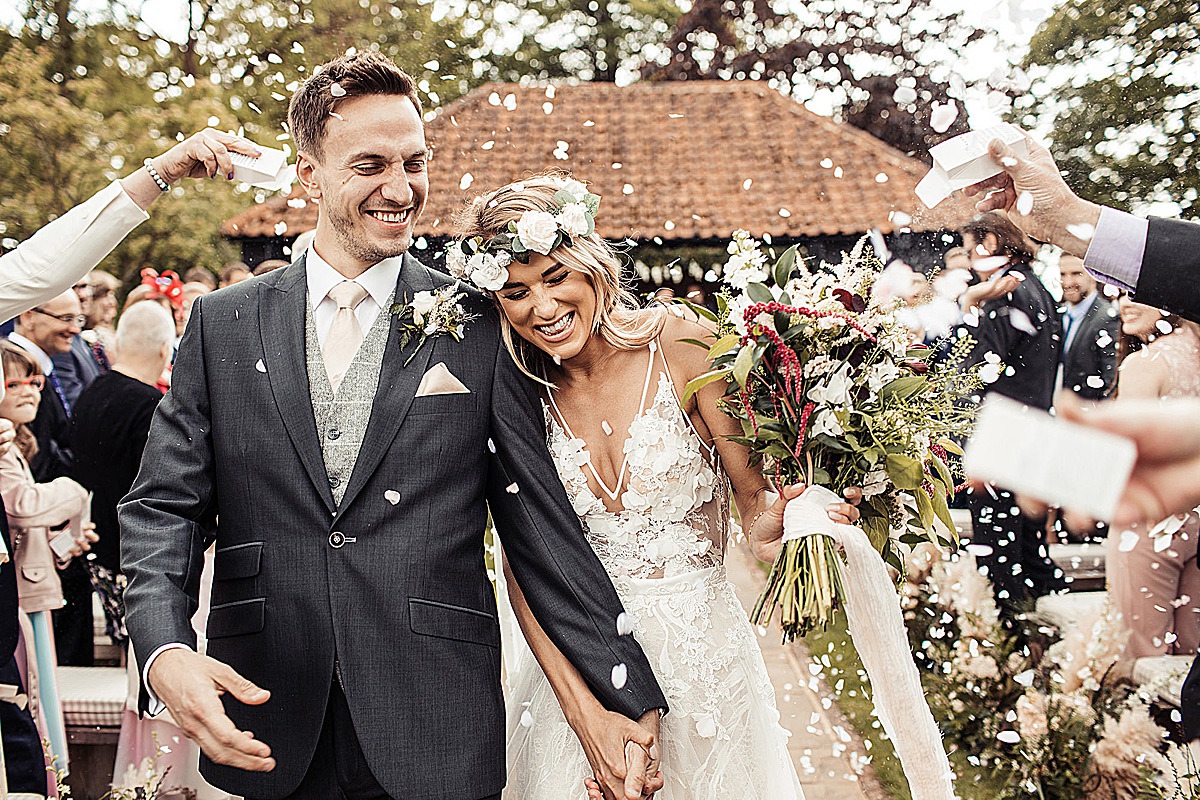 All of the girls carried big, blowsy hand-tied bouquets of fresh flowers and foliage, created by the bride's talented mother.
"I absolutely adore flowers and most of my Pinterest board was floral ideas and arrangements. My mother, Jackie, offered to do ALL the flowers. This was perfect as I felt I could be really involved. I fully trusted my mum as she loves flowers even more than I do. We discussed everything I wanted early in the engagement and we realised it was going to be a huge job. I told her we could keep it low key and not go through with some of the ideas but she was adamant to give me the wedding flowers I had always dreamed of."
"We did a trial in May the year before the wedding to see what was in bloom and, the week of the wedding, we went to New Covent Garden Market to pick the flowers. This was an amazing experience to have with my mum and I will never forget how much more personal and special it felt to pick the flowers together like this."
"On the day she had a lot of help from her sister, my Auntie Gill, and they created the most stunning wedding flower arrangements. Hanging pieces from the ceremony barn, twenty floor arrangements down the aisle, all the bridal bouquets and groomsmen boutonnière, eleven table centre-pieces and a long arrangement across the top table; I couldn't believe what an amazing job they had both done. They were everything I'd ever dreamt of and the best part about it was that it was made so much more special by being created by my extremely talented and giving mum."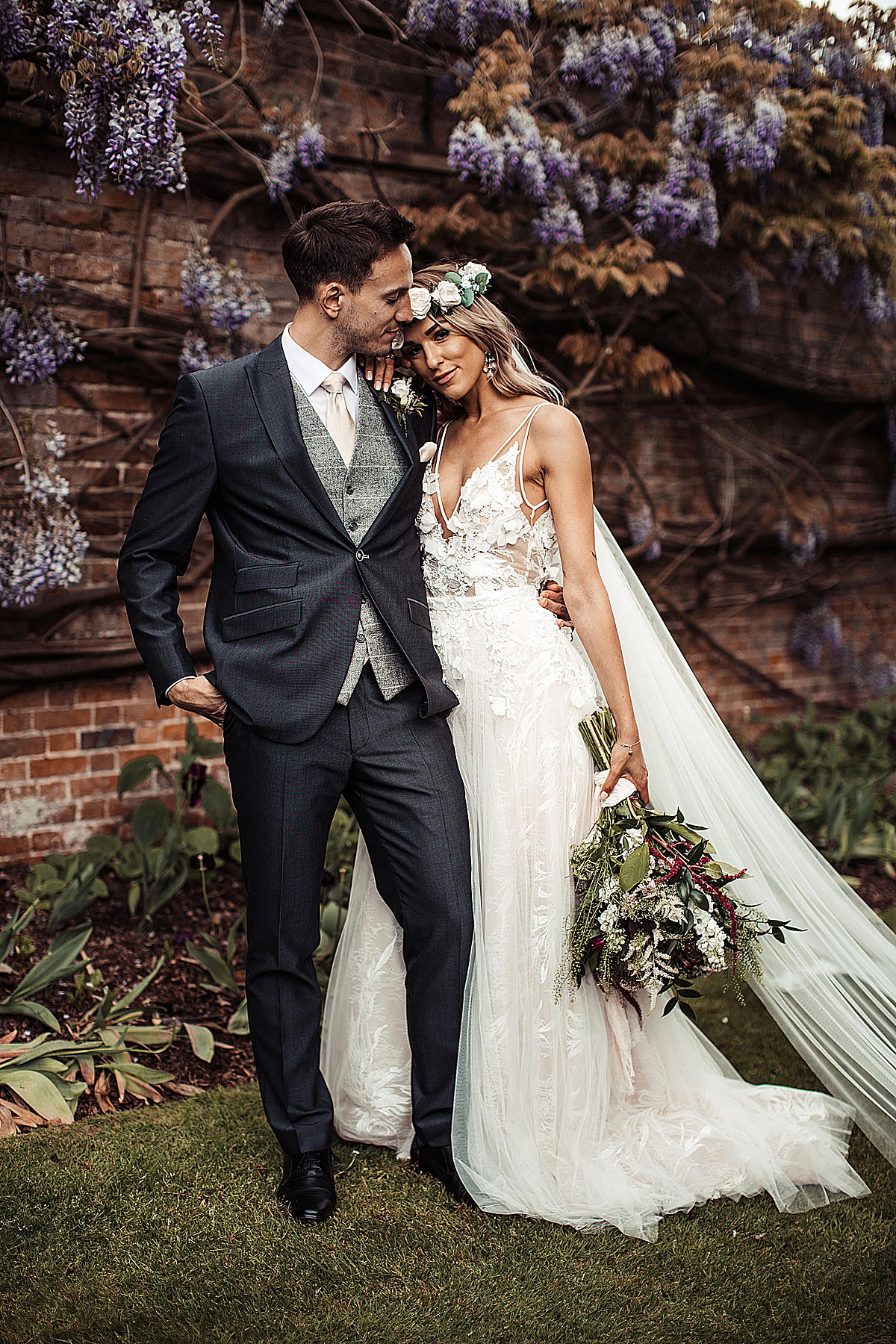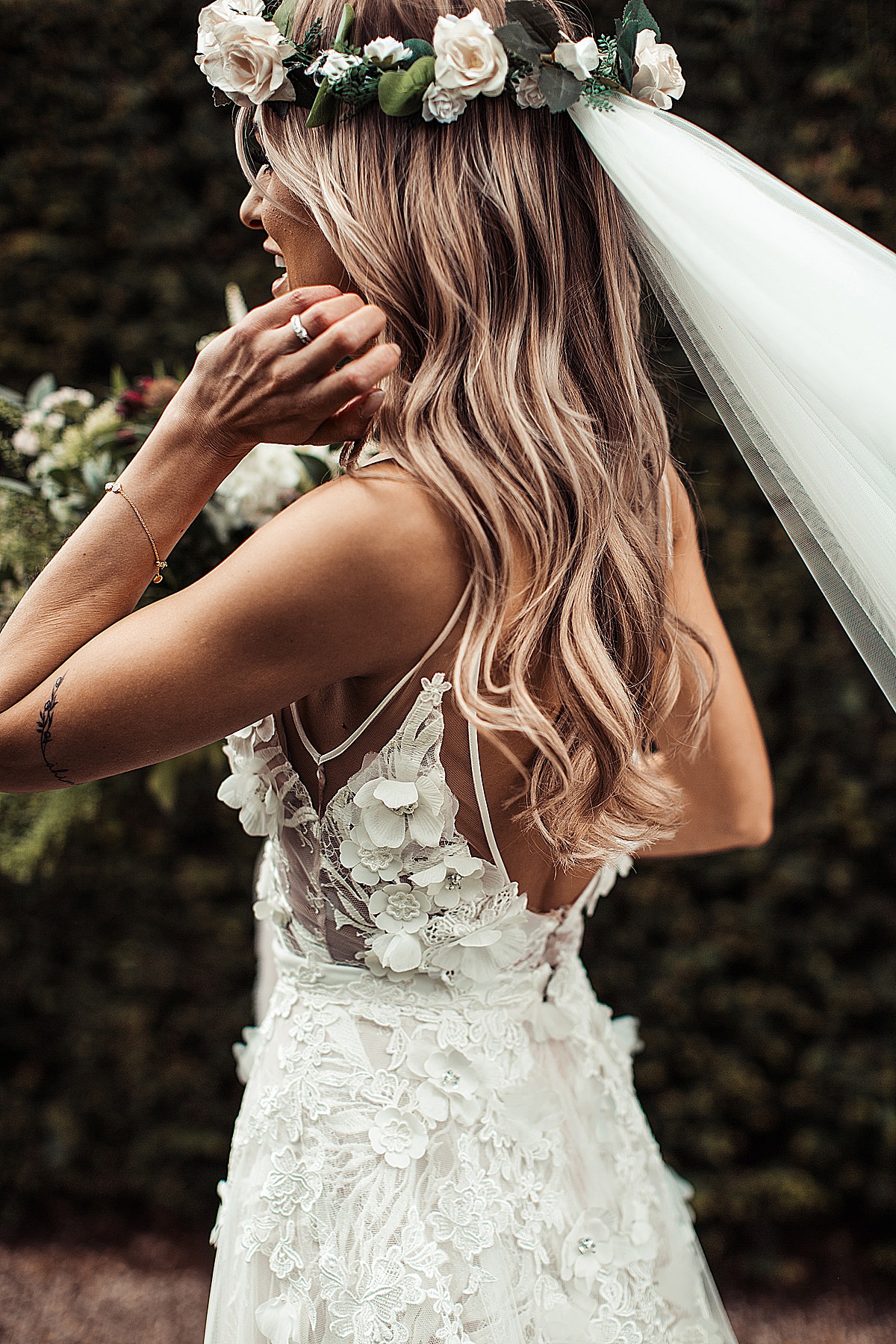 Kathryn and Ben created the day's decorative elements themselves, which they spent two years planning."
"We met at a family Christmas party as I went to school with his cousins. At the party I told one of my friends, Alice, that I had never seen that guy before (pointing at Ben) and I thought he was cute. She dragged me over to speak to him and the rest is history."
Following beautiful portrait shots in the garden (and doesn't Kathryn just look so incredibly beautiful in the images framed by the flowering wisteria?) the newly-weds and their guests assembled in the magically-decorated barn for the meal and reception. I love the personal touches which make this décor so special – the family flowers and macramé touches are my favourites.
"The table plan and top table place cards were made by Kayleigh Tarrant and individual name place setting by Hand Stamped Elements. The individual place settings were small, copper, stamped tags which were a nice keepsake as they could be used as key rings."
"We also put drinks tokens on each place setting so each guest could have two extra drinks on us in the evening. I put these out for our evening guests with their name on so when they arrived they immediately felt included. I hired a few items from Wedding Day Hire such as a letter box, centre-piece bowls and candle sticks – these were put out first thing in the morning by myself and the bridesmaids."
"We both love travelling and it was on a hiking trip in Western Norway that I realised I wanted to be with him forever: we had a near-death experience at the top of a mountain which brought us really close together. He remained calm and caring when we were both petrified and this really helped us to get back to safety."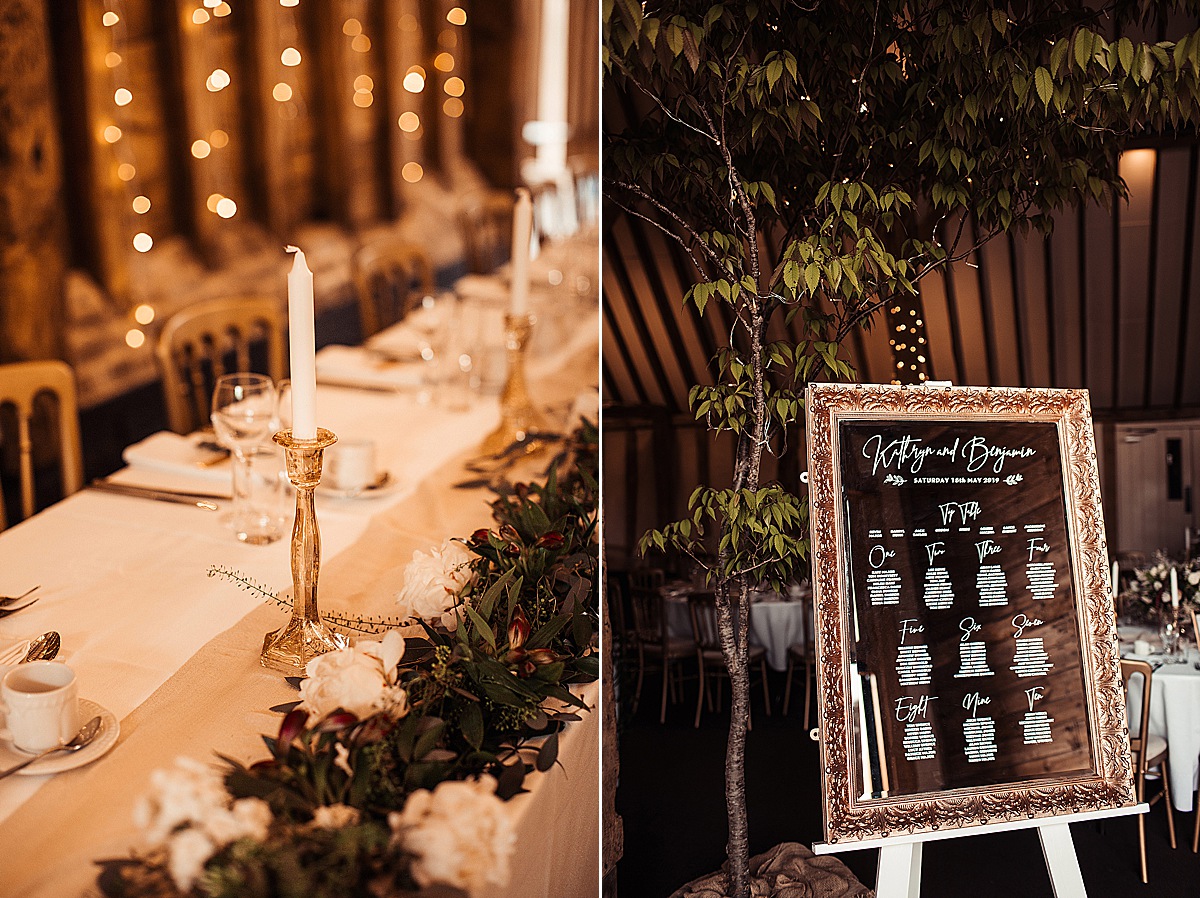 "When we did, I realised how safe and calm he had made me feel at a moment where we could have both completely freaked out. I knew then it was forever."
"Two years later we returned to Norway and went to see the Northern Lights. He took me on a private sunset husky sledging trip and when we returned to the wooden, arctic tipi lodge he proposed by a roaring fire, to the sound of the huskies howling."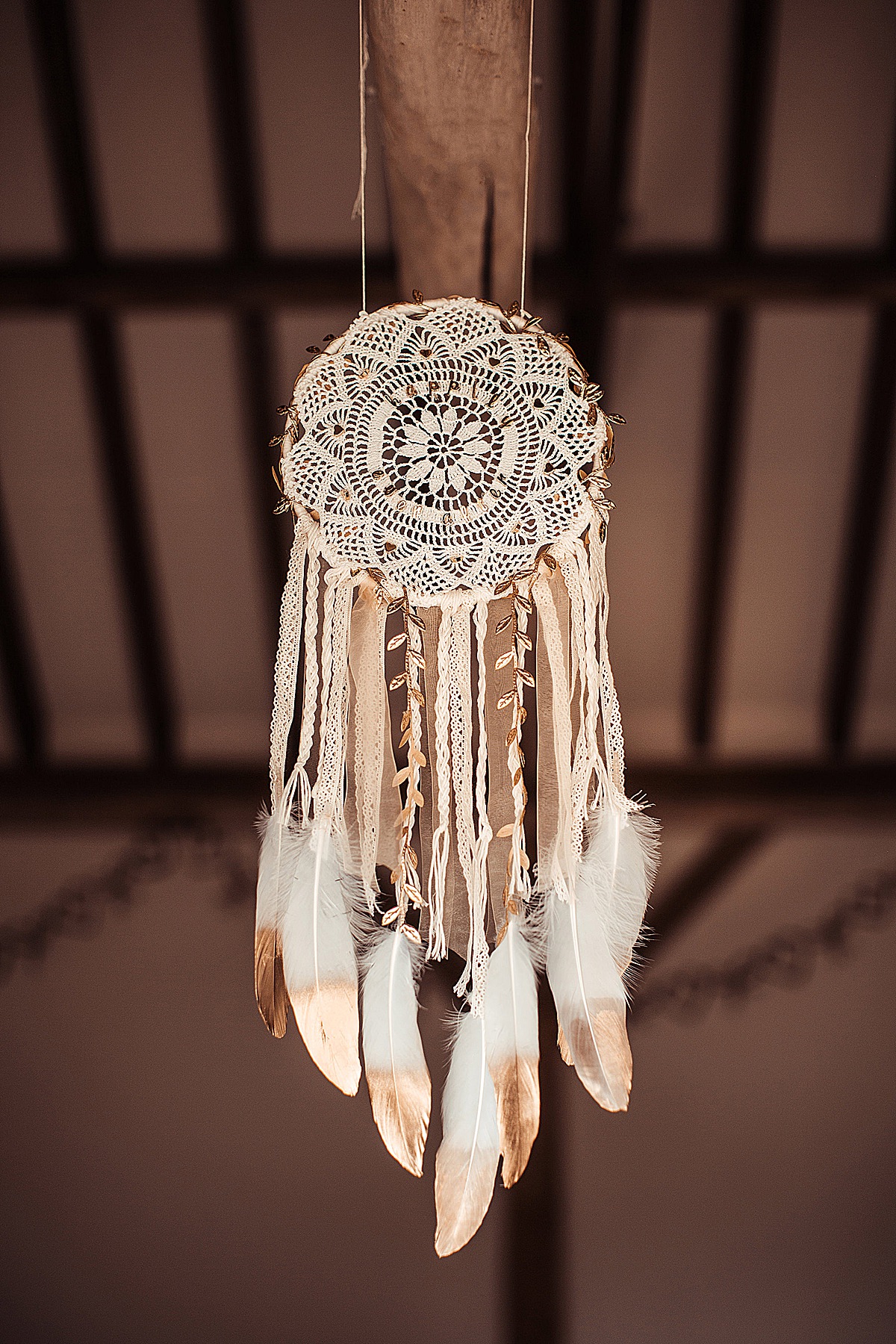 "He included the two things I love most, travelling and animals, in the proposal and I couldn't have been happier. We were engaged for two years; I didn't want to rush the planning and we wanted time to save for our dream wedding."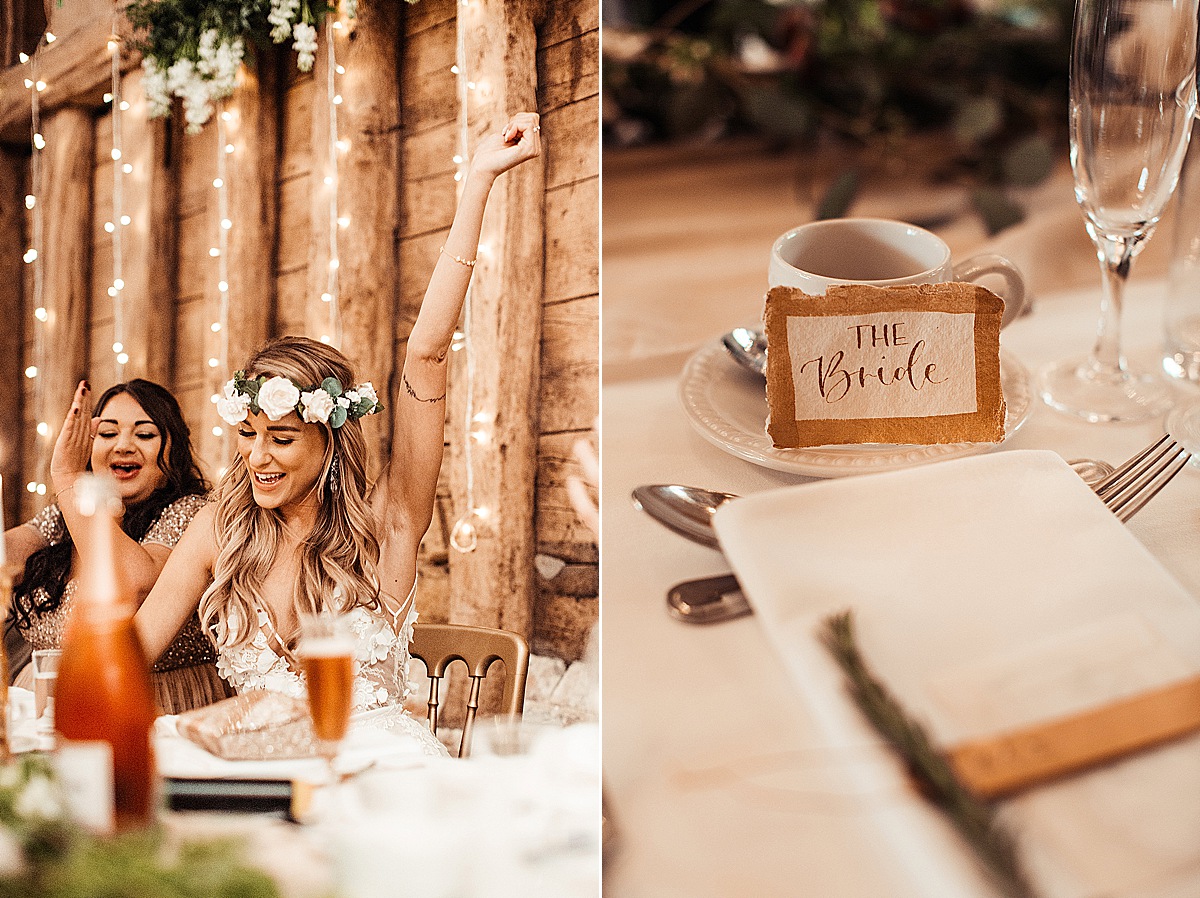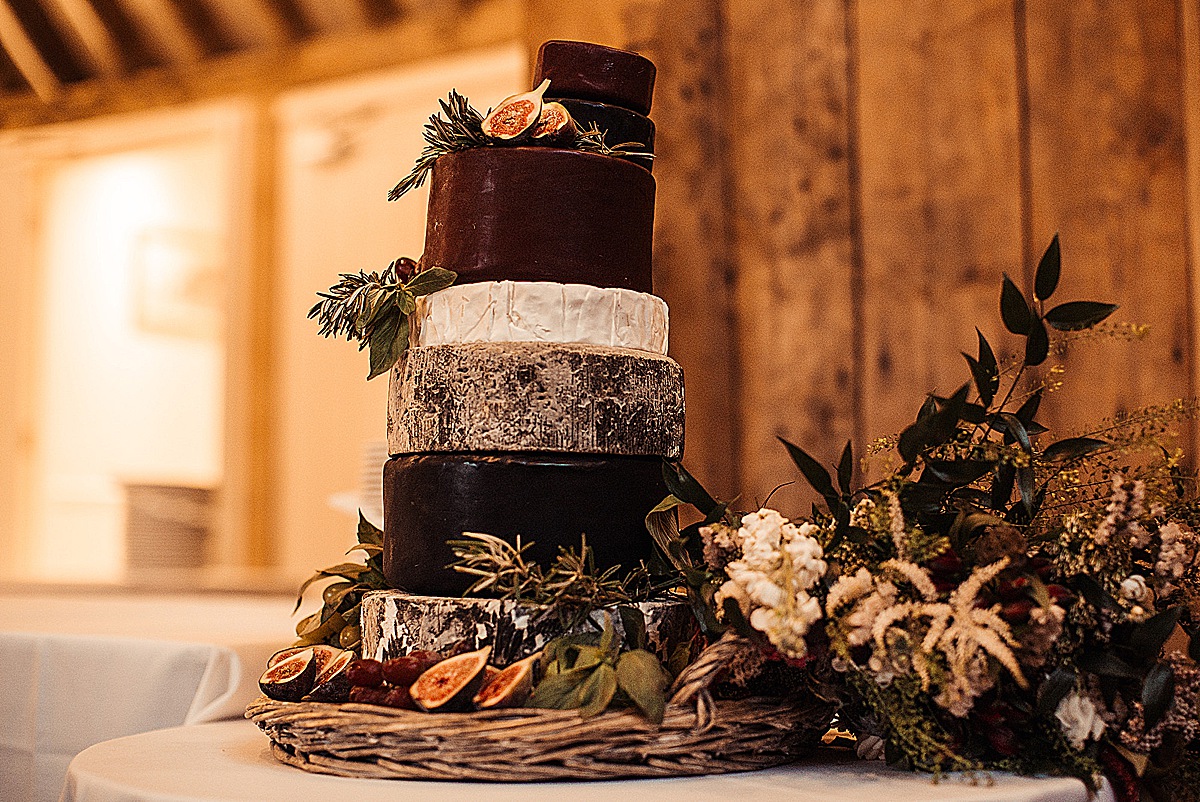 The in-house caterers at Blake Hall provided the wedding breakfast, as well as the towering cake of cheese which was brought out for the evening party.
"The sweet cake was made by Pastiche Cakes And Flowers and had three tiers; one Oreo flavour as that's my favourite chocolate, one Reeses Pieces peanut butter cup flavour as that's Ben's, and one tier of white chocolate and passion fruit…because who's not going to like that!?"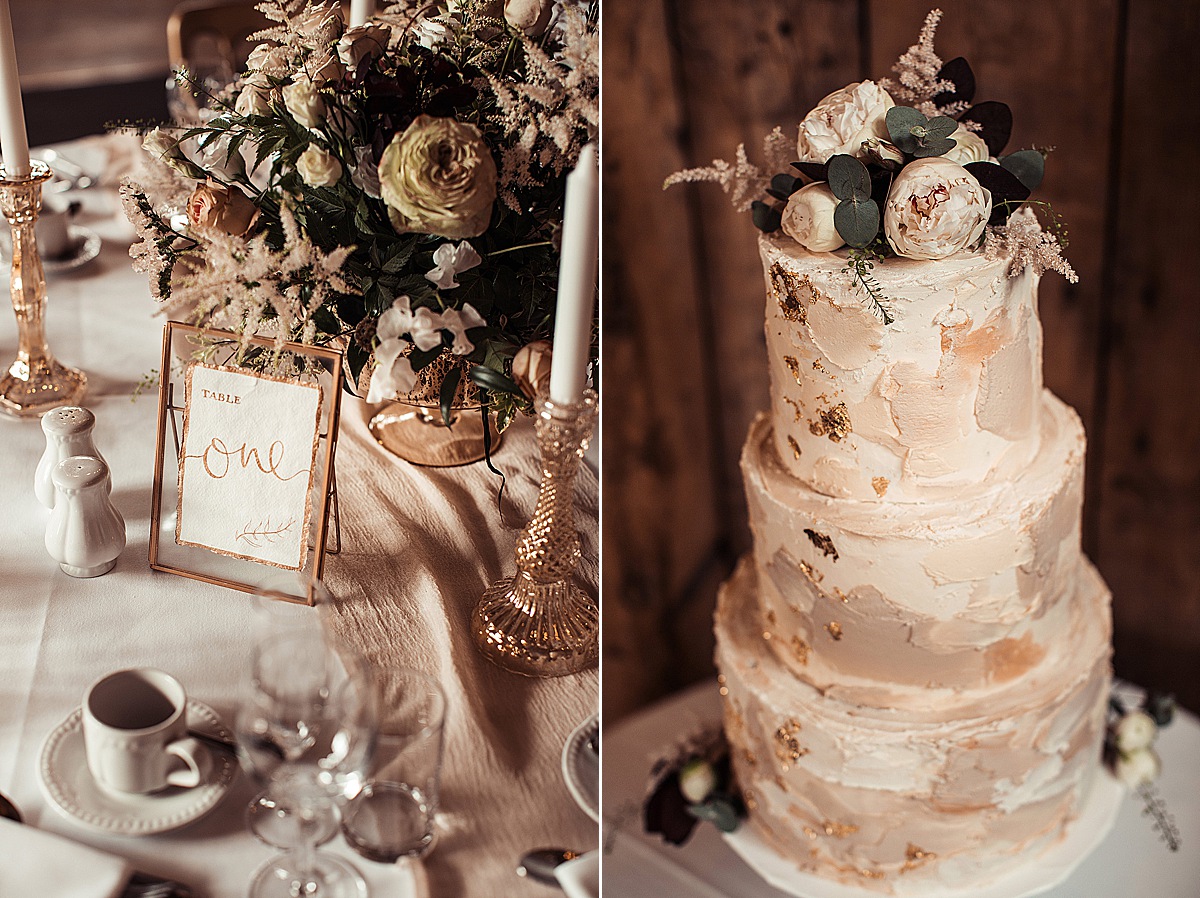 Capturing the day was photographer Dan of D&A Photography, whose wonderful images encapsulate the day's joy and happiness in such a natural, romantic way. The couple also opted for a wedding videographer, Robbie at RJ Films.
"There are no words worthy of describing Dan and his work. He is second to none and one of the best decisions we made. Not only is he incredibly talented but also one of the nicest and friendliest guys around. It's like having an extra friend at your wedding.""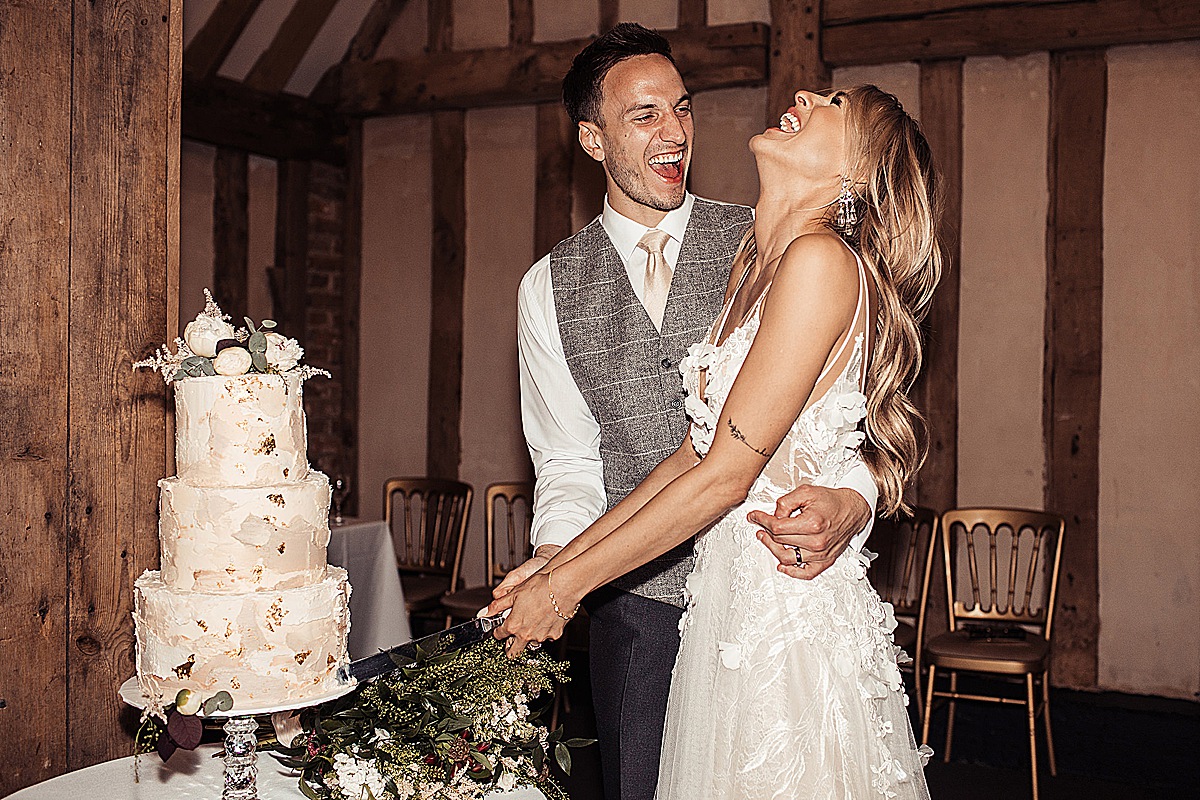 "He is so hands-on and you can tell he really wants to get the most perfect selection of photos for you. Even our guests said they could tell this isn't just a job – he absolutely loves what he does with a passion. This massively shines through from his performance on the day to the finished work he produces. Dan will be a friend of ours for life now."
"Robbie is incredibly talented, super-friendly and extremely keen to get the best footage of your day. We are so glad we chose him and could not recommend him enough."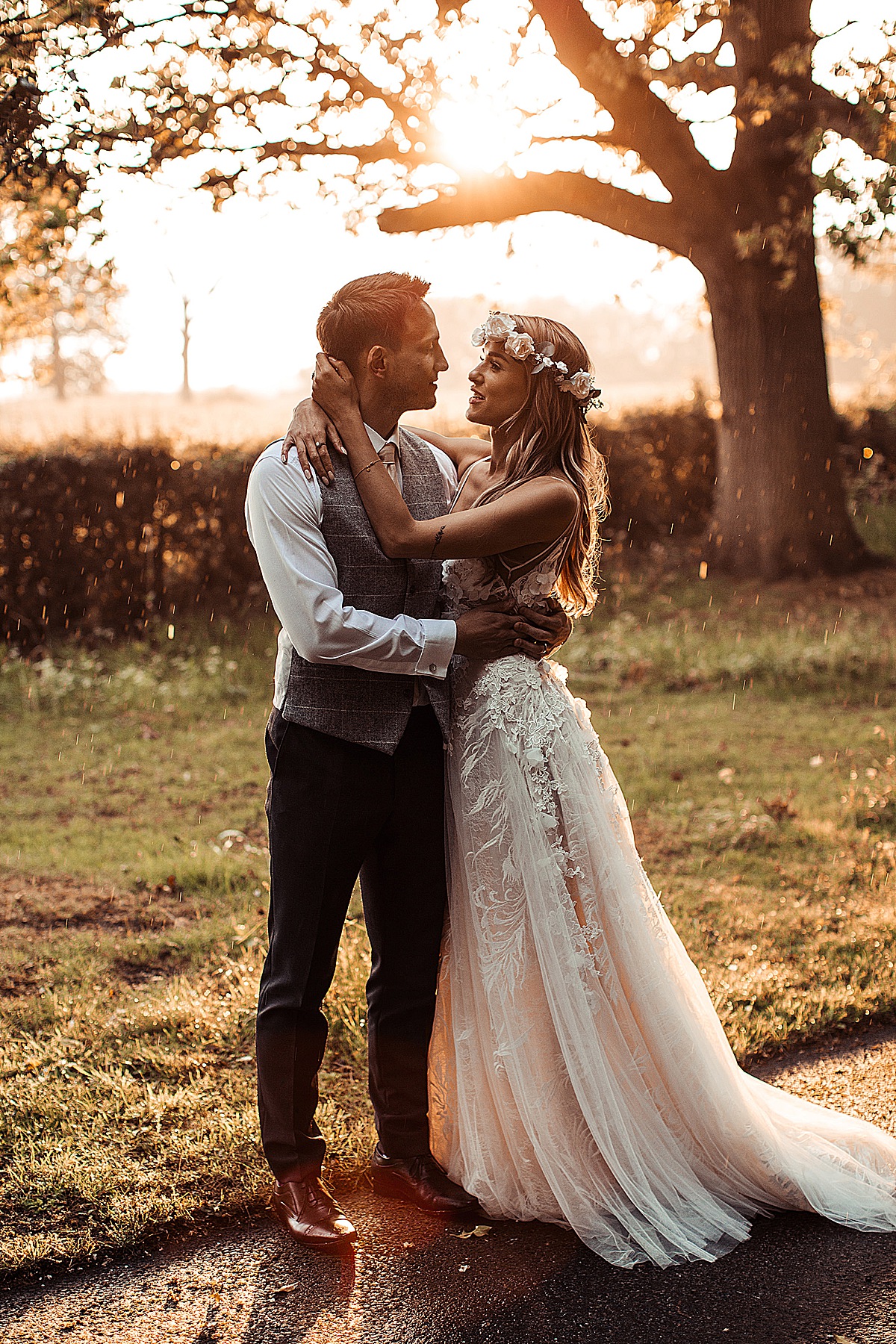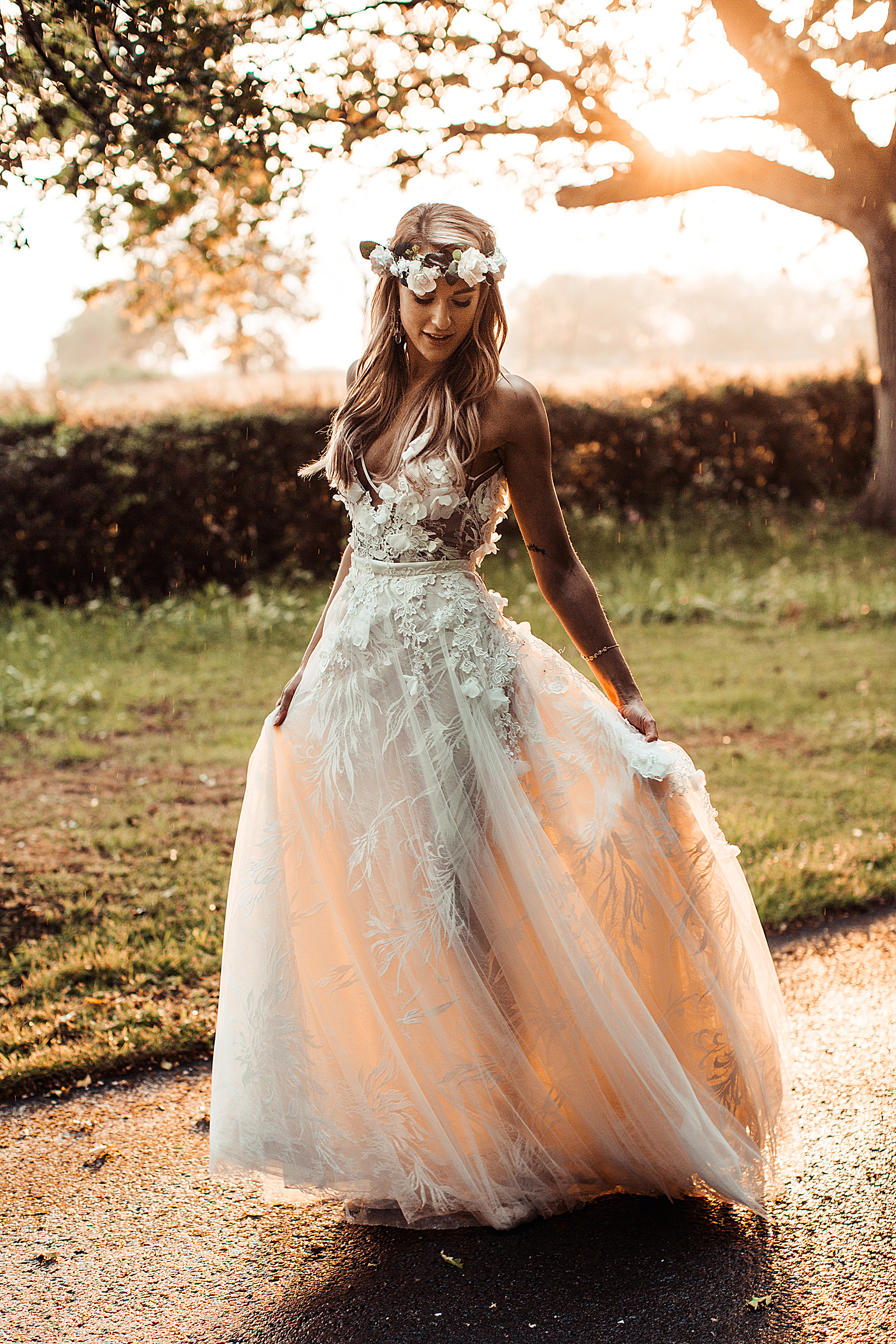 As day turned in to night (via the most beautiful sunset), the evening party began with an epic first dance to a 'Live Lounge' cover of 'Magic' by Coldplay.
"This is on a CD that Ben brought me in the first few months of us dating. Being a professional dancer I decided to choreograph a full routine for our first dance."
"We had a few rehearsals and he did amazingly well. Everyone was so amazed and it was lovely to spend time teaching and dancing with Ben. On the night we were beaming with happiness when we executed the whole routine without messing up or falling over! I was very proud of him."
The party was a highlight of the day for the newly-weds, so live music was a must.
"We love parties, music and jumping around like idiots so making sure everyone danced and enjoyed the music was very important to us. We saw a band called Rhythm Of The 90s at a festival in Portsmouth before we got engaged and absolutely loved them."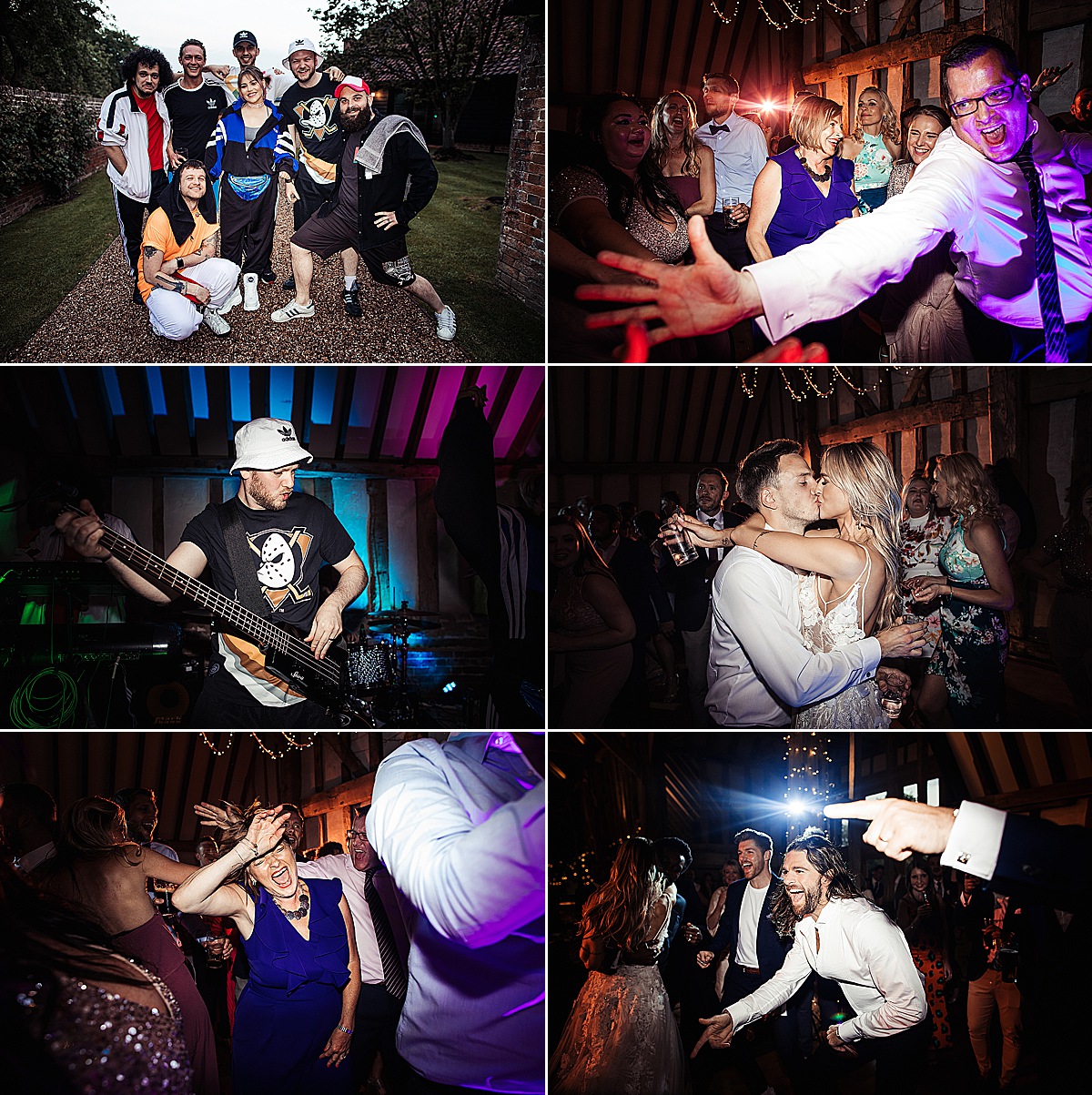 "We knew we had to get them for our wedding. They are a 90s tribute dance and trance band so not your usual wedding entertainment but, oh my God, did everyone love them. They turned the evening of our wedding into a crazy 90s dance rave and we loved every single second!"
"Our favourite part of the day is the party in the evening; all our friends and family fully letting go and raving. Everyone was jumping up and down on the dance floor with huge smiles on their faces and we will never forget this."
"There honestly isn't anything I would have done differently and somehow it was all perfect. Even the weather came through so we could have the outside ceremony I had always dreamed of."
Words of Wedded Wisdom
"Just relax! Without a wedding planner I had so much to do before and on the day that I started to realise if I worried about every tiny thing then I would just explode. Trust your planning and let the service providers do their job and take the stress away from you."
"It will honestly be the best day of your life, no matter what happens. Even if the place settings aren't right or the flowers wilt or the cake doesn't turn up… none of those things really matter. All that matters is you breathe, relax, take it all in and enjoy single milli-second as it really does all go far too fast."
Lovelies, I hope that this May-time celebration has given you plenty of inspiration for your own nuptials. Please join me in wishing Kathryn and Ben a massive thank you for sharing their day, and thanks go to D&A Photography too.
With love,
Ele x