I've had the good fortune to go to two weddings on my December birthday and today I have the pleasure of sharing another, that of Lolly and Olly, whose Christmassy, wintry, sparkly celebration took place on 21 December 2018.
The bride and groom are Lolly, an event manager and Olly, an accountant, whose love story began at Nottingham University in 2011. Gate Street Barn, set deep in the Surrey countryside near Guildford, was a cosy and intimate space for their day, which included a few Christmassy elements in its minimal and stylish scheme.
Photography Guy Collier Photography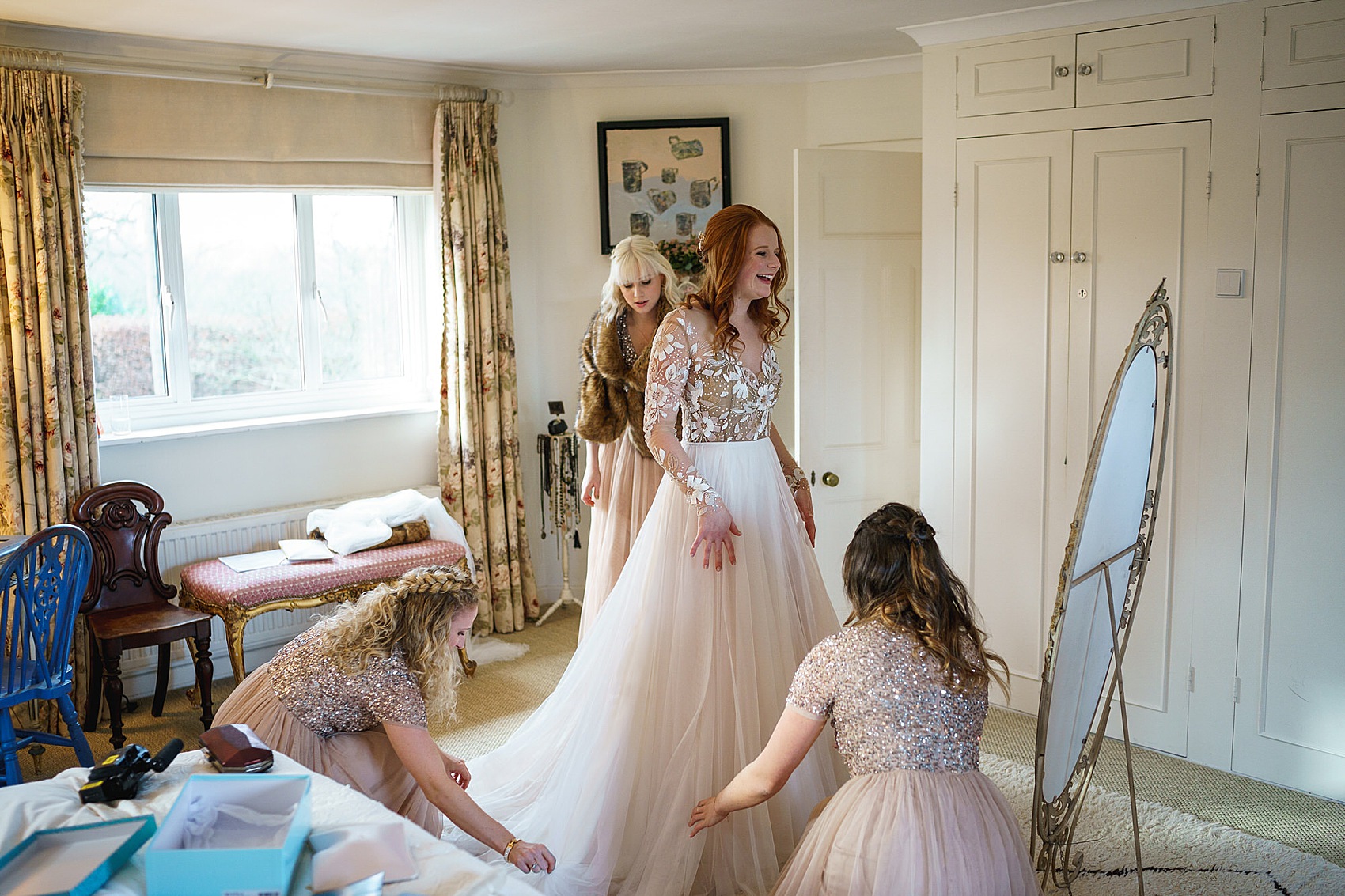 Fitting for a fresh December day, Lolly chose to have a long-sleeved gown and isn't this a beauty? Her Hayley Paige 'Remmington' gown has a warm gold, illusion, embellished bodice that looks wonderful against her skin tone and fiery hair. It is just so romantic with its soft, English net, circle skirt.
"I bought it at a shop in Canary Wharf but it went into liquidation last summer so I ended up buying it directly from Hayley Paige. I wanted long sleeves and they were in short supply when I started looking (unfortunately before Harry and Meghan got married!) but I had seen her dresses online. I loved the detail and the feeling that they weren't just the big white wedding dress which I knew wouldn't suit my skin tone."
The bride wore her auburn hair swept back from her face, and her make-up was soft and romantic. Her warm look was styled by Melissa Oldridge.
"I wore Dolce & Gabbana Light Blue – my usual and what everyone says reminds them of me!"
"My Monica Vinader earrings were a present from my grandma, my bracelet was a present from my husband-to-be from Monica Vinader and my ring was my grandma's engagement ring."
She paired the gown with a fluid white veil, purchased through Chantelle Sophia, a seamstress who did her gown alterations too. For warmth she added a faux fur wrap from East Osmanthus on Etsy and, as well as a Joanna Reed Bridal headpiece, she accessorised with some very personal pieces of jewellery.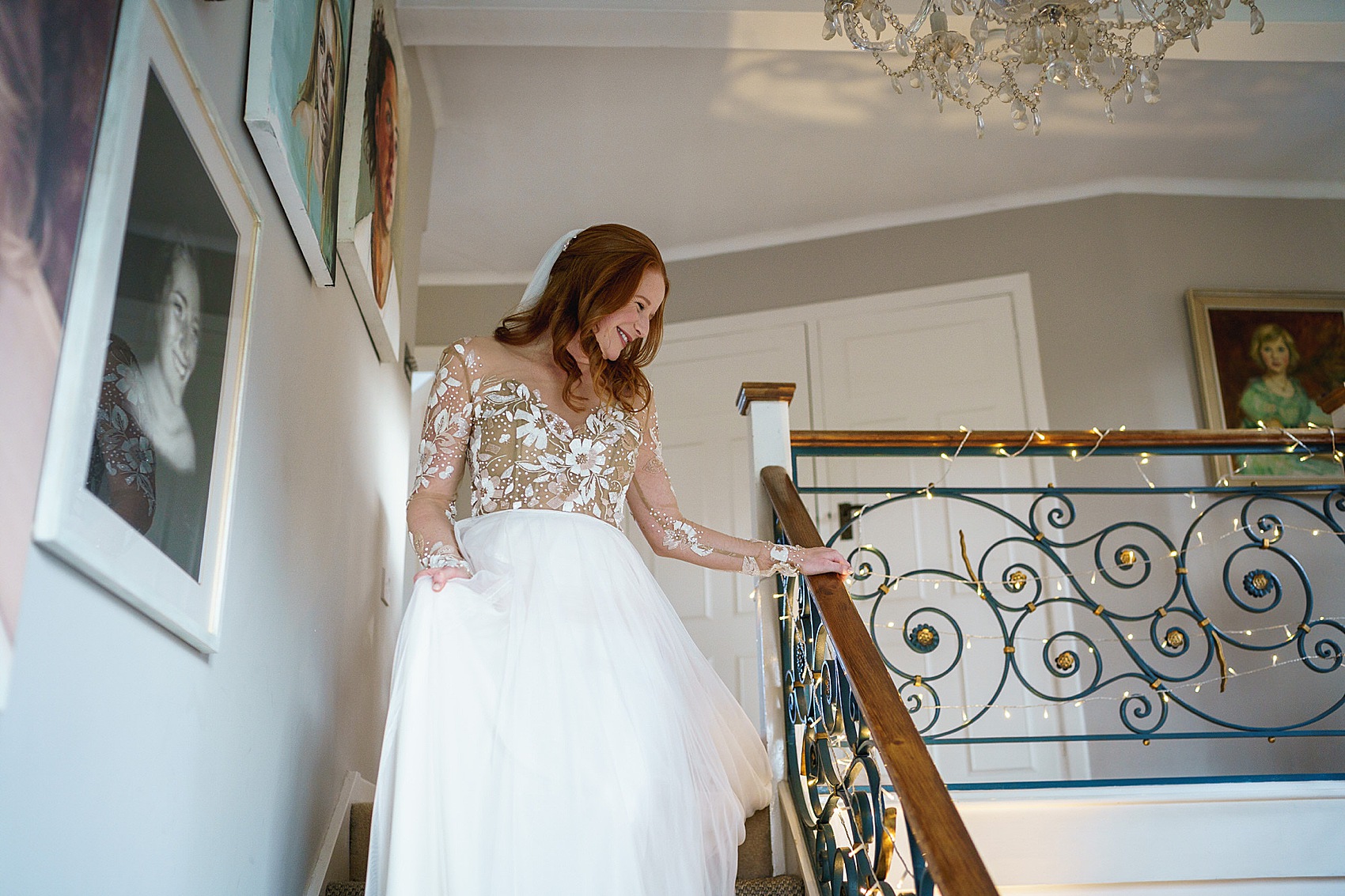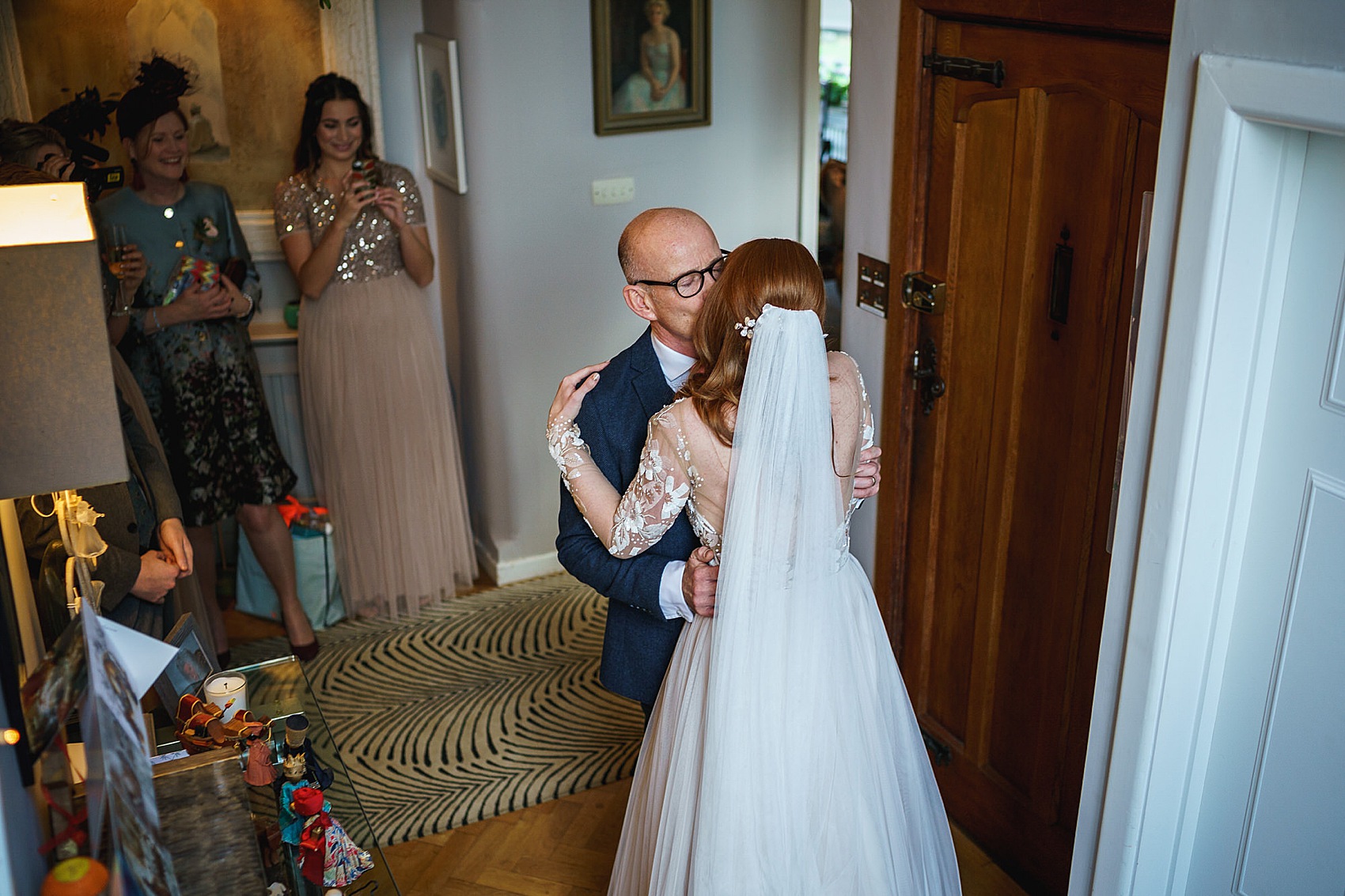 For a magical, festive feel, the bridesmaids dressed in ASOS Maya maxi-gowns with blush pink skirts and gold sequinned bodices, along with Bloom Boutique necklaces, their own bracelets and earrings and faux fur stoles from East Osmanthus to echo the bride's.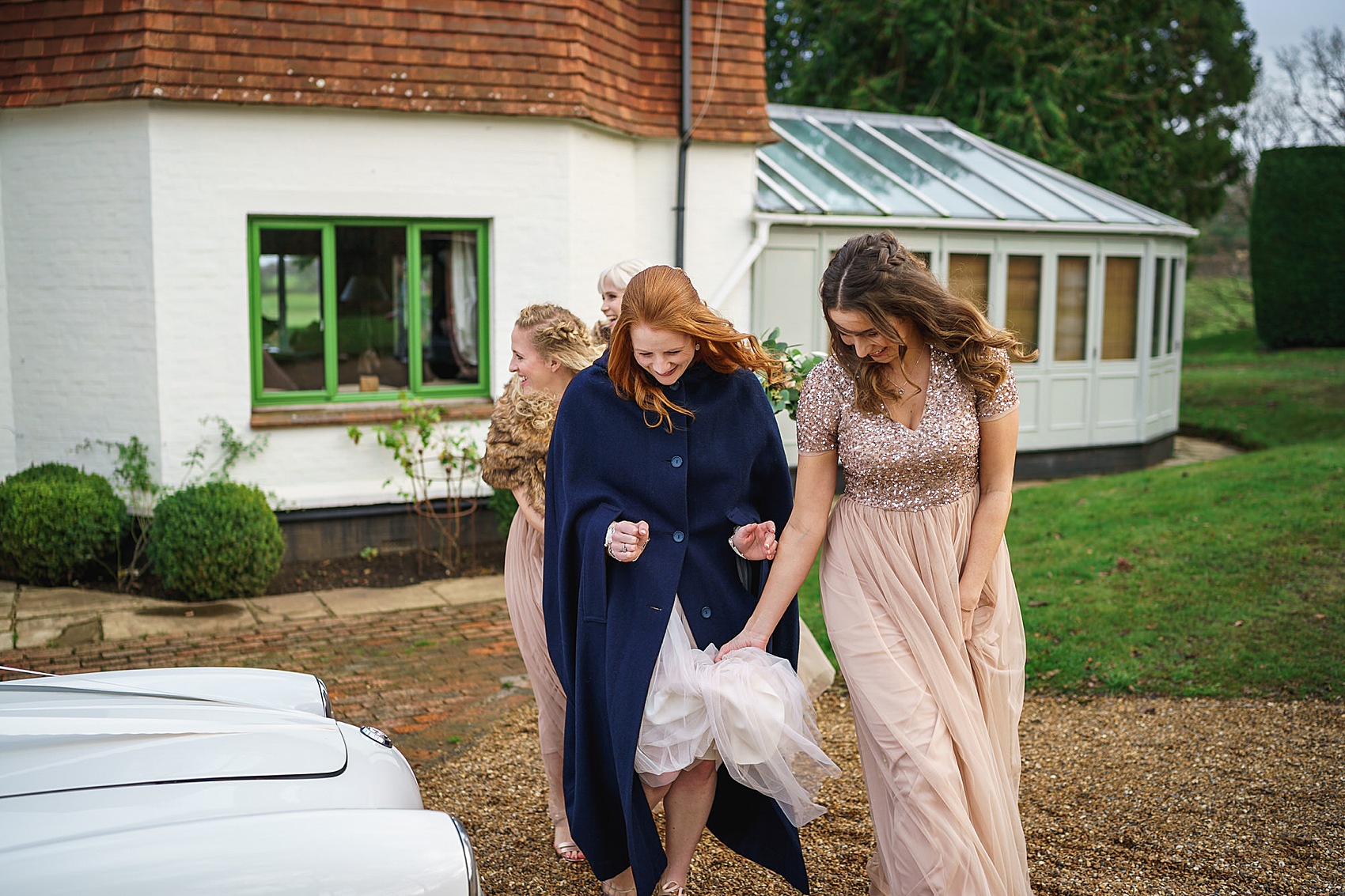 Come ceremony time, Lolly and her dad travelled to Gate Street Barn in a VW Karmann Ghia before walking in together to Ed Sheeran and Beyoncé's 'Perfect'.
"Olly's dad restored a classic car to drive my dad and I to the venue."
Olly visited Slater Menswear for his heavy-weave blue three-piece suit, which he wore with a pale gold tie from Swagger & Swoon and River Island shoes.
"Olly and I met at university in our fourth year in 2011. We went to a pub quiz with some friends in Freshers week and were put on the same team. We got engaged on 27 December 2017 and got married just under a year later. We wanted to have the cosy winter feeling with some Christmas touches whilst using the venue to its full advantage."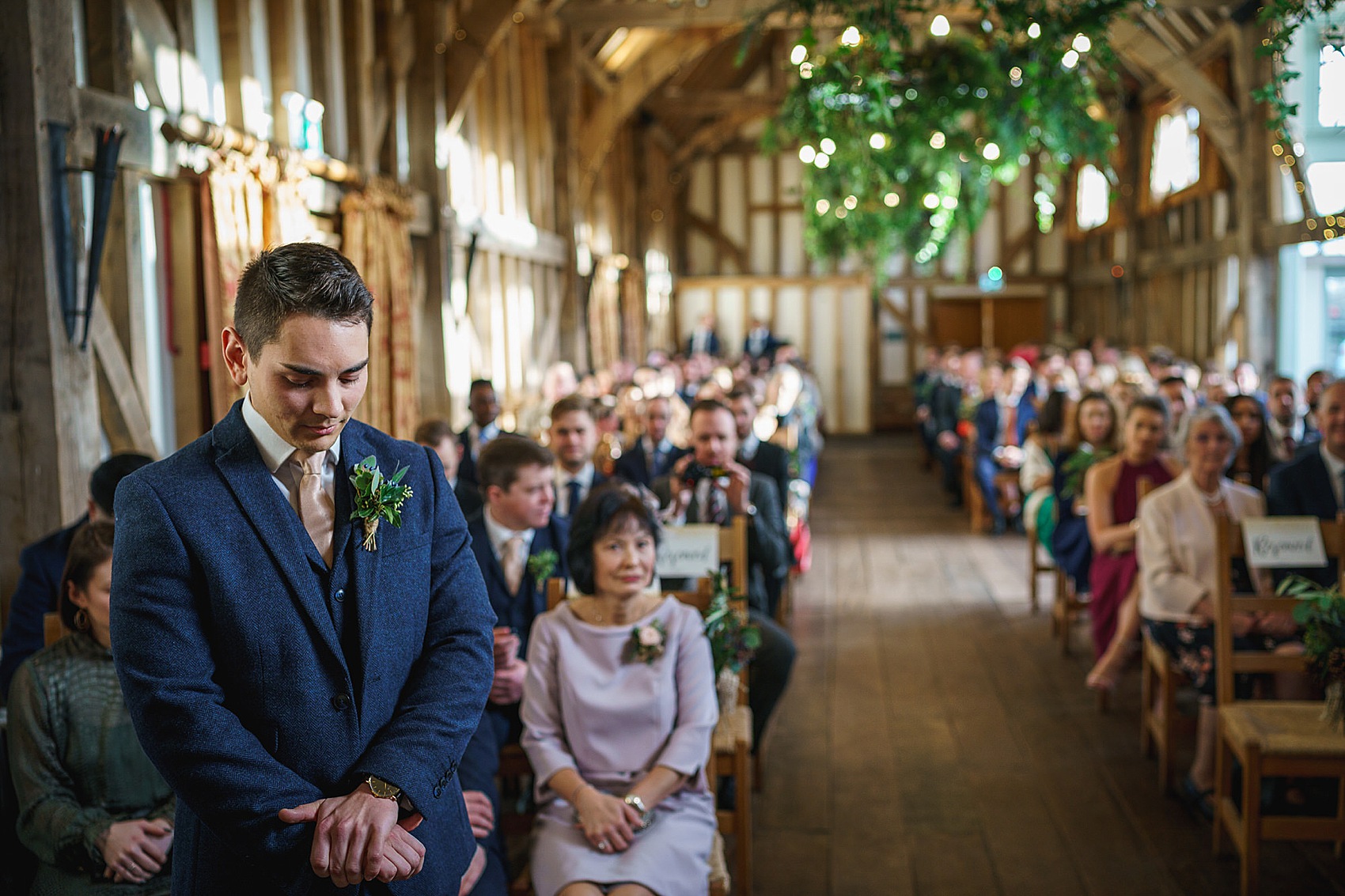 The civil ceremony was made personal by two readings which their friends chose: 'The Origin Story' by Sarah Kay and 'Union' by Robert Fulghum.
"We chose the vows from the registrar which we felt suited us best and they felt as though we had written them ourselves. We asked our two friends to choose the readings that they felt represented us as a couple and loved their choices."
"I have seen the best of you and the worst of you, and I choose both. I want to share every single one of your sunshines and save them for later. I will tuck them into my pockets so I can give them back to you when the rain falls hard. I want to be the mirror that reminds you to love yourself. I want to be the air in your lungs that reminds you to breath. When the walls come down, when the thunder rumbles, when nobody else is home, hold my hand and I promise I won't let go."
"The symbolic vows that you are about to make are a way of saying to one another, "You know all those things that we've promised, and hoped, and dreamed – well, I meant it all, every word."
The bride and groom exchanged classic, matching bands in platinum from Diamonds Factory in Hatton Garden.
"We got our rings from here because it's where Olly got my engagement ring from."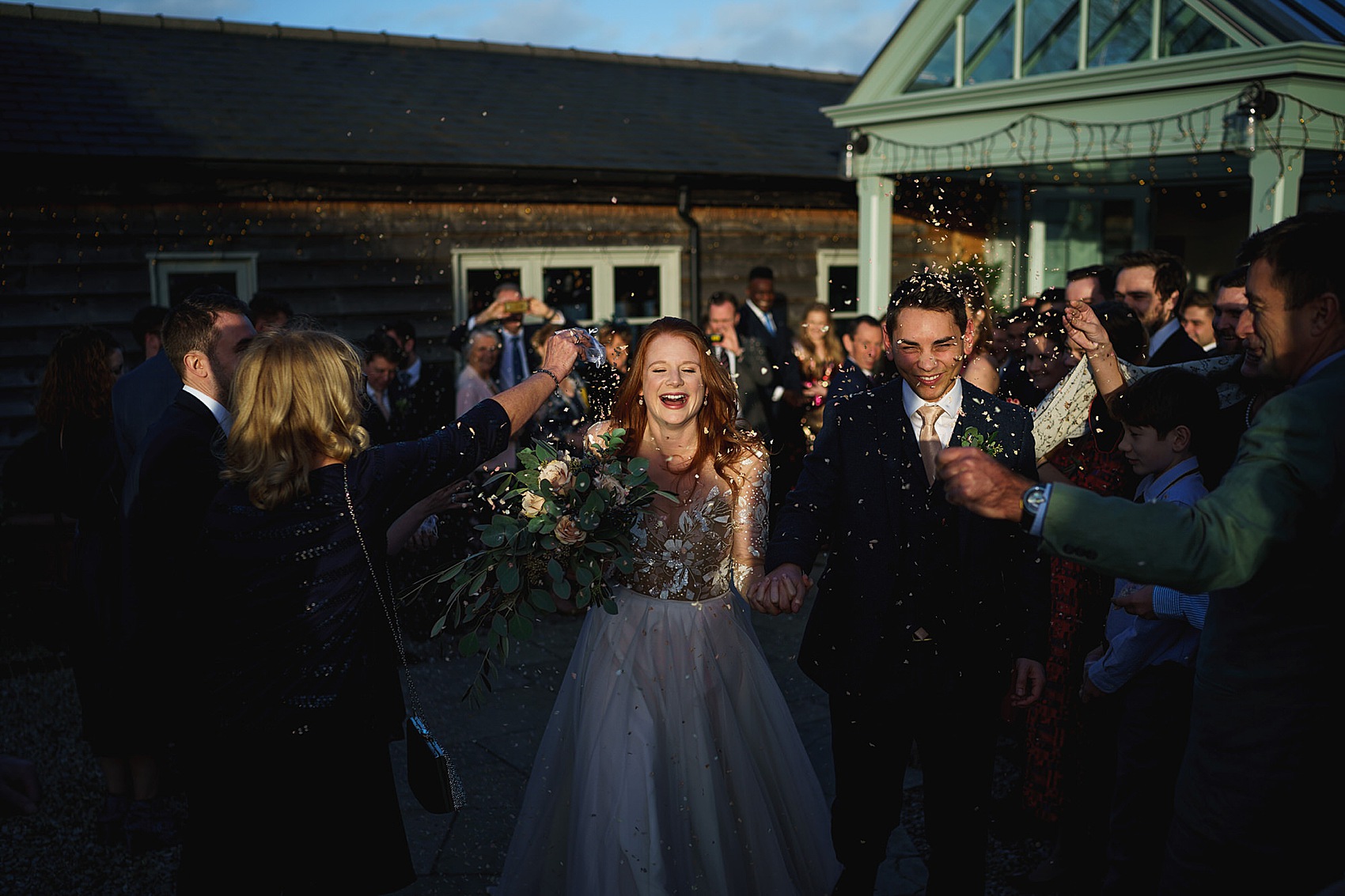 These crisp and bright photographs, which capture all of the love and magic of the day, come from the camera of Guy Collier Photography. We've been so proud to share his work on our pages before, so please take a look.
"Guy was brilliant throughout the whole and a true professional. He put Olly and I at ease and was a huge hit with our guests. I would recommend him to anyone and we completely love our photos of the day.
The December day was sunny and clear meaning the couple could escape together for some wonderfully wintry portrait shots.
"My favourite part of the day was when we were having our photos taken and we had some time just the two of us. We hadn't spoken since we had said goodbye to each other the night before so it was really nice to catch up and have some time together and find out about each other's mornings."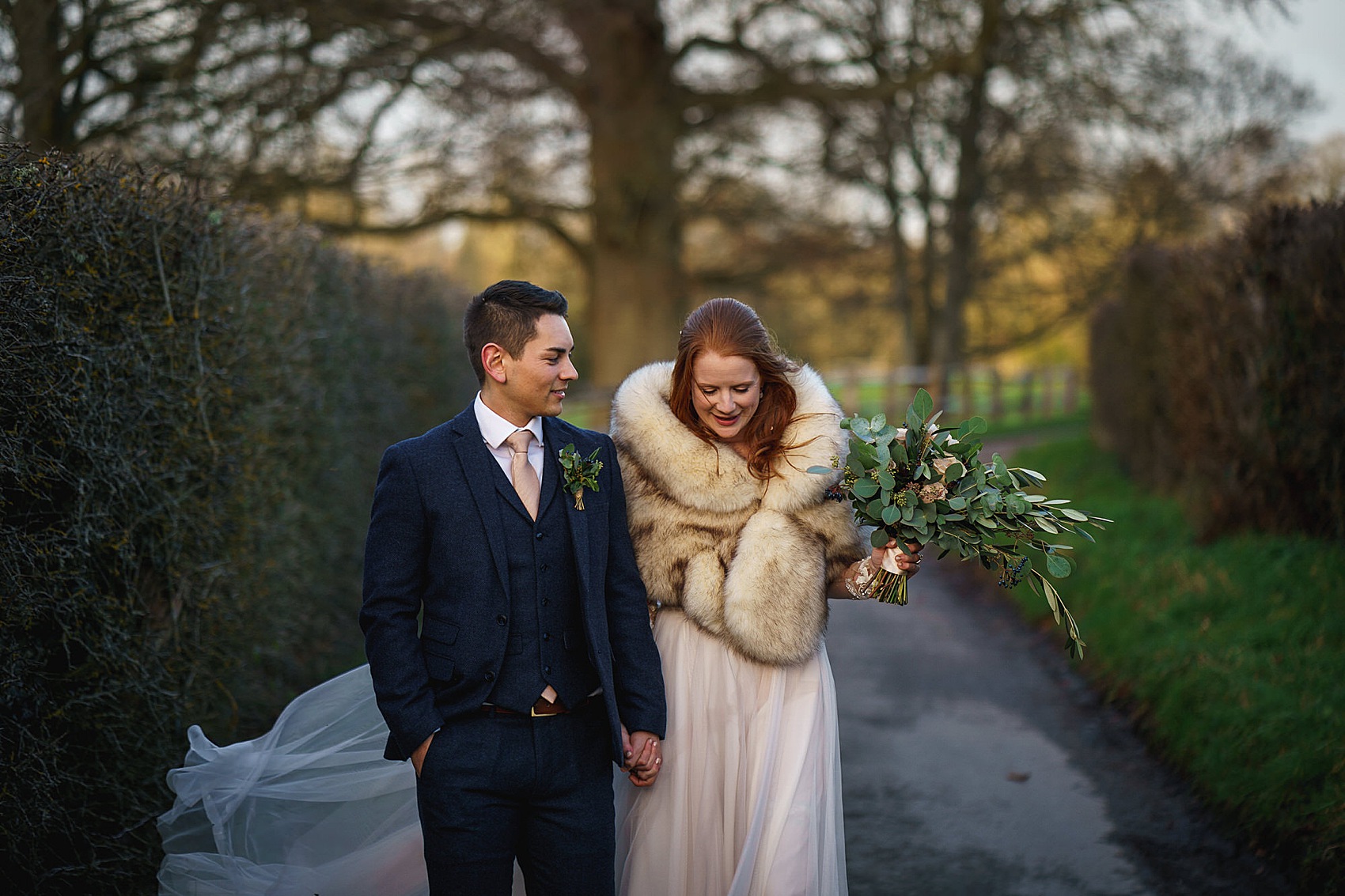 Gate Street Barn had been simply and stylishly decorated for the ceremony and reception with a few subtle festive touches. The stationery was an elegant calligraphy design on warm cream card with a smattering of festive gold.
"We ordered all our stationery through Tavern Creative on Etsy. They were so flexible and tied everything in so nicely. We had a Christmas tree which was decorated with Lord Olly and Lady Lolly mice from White Stuff. My auntie is a designer there and she had them designed in the Christmas range and named after us! We also borrowed a white postbox from my parents' friends for any cards and added some fake snow for the Christmas feel. We had light up letters from The Word is Love and Christmas crackers were also on the table with Lindt chocolates inside."
"Table names were all cities that we had been to as a couple. They were by Handmade by Rose on Etsy and each table had a picture taken from the city we had gone to. My parents made a palette with the order of the day on; they stained it and stencilled it themselves. We also made the table plan out of a palette. There were also flip flops for dancing and blankets to sit outside by the fire pits."

Lolly's oldest friend, Ngaio, was in charge of the four-tiered wedding cake which also doubled up as the dessert.
"It was served as dessert for the wedding breakfast which went down so well with the guests. She even got some commissions off the back of it. We opted for four layers; coconut and mango, red velvet, carrot and salted caramel."
The guests chilled out over a drinks reception with live music from musician Sammie Jay.
"My parents sourced all the reception drinks and wine for the wedding breakfast from France. We had Prosecco and gin and tonics for the drinks reception as the bride and groom's favourite drinks. We found Sammie Jay in Covent Garden and just loved her voice."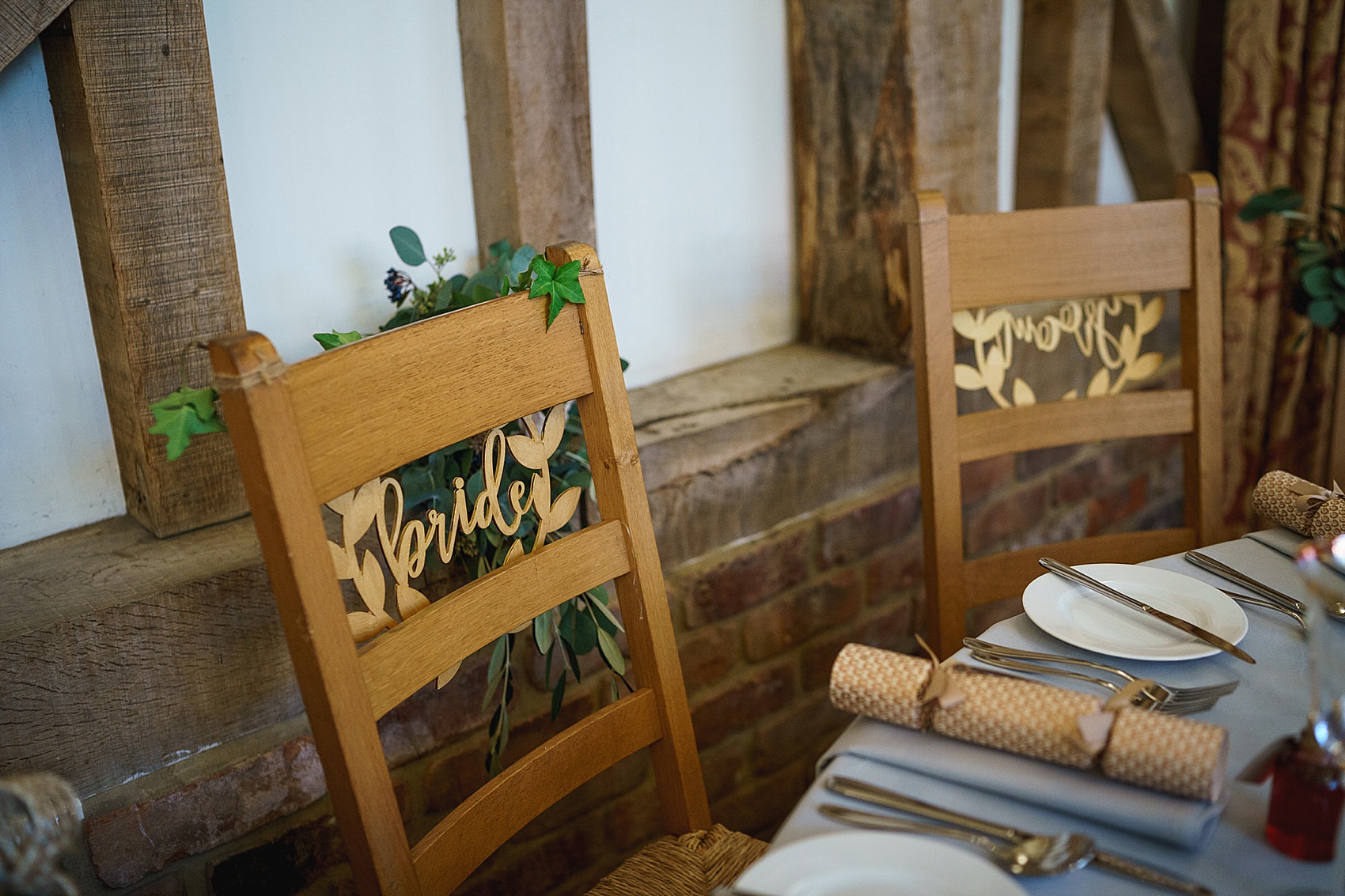 Back in the barn, the guests and the newly-weds sat down for a festive meal (complete with crackers and sloe gin), provided by Tandem Catering.
"The food was incredible! For the main course we had sharing plates for the table of roast lamb which was carved by the guests (who we chose prior to the day). My parents made sloe gin throughout the year which went down very well with the guests."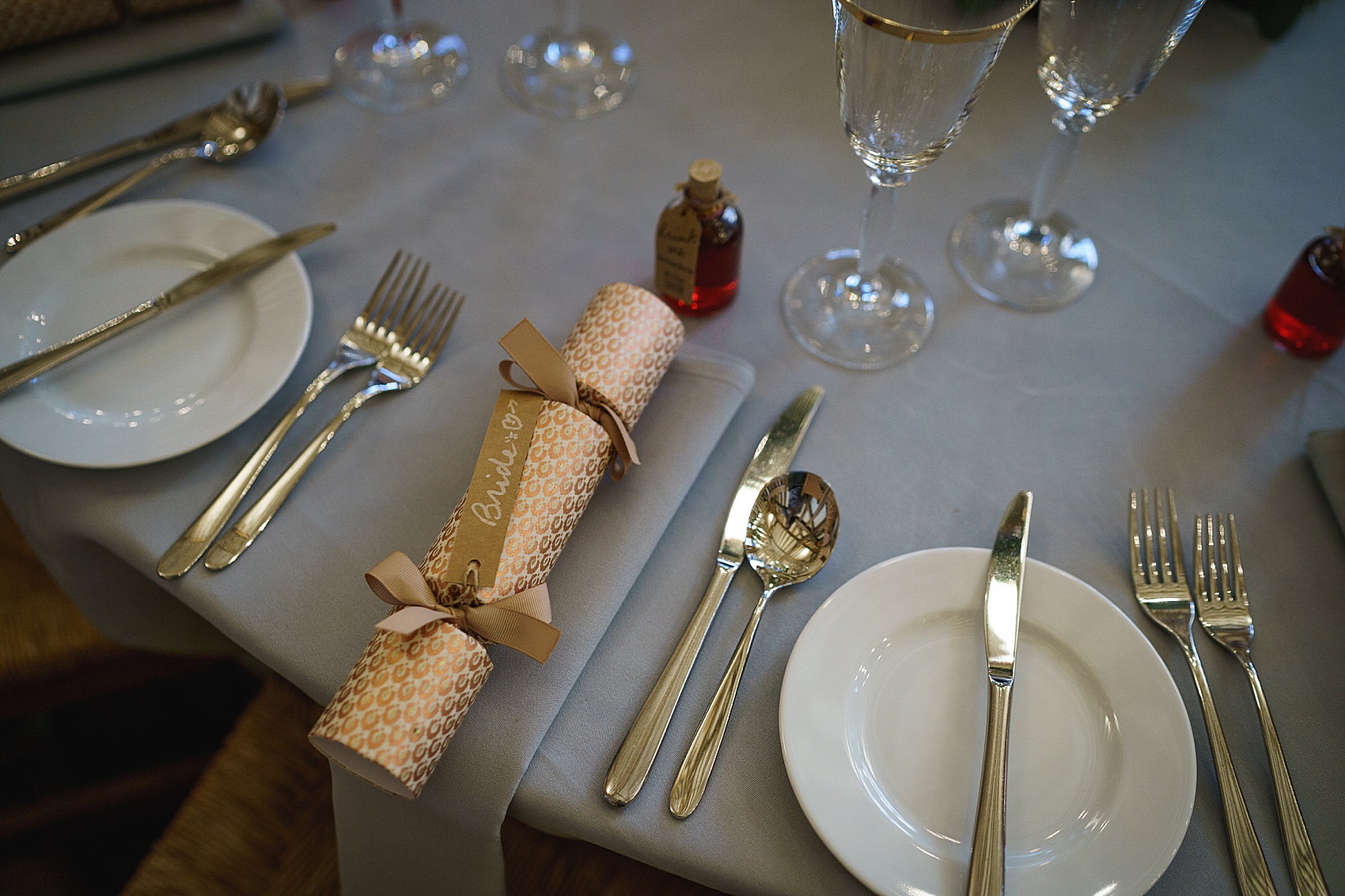 There was also a riot of foliage, styled by Gill Pike Florist, who also put together the sumptuous and wild bouquets of roses.
"We wanted lots of greenery to reflect the winter feel of the day and some small touches of nudes/pinks to match the bridesmaids' dresses. We wanted to keep it simple and classic."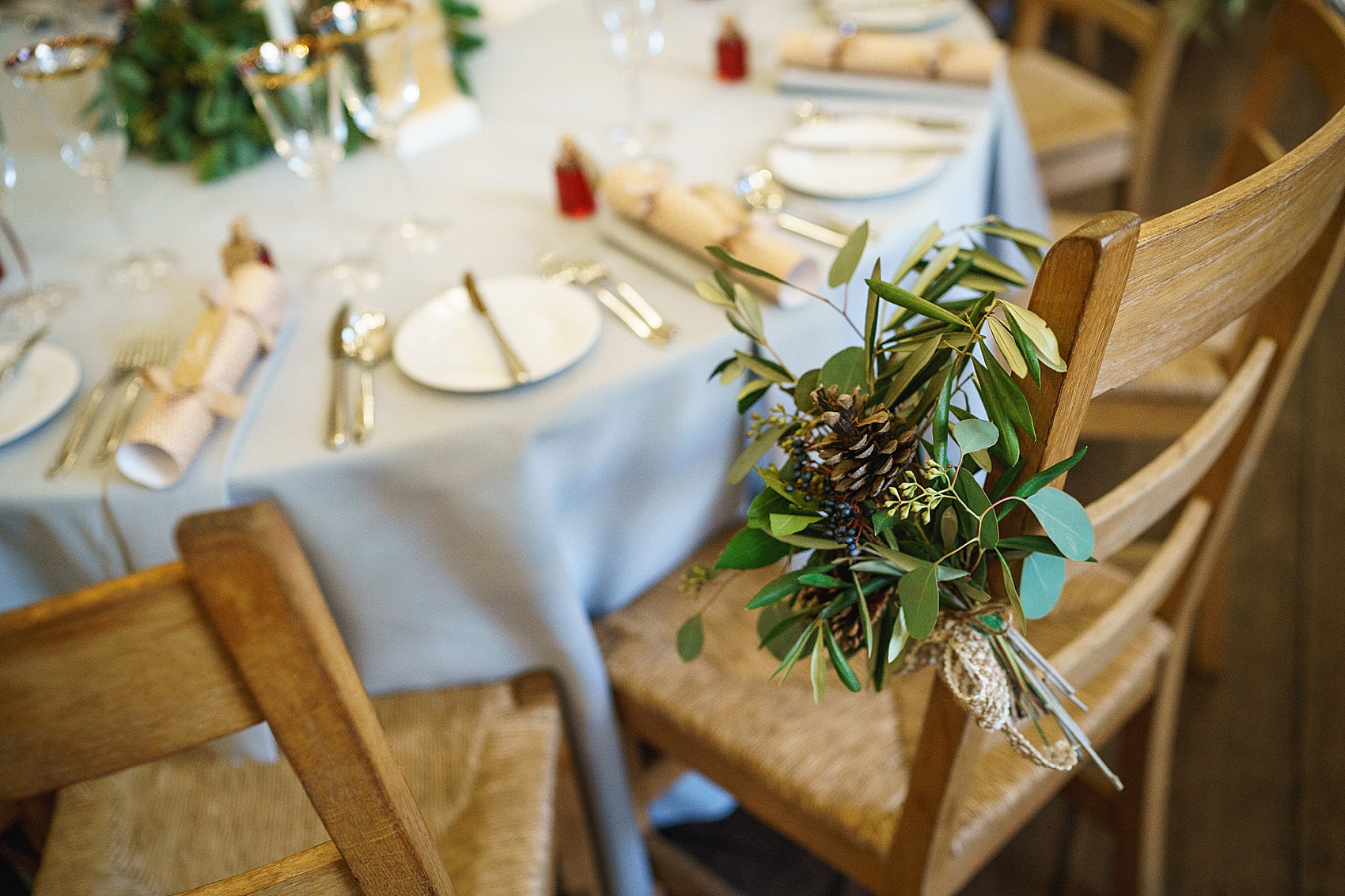 "Table names were all cities that we had been to as a couple. They were by Handmade by Rose on Etsy and each table had a picture taken from the city we had gone to."
"My parents made a palette with the order of the day on; they stained it and stencilled it themselves. We also made the table plan out of a palette. There were also flip flops for dancing and blankets to sit outside by the fire pits."
"The best man's speech was considered the best of the day by our guests. It was funny but also to the heart and kind. The groomsmen were on top form throughout the whole day, keeping Olly calm during the morning and helping him sort out spilt Sloe Gin on his tie before the ceremony! They were the first on the dance-floor and the last off."
After the wedding breakfast, there was a spectacular surprise for everyone.
"My mum organised some surprise fireworks after the wedding breakfast which was amazing."
As night fell, the party began, with fresh, hot pizza and a photo booth from Buttercup Bus.
"We had a vintage Campervan photo booth in the evening which was very popular. For the evening food we had The Mobile Pizzeria; the food was amazing."
"We had Chess Disco during the evening and the dance floor was never empty."
As big fans of 90s music, the couple chose 'So Into You' by Tamia for their first dance.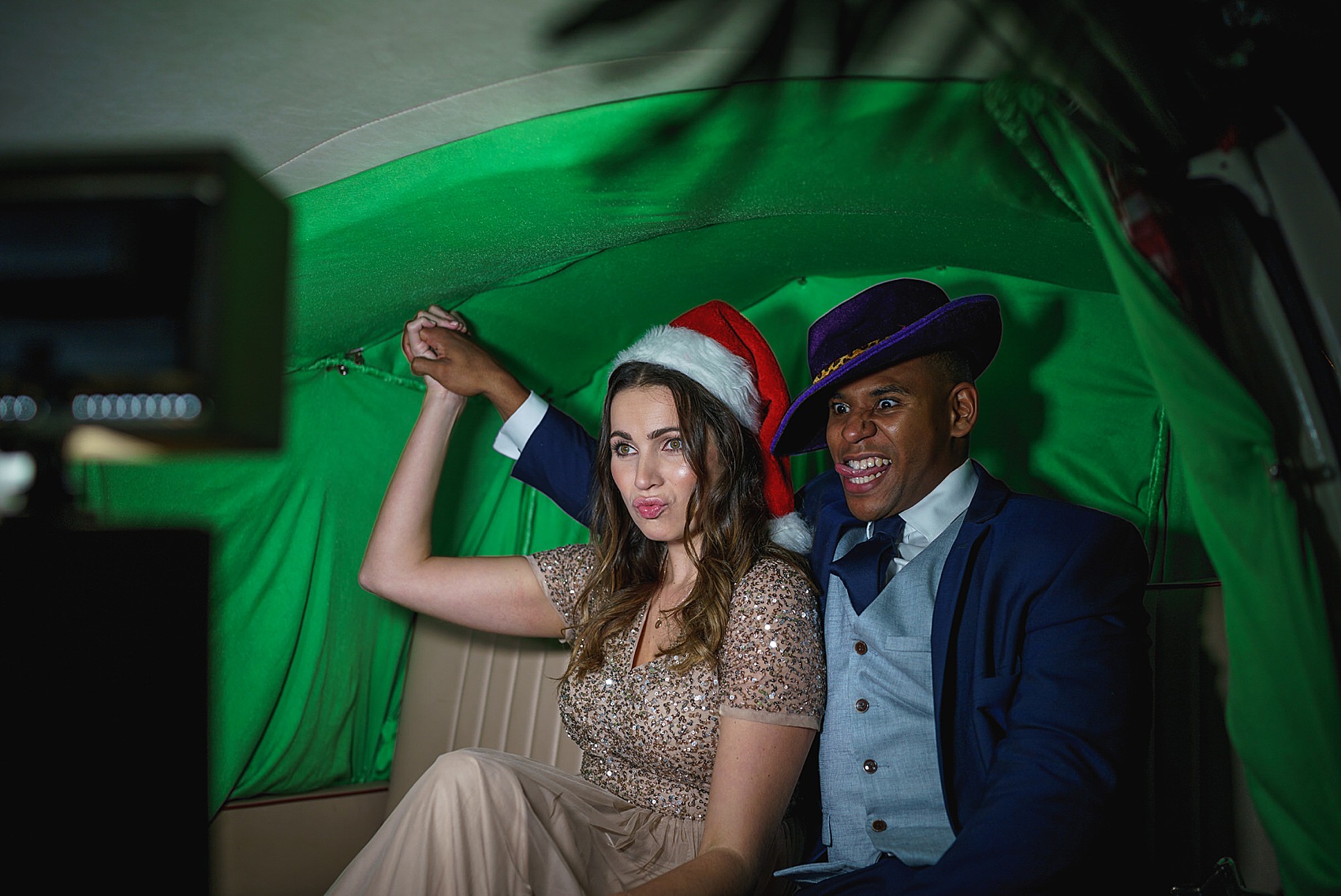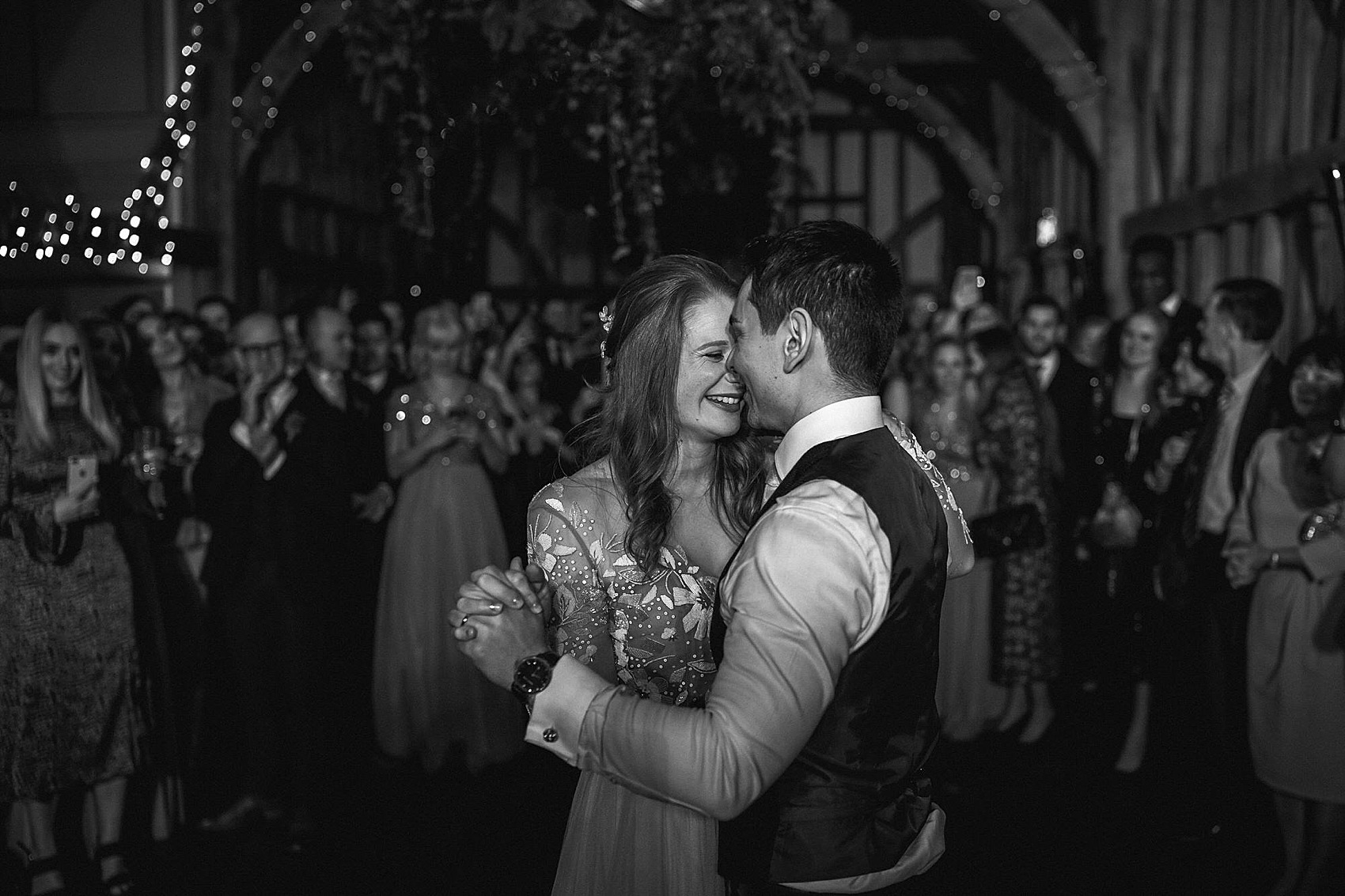 Words of Wedded Wisdom
"Enjoy the planning process and ask for help if you need it. Only tell those who need to know though as it was so nice to give the rest of the guests a surprise! I also loved being surprised myself by my mum."
"Use Etsy. Independent businesses are amazing and they really care about your day."
"Enjoy every moment and use the wedding breakfast as the chance to talk to your guests. They will appreciate you taking the time, especially the oldies."
Lolly and Olly, what a delight it's been to publish your festive celebration today. Sending you so much love and thanks for sharing it with us today, and many thanks as always for Guy Collier for such wonderful photographs.
For more wintry wedding vibes there's plenty more to inspire you here.
Ele xx