The year 2019 has proven to be the most pivotal ever for Love My Dress. This month we celebrate turning 10 years old and as I look back, so very much has changed in the past decade, in terms of weddings in general, social media, and in the way we consume information online.
Naturally, this has had a huge influence in the direction our business has taken – though admittedly, the changes have happened at such a quick pace at times, that it's felt challenging to keep up.
Eighteen months ago, I began a process of discreet 'retreat and observation'; I wanted to quietly but very purposefully take a step back to observe the landscape all around me and start work on a serious long-term strategy for Love My Dress. Primarily, I wanted to explore the questions, 'who do I really want to work with' and 'how do I want to work with them going forward'?
Film by LMD Collective for Andrea Hawkes
It's been a truly fascinating and insightful experience and one I hope to write and share more about soon, perhaps when I'm in that end of year reflective mode. To my absolute delight, one of those brands who was way up high in my list of top designers to work with, is now a partner of Love My Dress – and I could not feel more proud. As we celebrate 10 years of Love My Dress peacefully and without fanfare (I'd rather just get on with supporting my clients, thanks!) we are, believe me, jumping up and down with joy that we get to enter a new decade of inspiring thousands of brides, with British designer Andrea Hawkes by our side.
Late last month, I was lucky enough to be a guest at an event hosted by Andrea at The Goldsmiths Centre in London. The evening was a showcase of Andrea's latest IDENTITY collection.  This 2020 collection captures the spirit of Andrea Hawkes aesthetic beautifully; contemporary wedding dresses in classic shapes. Beautifully fitting gowns that speak to the modern day woman and her need to look and feel like a bride without all the fuss.
I was accompanied by my husband and business partner, and colleagues Zach and Grace. Together, all four of us makeup our new venture, LMD Collective – a new 'string' to the Love My Dress bow, if you will – or actually, our exciting new creative agency.
All photography by LMD Collective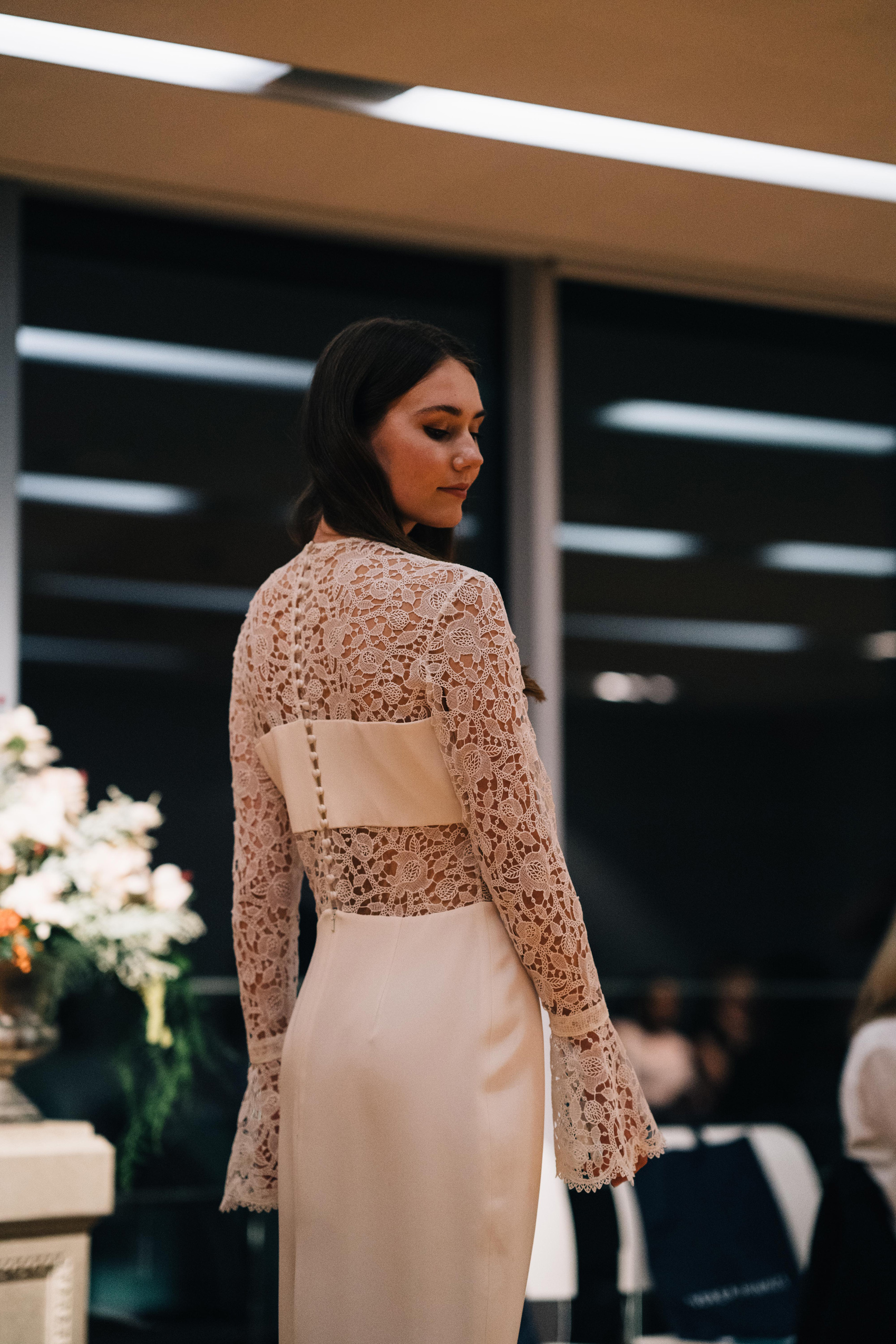 The event in London was thoroughly enjoyable – there is nothing quite like getting to see gowns like this up close and personal and in beautiful movement on the catwalk.
Andrea was kind enough to respond to some questions after the event – this interview provides a superb snapshot into cool, contemporary, modern bridal fashion in 2019/20. I hope you enjoy it, and that it might encourage you to book an appointment at the Andrea Hawkes boutique in London.
Enjoy…
Please introduce yourself to our readers
My name is Andrea and I am the Creative Director and Founder of Andrea Hawkes Bridal. I am also a mother of two (both of which are under 3 years old) and so spend the majority of my time juggling work and Mum life.
Tell us how you started out in fashion and what drew you to bridal in particular?
Growing up I was always really into making things and particularly sewing – I always wanted to be doing something creative and to do something with my hands. This then led on to me studying for a degree in Fashion Design, and getting back to basics with regards to sewing, making, tailoring and construction.
It was around the same time that I also got myself a part time job in a local bridal shop in St Albans, and it was here that my passion for bridal was born. The shop was an independent boutique with a personal touch, focusing on British designers with a luxury minimalist aesthetic, which ultimately inspired me to grow Andrea Hawkes into the brand that it is today.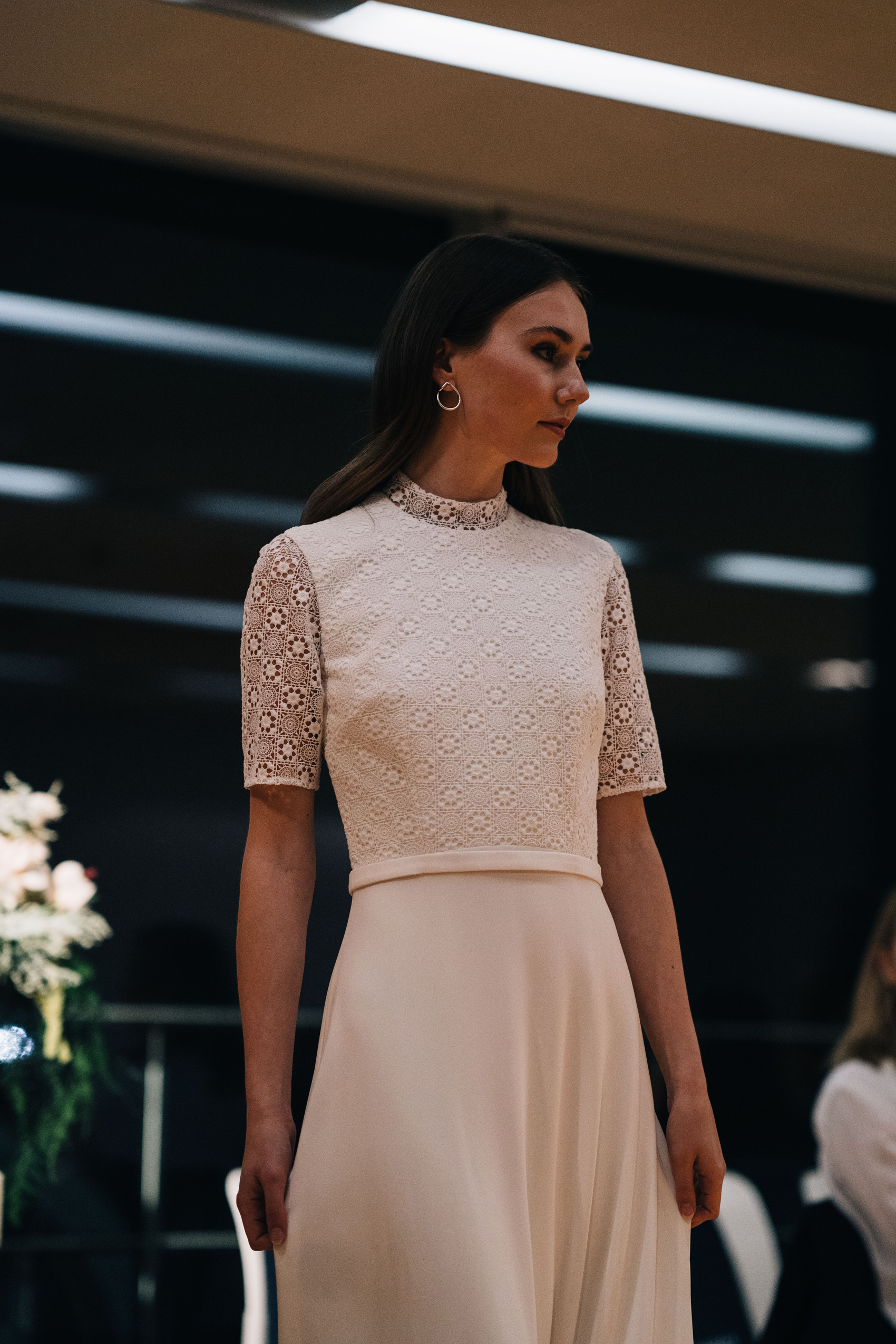 What do you love most about working in the bridal fashion world?
I love that I get the opportunity to get to know my brides on a personal level during the dress making process. Whether it's a small tweak here and there to one of our existing designs or a fully bespoke gown, working alongside our brides to create their dream wedding dress and hearing about their plans for the big day is what it's all about for me.
Can you describe your signature style?
We specialise in modern, simplistic bridal designs, and have done since day one. All the collections are crafted with fit and precision, made using natural silk fabrics, beautiful French lace and delicate beading and sequins.
Our designs classic couture shapes into modern contemporary designs, using the finest natural fabrics and attention to finishes and details creating a simplistic and strong aesthetic.
What do you think makes your brand so appealing to brides?
Our brand ethos is to provide a personal and professional service in a welcoming and relaxed environment, and it is this exact concept which I believe sets us apart from our competitors and means that we appeal to so many different people.
The concept of simplifying the bridal experience by offering an honest approach to having a beautiful wedding dress made is the most important thing for us.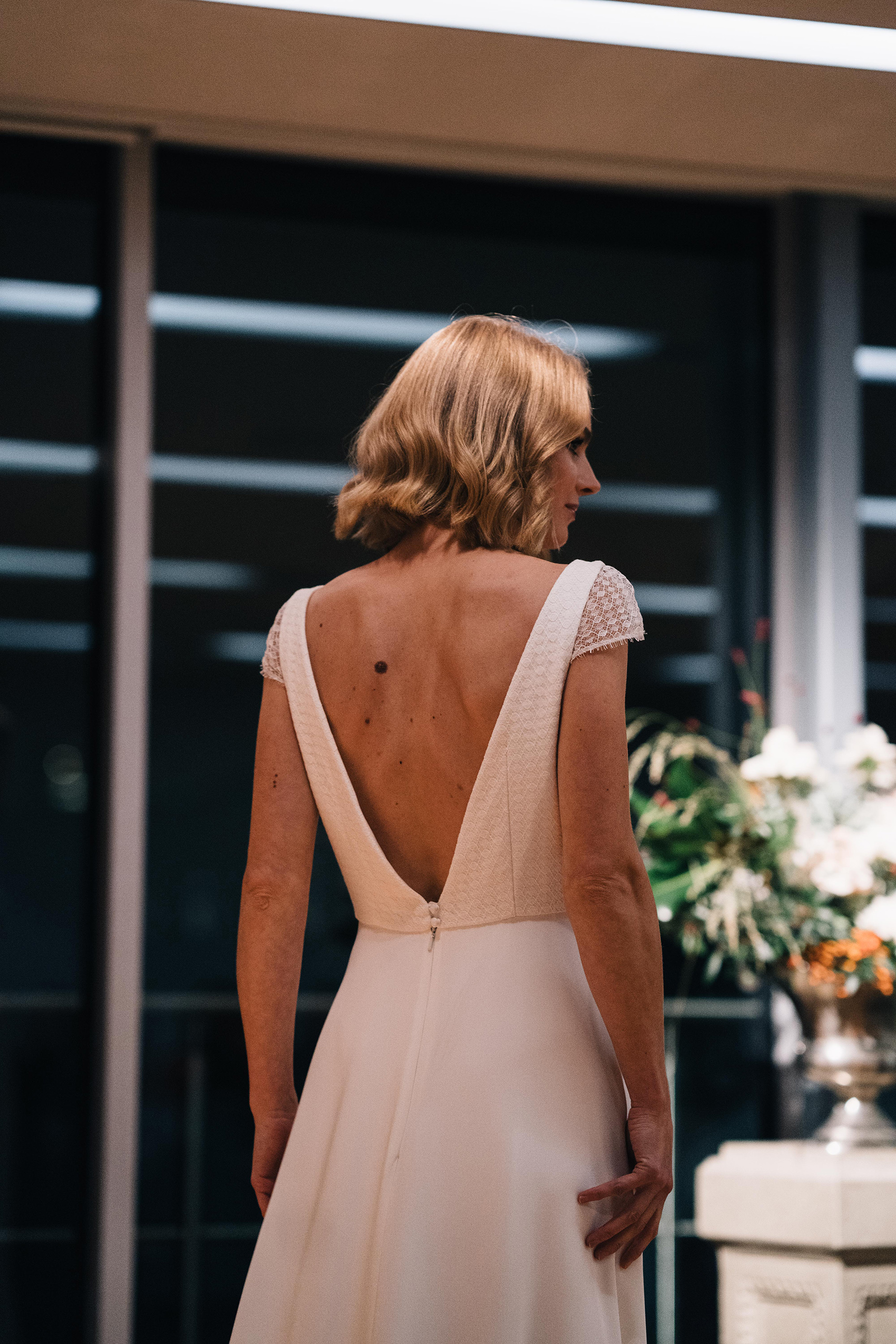 How would you describe the typical Andrea Hawkes bride?
Our brides are always a consideration when we are designing a new collection, are therefore its something we are always considering. Our bride is understated, modern but classic, appreciates beautiful silks and fabric, want to be themselves on their big day and for their look to feel timeless and elegant.
We design luxurious minimalist dresses with a playful and slightly alternative undertone – dresses that can be styled and worn with various Andrea Hawkes tops, jackets, capes and veils, so that our brides can discover the look which best suits their individual style and reflects their personality.
Where do you start with each new collection – can you share your process?
We always have our bride in mind when designing a new collection, and we are often inspired by the conversations we have with our brides during the dress making process as well. We design dresses that are minimalist yet luxurious – the beauty is often in the simplicity and a less is more approach is definitely true of our designs. We work as a team which is very important, as the team look at different elements of the overall journey; from sales to the production and making of our dresses.
Each person in our team has an important yet different input into our new collections. Fabrics are always a great starting point as well as inspiration from couture fashion.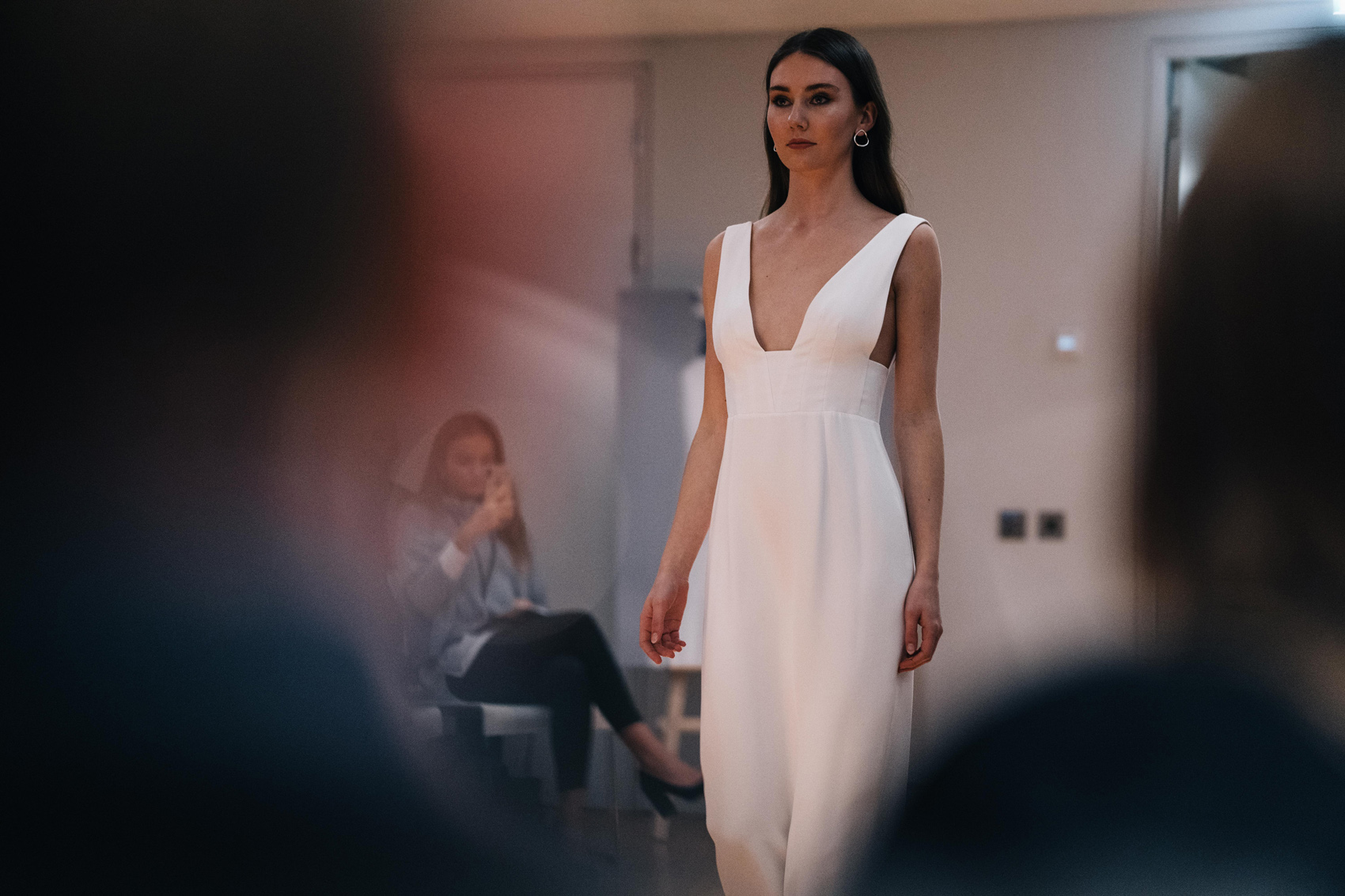 We'd love to know your views on the rise of the ethical wedding dress?
This is definitely something we are seeing more of an interest in amongst our clientele, and of course something that we see as having the utmost importance as well. We pride ourselves on the fact that we design, make and produce all of our dresses locally here in London, using all natural fibre silks and French lace.
The quality of the fabrics we work with is something we are extremely clear about and deem to be integral to our brand. We will only ever work with traditionally woven silks using natural fibres and French lace, meaning that each of our designs has a naturally luxurious look and feel.
We believe it to be extremely important to build genuine working relationships with our suppliers, and we always ensure we make the effort to meet with them personally to ensure the quality of the fabrics we work with. We are lucky enough to now have ongoing relationships directly with silk and lace mills which ensures we can ask the important questions and guarantee the quality we are renowned for. We also love nothing more than to visit various fabric exhibitions in the UK and Europe for new inspiration.
Tell us about your latest collection, IDENTITY, and what inspired you to create it?
Our main 2020 bridal collection 'Identity' has been created to reflect the importance of each individual bride's dress, designing pieces that are unique in their place throughout the collection.
Do you have a favourite gown in this collection or maybe one or two gowns you think might be really popular with your brides?
My favourite changes over time, especially as we start to see brides trying new designs and our stockists doing the same. Currently it is 'Wallace' (pictured below) in a beautiful plain silk with front button opening detail. It is a modern classic, the best type of dress and an Andrea Hawkes statement.
Would you say your designs are for a variety of body shapes?
Yes absolutely, and we will always work with each bride individually to ensure she is happy and comfortable with the finished design. Our bespoke service means that we are able to offer a completely personalised approach to the dress making process, but can also tweak our existing designs to ensure the very best fit for each bride; from the slight alteration of a neckline shape, to the addition of shoe-string straps or lace capped sleeves.
How do you balance your role as mum and business owner/designer?
I try my best to split my week as evenly as I can, and also try to ensure that when I am at work I am at work, and when I am home being Mum my kids have my undivided attention. I find that doing one and then the other works best for me, trying to be both at once is near impossible, especially as they are so young. I also work with my partner, and even though we have very different roles within the business it means that working together gives us some level of flexibility between work and home.
Tell us about your work and creative space
I split my week between our bridal showroom in London where I touch base with my lovely team, and my home in Bedfordshire where I am very excited to soon have a dedicated creative workspace. My partner and I have been renovating our house over the past year and it's now almost finished, and I can't wait to have my lovely workspace finished so I can get started on the next collection!
My partner and I are actually in the middle of renovating our family home in Bedfordshire which has been an ongoing project over the past year. We are finally now getting to the point where we can think about the decor and finishing touches, and I feel really inspired by mid-century style and muted tones.
Our style is extremely eclectic having continued to collect various items over the years, and I cannot wait to have our home reflect this as well. Our showroom is a capsule of our style and taste so that gives a good indication of the feel.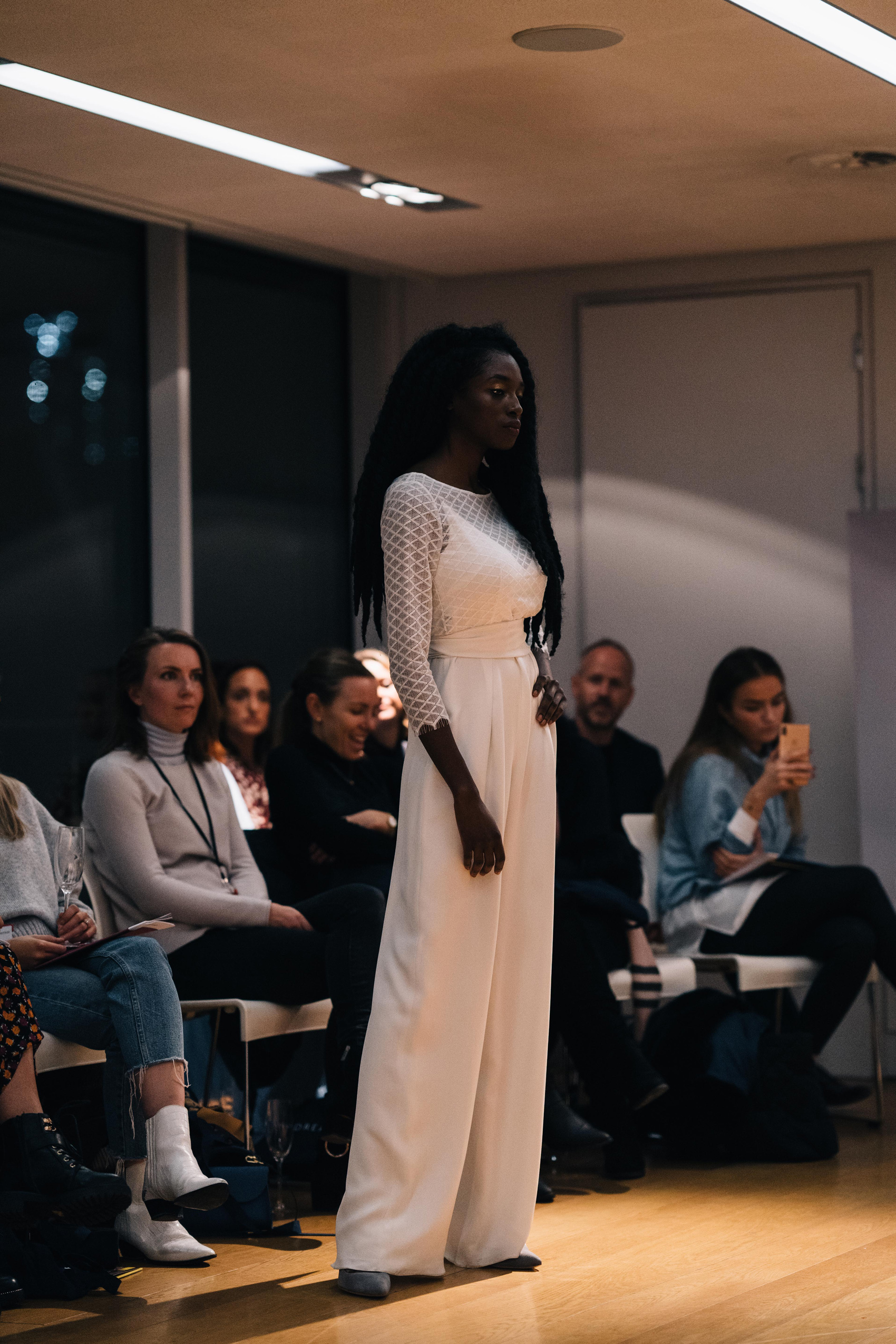 What does an average day for a successful bridal fashion designer look like?
For me personally, no day is the same. It's all about striking the right balance between work and home life. A normal day at the studio/showroom starts with organising the children in the morning, then catching a train to Kings Cross followed by a short walk to the studio, usually picking up breakfast on the way. I catch up with the team first thing, then begin appointments with clients or have further meetings with production, collection and design, or marketing.
There are many different sides to what we do and each day is split into these areas of the business, I like to ensure I have a grasp on each and feel like the whole team is joined by this. I will also spend time on development of new collections working on toiles and patterns with our main pattern cutter. I will spend time with new clients and brides who are into their fitting process, and work closely with our client manager Siobhan. I also work closely with Laura, our Marketing Manager, on events and brand communication and many other things day to day.
After work is usually a run to the station to head home for the children, we always have dinner together (which is very important for me) and do bath time settling the little ones for the night. I then make sure I have some downtime for myself after a busy day (also very important!).
What would you be doing if you weren't running your own design business?
I love cooking and food, and this was always a path I considered before bridal. I love to do this at home still and its always been a love and a passion. So, I guess I would be running a beautiful restaurant, but certainly working for myself was always my drive.
What's next for your business and brand?
We have recently had some exciting new additions to the Andrea Hawkes team including our new Marketing Manager, and so will be looking to drive the brand forwards with regards to various events, talks and collaborations over the next 12 months. We are working to bring all these things back in house focusing on in-house events where we can curate and collaborate with other brands we respect.
We are currently working on our new collection which is due to launch next March to stockists, so that is a real focus from now on. We are launching with our first stores in the US and Japan, so that it's exciting to see the brand growing into new markets. There are lots of very exciting plans for 2020 so watch this space!
________________
Andrea Hawkes gowns range in price between £1800 to £3000 for standard dress sizes. Any bespoke elements will incur an addition fee on top of this. These fees reflect Andrea's find craftsmanship, high quality fabrics, precision cut and comfortable fit.
To find out more and to enquire about your nearest stockist or to book a visit to Andrea's own London based boutique, please visit andreahawkes.co.uk.