Did you know that your sense of smell is more closely linked with memory than any of your other senses? I have no doubt that this bride and groom will be taken back to their wedding day every time they come across the scent of fresh herbs, as they used them to abundance in the styling of their elegant, botanical celebration.
On 5 September 2018 Freya, a member services expert, wed David, a distribution manager at exclusive-hire Wasing Park near Aldermaston in Berkshire. The day was influenced by the scents and colours of the Mediterranean with a botanical theme running throughout. Marrying outside, the couple chose the timeless and elegant hues of green and white, which look wonderful in the beautiful rural setting of Wasing Park. The couple also chose to have a moving souvenir of their day, captured by Minty Slippers.
Film Minty Slippers
"Mintyslippers were great to work with – they captured everything we wanted and were very accommodating with changes we requested during the editing process."
"We had always said we wanted something a little bit different but for it to be timeless. We settled on a botanical/Mediterranean theme with lots of herbs. We loved the idea of having a mixture of herbs which we love the look of but also made the wedding have an incredible smell. We kept the colours to just green and white."
Photography Jessica Davies Photography
One of these was photographer Jessica Davies, with whose romantic, fine art style of work the couple fell for, head over heels.
"We were about to book with another photographer before I found Jessica's website. As soon as I saw her pictures I was in love! Her photography was a style I had never seen before – only in magazines. They were romantic and fairytale-like. I adored the couple shots but one of the main things that drew me to her was how she photographed all the details – invitations, accessories, perfume, table settings. I was spending so much time on planning all the small details of our wedding that I loved the idea of having pictures of these so we would always remember them."
"When I met Jessica for the first time I instantly fell in love with her! She is honestly one of the nicest and kind-hearted people I have ever met. She even sent us a bunch of flowers when we booked with her. Throughout the planning process she was always checking in with how things were going and was always interested to know the details or plans for the wedding."
"It showed her true passion for all things weddings and a genuine interest in our wedding plans. I feel like I made a true friend and loved every minute working with her!"
The styling of the foliage and florals was by Cherubs Floral Design, and what a beautiful, beautiful look it is.
"We kept flowers to a minimum, only in the bouquets and of course were white. Our main foliage was eucalyptus, rosemary, mint and olive. Cherubs provided olive trees at each end of the aisle with bunches of olive springs tied to the end of the rows of chairs. The table settings during the wedding breakfast (each table was a different herb) were rosemary, basil, mint, chive, sage, lavender. Each table had three terracotta pots with the herb planted inside with sprigs of eucalyptus places on the table around them. We also had a large arch of birch trees above the top table."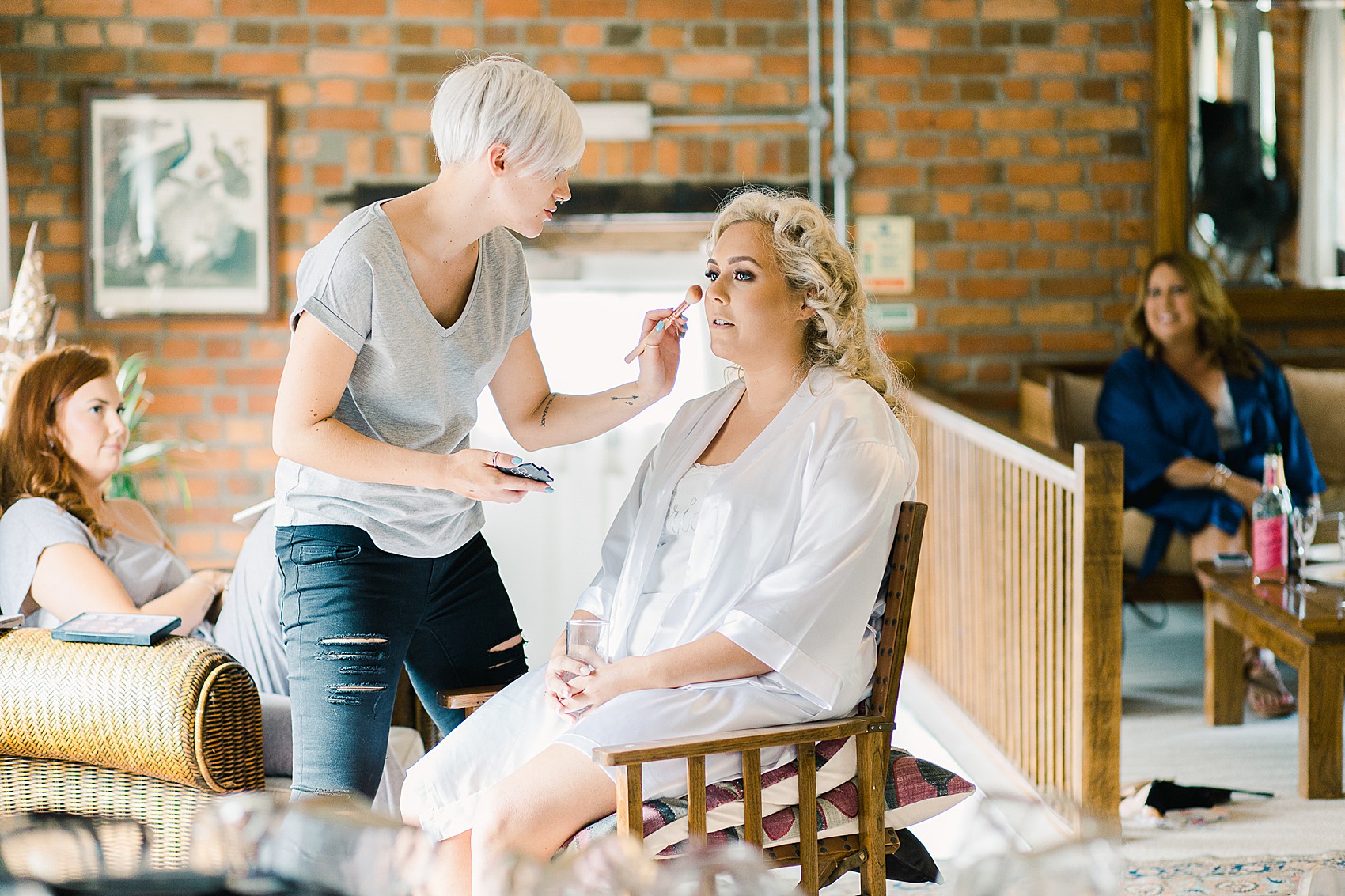 The bride looks utterly gorgeous in her fitted Suzanne Neville gown; the lacy detail of the bodice and pure white, flowing skirt are exquisite. She visited the flagship boutique in Knightsbridge, where she had the good fortune of meeting and being fitted by the designer herself.
"This was an absolute dream! When looking at different wedding dress designers I had my heart set on a Suzanne Neville dress from the start. I knew that the style of dress she designs were exactly what I was looking for; well structured, simple, elegant and timeless. Most of my appointments were with Amy who was absolutely amazing."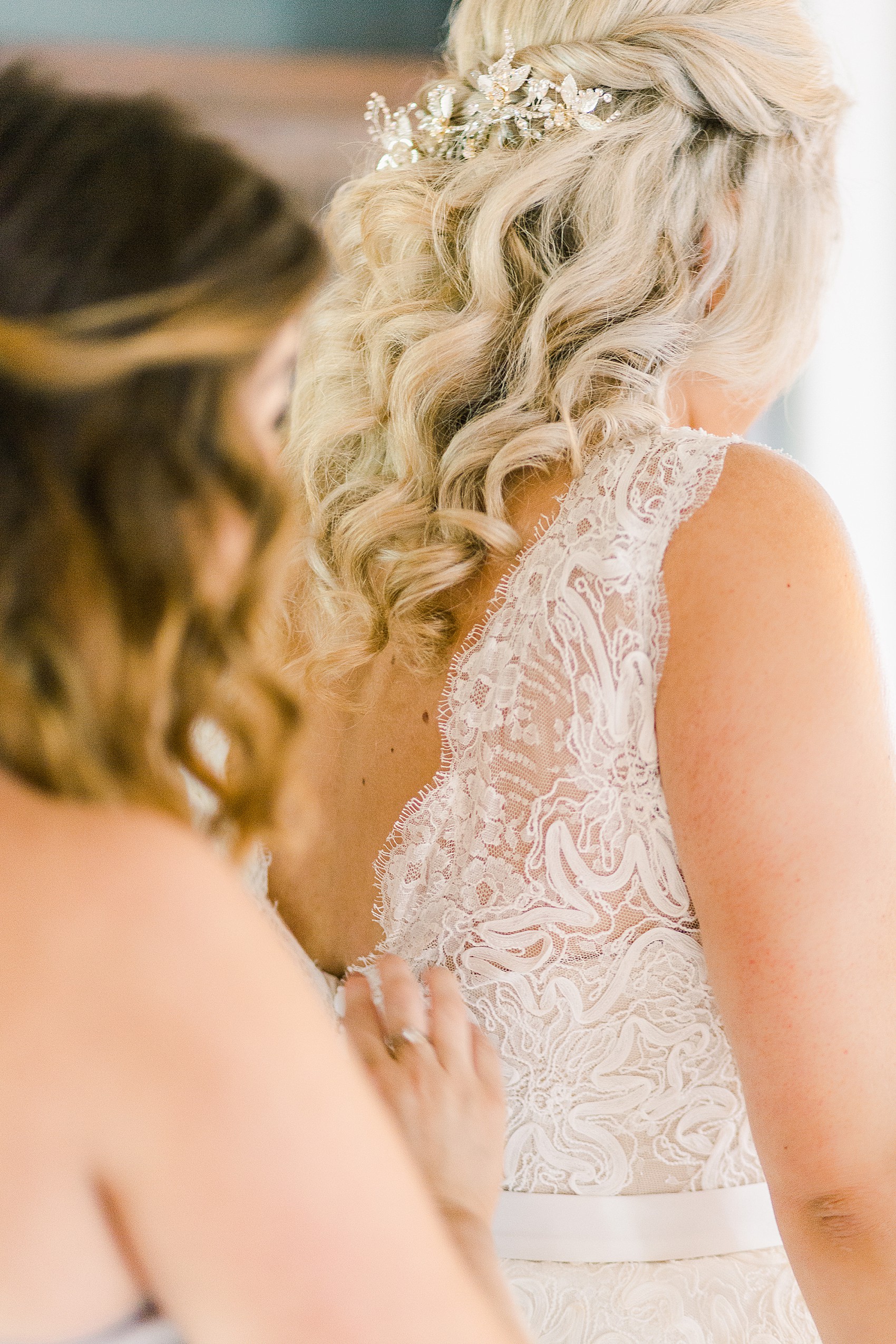 I really looked forward to seeing her for every fitting and felt like I had a well-trusted friend. I would recommend anyone to request an appointment with her. For my penultimate fitting Suzanne herself did the fitting. It was amazing to see how she worked and her true passion for the structure of the dress and to make me feel my absolute best."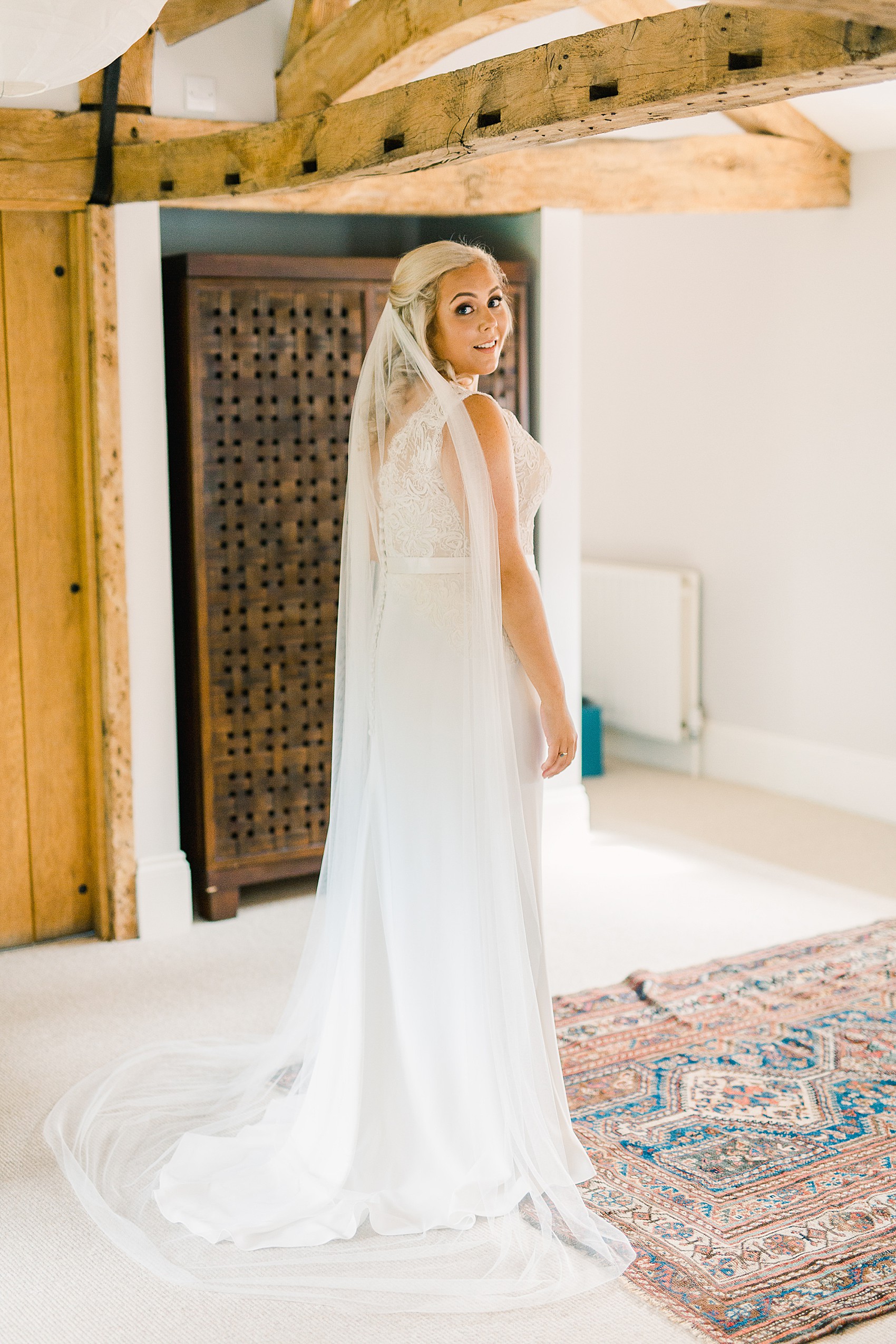 "I never thought I would pick a dress in this style. I always thought I would go for something more A-line as I felt that would suit my body shape the most but that is the beauty of Suzanne's dresses; they are custom-made to your body and shape. I loved that it fit me perfectly and complimented my body shape."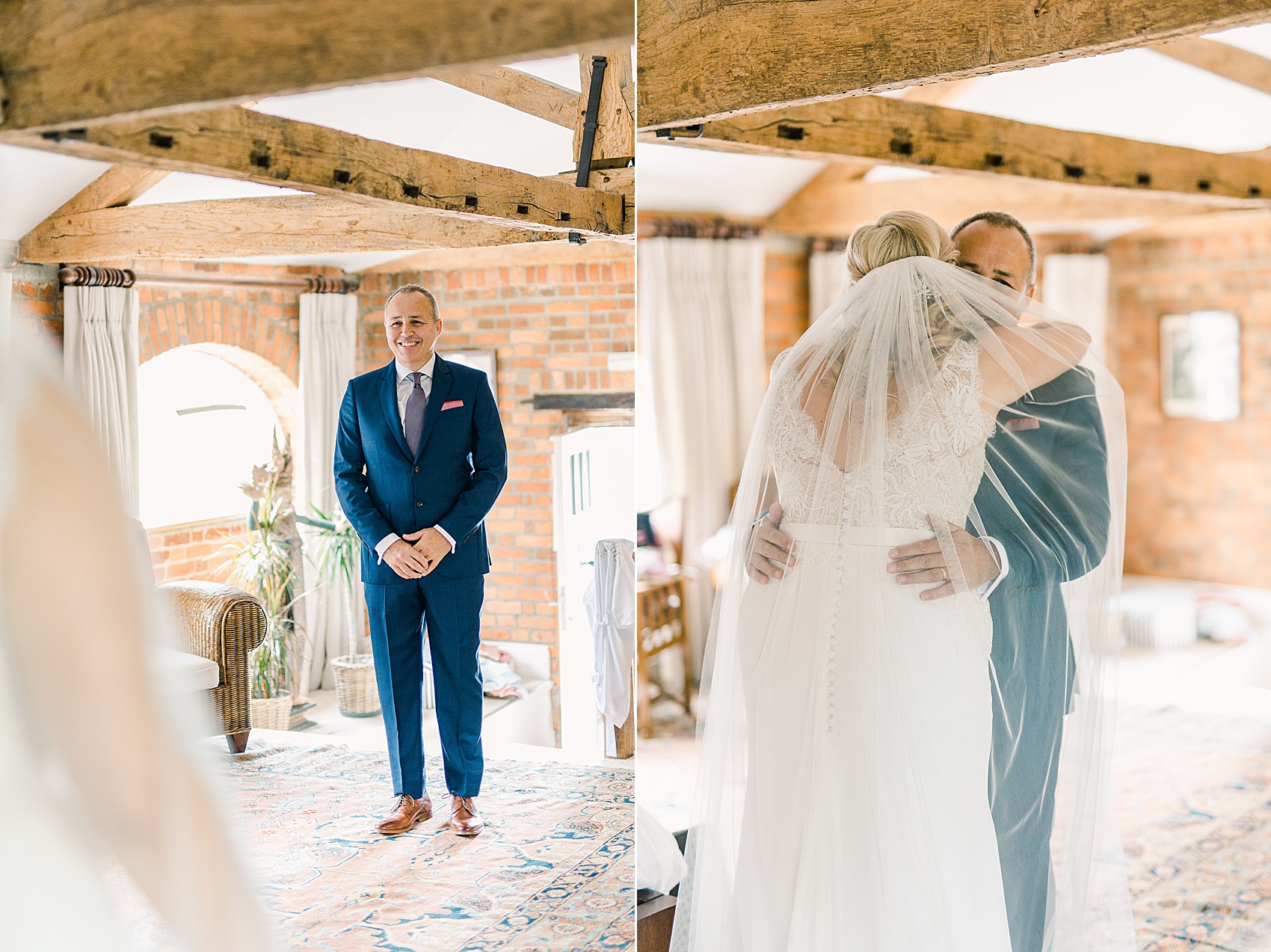 She chose a sheer veil, also in pure white, from Suzanne Neville, and slipped on a pair of Gucci sandals in white leather. Her statement earrings, bracelets and hair clip were all from Debenhams and her fragrance was by Jo Malone – fittingly, 'Blackberry and Bay'.
"It's my all-time favourite perfume and the perfume David says smells like 'me'. It also tied in very well with the botanical/herb theme."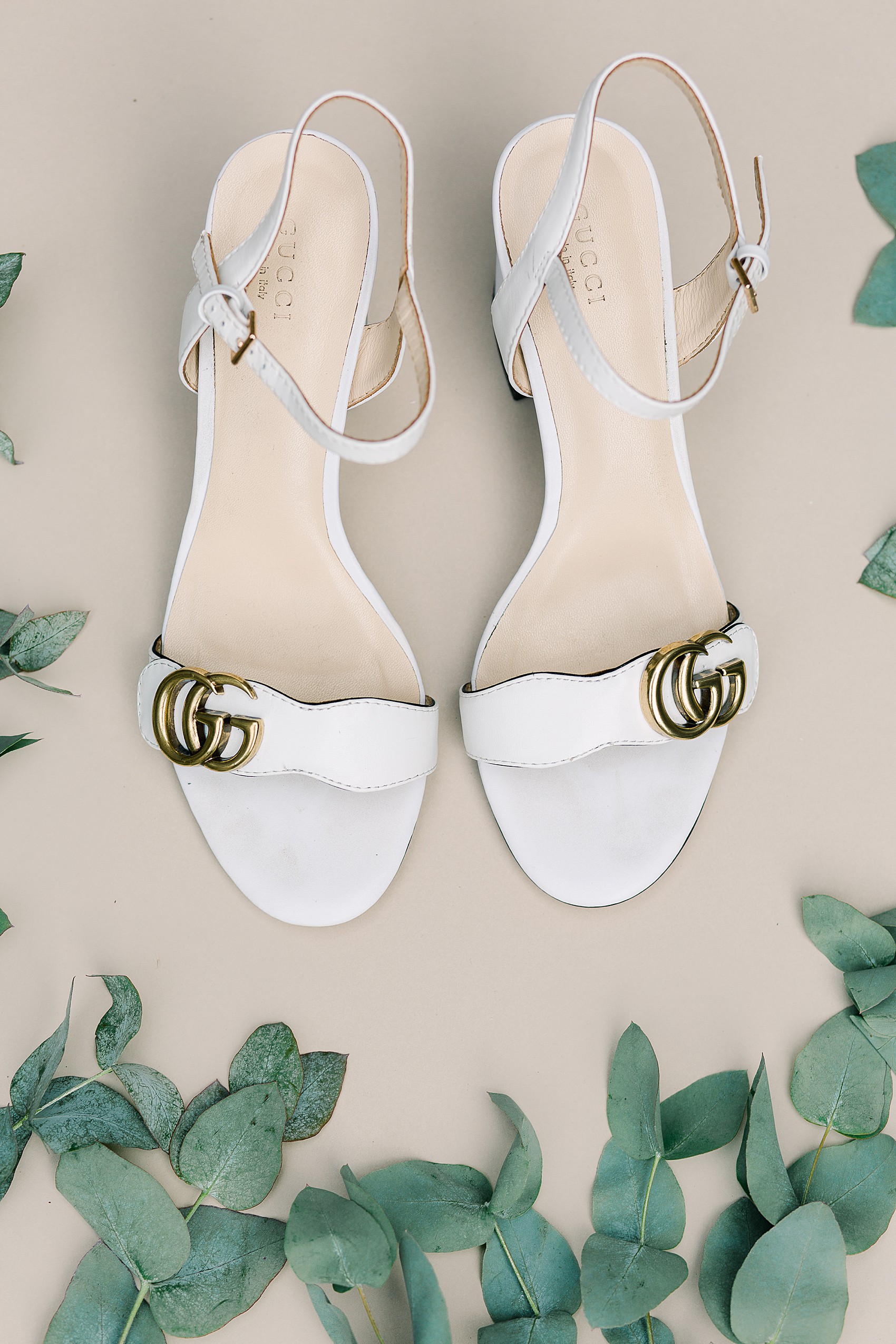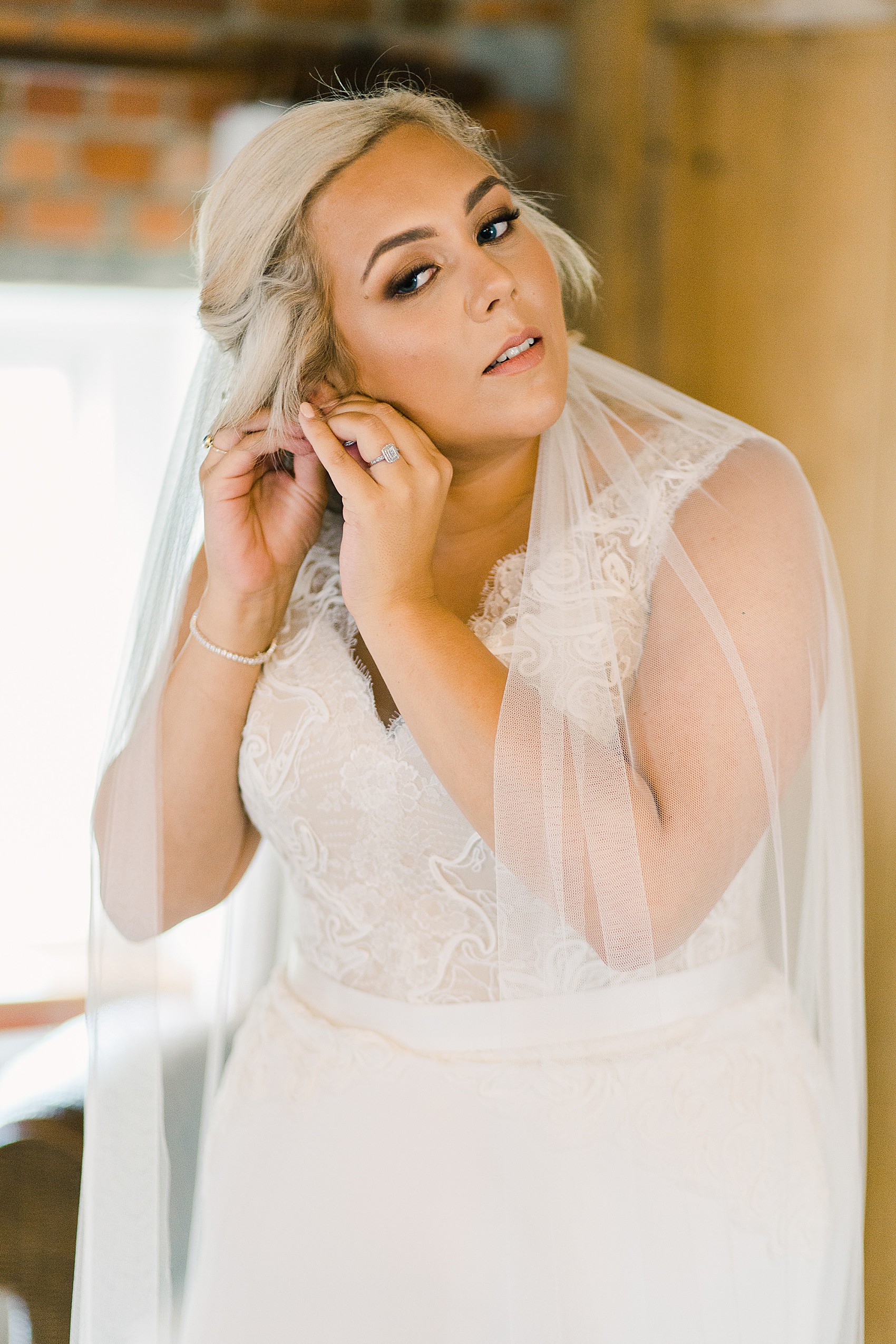 Freya and David had a long engagement of nearly four years, giving the bride time to focus on her university degree.
"We met in a bar in May 2012. I was living in Reading with my parents and David was living with his parents in Hornchurch, Essex."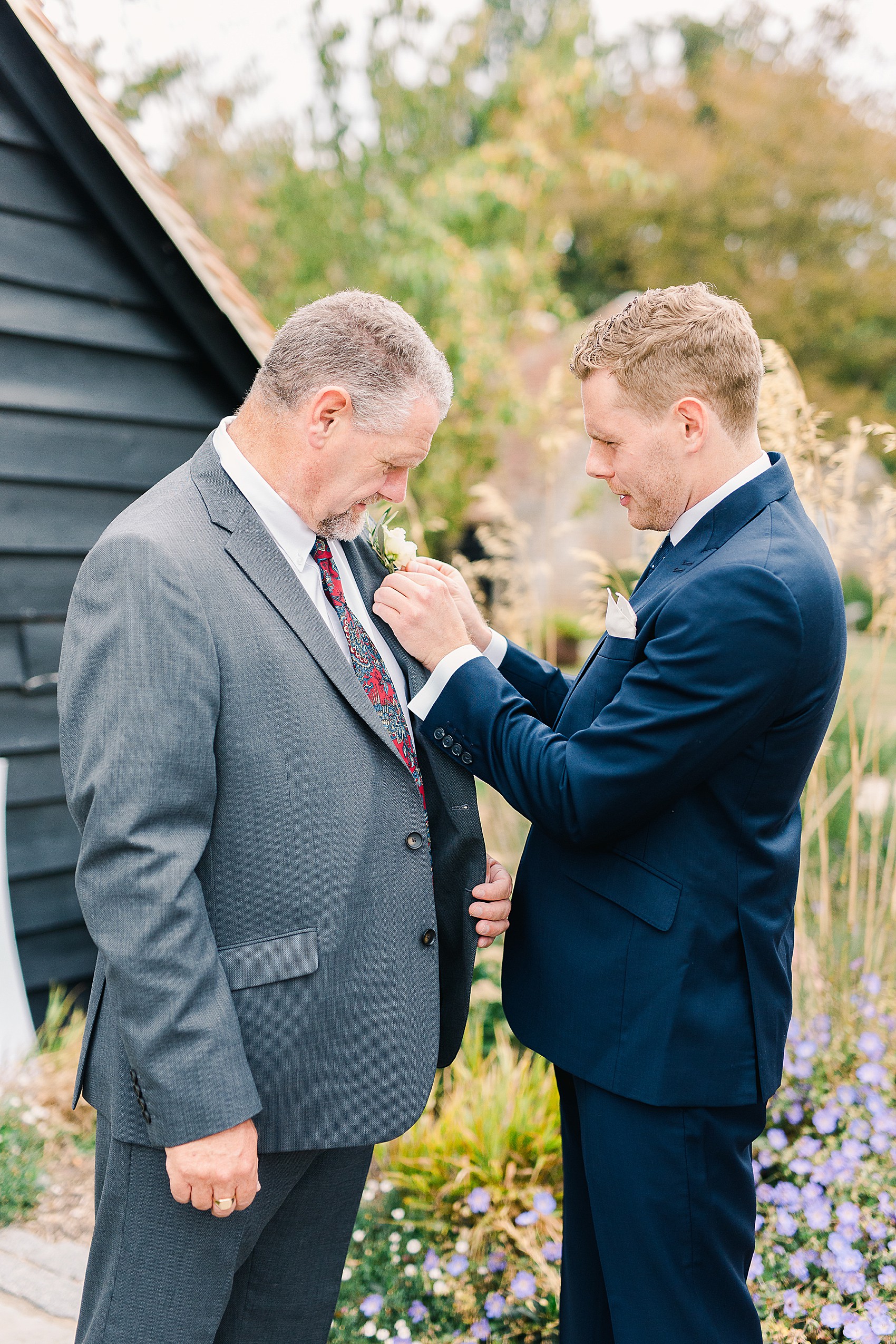 "For the first year of our relationship it was long distance with (mostly David) travelling back and forth from Essex to Berkshire. David proposed on 23 December 2014. We loved having a long engagement as it meant we had loads of time to plan our wedding and really take our time to look for the best suppliers."
"Wasing Park was the only venue we looked at. As an engagement gift, a friend bought us a wedding magazine subscription. In the first issue we received there was a advert for Wasing Park. As soon as I saw it I knew it was our venue. It had everything we wanted – a countryside setting, rooms for family and friends to stay, exclusive hire, modern and well-kept with stunning, traditional-featured buildings."
The grown-up bridesmaids looked sophisticated in soft grey, strapless ASOS gowns, worn with Missguided shoes.
The adorable flowergirl, only two at the time, was dressed in a white Monsoon dress and a pretty floral crown.
"We loved our beautiful flowergirl. She was an absolute angel on the day and was just excited about the wedding as I was. She still talks about the wedding now, almost a year later and loves the TV show 'Don't Tell The Bride'!"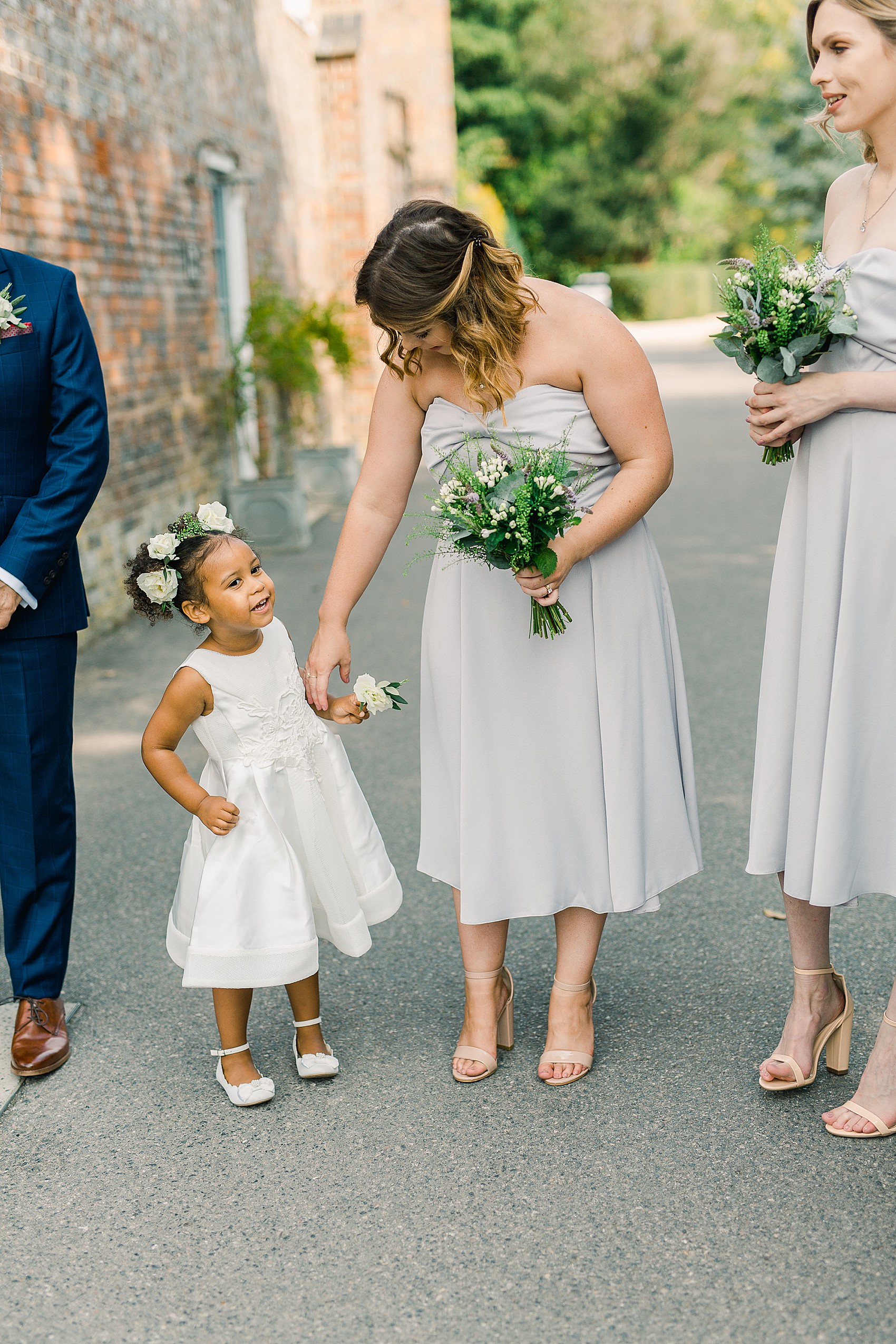 Freya was very hands-on in planning her wedding, something she had dreamt about since being a little girl.
"I have always been obsessed with weddings. When I was 12 I remember I would Google wedding dresses, engagement rings, wedding flowers, bridesmaid dresses and copy and paste pictures into a Word document to make my own wedding mood board. It is the most special day of your life and I loved seeing all the details and decisions I made over the two years planning our wedding come together in real life on the day."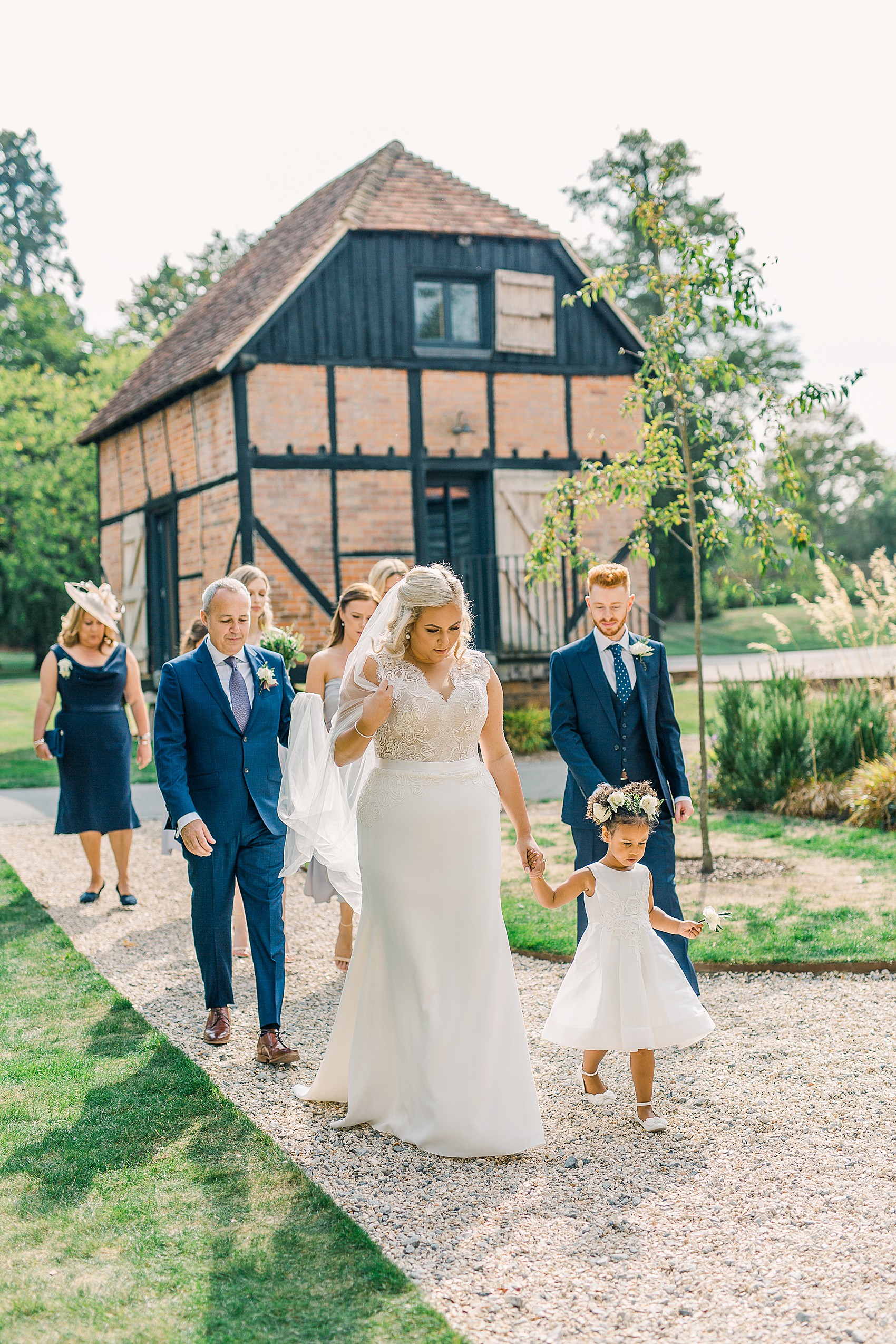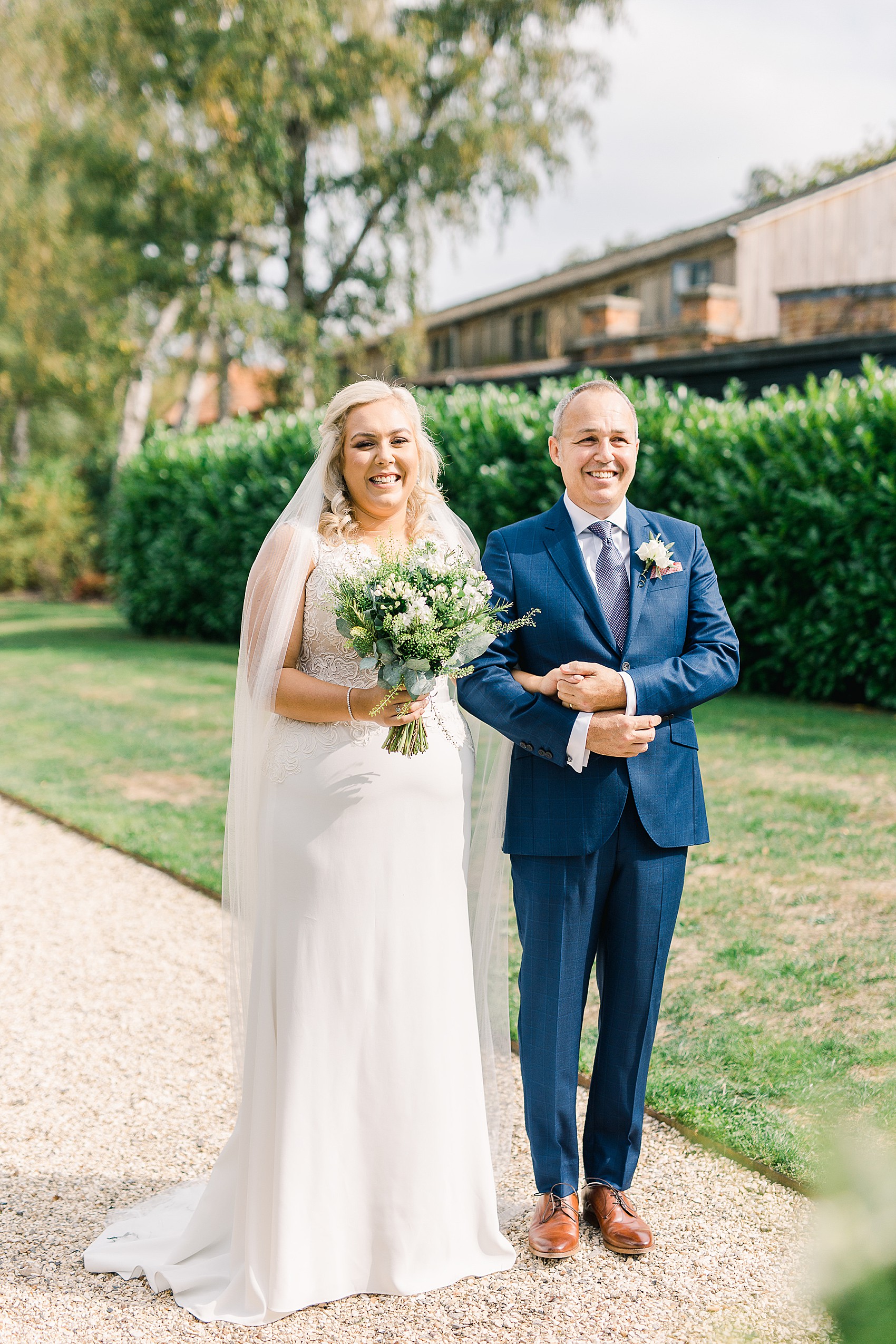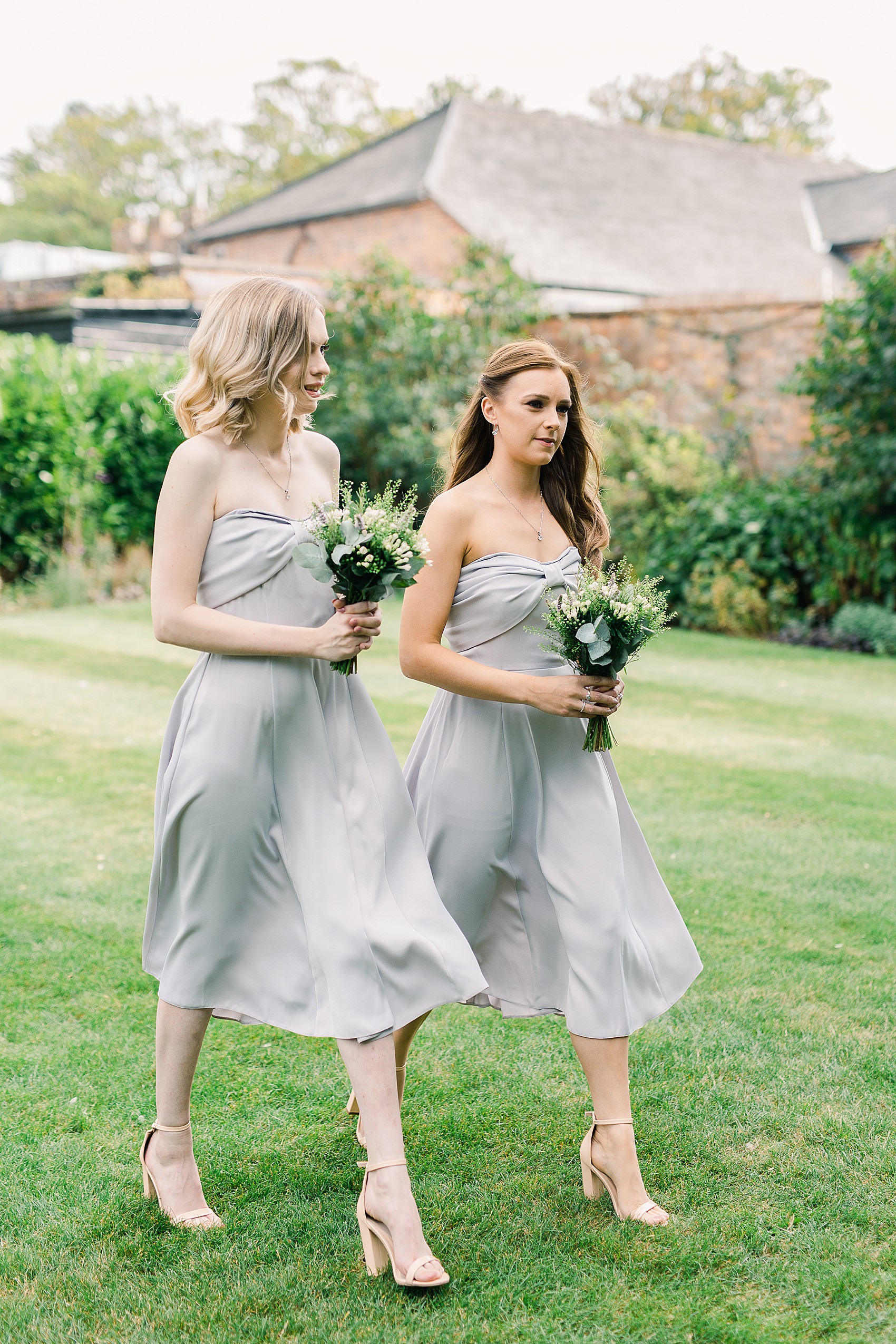 I love that David asked his sister to be his best man. To keep the overall look uniform she wore the same as the bridesmaids.
"David's 'best man' was his sister – his absolute best friend."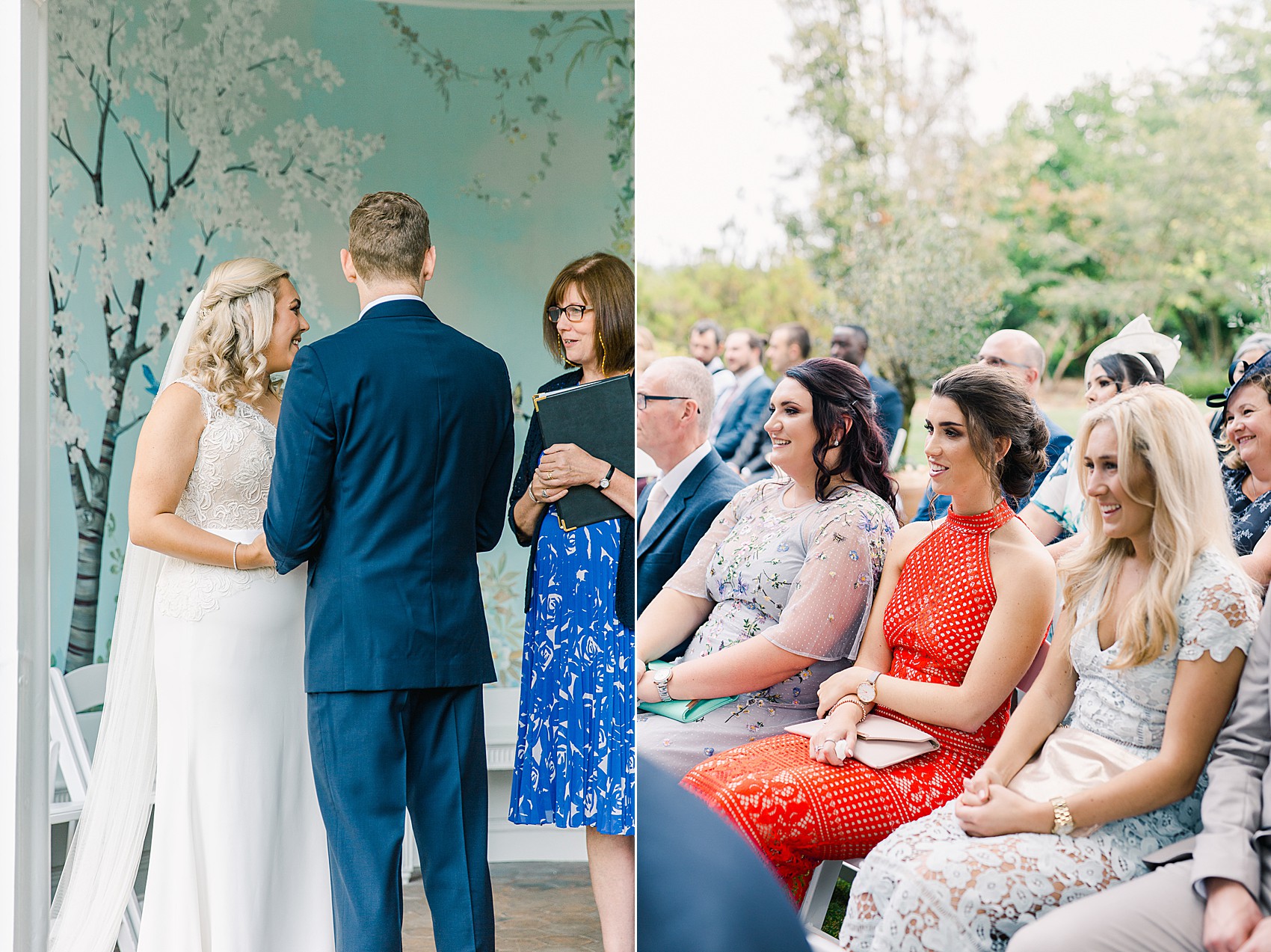 Freya and David chose to have an afternoon wedding ceremony, at 3pm, and the beautiful weather meant it could be held outside in the Park's white pergola – just look at the beautifully-painted interior. Freya came down the aisle with her father, Mawgan, to 'You're All I Need To Get By' by Aretha Franklin. The service, led by Newbury Registry Office, included a reading from the bride's Uncle Pat – 'On Your Wedding Day'.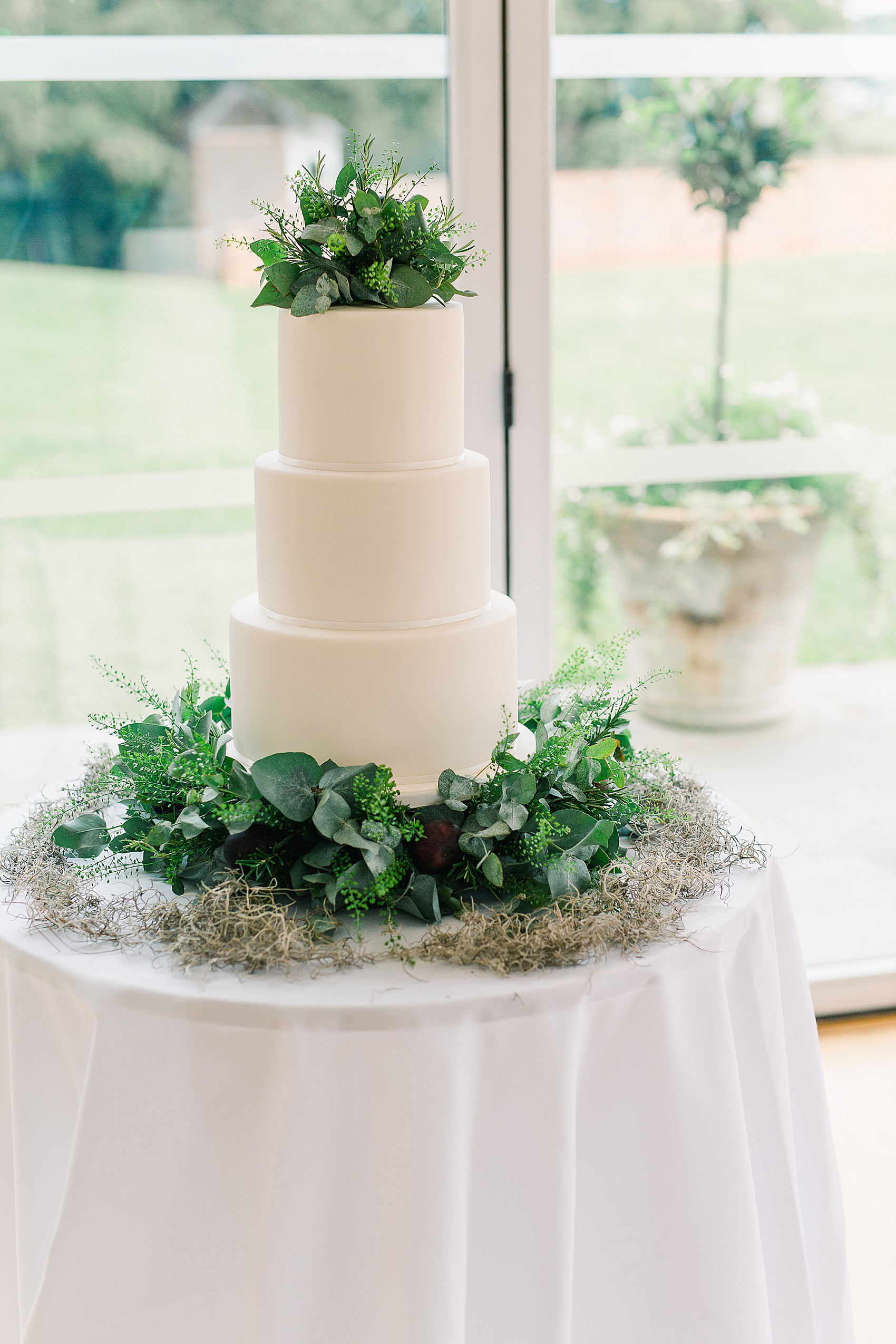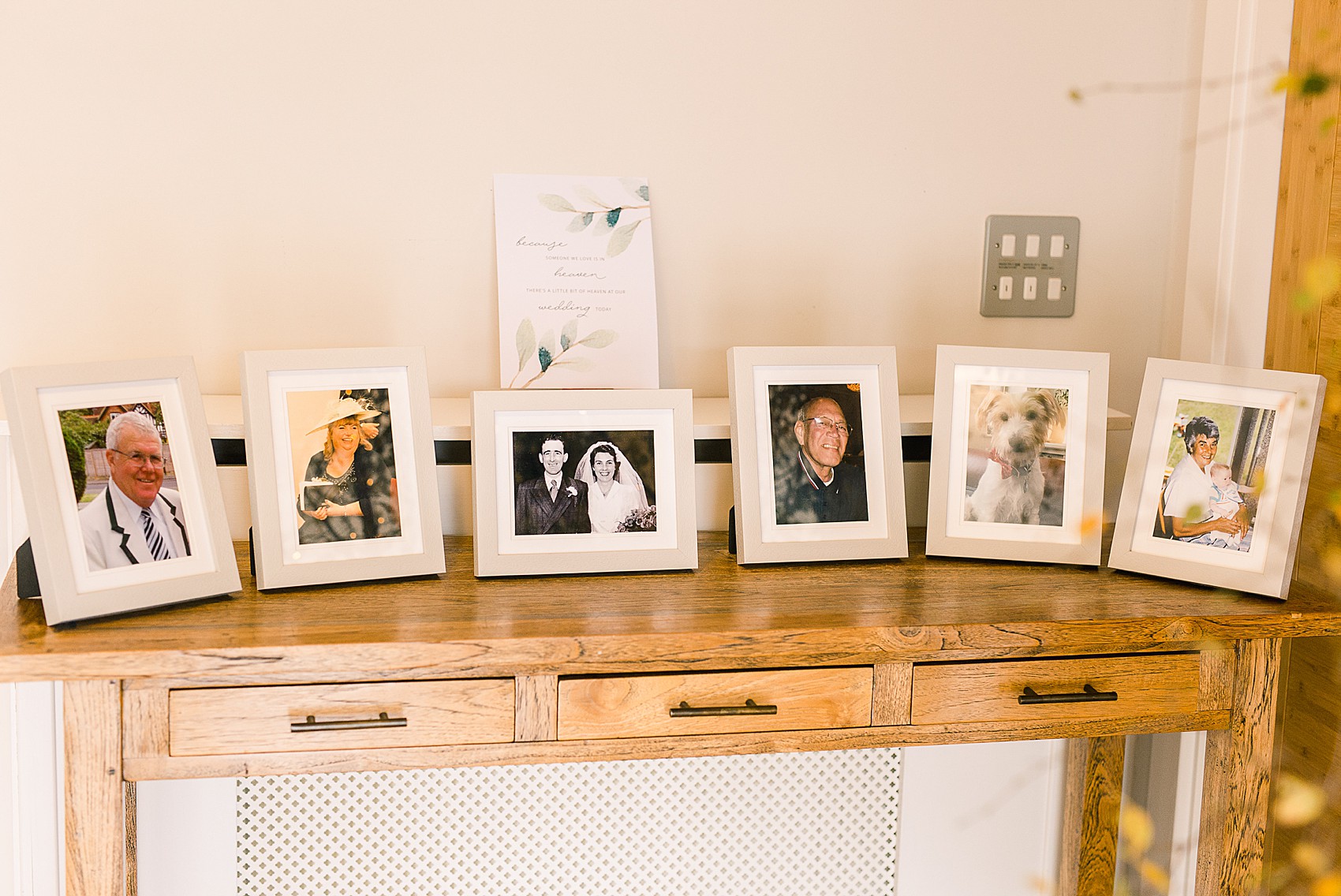 For a smart and modern look, the groom wore a deep blue suit hired from Slaters Menswear, along with River Island shoes and cufflinks gifted to him by one of his groomsmen.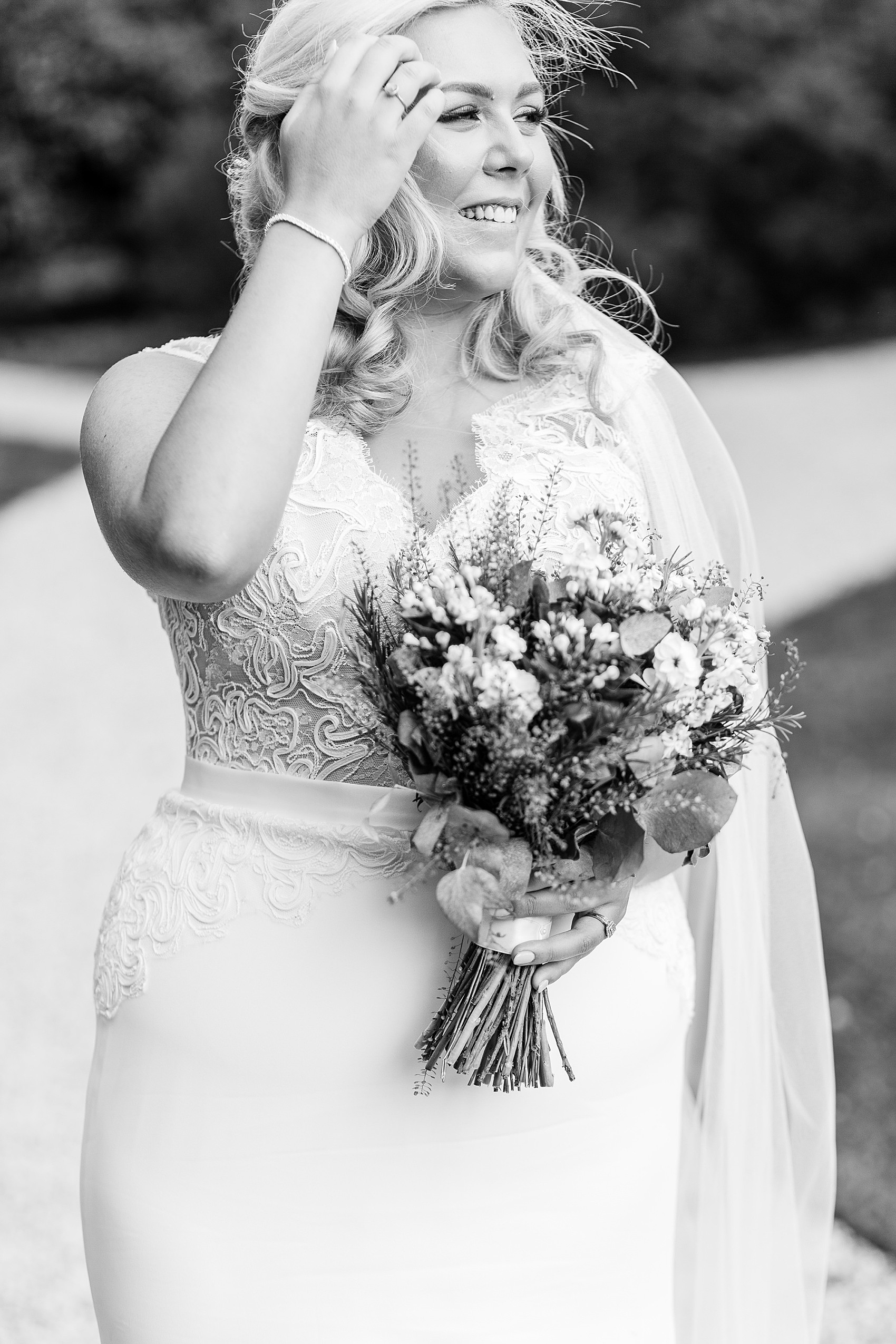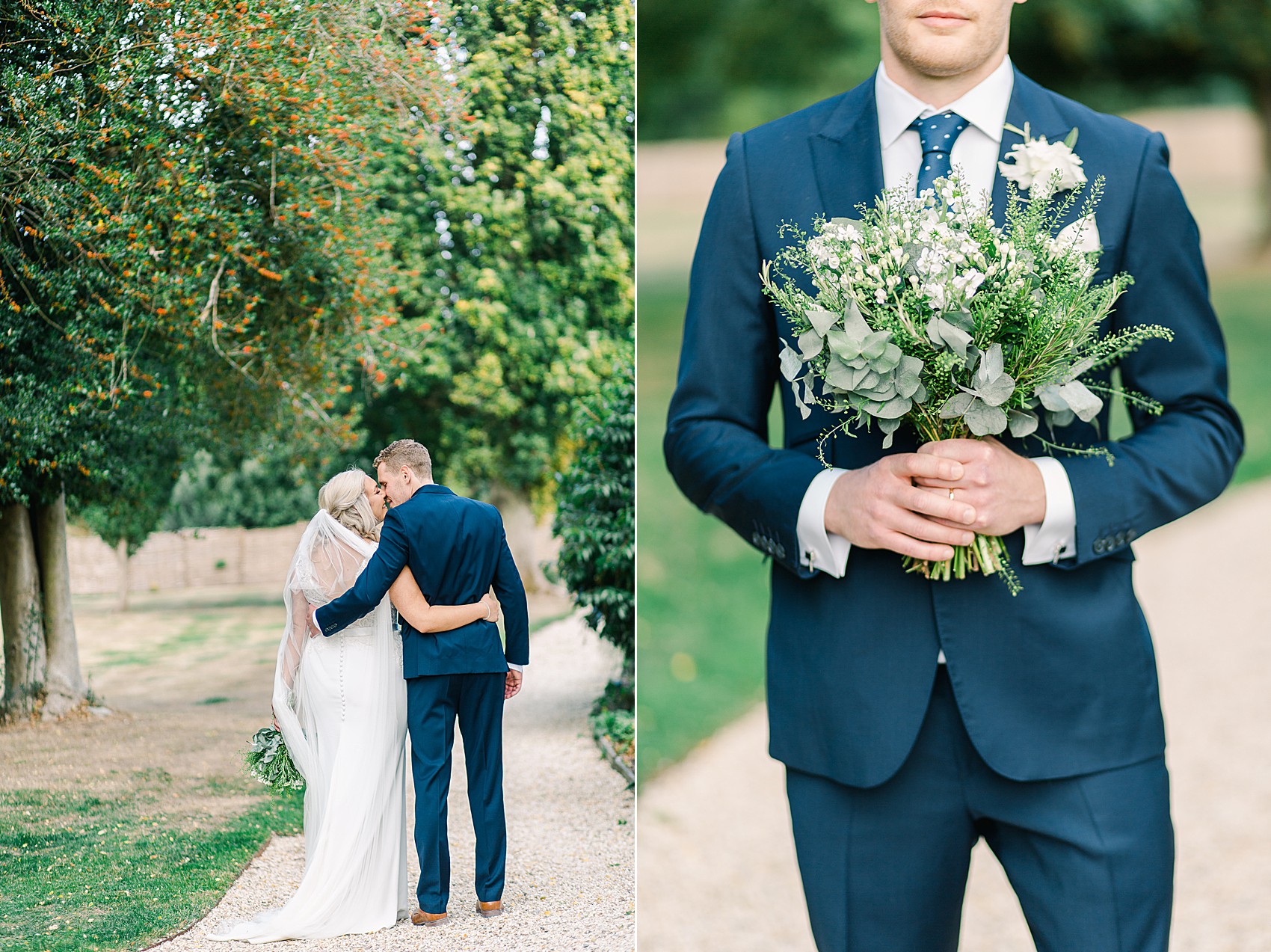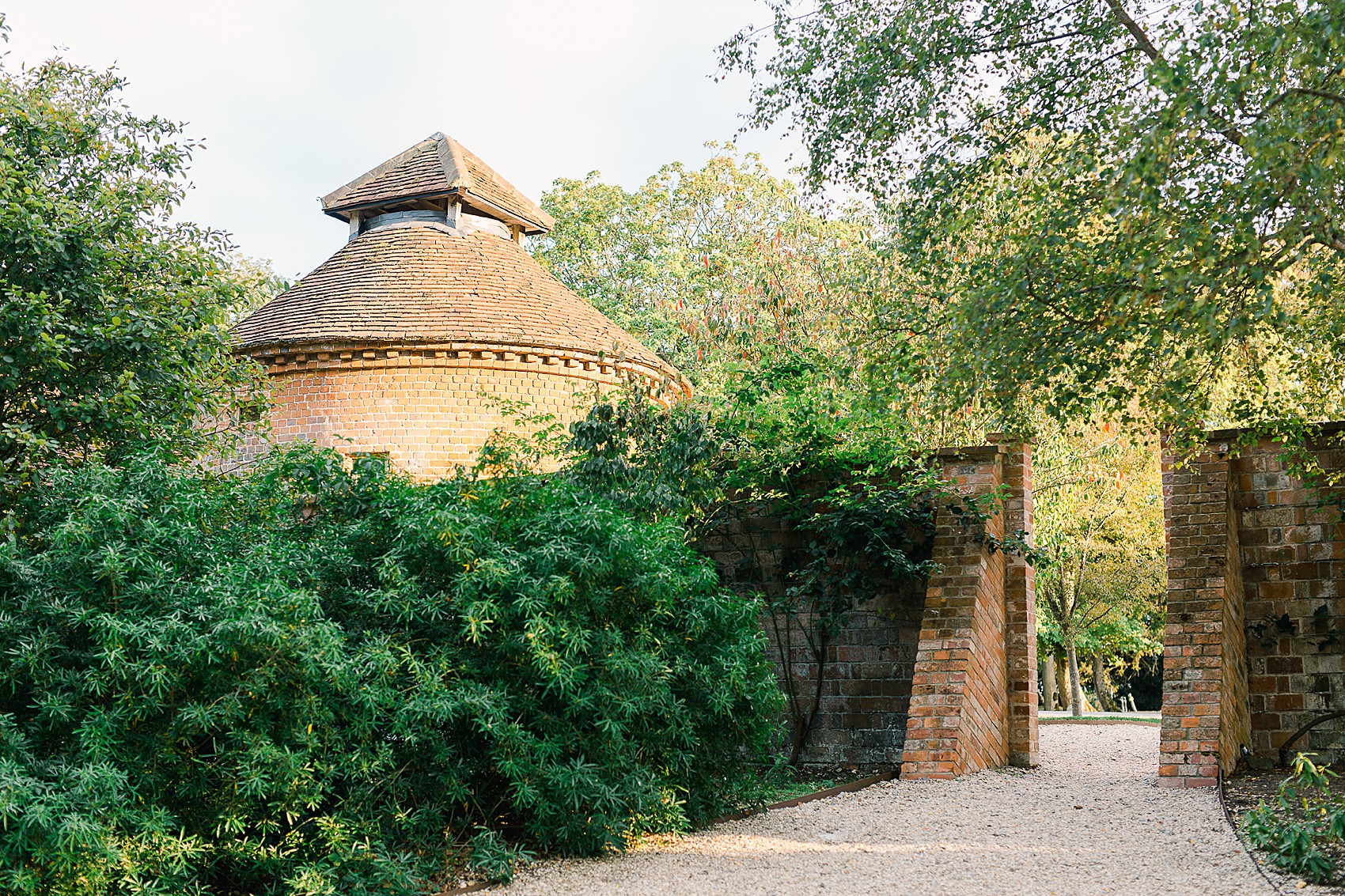 After the ceremony, the fine weather allowed the newly-weds and their guests to relax and chat outside, with drinks and nibbles provided by Galloping Gourmet and live music from saxophonist Alex Chadwick via Fix The Music.
"My favourite part of the day – other than actually saying our vows and officially being married – was our drinks reception. We were all outside, in the middle of the English Berkshire countryside, the warm sun was shining, our saxophonist was playing Stevie Wonder, we were drinking Pimms and every single person we loved the most was there – that moment could not have been more perfect."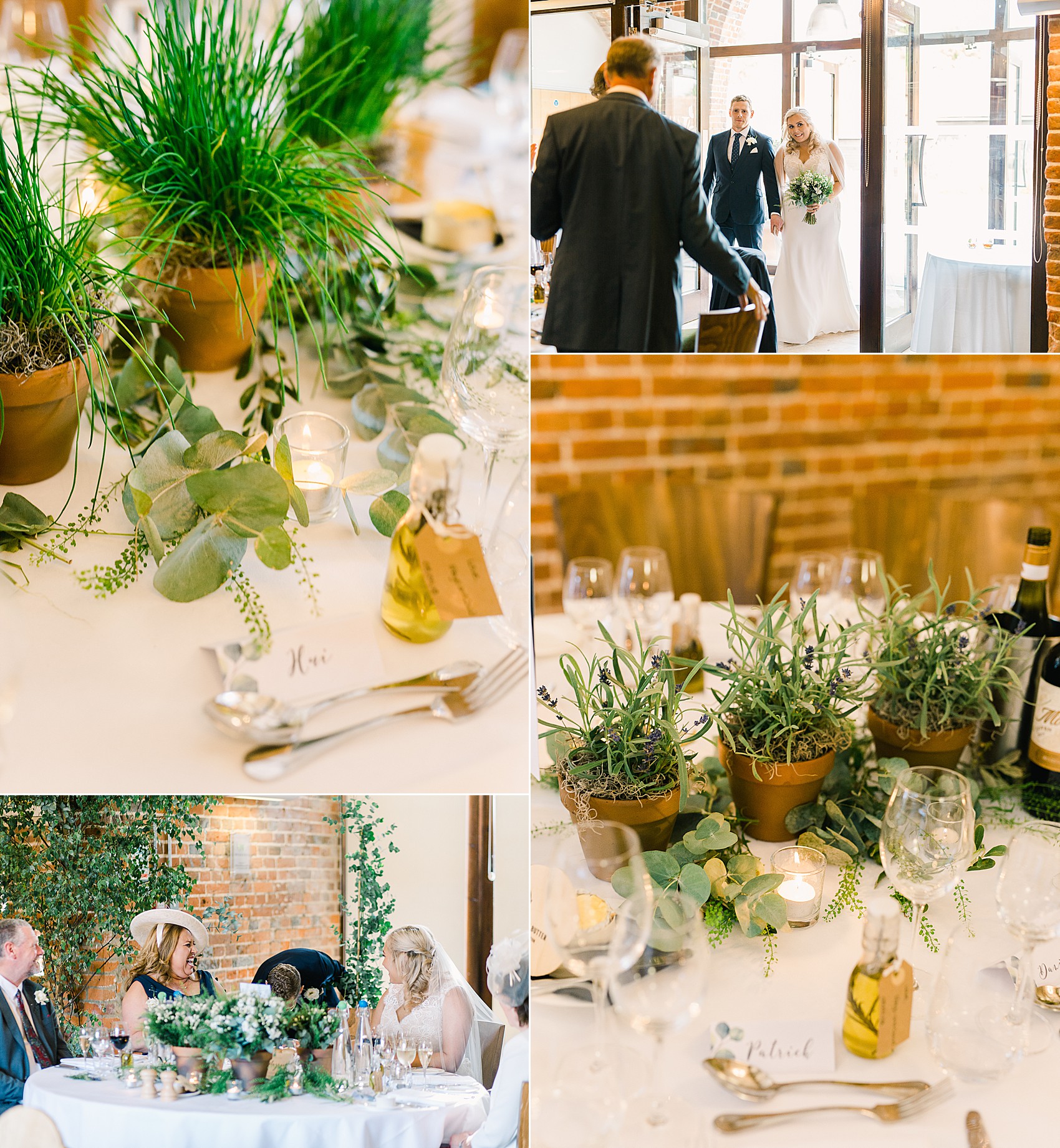 The barn, in which the wedding breakfast was held, had been elegantly dressed with more foliage and leaves, and the herb theme extended even to the wedding favours.
"Six weeks before the wedding, with the help of some bridesmaids, we made up small bottles of olive oil and then placed a sprig of rosemary inside. It was a very messy afternoon but lots of fun!"
"Nearly all of our guests have said it was the best wedding food they have had!"
Setting the scene for the botanical heart of the day was the modern and beautiful suite of stationery by Two Little Birds. I love its clean, elegant finish, a look which infuses the rest of the day.
"An incredible lady who had a genuine interest in our wedding and passion for all things wedding. We loved working with her and would recommend her to anyone!"
"We kept everything very simple with plain white table cloths, lots of trees and foliage and twinkling fairy lights and candles."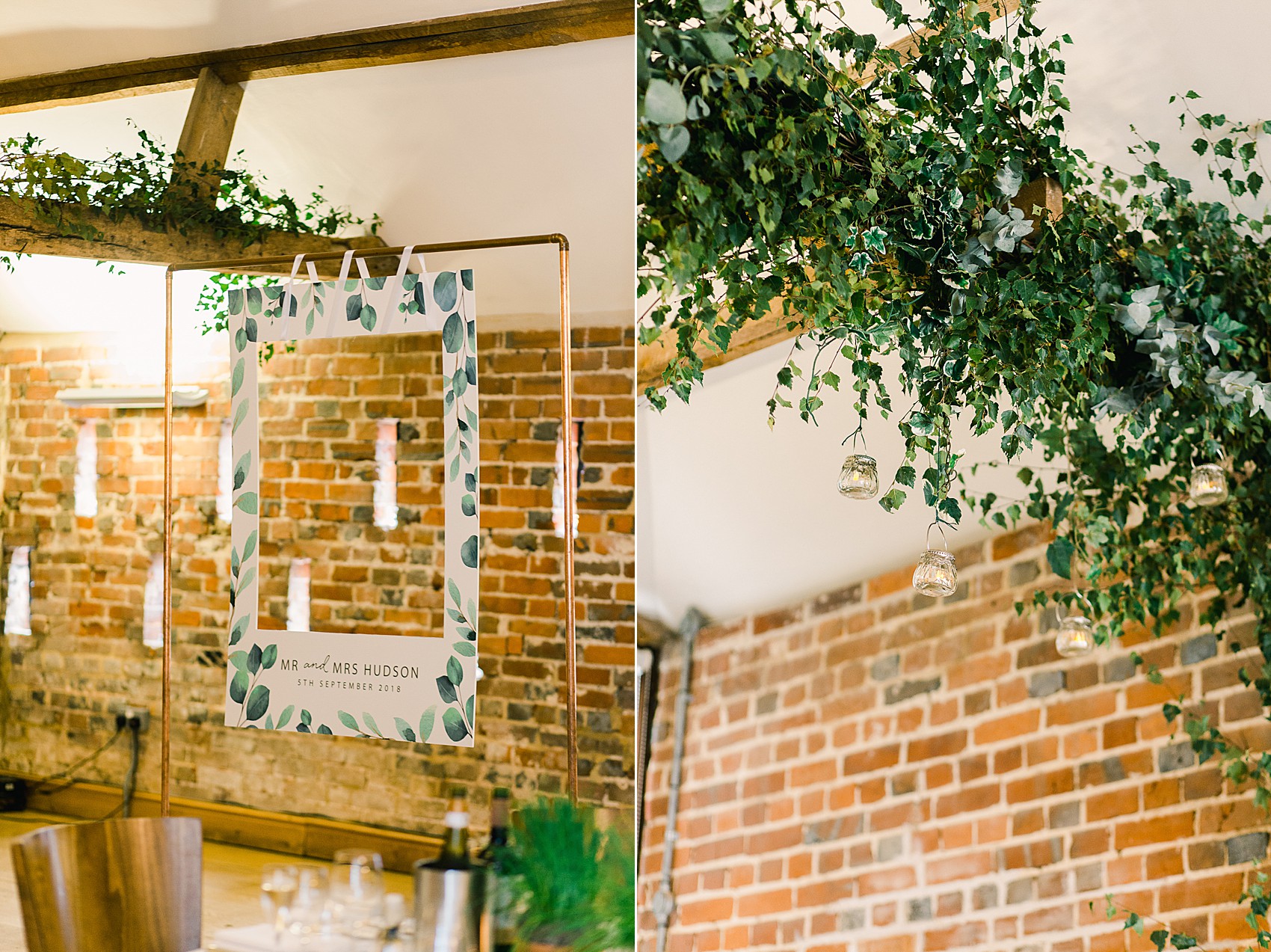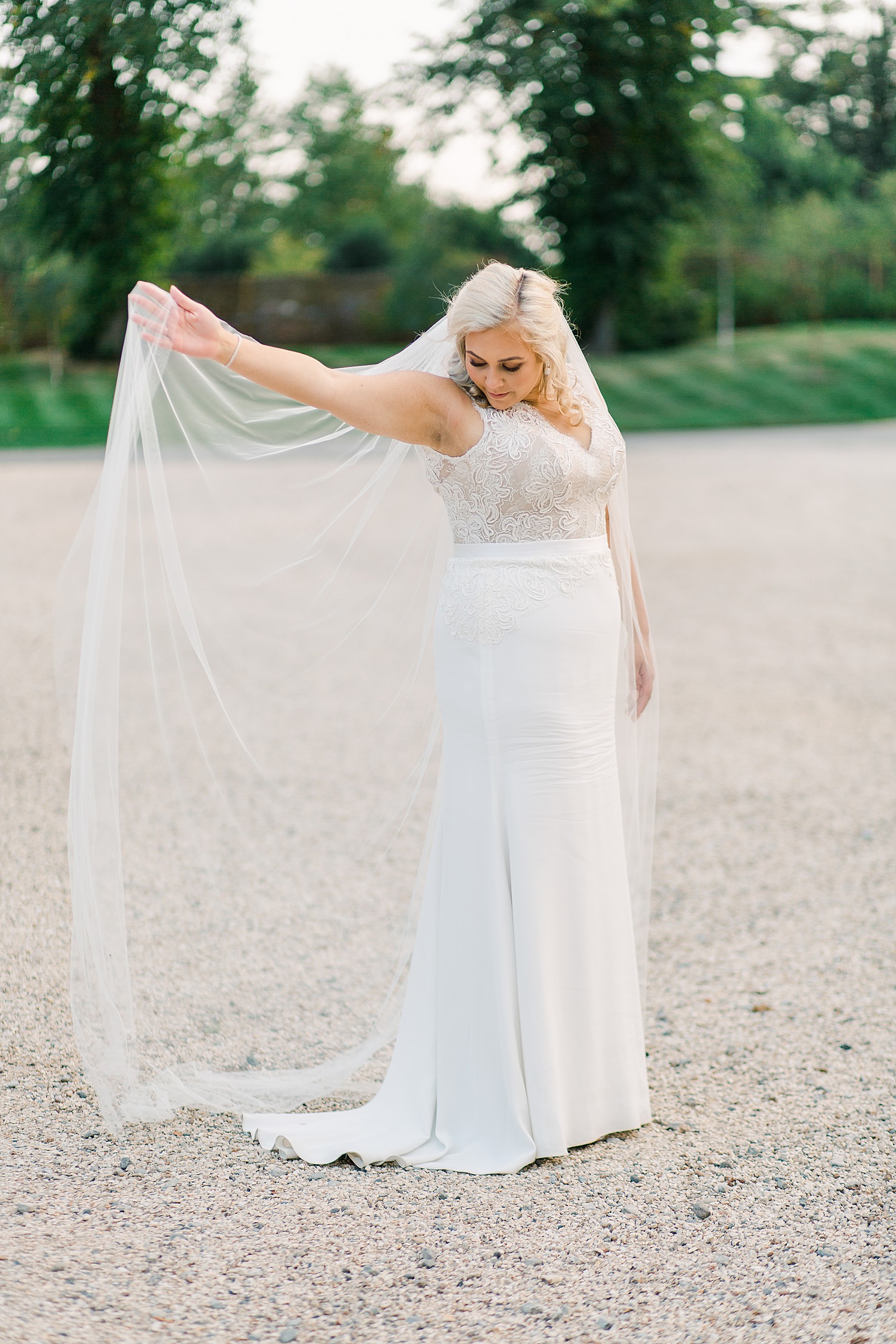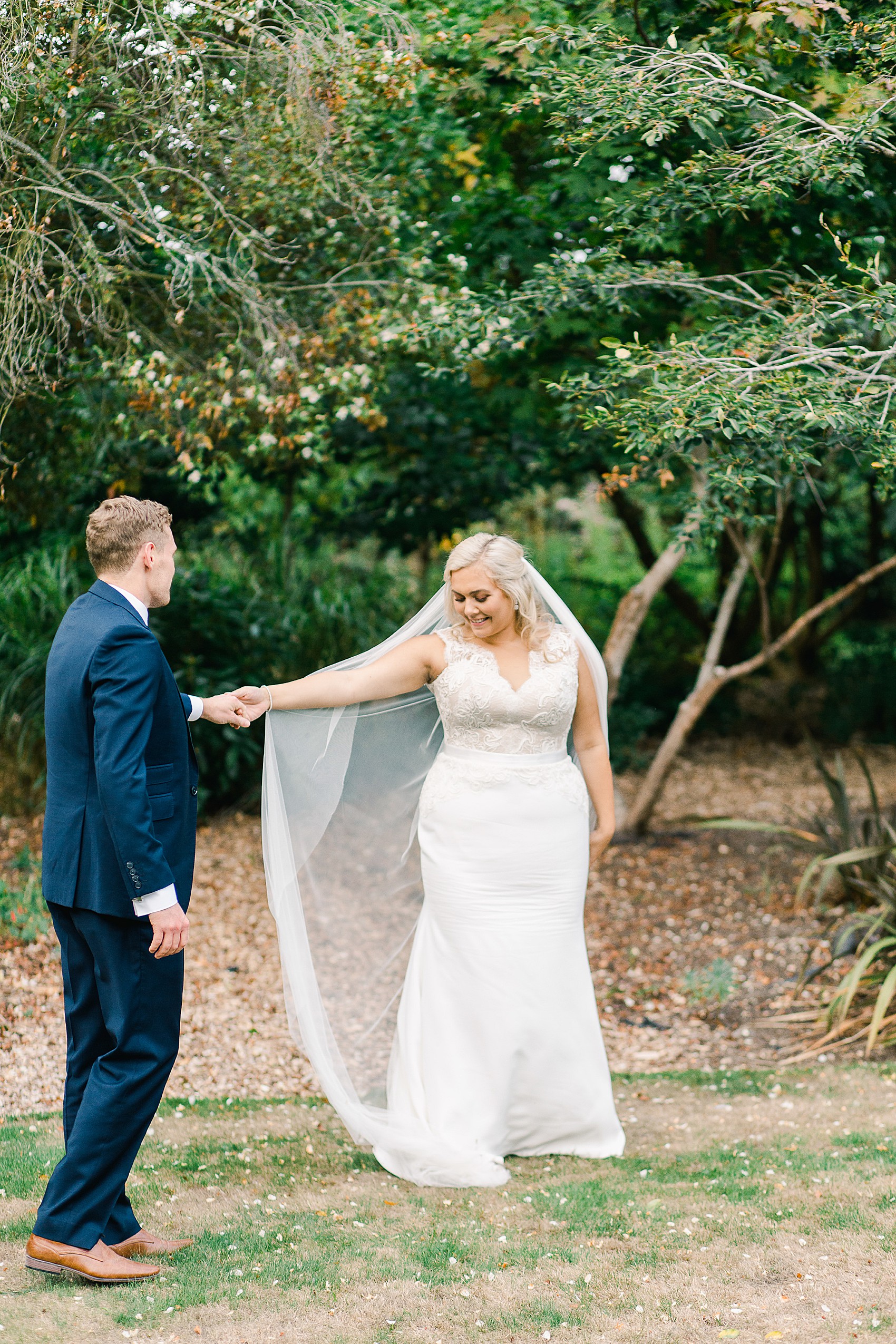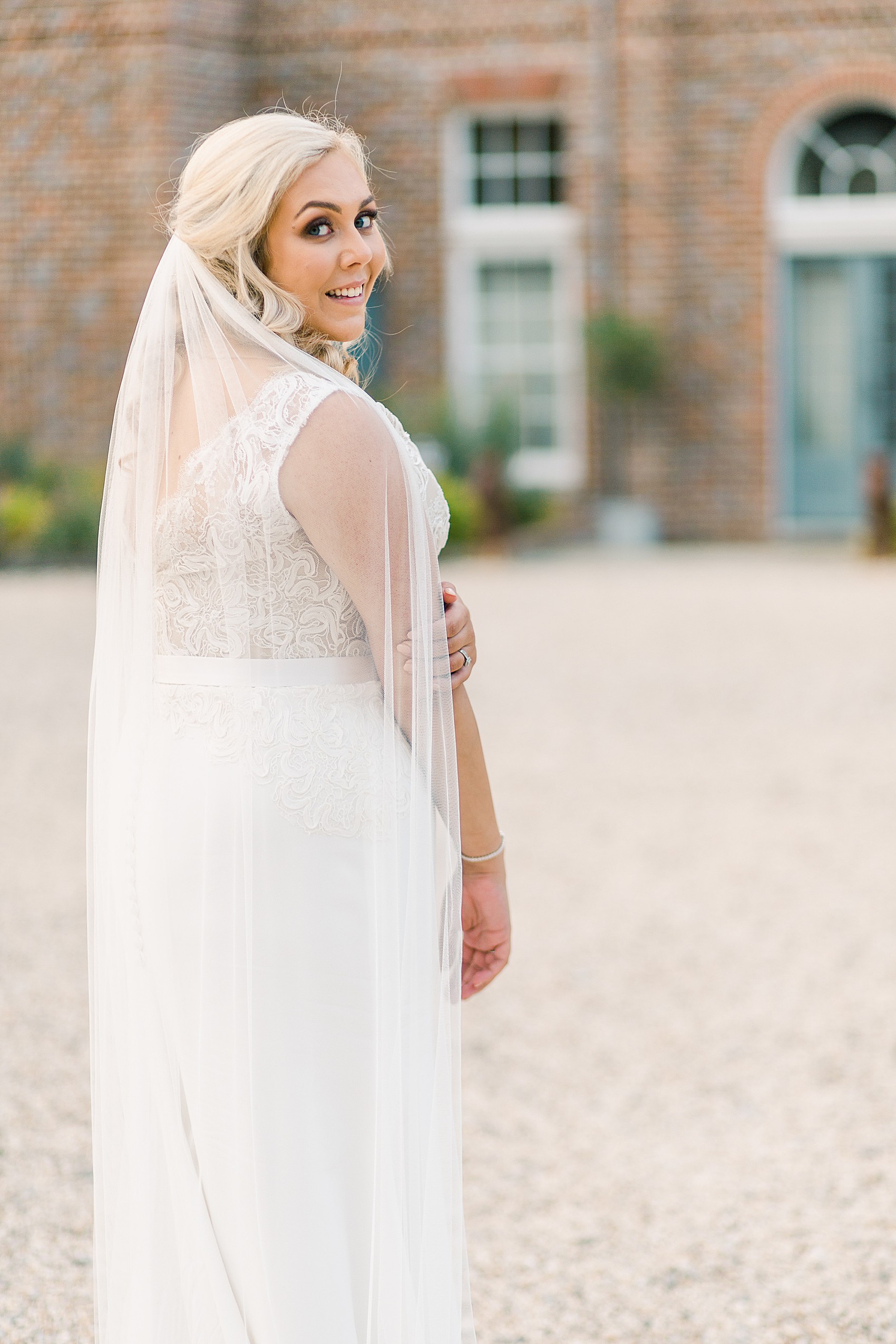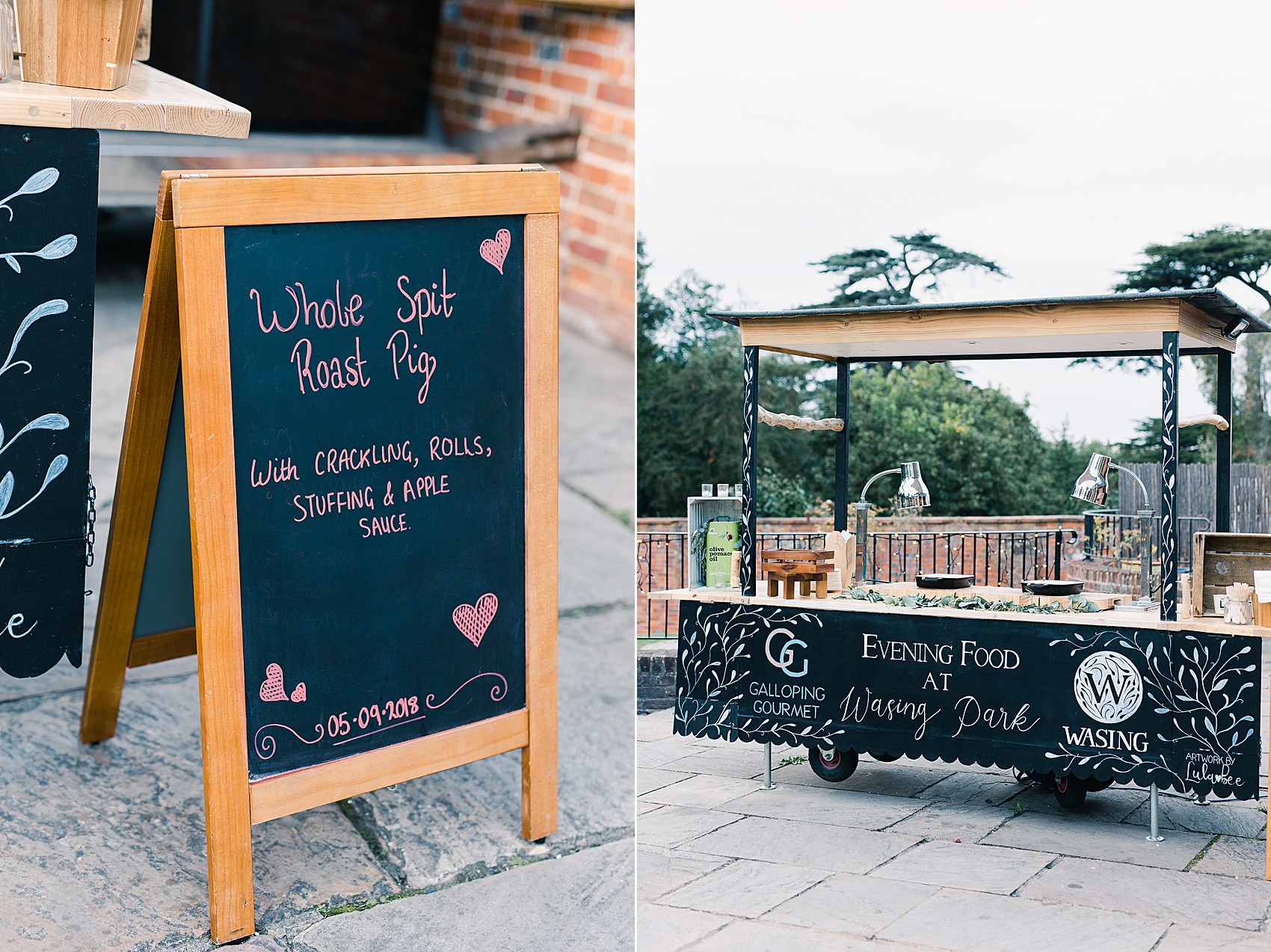 The centre-piece for the styling was the magnificent, plain cake wreathed with more fresh greenery and figs, created by Jo Parke of Elegant Tiers.
"With our wedding, we had a vision of keeping it as simple and timeless as we could. We went for a three tier, completely plain, white iced cake that was then decorated with eucalyptus and figs by Cherubs. We had so many comments on how beautifully simple our cake was which was exactly what we were hoping for."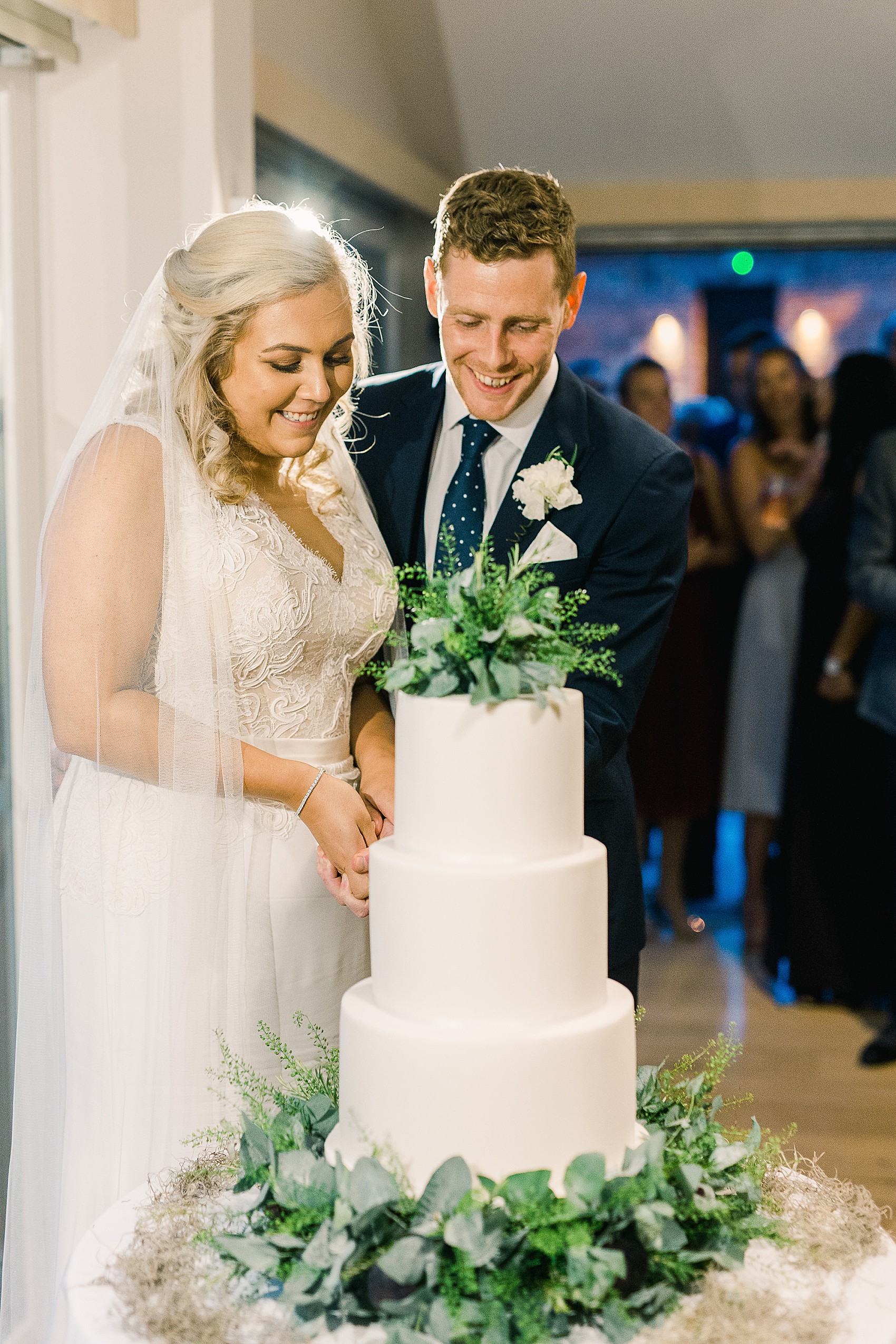 Mirroring the entrance song, Freya and David chose to have 'You're All I Need To Get By' by Marvin Gaye and Tammie Terrell for their first dance. Then, DJ Mark at Mighty Fine Entertainment kept the newly-weds and their guests on the dance-floor.
"It's one of our favourite songs. We love the Aretha Franklin version that I walked down the aisle to so thought why not having the more upbeat Marvin Gaye version as our first dance?"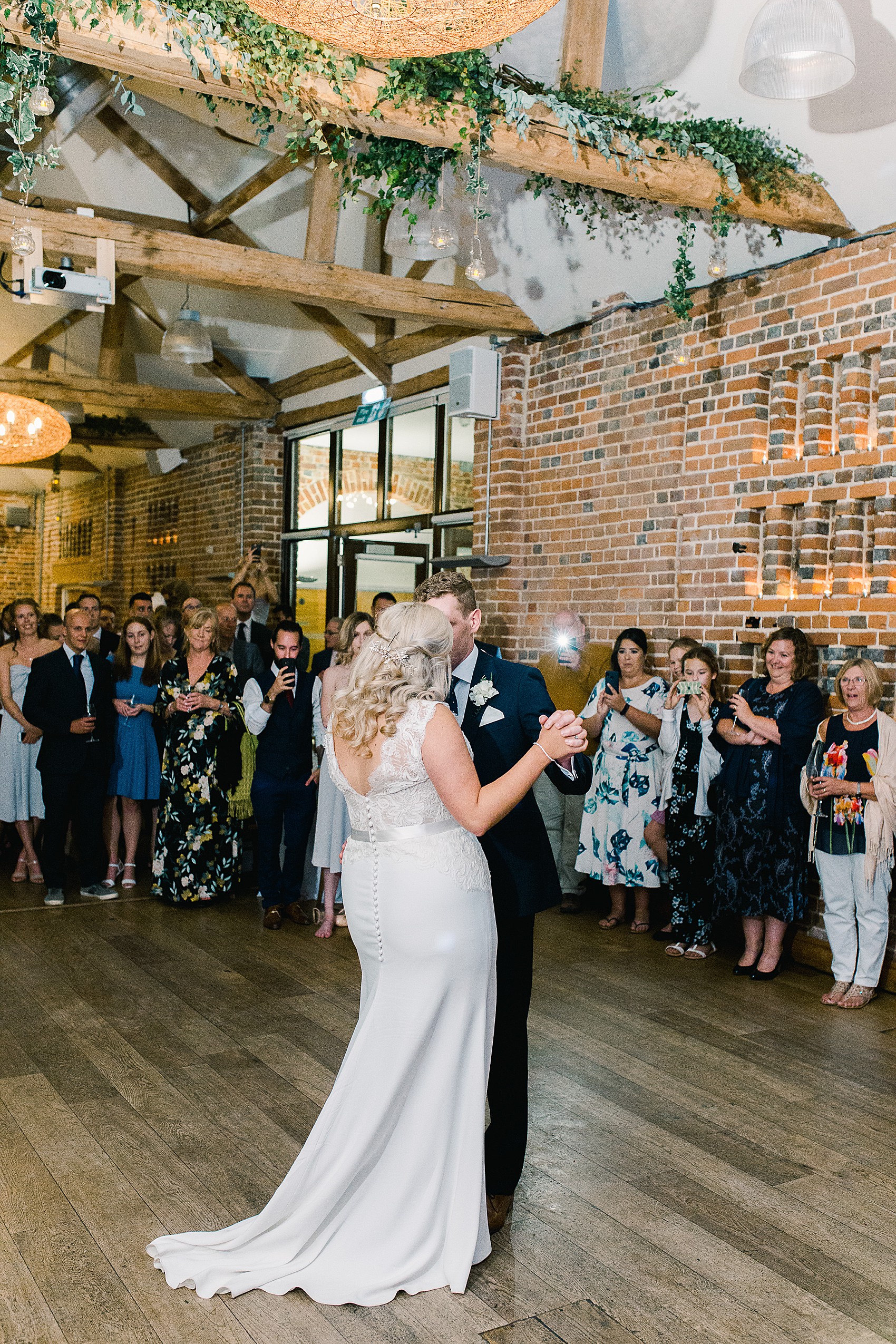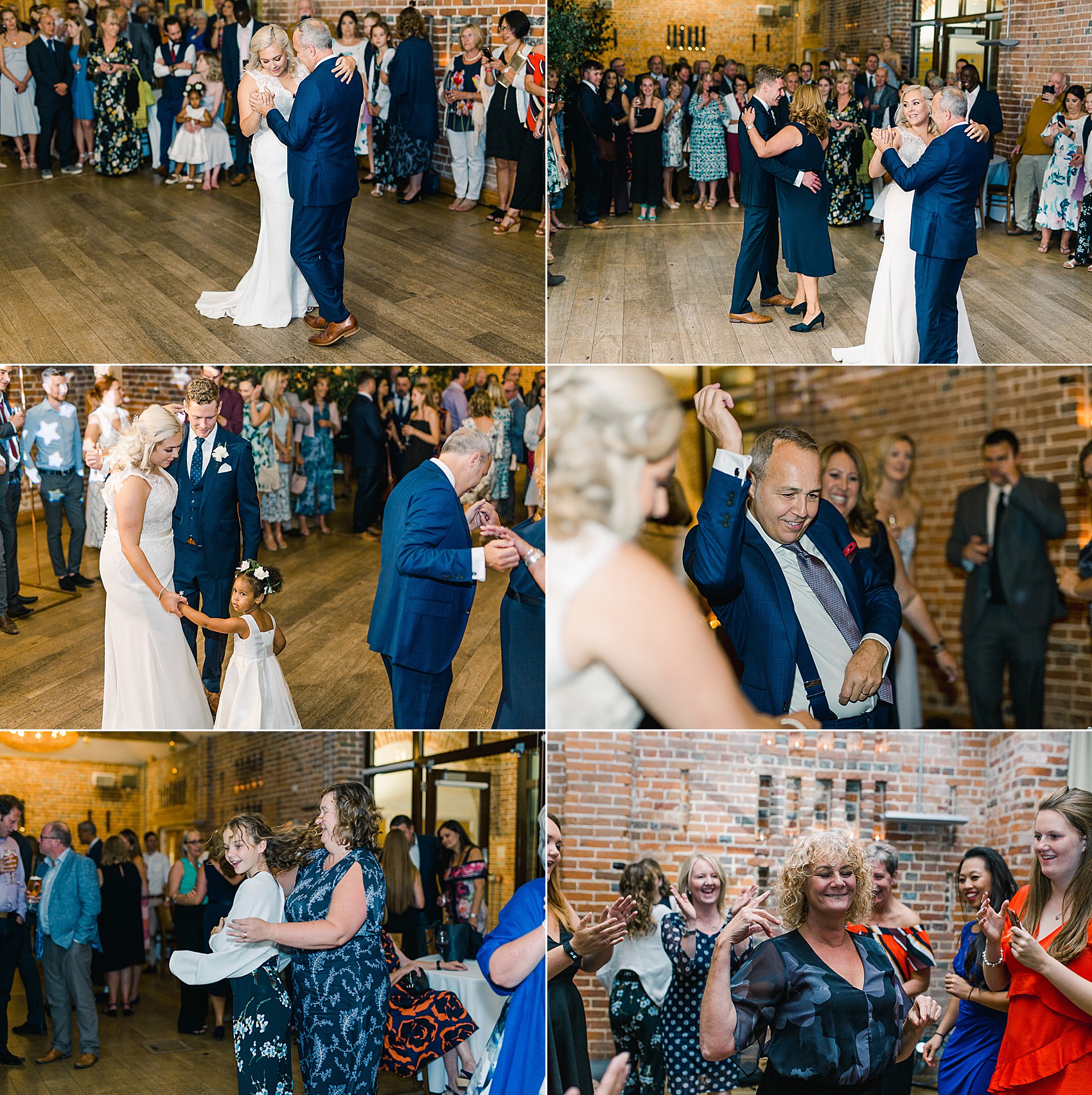 Words of Wedded Wisdom
"I absolutely LOVED planning our wedding. People always said it was going to be stressful but I loved every minute. It's your chance to have full control over things that you want. There were so many options and decisions to make which I really enjoyed."
"Try and have an engagement that is a little bit longer – maybe not four years like us – but at least 18 months to two years. It really took the pressure off and meant we could take our time when picking suppliers and making decisions. It also meant we were never disappointed that a supplier we liked were already booked."
"If you are questioning having a wedding video or not – 100% do it! It is well worth the money spent."
"I loved that we got married later in the day. Our ceremony was at 3pm which allowed us all to get a good night's sleep and have a really chilled morning with no rushing. Getting ready in the honeymoon suite with my bridesmaids and mum was one of my favourite parts of the day. I was worried it would make the day feel short but I didn't think it impacted on the day at all."
Well, what a beautifully elegant and simple day. Thank you Freya and David, for letting us share your wonderful celebration on our pages today. And Jessica Davies, it's been a real privilege to publish your photography; I hope we see some more of your work soon. Lovelies, for more elegant and stylish wedding inspiration please take a look at these other Love My Dress wedding features.
Ele xx