I want to start this post with saying a huge and very heartfelt thank you to those of you who took time to my Sunday article by email, DM and Insta-comment (you guys really aren't fans of actually commenting on this blog anymore, ha! – but that's OK!
We're moving with the times and are happy to hold conversation wherever our readership wants to). It has been so encouraging and frankly quite humbling reading through all your replies. It made me feel prouder than ever before of the work we do for our paying advertisers. Talking of which, we are here to talk about the brilliant Indiebride London today and their gorgeous new collection of bohemian wedding dresses.
I think the best way of introducing you to this lovely brand is to chat with the Miina, the lovely designer behind it. Below is an extensive interview with the designer herself, which I hope you find both helpful and insightful.
Miina, please introduce your brand to our readers and bridal community
Indiebride London is all about comfortable, bohemian wedding dresses with a hint of vintage vibes. These luxurious yet relaxed wedding dresses are made of delicate laces and silks and decorated with lace trimmings. We are a sustainable bridal wear brand and take pride in personal service that we provide as well as the beautiful, handmade wedding gowns.
Images by Joe Morley Photography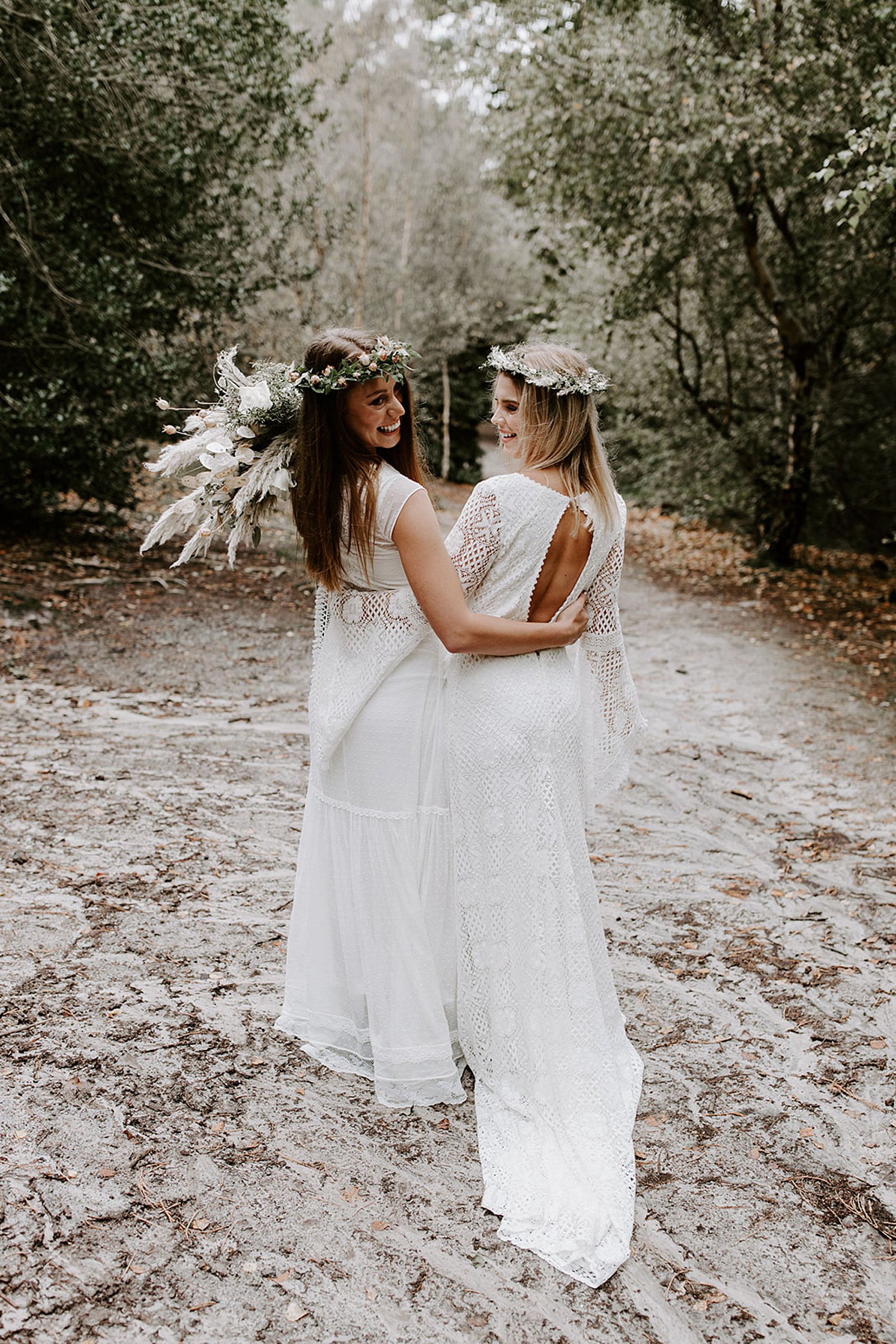 Tell us how you started out in bridal fashion and what drew you to bridal in particular?
I didn't really choose to be a wedding dress maker. I kind of ended up here and love it! I think that things always happen for a reason. I am looking forward to taking the company forward and making more beautiful dresses for our beautiful brides!
The brand was founded in 2008 by Minna Hepburn. Initially named as Minna, the company was a brand that handmade delicate lace tops and dresses in London. While I was studying fashion in Finland, I discovered Minna and her beautiful clothes. I contacted her and became the first ever intern in the company in 2010. After the internship I went back to Finland to finish my studies.  Over the years Minna learned that her customer wore her dresses to their wedding, as their wedding dresses and she decided to start making wedding dresses using the same gorgeous Scottish laces that were used to make the tops and ready-to-wear dresses. 
The business grew and built a circle of customers. The word of these gorgeous and comfortable lace wedding dresses spread. When I finished my studies in Finland, I moved to London in 2014 and started as a seamstress at Minna. Then I became the production and studio manager and in the beginning of 2019 I had the chance to take over the business. The founder of the company, Minna, wanted to start a career as a pilates instructor and study nutrition and asked if I wanted to continue the wedding dress business.
And of course I did! I changed the name to Indiebride London and launched a new collection of sustainable wedding dresses in November 2019.
I love my journey and where it has taken me so far.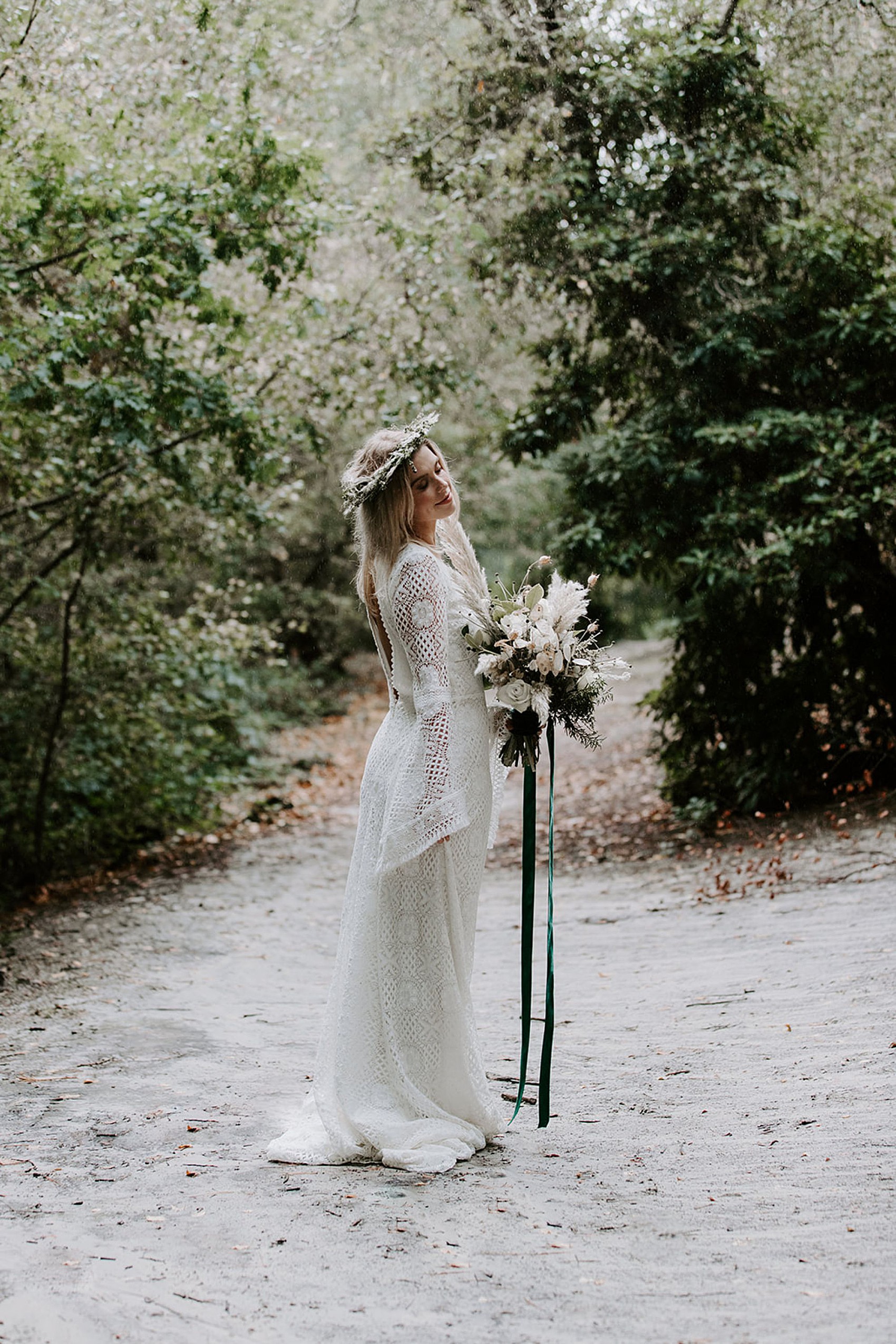 Can you describe your signature style?
My design style is mainly affected by the beautiful materials we use. I want to design timeless dresses that have a certain originality to them. I often combine lovely laces and lace trimmings with different silks and ramie. The result is quite a bohemian look with a hint of vintage vibes.
I like textures as they make a dress look more interesting. I often design dresses for similar women that I am, a bit alternative, bohemian and artsy. 
Tell us about your new collection
The 2019 collection radiates the style that has become the signature style of Indiebride London over the years; bohemian meets vintage vibes and contains luxurious yet relaxed long and short dresses as well as skirts and tops and veils made of beautiful silk tulle.
The collection features detailed dresses made of delicate laces and silks decorated with lace trimmings and celebrates ecology with high quality materials such as organic cotton lace and organic ramie, which is one of the oldest fibres used weave fabrics in ancient China for example. 
When designing the collection we concentrated on materials that all have an ecological feature; it is either organic, made in the UK or both of these or ten end of stock material. In addition to being made ethically and ecologically the dresses are unstructured which means you will be very comfortable in your dress throughout the long day of festivities, eating and dancing. 
The standout features are definitely the new materials, organic ramie fabric and organic cotton lace. We love a bit of romantic gathering so and you can see that on the skirts of the dresses. We also combined lace trimmings with plain fabrics to bring out the beauty of these trimmings.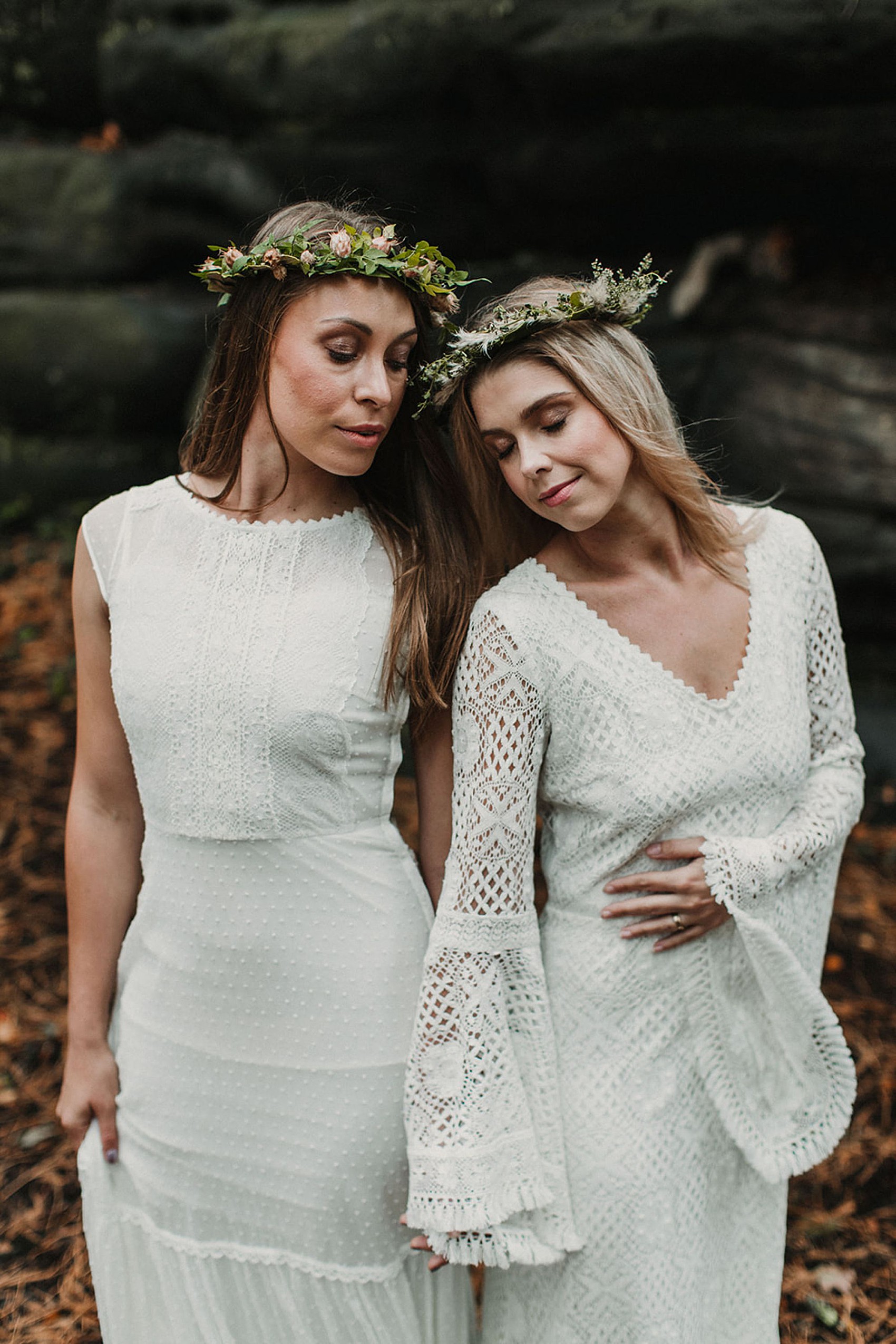 What was the inspiration for the collection?
We never have a specific source of inspiration for each collection. Our biggest inspirations are our customers and the materials we use. The variety of sustainable materials for small brands is small so at Indiebride London we always start designing a new collection by sourcing materials. We visit fabric fairs and do countless hours of research online.  
For the 2019 collection were able to source a few exciting new materials; organic cotton lace and organic ramie fabric. We also used few end of roll laces for few of the new styles. The actual design process then is based on the materials and how we can bring out the best in them. I get really excited when I find a beautiful lace or a new sustainable material. We also go through books, magazines, Instagram etc. for cool ideas of details that we could incorporate. I like to come up with details and then design a dresses around those details. We often use our best selling dresses as a base for a new design. Throughout the year we keep listening to our customers and their opinions of the dresses and we then try to incorporate the requests into the new collection.
Would you say your designs are for a variety of body shapes?
Absolutely! We have both, slinky silk dresses and loose fitting lace dresses (and vice versa) that provide more cover because of their texture.
Visit the Indiebride London website
Everyone can find a dress that feels comfortable and looks amazing on them. We also make alterations to the standard styles on our collection, so if someone loves a dress that is fitted to her knees but feels more comfortable in an A-line skirt that doesn't hug every curve, we can change the shape of the skirt.
Do you have any favourite design from the new range?
I have several favourite designs on the new collection! I'll mention a few.
Harlow dress has a beautiful back detail. The dress was inspired by the vintage lace doilies we have decorating our showroom.
Skye dress is based on an old style we used to have but instead of silk, we used a fabric that is 95% organic ramie and 5% viscose. It has a stunning back and a lovely, detailed skirt.
Wylie dress is the most bohemian dress of the collection in my opinion. It has gorgeous bell sleeves and is made of crochet type of lace that's made in England.
The detailed Harper dress is made of delicate Scottish lace and several different lace trimmings (made in England). It has a gathered bottom skirt which makes the dress move beautifully.
All the dresses are lined with silk and handmade in London.
You're passionate about producing ethical bridalwear – are you seeing any positive changes within the attitudes and views of brides in this respect?
I have definitely noticed that the brides coming to visit our showroom ask more about where the dresses are made and even where we get our materials. I like this shift as I think part of being a sustainable and ethical brand is being transparent. I think that every brand has to choose the ways they are being sustainable and be transparent about the aspects that are not. This is why we are working on stating the origin of the materials of each of our dresses. I wish I would see more of that on bridal websites. 
Tell us about your ethical fabrics and materials?
We prefer to use natural materials. This is why we use a lot of different types of silks; silk marocain, sand washed silk satin, crinkled silk chiffon and imperial silk satin for the lining. The double and single silk georgette (made in England) we use are made of ahimsa silk which is the type of silk produced in a way that doesn't kill the silk worms like the production of conventional silks.
Our laces are mostly made in England and Scotland and the composition is only or mostly cotton. Our organic cotton lace is made in Germany and few laces in Asia.
We also found this really exciting material called ramie for the 2020 collection. We use two organic ramie fabrics in the new collection (95% organic ramie / 5% viscose and 60% organic ramie / 40% organic cotton). Ramie is one of the oldest fibres in the world and it was used by farmers in weaving fabrics for clothing in ancient China. It was also used to wrap mummies! Our organic ramie is grown and made China.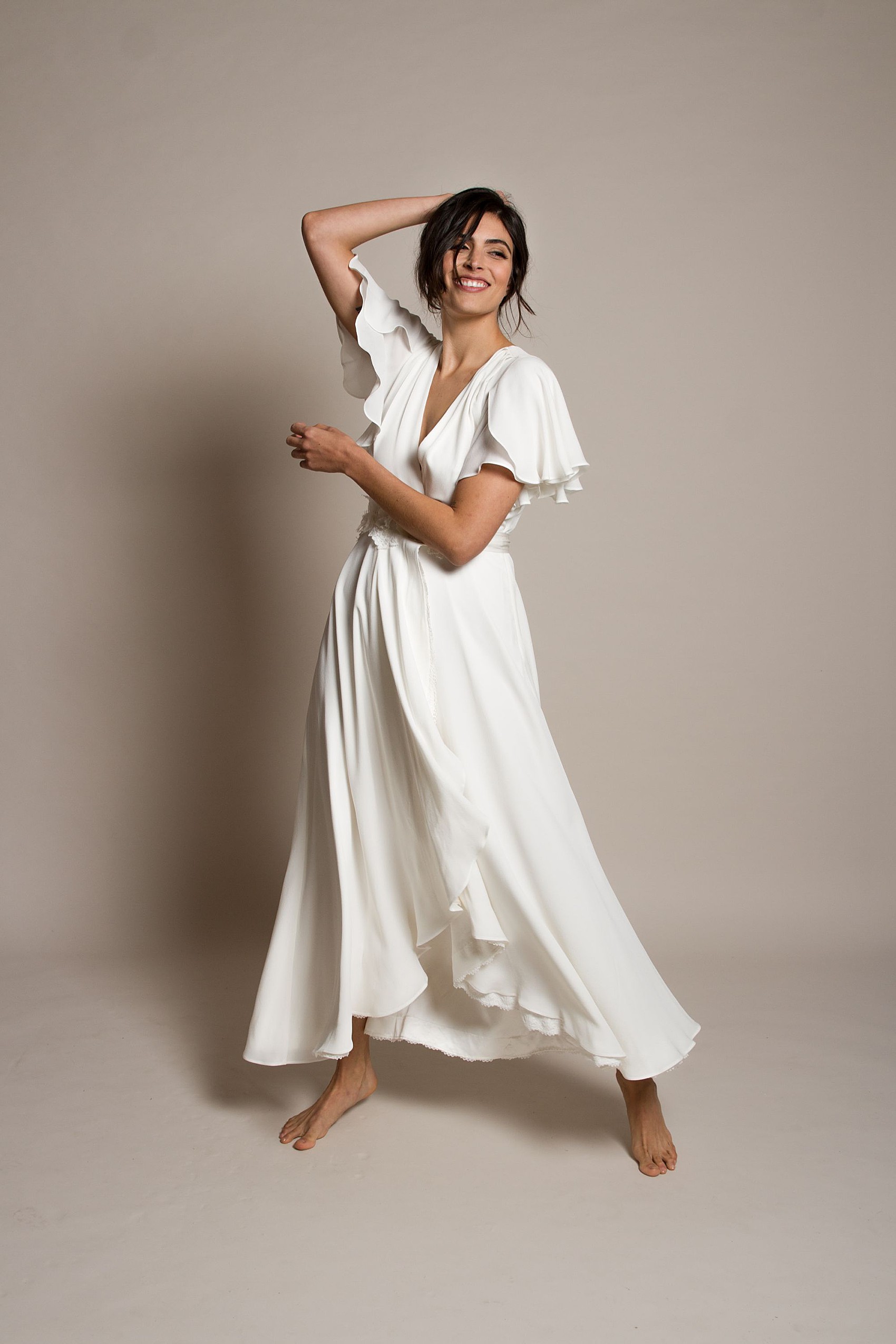 We'd love to know more about your design process
It is not easy to find sustainable material suppliers that are able to supply small quantities instead of only 100s or 1000s of meters. As a small business we have not got the facilities to stock hundreds of meters of materials nor we have the finances to buy that much. This is why I start every collection by trying to find new sustainable materials. I go to fabric fairs and do countless hours of research online. I get really excited when I find a beautiful lace or a new sustainable fabric. 
After deciding on the main materials to use in a new collection I like to come up with cool details or shapes of sleeves or necklines etc.. I usually have tens of details I want to incorporate in a dress. I then design dresses around those details. While doing that I keep in mind all the feedback from the brides that have visited our showroom. I also try to keep the styles quite practical. For example, if a dress has a train, there has to be a way to hook it up.
I would find it annoying not to have the option to hook the train up so very likely would most of our brides as well. Because our dresses are soft structured I also always try to keep the styles fairly easy to find a proper bra for. Some of our customers are fine wearing a special bra under their dress but mostly they want to wear a fairly normal bra to get the support that the soft structured dress doesn't offer. This is why sometimes we change our dress styles to accommodate a normal bra for these brides. 
I always build the collection one by one. I'm a visual person and as I am not the best illustrator I want to concretely see the new dress style. This means that when I have a dress style drawn on paper, I make patterns for it. Then I cut the dress from the actual materials. I don't make toiles from calico as they don't give any impression of how the actual material would drape and behave. Toiles are better for structured and fitted dresses made of stiff satins.
When I have finished the sample dress, I try it on and see if it looks good and feels good. If there is something that bothers me in the way that the dress looks or feels like, I make the alterations needed and change the pattern accordingly. Then the dress goes upstairs in the showroom for brides to try it on and eventually it will be shot and uploaded on the website with the rest of the collection.
Do you have a muse in mind when designing?
When designing dresses, I tend to have in my mind this modern bohemian nomad or lacey vintage look. I design our dresses to this woman in her early 30s, who is independent and amazingly cool. She doesn't care about other people's opinions about her life and certainly not about her wedding or the dress she wants to wear on her big day.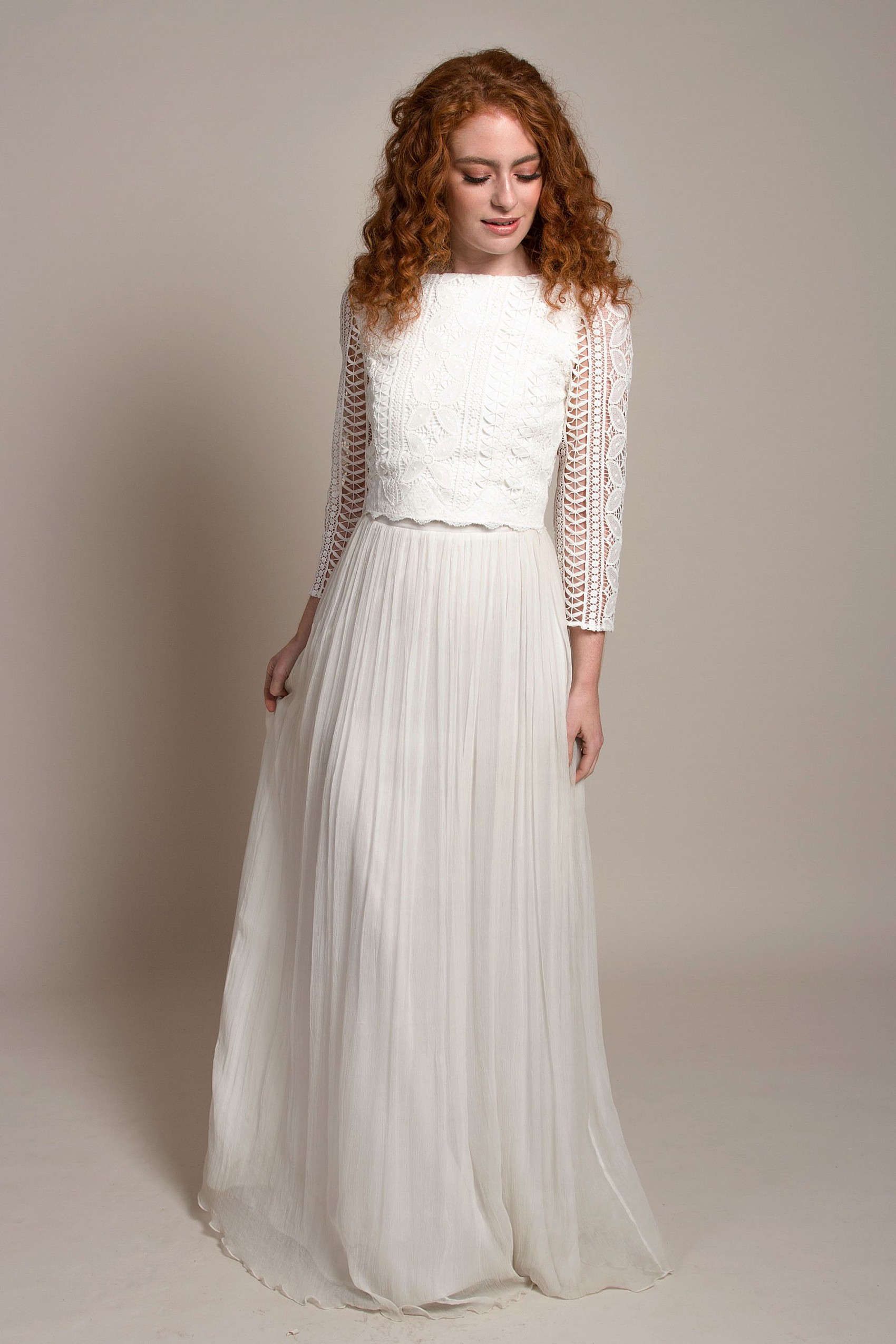 What do you think makes your brand so appealing to brides?
I think it's the way we use the materials that makes brides come to us. Our styles are quite unique and romantic. When they try the dresses on at our showroom, they are very impressed by how comfortable and light they feel and the quality of the materials.
Also the fact that the dresses are made here, by the person they are talking to when trying on dresses is very appealing to them. They like that they get to be so involved with the process of having their dress made from scratch.
How would you describe the typical Indiebride London bride?
Typical Indiebride is 25-40 years old and is planning a laid-back wedding. Only the families and friends are invited and there are 60-120 quests on the list. Indiebride prefers to hire a venue that allows both the ceremony and the reception, to happen in the same place to make the day easier and to have more time to party!
In addition to having their loved ones under the same roof (or skye), the most important aspect to them is food and music. They want to feel comfortable on their fuss-free wedding day and just enjoy the day and make tons of unique memories.
What advice would you like to give brides who are looking for their perfect wedding dress?
If you have just started, I would advice to keep an open mind and try on different style dresses to see what suits you the best. Often the bride has a clear vision of what she wants to wear on her wedding day but realises that the dresses she likes the most aren't the style she was thinking of initially. This might confuse you but when you give it a bit more time, you'll be able to make the right decision based on the venue of your wedding and the vibe you want to achieve with your dress. 
Another advice would be not to carry on trying dresses too long if you have found ones that you like. I have met brides that have gone through more than 100 dresses and they are feeling frustrated as they haven't had that moment when they feel they have found their dress and they burst into tears for the joy and emotion. This doesn't always happen. Sometimes it simply happens that you find a dress that you really like and feel comfortable. No tears or fuss. I always say that you could continue looking for the perfect dress forever as the world is full of nice dresses, but that might be doing a disservice for yourself. 
Tell us what your creative workspace is like?
Our beautiful showroom is the area that the brides visit. It's in the attic of a church in South London. The space has beautiful wooden panels and beams on the ceiling and roof top windows. It's full of dresses and has a cosy atmosphere. The showroom is scattered with plants and vintage things such as an old sewing machine and frames. The vibe in our showroom is calm and quiet, stress-free.
Our workspace is situated on the first floor, one floor below the showroom. The workspace consists of two rooms; the pretty cutting room and the ugly sewing room (I call it ugly as I don't like the orange paint on the walls). In the orange sewing room I have three industrial sewing machines, industrial overlocker, a steaming station, rail for the dresses, a table and a desk and a laptop. This is my main workspace. The cutting room has a big cutting table that I use to make patterns and cut dresses. I also keep all the patterns there. Both rooms have gorgeous stained glass windows that overlook the back garden of our next door neighbour, Cafe van Gogh.
Explore all Indiebride's beautiful bohemian wedding dresses
What does an average day for a successful bridal fashion designer look like?
As a small business owner my days are filled with different tasks that vary depending on what time of the year it is as the wedding industry is so seasonal. No matter what time of the year it is, the first thing I do every morning when I arrive at our South London showroom / office around 9 or 10 am is to make a cup of green tea, sit down and go through my email. In fact, I keep an eye on the email throughout the day so that I can reply to any enquiries promptly. 
I then might order any materials that we need for the dresses in the production calendar for the next month or so. I will meet customers that have booked an appointment for the day and in between appointments I cut and make dresses (either new styles or dresses for customers) or alterations to dresses that have gone through a fitting already. For example, after I'm done writing this, I will start sampling a back lace applique that a customer wants to have on her dress. I'll take pictures of different ways of doing the applique and then email her the pictures and see what she thinks.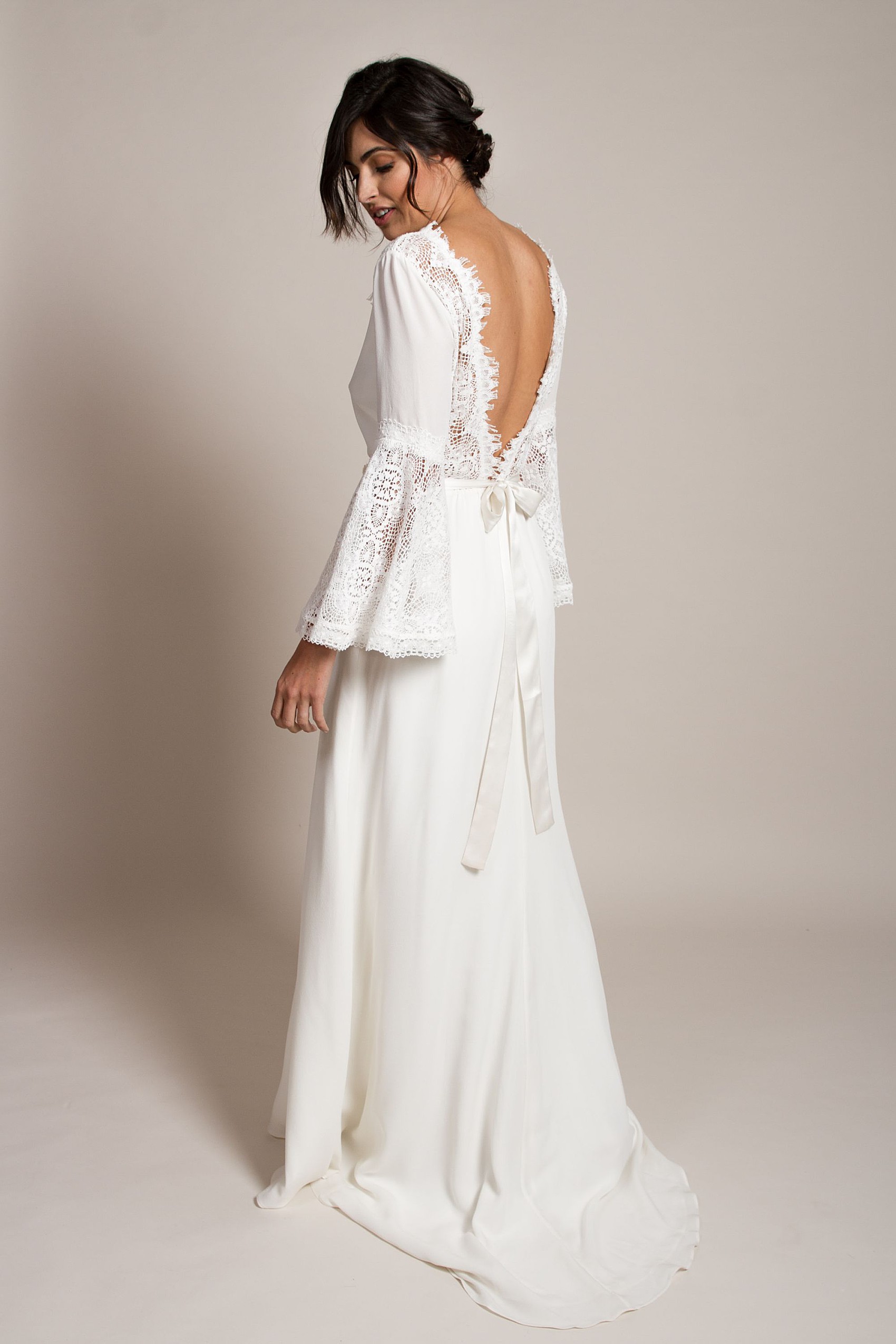 On my lunch break I'll check my emails again and might schedule some social media posts or just do some general admin work like prepare a blog post about one of our brides' weddings or update our website etc. 
Depending on the time of the year I'll finish my day at 6 pm or at 10 pm the latest and work 6 (sometimes 7) days a week during the busiest season.
What do you love most about working in the bridal fashion world?
I have two favourite parts of my job. Designing new styles is always a big job as I spend countless hours sourcing new materials, sketching the designs and cutting patterns. It's such an exciting moment to finally sew the zip on and see the new style come to life for the first time.
The other favourite part of my work is to see the brides' face when they try on their dress on the very first time. It suddenly becomes very real to them that they are actually getting married and their face just glows when they're admiring their dress. It's quite incredible to think that someone likes a dress that I designed and made so much that they want to wear it on one of the biggest days of their lives!
What would you be doing if you weren't running your own design business?
I used to have a ready-to-wear business by my own name. If I wasn't running Indiebride London, I would still be working for this business and running my own ready-to-wear business on the side trying to make that grow so that some day I could work only for my own company. 
_________
The new styles by Indiebride London are now available to buy online at indiebridelondon.co.uk, and to try on at the South London showroom. You'll find full contact details here.