Oh, it's a joy to be here today as this feature is all about one of my favourite subjects – stationery! In the company of Rosemood, designers of absolutely delicious wedding stationery and paper products, we'll be looking at invitations to suit a wide variety of wedding themes.
These lovely, laidback designs allow you to express your personality and give a hint to guests about the style of your day. So, let's browse Rosemood's personalised wedding invitations collection together.
There's something utterly fabulous about wedding invitations. Perhaps it's because sending your invitations signals that the big day is getting closer. Maybe it's because your invitations confirm your wedding day, in black and white, to all of your friends and family or it could be that your invitations allow you to start to share your plans with your lucky, lucky guests. I know from my own recent wedding that sending invitations and then receiving excited 'your invitation arrived, it's gorgeous and we can't wait!' notes from everyone we loved was a real highlight.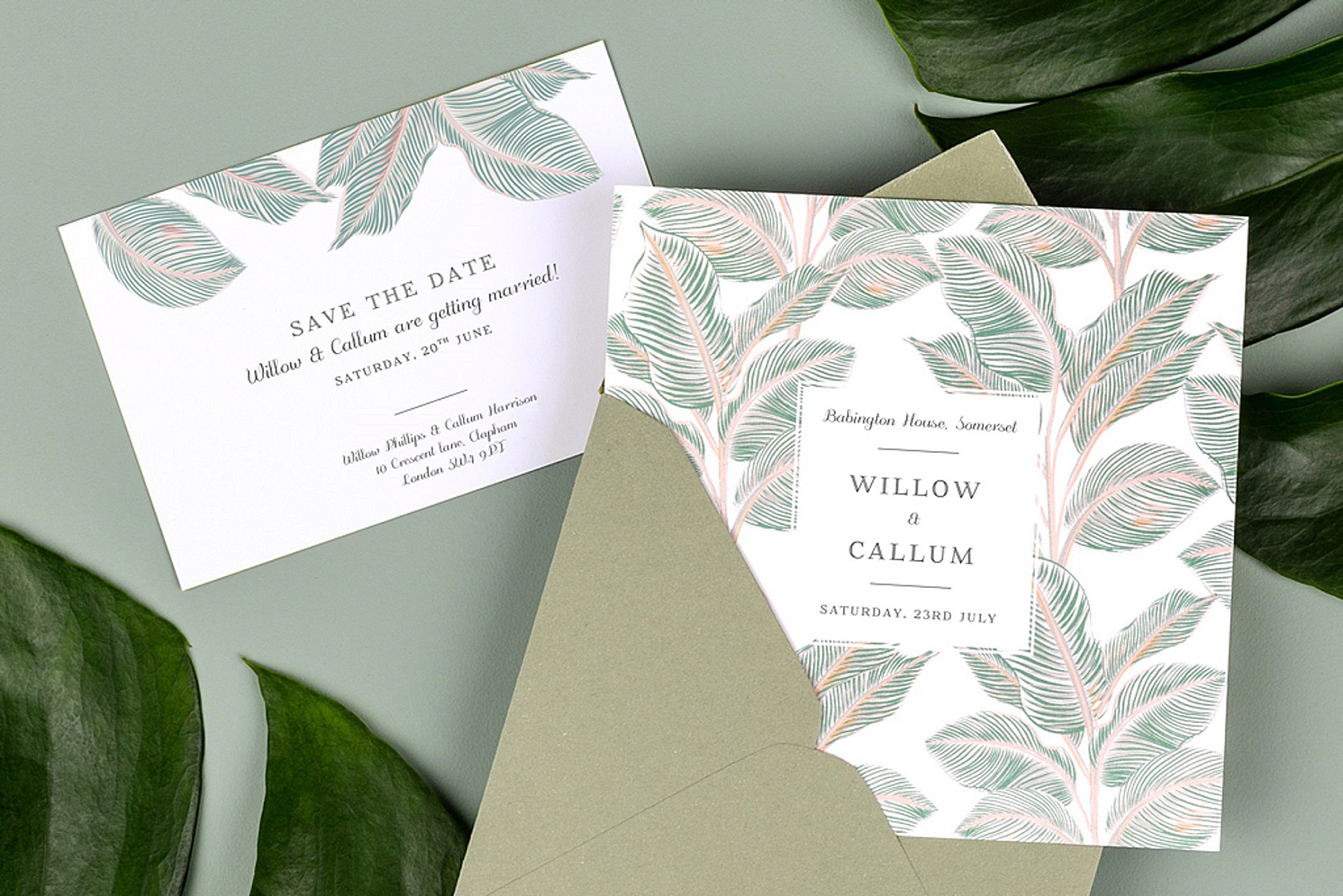 So, if your wedding invitations open the door to your day, it's important that they give a stylistic hint to guests and reflect you and your plans. Rosemood's extensive collection is exactly what you need and it's overflowing with designs that you'll want. I've selected a few of my favourite designs that would perfectly complement seven wedding themes and I have to say that I've barely scratched the surface of Rosemood's wedding invitation collection. Anyway, enough – let's revel in inviting design.
Botanical wedding themes are incredibly popular and you can give your floral styling a contemporary or a more traditional feel. Choose something that suits the season or keep it simple with a crisp design featuring a botanical motif, it's up to you. Some of my floral favourites include Summer Solstice, a beautiful watercolour design featuring your initials and date and the bold, graphic styling of The Botanist. There's a hint of old-school botanical drawings alongside chunky lettering and a great wording layout. I also have to mention Spring Blossom for the floral border and the elegant, romantic feel of the design.
If you're planning a day with a little sparkle then Rosemood's foiled invitations will definitely catch your eye. Celebration, with its darker colouring, would be my pick for a winter wedding. Springs Eternal in gold foil would be ideal for a high-summer celebration or opt for copper foiling for a warmer autumn look. Sparks Fly marries foiling with a contemporary design that just reminds me of confetti – how perfect!
Cool contemporary weddings require equally modern invitations so play with colourways and graphic styling for something that captures your own unique style and taste. I love the bold stripes of Mariniere and the pops of colour and diagonals of Graphique. I'm also a huge fan of bold colours and interesting layouts to give an unexpected, modern feel. For this , Modern and Whisper have really caught my eye. I adore the confident, minimalistic feel that both have, ideal if you're doing things your way.
Rustic, country-inspired themes are perennially popular and with good reason. They're warm, inviting and brilliantly relaxed. An invitation that captures this feel will not only convey the details of the day to your guests but will also let them know that they should expect a heavenly day with a laidback vibe. Slate has a chalkboard-style design that you could take and use yourself as you create other details for your day. Poem includes a hand-drawn wreath design and a simple yet effective white-on-kraft design and again, this is a classic rustic look. If you love the kraft and white vibe but would prefer something bolder, Declaration with its modern typefaces and zig-zag border is definitely worth considering.
For a traditional wedding, or if you prefer an invitation that doesn't give too much of your plans away, an elegant, classic design offers you style and simplicity. Chic Border features a monogram and elegant typeface that I love and you can also choose your paperstock too so that you can create a more classic aesthetic if you like or go for something sleeker for a timeless design. Natural Chic is most appropriately named with delicate florals and simply perfect typefaces and Calligraphy is another favourite, adding your names in a calligraphy-style font to an elegant design featuring beautiful wording at its heart.
Hand drawn invitations work for a host of wedding styles and they introduce a sense of playfulness and fun into your day. Rustic Promise would be perfect for an outdoor wedding whilst Beach Promise is such a sweet choice for seaside celebrations. I've also got quite the soft spot for 'a bicycle made for two' and Tandem adds pretty flowers and even a touch of confetti – a great way to start your wedding journey!
Finally, for another invitation style that keeps your wedding style a secret, photographic invitations are the obvious choice. They're about a personal as they come and give you the chance to use those loved-up images from your engagement shoot! These superb designs also give you the chance to do something a little different – how about Elegant Heart bookmark invitations or Today & Always that includes a vellum overlay for a romantic luxe look. Failing that, choose a design that features your photo and wording that suits your style. L-O-V-E and Elegant Photo offer a different design aesthetic but the message is still the same – we're getting married and we've love for you to be with us!
You can also browse their fabulous collections of save the date cards, on the day items and thank you cards. Don't forget to order your free personalised sample or free sample pack so that you can see these stunning invitations for yourself and if you'd like to find out more about Rosemood, take a look at this introductory feature here on Love My Dress.
Love,
Tamryn x