Over the past few years, we've championed eco-conscious bridal design here on Love My Dress and we've been proud to spark conversations about the need for a more ethical approach in the wedding industry.
Already this week, we've shared details of two other designers who put sustainable production and ethical fashion at the forefront of everything they do.
Today, we have the enormous pleasure of supporting a fantastic, and fantastically talented, designer who truly puts the environment at the heart of everything. Let me introduce you to the wonderful Mia Sylvia and her unique and natural collection that gives a bold new lease of life to vintage and pre-loved gowns.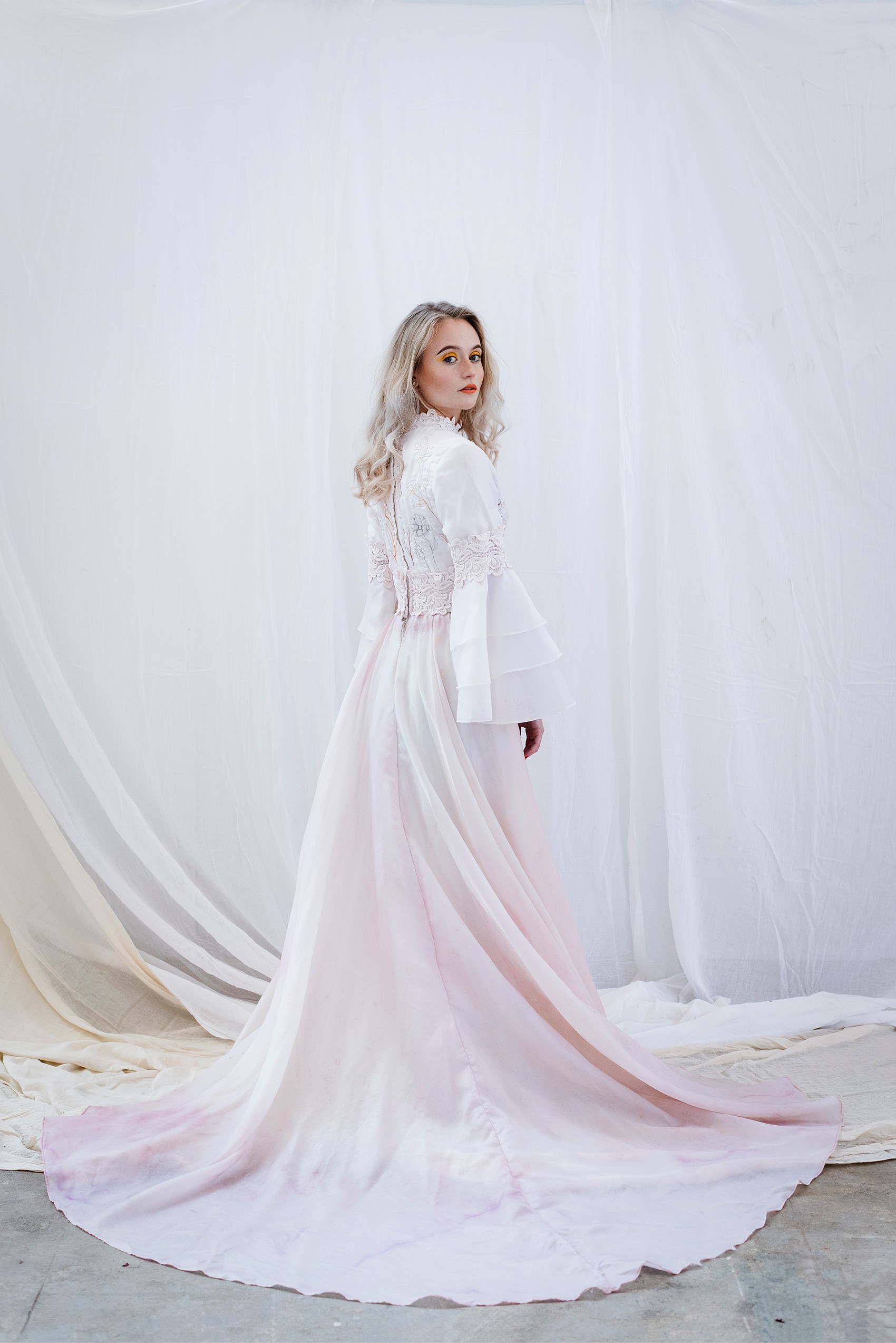 Mia Sylvia is, quite simply, for the eco-conscious bride. If you've despaired about the environmental damage of fast fashion or if you love the thought of wedding dresses being given a second chance, Mia's incredible work will make your heart sing.
With a background in textiles and as a committed environmental activist, Mia Sylvia is new and genuine eco-alternative for brides looking for something a little different. Let me hand you over to Mia herself to tell us more.
"My designs are made from vintage and second-hand dresses that I source and then re-purpose. I use natural dyes and the bespoke colours and patterns that I create within the fabrics and garments all come from natural and hand-foraged pigments. Some of the ingredients I use to create colours are plants, flowers, wood and even food waste and scrap metals."
"These dresses really are a celebration of all things natural and create a closed-loop system through re-use and re-generation. Each dress is handpicked and is then re-designed in the studio. Gowns are hand-dyed in small, sustainable batches by ingredients such as avocado skins, turmeric, onion skins, rose petals, dried hibiscus and plant roots."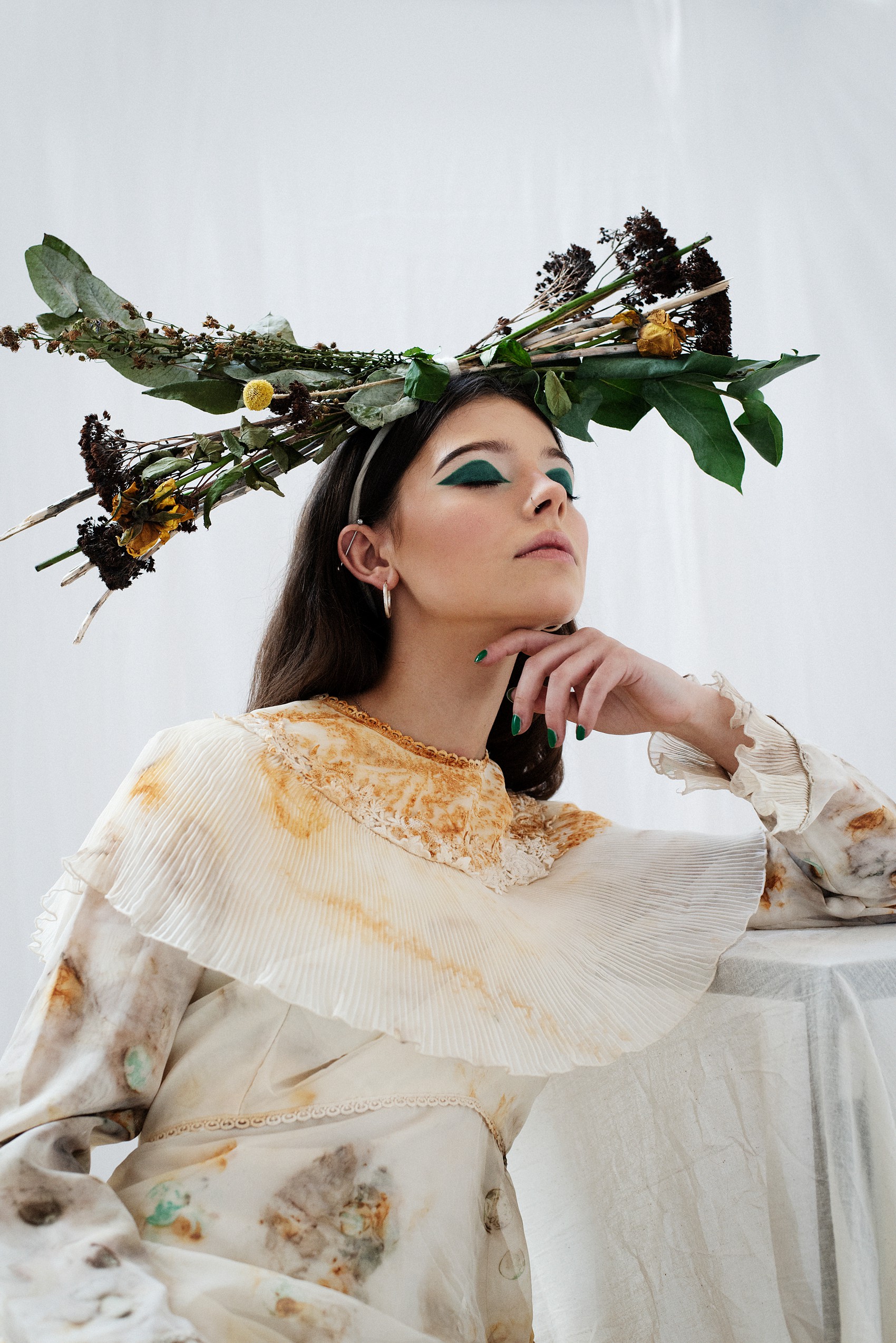 Mia's hands-on approach is absolutely key here, not only in creating the colours and designs but also in ensuring that the dress itself is well looked after and re-purposed in a way that works not only for you but also for the dress itself.
"Because each garment is vintage or pre-loved, I always consider the fabric first. Understanding the fabric is crucial to the process and the fabrics themselves range from heavy silks to lightweight organzas."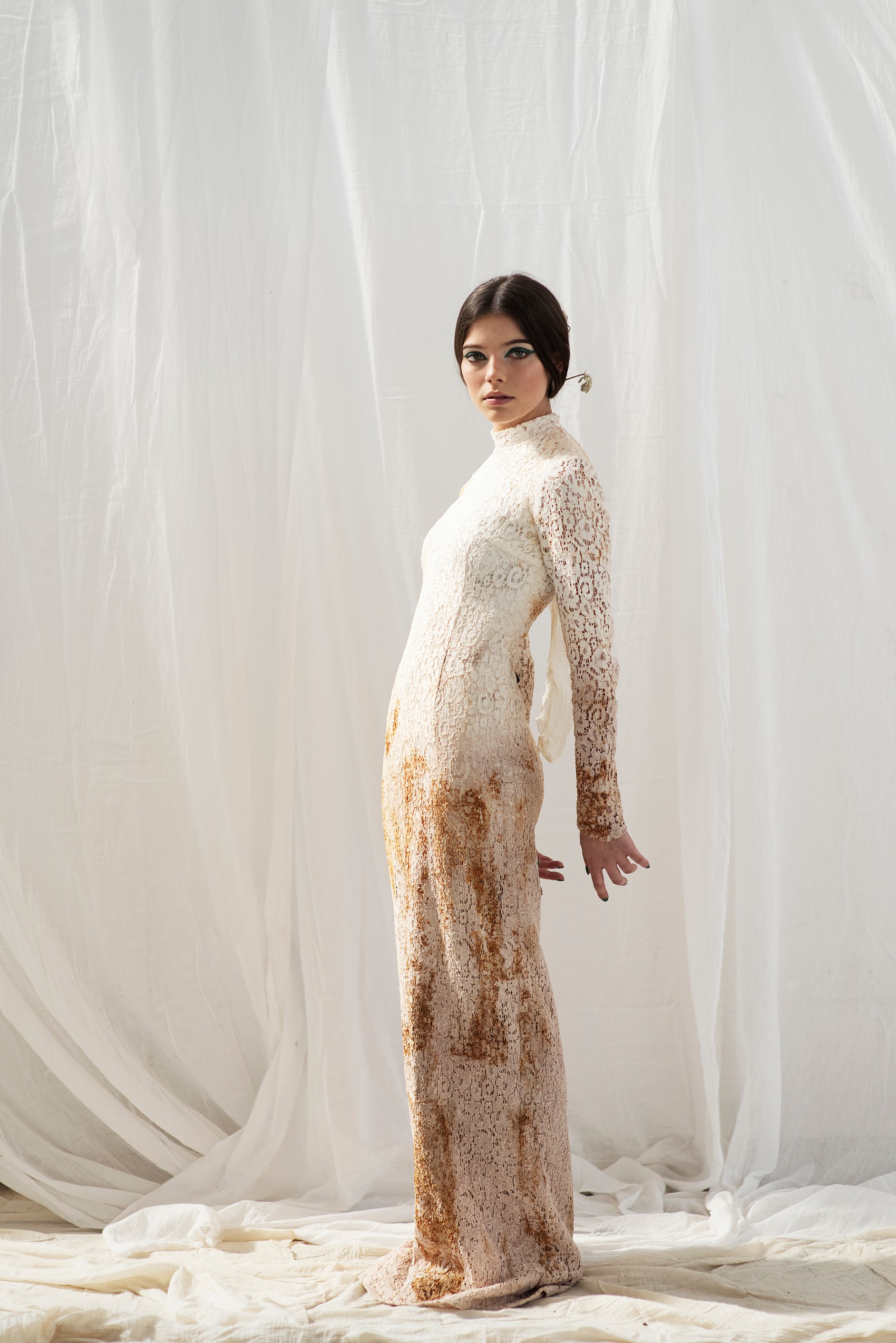 The designs that Mia creates wonderfully echo the natural process that's created them. The strong 70s flower power design cues include embellishments such as frilled cuffs and necklines softened with flowers. Mia's hand-embroidered flowers are also a joy to behold and all of the dresses have a strong, bold vibe that sits against a really elegant femininity.
"I study the language and symbolism of flowers and love to hide romantic messages within the garments. The colours themselves are also inspired by the best pre-Raphaelite paintings and I wanted the garments to almost feel like still-life paintings."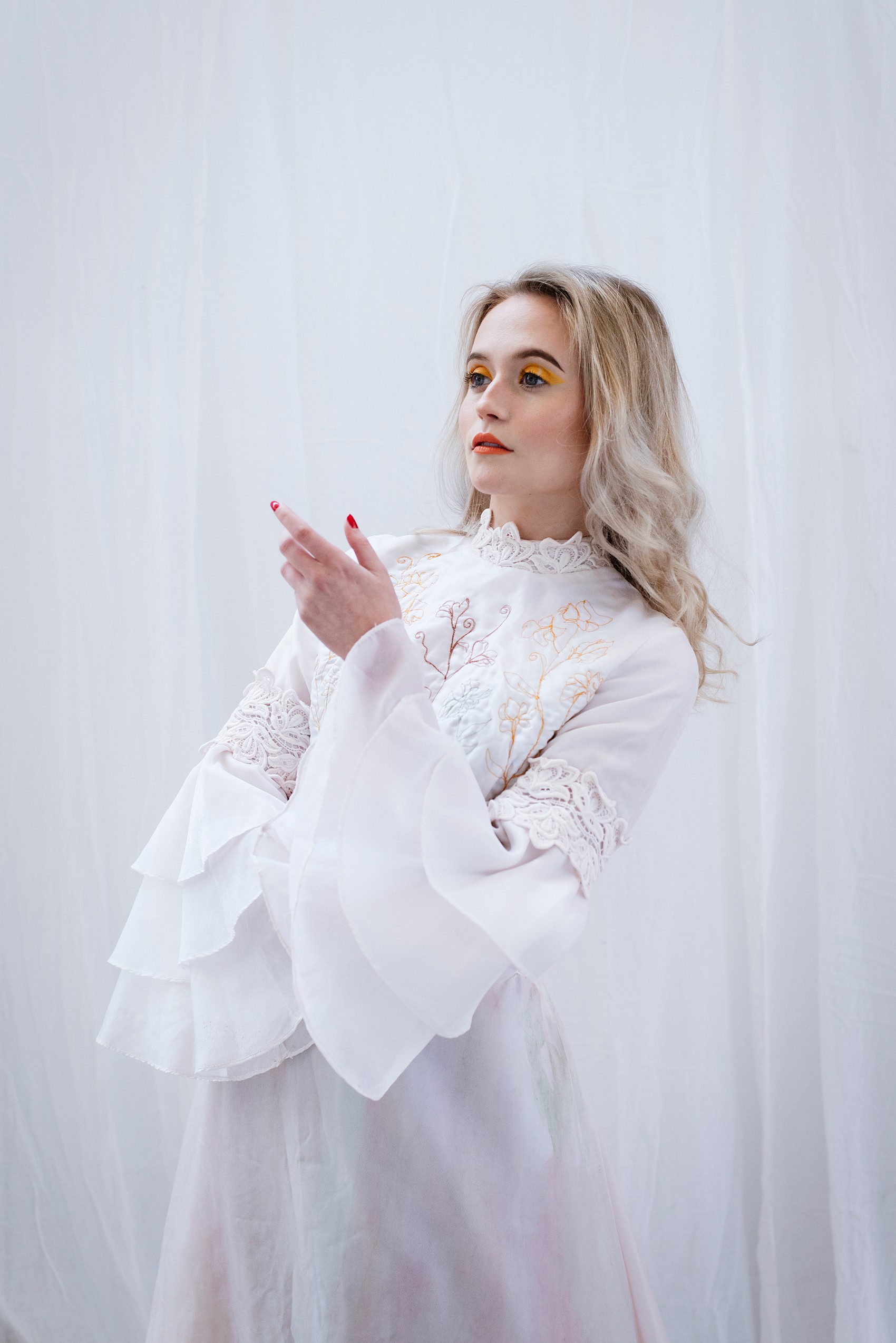 Obviously, each piece is a true 'one-off' and Mia can bring her flair for colour and design to other pieces for your wedding too. She's happy to colour or dye shirts for grooms and groomsmen and also bridesmaid dresses too so that everyone can wear something individual and eco-conscious on the big day.
"I love the idea of the garments being a blank canvas for colour and for embellishments so I'm always open to clients sharing their ideas and preferences. The pieces themselves tell a story and if I can't dye a certain fabric as some will not allow natural dye, I can stitch onto these garments instead. I'm lucky enough to work with uniquely wonderful clients – not only do they care about their environment, they also look for pieces that nobody has ever seen before and I like this sense of magic that we create together."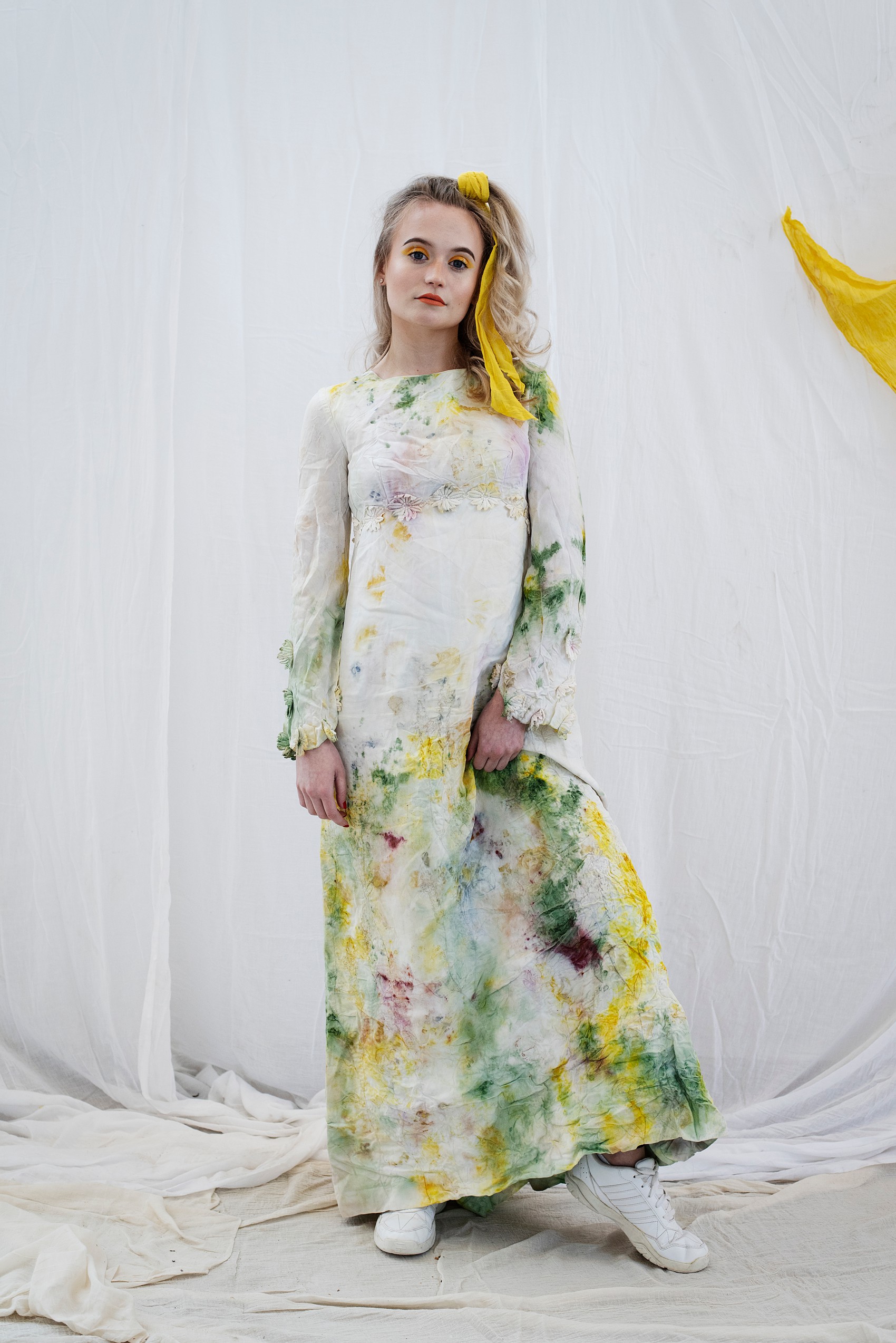 I am absolutely entranced by these dresses. There's a strong retro vibe that appeals but there's also the strong sense that each piece is a new take on a classic. I love the colours and colour combinations, so brave and so bold. The floral embroidery on the bodices, the splashes of colour, the watercolour-inspired shades on skirts and, most of all, the unique nature of each piece and the eco message that comes with it is just exceptional.
"There's no need to be afraid of colour and remember that this is your wedding day so if you want to push the boundaries, then do!"
To find out more, visit the Mia Sylvia website and if you'd like to get in touch with Mia, you can do that there too.