Ah Pinterest, the font of many a wedding inspiration dream, and the cause of much anguish. I honestly don't know how weddings were planned previously, without what is essentially the ultimate inspiration filing cabinet.
It happens to the best of us; you're casually scrolling, seeking divine wedding inspiration, pinning happily away with a mug of tea on a Sunday morning, and suddenly you see it, the thing you have been searching for.
You must have it, it is everything you've been looking for. Endless hours of searching ensue; where on earth did this wonderful dress/cake/ring/pinata for the hen do come from? And thus the pitfalls of this global planning phenomenon.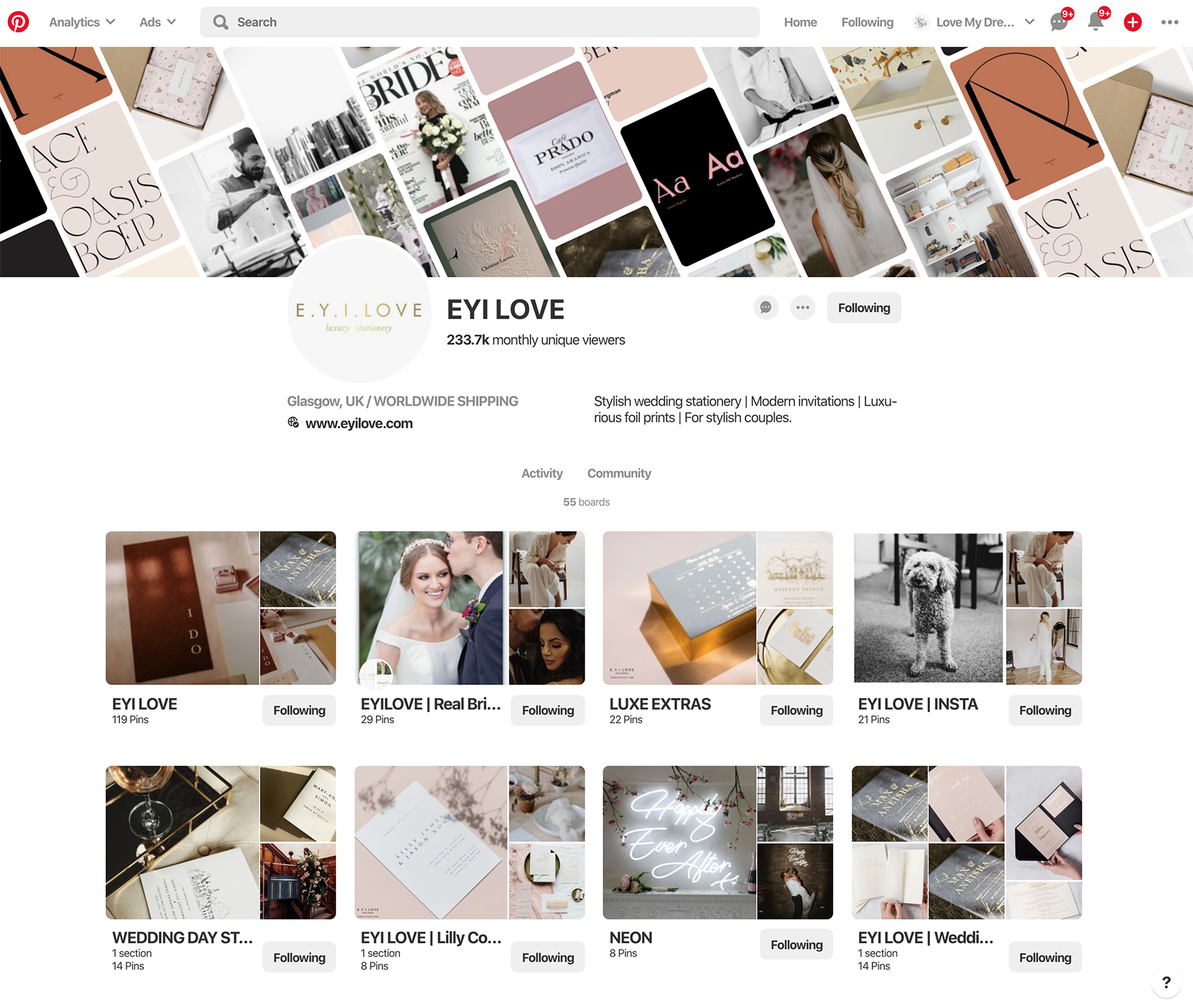 In another life, I worked in a bridal boutique, selling gowns to the beautiful brides of Glasgow. I couldn't begin to tell you how many appointments began with a bride to be producing her phone, and uttering the immortal phrase: "I've seen this dress, but I have no idea where it is from…" …followed by stories of a torrid dress search encompassing all bridal boutiques within a 100-mile radius, accumulating in a fruitless search for a dress which only exists in a single boutique across the Atlantic.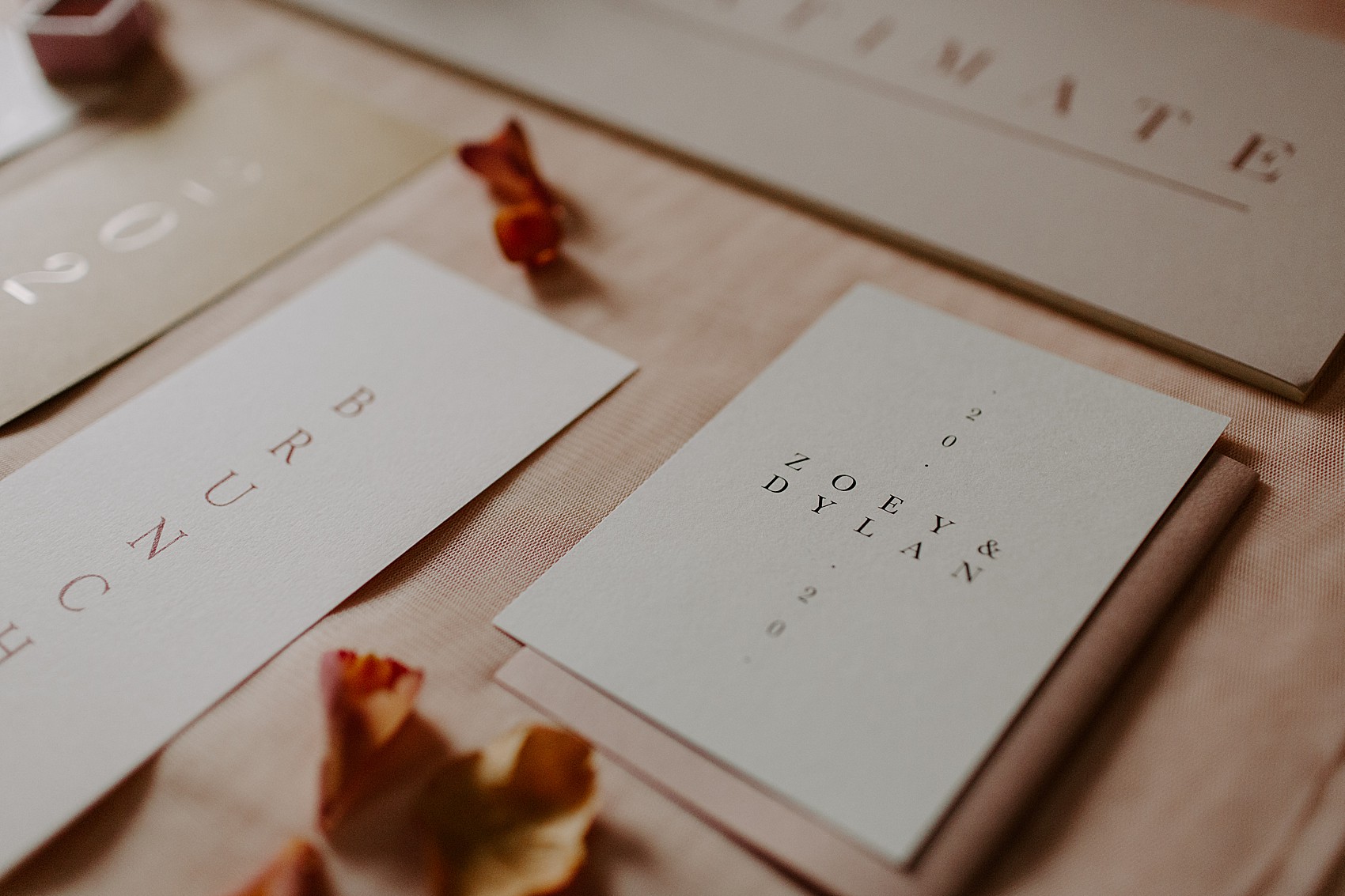 Image by Grace & Mitch, featuring stationery by EYI Love
Taking inspiration from Pinterest is a great thing. The creating and categorising of inspiration boards can help couples to both understand their likes and dislikes when it comes to areas such as colour palettes, seasons, venue styles, etc. and collate all of this information in an easy space.
It is also a great platform to get your bridesmaids and other members of the wedding party involved, helping them to access what's inside your head, because, let's face it, sometimes these things can be tricky to explain!
I want a sort of Autumn-y but not cliché, but rustic, but still modern look, minimal but wild, chic but not staged…
…you know the drill. Suppliers will relish being able to see how you envision certain aspects of your day and will welcome a little guidance, because interpretation can be so subjective; it's always nice to know whether your idea of modern and minimal is the same as ours!
Image by A Thing Like That, featuring stationery by EYI Love
However, the wonderful red P can lead you down a rabbit warren of exhaustive searches for things that truly, in the real world of actual weddings for actual people, do not exist. The wonderful yet frustrating thing about Pinterest is that images can come from anywhere and finding suppliers or items you've seen on there can be nigh-on impossible.
Take stationery for example, we've seen clients come to us after having seemingly found the table plan of their dreams online, paid an excruciating amount on shipping, for the end product to arrive and be nothing like the glossy picture of Pinterest dreams.
We are always open to taking on bespoke work, no matter how bonkers the clients may think their ideas are and being able to physically discuss this with a supplier is so important; seek out someone who you can communicate your vision easily and clearly to.
Clockwise from top left, Zach & Grace, Rebecca Goddard, Caro Weiss +Rebecca Goddard
My words of advice, when using Pinterest as a search tool? Inspiration, not expectation. This is the PERFECT platform to inspire elements of your day but remember that so many of the images you see are from shoots, and the items are one-offs, specifically commissioned by designers or stylists with cost as no object.
Take inspiration, and mould it into your own style. In the quest for the most Pinterest-worthy wedding, many lose their way and themselves in the process. Find suppliers that not only fit with your vision but understand your personalities and expectations.
Work in a collaborative way and above all, don't lose sight of yourself in the reams of perfect squares and desperately beautiful imagery inspiration.