I have the biggest soft spot for bridal fashion designer Kate Halfpenny of Halfpenny London. She is and always will be one of my very favourite wedding dress and bridal fashion designers.
It has been a whole decade in January since I first shared Kate's work on Love My Dress (see!) and throughout the past 10 years, our respective businesses feel like they have grown up together.
Along the way, I have watched in awe, as Kate (who I consider very much to be one of our industry's few true creative visionaries) has shared multiple breathtaking collections – each one seeming to be her finest yet. Just as you think she might have reached her creative peak and exhausted all creative concepts (she shares two collections a year), she launches a sumptuous new set of gowns. Each time, it feels like she's really pushing her design boundaries and pave the direction for modern bridal fashion to evolve. She is quite phenomenal.
Film + all images by Zach & Grace for LMD Collective
Last month, my husband and I were joined by our dear friends and colleagues (and extraordinarily talented wedding photographers and film makers, take note brides to be!) Zach and Grace, in attending a breakfast event that Kate Halfpenny and her team were hosting at Petersham Nurseries in Covent Garden.
Before I go further, it feels like a timely moment to mention that together, we (that's myself, my husband Philip, Zach and Grace) now form 'LMD Collective' – a new part of Love My Dress®, through which we are now producing our own content (film/video, photography, editorial, brand campaigns and yes, a Love My Dress Podcast for 2020!). AN ACTUAL PODCAST! A total dream come true, even if I am a bit scared! In a nutshell, we now have our own creative agency and I am finally doing something I have wanted to make a more permanent part of my role for a long time; art directing and producing creative projects (mostly for our clients, but also, for Love My Dress too).
We haven't fanfared our new venture in anyway yet because honestly, we've been too busy working with clients and making plans – but you can follow our progress on Instagram at @lmdcollective and this particular post might be of interest. We also have a holding page at lmdcollective.co.uk, through which you can register your email address to receive to be notified when our site is formally launched.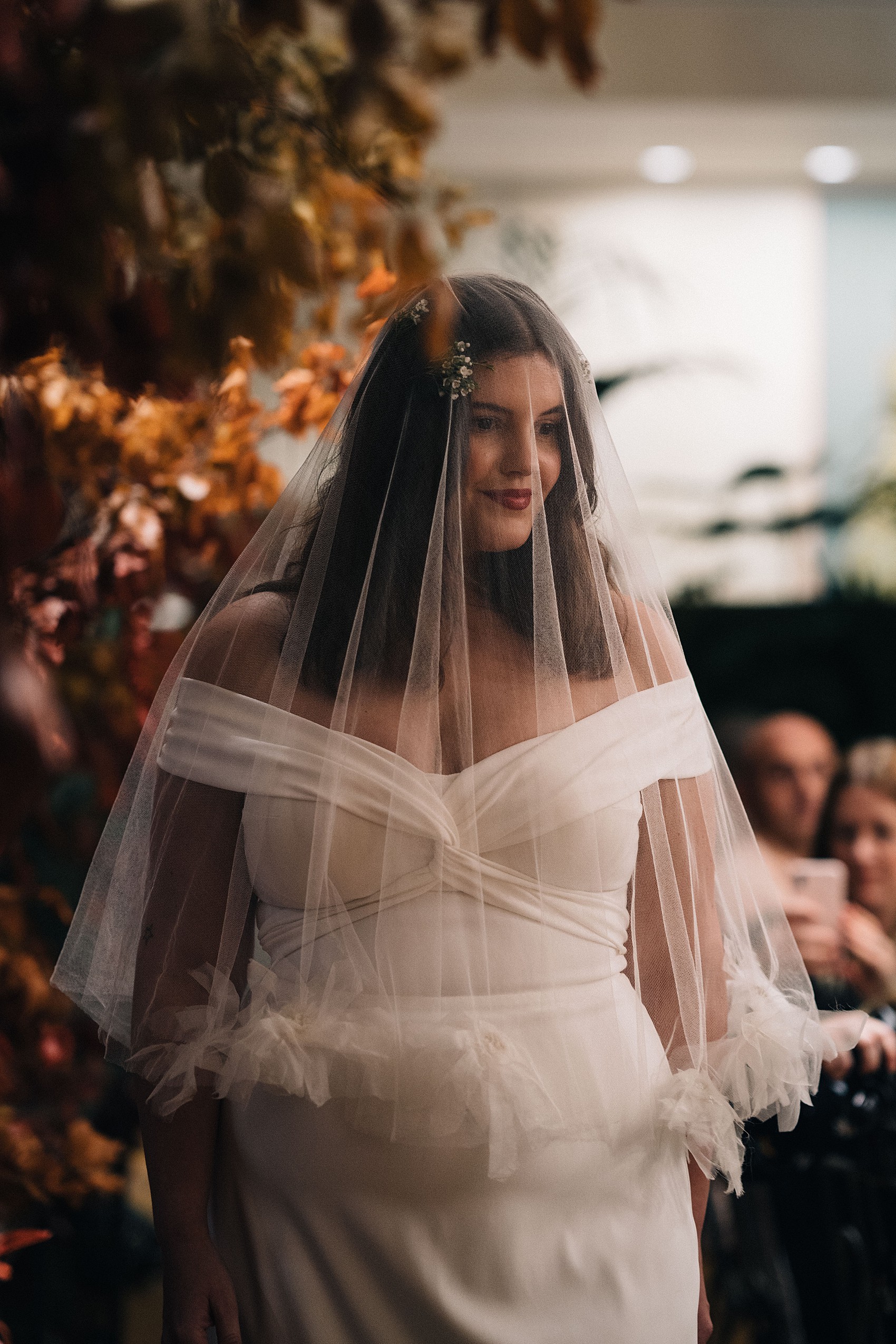 I will be sharing more about LMD Collective soon as I'm so hyped about this next step in the evolution of our beloved wedding blog and business.  Today though, it's all about Halfpenny London and her frankly gorgeous new Songbird Collection. The content you see on this page today was created by Zach and Grace at at the breakfast event last month.
As with everything that Kate Halfpenny puts her name to, this event was impeccably organised.
Petersham Nurseries provided a gorgeous botanical backdrop and the perfect space for an intimate, early morning catwalk show. Models glided their way around the exquisitely decorated breakfast tables, enabling guests with an excellent close up of the quality and exquisite movement in Kate's gowns.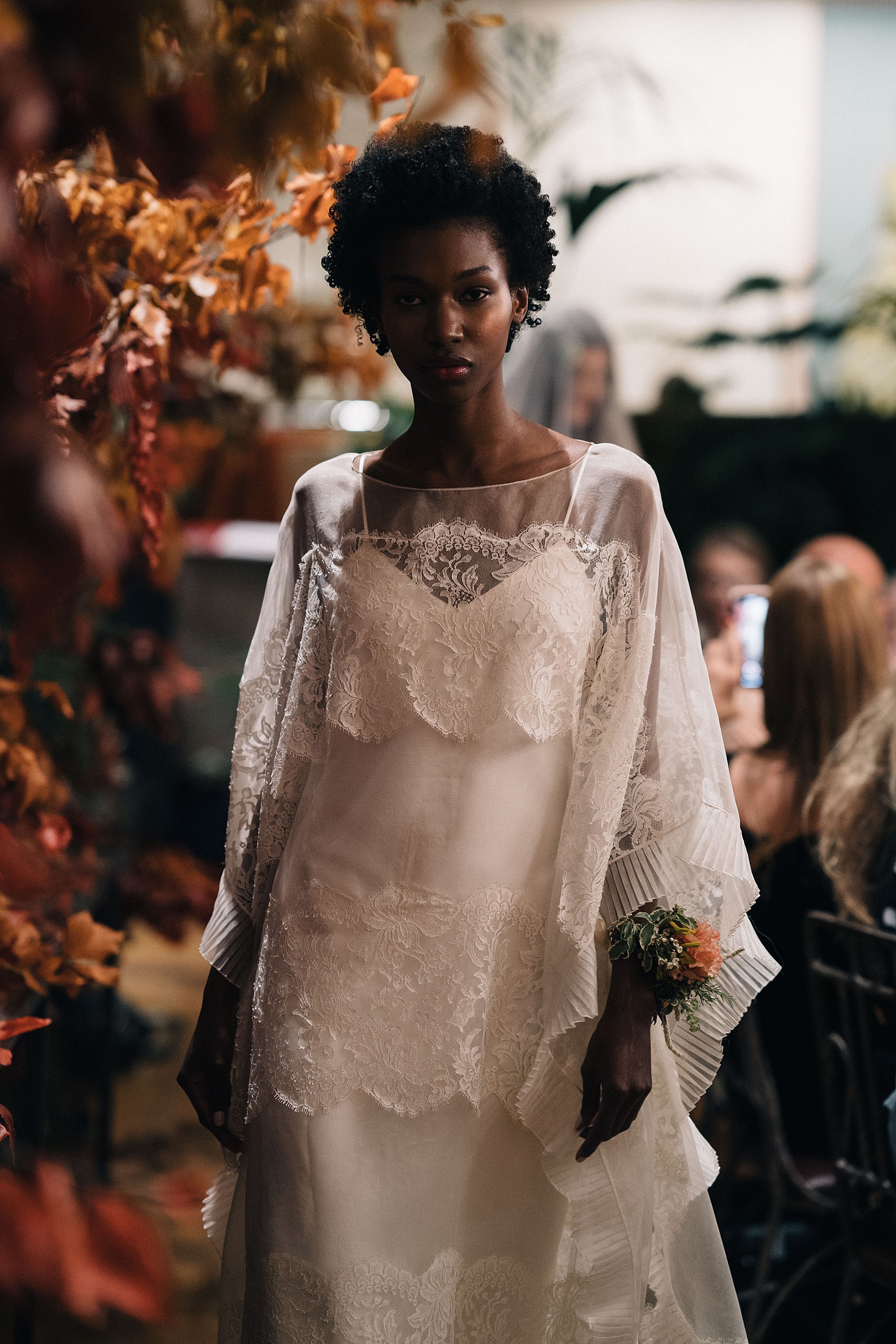 The Songbird collection is one of Kate's absolute finest, and indeed loveliest – a real celebration of her talent, passions, creativity and love of the female form. It is also a wonderfully feminine and romantic collection; floaty fabrics, ruffles, hand crafted 3D flowers – every design has been constructed using the most sumptuous and luxurious fabrics and finishings. Stepping into one of these beauties on your wedding day would be a pretty special moment indeed.
What struck me first and foremost about this event was the care Kate had taken to ensure her models reflected the diverse group of clientele who wear her gowns. In particular, I appreciated the fact there was a beautiful plus size model, proving beyond doubt that curvy women can look sensationally sexy and sensuous in Halfpenny London designs.
Kate has in fact long been a champion of body positivity – this post on her Instagram feed earlier this year is proof of that.
My entire philosophy is based on being the best version of yourself. Not what someone else thinks you should be/look like. You are equally amazing whether you're a size 10 or 24, or anything else. Kate Halfpenny
The event started with a conversational Q&A session with Kate being interviewed by her long-term muse, actress Emilia Fox (who wore a beautiful tailored jacket and leather skirt, from Kate's 'The Black Edit'). This allowed Kate an opportunity to share with her audience, her personal love of fabrics, of enabling women to discover true confidence through her designs and of her commitment to designing bridal fashion with a conscience.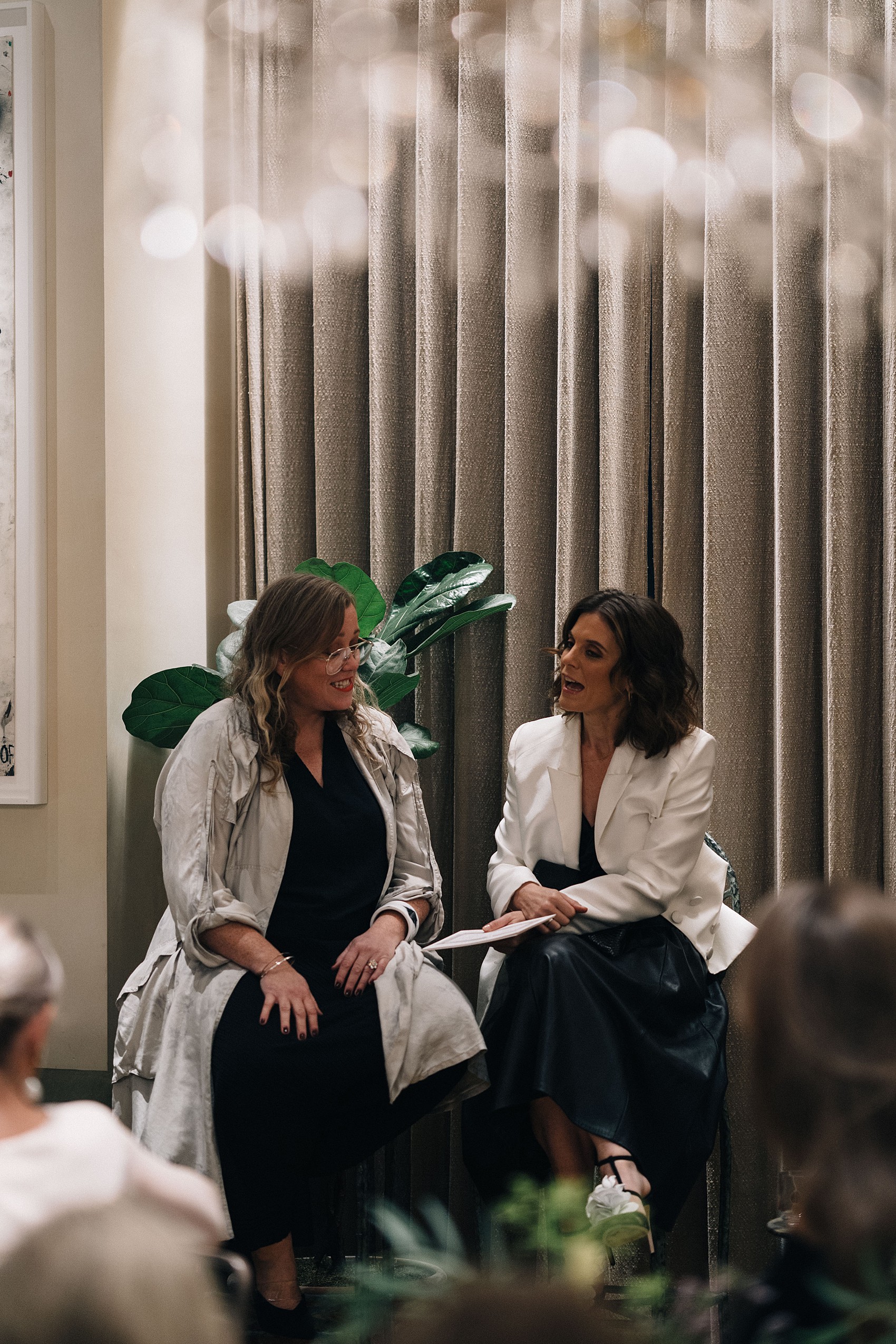 Kate with Emilia Fox, her longterm muse
In today's 'fashion fashion' industry, wedding gowns are one of the few garments kept and treasured for years to come. They are heirloom pieces and family traditions. Brides can have confidence that their gowns will be a timeless work of art, crafted ethically in London. Kate has repurposed the off-cuts into the most exquisite hand-crafted flowers for her new collection. She also donates unused fabrics and cut off's to schools and universities. Halfpenny London
By the way, all of Kate's designs are made in London by a team of incredibly talented seamstresses , at Kate's own atelier, which sits directly opposite her boutique located on Woburn Walk (a 5 minute actual walk form Kings Cross station). Her team are paid well for their skill and expertise – you won't find any cheap overseas manufacture play any part in this brilliant, Brit-cool brand.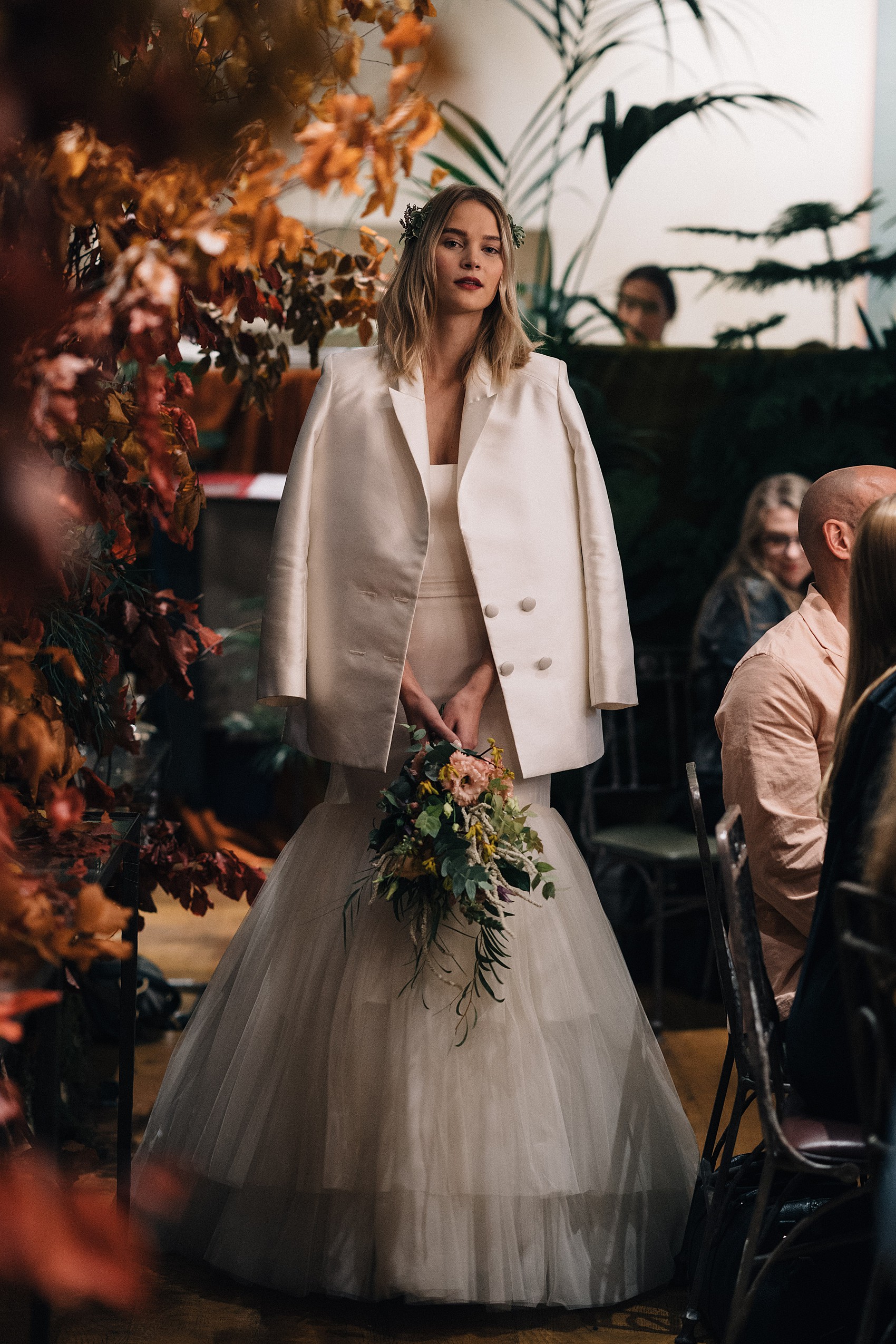 I hugely admire Kate for the significant role she has played in changing the landscape of bridal fashion over the past 20 years, helping take it from it's once one dimensional 'strapless gown' aesthetic, to the multi dimensional, stylish, innovative and creative entity that bridal fashion is today.
At the beginning, bridal wear was fairly limited and traditional and the option to express your own sense of style by experimenting with shapes, fabrics and embellishments or by simply adding a cool jacket or cape was unheard of,  yet always made complete sense to me. I understand that each bride is totally different and, by listening, I'm able to create something incredibly beautiful that's special and unique to them. I want Halfpenny London to inspire and excite those bries who desire grown-up glamour, style and romance. Halfpenny London
Kate is also one of those rare breed of individuals, who, despite her successful role as a bridal fashion designer and dressmaker for a celebrity clientele that includes Kate Moss – always makes time to show friendship, humility and love to everyone around her. I love that she is present as often as possible to be a part of appointments at her boutique and I love how accessible she makes herself.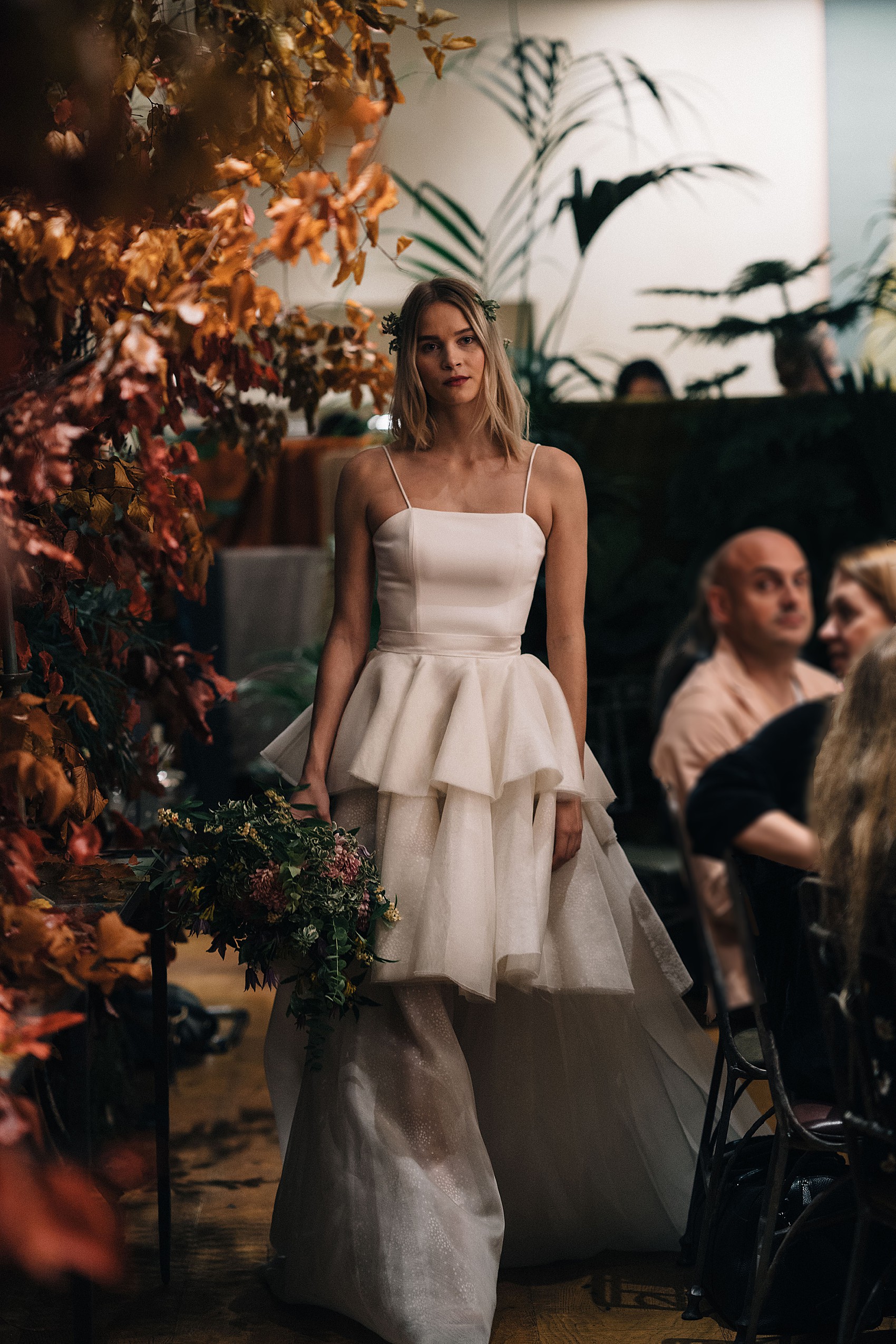 I really, genuinely cannot recommend Halfpenny London enough to you (I am so grateful to Kate for always encouraging me personally and believing in my own vision for Love My Dress from the very off).
If you aren't able to arrange a visit to Kate's gorgeous London flagship boutique, then do try to book in to one of her nationwide stockists who would love to hear from you – details here.
What do real brides think?
Well for a start you can explore any one of these articles!
Last week I popped a question in our closed Facebook group for brides, asking for feedback on any Halfpenny London experiences. Below are the responses we received, anonymised to ensure confidentiality (All our closed groups operate a strict code of privacy and confidentiality – brides, if you are planning a wedding, apply to join here). I hope these comments from real brides reassure and encourage you to consider a visit to one of the best bridal designers ever.
"I was a halfpenny bride.  ….absolutely adored the tasteful and luxe fabrics, and was further encouraged by Kate's own wedding and the designing of her own dress – figured she was a great bet to find the right dress for a fellow curvy girl, which I'd been a bit lost with in my search so far. Halfpenny was one of the only boutiques where I could find something to fit over my bigger boobs (bit hard to use my imagination when many places I went didn't have any samples that would go over my chest or cover it remotely!) Halfpenny has a great selection of separates, which I found really worked for my figure. I ended up selecting the top part of one dress as a top, and the bottom of another dress as a skirt. Fell in love with the beaded sleeves and knew it was the one!"
"I was a Halfpenny bride! I had seen her on Love my Dress and loved her designs but didn't think I was the right shape for them. I went for a consultation at a bridal shop with the intention of trying on a different designer, but as soon as I put on a Halfpenny gown I knew it was the one for me."
"…of the four places I went to try dresses on this was the absolute best experience. I had my first meeting with Kate who put something out on instagram about people who didn't think their budget would normally stretch to Halfpenny – I replied and she took my appointment personally. She was brilliant – so down to earth."
"I saw her dresses at a fashion show advertised on love my dress at the Ritz. When I tried it on it was the weight and elegant feel of the fabric that got me. I felt comfortable, yet completely and utterly extravagant!"
"I had an amazing experience in the boutique and really rate their team. Everyone was lovely, they truly listen to you, and there was no hard sell at all."
"I can't wait to be a Halfpenny bride! I first saw the dresses on Instagram and just knew I would find my dress there. I love that there are so many separates that can be mixed and matched to create a totally unique look."
"I was a Halfpenny bride….I saw her dresses on Instagram and the Love My Dress blog. I really wanted a simple Bardot neckline dress, and when I found the Daffodil dress it was exactly what I was looking for."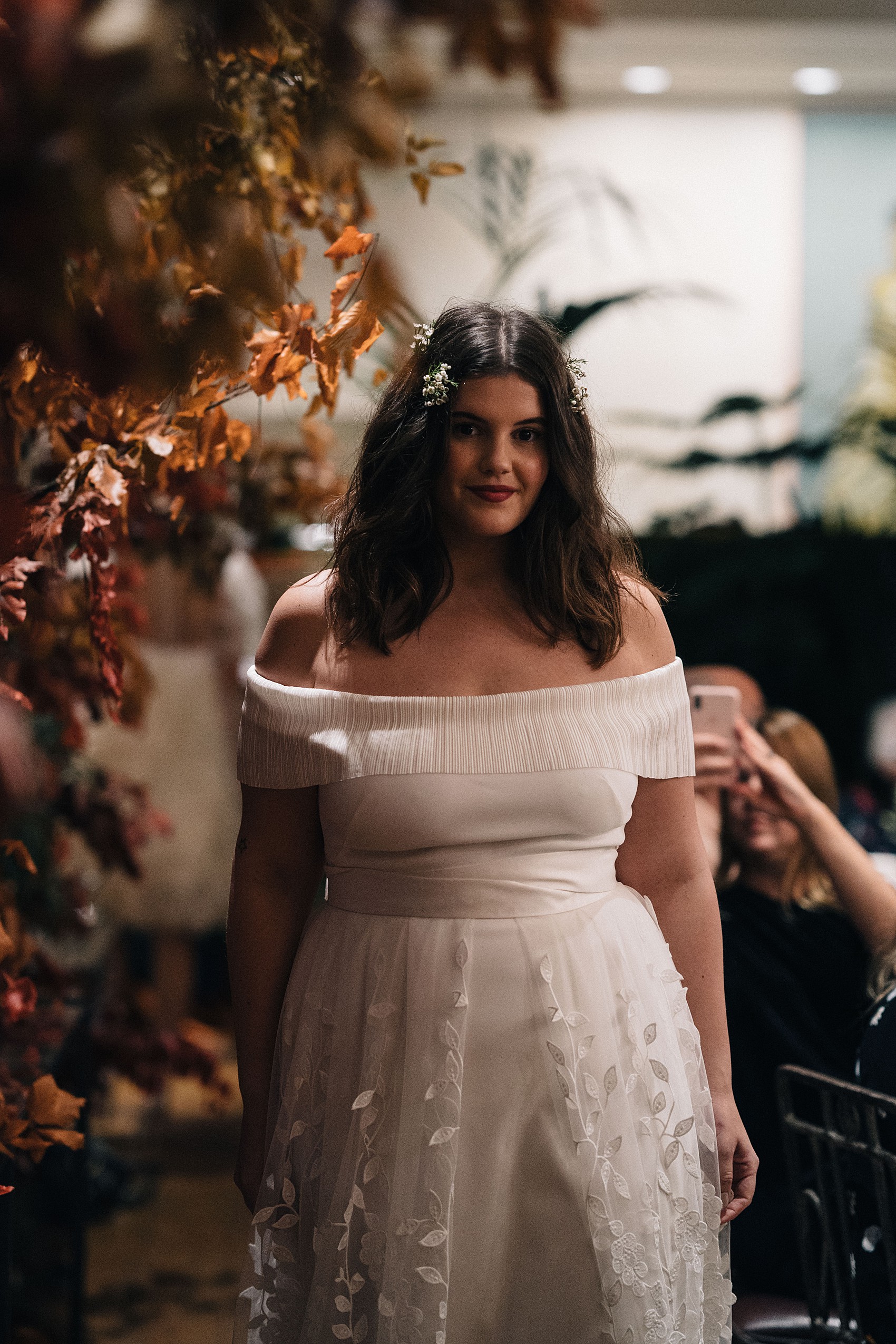 To find out more, visit halfpennylondon.com. You can also follow Kate's brilliantly inspiring Instagram account @halfpennylondon.
And ladies, keep your peepers pealed for the up coming new 'Sisters' collection from Kate – it looks set to be a bit of a game-changer for bridesmaids!
Annabel x