I've been keeping this particular Christmas wedding up my sleeves for a little while, because I wanted to share it on a significant day. Please join me in wishing this gorgeous twosome the happiest first wedding anniversary today!
This is India, Co-Founder of British bridesmaid brand, Maids to Measure, and Oli, who tied the knot on 1st December 2018 with the most crazy cool wedding I think I've ever seen. The couple chose to celebrate at the groom's parents house in Great Wishford, Wiltshire – a sweet and quintessentially English little country village. Perfect, India says, for a romantic, cosy, Christmas wedding.  They were assisted in the planning process by planner Rosie Green and stylists Lo & Behold Bespoke + The Wedding Enthusiast.
Film by Super Weddings Film
Indi and Oli's wedding is completely off the scale cool and inspirational. The dress, the styling, the detail – the warmth of the candlelit church scenes, the vibrant festive celebrations and that incredibly stylish bride.
I'm going to get into it all but first, we need to immediately talk about Indi's sensational dress – a demure design that mixed a sense of regality (that high neck, those long sleeves) with sensuality (that incredible open back). I ADORE it and can't imagine seeing Indi in anything else.
Also, whilst we're at it, RESPECT for brides who embrace the joy and wild abandon on their wedding day meaning that a bit of mud on the hem of their wedding dress isn't going to stop them having any fun. Enjoy my loves – and Pinterest this one to your hearts content!
Photography by Joanna Bongard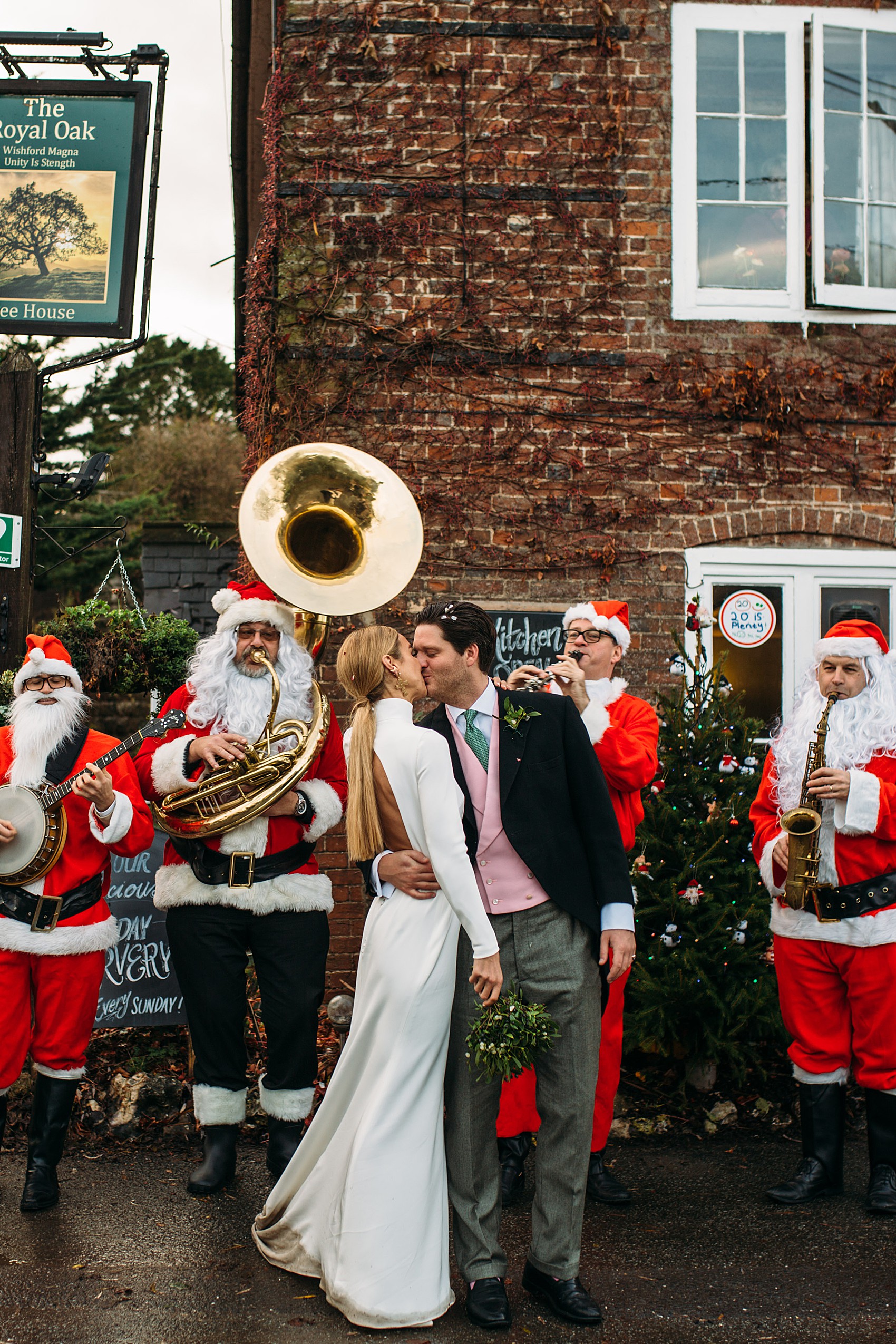 "I was very particular about what I wanted when it came to 'the dress' and couldn't find it when dress shopping so I decided to put pencil to paper and design it myself and asked the fabulous Andrea of Andrea Hawkes, to bring my design to life."
"The whole Andrea Hawkes team were so helpful and patient and gave so much advice when it came to what best fabrics to use to create my dream dress."
"I created the dress to be simple, sexy and regal. Simplicity from the silk crepe fabric, a regal high neckline, and the subtle sexiness from the open back. Long sleeves was always a must as it was a winter wedding."
Designer Andrea has gone on to incorporate this beaut of design into her latest IDENTITY 2020 collection – and has aptly named the dress 'India'.
What an iconic silhouette – one that I have a feeling, looking back in the future, will define the bridal fashion of our times.
Those incredible Madonna-esque cross earrings are by designer Nikki Witt. They are in fact called the Madonna earrings, and you'll find them here.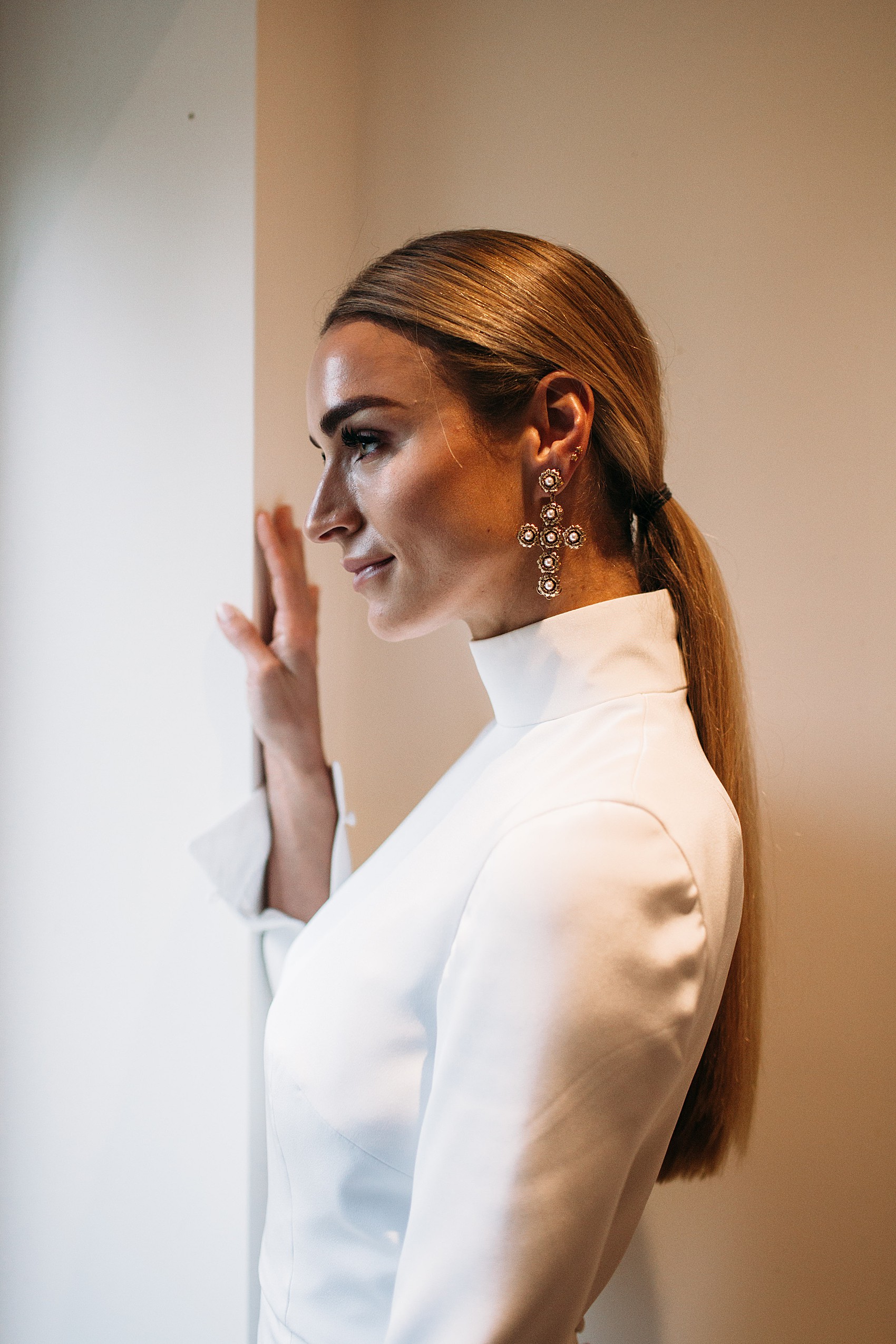 The bride's chosen wedding day scent was Diptique – L'Ombre Dan L'eau.
"I love Diptique the brand and initially picked up the perfume as it had an image of a swan on the front of it.. it helped that I loved the combined scent of Rose and blackcurrant buds too!"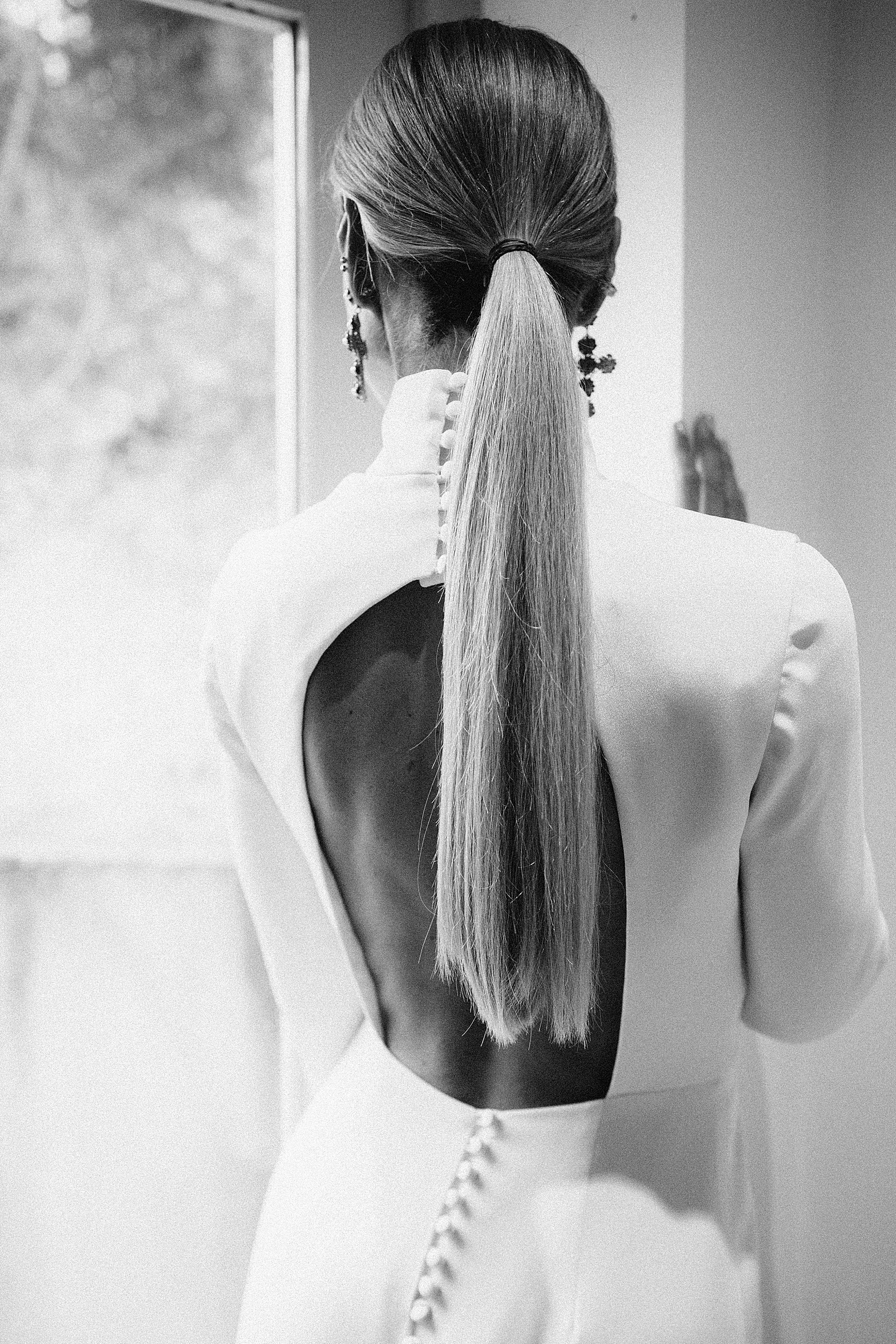 The colour green linked much of the carefully considered detail throughout the day – bridesmaids wore bottle green gowns from the brides own bridesmaids label – they wore velvet green ribbons in neatly tied back hair to reflect the chic style worn by the bride herself.
"I wanted my 10 adult bridesmaids to be dressed identical for maximum impact. I chose our Hollie dress in Forest Green, as I felt it complimented my dress nicely with the higher neckline and cape sleeves."
LADIES! At the time of writing, this dress is in a 50% off Winter sale – GO!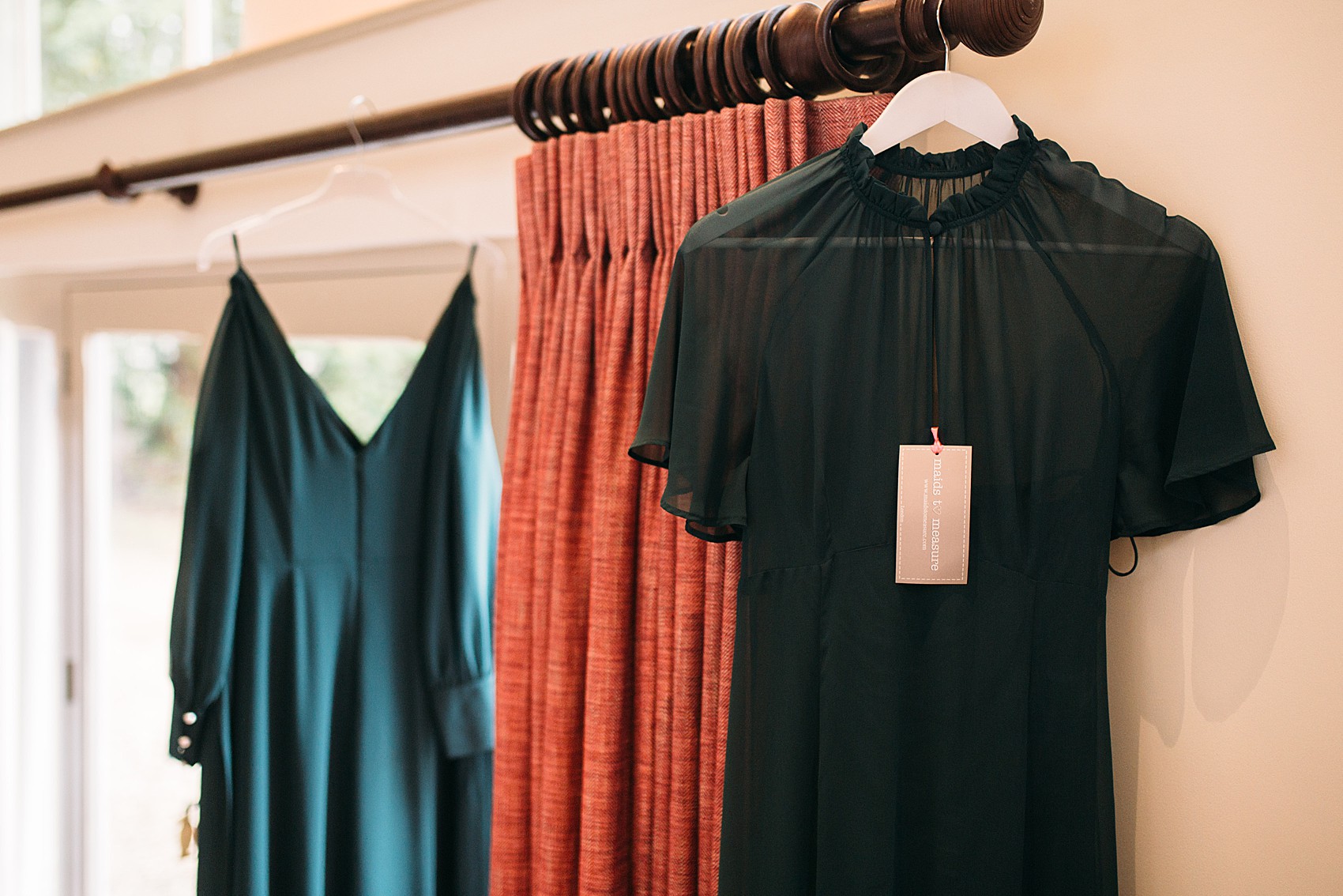 "My bridesmaids wore accessories from the new bridesmaid accessories collection we are launching in January 2020!"
Watch out ladies! —> maidstomeasure.com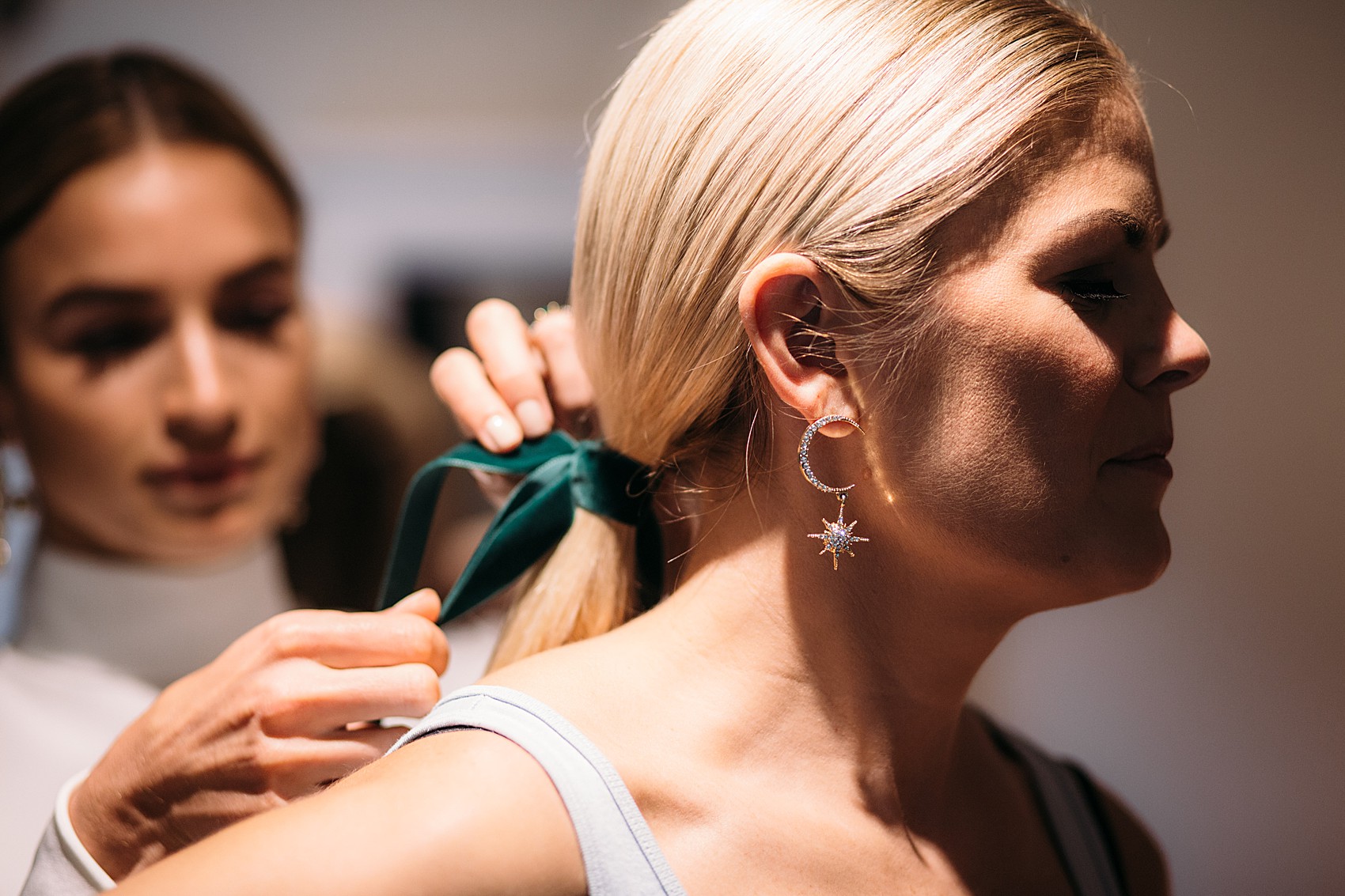 …and spot that beauty of an emerald green diamond engagement ring.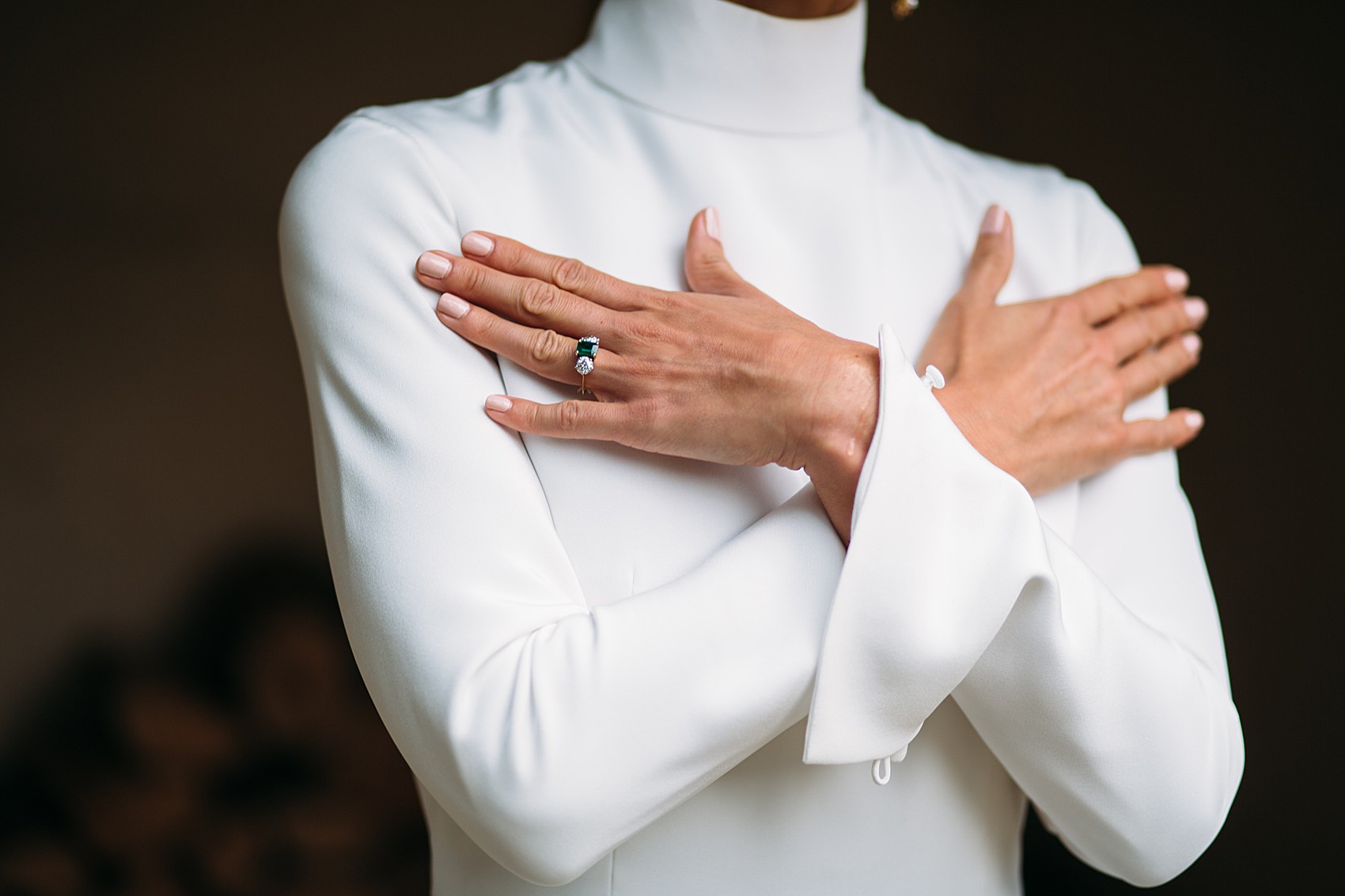 This iconic image was one of the first released by the couple's wedding photographer last year and I'm not even kidding you, I thought it was Jennifer Lopez! Ha! Sorry Indi…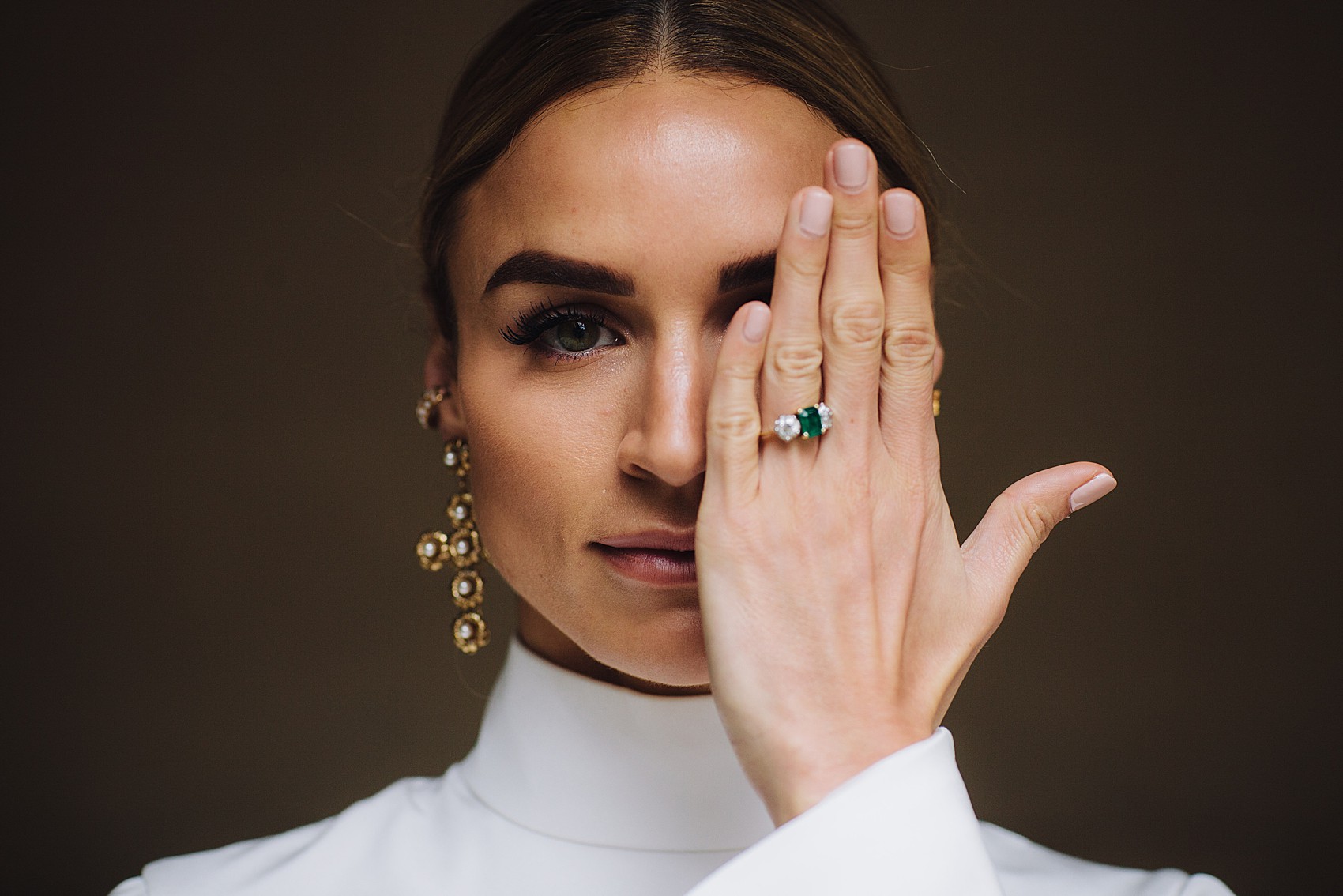 Indi wore a pair of white boots with mother of pearl heels from Freya Rose. I own a pair of these exact boots, and they are beyond incredible – the craftsmanship is second to none.
By the way if you happen to be reading this article the day it was published, you can save 25% on all Freya Rose purchases for the next 24 hours as part of the Black Friday sale.
Get your own beautiful Freya Rose boots + save 25%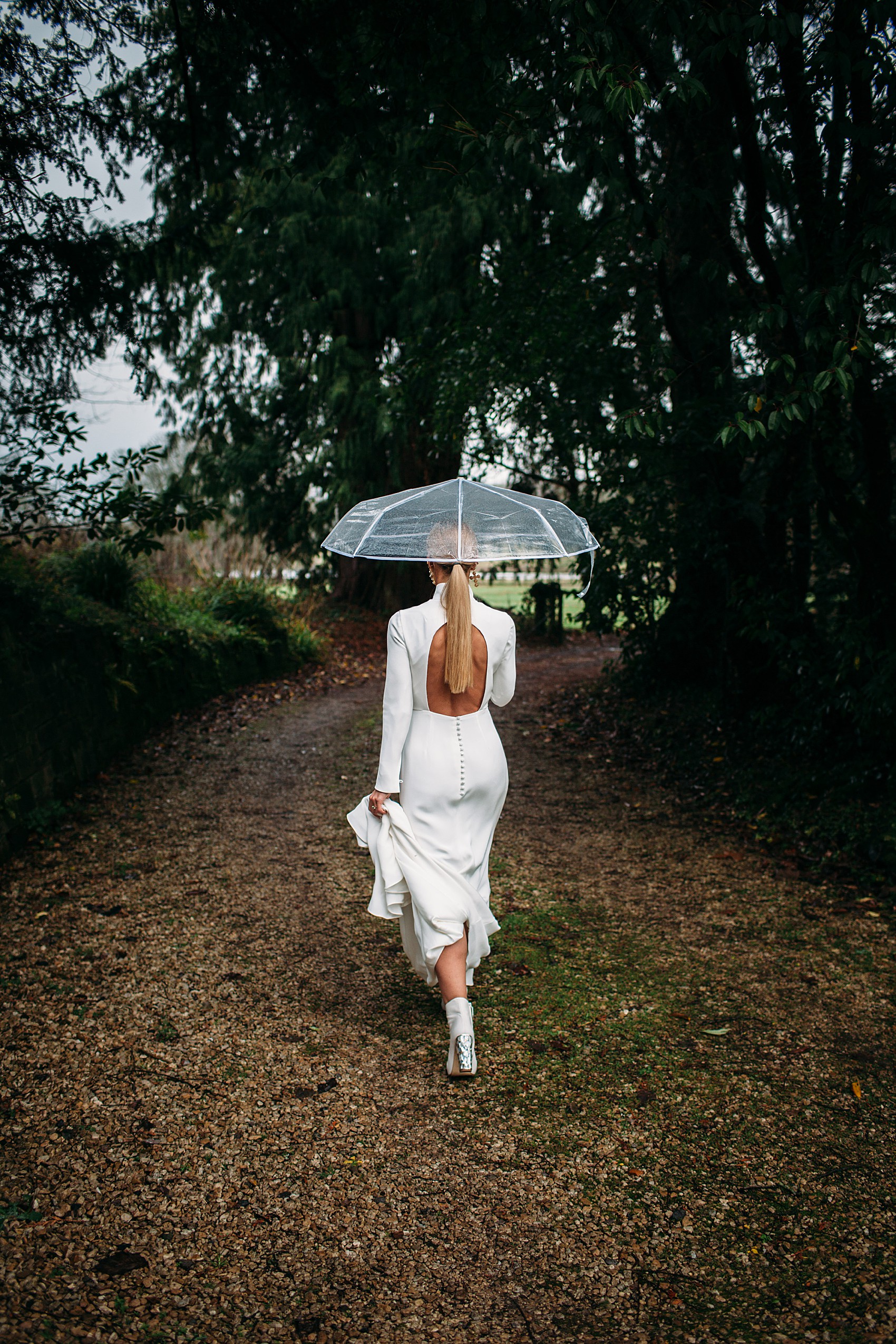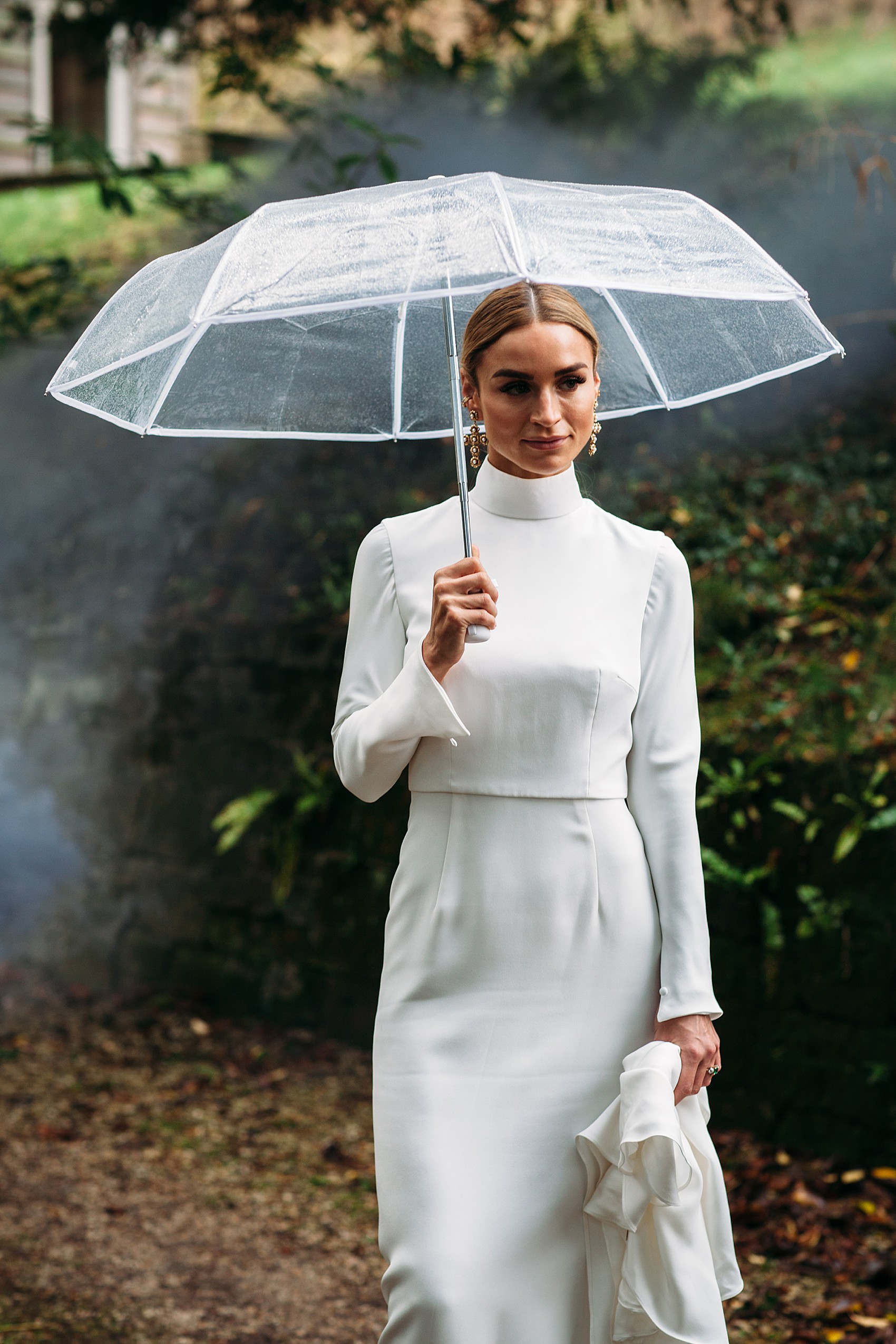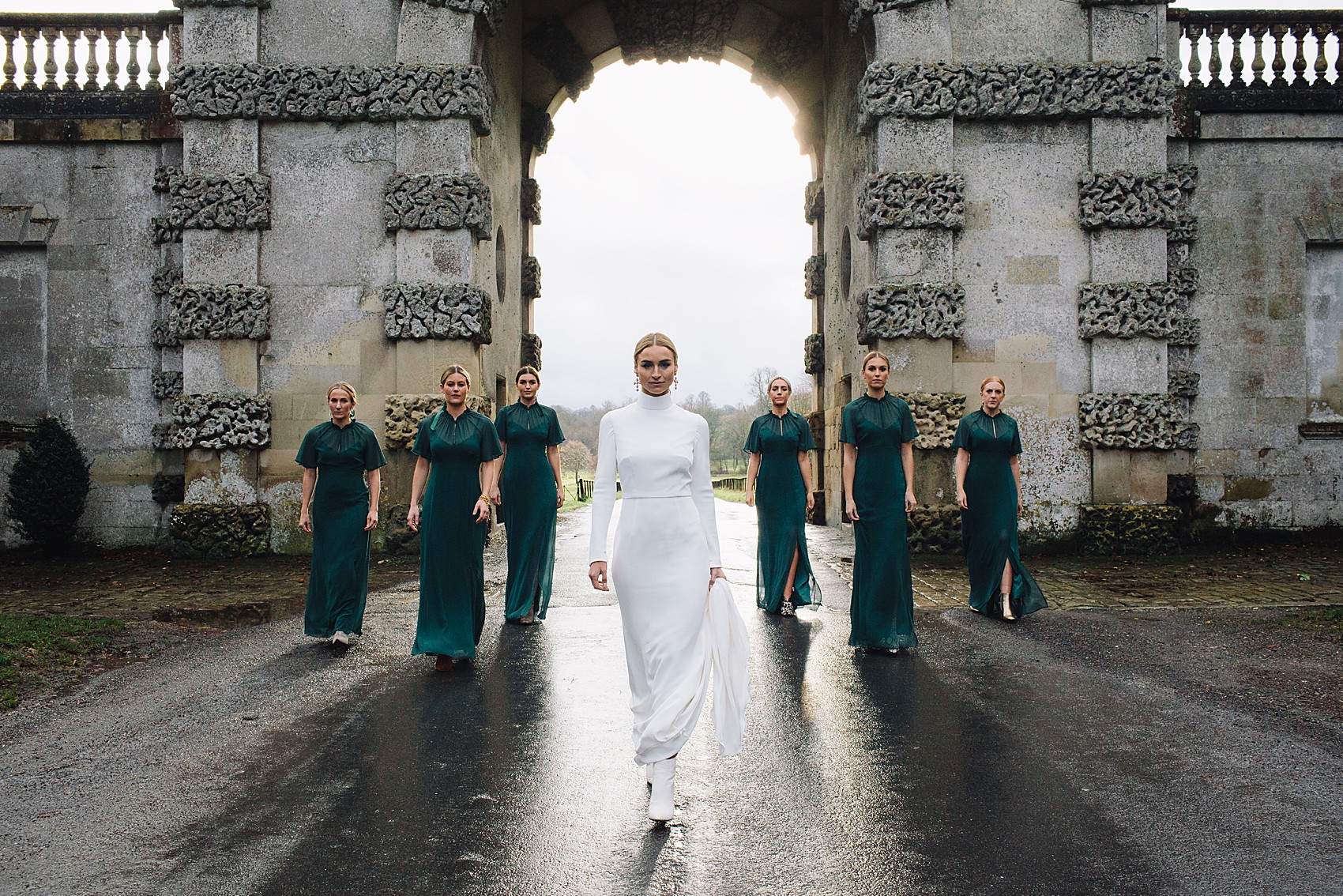 The couple hired Salisbury based florist, Paloma Lily to fulfil their vision of flowers and floral design for the day.
"I didn't want a bouquet to be too much of a distraction from the dress so opted for a simple bunch of natural mistletoe tied with velvet green ribbon. Instead of bouquets the bridesmaids walked down the aisle holding candles."
"We had a gorgeous festive floral arch outside the church incorporating oranges, pomegranates and mistletoe.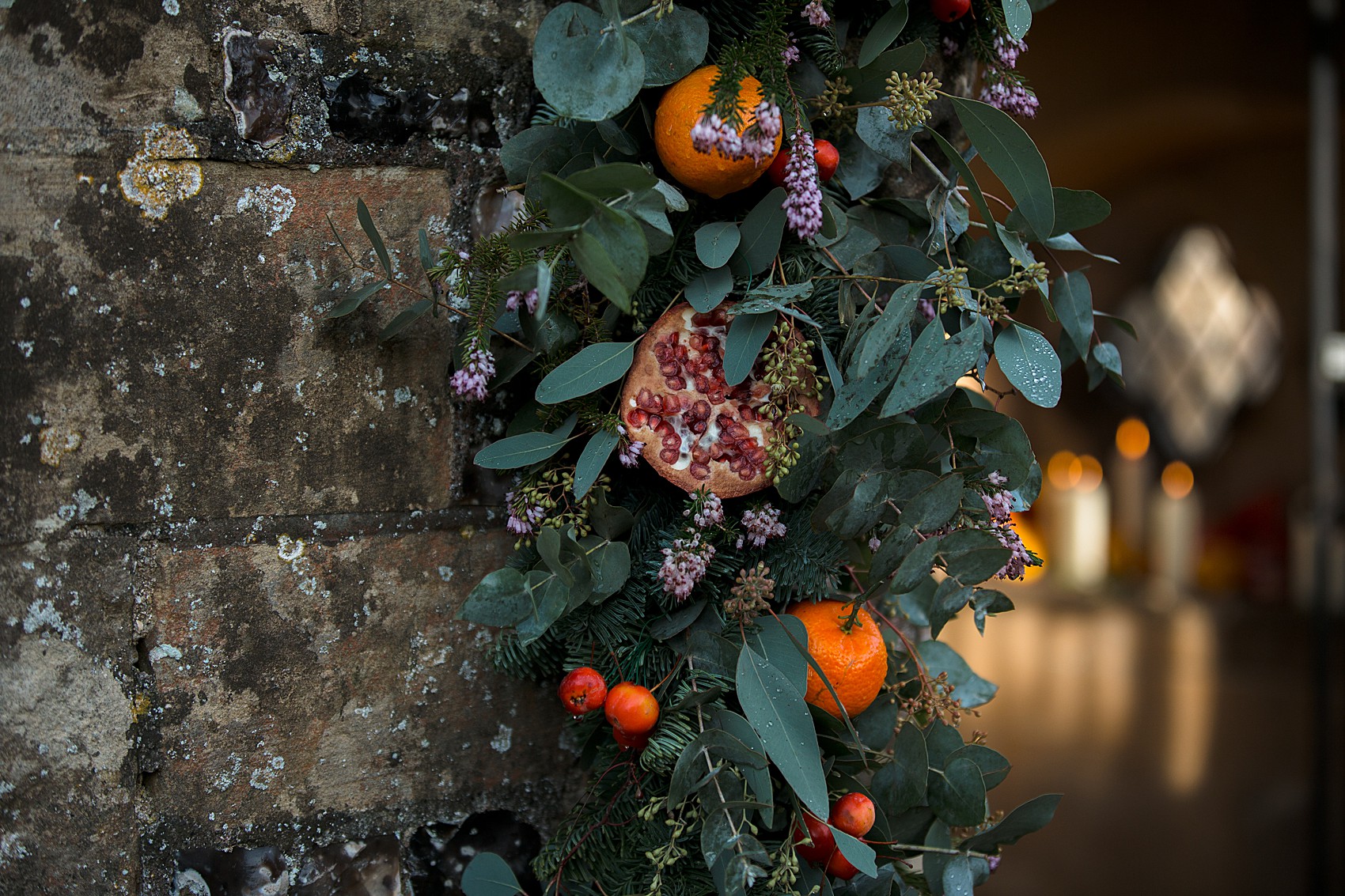 As the bride and her girls made their way over for the ceremony, a candlelit church full of friends and family eagerly awaited.  Sweet little paper packs of confetti were handed out along with a copy of the order of the day, which featured the couple's twin swan logo design, created by Bee Davies Illustration.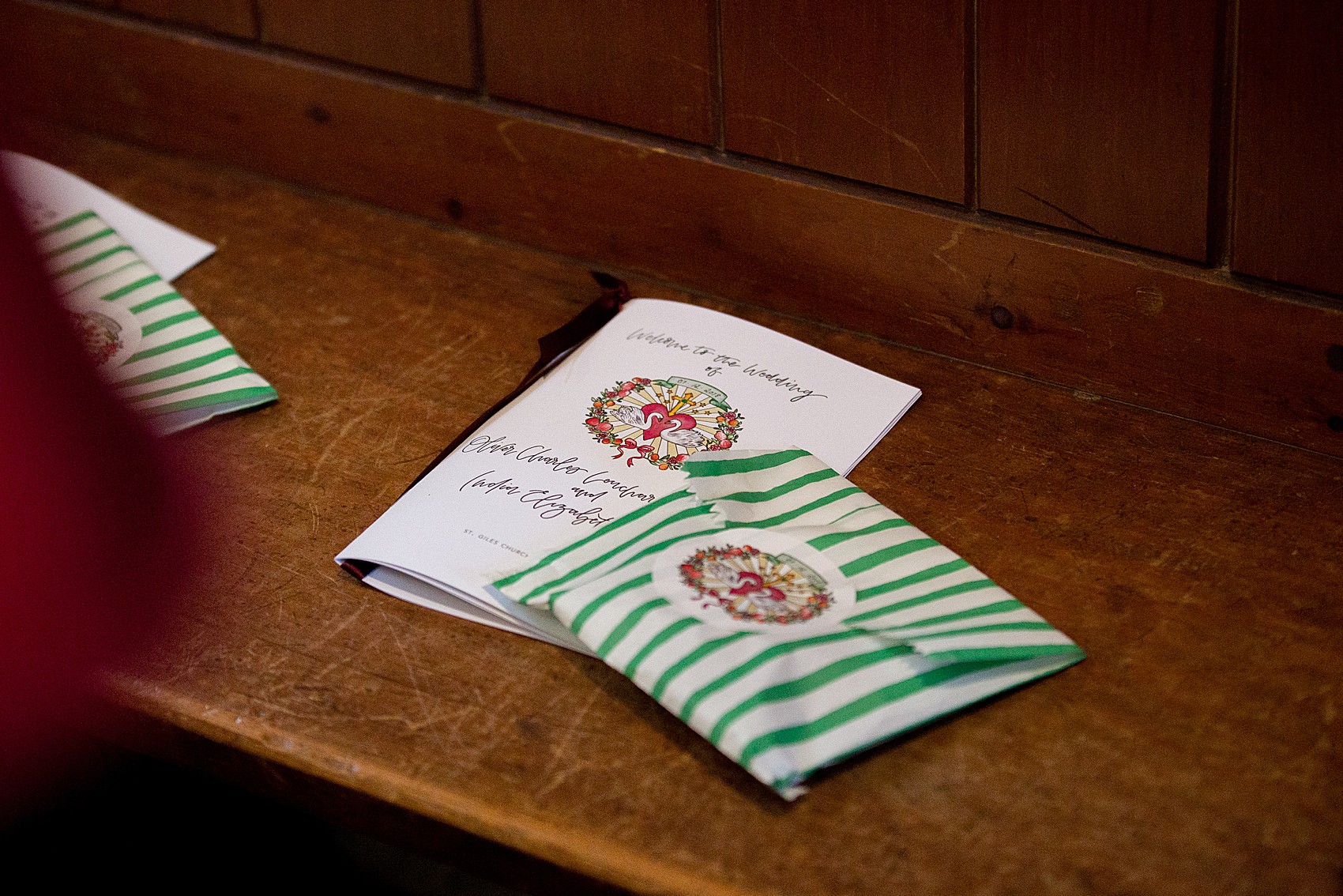 As Indi was preparing her arrival at the ceremony,  a candlelit church awaited. Can you imagine the scene – warmly lit and full of anticipation and festive excitement?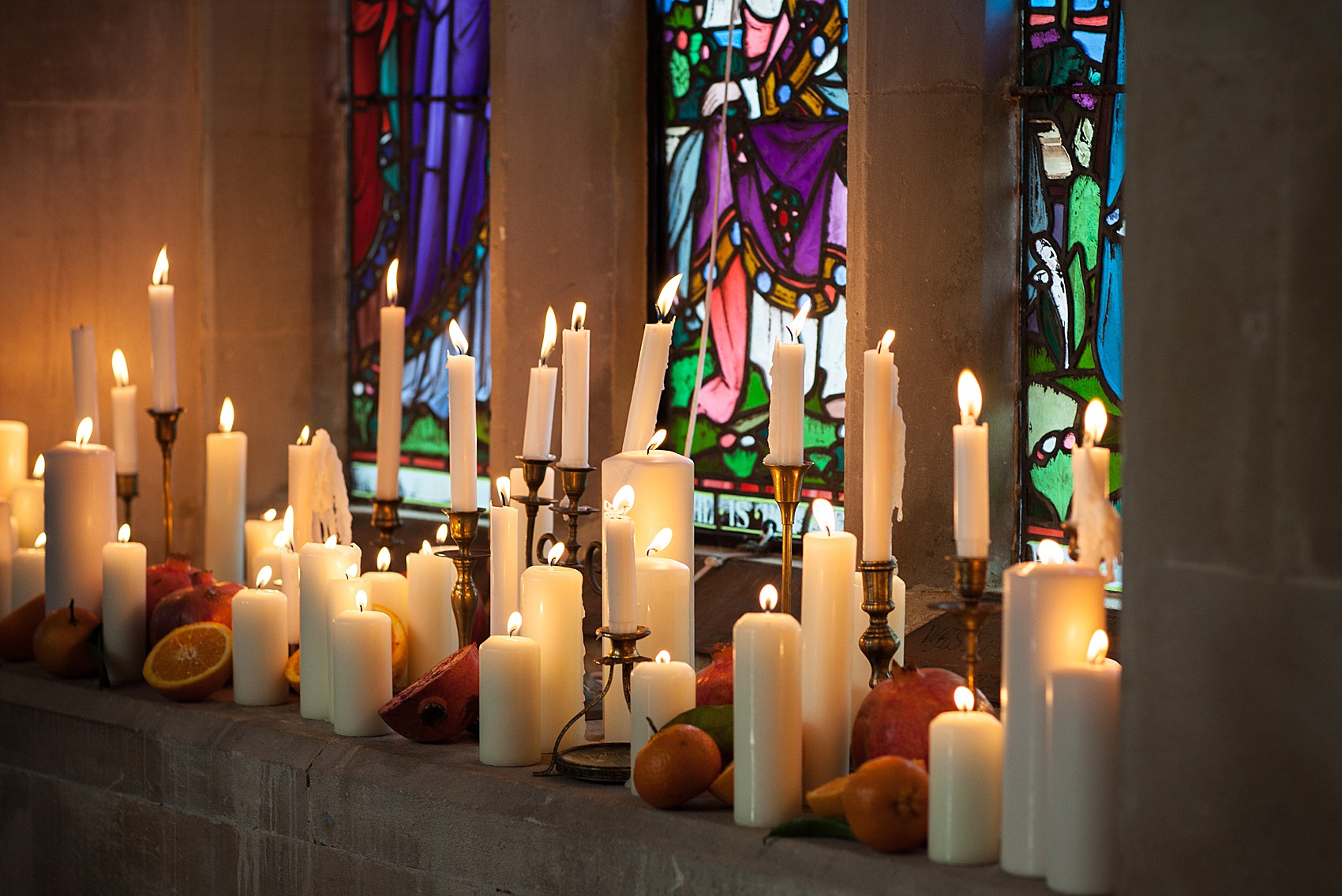 Oli was kitted out head to toe in Welsh and Jefferies.
The green theme continued in the colour of his tie and pink made a big appearance too.
"Oli and I met in a London pub, The Rose, Fulham. Oli proposed to me whilst skiing in Austria four years later, in March 2018 and we got married eight months later on the 1st December 2018."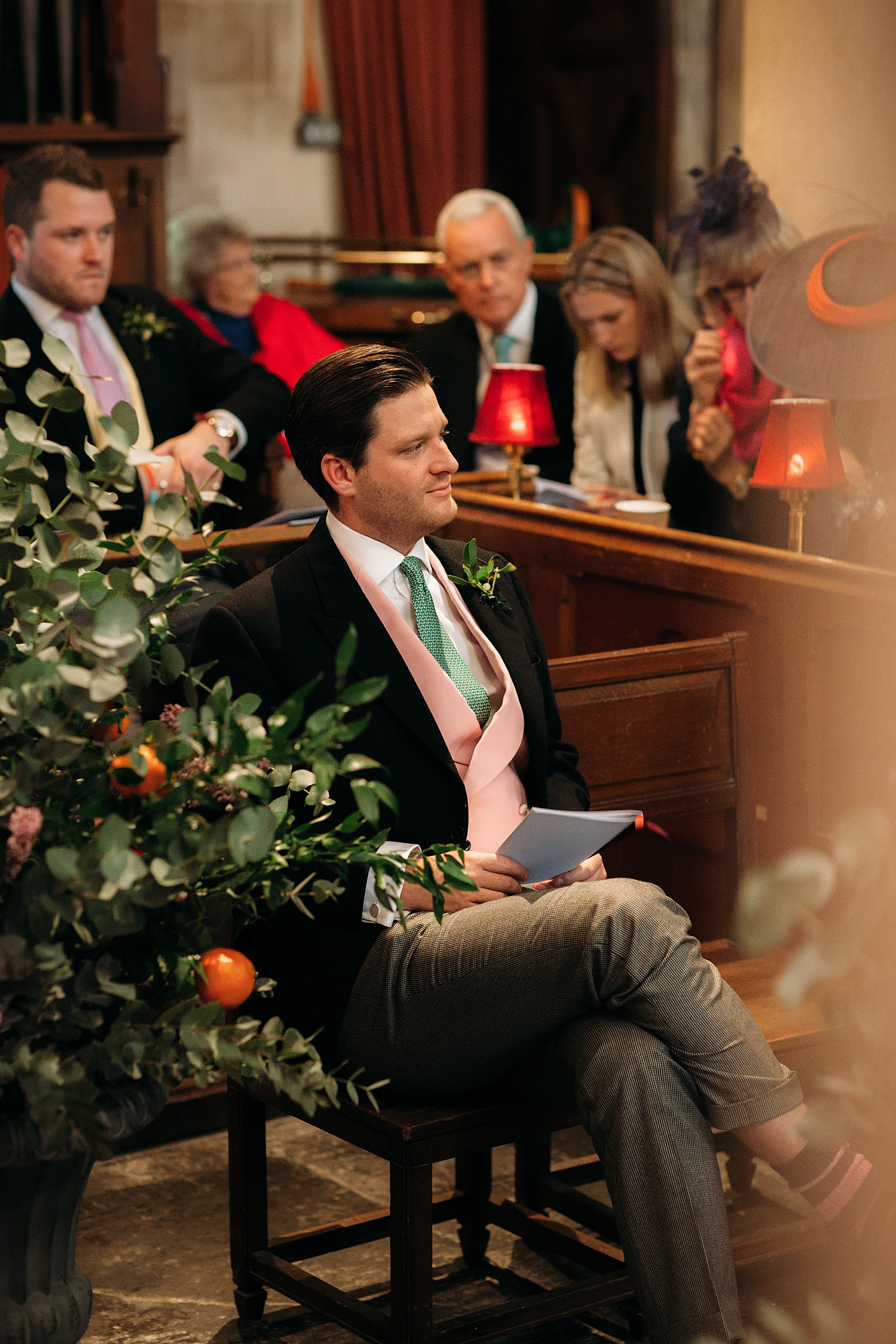 Those in the 'industry' may recognise this particular bridesmaid – she is Indi's sister, Sinclair, her Maids to Measure co-founder – accompanied here by her own daughter dressed in Little Bevan.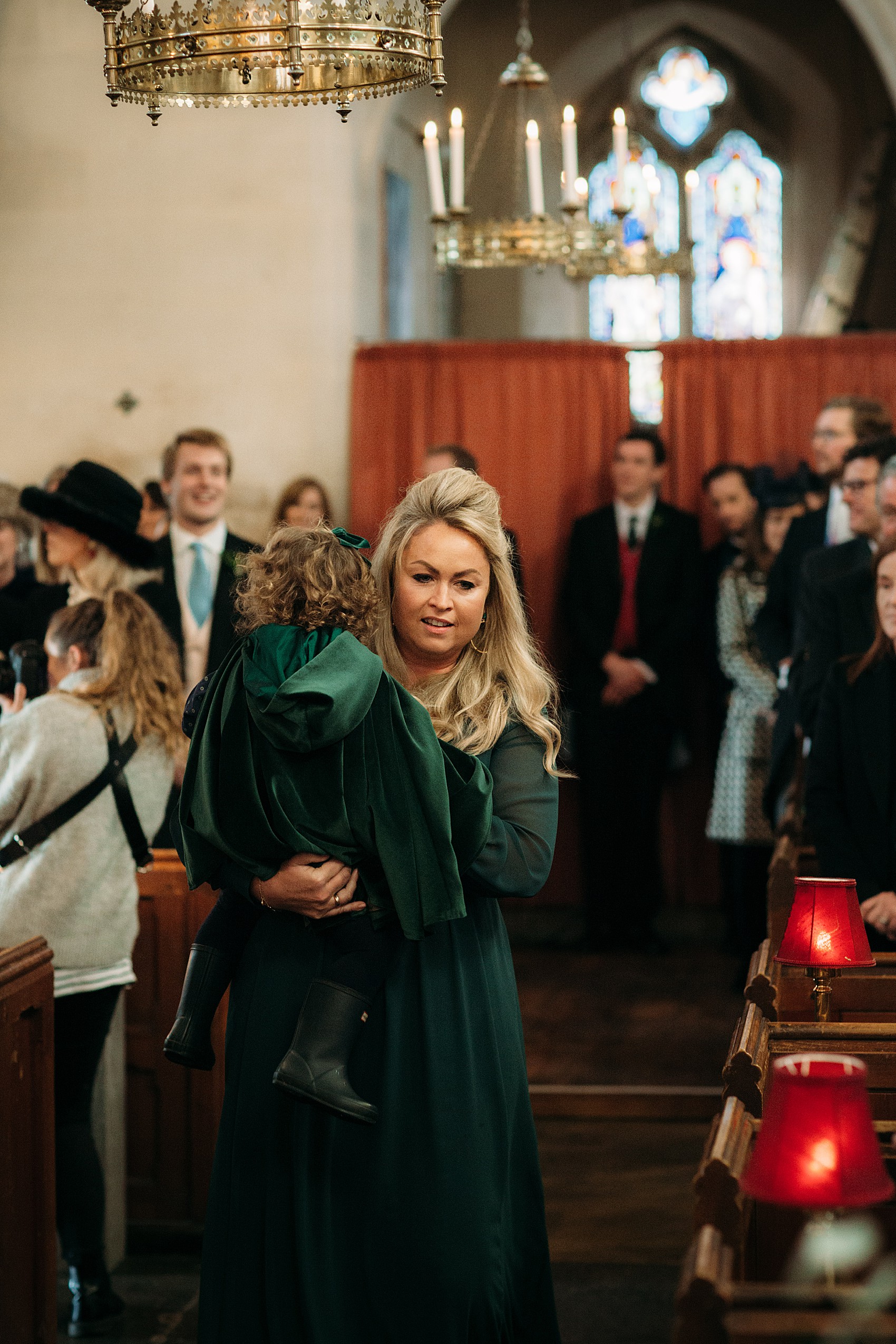 Indi's father accompanied her down the aisle to the sounds of 'Outro', by M83 – gah, GOOSEBUMPS imagining this scene!
"It's a majestic, emotive tune, and I like the words too!"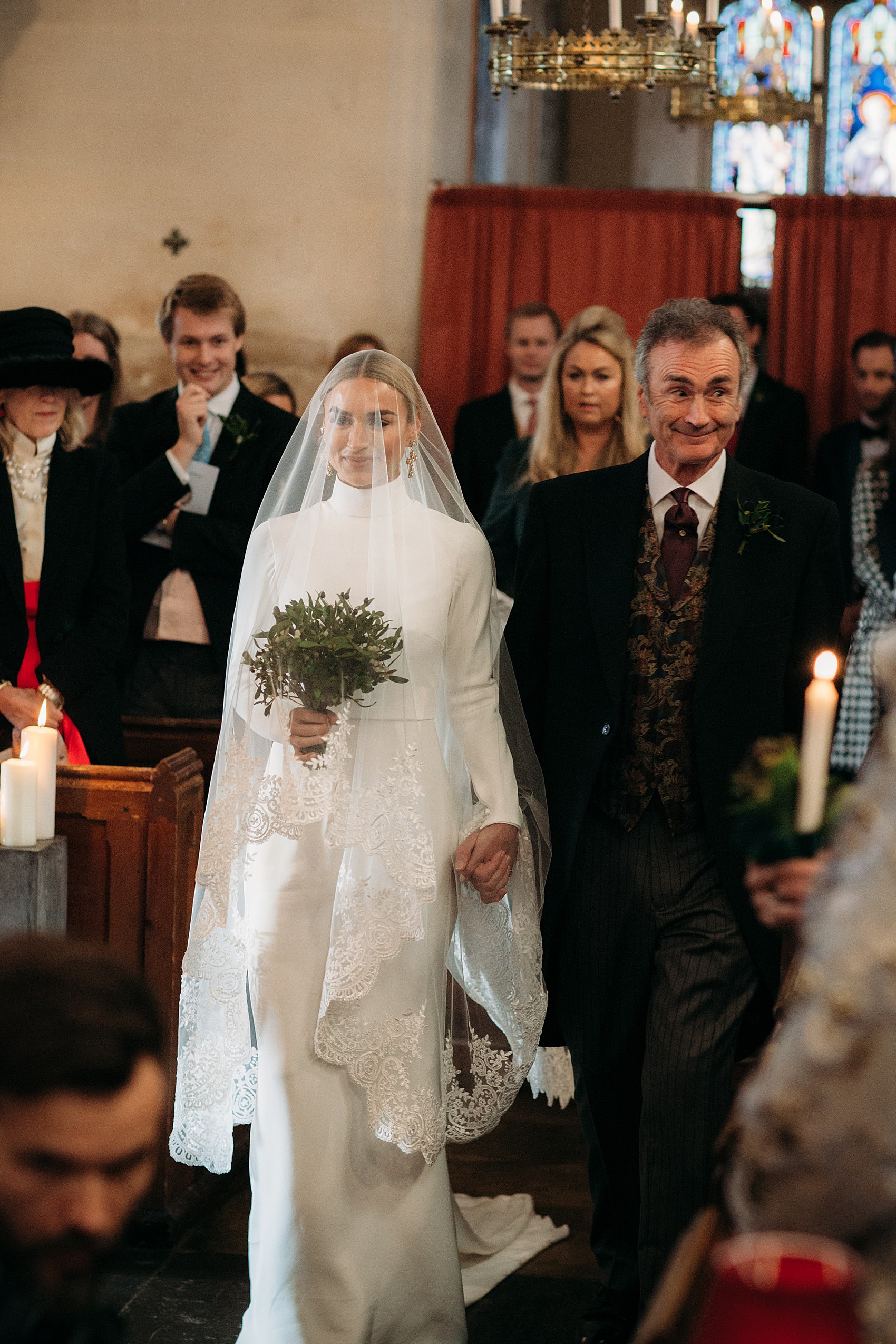 And that veil! For the love of God – the lace trim and delicateness of that silk tulle – an absolute dream.
"As the dress was so simple I thought I could go to town on the veil. A heavy lace, cathedral length veil, made especially for me by Andrea Hawkes too."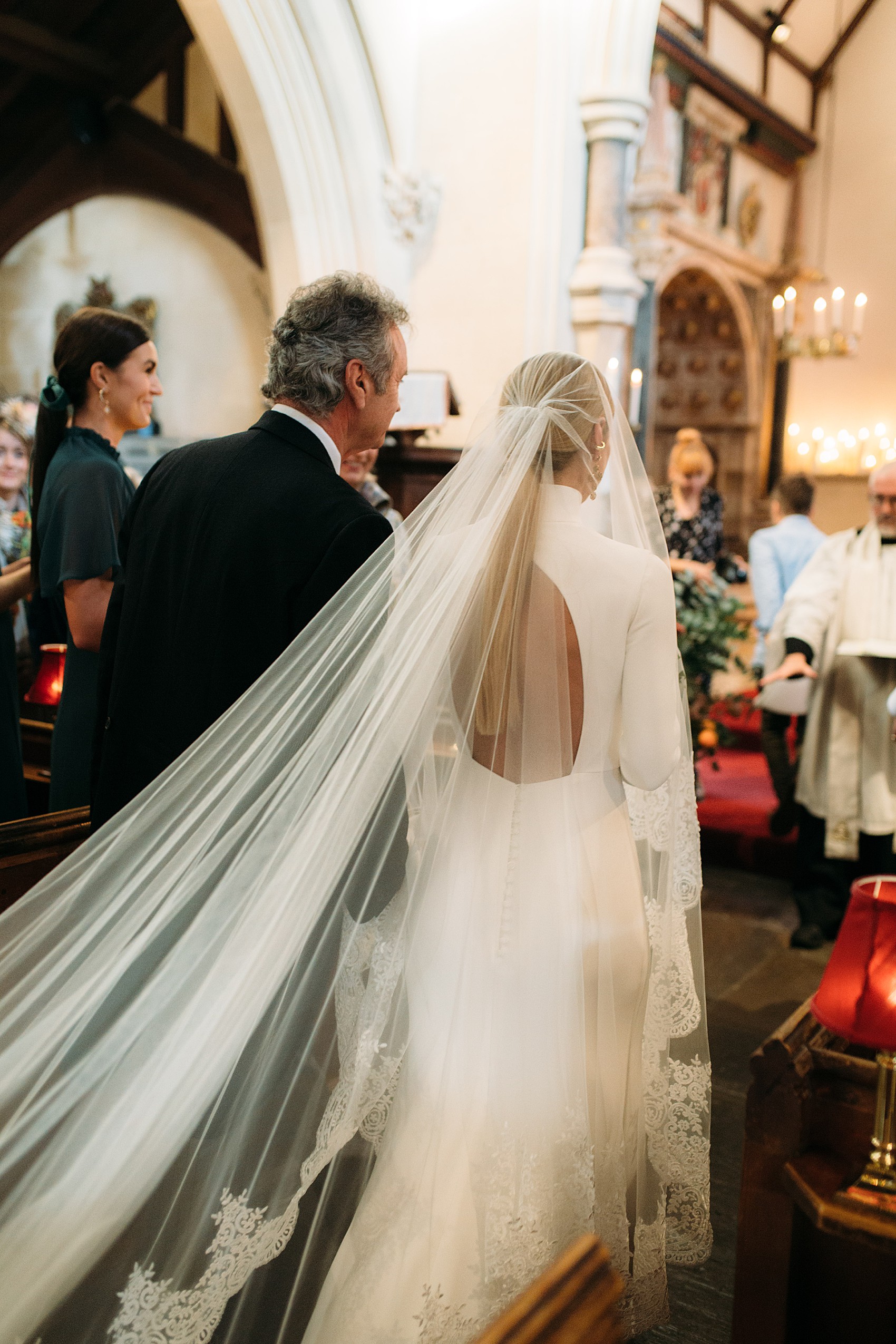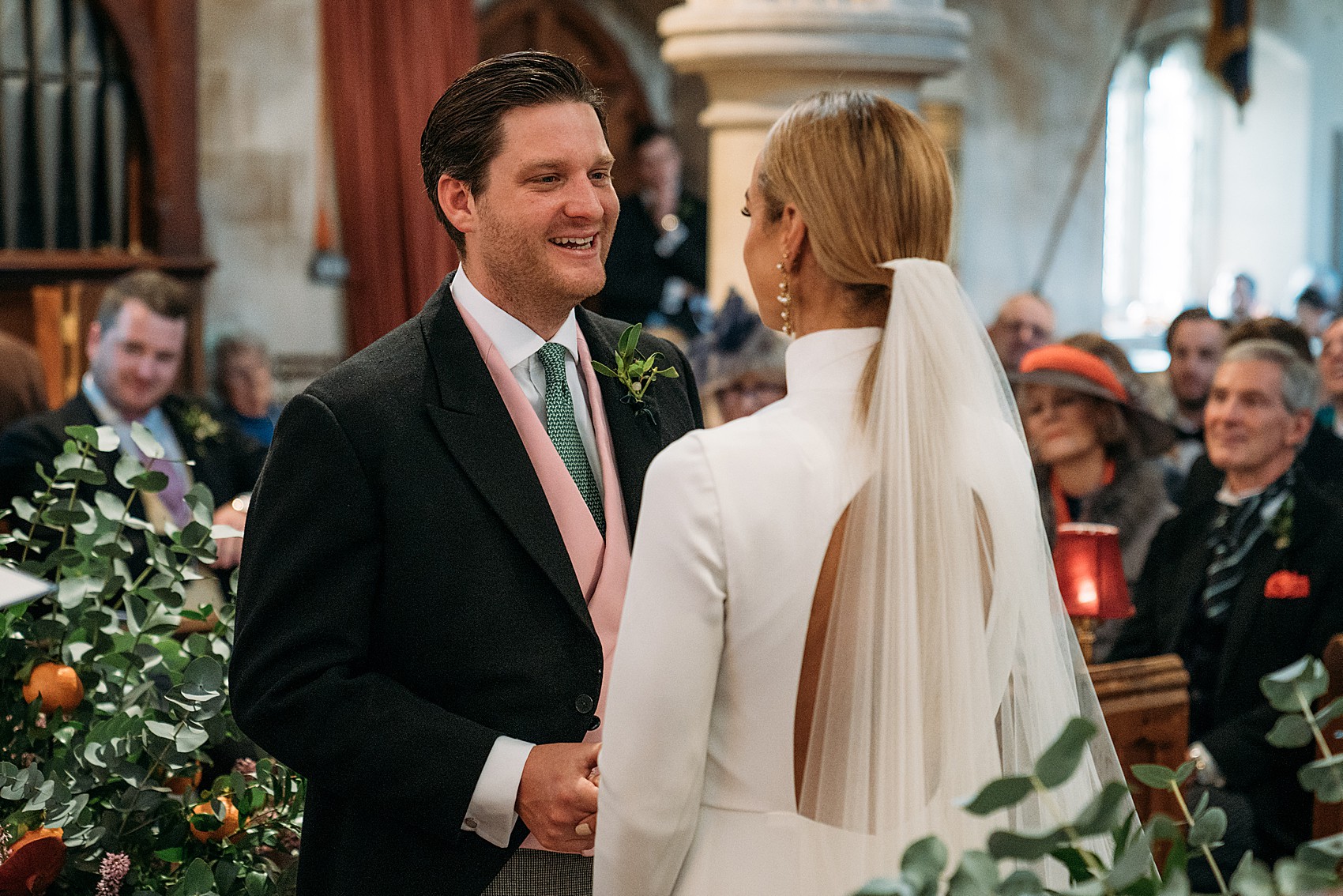 During the ceremony, the couple had readings that included lyrics of songs that they both loved. One of these was Elvis Presley's 'Can't help falling in love with you'. What a lovely way to incorporate romantic readings into the ceremony.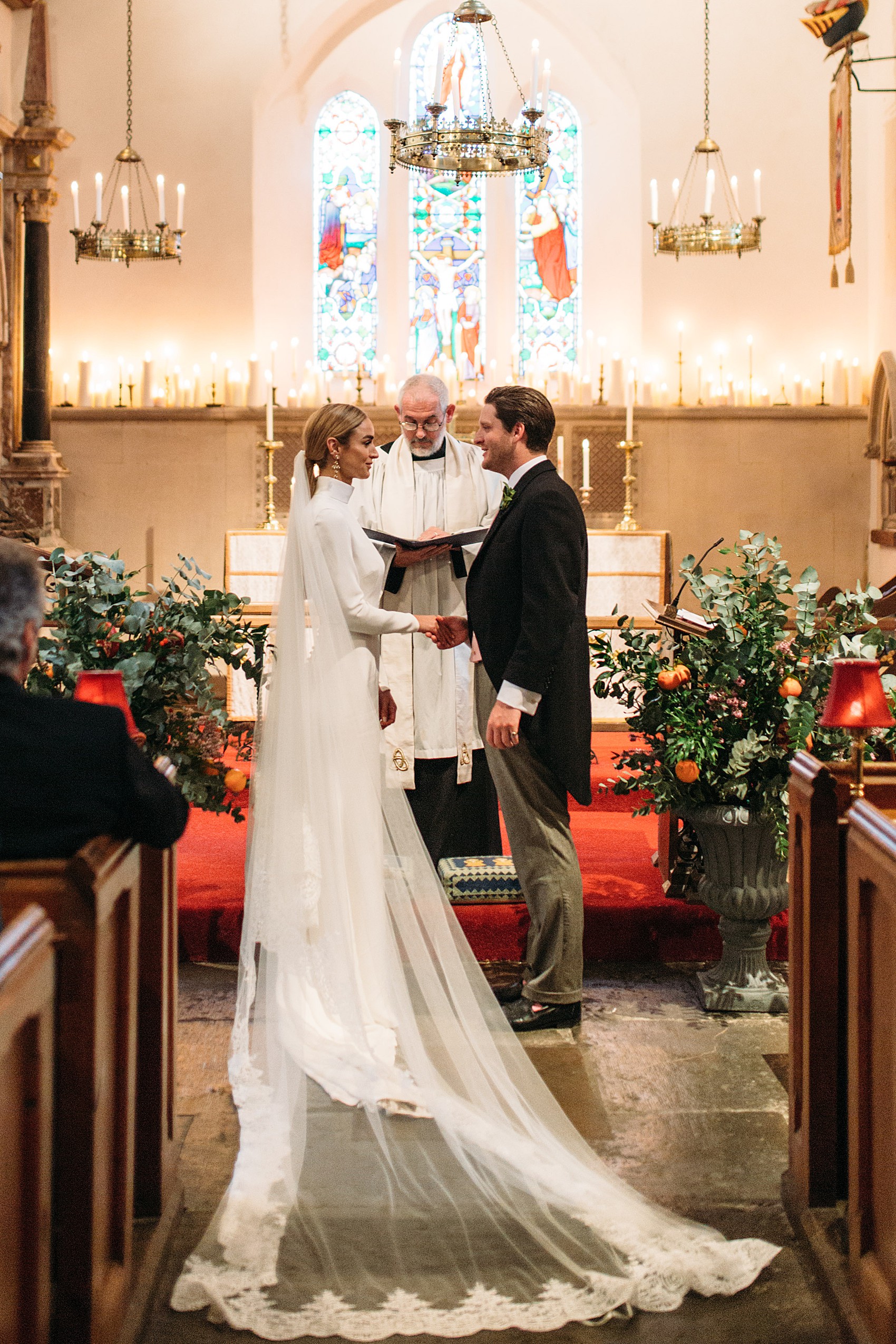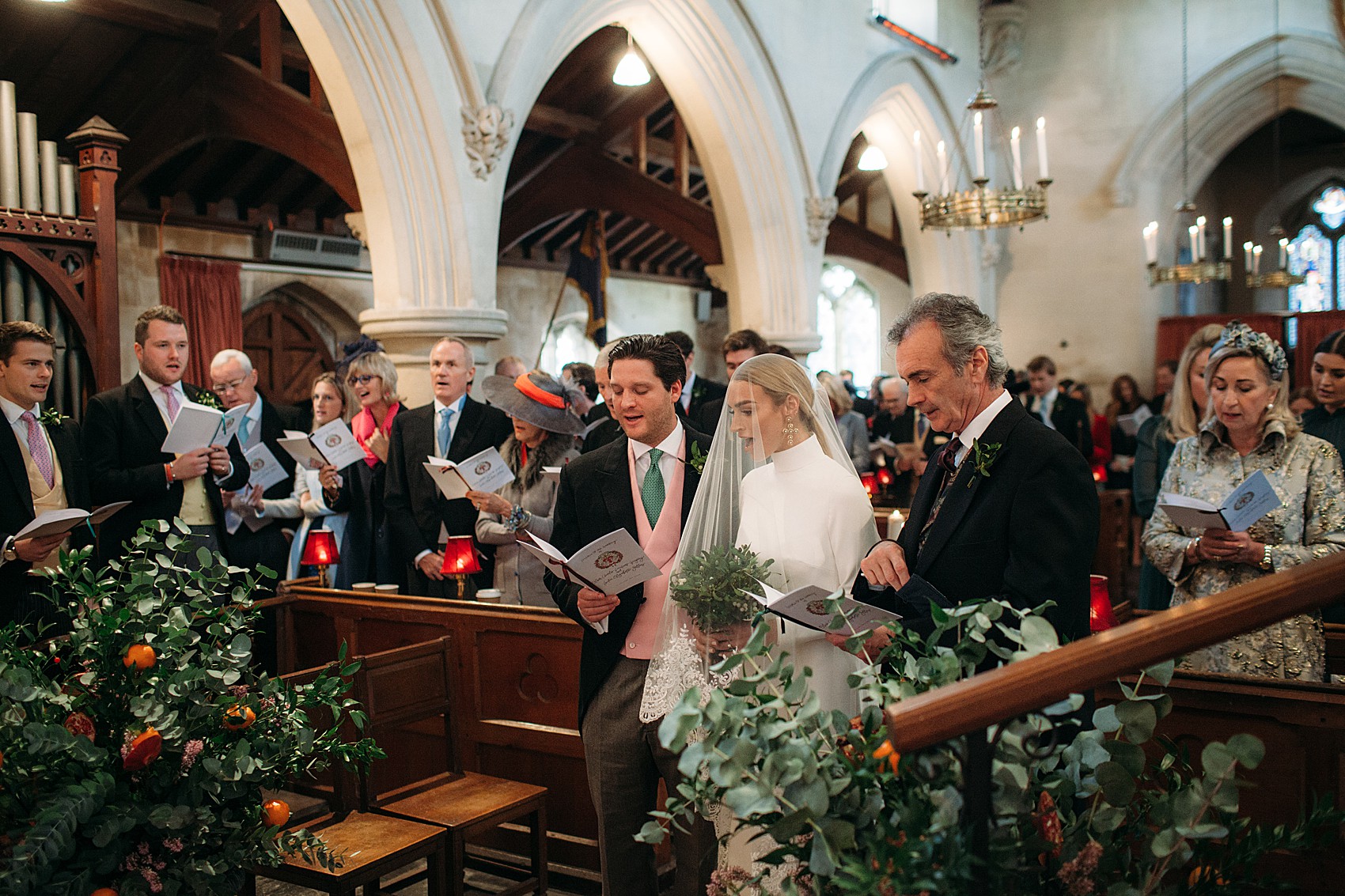 Indi's wedding ring was a family heirloom ring that had been redesigned and reset by Octavia Jewellery.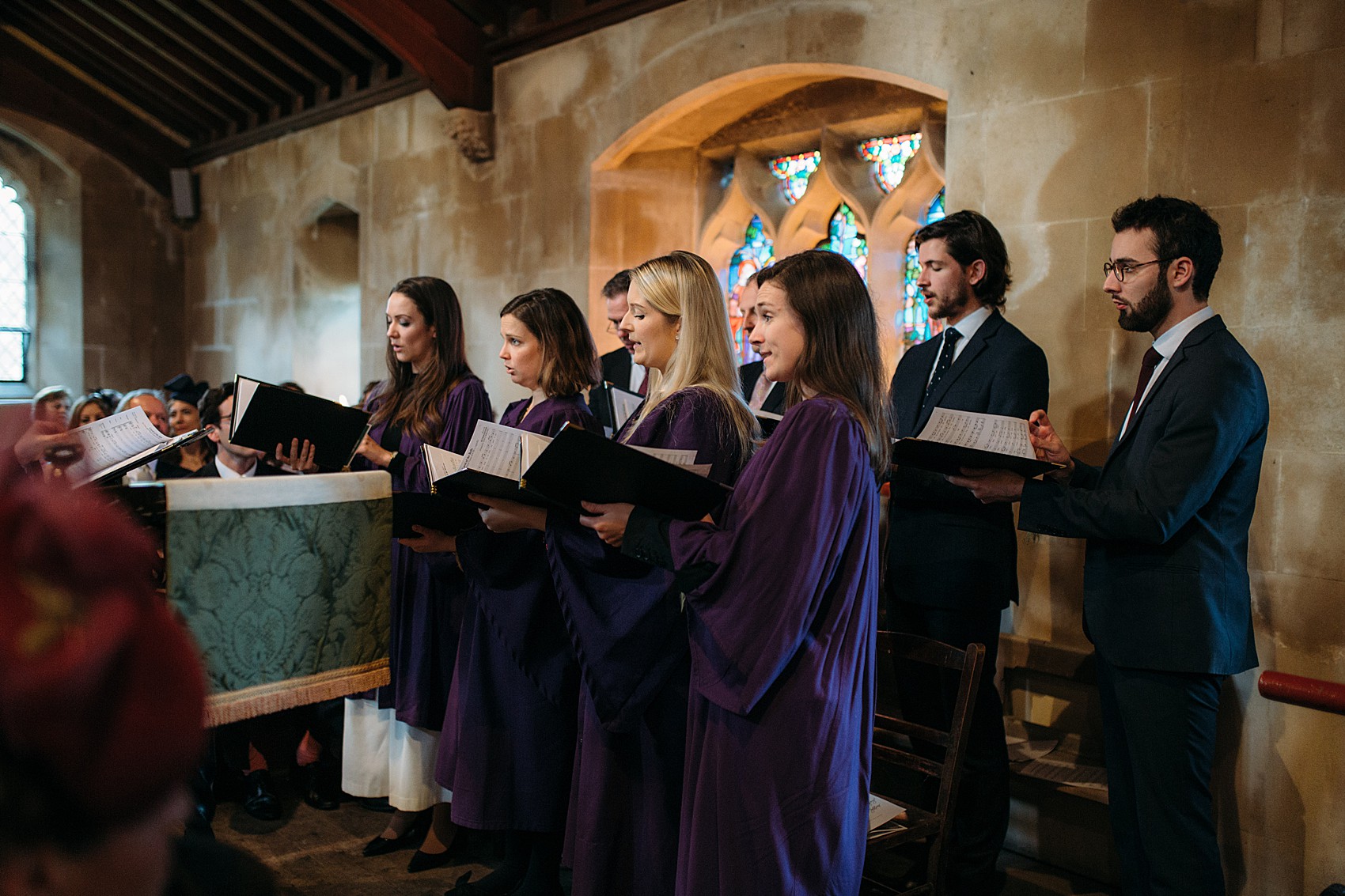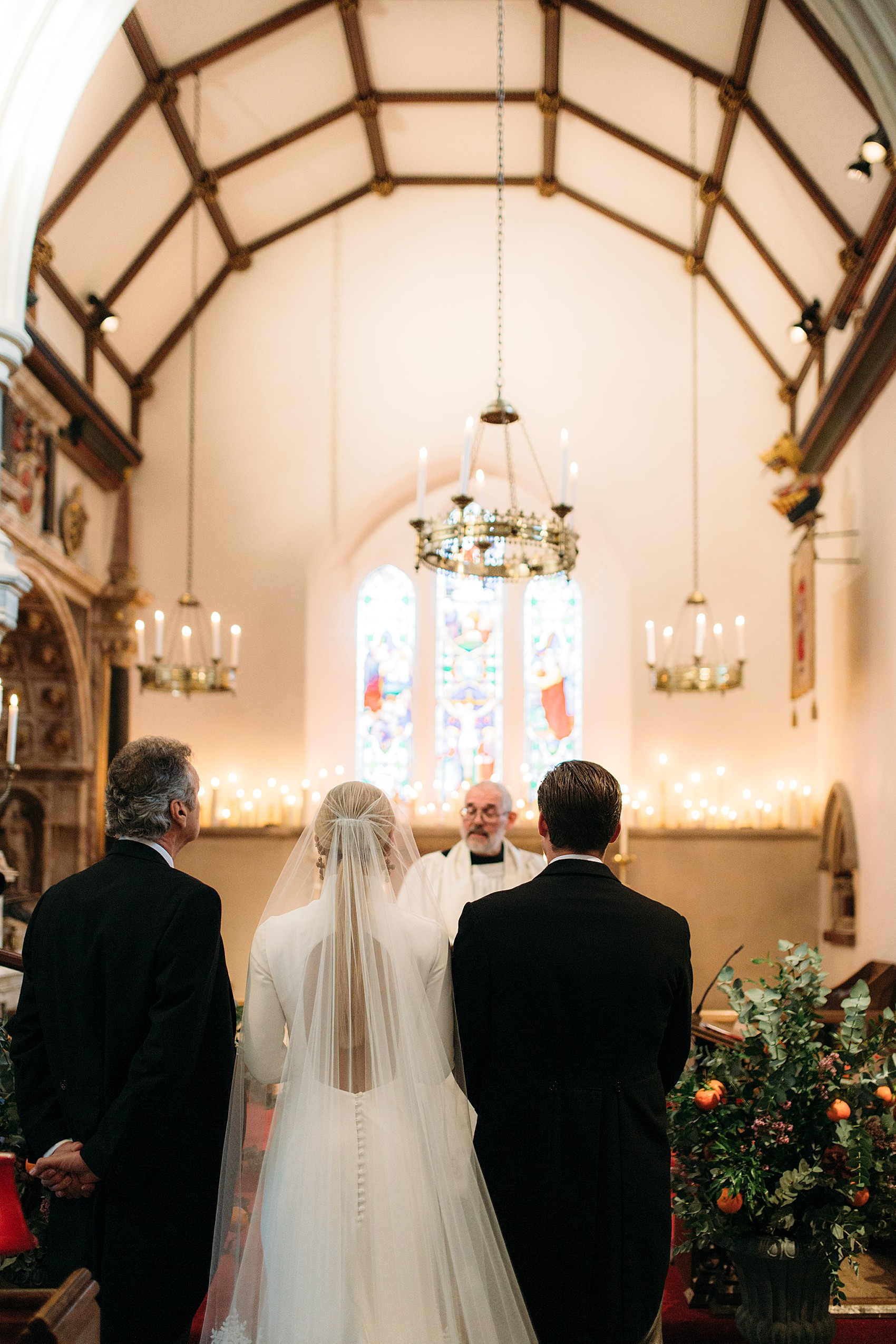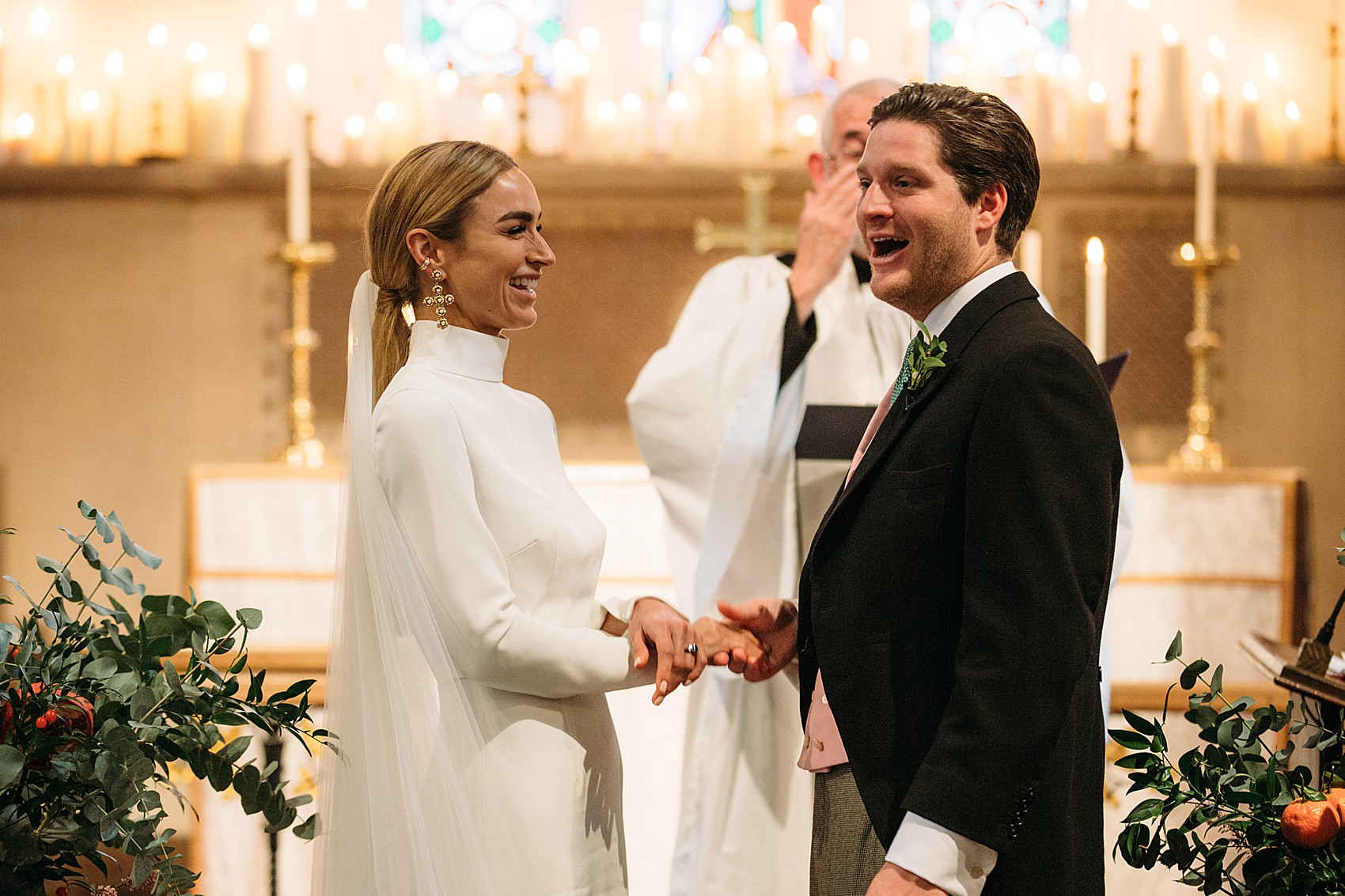 This is one of my favourite captures from the whole wedding – what a moment. The warmth of that light and those beautiful 'just married' vibes.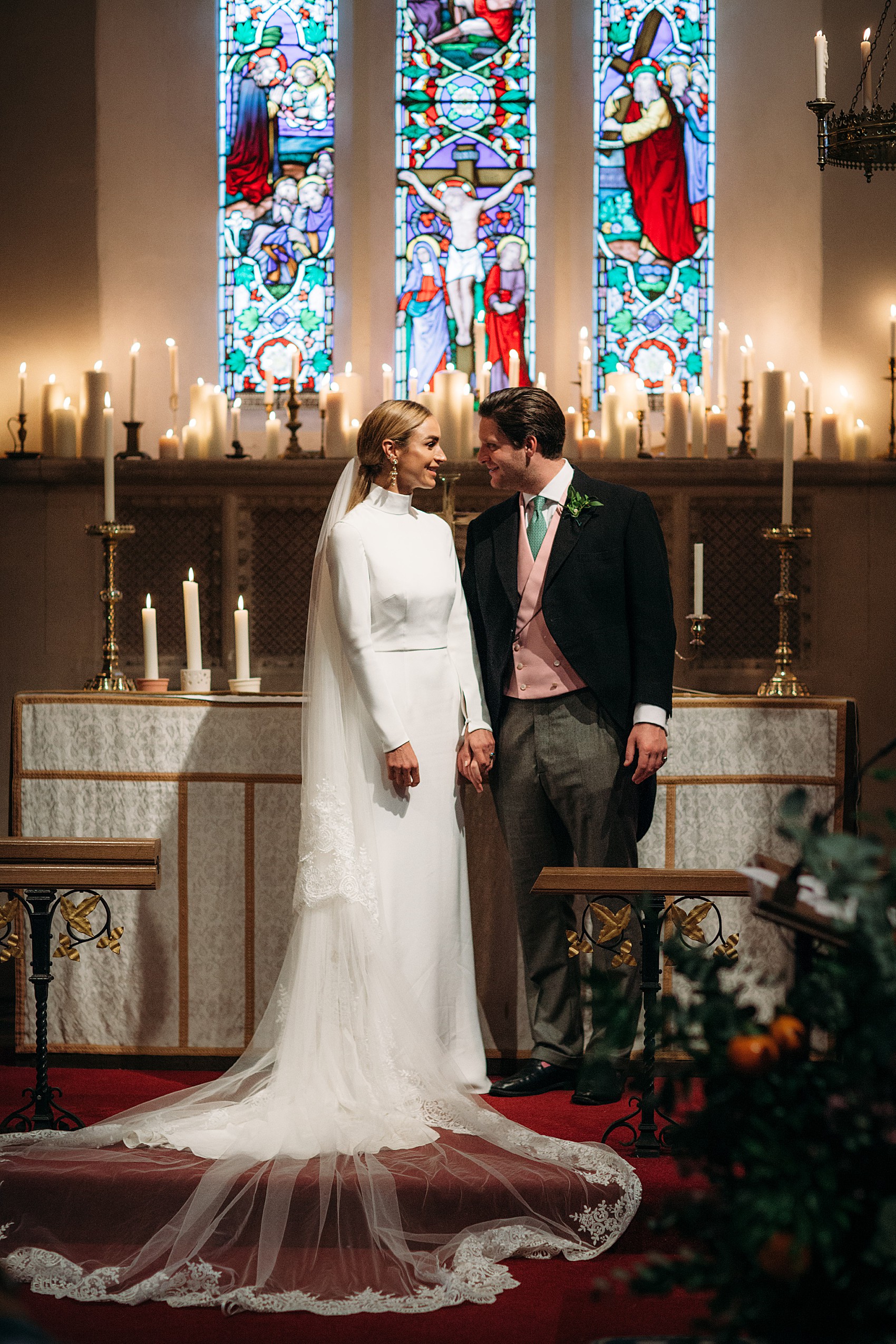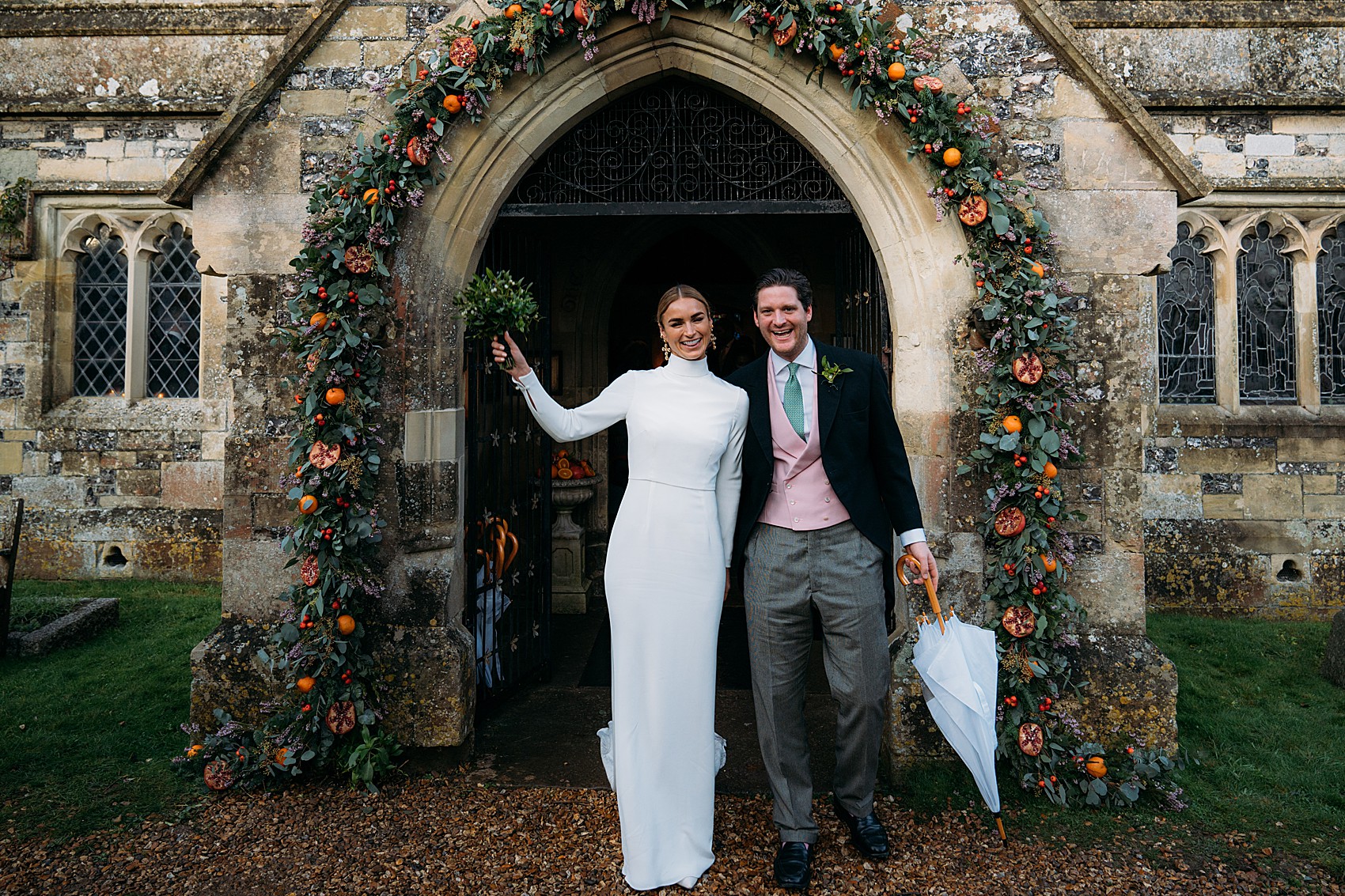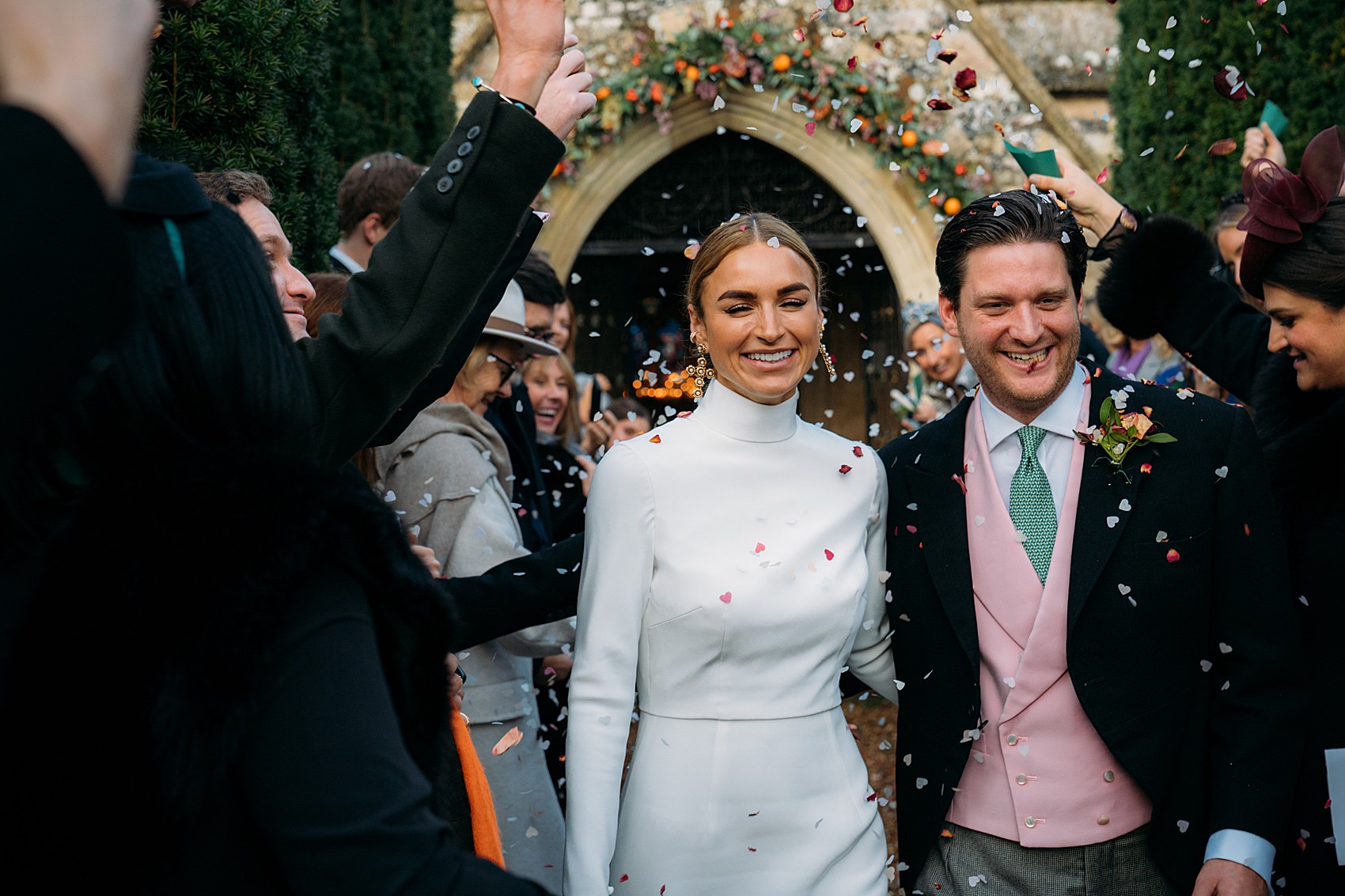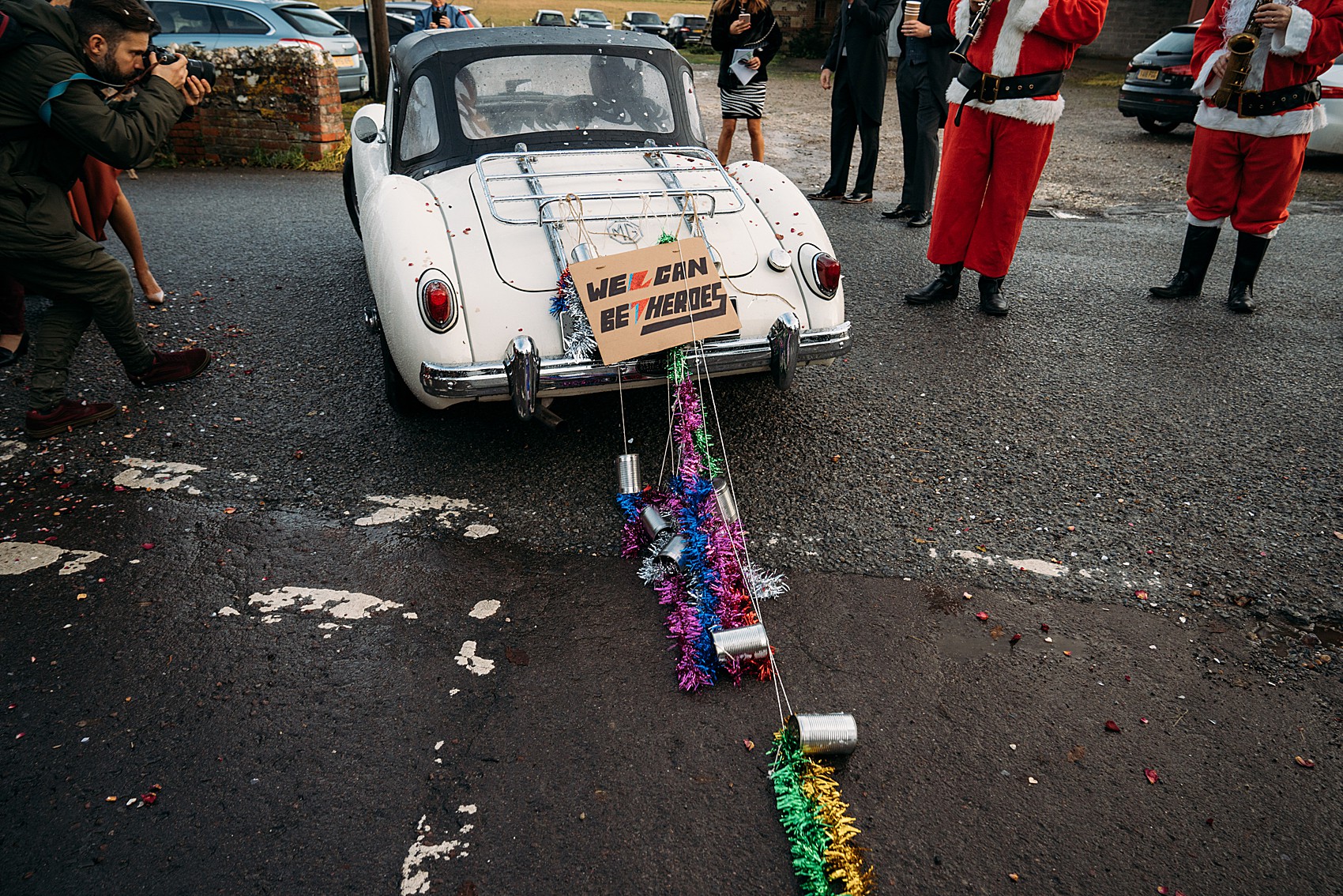 Good old fun entertainment was important to the couple…
"We had a brass band dressed as Santas to escort our guests from the church to the village pub where we had a pre-drinks reception. At the pub we had a Frank Sinatra impersonator, singing 'oldey-woldy' Christmas songs."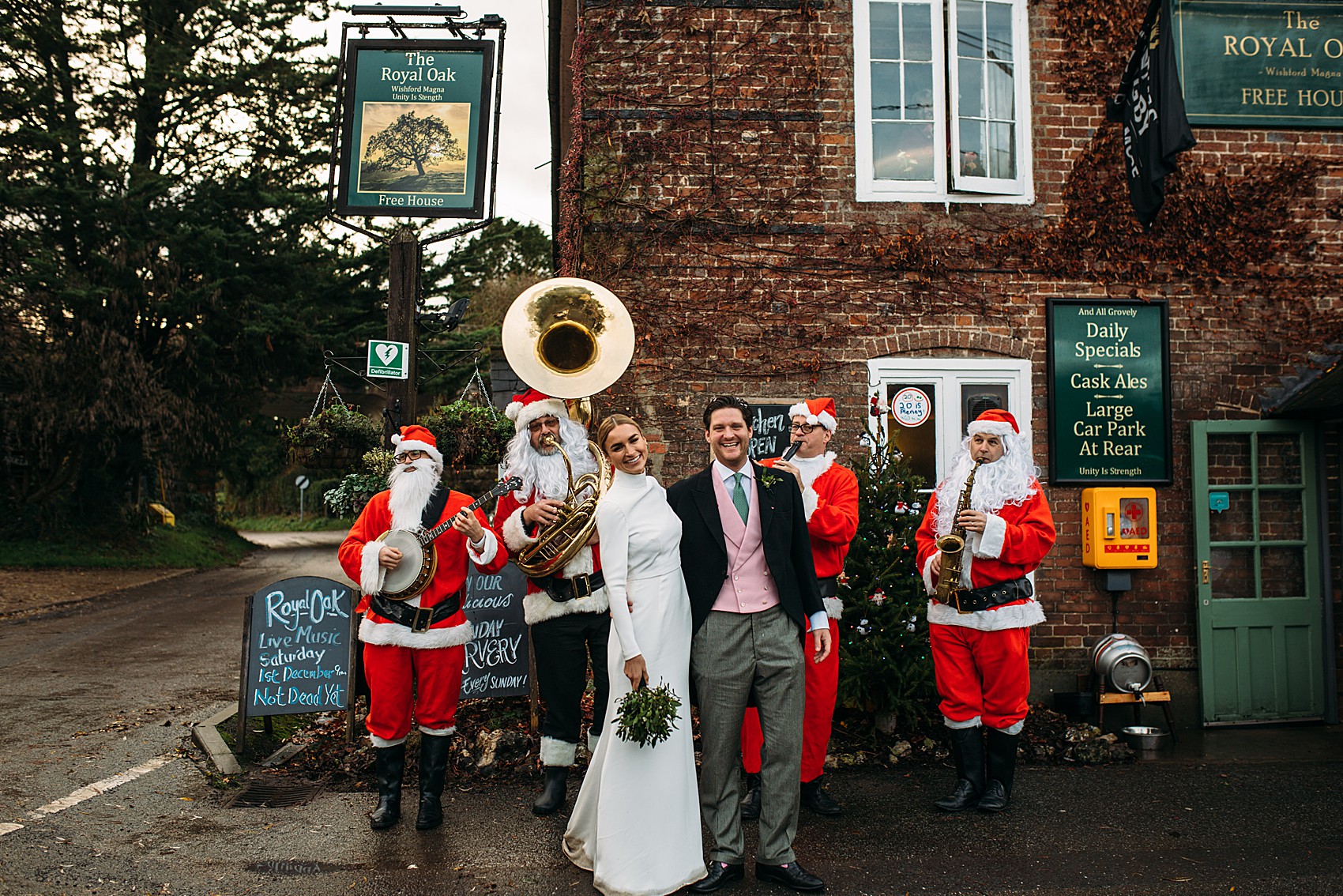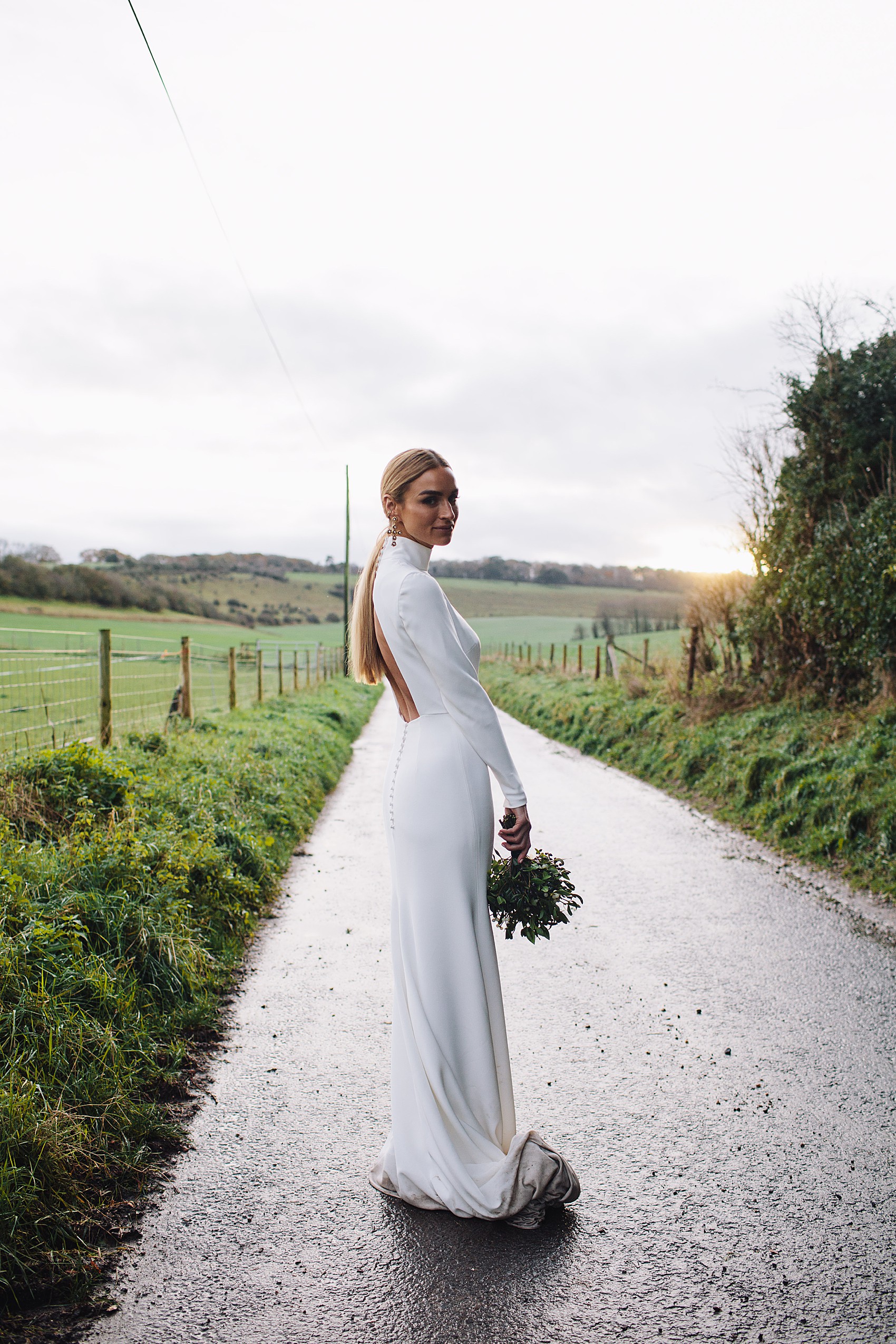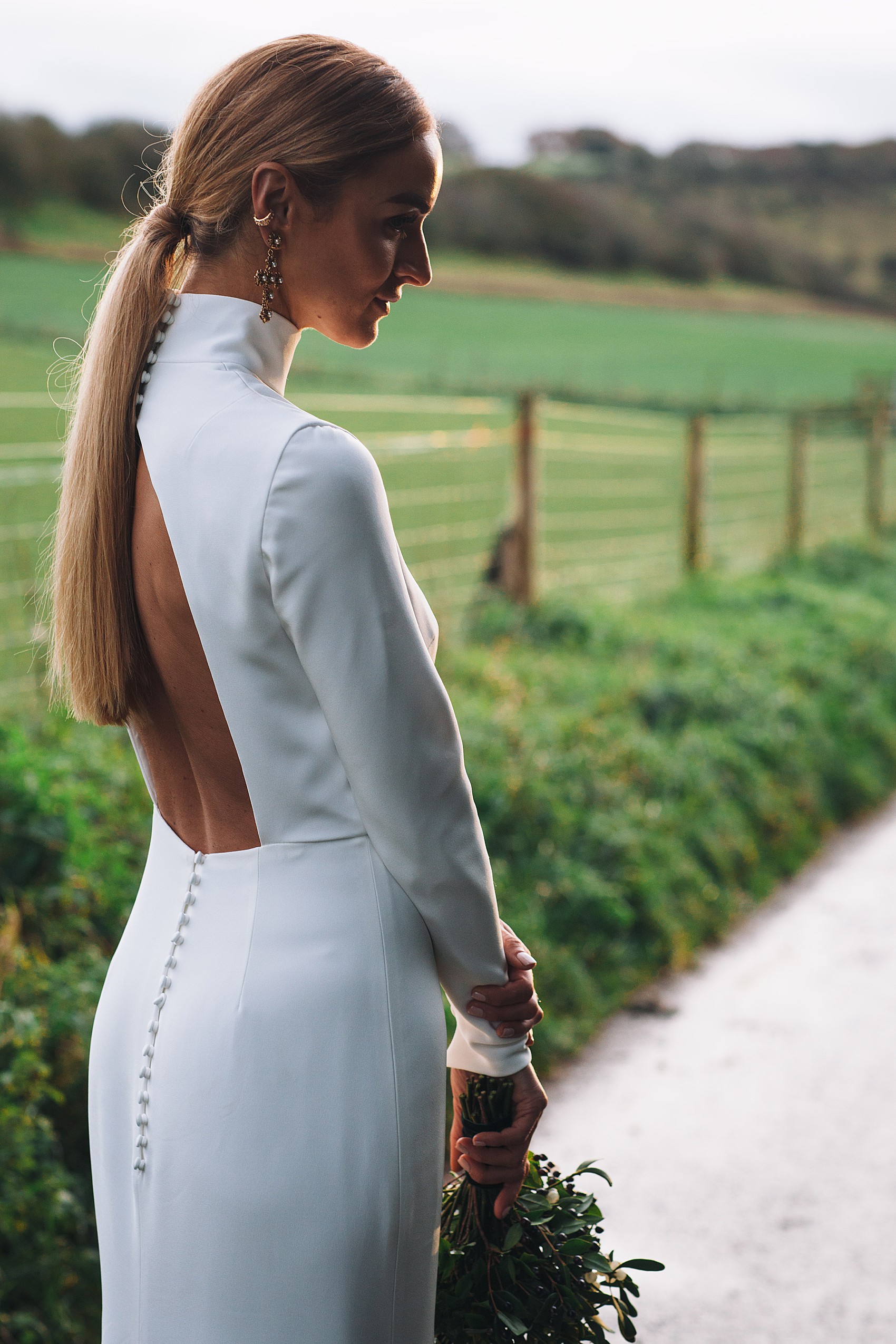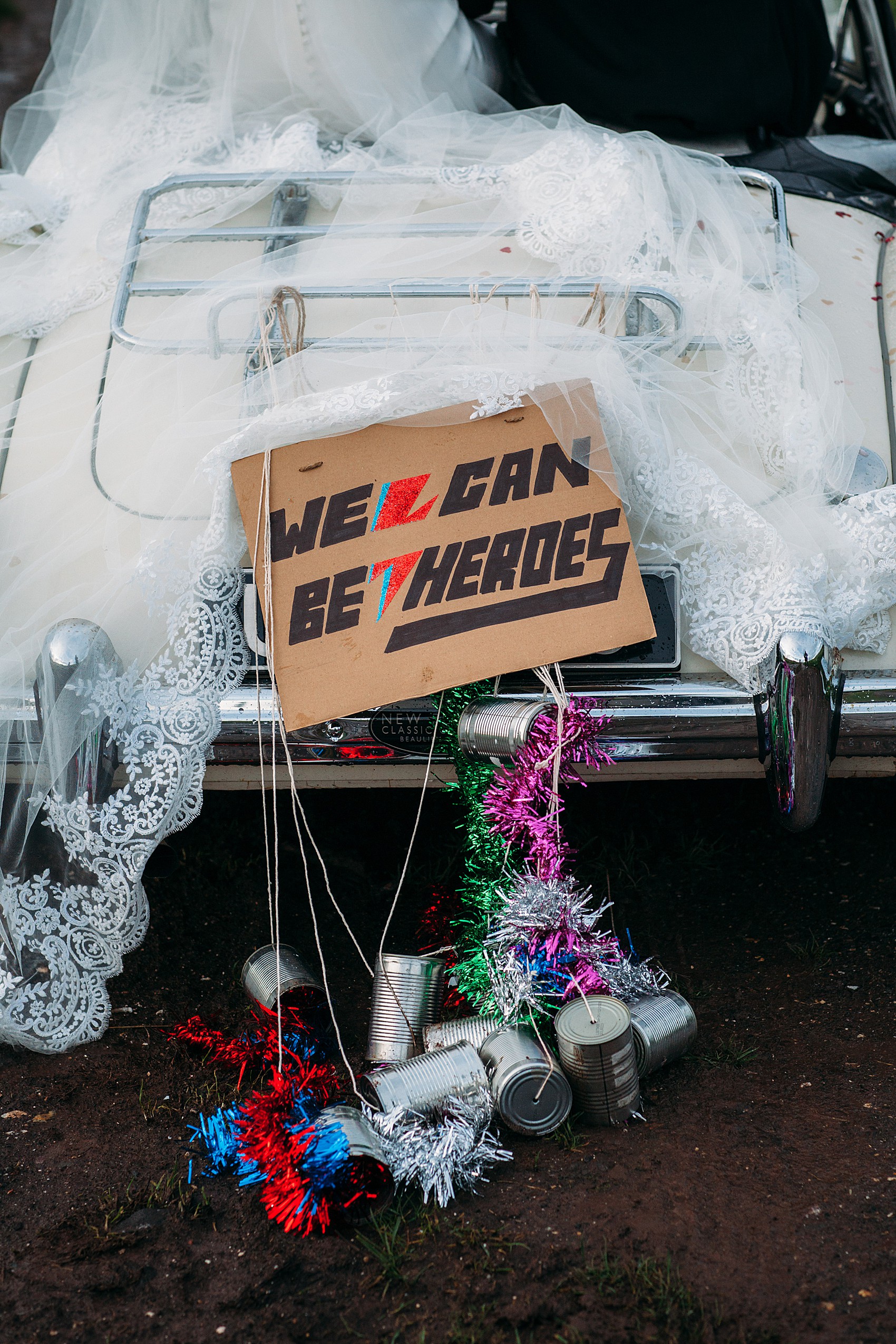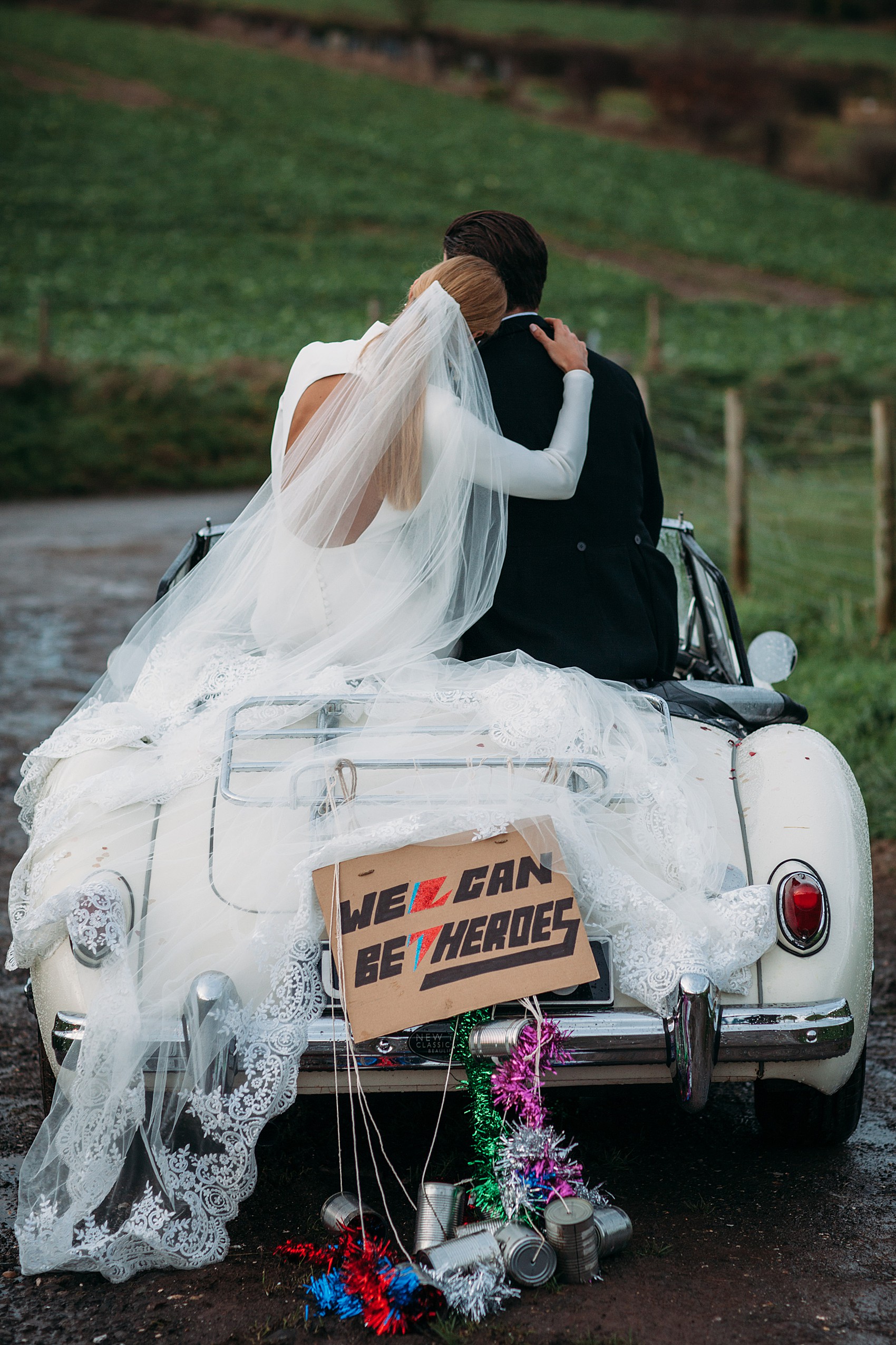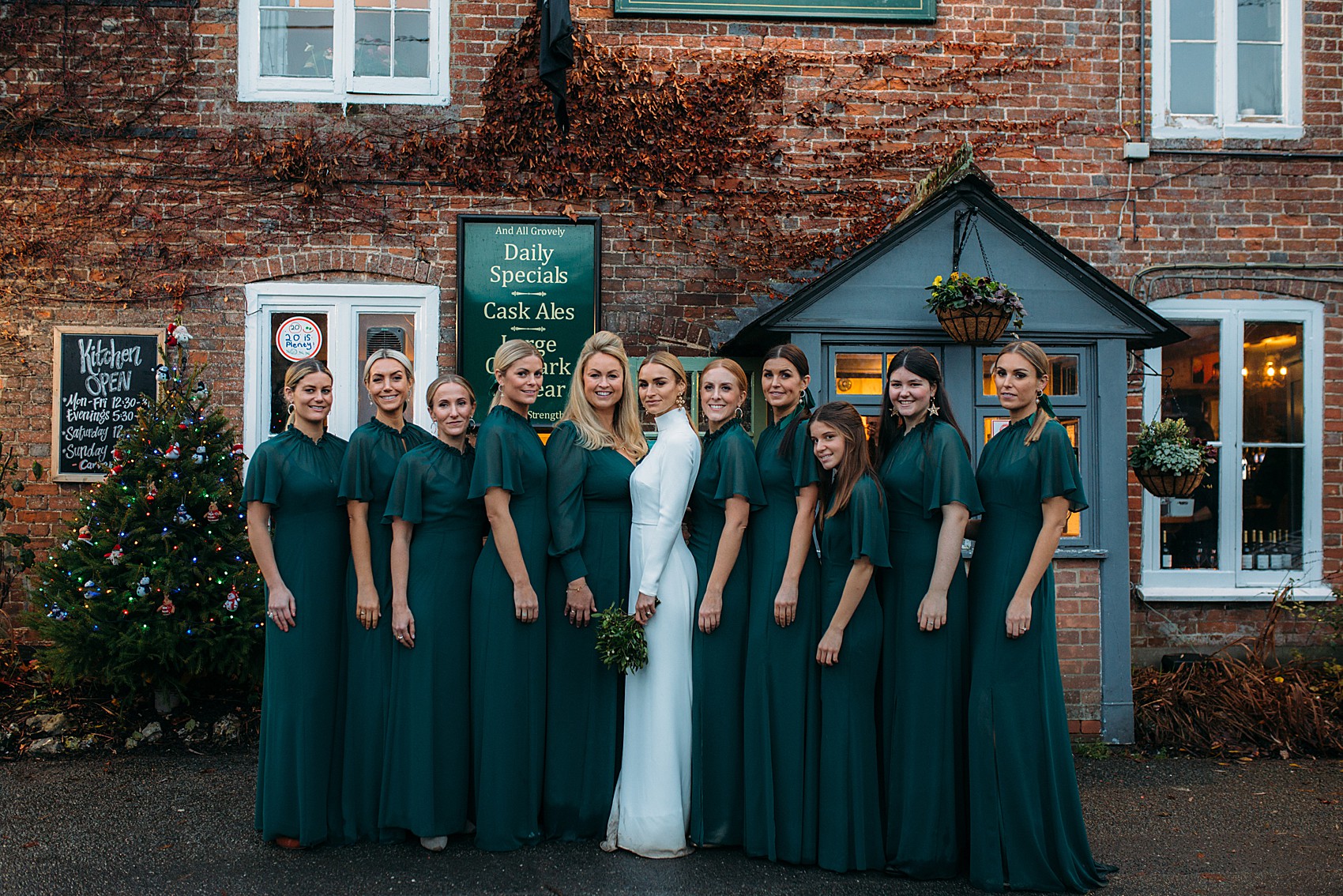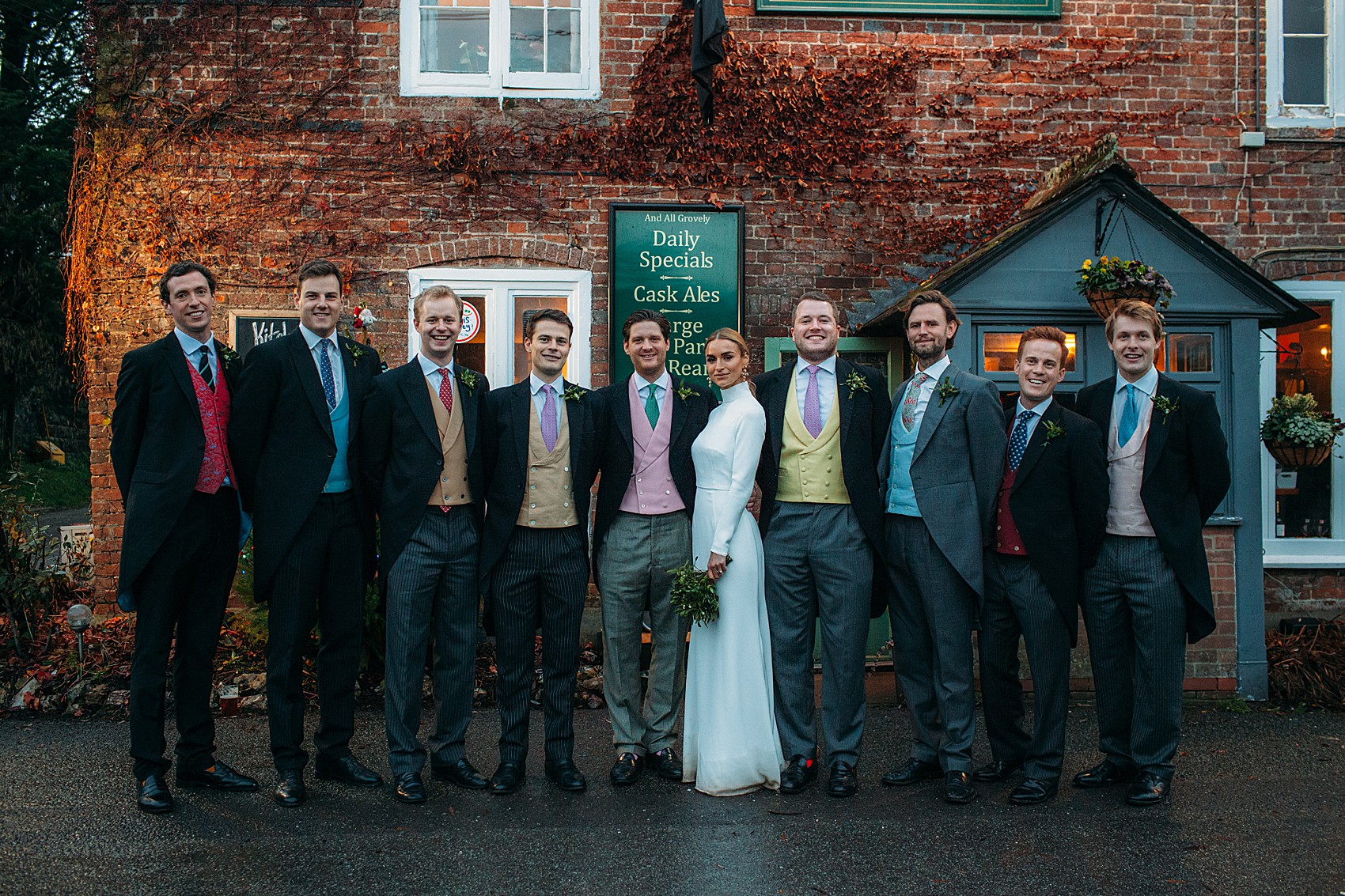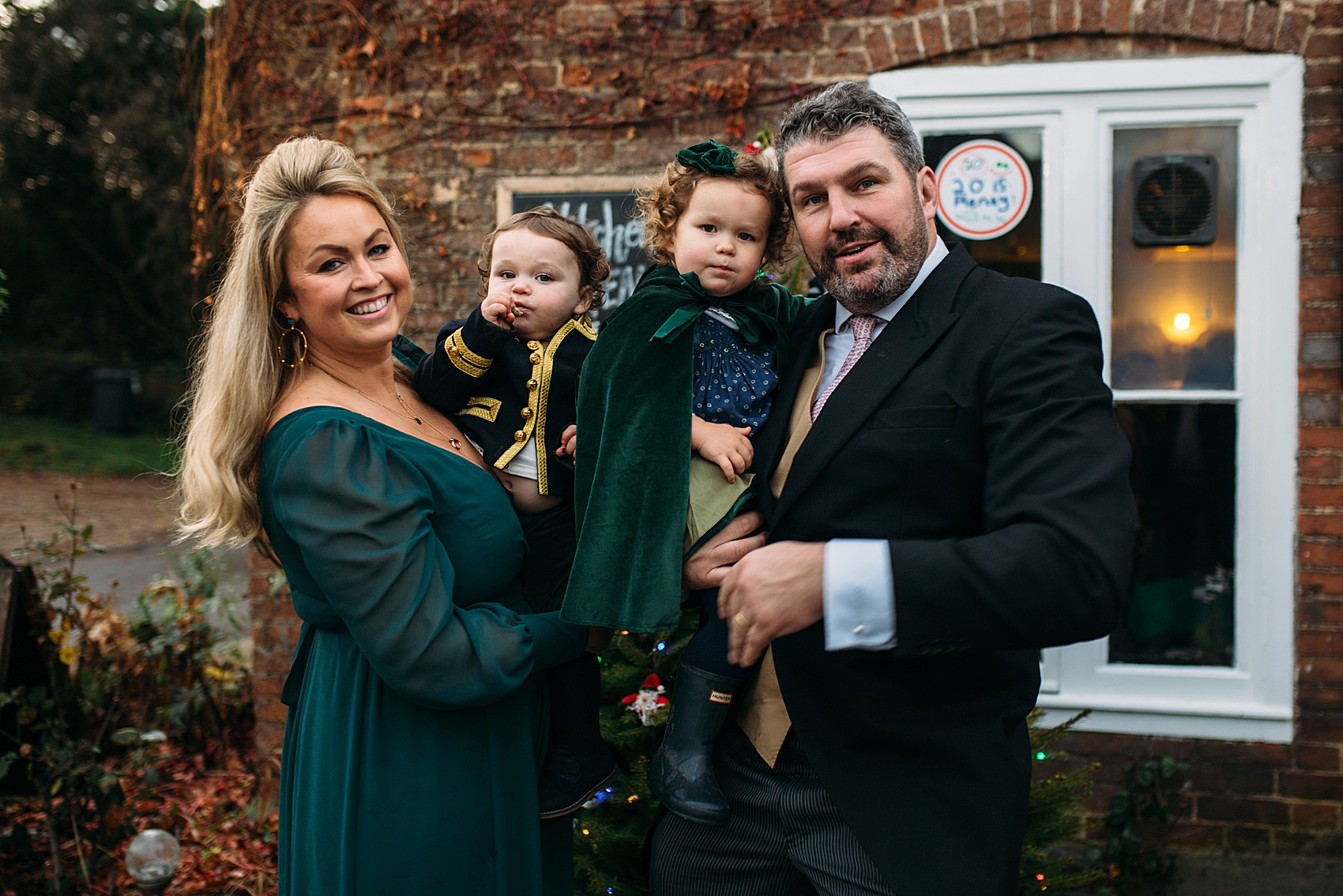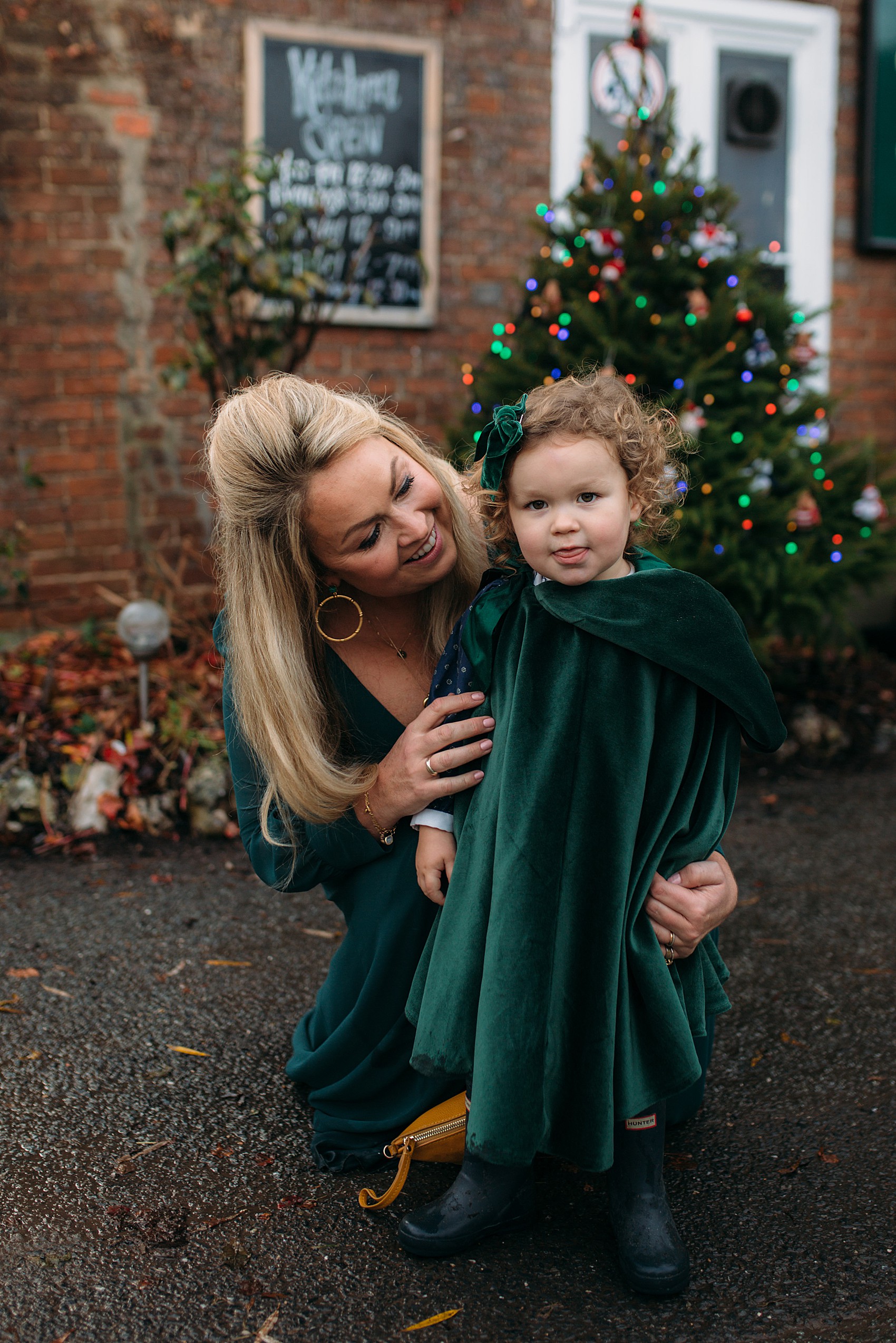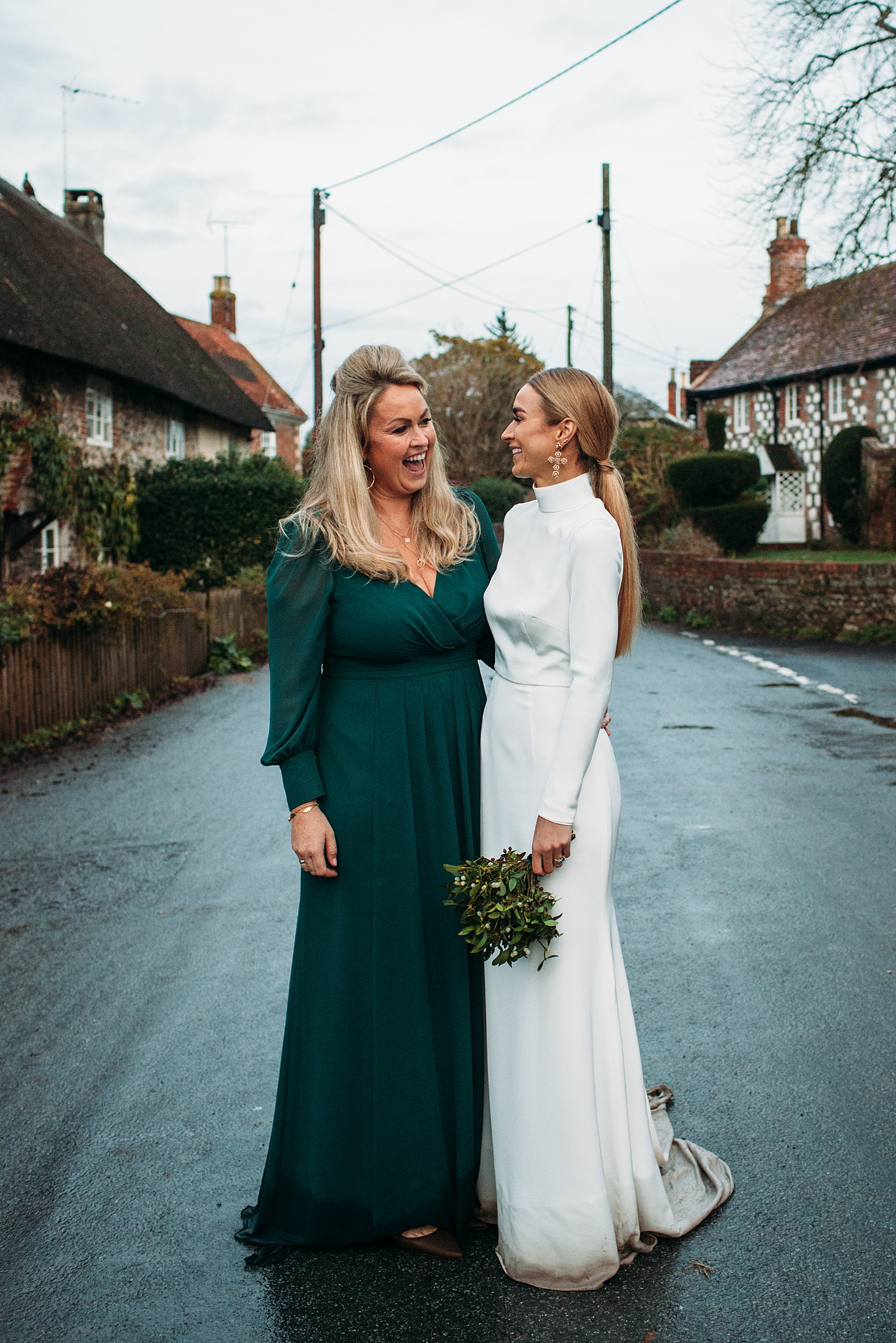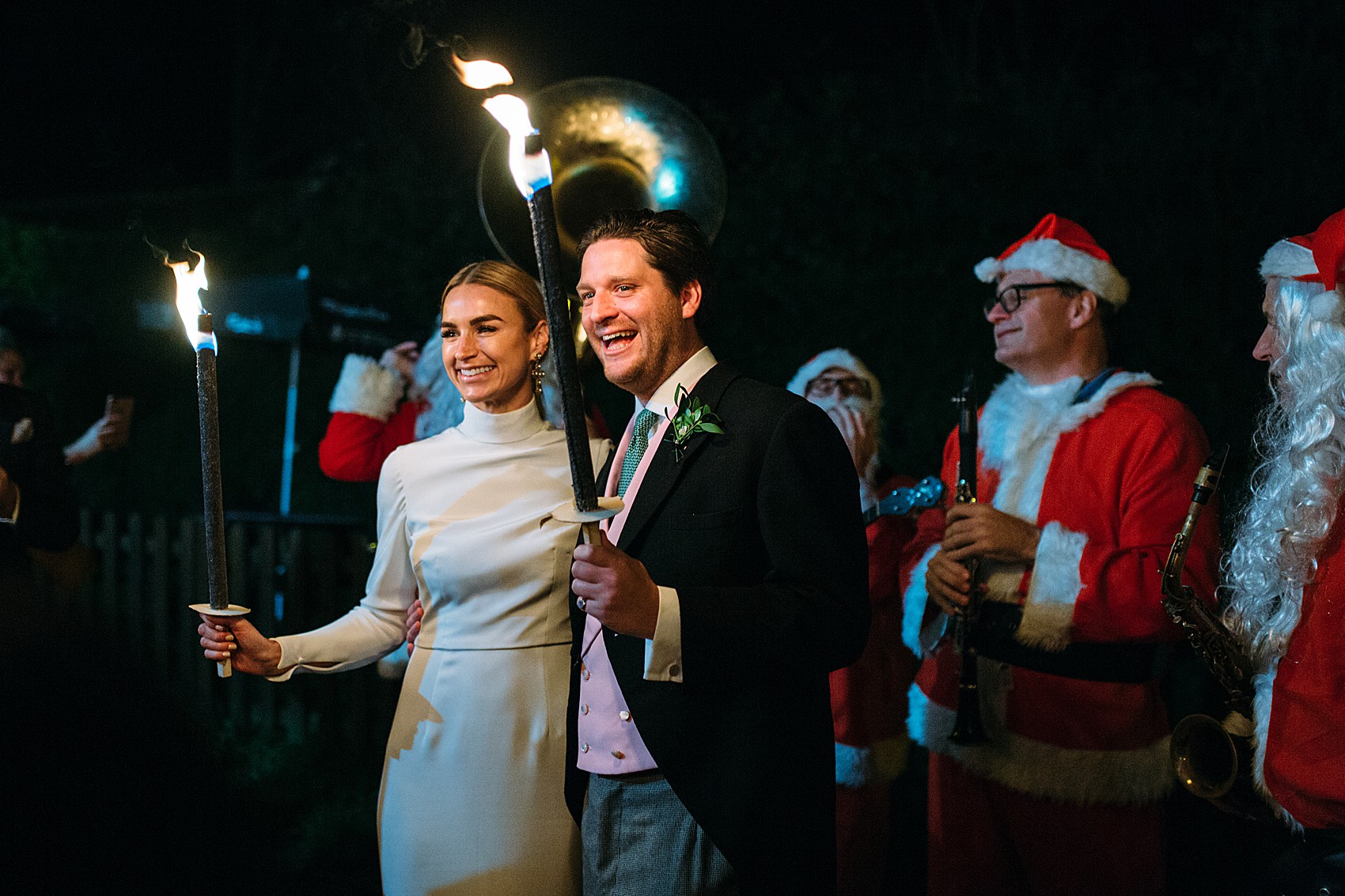 "We had the most amazing marquee company that bent over backwards to cater for all our needs. Nothing was too big or small for them. They were a company called Inside Outside Marquees we randomly came across on the internet but who I would recommend over and over again to anyone looking."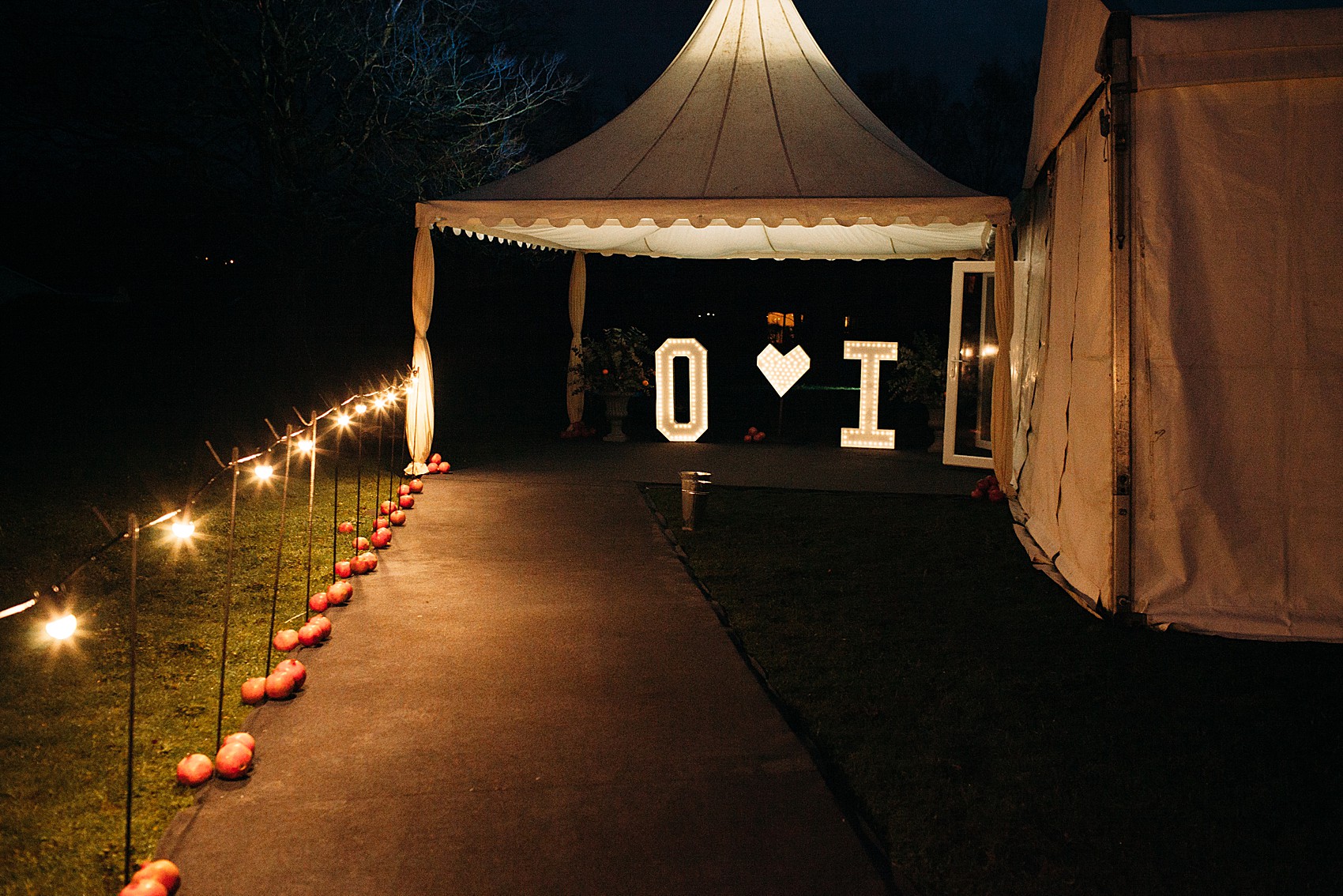 "I'm obsessed with Christmas so wanted to incorporate all the rich opulent colours that shout Christmas, deep burgundy, forest green and burnt orange. I had small orange trees and pomegranates running down the table centre with rich green velvet ribbon tying the napkins, which were all embroidered with a personal logo I had designed."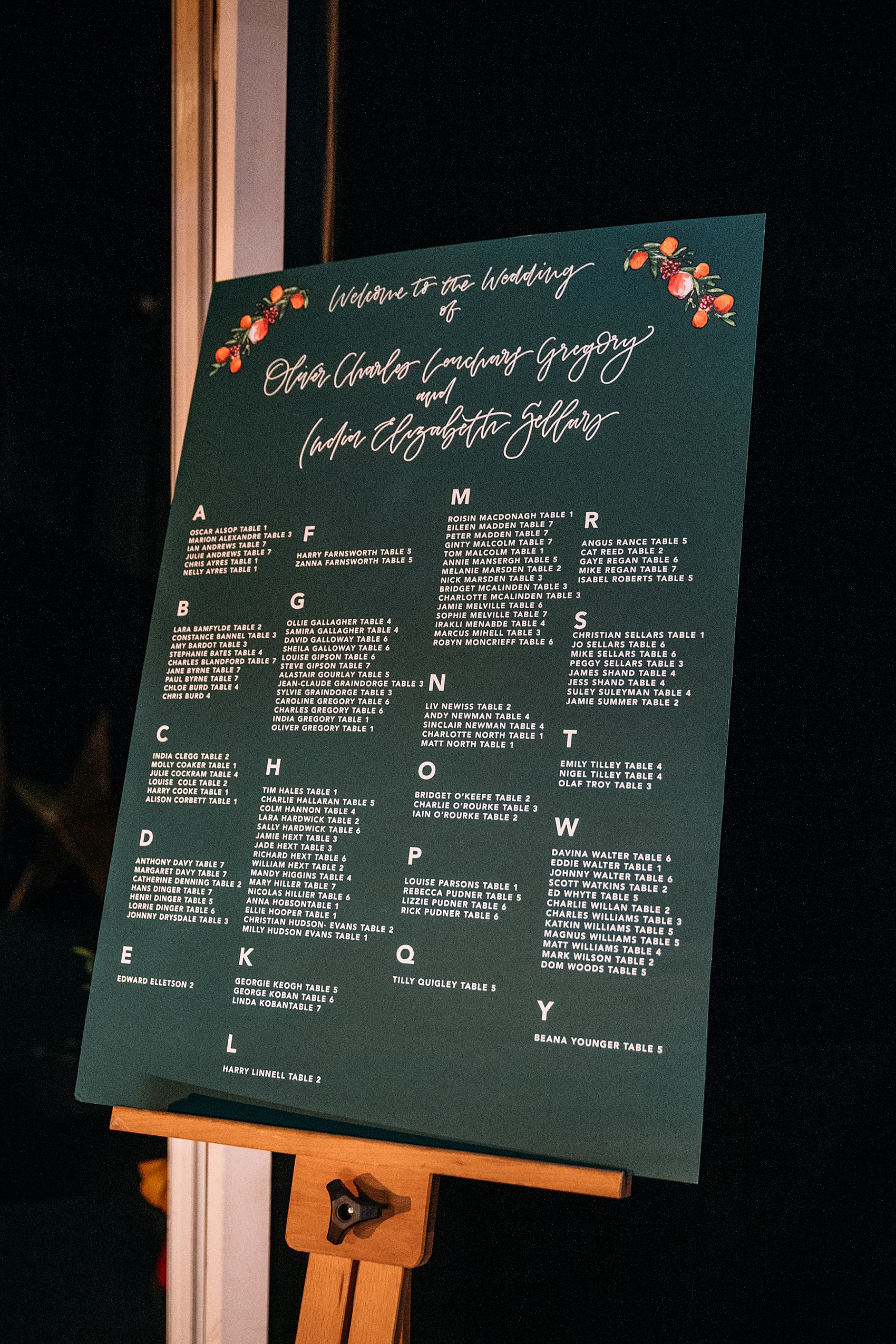 "I had a theme of swans running throughout the wedding, with the swan logo I created on my Order of Service, the embroidered napkins, not to forget to mention the two huge stone swans I had on the top table! – I love the fact they're Christmassy 'seven swans are swimming,' regal and the fact they mate for life."
"We had napkins on each place setting embroidered with the wedding logo I designed for people to take away and also see-through baubles for the place settings (which included two mini swans, and fake snow) tied with velvet ribbon and the name tag on the end."
"We had our menu designed as really cool placemats by Bee Davies Illustration. She did the table plans too to tie in."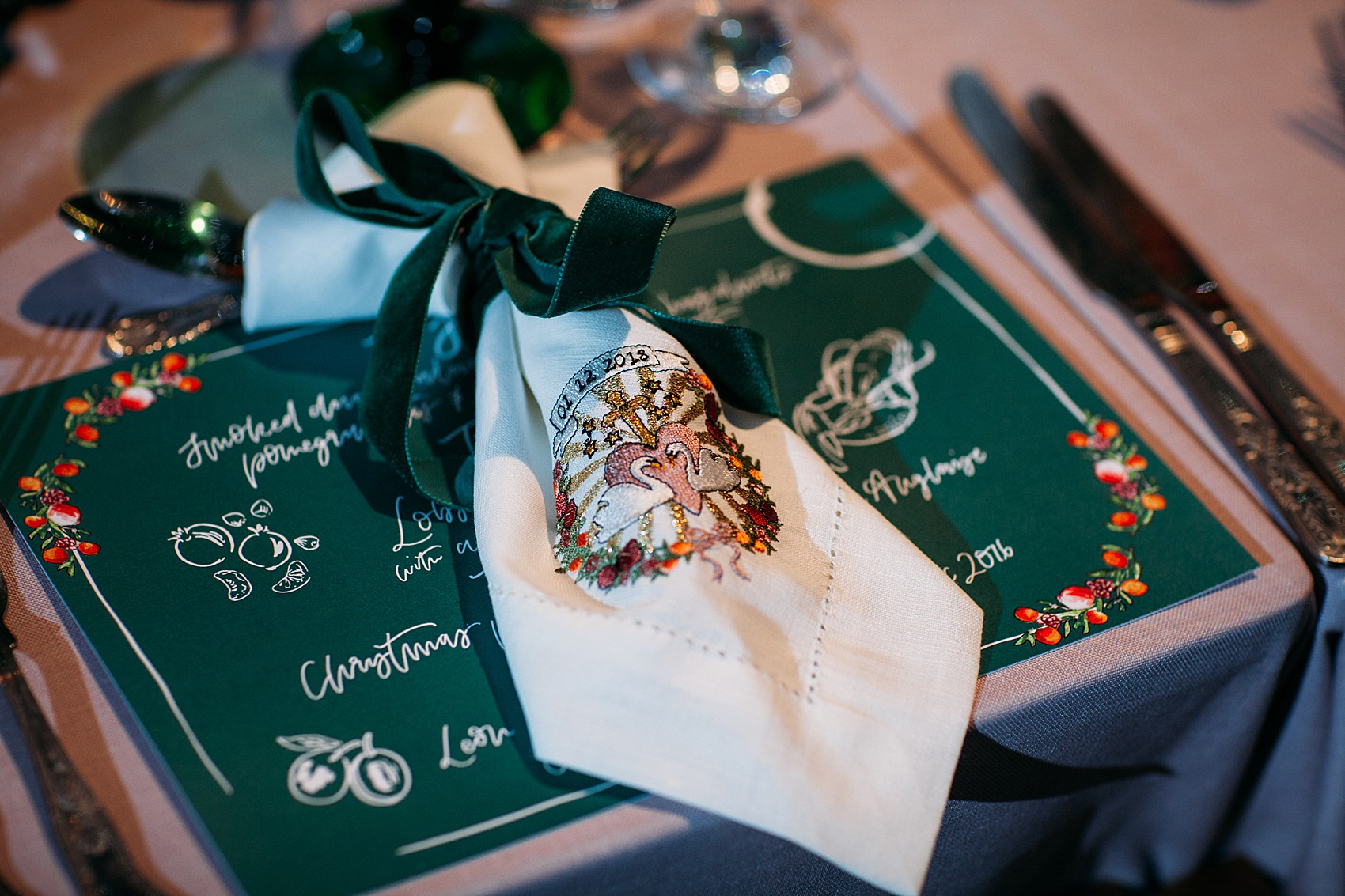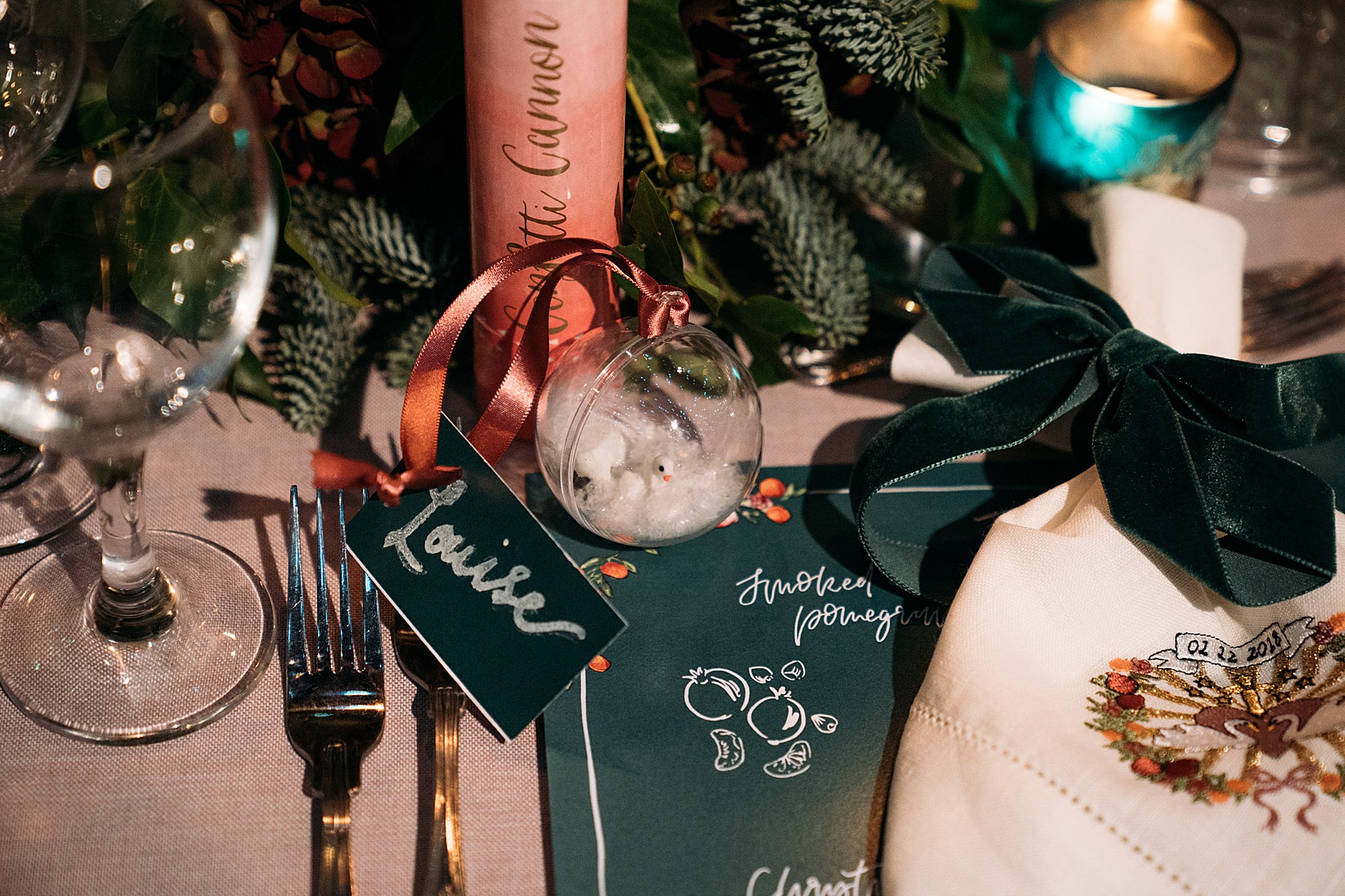 "We had a very traditional wedding in many ways but decided decided upon a non-traditional cake that was made in the form of a ski piste! Since we got engaged whilst on the slopes we thought this would be the perfect nod to that! It was so clever and intricately made by a company called Carl Christian Cakes."
Readers – the busines 'Carl Christian Cakes' website was delivering an error message at the time of writing, so we've not linked to it.
A quick change in the evening meant that Indi could relax and dance and really enjoy the celebrations. She chose to wear top and trouser separates from The Mews and a statement pearl headpiece by cult designer Lele Sadoughi.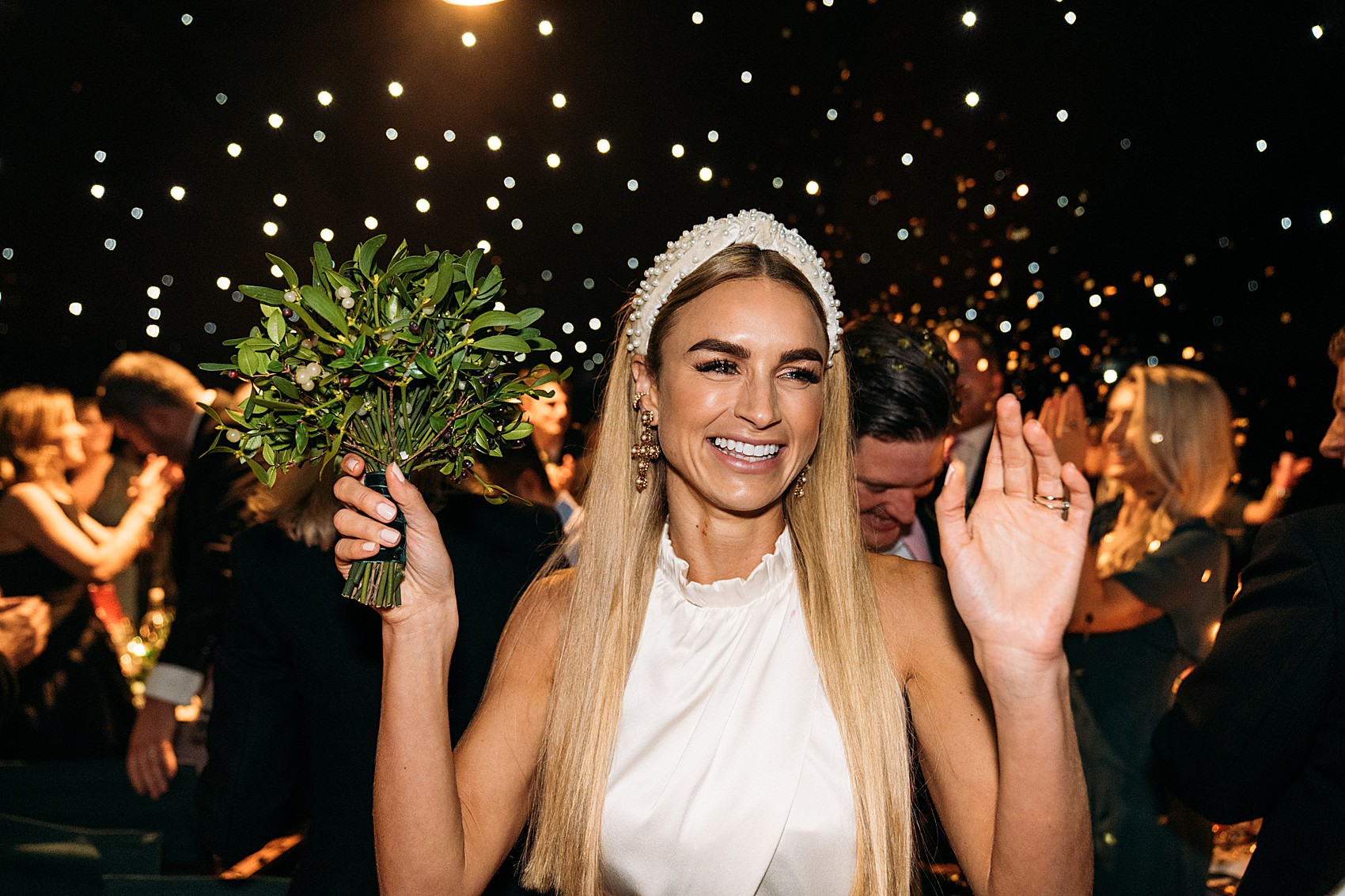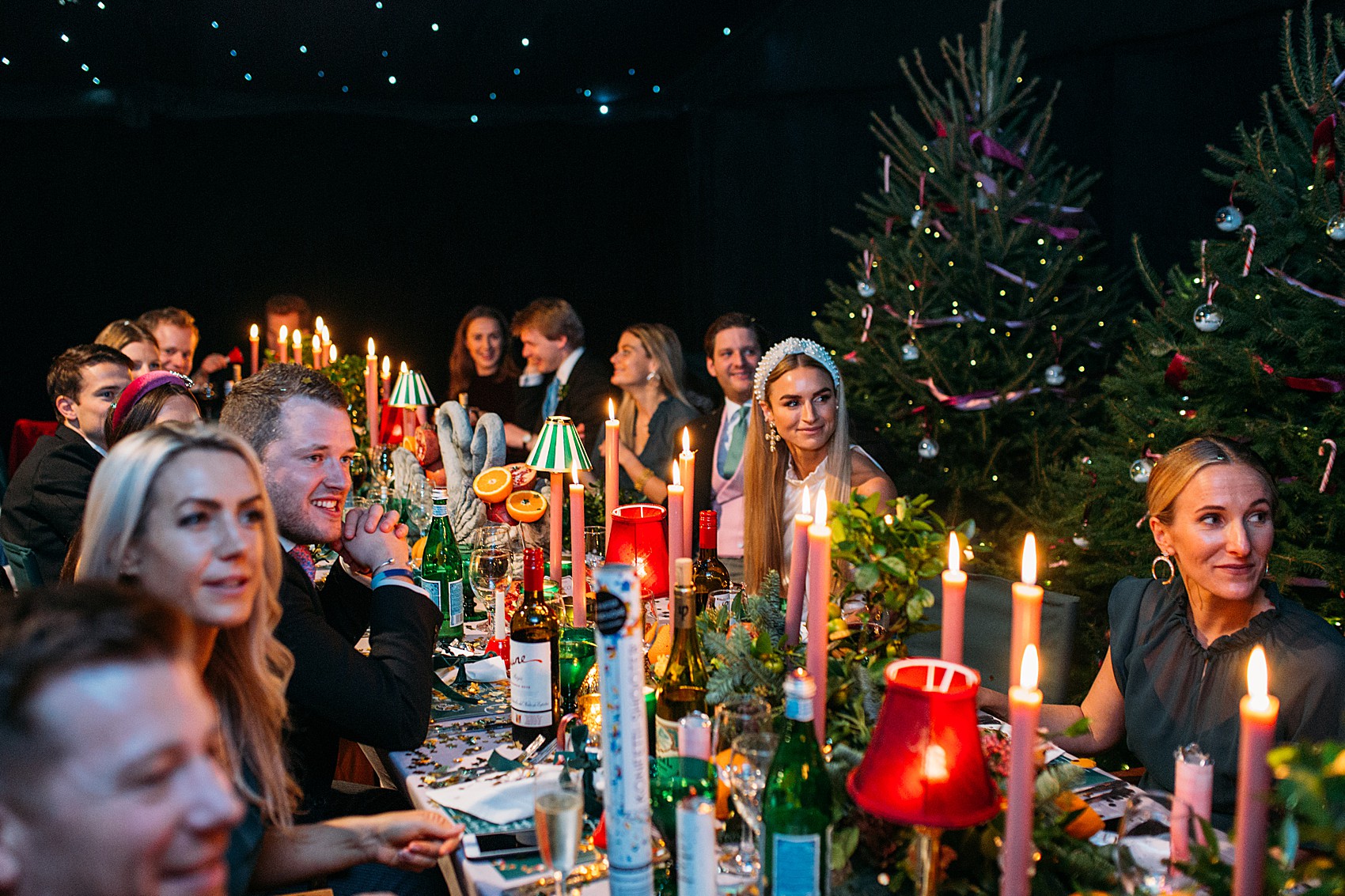 "The stone swans as mentioned in question 9 on top table, we had Christmas trees dotted around the marquee, a huge star lantern that hung over the circular bar, and every nook and cranny was filled with christmas greenery and fruits, pomegranates/oranges."
"We also had light up letters from Doris Loves and disco balls over the dance floor."
"In the evening, in the marquee, we had an Abba tribute band called Abbas Angels that sang between courses and for the end of the evening a band called Light It Up, whose instruments lit up when played. It is safe to say we had something for everyone!"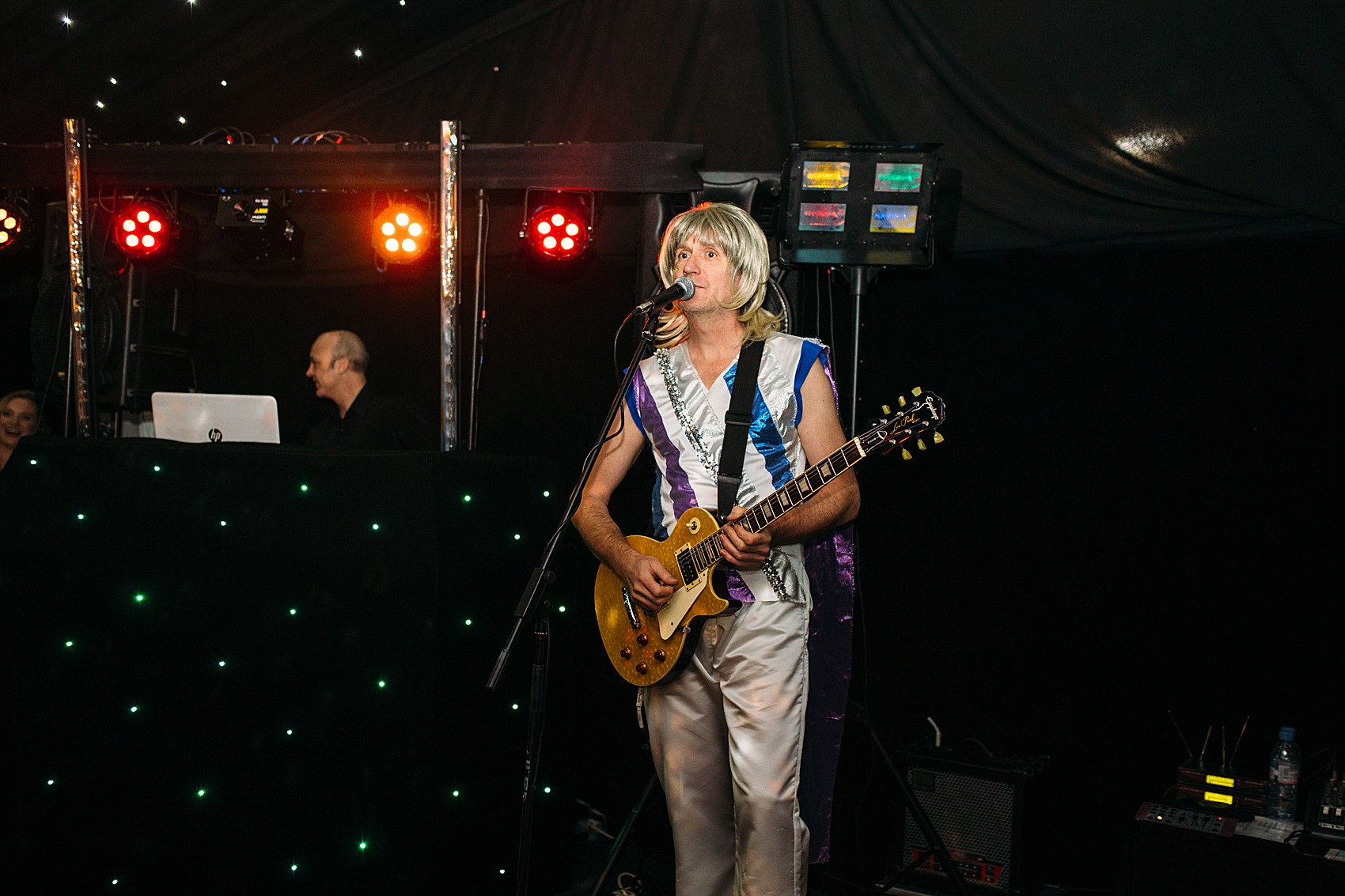 "Our first dance was to Mariah Carey's 'All I want for Christmas' – not only is it the best Christmas song ever, we knew it would get everyone up and dancing and truly into the Christmas spirit!"
"Greedily I have two favourite parts: The ceremony – it took place in my husbands parents family church so the whole ceremony felt very personal and full of emotion. The entire church was candlelit and even I was 'wowed' when I walked in on my wedding day and saw this warm flickering light everywhere, it felt so romantic and cosy."
"And secondly my entrance into the marquee. We gave everyone colourful foil poppers to let off, which created this amazing sparkle throughout the whole marquee as we entered. Also my outfit change (changing into a silk jumpsuit to enter the marquee) added an element of surprise, and transitioned the day into party mode!"
Words of Wedded Wisdom
"Not romantic advice but definitely practical – get wedding insurance. Even though you might have everything under control there might be outside factors (Suppliers/weather) that might let you down last minute. Our original florist let us down a week before he wedding, luckily we had wedding insurance – better to be safe than sorry!"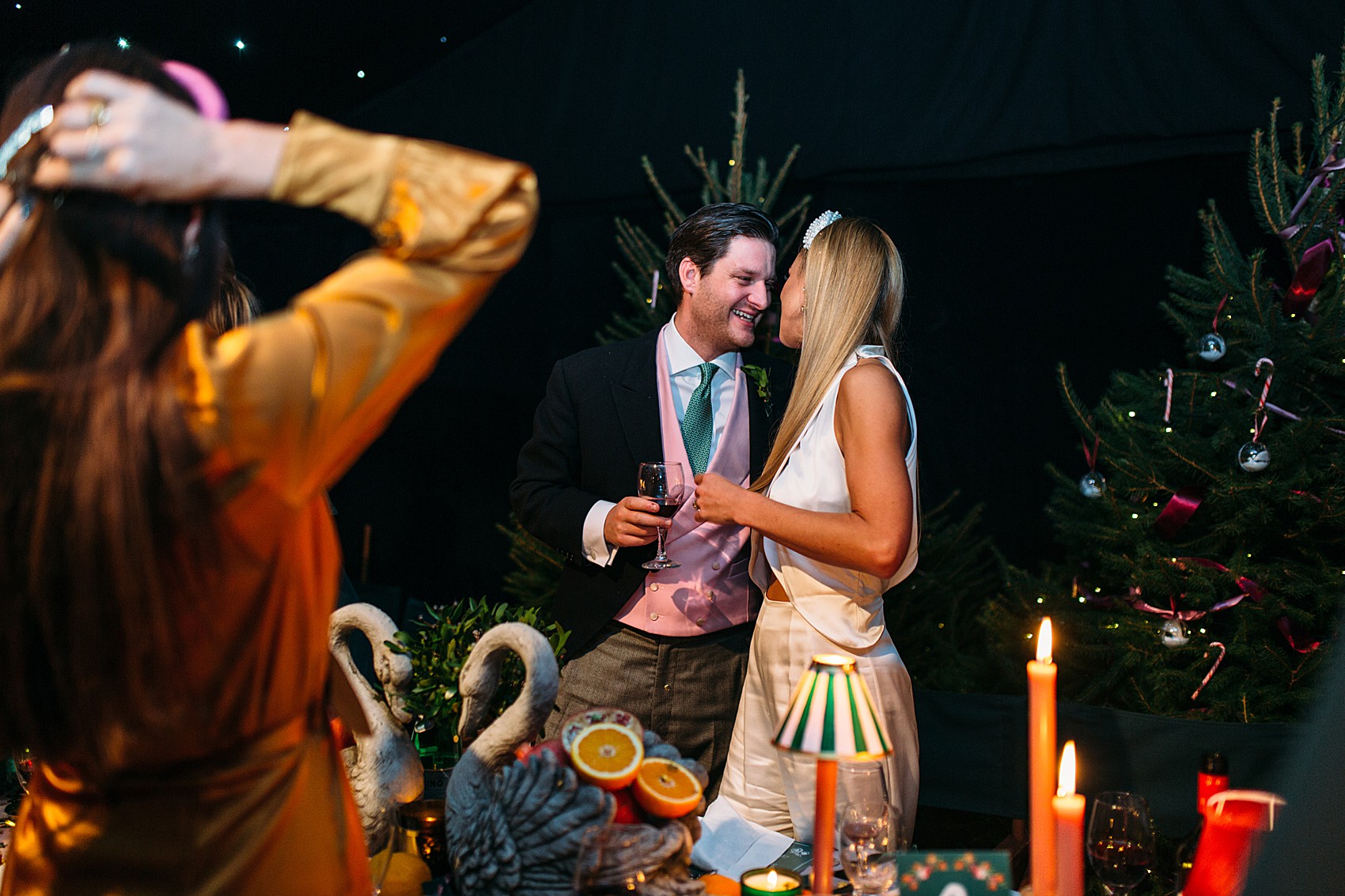 The coolest, most wonderful Christmas weddings we have ever and will quite possibly ever share!
Thank you so very much Indi for taking time to share details of your day with us and the biggest of love and congrats to you and Oli today. I'm excited to learn about your new accessories collection and to see what 2020 has in store for Maids to Measure.
In the meantime, I'm off to cosy myself by the fire with my pups and reflect on all the gorgeous Christmas weddings we're shared already.
Wishing you all the most beautiful, restful 1st of December lovely friends,
Annabel x