I recently introduced you to London based Andrea Hawkes, designer of contemporary and minimalist fashion for modern brides. Did you see Sunday's wedding too? Possibly the most incredibly stylish Andrea Hawkes bride I have ever seen!
Andrea stands out for her effortlessly clean and fuss-free aesthetic, which is beautifully represented in her main 2020 IDENTITY collection (did you see the wedding we shared on Sunday – the bride wore an Andrea Hawkes dress and looked utterly sensational). Andrea is part of a new breed of bridal fashion designers who are keen to evolve the scene in new and innovative ways, which I am 100% here for. With this in mind, earlier this month, she released a conceptual, four-piece 'capsule' collection, entitled Dovetail.
The Dovetail collection shows off Andrea and her team's expertise in tailoring, rather than traditional dressmaking; think collars, button down detail, pockets and trousers. These are designs for the bride who isn't interested in a traditional bridal look, but wants to enhance her personality through chic, modern tailoring instead. And I love it!
Tailoring + design by Andrea Hawkes

+ Follow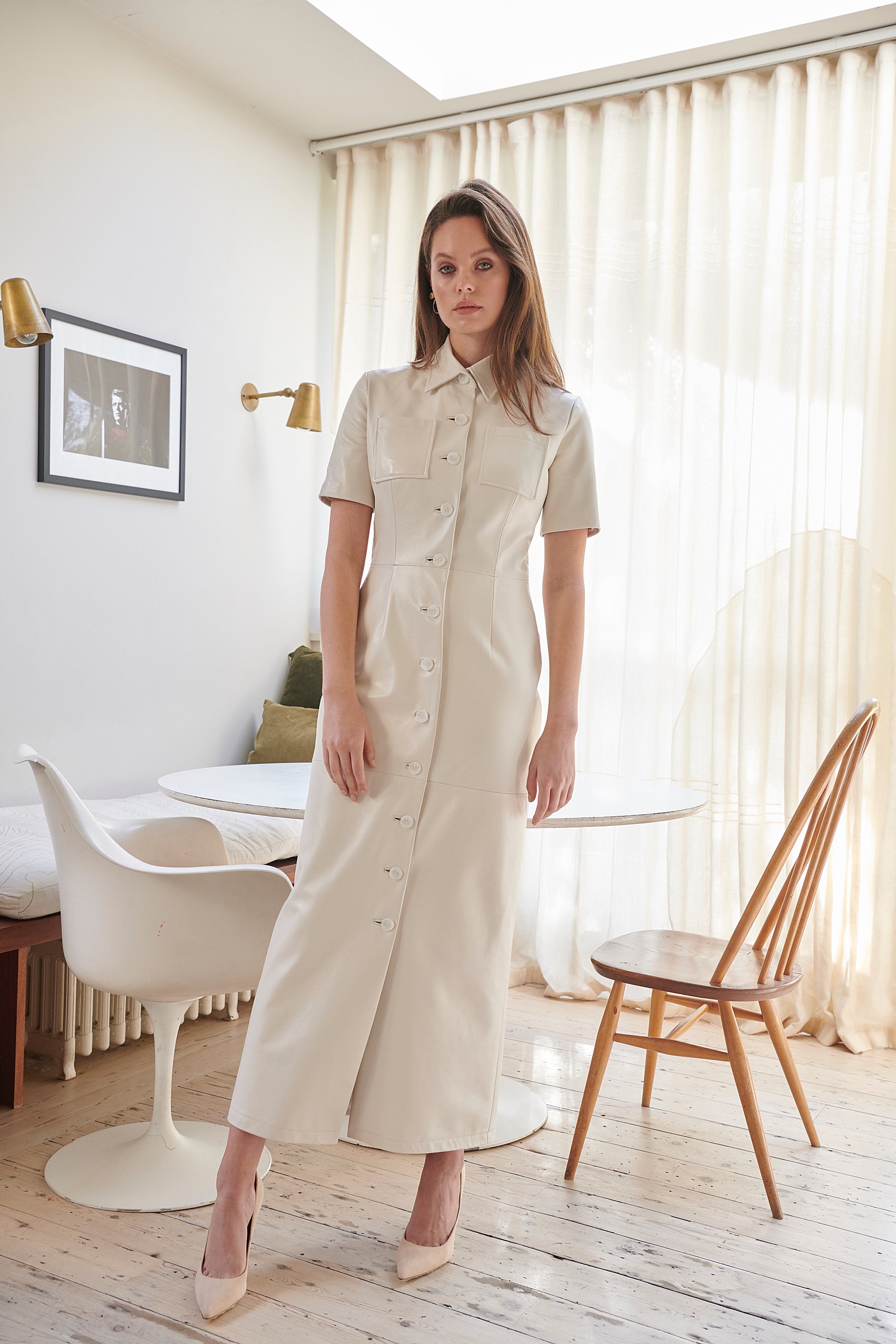 I had a conversation with Andrea and her team last week to find out more about this interesting new direction she is taking…

Andrea, tell us about this new collection and what inspired it?
"The Dovetail Collection is a curated capsule collection of four concept looks to sit alongside our main collection and is available exclusively in our London showroom. Each look has it's own story to tell, focused on highlighting the skills of our team, largely inspired by a clean modern tailoring aesthetic whilst showcasing the bespoke tailoring capabilities with differing fabrics.
The Dovetail Collection speaks of understated glamour reflected in the natural silks, French lace, and textures used, while the beautifully soft leather pieces add an alternative edge to the collection."

How would you summarise the spirit of the collection?
"The Dovetail Collection creates understated concept pieces to further showcase our skills as a team, the quality of the make and selection of the natural silks and textures used create versatile bridal looks to inspire and enhance individual style and identity."
There is a big focus on tailoring with the Dovetail collection – are you seeing an increase in brides opting for tailored cuts over gowns?
"With destination weddings on the rise as well as more brides having multiple occasions they wish to dress for across their wedding weekend, we are seeing an increase in the need for bridal inspired looks outside of the actual wedding dress.
The collection is a real first for Andrea Hawkes as it also introduces a more refined and tailored approach to bridal with an elegant polished finish."

"We are developing our 'semi-structured' designs, dresses with internal structure without the need for a full traditional corset, these have become very popular with our brides as they structurally support without the visual aesthetic of a corset shape.
Our beautiful 'Everline' dress is a fresh alternative to a classic wedding dress, made in luxurious Ivory leather and bringing a sense of refined sophistication to the overall collection. Our 'Addison' trousers are made in the same luxuriously soft leather and are styled together with our 'Addison' jacket and blouse for an alternative modern concept."

Why a capsule collection?
"Dovetail is a concept capsule and is therefore condensed into four looks. However, moving forward into our 2021 collections we plan to release two smaller more curated collections launched at London Bridal Week and New York Bridal Week respectively.
This approach is to drive us to ensure our collections are more concise with consideration for the sustainability aspect of designing and creating new collections. This also enables us to keep our collections current and exciting for our brides"

Your editorial imagery on this occasion is quite different from your usual vibe – was that intentional?
"This was absolutely an intentional move for us and one we feel really happy about. Moving forward we plan to take on a more lifestyle-focused editorial approach to our campaigns, and the Dovetail Collection imagery is of course evident of this new direction. Particularly as Dovetail is a capsule collection of just four looks, we saw this as an opportunity to have some fun with the collection and really make a statement with the campaign imagery."
Are you able to provide a price guide for this collection?
"All of our dresses within our collection start from around £1800 up to £3000 depending on the design, however this is also prior to there being any bespoke elements being added. Should a bride wish to discuss having a bespoke dress made, this is of course something we are always happy to do."
"As part of the bespoke service, a traditional couture fitting schedule ensures the bride has freedom to work on their design with Andrea's artisan team, with separate measurement, prototype toile fitting and silk fittings to ensure the gown is perfect for the big day."
How can brides try on the Dovetail collection for themselves?
"The Dovetail Collection is available exclusively in our London based Islington boutique. Our main 2020 collection is now available at all our stockists, including new stores in the US and Japan."
______
If you have any queries at all about Andrea Hawkes, please do get in touch – we'd love to connect you with the designer and her team.