Today's gorgeous and atmospheric spring wedding will be a real treat for all you keen gardeners and flower lovers out there, as it features beautiful potted plants lovingly grown by the bride's dad, as well as colourful farm grown flowers.
Add to that an incredible contemporary barn venue at a former working farm in the Yorkshire countryside, a beautifully crafted bespoke wedding dress, and a groom in a frankly excellent printed jacket, and you have all the makings of a brilliant day. Our couple are Emily and James, who are both doctors (and GPs in training). They were married on the 11 May 2019 at The Normans in Bilbrough, York. As the couple had met whilst studying at York University, they knew they wanted to get married in the area, and The Normans turned out to be just the venue they were searching for.
Photography by Jules Barron
Capturing the day's beautiful details and joyful moments was photographer Jules Barron, whose lovely, evocative work we're showcasing here for the first time on our pages.
"We cannot sing her praises highly enough. From the moment we booked her, she was such a star, sending us coffee vouchers in the post so we could de-stress during planning, arranging pre-wedding photoshoots, offering very sage advice, and on the day she was incredible."
"Jules got so many amazing photos. The more formal pictures were super relaxed, and we barely spent any time away from the party. She also captured so many little moments between the guests that are some of my favourite pictures of the whole day."
Emily wore blush pink heels, which she picked up in the Office sale, and for jewellery, a bracelet from Oliver Bonas, and a pair of pretty porcelain drop earrings by Tracey Birchwood, which she found at the Manchester Craft & Design Centre.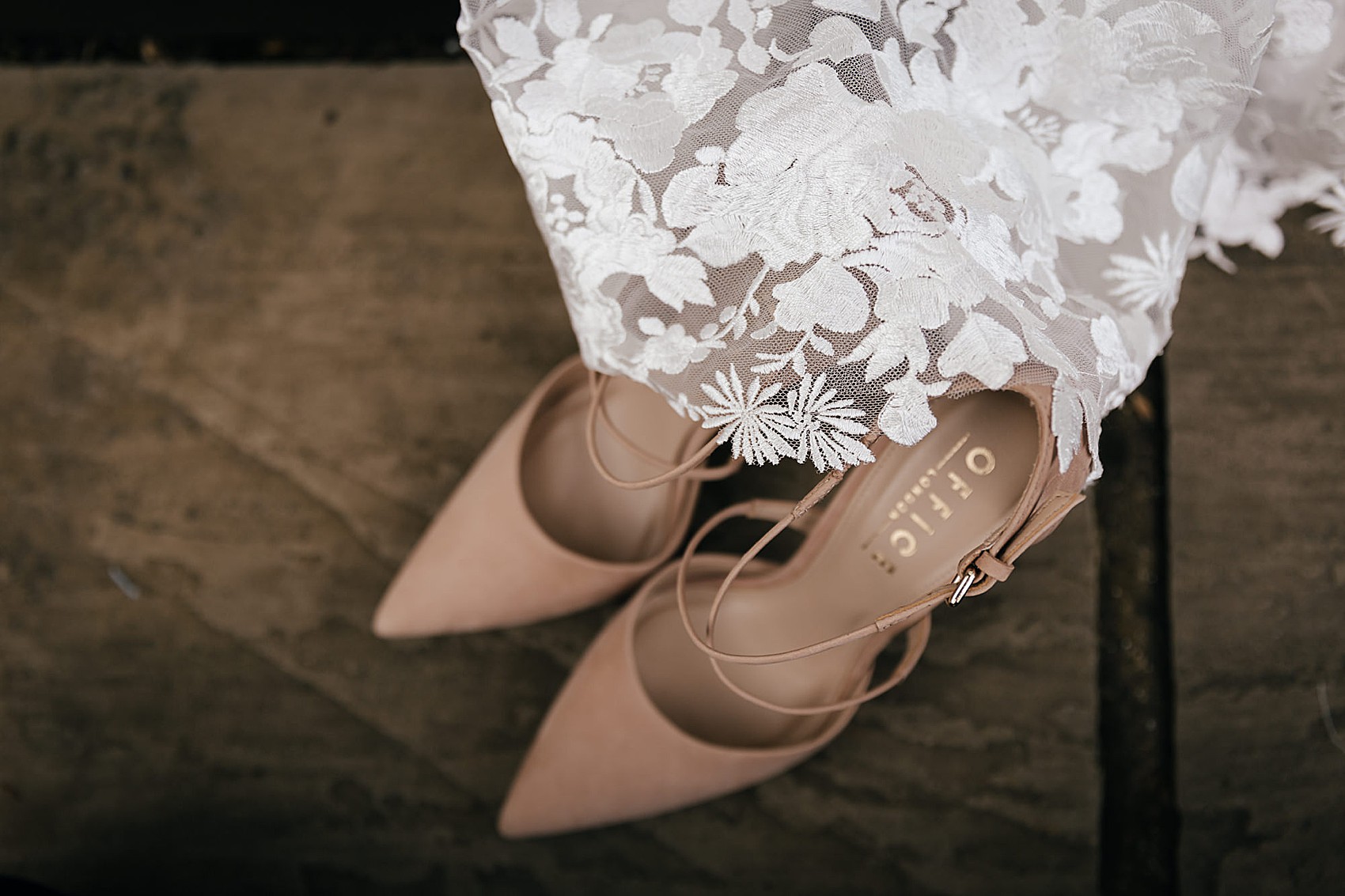 I love the delicate, contemporary beauty of Emily's custom-made dress by Emma Beaumont, with its slim shoulder straps, low keyhole back with embroidered tulle, and skirt with side split and beautiful floral applique lace.
"It was a bespoke design by Emma, which meant regular visits to her beautiful studio in Knutsford. Emma and the whole team are so talented, and such lovely people. Seeing them create a beautiful dress from scratch was amazing. I had been to a couple of boutiques prior to finding Emma, and tried on a few dresses that I liked, but I never quite felt like myself in them."
"My perfume was Venetian Bergamot, whilst James wore Fougere d'Argent, both by Tom Ford. We didn't plan it, but both ended up wearing fragrances that are unisex and can be mixed and matched."
"Emma took a few elements of dresses I liked, but made it completely individual, and she could chop and change things as we went along."
"Wearing a custom dress felt like a bit of an extravagance, but it fit like a glove, and I felt so relaxed and comfortable on the day, and importantly I felt completely like myself. I would definitely recommend Emma to other brides."
"I knew I wanted a dress that was very minimalist, but with some bridal touches. I loved how sleek and modern it was from the front, but the back made it something special. I requested the split at the side because I'm so clumsy!"
"Our hair and make-up was by Brittany Jae. I went to school with Brittany, so it was so nice to have her there on the morning. She's so talented and such a lovely person who really puts you at ease if you have any morning jitters. She made me feel absolutely flawless, and she did an amazing job on all the bridesmaids' hair."
In her hair, Emily wore a gold hair vine from Eden b. Studio, and added a simple, long veil by Emma Beaumont.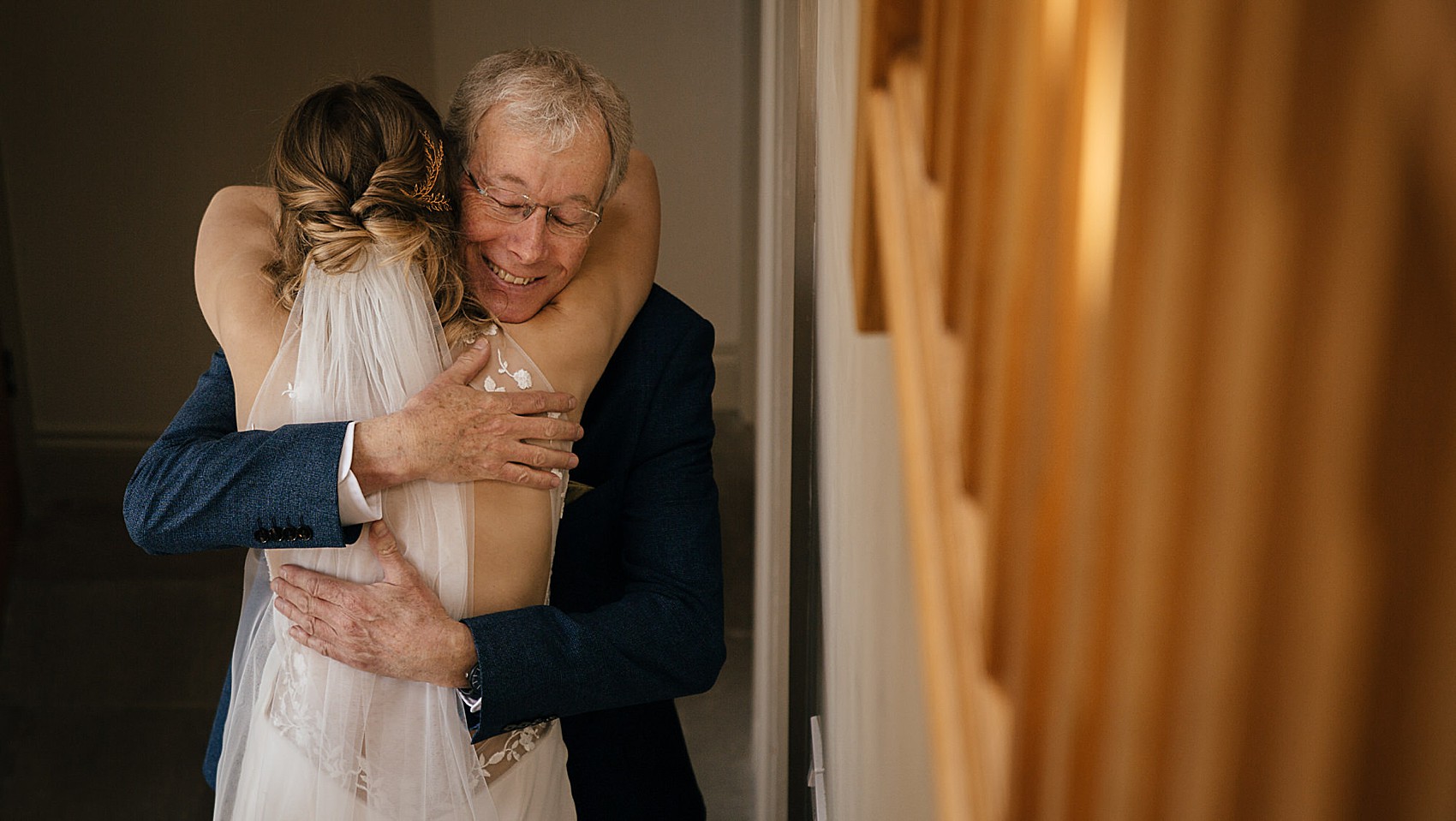 "We had a day of venue hunting and nowhere seemed right, but then we walked into The Normans and knew it was the one for us! It's a such a beautiful venue, with loads of hidden little areas for guests to explore (we had a gin bar in one of the stables before the ceremony), and the team are so helpful. Nothing was too much trouble, and Oliver was there the entire day to make sure it all went to plan."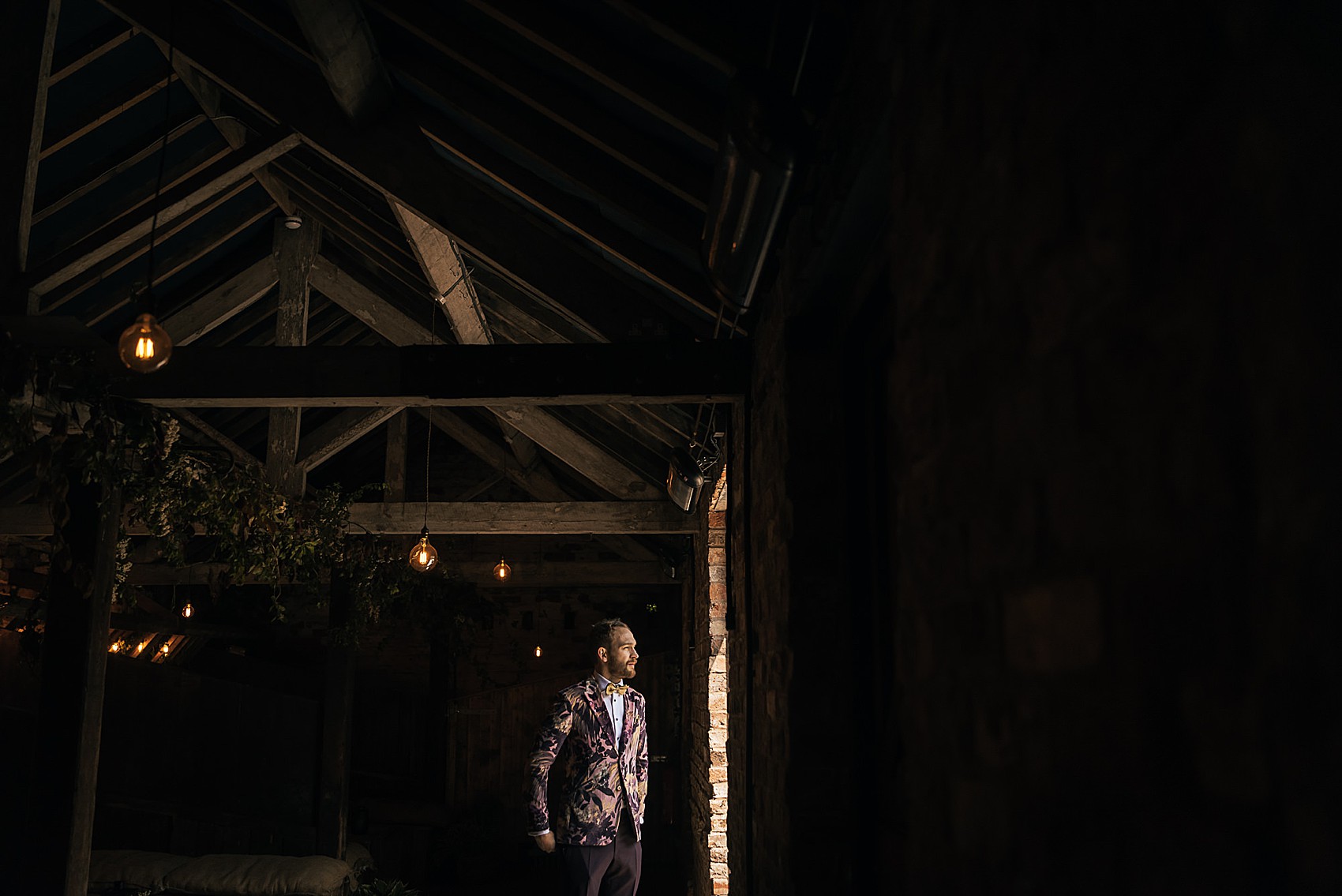 "We got engaged in Sintra in Portugal. We'd done the Lisbon half marathon the previous day, so I wasn't too happy when James insisted that we went for a hike around the hillside. We got to the top of this hill with a beautiful view overlooking the valley and the palaces, but I was achy and hangry and thoroughly unimpressed. When I turned round to find James on one knee with his grandmother's engagement ring, I thought he was joking! It took a while to sink in! (I actually said 'F- off, you're not serious?!'). We were engaged for a further 2 years before we got married."
The bridesmaids looked wonderful in an array of jewel toned dresses – deep blue, burgundy and green, from Shona Joy, ASOS, Oasis and Issa at Harvey Nichols.
"I wanted them all to feel really relaxed and look like themselves, so I asked them to pick any dress they liked that was in a jewel tone, and they all looked so good! I bought bracelets from & Other Stories as part of their gifts. I loved the leaf design and thought it echoed my hair piece."
The bridal party carried beautifully vibrant, wild bouquets of spring flowers, which included ranunculus and tulips, alliums, hellebore and sweet peas (to name just a few!) which were freshly picked from Pickers Cut Flowers, whom Emily and James found through website Flowers from the Farm. These beautiful blooms were then arranged by florist Claire from Constance Lewis Artisan Flowers.
"We loved Claire's wild and artistic approach. Everything she does looks like it has just beautifully grown that way, which was perfect for the natural look that we wanted."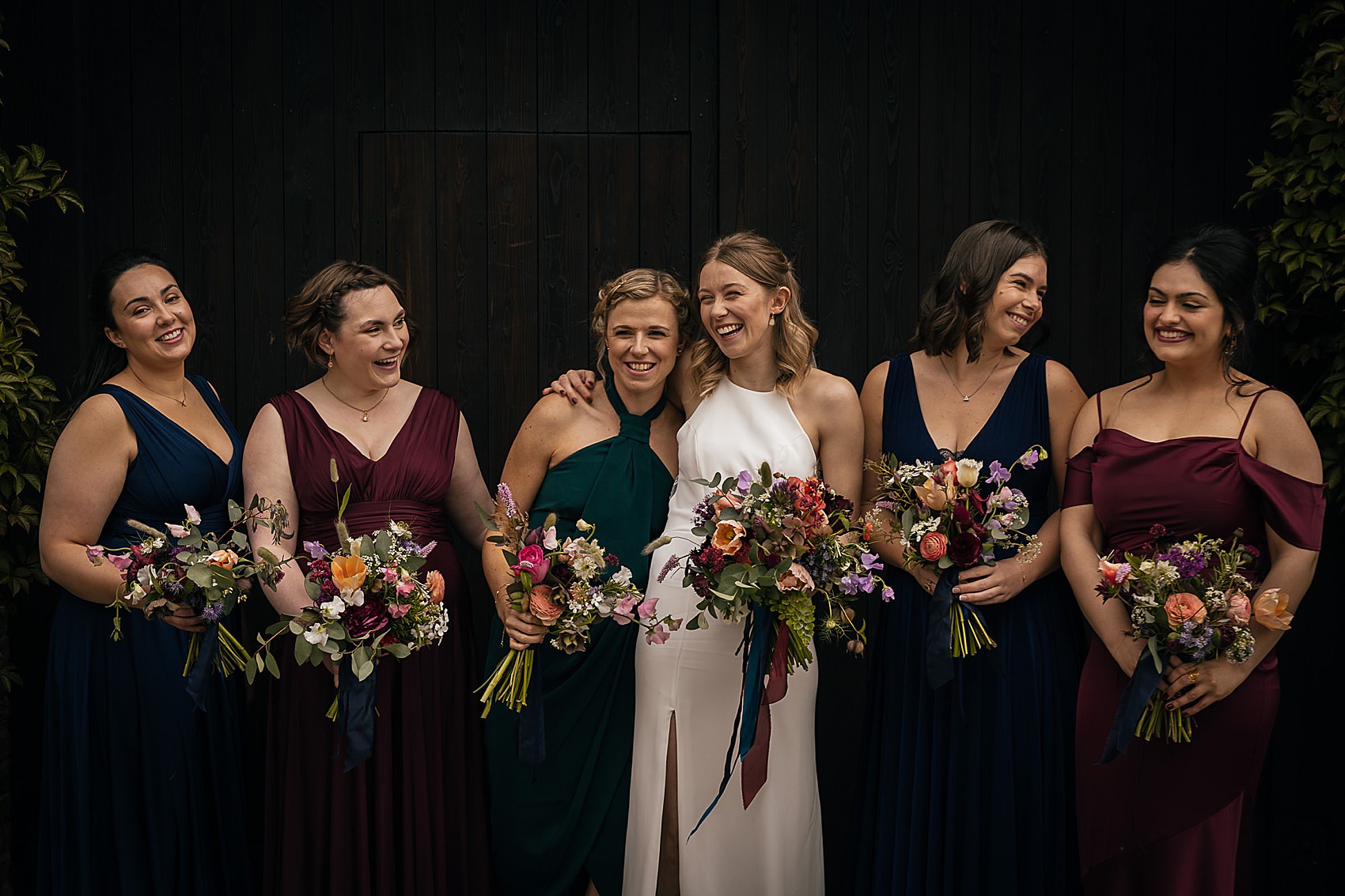 Emily walked down the aisle together with her dad to Queen's song, Best Friend, which they chose because it summed up their feelings for each other, whilst being fun and informal.
"We kept the ceremony as short as possible (!) but wrote our own vows. We actually told them to each other beforehand because we knew how nervous we would be at the time."
Vows were exchanged against the most beautiful backdrop of twinkling and cascading lights, flowers by Constance Lewis, and lovely potted plants grown by Emily's dad, and the whole effect was magical.
"We chose our rings at Phillip Stoner in Manchester. We loved the simplicity of them. I chose mine with a slight curve to fit around the waved design of my engagement ring."
As a nod to Manchester and a band the couple love, James' sister Louisa read the lyrics to the Elbow song, Starlings, during the ceremony, and Emily's brother read an extract from A Skeptic Makes Peace with Marriage, by Elizabeth Gilbert.
"Both readings talk about the quiet, everyday sort of love that means you are completely comfortable with one another."
"My favourite part of the day was the ceremony. I was so nervous beforehand, but as soon as I started walking down the aisle I just remember grinning from ear to ear. Saying our vows in front of so many loved ones was incredible."
Guests were kept entertained during the post-ceremony drinks reception by New York Brass Band, whilst enjoying tacos from caterers The Hog and Apple Food Co.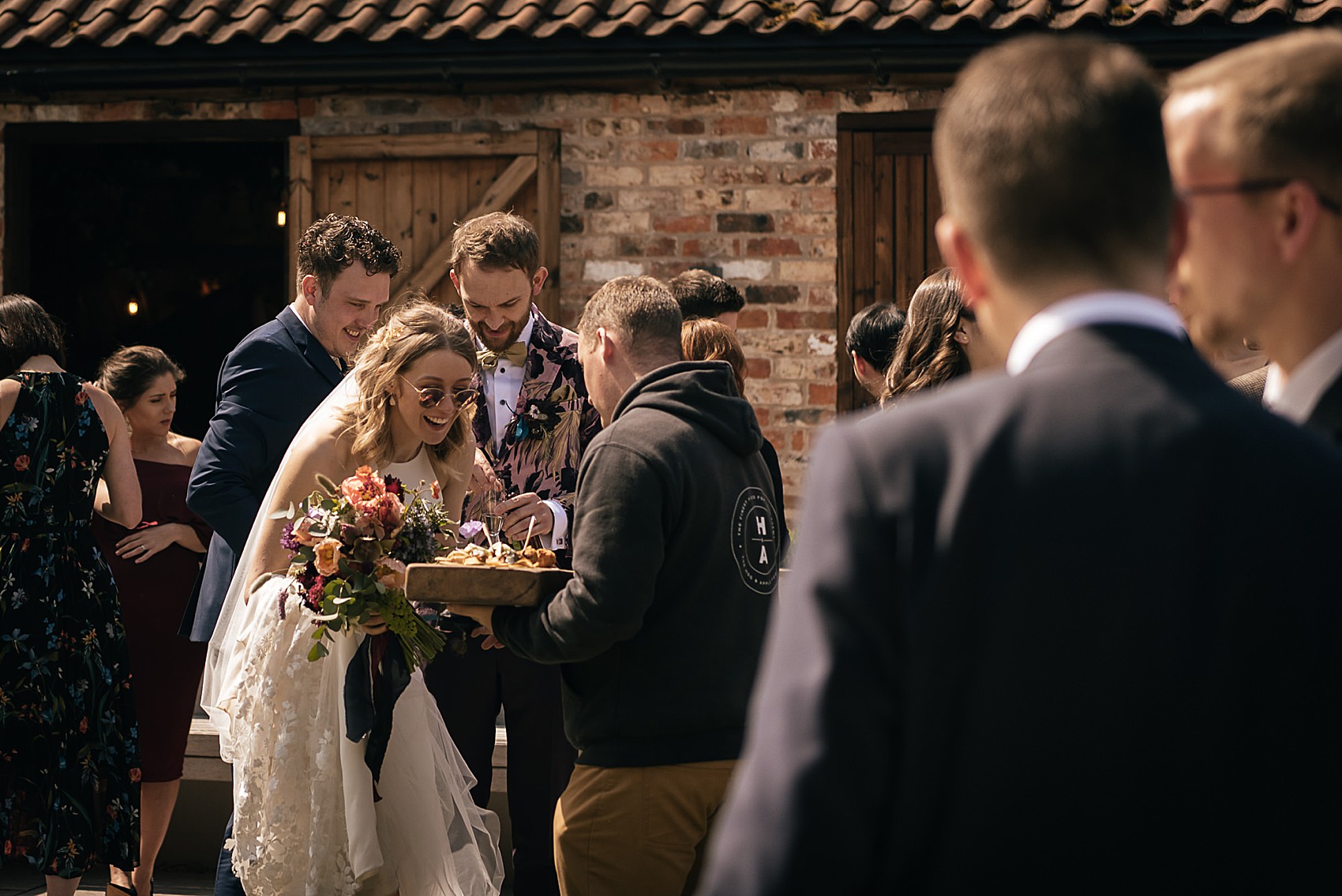 Let's take a moment to enjoy James' outstanding outfit – a classic white shirt with contrasting buttons, worn with a gold bow tie, black trousers, oxblood monk strap shoes, and last (but by no means least) his colourful floral print jacket, courtesy of Richard Smith.
"James is fond of a bold print, so the suit had to be no exception! Richard managed to pull this off with only 4 weeks notice, and did an absolutely cracking job."
James also wore his late grandfather's watch, and the groomsmen and dad all wore matching gold ties and pocket squares.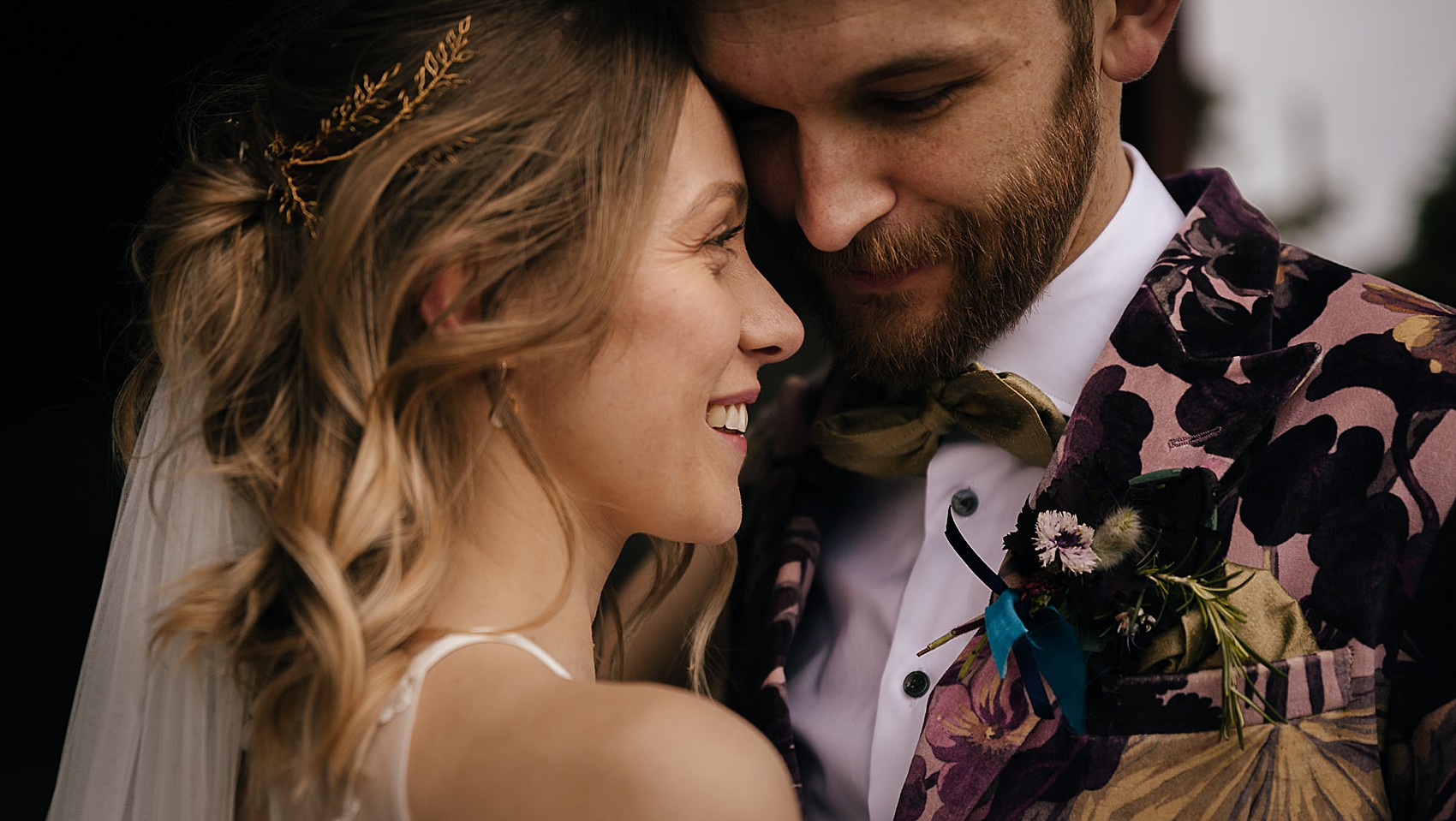 The former Grain Shed at The Normans has been transformed into a wonderful multipurpose reception space, complete with rustic, reclaimed wood and a steel-topped bar.
For Emily and James' celebration, it was filled with fairylights, and at the entrance was a welcome sign handmade by Emily's Uncle Jeff, as well as a metal framed table plans surrounded by lots of homegrown plants and vases of flowers.
"The only criteria we really had was that we wanted it to be as relaxed, fun and informal as possible. We went with a mishmash of colours – basically anything that we liked, and used a lot of the beautiful rustic details that The Normans already had. We were very lucky that the venue didn't need much styling."
"I loved the idea of having lots of plant life and creating a lush, wild atmosphere, but hated the thought of everything just being put on the compost  heap afterwards. My dad is a very keen gardener and took charge of providing all the living plants, which we gave to all friends and family afterwards (and we've even managed to keep a few alive ourselves despite my complete lack of green thumb)."
Long, wooden dining tables were decorated simply, with more potted plants and posies of flowers, with photos and maps of Yorkshire and Lancashire (our couple's home counties) around the room.
"James was in charge of favours. He is obsessed with football stickers, and he has boxes and boxes of the damn things. So obviously he had to buy 200 more packets for favours! I was very sceptical, but everyone seemed chuffed to bits, and had a great time sticking them in the guestbook."
After drinks and tacos in the courtyard, everyone sat down to more wonderful food from The Hog and Apple Food Co., who served chicken and steak with chips and salad.
"They were one of the recommended suppliers to The Normans, and the staff were so, so helpful – they practically ran the day. We had late night kebabs, too. It was the perfect night out!"
After dinner ping pong and a stroll through the surrounding country lanes was followed by a cracking evening party, which got started with a first dance for Emily and James, to Red Light Spells Danger, by Billy Ocean.
"It's not the most romantic song, but easy to dance to, and we used to listen to this track on repeat when we first got together so it meant a lot. We didn't practice a dance, but I think we managed not to embarrass ourselves!"
"We Have You Covered played a superb evening set, and kept up with random audience requests like Tenacious D!"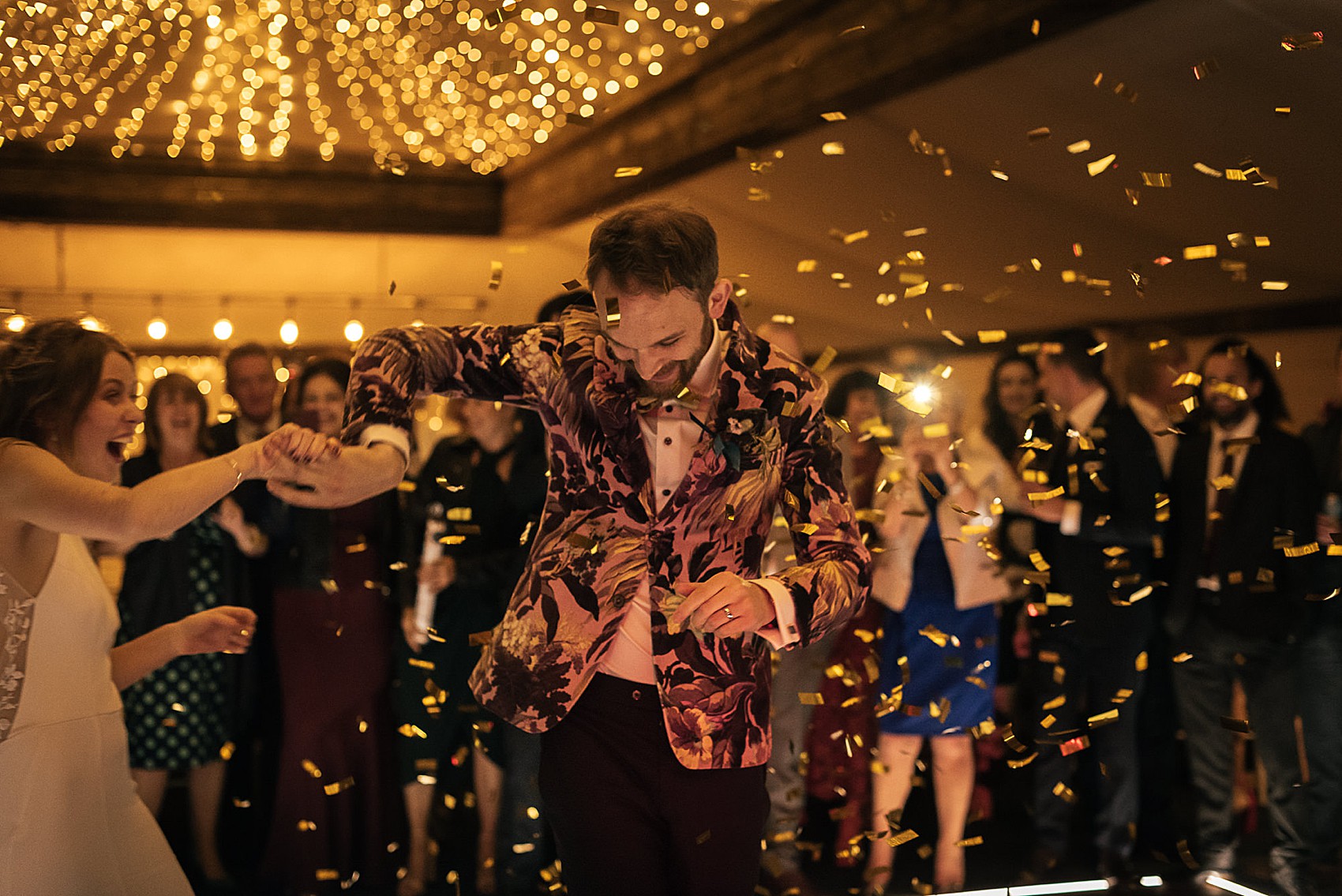 Words of Wedded Wisdom
"I visited Love My Dress countless times during planning. It's so easy to get lost down the Pinterest-perfect rabbit hole, but Love My Dress has some amazing articles about real brides, and it was great for inspiration. The Love My Dress Facebook group is also so useful for advice and recommendations, or even just a rant when you need a sympathetic audience. It has the most supportive atmosphere on the internet."
"Set your priorities early. For us it was food, drink and music, so we made sure we got those sorted first and everything else we were happy to compromise on if needed."
"Be flexible and accept that you can't do everything. Trust that your suppliers will do a fantastic job when they can be as creative as they want to be."
"Don't sweat the small stuff! I heard this advice so so often on the Facebook group, and wish I'd paid more attention. All you'll really remember are the people who were there and how happy you felt."
"Go with your gut, and make your day personal to you. People were sceptical when we were talking about ping pong and football stickers, but everyone had fun and kept commenting on how 'us' the whole day was."
"Remember that everyone who there is there because they love you. Nothing else matters."
Emily, thank you for those great words of wisdom, and to you both, congratulations and thank you for sharing your day here. Many thanks to Jules Barron, too, for these beautiful images.
If you loved the bespoke elegance of Emily's Emma Beaumont gown, then do take a look at our other Emma Beaumont brides here, and for more cool, rustic country weddings at The Normans, make sure you look here.
Until next time, dear readers.
Love, Laura