The long, warm days of spring seem a far cry away, but I know that a lot of you lovelies will be spending the dark evenings of December thinking about your own spring wedding.
I hope that today's Scottish celebration gives you plenty of food for thought as it's full of the most divinely-soft, fresh touches, all expertly captured by Kalisterscope Photography in her signature romantic style. Please welcome marketing manager Emily and GP Chris who married on 19 April 2019 at the wonderful Crossbasket Castle in East Kilbride, Scotland.
Film by Piece of Time

+ Follow



To complement the style of their photographer's work, Emily and Chris chose their videographer with care, asking Ally Kearney of Piece of Time Media to record their day.
"Ally had a very similar vibe to Suzanne. We felt we knew Ally well before the before the day after our Skype chat and we loved that he took a step back to capture the day from afar. He filmed video messages of our guests during the day, which were very funny to watch after. Ally's final edit was amazing, he used our favourite songs and artists as background music which made it extra special."
Images by Carrie Lavers

+ Follow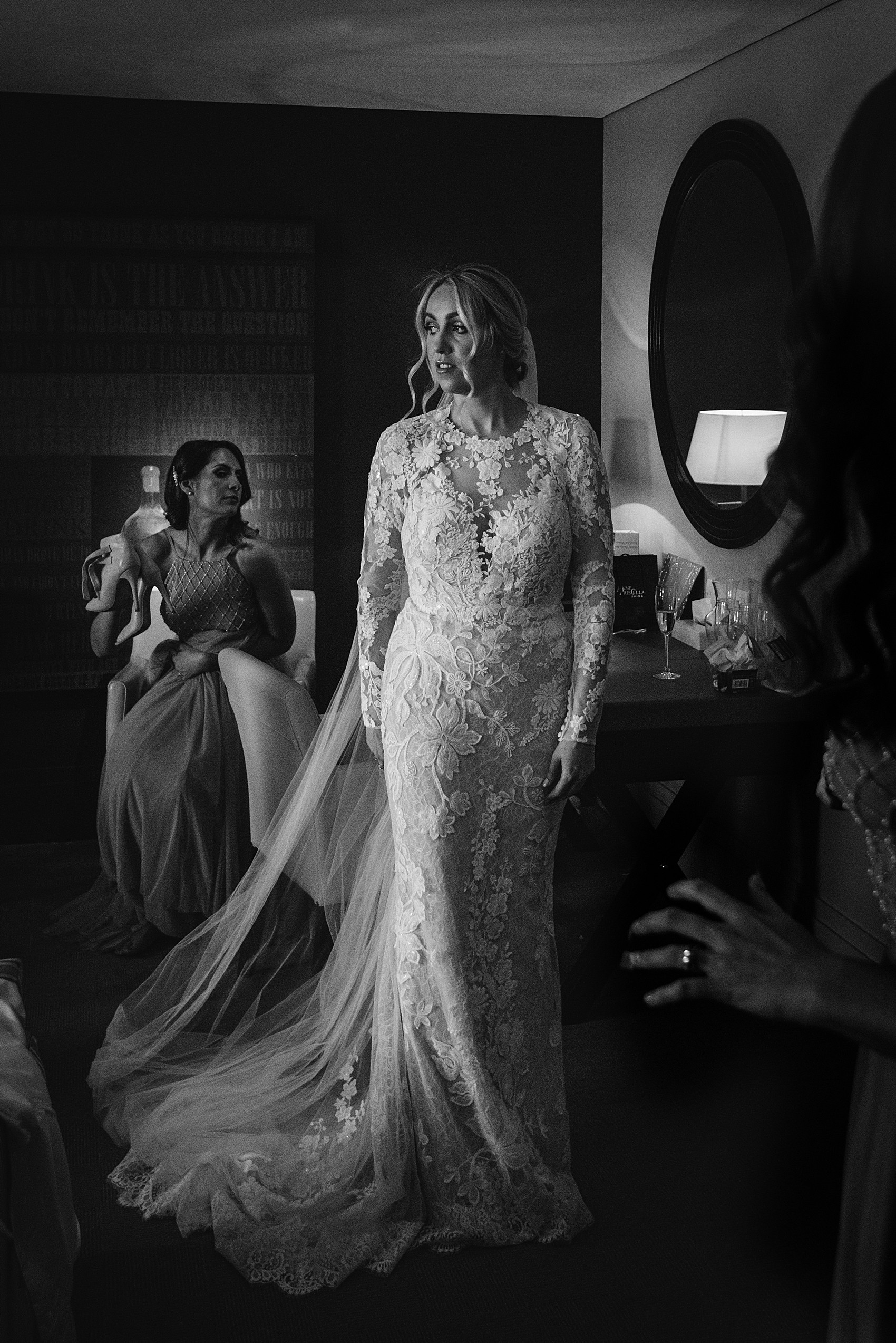 Suzanne Lister of Kalisterscope Photography brought her signature, documentary-style approach to the day to capture the day's joy and happiness moment by moment. We've had the privilege of sharing her work before on Love My Dress so please take a moment to enjoy these other weddings documented by her to get even more of a feel for her work.
"We saw Suzanne's photos of another wedding on social media. As soon as I went on to Suzanne's website I knew she was the photographer for us. She seemed so relaxed and had the same ideas as us, to capture the day and the moments throughout it rather than too many posed photos. We loved getting the chance to meet Suzanne at our engagement shoot. This was such a good idea as we got the chance to get to know Suzanne, feel comfortable getting our photos taken and also some amazing shots and memories to look back on."
Emily visited Glasgow boutique Anne Priscilla Bridal to search for her gown, choosing a long-sleeved, figure-hugging gown by Pronovias, most beautifully appliquéd with a trailing lace design. I love the kick-flare and sexy silhouette.
"The manager Karen and her team made me feel so special, like I was the only bride in Scotland. I would definitely recommend them."
"Every dress I tried on didn't feel special. I thought I had 'the dress' because it was the best one I had tried on. I decided to go to one more shop and as soon as I put this one on, I had the biggest smile on my face and I knew it was the one."
"My family and friends said my whole body language changed when I put it on. I loved the lace and the nude underlay as I didn't suit white."
For extra elegance, she slipped on a pair of Manolo Blahnik court shoes with sparkling buckles and a tumbling veil, borrowed from one of her bridesmaids.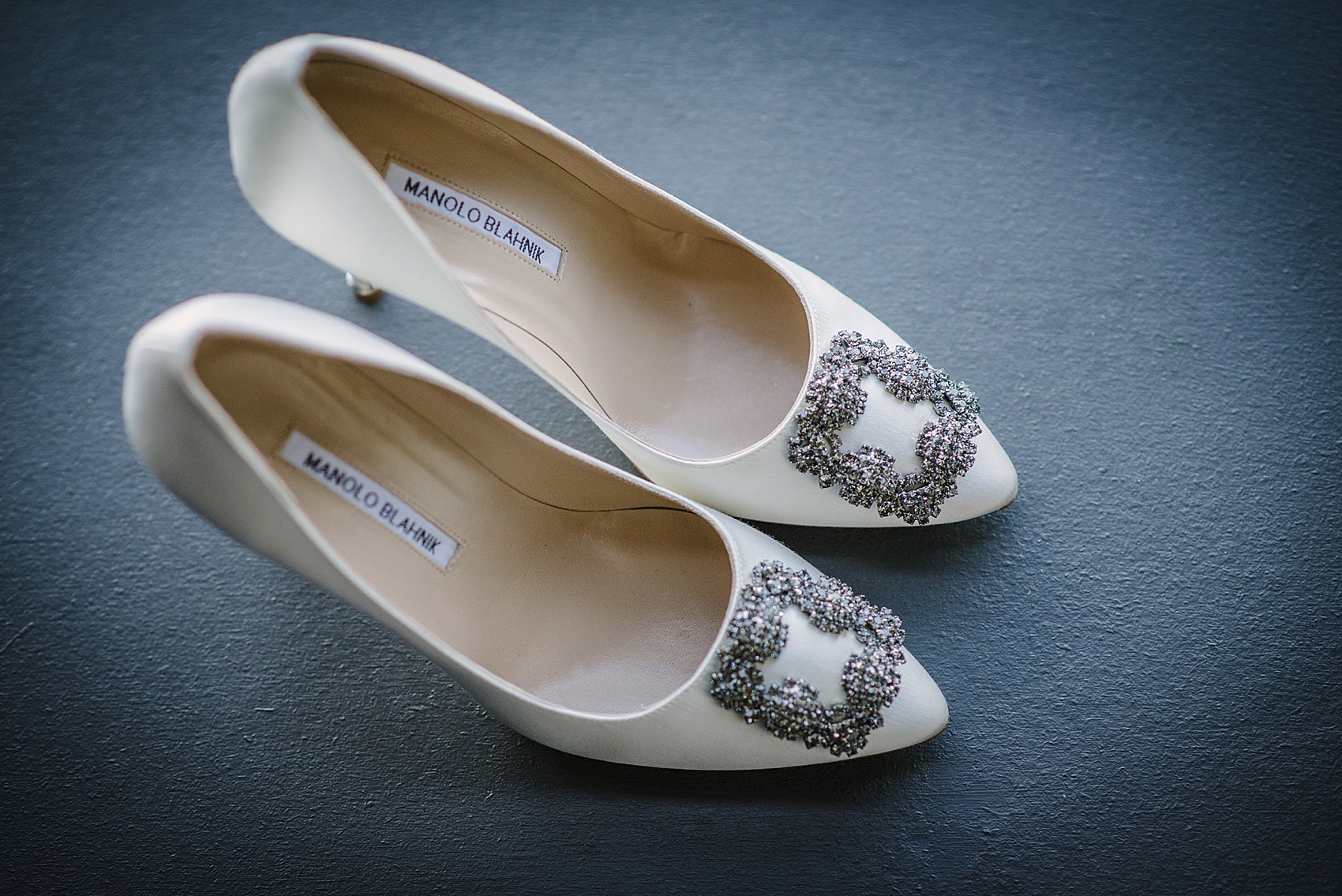 Emily wore her blonde hair in an intricately twisted up-do, adorned with a hair clasp from Lola & Alice during the day and a hairband from Anne Priscilla Bridal for the evening.
"I wore my day-to-day jewellery I have had for years as I wanted to feel like me. Chris gave me a bottle of my favourite perfume, Chanel Coco Mademoiselle, on the morning of the wedding."
Make-up was glowing and elegant, with added glamour from some gorgeously shimmering, rose gold eye shadow.
"Victoria Faulkner has beautified me numerous times before. She is amazing and I would have planned the wedding day around her diary if I had to. Thankfully she was available on our day though. Hair was by Pamela Docherty. The girls made the morning so fun and relaxed."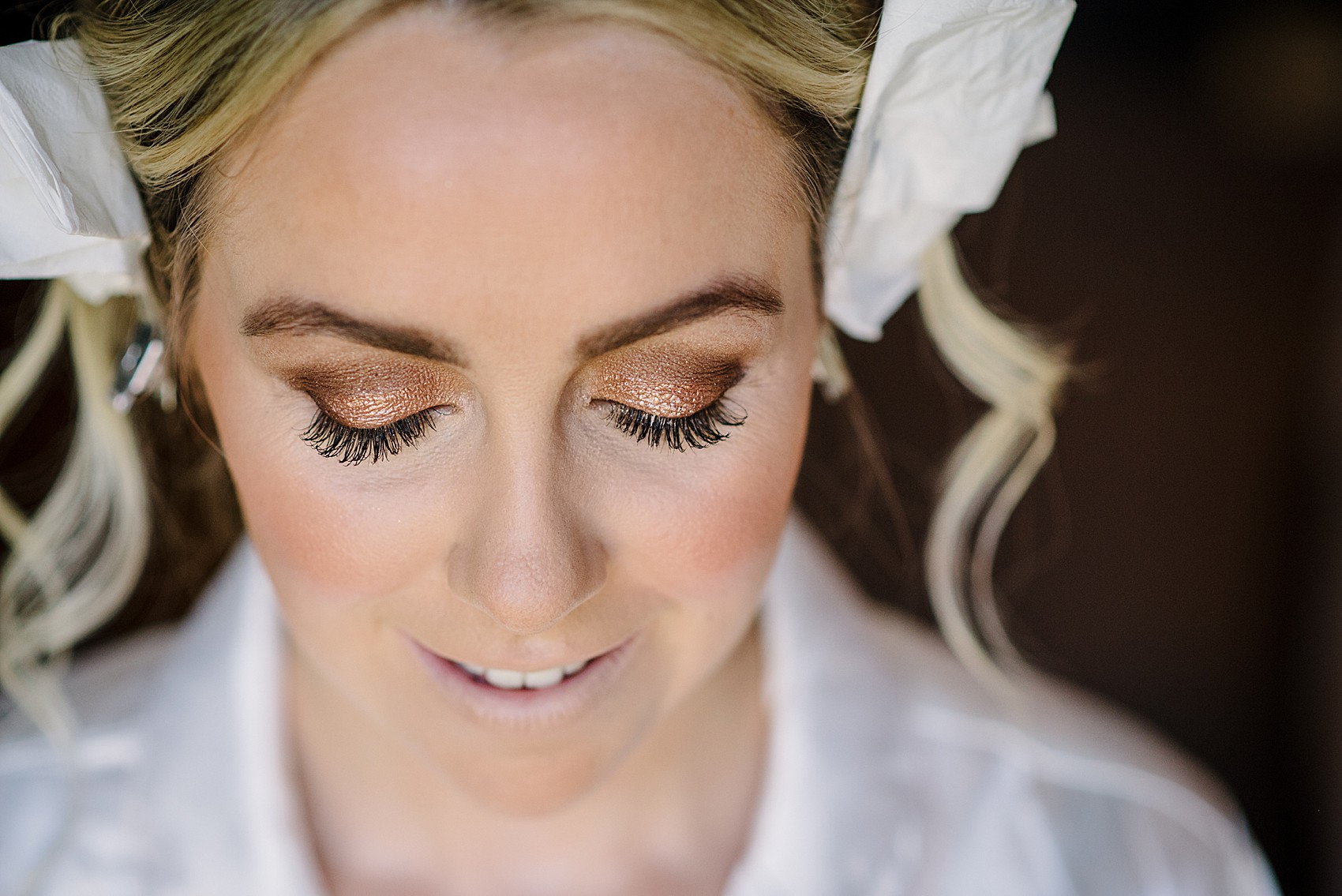 The elegant spaces of the castle's ceremony room were enhanced by the flickering light of candles, romantic fresh petals and spring flowers, with the blooms styled by Nicole Dalby Flowers. I love the soft colour palette with a fleck of purply-blue coming from the Scottish thistle.
"My vision was a romantic, elegant feel, with soft colours like white, peach and soft pink. We also got a thistle in there for the Scottish feel. I completed trusted Nic with the flowers. I set up a Pinterest and added Nic to give her a feel for what I liked. We also went to Crossbasket to visualise what was needed. I then left Nic to it and was the happiest bride in the world when she brought the bouquets to us in the morning. Vicki, the event manager at Crossbasket Castle, was amazing. She was so accommodating of all our weird and wonderful ideas."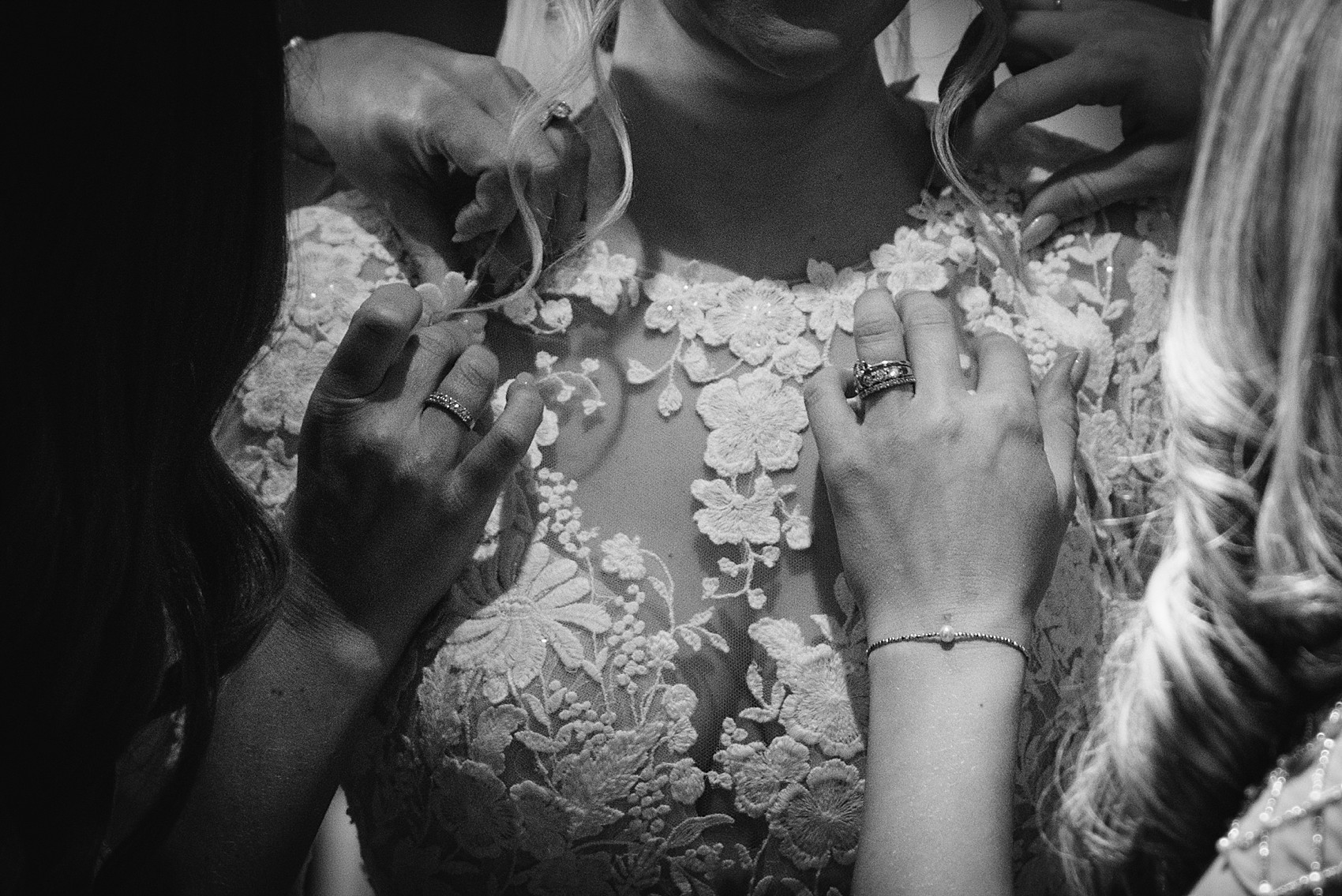 Emily and her father travelled to Crossbasket Castle in a Roll's Royce Silver Cloud hired from Peter Vardy, whilst the bridesmaids were taken in two BMWs.
"Chris drove an inconspicuous orange BMW 8 series convertible."
Although they met five years ago, Emily and Chris were a couple for only 16 months before their wedding.
"We met at our best friends' wedding. It only took Chris three and a half years to ask me on our first date. He was a bit quicker asking to get married though. We were engaged within ten months of our first date and our wedding was eight months later."
"Since Chris and I met we have had so much fun together and haven't stopped adventuring. We wanted to make sure our wedding was as fun and light-hearted as we take life. Crossbasket is a beautiful, traditional venue which we fell in love with and Vicki (the event manager) gave us the freedom to make it personal to us and our friends and family."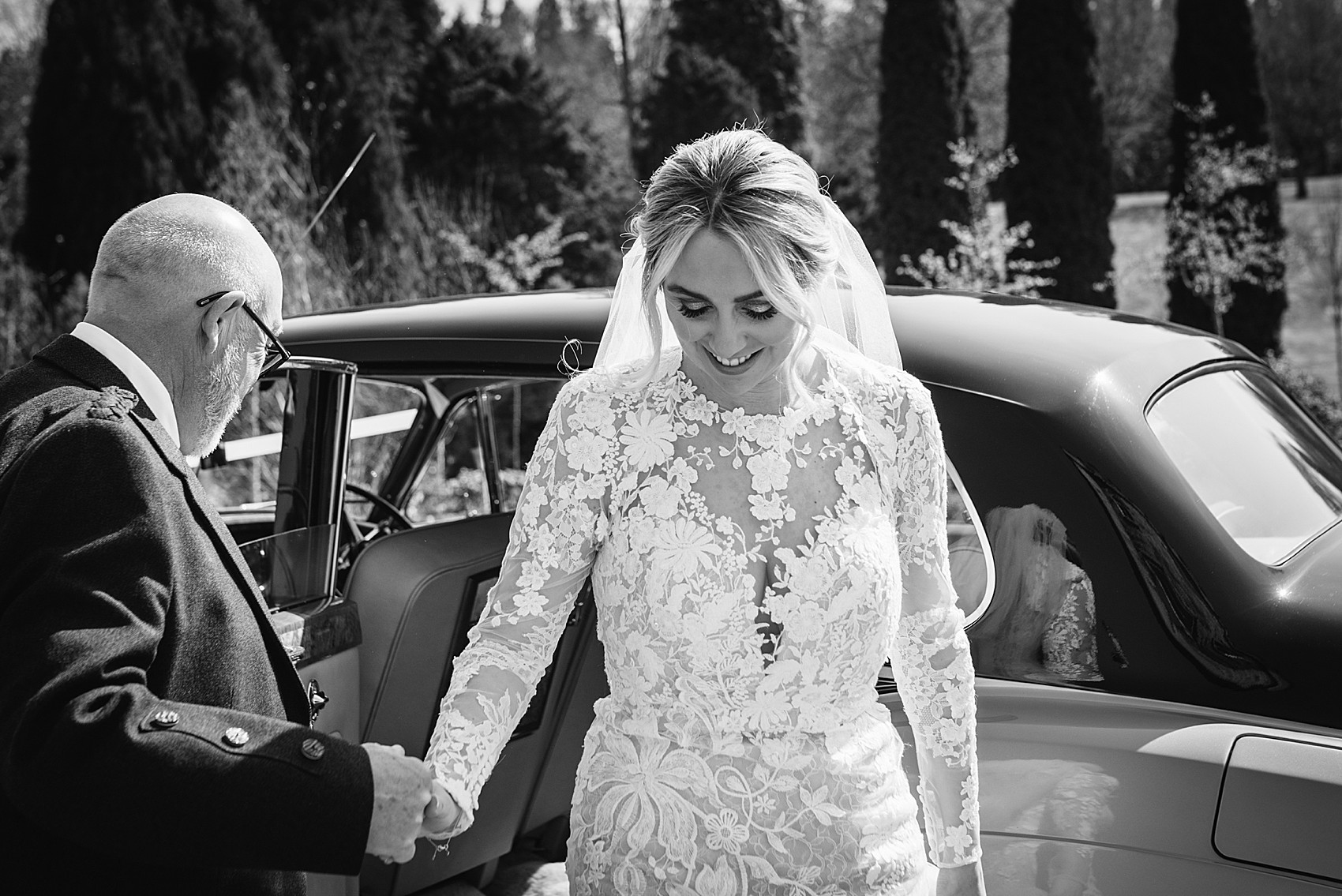 Wanting her bridesmaids to feel comfortable and like themselves, Emily asked them to select their style of gown by Motee Maids at Anna Priscilla, all in the same soft, silvery-blush hue. They look so elegant and pretty in the April sunshine. They added Lola & Alice hair clips, and their own shoes. Emily also had a little flowergirl, so pretty in a white John Lewis dress with a Motee Maids sash to match the bridesmaids and a gorgeous little floral crown.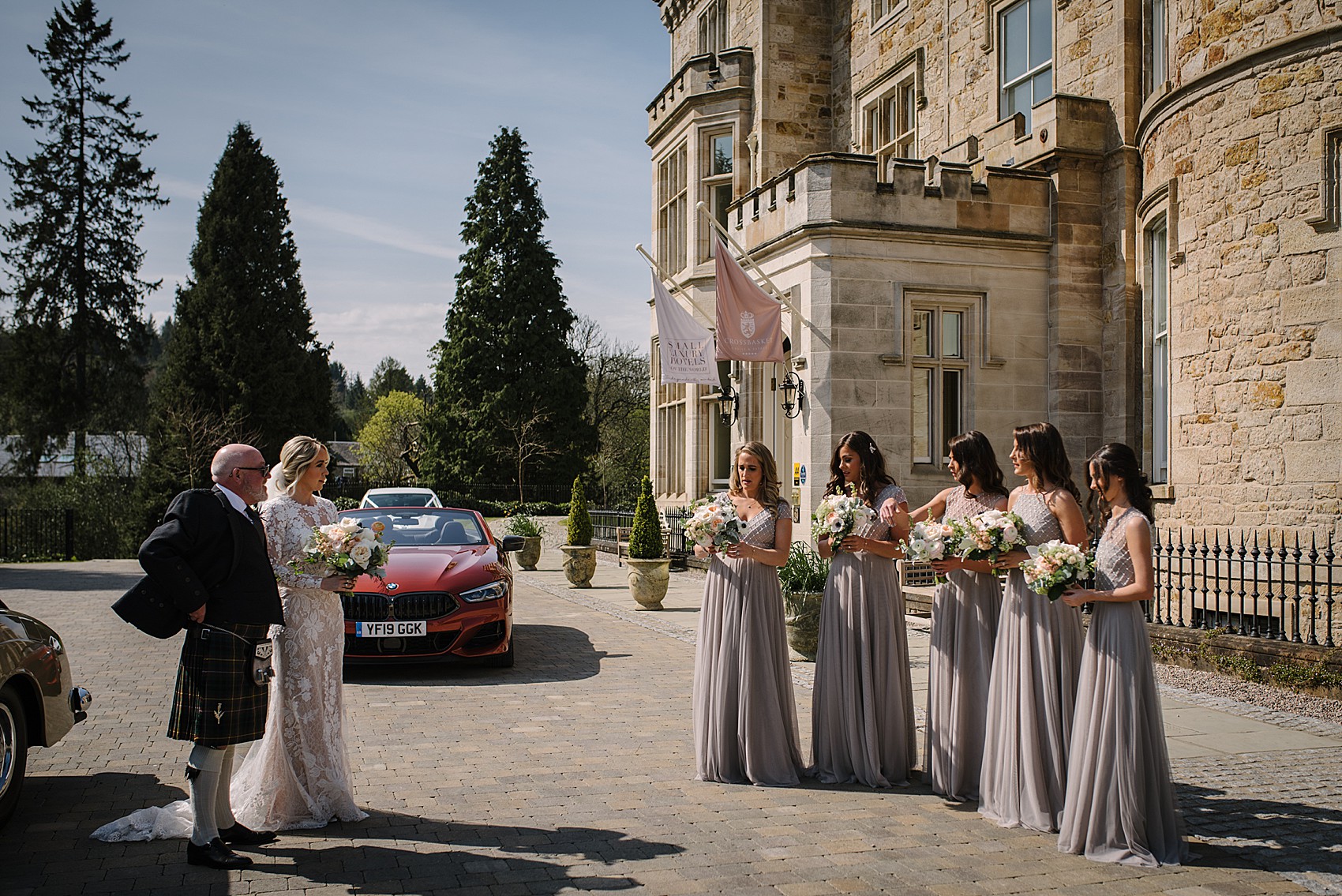 "We had placed candles all down the aisle to give the room a romantic atmosphere. What we didn't think about was that half a dozen of our guests would kick them over before the ceremony, naming part of the day 'candle skittles'. I'm glad I wasn't there when the chaos was happening but I think parts of a wedding like this make it funny and memorable."
As 'A Million Dreams' from 'The Greatest Showman' played, Emily walked down the aisle with her father to meet Chris and wed him in a service led by a close family friend.
"Our minister was a close family friend; Purvis Campbell. Purvis flew over from Ireland on Easter weekend for us. It made the wedding so special as he has known Chris for 20 years and married Chris's sister too. Purvis made the wedding so relaxed and let us tailor it to match our personalities."
Chris honoured his Celtic heritage by dressing in a kilt from MacGregor & MacDuff, adding a buttonhole complete with a Scottish thistle and a tartan tie to match his kilt.
"The best men and groomsmen all wore their own kilts (apart from the Irish ones who hired from MacGregor & MacDuff). We wanted everyone to choose their own individual style. They all wore ties to match their jackets."
"We wanted our vows to relate to how we feel about each other with phrases like 'I promise to encourage you and inspire you'. 
"The readings were one of the hardest things for us to find. They had either already been used by our friends and family or they didn't relate to us but after months of searching we came across two at the same time that were perfect for us."
"Our first reading by Chris's sister Jenny was 'Here's To Right Now' and the second was an extract from 'The Bridge Across Forever' by Richard Bach, read by Emily's brother Gavin."
If you're searching for wedding readings that speak to you, then I do recommend you head to our Wedding Readings pages for some inspiration.
For a romantic, elegant feel, the day's styling focussed on hundreds of candles and masses of flowers in whites, peaches and soft pinks to complement the couple's gold and silver colour scheme and Emily's vintage-inspired gown.
"I really wanted to go for a romantic and elegant vibe. It all came together when I chose my dress which had a vintage feel. The colour scheme was gold and silver to keep in with the vibe of Crossbasket Castle. My dad had been to Crossbasket for a function and when we got engaged recommended it to us. As soon as we drove into the driveway we knew this was our wedding venue; we didn't need to view anywhere else."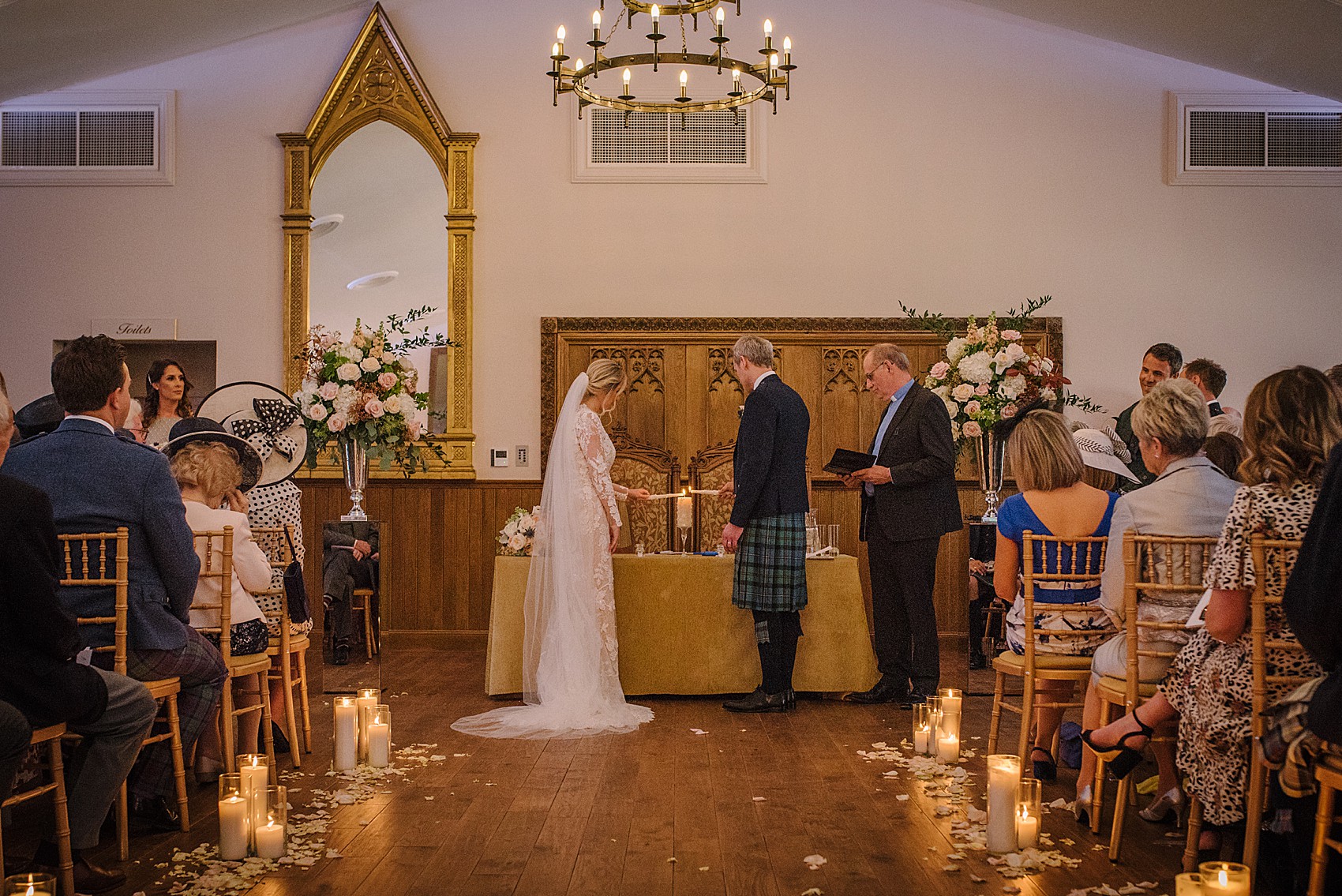 I love how the couple made their marriage truly unique by including a unity candle ceremony and a mass sing-a-long.
"Our mothers came up and lit a candle each to represent our families. We then took these candles and lit a centre candle to signify bringing the two families together."
"Our favourite part of the day was the sing-a-long of Madness's 'It Must be Love'. We wanted to do something a bit different and light-hearted at the ceremony. We hadn't thought much of it and then on the day watching all our family and friends sing along with us laughing and smiling was such a special moment."
The couple's wedding bands, and Emily's engagement ring, all came from Fred J Malcolm in Belfast.
"Chris always knew this is where he would get the engagement ring. Martin Watt at Fred J Malcolm was a big help to Chris. Martin let Chris take the ring away and said he could bring it back if I didn't like it or I said no! Thankfully I said yes. Martin also provided us with our wedding rings. He picked them out for us and we loved them. We would definitely recommend here."
The newly-weds emerged into the bright April sunshine to be showered with petal confetti and spend some time outdoors getting their gorgeous portrait shots in the castle's spectacular grounds.
"We were so lucky with the weather, 22 degrees in Glasgow in April, which meant we had a lovely outdoor reception."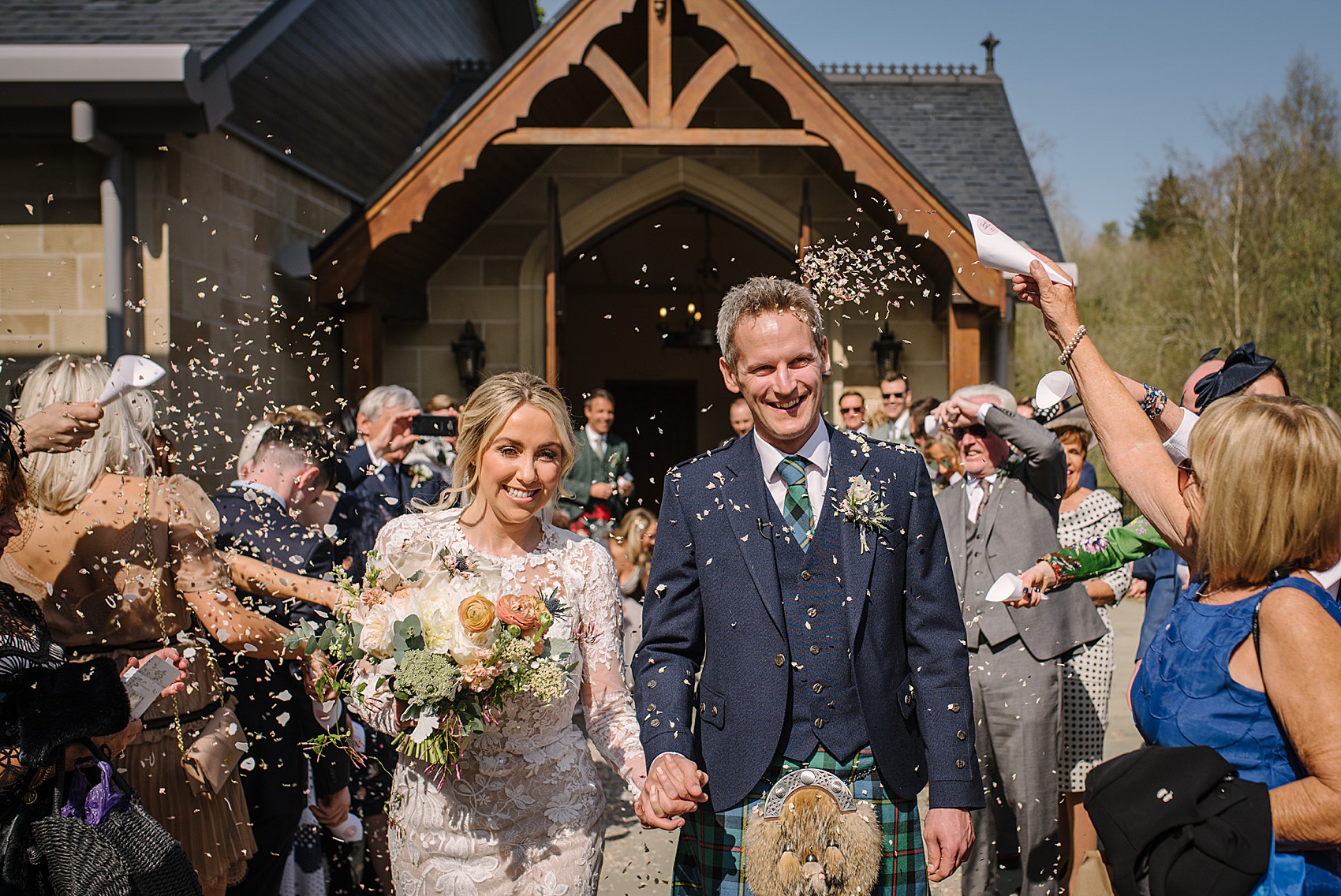 "When Chris and I met at our friends' wedding he was best man and I was a bridesmaid. We only chatted to say hello. Four years later, after a few dates, my friend was looking back at her wedding photos and Chris and I are right beside each other in the group photograph. It was obviously meant to be. We recreated the photo at our wedding, five years apart."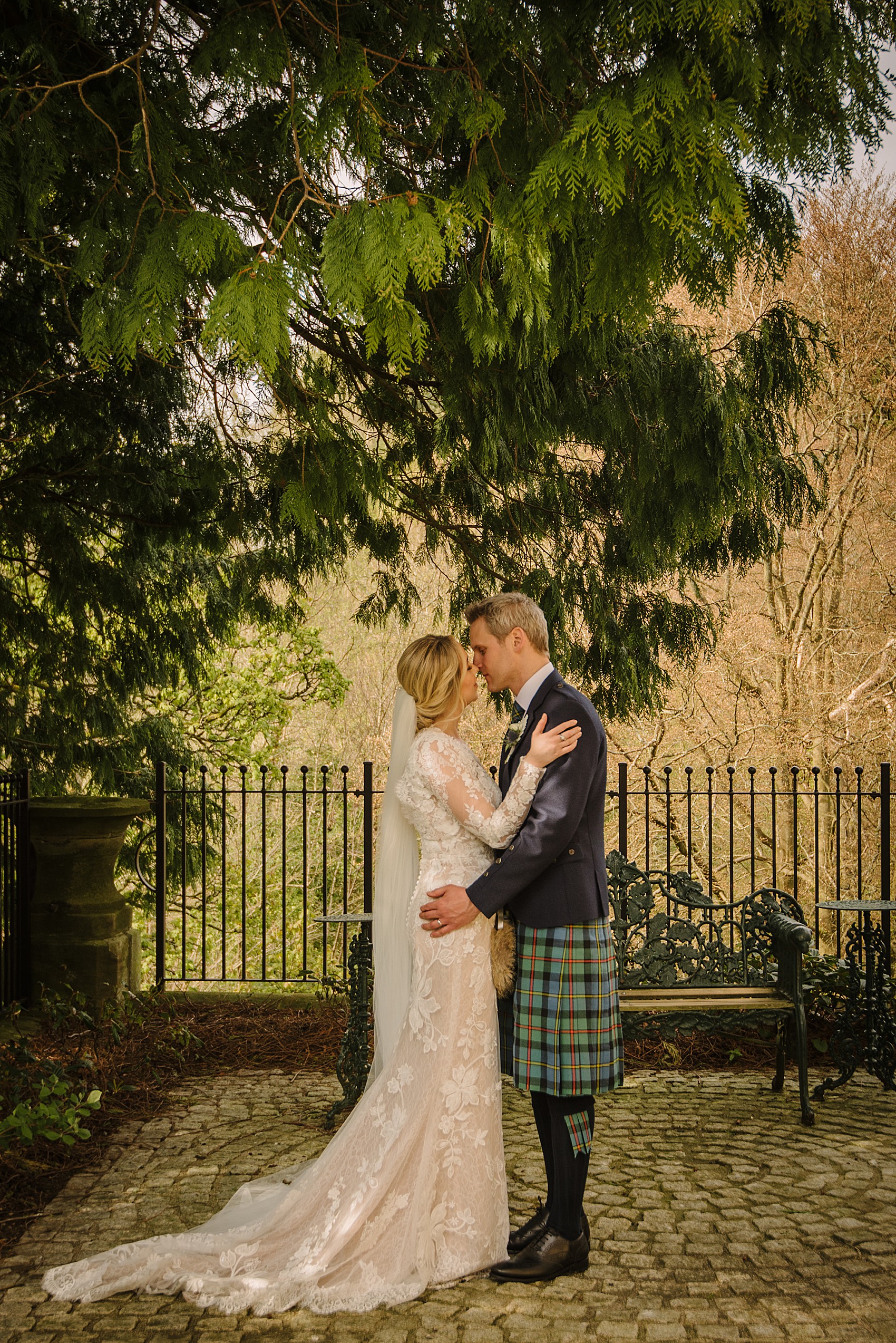 Captured at Glasgow, Scotland on 19Apr2019 by Kalisterscope PhotographyBack in the castle, the tables were laid for a wedding breakfast created by the castle's Michel Roux Jr Kitchen along with local liqueur and a table laden with baked goodies.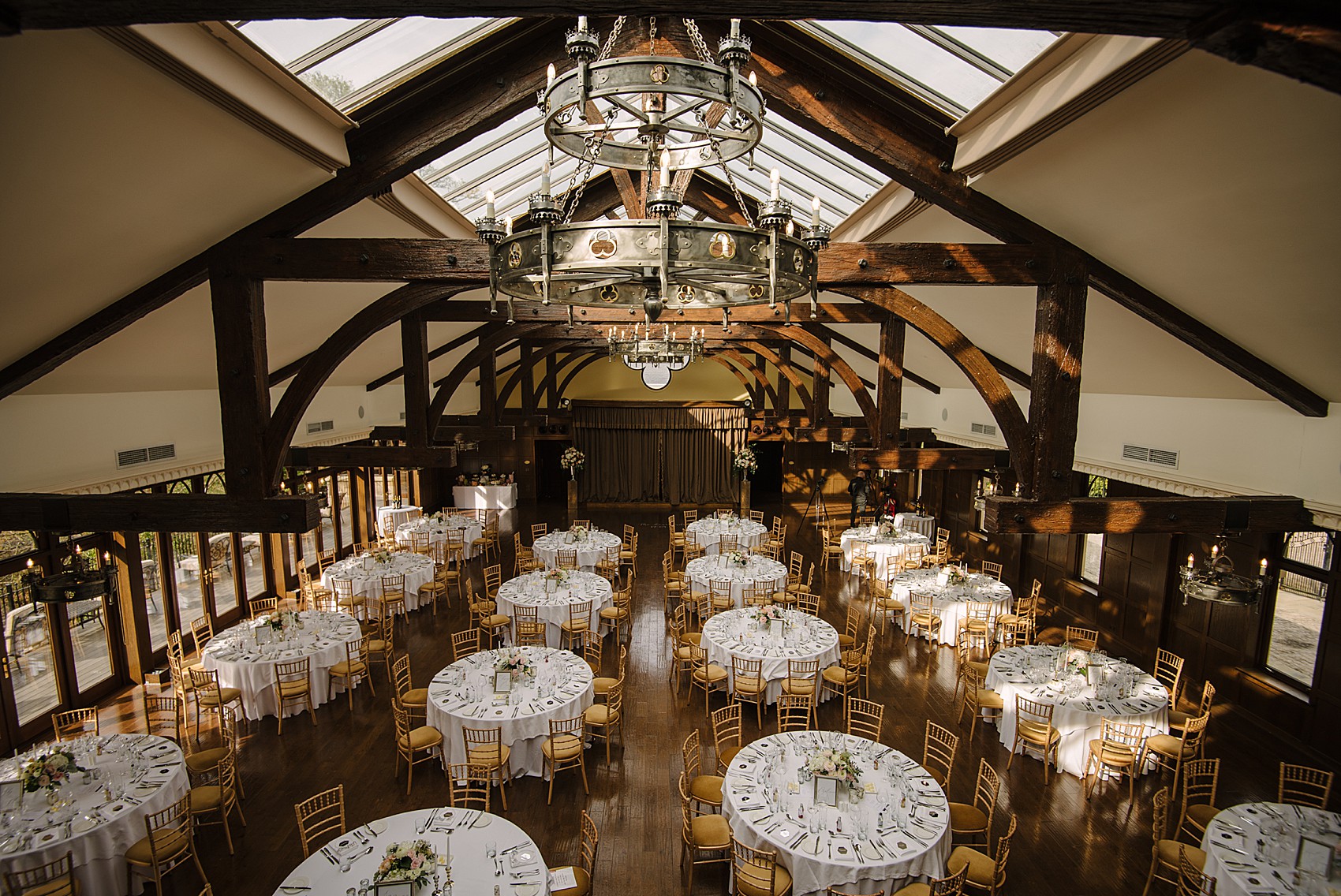 "We had Edinburgh Gin liqueur favours that went down a treat. I created the stationery through an Etsy template. The place cards were one of my favourite things at the wedding, a mirrored geometric card with guests' names engraved, through Etsy."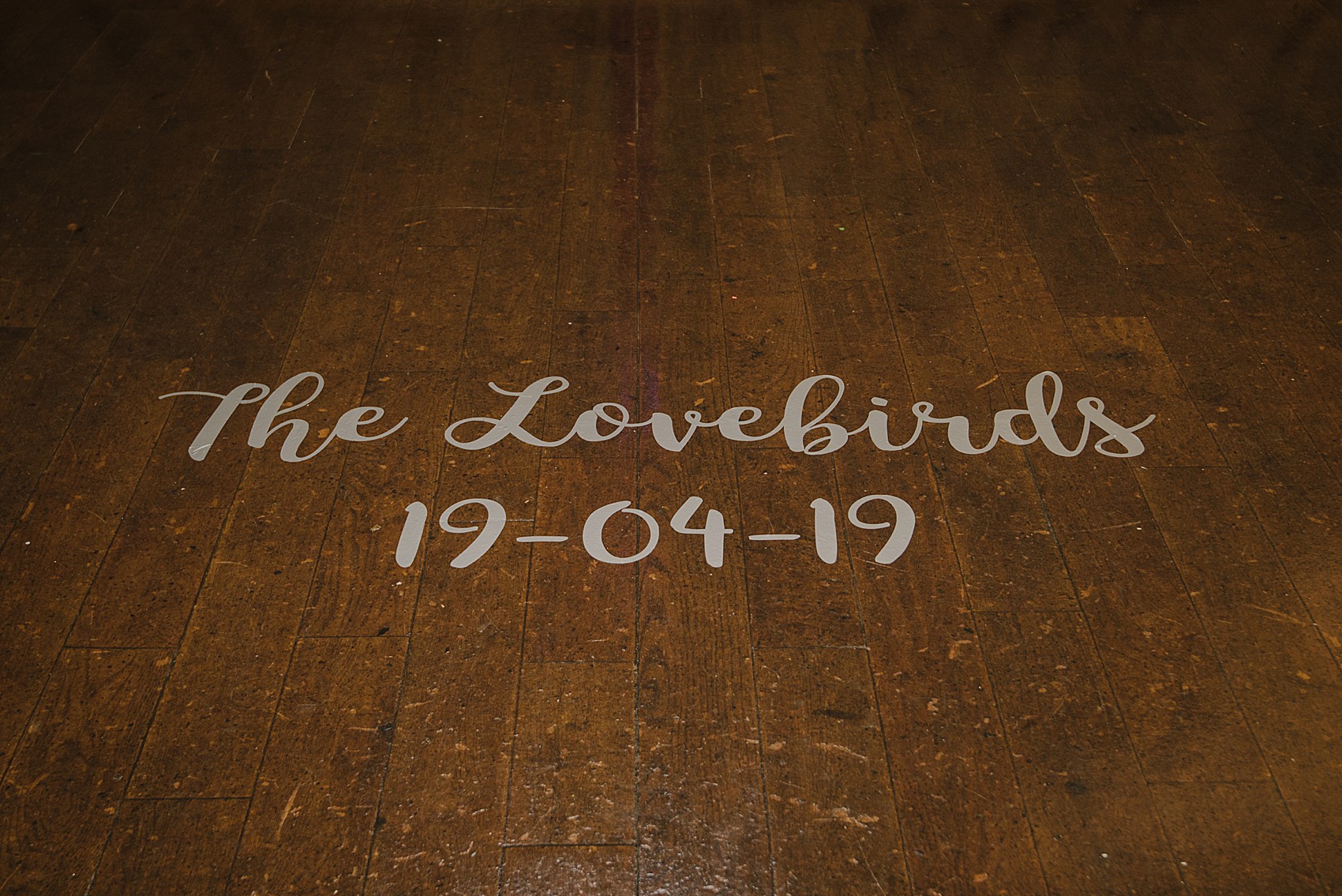 "We opted for a candy table instead of a cake. We wanted to break away from traditional where we could and this was one of the ways. Liggy's Cakes provided the goodies such as brownies, cupcakes, cake pops, biscuits and cookies for the table. They matched them with gold and silver theme."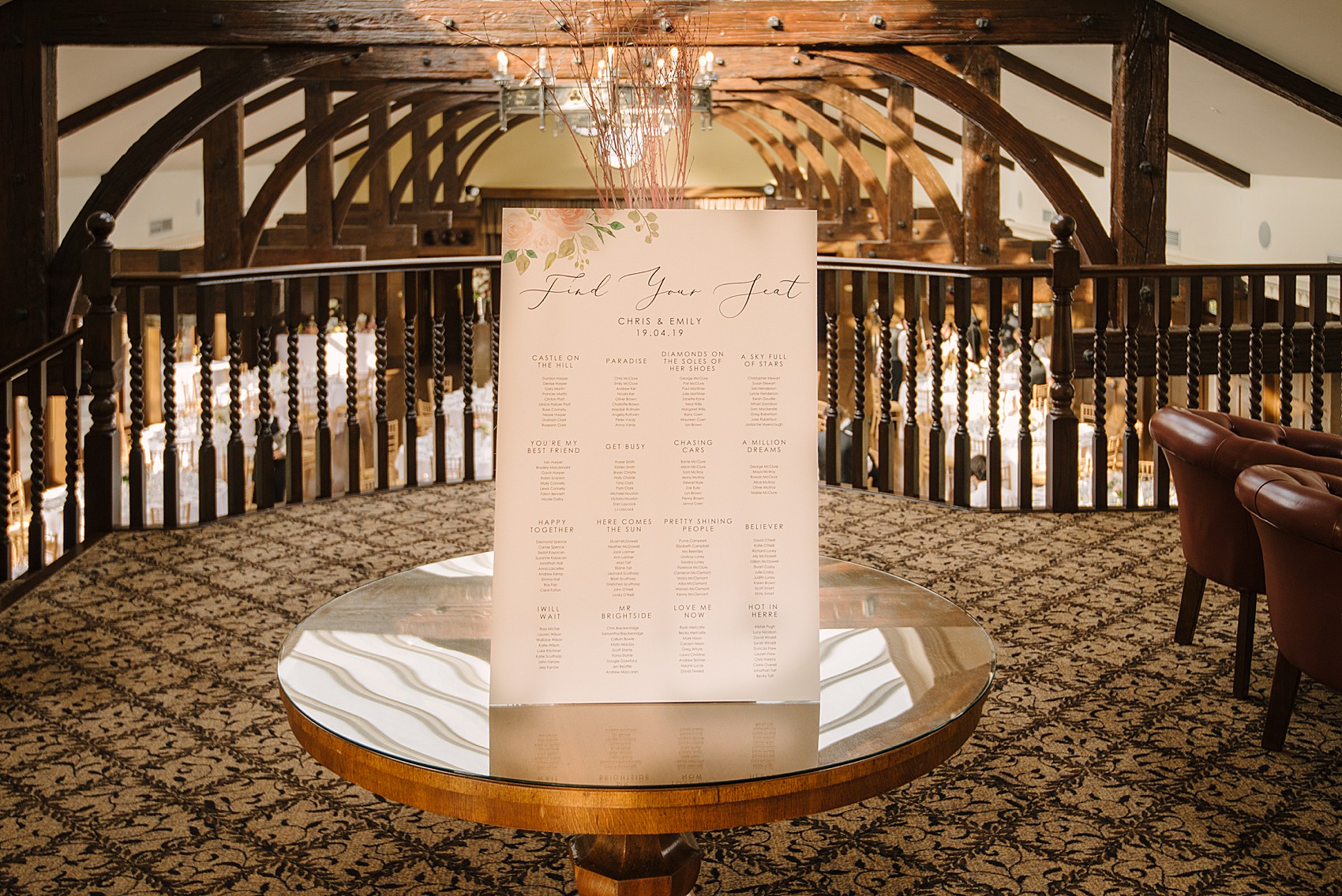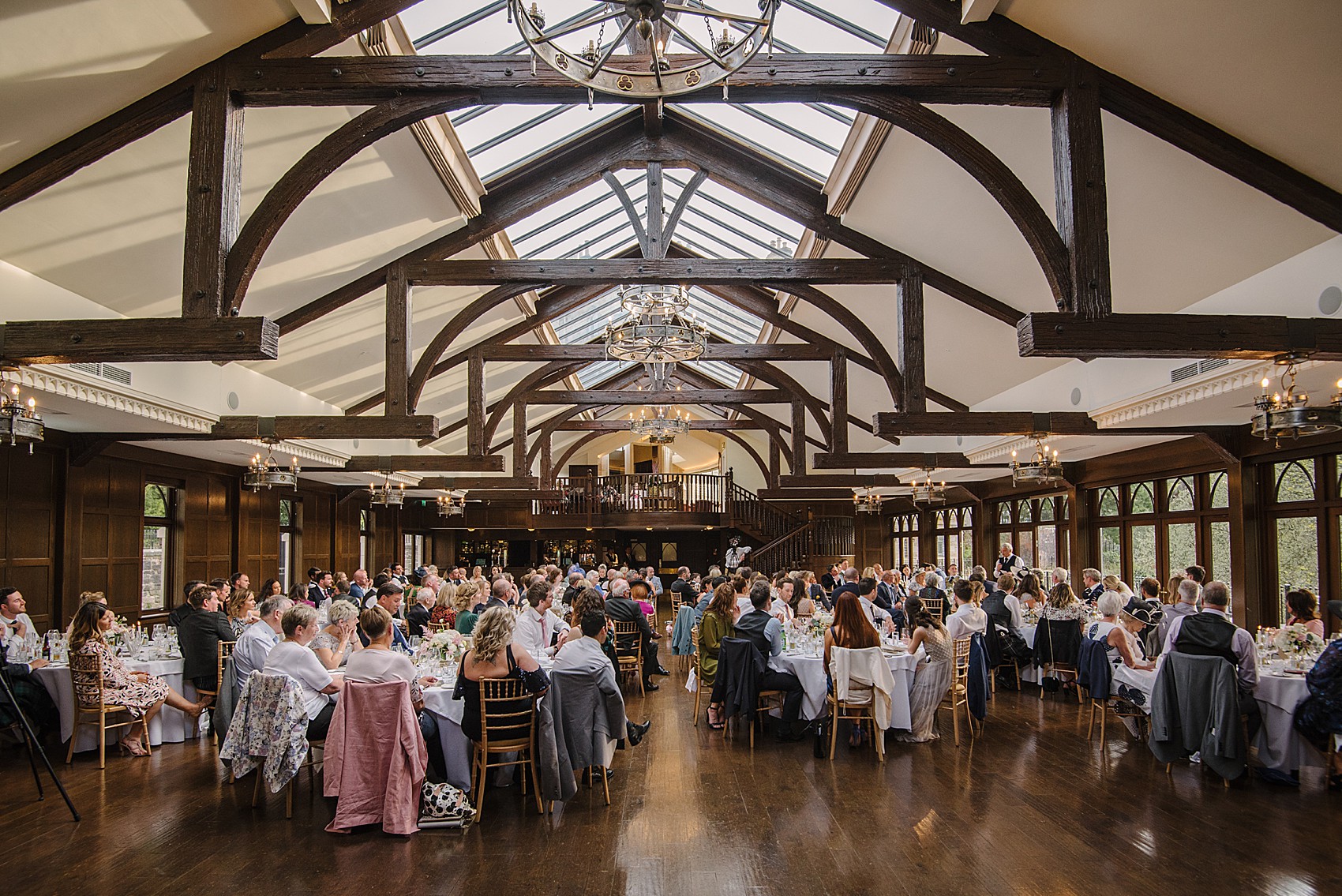 Come night fall, dancing took centre-stage after Emily and Chris's first dance.
"We had a dance floor sticker that said 'The Lovebirds' and our wedding date."
"On the day we got engaged we went to a George Ezra concert with family and friends. The next day we were listening to George Ezra's 'Paradise'. We thought the words were so us and also we loved that it was an upbeat song to get everyone in the party spirit."
Live music came from The Kilts, whilst fresh wood-fired pizzas were provided by Fire & Dough's pizza van.
"We would recommend The Kilts to anyone. They made the evening so special and the dance floor was full from the first to last dance."
Words of Wedded Wisdom
"Try not to get caught up and overwhelmed with the planning. Remember the reason you are getting married is about the two of you and your love for each other, not keeping everyone else happy."
"Take some time throughout the day, just the two of you, to take it all in."
"Remember everyone is there because they love and care about you so if anything goes wrong it doesn't matter and they won't know. It's all about the people that are there and celebrating together rather than the little things like decorations and timings."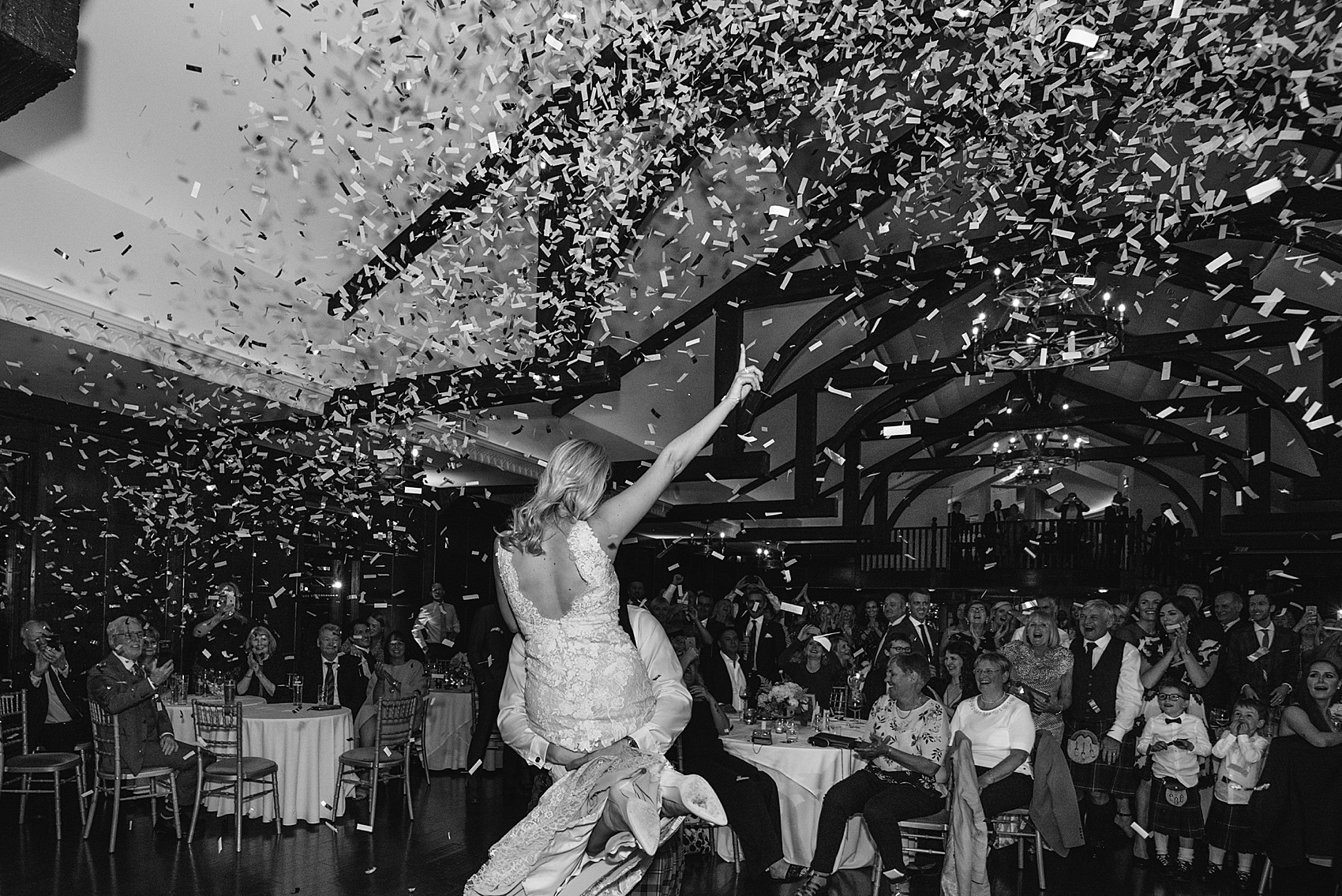 Oh Emily and Chris, how I've enjoyed revelling in your spring wedding today. Congratulations, and thanks to you both. Suzanne, thanks to you too for your outstanding work once again.
Ele xx