As I sit down to write this piece, I must confess to being tired as I've just returned from a family wedding in the USA. Today's rustically cool farm wedding, with a showstopping lace dress by boho design experts Rue de Seine, and pops of beautiful burnt orange as the colour scheme is definitely helping to wake me up and shake off the jet lag!
Meet our couple, Emma and Matty, who are both residential children's home managers for children with social, emotional and behavioural difficulties. They celebrated their marriage on the 28 August 2019 with a day spent at the The Normans, near York – a former working farm turned unique (and family run) wedding venue. This is the second time we've shared a wedding at this very special venue in as many days.
Jolly Good Wedding Films

+ Follow



The couple knew right there and then that The Normans would be the perfect place to hold their wedding, and exchanged their vows against a magnificent backdrop of cascading fairylights in the farm's converted eighteenth century threshing barn, as well as giving each other rings chosen at Beaverbrooks.
Lauren Braithwaite Photography

+ Follow



It's a pleasure to share the work of photographer Lauren Braithwaite for the first time today, and how exquisitely she captured Emma and Matty's day, with meticulous attention to detail and magical use of light and shadow.
"Long after the big day, the photographs hold the memories for us all, so this was one of our most important decisions. We looked at a number of photographers and Lauren Braithwaite stood out for us."
"We loved her style and knew that we wanted her to capture the memories that we will cherish for a lifetime."
"We met with Lauren for a pre-wedding shoot. Some people just have a skill in making you feel at ease, and Lauren is one of these people. Instantly we felt comfortable in front of the camera, as though we had known her our entire lives."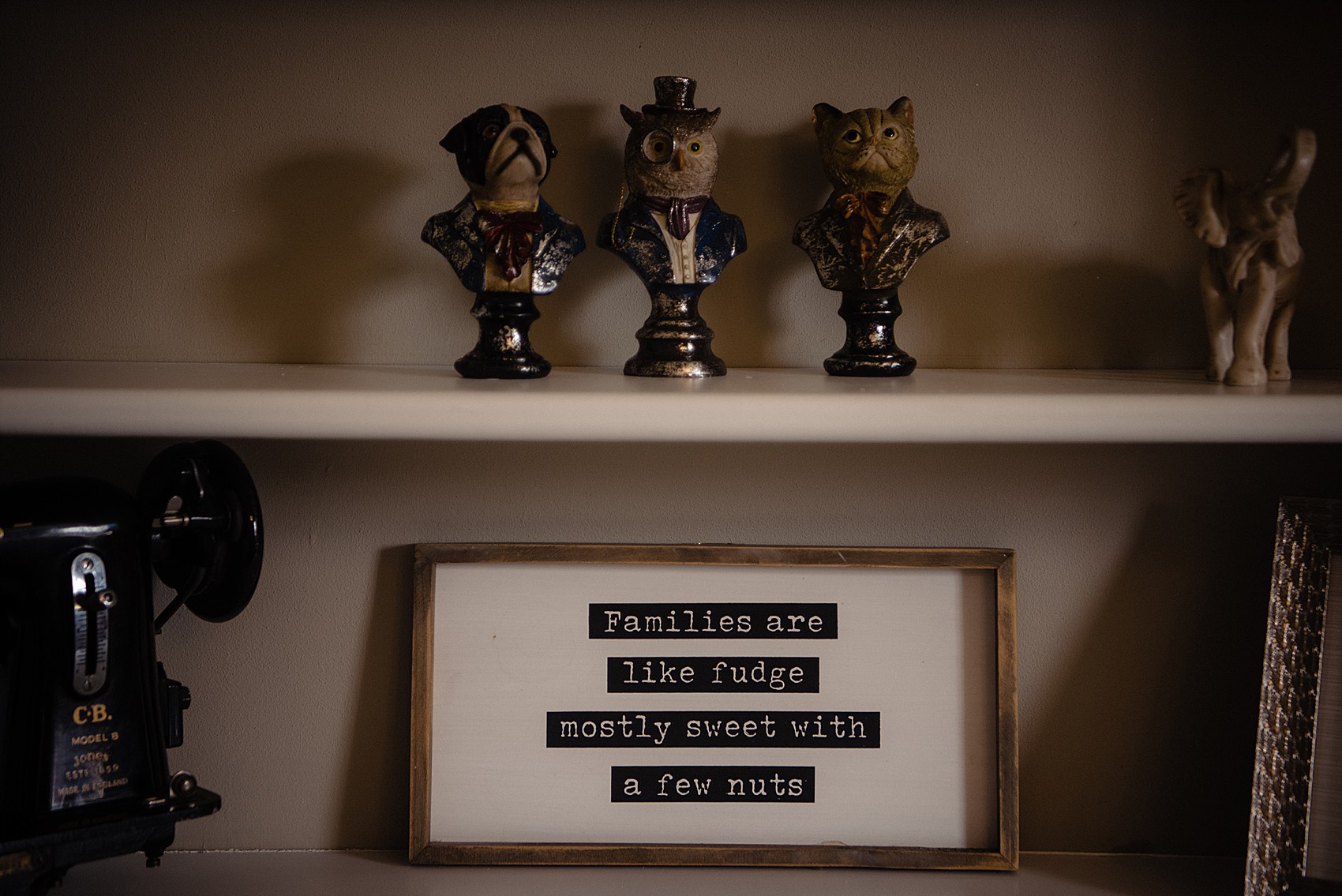 "On the day, Lauren got the shots we had hoped for, plus many more. She was professional, friendly and fun. Looking back, we don't see Lauren as our photographer, we see her as one of the guests, she just happened to have a professional camera with her."
"When our photos arrived, we were over the moon with the end product. Highly recommend."
I love the colour palette of the wedding party bouquets, in shades of cream, deep green, taupe, brown and orange by Kate Mell Flowers, and brilliantly in keeping with the gently faded and sun bleached beauty of late summertime.
"We met with Kate early into our planning. She was able to listen to our ideas, and put some of her own suggestions forward. In the end, we agreed on what to go with and Kate did what she does best."
"I knew I wanted lots of green foliage with a mix of creams, browns and burnt oranges to go with the bridesmaids' dresses. This paired perfectly with our copper lanterns and fairy lights at the venue for a delicate feel. The table flowers were exactly what we wanted, and the bouquets exceeded expectation. Kate was able to take my ideas and make them into dreams, even when I changed the colour scheme a few months before the big day. It came together perfectly."
Emma opted for shimmering gold eyeshadow and nude lips, along with bouncy waves and braids in her hair by Bow and Blush.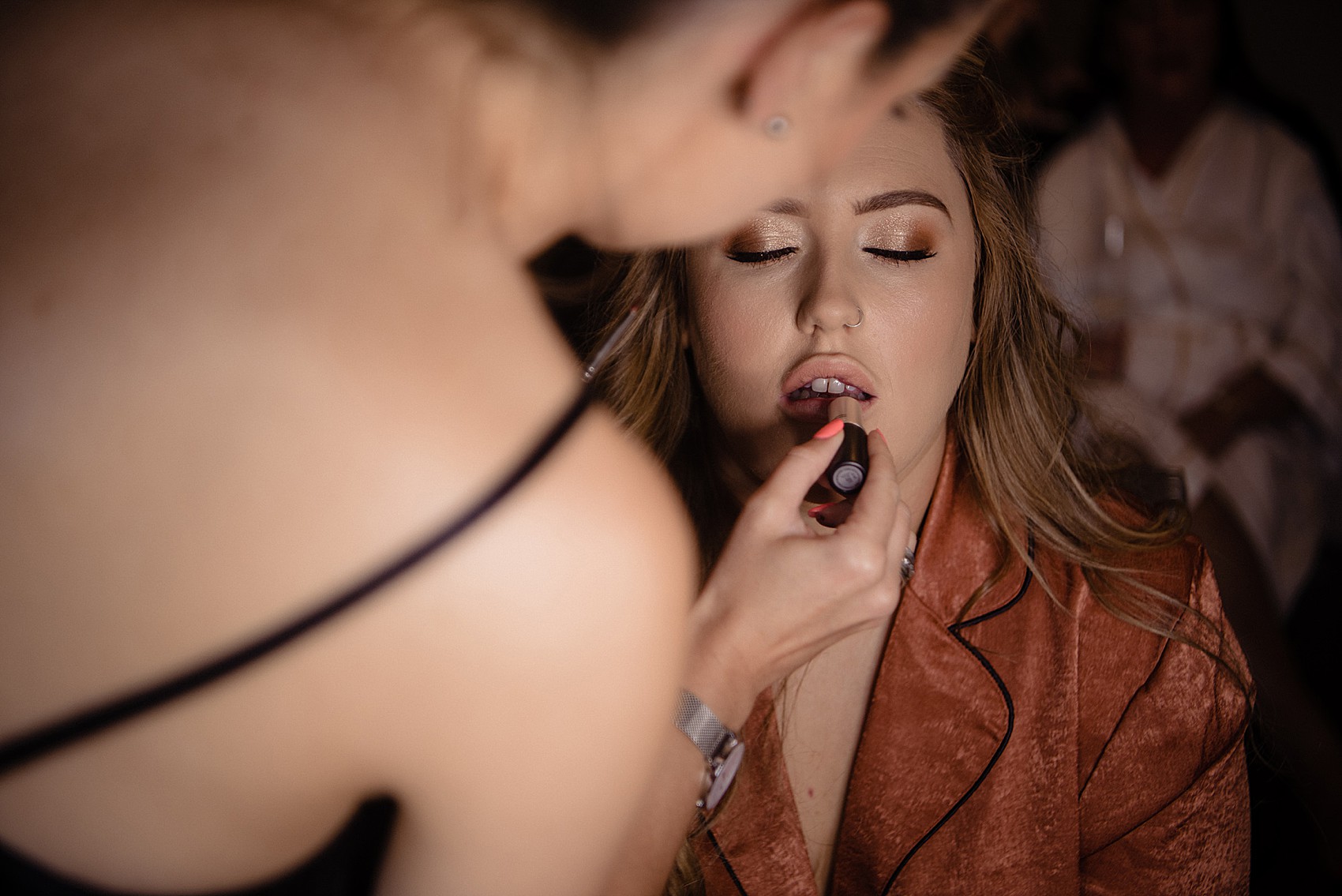 Earlier this year, we were delighted to talk with Asia Smaga, the Co-Founder and Creative Director of lingerie company Ender Legard, who have an array of beautifully crafted and clever solutions, including for low or backless dresses.
For her wedding day, Emma chose underwear by Ender Legard to act as the perfect foundation for her exquisite dress.
Emma's dress was the 'Avril' design by Rue de Seine, made from intricate and dramatic floral inspired Cornelli lace over a slip, with long sleeves and a scalloped edge train. She discovered her dress at Jean Jackson Couture in Manchester, where the support and service she received were second to none.
"I spent several days out visiting various bridal boutiques and began to think I'd never have my 'Yes to the dress' moment. I searched Instagram, came across Rue de Seine, and then began to look for the nearest stockist and found Jean Jackson Couture."
"I booked an appointment with my mum and did the 2 hour drive to visit. From the second I arranged my appointment, Felicity and her mum were amazing, I felt like a princess."
"They had so many beautiful and quirky designs by some incredible designers and as a curvy bride, I worried none would fit me, but that wasn't the case and I felt beautiful. Felicity was great at helping me style my dress with beautiful accessories also in the boutique."
"I have already recommended Jean Jackson Couture to several brides, and hope its not long until one of my friends is getting married so I can visit again!"
"I really didn't fancy a traditional dress and this was confirmed when I tried a few on. Jean Jackson Couture is a definite option for those wanting a quirky, boho look."
On her feet, Emma wore blush block heeled sandals from Office, and accessorised these with anklets from Anna Campbell.
"Matty and I took an afternoon off work to go perfume shopping to find something new, which neither of us usually wear. In the end we went for Alien by Thierry Mugler, and Invictus by Paco Rabanne."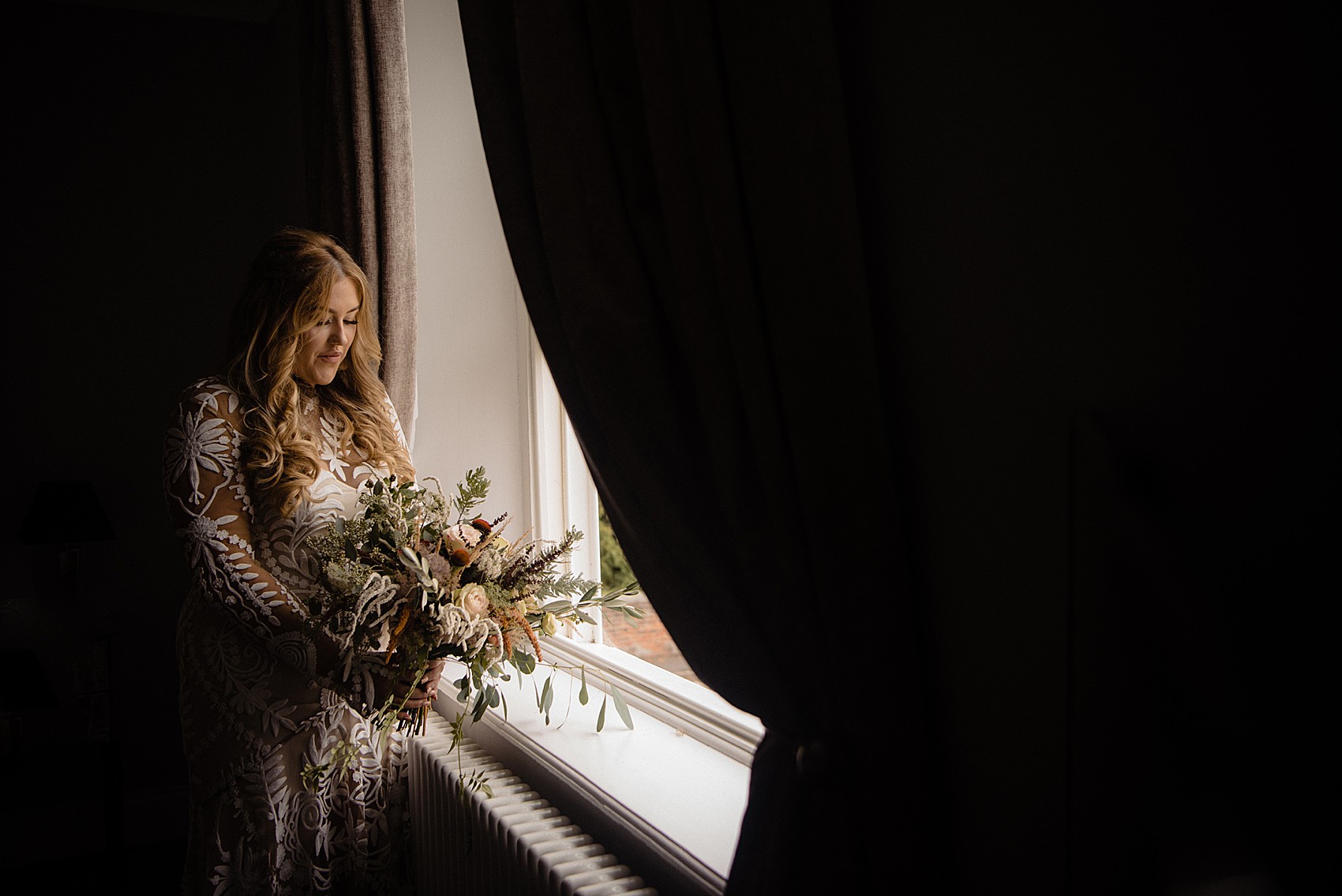 In keeping with the bold colour scheme, the bridesmaids wore shimmering slip dresses in gold and orange from ASOS, together with their own shoes and accessories, and Emma's flowergirl wore a pretty white lace dress from H&M.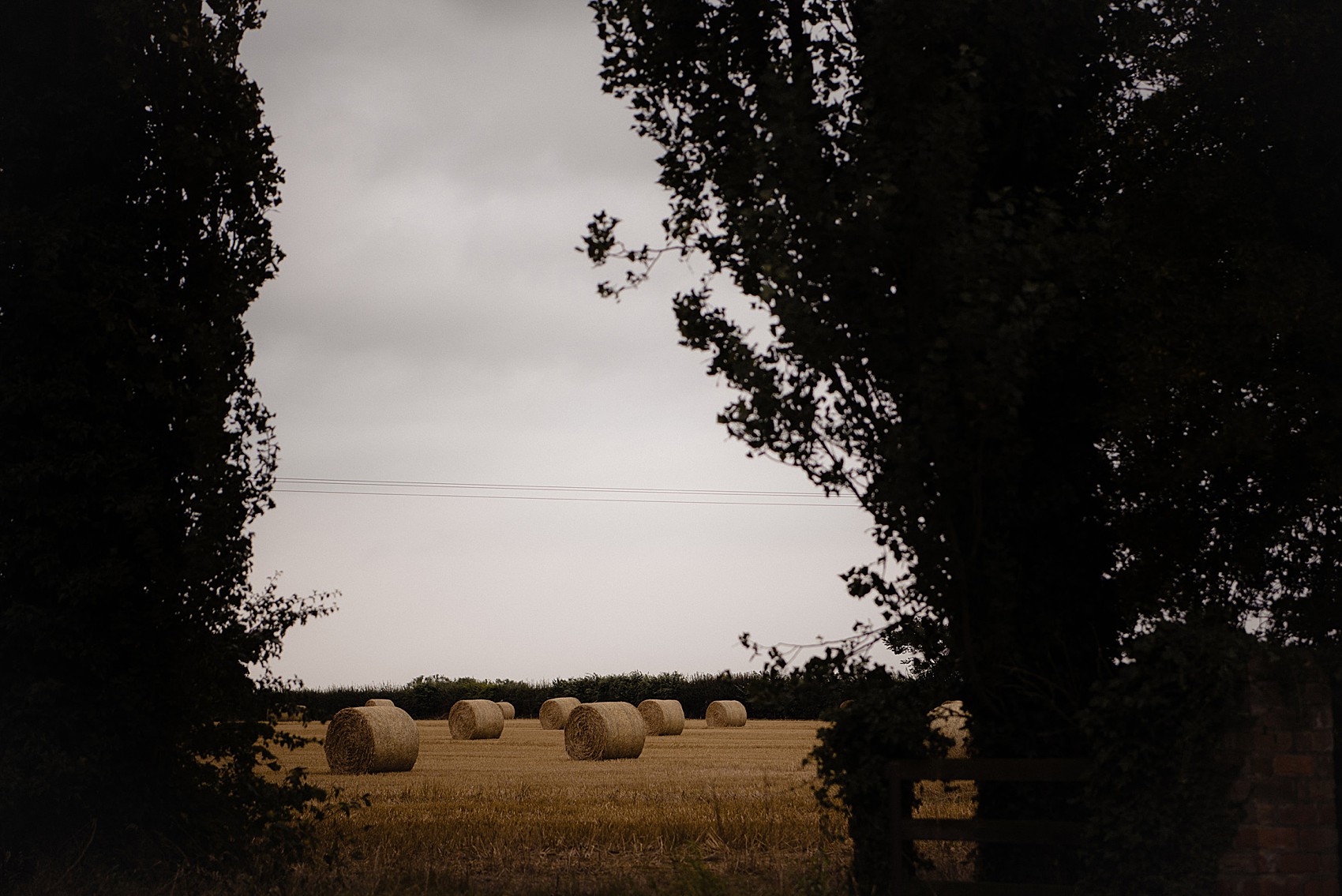 Matty and his groomsmen looked super smart in brown tweed three-piece suits, worn with white shirts and orange ties and pocket squares from Bakers Tailoring.
"We originally went for a blush colour theme, but as The Normans venue developed, so did we, and we went for a more adventurous burnt orange colour."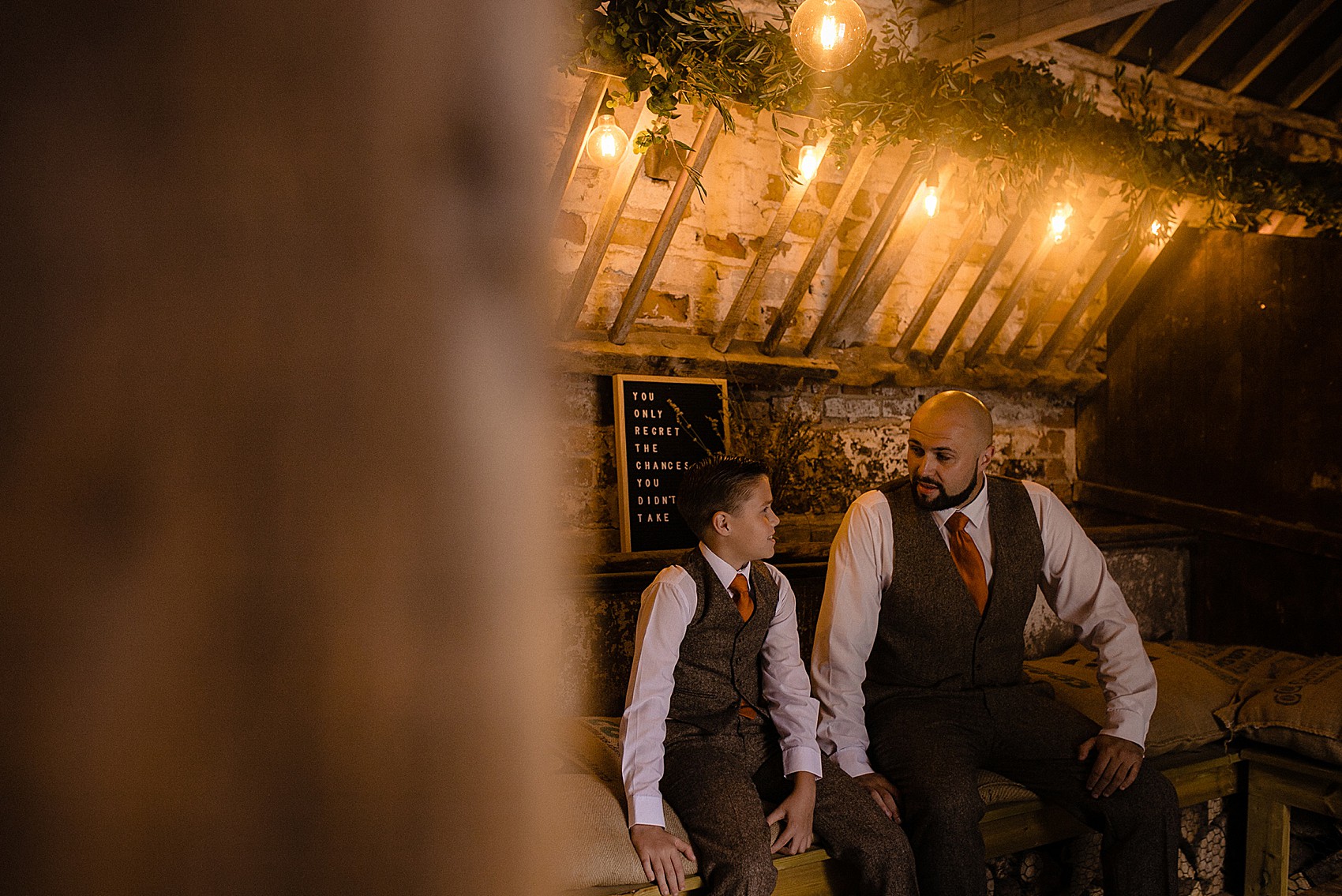 Emma and Matty first met at work in 2016, and went on their first date together in September of that year.
"Matthew proposed in March 2018, the day before my 28th Birthday. We were taking a trip to York for my birthday weekend and Matthew had arranged for us to visit The Normans. The team at The Normans were all in on the surprise, so when Matthew got down on one knee and proposed in the exact spot where we would become husband and wife (if I said yes!) the team were nearby with the champagne for the celebrations to start straight away."
On the way to the ceremony, Emma was accompanied by her Man of Honour, and once at The Normans, followed the rest of her wedding party down the aisle with her dad, to an acoustic version of All Of Me, by John Legend.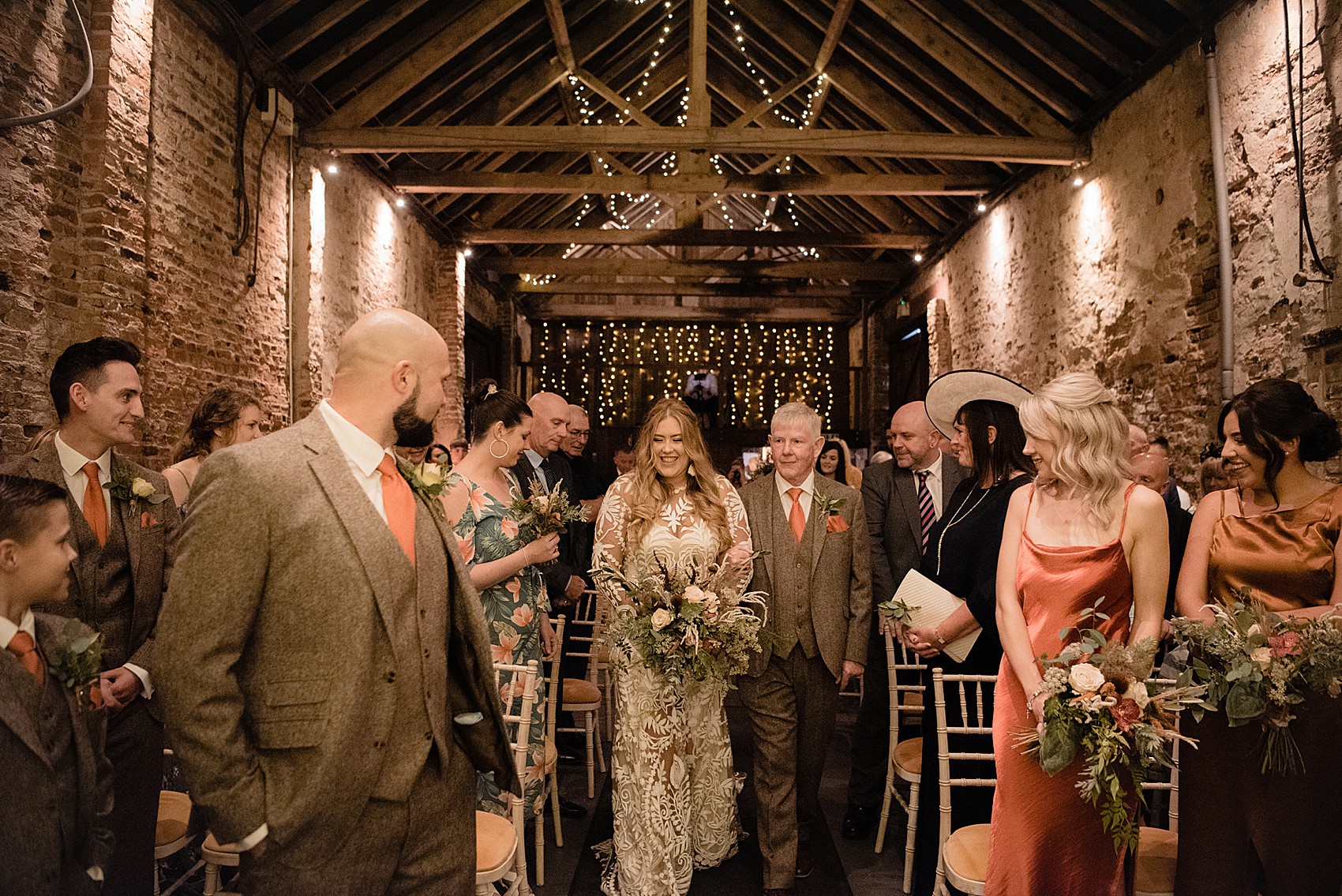 "The converted barn with the fairylight backdrop, which has become The Normans trademark piece, is simply beautiful. The rustic cowsheds added to the perfect location, where we could imagine all of our guests enjoying the celebrations. The more modern outdoor space was the ultimate setting for our summer wedding."
"We met with Anth, and he was so excited to be shooting at The Normans for the first time. He loved the venue, and his energy, charisma and enthusiasm towards everything was amazing. We loved the video he produced, it captured the day perfectly."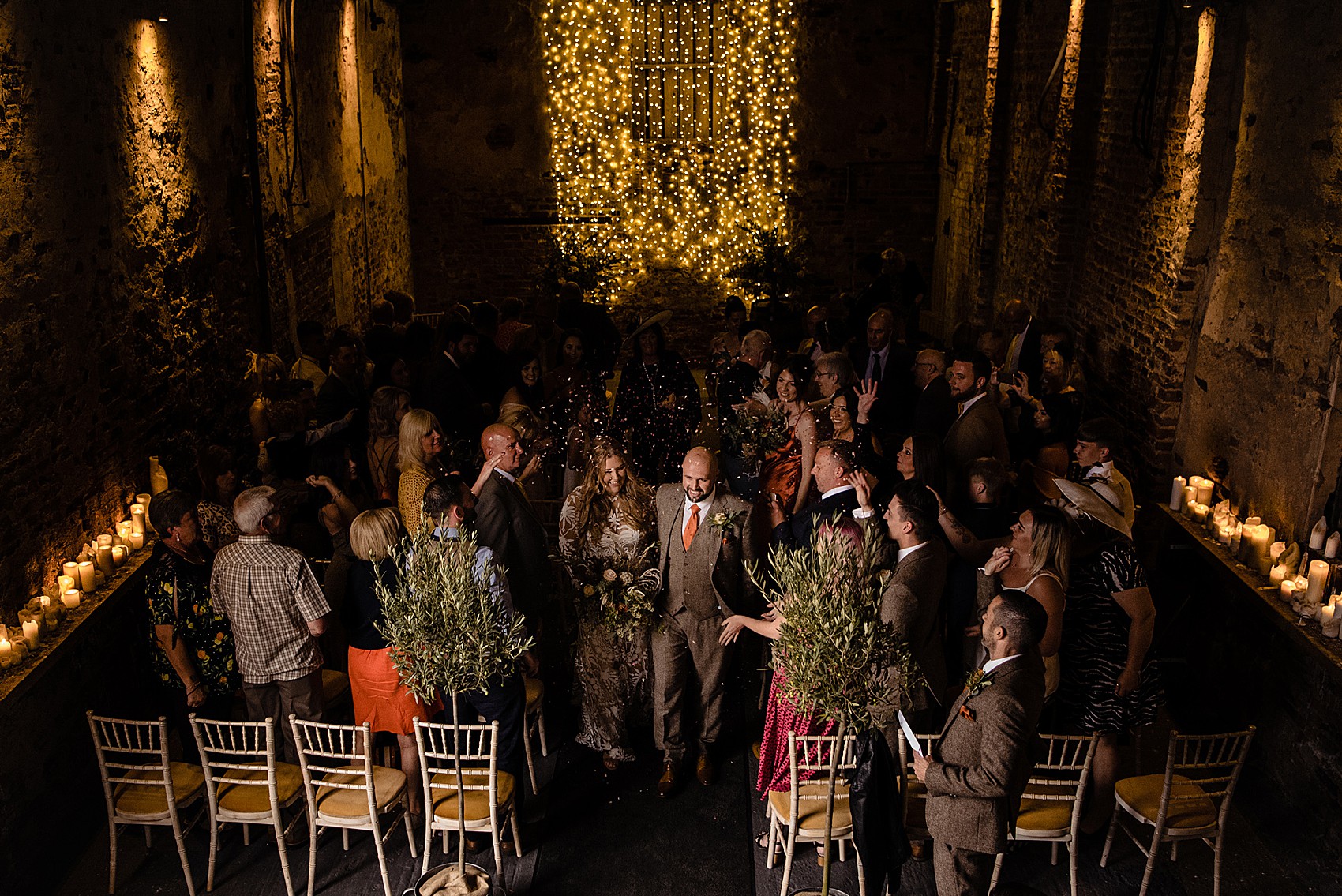 Everyone gathered in the courtyard post-ceremony for drinks, canapes and live music from saxophonist Nick Baya and DJ Danny Barnett (booked via Jonny Ross Music) helping to create the relaxed Ibiza party atmosphere that Emma and Matty wanted.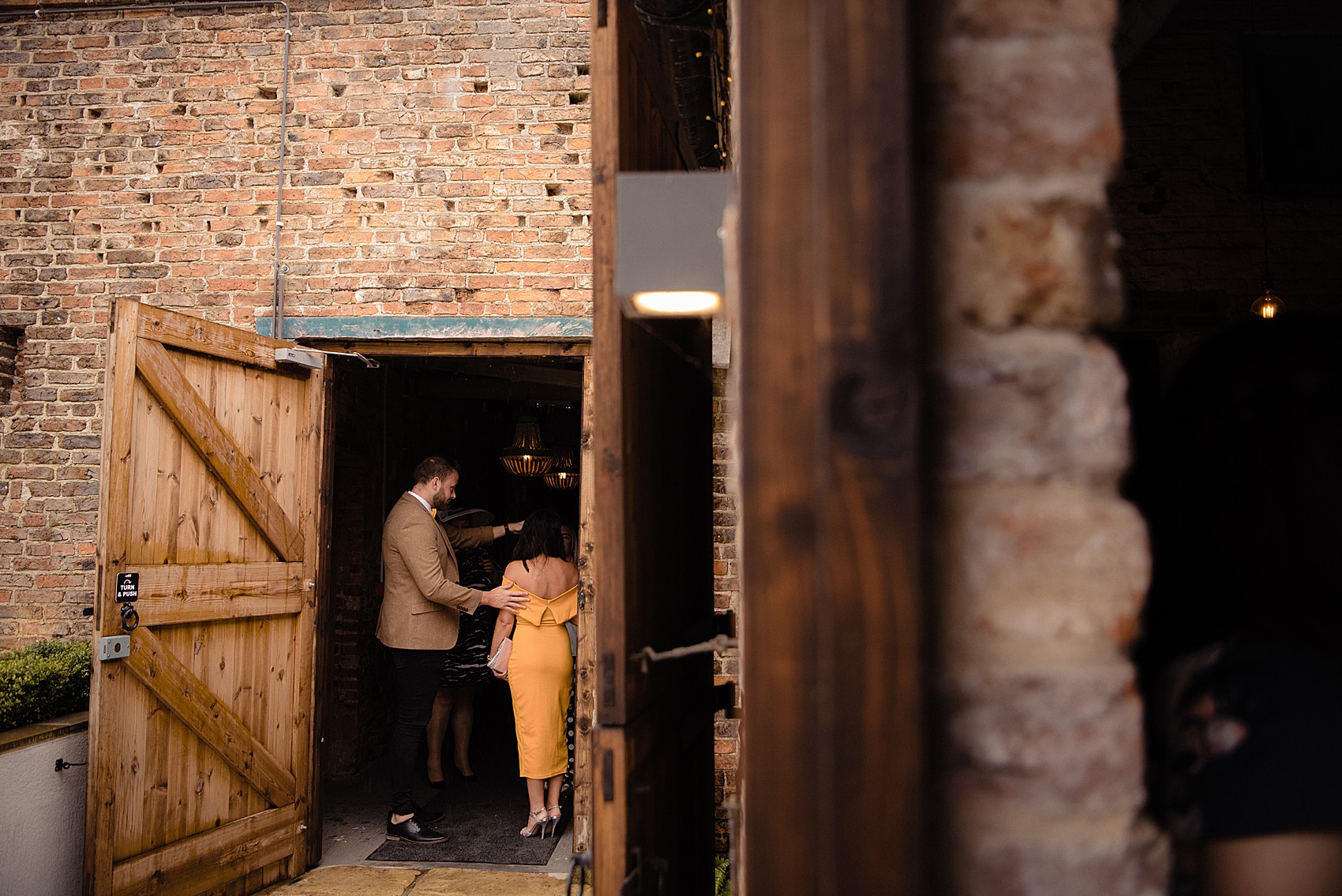 The lovely, restored Grain Shed was the space used for the wedding meal and reception, and its white painted reclaimed wood and timber canopied ceiling provided a wonderful backdrop for the elegant styling, with lots of fairylights, candles, and copper lanterns filled with greenery and twinkling lights on the dining tables.
"In all honesty, we didn't have to do much to make it our own, and we went for a less is more style, just relying on the natural beauty of the place to make it special."
"We went with The Hog & Apple Food Co. for catering and we weren't disappointed with the canapes, Tomahawk steak board and the moreish sides of pit beans, tabbouleh, mac 'n' cheese and onion rings."
"The food was served on big boards, as this is how we eat at home and wanted our guests to have a feast. Even months after the wedding, our guests are still talking about the showstopping food."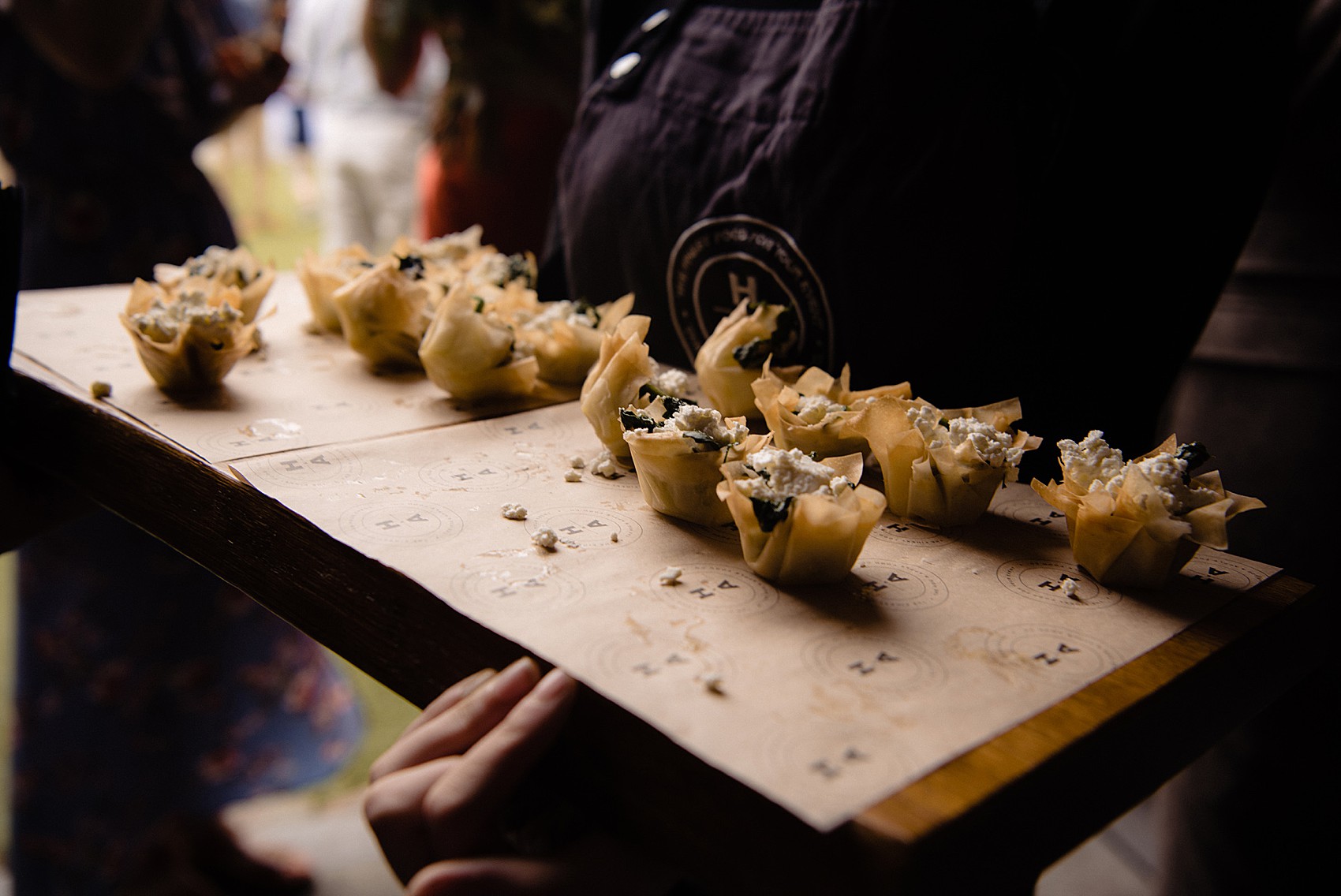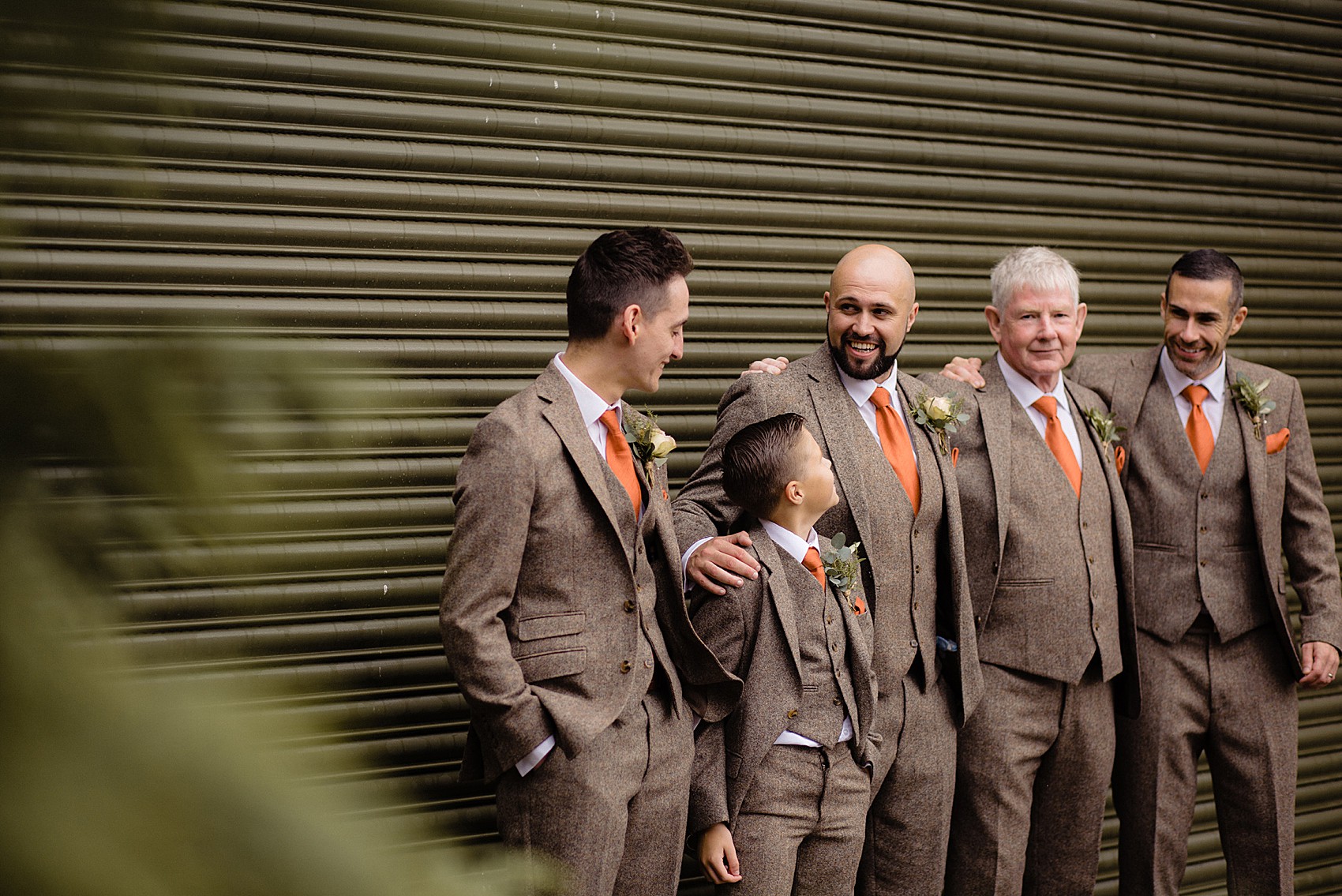 "Our invites, table names, table planner and place cards were designed by the wonderful Christine at Polka Dot Paper. She took our ideas and made them reality. We kept them simple, with rose gold writing on a white background, which worked perfectly with our floral decorations."
The centre table was decorated with beautiful, boho bespoke hanging macrame planters on a frame, made by Katie Dewick of Half Hitch Macrame.
"We opted not to have favours, although many of our guests kept their place names, which were made of acrylic with rose gold lettering. Many of these now take pride of place on coffee tables around the country!"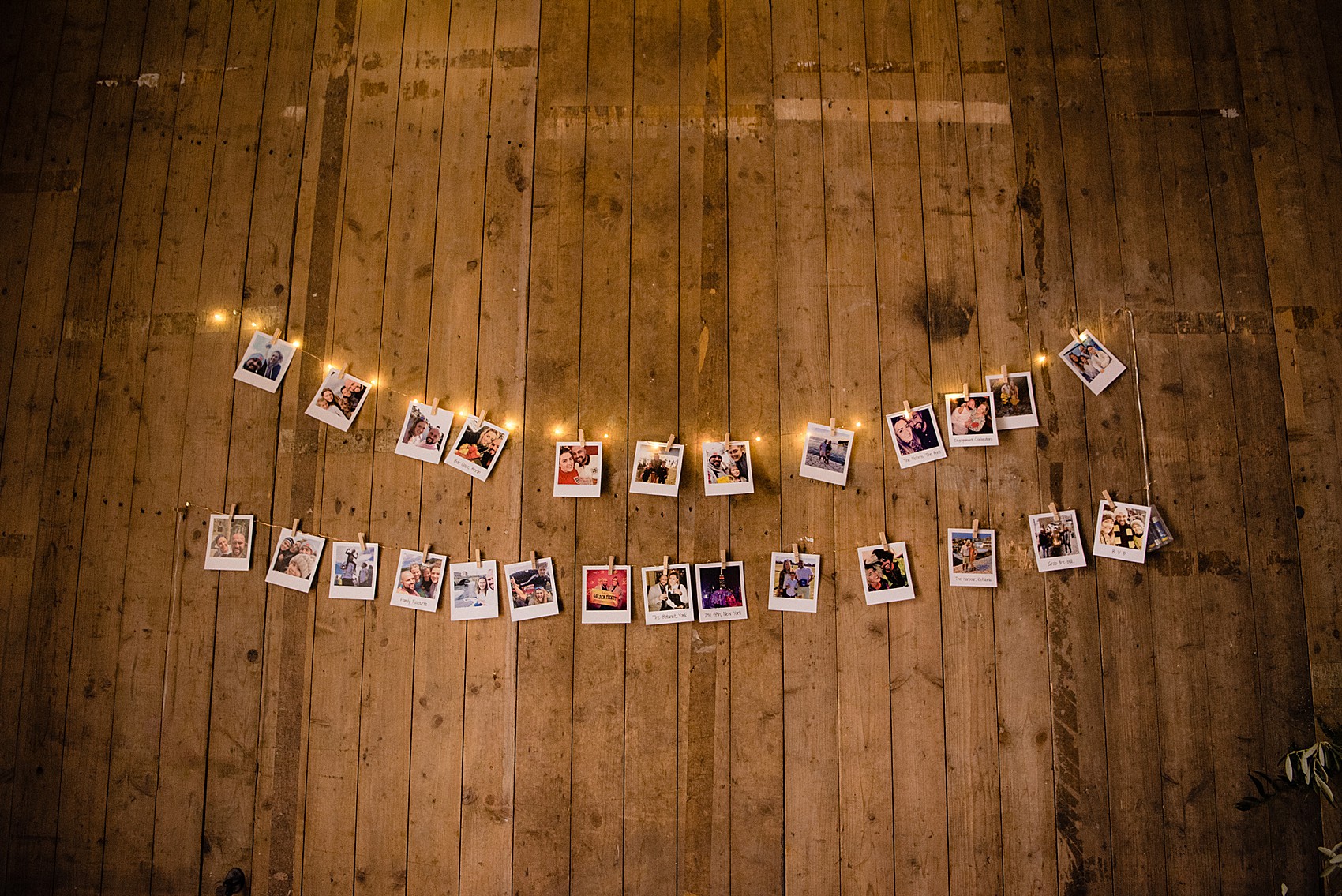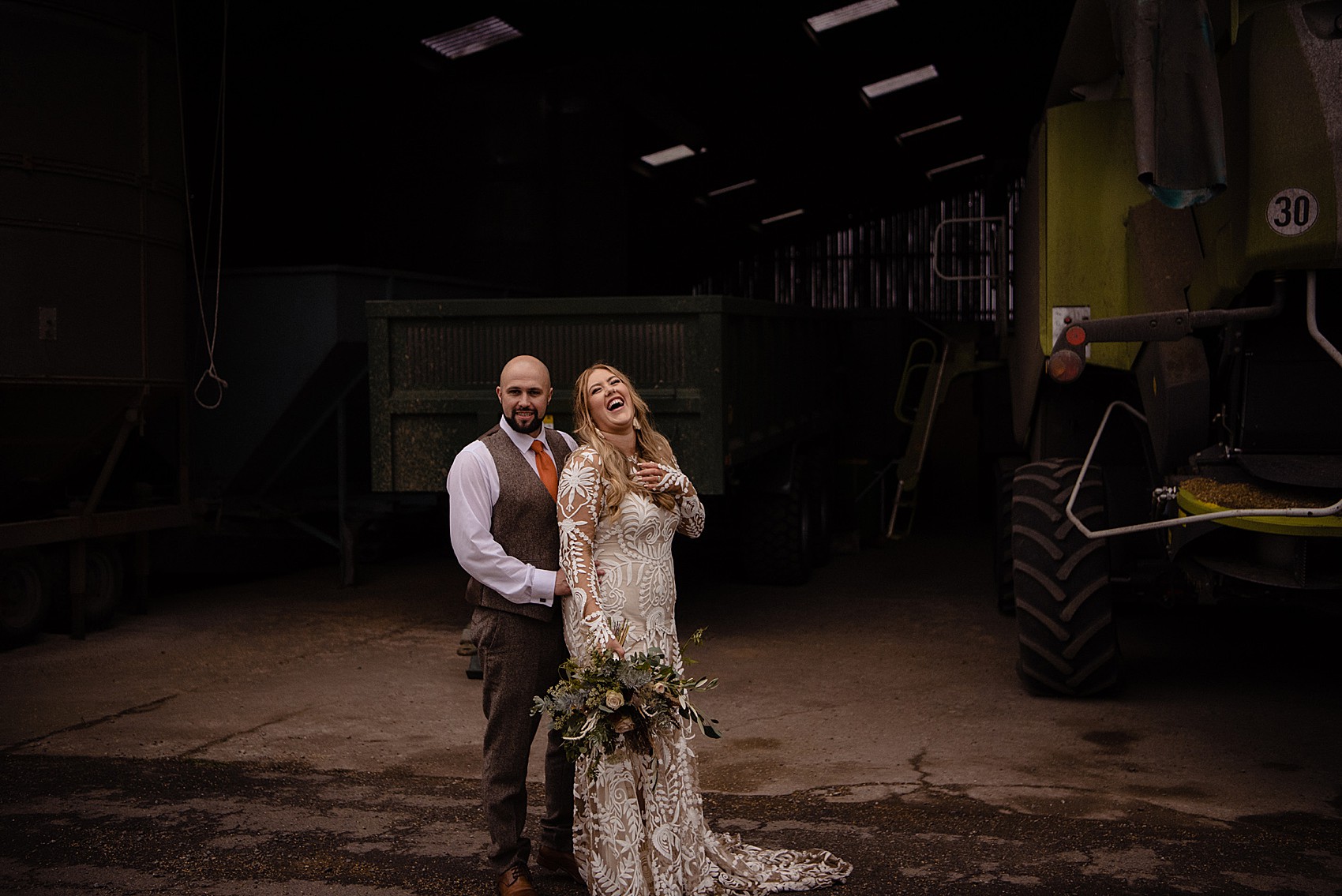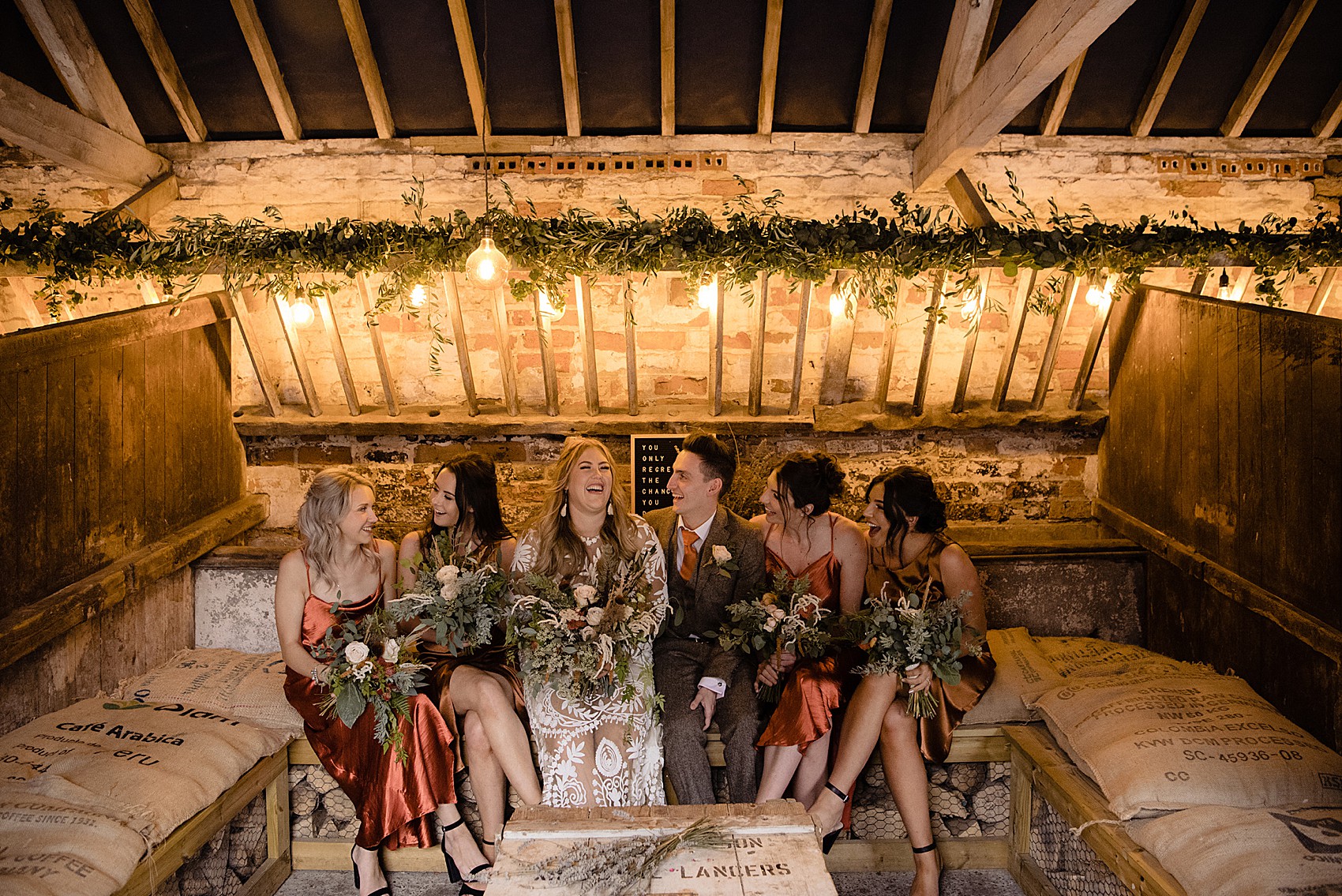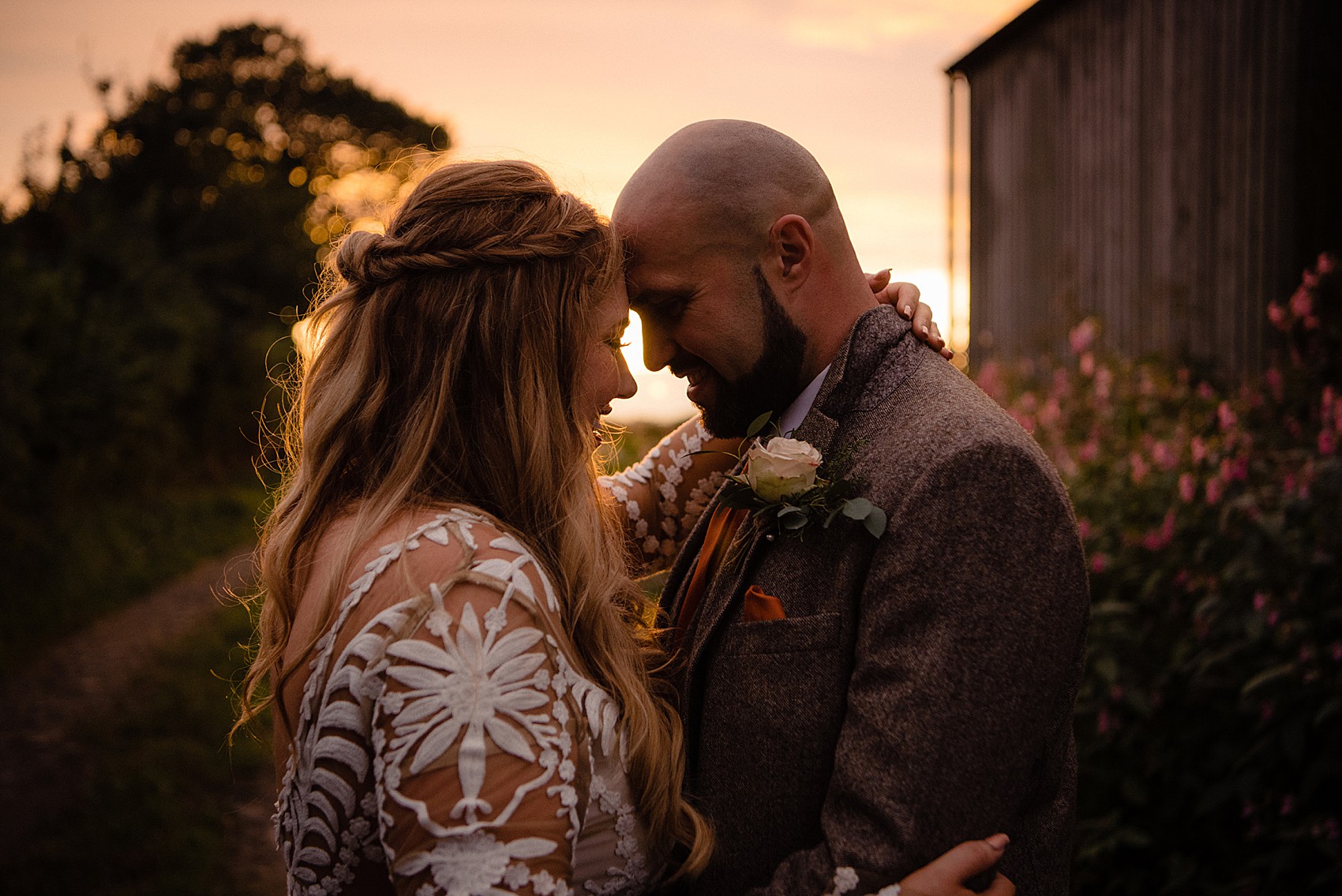 Dinner and speeches were followed by cake – and what a cake – a three-tiered semi-naked cake in flavours of Mojito, carrot and lemon and elderflower, made for them by Michelle, of Mrs Banks' Bakery.
"I couldn't have had anyone else make our cake. Michelle, AKA Mrs Banks, has been a lifelong friend  – we met when we were only 5 years old. We knew we wanted a semi-naked cake and something a little different when it came to the flavours, so Michelle made that happen."
For their first dance together as a married couple, Emma and Matty chose their song, You and I (Nobody in the World) by John Legend.
"In the evening the PictureBook Studio entertained the crowds with their take on the traditional photobooth. Not only was this amazing fun on the evening, it also formed our guest book. Not only was this amazing fun on the evening, it also formed our guest book."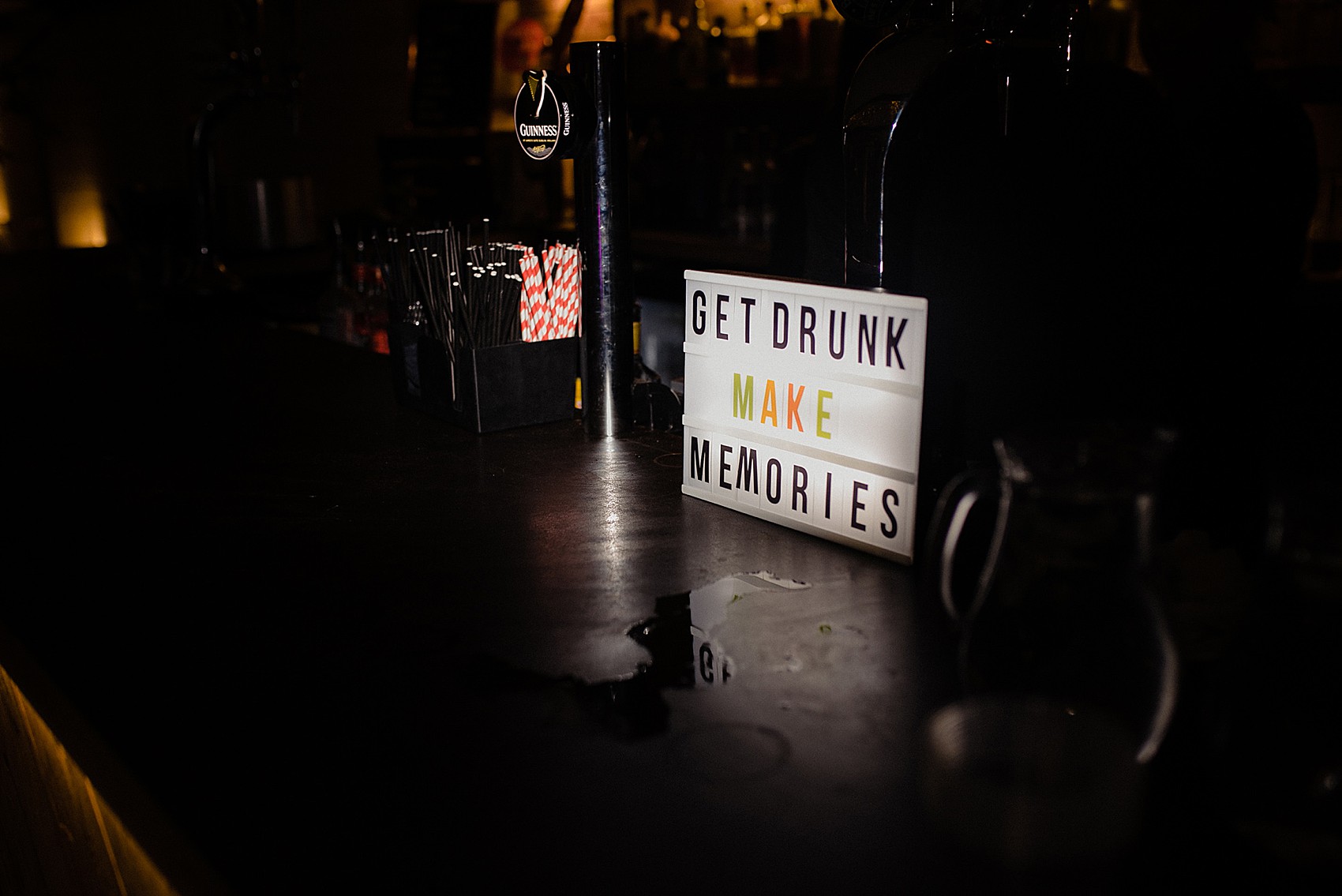 Words of Wedded Wisdom
"Take a step back and just enjoy the moment. Don't stress about the small stuff. There are bound to be hiccups along the way but wedding planning should be fun."
"Enjoy each other's company. The day goes so quickly and before you know it, it's over, so make sure you've spent your wedding day together."
"The day couldn't have gone any better – everything was perfect. Before the wedding we were given some advice to take a step back and just enjoy the moment. During the meal we took the opportunity together to do just this and it was incredible."
Emma and Matty, congratulations and very best wishes to you both, and thank you. It's been a pleasure to share your super-cool country wedding day. Many thanks to Jolly Good Wedding Films and Lauren Braithwaite Photography for there amazing work, too.
Macrame is having a bit of a resurgence isn't it? If you love the boho, 70s style it brings to a day, then we have lots of other celebrations that incorporate it, right here.
With love,
Laura