I always enjoy bold and striking colour combinations and schemes, and today's effortlessly cool and stylish city wedding is full of the rich, dramatic shades of autumn.
At its heart is a lovely Canadian couple who now make London their home, clearly having the time of their lives all the way through their sweet and intimate day. This is the wedding of Claire, a Programmes Assistant, and Trevor, who is an Operations Manager. They were married on the 18 October 2019 in a ceremony held at Old Marylebone Town Hall, followed by a reception at The Britannia, Kensington.
Images by Kim Williams Weddings
Autumn is Claire's favourite time of year, and she was inspired by the season both in her choice of outfit, and in the colour scheme throughout the day, along with a few other inspirations.
"Royal/navy blue and gold was a vague colour theme for the décor and invitations. Trevor and I are originally from Canada and now live in London, so we wanted to have some bits of both places feature as well. We had a very small guest list, so wanted it to feel very intimate and relaxed."
Hair and make-up artist Katie Coward created a glamorous, polished look for Claire, which paired perfectly with her sparkly and slinky pewter grey gown by Adrianna Papell, covered in sequins from head to toe, with elegant half-sleeves and a low, scooped back. Claire ordered directly from the designer's US based website.
"I loved everything about what I wore. The traditional white dress is not my style, so I was never going to go in that direction. The grey was perfect for autumn, and I thought the dress was the right mix of a simple cut with amazing sparkle."
Claire's beautiful, bright orange heels by MA&LO via Zalando, gave a wonderful burst of autumnal colour to her outfit, and to finish off her look, she added a mist of perfume – English Pear & Freesia, by Jo Malone.
"I struggled to find the right shoes, as I was after a colour that would be really striking against the grey dress. I played around with turquoise and green, but knew as soon as I found the gorgeous orange-red shoes with blue soles, that they were perfect."
Adding another dimension of rich, autumn colour was Claire's beautiful bouquet of blush pink and deep red roses, dahlias in shades of burnished orange and red, along with lovely bright orange physalis, greenery and berries. The couple's florist was the talented Lizzie Thorne.
"Lizzie was absolutely wonderful, she did an amazing job, and all of the flowers were beyond gorgeous. From our first chat I knew Lizzie would capture exactly what I wanted, and everything she did was beautiful."
"I was after a loose, unstructured style in autumnal colours; dark reds, oranges etc., and Lizzie suggested some blush and coral pinks for contrast, as well as some autumn foliage and berries."
"The only flowers I particularly requested were grey pink roses, thistles and something Irish to celebrate my family heritage. Lizzie found an amazing Irish flower for my mum's corsage that was totally unique."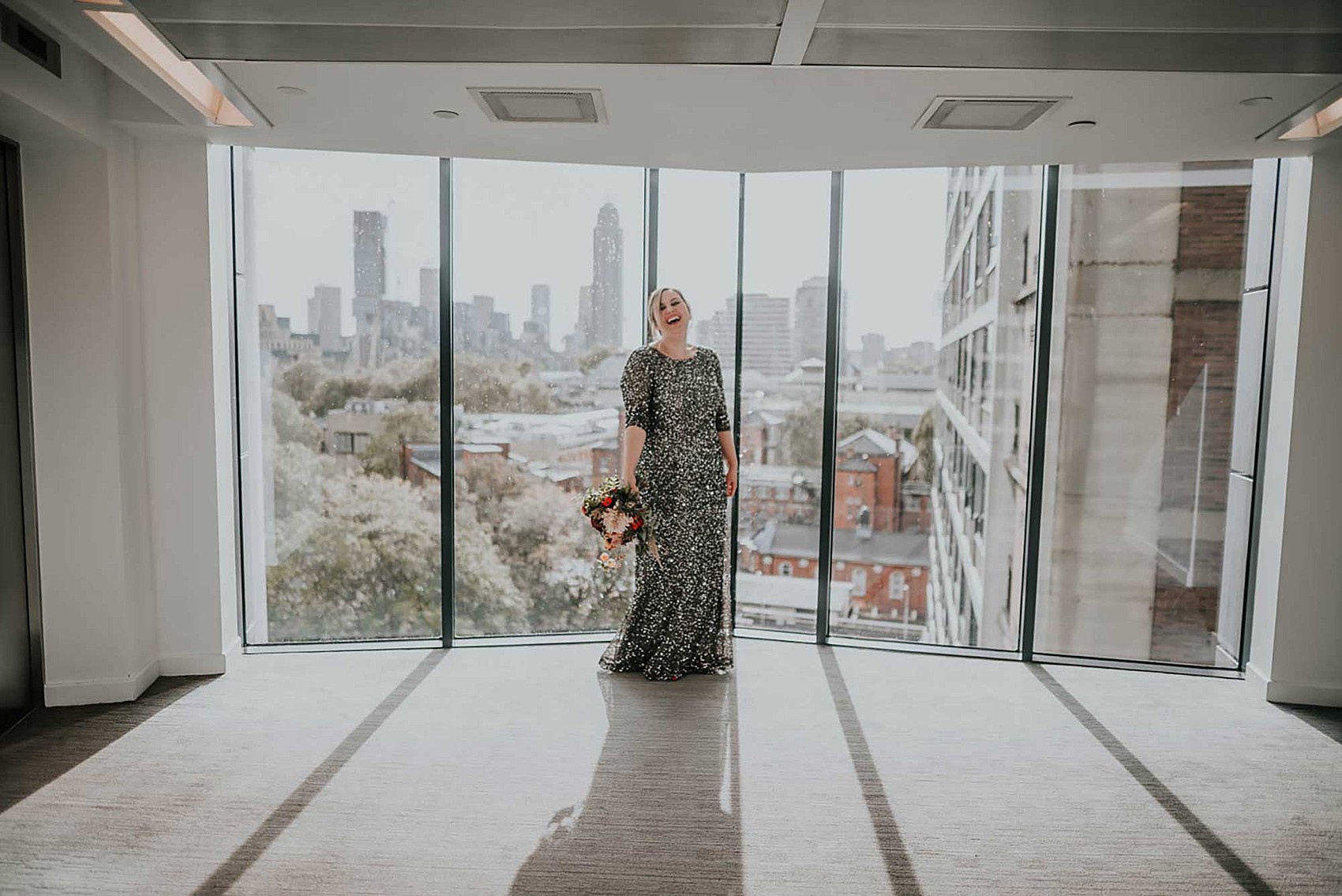 Claire and Trevor made their way to Old Marylebone Town Hall together, travelling with their wedding party in a pre-booked black cabs from Sherbet.
"We went to an open day at the Town Hall and knew it was perfect. The building is stunning and the ceremony rooms are so elegant. We chose the Pimlico Room for the ceremony, and since we had been living in Pimlico for years, it was meant to be."
"Their 'First Toast' service was great – fizz served with our guests in the ceremony room straight after, and we were able to enjoy the space a little bit longer and didn't have to rush away. The steps out front are fab for photos and confetti."
Claire and Trevor walked down the aisle of the beautiful wooden panelled Pimlico Room at Old Marylebone Town Hall, and chose Finally Moving by Pretty Lights as their entrance music.
"Trevor and I met at university many years ago, and have been together ever since. At Christmas last year we decided that it felt like the right time to get married. There wasn't a proper proposal, we just decided on a day out together that we would get married in 2019. It was very much 'us' how it happened, because a formal proposal would have felt very weird! We were engaged for 10 months before the wedding."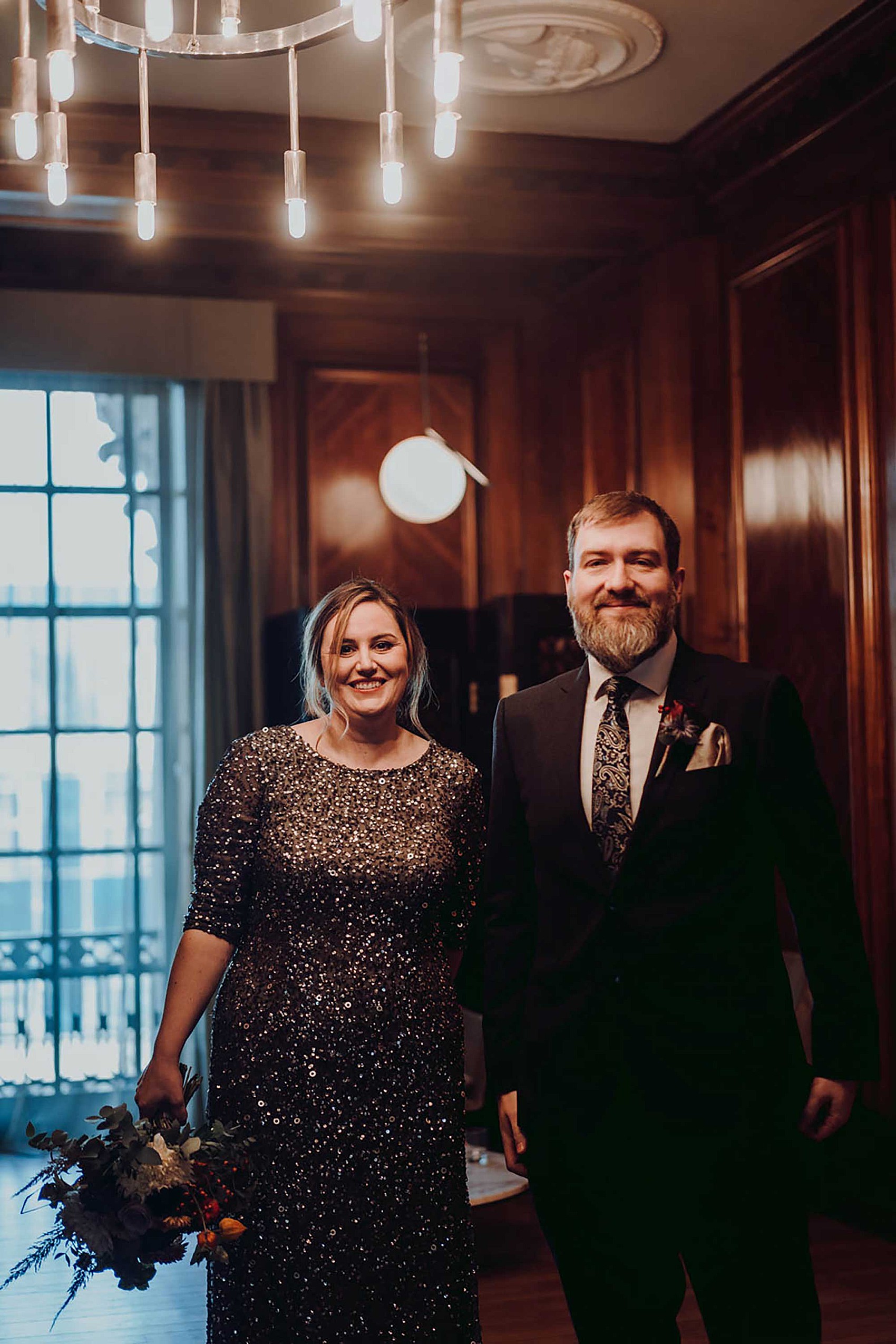 Registrar Lucie conducted the ceremony, and when deciding on their vows, Claire and Trevor started with template scripts provided by the Town Hall, and edited them together to come up with vows that were short but sweet, and not too serious.
"Everything about the Town Hall was amazing. The staff are wonderful – so friendly, helpful and calm. They make sure everything runs perfectly, and make it feel like you're the only wedding of the day so it's extremely special. Very, very highly recommended."
"As we have been together for so many years, we chose to use this wording as part of our service: 'This ceremony will not create a relationship that did not already exist between you. It is a symbol of how far you have come in the past. It is a symbol of the promises you make to continue growing together as individuals and partners throughout your lives together.'"
Claire and Trevor's wedding rings were lovely, bespoke creations by designer Jessie Harris.
"Jessie made our rings, and we are absolutely thrilled with them. I had struggled to find a ring anywhere that I liked and that suited me. I wanted something that was more unique and curvy than I could find, whereas Trevor wanted quite a traditional shape."
"I had seen Jessie's work on Instagram about a year ago and loved her style. Jessie was absolutely fantastic to work with, really understood what I was looking for and gave me the incredibly hard job of choosing a design from a series of amazing options she drew. The rings are so beautiful, and I love that a London designer made them bespoke for us."
Post-ceremony drinks were enjoyed in the Pimlico Room, before Claire and Trevor made their way to the Town Hall steps, surrounded by loved ones and showered in confetti!
Trevor wore a handsome charcoal grey suit from John Lewis, together with a bold Paisley print tie and taupe pocket square, along with oxblood brogues.
The couple planned the wedding themselves, and had a very clear idea of how they wanted the private dining room of The Britannia to look. For extra support on the day, Ali from Union was on hand to set up and style the space perfectly.
"We always knew we'd have the reception at a pub, and this is one of our favourites in London. The upstairs area was ideal for the size of our party and the decor just happened to be the right colours to match our scheme."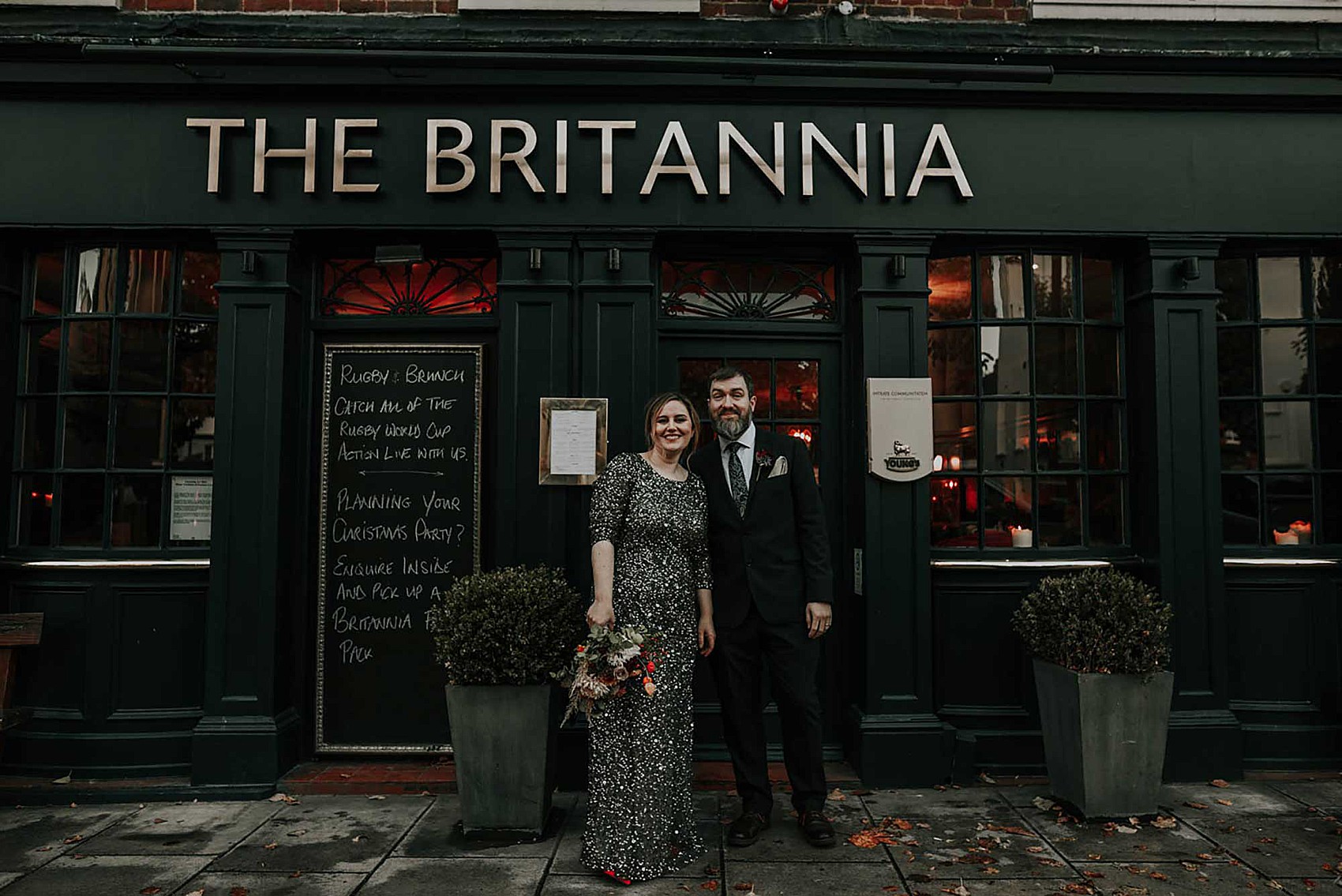 "It was a big relief to have her there, knowing that my plan would look amazing. We had loads of comments from guests on how great it all looked."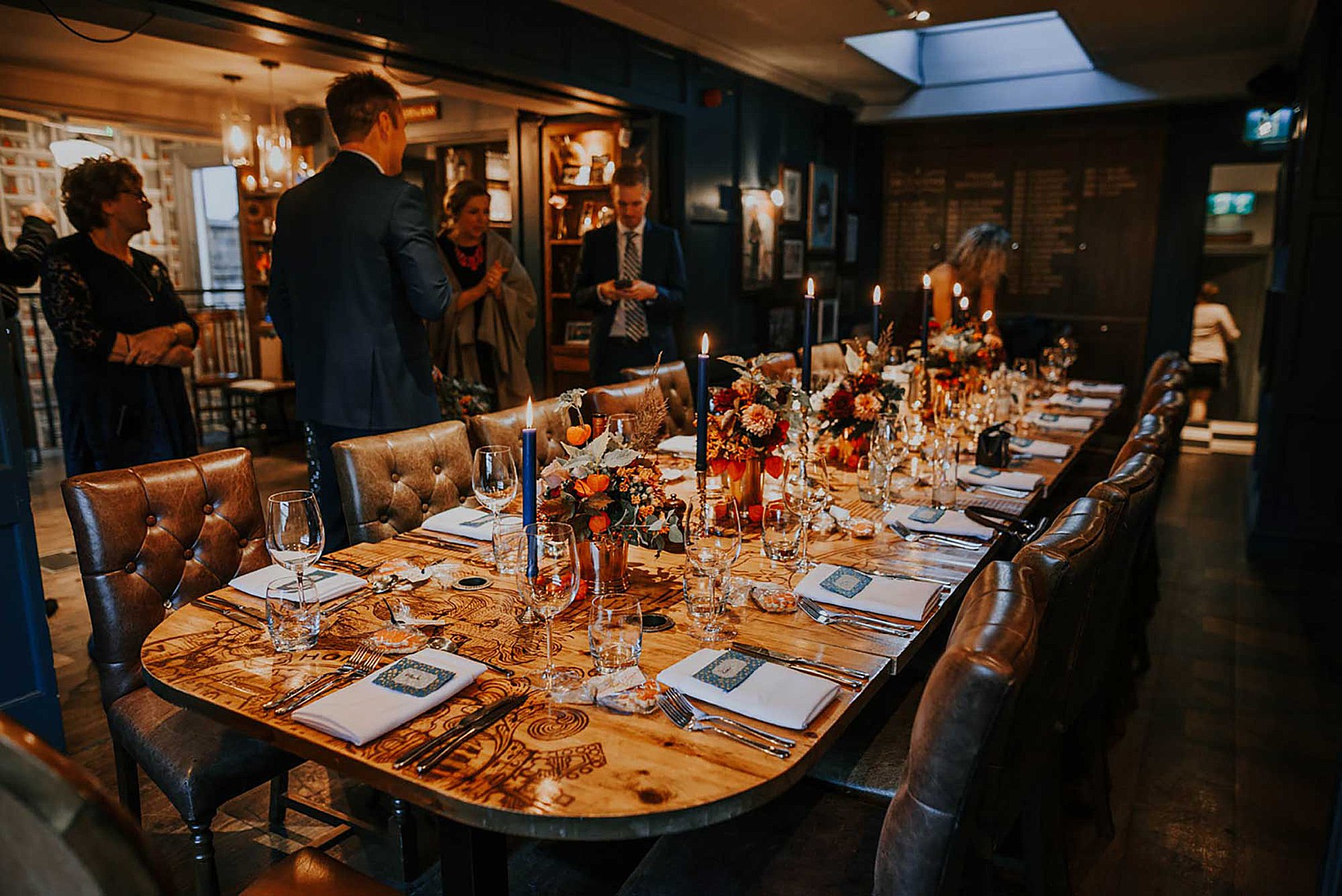 Happily, the walls of the pub's reception space were painted a deep shade of blue, and there was one long, polished and beautifully etched wood table laid for dinner. Claire sourced lots of decor items from eBay, such as gold paper fans to adorn the walls, along with neon lights and brass candlesticks, with navy blue candles from Charles Farris.
"There were homemade cookies at each place setting. Thanks to the most amazing friends, we were able to bake, decorate and package them ourselves. We went with the autumnal theme with leaf shapes, plus the Canadian connection of the maple leaf. I cut a London A-to-Z map into tags for each bag. Trevor made the wooden slab used as cake stand, and we both made some of the picture holders."
To create a cosy, convivial atmosphere, there were lots of tealights, too, with gold holders from The Wedding of My Dreams, glass votives from Cosy Owl. Claire wrote place settings on cards from Paperchase, and the table was also decorated with copper vases of flowers from Lizzie Thorne.
"Lizzie also made gorgeous, loose arrangements for the pub windows, and little glass bottles with a few stems scattered around the room. I wanted the guests to take the table flowers away with them at the end of the night and Lizzie was super helpful to arrange it. We took all the rest of the flowers away, too, so we could continue to enjoy them."
Everyone sat down to a meal cooked and served by the team at The Britannia, with heartfelt speeches and then cake to follow.
"Our friend's super talented mum made the cake. It looked and tasted amazing. Trevor's mum provided Canadian treats of baked mini tarts, and brought chocolates from Canada. These were all out on the table with the cake, and extra cookies for guests to take. I bought takeaway containers from eBay that we had out by the end of the night so guests could take cake and treats with them. We made sure nothing went to waste."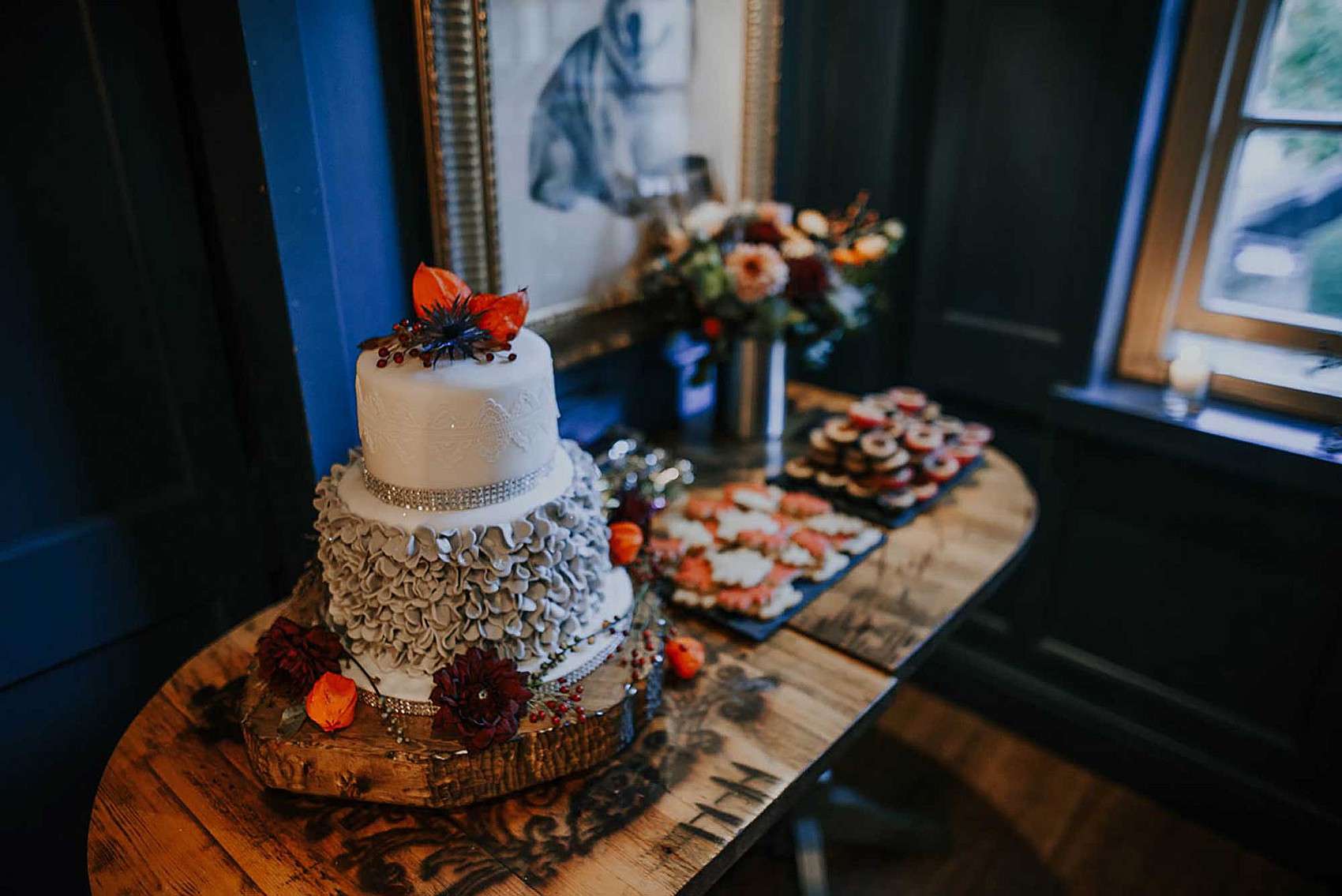 We've featured the work of photographer Kim Williams before on our pages, and I'm very happy to be adding to that today with this wonderful collection of evocative, romantic images.
"We first met Kim for a couple shoot last winter, before we had any wedding plans figured out, and we just wanted some nice photos! I really like her candid style of photography and the photos she took that day were fab, so we were thrilled that she agreed to photograph our wedding."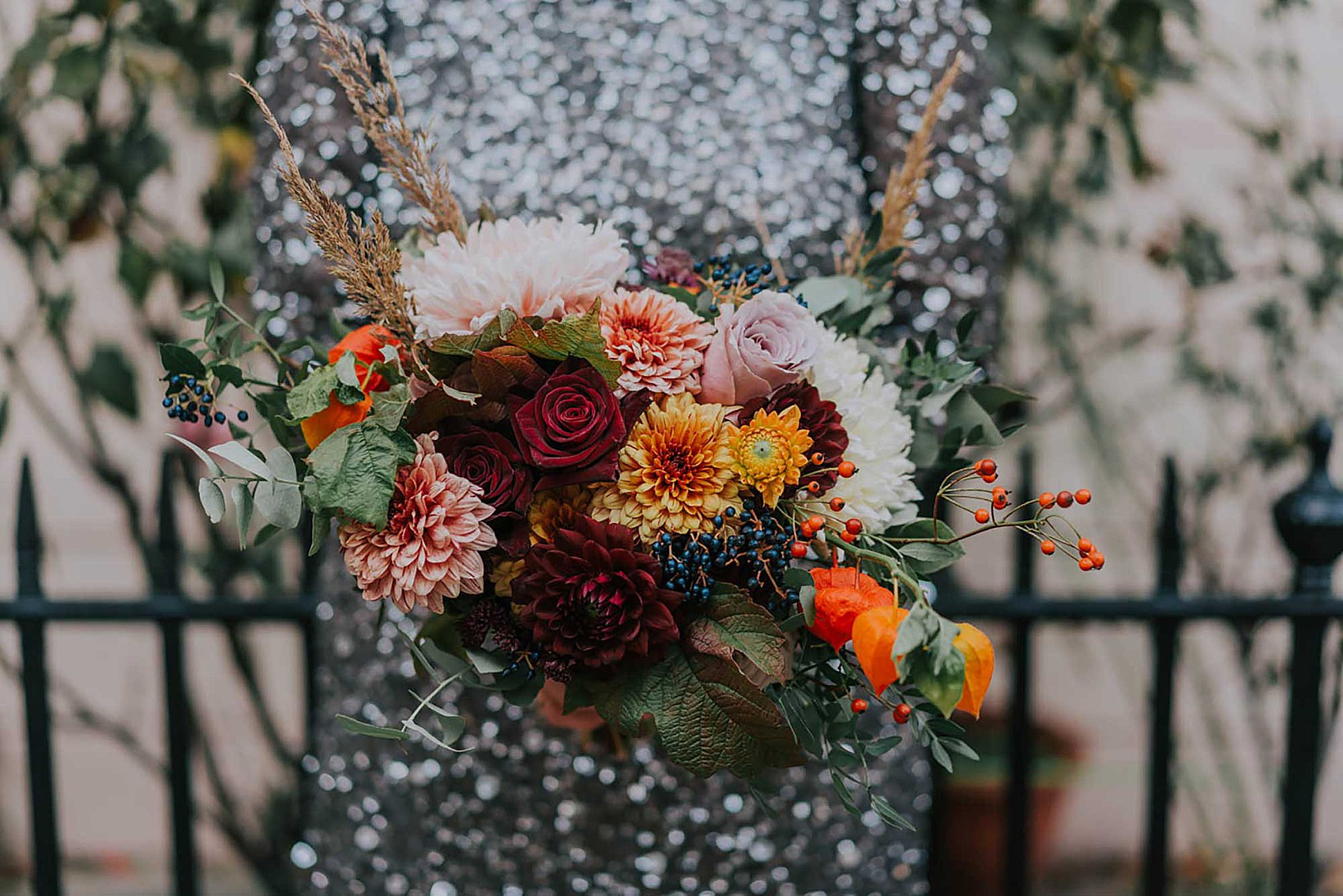 "Kim was amazing on the day, so lovely and fun to be around the whole time. All of our guests commented on how lovely she is. She captured the whole day perfectly even though I barely noticed she was taking photos!"
"I absolutely love the photos Kim took, it makes me so happy looking at all the candid photos of everyone laughing together and having a great time. Looking at the photos for the first time made me cry, and I didn't cry once on the day! I cannot recommend Kim enough, she is fab."
Favourite Moments
"The whole day was wonderful as we spent it all together. Trevor and I got ready together along with our parents and best friends. A particularly wonderful moment was straight after our ceremony when we hugged all our guests and had a glass of fizz. We also loved sitting around one long table for our meal and laughing together with some of our favourite people."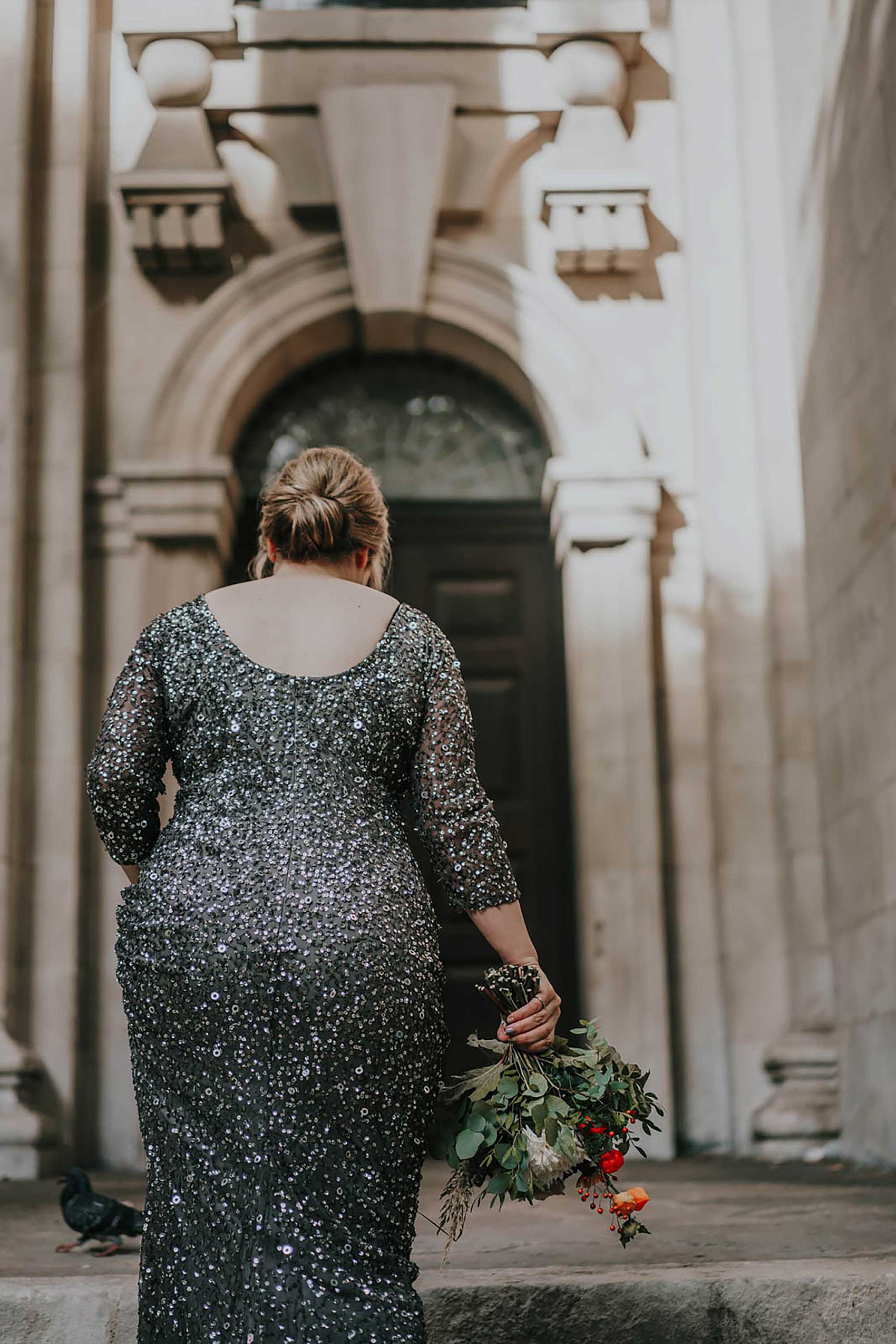 Words of Wedded Wisdom
"We didn't have a set budget but also didn't want to spend loads. I saved money by doing a lot of the work myself and by buying a non-traditional wedding dress. The invites were a great saving by designing and ordering them online during a sale. We spent more on the things that were most important to us and went for budget friendly options elsewhere."
"You are not obligated to do something because it is traditionally 'wedding'. If something isn't your style or you just don't like it, don't feel pressured. Don't feel that you have to go for the wedding options – while there are so many beautiful options you can choose, those marketed as 'wedding' can sometimes feel a bit restrictive."
"If people offer to help, let them! I was very insistent about doing so much of it myself, and didn't want to put anyone out and feel like they had to work, but it became overwhelming. Luckily we have amazing people in our lives who helped tremendously to make the day so wonderful. Hiring an event planner for even just part of the planning process can take a load of stress off if you are doing a lot of planning yourselves."
"Try to relax and have fun during the planning as well. We had our best friends staying with us right before the wedding, and having them with us was a great stress reliever since we were able to have a laugh and relax together."
Claire and Trevor, huge congratulations and best wishes to you both, as well (of course) as thanks for giving us this glimpse into your exquisite, intimate day. Many thanks to Kim Williams for this beautiful collection of images, too.
With love,
Laura