Did you know there are dinosaurs at large in Crystal Palace? Well, maybe you do and you've been to visit them, but if not let me fill you in, because this is how today's couple landed on the inspiration for their brilliant pub wedding.
You'll find the dinosaurs at home in Crystal Palace Park; a series of sculptures commissioned in the 1850s to accompany the move of the Crystal Palace after the Great Exhibition in Hyde Park, to the area of South London that now bears its name. Sadly the Crystal Palace glasshouse is no more, but the dinosaurs happily remain, and have been restored to their former glory.
Joasis Photography

+ Follow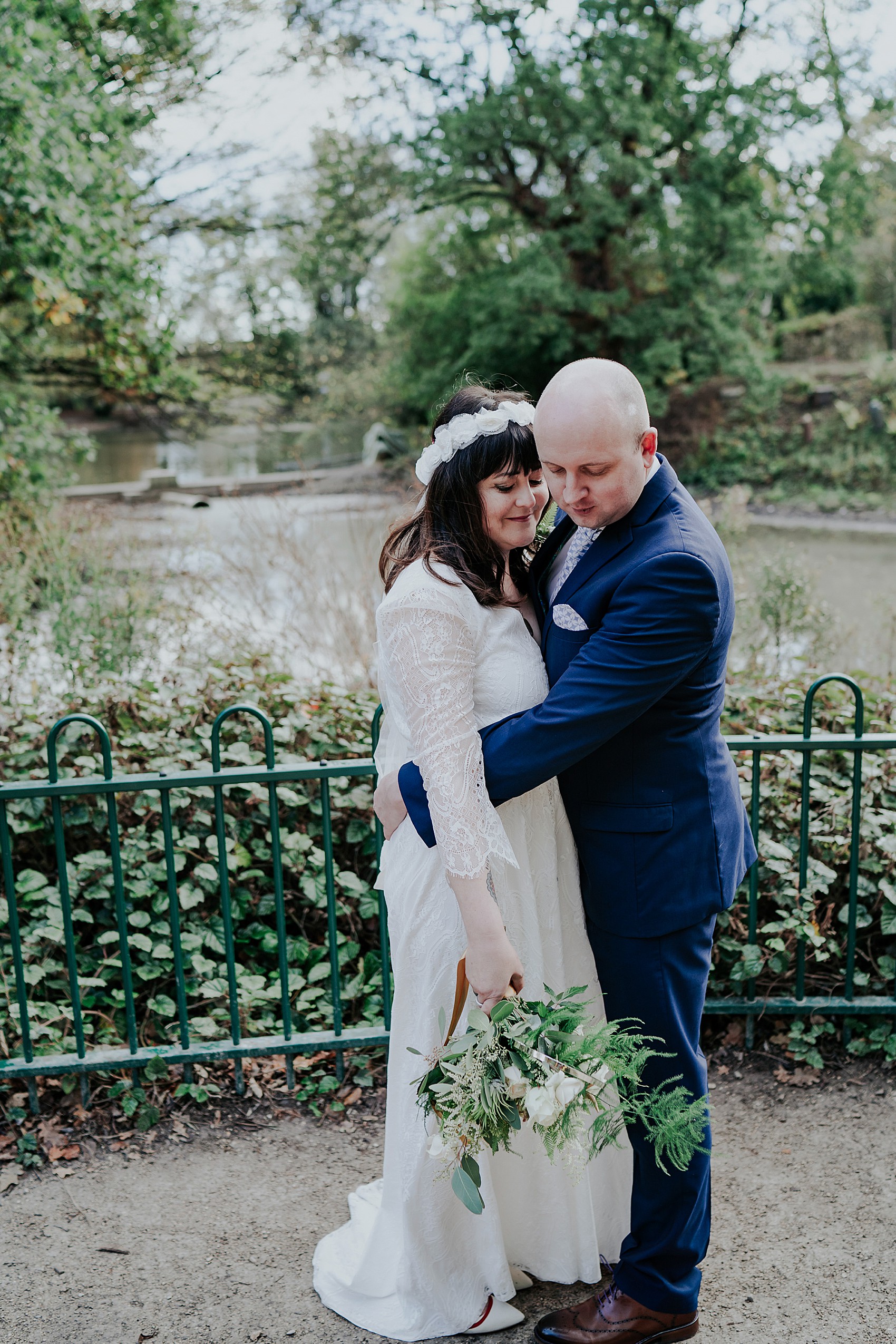 This is the lovely wedding of Mental Health Nurse Catherine, and Andrew, who is a Metropolitan Police Officer. They celebrated their marriage on the 26 October, with a ceremony held at St. Chad's Catholic Church in South Norwood, followed by a reception at Bridge House, located between Crystal Palace and Penge.
"When planning our wedding, we knew we wanted to do everything in South London where we live, and nearly all of our suppliers were based there. Our first proper date was spent wandering in Crystal Palace Park, and so we wanted a dinosaur theme."
To complement the delicate flowers on her dress, Catherine wore a crown of silk and tulle flowers, together with an elegant veil by Indiebride London. Hair and make-up was by Flame Beauty, and I just love the pop of bright red from Catherine's lips and nails.
"My 'something old' was a vintage locket with a picture of my much-missed father inside, so that he could come down the aisle with me. I also wore Simone Rocha earrings and my mother's eternity ring as my 'something borrowed'."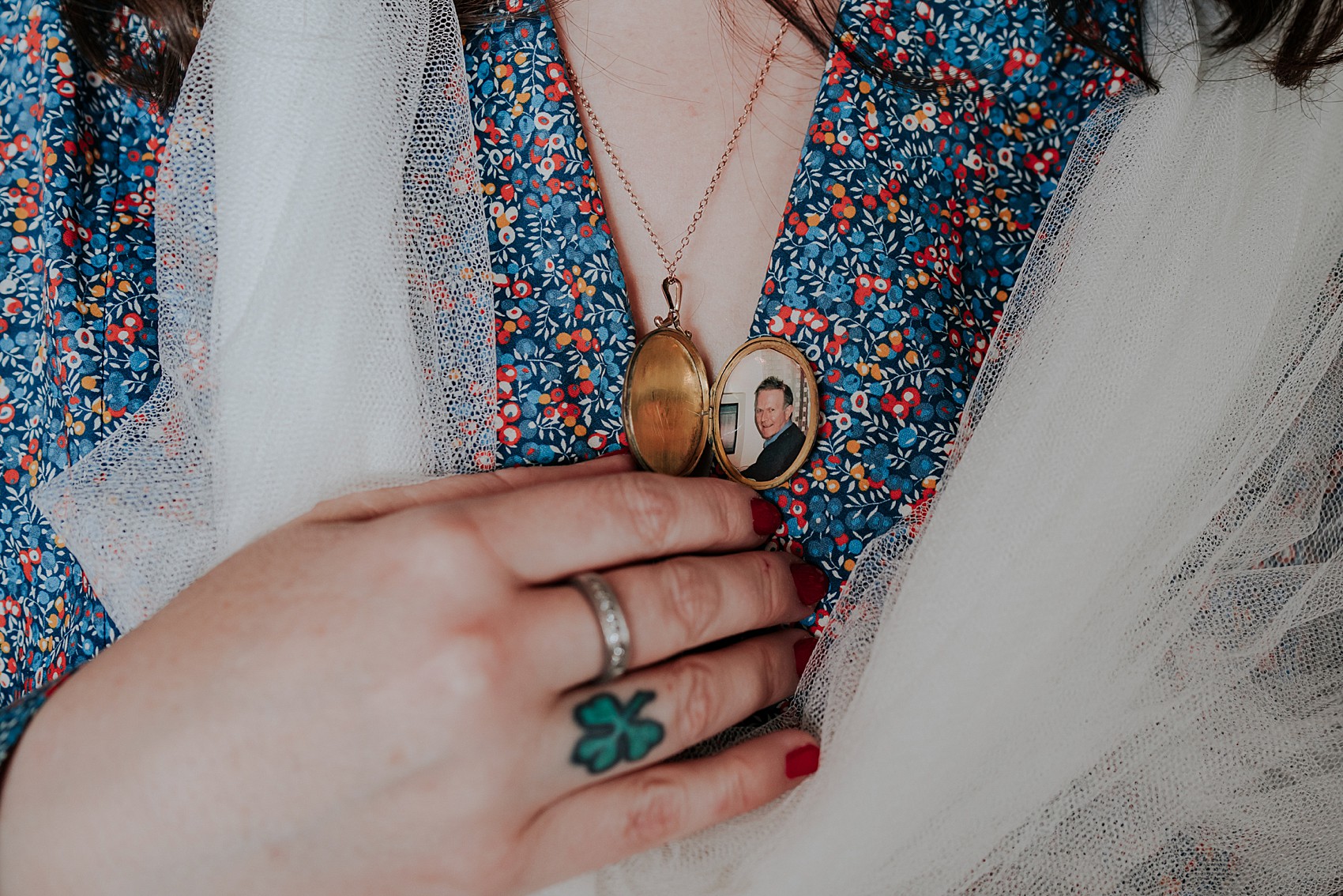 Catherine's graceful, boho dress, with its long lace sleeves and empire line bodice adorned with beautiful applique flowers, was from Little Book member Indiebride London, whom Catherine discovered at the Most Curious Wedding Fair. Indiebride designer Miina lovingly crafts wonderful, environmentally conscious heirloom pieces to cherish.
Indiebride London

+ Follow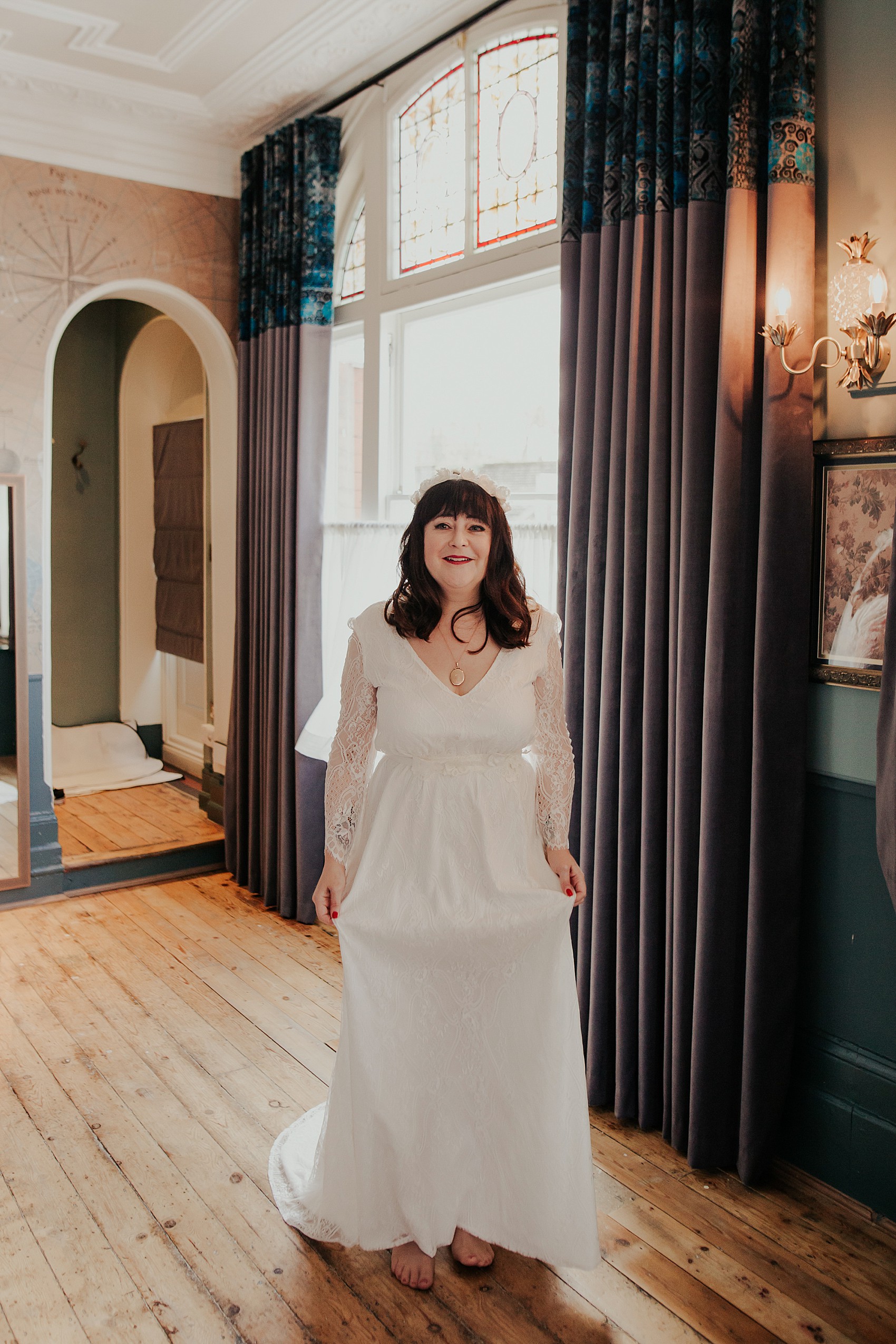 "I wanted a vintage style dress that would work with my tattoos. As soon as I visited Miina at Indiebride London, I knew I'd found the home of my dress! Her studio is based in an old church in Brixton, South London – it's so charming. The whole process was so easy, and Miina was so relaxed and helpful."
"Choosing a dress wasn't as easy because they were all so delightful, but I pretty much knew my dress was the one when I put it on. Miina is also just lovely and always welcomed friends and family along with me."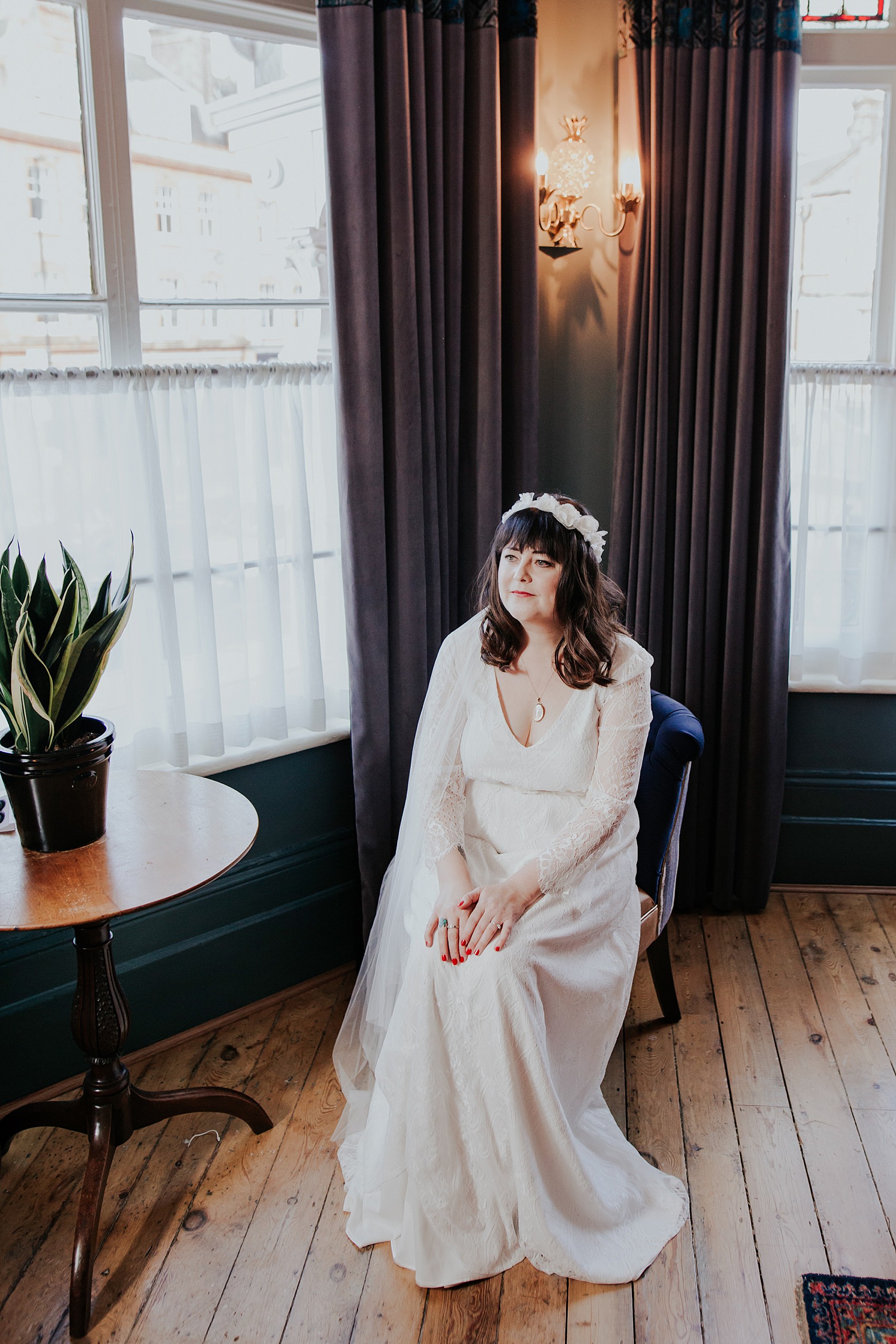 Catherine's shoes were the perfect choice – ivory slingback heels by Charlotte Olympia, with red applique 'Love' adorning each one.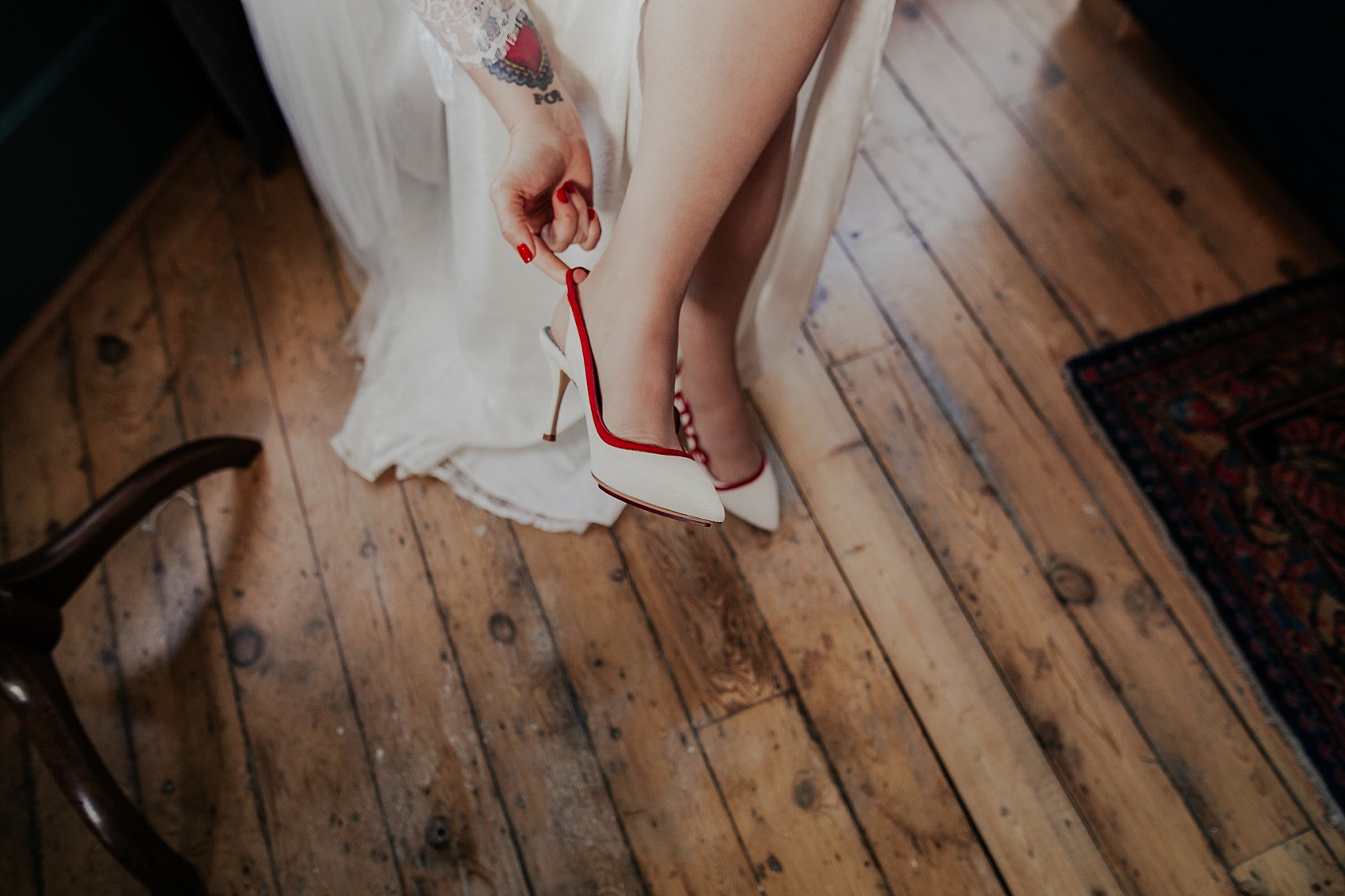 The couple had the smartest flowergirls and pageboy, with the flowergirls wearing white lace dresses and faux fur capes from Matalan, with gypsophila crowns by florist Posy & Wild, and shoes from Monsoon.
The pageboy wore a navy blue suit from Matalan, with a dinosaur bow tie from Liberty London, and Vans on his feet.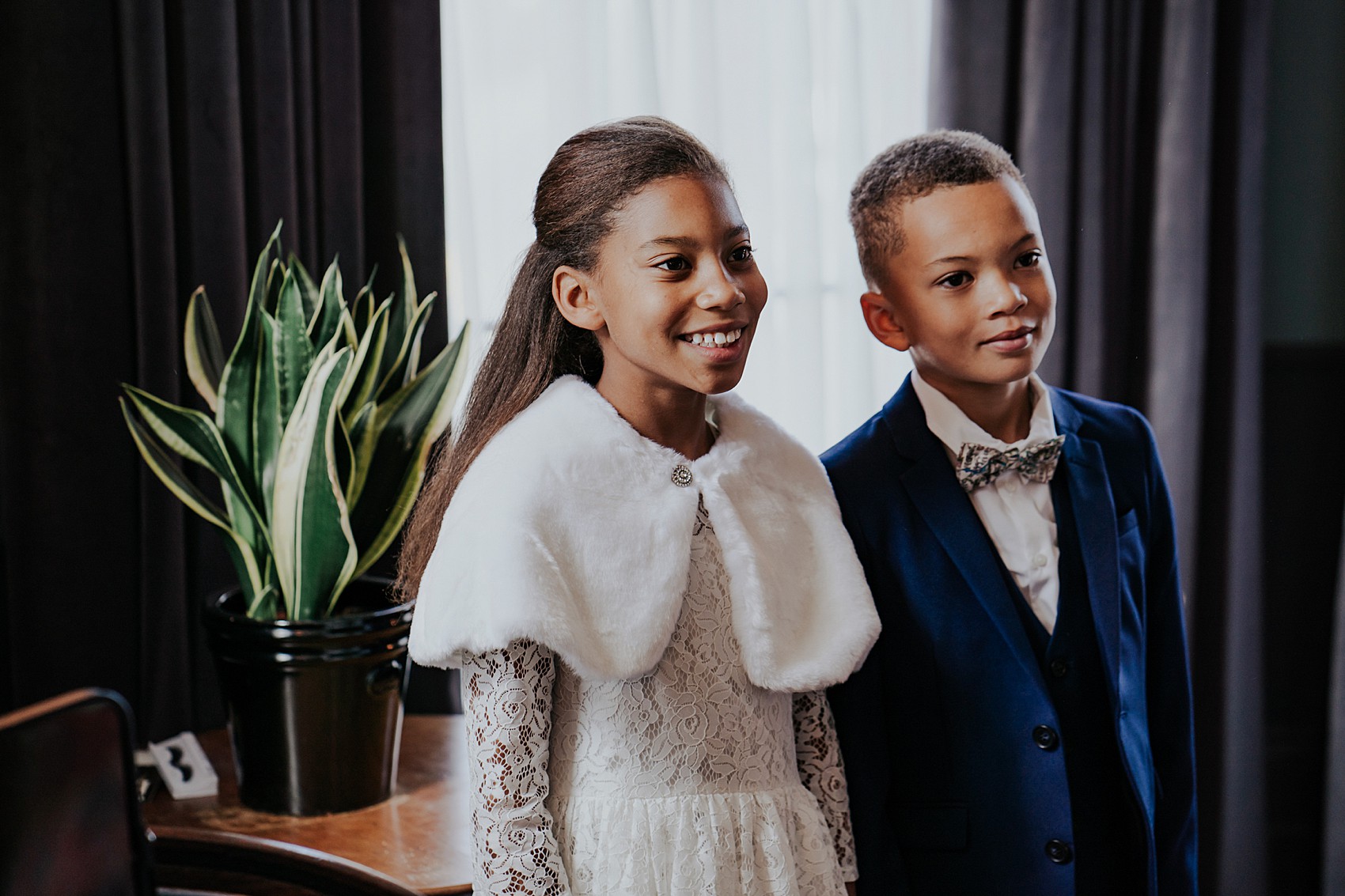 "My perfume was Jo Malone Amber and Lavender, because it is my husband's favourite and the only fragrance he ever comments on!"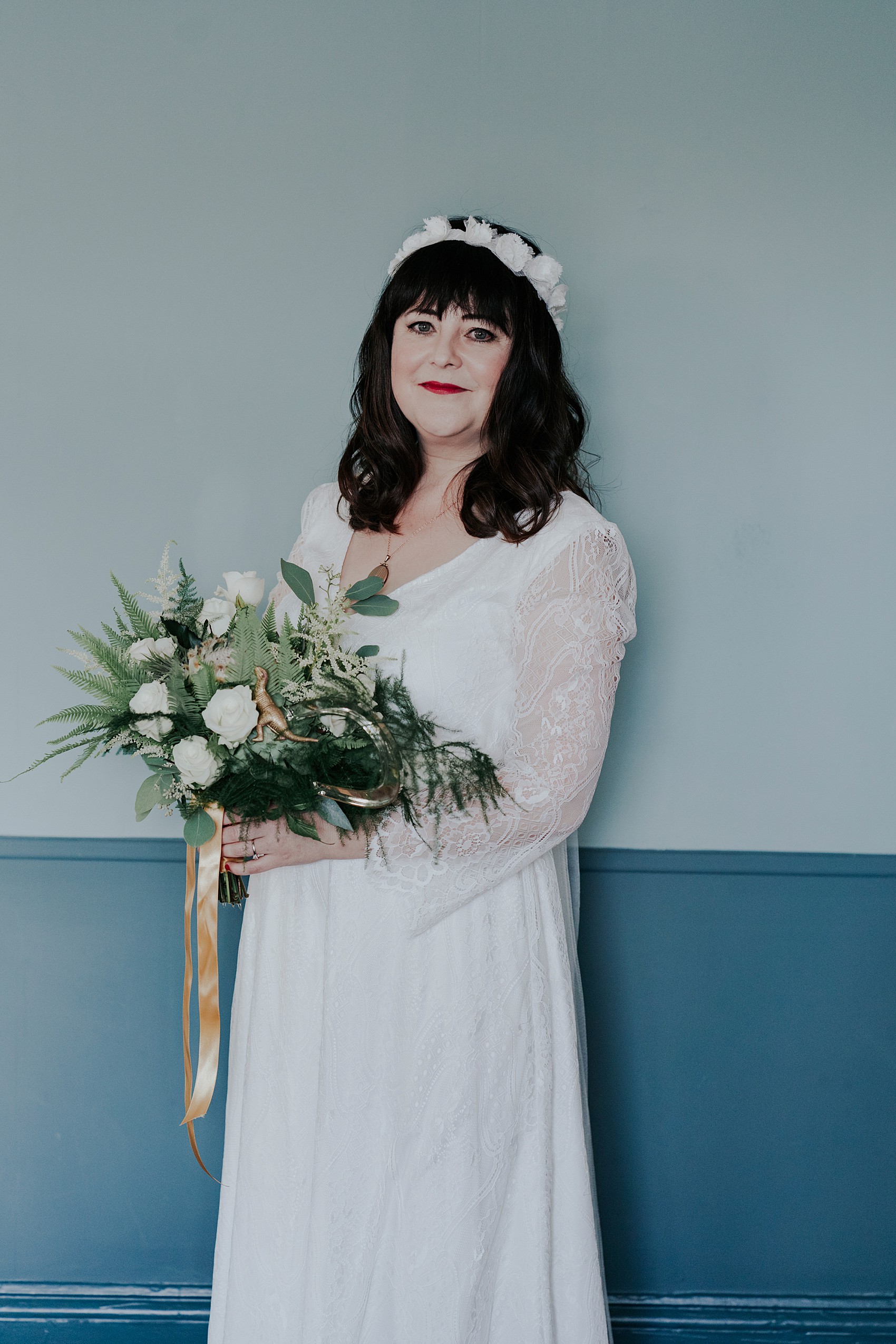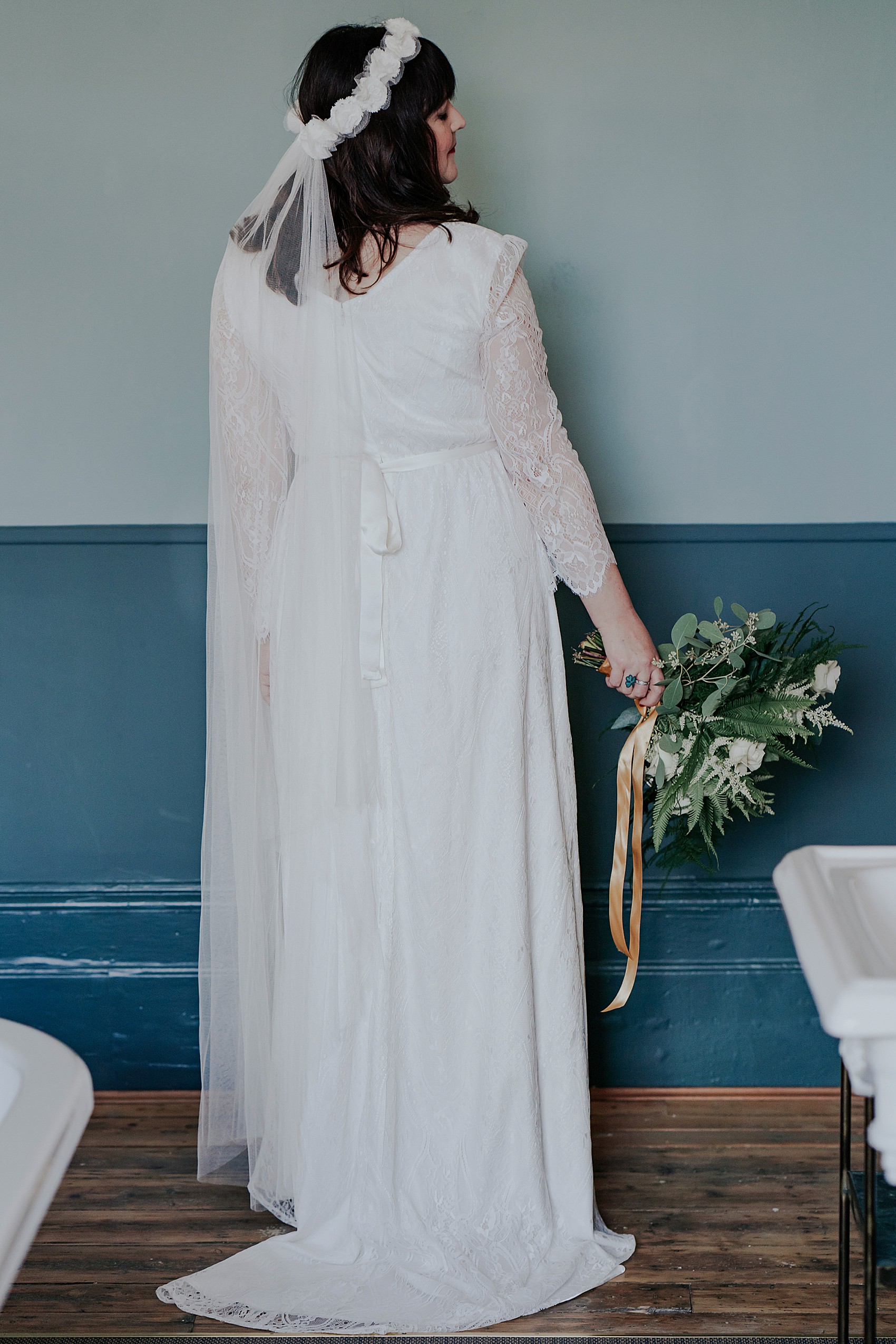 Catherine's bouquet was an arrangement of creamy blooms like roses, astilbe and protea, along with eucalyptus, asparagus and sword fern (and a gold dinosaur!); a simply beautiful creation, also by Posy & Wild.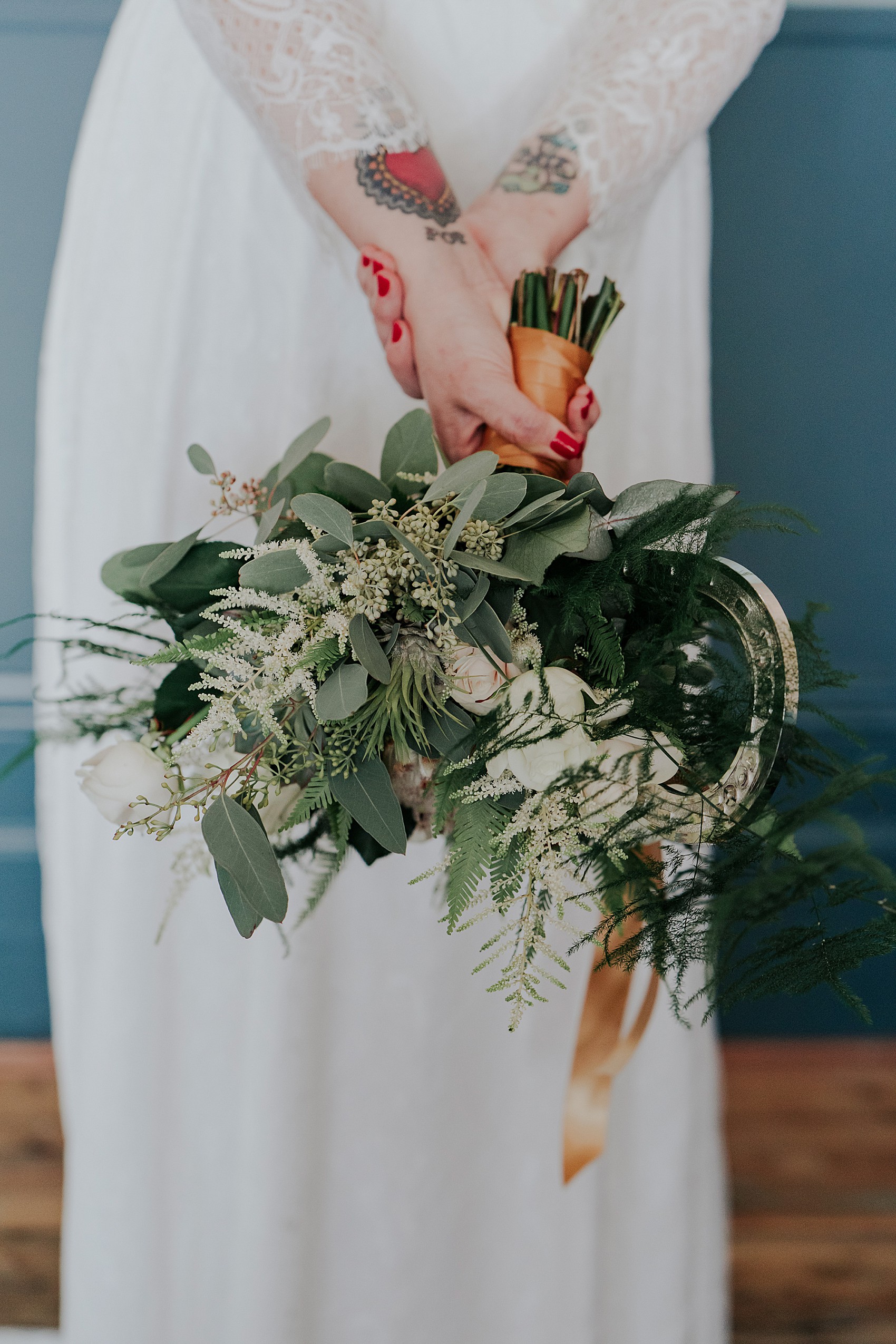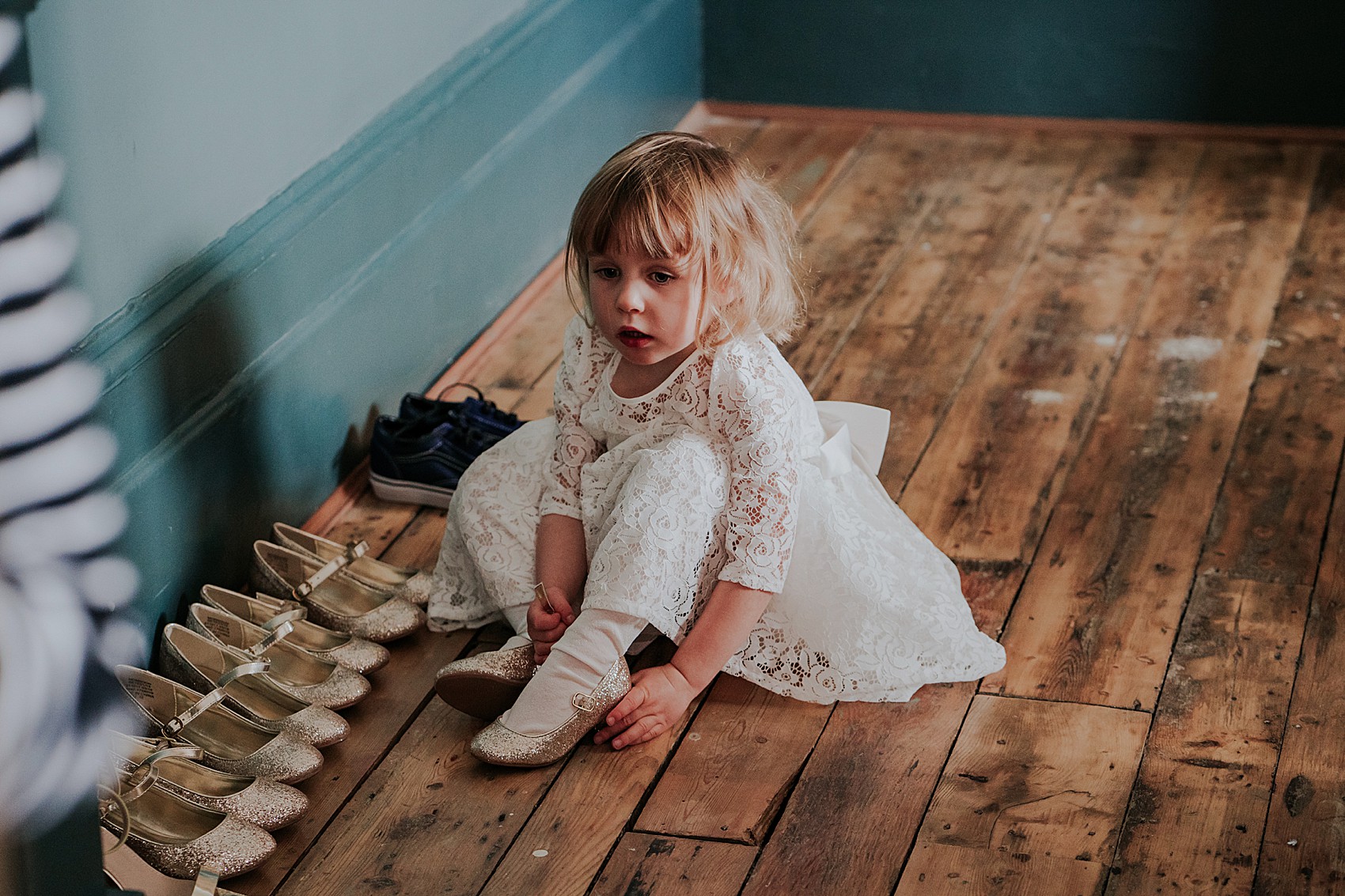 The bridesmaids wore a selection of lovely dresses in a deep shade of blue, from ASOS, with shoes also from ASOS, and necklaces by Estella Bartlett gifted to them by Catherine.
They also carried posies of gypsophila tied with gold ribbon, courtesy of Posy & Wild.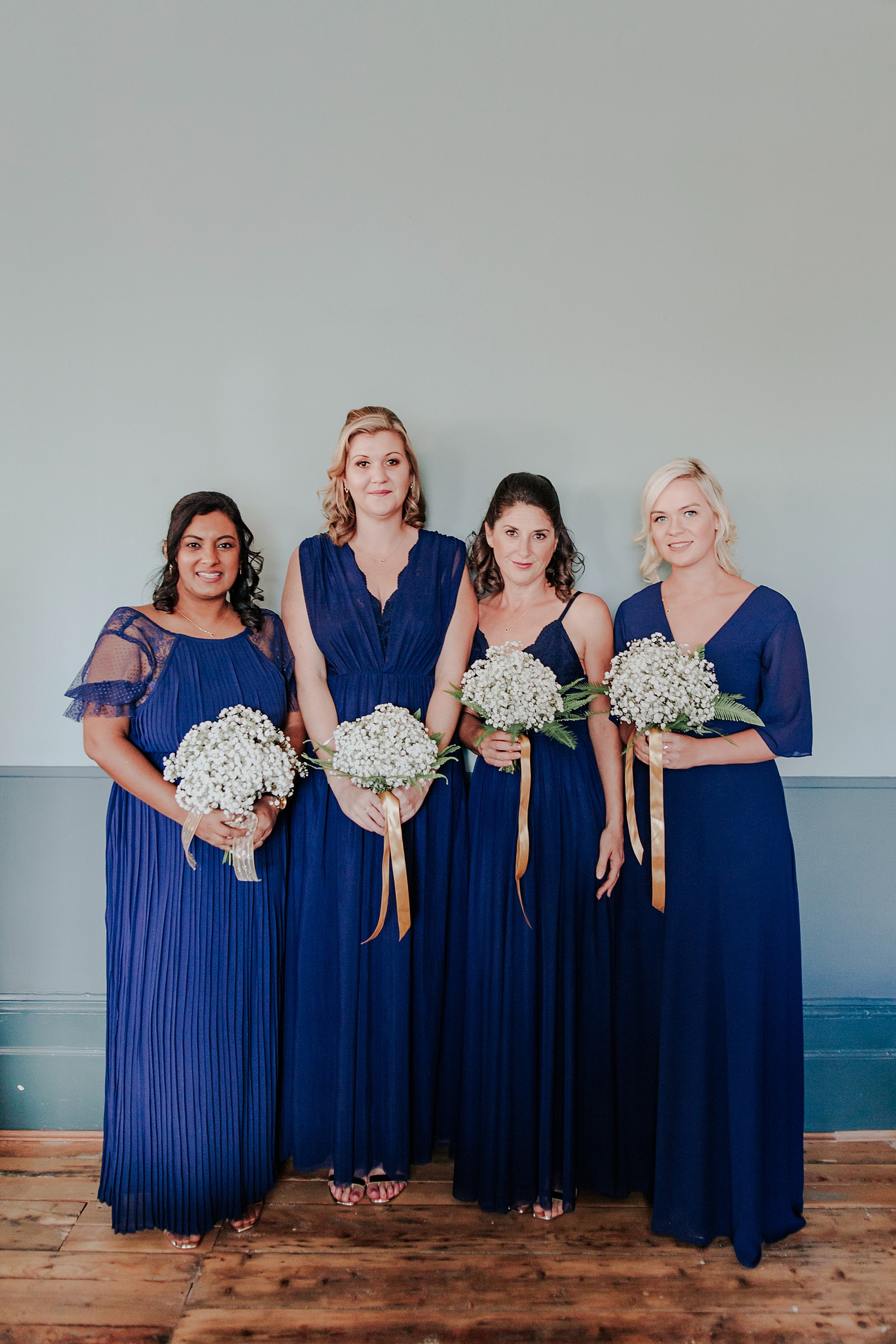 Andrew's handsome navy blue three-piece suit was from Ted Baker, which he wore with a white shirt, grey printed tie and brogues.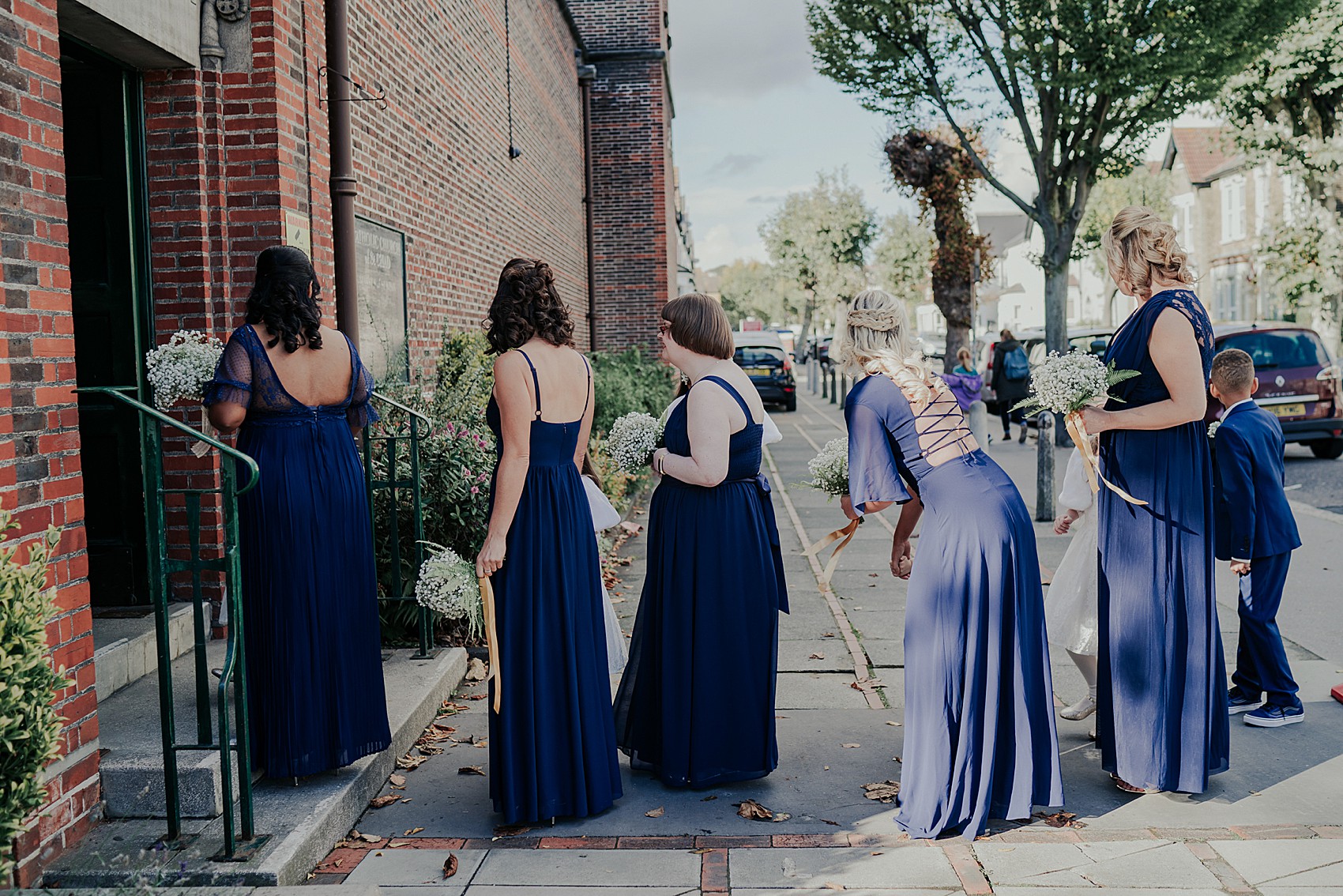 Catherine was driven to St. Chad's in a classic Mini Cooper from Small Car Big City, and was accompanied down the aisle by her brother to the hymn, Abide With Me.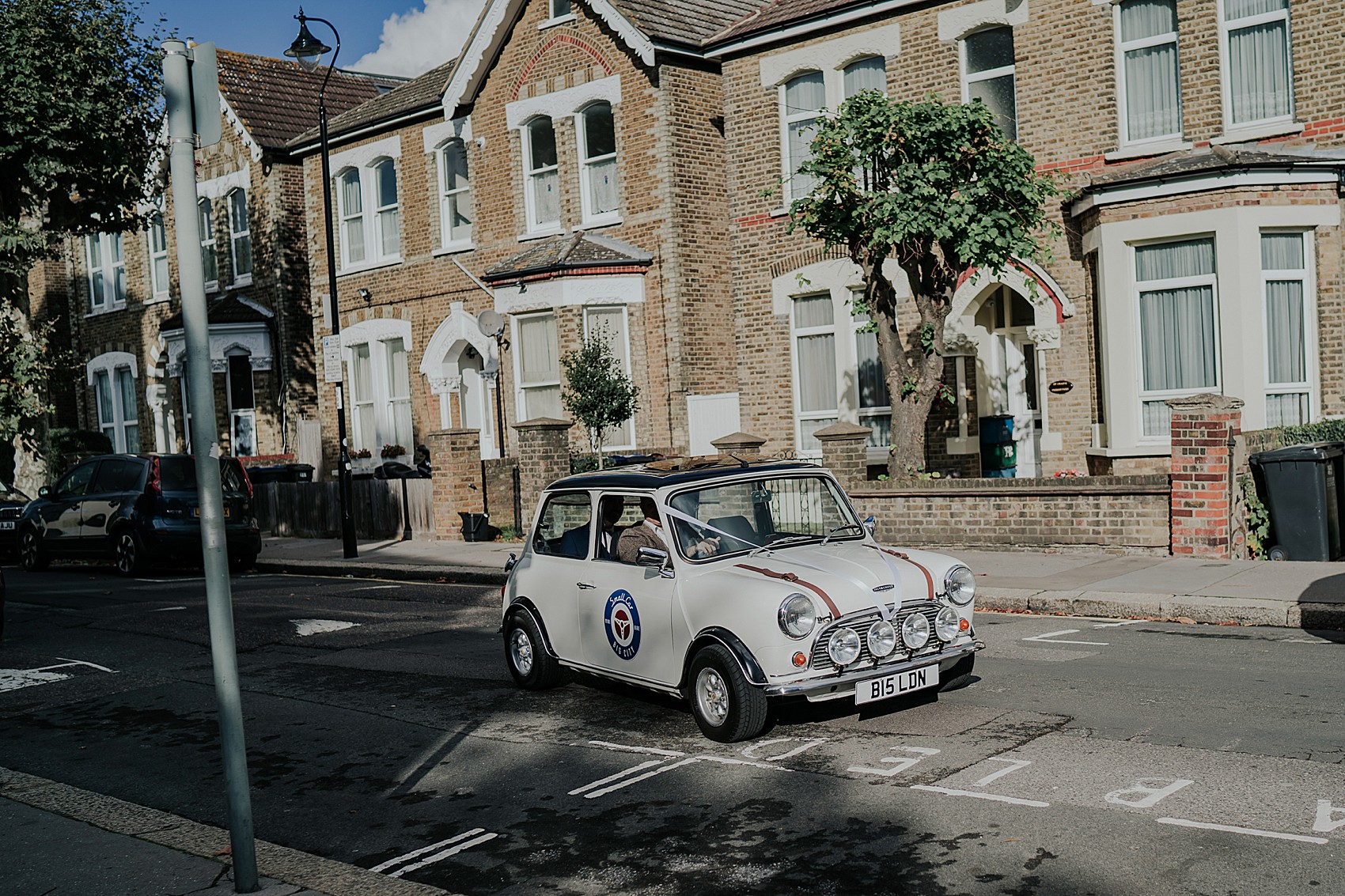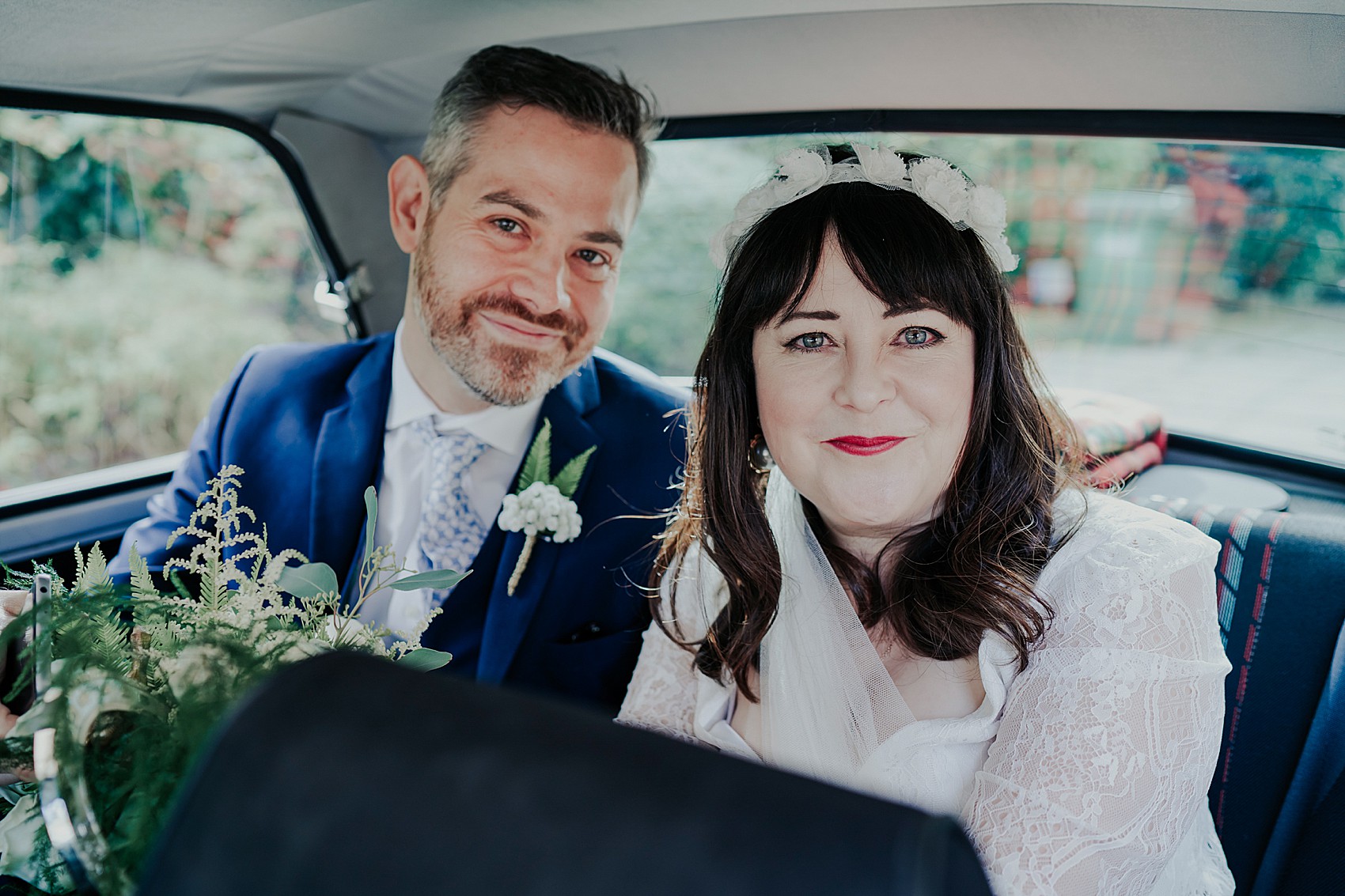 "A very good family friend, Lucyelle Hobbs Cliffe, is an actress and singer in London's West End, and she sang all of the hymns, Ave Maria being my absolute favourite."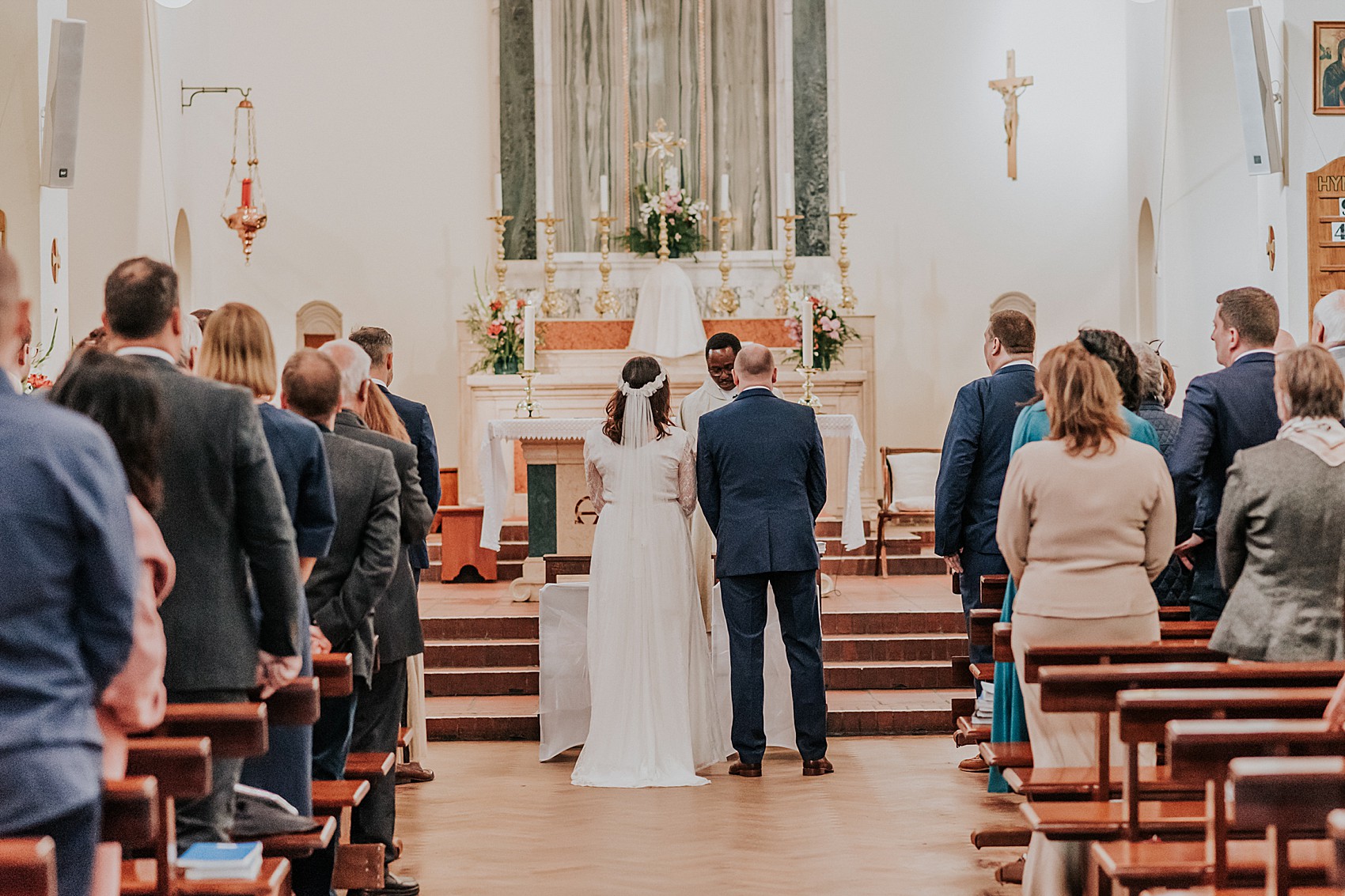 "Like many others, Andy and I met on the internet. I had decided to give up internet dating the very night we came across each other because I was so disillusioned with the whole thing! I messaged him, thinking he wouldn't respond, but he did. We texted like mad, met about 2 weeks later and moved in together within the year. We were engaged for 18 months."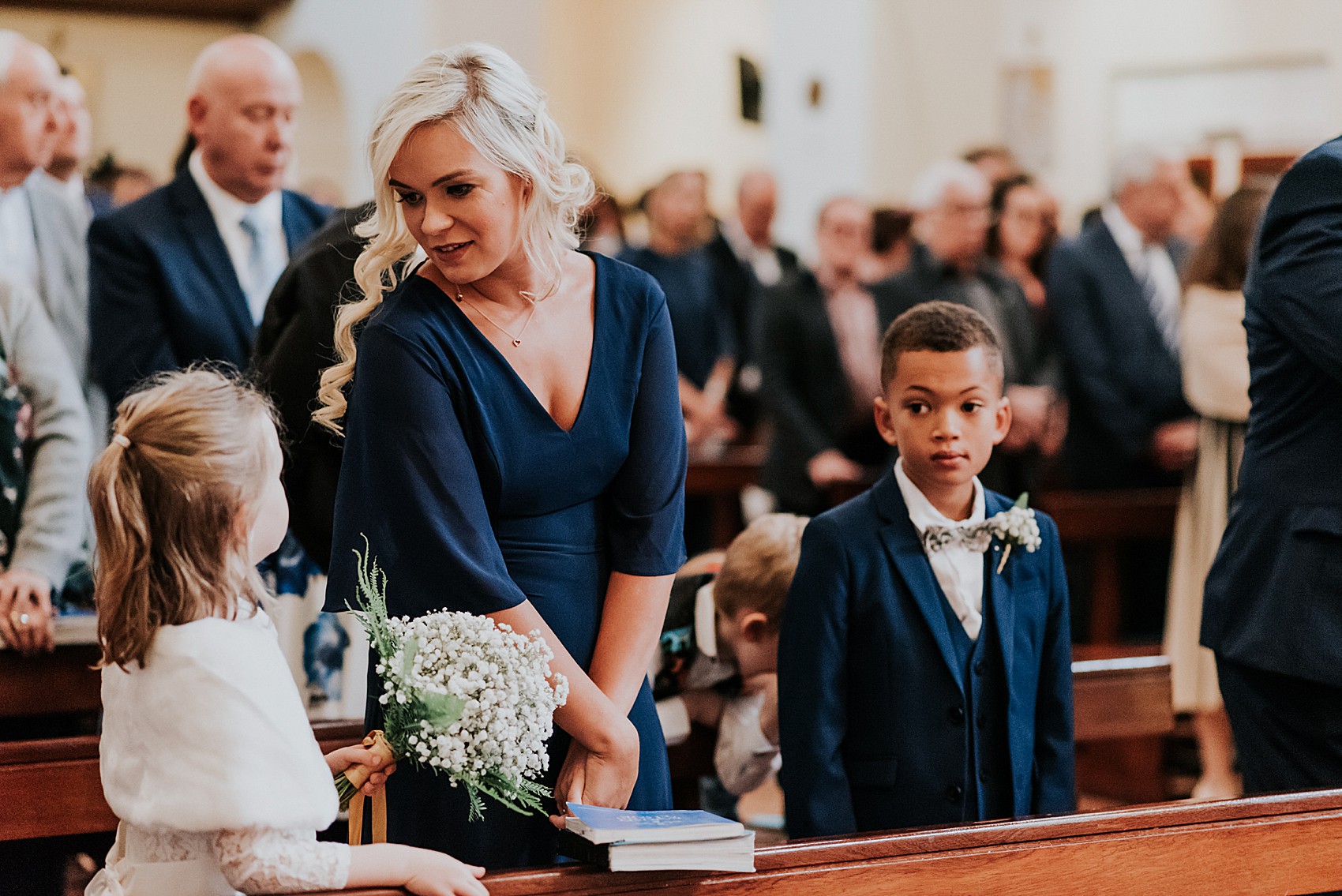 During the exchange of their vows, Catherine and Neil placed rings onto each other's hands, which were antique pieces from Kojis, chosen at Liberty London, which Catherine says, "Is the best store in the world!"
"My wonderful sister in law read the dinosaur love poem, A Lovely Love Story by Edward Monkton."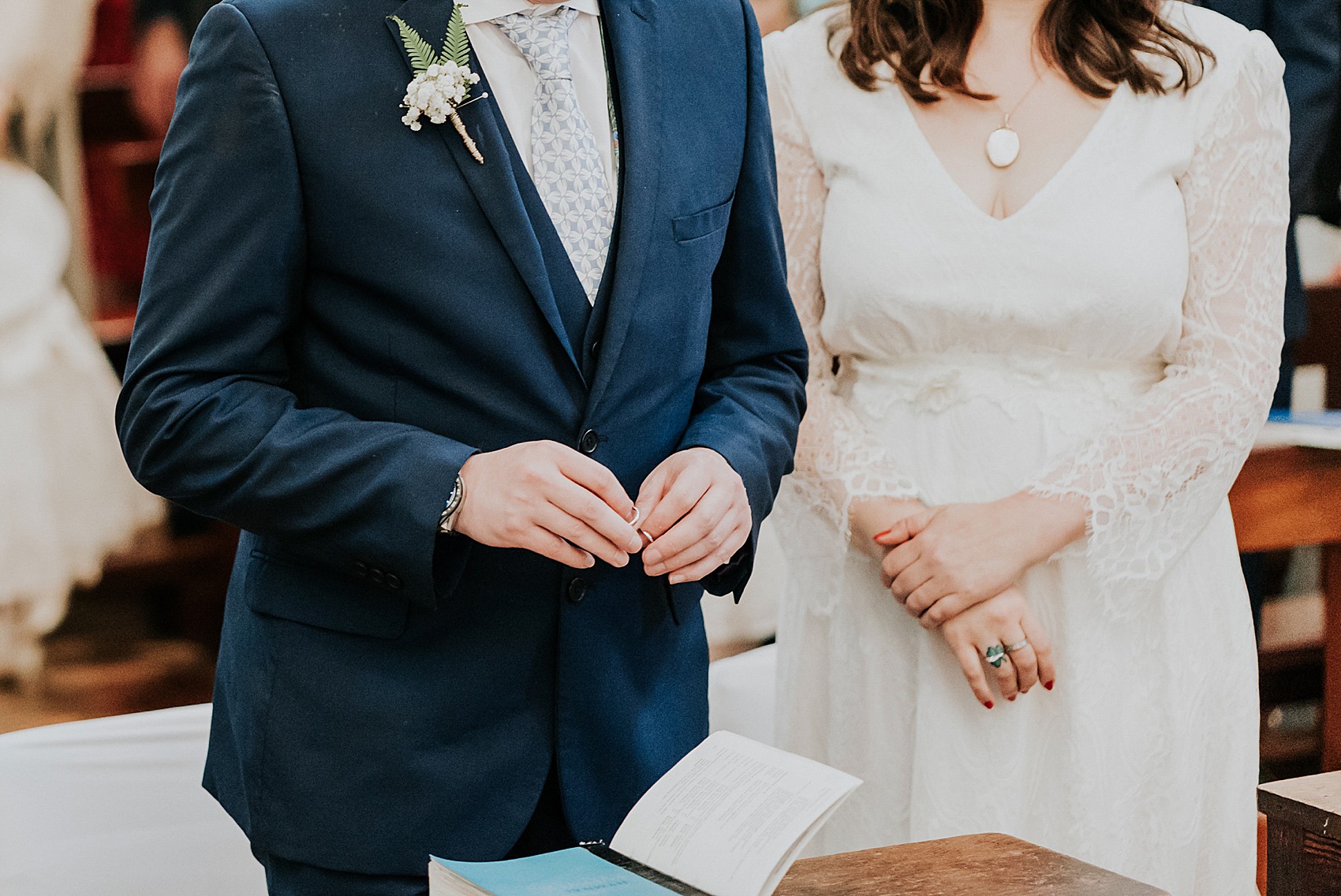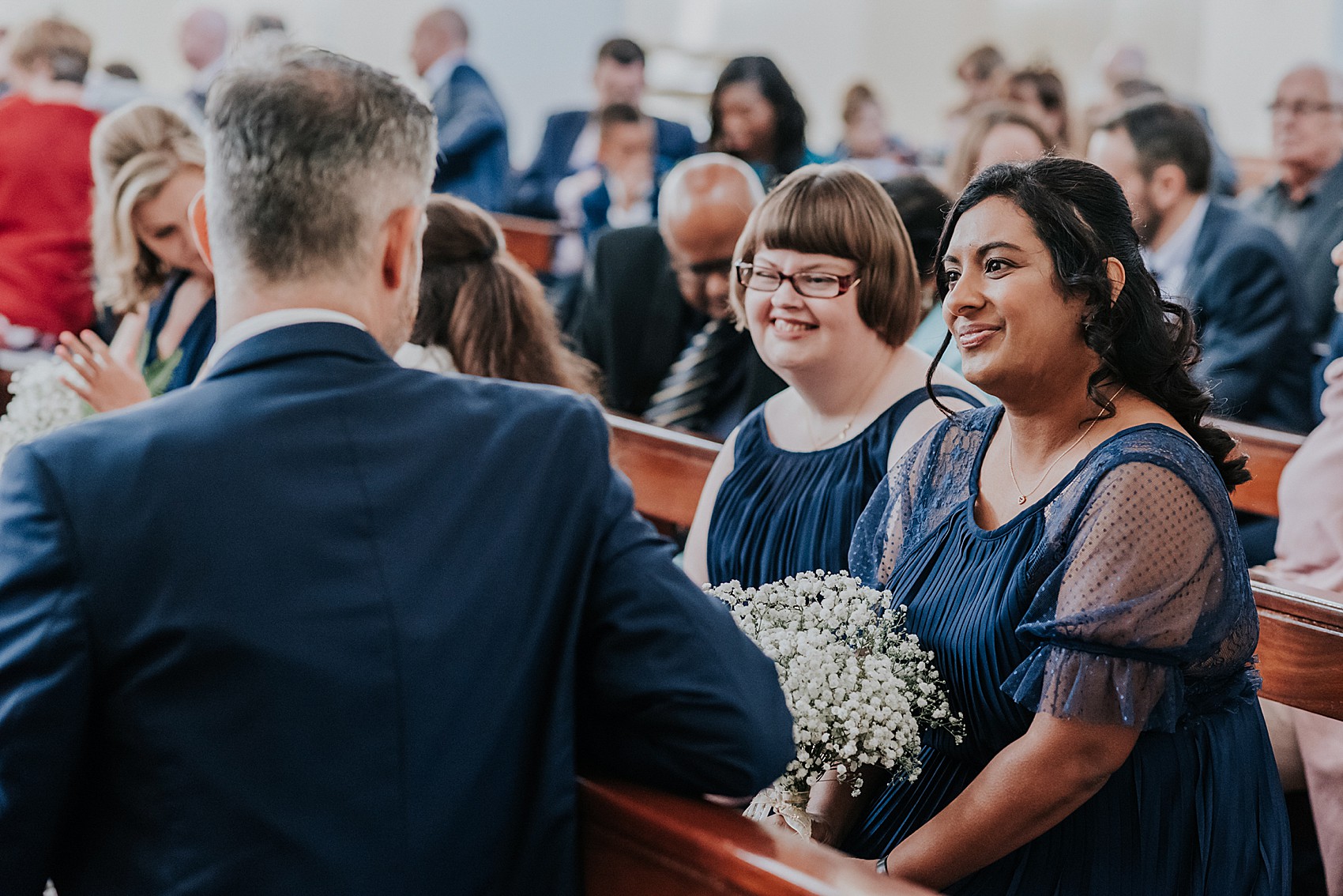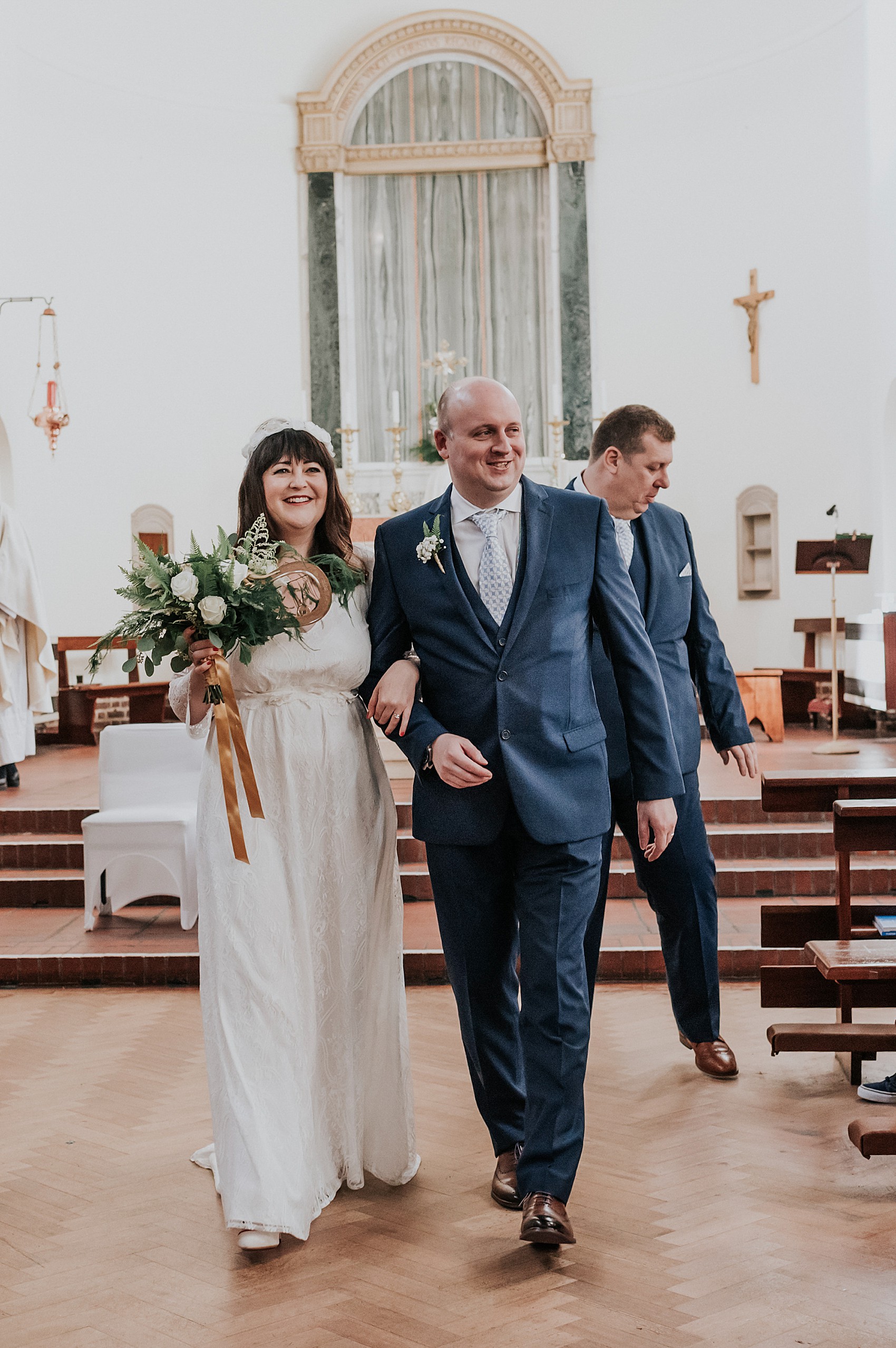 After the ceremony, and a joyful gathering on the steps of the church, Catherine and Andrew went for a walk in Crystal Palace Park, where they had enjoyed their first date, of course stopping to say hello to the dinosaurs along the way.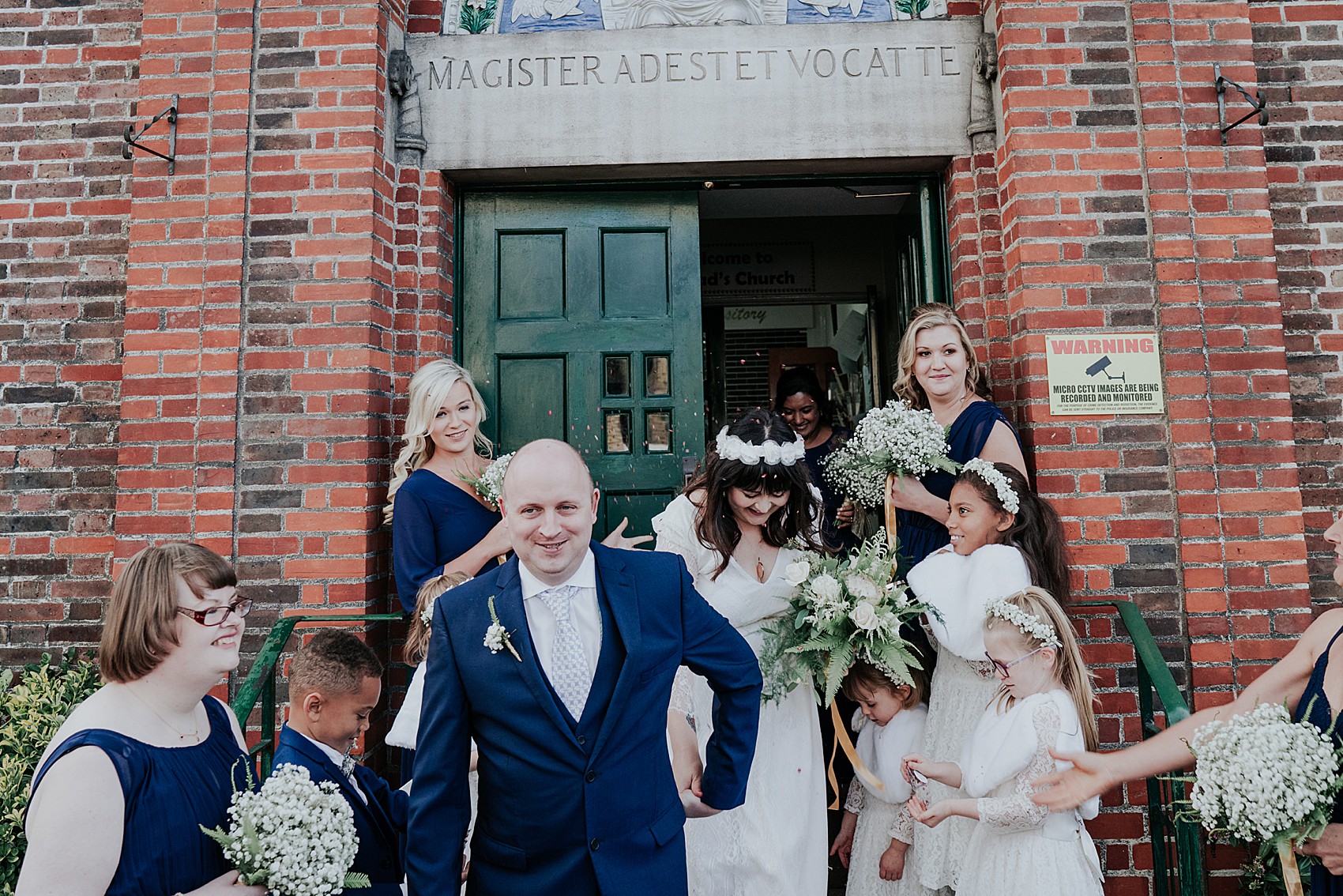 Capturing the effervescent happiness and relaxed intimacy of the day was Joasis Photography, whose natural, cinematic style lent itself perfectly to Catherine and Andrew's day.
"The biggest shout out has to go to our photographer Jo from Joasis Photography. She was superb, from meeting up and planning, to our engagement shoot, to the day itself. Jo and her assistant were so enthusiastic and very good at herding hungry and cold people together for photos."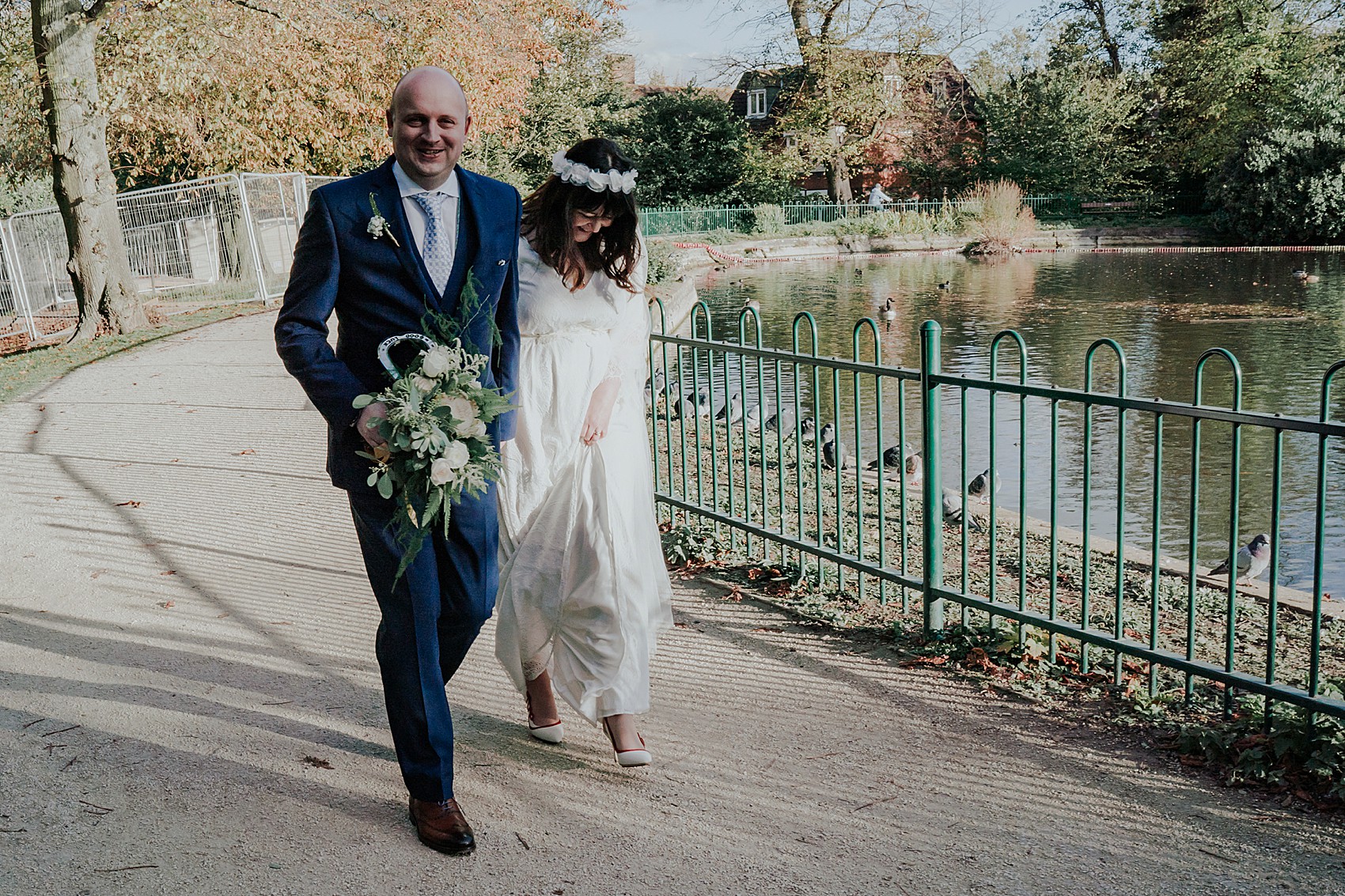 "She took us to Crystal Palace Park in our vintage mini wedding car for our photos with dinosaurs, and made it really special. Then afterwards we got the most delightful little wooden gift box of photos and our album. We couldn't recommend her highly enough, and again our guests commented on her enthusiasm and dedication to the job."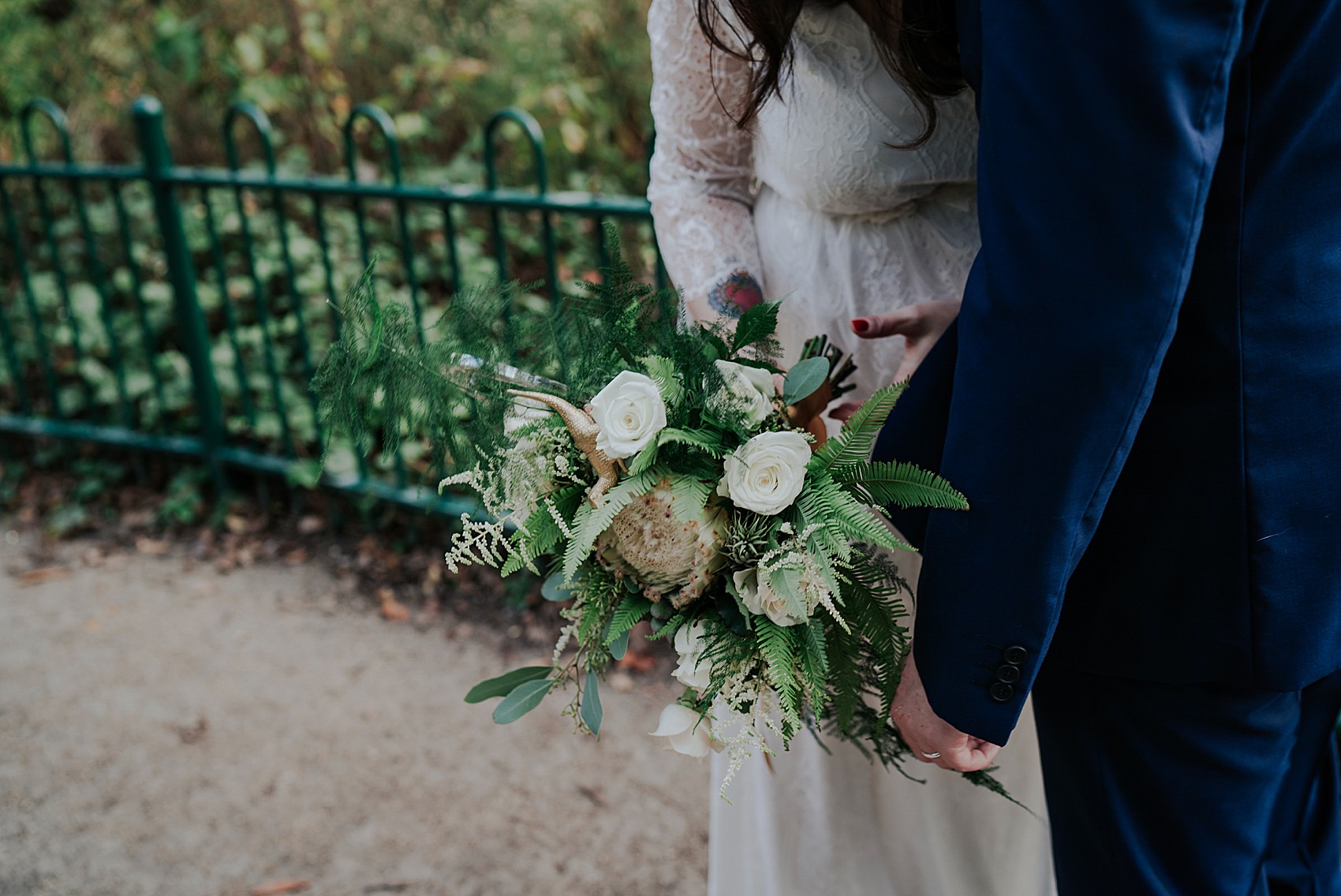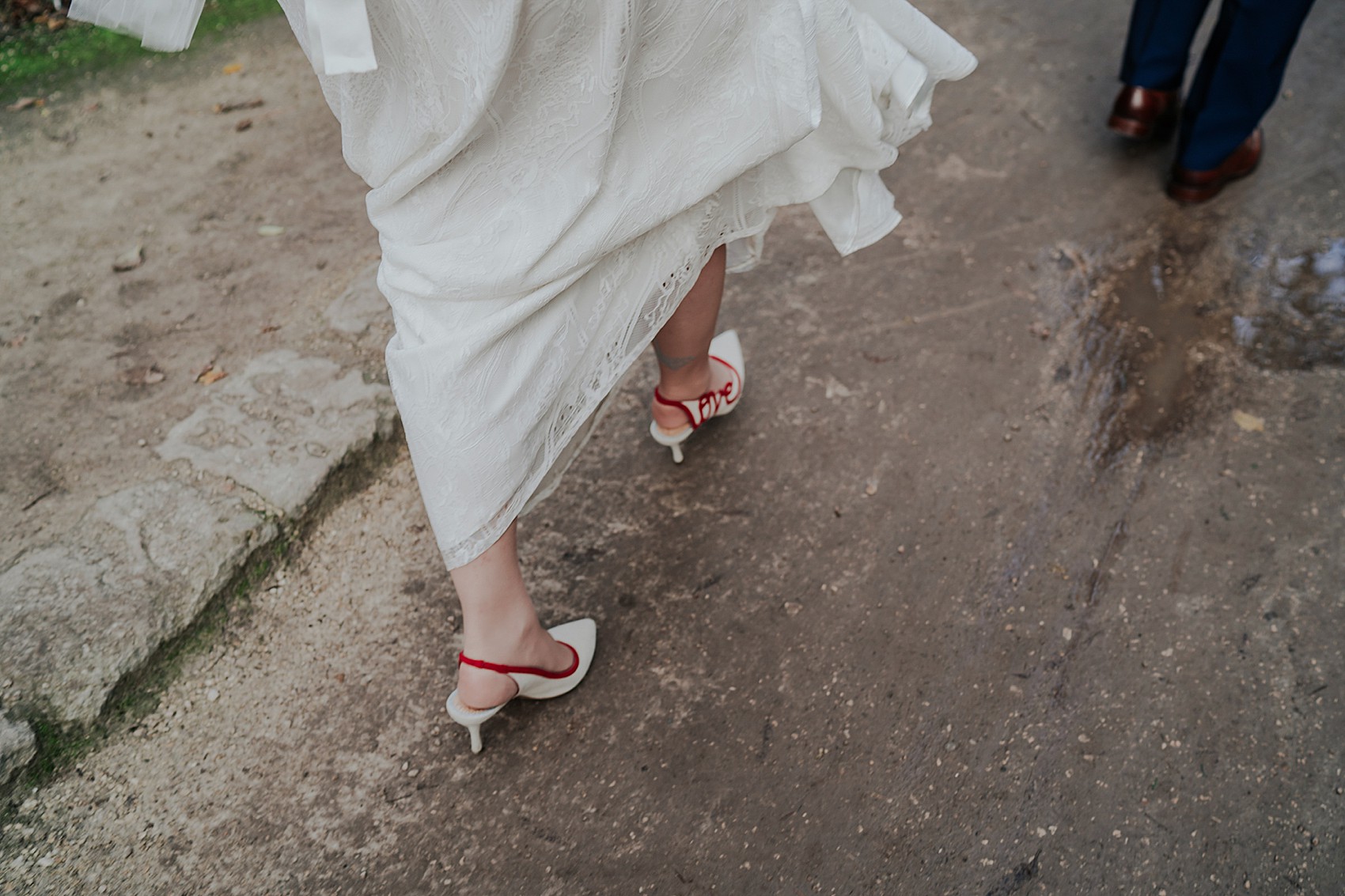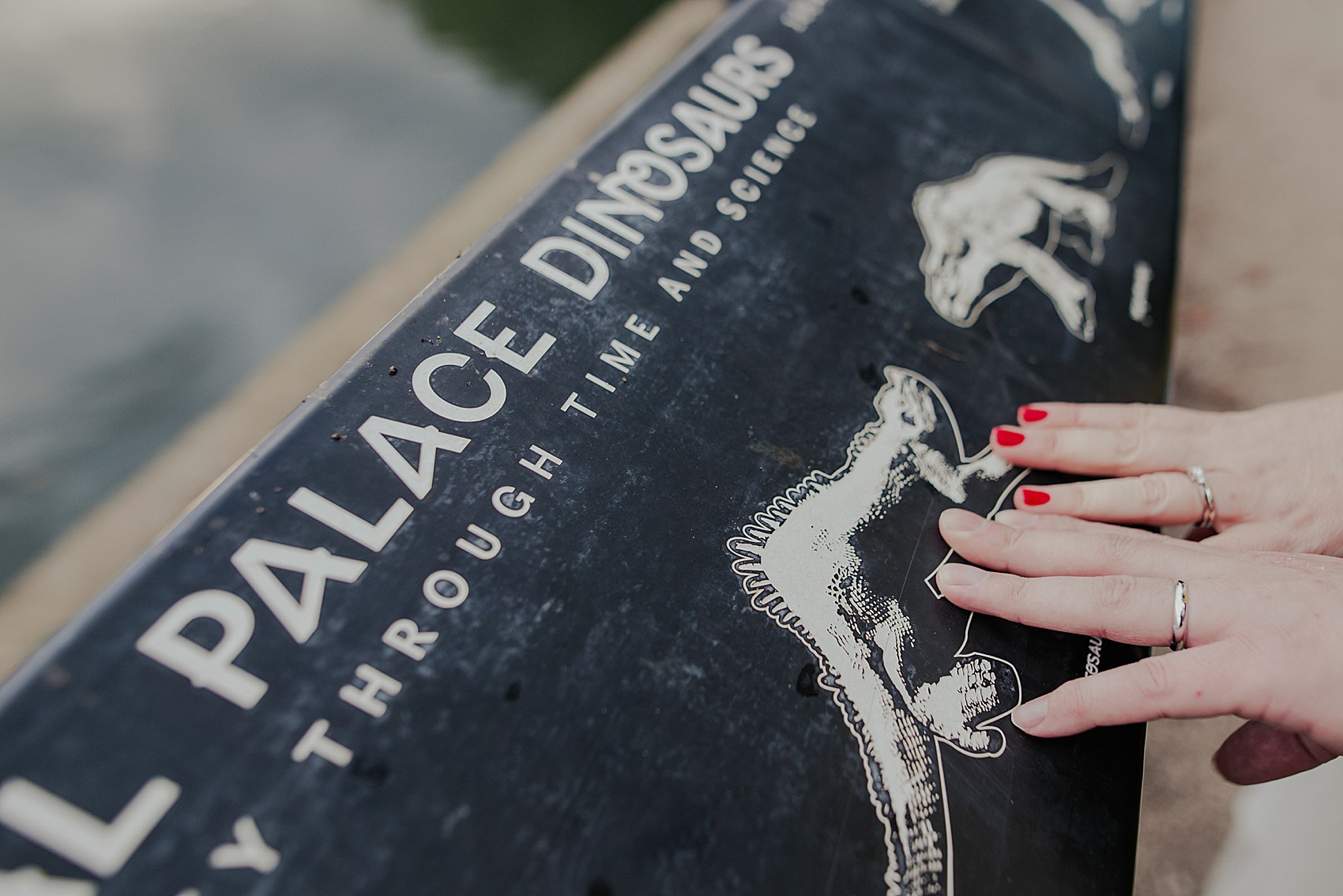 After their walk in the park, the couple drove to their pub reception venue, Bridge House – a multipurpose space with a restaurant, bar and theatre.
"When planning our wedding, we knew we wanted to do everything in South London where we live, and nearly all of our suppliers were based there. Our first proper date was spent wandering in Crystal Palace Park, and so we wanted a dinosaur theme. We had gold spray painted dinosaurs everywhere amongst tea lights and flowers in vintage vases and jars. I had a dinosaur in my bouquet, and we had a dinosaur cake topper. We also had pictures of my father (who is much missed) on a table in the pub."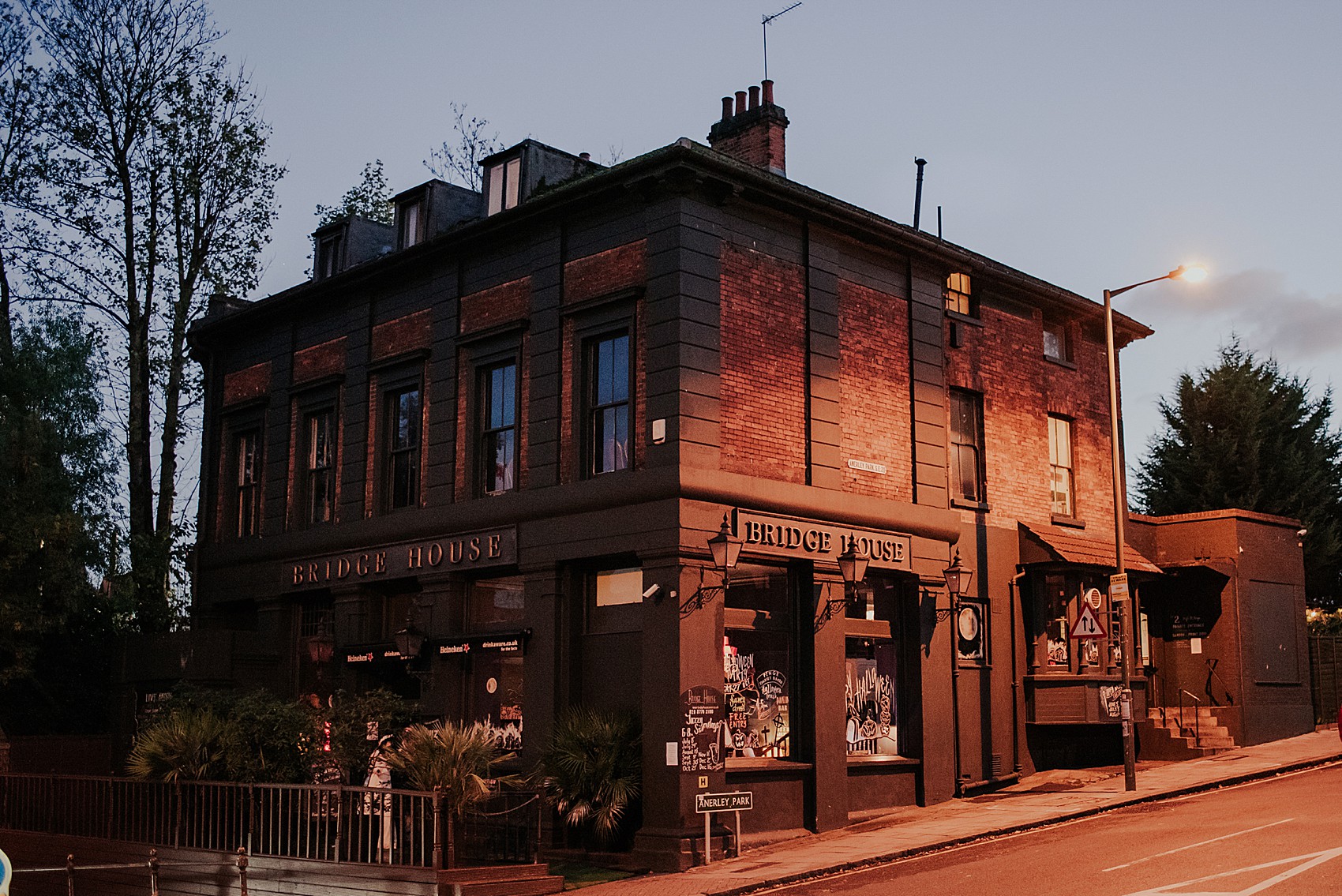 Everyone sat down to a wonderful meal prepared by Bridge House, and afterwards there was cake from South London based Blossom & Crumb.
"We had three flavours: lemon drizzle, Black Forest and chocolate Guinness. Our dinosaur cake topper was by Megan Bogonovich.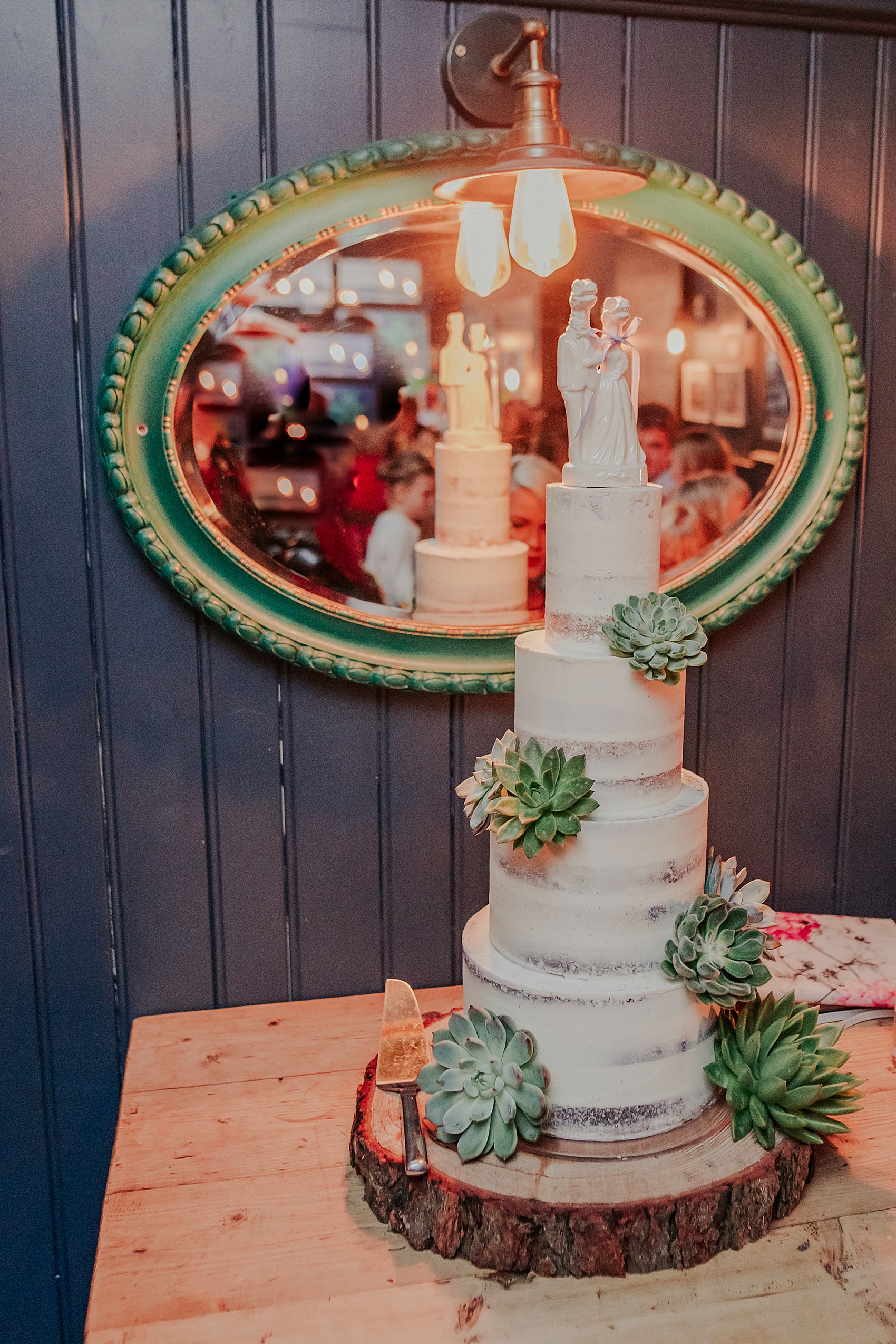 As there were lots of children at the wedding, all of the dinosaurs were happily re-homed as mementos from the day. Delicious cake favours were from Konditor, and the couple also gave thank you gifts of Kate Spade earrings to their mothers, too.
Favourite Moments
"I would say our first dance and the moment we got back to the hotel. We were all alone and it really hit home that we were married. That felt very special."
"The only thing missing was my father, who passed away very suddenly in 2013. It was hard not having him there. I think he would have approved of both my choice of husband and the party!"
"In terms of doing things differently, I wished we had taken more time to ourselves to absorb what was going on around us and soak it up. It flies by, and it is easy to feel that it all went by in a blur. I also wish I had made myself eat something. So many people have told us that the food was delicious, but I was so full of adrenaline that I ate very little, which I regret."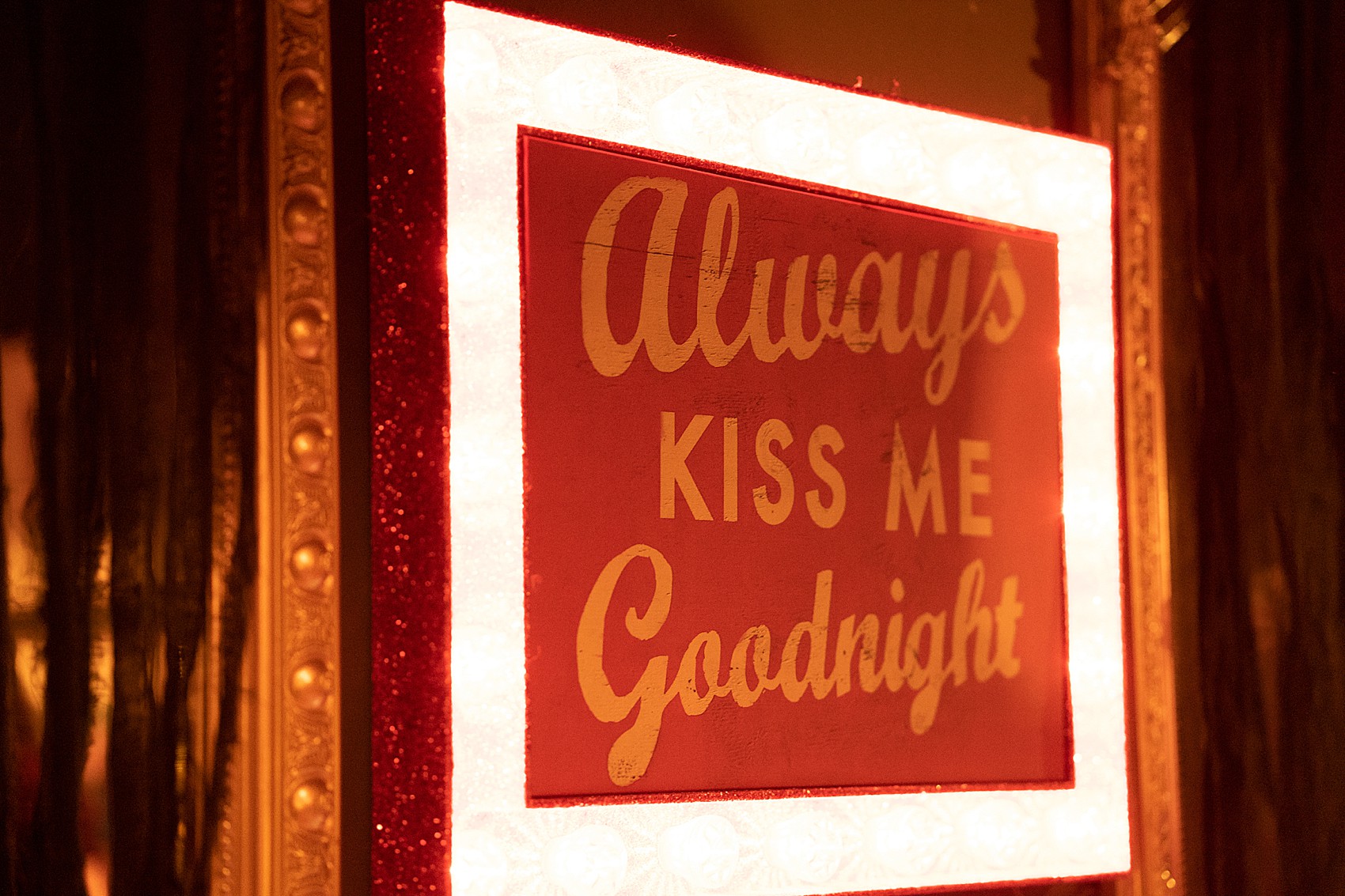 Words of Wedded Wisdom
"Organisation. I'm a 'fly by the seat of my pants' sort of person, and as a result some things slipped up last minute. I ordered one bouquet short for the bridesmaids so we had to cobble something together last minute. I also forgot to order paper lanterns/pom poms that I had wanted for the venue."
"Also, you may feel guilty for not talking to everyone at the wedding, but be kind to yourself. I wish we'd taken time to speak with every single lovely person we had present, but the day flies by and before you know it the night is over."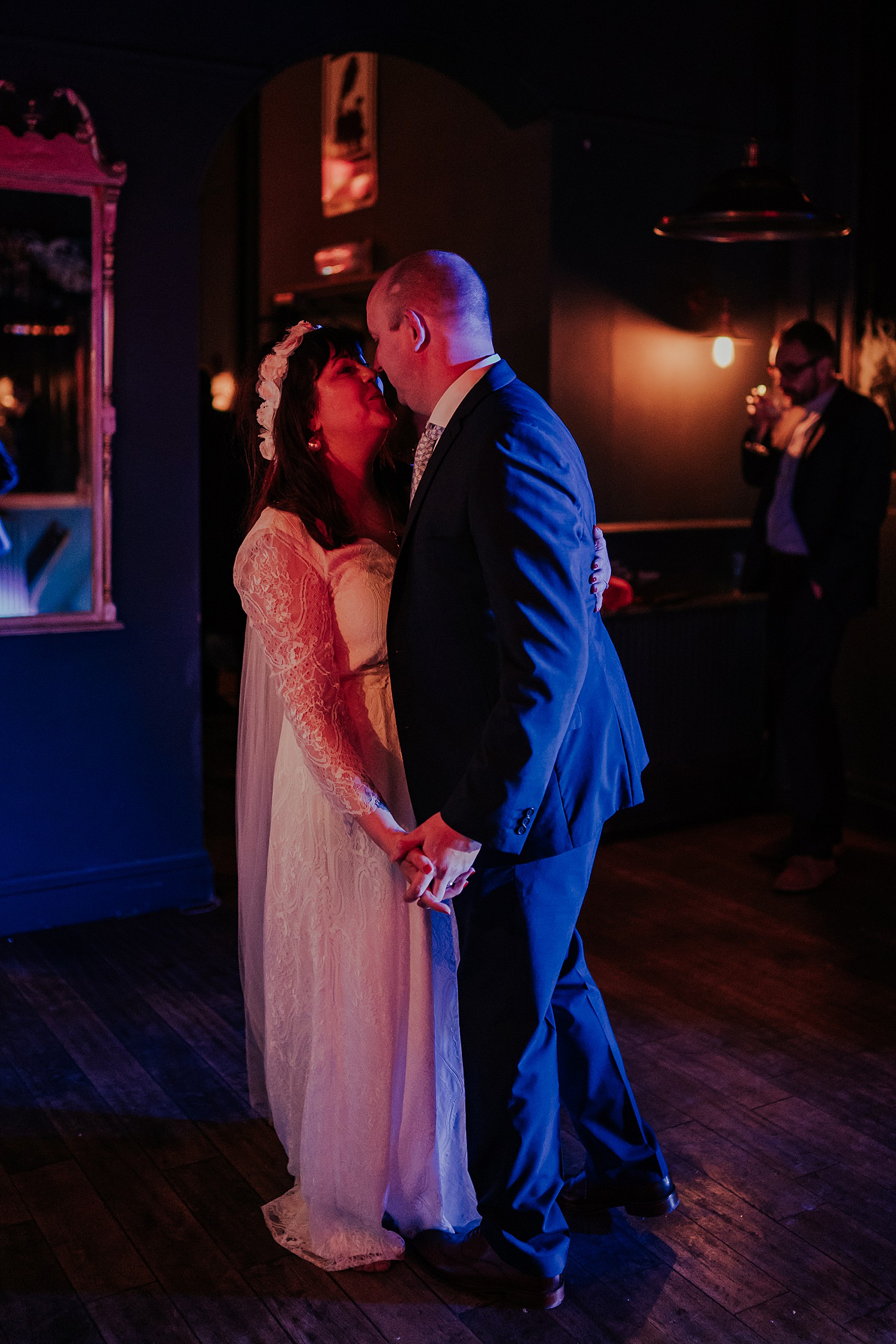 Catherine and Andrew, thanks a million to you both, this has been completely charming, and beautifully captured by Joasis Photography – thank you.
To find out more about Miina and Indiebride London, do take a look at the other real weddings and articles on our pages. Did you know that Most Curious is heading to Manchester in February 2020? We've got the details here.
With love,
Laura