Well, lovelies, I feel well and truly spoilt. Not only was yesterday my birthday (complete with a long, wintry walk on the beach and afternoon tea with some of my closest school friends) but today I have the joy of writing up this gorgeous, summery wedding with an absolutely sensational bride wearing Caroline Castigliano.
1 June 2019 saw the wedding of lawyer Alex to media software consultant Bill at St Mary's Church, Feltwell, Norfolk with a marquee reception afterwards in the historic grounds of Hockwold Hall.
Andrew Michael Films

+ Follow



Drawn to its exclusivity and beautiful, sprawling grounds, it made the perfect summertime backdrop for a rustic, English country garden-inspired wedding, with lots of touches of blush and a few nods to Alex's Australian childhood.
Lets start with this beautiful film by Andrew Michael Films, followed by beautiful images captured by our Little Book member, Richard Skins Photography.
Richard Skins Photography

+ Follow



In the run up to her wedding, Alex was a frequent Love My Dress reader and a member of our Love My Dress Facebook group, which you can join here.
"I mainly visited LMD and gained a lot of inspiration and advice from the Facebook group. It was probably my most useful resource – it was so helpful to have people on hand to give advice and answer questions that would have been hard to figure out myself."
I'm so happy to hear that Alex found her photographer Richard Skins Photography via Love My Dress. His style is romantic and natural, with an eye for airy and timeless composition that is exquisite. For more of his work, infused with colour and emotion, please do visit his Little Book Wedding Directory listing here.
"Choosing Richard was one of the earliest and easiest decisions we made. As soon as we saw his work we knew we wanted him – there was no comparison. We loved his natural, documentary style and ability to capture the emotion of the day. Richard was really helpful leading up to the wedding and on the day he worked really hard, arriving early and staying until late into the party."
"Bill and I have built our life together in London but we opted for a country wedding. We both wanted a church wedding and my mum is a vicar, so it was an easy decision to get married in Norfolk in one of her churches – St Mary's in Feltwell."
"Our reception was held at Hockwold Hall which my mum recommended. We were really lucky to have such an amazing venue right on our doorstep – it was only a five minute drive from the church. The combination of the location, beautiful grounds, and the fact that we could hire it and stay there for the entire weekend made it the perfect venue for us."
The couple also wanted a moving record of their day, and chose Andrew Michael Films as his style matched Richard Skins' so well.
"We didn't plan on having a videographer but it was one of the best decisions we made. We absolutely love our videos from Andrew. We loved his natural, cinematic style and the quality of his films speak for themselves. Andrew was incredibly helpful leading up to the wedding and on the day itself (even helping Bill out with his buttonhole!). He was so discreet, I don't actually know how he managed to get some of the shots without us noticing. He was so professional and we would recommend him to anyone."
With such a beautiful gown, accessories were minimal – just simple, rose quartz, stud earrings from Monica Vinader, a diamond bracelet that belonged to her maternal grandmother and an ivory and pearl clutch bag from L.K.Bennett.
On the wedding morning, hair and make-up artist Sarah Henning, assisted by Chloe, was on hand to create the relaxed and natural looks sported by the bridal party.
"Sarah is great at the natural, 'undone' look and created a soft, textured, low bun for me. She also kept my make-up simple and natural. My bridesmaids chose to have their hair down in loose, natural waves. I found it harder than I thought to relax on the morning of the wedding but Sarah did a great job at keeping me distracted."
The bride's Caroline Castigliano gown features an exquisite, blush-toned bodice which is so, so beautiful with its simple silhouette and lace detailing on the bodice. I adore the delicate straps which sweep down in to the delicate low back. The bride visited another of our Little Book members, Carina Baverstock Couture, to select her Tertia gown.
"I went to two boutiques in London but was left slightly disheartened – I felt rushed during a one hour appointment and just didn't find a dress I could see myself getting married in. Bill's mum suggested that I venture beyond London and book appointments at the bridal boutiques in Bradford on Avon. My first appointment was at CBC and I already knew which dress I wanted to try before I went. I had seen Tertia featured on an LMD blog post and went to my appointment desperately hoping that it would look ok on me."
"I absolutely recommend CBC to other brides. What set it apart was that Carina took time to pinpoint how I wanted to look and feel before even looking at any dresses. I didn't feel at all rushed and felt like I had plenty of time to try on lots of different styles and designers and to walk away completely confident with my choice."
"I loved that my dress was fairly traditional but also quite modern. I loved the delicacy of the bodice which contrasted with the drama and movement of the silk organza skirt, the intricate guipure lace which overlay the blush bodice, the delicate straps, pockets and the low back. I felt completely comfortable and despite the dress having a full skirt, it wasn't at all heavy and I could move (and eat!) freely."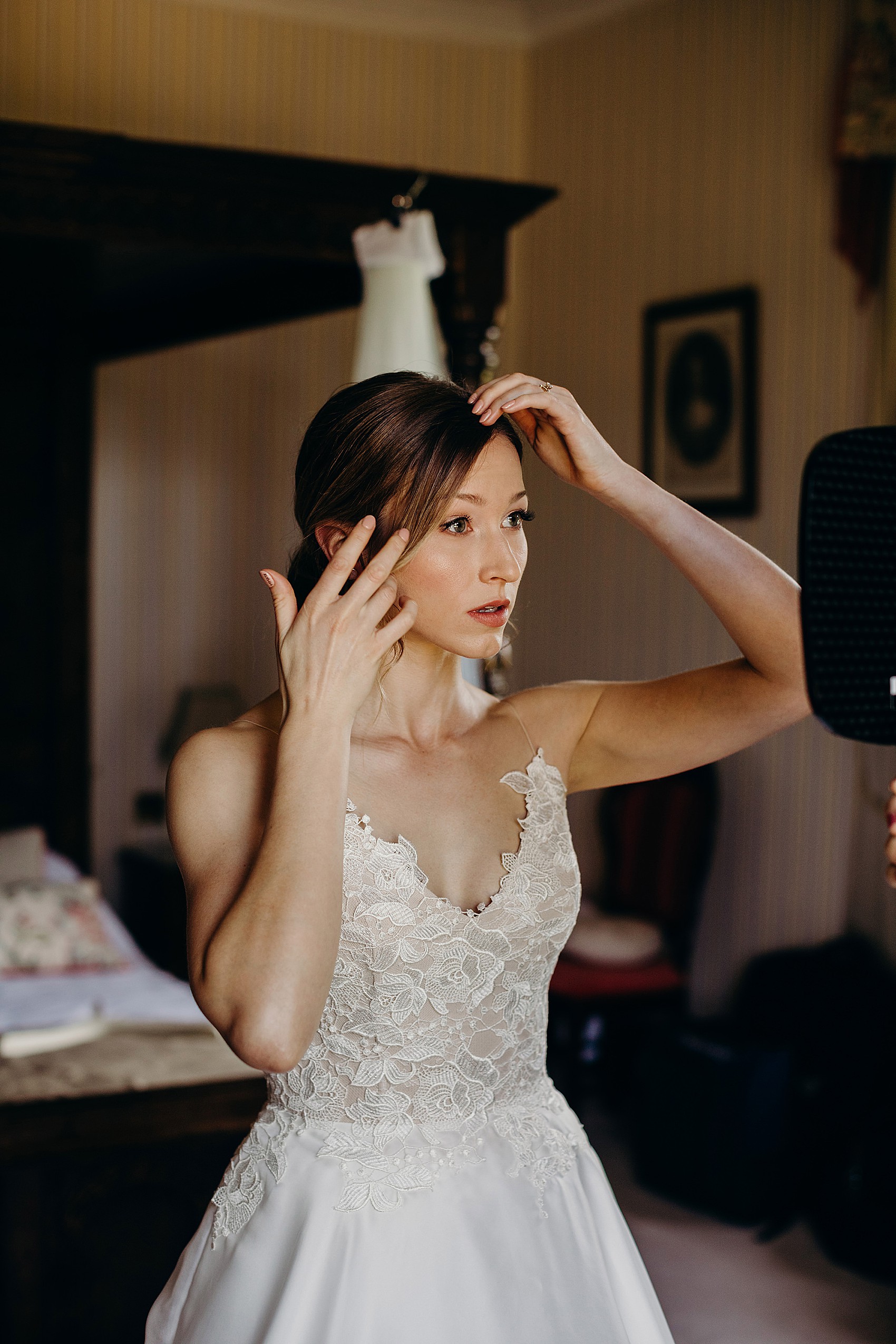 She asked Sam at Carina Baverstock Couture to create a bespoke veil, with a lace edging to match that of the bodice.
"The only consistent colour we had running through the wedding was blush – and that was really only because the bodice of my dress was blush and I wanted to complement that. Aside from that, I just wanted colourful, summery flowers mixed in with some bright green foliage."
A delicate, beaded hair comb from Agnes Walker was the crowning glory and on her feet were a pair of open-toed, blush, Carvela by Kurt Geiger stilettos.
"I bought my hair comb on a whim at my first dress fitting. I hadn't thought about wearing anything in my hair until Sam, my lovely dress fitter, tried it on me. I loved that it was a one-off vintage piece and the rose gold colour worked well with my grandmother's rose gold and diamond bracelet."
For a relaxed feel, the bridesmaids wore a range of gowns in blush with rose gold accents and matching pearl stud earrings from Australian brand Mimco, gifts from the bride.
"My bridesmaids wore floor-length, beaded dresses from Monsoon, Adrianna Papell and Frock & Frill. I opted for mismatched dresses as I wanted them each to have a dress that suited them."
Setting the tone for the English country garden vibe were the invitations by Polly Crossman, featuring a charming illustration of Hockwold Hall.
"I went to the same university college as Polly. I recognised her name on a list of suppliers for A Most Curious Wedding Fair and looked her up. Her calligraphy is beautiful and her illustrations are so detailed and unique. She drew Hockwold Hall for our invitations and sent us the original drawing which is a really nice keepsake."
The couple's love story began on Tinder, after Alex moved from Australia to the UK for university when she was nineteen.
"After graduating in 2013, I moved to London to start a law conversion course and met Bill, who was working in London, in 2014. We got engaged on holiday in New York in January 2017 and were engaged for 2.5 years. We weren't in a rush to get married and, aside from locking in our venue and photographer, we only really started seriously planning nine months before the wedding."
The couple chose to marry in one of the bride's mum's church's which had been so wonderfully adorned in fresh flowers by their family and friends.
"Bill's mum very kindly offered to do the flowers in the church. I went along to New Covent Garden Market with Bill's parents and a close family friend (a horticultural enthusiast – very helpful) early one morning to buy the flowers. We also used foliage from Bill's parents' garden. Our families and friends worked tirelessly making pew ends, garlands and flower arrangements inside and outside the church. It was beautiful! Bill's sister took the lead in filling glass jars with flowers to make our centrepieces and to scatter around the marquee."
"I was blown away when I arrived at the church and saw that our friends and family had created an incredible arch over the west door. I had no idea they were planning to do it. The arch was made of different types of foliage dotted with sweet peas, delphinium and gypsophila and some hydrangeas at the base."
The final touch was a welcome sign from HeyBubbah.
"Holly made the most beautiful welcome blackboard which we displayed outside the church and later at our reception venue. She based the flowers on our wedding flowers and colours – her attention to detail was amazing."
For the bride and groom having somewhere where their entire family could make a weekend of celebrations was important, as so many of them were coming from Australia.
"We were glad to have the option to hire the venue for the whole weekend. It gave us plenty of time to decorate the marquee on Friday afternoon and allowed us to extend the celebrations by hosting a BBQ the evening before the wedding. This was particularly important because we had quite a few friends and family who travelled from Australia so we were grateful to be able to spend some extra time with them."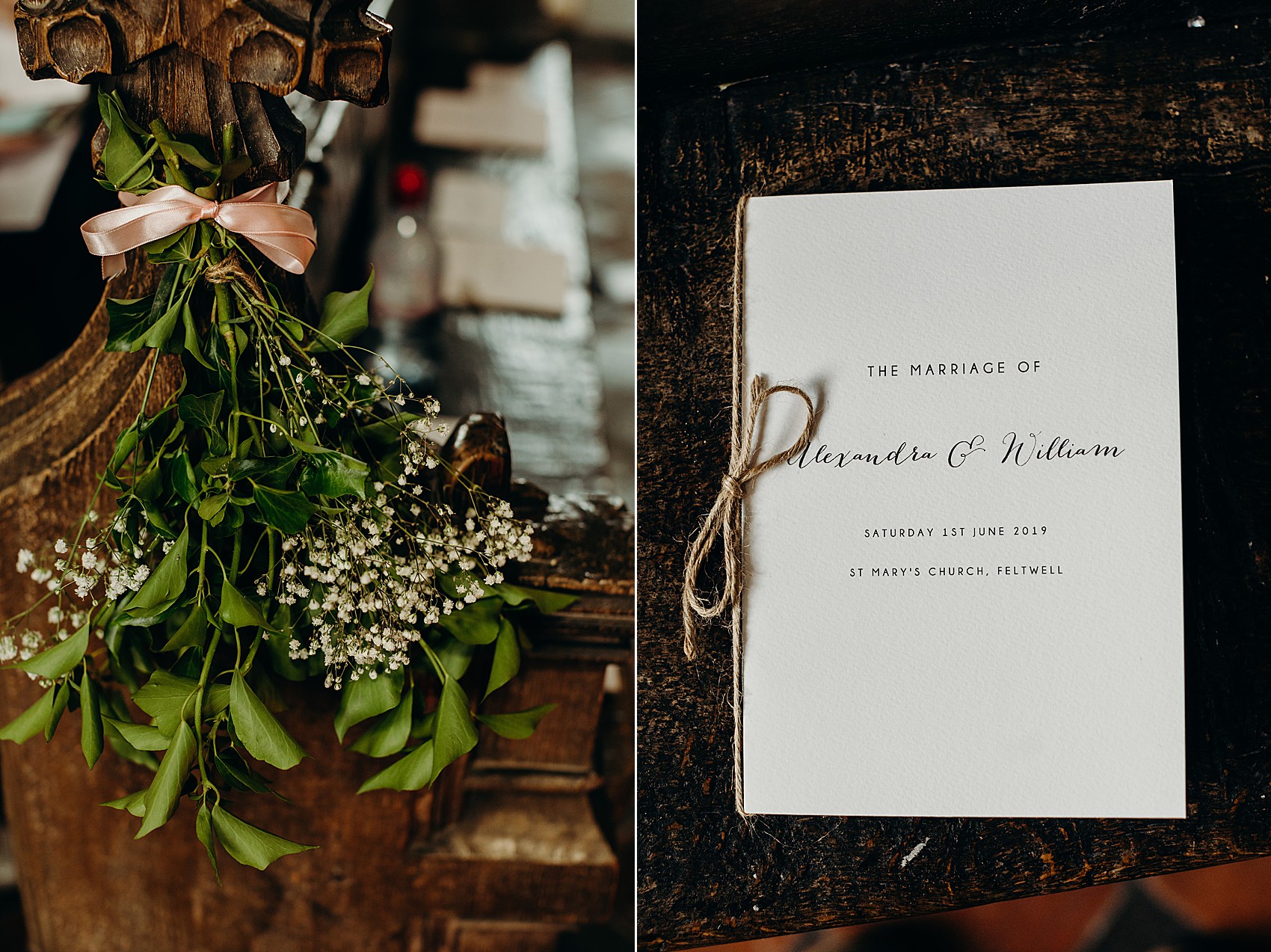 In keeping with the timeless yet contemporary feel, Bill chose a three-piece, navy blue suit from Gieves & Hawkes, to which he added a peachy pink tie, his grandfather's Roman coin cufflinks and 'Sydney' boots from R.M.Williams.
"I was going to buy these for Bill as a wedding present but he beat me to it. We wanted to give each other something special as a wedding gift. I gave Bill a Tissot GMT watch but he completely outdid me with an incredibly beautiful portrait by Kate Simpson of my horse, Raya, who sadly died about six years ago. Bill knows how much I loved Raya and it was the best gift he could have given me."
Early summer blooms in a riot of colour were perfect for the garden setting, and these beauties were styled by Sarah Broom of Bramble & Berry.
"Sarah made the most beautiful bouquets and buttonholes, corsages for our mums, two big milk churn flower arrangements, a flower arrangement for the bar and she provided some big pink peonies and spray roses for our cake."
"I wanted a really natural looking bouquet with plenty of movement and Sarah completely nailed it. I wanted peonies and seasonal flowers in pinks and blues (not too soft but not too bold) that would stand out against my dress but not distract from it. Sarah was amazing at suggesting different seasonal flowers and colours that would work well together. In the end, coral charm peonies were the main flower and Sarah also included a beautiful mixture of seasonal flowers – light blue delphinium, sweet peas, garden style and spray roses, oxypetalum, jasmine and foliage."
The bride entered in real style, driving in to the village in a carriage and horses from Townies Carriage Masters.
"I inherited my mum's love for horses so it was only natural that there would be horses involved in the wedding in some capacity. We had a pair of gorgeous black Friesians. I rode in the carriage with my mum and dad to the church and with Bill from the church to our reception. One of Bill's friends offered to give him and his groomsmen a lift and one of my mum's parishioners kindly volunteered to drive the bridesmaids in his classic Rover."
Alex entered the church and walked down the long aisle with her father David to Pachelbel's 'Canon in D', then wed Bill with the traditional Church of England vows.
"My mum's former curate, Berkeley Zych, conducted our service as she wanted to enjoy being mother of the bride. Berkeley led a really lovely service that was very personal and we felt much more comfortable having someone we both know take the service."
"Our Bible reading was 'Song of Solomon, 2.10-13; 8.6,7', read by Bill's younger sister Jessica. Our second reading was an extract from a children's book called 'No Matter What' by Debi Gliori, read by Isheeka, my best friend from school in Australia."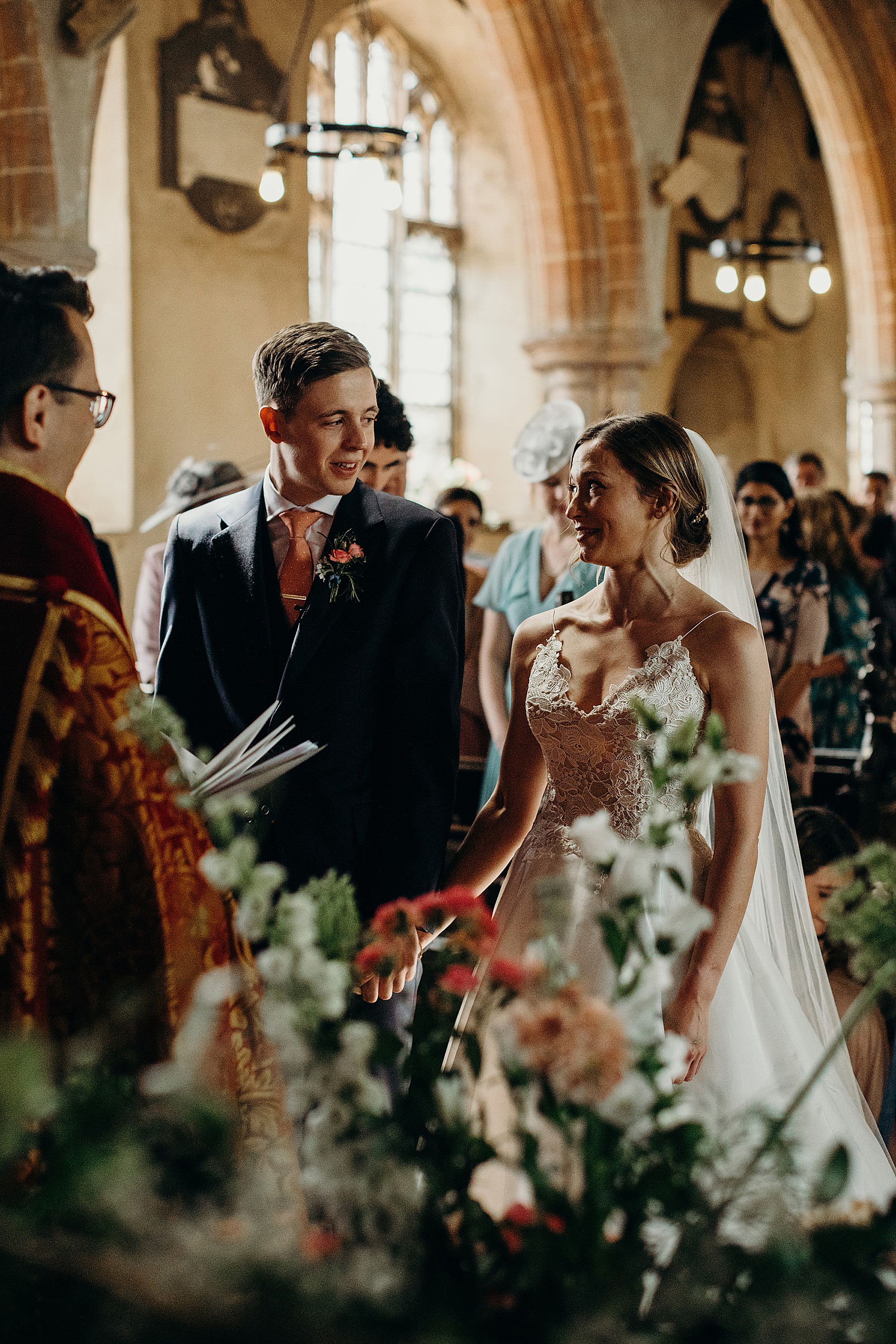 For rings, Bill chose as a classic, plain gold band from 77 Diamonds whilst Alex found Lebrusan Studio via a recommendation on the Love My Dress Facebook group.
"The customer service was excellent. Kim came from Brighton to London to meet me during my lunch break so that I could try out the rings first hand. I fell in love with the yellow gold, wishbone, diamond crown ring. It's so delicate and matches my Anna Sheffield engagement rings perfectly."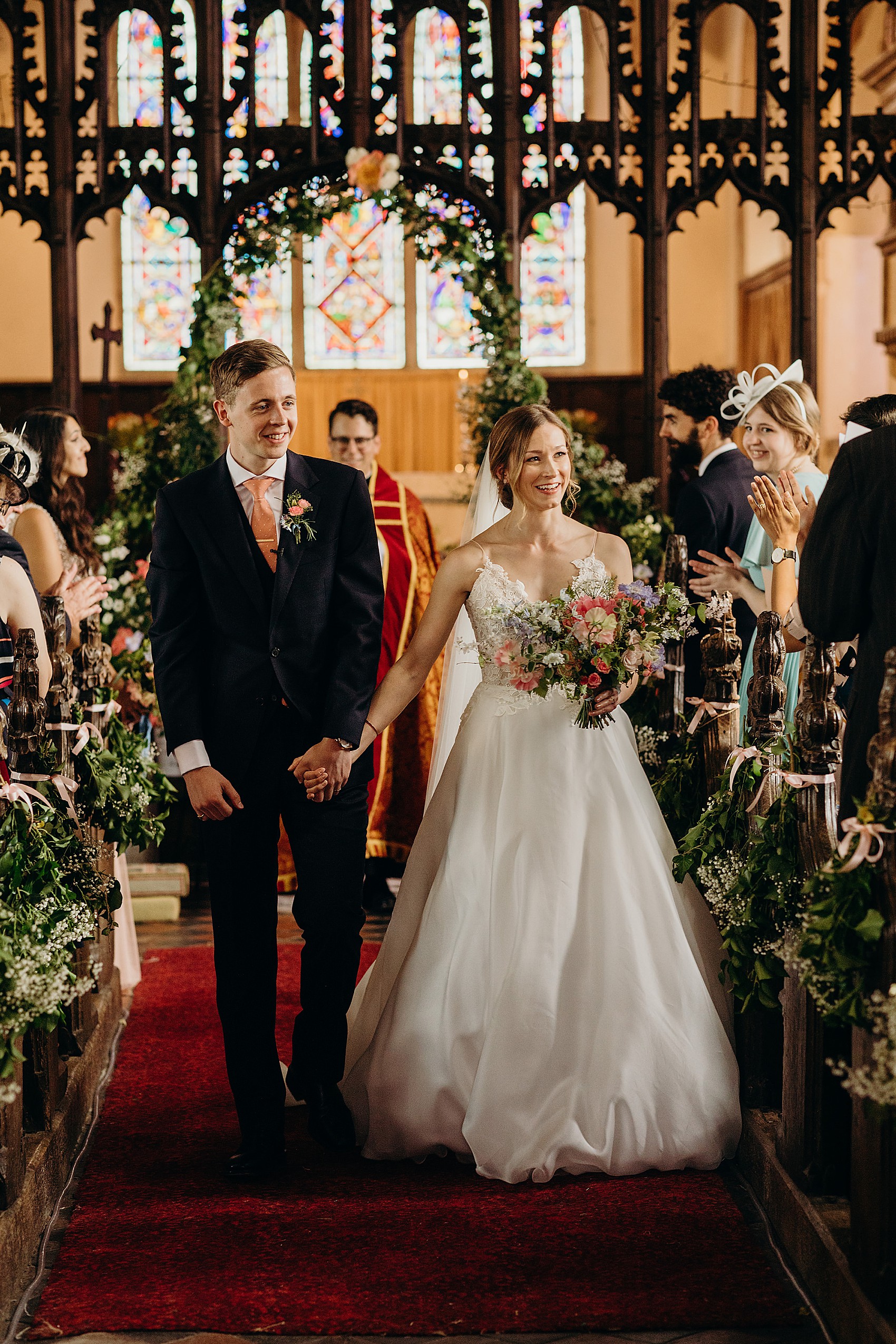 The newly-weds took the short drive to Hockwold Hall in the carriage where the June weather was so perfect they could relax outside before the reception in the marquee kicked off.
"It's hard to pinpoint a specific favourite part of the day. I was more relaxed after the ceremony and it was nice to have some quiet time alone with Bill in the carriage from the church to our reception. It gave us some time to take things in."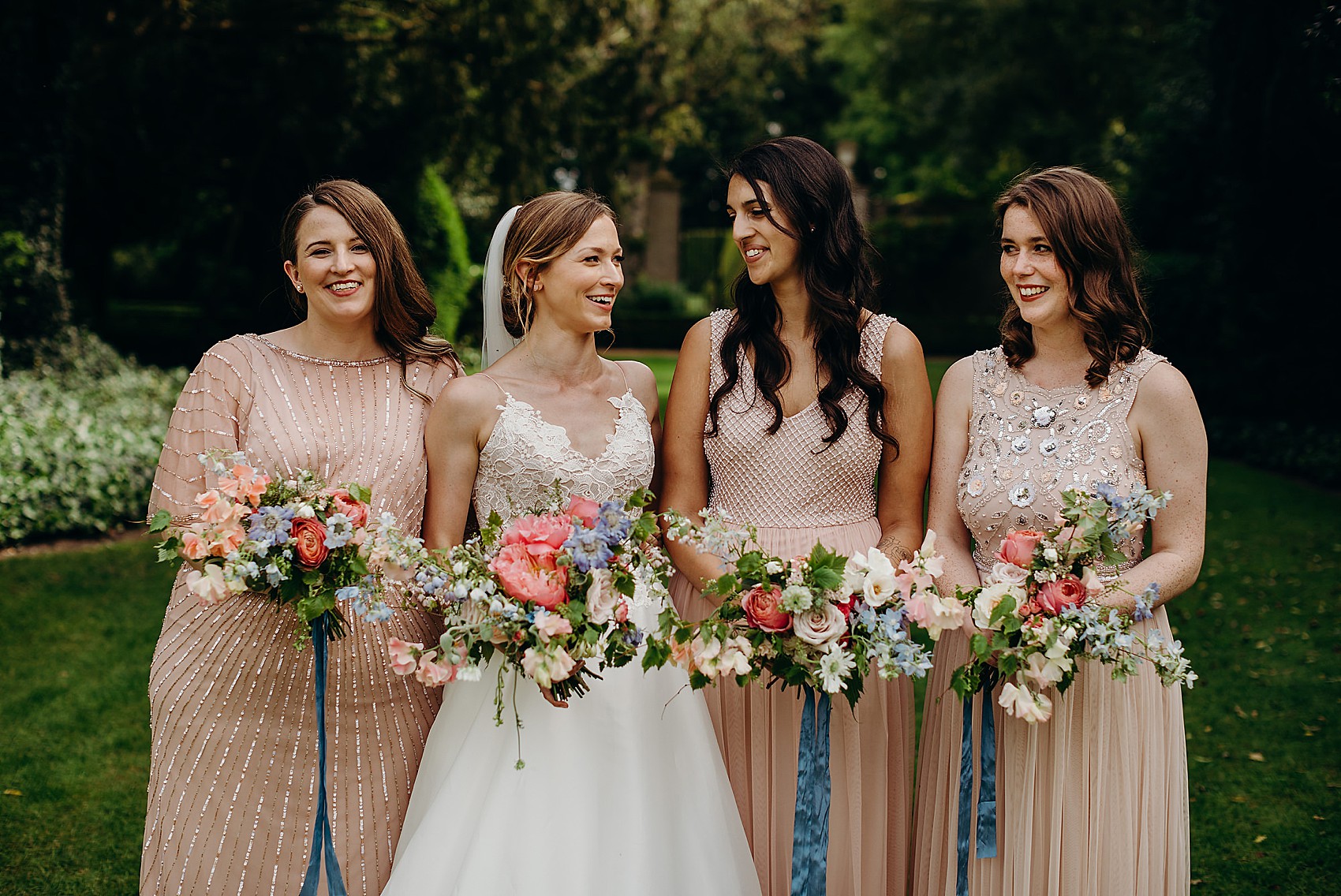 The couple, their friends and family had put so much thought and effort in to dressing the marquee.
"The marquee was such a beautiful, light, airy space that it didn't need too much decorating. It was already decked with plenty of fairy lights which looked beautiful after dark. We collected glass bottles and jam jars which we filled with flowers for our centrepieces and which were placed along the windowsills in the church."
"We hired a few pieces from One Curious Dream – some small, coloured bottles for our centrepieces, a white ladder for our table plan and some festoon lights which we hung up around the dance-floor. Our florist made us a lovely flower arrangement for the corner of the bar and we used the milk churn flower arrangements in the marquee. They were too beautiful to leave behind in the church after the service!"
"We made use of props from our venue – a suitcase for our card box and log slices for centrepieces and our cake stand. We made a DIY photo area with giant balloons for a backdrop and an Instax camera. We hung up extra fairy lights on the wall with some small pegs so that our guests could hang up their photos."
Place cards and table plan came from Millie Stone UK, whilst table numbers and the charming bride and groom chair signs were from Scribble Wood.
"Amelia's work is really simple and elegant. I had admired it for ages but only got in touch with her a few weeks before the wedding. Despite already being busy, she very kindly fitted us in and got everything done really quickly. We used some twine to tie each place card around a sprig of rosemary (taken from Bill's late grandmother's garden) to add a country vibe. We also used twine and small wooden pegs to string the table plan cards up on a white wooden ladder. We decorated it with a few more sprigs of rosemary and placed some of flowers in glass jars along the top step of the ladder."
"I found Claire of Scribble Wood via a recommendation in the Love My Dress closed Facebook group. She made us some really lovely, rustic wood, burned table numbers and a gorgeous pair of 'bride and groom' chair signs to match. Claire's communication was second to none and she went above and beyond to make sure everything was perfect."
Jess Baines of One Part Love Bakery baked and stacked the incredible pink ombre wedding cake, decorated with more of those bright, seasonal flowers.
"Jess is a really talented baker and her cakes are both delicious and beautiful. We had a three-tier cake with buttercream icing and chocolate and raspberry cupcakes for guests with intolerances. Our cake was white with a subtle pink ombre around the base and a touch of gold foil around the top of each tier. Jess also made some 'Mr and Mrs' koala fondant cake toppers (and even matched the koala's tie to Bill's)."
The guests were gifted party bags filled with Australian treats, brought back from Sydney by Bill when he was on a pre-wedding work trip.
"Our idea was to have a slightly more refined version of a kid's party bag. We filled cellophane bags with a selection of quintessentially Australian chocolates and lollies – mini TimTams, Caramello koalas, Minties and small heart-shaped chocolates from Haigh's, my favourite Australian chocolate shop."
The Middle Eastern-inspired wedding breakfast came courtesy of Hockwold Hall's exclusive catering partner, Shef's Catering.
"Sharon was amazing. She was always available to answer our questions and accommodated all of our requests. Shef's created an entirely bespoke menu based on our favourite Middle Eastern dishes and it was all completely delicious. We wanted a relatively informal and relaxed wedding breakfast and opted for sharing platters for the starter and main."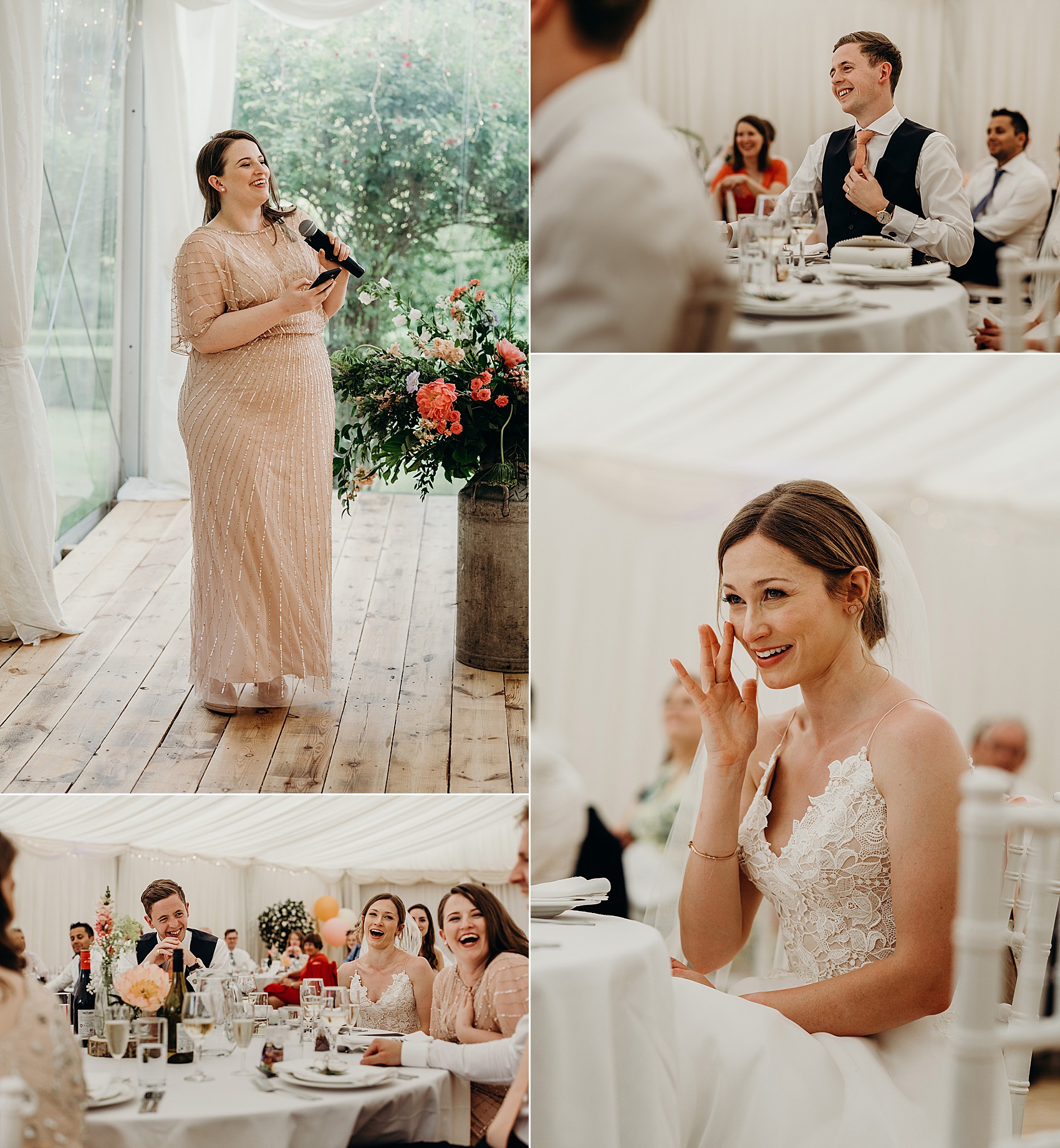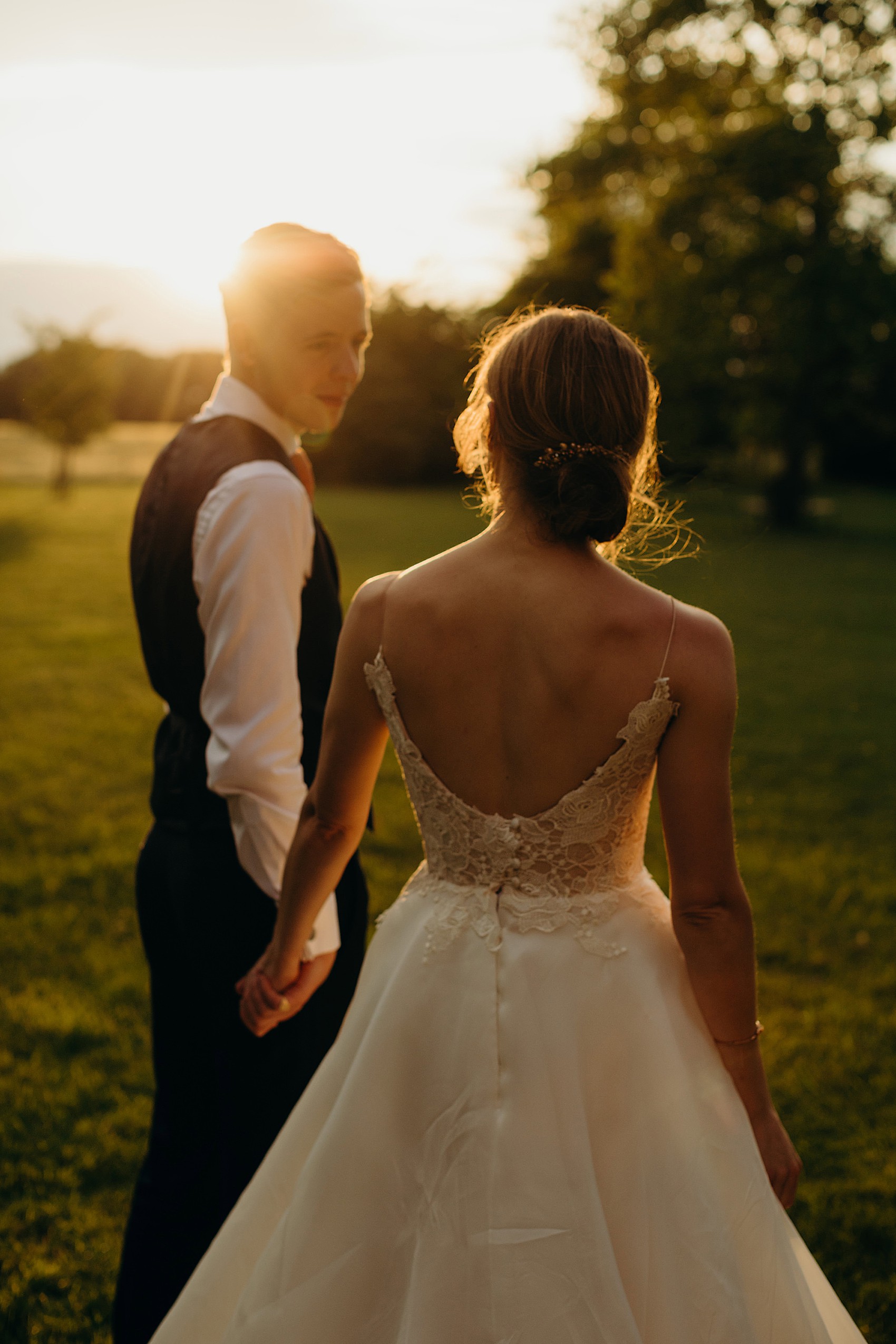 Before the evening festivities kicked off, Truly Medley Deeply set up in time for the first dance.
"We knew we didn't want a normal wedding band but had no idea what we actually did want until we found TMD through our photographer's website. We loved the idea of their various medleys, especially the garage medley!  They also DJ'd between live sets which saved us the hassle and added expense of hiring a DJ. They were incredible and made our party really memorable."
"Our band performed a stripped-back, acoustic version of 'Love Is Only A Feeling' by The Darkness, not exactly a traditional love song! We probably should have practised our first dance but never got around to it and ended up shuffling around awkwardly. We were both relieved when the groomsmen let off some confetti cannons which took the focus off our terrible dancing."
Words of Wedded Wisdom
"Don't feel guilty for not going down the DIY route. I've never been good at arts and crafts and that wasn't suddenly going to change just because we were getting married. In the end, I did a few bits and pieces to save costs where possible."
"We were very lucky to have family and friends who were willing to work really hard to create some beautiful flowers for us. Otherwise we largely left things to the professionals which saved us time and stress."
Lovelies, I'll leave you now to enjoy these glorious images. Please join me in wishing Alex and Bill many thanks and congratulations on their wedding. And Richard Skins Photography, thank you again for your beautiful work.
Ele xx
Photographer – Richard Skins Photography
Film – Andrew Michael Films
Venue  - St Mary's Church, Feltwell, Thetford + Hockwold Hall, Norfolk
Wedding Dress – Caroline Castigliano via Carina Baverstock Couture
Veil – Bespoke by Carina Baverstock Couture
Headpiece – Agnes Walker
Shoes – Carvela by Kurt Geiger via John Lewis
Accessories – Monica Vinader earrings, an L.K.Bennett clutch bag + her grandmother's bracelet
Perfume – Jo Malone
Groom – Gieves & Hawkes suit + tie, his grandfather's cufflinks, R.M.Williams shoes + a Tissot watch
Bridesmaids – Monsoon, Frock & Frill, Adrianna Papell + Mimco earrings
Florist – Bramble & Berry
Cake – One Part Love Bakery
Transport – Townies Carriage Masters
Entertainment – Truly Medley Deeply
Rings – Anna Sheffield (engagement), 77 Diamonds + Lebrusan Studio
Catering – Shef's Catering
Stationery – Polly Crossman, Millie Stone UK 
Hair Stylist + Makeup Artist – Sarah Henning
Decor – One Curious Dream, Scribble Wood + HeyBubbah