Oh loves, aren't we all soooo ready for the Christmas holiday now? I'm sharing something suitably festive to help us on our way today, a gorgeous, warm, seasonal shoot from a talented team of wedding suppliers led by Emmylou of of Vanitas Life.
These images were captured at Dorfold Hall, a most beautiful country house wedding venue located in Nantwich, Cheshire.  These images speak for themselves but the words below are by the wonderfully talented Emmylou of Vanita's Life. Enjoy folks!
Film by The Lawson

+ Follow



"I decided to create the perfect Christmas wedding to show off the magic of Dorfold in the winter months. Dorfold Hall is a magical family home with over 400 years of ancestral family history."
"The house has undergone an extensive renovation in the last 8 years to restore some of the damage of weather, war and the hands of time to the grade I listed Jacobean house, original designed and built for King James I."
Vanitas Life Photography

+ Follow




"The estate houses wonderful walled gardens and exquisite formal borders which up until this winter, was where couples from all over the world, held English country garden summer weddings in a grand, cathedral-esque marquee. Starting from next year, Dorfold will be able to hold weddings all through the year in a permanent structure considerate of its ancient surrounding's, including a 1000-year-old tree."
"In any wedding, florals are always one of the main focus' and we wanted to create something truly unique. Jacqui O Florals specially designed iron works for specific pieces in the house to showcase historical features of each room, such as stone roaring fireplaces and coats of arms."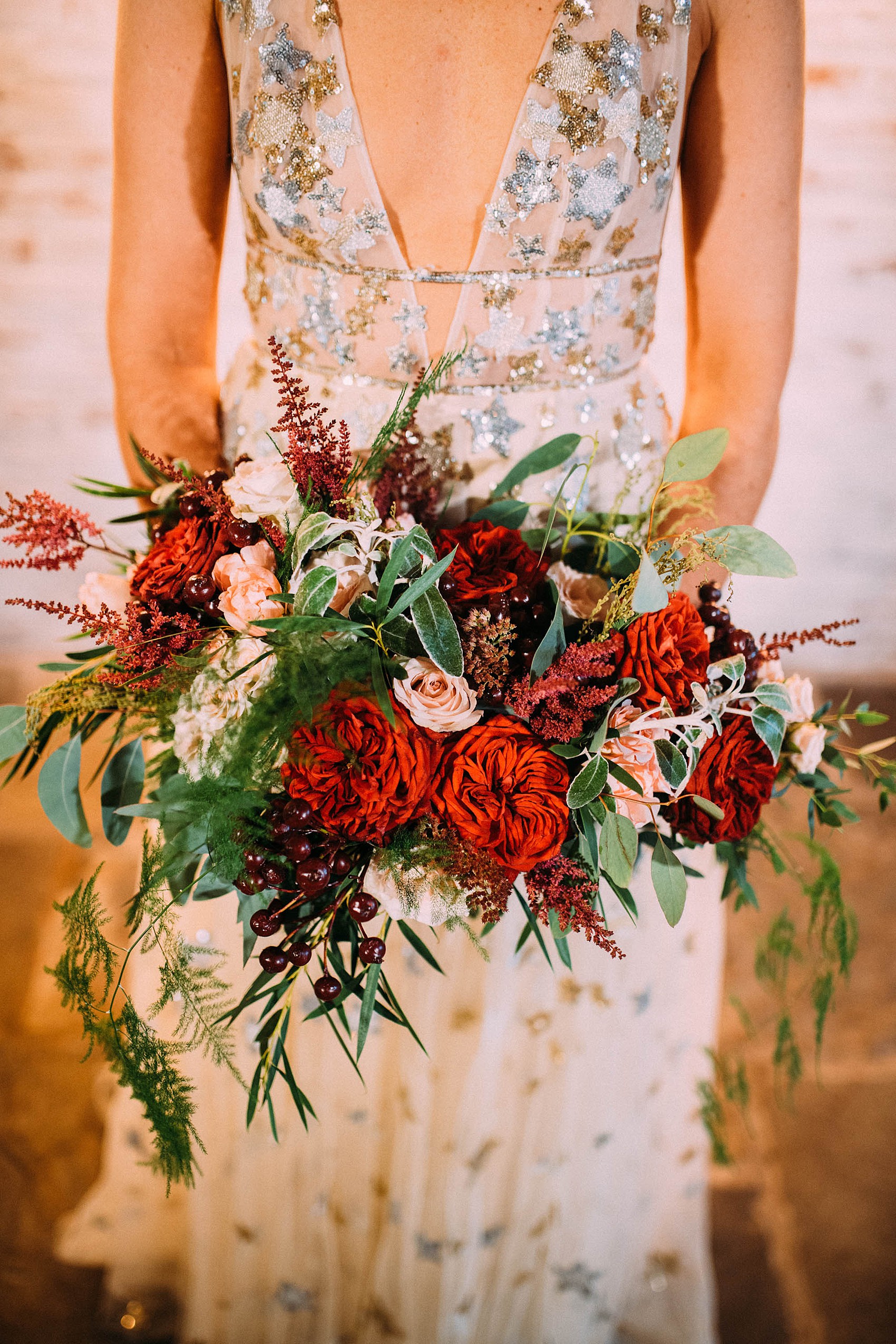 "We carefully chose colours and designs to sympathetically adorn every room the bridal couple and their family may use over their wedding weekend with small touches such as hand-picked mistletoe from the trees on the lawns to festive wreaths on the doors."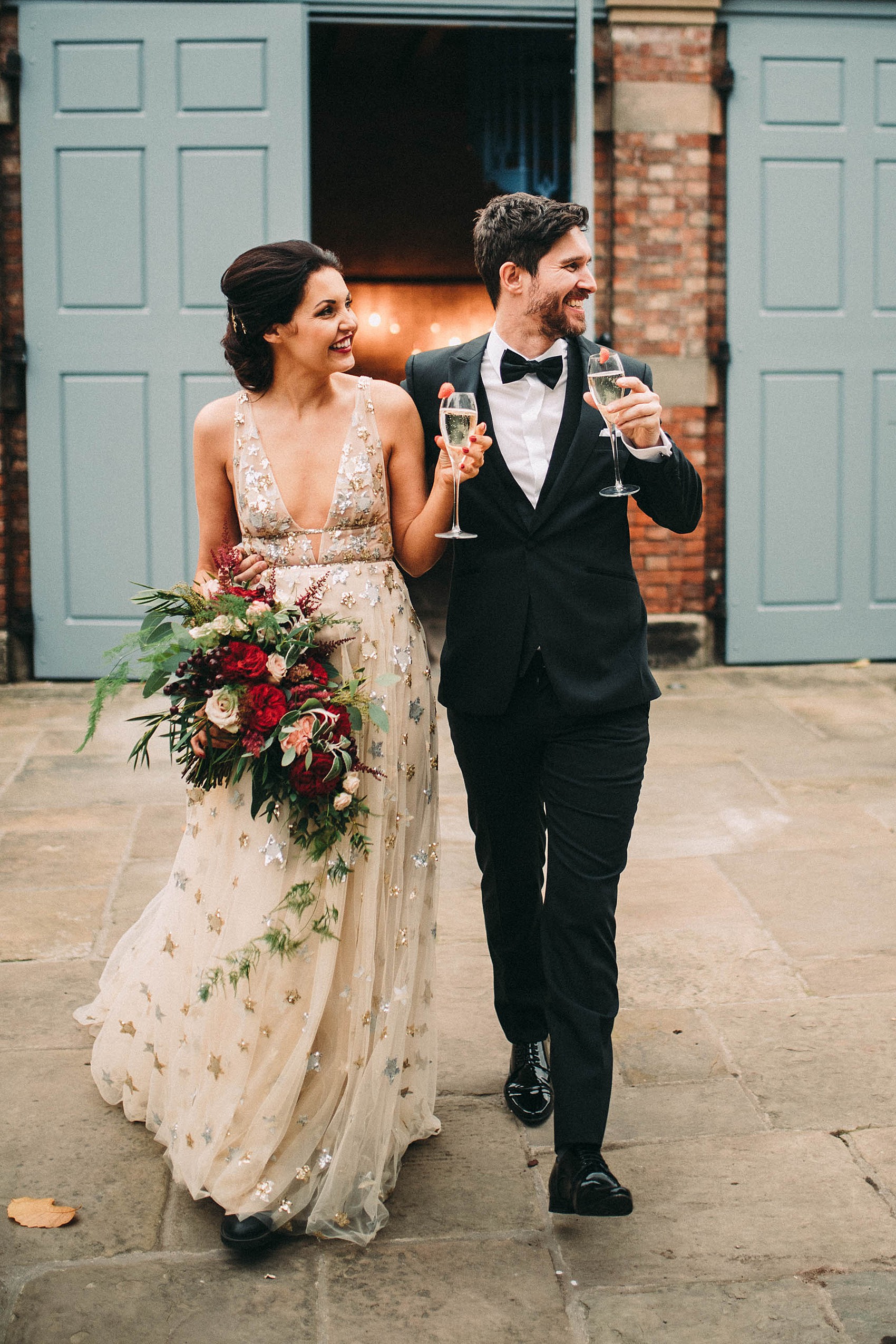 "I wanted to create an extravagant dining experience and chose Duchess and Butler's magnificent detailed tableware to match the lavender walls of the newly renovated dining room. The gold touches of the glassware and plates worked beautifully with the gilded original candelabras and furnishings."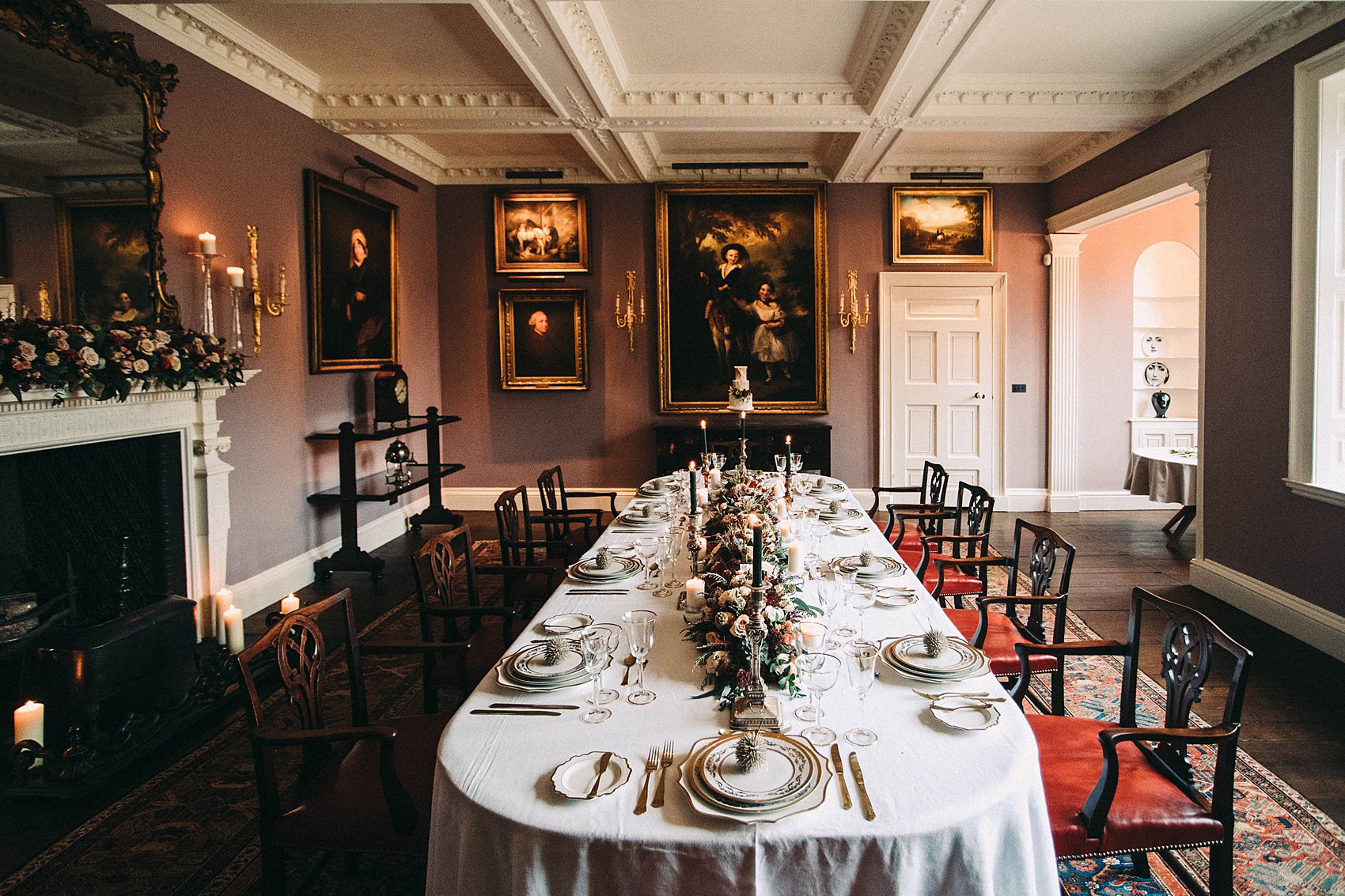 "The Frostery created a bespoke three tier Christmas themed wedding cake just for Dorfold with a magnificent handmade sugar stag's head as the focal point on the masterpiece."
"I chose a dress that spoke 'Christmas' immediately to me, the sparkly star number from Willow by Watters. With shorter days, this dress transcends day time to a party outfit picking up the hints of candle light and mirroring the light magically.
"Our hairstylist created a headpiece to match the dress beautifully and pushed the look into a new year's celebration."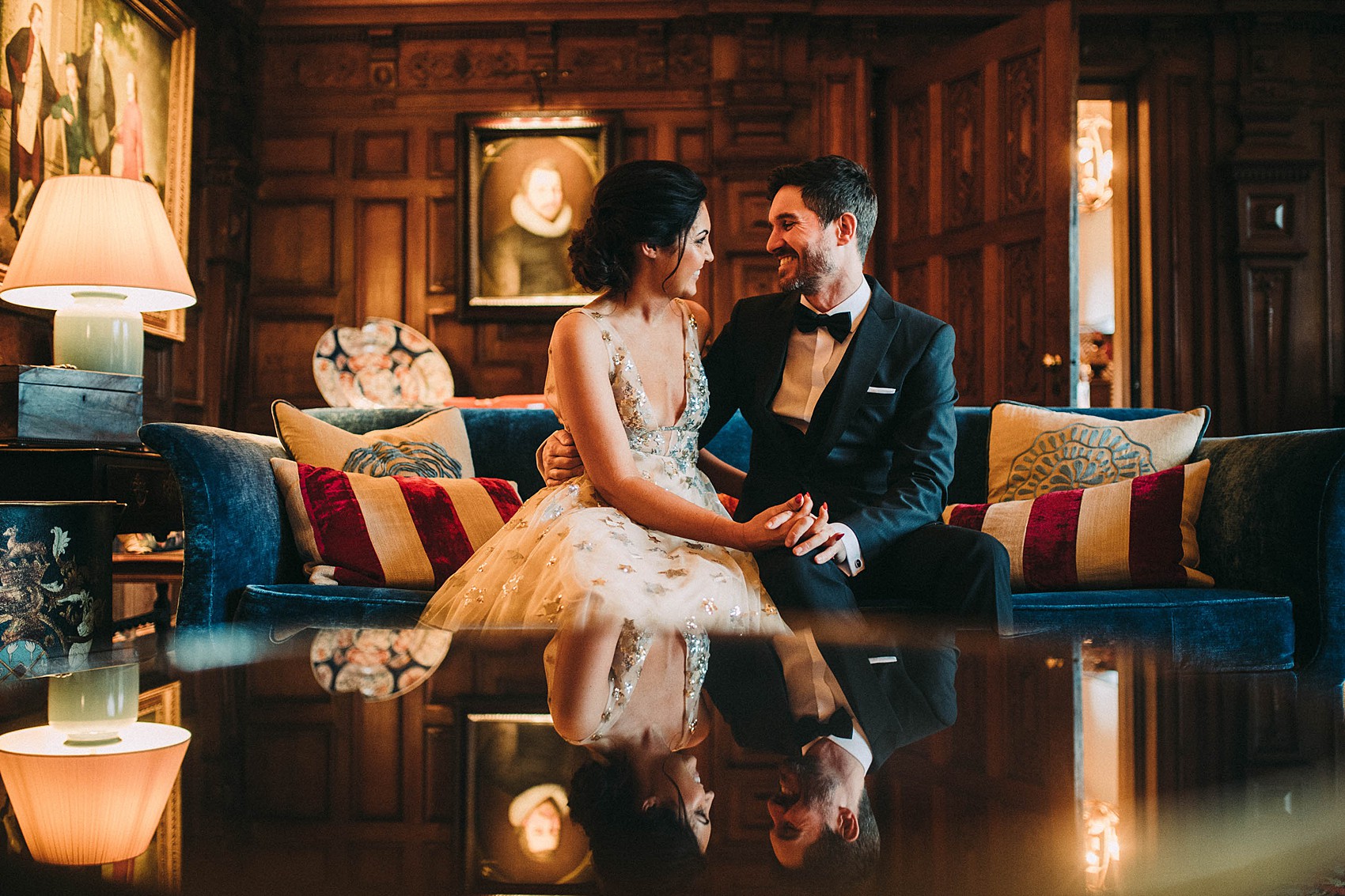 "Vicky M says: We decided on two hair looks to compliment the fabulous star dress. For the daytime, an elegant chignon inspired up style with an asymmetrical gold and white hairpiece made by Courtney Millington. For the evening, we wanted a more fun, playful feel, still maintaining sleek sides but with bouncy curls and with handmade star accessories to embellish the hairline."
"The make-up also reflected this change and we had a little fun with make-up. Abigail adorned Kerry's face with sparkly glitter to pick up the lovely evening light."
"The coach house, originally a cool lime washed brick building flooded with natural light would be doused in darkness and dusk so I created a warming backdrop with a festoon light canopy from The Word is Love and a candle lit isle from Dorfold's own collection of pillar candles."
"Escapade, the bar company which looks after all of Dorfold's weddings were on hand to provide a colourful collection of delicious cocktails and spirits for our bride and groom. It quickly became a wonderful habit after the ceremony for the team to present the couple with a surprise drink before they were led through to the gardens for canapes and champagne."
"We asked Frankie, director from Escapade, to be our expert on hand during the shoot and he even played a wonderful registrar!"
"As new structure hasn't been built yet and at the time of the shoot the space was being cleared for the build, we decided to use the walled garden where it will be constructed and show Dorfold's future clients what their possible photos will look like with the Jacobean hall as a backdrop."
"Kerry and Matty are close friends of mine…and a real couple. We joked about how wedding bells were in the air and I think the day has given them both something to think about."
"The magic of Christmas really shone through and The Lawson's portrayed perfectly how little sunlight and dark winter days care no match for love, atmosphere, skill and a little candlelight."
"Pete and Laura from The Lawsons are two of the loveliest people I have ever work with in the industry. Their work is magnificent and made my dream for the shoot come true."
"Thank you to everyone for assisting in creating the most perfect Christmas inspired shoot. You guys really are the best."