Lovelies, how are your Christmas holidays going? Wherever you are and whoever you are with, I hope that you're enjoying yourselves.
Now, on Love My Dress we share a huge range of wedding types and styles. From intimate elopements to relaxed outdoor celebrations, black tie City weddings to elegant country house receptions, it's always wonderful to see how brides celebrate their weddings.
Maja Tsolo Photography

+ Follow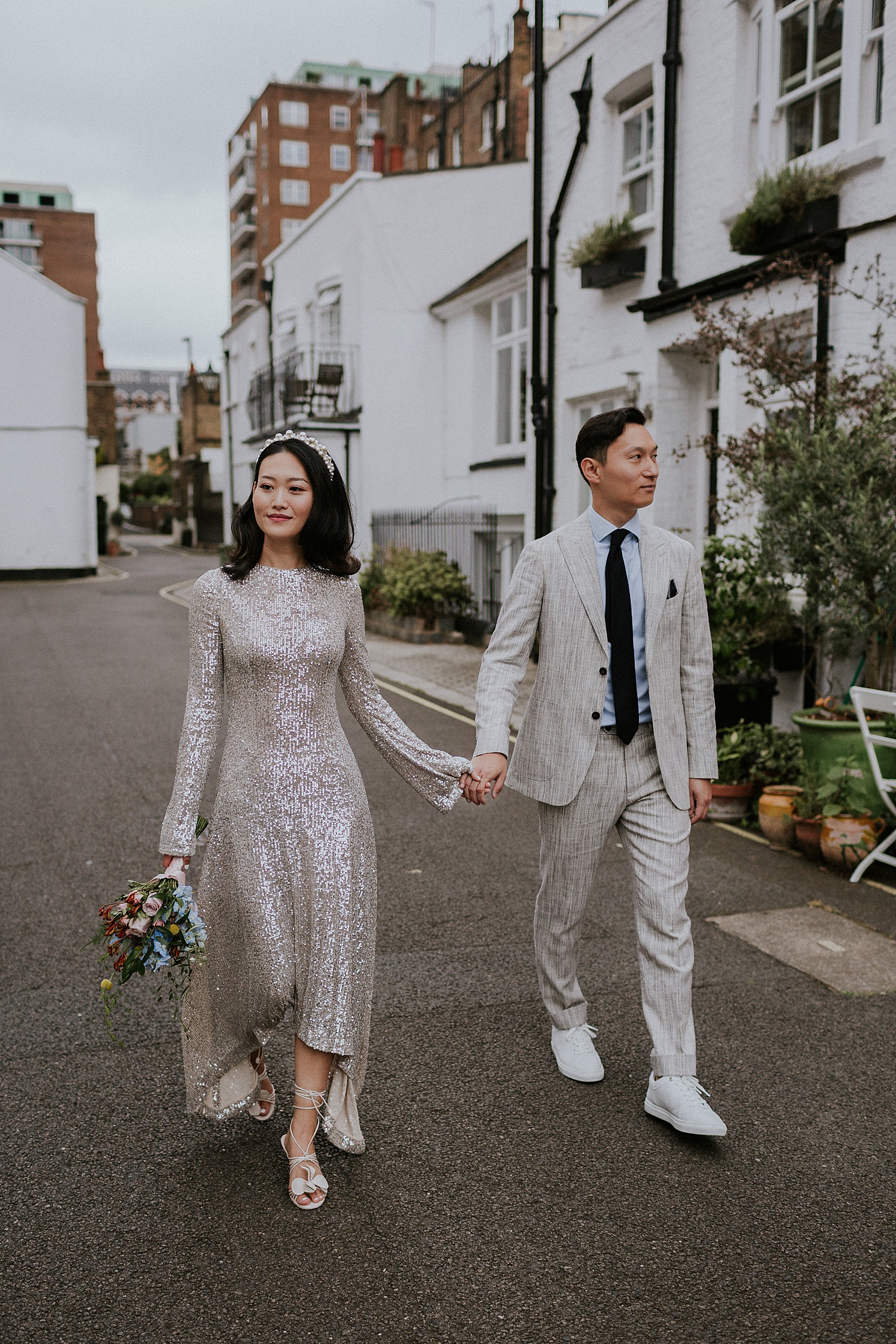 However, the one theme that runs through each and every one is love. Love between brides and their partners, between friends, and between families. This was really brought home this week as I read the conversations in our Love My Dress Facebook group, and I really do recommend you join this private group if you're not already a member.
Anyway on to today's beautiful feature, so wonderfully captured by photographer Maja Tsolo. Eva, a fashion designer for ASOS and Julian, an investment banker, celebrated their love in a relaxed, elegant wedding at Old Marylebone Town Hall, London on 16 September 2019.
With a modern, high-necked, silver, sequinned gown, a bouquet inspired by the English countryside and an intimate dinner party at the uber-stylish The Brasserie of Light, this wedding is beautiful, chic and a true celebration of two people sharing their love.
"We met in a club on 19 April 2015. It was rather unexpected and Julian was quite drunk. We got engaged in Algarve, Portugal last year, a few days before my 30th birthday."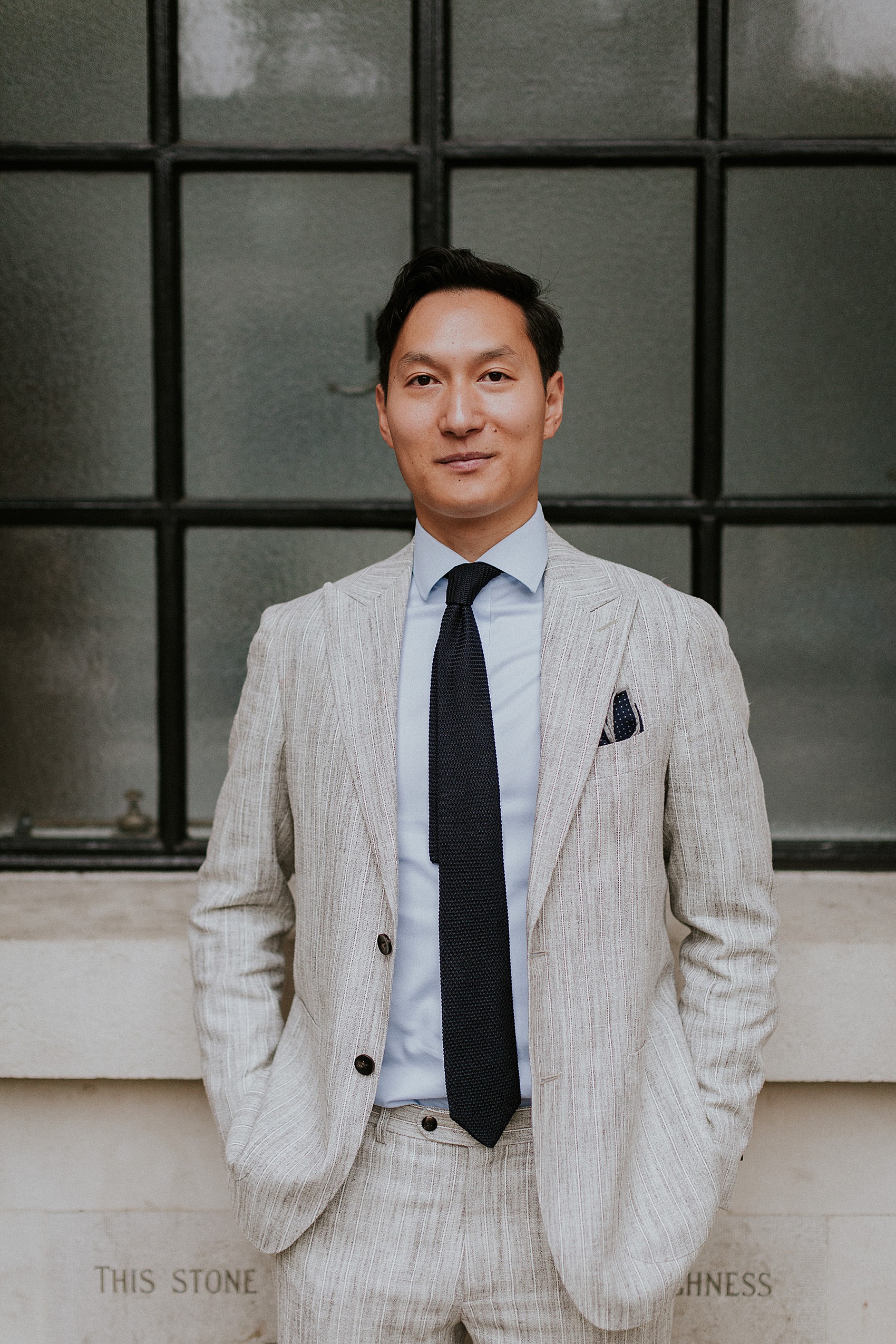 "We are not particularly religious but both being Chinese, we are superstitious. It took some time to find a 'lucky date'."
"We were engaged for a year and a half before getting officially hitched. We wanted an intimate and casual wedding. We are having a bigger wedding celebration next year in Spain so we wanted this wedding ceremony smaller to contrast. We wanted to keep it elegant and minimal."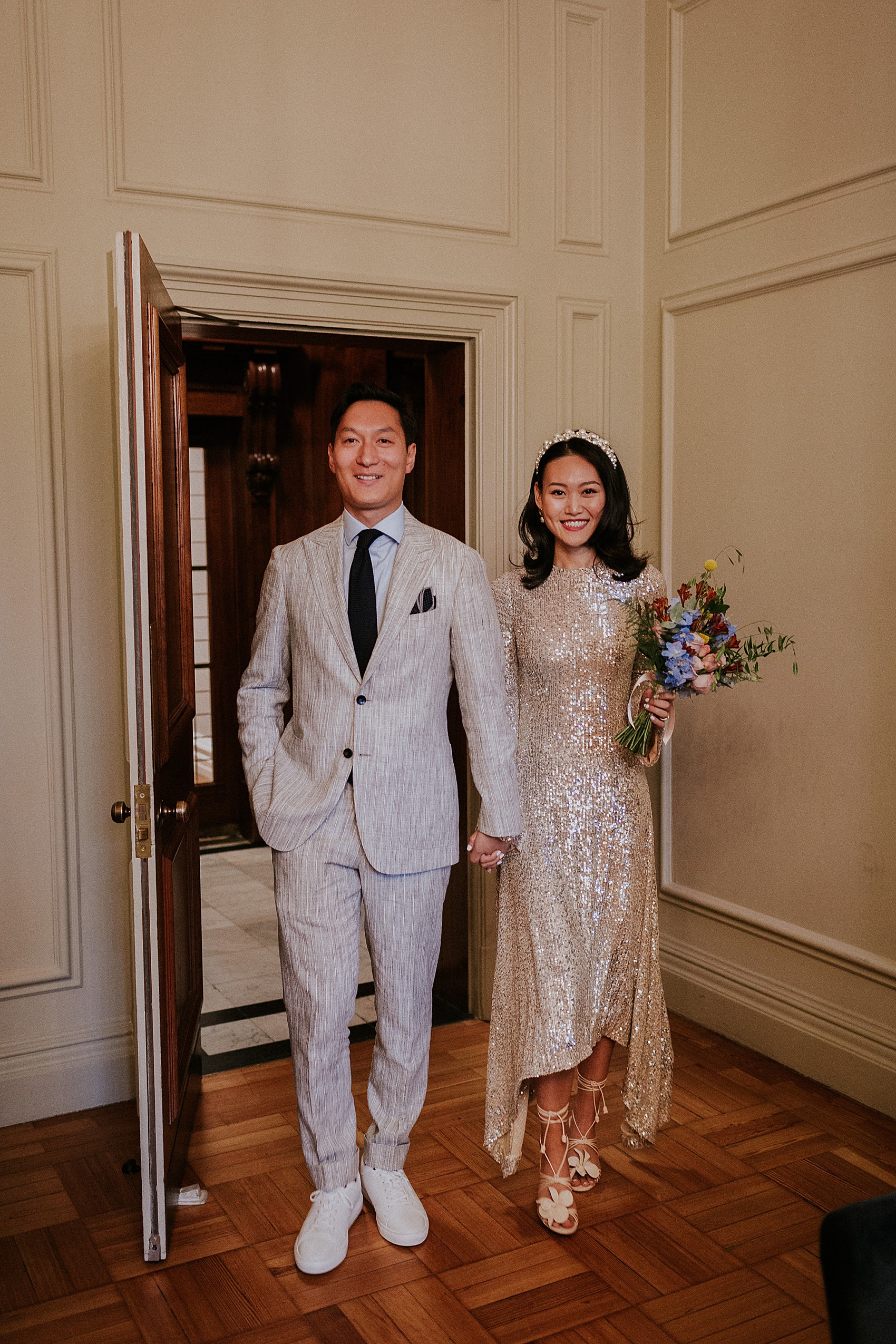 The couple opted to enter Old Marylebone Town Hall together hand-in-hand to Christina Perri's 'A Thousand Years', a gesture that I love. These intimate photographs, which record their joy so well, are from the camera of Maja Tsolo, whose work we've had the honour of sharing before on our pages. I'm absolutely delighted to be sharing more of her work, and this couple were so happy with the photos they received.
"Our photos were taken by our talented photographer Maja Tsolo. She was an absolute dream to work with on the day. She made us, our friends and family feel super at ease at having a camera there. We both enjoyed the couple portrait session and wished we could have had her for longer. She managed to capture our real emotions and precious moments. The lighting in her work was so dreamy and the details of our day were captured beautifully. We love her!"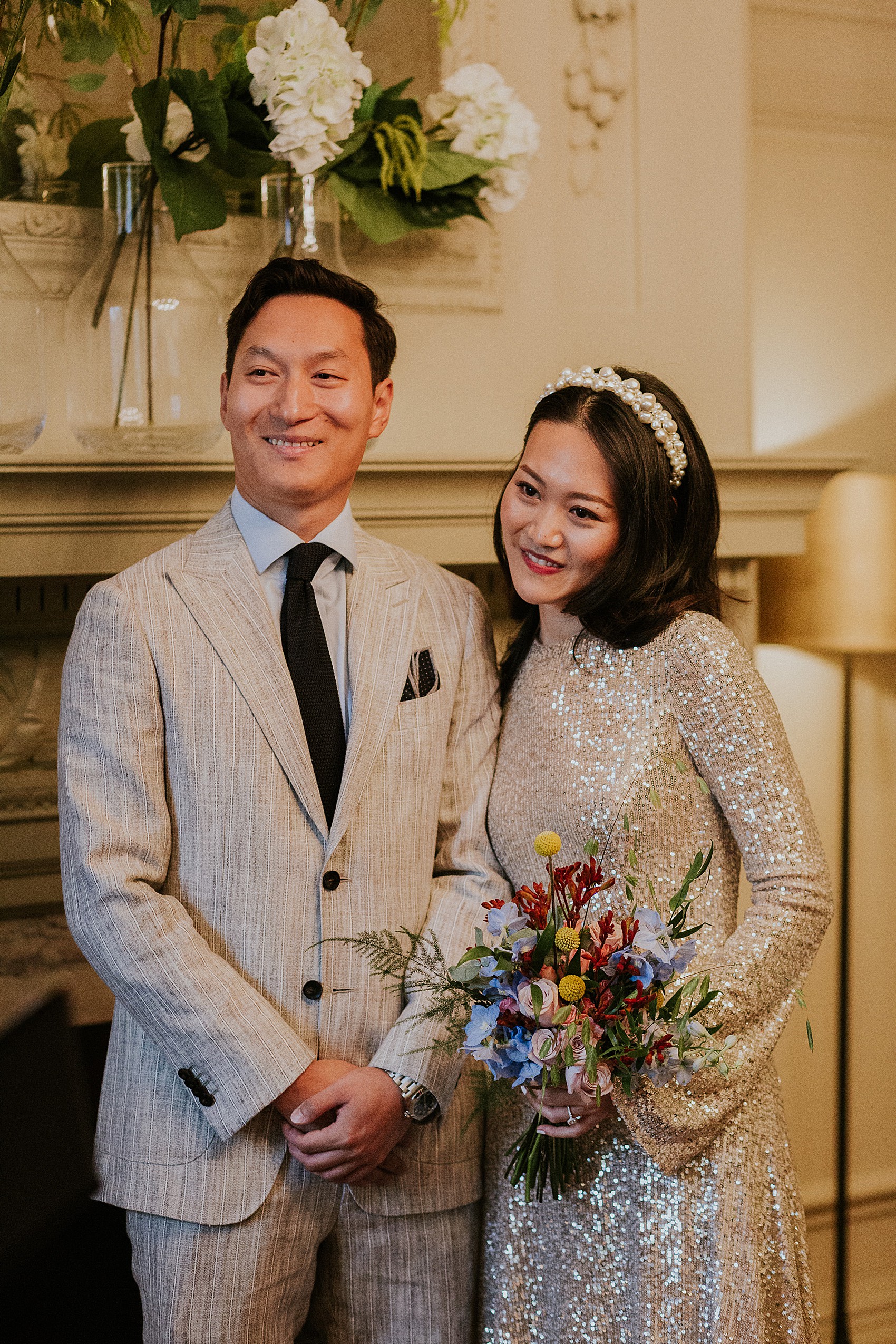 As a fashion designer, Eva has a superb eye for style and her gown says it all; a sparkling, simply-cut Galvan London gown with such movement in its skirt and sleeves.
"I picked up this dress from Galvan's beautiful London boutique in Notting Hill. I saw the dress on Instagram and was lucky that the London head office had this in stock. The stylist, Catarina, was super-helpful."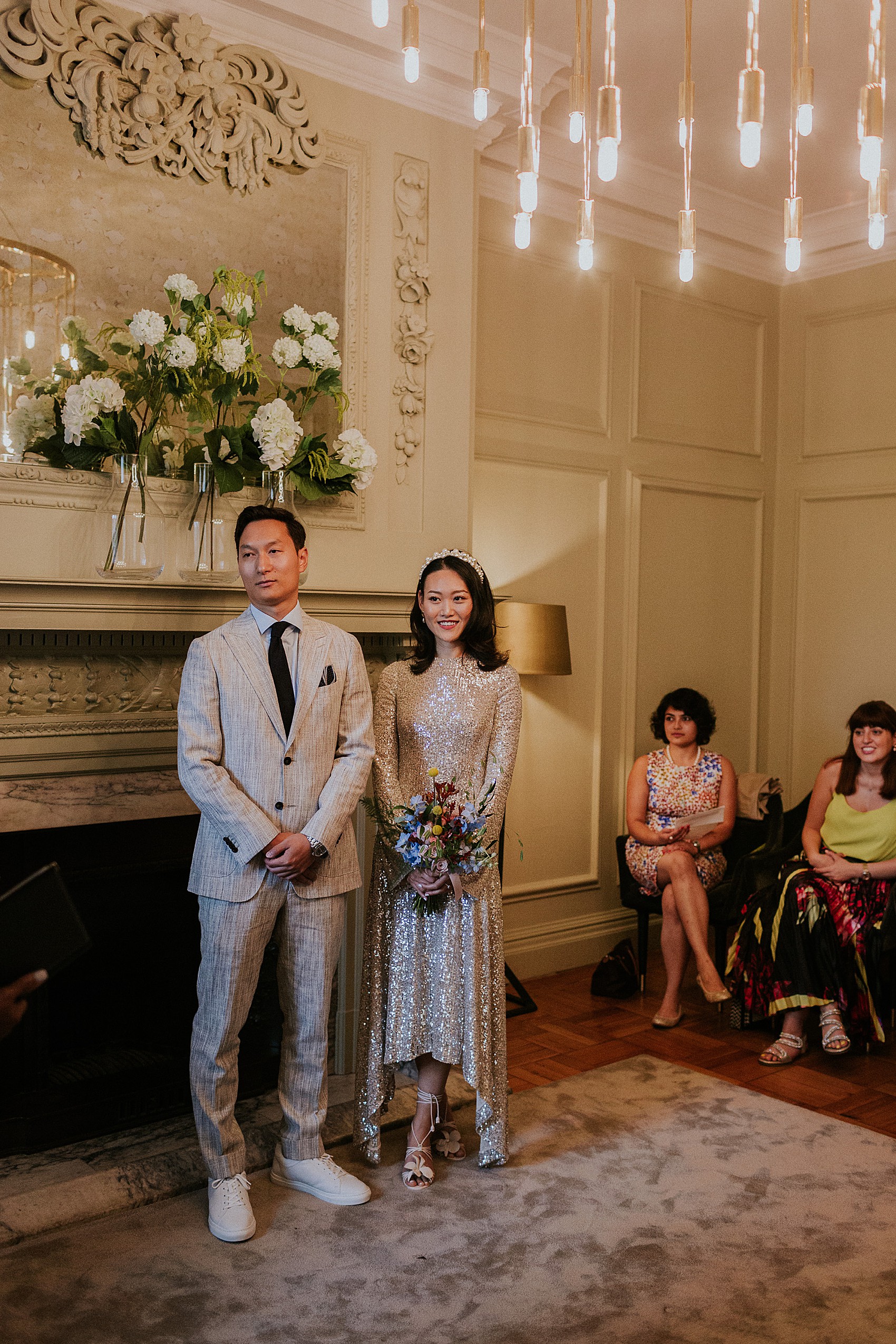 "I wanted a modern day dress with added sparkle. This dress was perfect as it had the minimal cut with the asymmetric hem and fluted sleeve. The understated sequinned tulle had a flicker of silver nude which was perfect for our day ceremony. I loved the fact that the dress was in jersey as it fitted like a glove and was so comfortable."
"The engagement ring was crafted by Jahan, a Swiss-Middle Eastern jeweller. The founder is a good friend of Julian so he knew we could trust his guidance and quality."
"I wore Jo Malone's Sakura Cherry Blossom – a special present from Julian."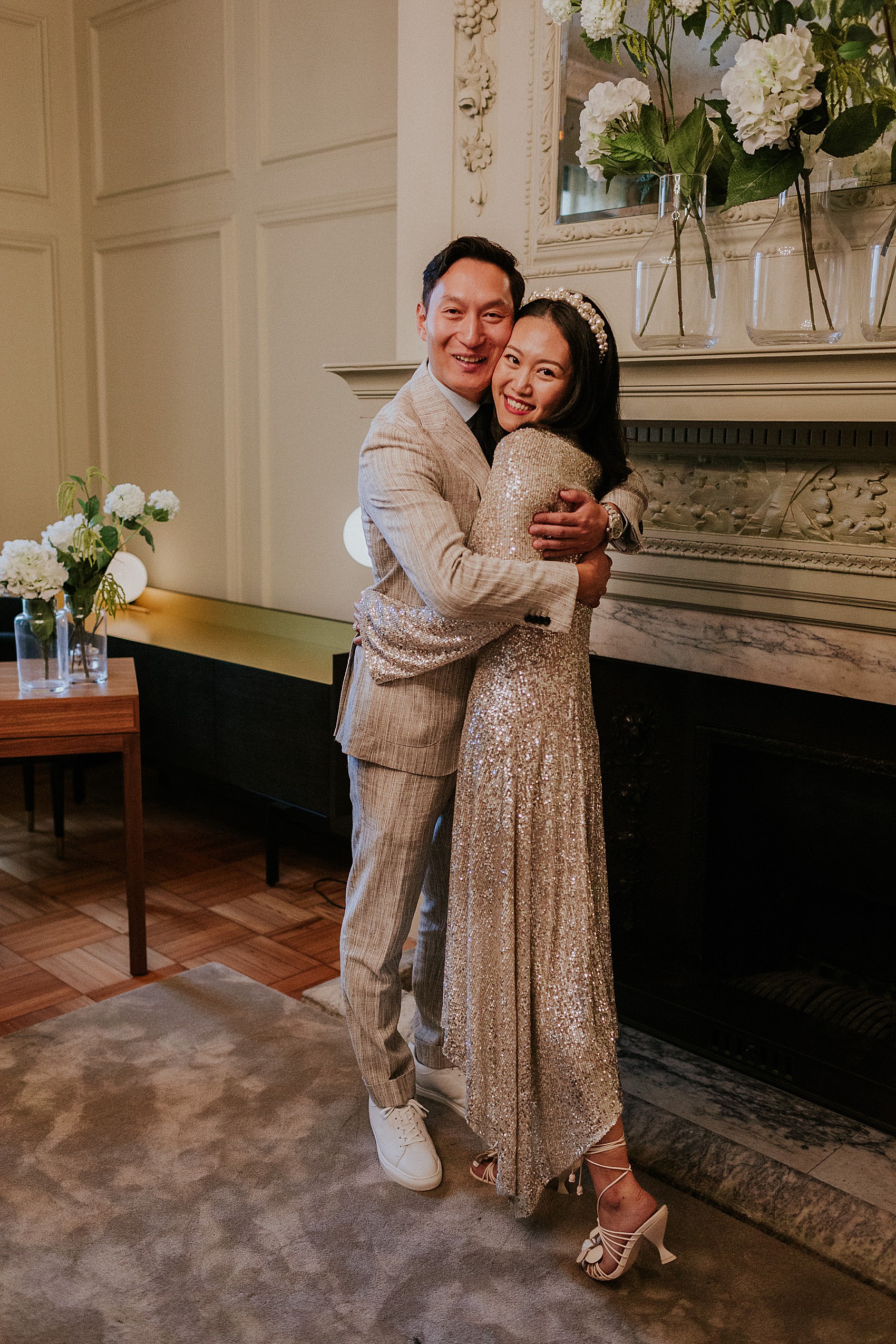 Eva and Julian chose to exchange rings at their Spanish wedding, so they tailored their vows to reflect this and added their own choice of reading, 'A Lovely Love Story' by Edward Monkton.
"We utilised some typical vow templates as we wanted it to remain classic but weave in modernity."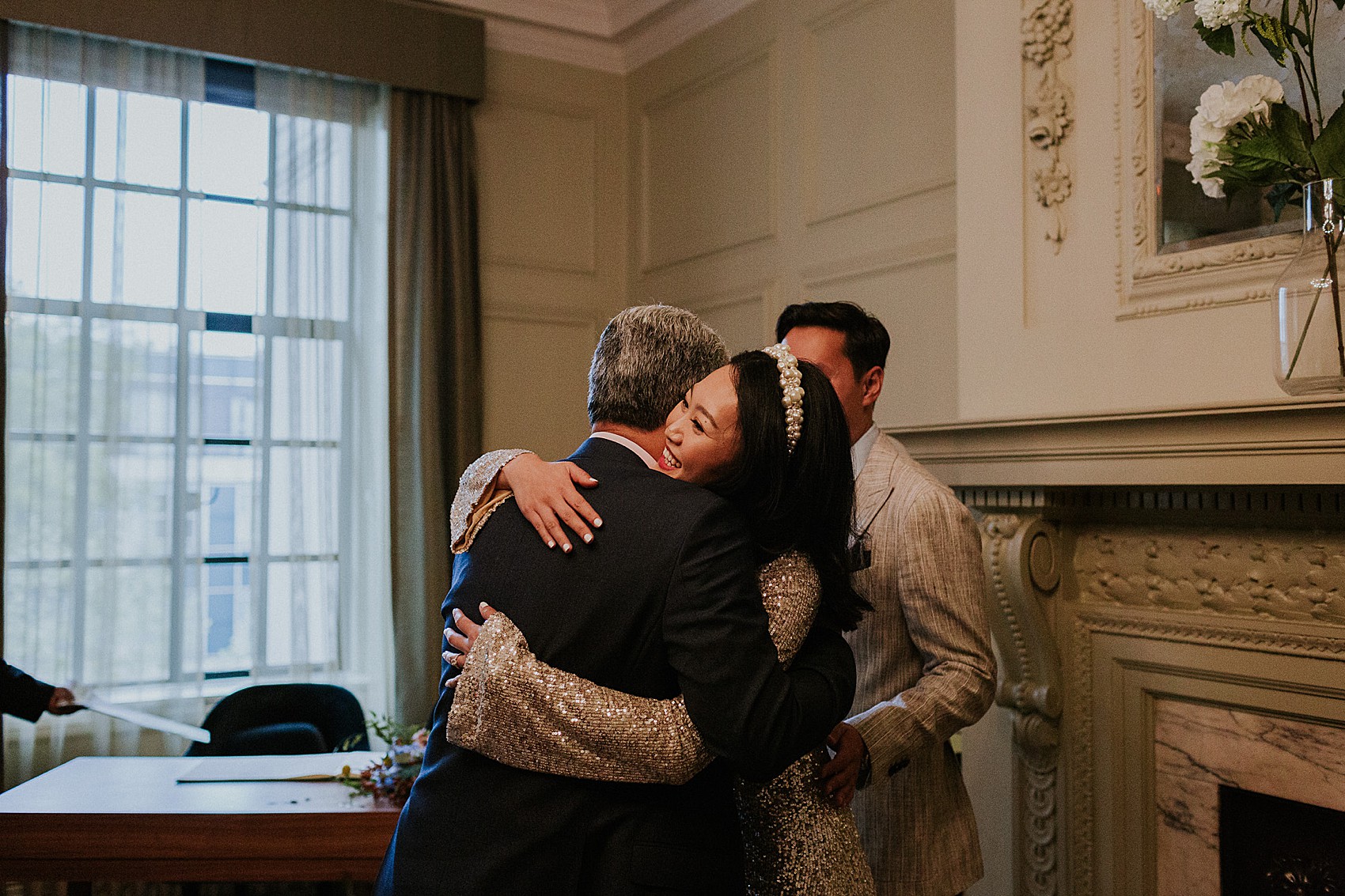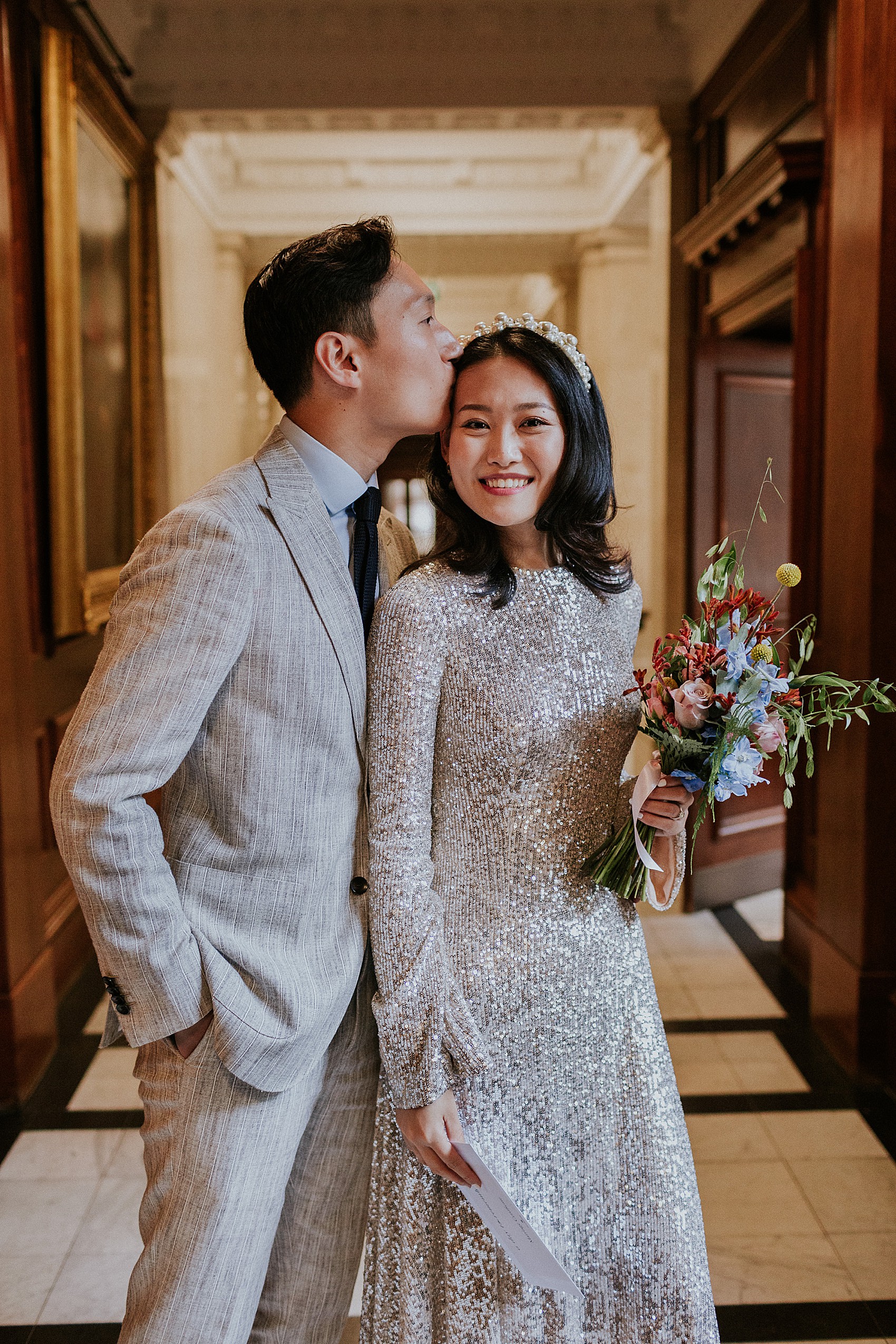 After the ceremony, the couple emerges into a shower of confetti before escaping on to the quiet London streets for their portrait shots.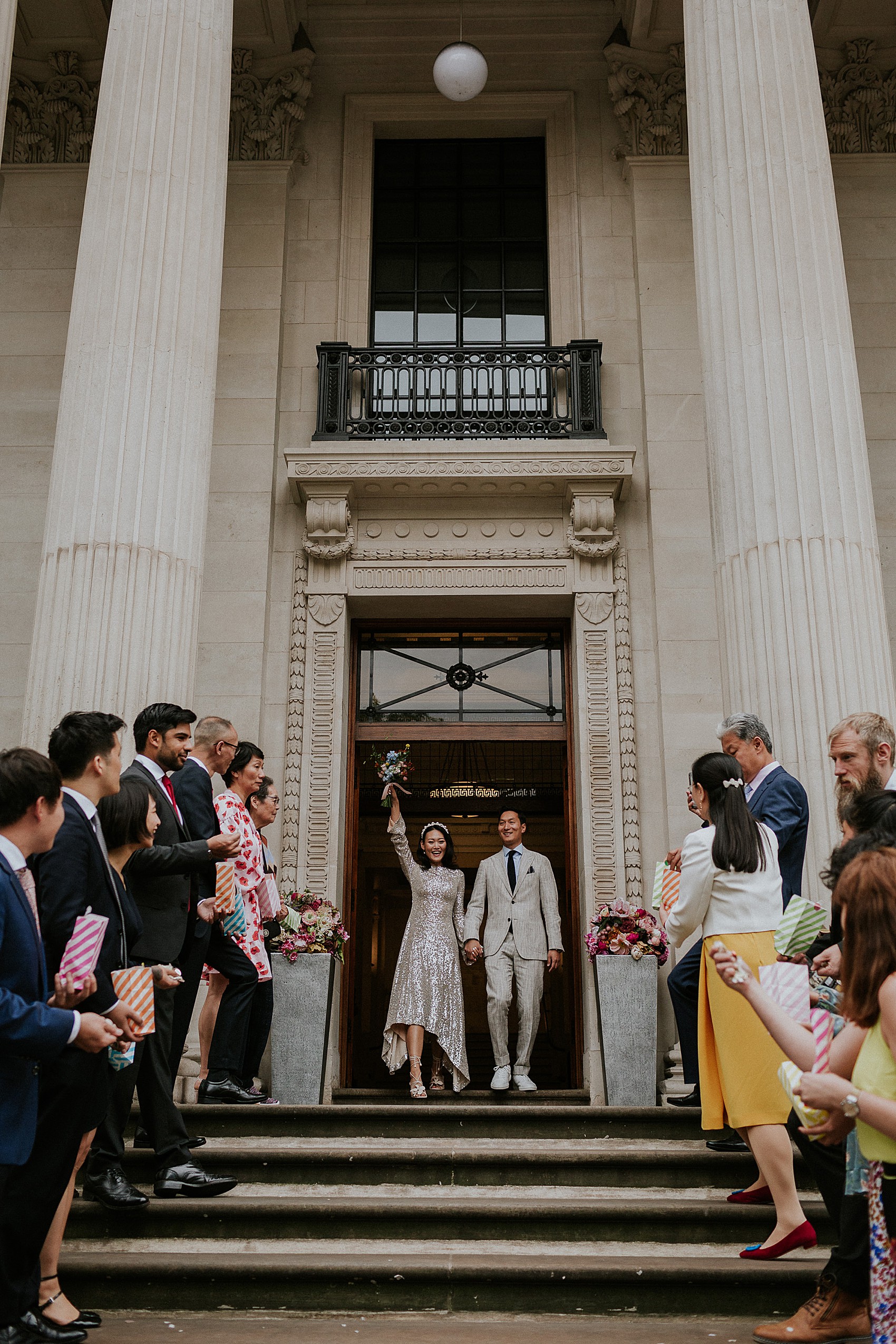 The bride wore Zimmermann heels, complete with cute ankle ties, a show-stopping Simone Rocha headband of silver-toned pearls and her bespoke engagement ring.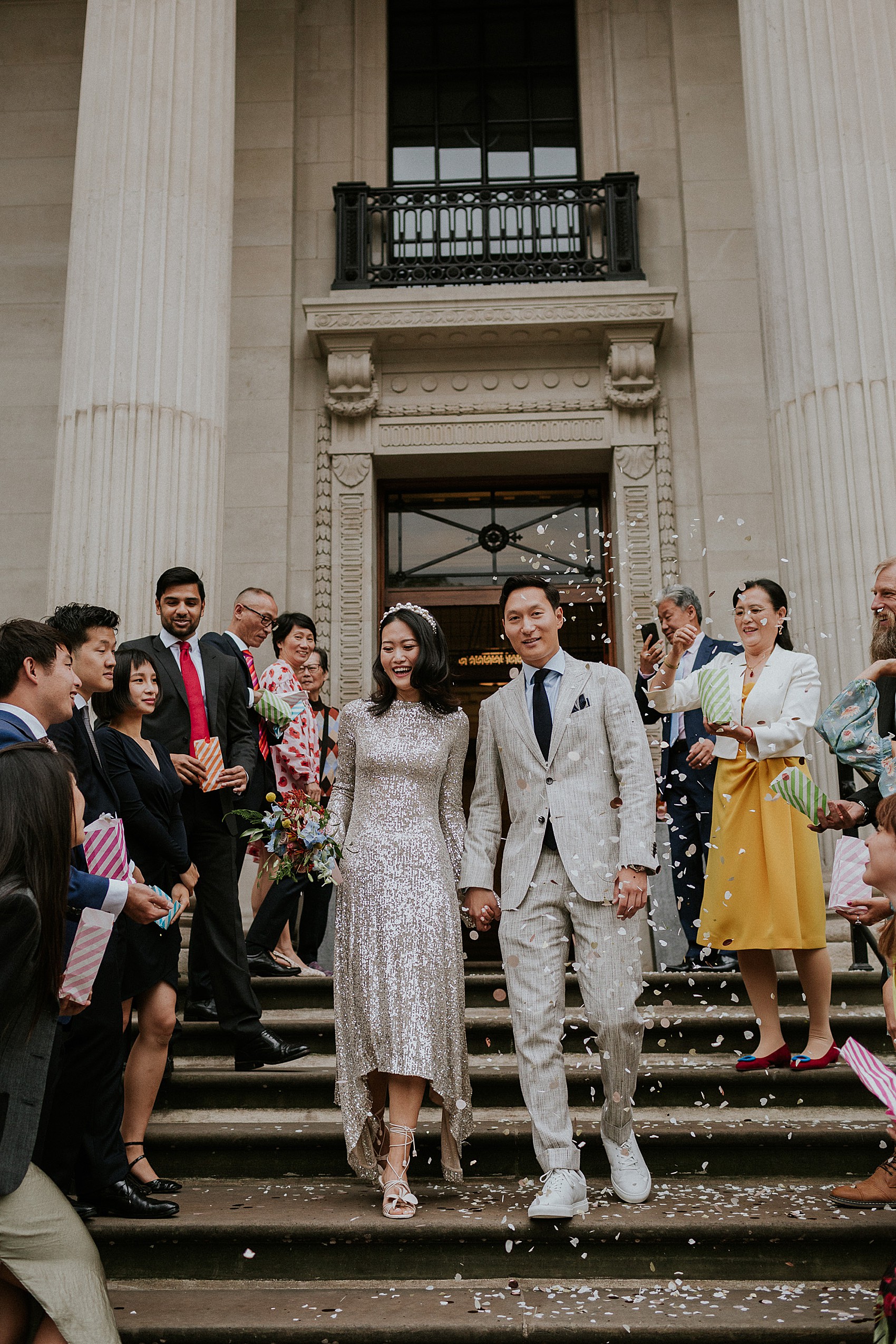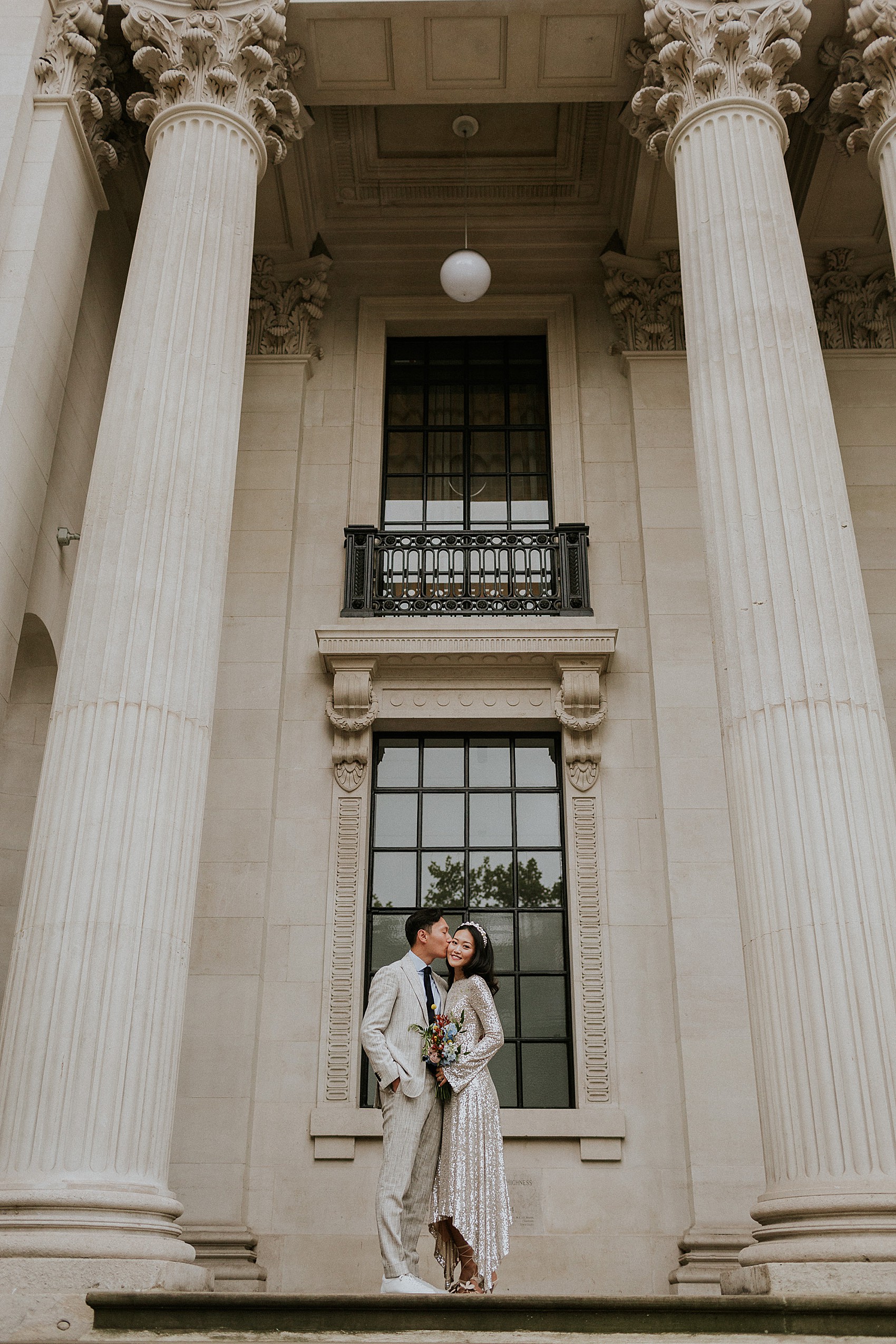 The bride applied her own, glowing make-up and visited Trevor Sorbie in Hampstead who styled her hair into a natural, flowing down-do.
Looking so beautiful and fresh against the modern silver gown was her pretty posy of flowers from Grace & Thorn's ready to wear wedding collection.
"I went for the bridal bouquet named 'The Future Is Bright'. Like the name suggests, I went for the bright poppy tones of blue and yellow to contrast with my silver-toned dress."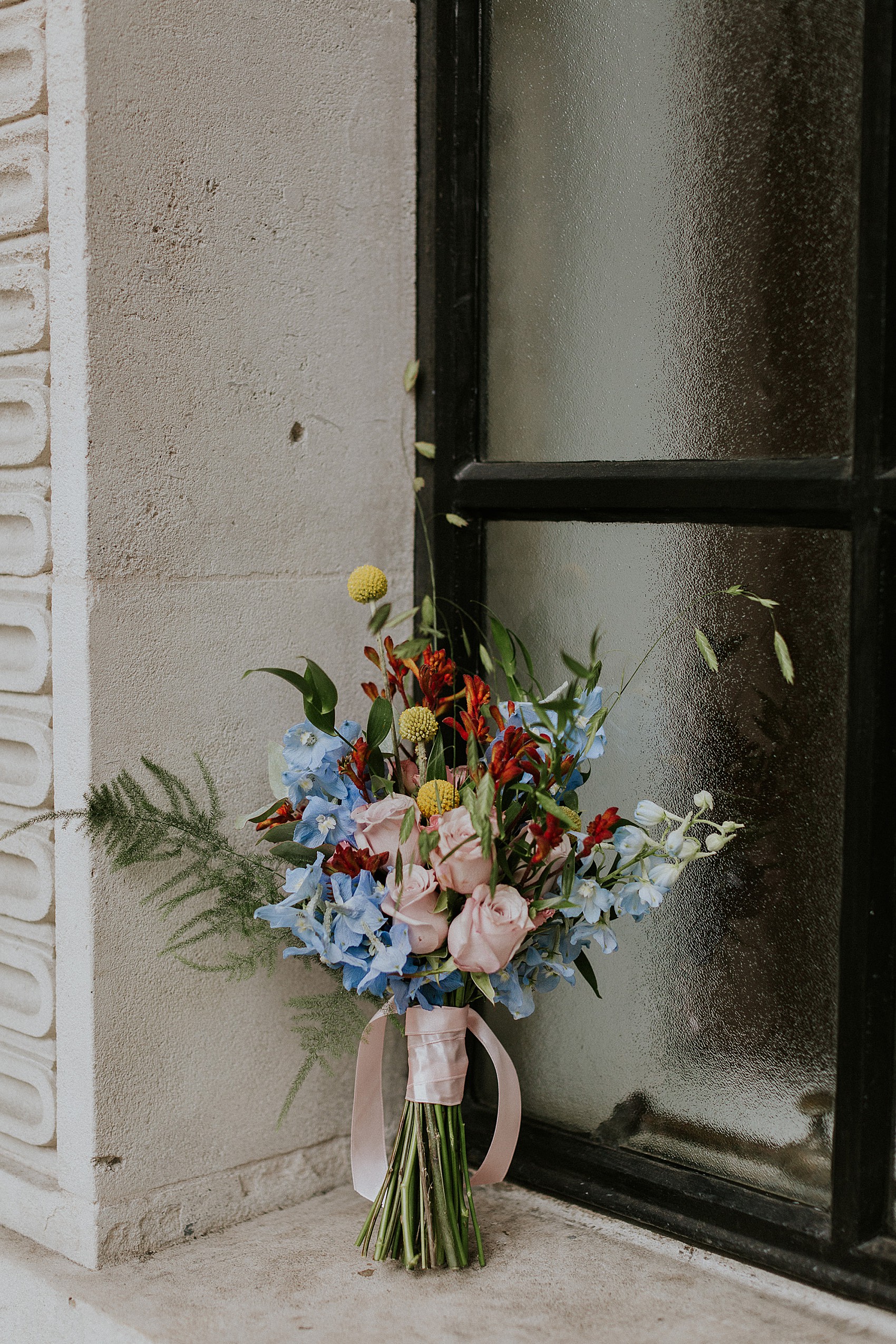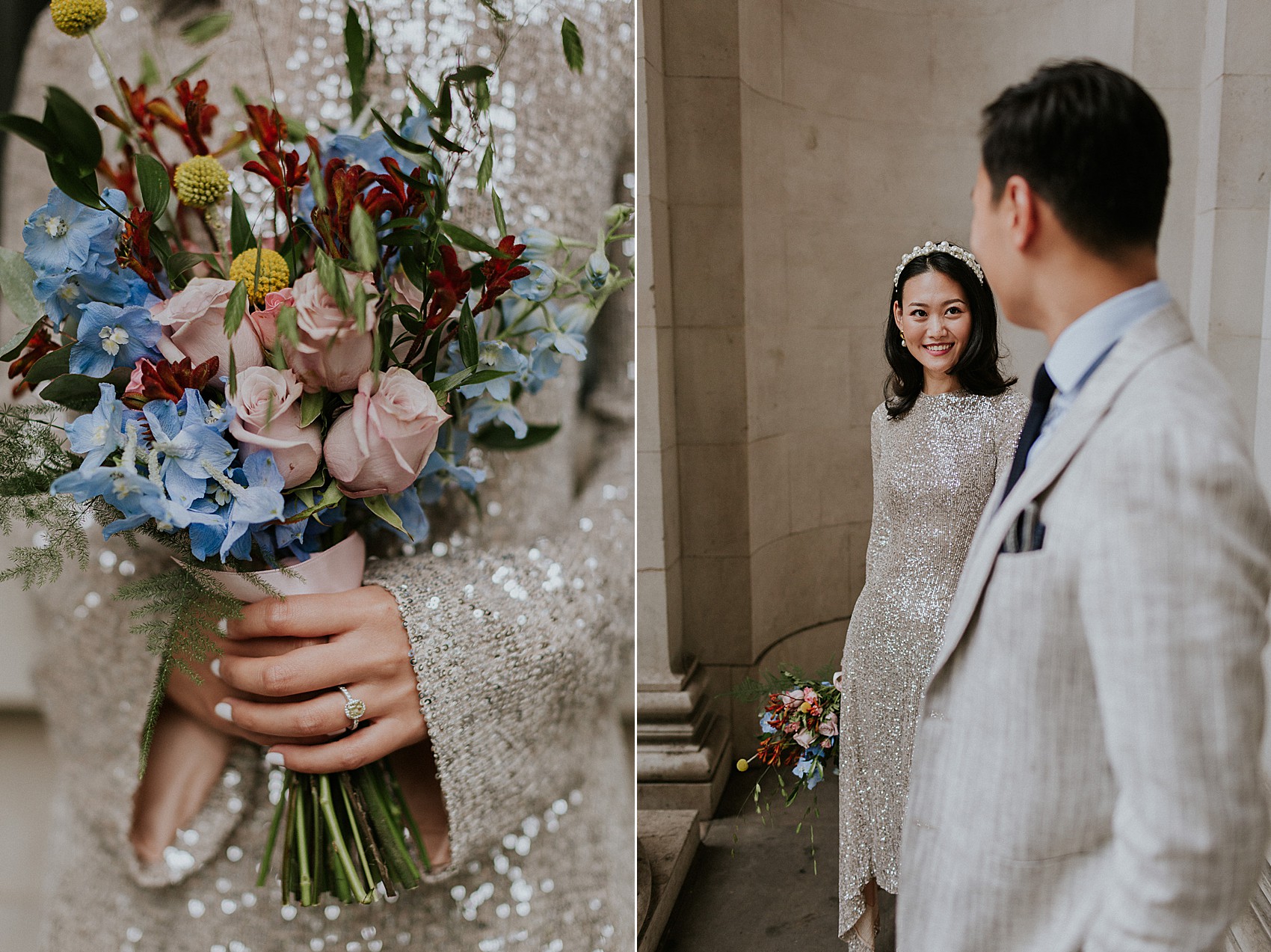 Julian's light suit was from Suit Supply's SS20 collection, and was worn with a light blue shirt and dark tie from Reiss. His modern white sneakers were from Harry's of London.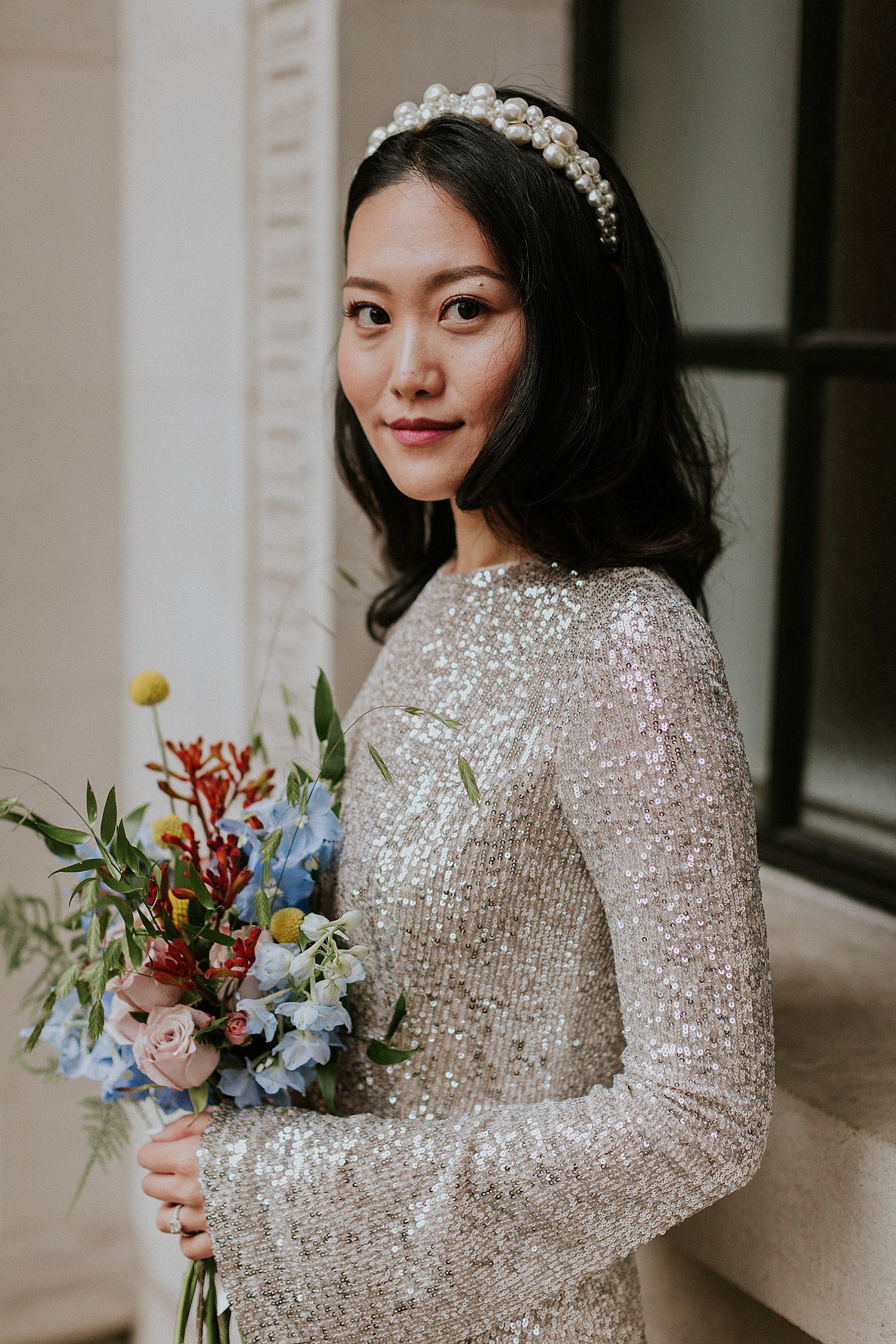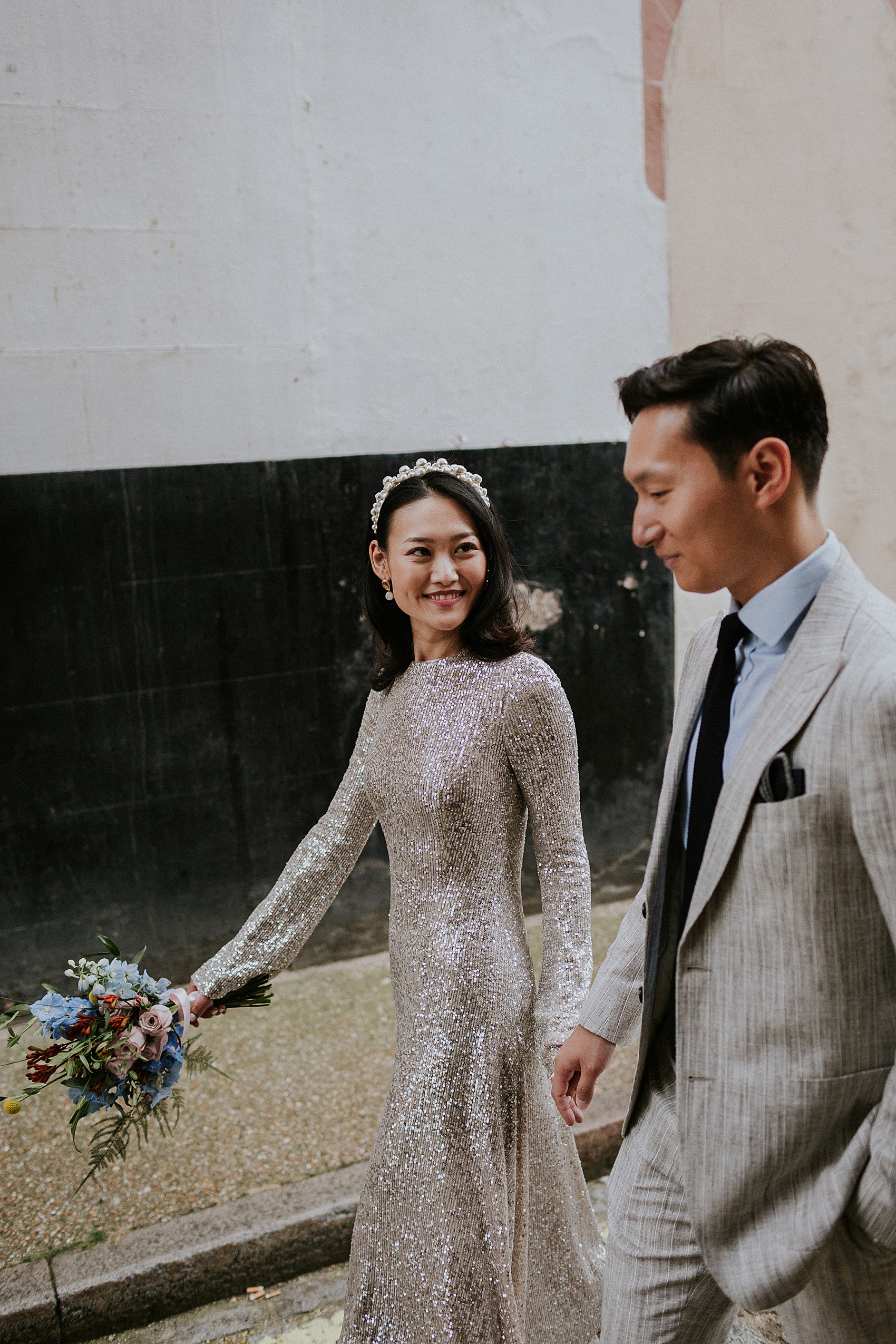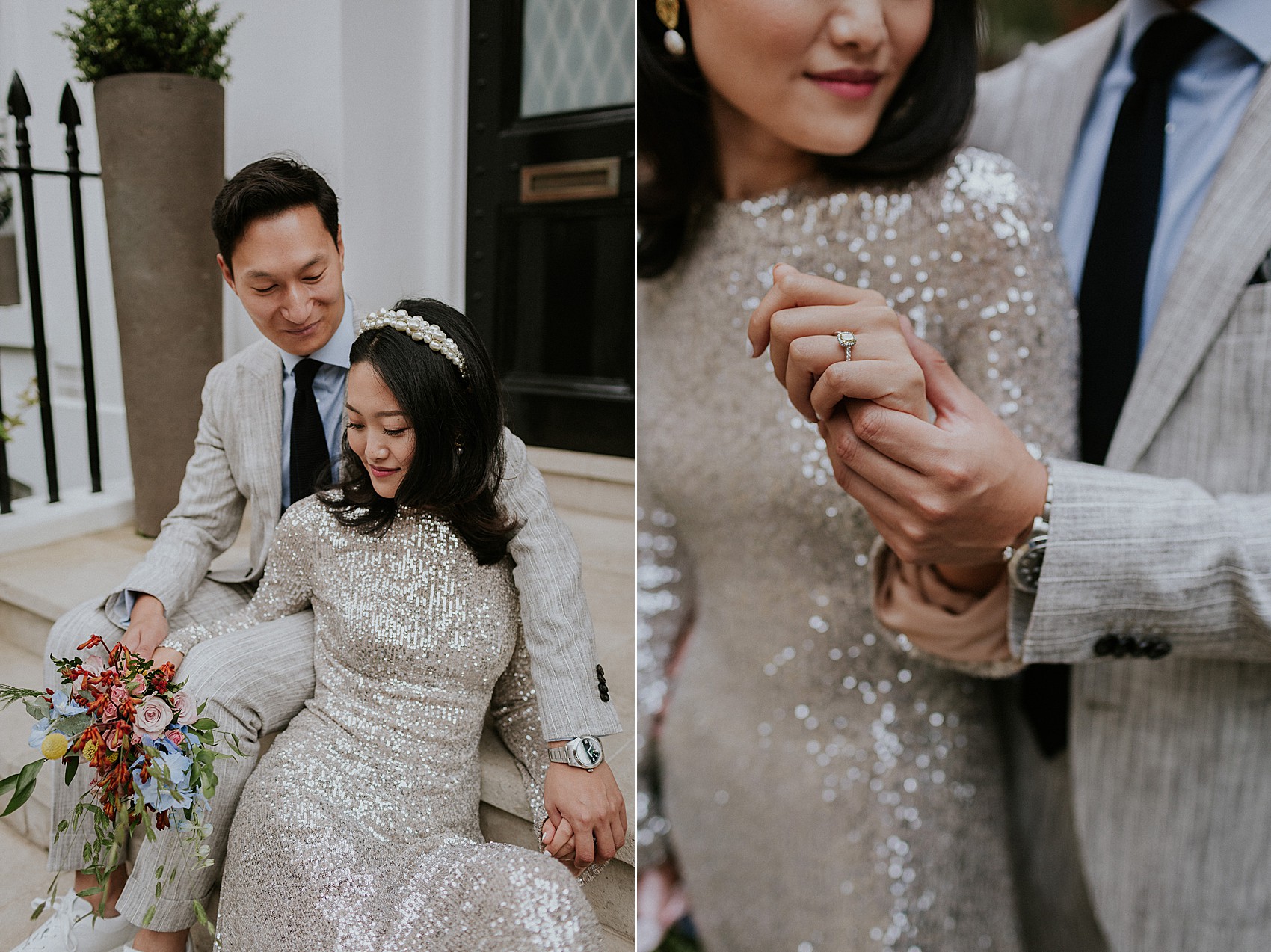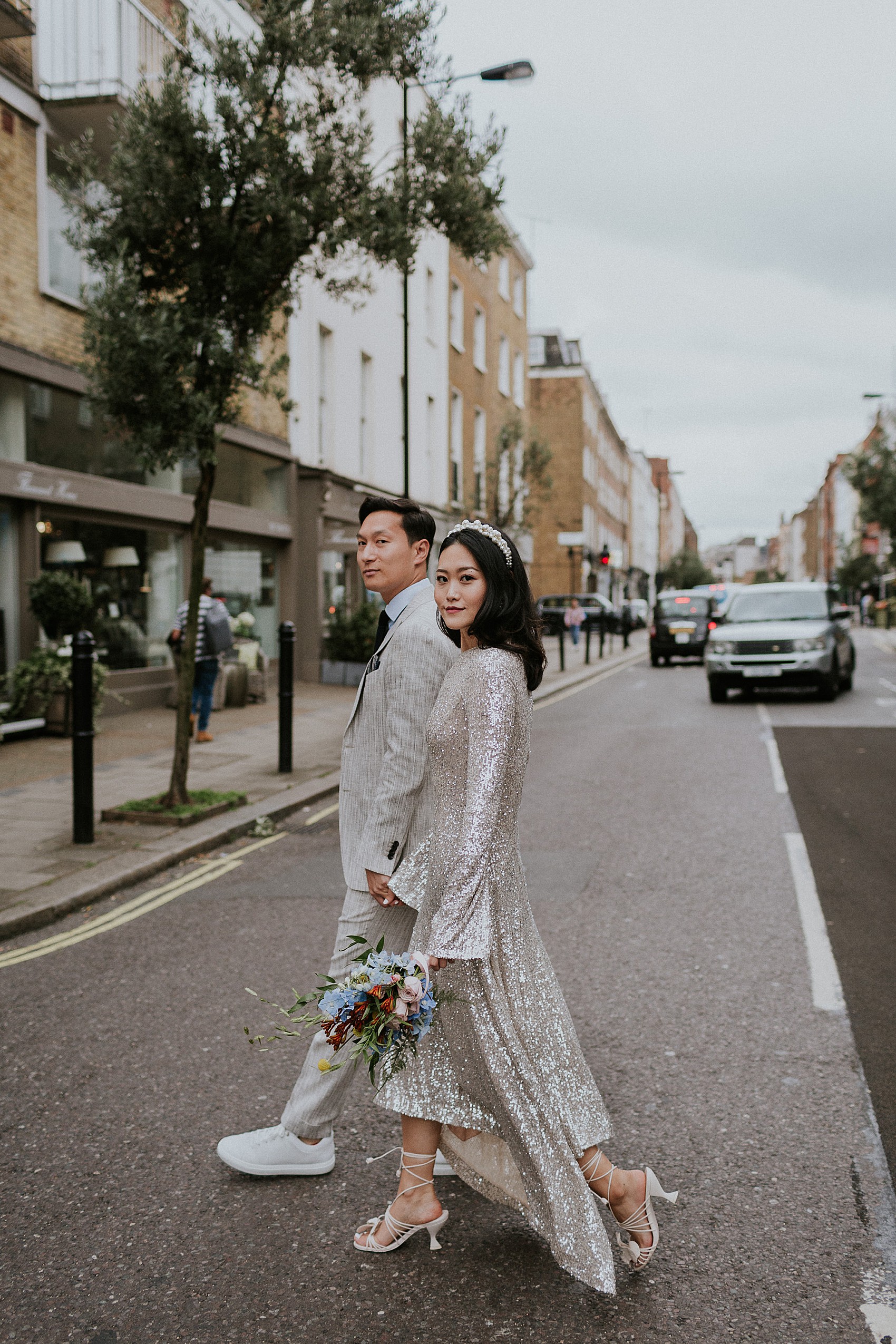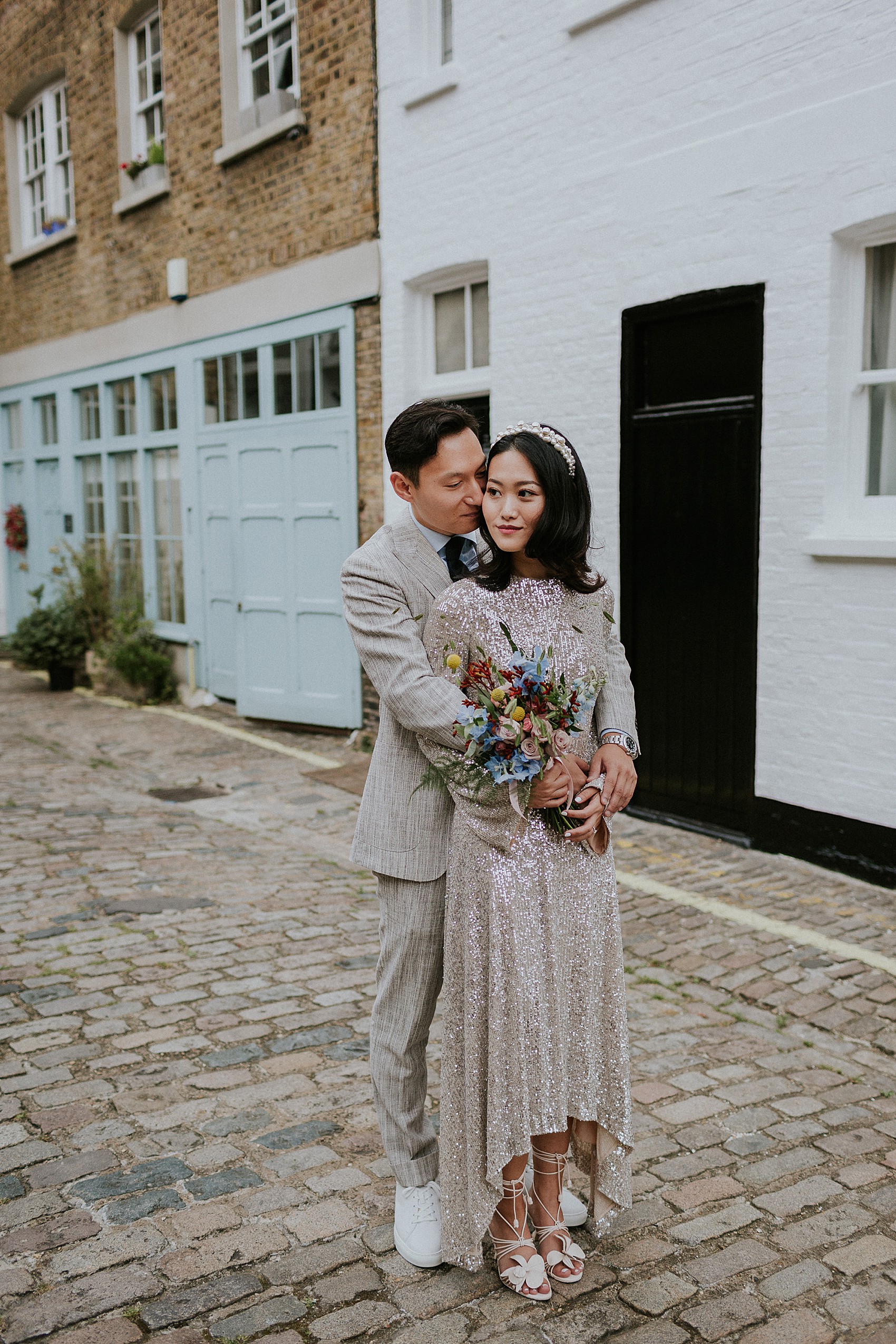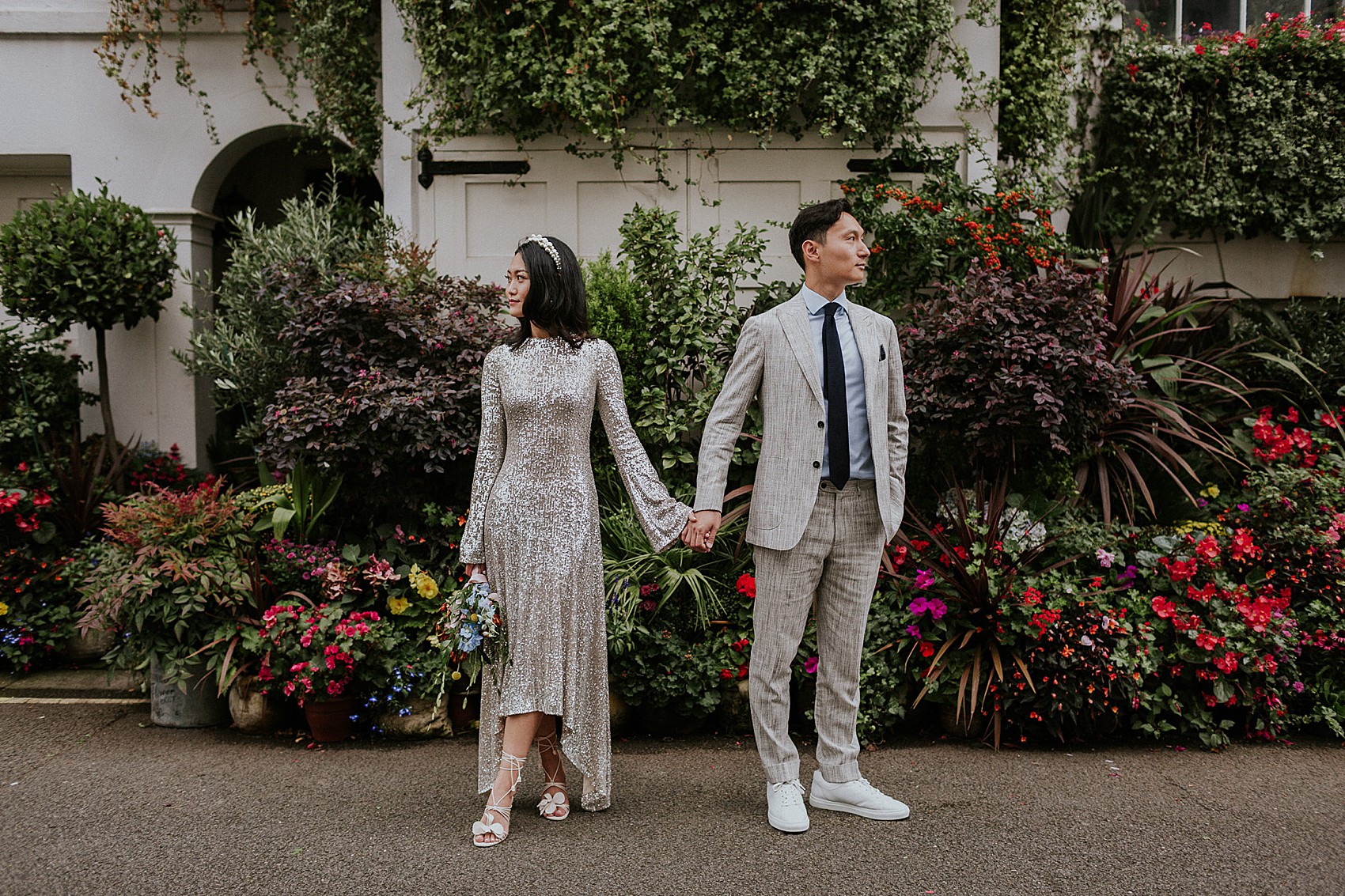 Moving on to The Brasserie of Light, the couple hosted an intimate dinner party, with plenty of flowers and candles, organised by the restaurant.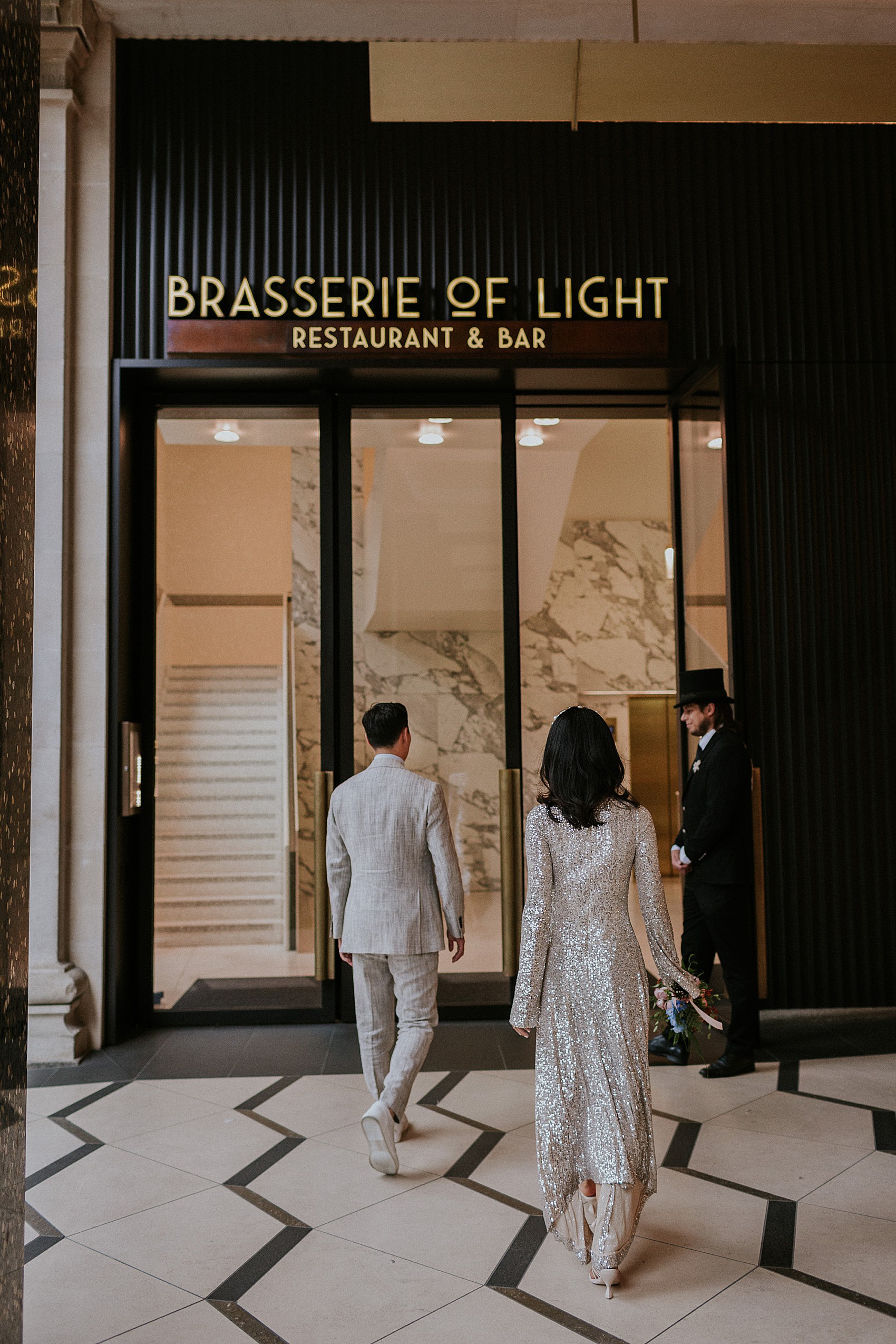 The cake was a surprise for Julian from Eva.
"It was a macaron pyramid from Ladurée in three flavours; orange blossom, vanilla and lemon. The vanilla macarons were silver-leafed to match my dress."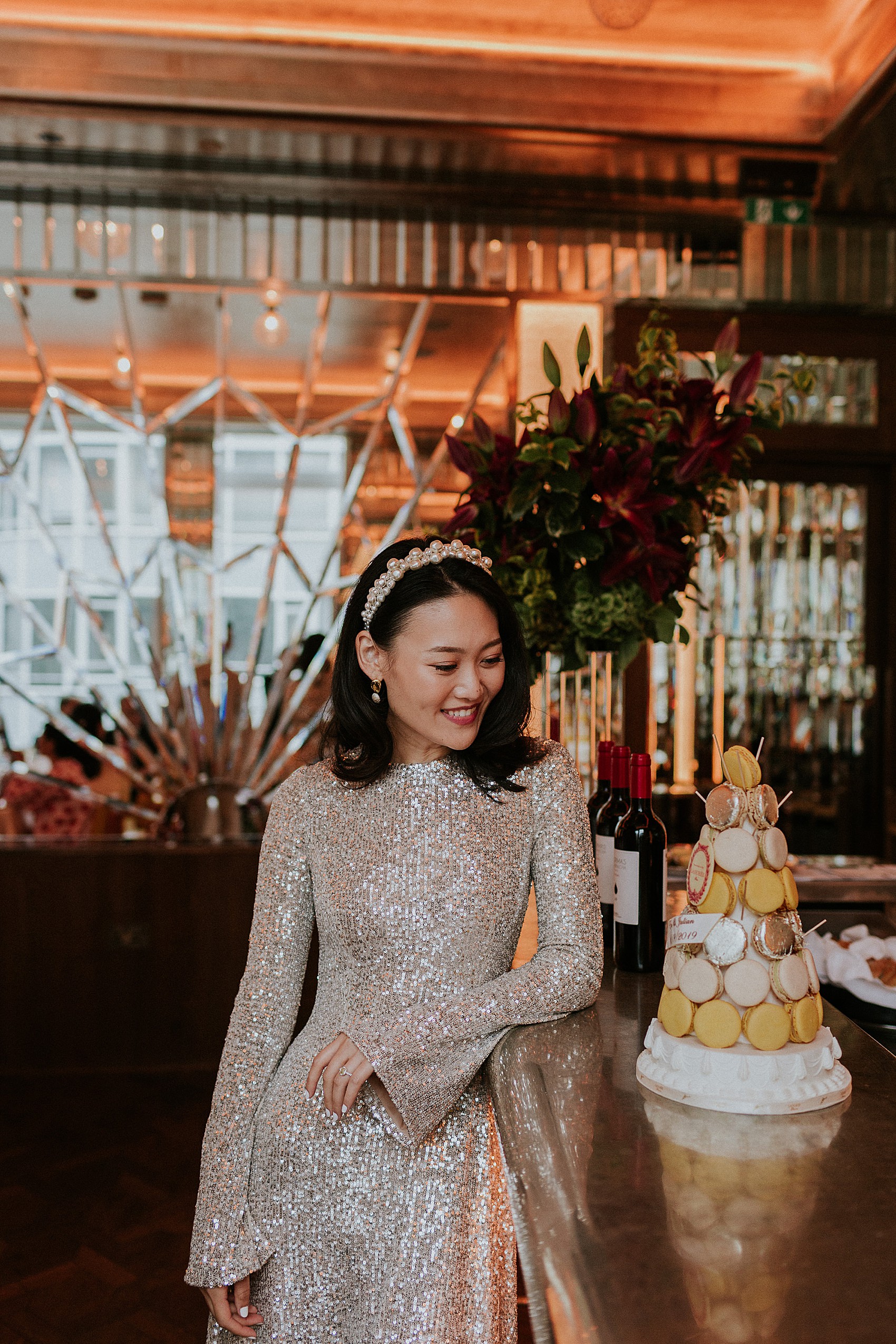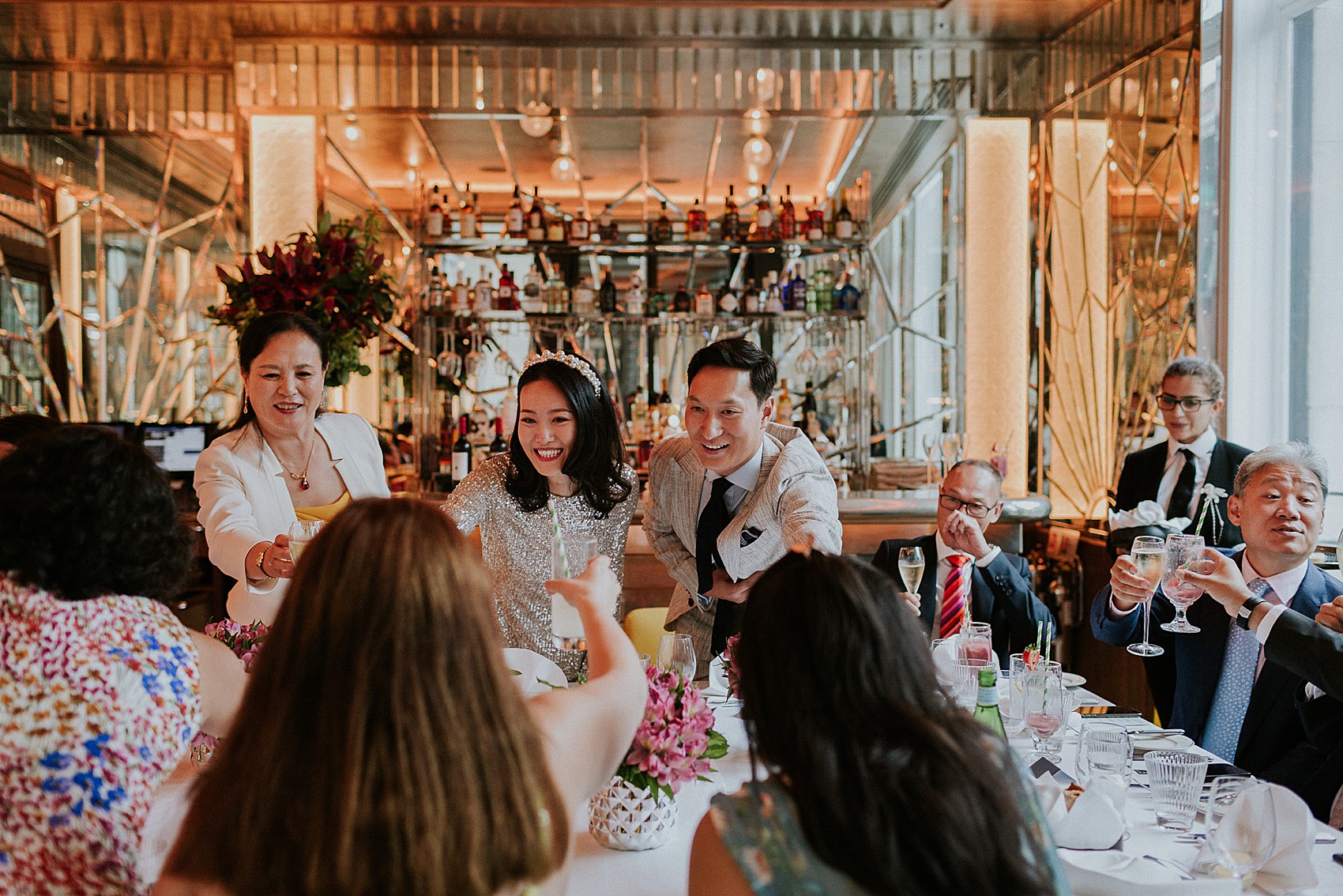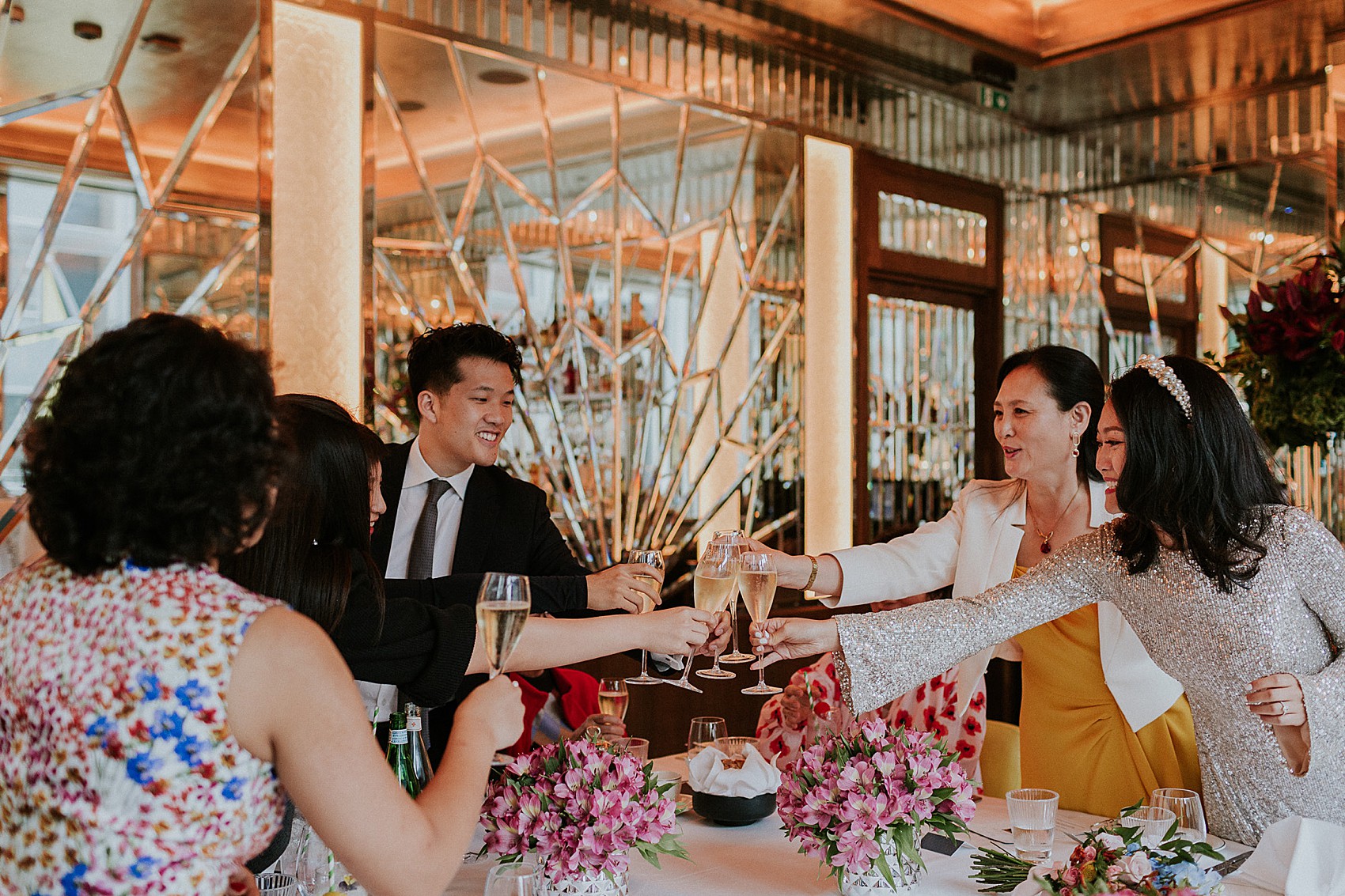 Words of Wedded Wisdom
"Make sure you are 100 percent comfortable in the dress. And enjoy and soak up every minute of the occasion as it passes by so quickly."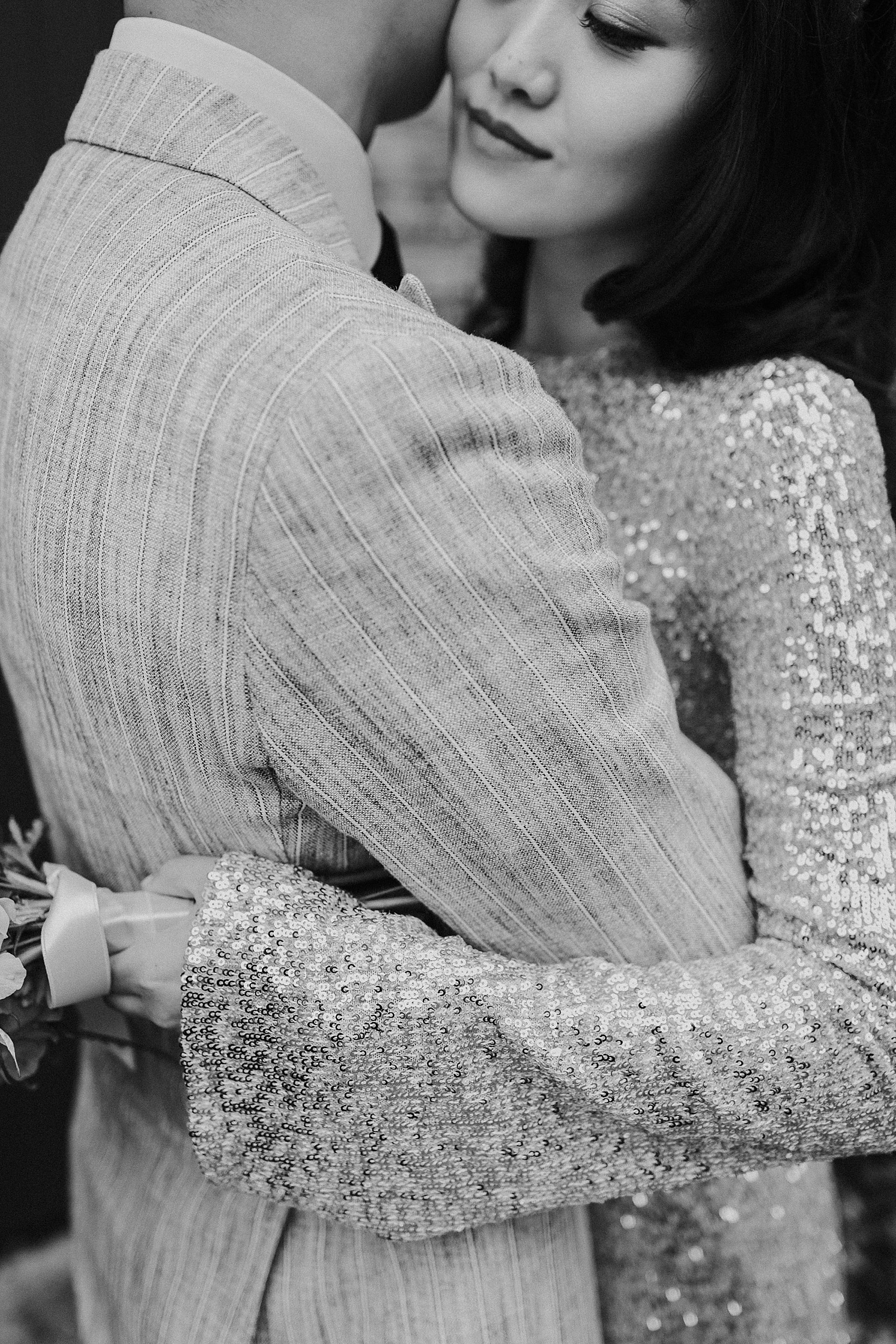 Julian and Eva, thank you so much for adding a touch of sparkle to the Christmas holidays with your beautiful wedding. It's been lovely to see such different gown, and to see your love celebrated with your nearest and dearest.
With love
Ele xx