Here we are, it's Twixtmas; that special time of year between Christmas and New Year's Eve where it's entirely possible to lose track of what day it is!
I'm so pleased to be sharing this wedding with you today; an elegant affair at a beautiful historic house in Greenwich, South London, and the wedding celebration of couple who will be familiar to lots of you, I'm sure. This is the wedding of writer and podcast host, the charming and delightful Liv Purvis and her love, Joe Galvin, a photographer. They were married on the 25 May 2019 at Queen's House in Greenwich.
Papertwin Wedding Films

+ Follow



It's brilliant to be adding to the collection of work that London-based Chris and Gillian have gracing our pages, and I just love the honest, joyful way in which they captured Liv and Joe's pastel-hued dream day.
"Choosing a photographer was initially something we were quite anxious about,  with both of us having history and jobs around photography, we didn't want to be looking at things on the day thinking 'What about that shot?!' Thankfully, when I was away in New Zealand, I picked up a wedding magazine, and noticed the most beautiful wedding from the one British supplier in there, who happened to be The Curries."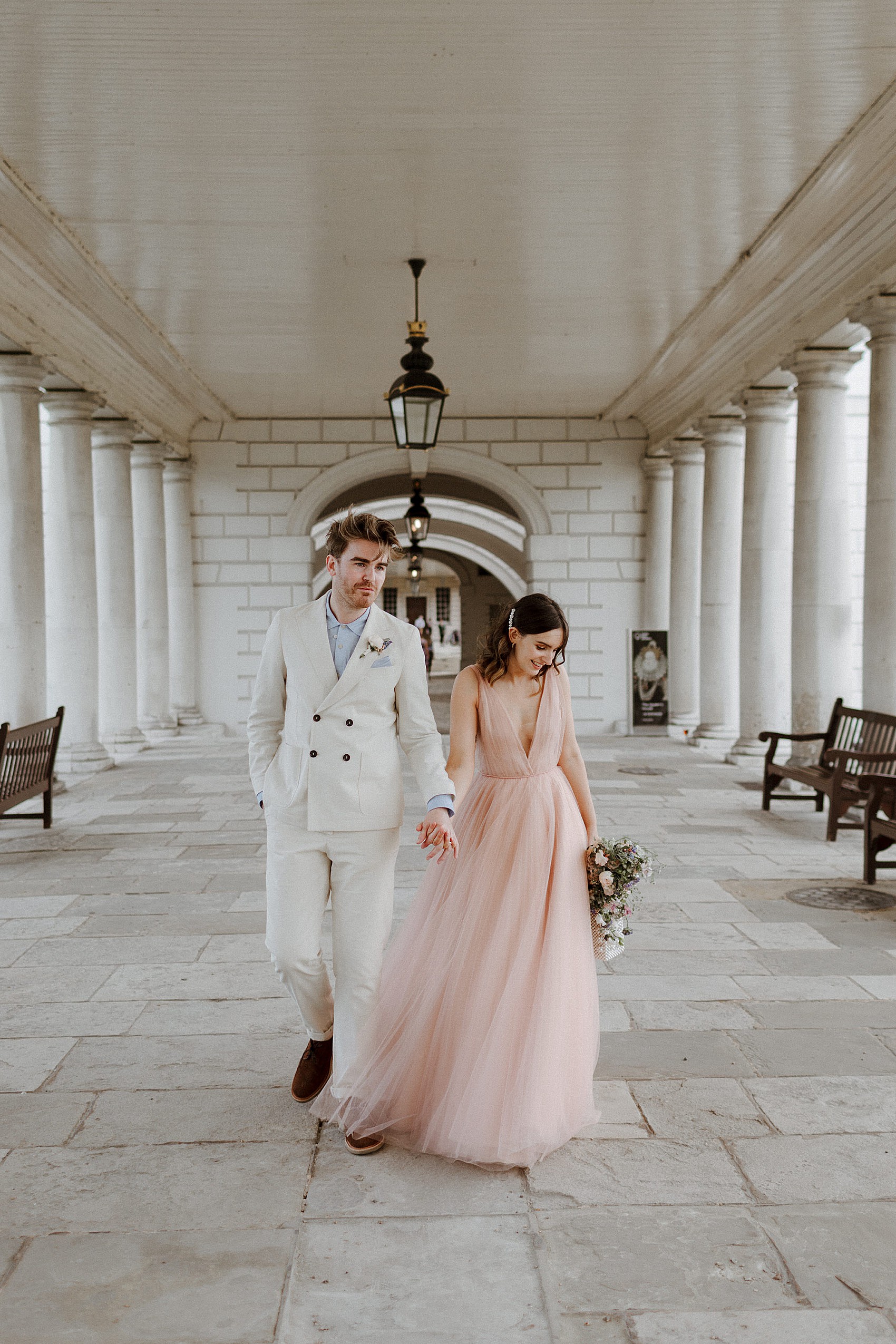 "They live a stone's throw away from us, so it felt like fate. It also happened that their work was the most beautiful we'd come across, and they were the loveliest couple on top of that, so booking them was actually probably the easiest thing we did in the lead up."
"Everything was streamlined, completely stunning and completely exciting from start to finish. We knew that they'd always have all bases covered, even if the weather dramatically changed or something went wrong. We truly couldn't have asked for better photographers."
Make-up Artist Zoe Taylor created a lovely, contemporary, romantic look for Liv (that eyeshadow!) and in her hair, she wore a pearl clip by Simone Rocha.
"I figured because I wasn't having a veil, I could justify a fancy clip spend (make of that what you will – trust me when I was looking, pearly clips weren't as widely available). It felt like the perfect subtle alternative to more tulle, and we ended up using that and I couldn't have been happier with the end result. Plus, the re-wear situation is arguably a little more do-able than a veil, so that's my justification done and done!"
"My perfume was Jo Malone – Wood Sage & Sea Salt. Trust me when I say there's a reason so many people go to Jo Malone for their wedding fragrance – so many of their scents evoke sentimental memories for me, and going into one of their boutiques to select something personal for the big day felt like a really special way of spending an afternoon."
"Although scent is so personal, for me, Jo Malone are home to fragrances both my mum and nans have loved for years, and selecting something that could encapsulate the day here felt like a really lovely detail."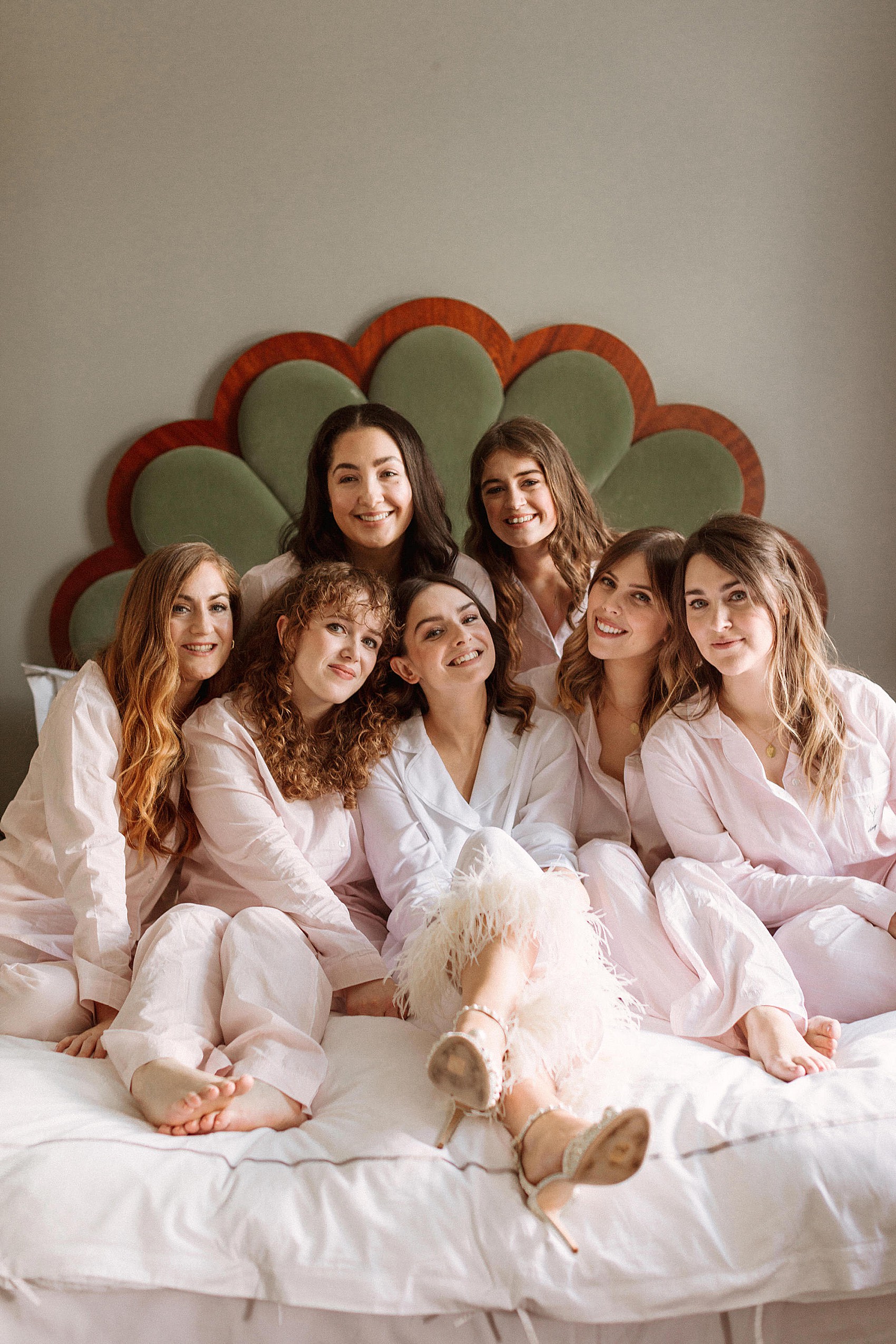 "Plus, if you're having a venue that accommodates candles and diffusers, they can also tie that together, meaning they can scent the wedding (which feels very fancy) but also means that when you smell that fragrance, it transports you straight back to the day, which is pretty magical indeed. For my fragrances, I opted for a combination of Wood Sage & Sea Salt and their Frangipani Flower, and couldn't have loved the combination more."
"I'm a real florals and fruits kind of lady, so wanted to turn to the kind of scents that I normally love (citruses, light and airy florals) whilst selecting something I'd not worn previously before. It really tied everything together in a sunshine-y scent, and although might not be a huge detail for some, felt really special selecting my own wedding day scent as the last step."
Liv's beautiful, pearly shoes were by Jimmy Choo, and she also wore earrings by Madewell, too.
Liv's glorious confection of a dress, with its layer upon layer of frothy pale pink tulle was by Naeem Khan, discovered at London boutique The Wedding Club;
"If I'm being honest, the thought of going to a boutique in Knightsbridge intimidated me a bit. I'd already decided I probably wasn't their typical client ('God, I'm not fancy enough to be in here!' 'I FEEL LIKE BRIDGET JONES!') and almost worried it could veer towards being a little stuck up – but how wrong I was. The ladies in the store were so incredibly accommodating, warm, and made the trying on process a truly fun and exciting experience."
"I didn't feel silly for trying things on that were a little 'out there',  and after picking my dress, I really looked forward to going back there for the handful of fittings, and finally collecting it a month or so before the big day, too."
Liv carried the most magical bouquet of soft, pastel blooms by Joanne Truby Floral Design, filled with seasonal beauties like peonies, roses, scabiosa and scented sweet peas.
"When I saw my dress hanging up in the shop, I didn't for a second assume it would be my wedding dress. It was something I kept going back to ('Guys, have you seen this one!? Look! It's pink – how beautiful!') and in the end, before we finished, I insisted on trying it on because I didn't want to leave without trying on that true ballerina dress that was hanging up."
"I could have never imagined going for a pink dress, but I know the things I like and what I'm drawn to, and I tried it on because (for me) it was possibly the most beautiful one in the shop, and I couldn't leave without a little parade around in it (which I definitely did)."
"I felt amazing in it, and although it required going away and having a proper think, I couldn't stop thinking about it, and went back a couple of weeks later to put my deposit down and have my measurements taken (AHH!) it was done."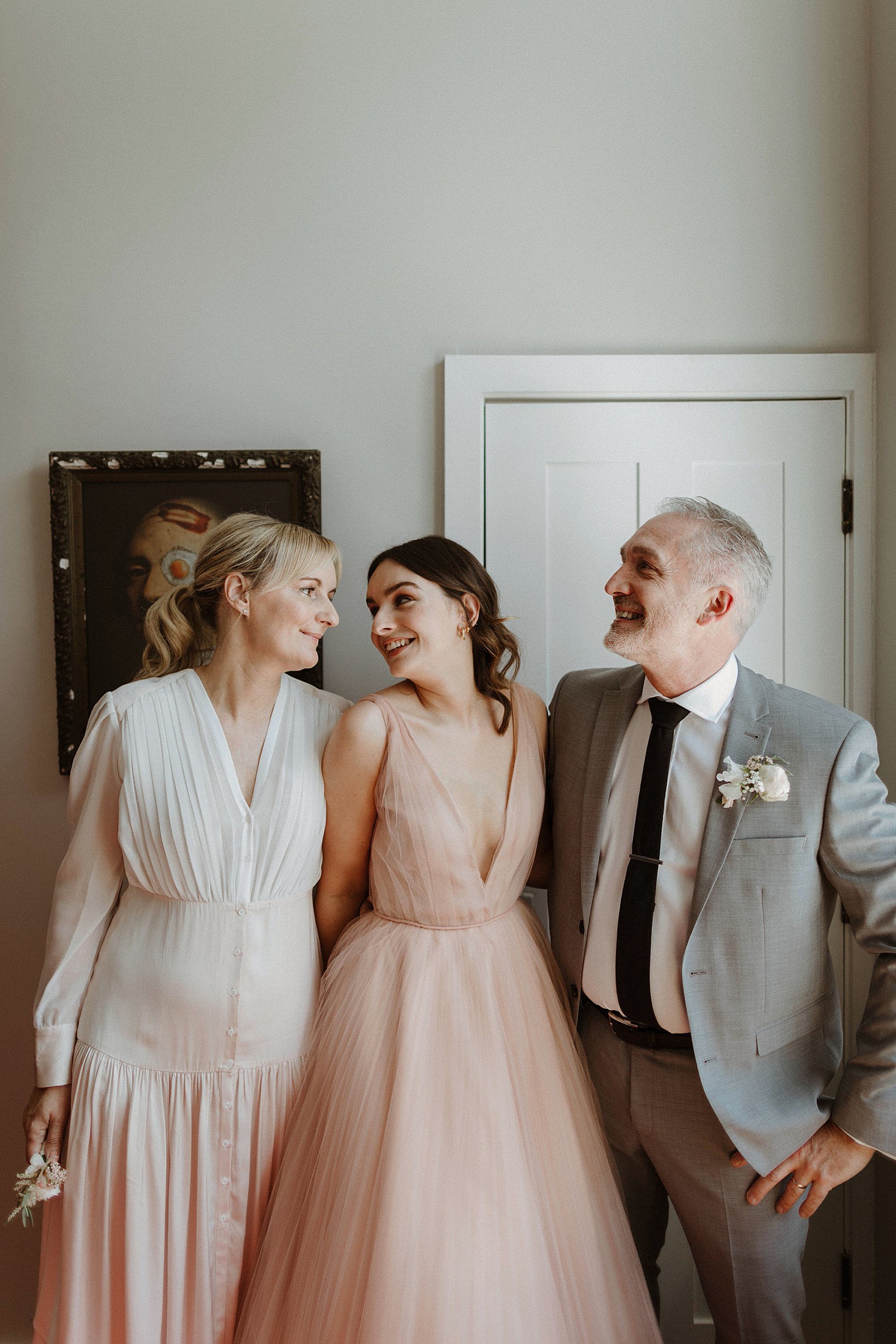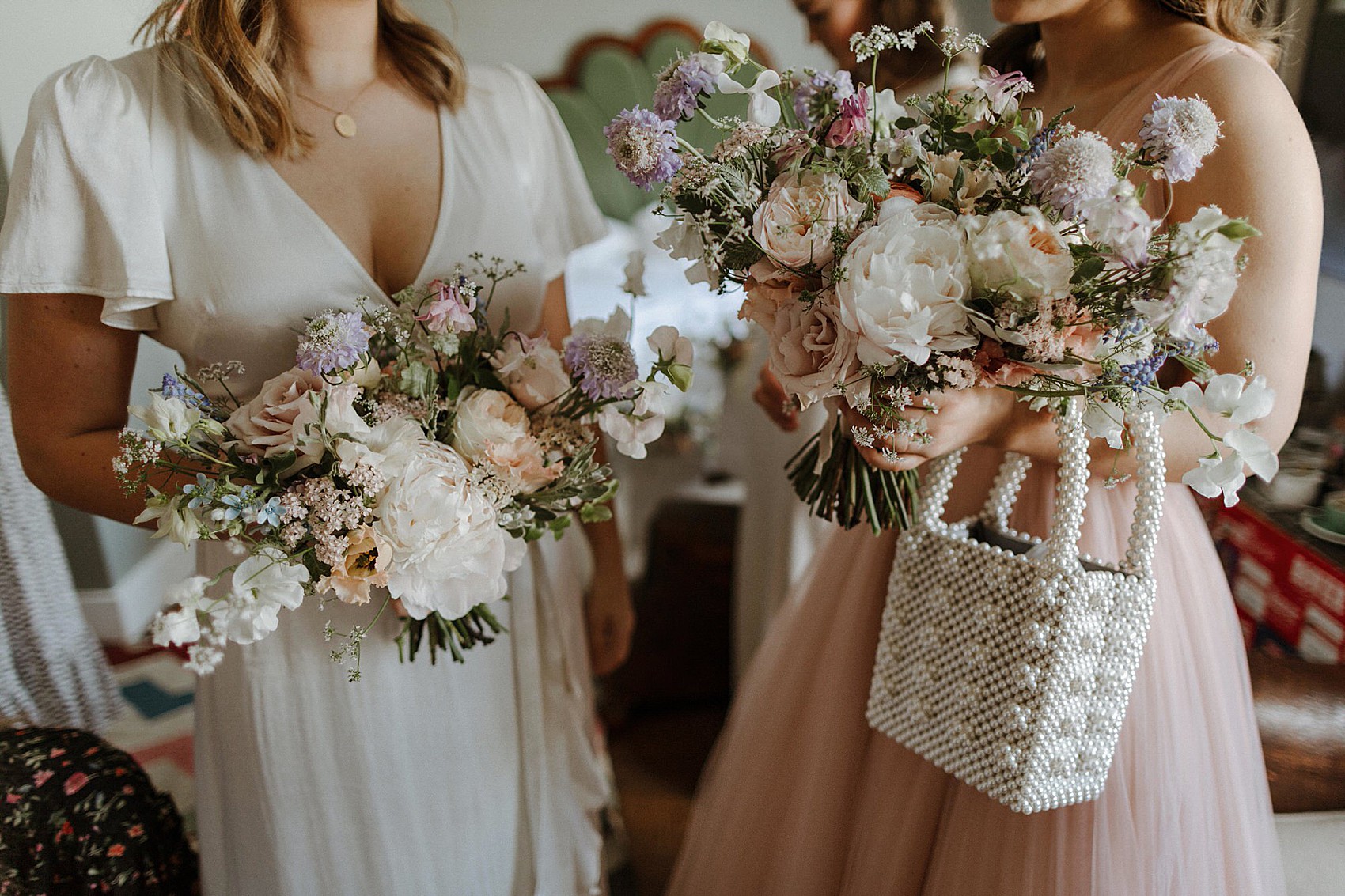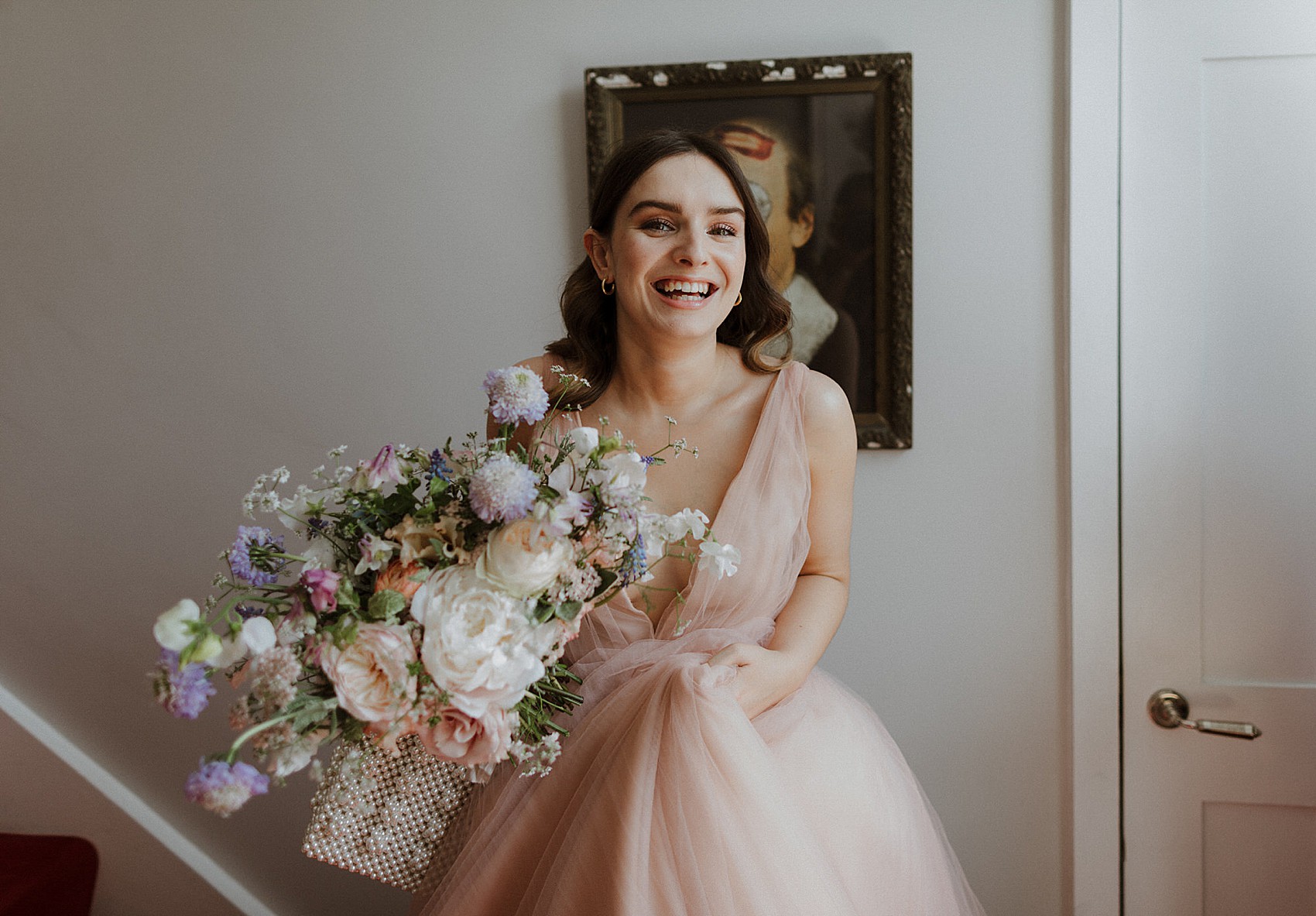 Loved ones gathered in the graceful, neo-classical surroundings of Queen's House and the Old Naval College in Greenwich, as Liv and her dad made their way in a funky vintage Citroen 2CV.
"We saw the Citroen 2CV from 2CV Wedding Cars park up outside the hotel, that my dad and I would be heading to the venue in. My dad used to have the exact same car called Dolly, and when I was tiny we'd drive my mum to work in it, so it felt very special."
The lovely bridesmaids wore an assortment of Ghost London's elegant, era inspired dresses in pale ivory (provided complimentary) and these were the perfect foil to Liv's pink dress.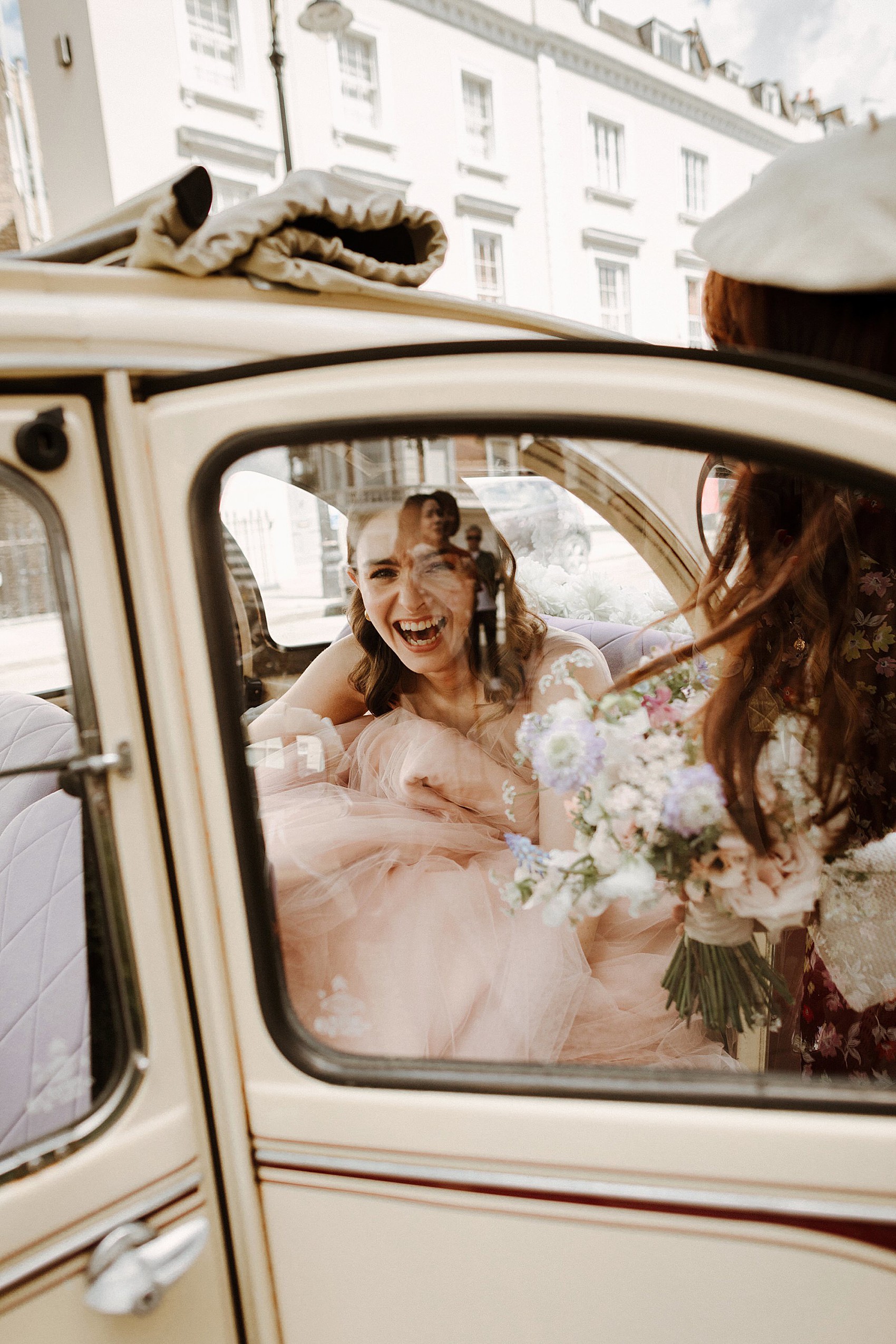 Joe wore a splendid double-breasted suit and pale blue shirt (with matching pocket square) by Oliver Spencer, along with brown shoes by Tricker's.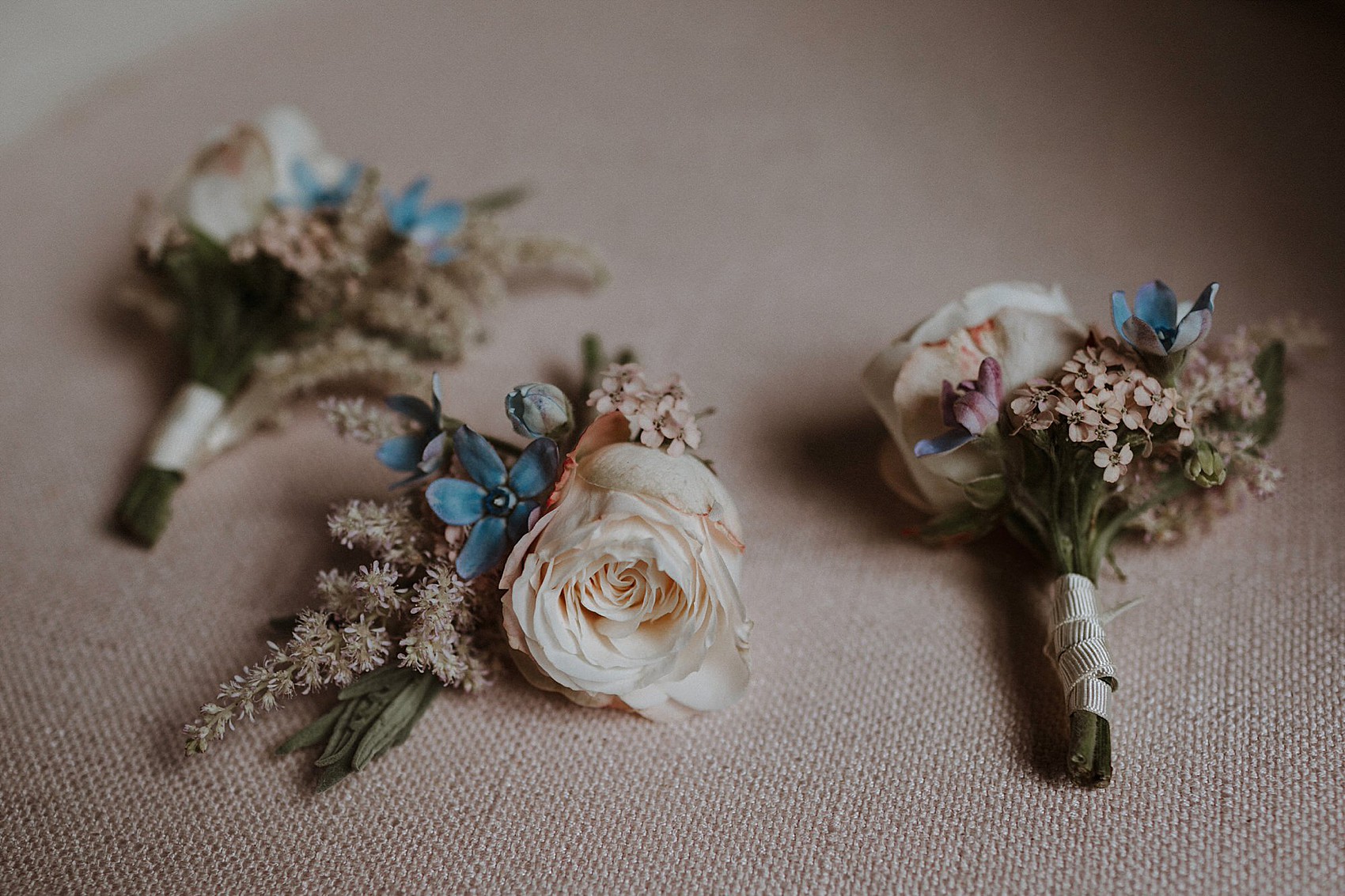 This beautiful venue is Queen's House in Greenwich, which has a fascinating history attached to it.
"Looking around a few venues in South London, we eventually settled for Queen's House in Greenwich. Looking around a couple of months after our engagement, we both fell in love. Initially built as an apology present for Queen Anne of Denmark – it was commissioned by King James I as a supposed apology gift to his wife after he swore in front of her after she had accidentally killed one of his favourite dogs, which felt wholly apt and the kind of precedent we wanted to set foot into marriage on (ahem)."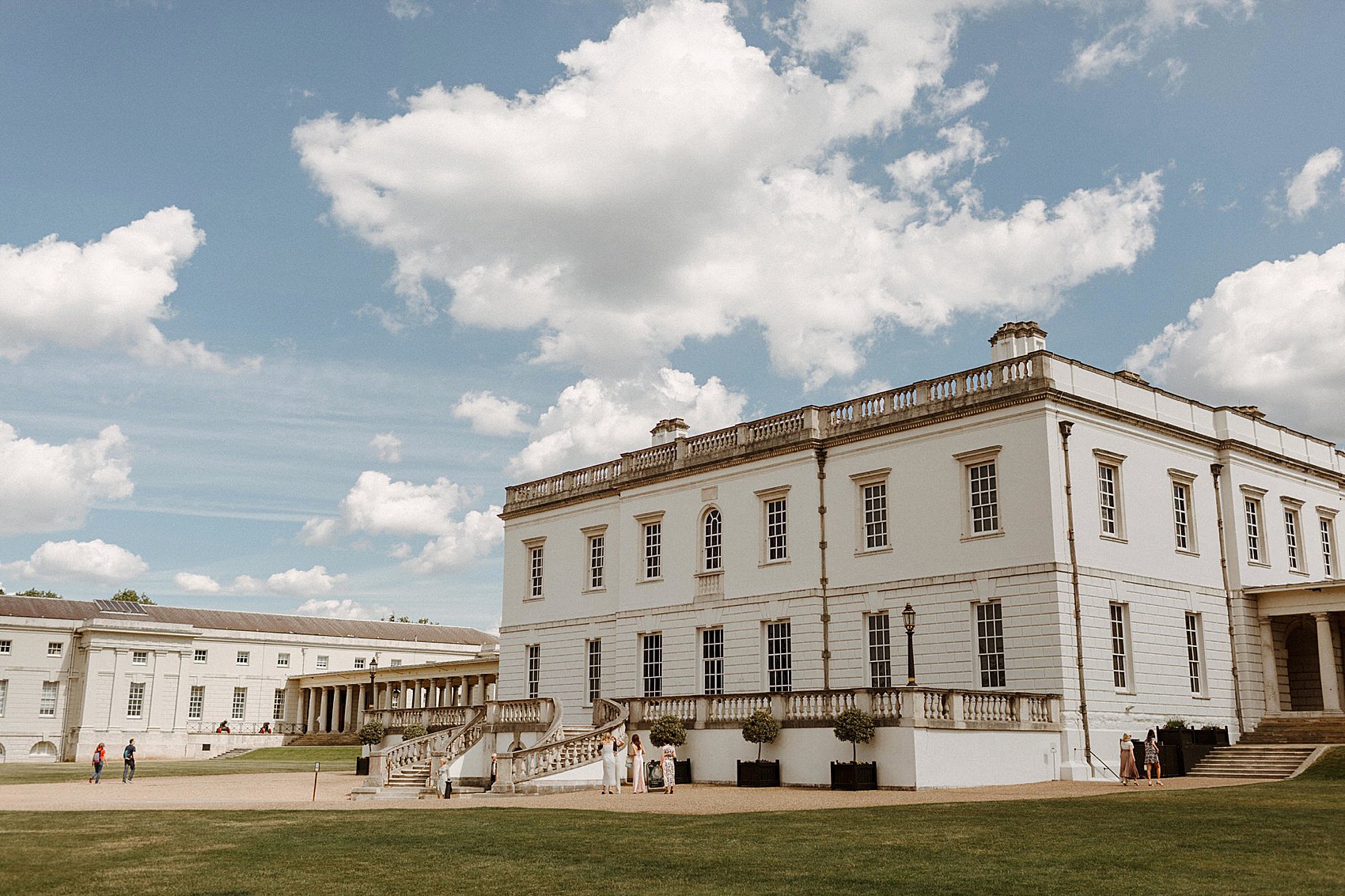 "Queen's House also sits along the Thames in the middle of Greenwich, and next to the beautiful park – somewhere both Joe and I spent a lot of time growing up (albeit in yellow skinny jeans with 'BROOTAL' written on my knuckles) and have endless happy memories of."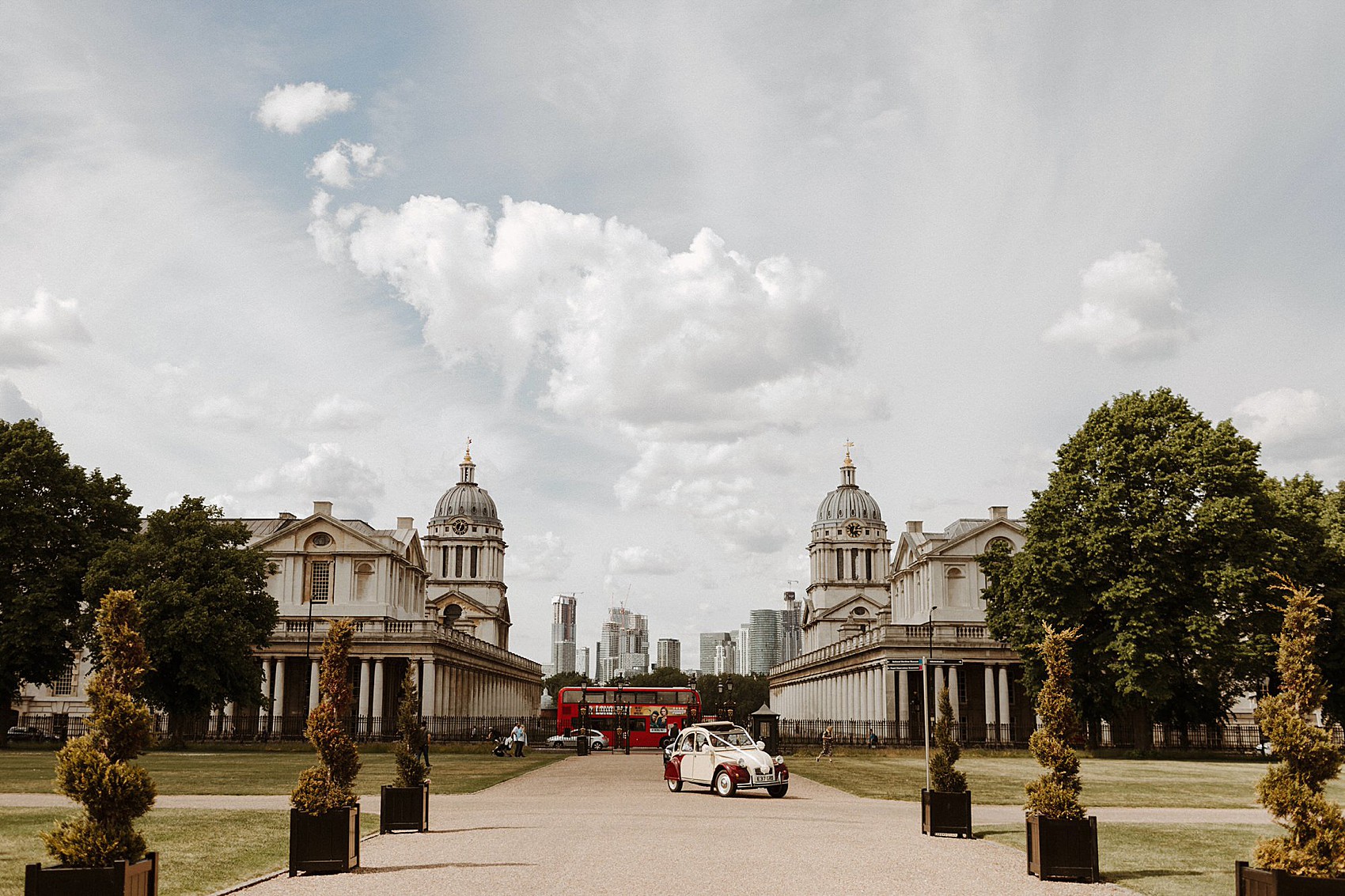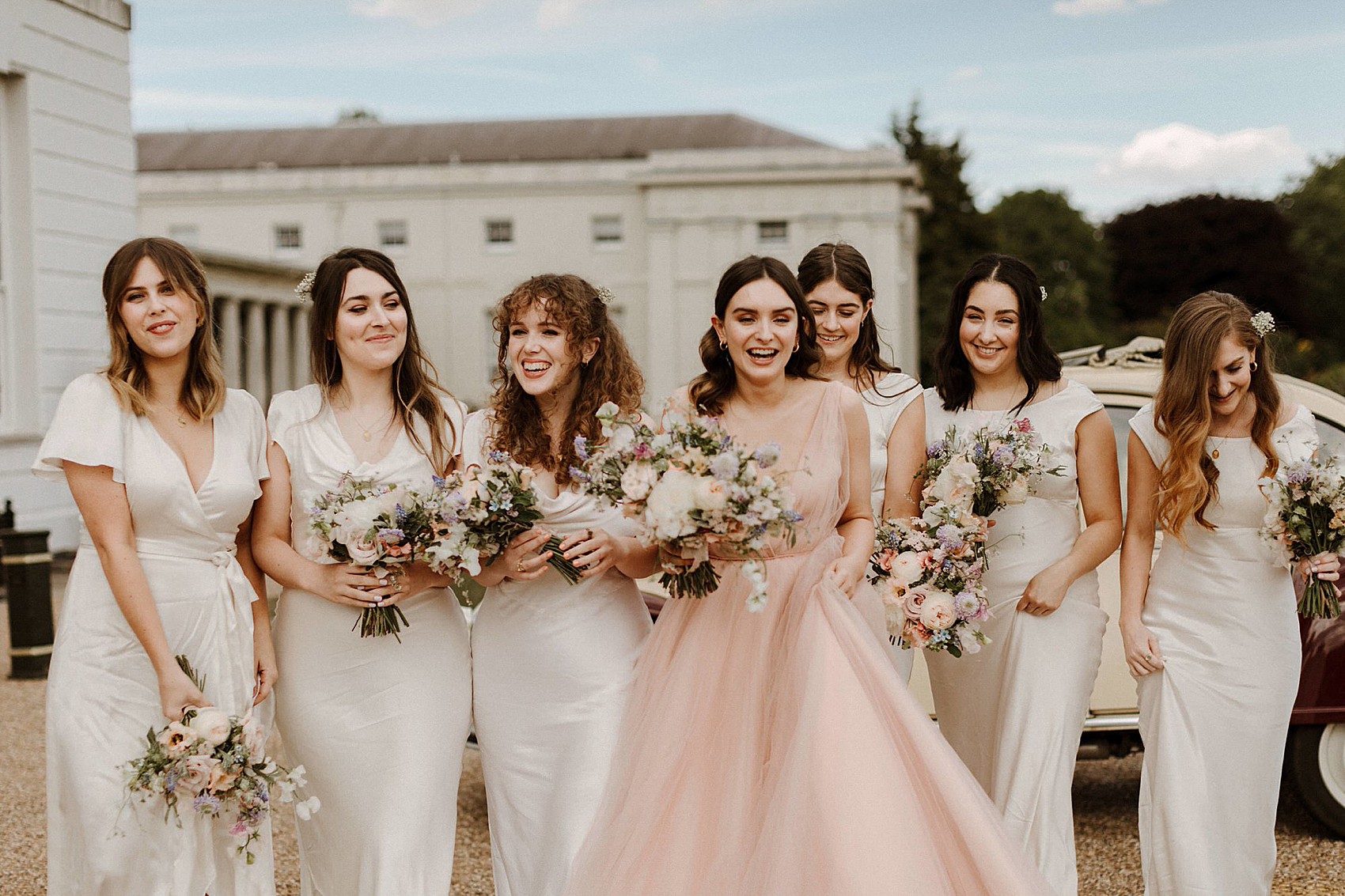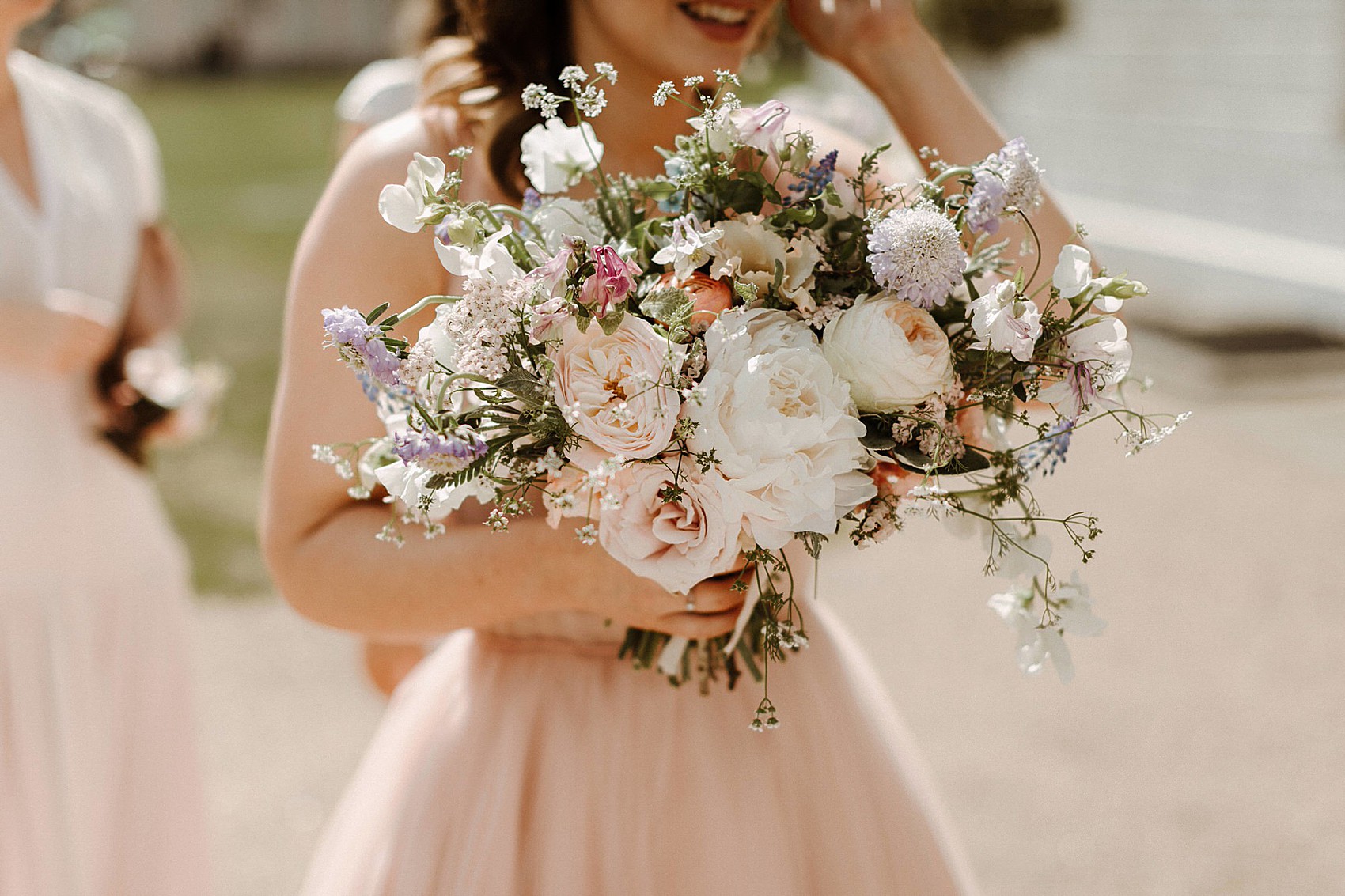 When it comes to choosing your wedding venue, Liv advises you think about what is most important to you.
"For us the non-negotiables were good music, the people (we wanted to have a certain number of people, which obviously influenced the venues we could have) and the location. All of these factors play into one another."
"For example, because we wanted to get married in London with a capacity of over 100 people, it meant that certain venues were out of bounds, certain costs had to be factored in, and whether we went dry hire or not all had to be thought about."
"Because of its heritage and simplicity, the venue could speak for itself (come on, it has floor to ceiling windows overlooking the city and a flecked ceiling, people) it can actually make more of a statement to strip things back."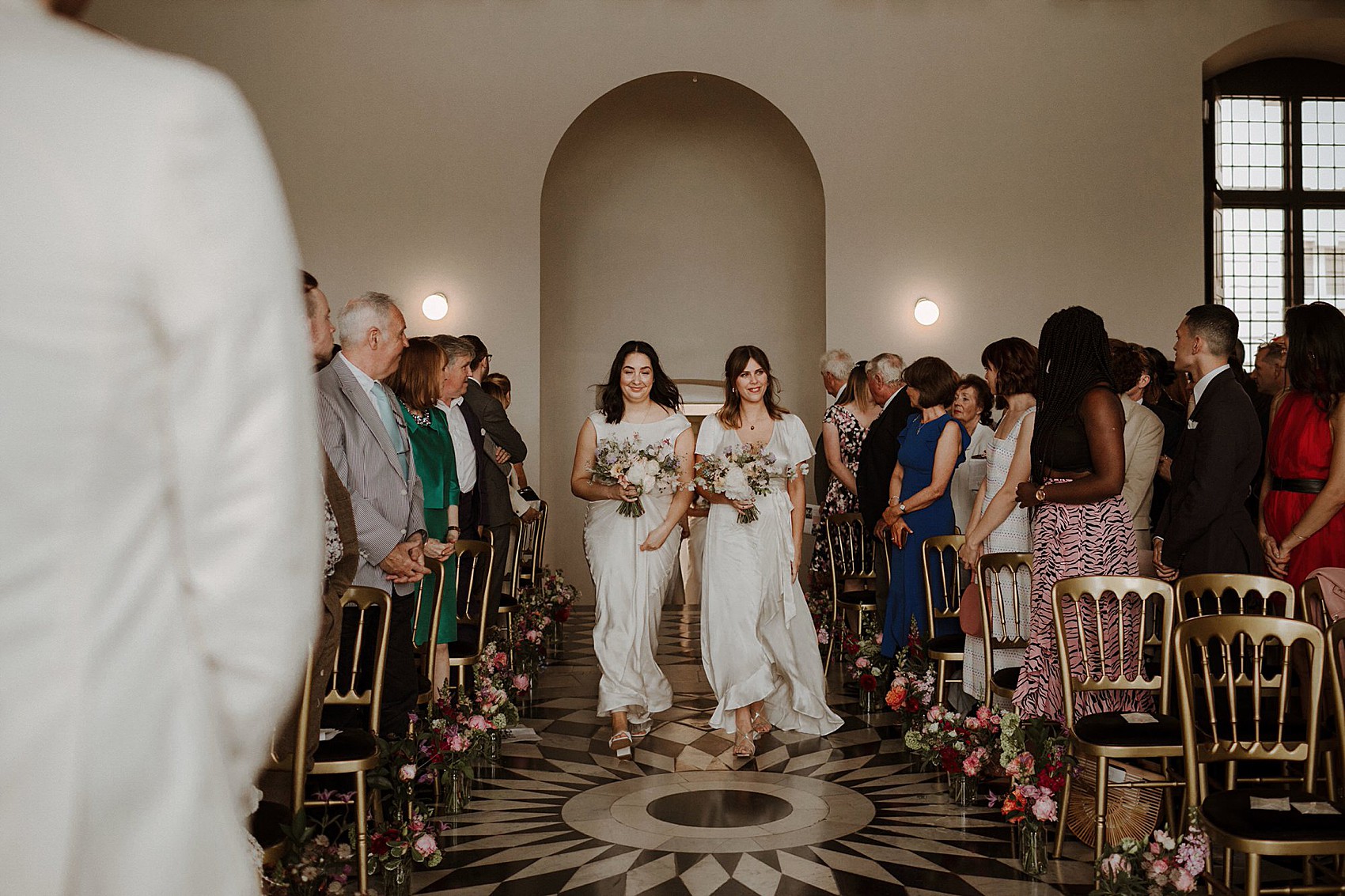 Liv and Joe chose to hold their ceremony in the galleried Great Hall of the Queen's House, with its marble geometric floor, huge picture windows and soaring, gold leaf ceiling, and Liv was accompanied down the aisle by her dad.
"One thing we hadn't really ever considered was having a celebrant instead of a registrar. Although this would mean doing the legal paperwork bits separately, when we discovered my brilliant pal Sarah Powell was also a celebrant with Humanists UK, it swayed us in a bit of a different direction, and actually made the biggest difference to our special day."
"In short, having a celebrant meant we were able to customise our ceremony to be whatever we wanted it to be, which felt like something we both agreed we'd really want to do."
The couple exchanged their specially written, heartfelt vows standing in front of one of the Great Hall's elegant windows, which surrounded them both with the most beautiful light.
Choose your wedding readings with a little help from our reading resource
"Having Sarah on board for the ceremony meant we were able to make the 'serious' part of the day one of the most unforgettable parts."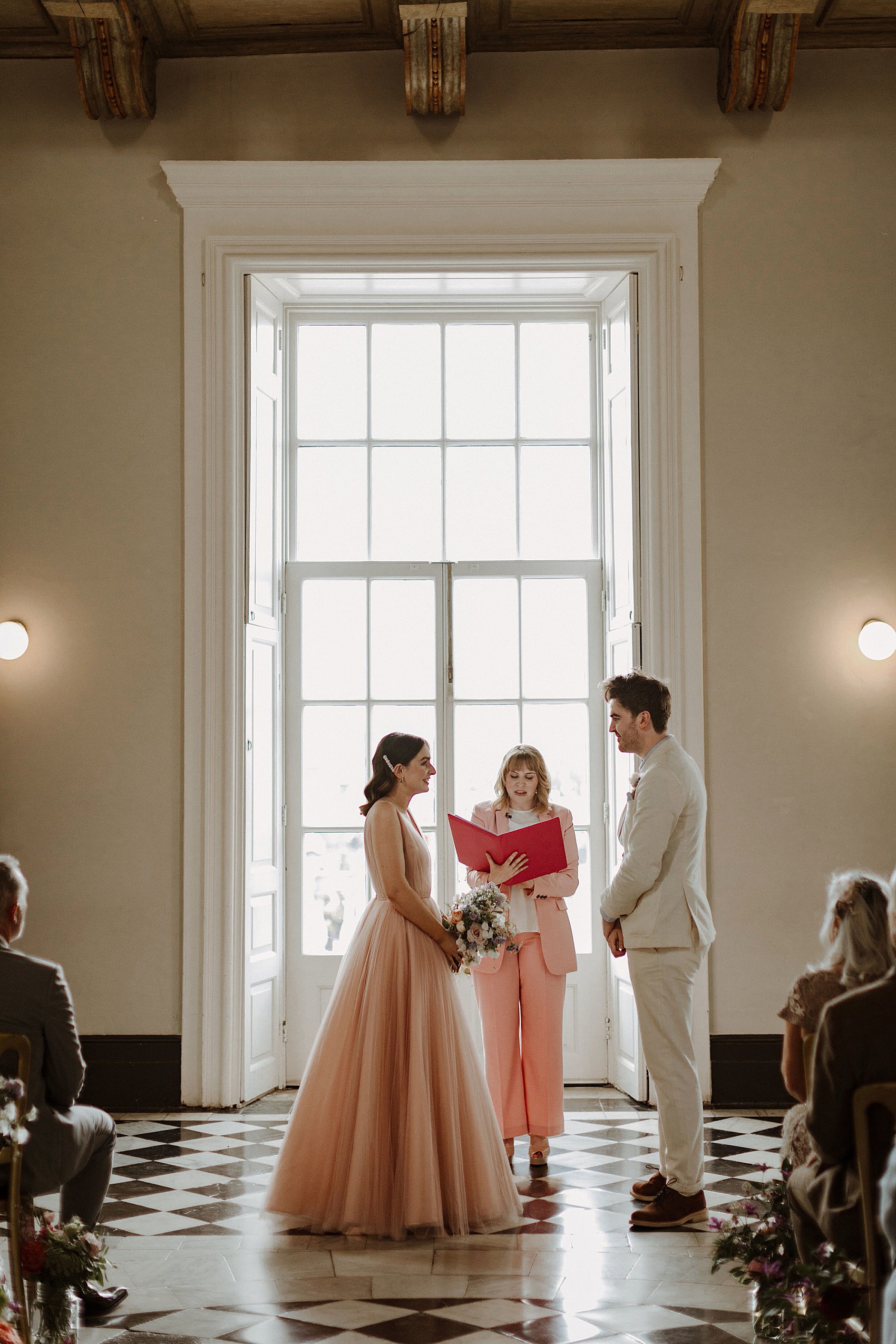 "Not only did Sarah conduct, write and piece together the elements of our ceremony (which consisted of a handful of heartfelt readings selected by Joe's sisters, my brother and best friend) Sarah also held our hands through writing our own vows to one another, giving advice and direction if anything ever felt too overwhelming."
"When it came to the order of service, I think this was the only thing I was a bit of a princess about. I knew what I had in mind (thanks to the 'nets) but I had no bloody idea about how to do it. Typical. It started with discovering Newspaper Club, and realising that would be the perfect way to display everything from our ceremony readings, and throw in a little bit of fun in there too (including a 'Meet the parents' page and crossword, too)."
"Thankfully, my bridesmaid and bloody brilliant mate Carrie stepped in, and helped enormously build the most perfect Photoshop/InDesign template, and help construct one of the most perfect touches on the day. It took us (read: her) hours (I was on hand for company/singing) and I couldn't have been happier with the end result. Unfortunately, as we made this I don't have a template handy, but can't recommend Newspaper Club enough, and think they may have a couple on there to check out, too."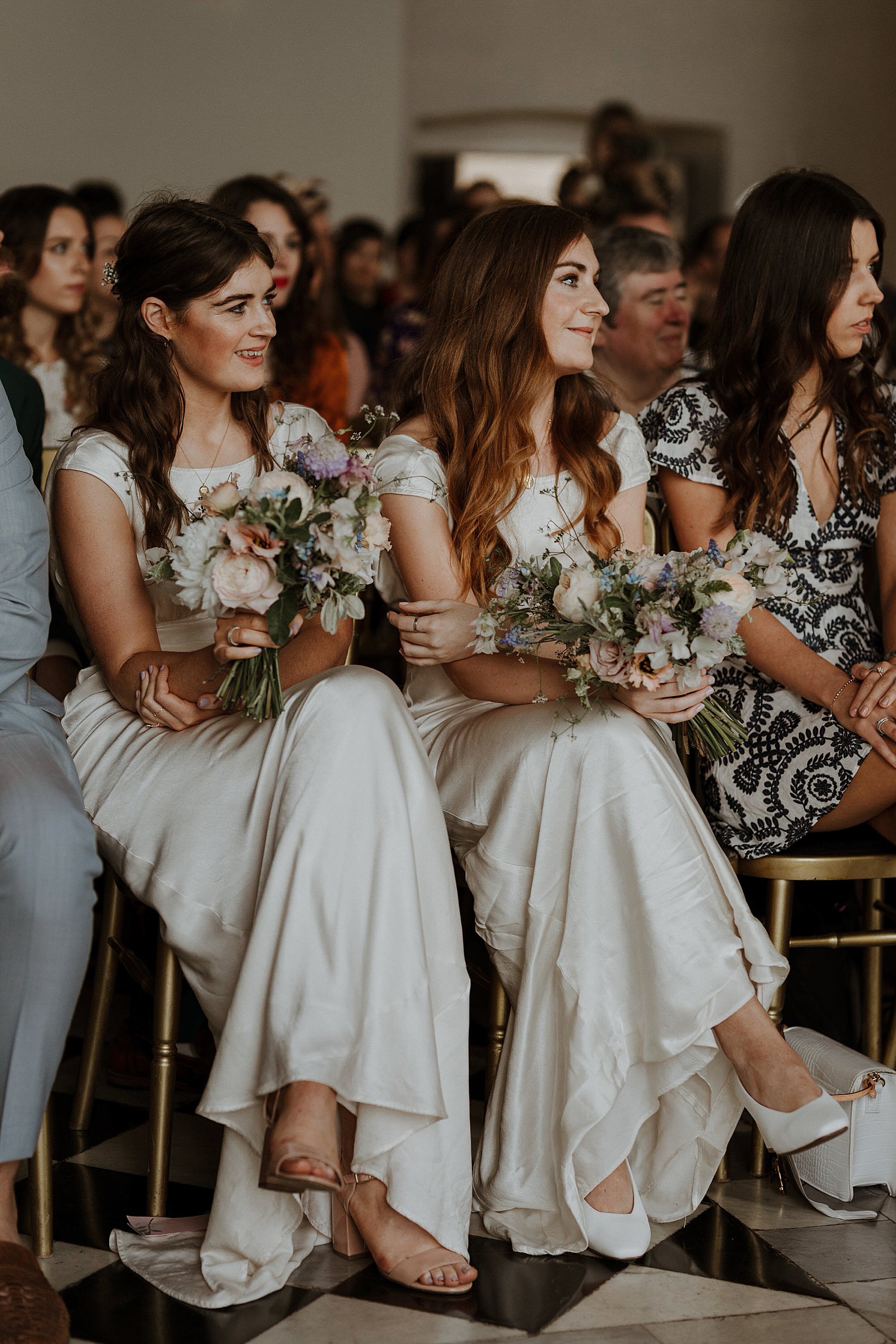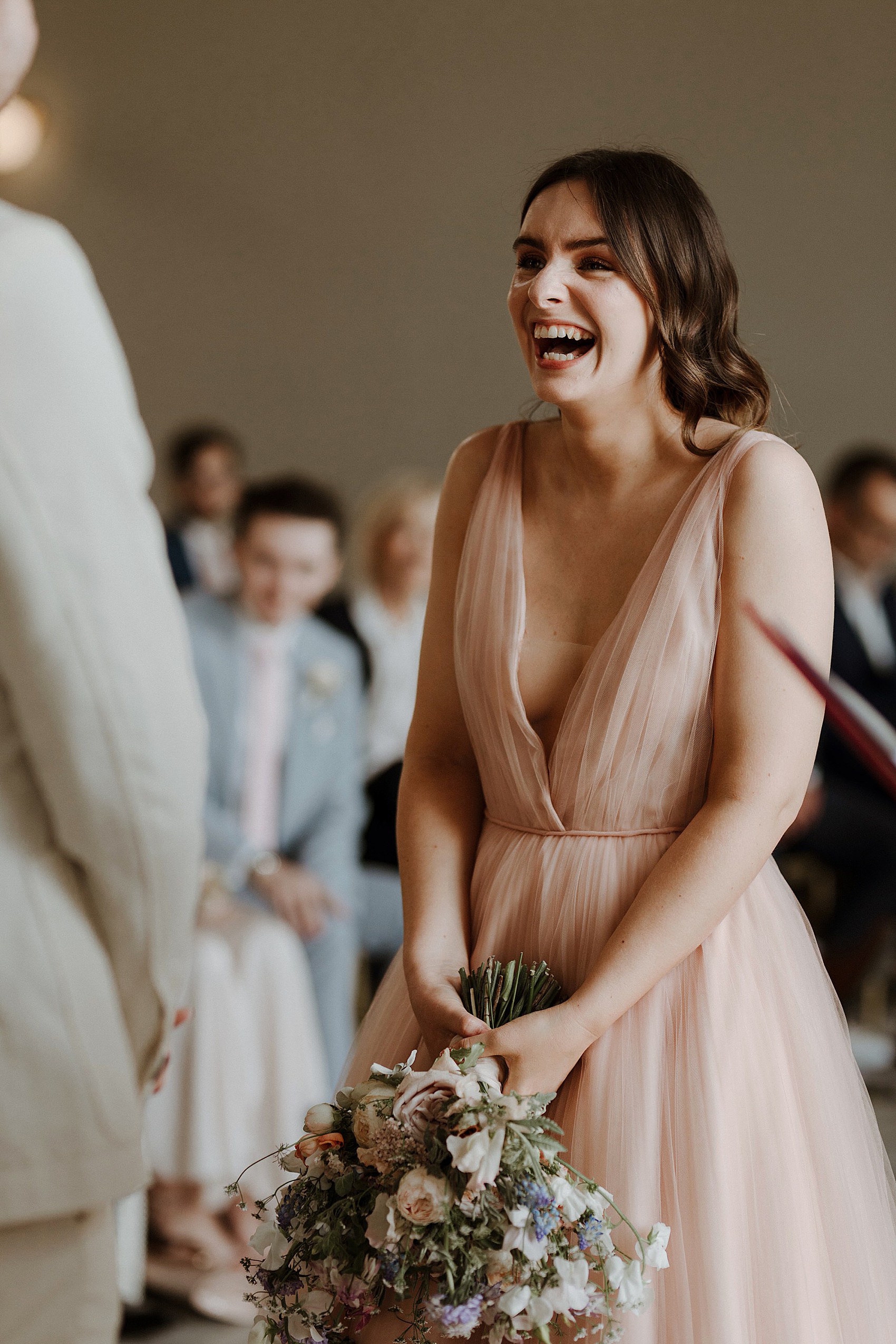 Wedding confetti at the venue needed to be both naturally coloured and biodegradable, and so Liv and Joe popped recyclable mini bags of flower petal confetti from Shropshire Petals onto guests seats, so that when they headed out into the sunshine afterwards, they were showered with handfuls!
"I also made stickers with our little logo using our initials, from Moo.com, using the one our brilliant stationer the Noteur had done for our wedding invitations."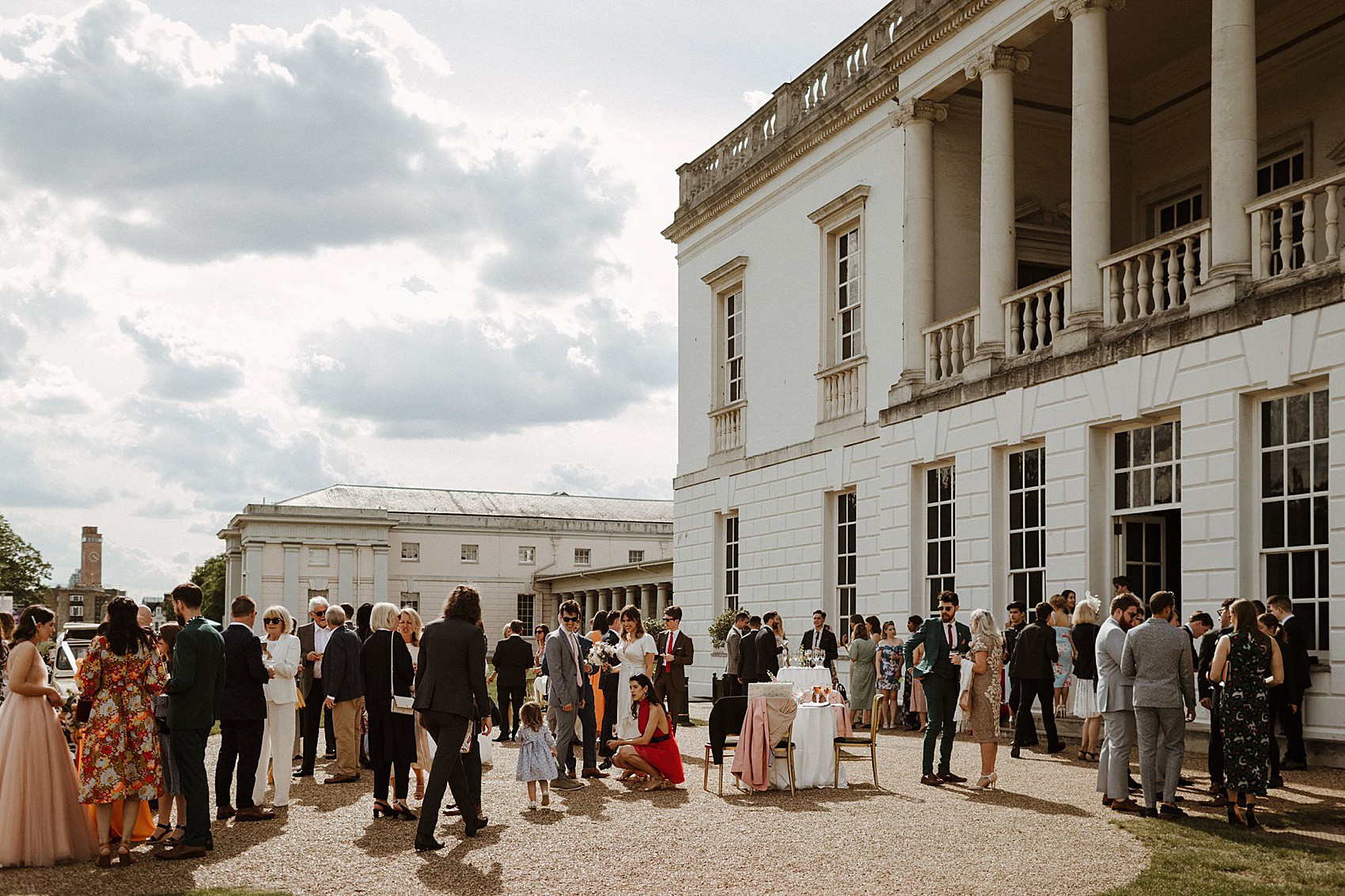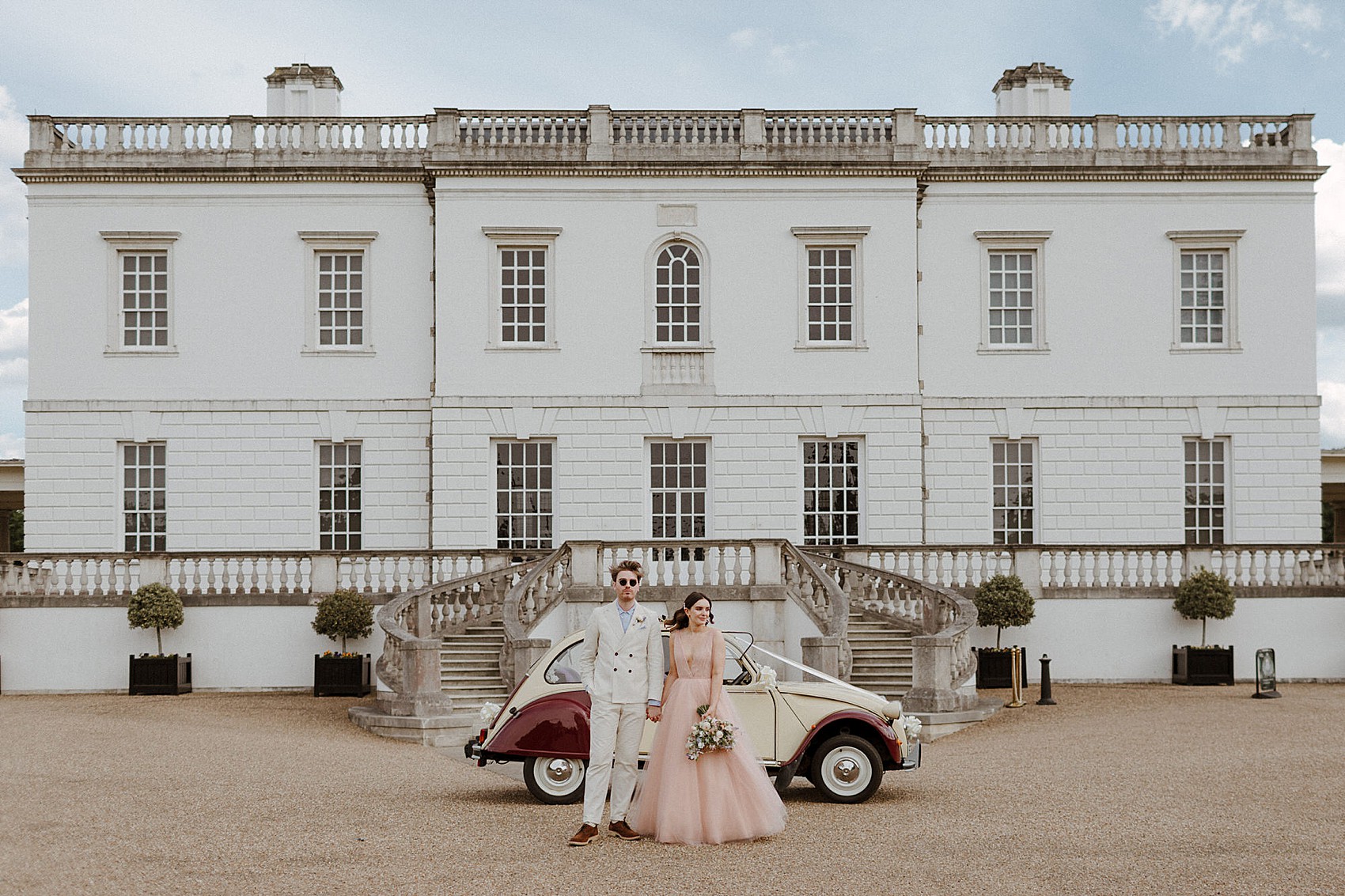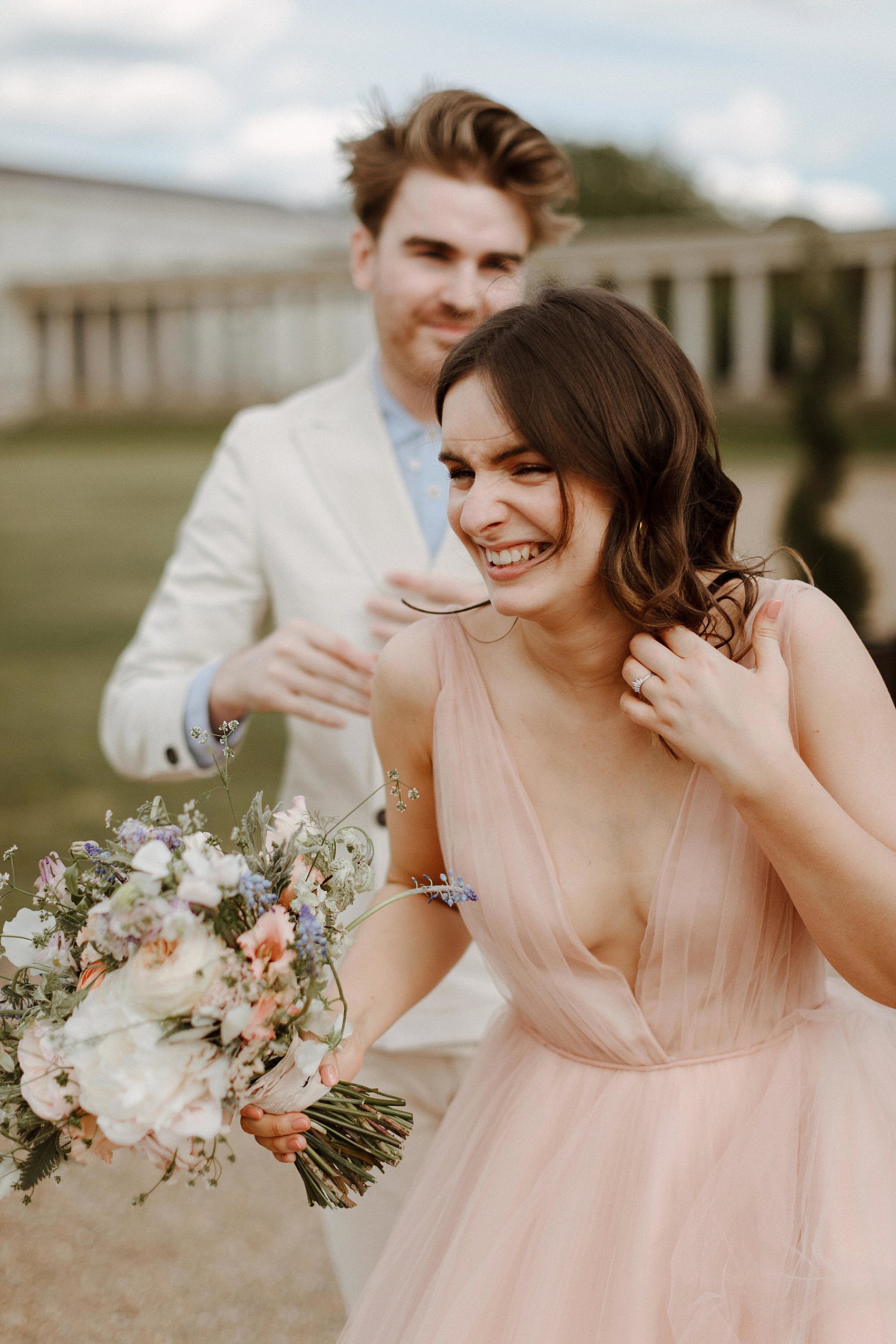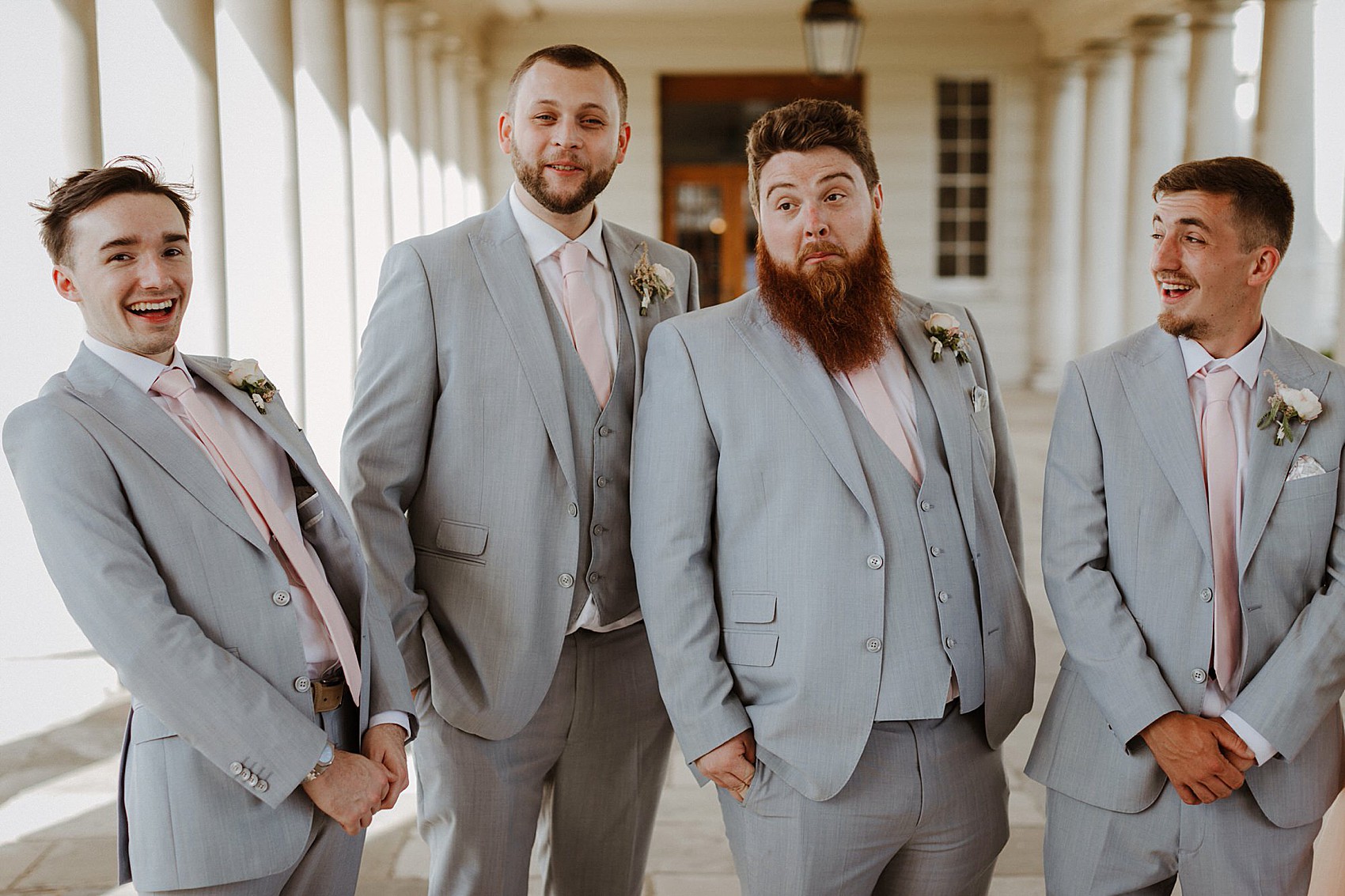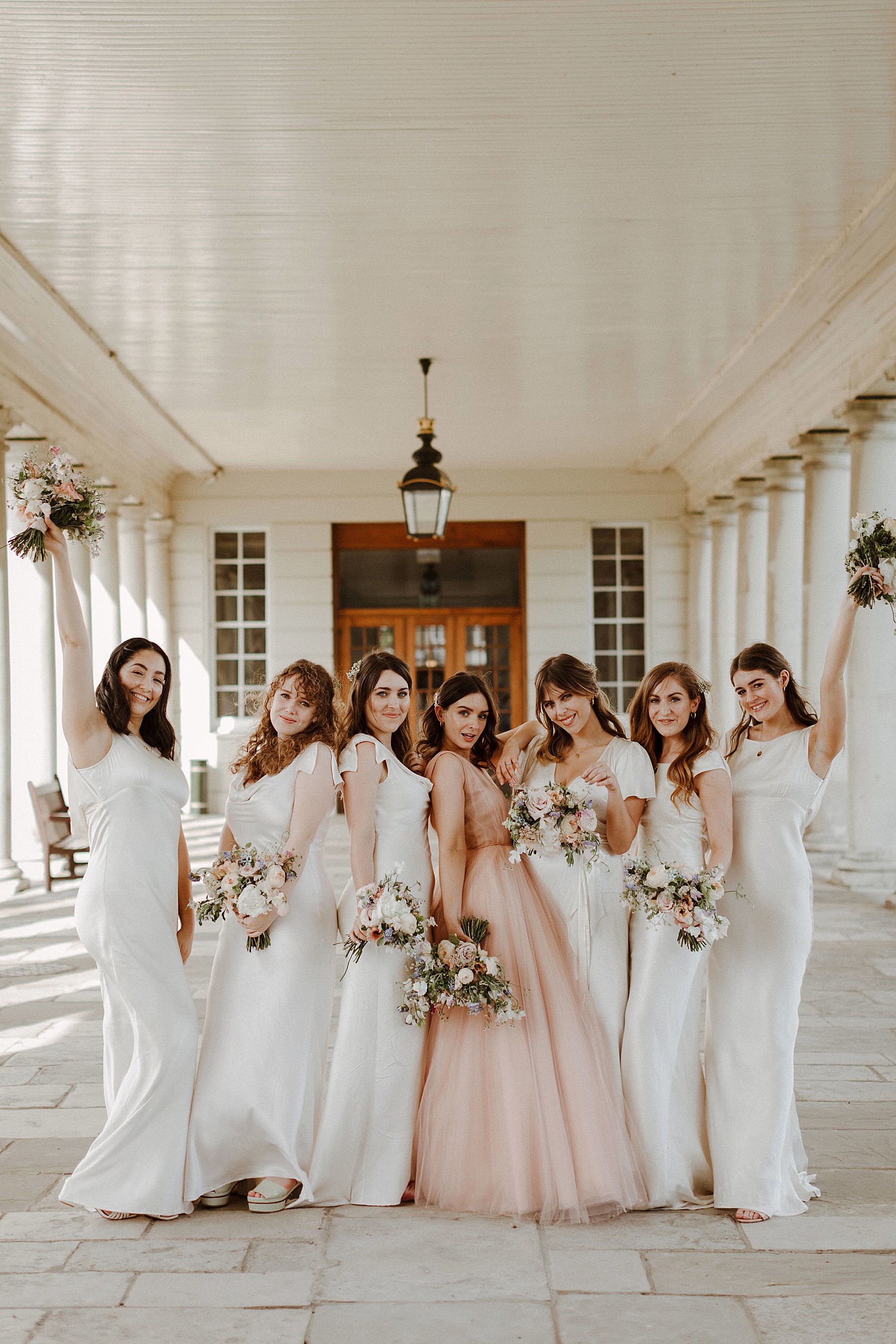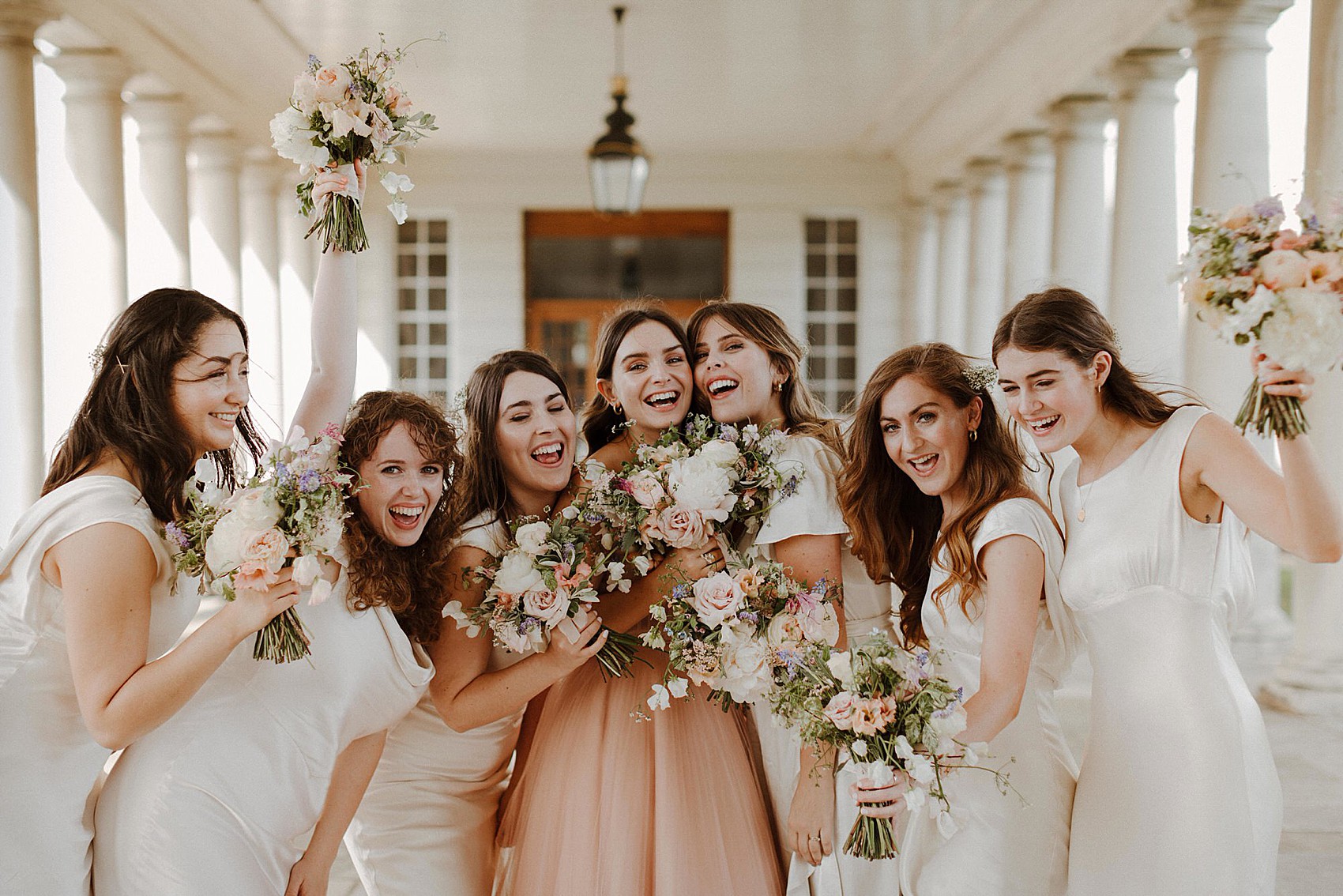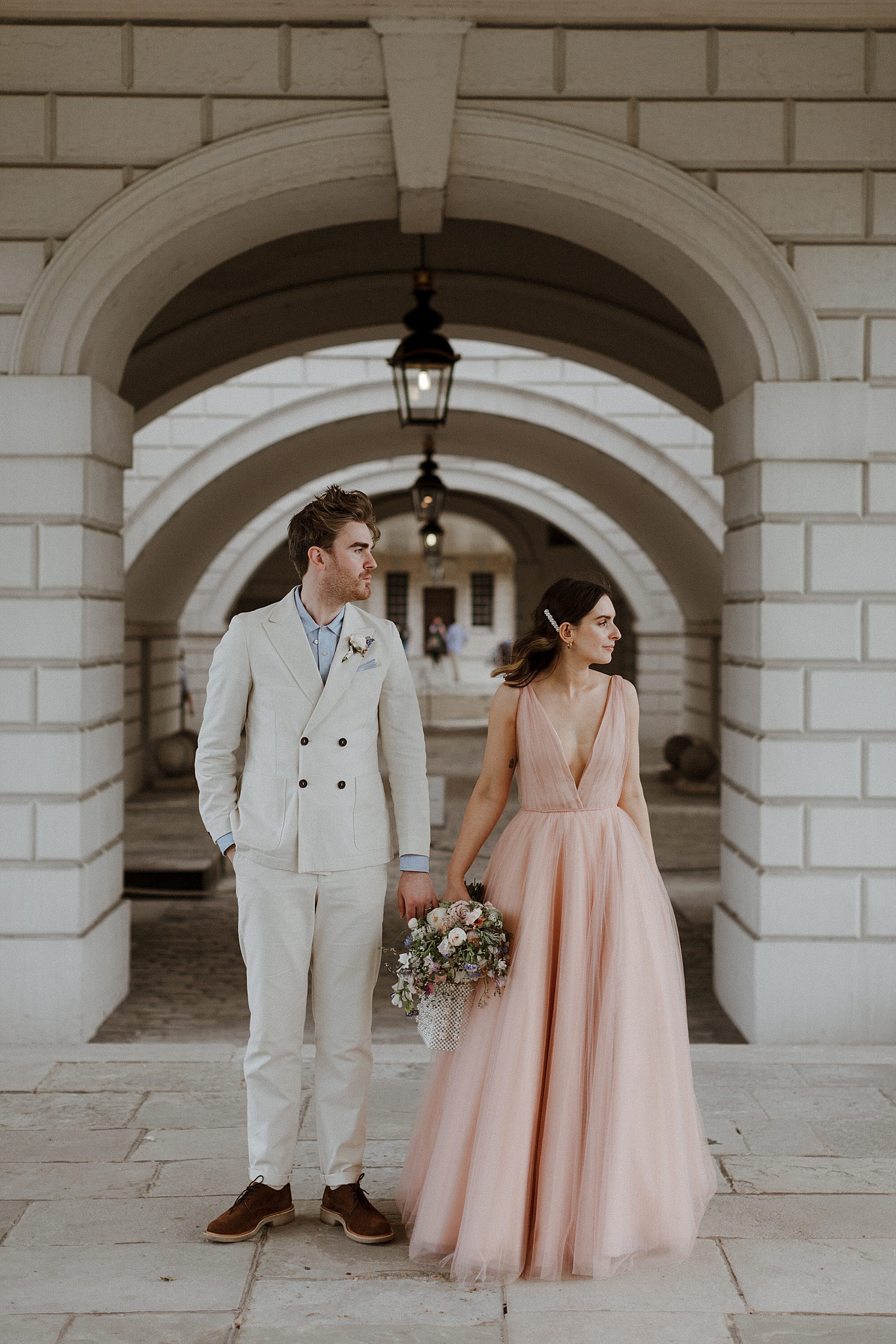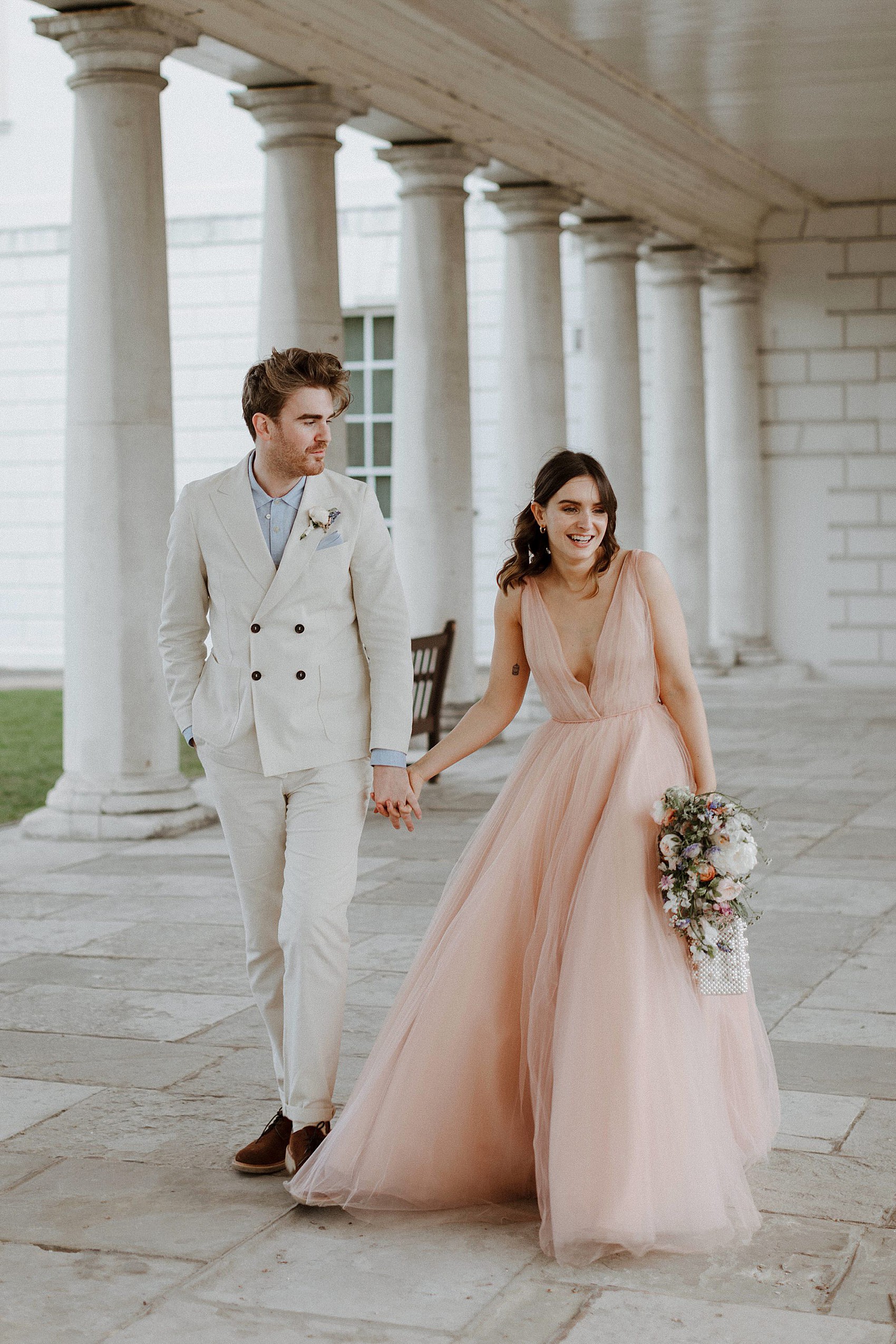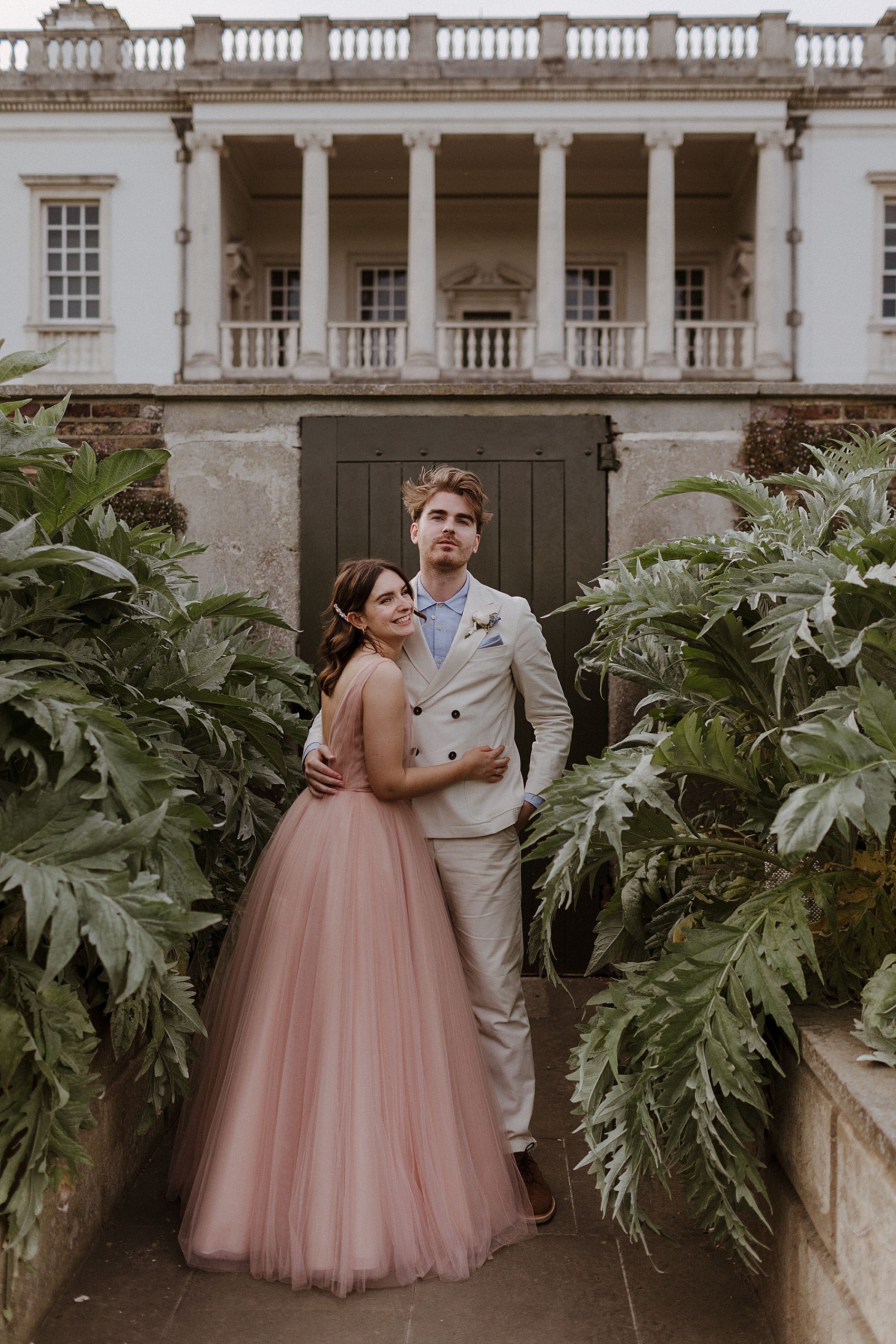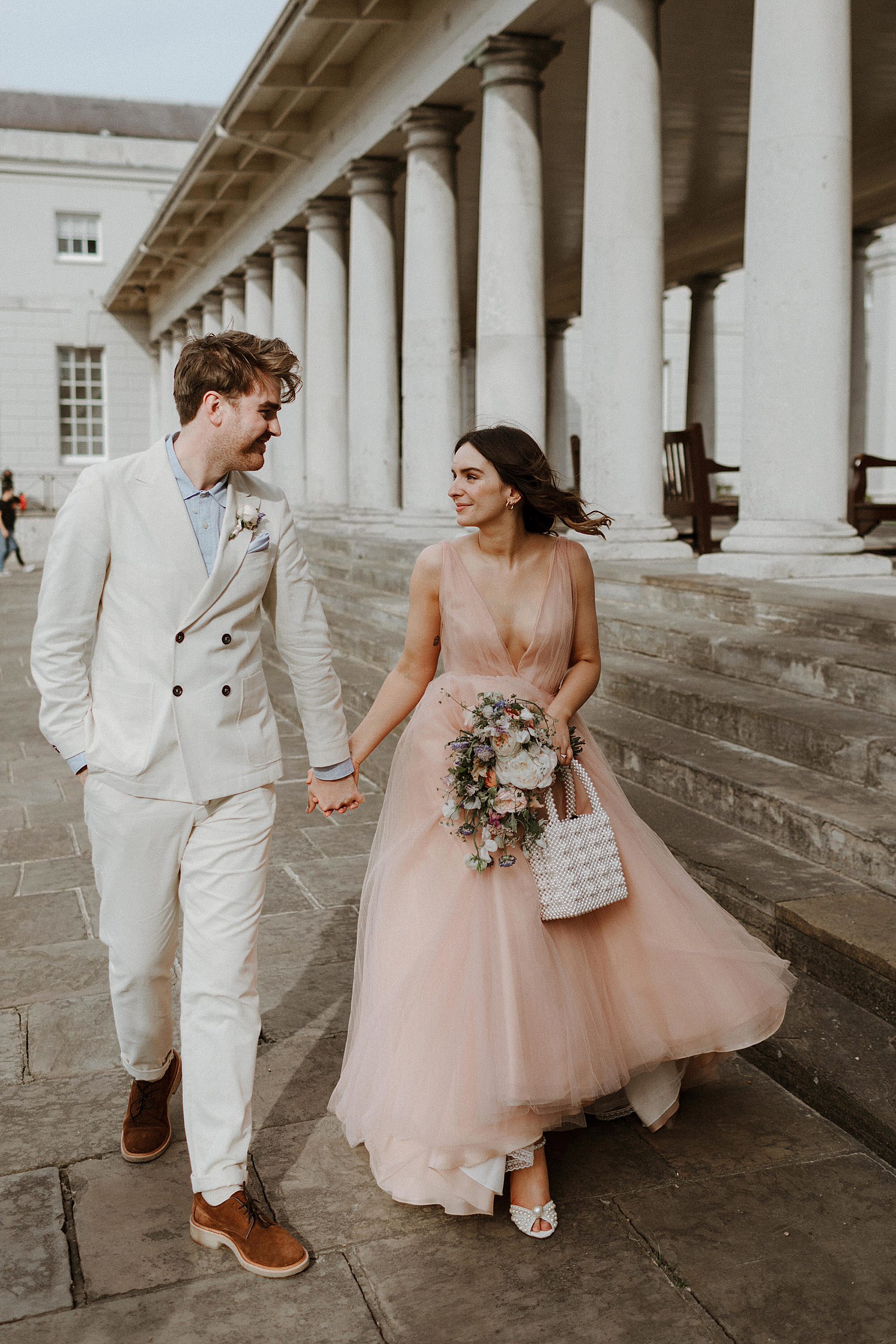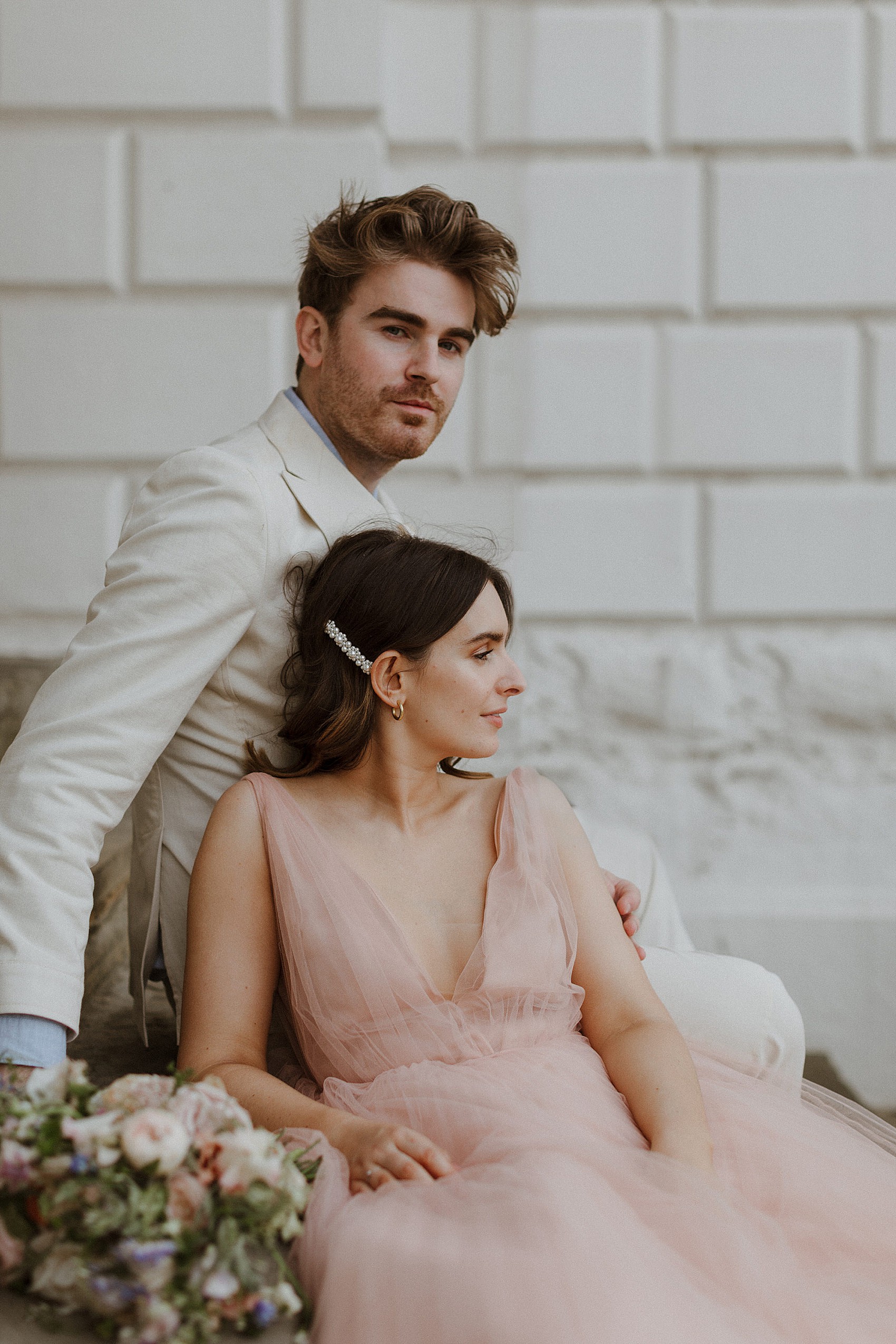 Whilst drinks and canapés were enjoyed outside, the Great Hall of Queen's House was totally transformed for the wedding meal, and I just can't get enough of that spectacular black and white floor with dining tables set for dinner, filled with clustered posies of colourful flowers.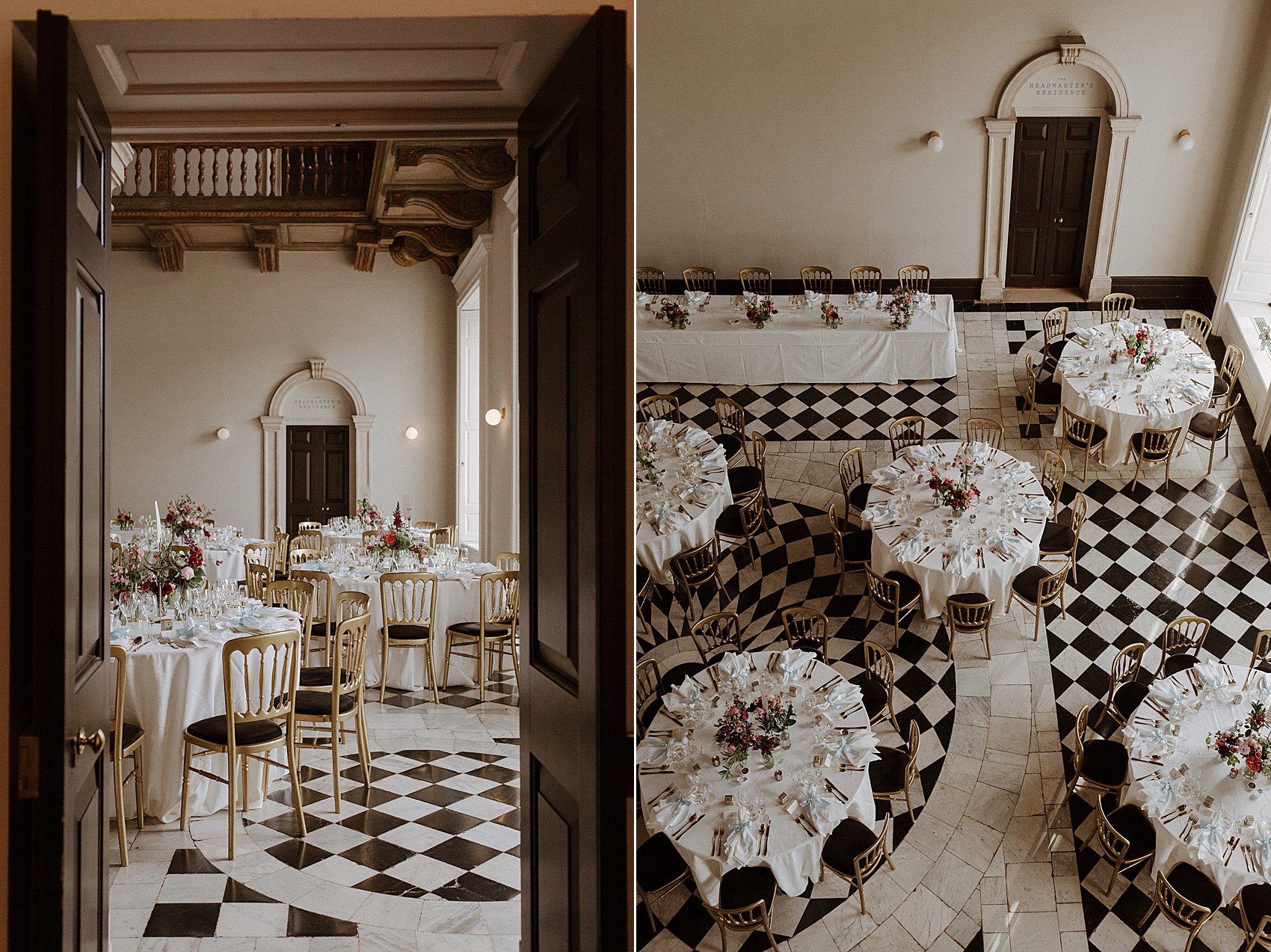 "One thing I did find overwhelming was the idea of making everything look nice, which is where Angela and Sam came in. My friend Angela runs the brilliant Italian Eye Events, and was invaluable when it came to styling (and introducing me to the incredible Sam, who I cannot recommend highly enough)."
"The two of them helped bring all of our ideas together, be it a cake table for our dessert, finding cutlery that didn't make my eyes water with the cost, or making sure the dinner settings were laid out beautifully, without breaking the bank."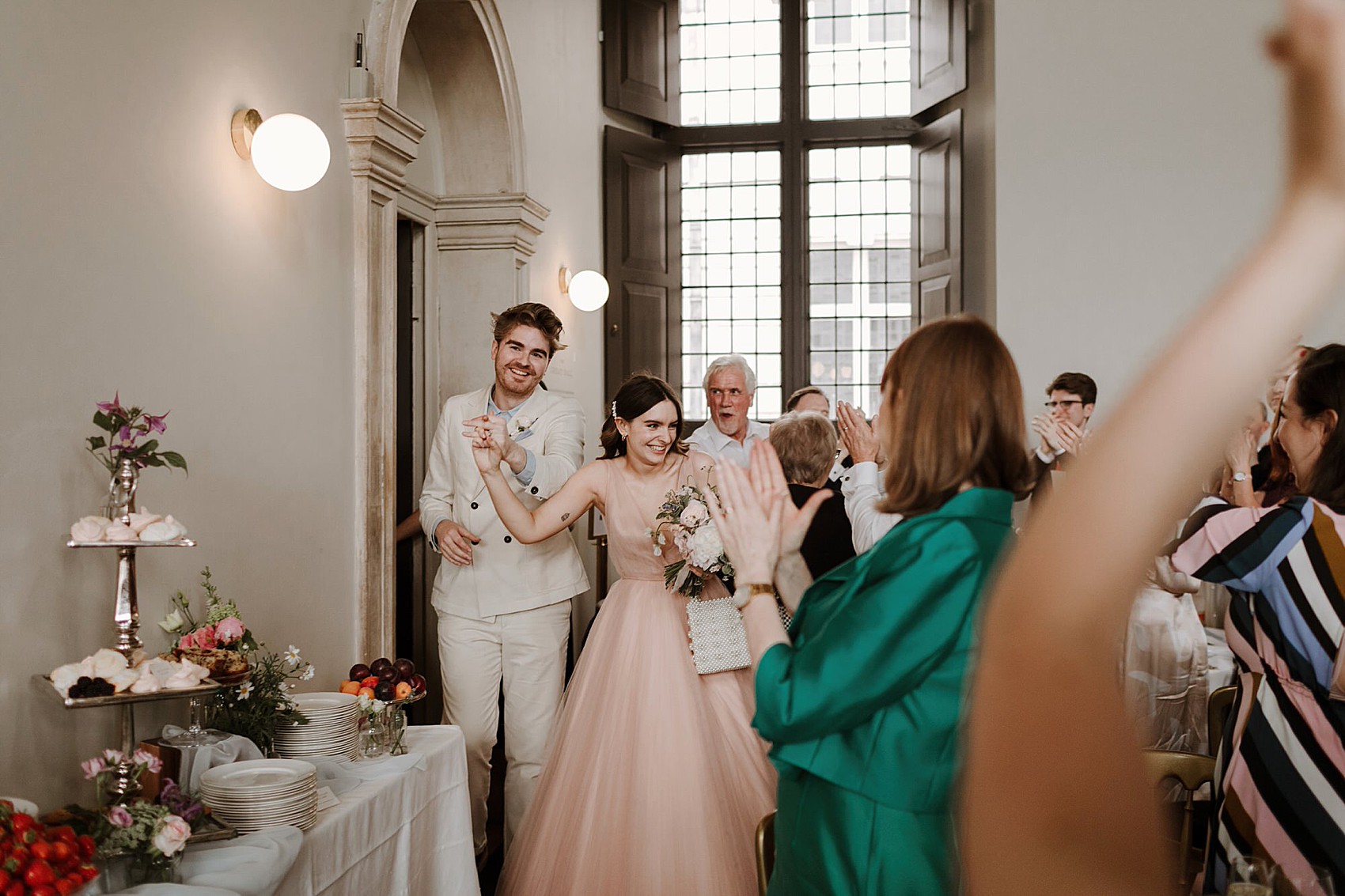 Guest favours were an assortment of Liv and Joe's favourite Italian sweets from Pastiglie Leone, which they picked up at Lina Stores.
"Although it might have been a little nod to our (very loose) Italian theme, they're simply something we both really love, and hey – who doesn't love a vintage tin filled with sweets? Plus, if some were left, all the more for us, right?!"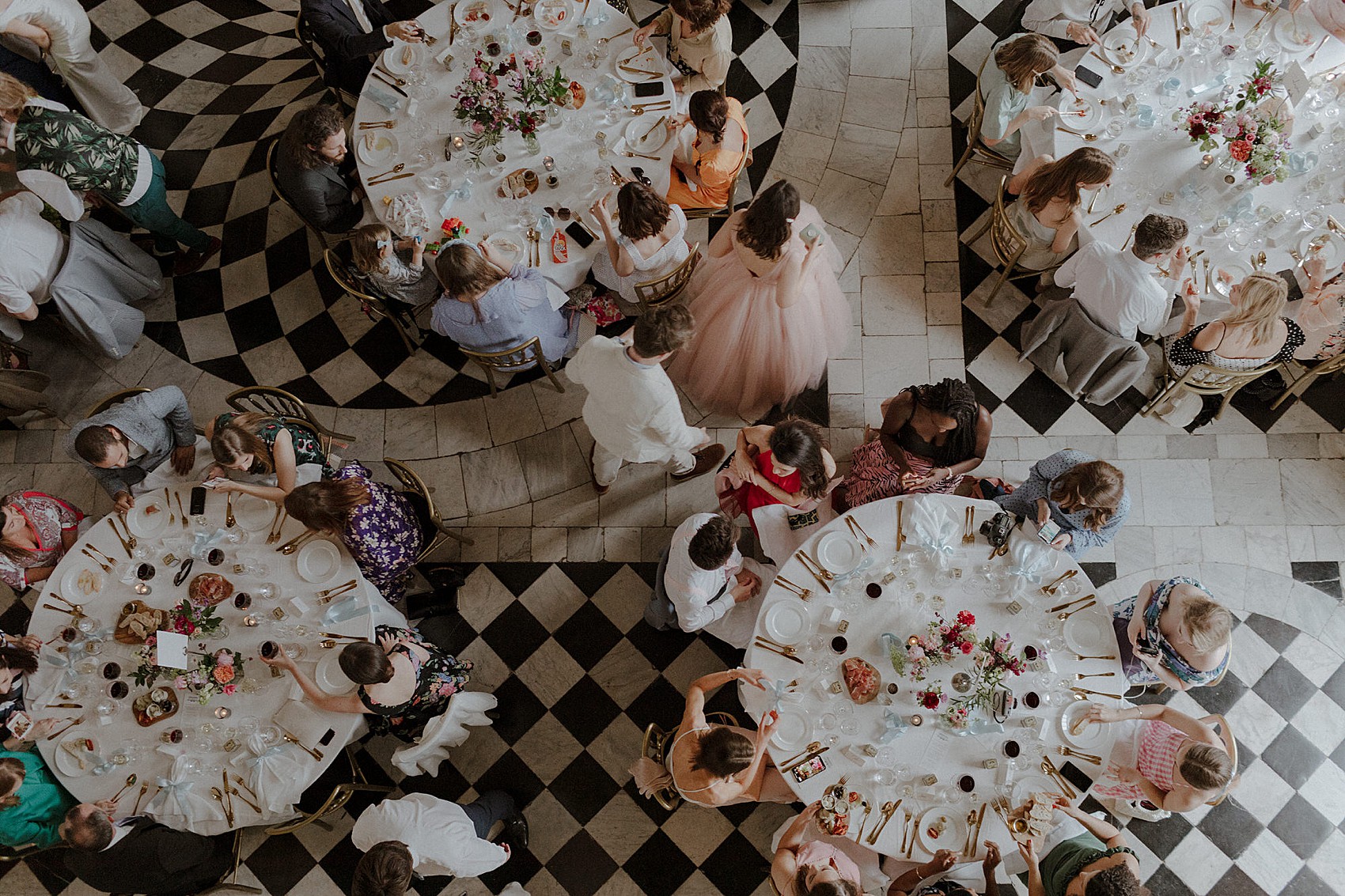 In keeping with that relaxed, Italian inspired feel for their reception, caterers Palette cooked a delicious wedding feast, which began with Italian sharing platters of cured meats, sun-dried tomatoes, mozzarella, artichoke and olives with fresh bread, followed by Liv and Joe's one and only choice for a main course – good ol' spag bol (meat and vegetarian) served with garlic bread batons.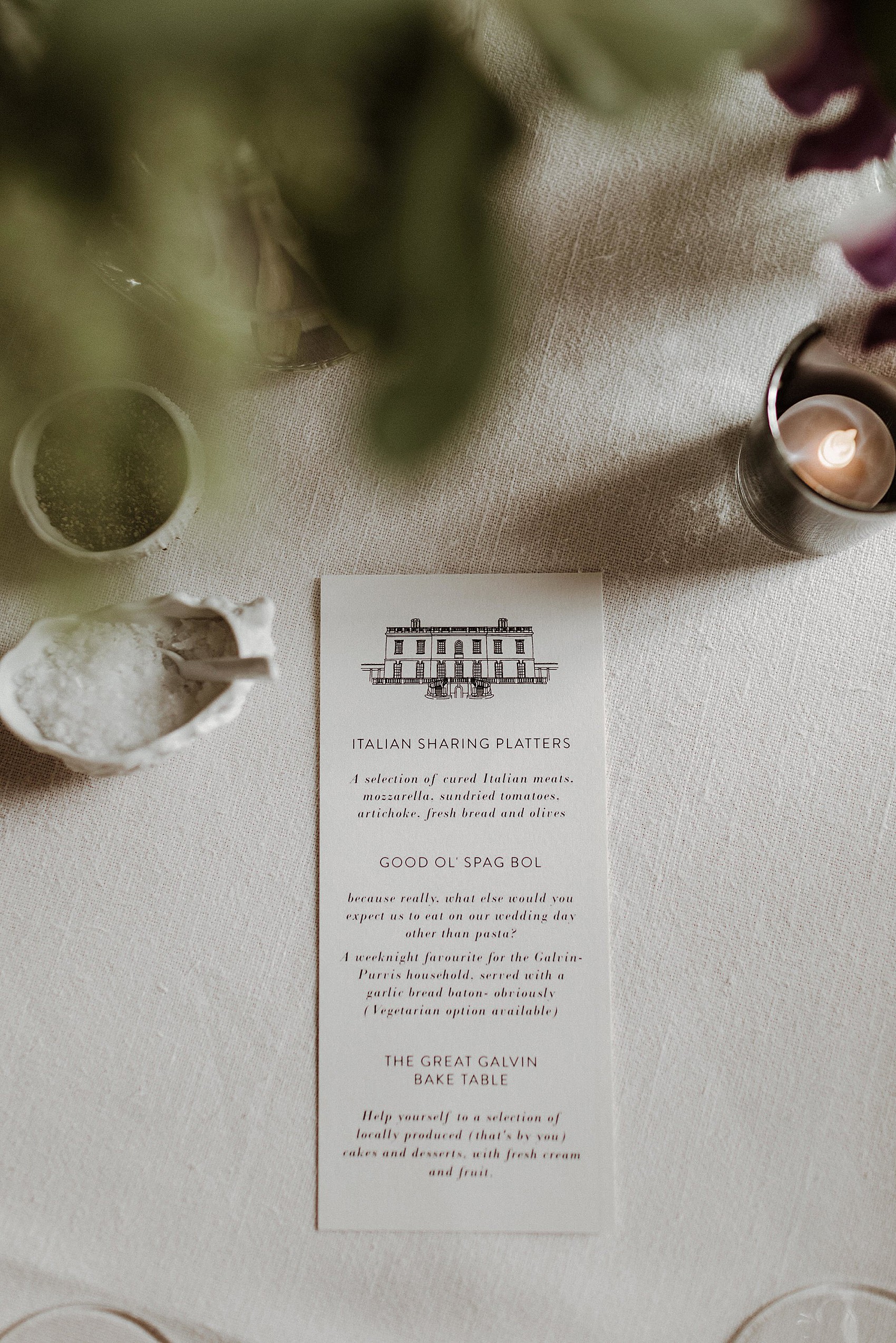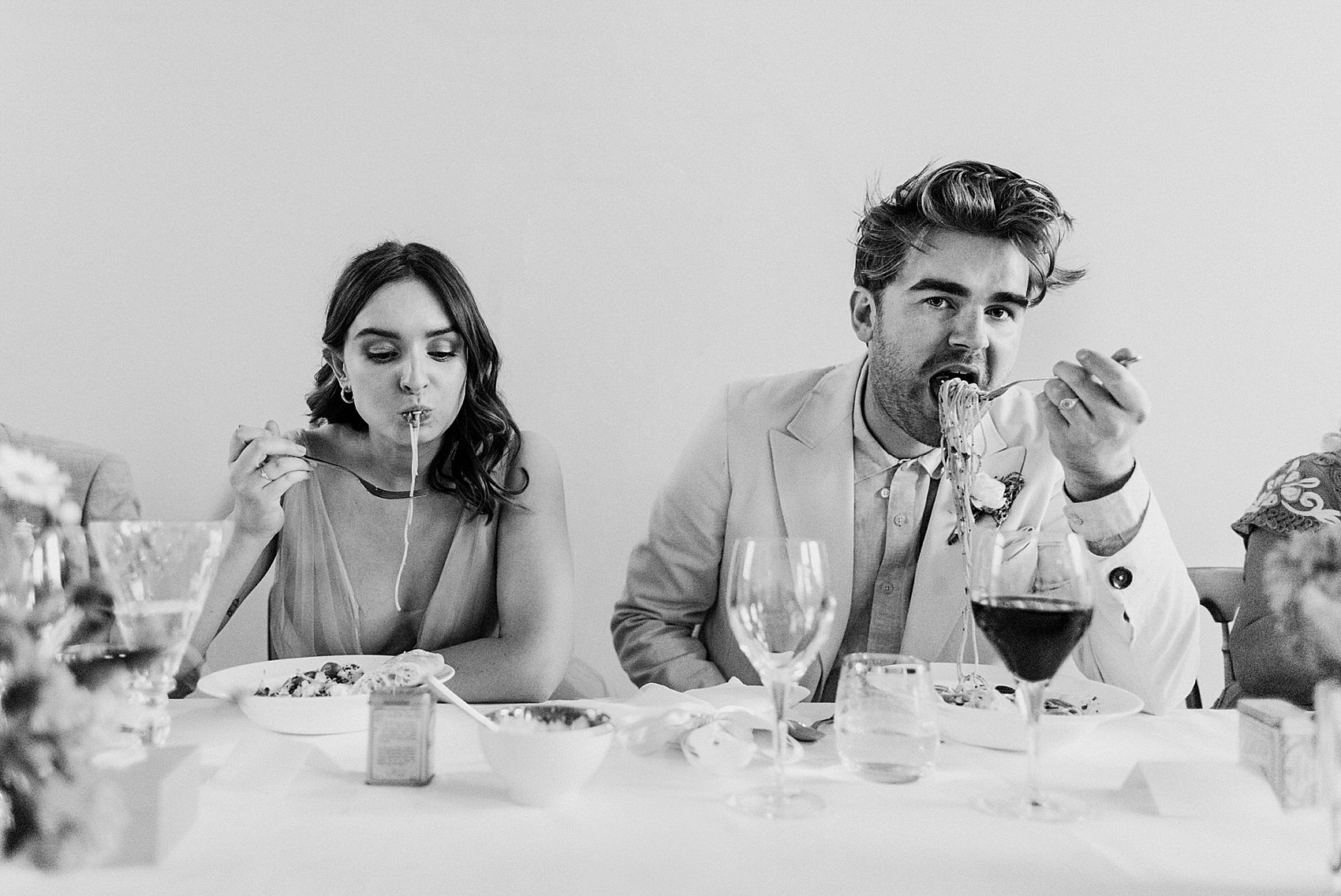 Along with all of the thoughtfully baked treats was a showstopper of a wedding cake covered in fresh flowers, macarons and meringues, made by designer, baker and 2013 Great British Bake Off winner, the brilliant Frances Quinn.
"After being particularly indecisive about what desserts to have, we decided to put it to the crowd (or, ahem, our guests) and set up a bit of a wedding Bake Off, asking everyone to reply with a bake of their choice (if they fancied) when they posted back their RSVP."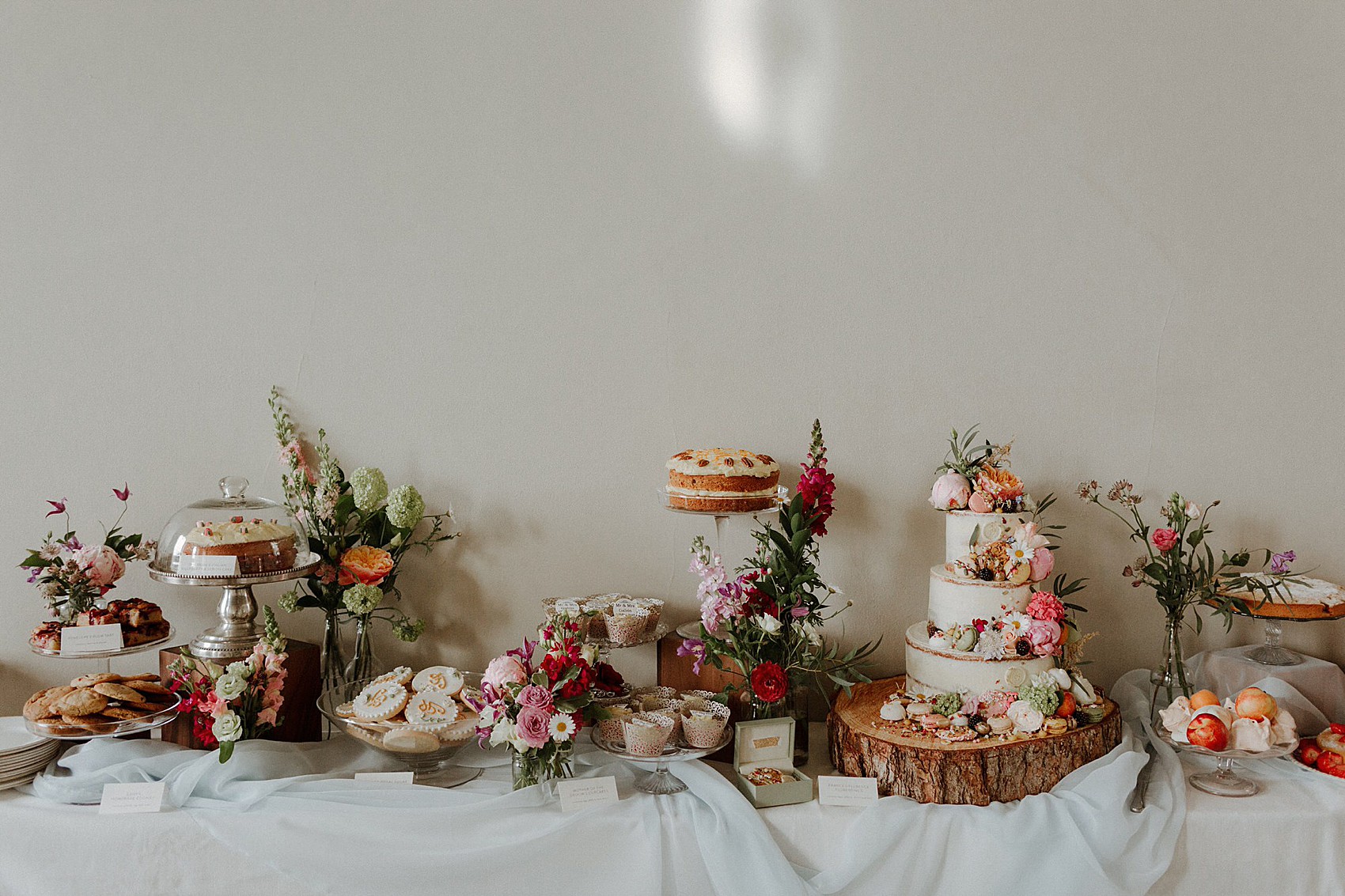 "Although we were very cautious that this could be quite an ask (we made sure we'd be making enough and employed patient, direct family to get on the insurance brownies) it turned out to be really brilliant, not only so that there was something everyone could enjoy, but just made the day feel even more personal and special."
"We had everything from hand decorated cookies, maid-of-honour meringues, sponges from my nan's and dad's famous brownies, and meant everyone could go back for as much as they liked, as well as being quite the talking point! On your marks, get set…"
"Finally, it was time to head downstairs for the evening and dancing. Underneath the venue is the undercroft, and it extends into three sections (where we had the bar, some sofas and seating and our favourite area – a stage with prom style 'Just Married' sign and a disco ball)."
"We wanted it to feel like an old school retro disco, and it couldn't have been more perfect. Because the dancefloor and area was quite an intimate space, it meant the floor was always filled, and people were always singing, which is all we wanted."
"Joe and I shared a magical (and slightly nerve racking) first dance, my bridesmaids and I naturally performed our Spice Girls routine and we ended the evening with Caravan of Love and Hey Jude, and I'd give anything to do it all over again."
"The sun went down in Greenwich and we headed back across London in our minibus, reserving only a couple of minor sing-alongs for the way back."
Words of Wedded Wisdom
"Know it's not always in the details. Although details are lovely, details also cost a lot of money, and I cannot stress enough how you really don't need everything thought of. At one point I started getting stressed about how our table plan would be displayed and that our table numbers weren't anything more than table numbers (and not quirky names, or something more imaginative). You start worrying about things that truly, in the grand scheme of things, don't matter, and unless you really have the time to think about them, I promise not everything is as enormous as you think."
"Finally, don't sweat the small stuff and enjoy it! The planning process is meant to be (largely) enjoyable, so if you can, delegate, know the things top of your wish-list and try not to be too influenced by what you see other people having. Everything is inspiration, but not everything has to be at your wedding. Create pin boards to help refine the things you like, but don't be governed by them. Take suggestions of things that pop up again and again and work them in, if you can, in a way that suits you. It'll all come together in the end, Disney bow or not."
"Finally, weddings are expensive. Like, really pricy. They're brilliant, beautiful occasions but can seriously cost the earth if you let them, and not everything you see online is something you need at yours – trust me, I've learned.  Scouring Pinterest, Instagram and blogs can make you feel like you need every detail thought of and covered to have a perfect day, and you don't. Occasionally in the process I was offered a press discount, or generously someone's services complimentary, and these things all make such an enormous difference, and can really allow you to do more where you'd perhaps saved in places. Put it this way; this gal didn't realise how much nice cutlery cost!"
"I am so enormously grateful for this, but wanted to let you know because nobody should feel any pressure, especially when it comes to celebrating marriage. At the end of the day, it's about you and your partner. I promise."
Liv and Joe, thanks a million to you both, and many congratulations and best wishes. Liv, thank you for your wise and witty words throughout this piece, too – it's been such a joy. Many thanks to photographers The Curries for their enchanting images, too.
Until next time, and with love,
Laura x