Have I got something spectacular in store for you lovelies! If you're in need of a shot of energy for this time between Christmas and New Year (which always feels a little odd, doesn't it?) then you are most definitely in the right place.
Let's go over to Australia and meet a bride who pulls off a daring white jumpsuit (made by the one and only Cherry Williams London) and magnificent hat in the sassiest way, ever.x
Two Blushing Pilgrims

+ Follow



The bride and groom are Lucy, a project manager in business travel and Jesse, a lawyer, who live and work in London. They returned to their native Australia for their wedding on 4 October 2019 which was held at BlackBird in their home town of Brisbane. The day was a blend of modern style and relaxed time with friends and families, with almost sculptural flower displays in white and lilac playing a huge part in its vibe.
"We chose to celebrate in our hometown so our elderly grannies could be there to celebrate."
Hair and make-up artist Jim Jirarnuttaruj created Lucy's bold and radiant make-up look, with a vampy dark lip as well as creating the bridesmaids' relaxed curly dos.
Shoes were pointed, white ASOS heels and her perfume was Miss Dior Cherie.
"I wore it when I was first dating Jesse."
Lucy's show-stopping suit, with its daring plunge neck, wide-legged trousers and, for the evening, a simple bandeau top with a luxe bow, were created by the talented Cherry Williams London.
Cherry combines high fashion with lady-like elegance and she has pulled off the bride's vision of a Lady Gaga-inspired bridal suit to perfection. If you want to see more of Cherry Williams' work, then be sure to check out her listing on our own Little Book Wedding Directory.
This bride is one cool chick.
Cherry Williams London

+ Follow



"I wanted a suit that said, 'elegant but badass' and a hat that would make people stop in the street."
"Cherry Williams came so highly recommended from a friend that I don't know what I would have done had she turned me down. I was inspired by that epic Lady Gaga white suit (the one with the cowboy hat) and Elie Saab kimono-style lapels."
"Cherry just whipped up a sketch and made my suit dreams come true, all while she was pregnant and then a new mum."
"Later down the track I asked her to make me a little top for the reception that a) made me look like a little gift wrapped up in a bow, and b) I could dance in! She has an amazing eye and her work is incredibly luxurious."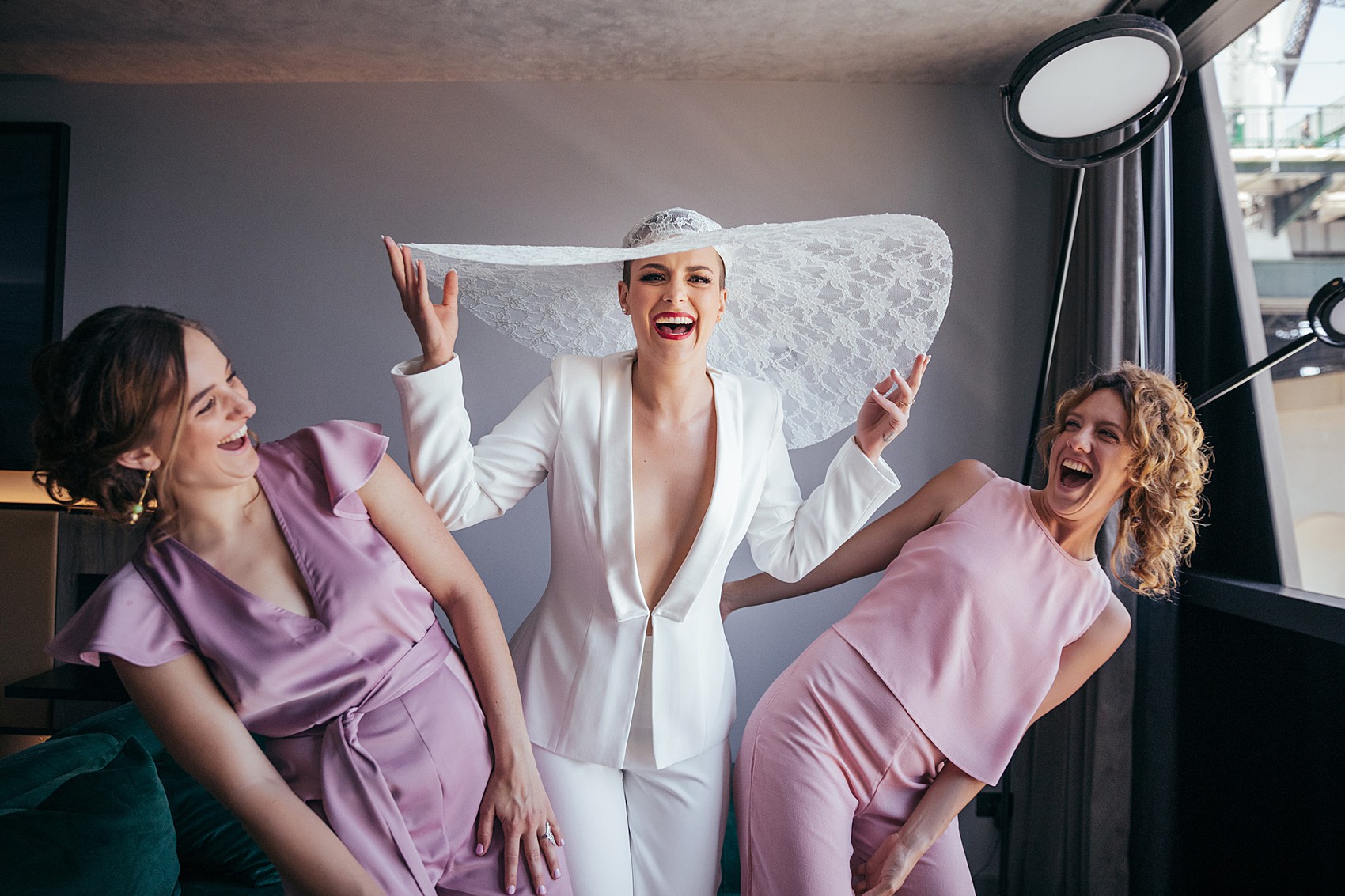 The incredible, Ascot Ladies' Day-worthy hat, was crafted by Unveiled By Sophie and what a piece it is.
"Sophie, who made THE HAT, is a craftswoman like no other. She had five prototypes to get it right and when I first saw it brought tears to my eye. It's the most wonderfully ridiculous hat I've ever seen and it was just perfect."
"The thing I loved most was the look on Jesse's face when he saw me in the whole outfit (suit and hat). His face said, 'How on earth have you pulled this mad outfit off!'"
The couple has a lovely, wild Scottish engagement story to share and married just six months after.
"We got engaged on that glorious, hot, sunny, Easter weekend we had this year. We hiked up Ben A'an in Scotland and Jesse proposed as we looked out over the beautiful Loch Katrine. I'd like to say I was completely blown away with surprise but I actually had a hunch that he'd pop the question that day."
"Jesse had been particularly cagy about me going anywhere near his backpack all weekend and when we got to the top, he was obsessed with finding a "secluded spot" to look at the view."
"Dead giveaway. Either way, it was magical. We celebrated with a walk back down the mountain to the nearest loch-side bar for oysters and champagne."
Once she was ready, the bride was taken to the ceremony venue in a family friend's Rolls Royce, and she entered with her father to the sounds of 'Into Your Arms' by Nick Cave.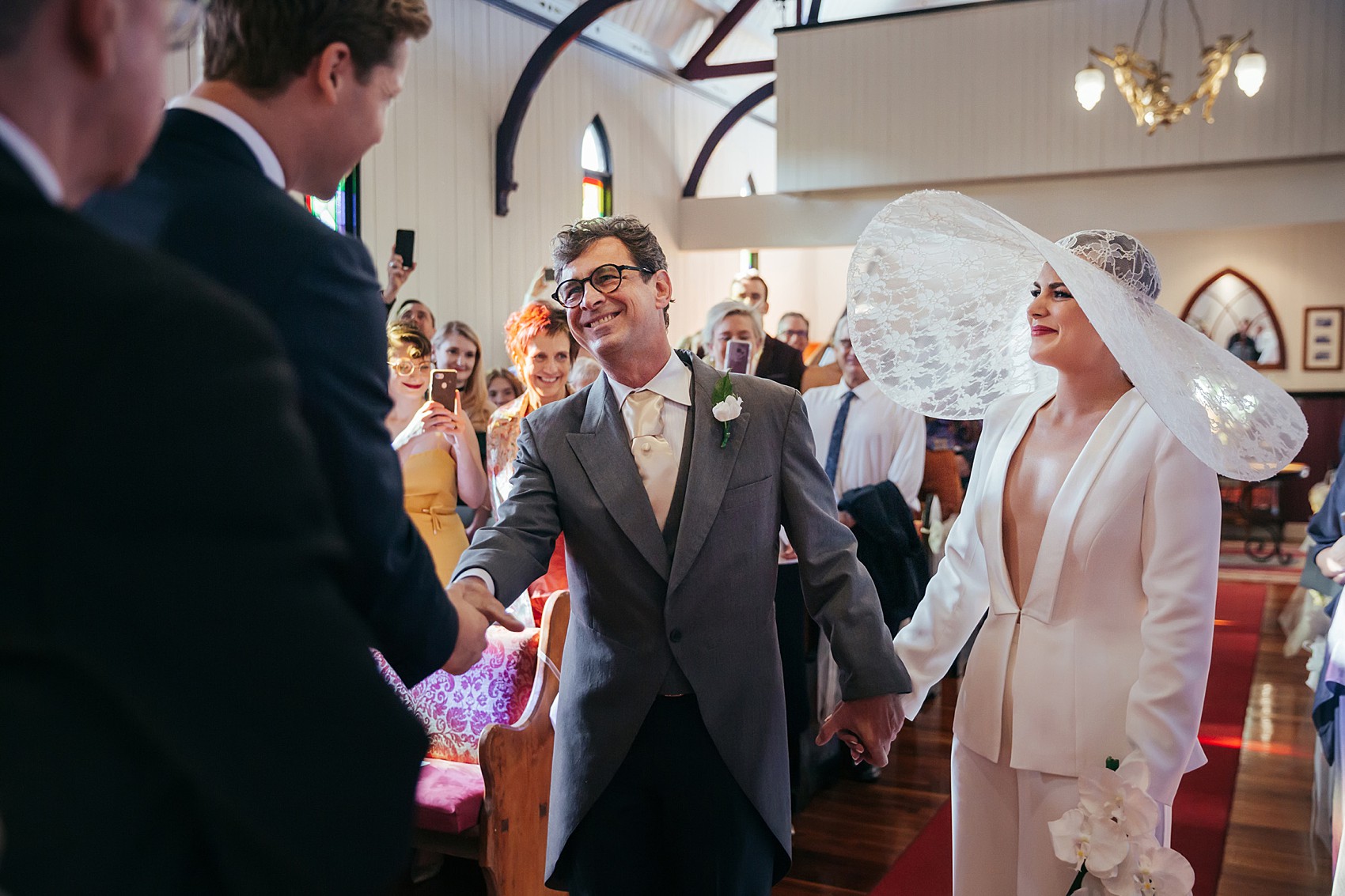 Jesse was waiting for Lucy in a classic Canali suit, and the pair married in a non-sectarian civil ceremony led by celebrant Terry Ryan.
"Jesse and I had a very clear vision of what we wanted for the ceremony and Terry stuck with us (even when it was a little odd) through it all. He was wonderful and we appreciate all his hours of hard work to make it possible."
"Our ceremony was inspired by The School of Life's wonderful book, 'How To Get Married'. You can find the entire, wonderful, non-sectarian service in their book."
"We had three readings and three congregational readings all from the book above. They aligned with our view on the hardships or marriage and the courage we'll need to get through."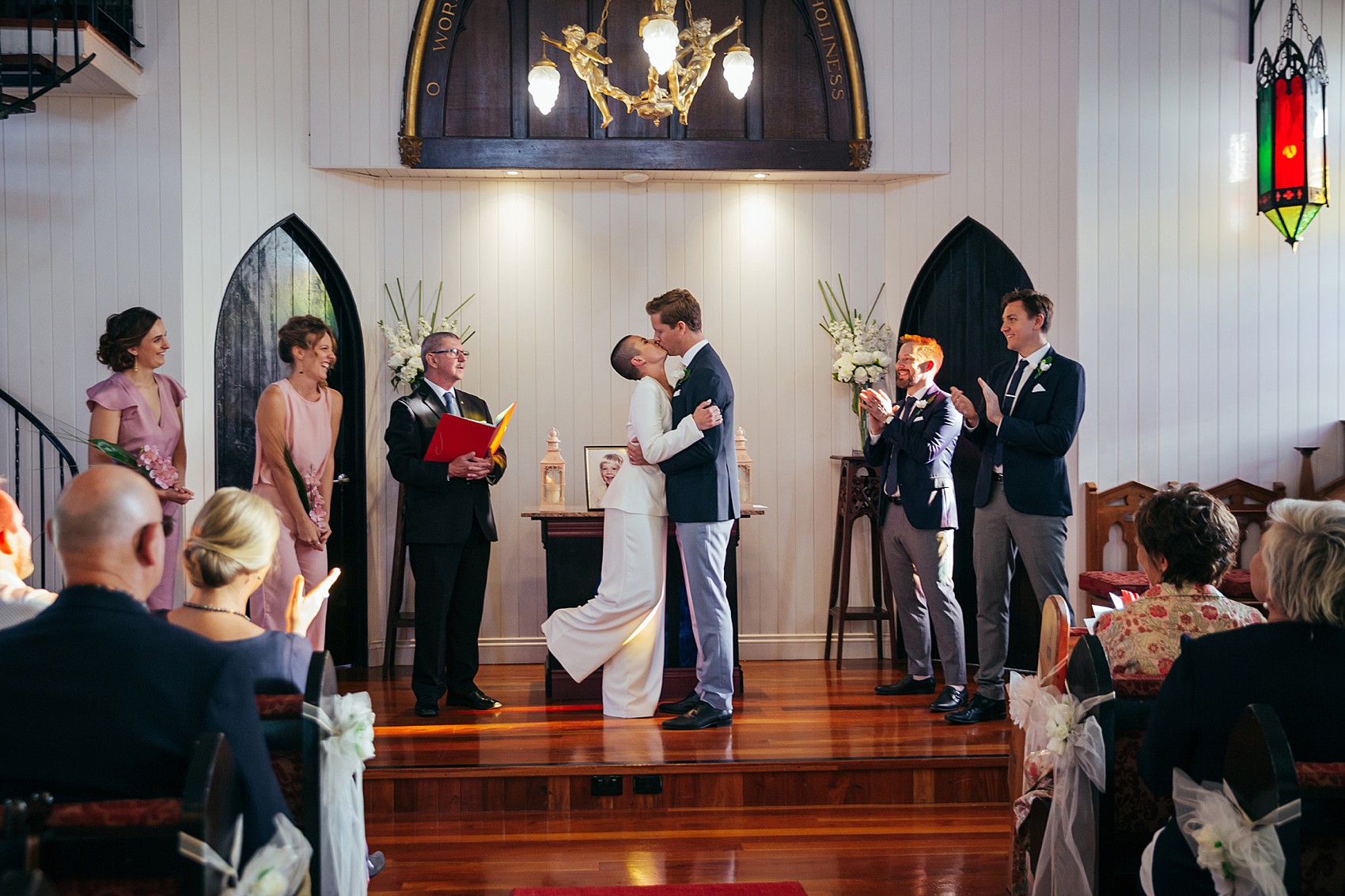 The bride and groom's wedding rings were brought over from Hampshire jeweller Ruffs.
"Ruffs are so close to my heart it hurts. Jesse and the team painstakingly designed my bespoke engagement ring and it's perfect. It's a rose gold band (representing Rosa, my surname) and the band is plaited (representing Braid, his surname). I didn't know I was going to marry such a sentimental, creative man."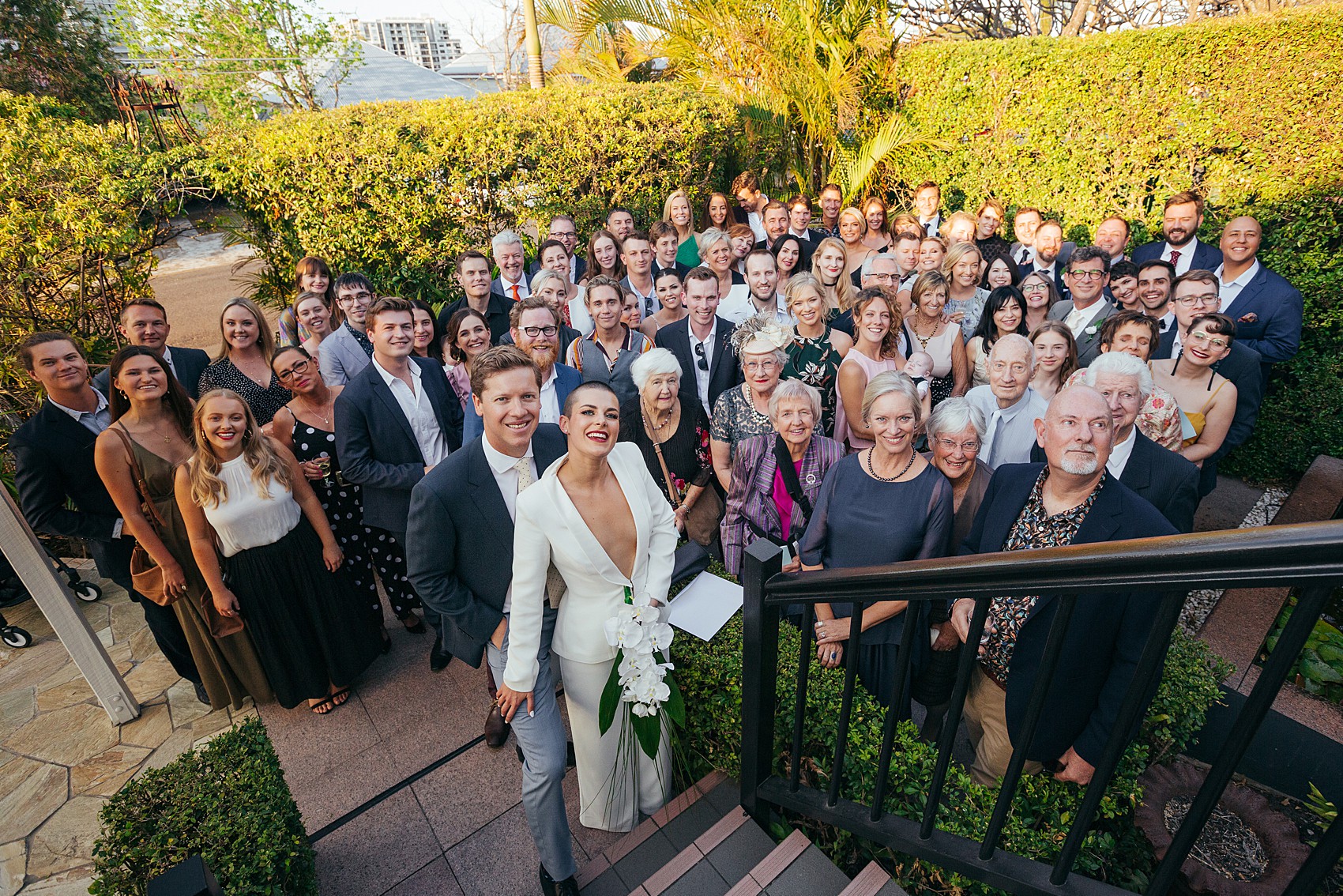 The bridesmaids totally rock their cool, lilac ASOS jumpsuits worn with funky heels from Malone Souliers, and each girl carried a curated bouquet of hand-picked blooms.
"The flowers were hand selected and designed my mother, an architect. We wanted something elegant and striking. The bouquet was a long, angular piece to accentuate the lines of my suit, almost as though my lapel continued into my hands." 
The time spent getting ready, as well as the rest of the celebrations, was captured on film by photographers Two Blushing Pilgrims, and their fashion plate eye and crisp style works fabulously with the bride's unique outfit choice.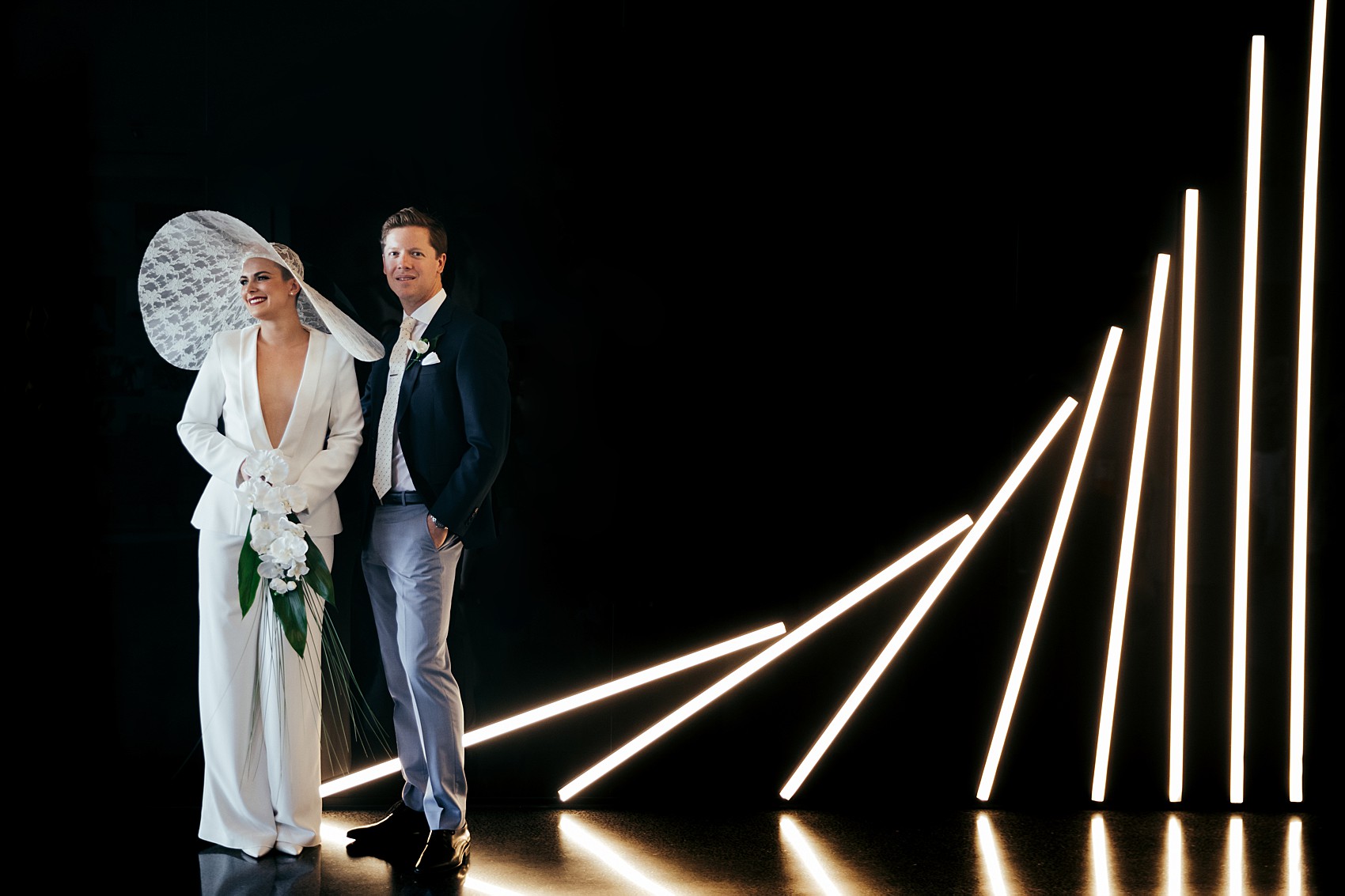 "Steph and Maurice were incredibly creative and organised down to the second. They chose the most iconic Brisbane settings that suited our style and gave us guidance to set up perfect poses."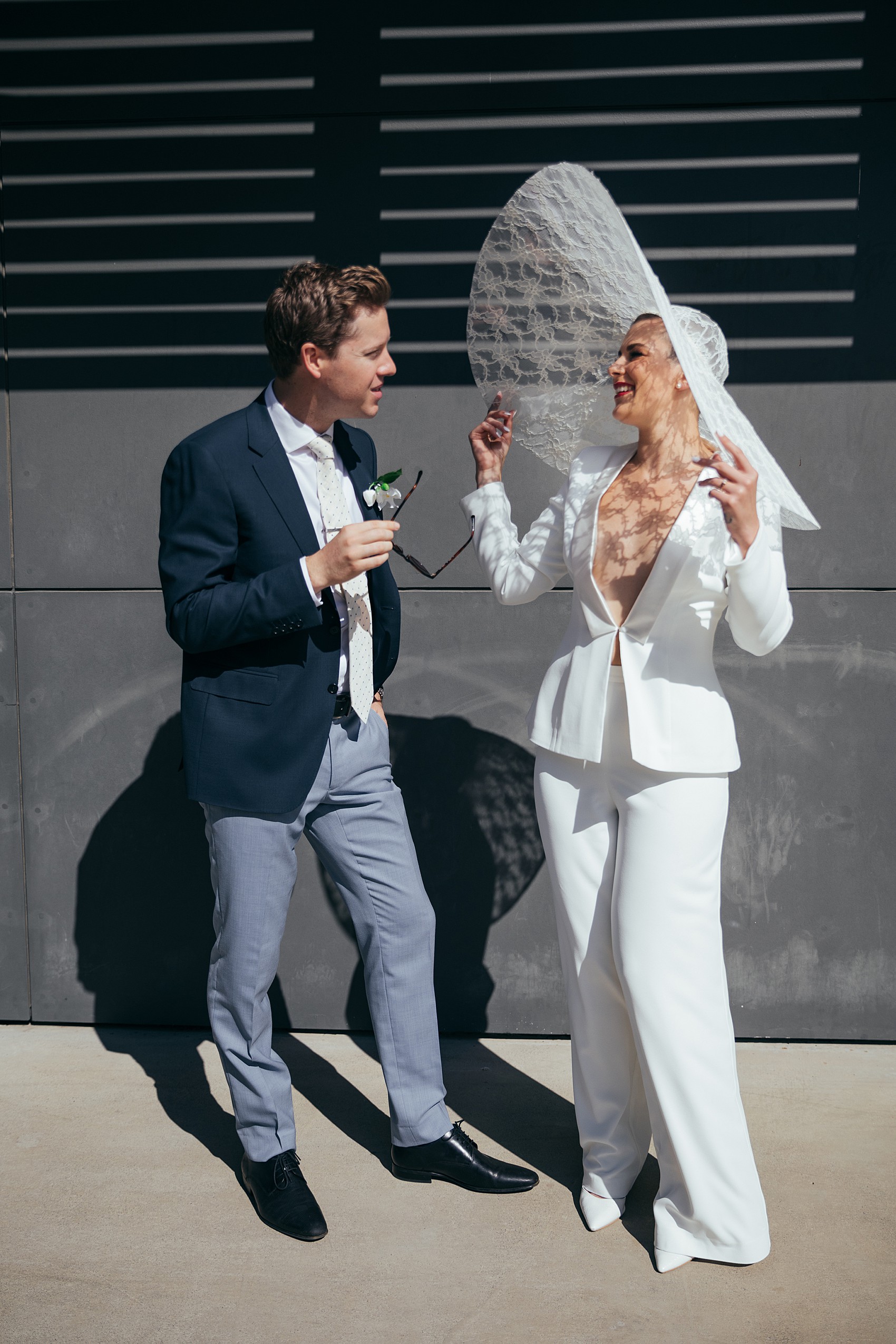 "We're not models, but we certainly felt like after a day on location with Steph and Maurice!  They captured every special moment, every look, every ounce of sunset and I cannot recommend them more highly."
After the ceremony, the couple strolled along the Brisbane waterfront for their divine newly-wed portraits. What a way to see the sun set!
"We had a little moment, after the ceremony and before the reception, down by the Brisbane River. The sun had just set, we had a bottle of champagne and there wasn't a cloud in the sky."
It was beautiful and time just stopped. Afterwards, we wandered back to the Rolls and a family having a barbeque called us over for a toast and some fresh oysters to celebrate! We almost forgot that we had a reception to get too! I'll never forget those first moments as husband and wife, just the two of us."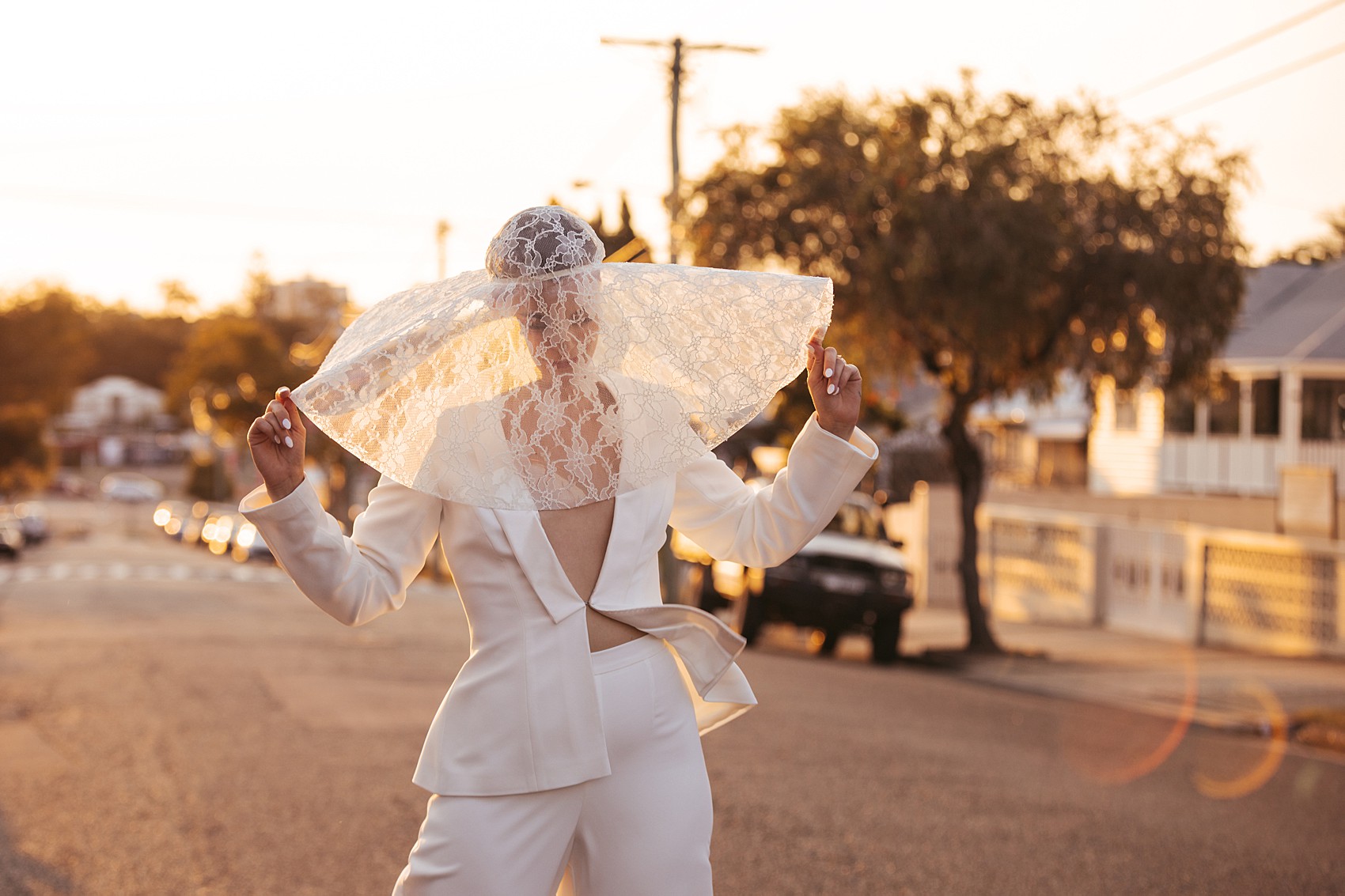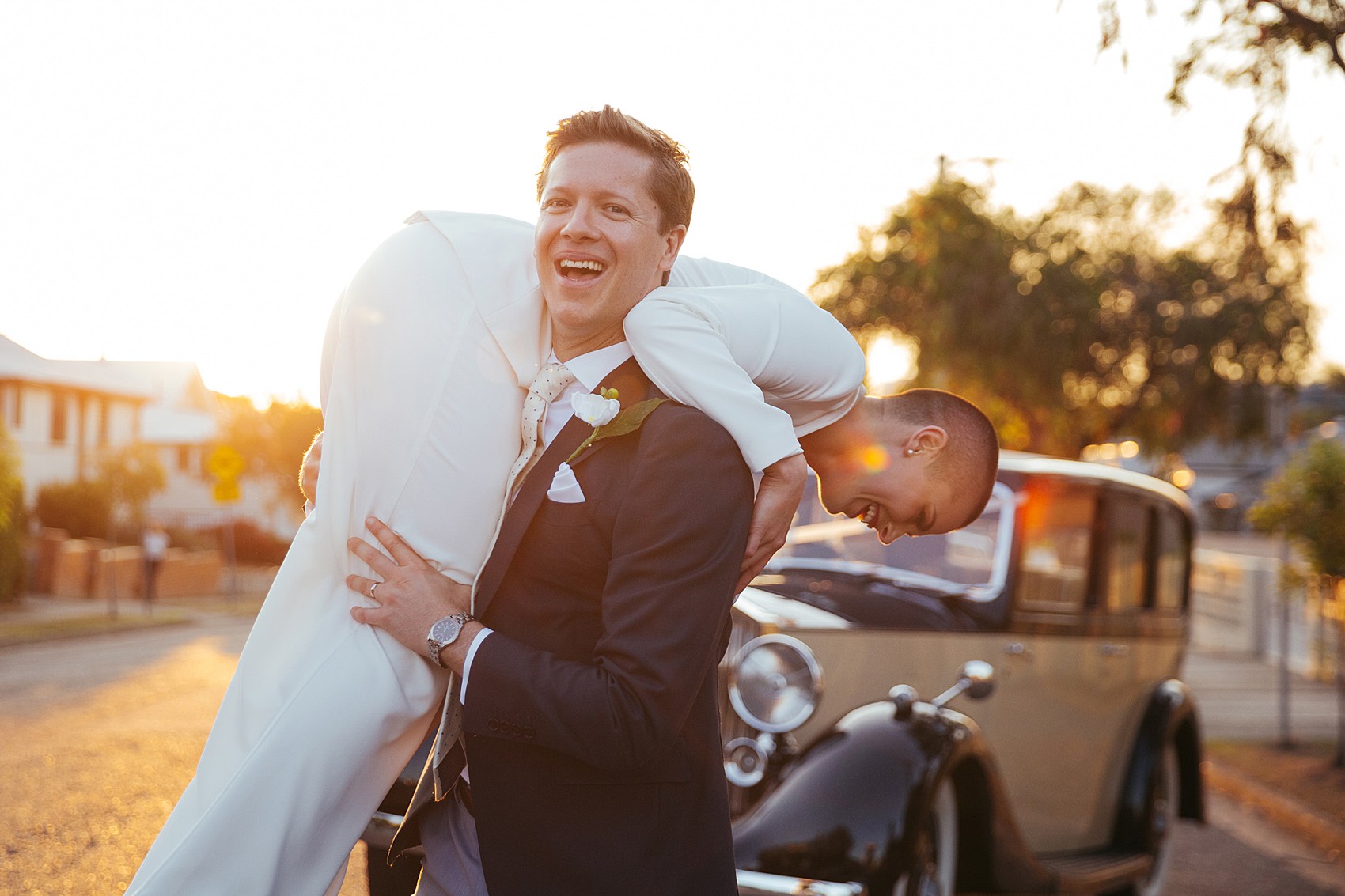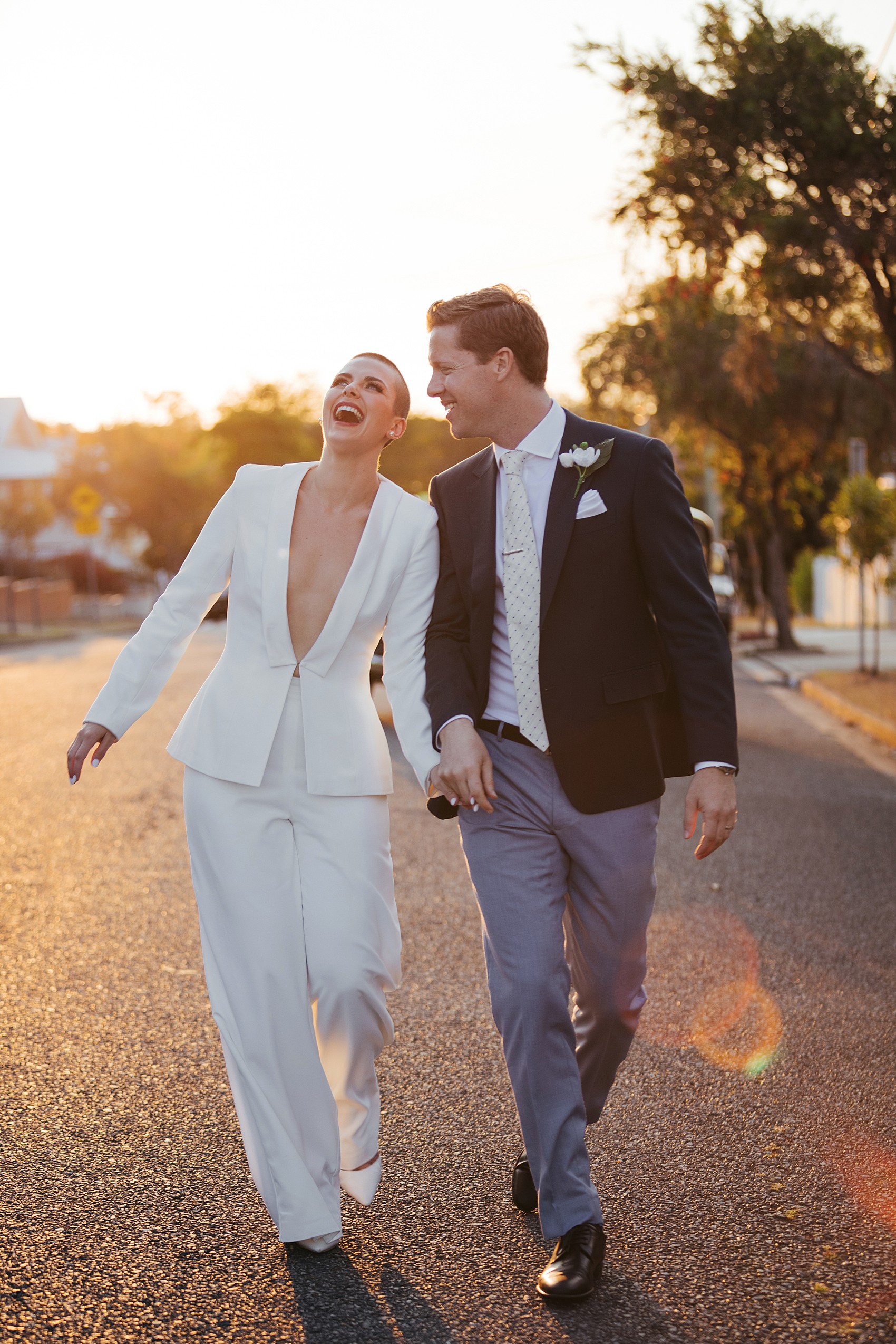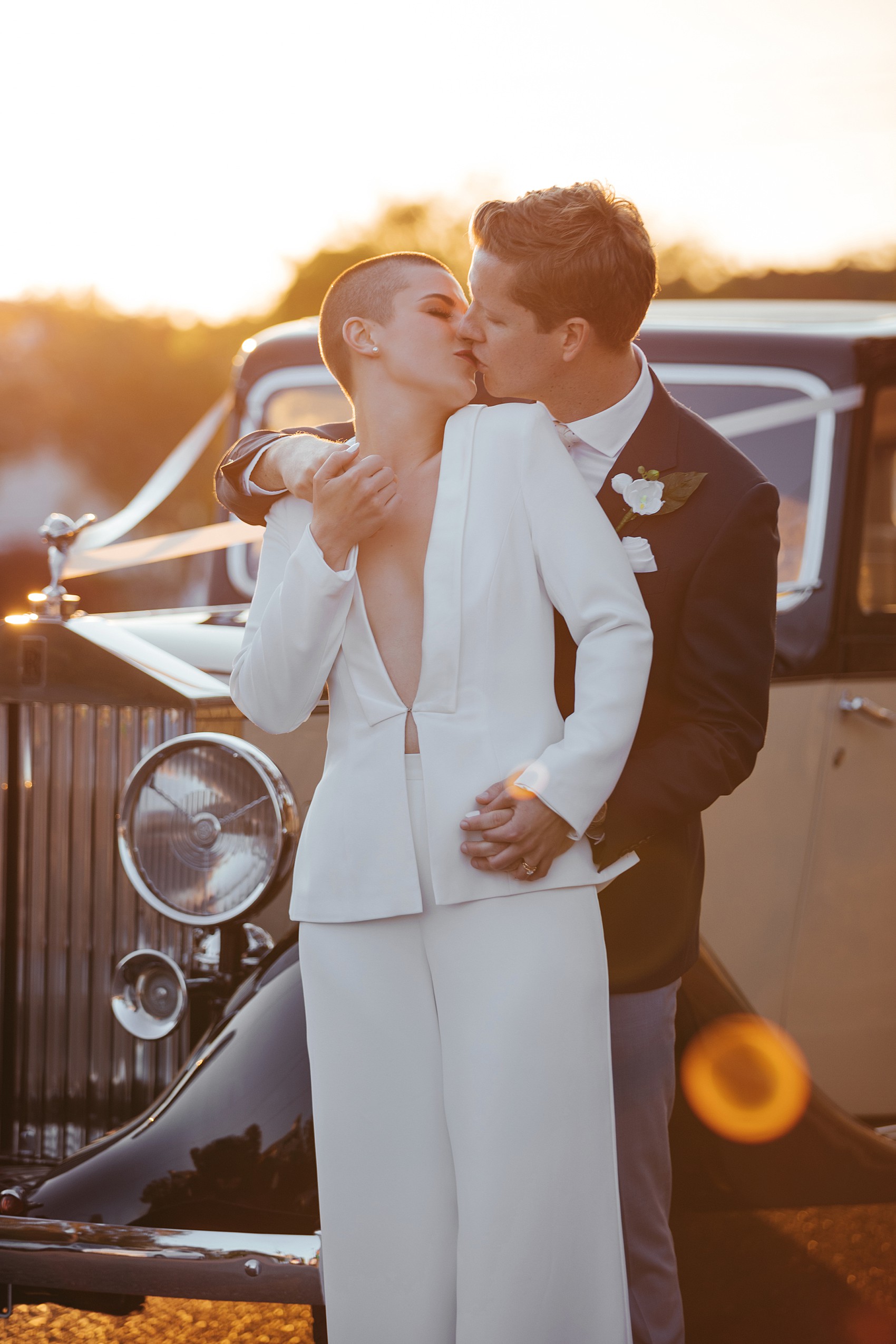 Riverside restaurant and bar BlackBird was an ideal reception venue for a couple planning a wedding form the other side of the worlds, and had been dressed in native Australian flowers by Jesse's mother and stationery by the bride's sister.
"As we live in London we needed a reception venue that would take care of everything and everyone. Blackbird did exactly that. Every detail was perfect, every meal incredible and everyone on the team was excellent. The able flowers were designed by Jesse's mum and were beautiful Australian wildflowers. We don't get to see Australian flora and fauna (living in London) so we wanted to see it everywhere on our wedding day."
"My little sister, Grace, is a budding architect. She hand-drew our invitations, ceremony booklets and seating plan."
Meanwhile, the cake was left in the talented hands of Jesse's father and Deliberately Delicious.
"We left the cake up to Jesse's father, who's a baker, and his incredibly stylish partner. We wanted a beautiful two-tier cake covered in Australian flowers, with a hint of gold leaf. I didn't see it until the night at our reception. It was stunning and all our grannies approved of the taste!"
For the reception, Lucy changed in to her beautiful bandeau top with its statement bow at the back, and added a pair of incredible earrings in place of her pearl studs.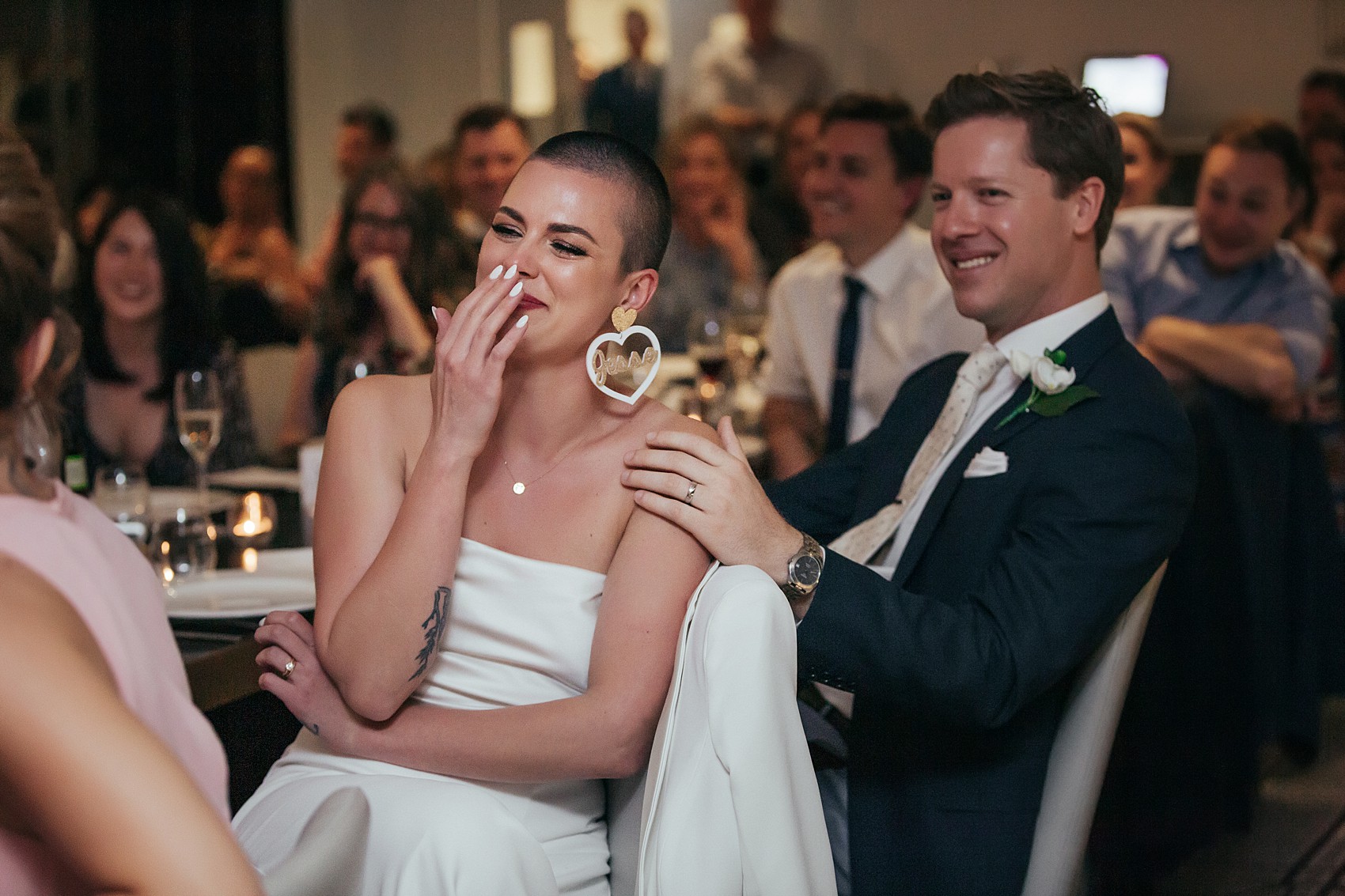 "I had earrings made for the reception by a lady on Etsy. They were giant love hearts with 'Lucy' in one side and 'Jesse' in the other. They were complete wedding tack but looked amazing with my strapless bow top."
The party went on and on in to the night, thanks to music from Aaron Duncan of Cut A Rug. Now, have you clocked who Lucy looks like yet? Thanks to her resemblance to Sinead O'Connor, the couple's first dance was a mash-up of 'Jesse's Girl' and 'Nothing Compares 2U', and along with slow dancing there was a lot of fun with confetti.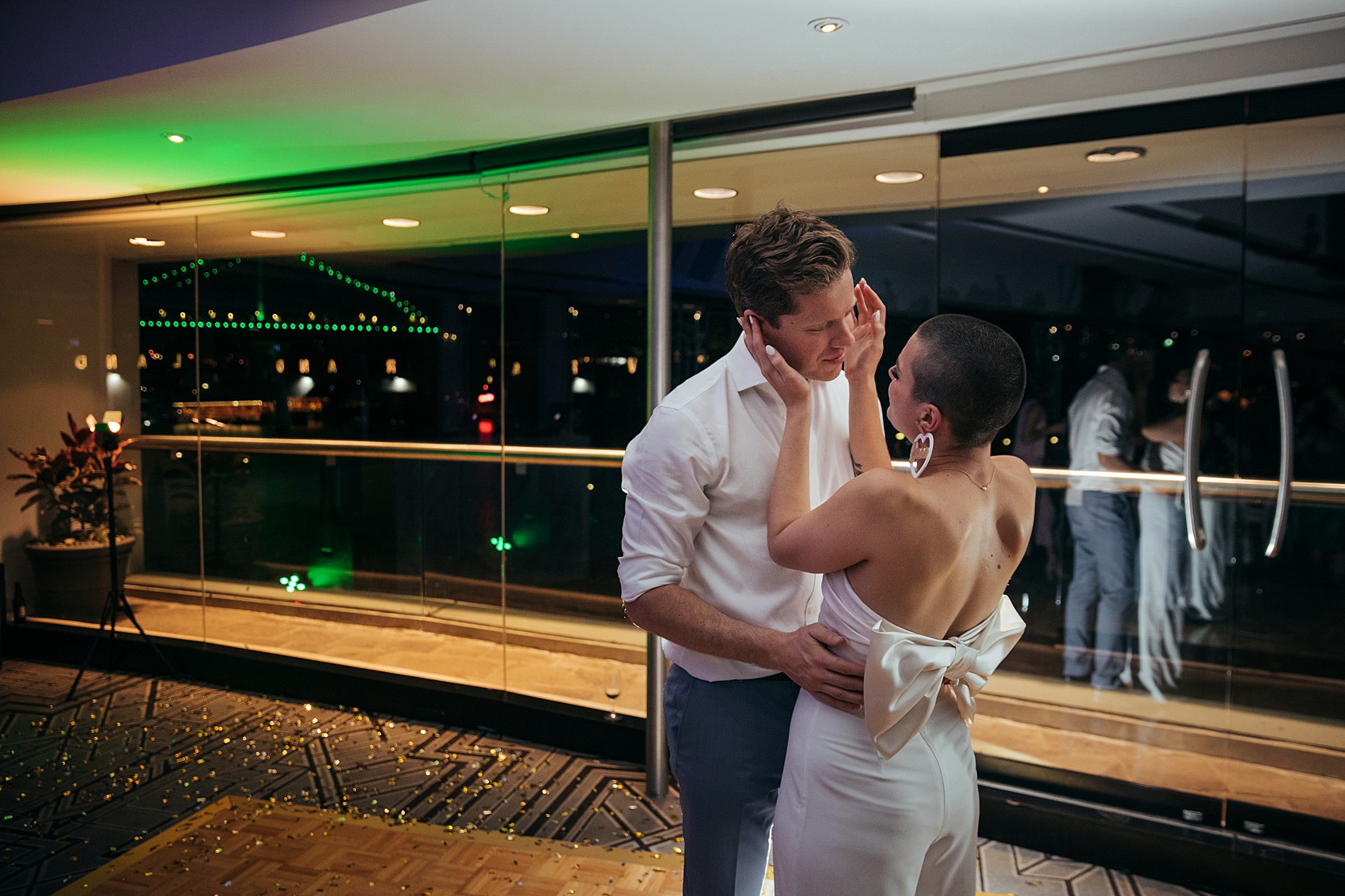 "Aaron was the cherry on top of our (wedding) cake. Our expectations were high, and he completely knocked them out of the park. He got the dance floor pumping from the first dance and kept it lit until the very end."
"We couldn't believe that he got all our favourite songs in the mix and managed to surprise us with 'Nothing Compares 2U' right at the end. That was a magical moment. It was the night we'll never forget and that's down to Aaron."
"We told Aaron we wanted 'Jesse's Girl' (for obvious reasons) and 'Nothing Compares 2U' (because I can't go anywhere without someone telling me I look like Sinead O'Connor) but mashed together. They were a hot mess."
"We kicked off the dancing after the reception by asking everyone to join us on the dance-floor for 'Jesse's Girl'. Such fun! Later in the night the DJ slyly slipped in 'Nothing Compares 2U' and we slow danced the evening away. It was amazing."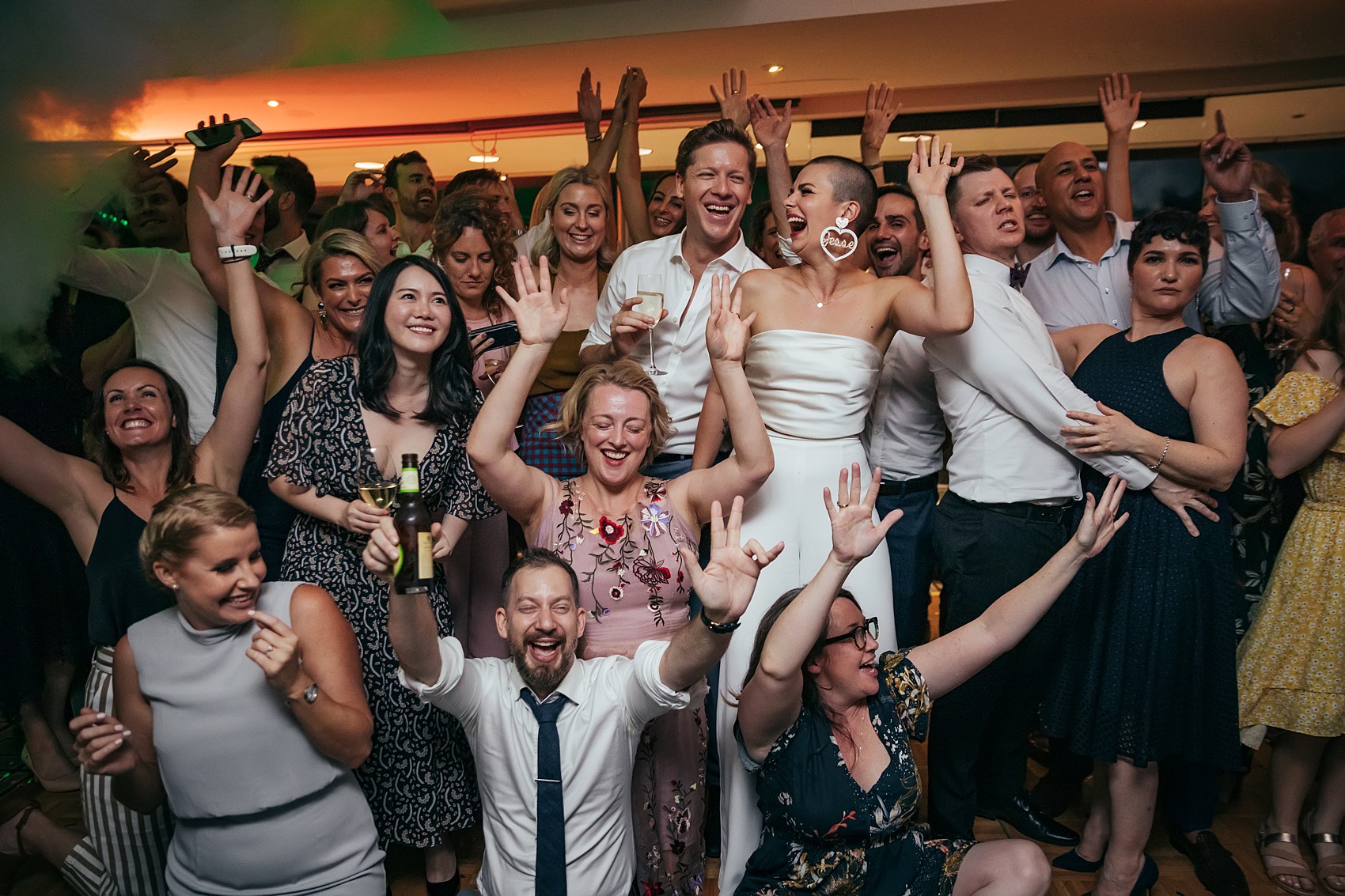 "The confetti cannons… people are still talking about them."
Words of Wedded Wisdom
"Do a realistic Run Sheet for the entire day (realistic being the operative word here) and give it to everyone involved. That way, on the big day, you can just sit back and enjoy the ride whilst everyone moves around you."
"We didn't have a budget but it was bigger than anything we thought. At the end of the day, we wanted it to be momentous, so the cash stopped mattering as much towards the end."
Oh my, what a day and what an outfit. Cherry Williams, what a talent you are. It's been fantastic to share this daring suit and this gorgeous Australian wedding, so thank you so much Lucy and Jesse. Thank you also, Two Blushing Pilgrims, for allowing us to share your work today. Wishing you all a relaxing and peaceful new year,
Ele xx