This is my very first feature of 2020, so let me begin by wishing you all a very happy new year. If you've arrived here newly engaged after the festive period, if you're in the midst of wedding planning, or you're just here to happily browse – welcome! There's always so much to enjoy here, and to be inspired by.
Today we're going to take a trip to beautiful Mallorca, for a relaxed weekend fiesta wedding at a lovingly restored finca just 15 minutes out of Palma, where many of the farm's buildings and details date back to medieval times. It's the perfect spot for an intimate celebration with closest family and friends.
Pac & Aga Photography

+ Follow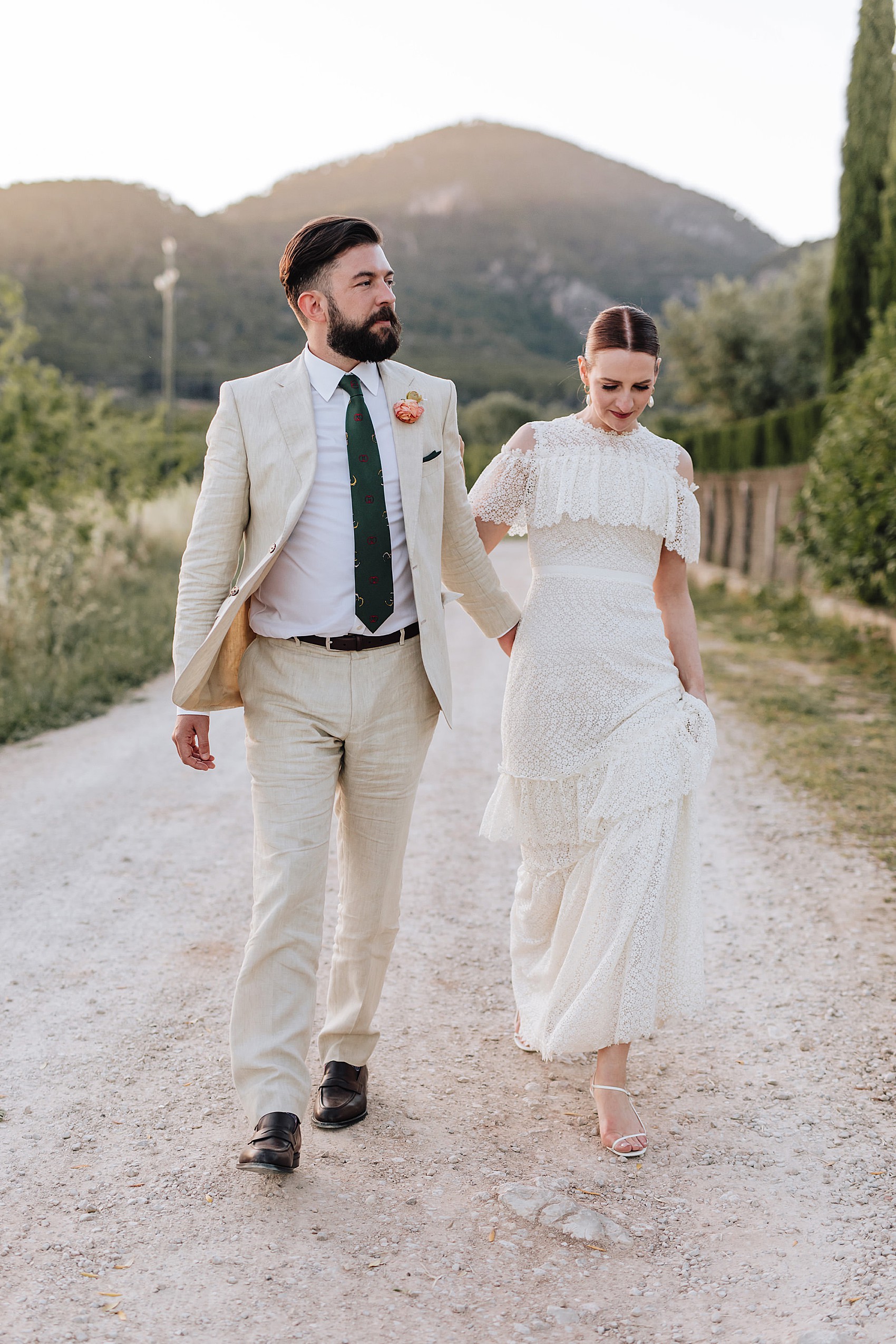 Meet our couple, Emma, who is Head of Wholesale for women's fashion designer ERDEM, and Ben, who is the Director of a recruitment company. The couple wed on the 11 May 2019 at Finca Es Cabàs on the island of Mallorca.
"We wanted to make a weekend of it and for friends and family to be able to stay at the venue. We were looking for somewhere that allowed us to do that, but also wanted to keep the wedding small."
"We fell in love with pictures and booked it without actually seeing the finca first. When we did eventually visit, we knew we'd made the right choice – every corner was beautiful and there were so many different options for where to host dinner, have the ceremony and dance the night away. It was never going to disappoint."
Hair and make-up artist Rebecca Spendlove styled Emma's hair into a sleek, low knot, and created a gorgeously polished and radiant make-up look for her.
"Rebecca immediately got what I wanted to achieve and executed it so beautifully. I wanted to feel like the best version of myself with quite natural make-up, and the results were amazing."
"I didn't have a hair out of place the whole day, and she showed me which parts to tease out for a tousled version of my slicked back knot style for the next day. She was so calming and professional amongst the chaos of getting ready, and also made my bridesmaids look incredible, too."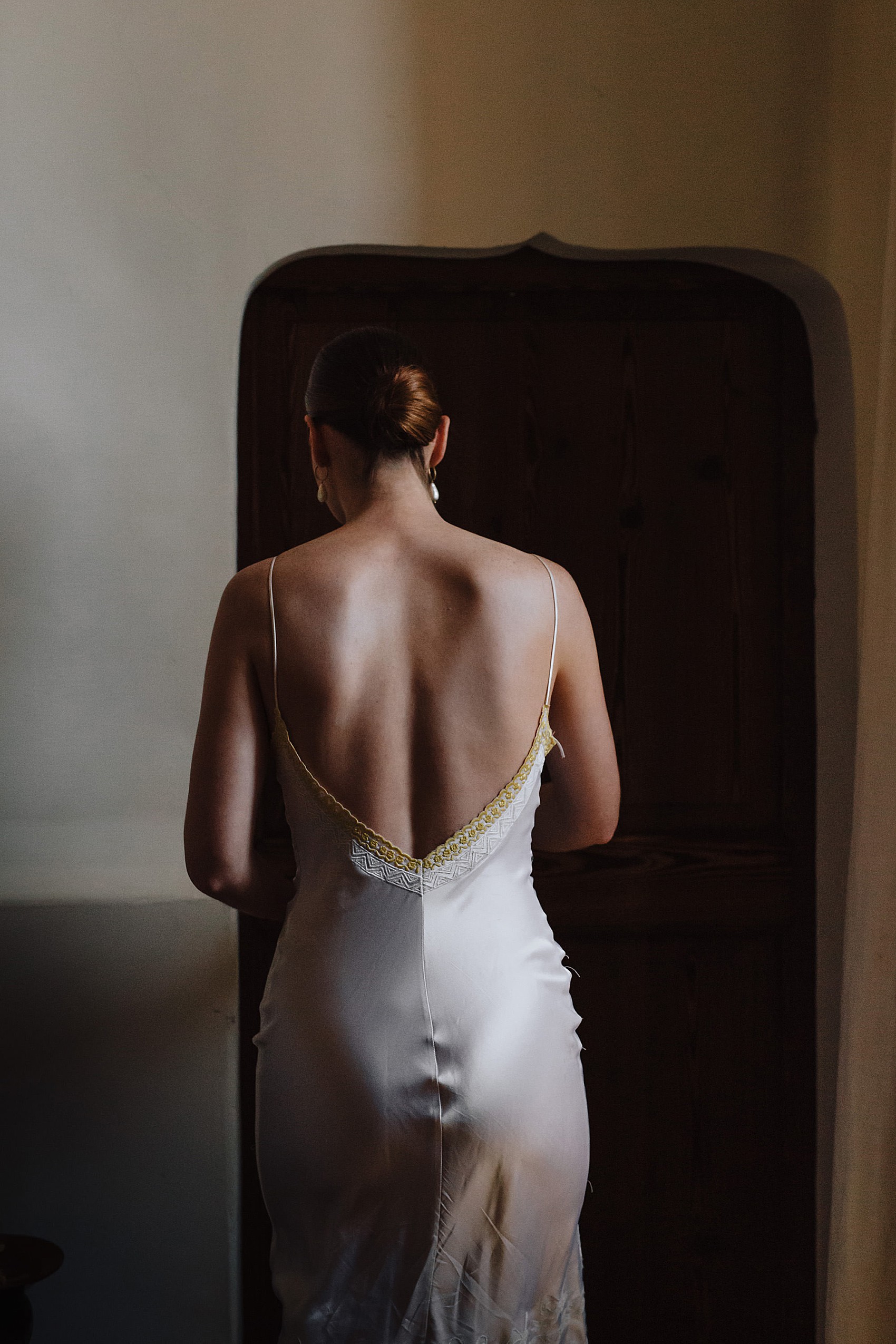 When it came to her lovely lace dress, there was only one choice for Emma, and that was ERDEM. What a dress, too, with its tiered ruffles and cutaway shoulder detail.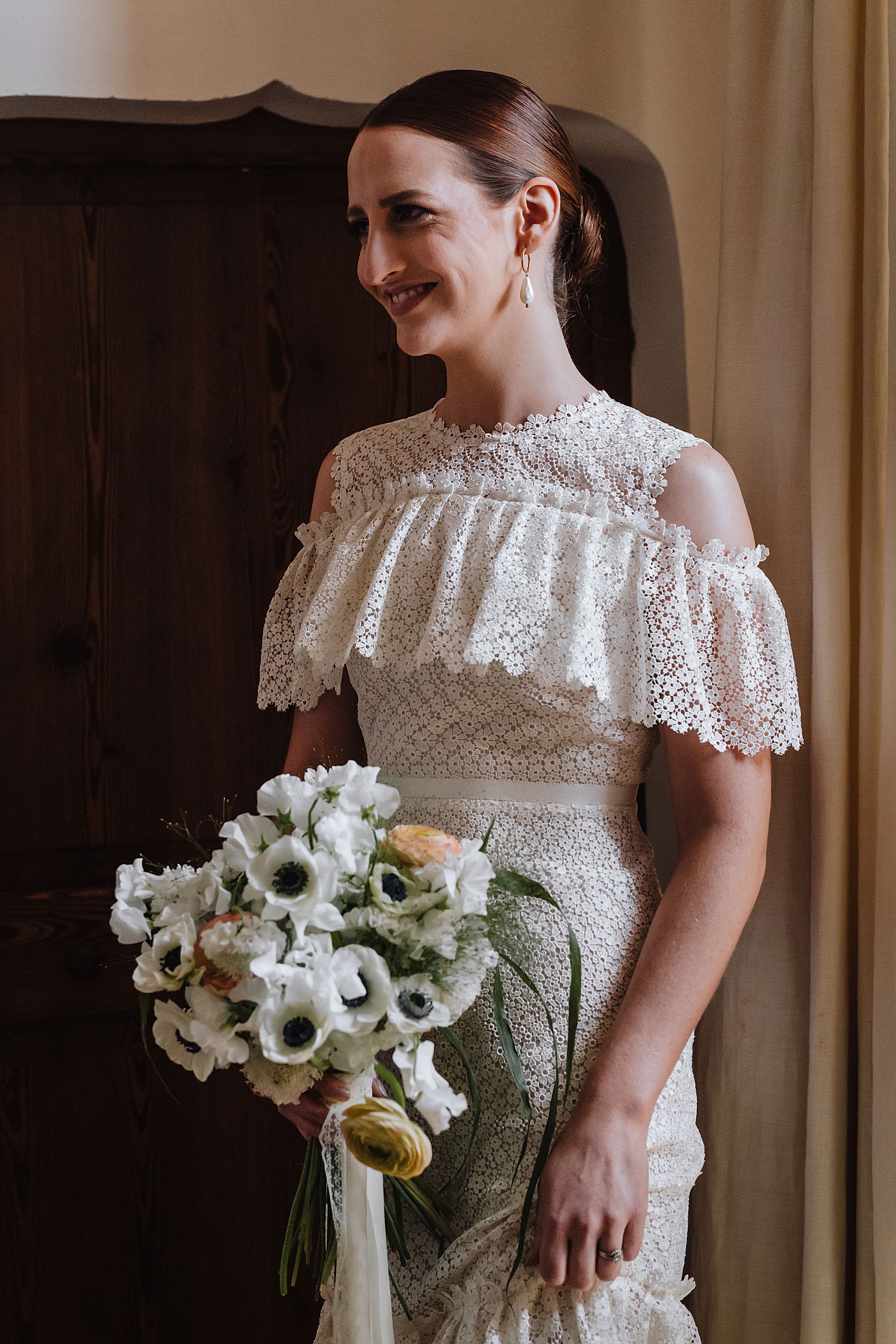 Emma added pearl drop earrings by Simone Rocha, and wore simple white sandals by The Row, as well as a custom-made veil by MAES London.
"My veil was made of silk tulle and edged with lace from the hem of the dress when they shortened it."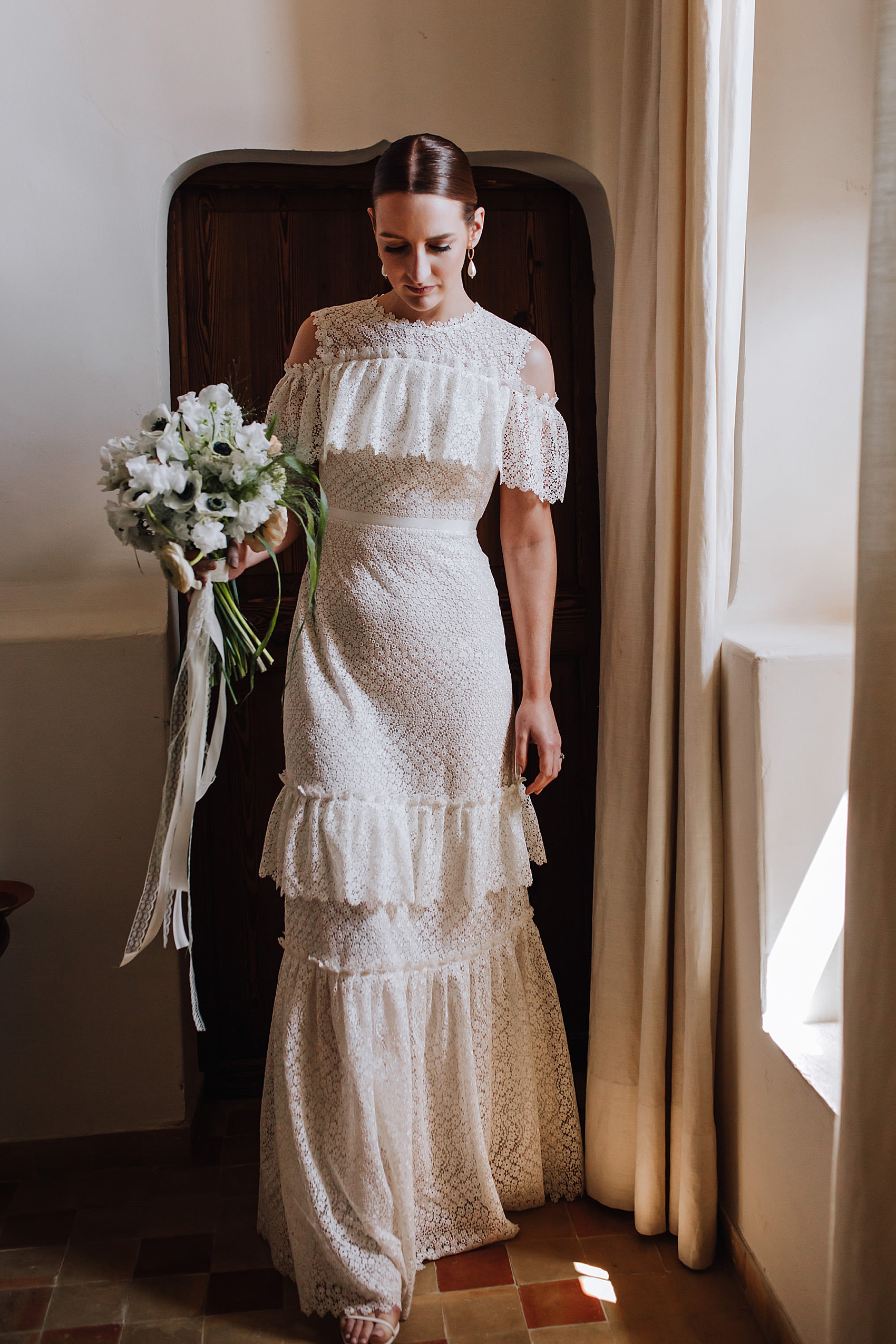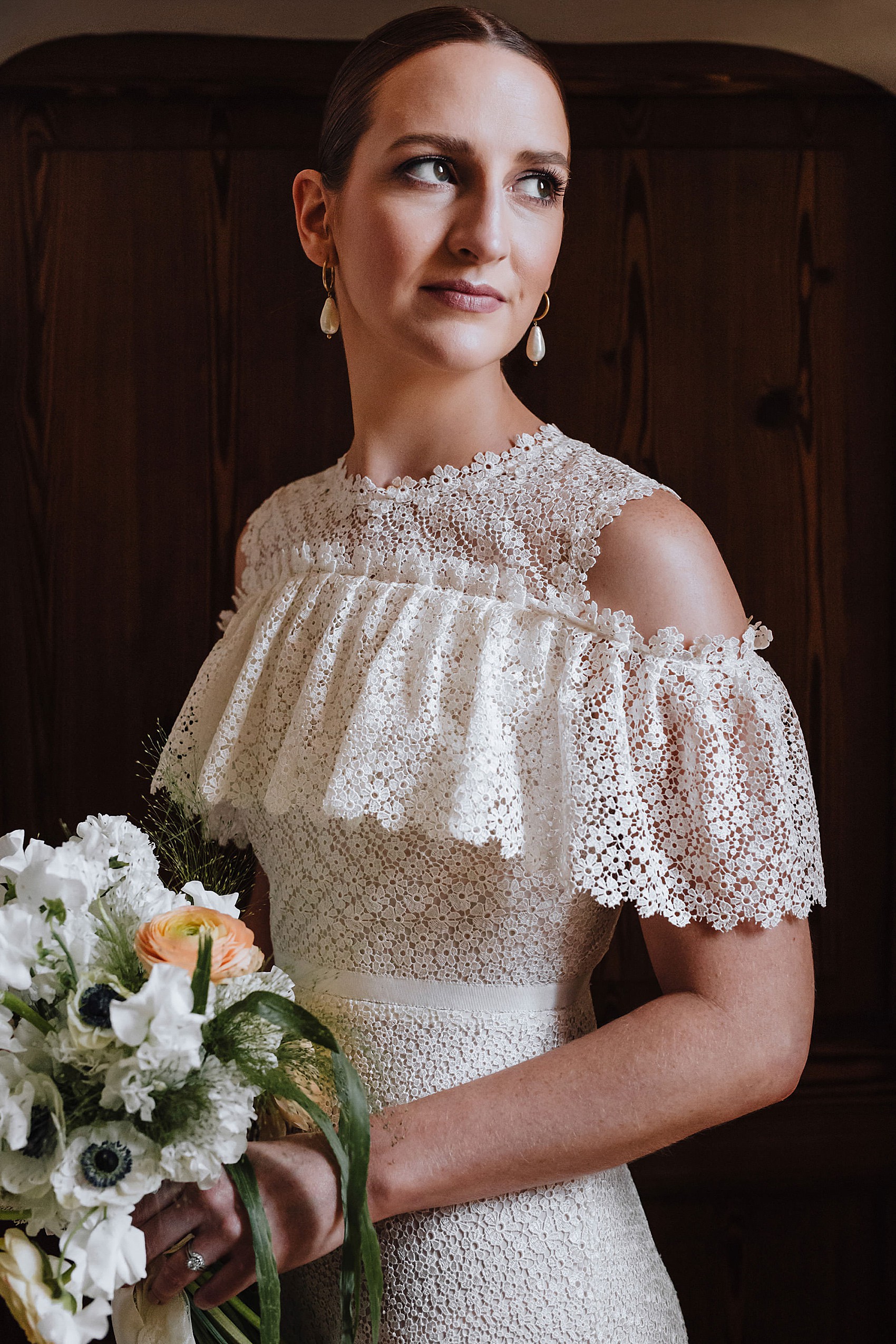 I'm so pleased to be sharing more work by photographers Paco & Aga, as I had the pleasure of writing about a beautiful Latvian countryside wedding they shot in 2018, and we shared last year.
"Paco and Aga understood us right away. We didn't want anything too posed,  just to capture the essence of the day, and they did exactly that. They were like ninjas on the day and the final results are beautiful. We love them and loved sharing them with our friends and family. They shared sneak peeks with us, and were so communicative throughout the whole process."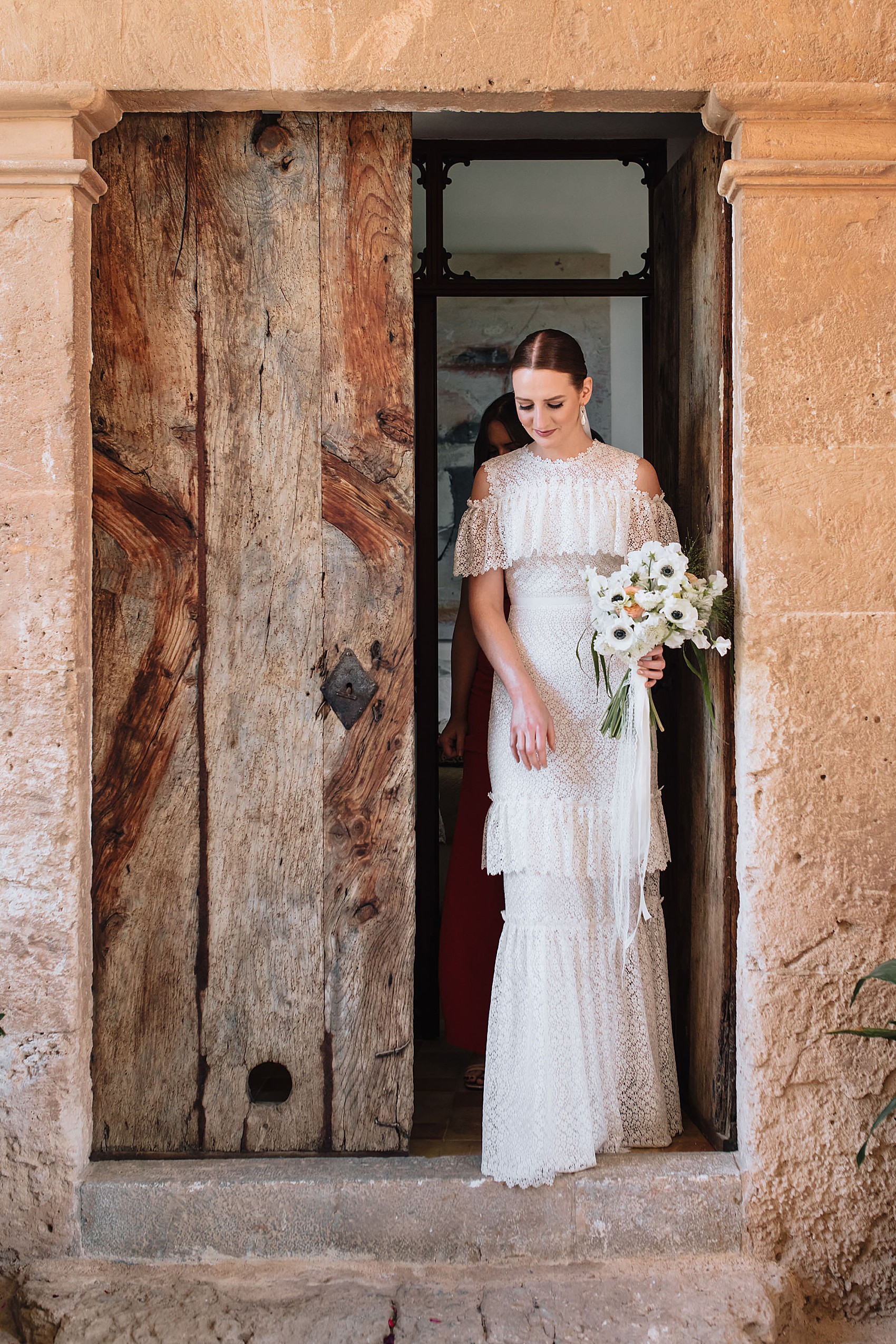 The two bridesmaids looked wonderful in elegant column gowns from Whistles, in sunny shades of red and yellow, and along with Emma, carried pretty hand tied bouquets of white sweet peas, anemones, scabiosa by Flowerscene Floral Art, and Emma's also included subtle bursts of colour in lovely lemon yellow and peachy ranunculus.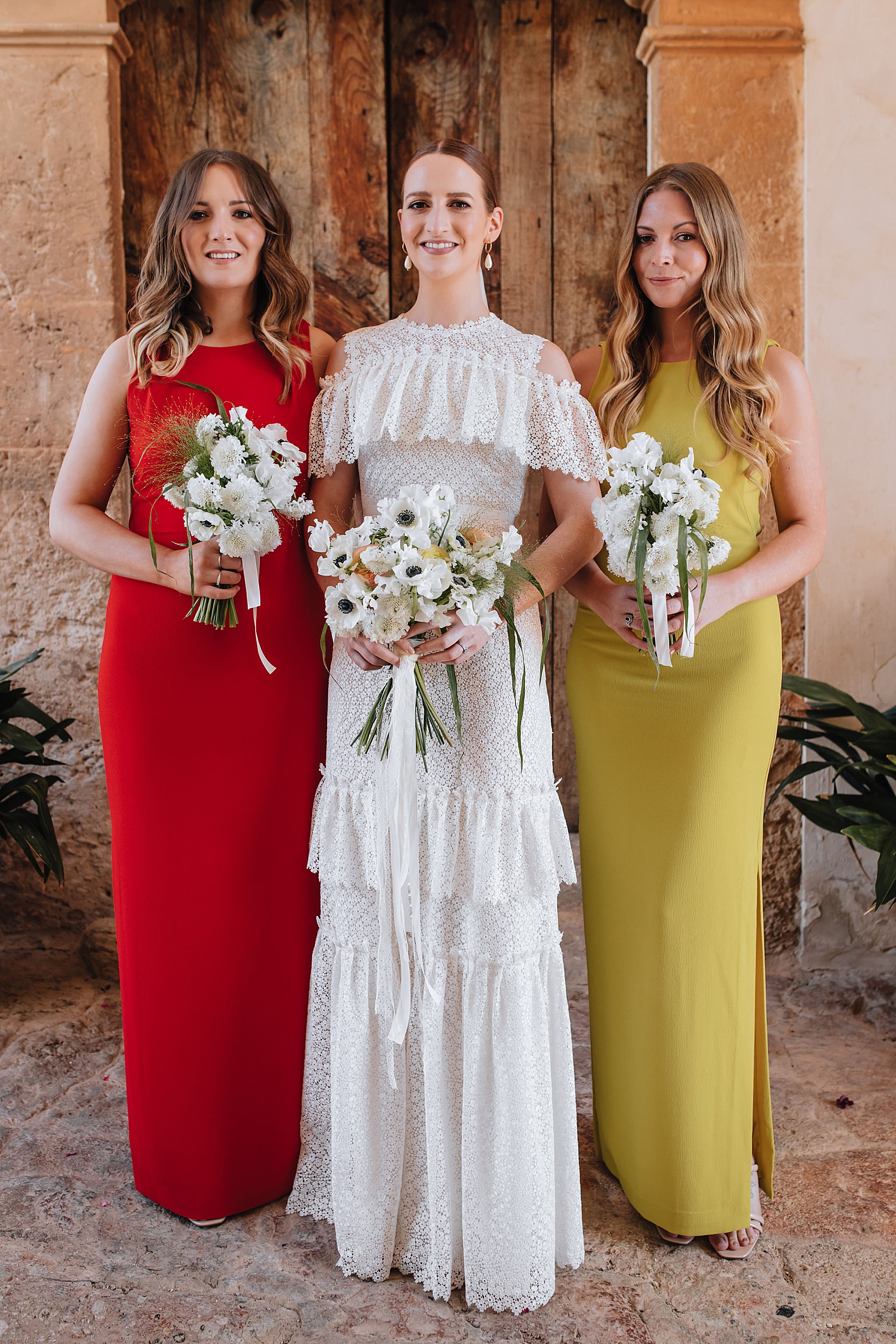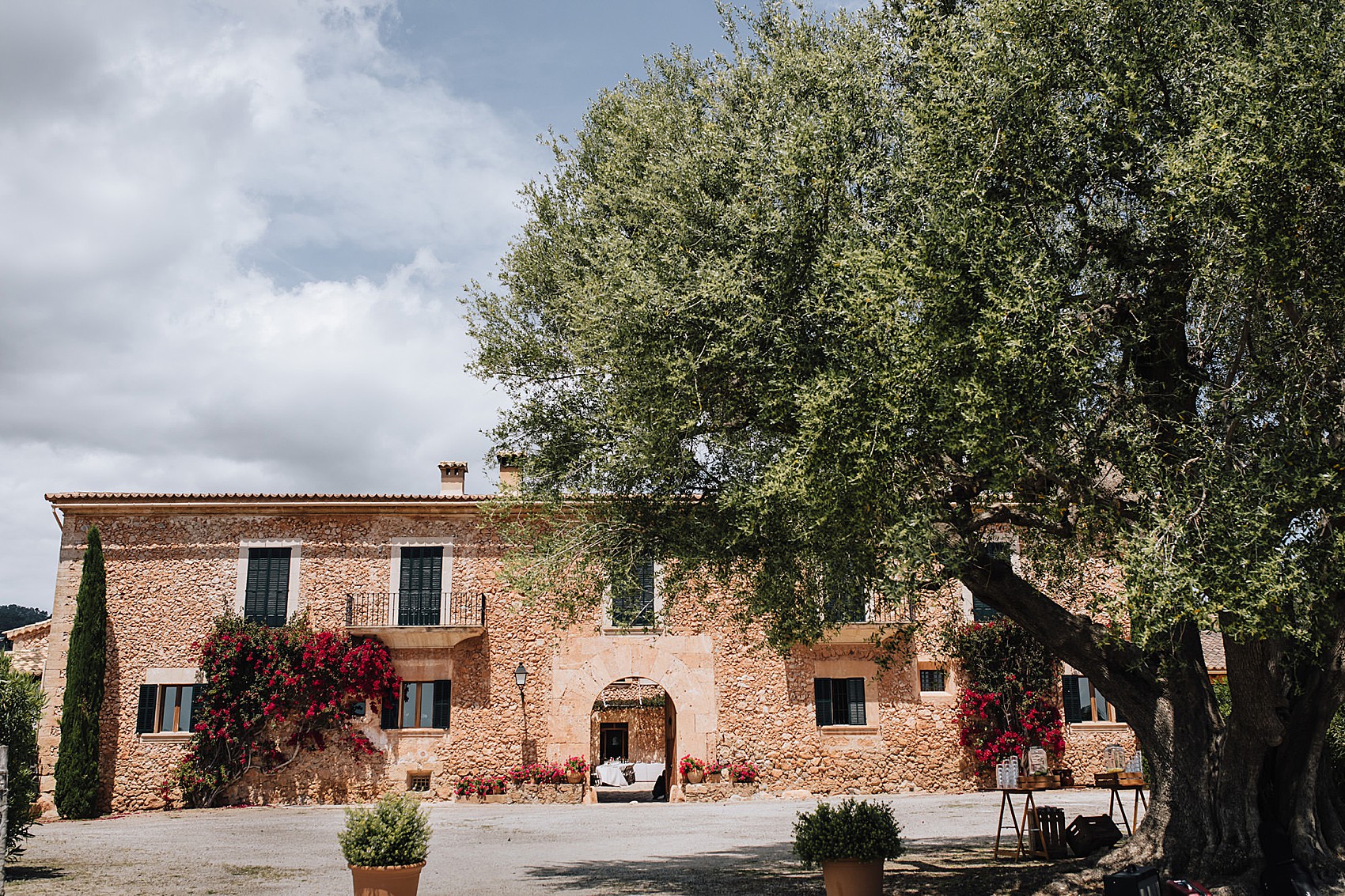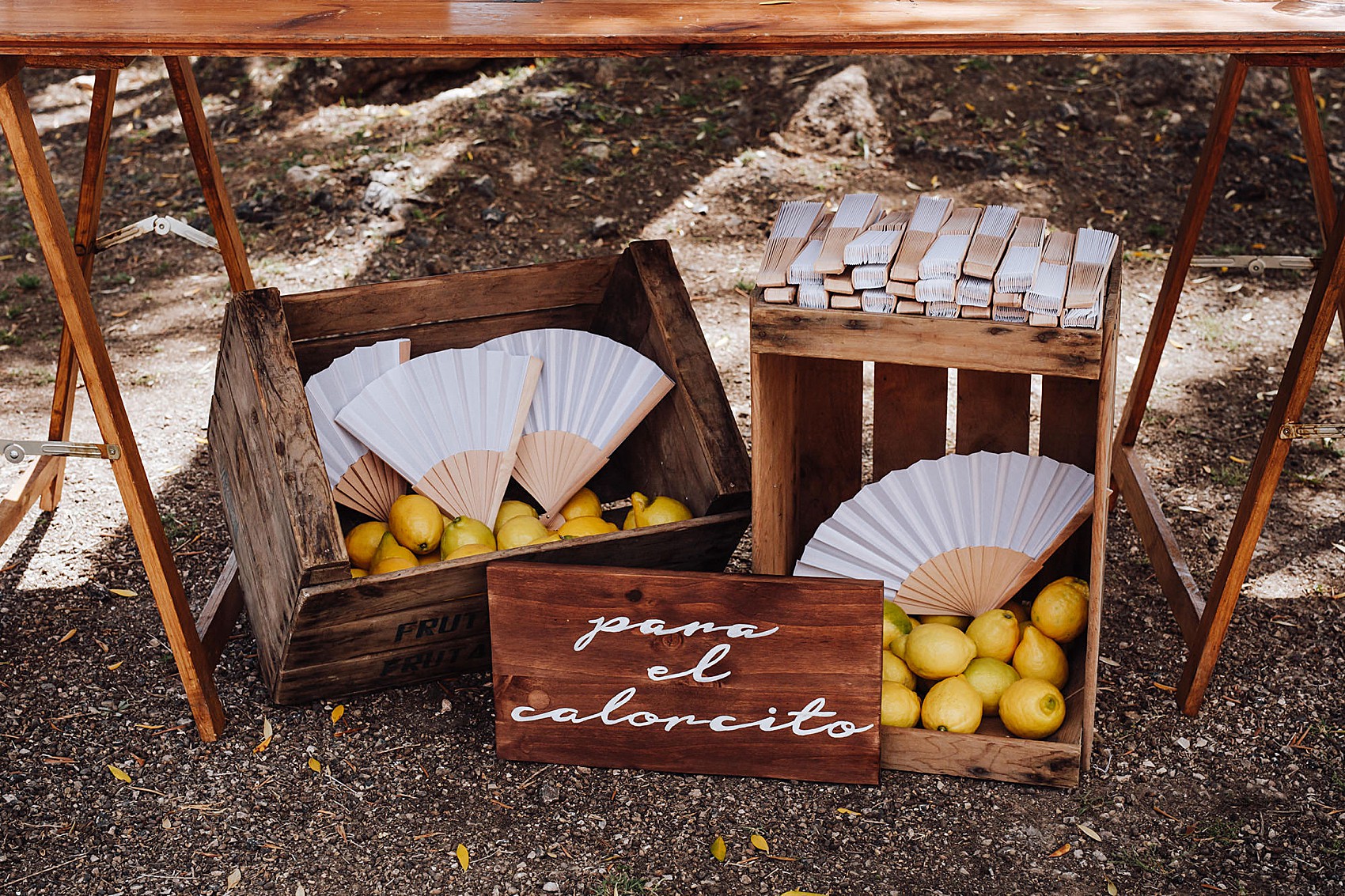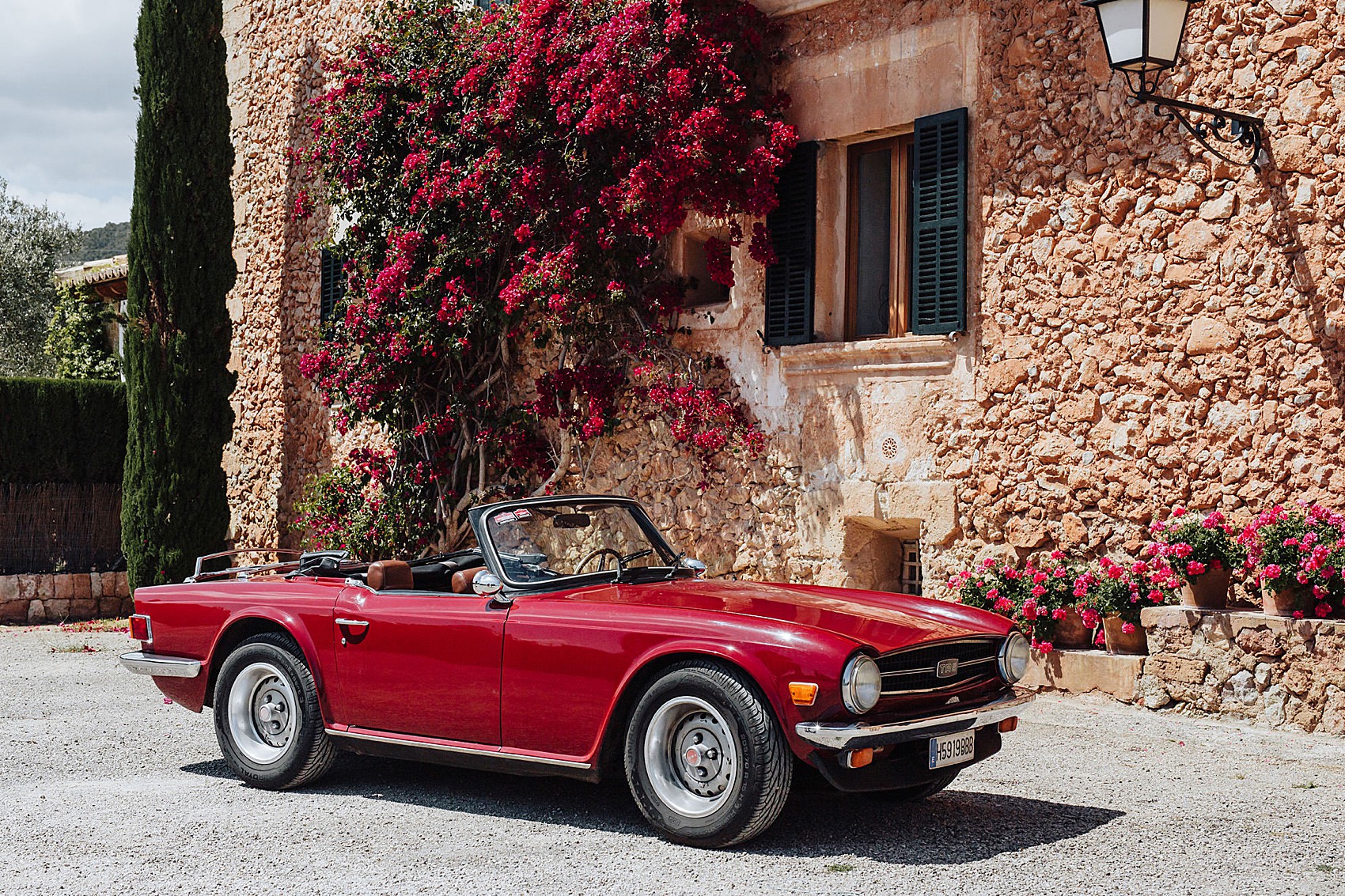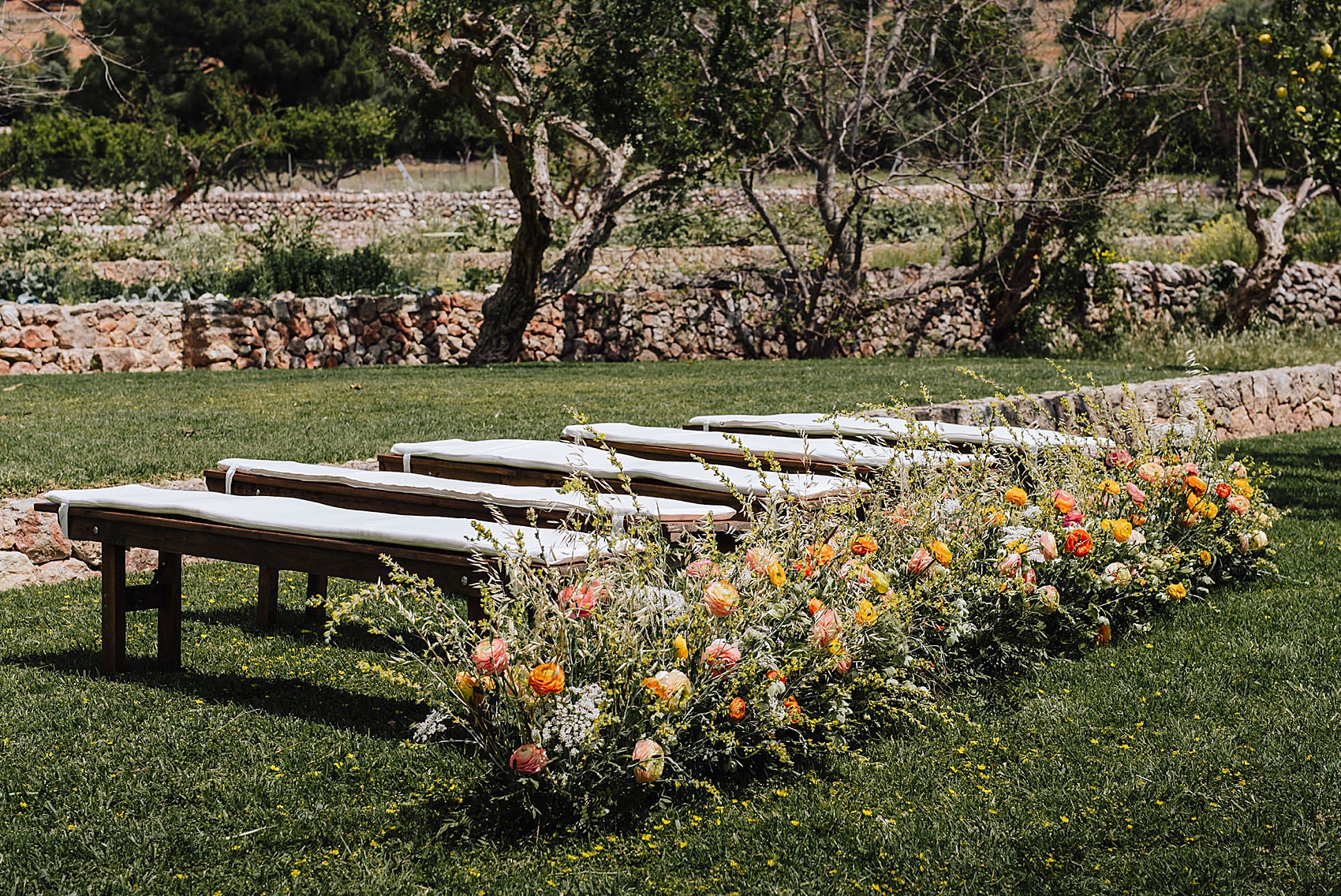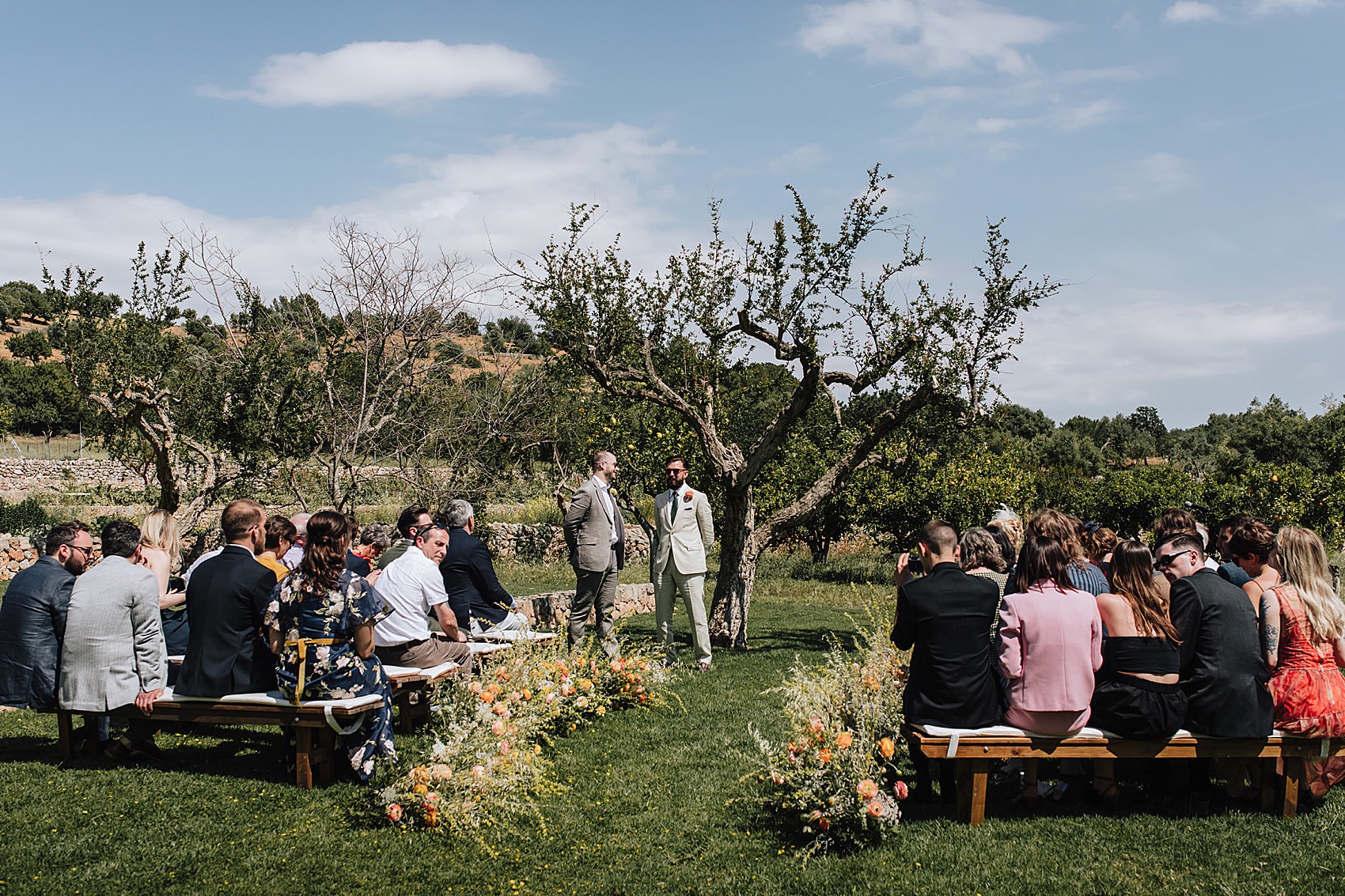 "Ben stayed in his family apartment with his dad the night before, which is a 40 minute drive from the venue. As a surprise I arranged a vintage Triumph TR6 from Mallorca Driving for him to drive to the venue and arrive in."
Ben wore a fantastic bespoke linen suit by Gieves & Hawkes, which he paired with a white shirt, green printed tie by Gucci, and Church's shoes.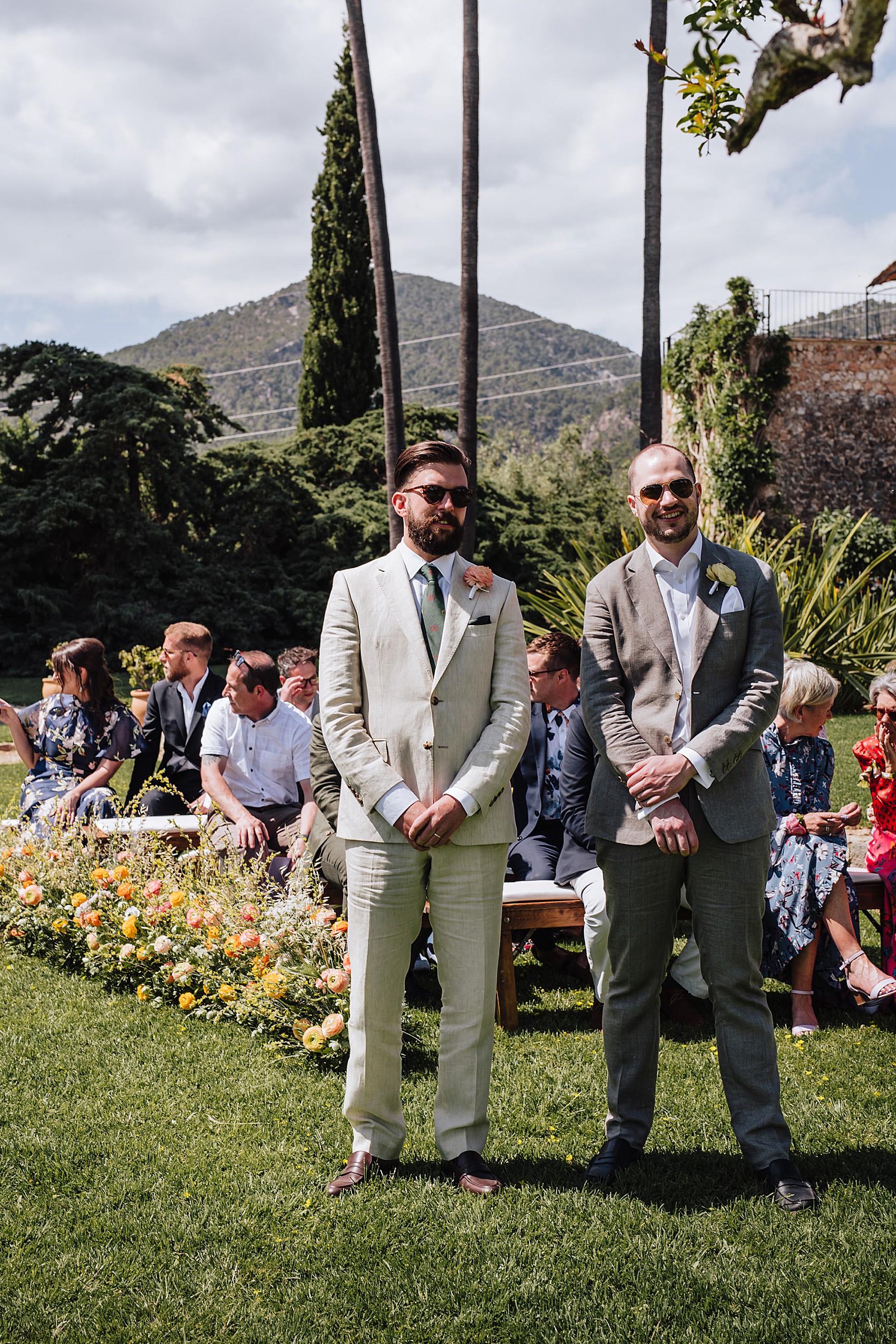 "We met through a friend at a party in 2012, and moved in together after 6 months. Ben's proposal was very low key – late one night in a wine bar in Paris. He hadn't brought the ring with him that night so I thought it was a joke – he'd planned to ask me over dinner a few nights later but decided to ask then on a whim instead as the moment felt right. We had our wedding a year and a half later."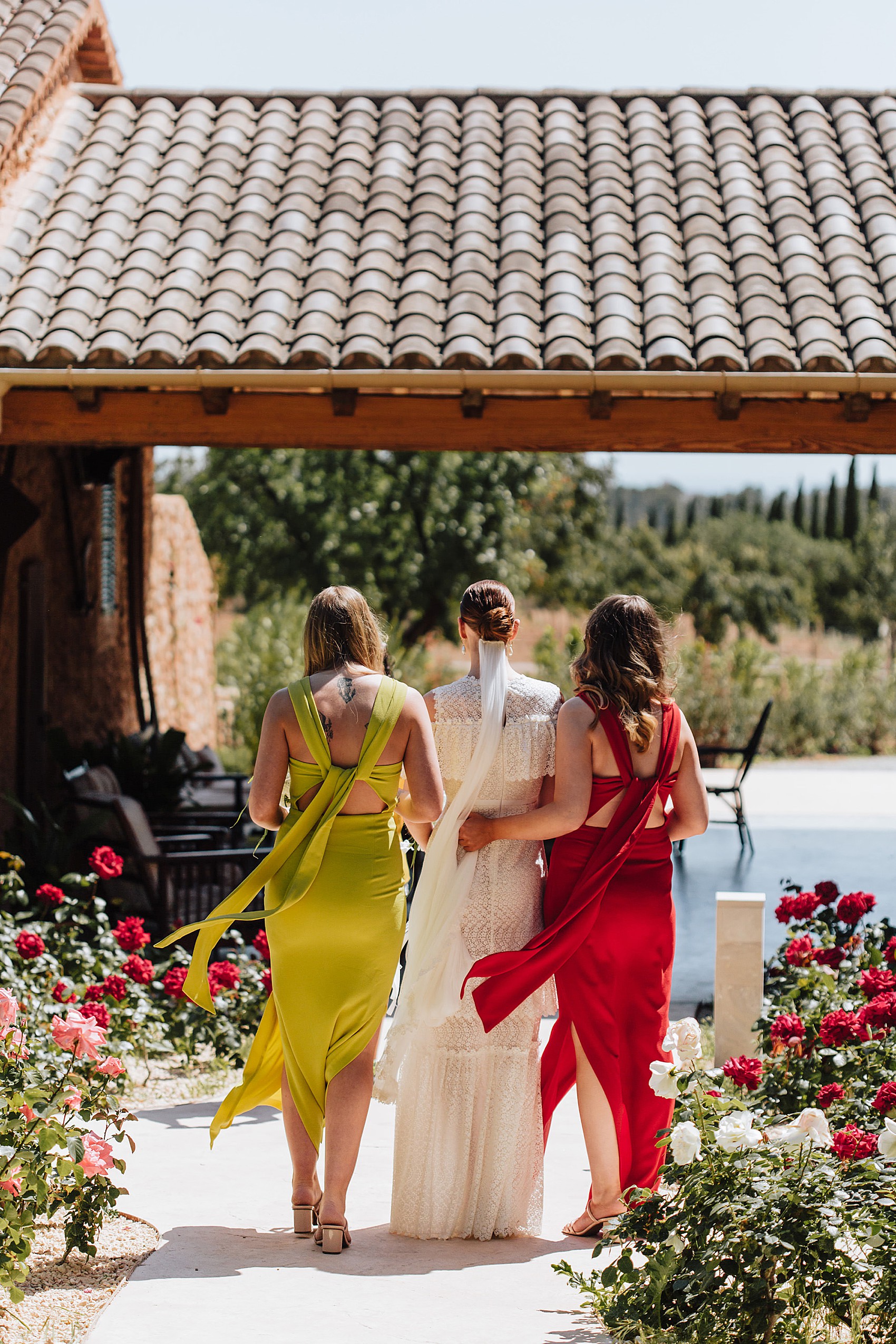 Guests gathered for the ceremony, taking their seats outside in the finca's garden, surrounded by citrus and palm trees, with the grassy aisle adorned with vibrant blooms. Emma was accompanied down the aisle by her dad, who also performed the ceremony.
"I'm incredibly lucky to count a very talented and accomplished cellist as a close friend – Alana Henderson. She played Cat Power's Sea of Love to accompany me down the aisle."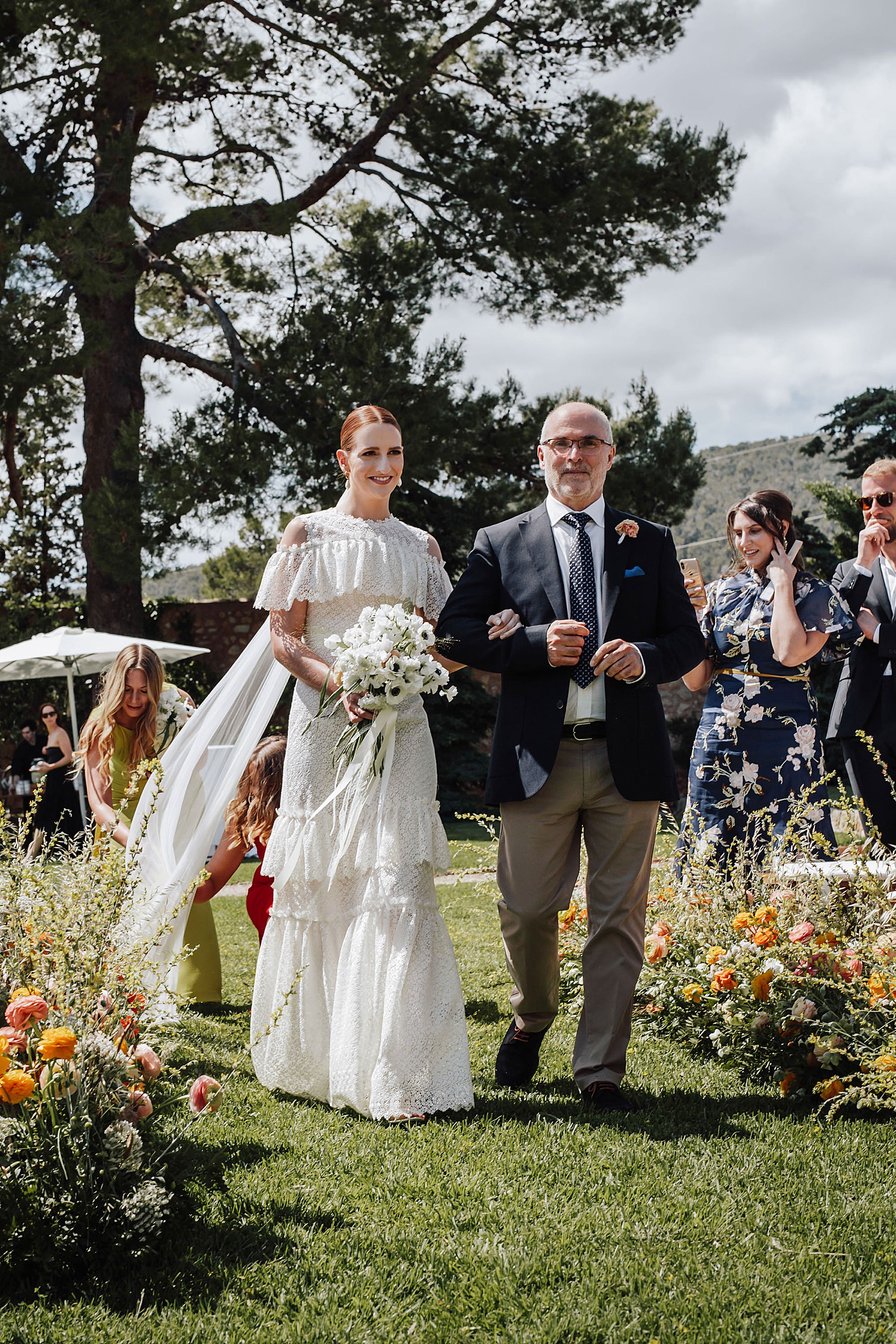 "We weren't sure what to do with our vows. Eventually we sat down together and talked about what promises it was important we made to each other, and set the tone of what we would say on the day, then went away and wrote the points in our own words."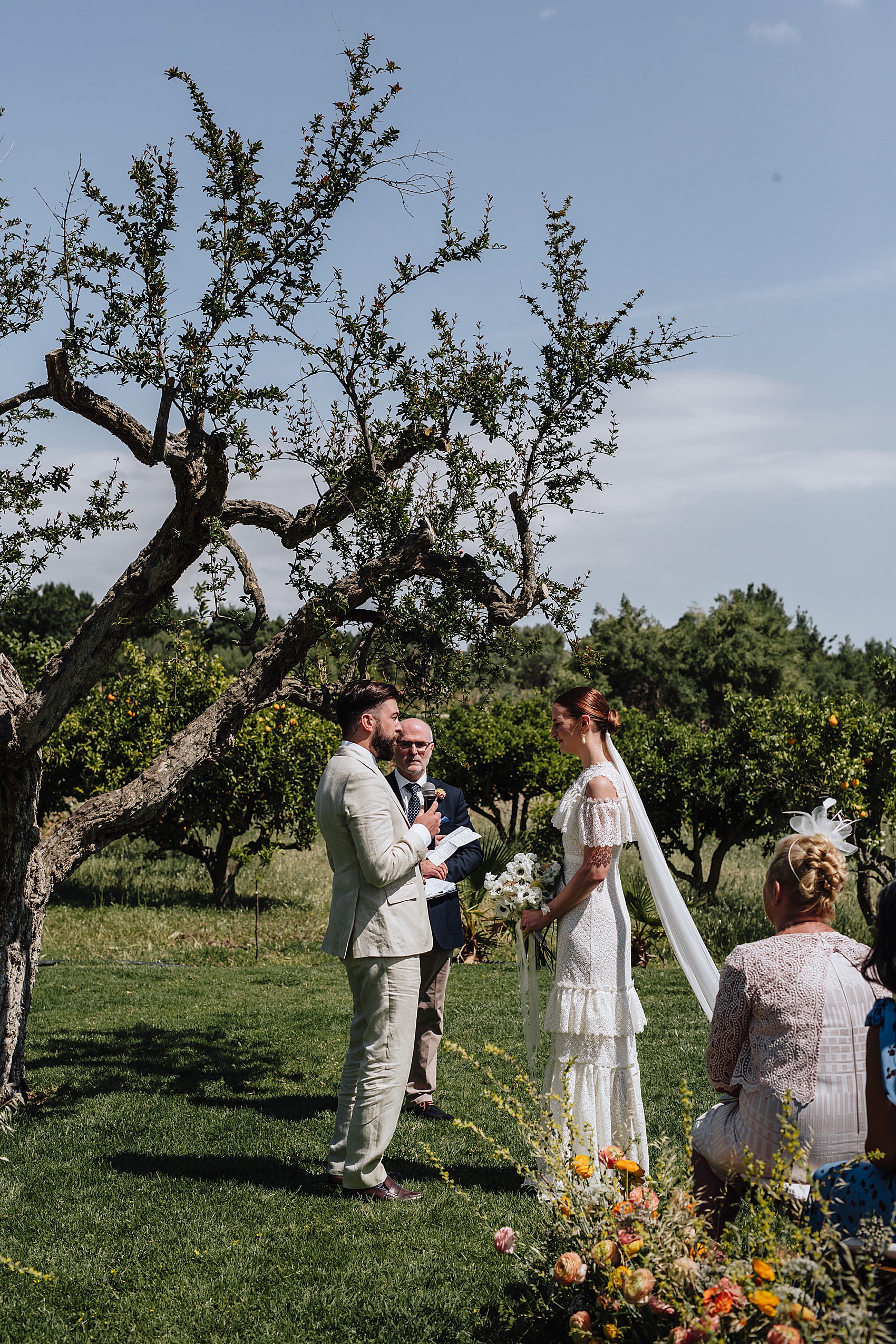 Along with these specially written vows, Emma and Ben also gave each other rings, which were made by Clarice Price Thomas, who Ben had also commissioned to make Emma's engagement ring.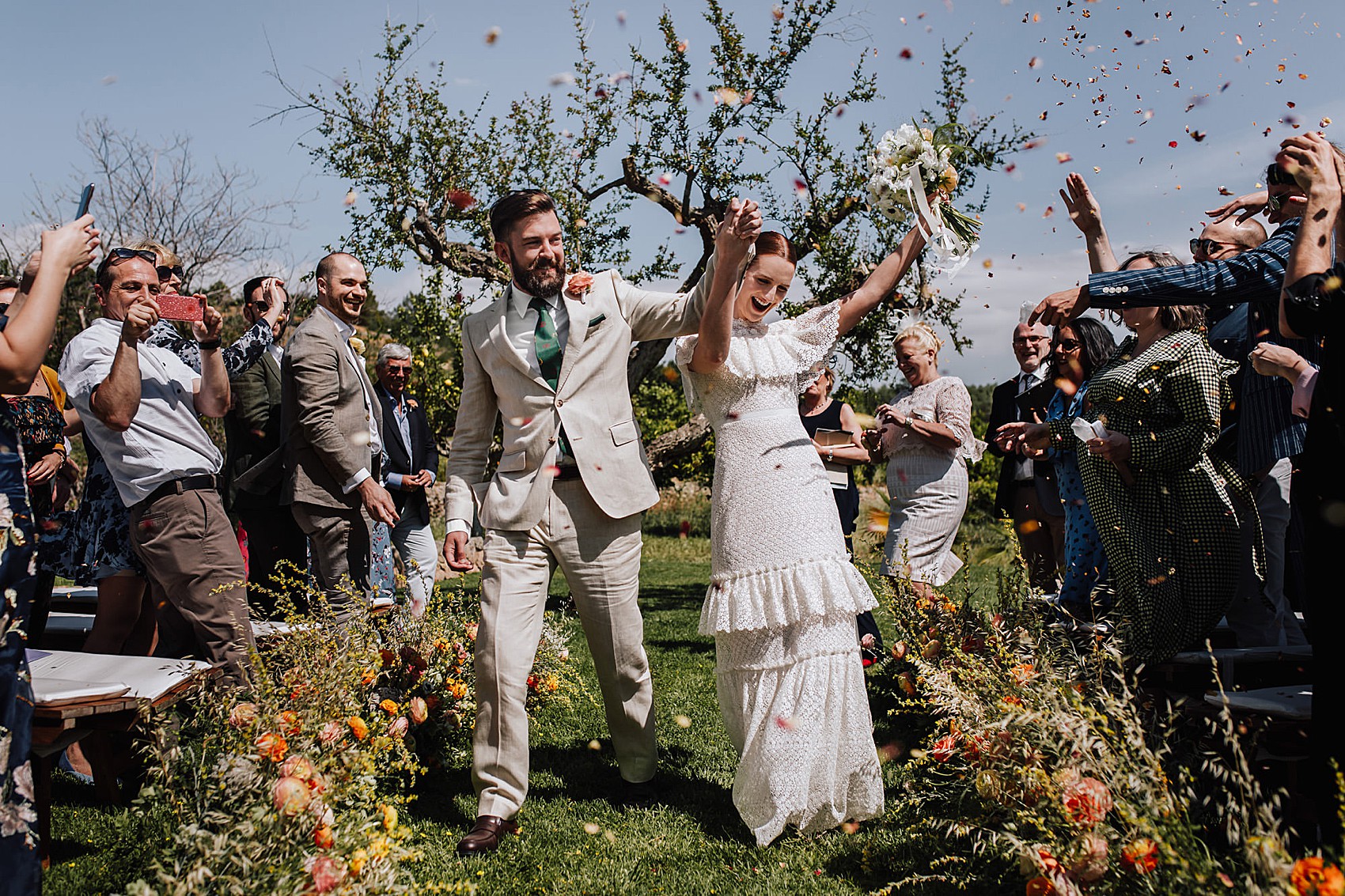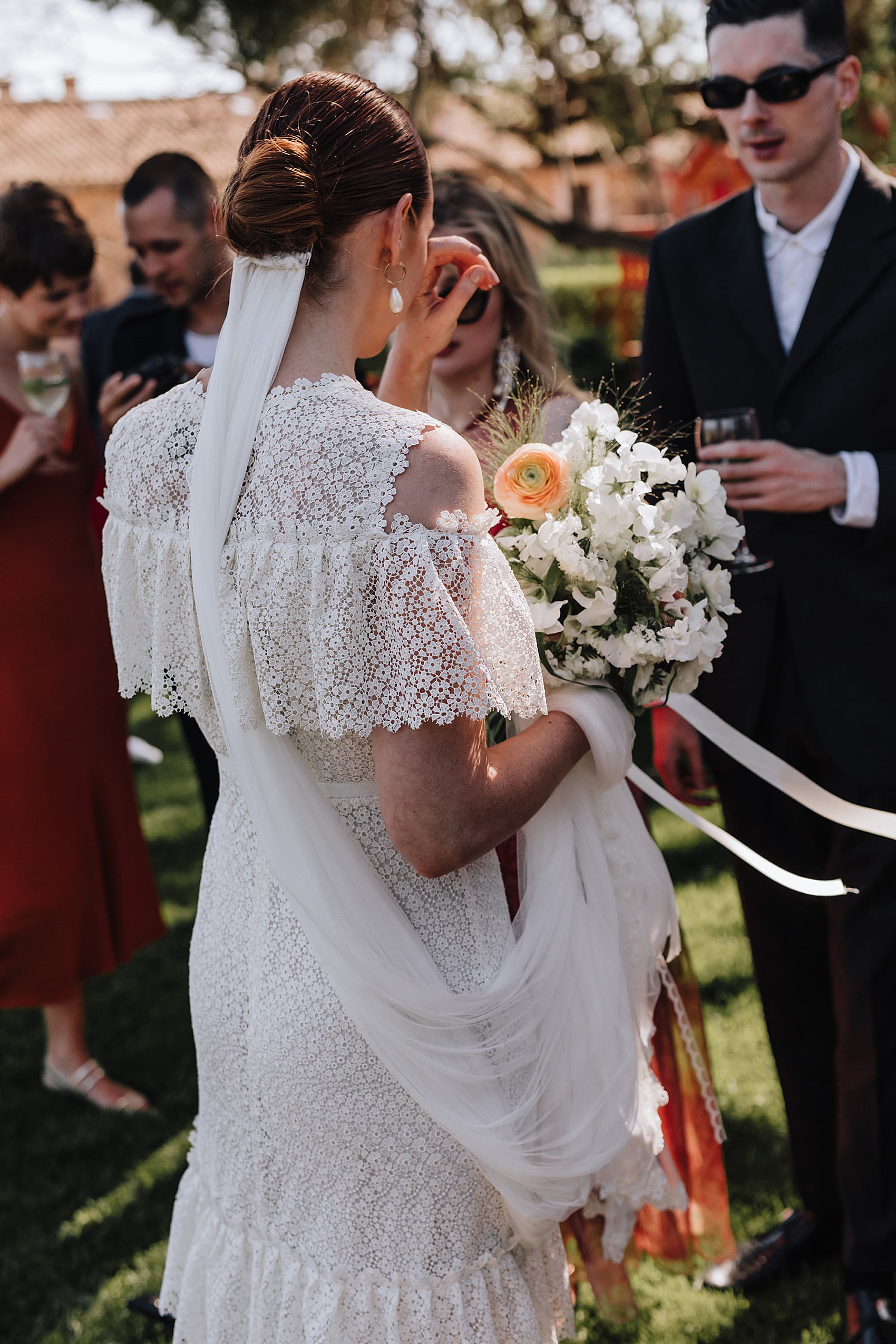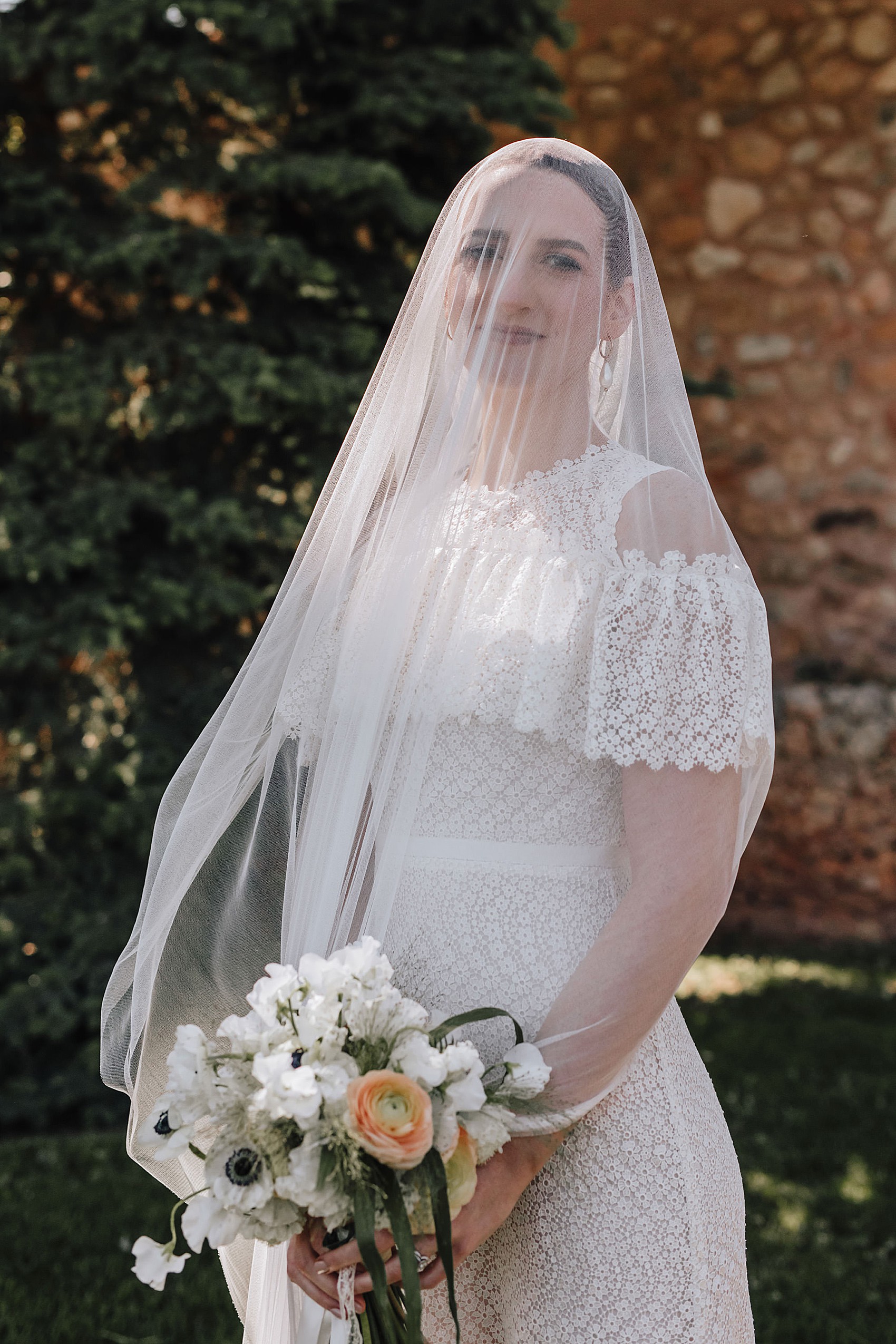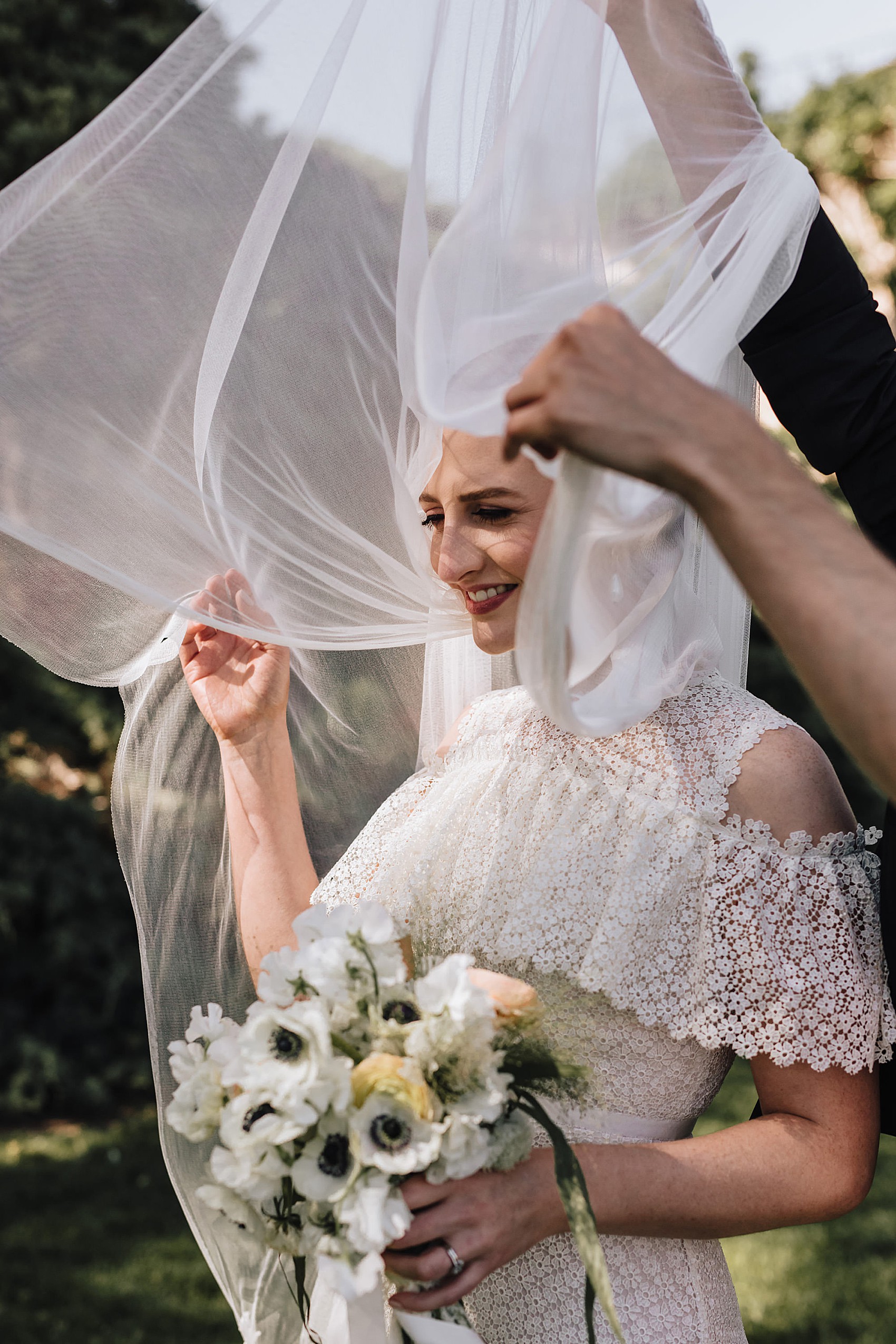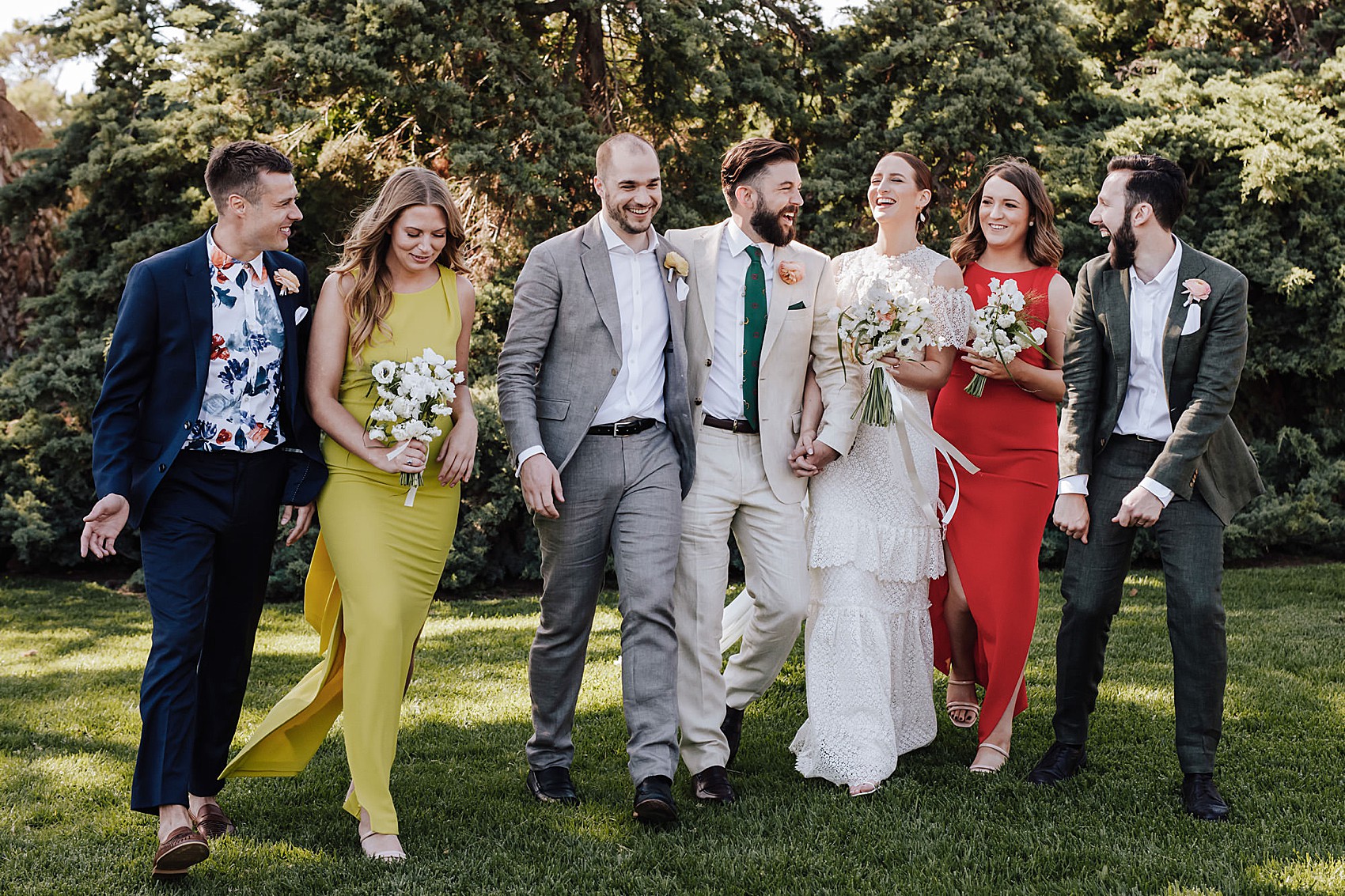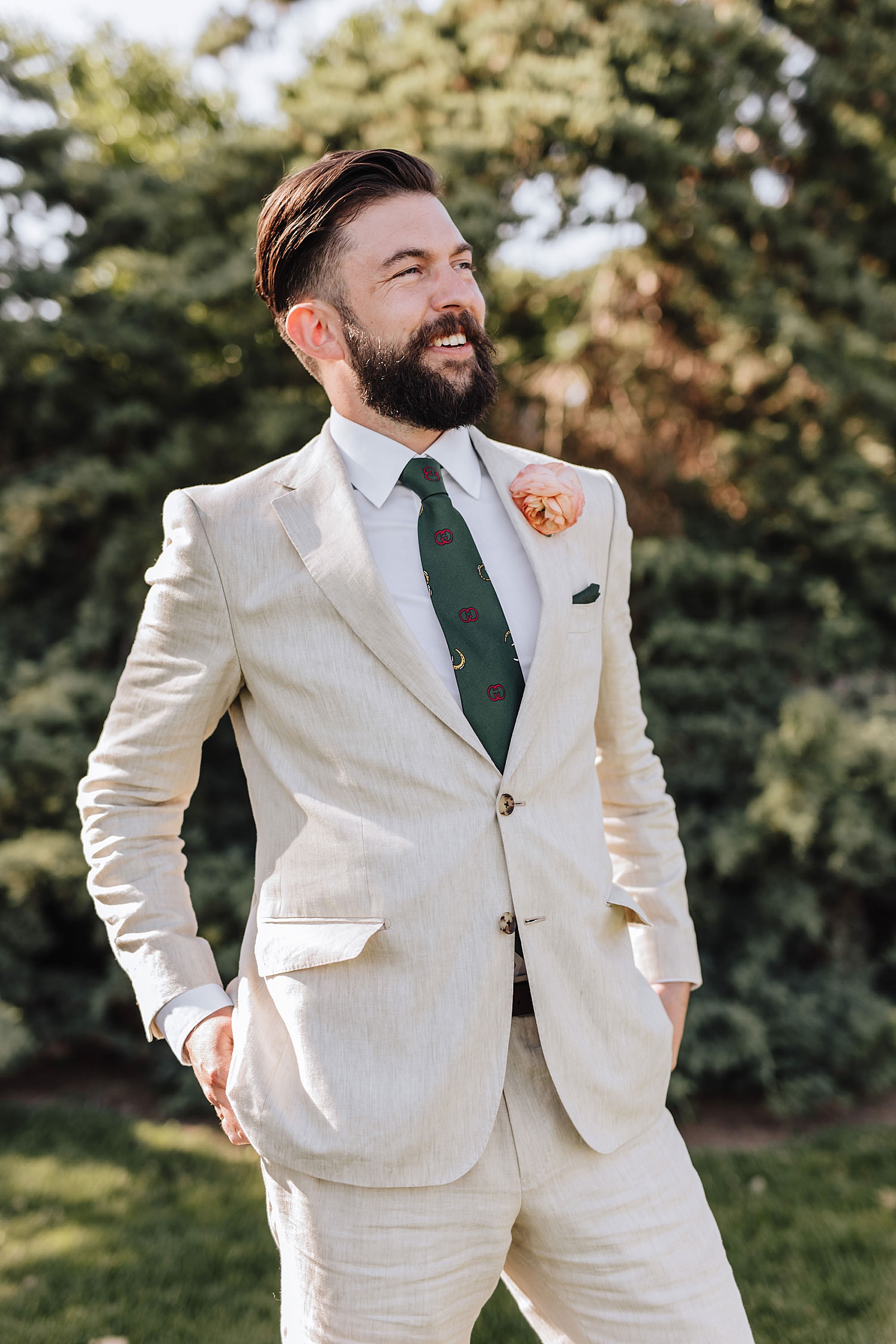 Post-ceremony drinks were accompanied by live music from a brilliant Cuban band (sadly, no details provided) as Emma and Ben enjoyed time spent with their loved ones in the sunshine.
Laura from Events by L was the couple's wedding planner, and their day was beautifully styled by Lisa from Isla & Smith.
"We knew we wanted to keep it relaxed and intimate but have the most fun we'd ever had. Straddling the line somewhere between pared back and simple, and full blown Spanish fiesta. Lisa really understood what we wanted to do visually, and we were blown away by how it all looked on the day."
Tables were arranged for the wedding feast in a convivial U-shape, in the finca's lovely, flower-filled courtyard. The simple, elegant table linens were strewn with fresh flowers, as well as single stems and small posies arranged in glass bottles along the tables.
"Our artist friend, Liberty Wright, worked closely with me on all of the stationery, invitations and menu for the day. It was based on an old invitation to a Céline fashion show and featured a little olive branch as a nod to the history of the venue."
Family and friends took their seats as Emma and Ben made their joyful arrival through the archway of the finca, to take their place amongst them for dinner.
"Jen and Jon at Manchego were brilliant and provided the most delicious feast on the day, and came back to cook paella the day after. We had a tasting with them beforehand, which I would recommend as it changed our minds on what we had on the day."
"They also provided an open bar after the wedding dinner, and we had two signature cocktails waiting for guests when the band started – a favourite of Ben's and a favourite of mine. I chose a Paloma, made using Mezcal we'd brought back from a trip to Mexico we'd been on together 6 months before."
With the setting sun, Emma and Ben cut their lovely, three-tier cake made for them by Cate Cake, and took to the dancefloor as the festoon lights shone above them.
"After dinner we had the most brilliant band – the Pa Amb Oli Band. They performed Baby I Love You in the style of the Ramones for our first dance."
"We'd seen them play a few times in Deia, and always had the best nights when we were watching them. We knew as soon as we'd decided to get married in Mallorca that we wanted them to play at our wedding but had no idea how to get in touch."
"We were having drinks at the hotel where we'd seen them play, so I wrote them a letter that I asked the hotel to pass on, and the rest is history."
Favourite Moments
"I spilled something on Ben's suit at dinner so we quickly ran to sort it out. It was one of the only moments we were completely alone during the day, and it was actually lovely."
Words of Wedded Wisdom
"You're allowed to change your mind. I never imagined having a destination wedding and then it felt right. You can change your mind on anything at any point in the planning, so don't feel trapped by something you thought you wanted and aren't so sure of as it all comes together."
Emma and Ben, this has been lovely! Thank you so much, and congratulations! Many thanks to photographers Paco & Aga for their exquisite captures, too.
Until next time!
With love,
Laura