First of all, HAPPY NEW YEAR! If this is the first item you're reading on Love My Dress after the festivities, I hope you had a great time seeing in a brand new decade.
It's starting to feel like we're slowly inching our way back into normality now and I'm all for it. But before we go any further, please take a moment to bookmark this page because it's full of money saving offers literally created just for you. Once once you've done that, kindly join me in saying hello to Stephanie and Ross, whose elegant city wedding took place on 25th May 2019 at Grosvenor Chapel in Mayfair, London.
Fiona Kelly Photography

+ Follow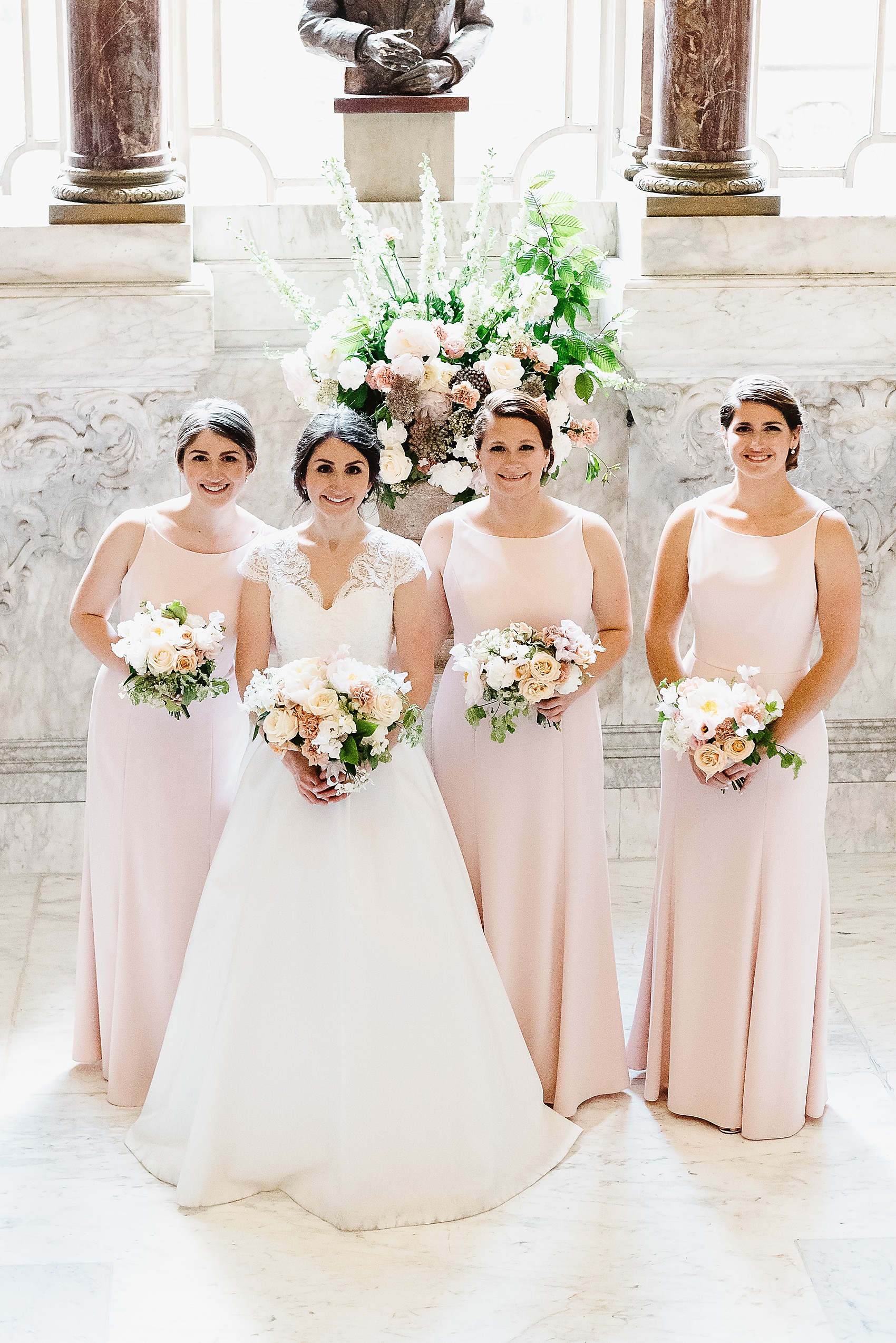 The couple celebrated with a reception at Dartmouth House – who we are extremely proud to recommend as a London wedding venue through our Little Book Wedding Directory.  Also recommended through our directory is photographer Fiona Kelly who captured these beautiful images.
Fiona is currently offering Love My Dress readers a 10% saving on all wedding photography booked during the month of January 2020 (see more offers here).
Book your photography with Fiona Kelly by 31st January 2020 + save 10%
"Our photographer, Fiona Kelly, and her colleague, Jessie, were amazing to work with. They were brilliant on the day itself, but even more so in the build-up in the way they coordinated with our suppliers and venues to ensure everything went to plan and they were able to capture the day in the best way."
"We wanted our wedding day to be timeless and classic while incorporating a bit of our own style. Once we had our venues it was so much easier to think about the details. Our wedding style really started to develop when we designed our stationary – finding the right colours and design elements."
"I actually designed our wedding stationery – I'm a designer by profession and it felt only right that I take on the challenge."
The bride chose Jo Malone's, Peony and blush suede as her wedding day scent…
"I loved the scent – I wanted something floral and light. In addition peonies are some of my favourite flowers so it just felt right."
Stephanie chose to wear a beautifully classy gown by Brit-designer Suzanne Neville.
"I went to Suzanne's Knightsbridge store and had the best experience. No request was too much, they made me feel so special and made sure that what I wanted was heard."
"My dress in the end was customised to my exact taste – the type of fabric I wanted, the neckline, lace topper. I was so lucky to be able to work with such a brilliant team there and make a dress that suited me."
Bridal hair and makeup specialist Amanda White produced a perfect up-do with an elegant chignon, pale pink lip and gentle smoky eyes.
"I feel so lucky to have found Amanda – she was so caring and patient throughout the trials and lead up and especially on the day. She did a great job getting myself, my bridesmaids and my mom ready for the day. She really made me feel so beautiful and I'm so grateful."
"My parents bought me my wedding earrings from the states. Ross gave me a Swarovski tennis bracelet as a wedding gift. Unfortunately my grandmother wasn't able to make the trip from Chicago to our wedding in London. Instead, she let me borrow my great grandmothers handkerchief to have on me and think of her."
"I think I tried on about 100 dresses!!! Once I found Suzanne Neville I knew I'd be getting my dress there. I loved the classic style, structure and how secure I felt."
As the bride was getting ready, Ross was donning a bespoke suit from Hawkes Bespoke Outfitters which he teamed with a pale pink tie to match the bridesmaids dresses and overall pastel vibes of the day.
"Ross and I met in 2009 whilst at university, despite being from two different countries and spending summer breaks apart we never looked back. After seven years together,we got engaged in September 2017. We gave ourselves a few months to enjoy being engaged before we started planning early 2018 for our wedding May 2019."
"My bridesmaids wore a beautiful blush floor length dress from Dessy. I wanted to pick a style that would suit them all and something that would be comfortable. My bridesmaids all wore silver shoes – wanting to make sure that they would be comfortable and would be on the dance floor all night I had them pick their own that suited them and the dress."
"My veil was also from Suzanne Neville – I went with a single tiered, slim satin edge for a lovely finish."
The bride's father accompanied her down the aisle to Pachelbel's Canon in D Major.
"Our wedding was officiated by Father Richard Fermer, Vicar in Charge at Grosvenor Chapel. As we had a religious ceremony, we opted for traditional Christian vows."
"We had two readings, read by family members. They included a bible reading: Song of Solomon, and a poem, 'How Do I Love Thee', by Elizabeth Barrett Browning. Ross has always been a fan of poetry – he knew from the moment we started thinking about our wedding that 'How do I love thee' needed to be included."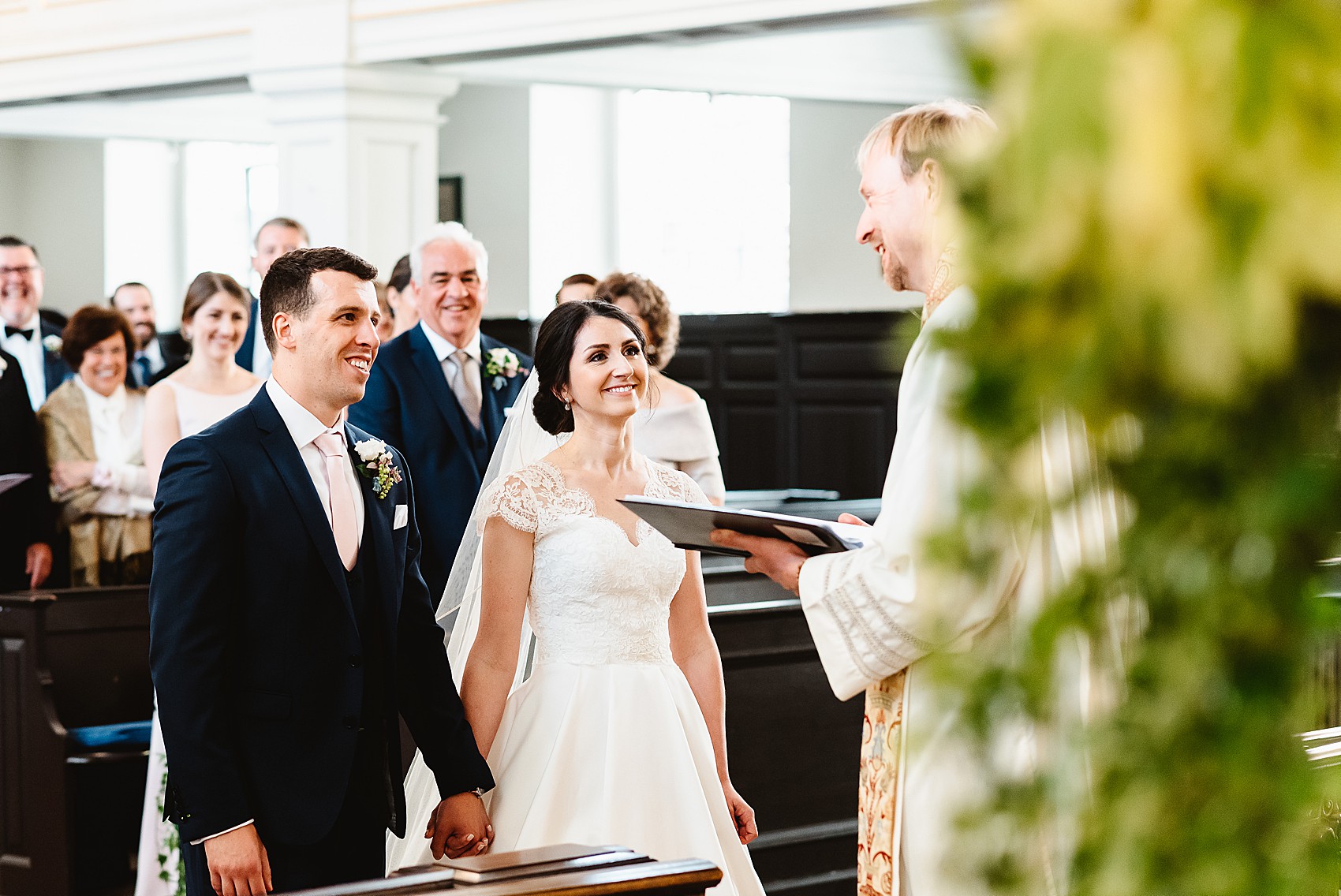 Rings from the Bronze Jewellers in Hatton Garden were exchanged before the couple finally tied the knot officially.
"Ross bought my engagement ring from Bronze Jewellers and so it was a no brainer to go back and buy our wedding rings there together."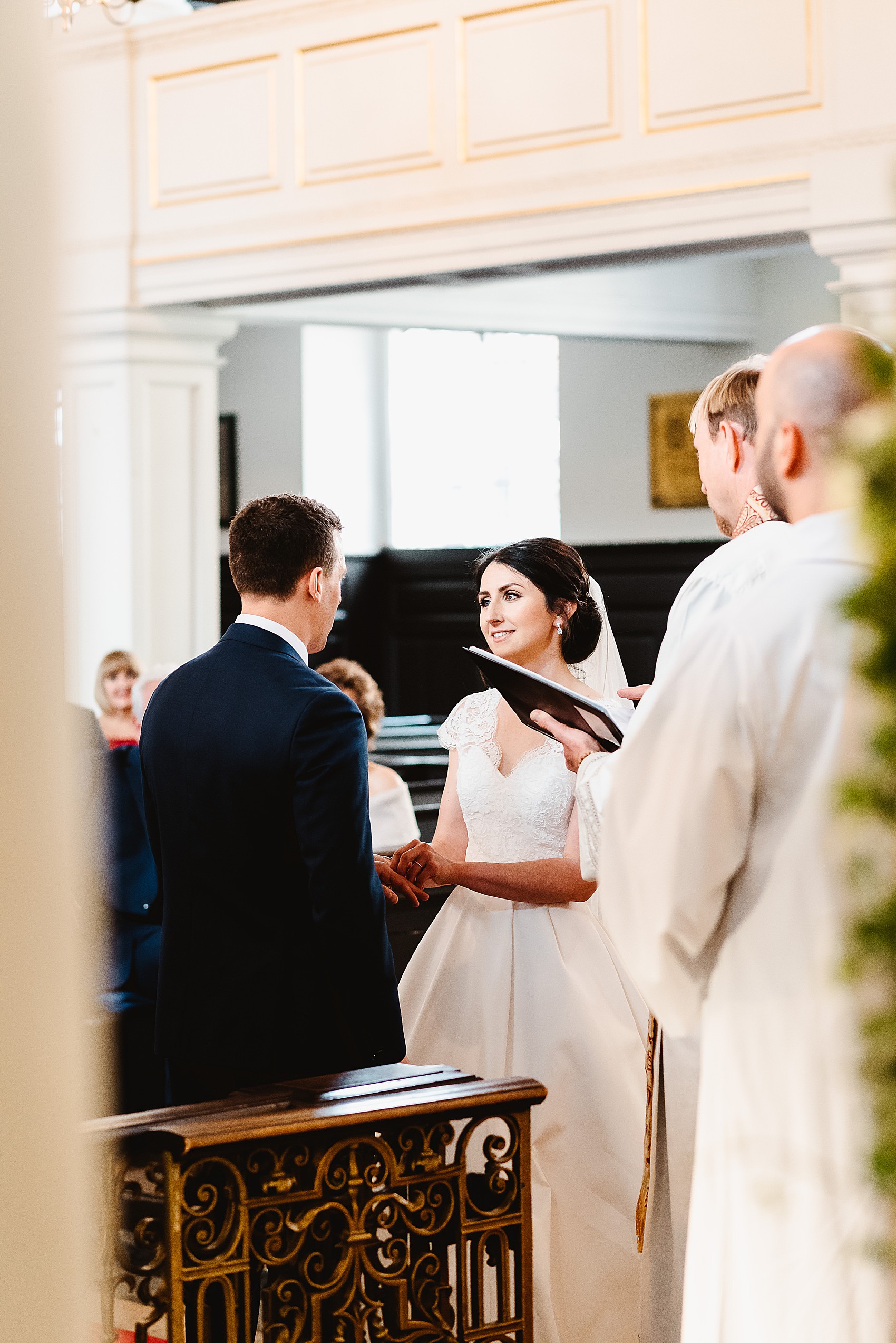 "The ceremony was perfect and went exactly as planned. The church is beautiful anyway, but even more so with the additions that our florists, Blooming Haus, made."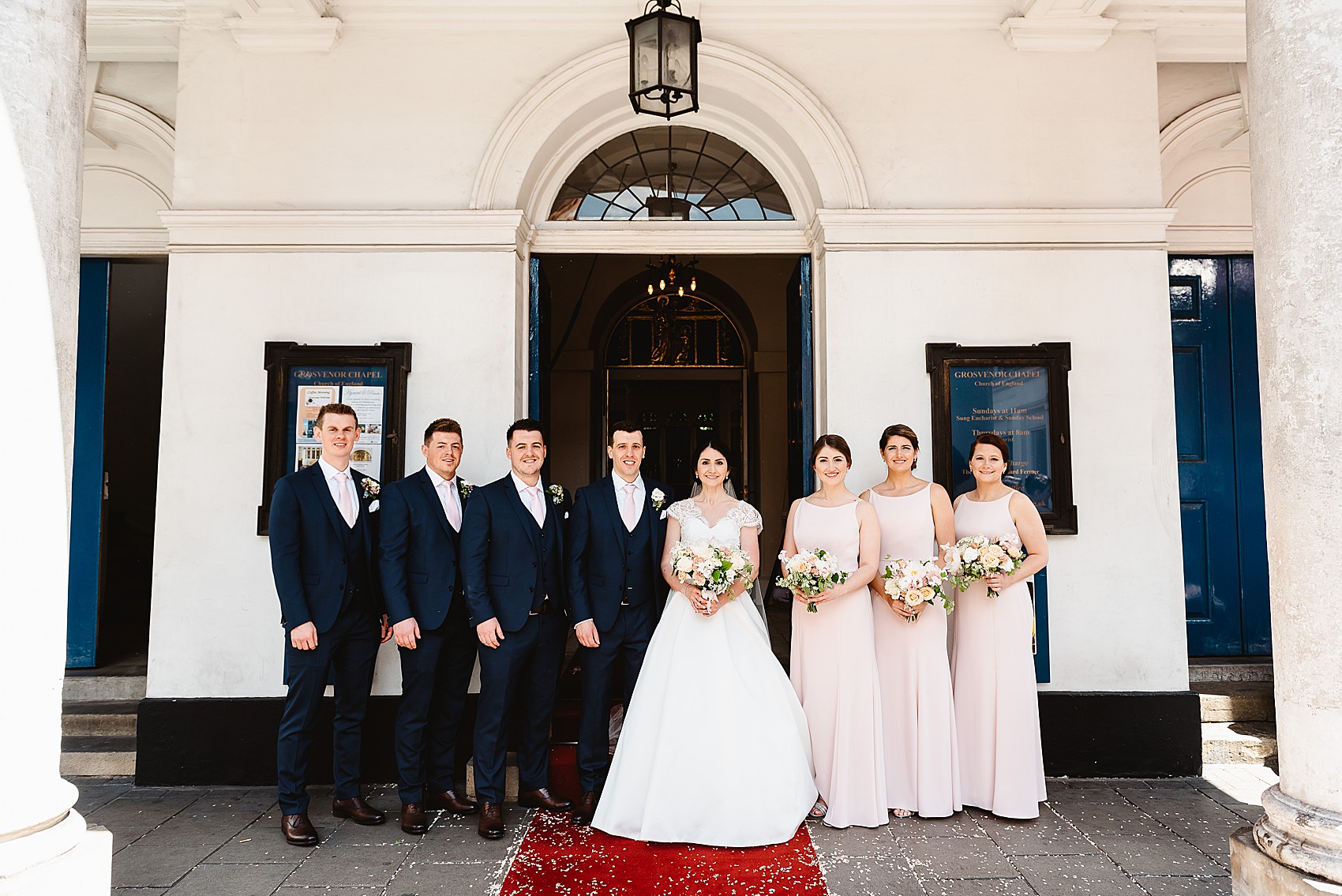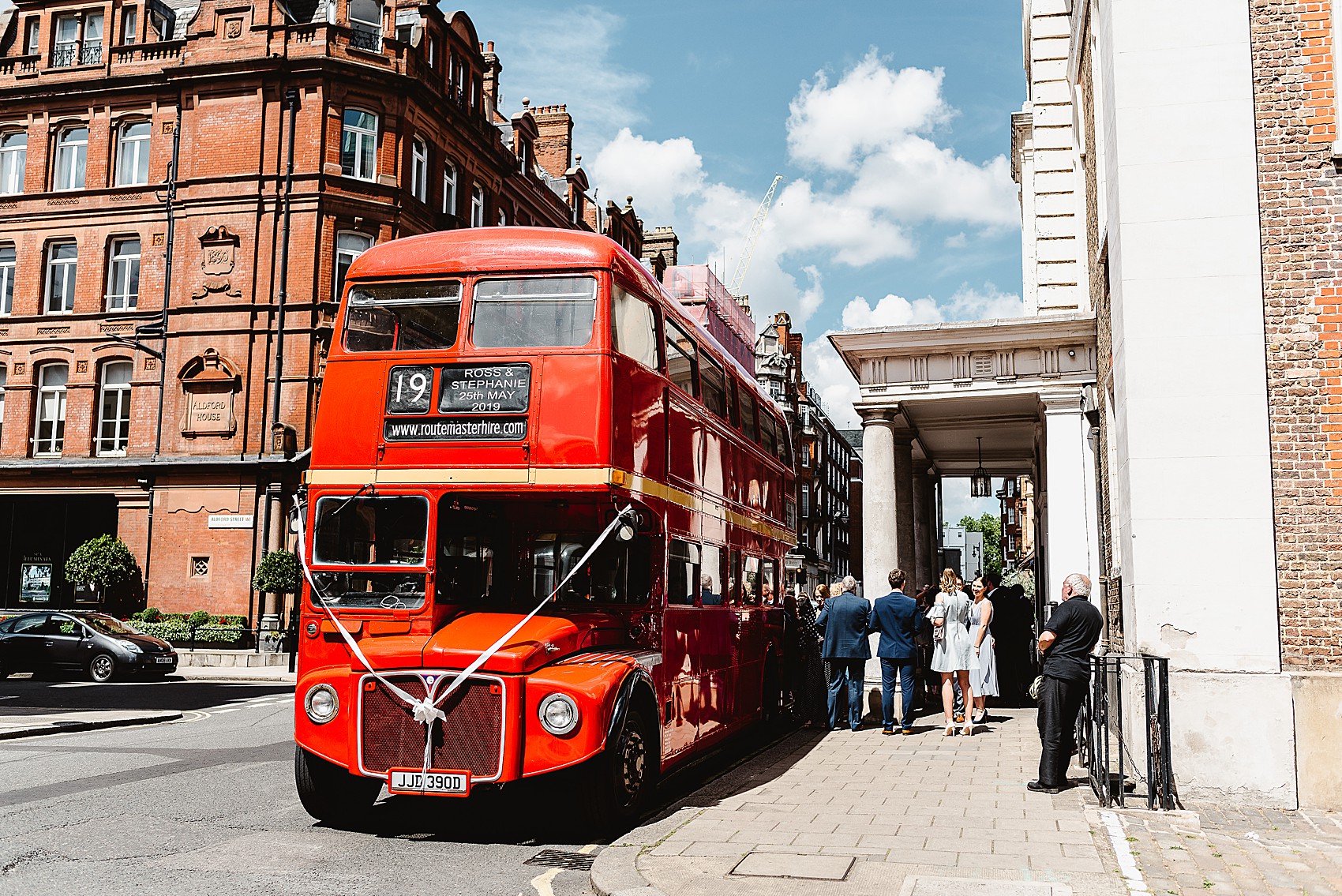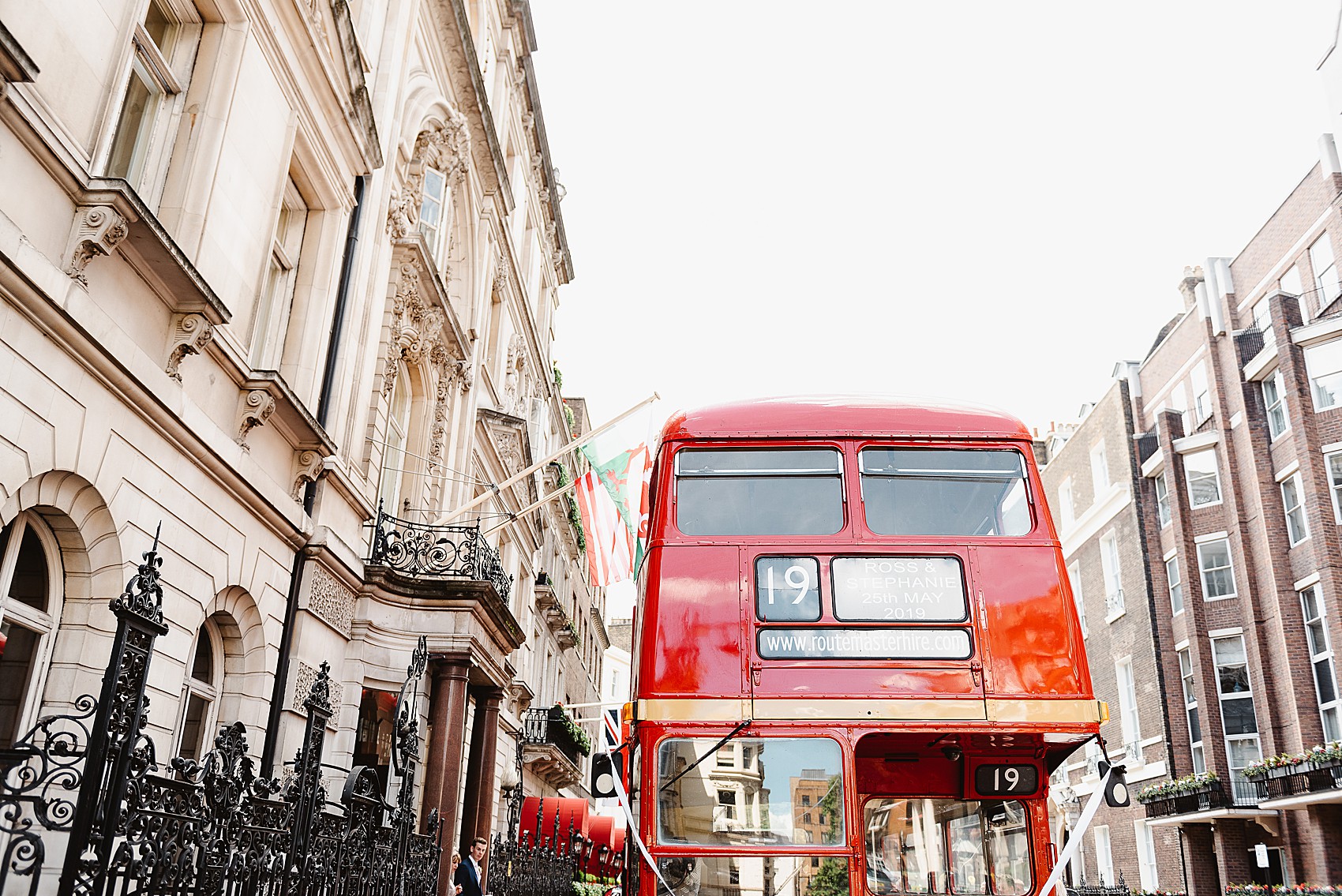 "We were debating if we wanted to have our wedding in one of our hometowns (South Wales or New York) – in the end we decided we wanted our wedding to be somewhere that made it easier for us to plan and act as an ode to where we first met – London."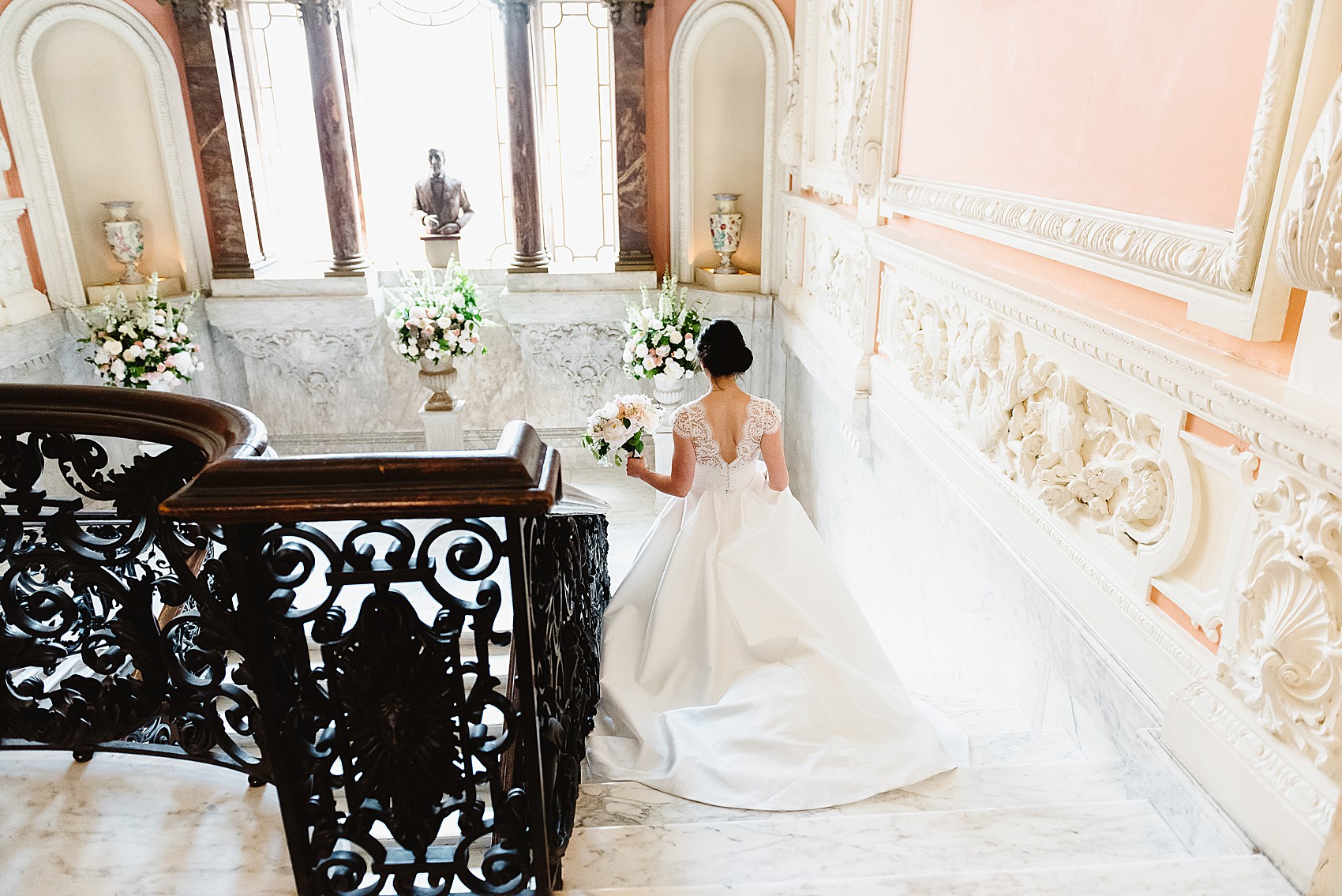 "We found our reception venue first but knew we wanted to have our ceremony in a church as it was important to us both. Luckily for us there was a beautiful church about 5 minutes from the reception venue – and to boot it was also the church from Love Actually."
"Our Florist' Blooming Haus, provided us with stunning flower arrangements to accentuate what is an already beautiful building. They visited the Chapel and reception venue with us ahead of the weeding to plan their arrangements, and even though we had high expectations due to our confidence in them, we were still stunned by the outcome."
"We also included some more 'quirky' decor to help bring out our style. Along with a guest book we also had a telephone set up for our guests to leave us a message. We now have a collection of downloaded voice messages to listen back on fondly."
"The guys at Blooming Haus were incredible. No question was too big or small. They put us at ease from our first meeting – there was no doubt to us that we could put our trust in them and let them do what they do best. The arrangements they created for us on the down were breath-taking – we're still getting comments about them today."
"We wanted to combine our backgrounds as a small gift to our guests. We decided to have black and white New York cookies and Welsh cakes as favours. Ross's auntie is an expert when it comes to Welsh cakes – we were so grateful to her for creating over 200 Welsh cakes for our wedding."
A classy cake befit a classy wedding and Love Rosie Cakes created the perfect 3-tier bake.
"We had a three tiered cake with gold foiling and flowers as decorations. We wanted flavours that were light but also packed a punch. Vanilla was a base for each layer with some including pistachios – raspberry filling was an excellent addition in between the layers."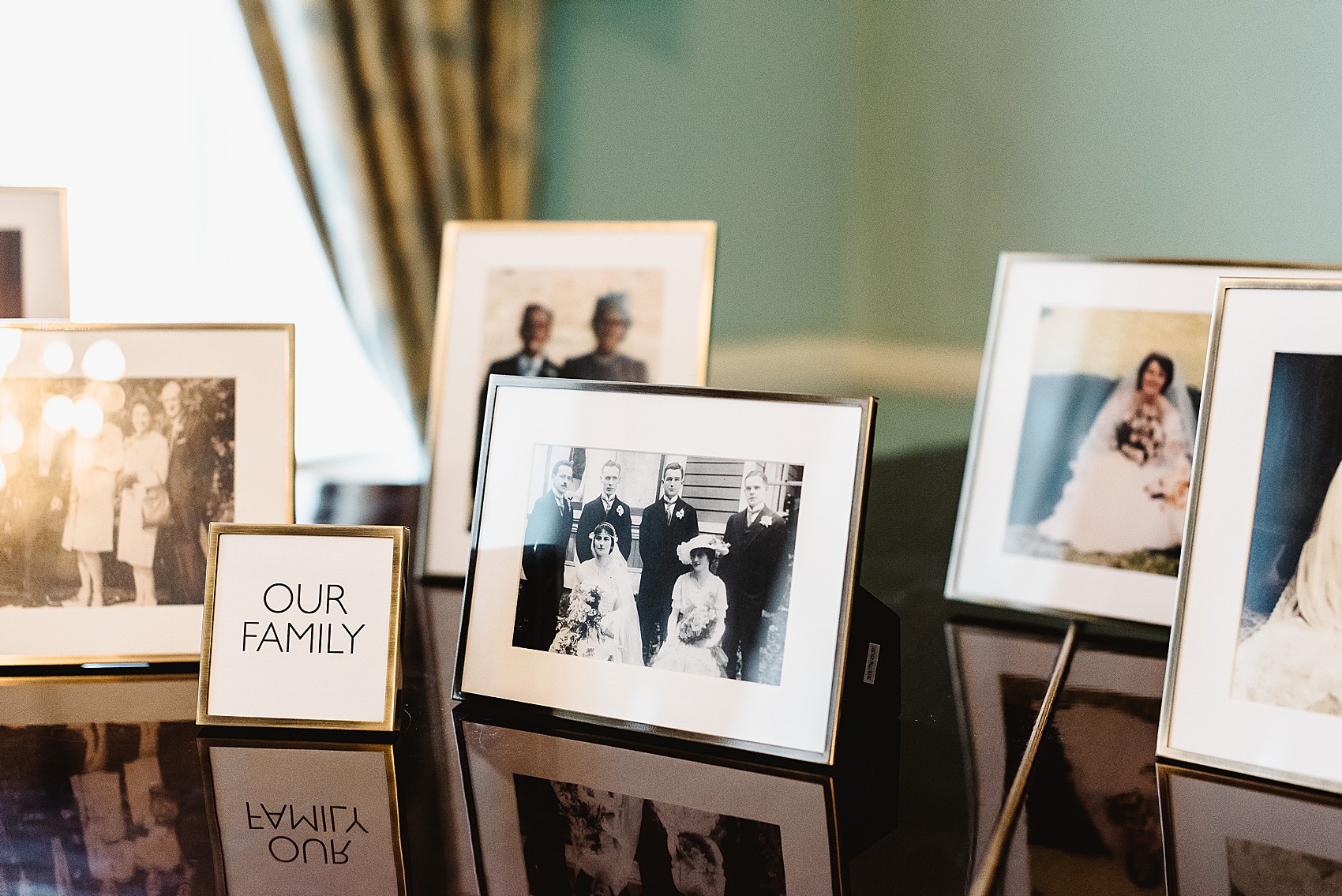 Come evening time, the band Pop Rocks provided some fantastic entertainment, getting every guest on the dance floor…
"Our first dance was 'Parachute' by Train. They're a band we both love and we have a particular attachment to the song, while it is also very appropriate for a wedding. It's now a song we can't listen to without having a dance together."
Words of Wedded Wisdom
"Enjoy yourself and don't forget your planning a day to celebrate you and your other half! Go with your gut feeling and have fun while you do it!
On the day, don't forget to take a few moments to absorb what's happening. Seeing both of your families and your friends together in the same place, watching everyone laugh and have a great time.
We were so lucky to have both of our parents help and support us through all aspects of our wedding planning."
A beautiful and elegant day. Thank you so much Stephanie and Ross for sharing.
Readers – a gentle reminder that photographer Fiona Kelly is currently offering a 10% saving on all wedding photographer services booked by 31st January 2020.
Love Annabel x
Book your photography with Fiona Kelly by 31st January 2020 + save 10%