We have a dreamy wedding wedding to share with you today loves – and the second wedding this week featuring a bride in an astonishingly beautiful Hermione de Paula gown (see other Hermione de Paula brides here).
This wedding has strong family ties; the ceremony taking place at the parish church of the bride's family, and the reception in a converted barn belonging to family friends of the groom's parents. Our couple took their inspiration from their quintessentially English countryside setting in the beautiful Cotswolds, as well as Italian inspiration in the delicious food.
The wedded couple are talent agents Chessie and Ollie, who were married on the 4 August at St. Edward's Church, Stow-on-the-Wold; a truly magical medieval church, whose doors are flanked by two ancient, sinuous yew trees.
The ceremony was followed by a reception and party held at Hill Barn in Lower Swell.
Divine Day Photography

+ Follow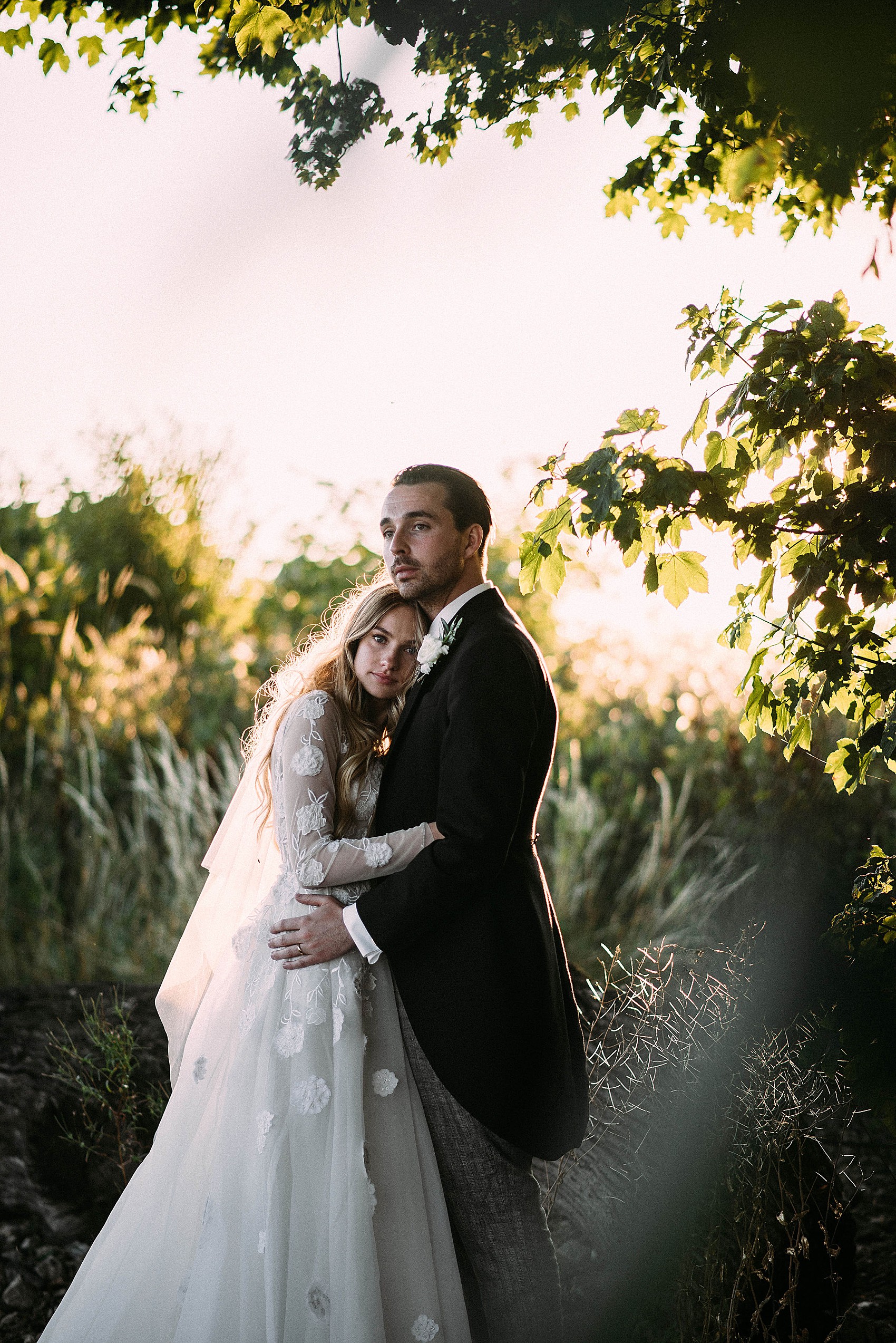 "We really didn't focus on a theme, we just wanted the day to be filled with things that we love and meant something to us. If we did anything then I'd say we leaned towards an Italian / English countryside theme. My family have many ties to Italy. My grandparents lived in Rome for about 30 years, then of course we got engaged in Florence, and it's our special place. So though we wanted to get married at home in the Cotswolds, we also liked the idea of tying it to Italy."
Each and every dress by Hermione de Paula is such a wondrous work of art, and Chessie had a brilliant time with the team at Hermione's London boutique, where they crafted an enchanting dress of delicate tulle, adorned with appliqué flowers.
"My mother and I had the most incredible time designing my dress with Hermione and her team. I honestly don't even know where to begin with the whole thing. It was so special to get all of the time with my mum as much as anything.
"Talking through the dress, drawing all different looks and designs, pulling inspiration from magazines, then meeting with Hermione and team and seeing our ideas come to life! Hermione is a genius, and I couldn't be more grateful to her and her team for making me feel like a real life princess."
"I tried on just about every dress in London (or so it felt!). It was so much fun, but I just didn't find one that ticked every box and I wasn't prepared to settle on my wedding dress, so after a while we decided that we were going to get one made. One of my bridesmaids actually pointed me in the direction of Hermione after finding her on Instagram, and then after meeting her it was just the perfect fit."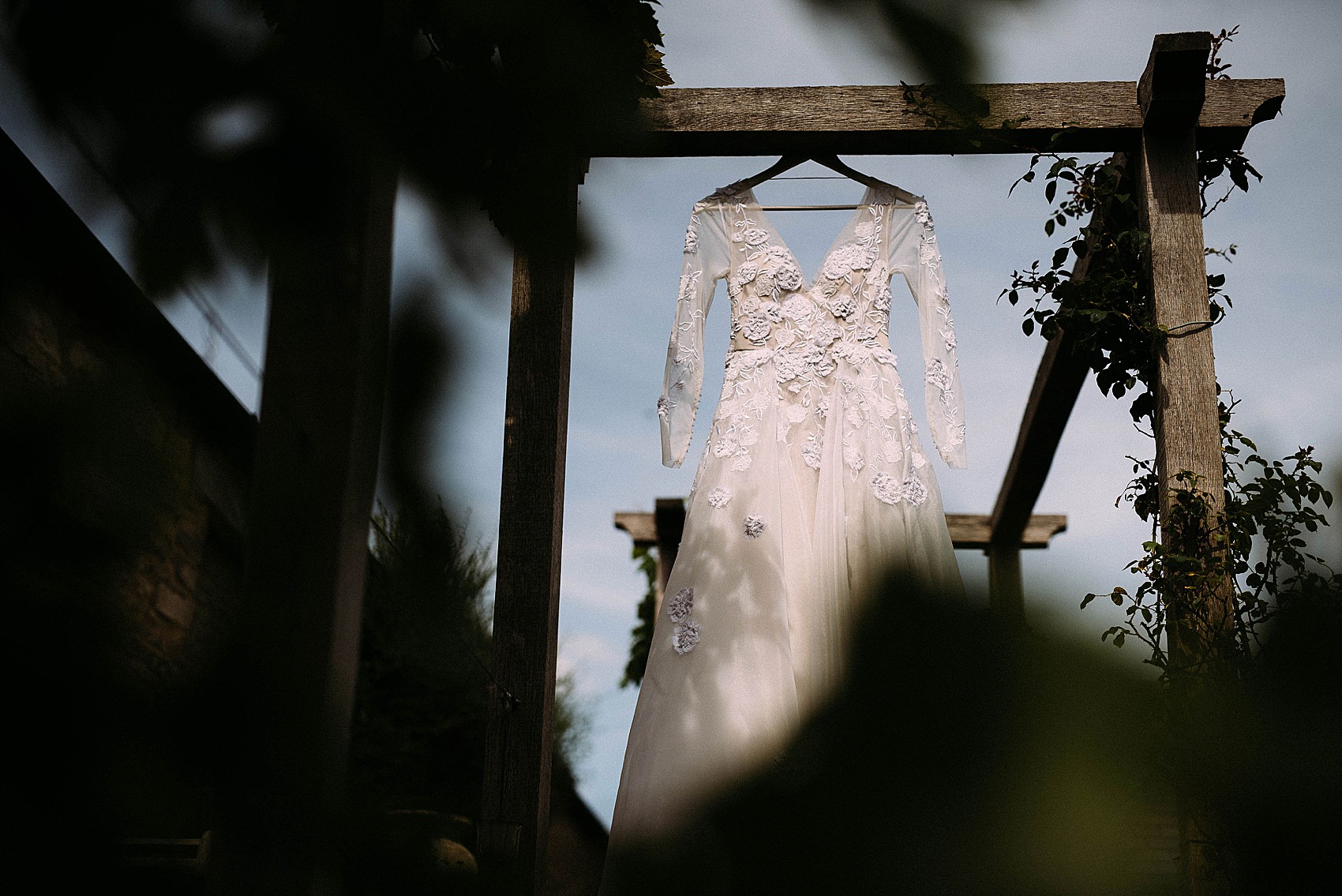 "One of Hermione's trademarks is that she embroiders bespoke details onto her dresses. So for me, on the inside of my left wrist, I had my husband's and my initials, and then we had mine and my husband's names and our wedding date embroidered
along the hem of my veil."
"My favourite thing about my dress (besides the personalisation) was that I knew I wanted something that was big and bridal, but I really didn't want to feel weighed down by tonnes of fabric. Hermione managed to give me the bridal effect whilst making the dress incredibly light and ethereal. It was the most perfect balance."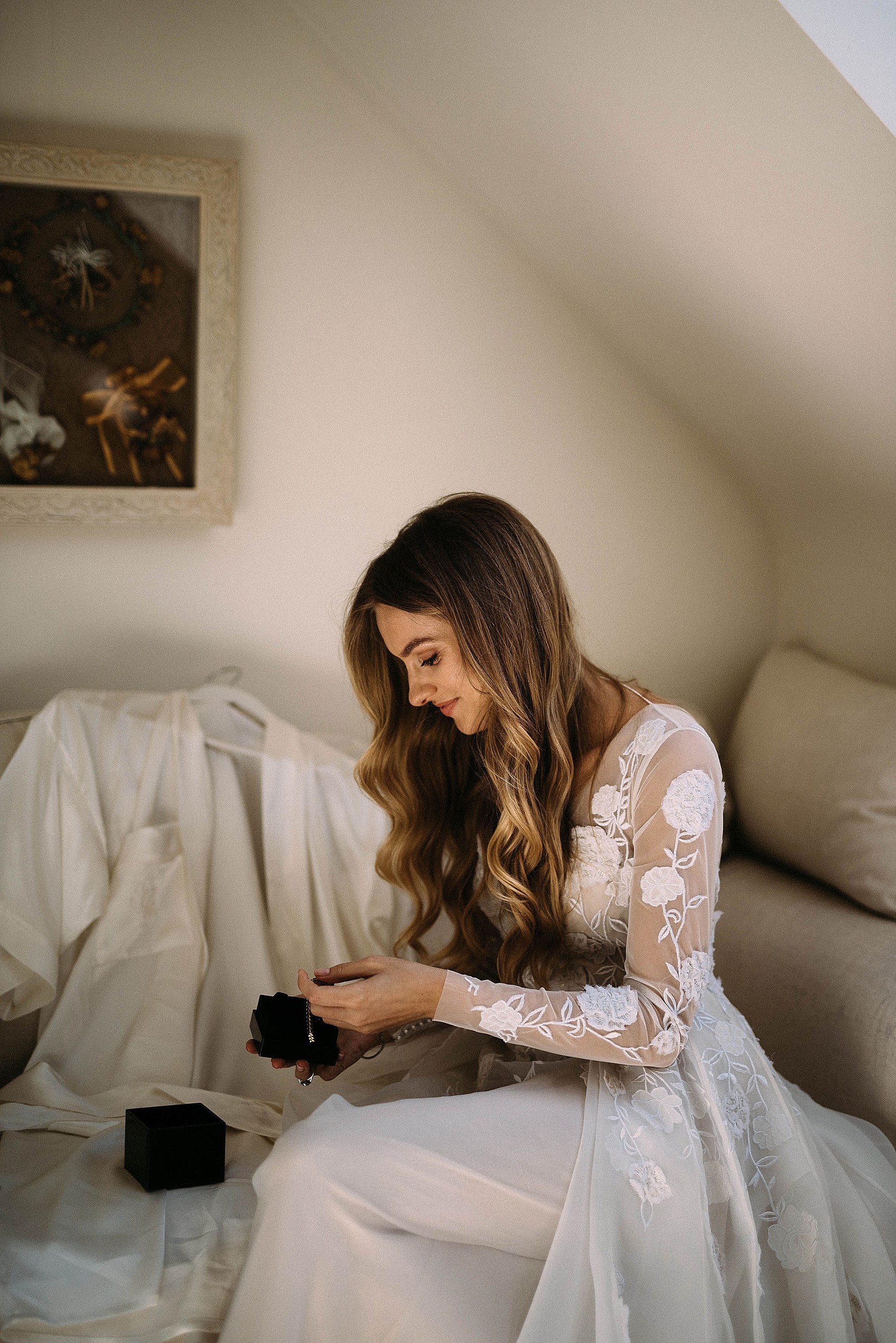 Chessie also wore three bracelets; one had been a gift from Ollie from a few years ago, the second was a sapphire design by Annoushka, which was a wedding day gift from Ollie (and her 'something blue) and the third was her mother's tennis bracelet, worn as her 'something old.'  Chessie's make-up was by Chantelle McDonald, and her lovely, long hair was styled into soft waves by her trusted hair stylist, Noémie Renvoizé. On her feet, Chessie wore blush pink heels by Manolo Blahnik, which were a thoughtful wedding day gift from a close family friend.
"My mother-in-law also gave me the garter she wore on her wedding day to wear. My father-in-law gave it to her on their wedding day as her 'something blue', so that was my 'something borrowed', and really special to have."
"As a wedding present my parents bought me some beautiful vintage diamond earrings. Given my hair was so simple and I didn't wear a necklace, I loved having the pop of sparkle every time my hair moved."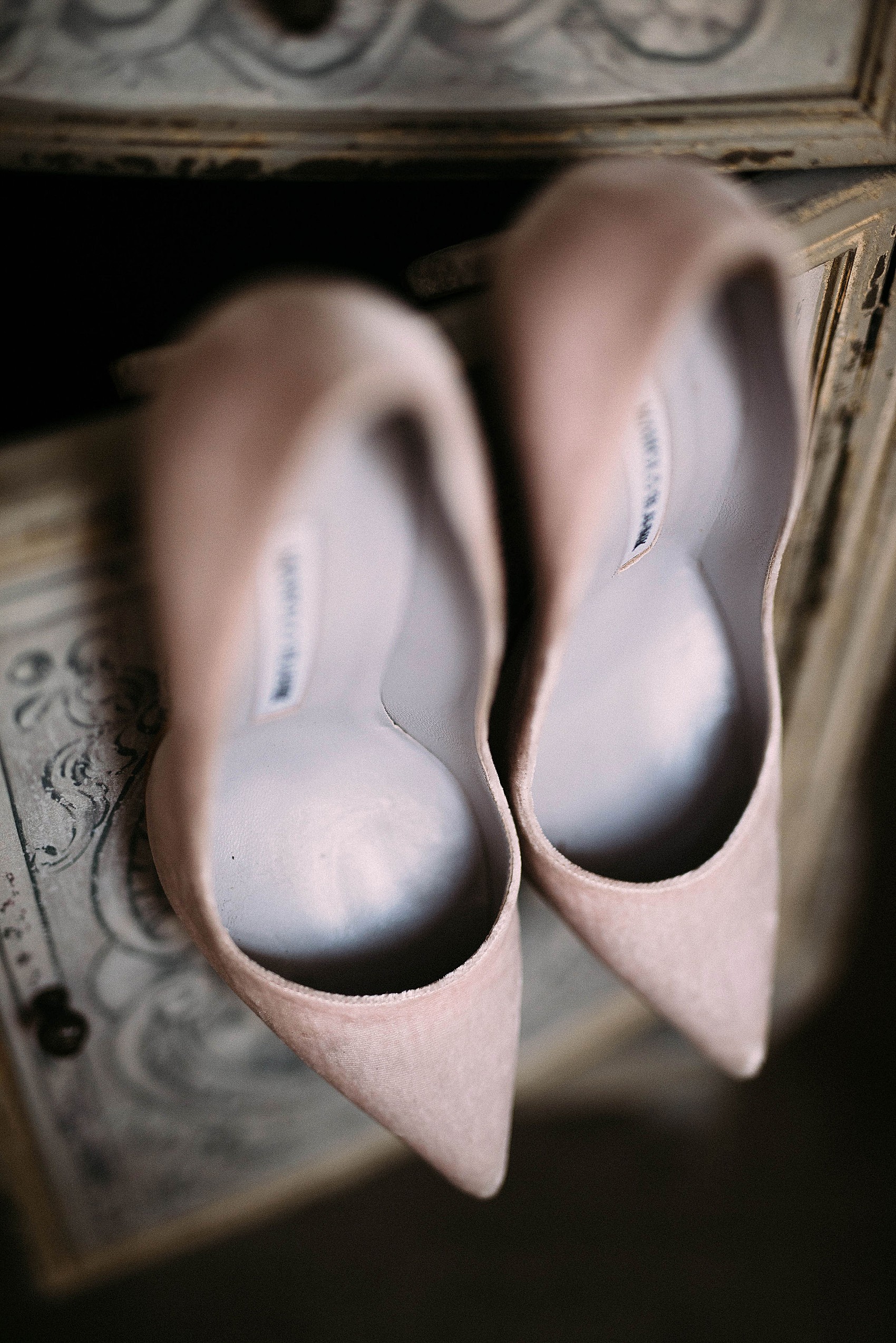 Chessie's dress was embroidered with peonies and roses, and so her simple and striking bouquet of pale peach garden roses by Fiona Perry Flowers, was chosen to complement these details.
"We just kept it really classic. We wanted mostly green and white, and for it all to look like an extension of the English countryside. Fiona is amazing. She's local, so knows the local flowers and greenery, so we stuck within those parameters. We threw in some pastel peaches just to add a slight variation of colour. I always adored astilbe, so I knew I wanted those to be my bridesmaids' flowers. I just think they look so soft and ethereal."
Chessie and Ollie first met at their office Christmas party in 2011, and began dating in early 2012, after it had taken Ollie a few weeks to work up the courage to ask!
"We were engaged March 2016. My husband totally outdid himself on the proposal, and poor guy has really set himself a high standard! He surprised me with a weekend away to Florence, which is my favourite city in the world."
"He had cleared it with my office, packed me a suitcase with the help of my mum, and only told me the night before that I wasn't going to be going into work the next day."
"Once we arrived in Florence, he took me all the way up to San Miniato al Monte, at the top of the city, where (in public!) he got on one knee and asked me to marry him."
"We then spent the rest of the weekend celebrating at some of our favourite restaurants that he booked months in advance. The cherry on the cake was that once our plane touched down in London, he had already arranged to go and see my family, who were waiting at my parents' house to toast the engagement and share the celebration."
The bridesmaids each wore a pretty pink dress of their own choosing (no further details available, sadly) and styled these with their own shoes and accessories, too.
Cool wedding transport was a vintage, white convertible VW Beetle from BeetleBugs Classic Wedding Car Hire.
"My perfume was Jo Malone – Vanilla & Anise. This was my scent for years before they discontinued it. My mum managed to find me a special bottle (that she also engraved!) so that was a really nice scent to wear, and reminded my husband of the days when we were first dating."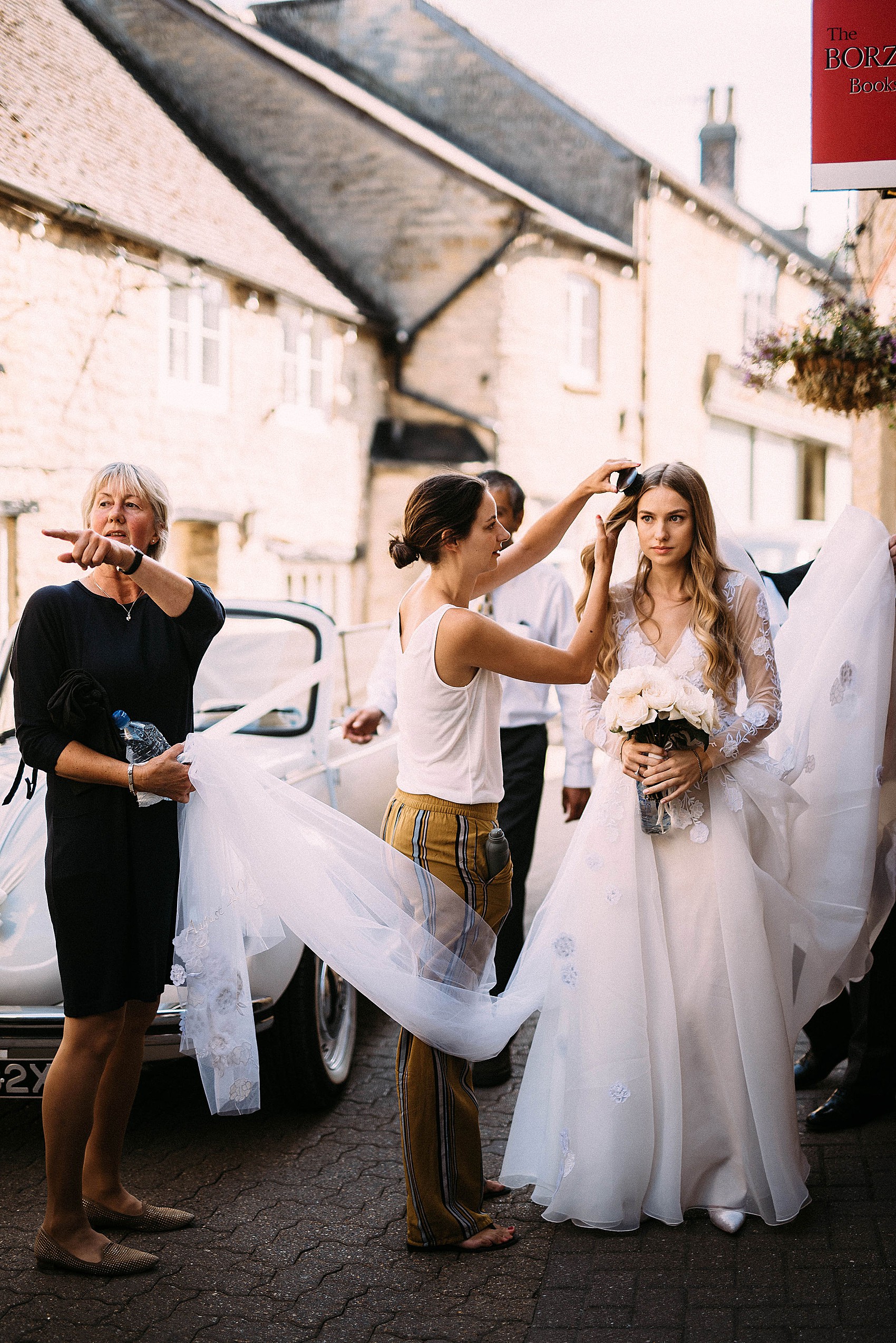 Chessie walked down the aisle of St. Edward's together with her father, to an a cappella version of If Ye Love Me, by Thomas Tallis, sung by a local choir (sadly no further details supplied). As the ceremony music was very important to Chessie's father, the couple asked him to choose pieces played in church, and their service was conducted by Reverend Martin Short.
"Picking our readers was really important to us. I'm very close to my brother, and once you get organising these things you realise brothers of the bride don't get much of a role, so he was our obvious first choice as a reader."
"Then Ollie and I are really close to his Grandfather, Pokka, who we also knew we wanted involved in the day. Then lastly, Ollie's closest friend, Honor Devereux, who was one of my bridesmaids and mother to our little page boy, was our final reader."
Chessie's brother, Ollie's grandfather, and their friend Honor each chose their own reading. Chessie's brother chose the beautiful poem, Union, by Robert Fulghum, and Ollie's grandfather, Pokka, read 1 Corinthians 13:4-8 (Love is patient, love is kind). Last but not least, Honor read On Marriage, by Kahlil Gibran.
"Our rings are from Courlanders Jewellers in Richmond, where my mother-in-law works (and where my husband bought my engagement ring). We went for exactly the same style, just in different sizes. We also had them engraved on the inside with our initials and wedding date."
"Without a doubt the ceremony itself was our favourite moment of the day. Everything else was such a blur, but each element of the wedding ceremony remains crystal clear in my mind."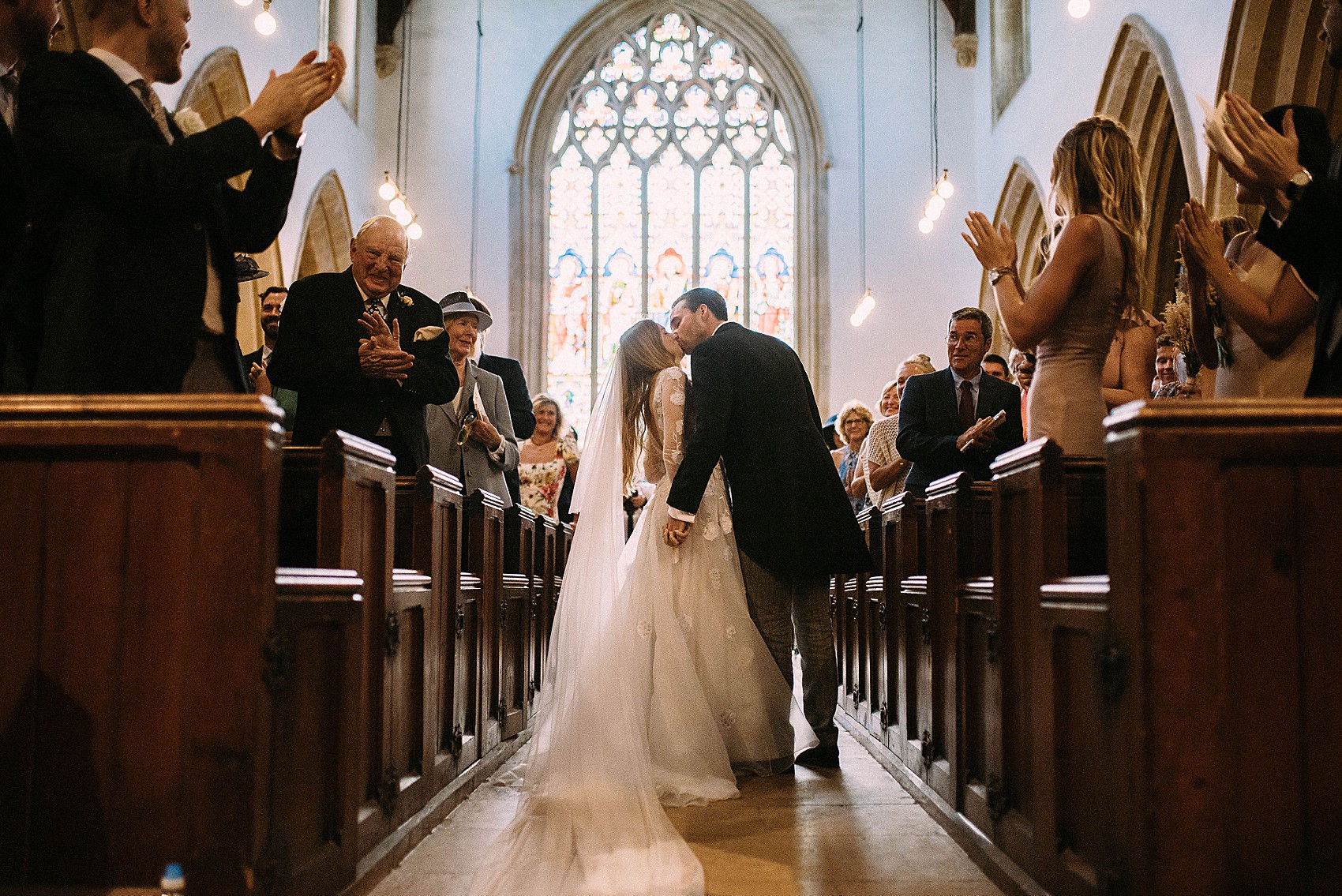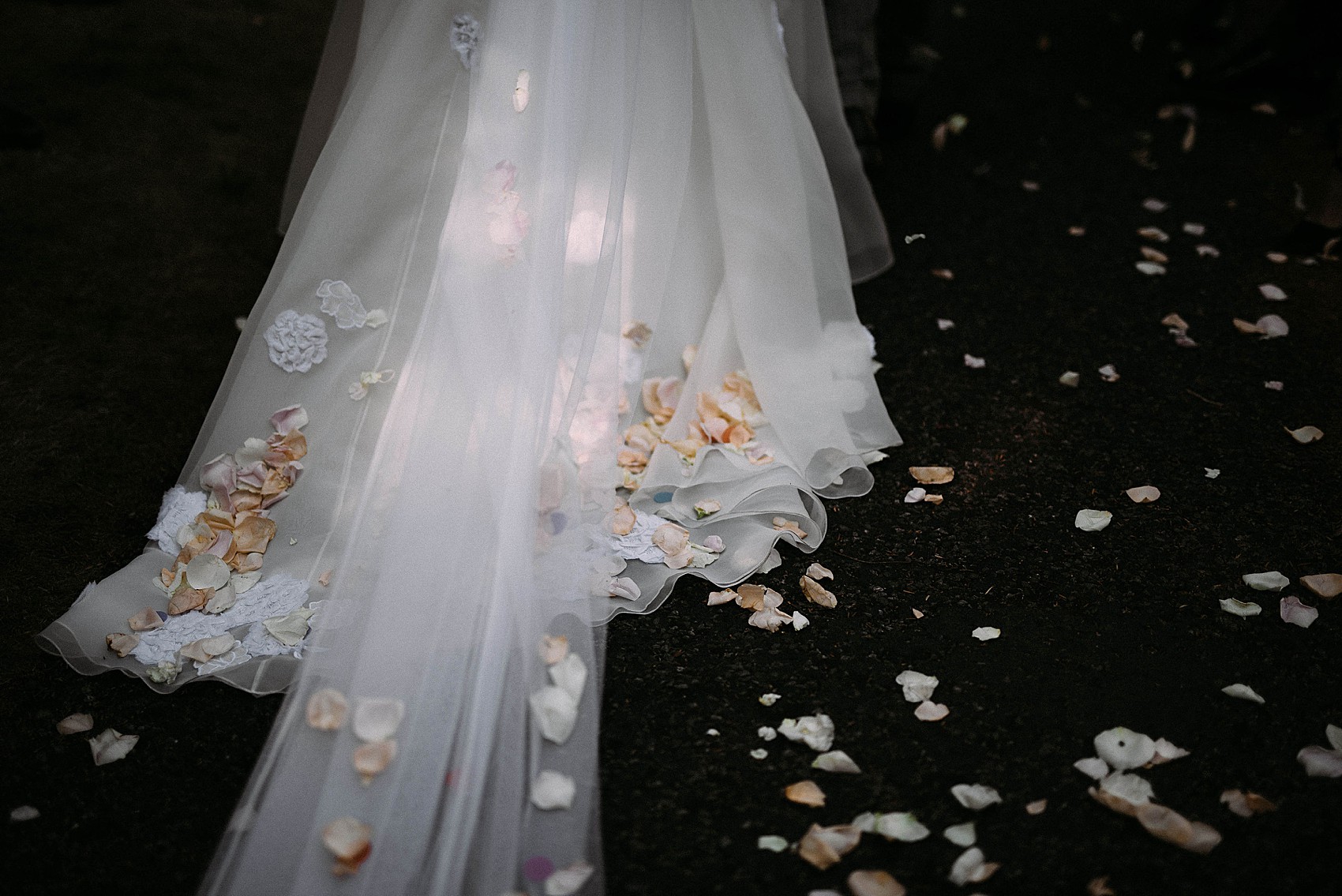 The church yew trees I mentioned right at the beginning provided the most spectacular backdrop for post-ceremony photos, wonderfully captured by Sandra from Divine Day Photography.
"We had a crisis when our photographer pulled out 3 months before the big day. Our unbelievable videographer then suggested Sandra, and we couldn't believe our luck. It was fate, and I hope a message to future couples that everything happens for a reason. No need to panic when things don't go according to plan!"
"Your wedding day goes by in the blink of an eye, so getting to re-live it over and over again is the biggest treat in the world. Frances from Reel Love Films was so unimposing; we never even noticed she was getting half of the footage we ended up being able to watch."
Ollie looked incredibly smart in his traditional morning suit by Hackett London, which he wore with a waistcoat made for him by friend Harry Hales, who runs menswear label SIRPLUS, who make their pieces for surplus fabrics. Ollie and his groomsmen all wore Liberty print ties, and Ollie's shoes were a wedding gift to him from Chessie, by Church's.
"Sadly the fields around my parents' house are on too steep of a slope to allow for a successful marquee, so we spent a really long time trying to find another suitable venue."
"Ollie's parents have some close family friends in the area, and one of their friends has a barn on their farm land that they converted the year before for a 60th birthday."
The barn space Chessie and Ollie used for their reception was decorated beautifully by Knight Light Events and florist Fiona Perry, with garlands of greenery strung from the ceiling, suspended with glass baubles containing candles.
Long, rustic tables were laid with beautiful crockery, glassware and cutlery, and dotted with flowers, potted plants and candles held inside glass candlesticks, which caught the light beautifully.
"I think the owners of the barn used us as guinea pigs to see how it would work, by letting someone else host an event there, and it was absolutely amazing."
"It was also really special to us, that though the wedding was held in an area close to my family's heart, it still very much felt that Ollie's family were equally a part of it because our reception venue was all thanks to them."
"Julia Sibun was our planner and event manager. We loved her so much. As well as taking so much off our plate and continuing to be unbelievably calm in the face of crisis, she was the most perfect mediator between all of us and our different (emotional) opinions!"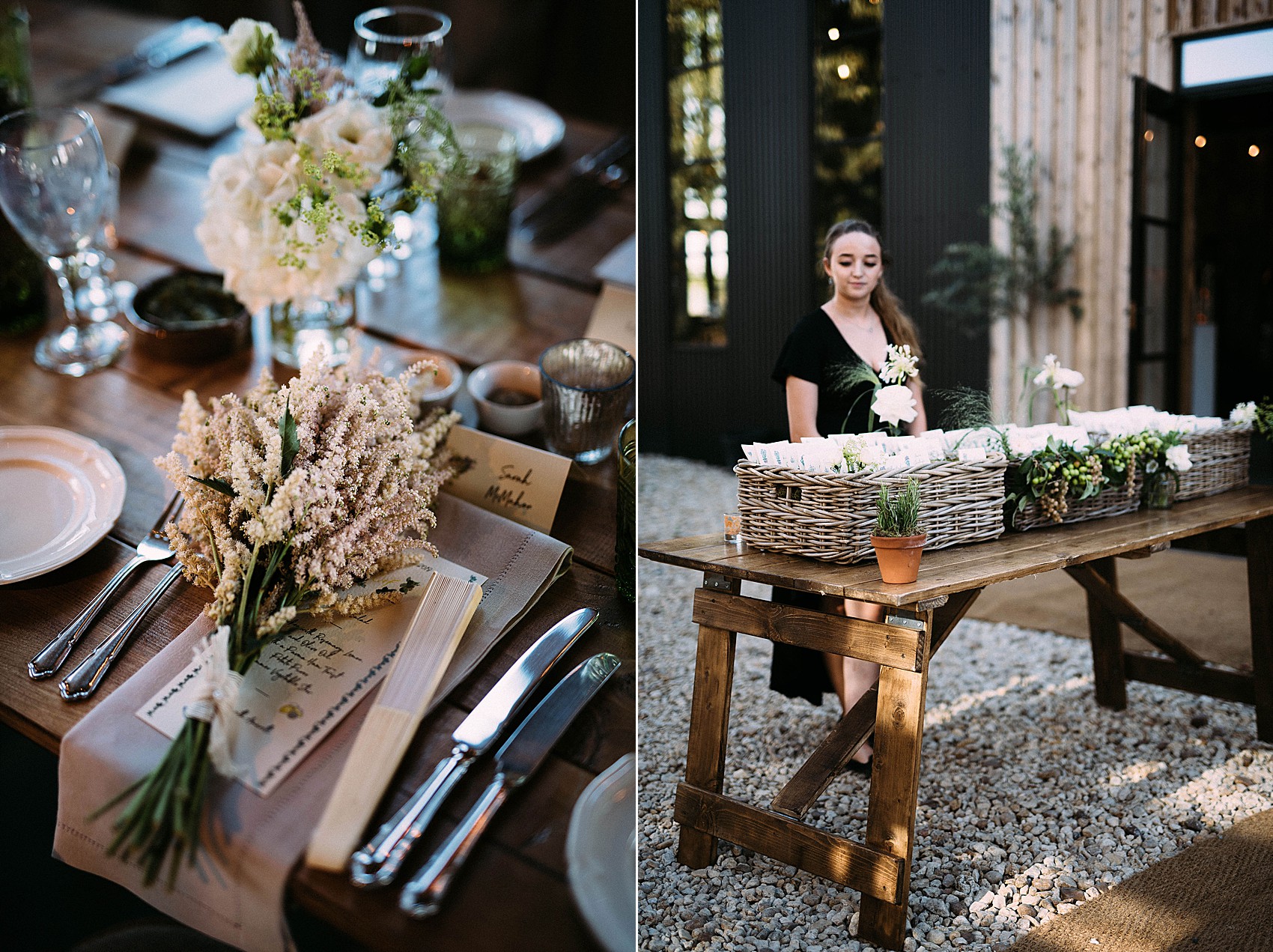 "Italy inspired our tastebuds with our menu and wine/cocktail selection. During our reception everyone was eating chunks of parmesan and shooting gazpacho while sipping on Aperol Spritz and Bellinis. Then we settled in to a delicious three course menu of a caprese, lemon and garlic chicken and affogato, while drinking Italian wines sourced by my in-laws."
"Our caterer, Caroline Gibbs [unable to find any details], really helped us stay on theme with the Italian cuisine, while sourcing local ingredients to keep it fresh and English at the same time."
"My mother-in-law worked closely with our caterer to create our cake. We knew we didn't want anything too big or ostentatious, and she so kindly took this off our plate and helped create the most perfect cake."
"My bridesmaid Rose Electra Harris did our stationery – she is such a genius. My husband introduced us many years ago, and so she is a close friend of both of ours. She helped us make all of our custom stationery, and it turned out incredibly! It made us feel so special having something created just for us, and by someone we love so much."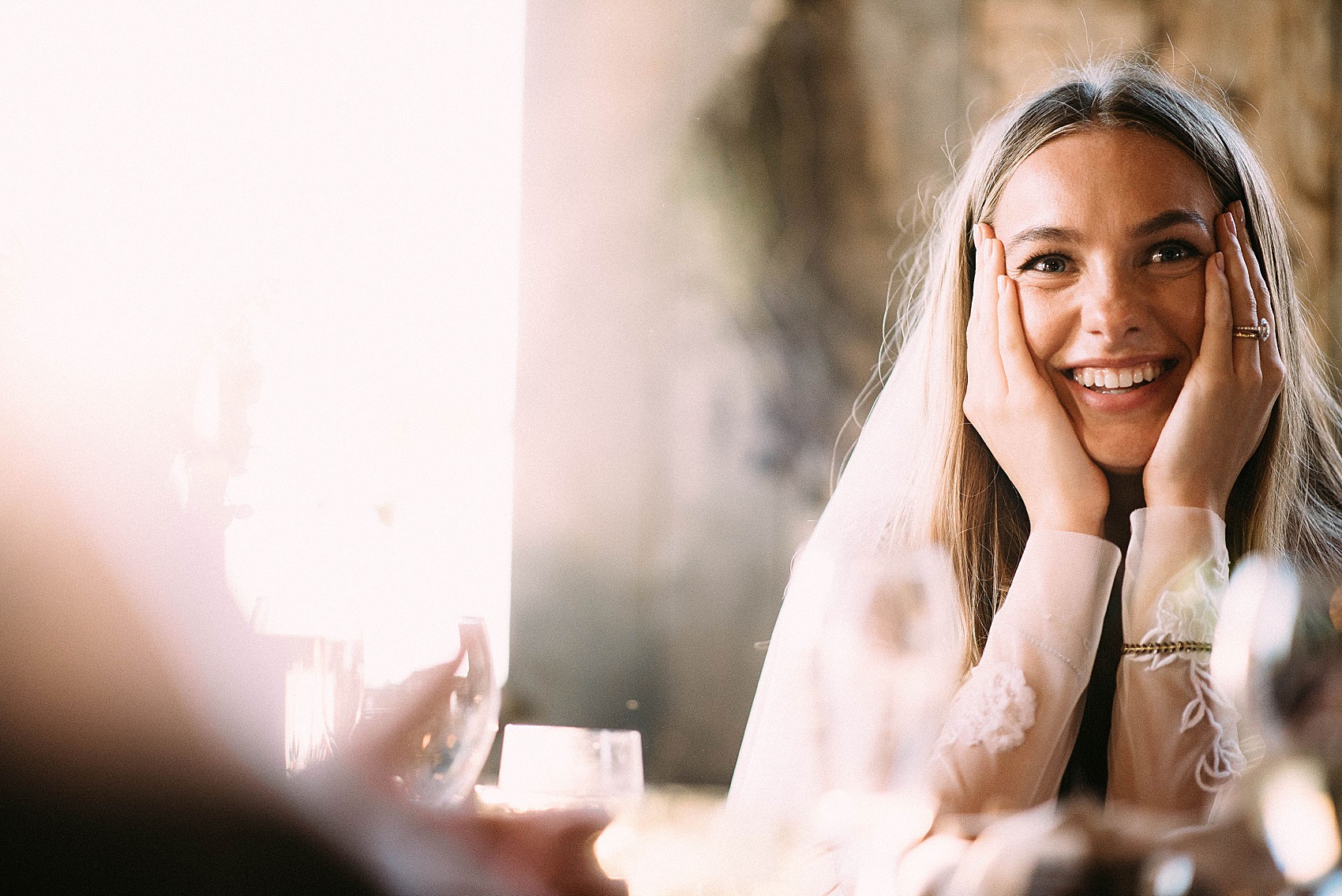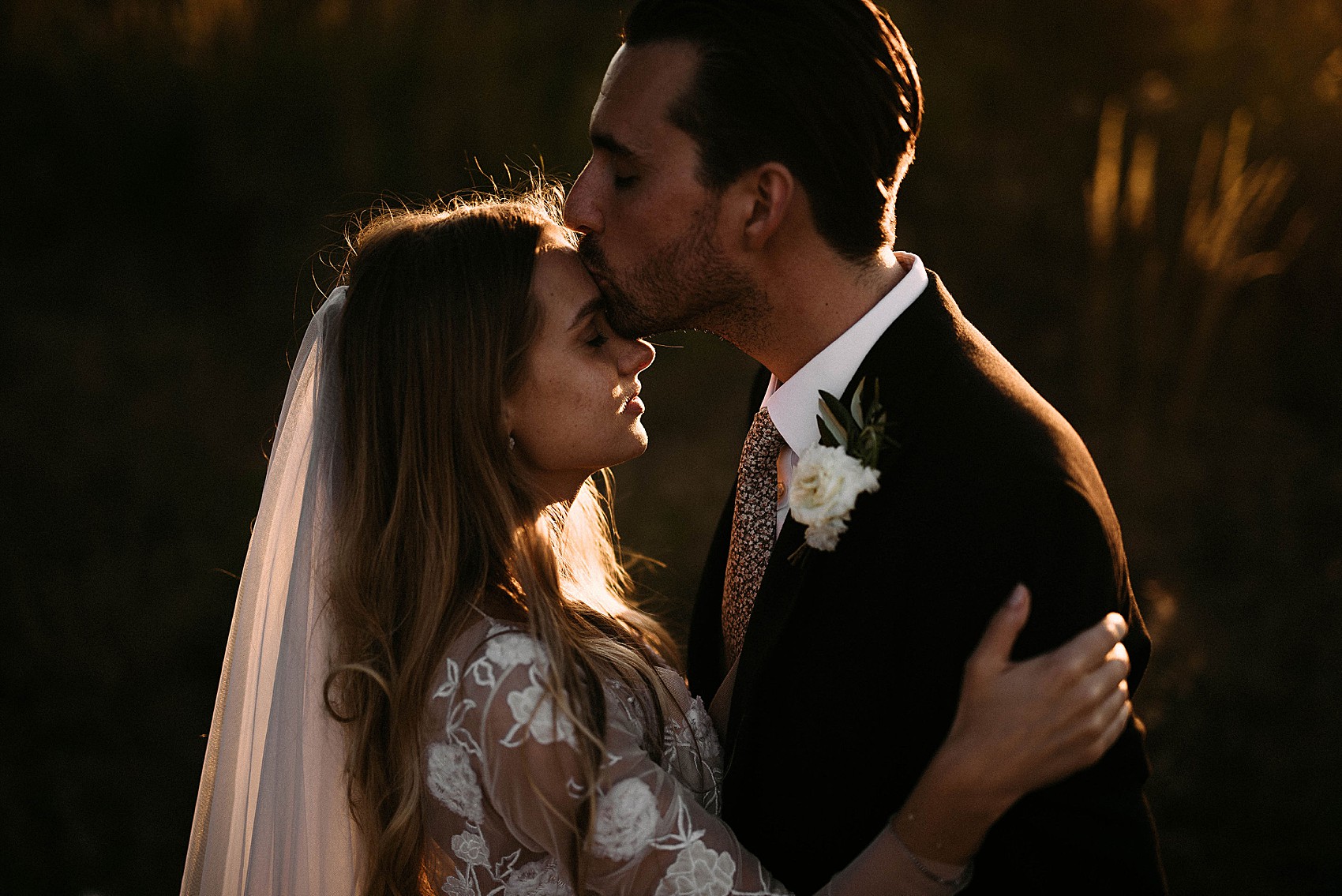 Joyful toasts and speeches were enjoyed during the wedding feast, and as day became night and the evening festivities began, Chessie and Ollie enjoyed their first dance together as husband and wife, to Natalie Cole's lovely song, This Will Be.
"Our entertainment was Atlantic Soul Orchestra and DJ Dan Browne. Both of our families are huge fans of soul music, and I find that as a genre it tends to be cross generational, so we were sure to get everyone on their feet to start the party!"
"Then after two brilliant sets from them, we had Dan Browne step in to DJ until the end of the evening. With our RSVP cards we asked everyone to pick a song, so it was fun watching people's faces when their song selection came up."
Words of Wedded Wisdom
"It really is such a cliché, but it is to not get bogged down in the detail and forget what it is you're actually doing. I wanted everything to be perfect, so at times I found myself sweating the small stuff, and I wish I hadn't. Everything always works
itself out, and you can go crazy deciding between so many little details. Just go with what you love and don't over think it. There's too much choice out there at the moment, just take a leap and trust it will be perfect."
"All your guests bounce off the bride and groom. So if you two are having fun so will everyone else. It's what is so special about a wedding, everyone there just wants to see you happy and in love – they're not focussed on the tiny tea light placement, and they won't know if you didn't get that one particular rose you wanted, they're only focussed on celebrating the two of you – so just enjoy it all."
"On the day itself there is nothing we would have done differently, because we did exactly what we wanted to do in the moment, and we'd never want to regret anything about our wedding day."
Chessie and Ollie, thanks a million to you both. It's been amazing to be able to share your day here on our pages. Many thanks to Sandra from Divine Day Photography for these wonderfully evocative images, too.
With love,
Laura