On these cold and sometimes grey days of January, it can be just the tonic to enjoy a romantic, pastel-hued wedding filled with flowers, which took place on the day after midsummer, and the reception held in the spectacular garden of the bride's mother.
Today we're heading to Scotland for the wedding of cashmere designer Rosie Sugden to accountant Fred Taylor. The couple tied the knot on 22 June 2019 at Bowden Kirk, followed by a reception party in a marquee (supplied by Best Intent Marquees) within Rosie's mum's beautiful garden. Rosie and Fred booked the very lovely and talented Melissa Beattie to document their day through photography.
Melissa Beattie Photography

+ Follow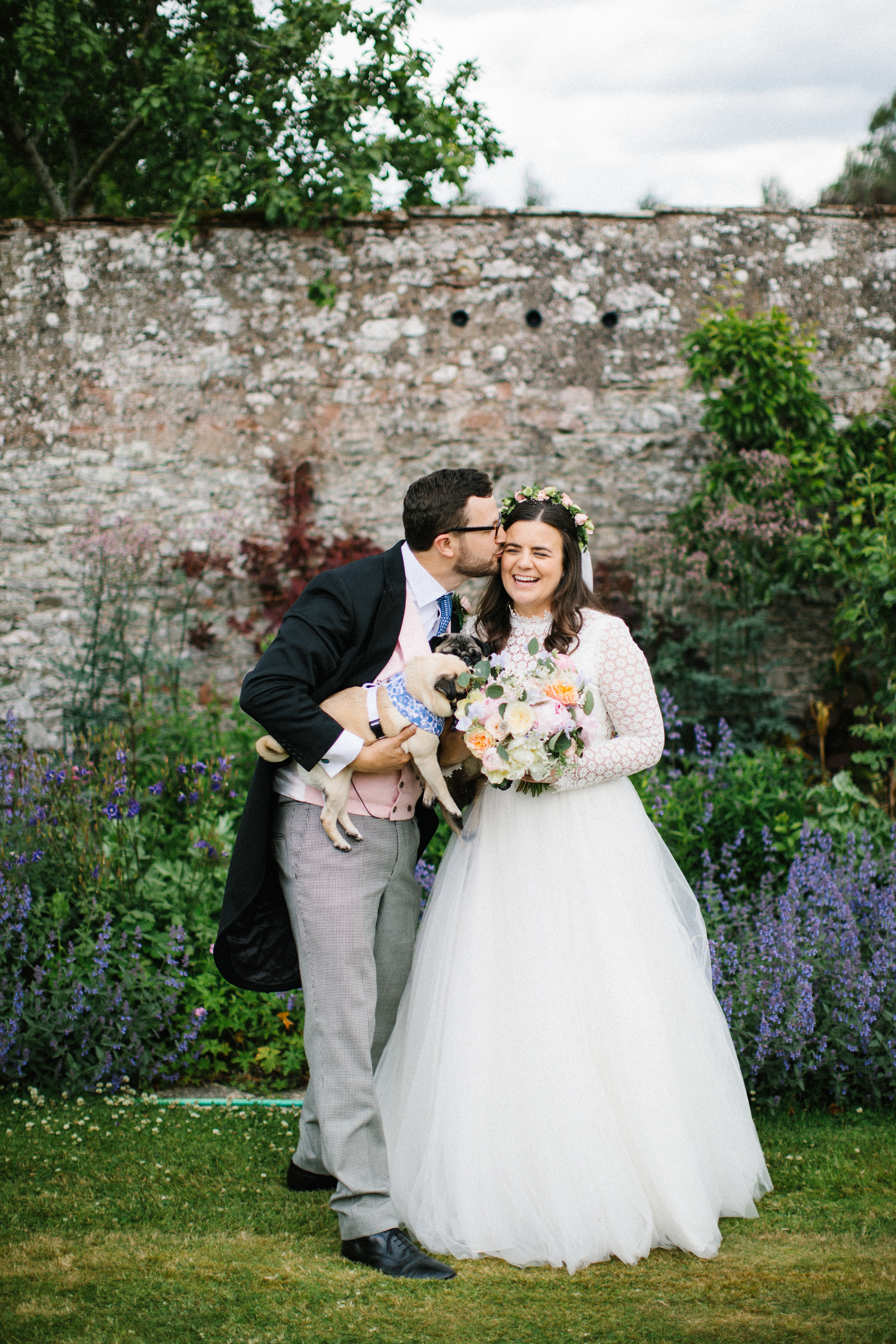 "More than anything the setting determined the vibe. My mum has created the most beautiful garden at home, and we are very fortunate that there was enough space for a marquee. It had to be a relaxed countryside wedding because of the setting. We also both knew we wanted long tables, which I think adds to the relaxed and convivial feel of the marquee."
Rosie and her bridal party spent a happy morning together getting ready, with make-up artist Anna Millington, who created a lovely, romantic look for Rosie.
"I cannot recommend Anna highly enough. My three bridesmaids all wanted quite a natural look, and Anna delivered just that. They all looked so gorgeous and glowing, and they all said how much they enjoyed the whole experience, having never had their make-up done before. It was such a treat for all of us."
"Anna also did a fantastic job of my make-up, which I am so grateful for as my skin had been so temperamental for 6 months leading up to the wedding, and Anna gave me the confidence I needed on my wedding day, so that I didn't have to worry about how I looked in photos, etc. She is such a professional, has an amazing kit, gave out great beauty and make-up advice and tips, was prompt and on time, easy to talk to and in general just an all round lovely person to have around on your wedding day."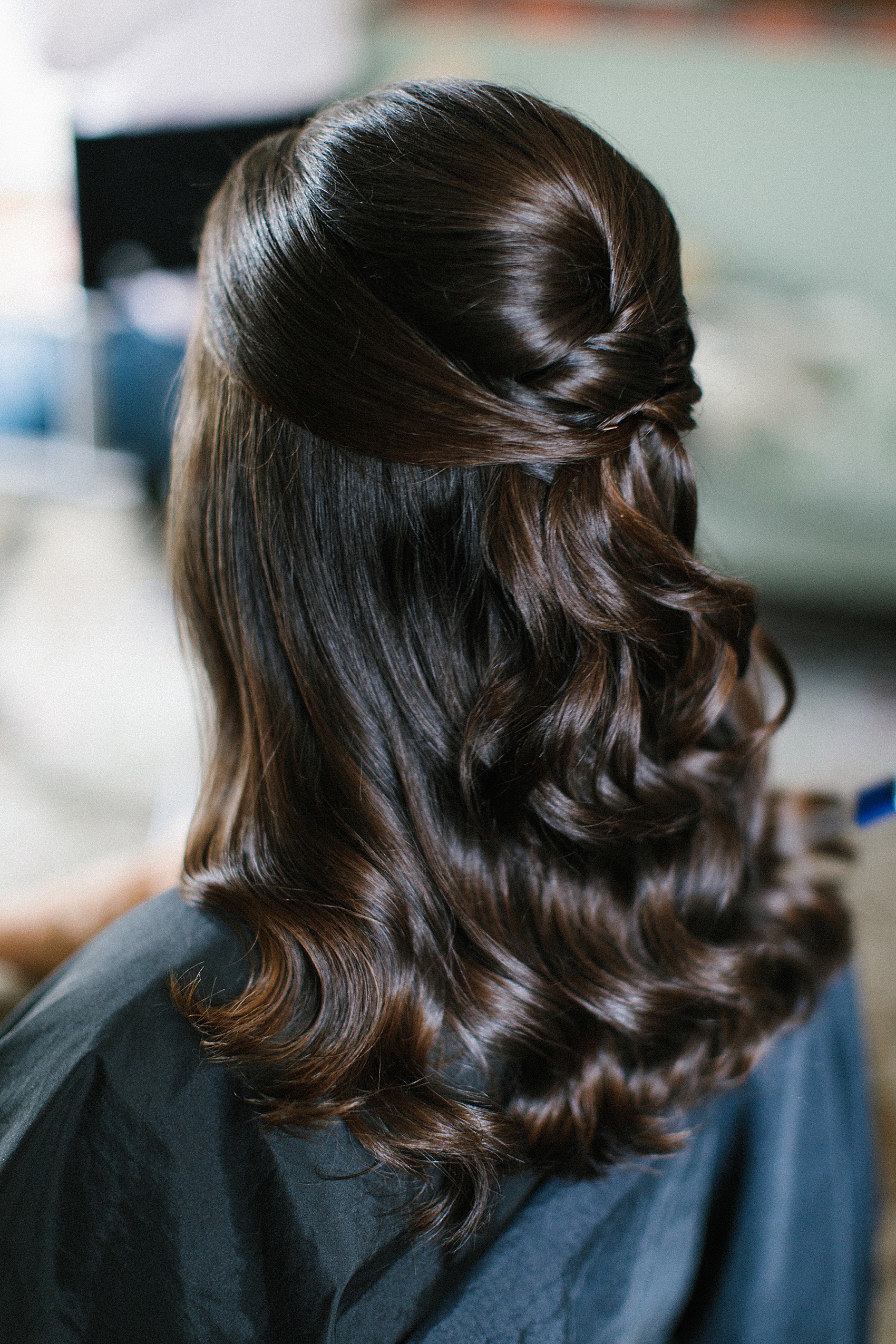 Rosie designed almost all of the elegant stationery herself, with friend Karen Mabon designing the brilliant menus, and they were all printed by Richardson & Son.
"We had pink linen table cloths, green gingham napkins, pug name place cards, and our table names were some of our favourite islands we've visited. There was lots of foliage on the bar and the tent poles, but because we had the sides of the marquee open we just decided to let the garden do the talking and be the decoration."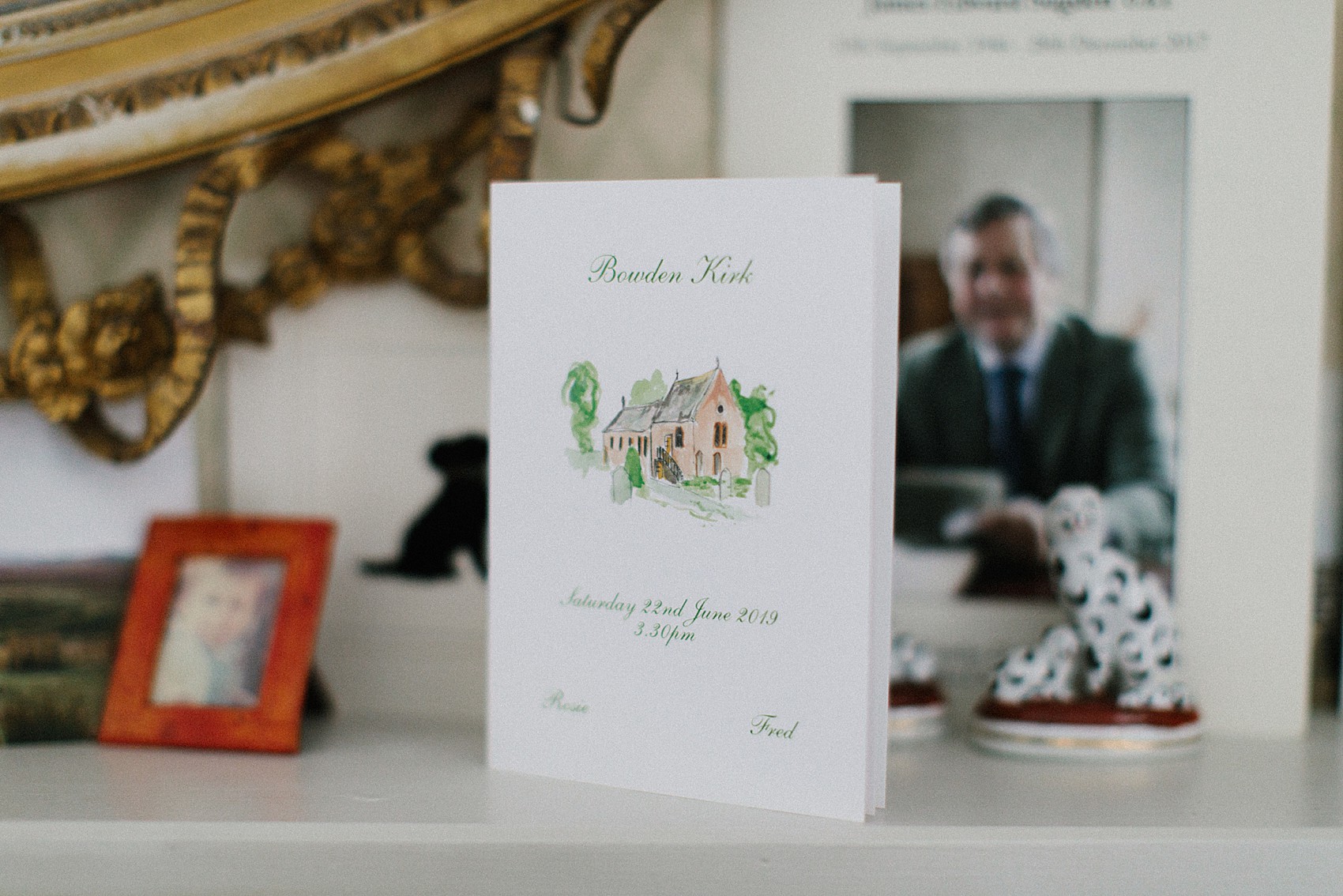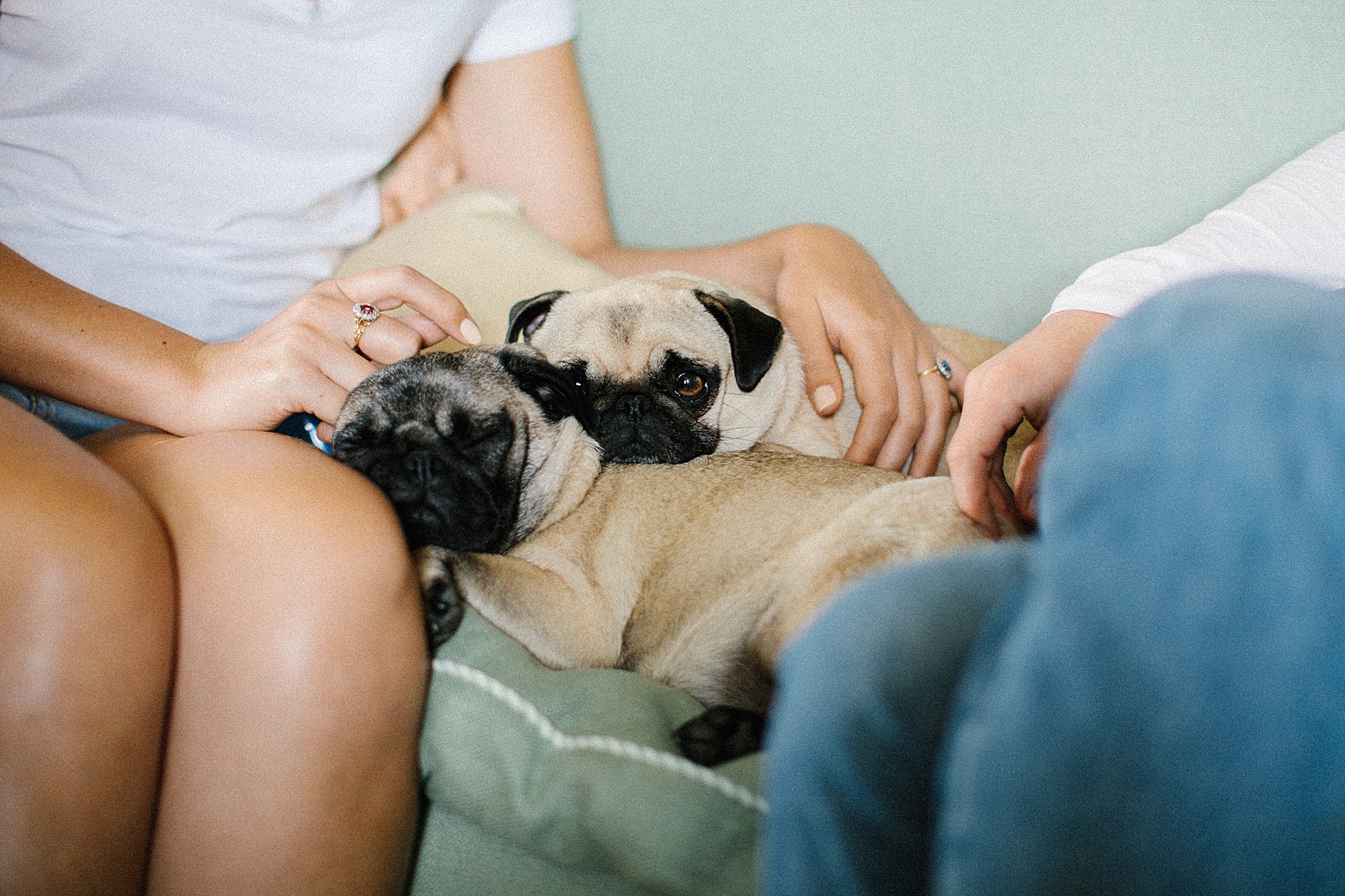 Rosie visited quite a few bridal boutiques in Edinburgh before finding La Novia, where she felt immediately at ease, and found her beautiful Stella York dress (the 6581) with its frothy, full tulle skirt and train.
Save money on your wedding suppliers – JANUARY OFFERS ONLY!
Over the top of the dress, Rosie wore the sweetest high-neck, daisy lace top by Liliana Dabic, the owner of La Novia, which brought a fun, 1960s feel to her look.
"I went to six shops in Edinburgh before I found La Novia. Liliana, the owner, let me try on as many different options as I liked and didn't make me feel under pressure. It was also evident to me that she is a highly skilled dressmaker and seamstress, and I felt confident that whatever I chose, she would deliver it to a very high standard."
"I chose the Stella York dress because it was light and comfortable with no corseting. I also originally I chose a different bespoke lace top."
"When it came to the fitting a few months before the wedding the original lace top I had chosen didn't feel right, and suddenly I saw the daisy lace top on the rack (that had been there all along) and I asked to try it on and it immediately felt so much more me."
"I felt so much more comfortable in it than the original top I had chosen, and it complemented the dress underneath perfectly. I loved having sleeves and the detailed, high neckline, and I think it worked well with my traditional veil and floral headpiece."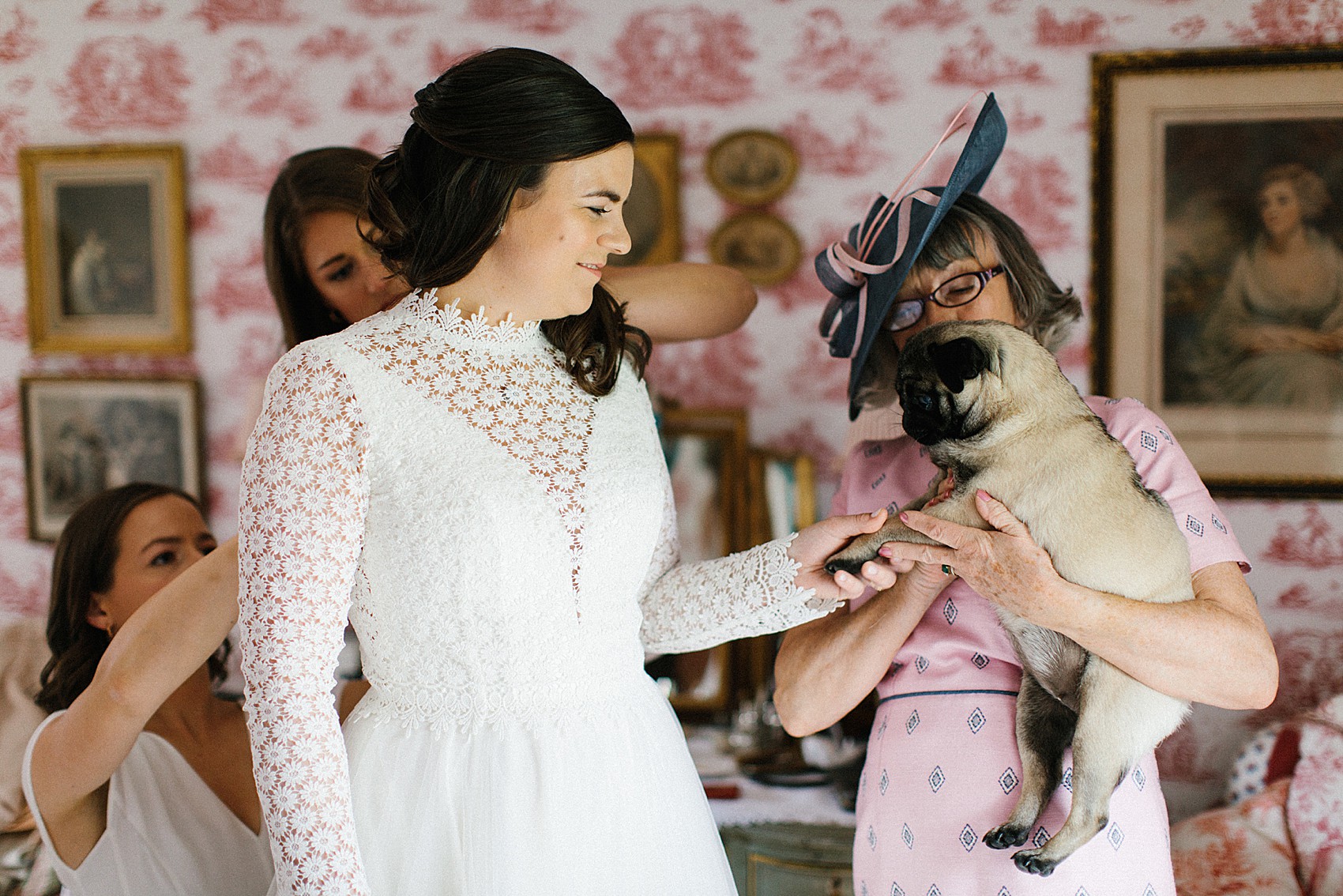 "Truthfully I think I started dress shopping too early, and it was the one bit of 'wedmin' I found quite overwhelming and emotional. My dad had died 8 months before, and I just found it very hard because when you try on dresses it starts to feel very real, and the dresses just seemed like a potent reminder to me that dad wasn't going to be there with me on the day."
"In hindsight I would have waited a bit longer, and perhaps started looking in the January before the wedding, but I have no doubt I would have ended up in La Novia! They are such a lovely and experienced team."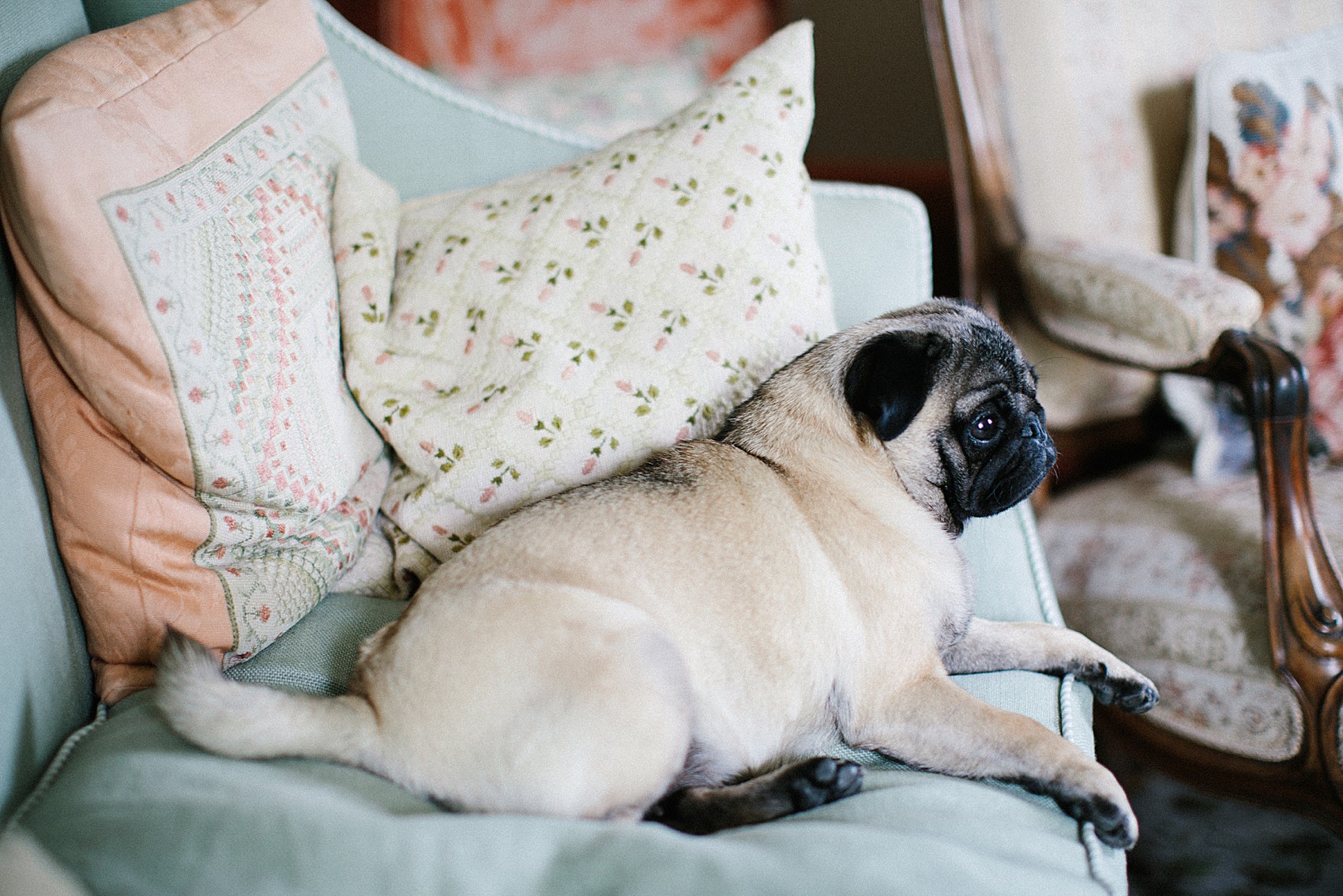 There was a lovely veil of polka dot tulle; a very special heirloom piece belonging to her maternal granny, which had also been worn by Rosie's auntie and older sister on their wedding days.
"I wore the aforementioned veil and we attached it to a beautiful floral half crown my florist Emma McDonald made for me with fresh roses. She actually copied a faux flower one we had that my auntie had worn. I wore my hair half up half down, and my hair stylist was Signature Hair by Kirstie, who did an amazing job."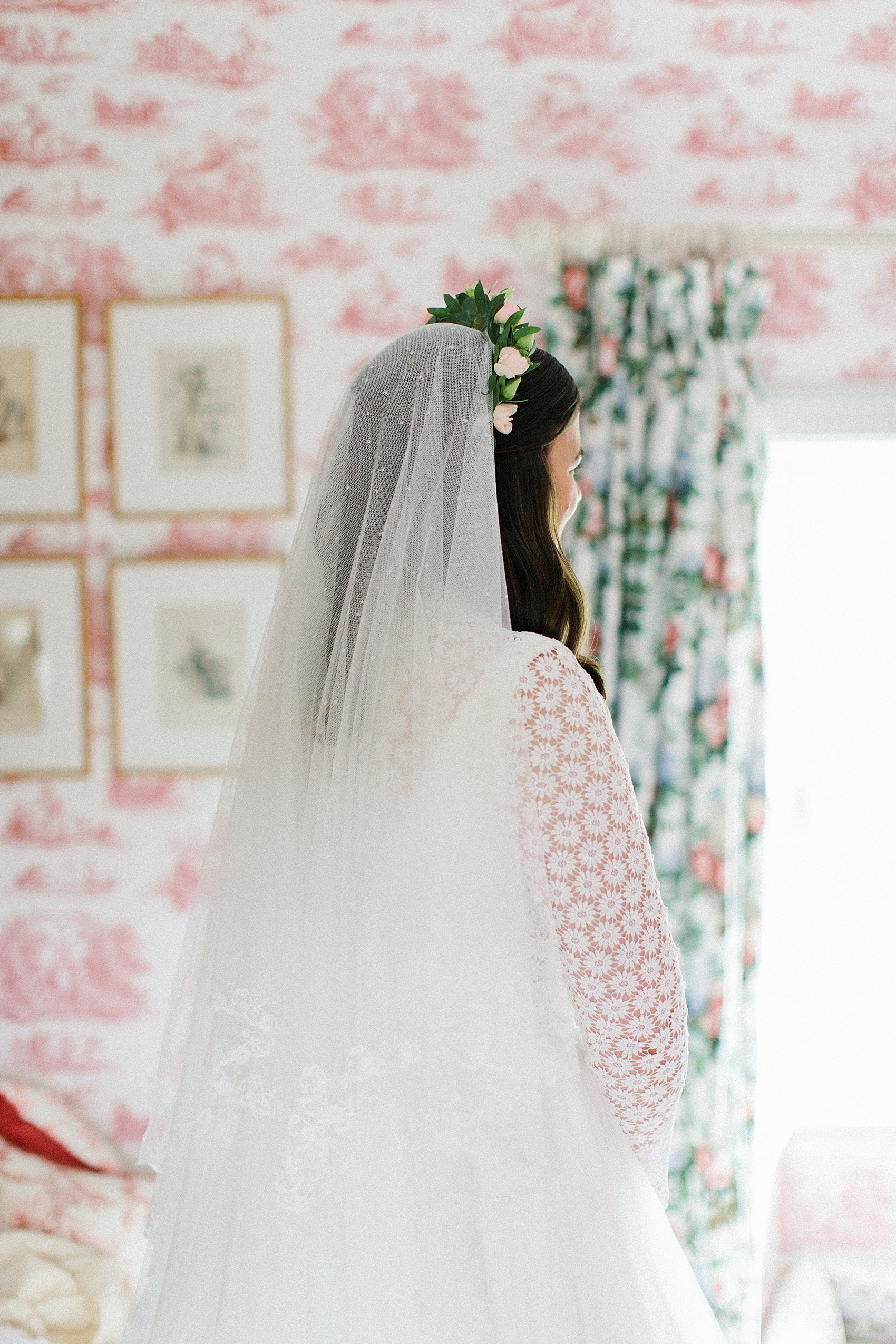 Rosie's shoes were snappy block heeled sandals from Whistles, and she accessorised with lovely aquamarine and diamond heart shaped earrings, borrowed from her mum, which had been a gift from Rosie's dad when Rosie had been born.
"I also wore an aquamarine and diamond drop pendant necklace, which my sister and all my hens gave me at my hen party in London. On the day my mum also gave me a beautiful three diamond ring, which she had had made out of two of my grandma's rings. I wore that with an eternity ring that belonged to my granny, my wedding band, and of course my beautiful aquamarine and diamond engagement ring that Fred gave to me – it was from Joseph Bonnar Jewellers in Edinburgh."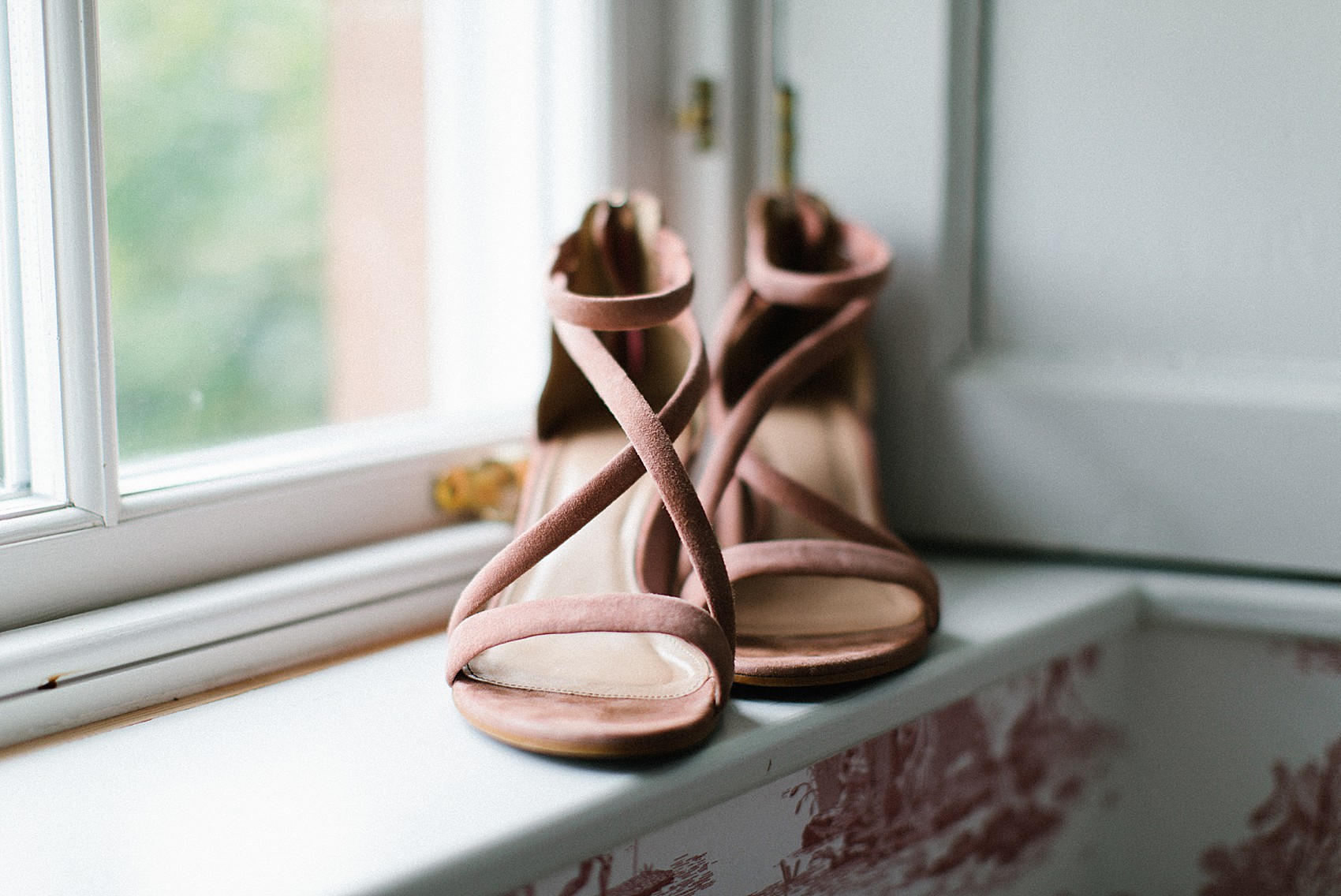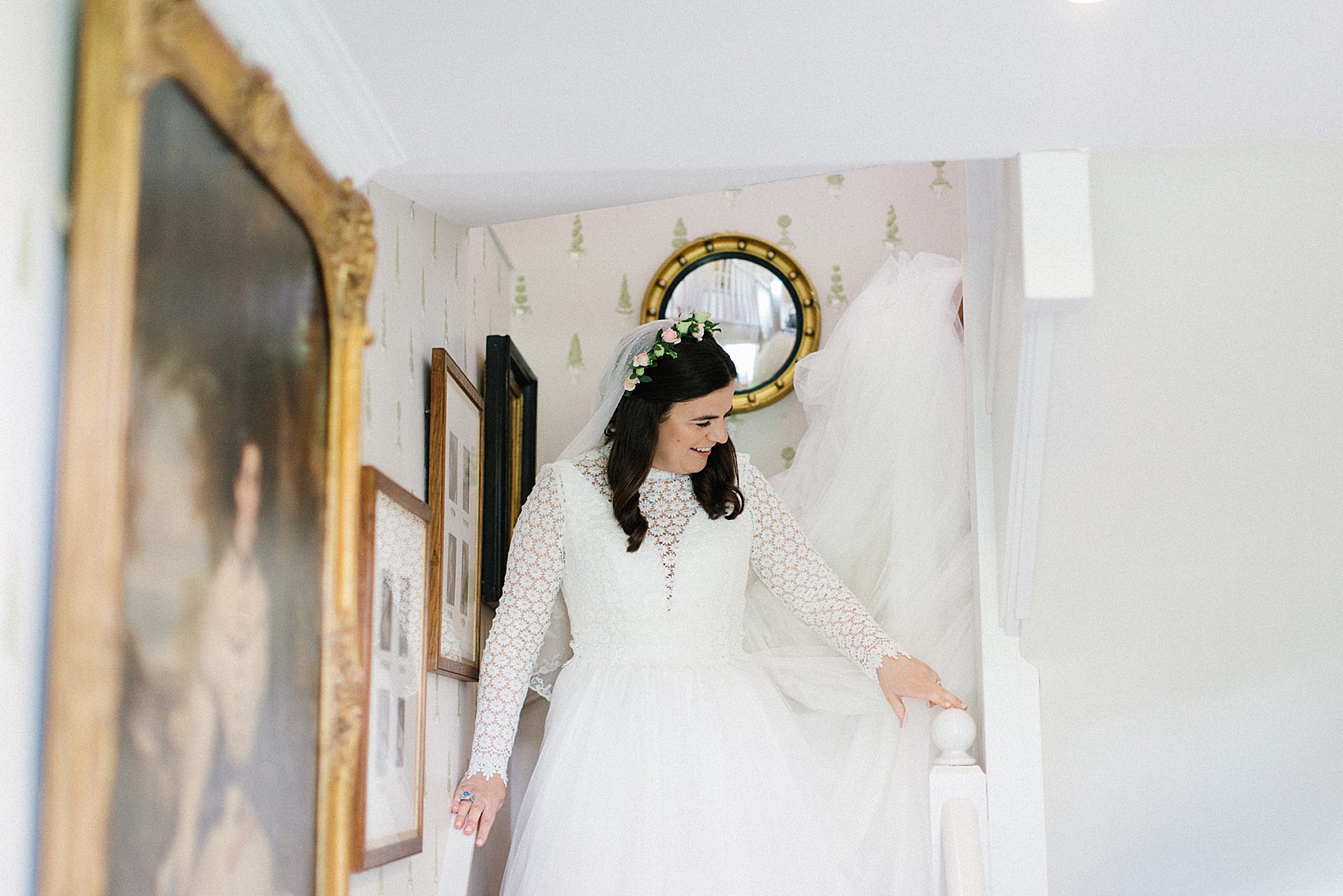 The exquisite flowers for Rosie and Fred's day were an enchanting mix of ice-cream pastel shades, and included roses, peonies, sweet peas, all by talented florist Emma, of Stems.
"I simply cannot recommend her highly enough. From start to finish the whole experience was an absolute pleasure. Her calm, kind and flexible demeanour make her such an easy and fun person to work with. I felt totally relaxed knowing she was taking care of the flowers for the big day, and that it as one less thing I had to worry about. Nothing was too much trouble and she was always at the other end of the phone, email or text."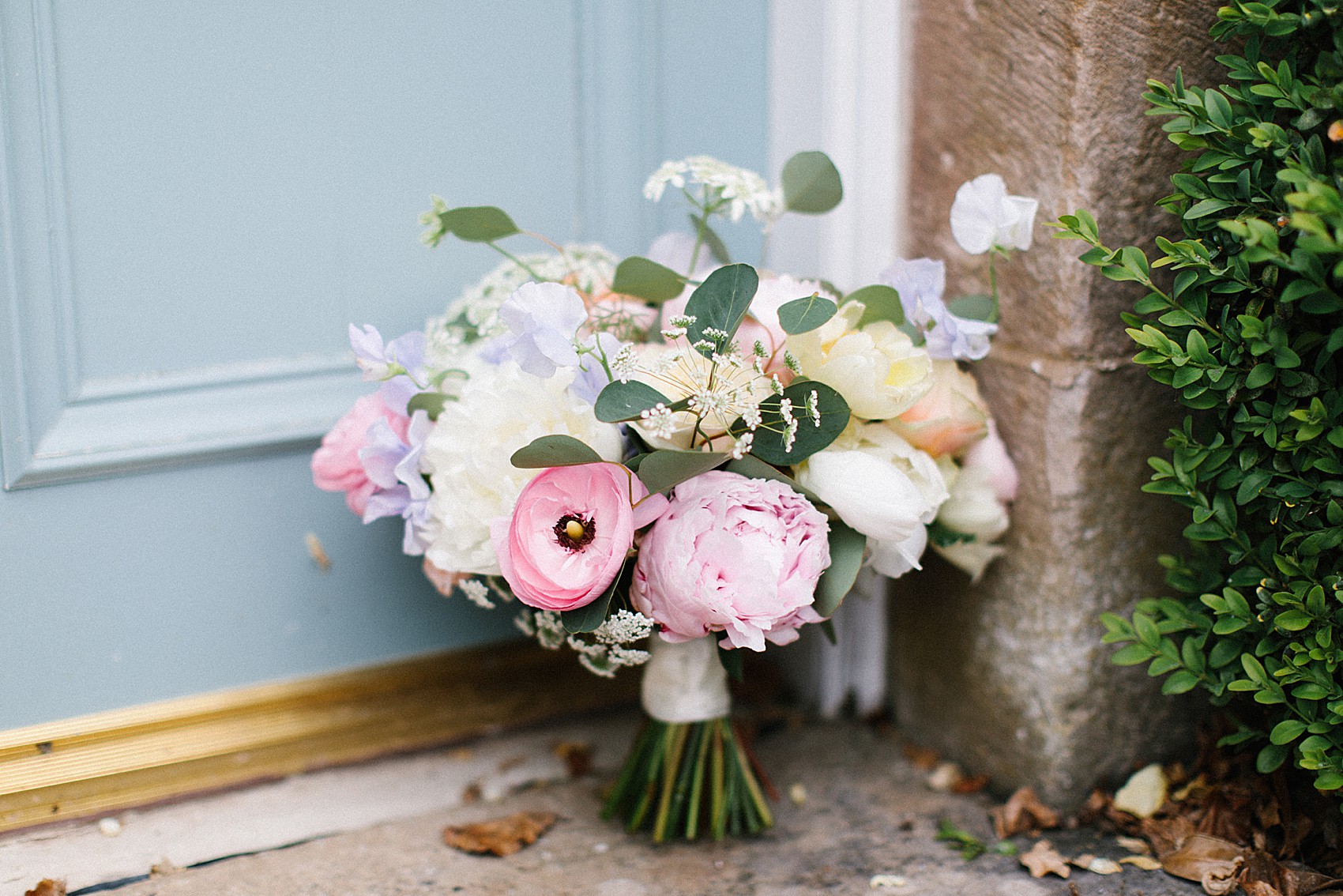 The bridesmaids looked wonderful in summery, white outfits of their own choosing, which they wore with their own shoes, and a pair of gold hoop earrings gifted to them by Rosie as a thank you for their support.
"I wanted them to feel comfortable and the only brief I gave them was to wear white or cream. I didn't mind if it was a dress, jumpsuit, suit, separates, old or new I really just wanted them to feel like themselves and be comfy, especially as one of them was breastfeeding at the time."
"I felt it was important she could choose her own dress. I think it worked really well, and the bouquets really brought the bridal party look together."
"My niece, Liliana, wore a blue Liberty lawn dress from Trotters, with some little white plimsolls from Next. My nephews – Rex, Milo and Rocco, and Fred's nephews Max and Alfie, all wore light blue chino shorts and a linen Nehru collar shirt from John Lewis. They also all wore white plimsolls from Next."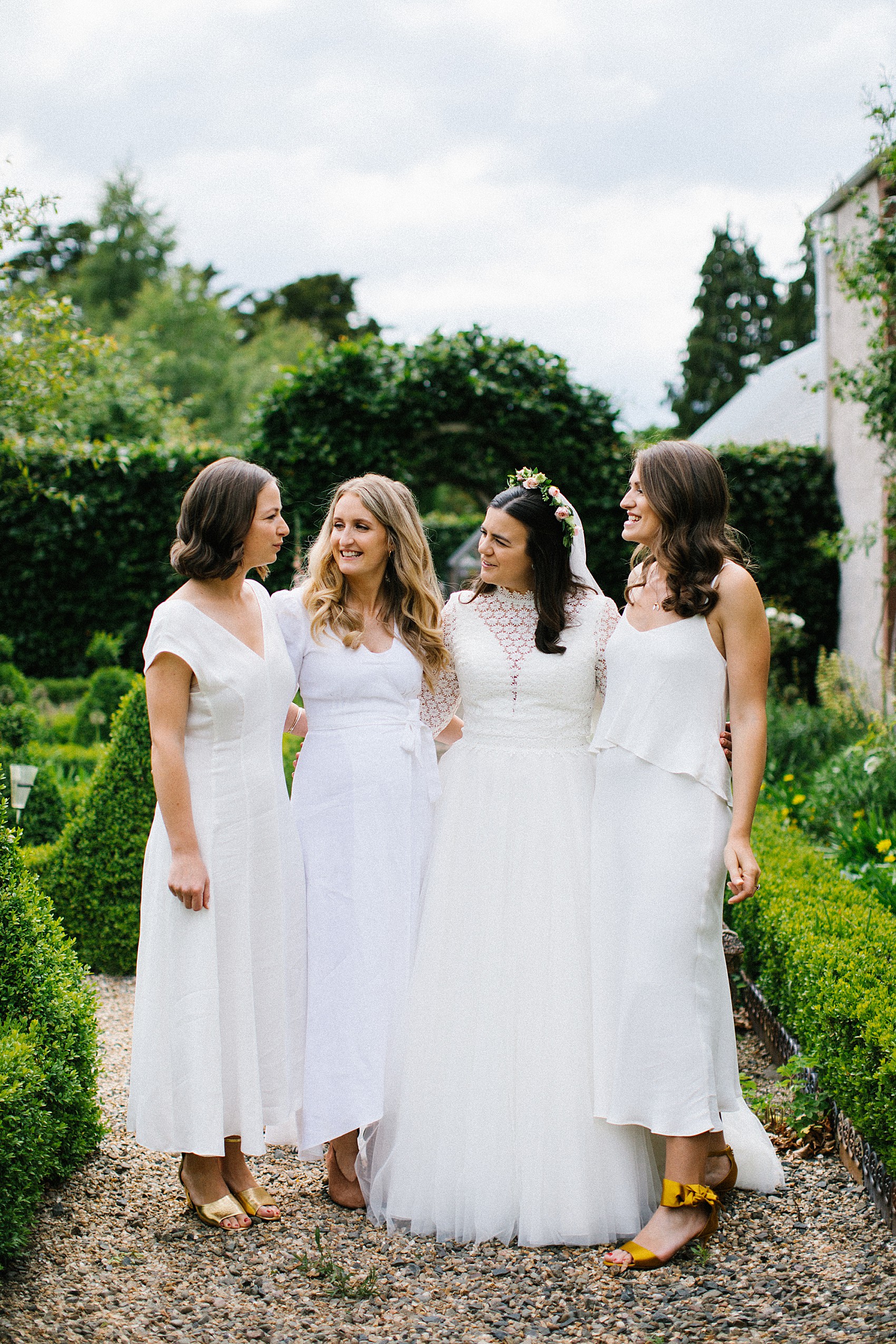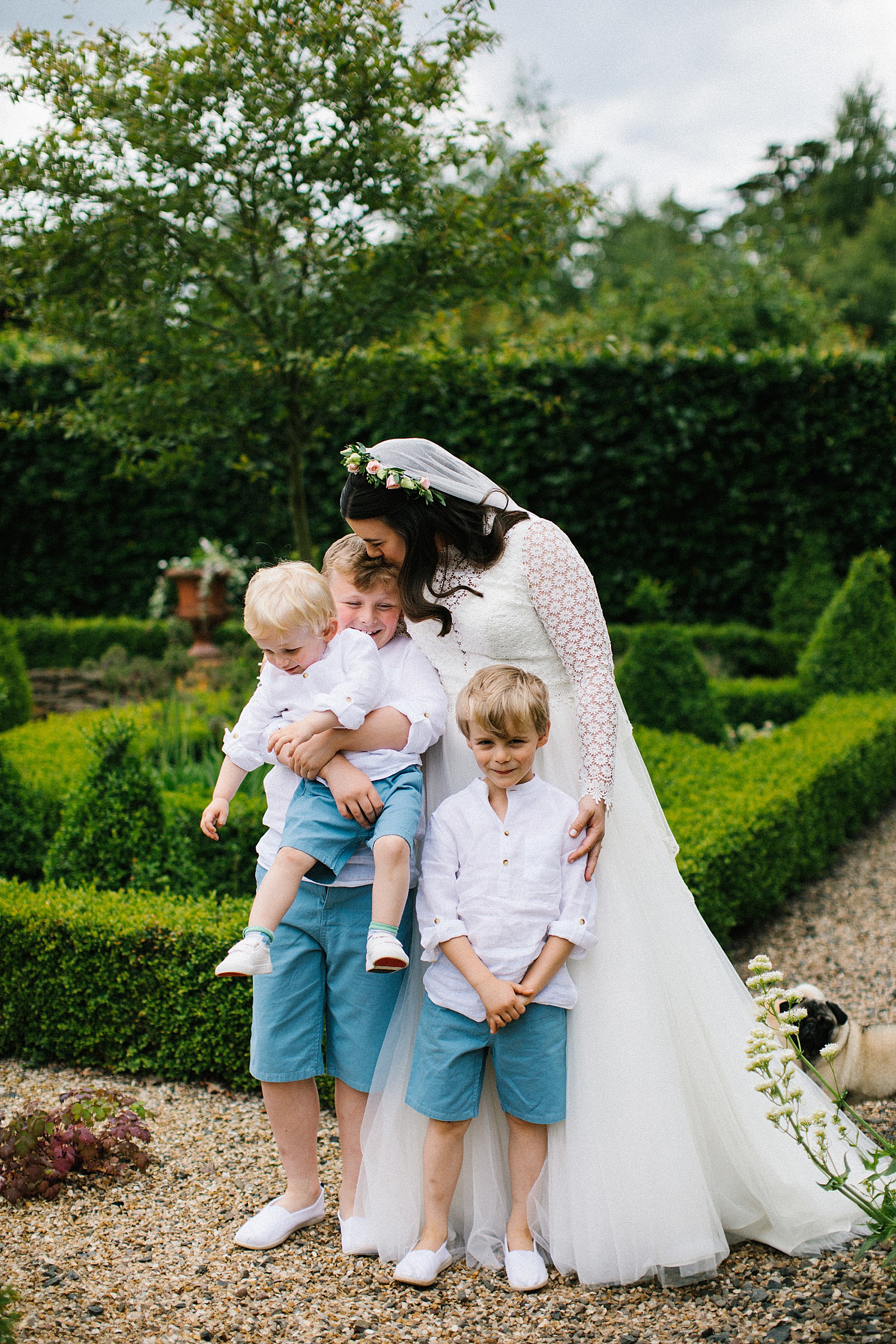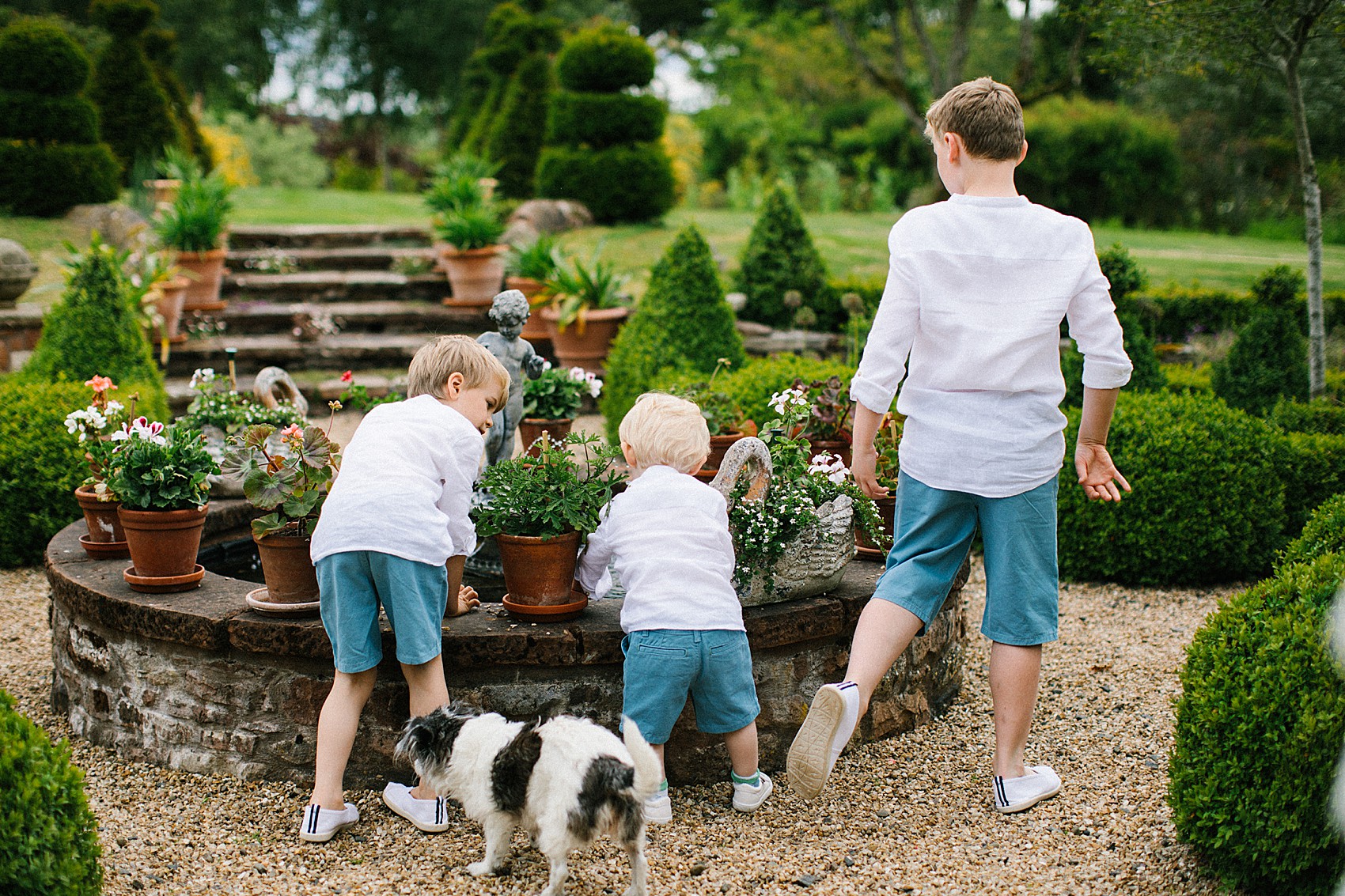 Fred wore a splendid, classic morning coat with houndstooth trousers and a pale pink waistcoat, custom-made for him by Rosie's brother John, who, together with his wife Nicola, runs tailor and outfitters Campbell's of Beauly. Fred also wore a white poplin shirt by Emmett, in honour of Rosie's dad, who loved them, and a tie from Reef Knots, along with different coloured ties for his ushers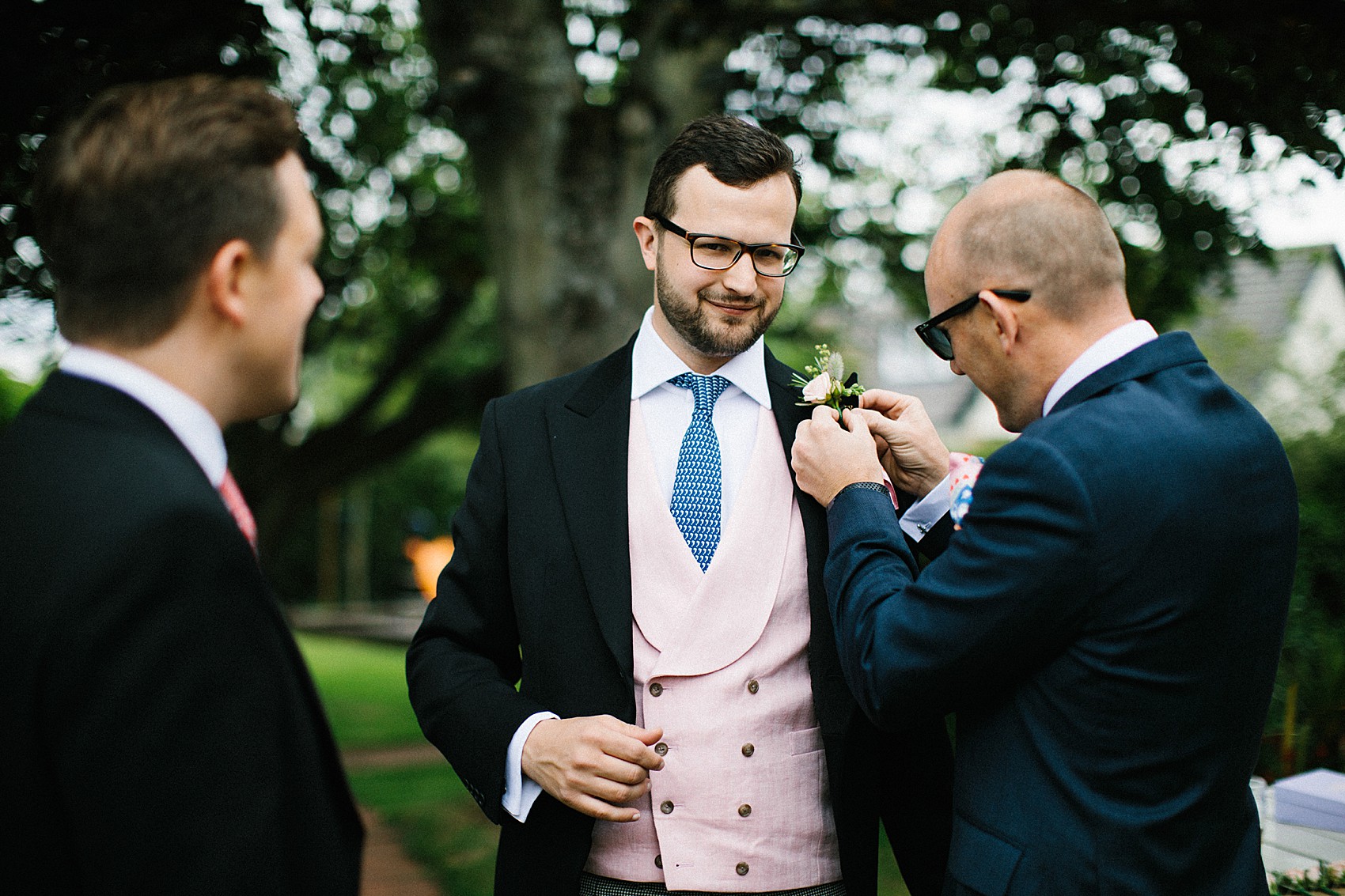 "My gorgeous and extremely talented friend Karen Mabon designed bespoke pocket squares for the ushers, featuring our two pugs Daphne and Edith, Fred's football team's crest (Tranmere Rovers), and lots of other personal touches."
"They were exquisite and went down so well with the ushers. We also used the design for our menus as we really wanted to make sure everyone saw it. It was so so special, and we have one fo the silk pocket squares framed at home we love it so much."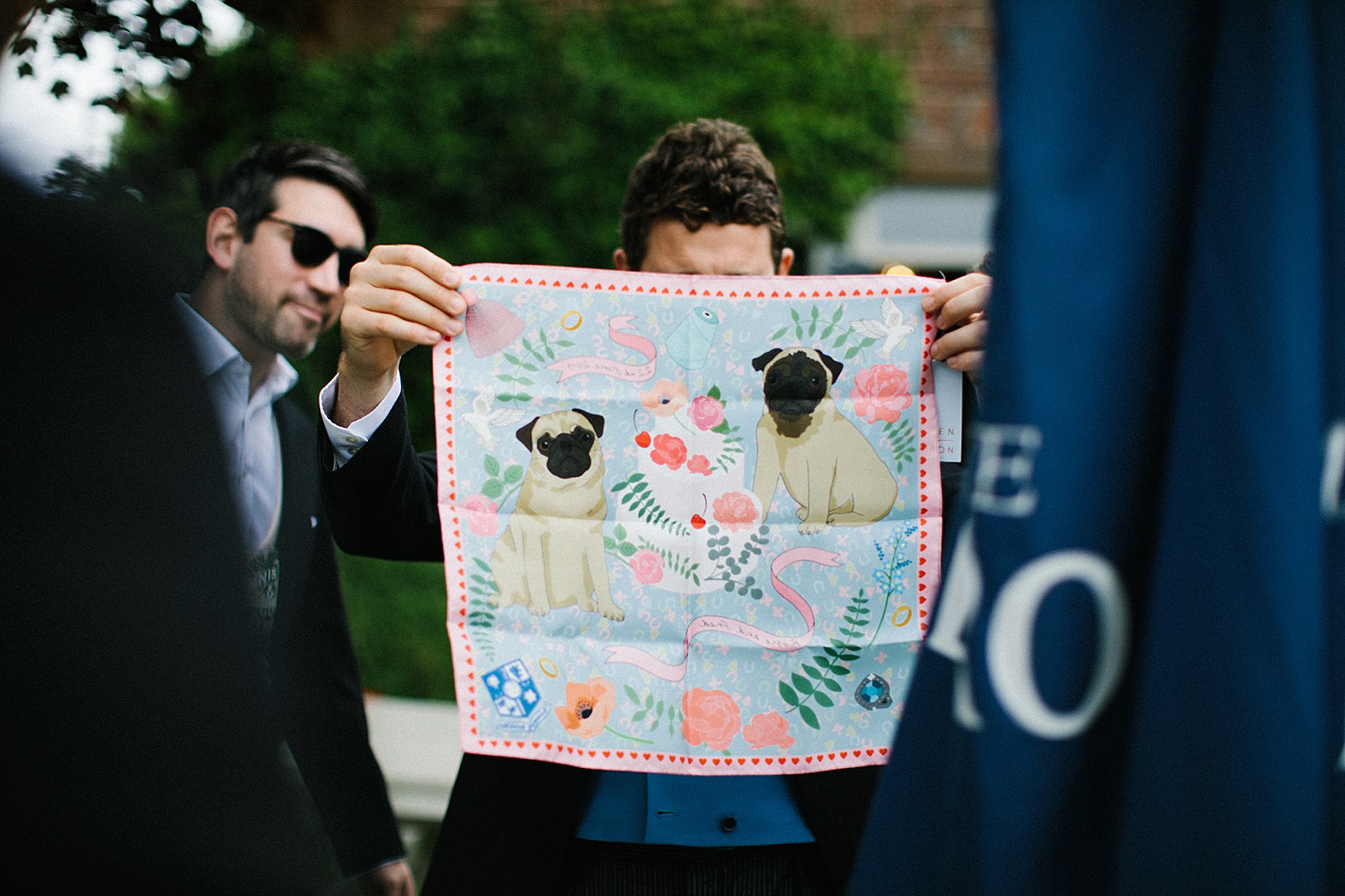 Rosie and her brother were driven to Bowden Kirk by Murray, from Borders Vintage Experience in his 1965 Bentley S1 saloon – what a way to arrive!
"Fred and I met at university. I was at Northumbria and he was at Newcastle. We had lots of mutual friends, but our paths didn't properly cross until the end of our third year. We were engaged in July 2018 at my family's houseboat on Bramble Bush Bay in Studland. Fred had arranged for my best friends to come down and join us as a surprise. We celebrated at The Pig Hotel with lots of Aperols! We'll have been together 10 years in February 2020, and have two adorable pugs together called Daphne and Edith."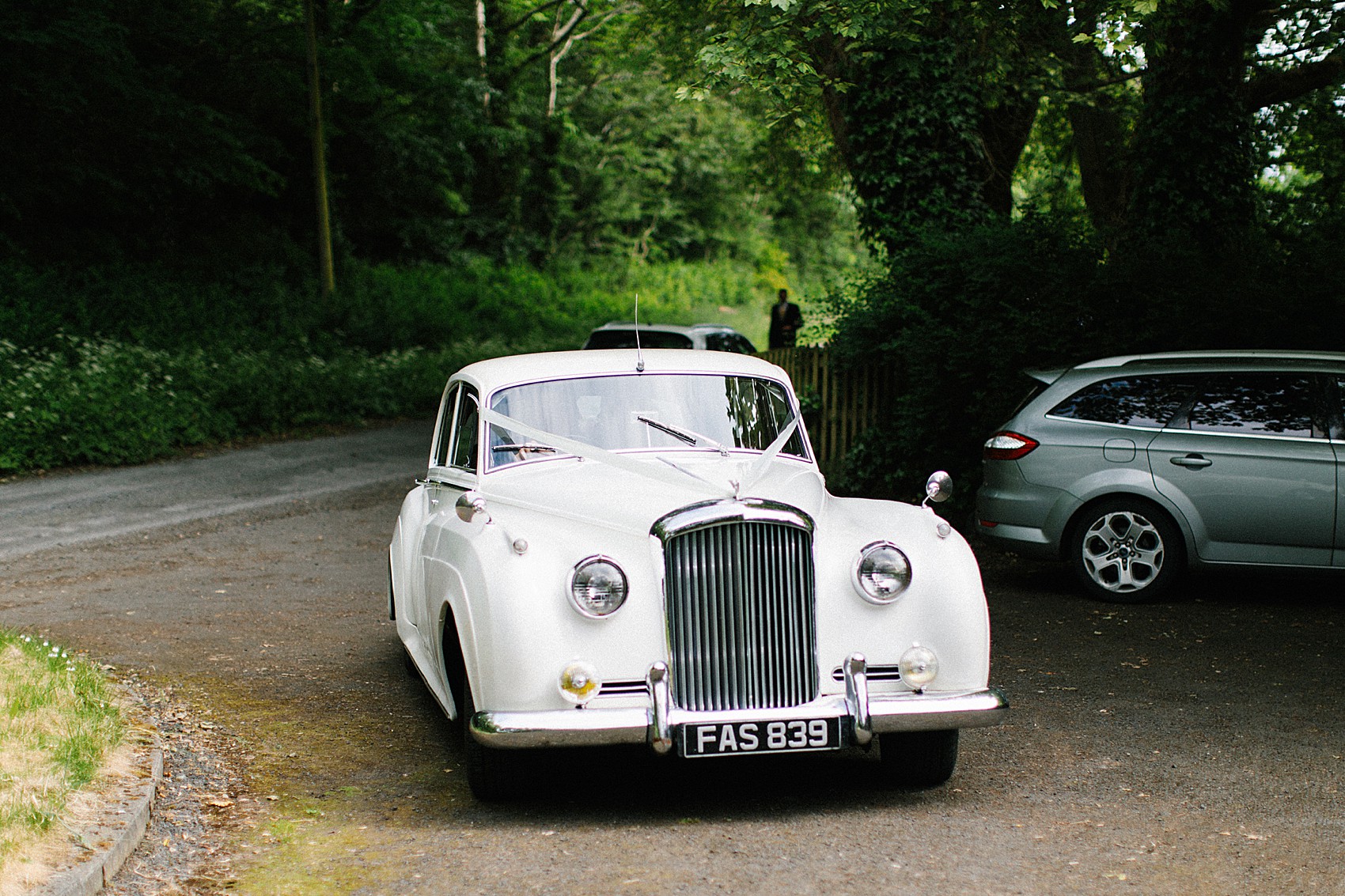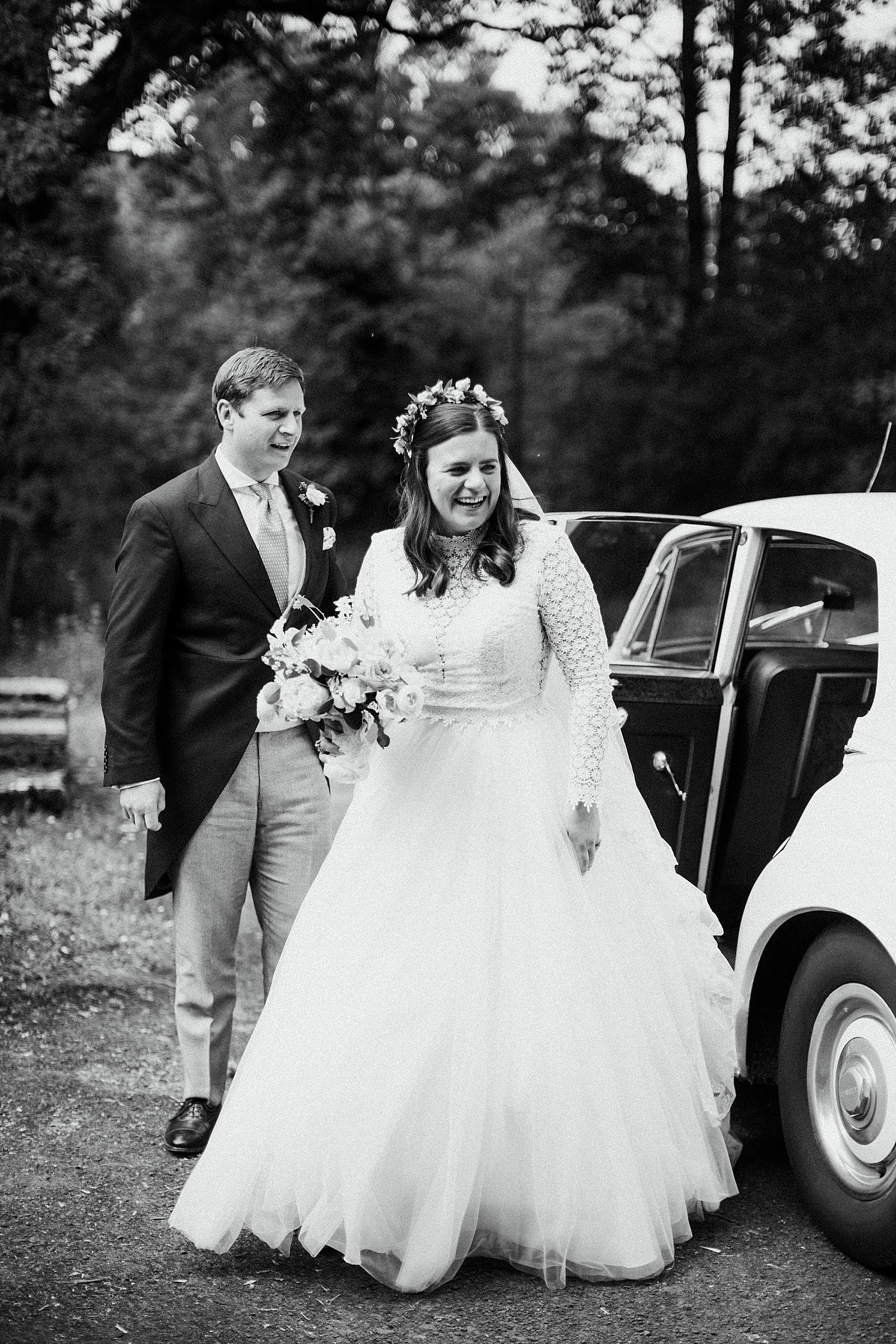 An organist played Canon in D by Pachelbel as Rosie and her older brother John made their way down the aisle together to begin the ceremony. The service was conducted by Reverend Rosemary Frew, and Rosie and Fred chose to say traditional church vows to each other.
"We had three hymns during our service, all of which I had discussed with my dad before he died, and I know he loved them all. Hearing everyone singing them on the day really helped me feel his presence. My favourite of the three we sang was Mine Eyes Have Seen the Glory; it's a wonderfully rousing hymn."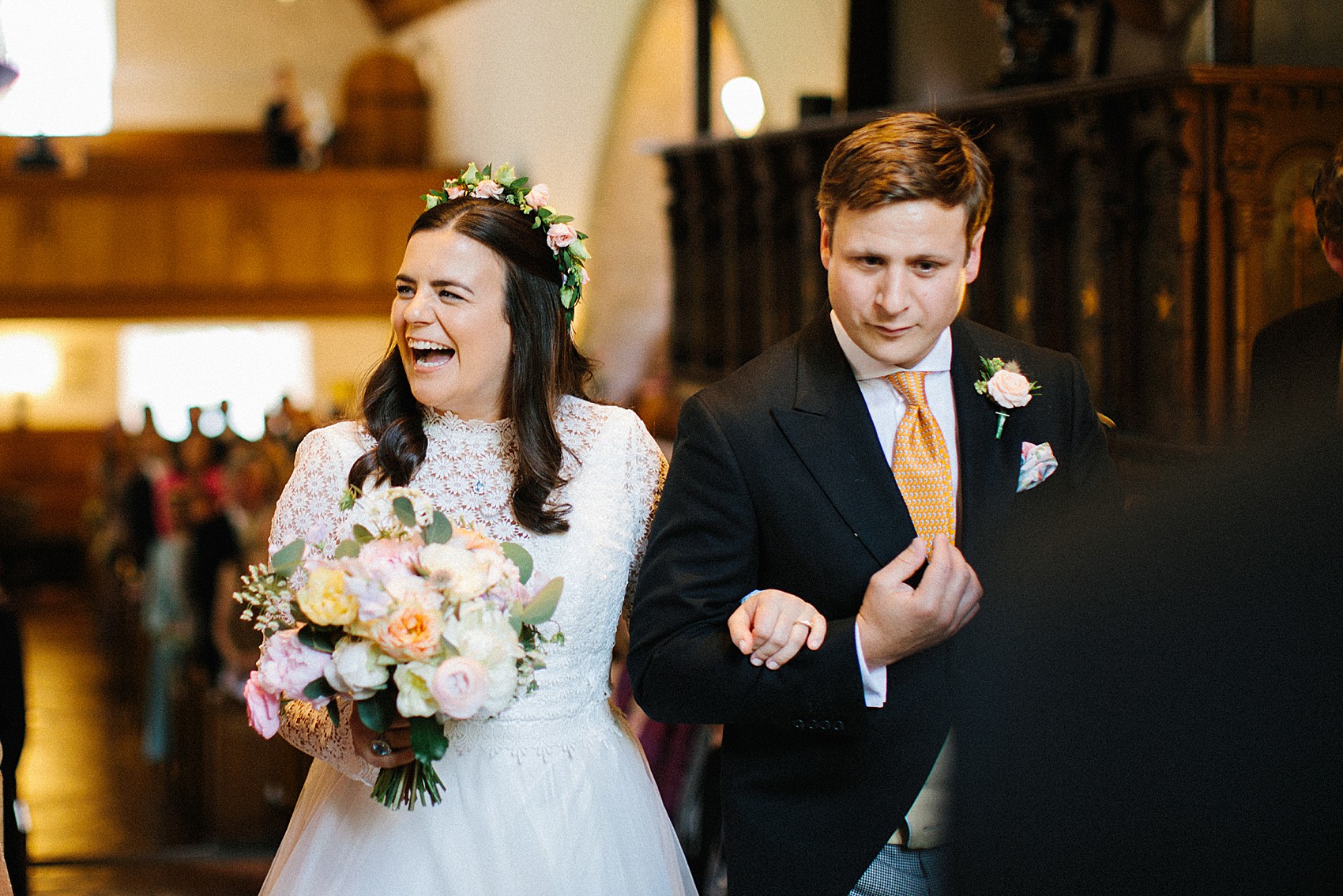 As they exchanged their vows, the couple also gave each other rings, and they decided upon simple, plain gold bands from jewellers H. Samuel.
"We had two readings. My Uncle Robert read a bible passage for us. We chose this extract which we both felt offers quite good practical advice for marriage and life. Fred's Auntie Jose also read 'A Vow' by Wendy Cope which we both loved as after nearly 10 years together we felt this was very apt."
Discover more wedding readings here…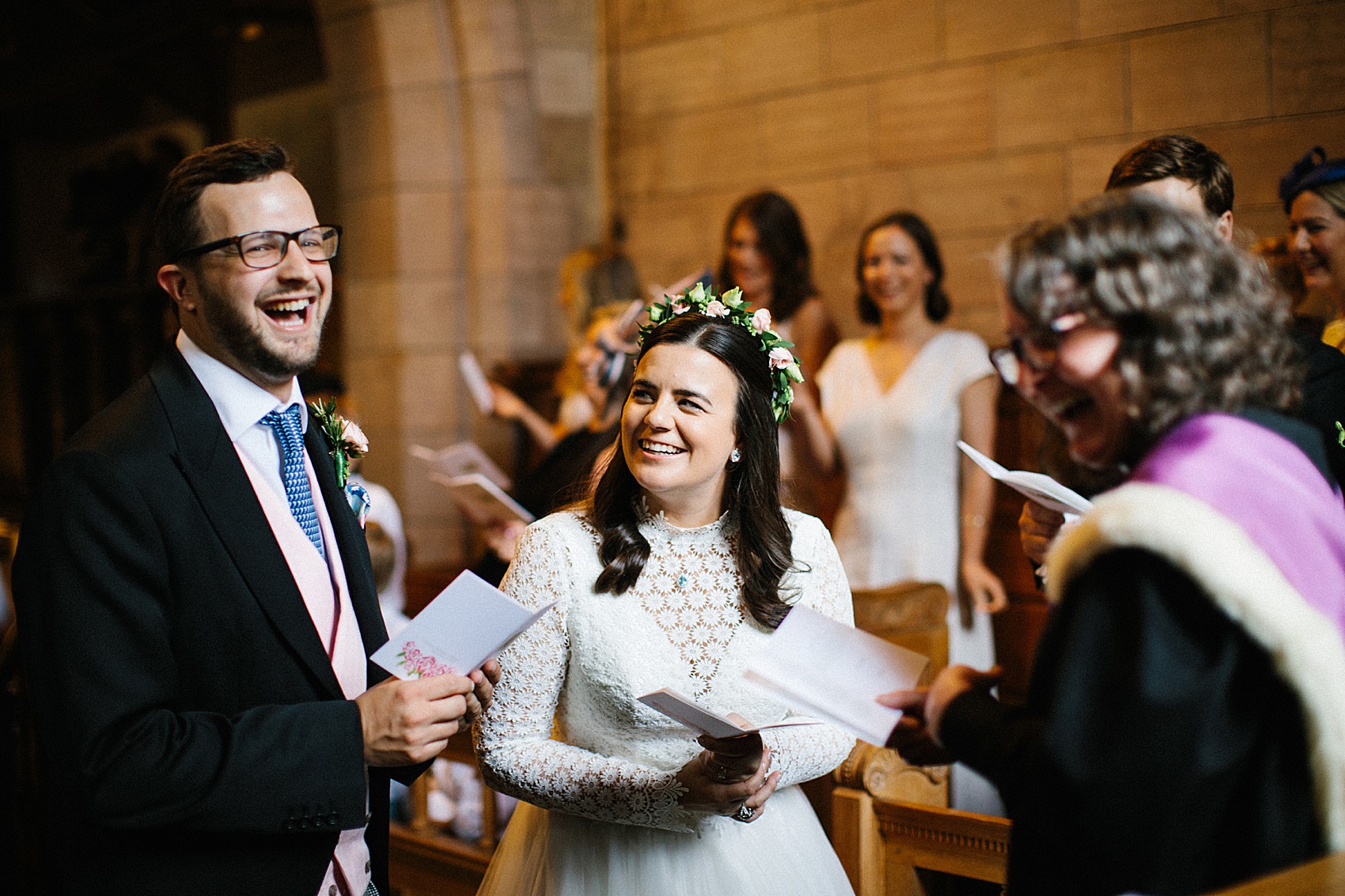 "I loved seeing Fred at the altar, and leaving the church being doused in confetti. The car journey back to the reception was special as we were both so giddy with excitement, and also desperate to get back to the house and see Daphne and Edith!"
"As soon as we got back we went straight into the house to put their Liberty harnesses on and took them out into the garden for some photos and parading around. We are dotty about them."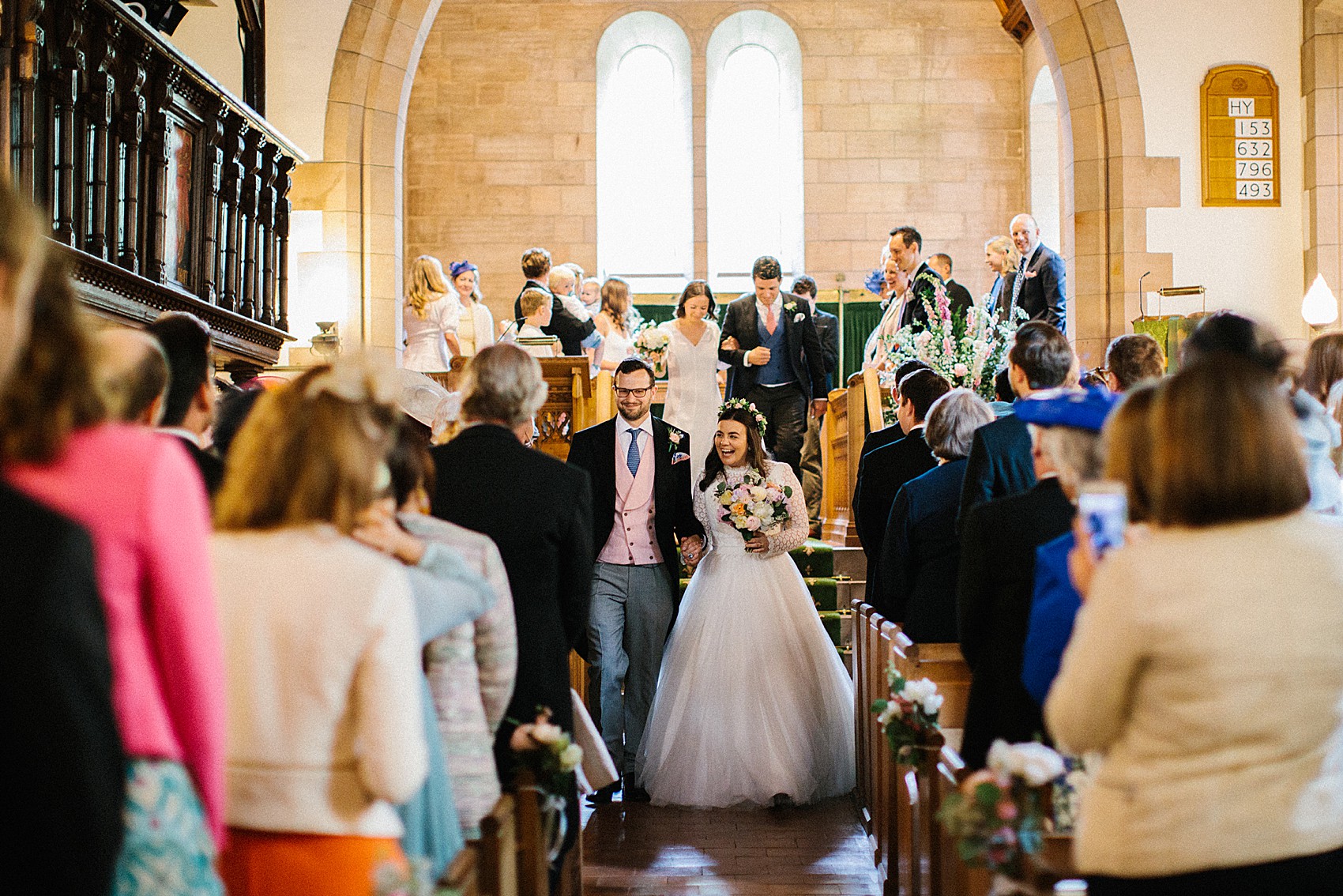 Rosie and Fred were delighted with their choice of photographer; her approach and work, and I'm so pleased to be sharing more work by our Little Book member Melissa Beattie Photography today.
"I knew as soon as I came across Melissa's website that she was who I wanted to photograph our wedding. I loved her use of light, relaxed aesthetic and the true to life colours, and I just knew that her style would lend itself perfectly to our countryside summer wedding."
"She was a dream to work with and so easy going happy to take multiple family photos for us, which my mum and mother-in-law wanted, and also capture more relaxed photos that Fred and I wanted. We are so happy we chose her."
"Oliver Benton filmed our friend's wedding in 2017, and after we saw their film we knew we had to book him. His style is very relaxed and we have a 16 minute film set to lots of our favourite tracks, as well as the service and speeches, in full, in two separate videos. He did an amazing job!"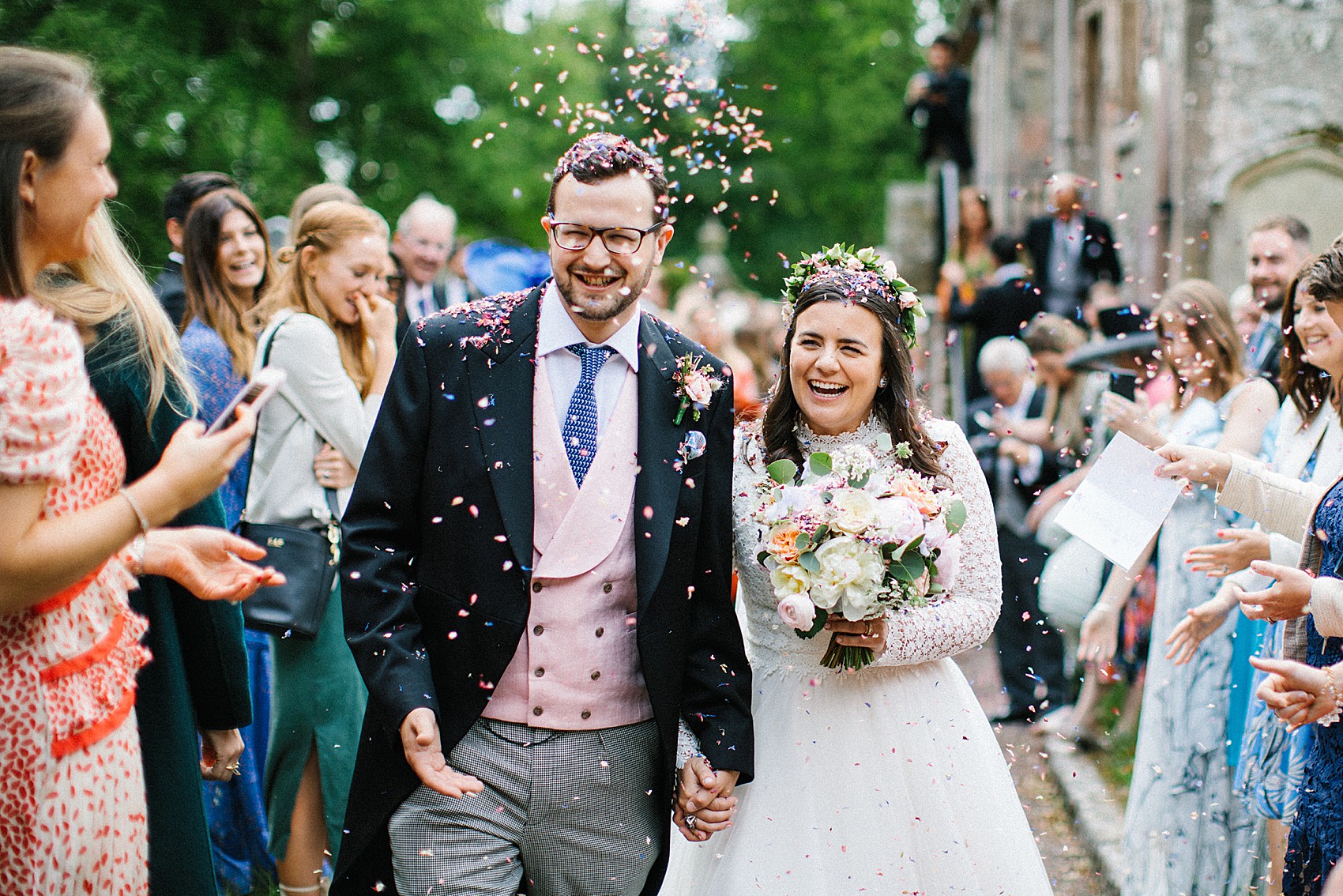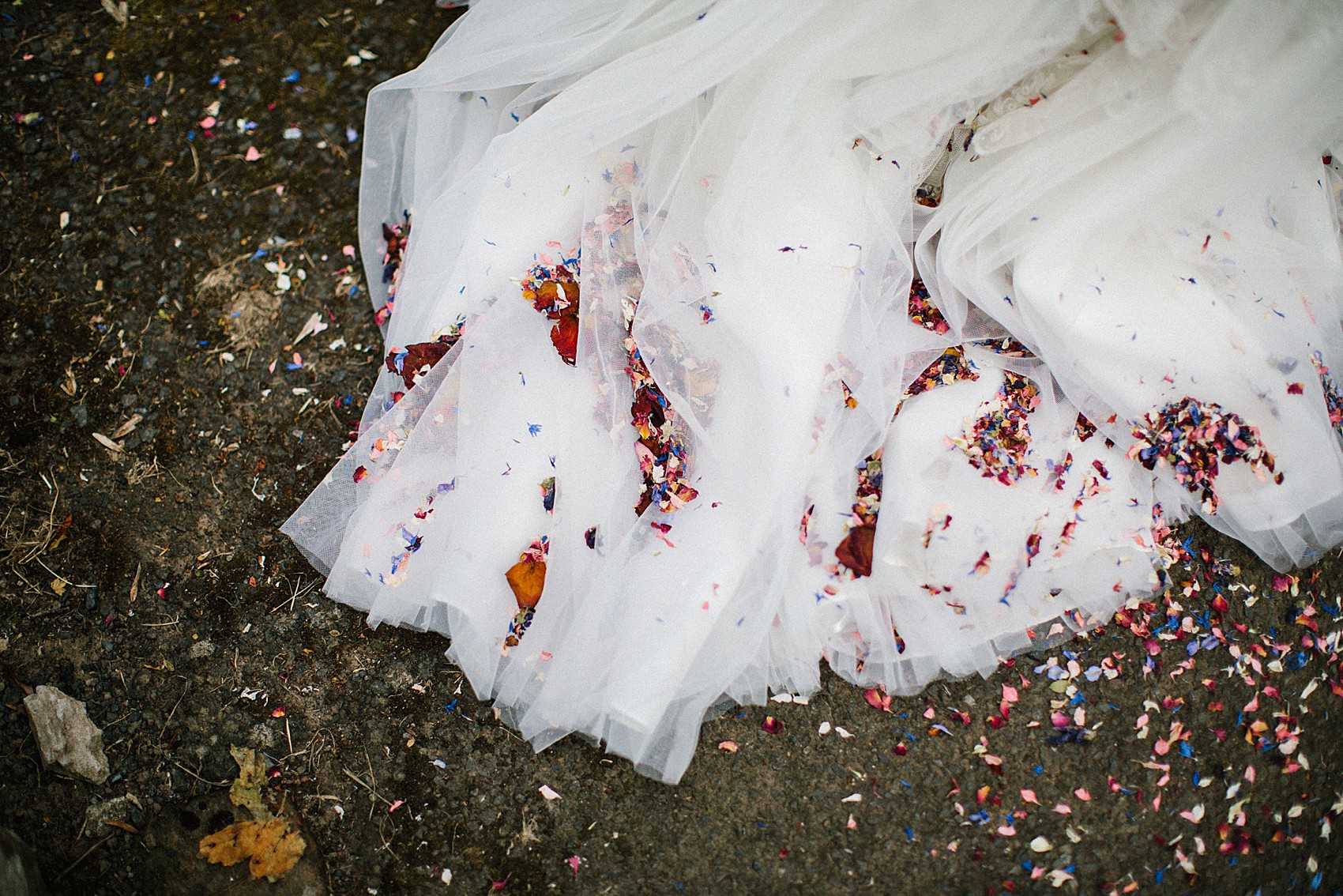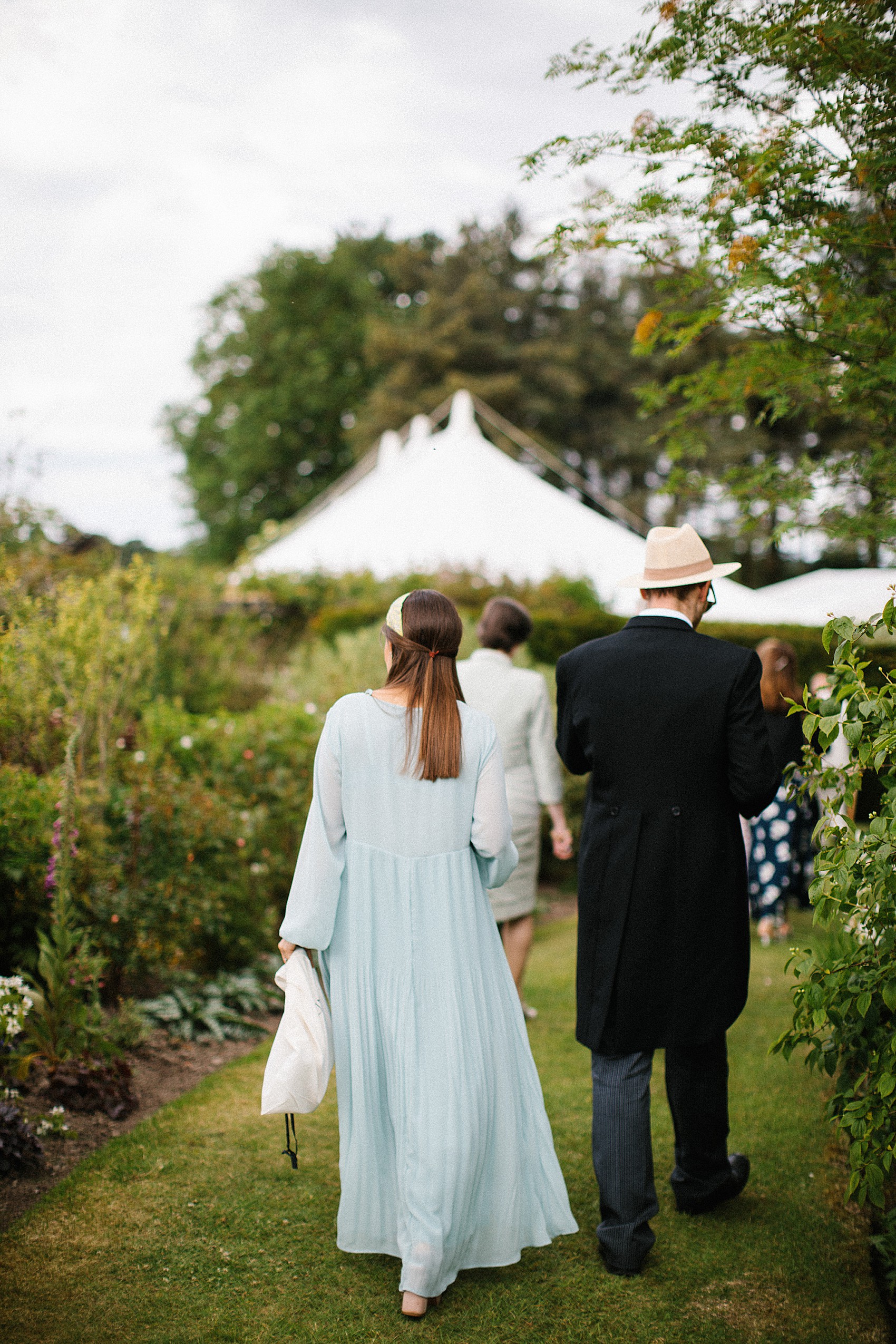 Guests were transported back to Rosie's mum's by coach, hired from Peter Hogg Coach & Mini-Bus Hire, and upon arrival, were greeted with drinks kept cool in nothing less than a Grand National winner's cup!
"Fred's Great Uncle Joe owned Grakle, who won the Grand National in 1931. My mother-in-law, Helen, suggested we have the cup as a vessel for the Cremant at the reception and it looked magnificent!"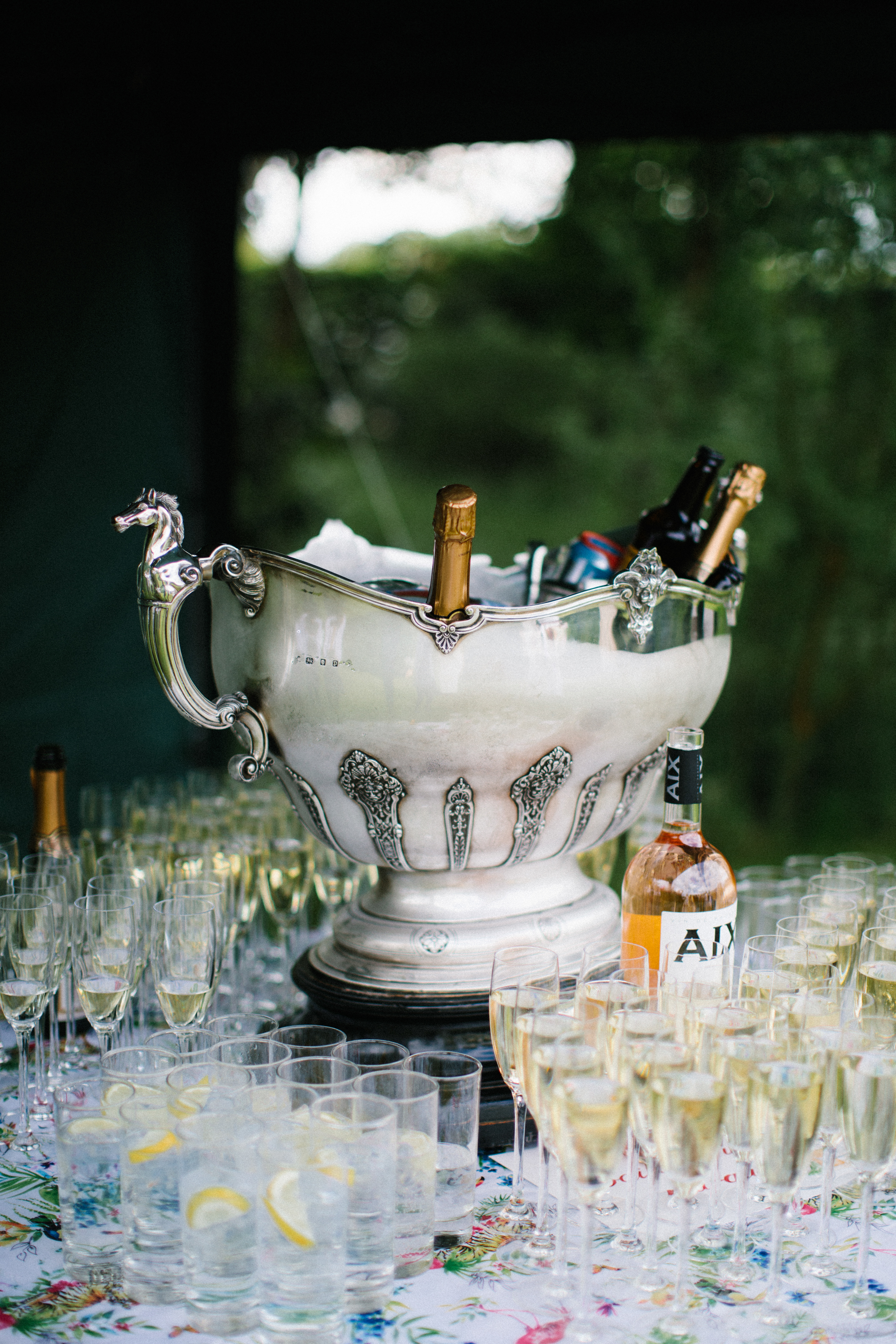 There was also delicious gelato from Rosie and Fred's friends Joe and Lucie, who run Joelato – homemade in their kitchen in Perthshire. Rosie and Fred chose flavours of mint, lemon stracciatella, hazelnut, and an orange and Campari sorbet.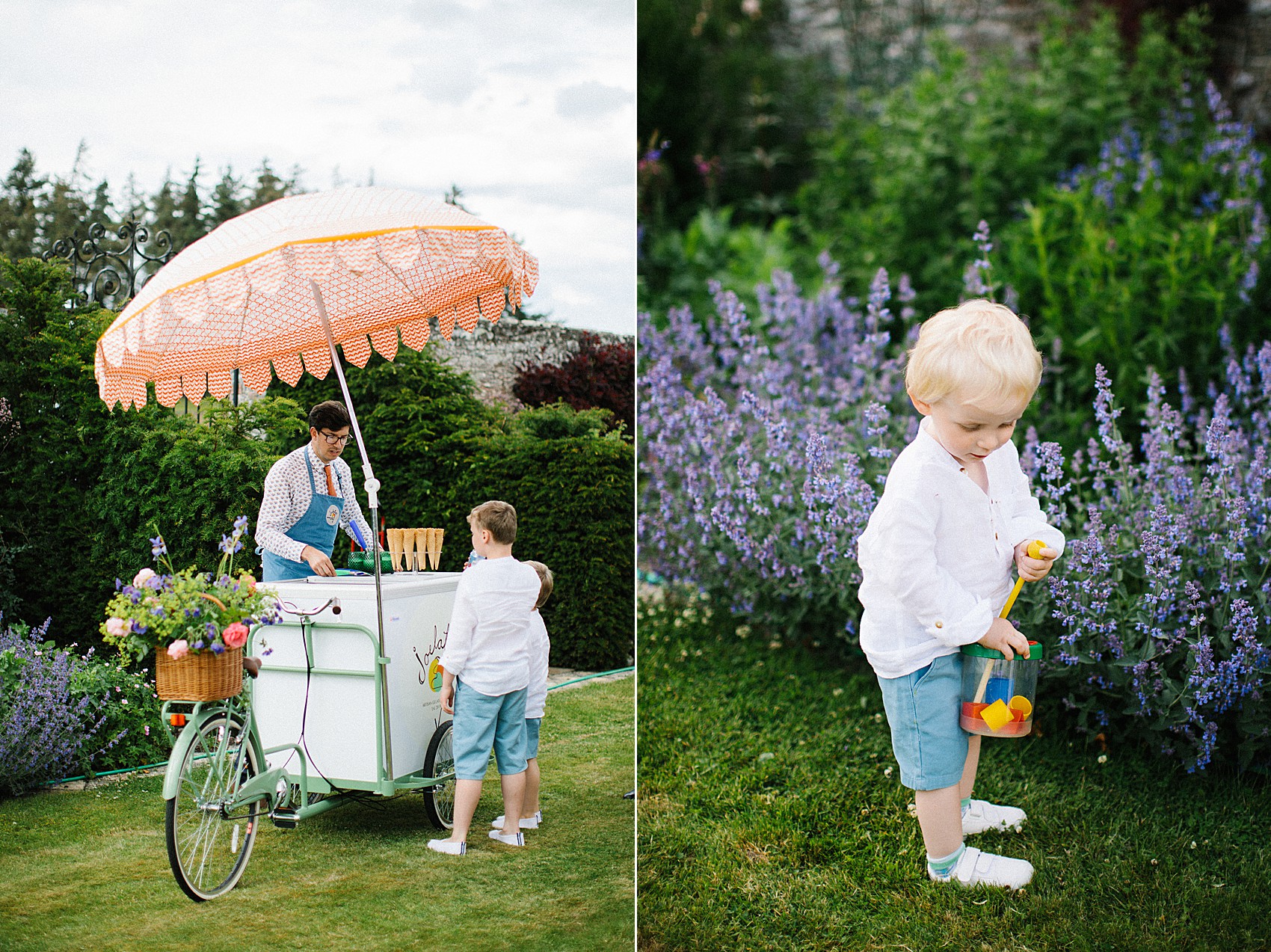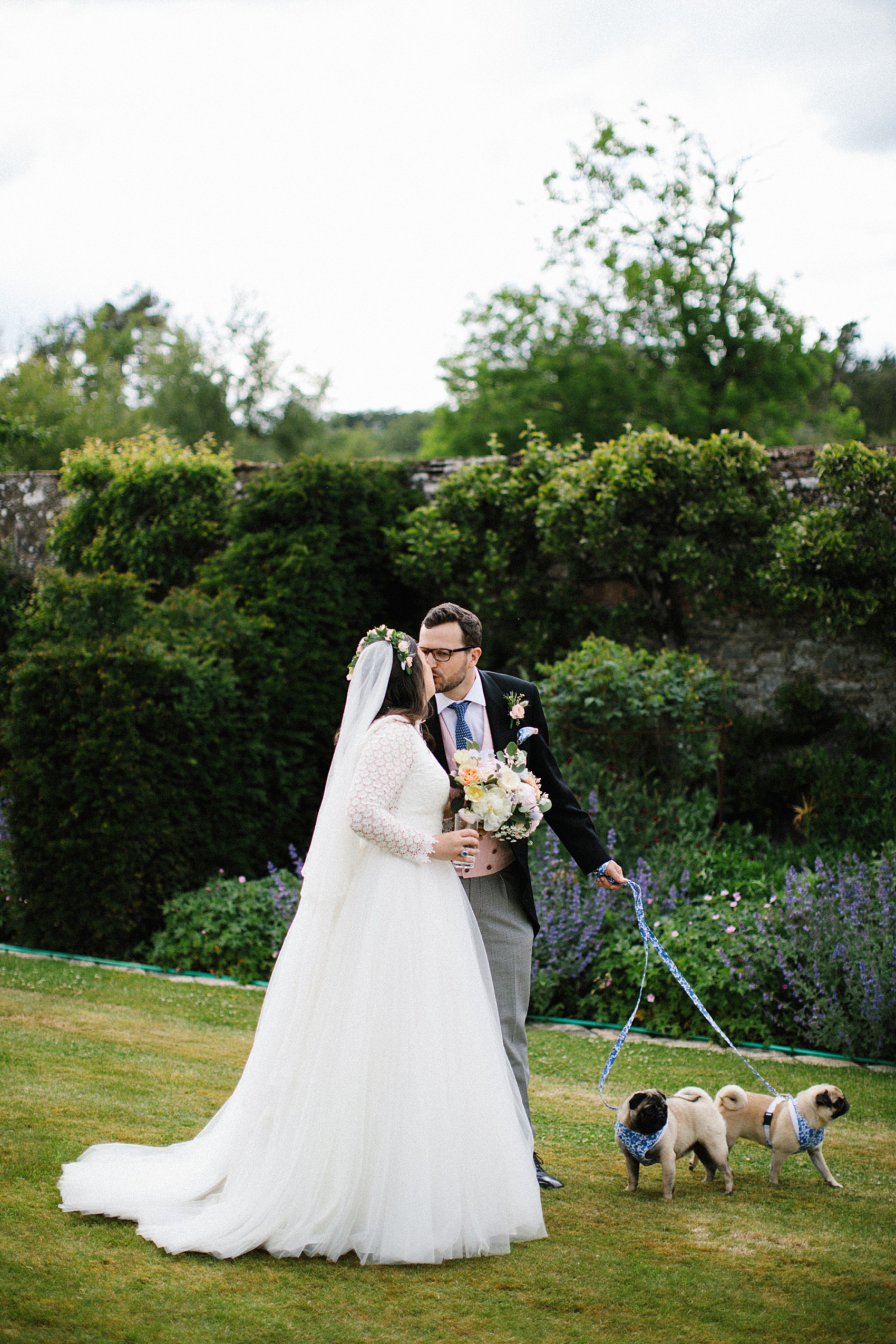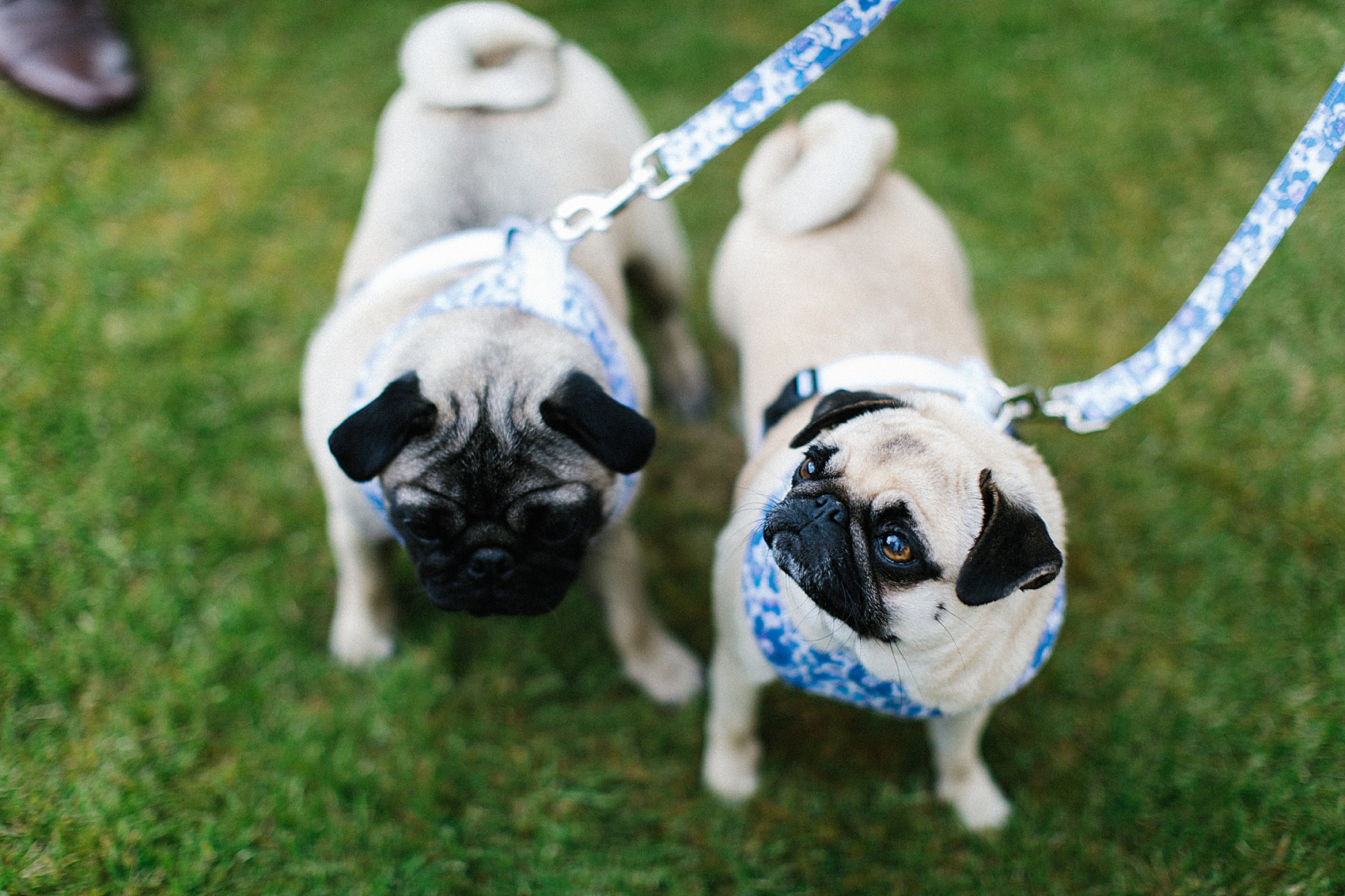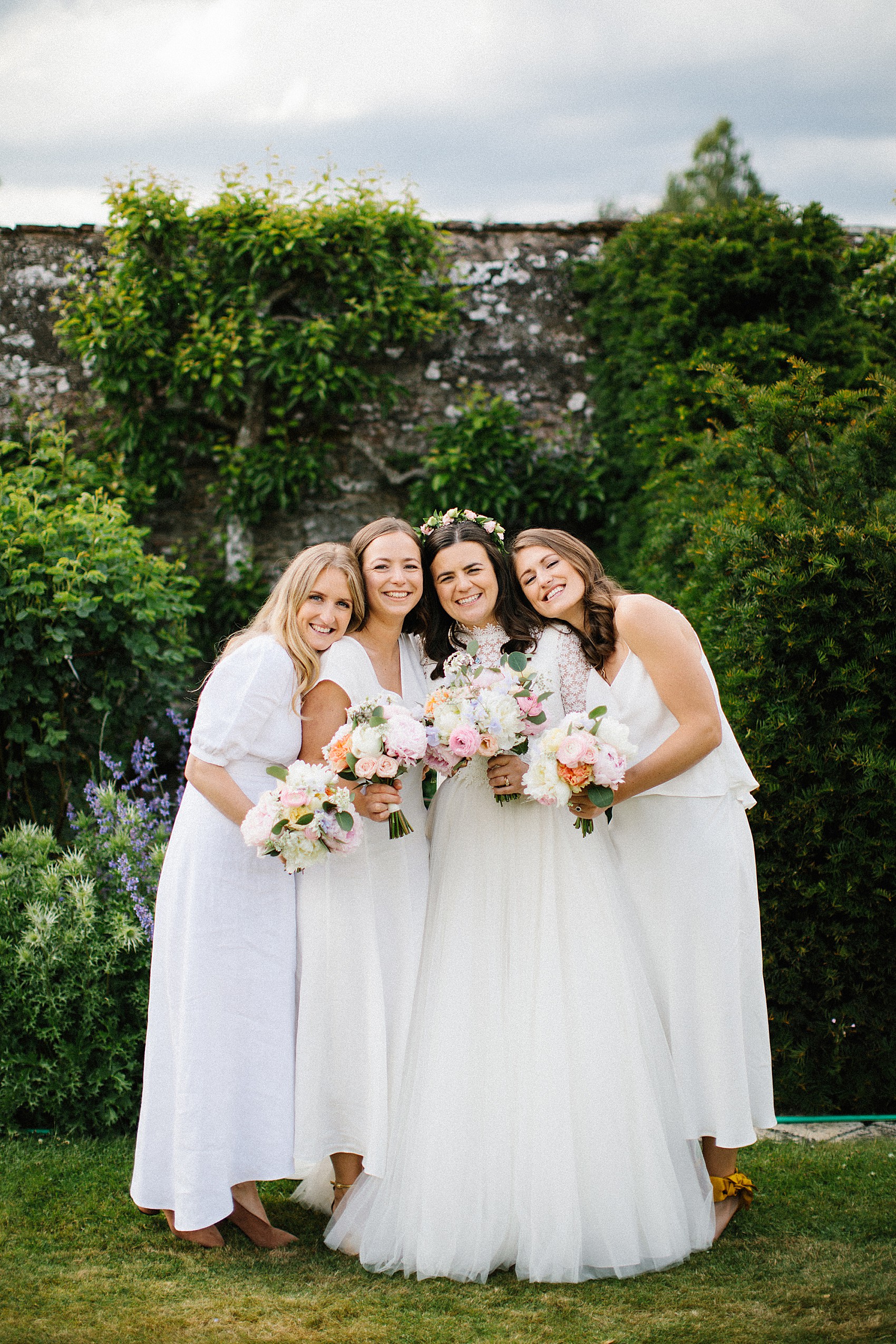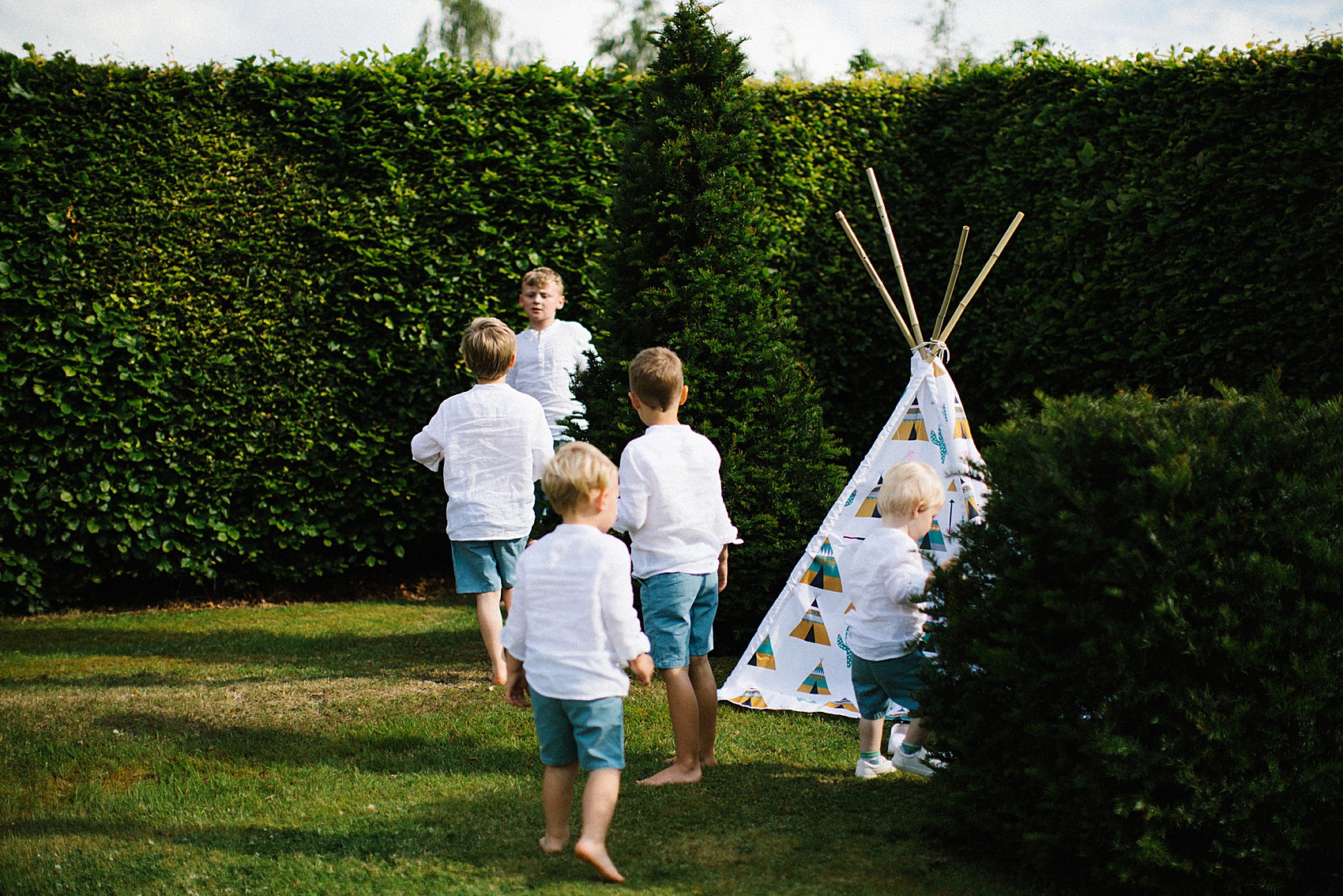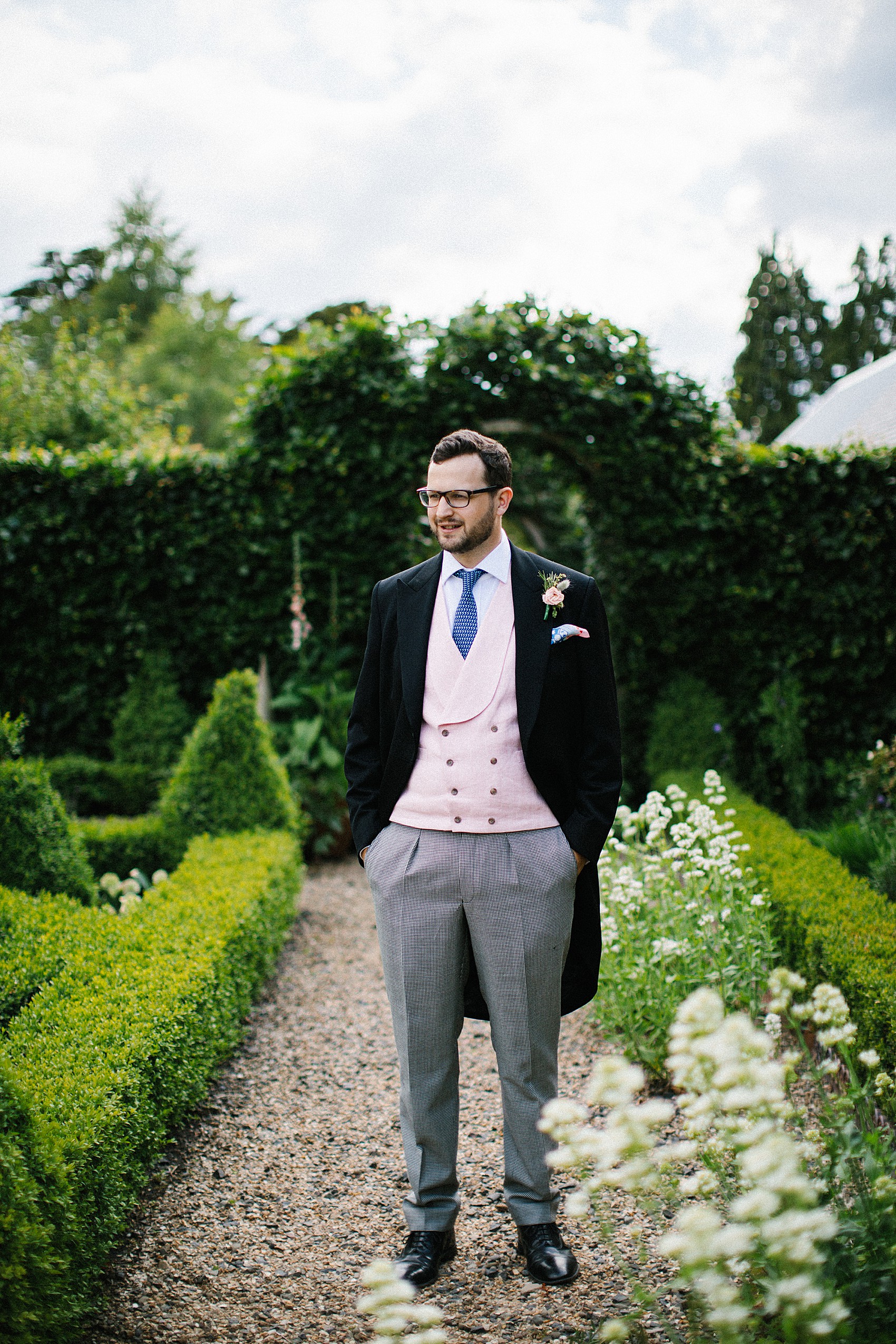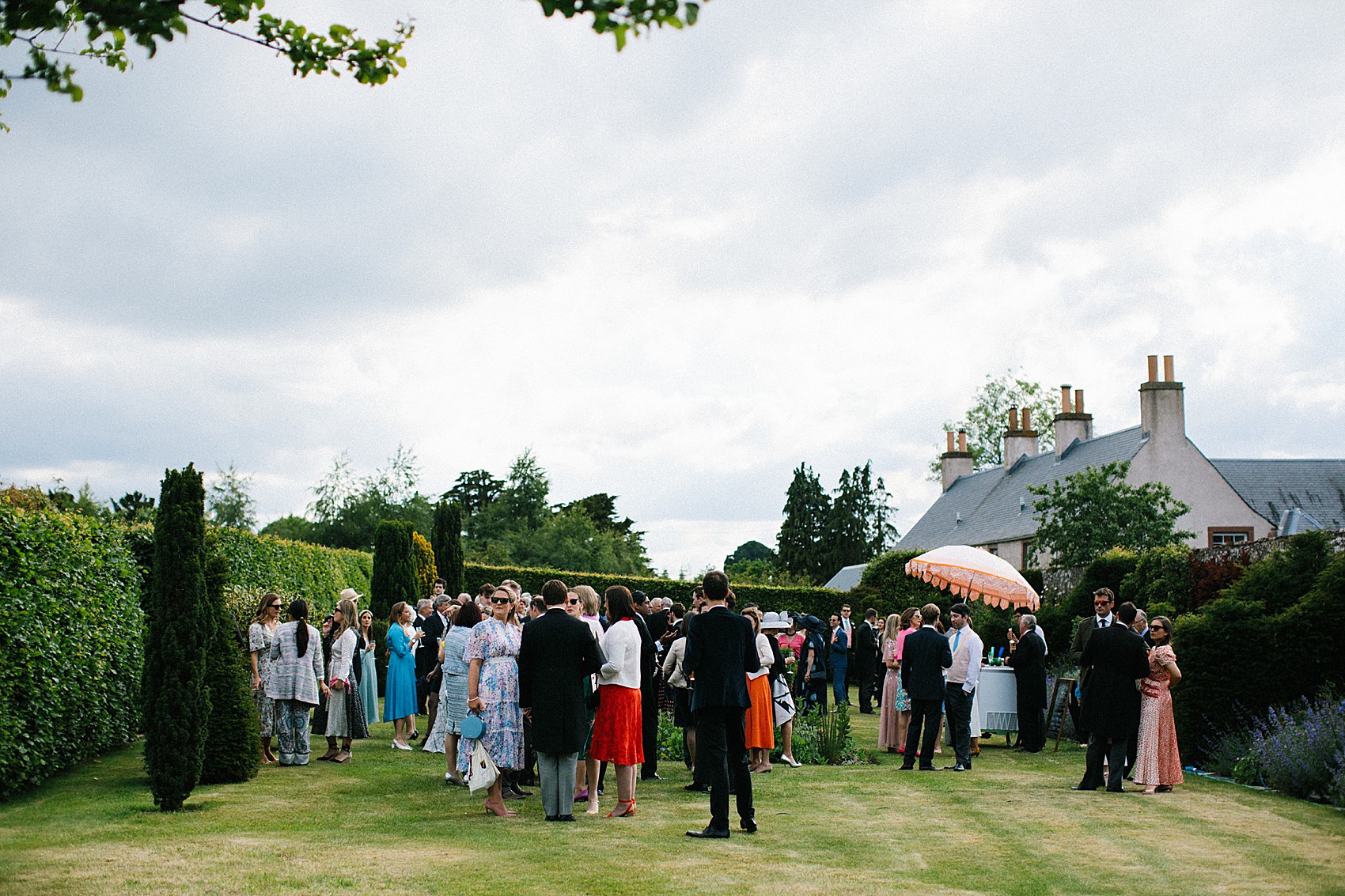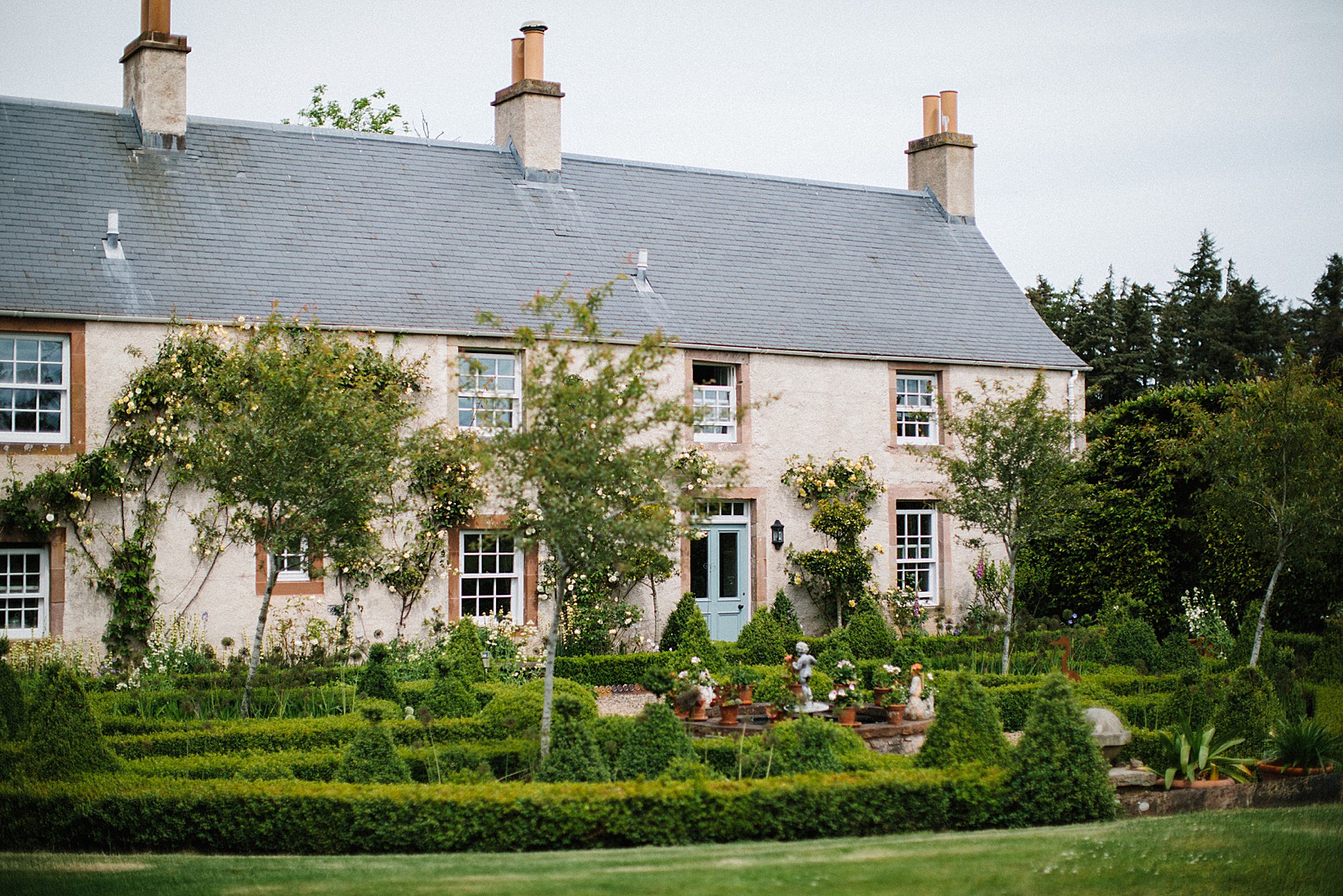 After drinks and gelato in the garden, it was time for everyone to take their seats in the magnificent marquee for a delicious wedding feast created by The Orde Food Company.
"From start the finish the service we received was flawless and highly professional, but also really fun and enjoyable! Justin is one of the most efficient people I have ever met, and it was so relaxing for us to know that on the day of our wedding he was our highly experienced event manager. He basically kept the show on the road and made sure it was perfect for us. We couldn't have done it without him!"
"I didn't actually really have a colour palette or specific idea for the marquee, but at the catering meeting a few weeks before the wedding I chose pale pink table cloths and green gingham napkins, which when combined with the flowers created a lovely bright feel to the marquee."
"For floral inspiration I turned to Pinterest – the flowers really brought everything together. I also am a believer in something my sister Emily told me – if you love it then go for it and don't over think it, because if you love certain colours, or are drawn to something, it will work when combined with other things you love. That's what taste is."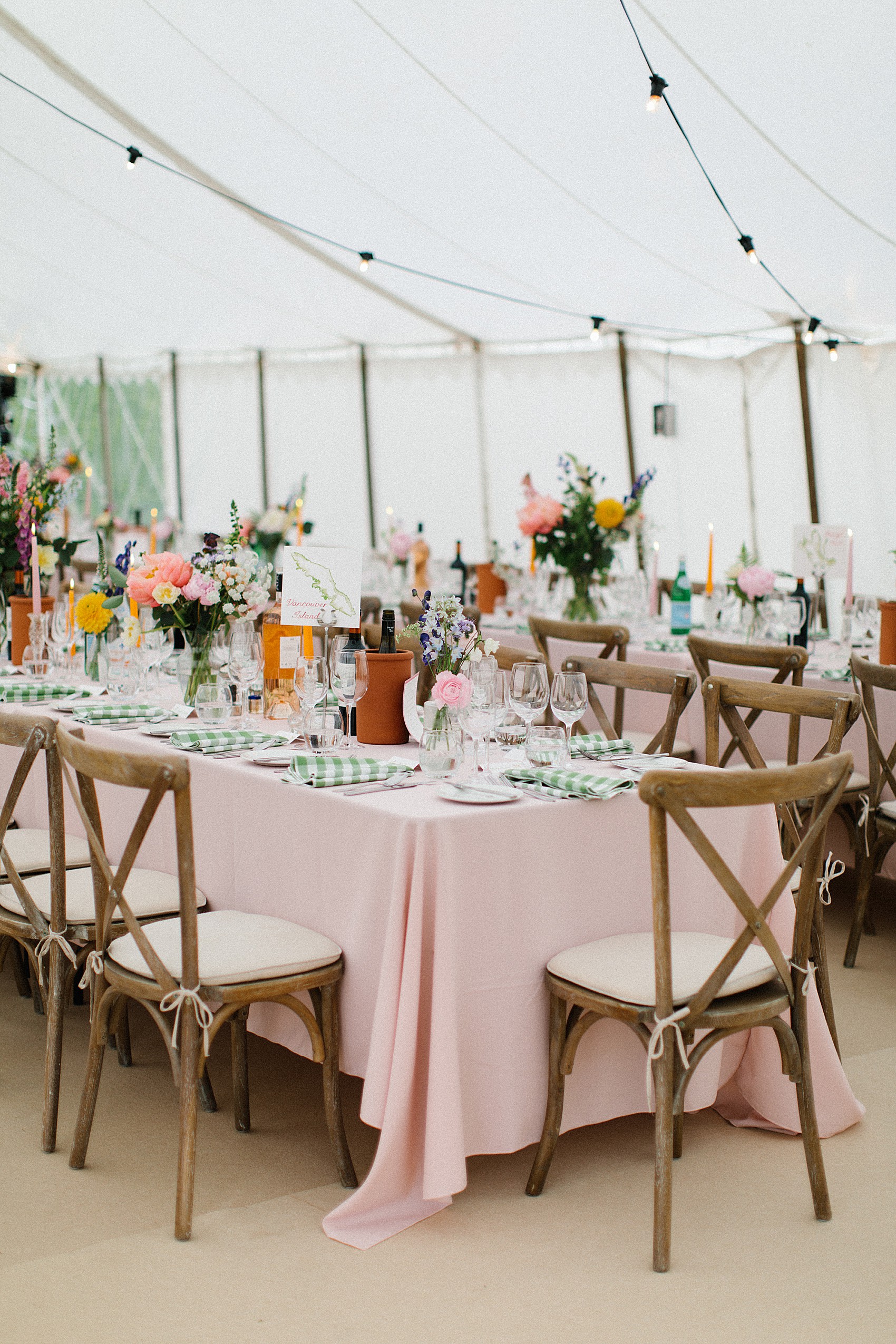 "Our wedding was in a church followed by a marquee reception, and I wanted a relaxed countryside feel to the whole day. Emma of Stems completely got the brief, and in fact she interpreted it better than I could have ever imagined."
"The flowers were beyond my wildest dreams. I adore foxgloves, peonies, hydrangeas and lupins and there were plenty of them."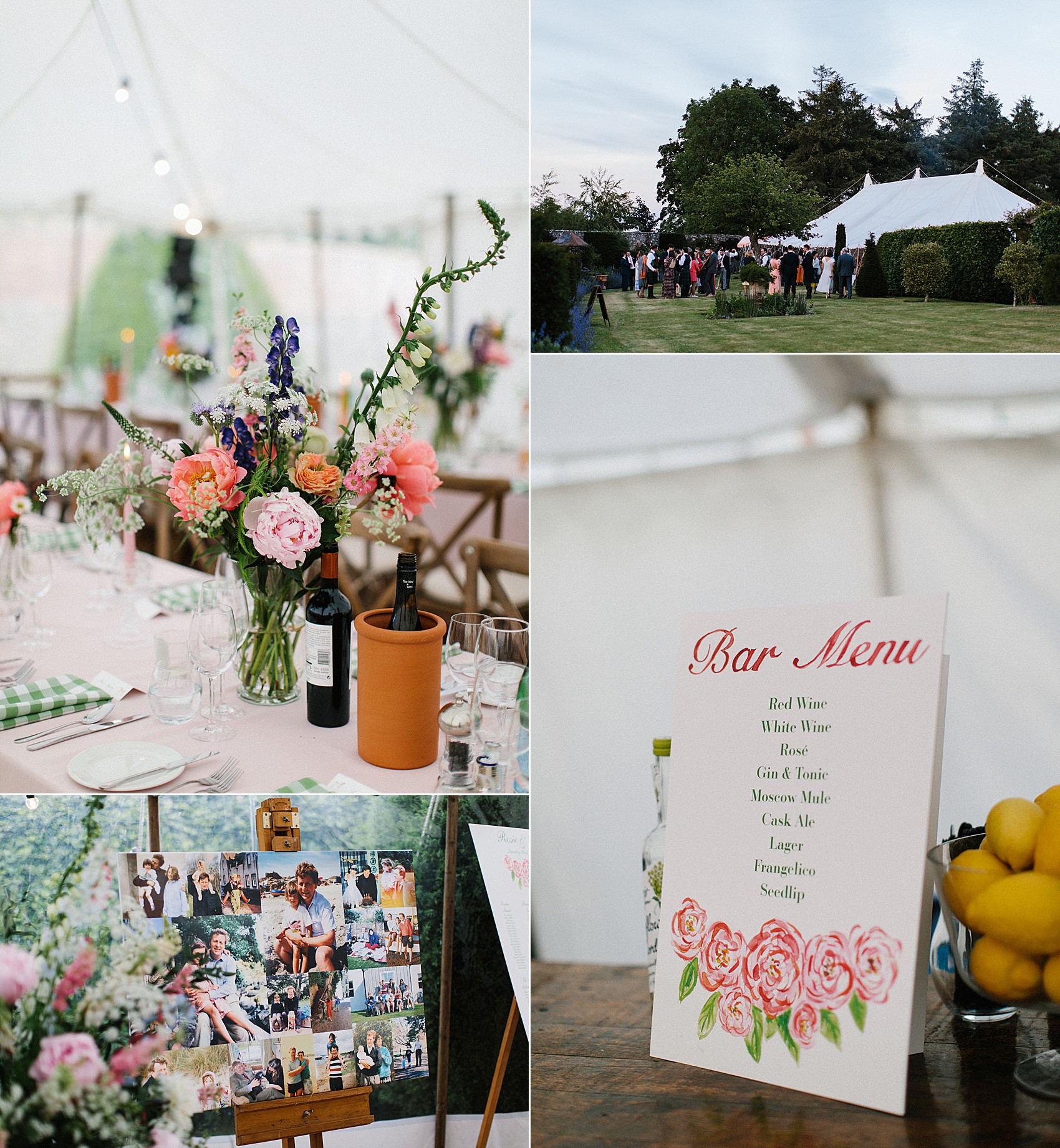 "The coral peonies were stunning, and Emma went to great lengths to source locally and Scottish grown flowers, which I loved."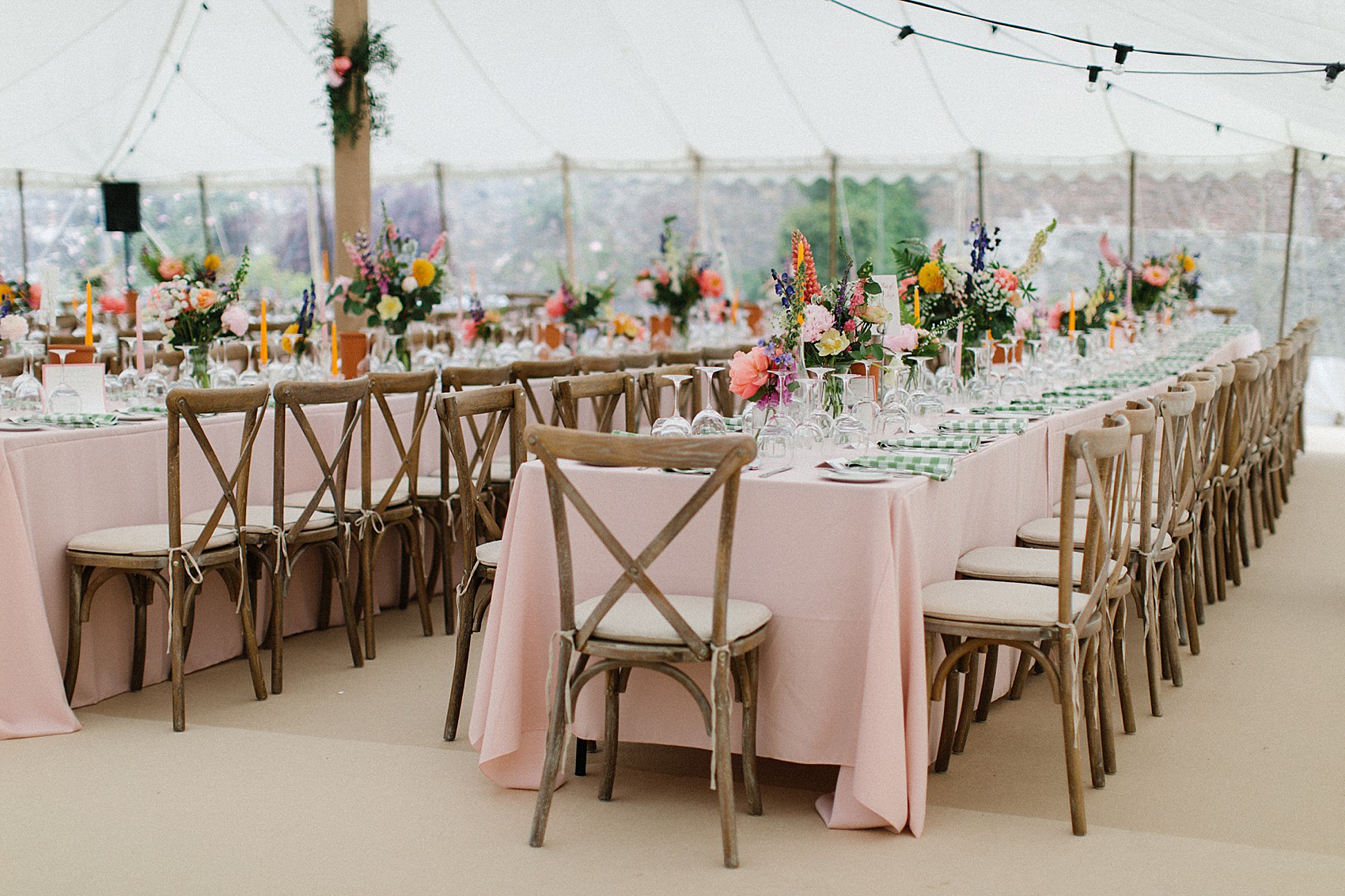 "I love Emma from Stems so much, and I am so happy I found her, as she was one of the last suppliers I booked, and I had been looking for quite some time. I knew when I met her I'd struck gold! She made the marquee what it was with her vision and talent."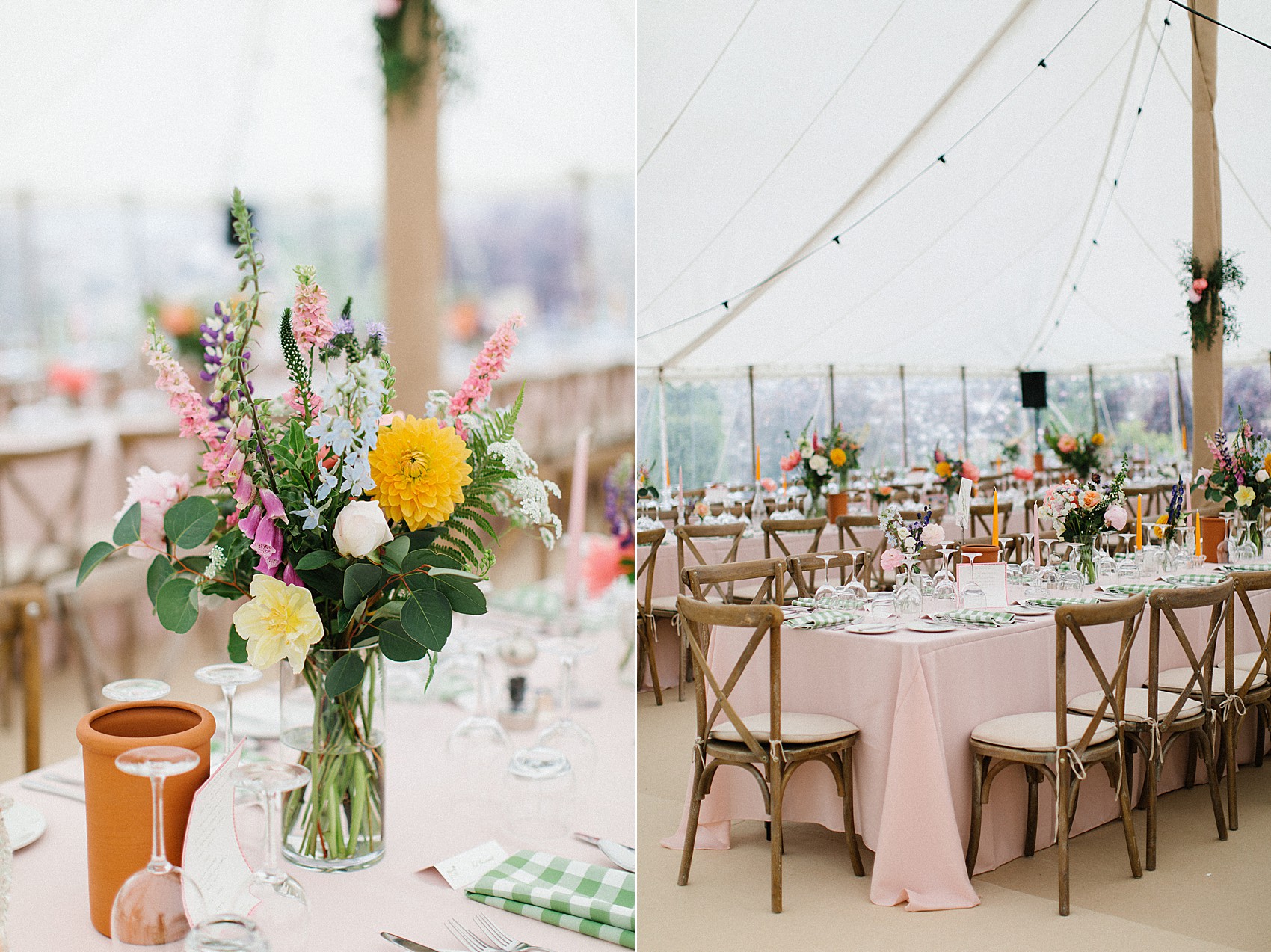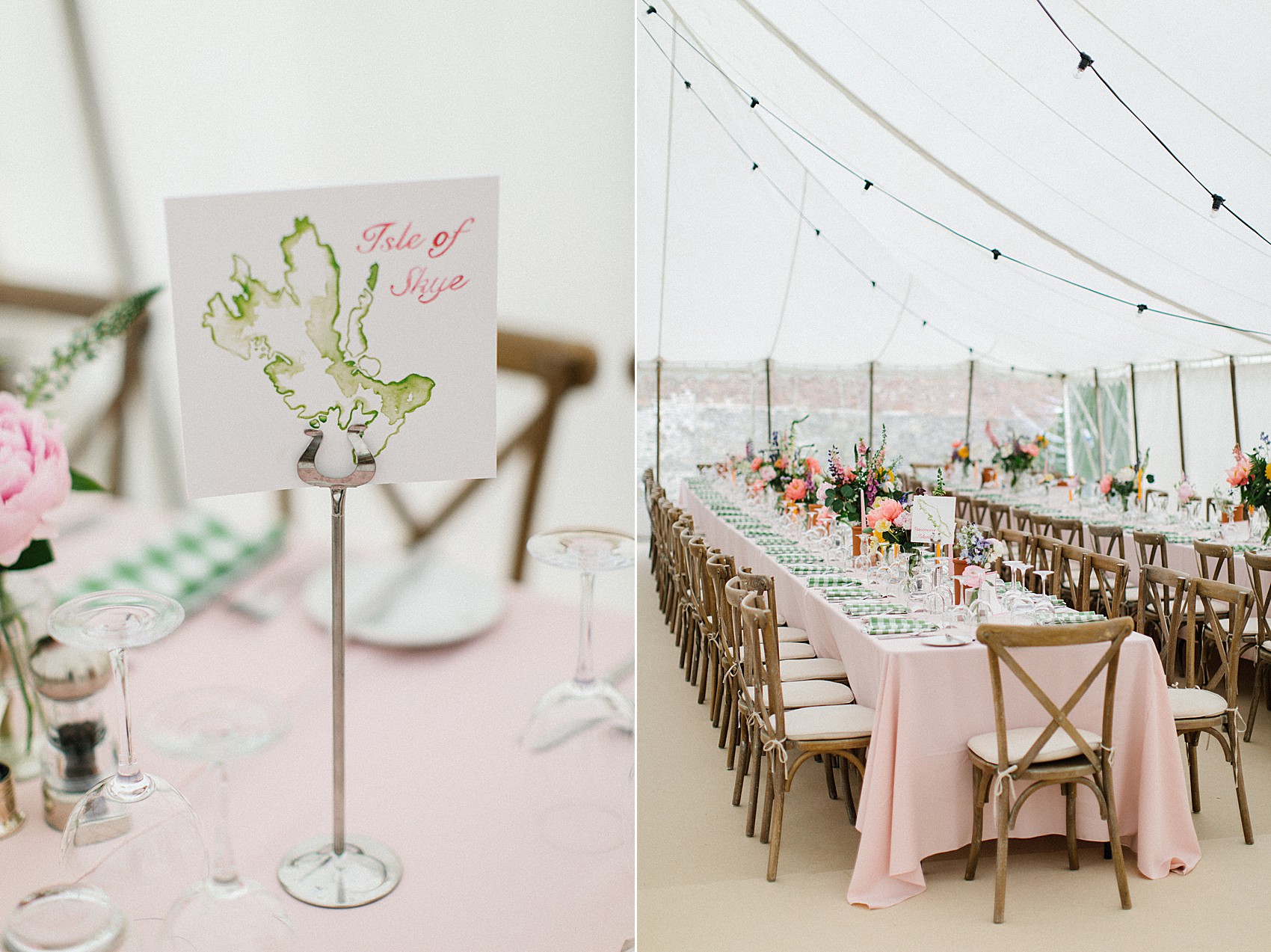 "And the food – oh my gosh it was so good. I know I am biased as it was our wedding, but it really was the best wedding food I've ever had. We were blown away at our tasting and the risotto with goat's cheese bon bons was to die for."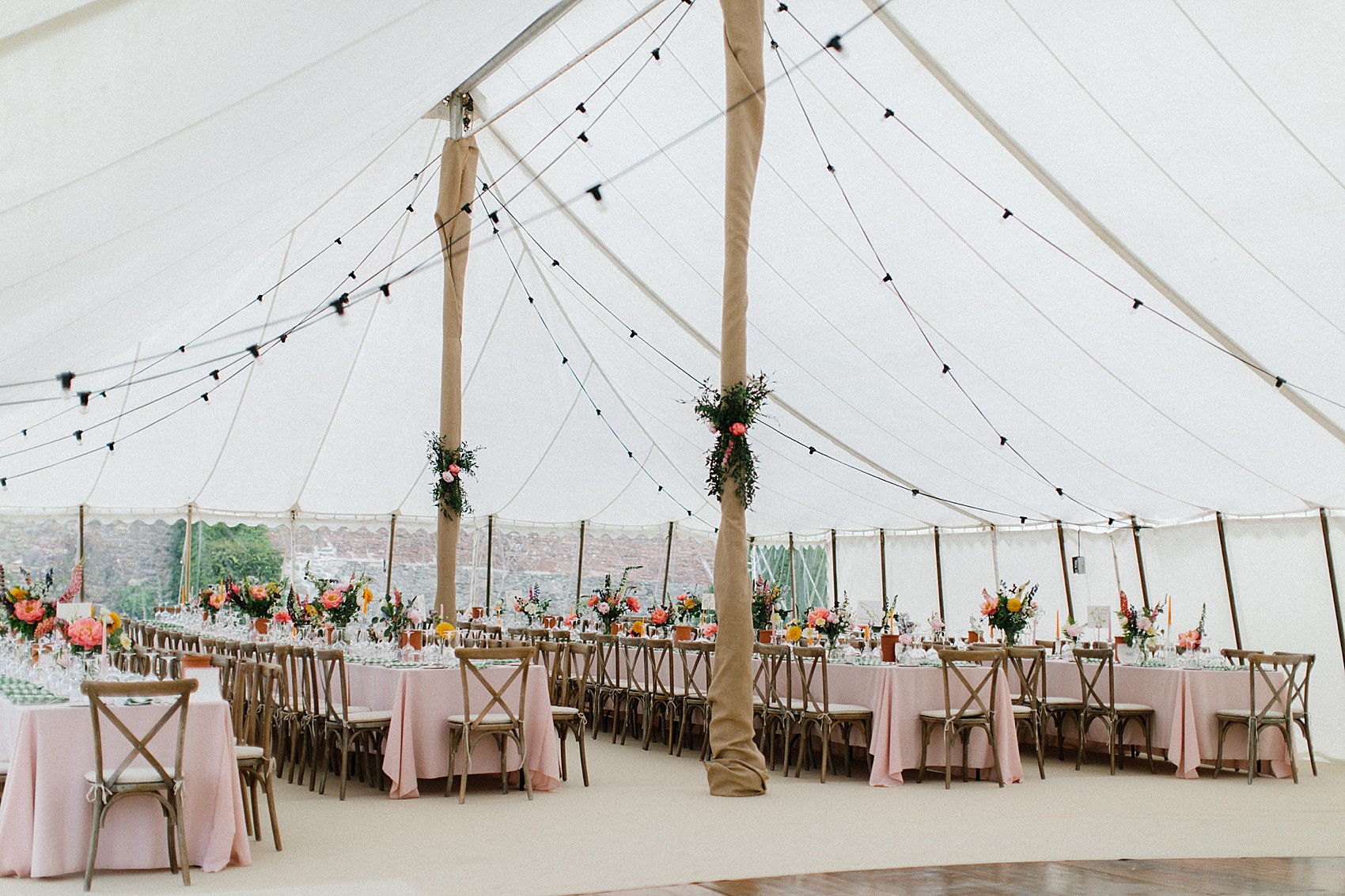 "Justin was so accommodating of our menu suggestions and ideas during the planning stages, and really helped us create something bespoke that encompassed a more sustainable approach to food. Our vegan and vegetarian options were fantastic, and we adored our hazelnut chocolate cheesecake. Nothing was too much to ask and I really cannot recommend them enough."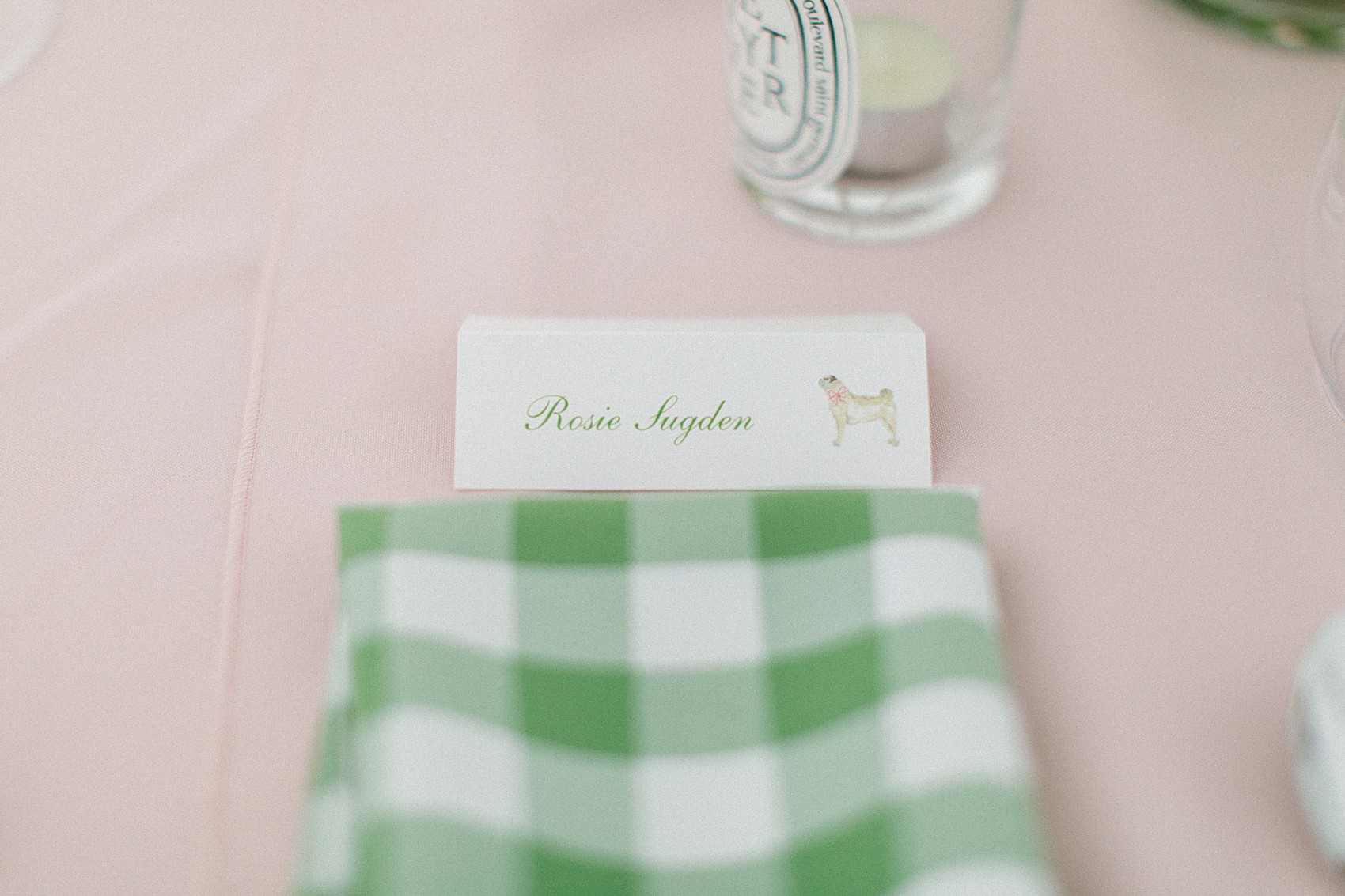 Rosie and Fred's lovely wedding cake was made for them by friend Sharon, who baked Victoria sponge and salted caramel flavours. The cake was then decorated with pug salt and pepper shakers re-purposed as toppers, and Rosie's sister also made lots of tasty brownies, too.
"It would be remiss of me not to mention my sister's speech as it was also a hugely memorable moment of the day for us both. It was a big ask for her to fill dad's shoes but Emily is a natural speaker, and she wrote the most dazzling speech full of wisdom and wit."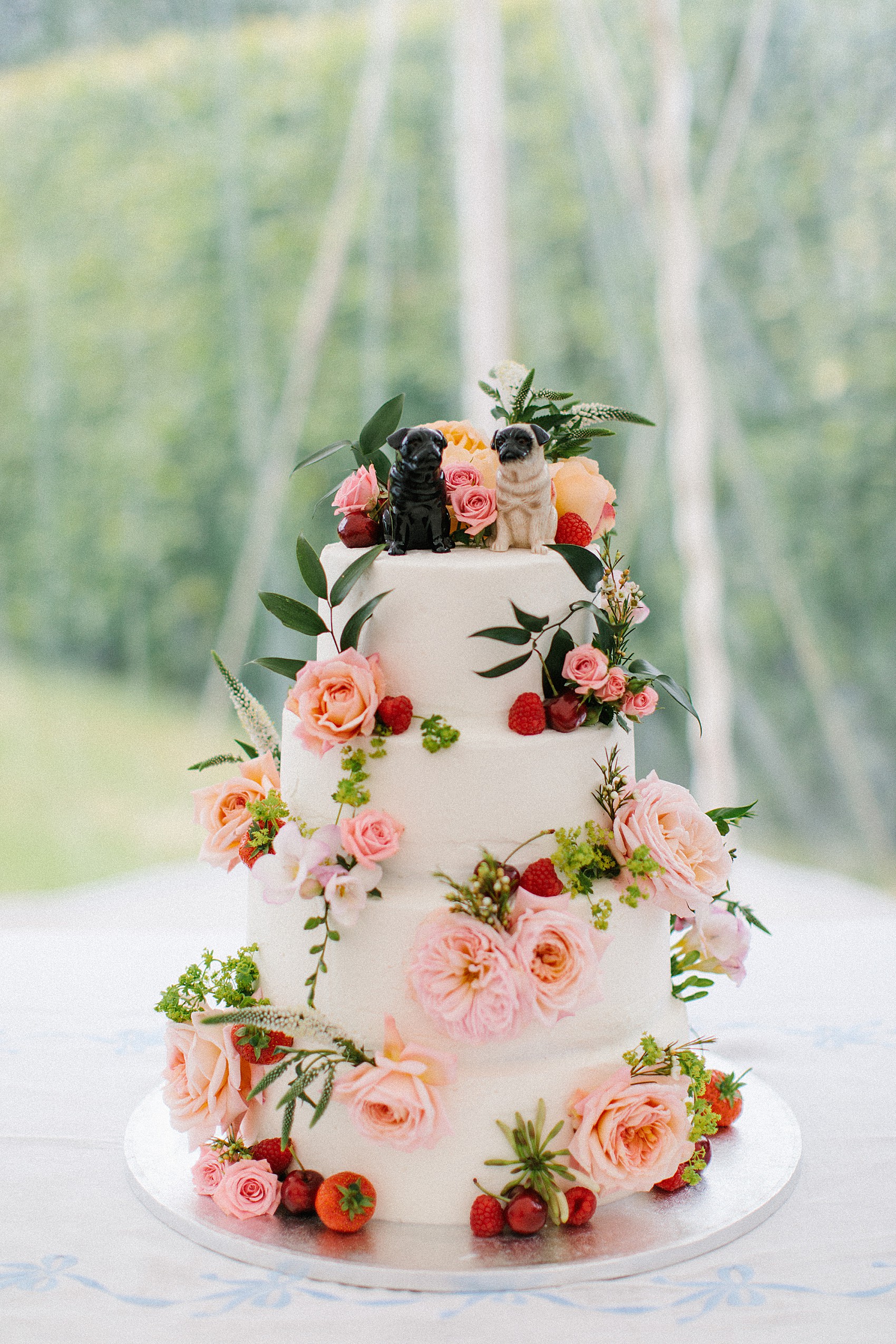 "I was so proud of her, and there wasn't a single person who didn't say to me on the day, or afterwards in a letter, how much they enjoyed, and were captivated by her speech."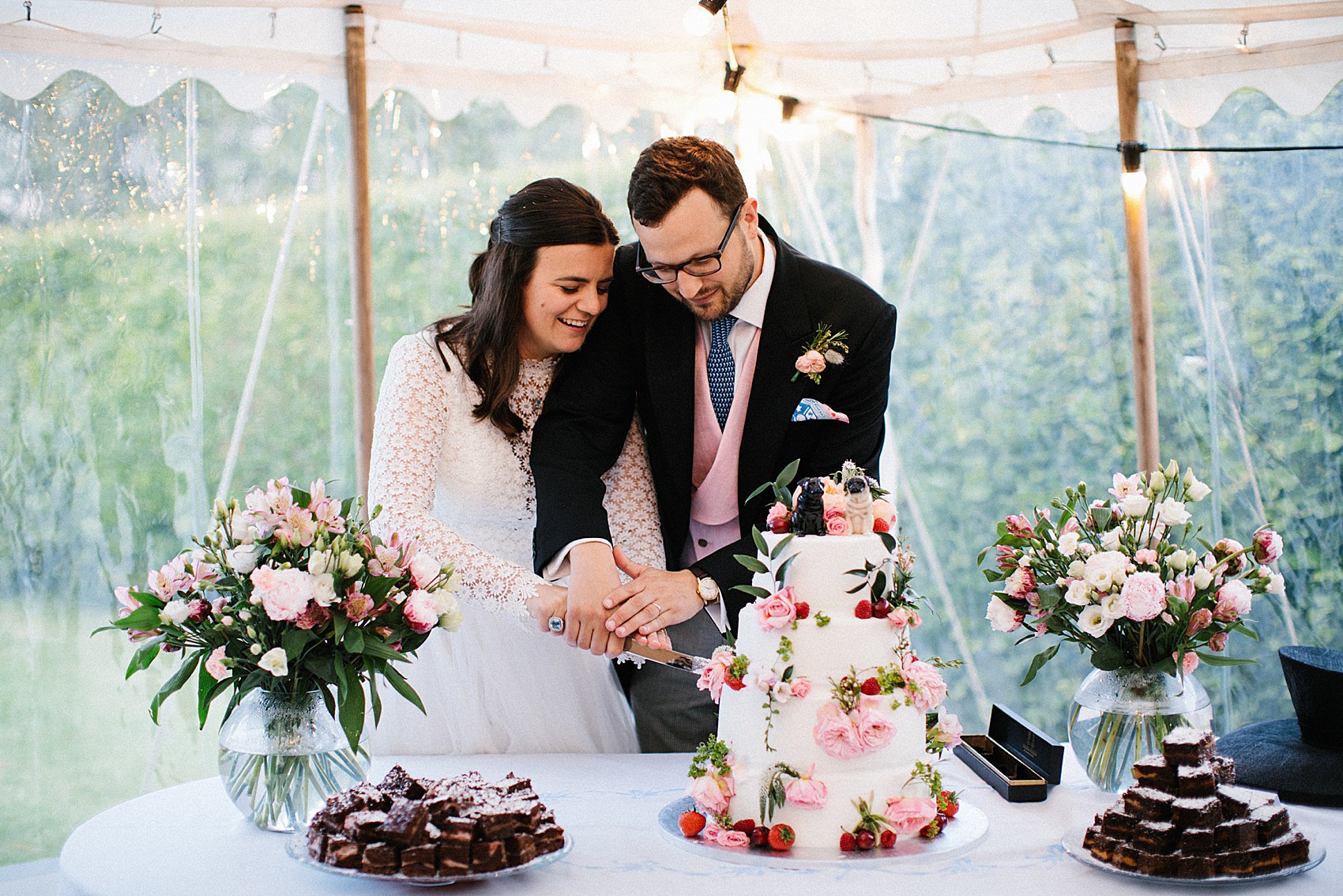 When it came time to take to the dance floor for their first dance as a married couple, Rosie and Fred made the brilliant choice to dance to Natalie Cole's song, This Will Be (An Everlasting Love).
"We really wanted a song that was quite upbeat from the beginning as we are not very good dancers and didn't want anything with a slow start. We also felt this song really the suited the band and their repertoire."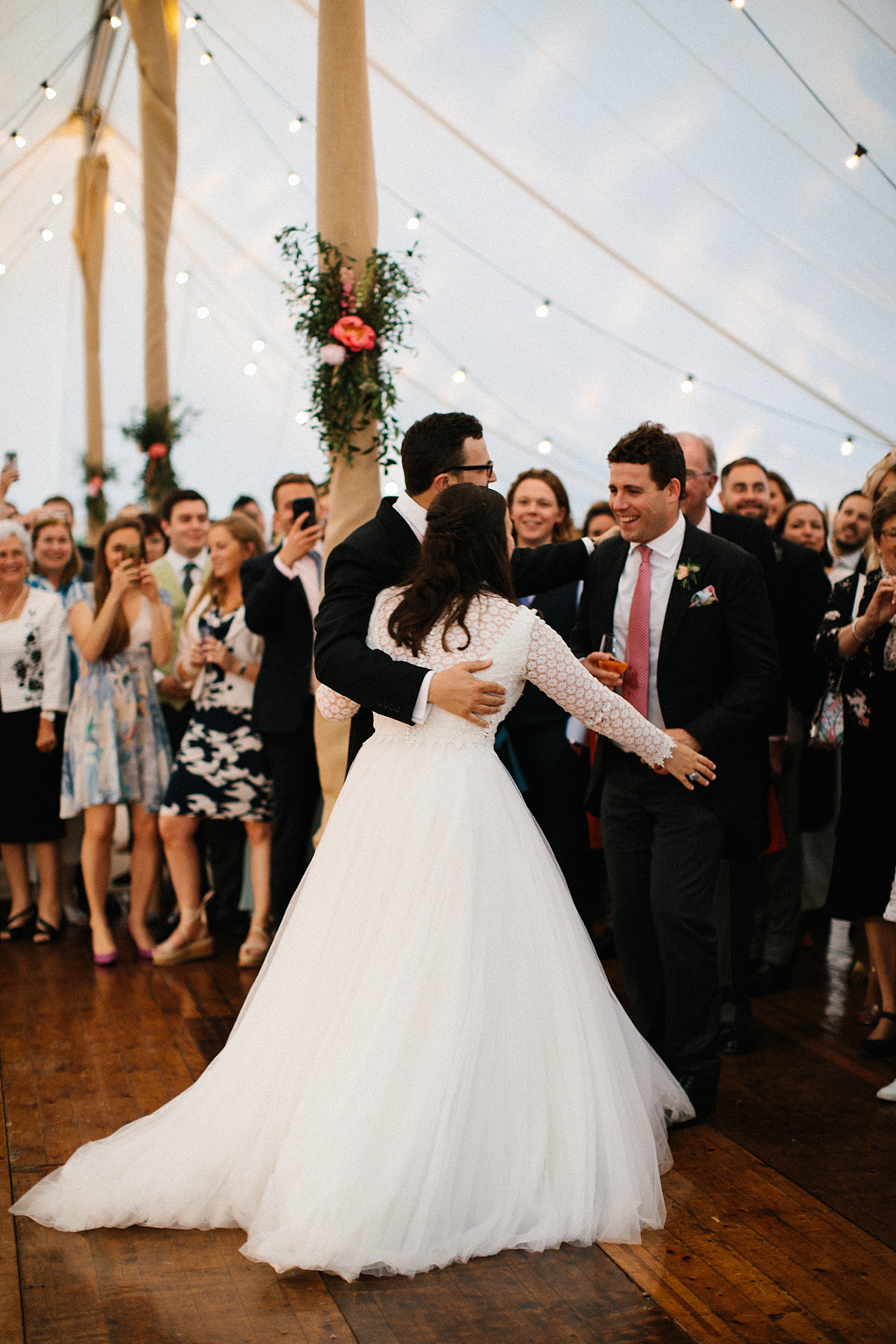 "We booked City Sounds via Entertainment Nation and they blew us away. My brother-in-law is a guitarist for Will Young and Olly Murs, and he helped us choose a band as we didn't know where to even start. City Sounds performed two sets and also learnt our first dance song for us."
"They looked and sounded amazing, and we had so many comments on how fab they were from all our guests. The dancefloor was never empty!"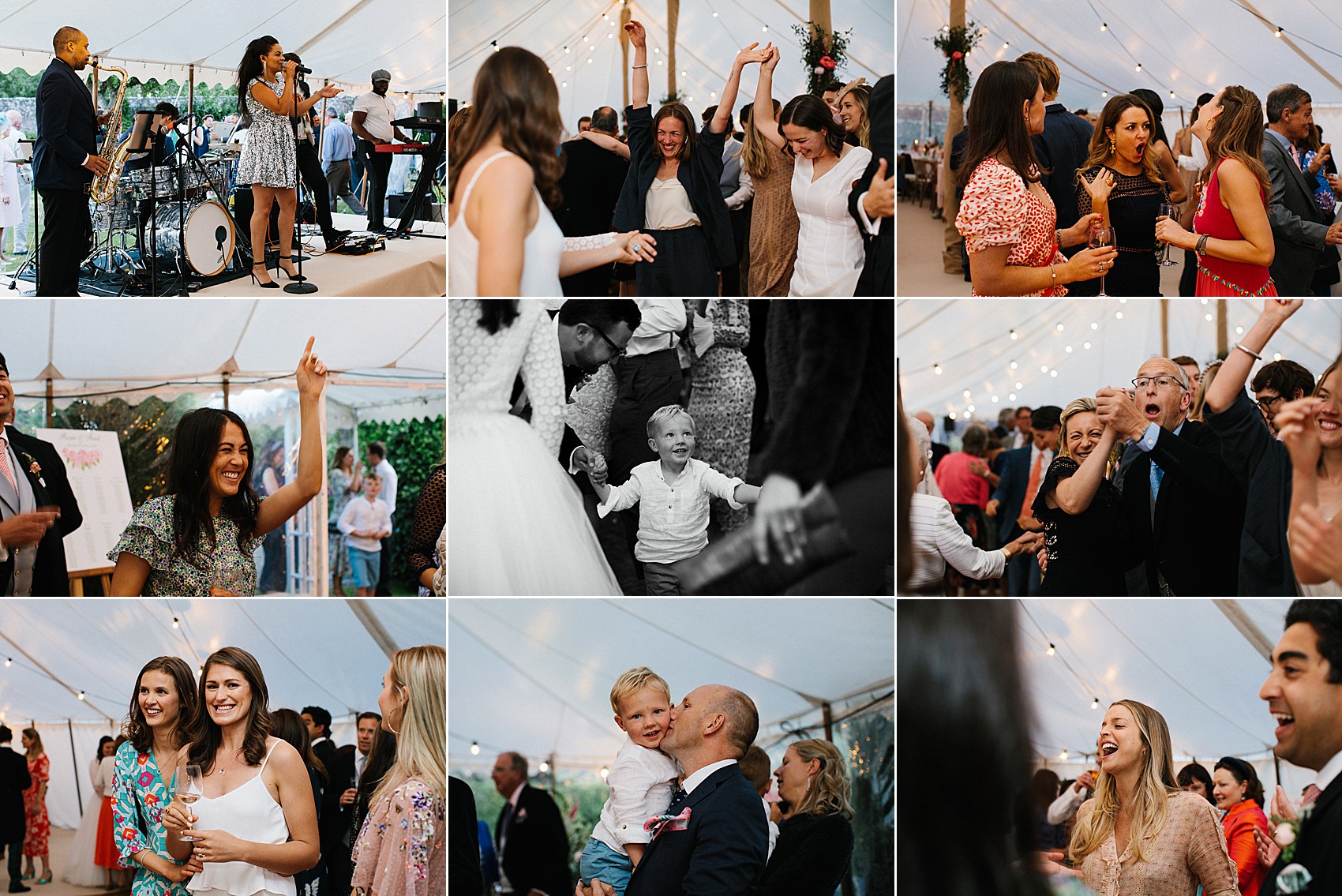 Words of Wedded Wisdom
"I'm not sure I would change anything. Perhaps I would have not rushed into buying the dress so quickly, as clearly I wasn't ready given that I chose a top that was so not me to begin with. However, when I look at the photos I do love the whole look, and I felt comfortable and like myself, on the day. I really do love the daisy lace top I chose – I'm thinking about dyeing it so I can wear it more often."
"My advice would be take your time with the planning. I was guilty of rushing it a bit, especially at the beginning."
Save money on your wedding suppliers – JANUARY OFFERS ONLY!
"Try and enjoy it, as when I finally did slow down, I started to find it really fun, and strangely enough I missed all the wedmin after the wedding!"
"Also do what feels right for you as a couple, and what is within your budget, not what you think is expected of you because truly whatever you do will be magical. The tangible feeling of love at weddings is what makes them so special."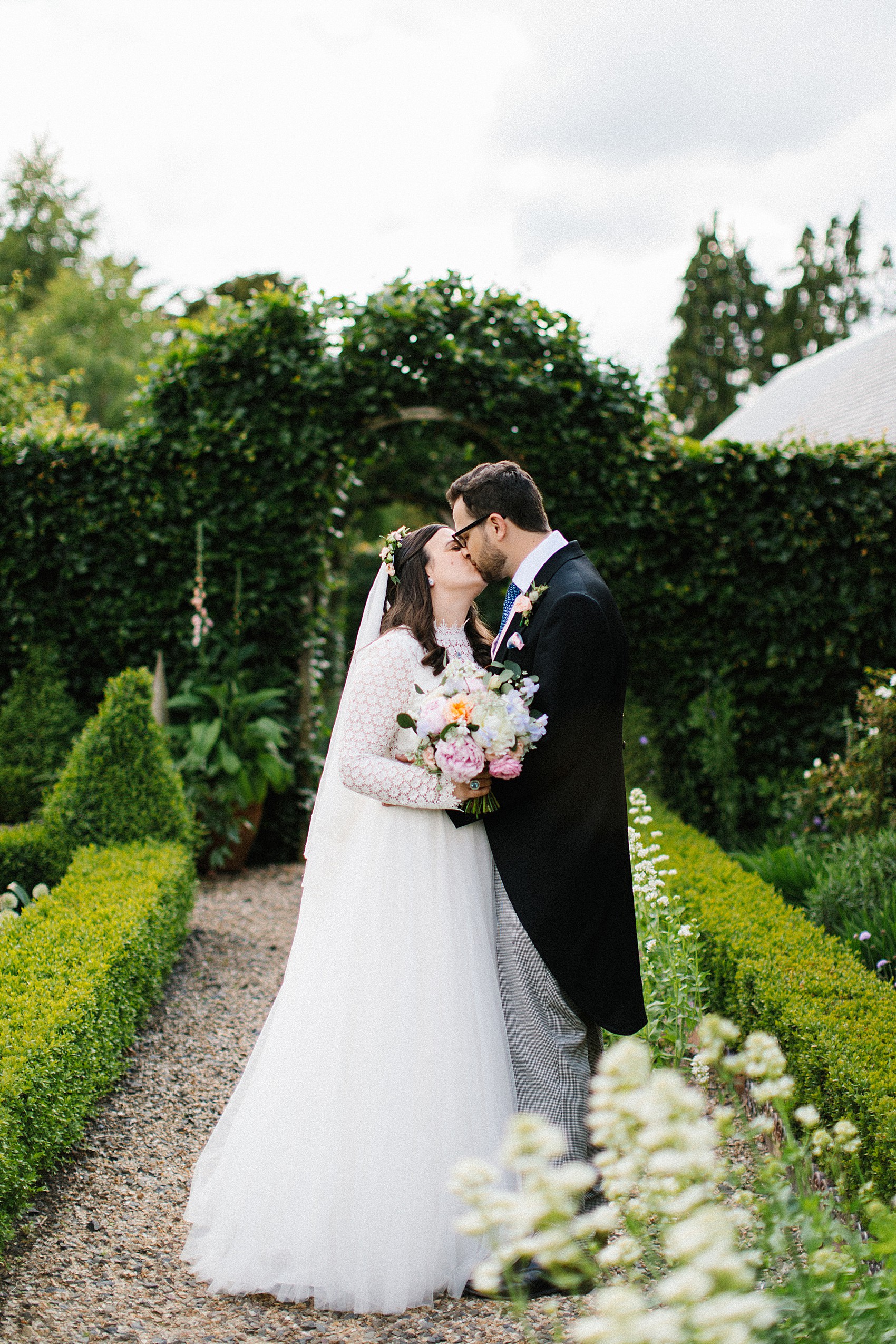 Rosie, I couldn't agree more. Thanks so much for those words of wisdom, all throughout this piece, too. Thanks to both you and Fred for sharing your romantic, wonderful day with us! Many thanks to Melissa Beattie for sharing her elegant and creative photography, too.
With love,
Laura