This year I've fallen more and more in love with the South African protea so I was delighted to see them featured so heavily in this romantic, Herefordshire countryside wedding. I think you've going to love this charming look and the personal elements woven in to this beautiful couple's day so, let's take a look.
This is the wedding of Sarah, head of marketing at a tech start-up and Nick, a management consultant, who celebrated with family and friends over a weekend of festivities at countryside manor Dewsall Court in Herefordshire – a venue we are thrilled to recommend through our Little Book Wedding Directory. Dewsall Court are holding an open day on Saturday 15th February – full details here.
Wedding filmers Moon & Back were there to capture a moving memento of the day, this beautiful and charming piece.
"I love Moon & Back's discreet and candid approach. Each moment that they captured was unique and unstaged. From spilt prosecco, bumped heads and church giggles, they captured the love, energy and wild weather of our big day. They are professional and incredible in every way."
Michigan Behn Photography

+ Follow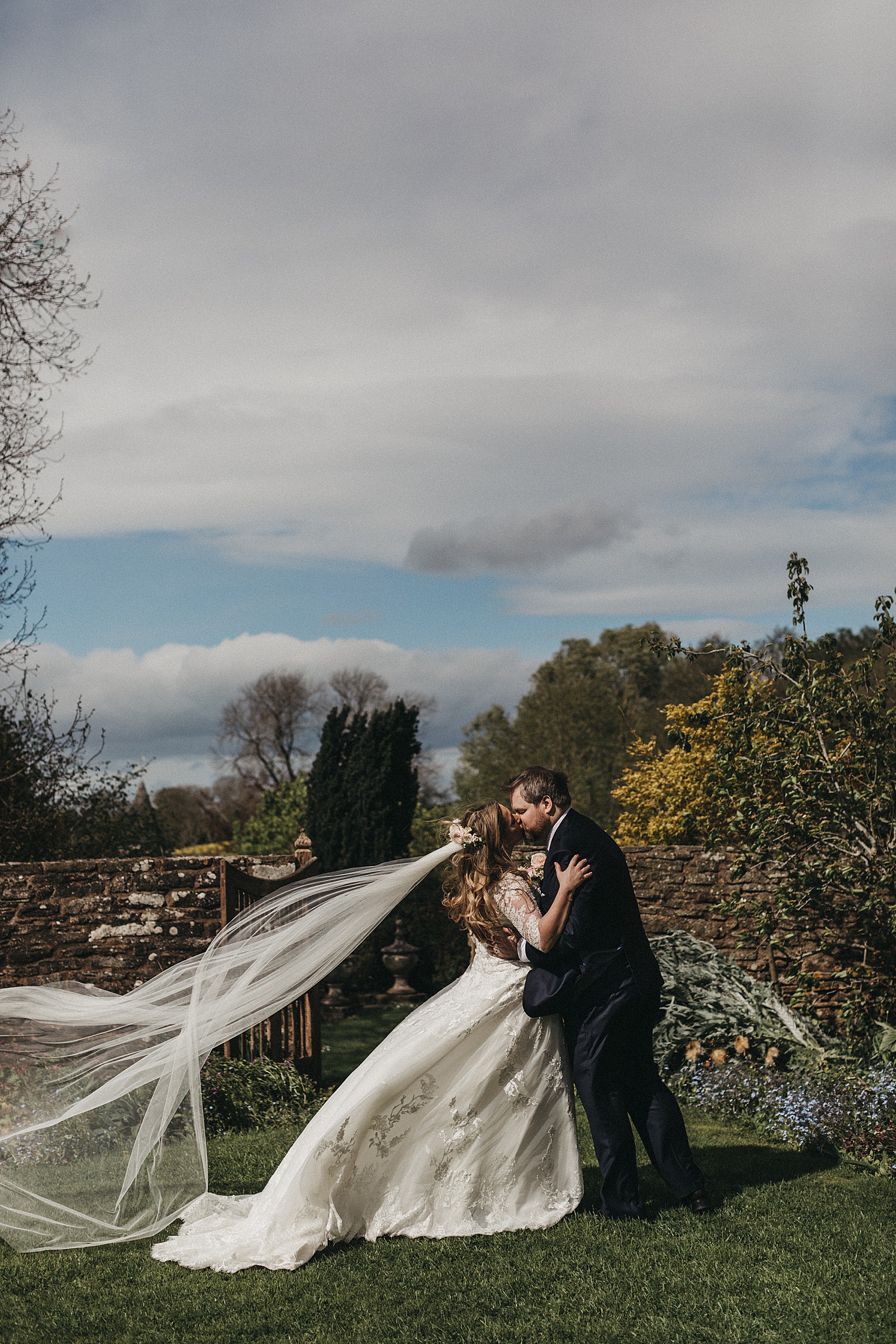 The bride visited the Pronovias flagship store in London to choose her princess-skirted, classically beautiful gown and removable lacy jacket. It is so flattering and romantic, and perfect for their English countryside venue.
"There was just something about the fit and the way it made me feel. I loved the full princess skirt, natural waist, fitted bodice and sweetheart neckline
"It had the most beautiful lace over tulle with foliage and floral thread appliqués which made me think of the hanging greenery installations that we were having at our reception in the barn. I originally ordered the dress in blush but got cold feet and changed the order to ivory the next day."
"My veil was also Pronovias – cathedral length, plain ivory and dramatic in every way. It blew so beautifully in the wind. I had the blusher cut off as I wanted it one length and wasn't planning on wearing it forward."
Setting the romantic blush and green vibe for the day was the stationery suite.
"My stationery was custom-made by the talented Amanda Michelle. She created a bespoke design which incorporated proteas and roses as well as greenery and a touch of gold leaf. The blush tones of the florals inspired the 'lipstick pink' bridesmaid dresses as well as the groomsman ties and pocket squares. The green of the countryside inspired the hanging installations in the barn."
On hand to pamper the girls were hair stylist Tabitha MacCurrach-Paine and make-up artist Nicola Harrison.
"Tabby was so helpful and not only created the most beautiful hair styles but also helped my mom with fiddly tiny buttons. She's a seasoned pro and so lovely! The bridesmaids all had a relaxed but tidy up-do with a touch of greenery and a single blush flower. I wanted my maid of honour Tamsin to stand out so she had a selection of extra small blush roses and greenery pinned in."
"Nicki is so talented and turned my bridesmaids into goddesses. Her products are only the best and she knows so much about what works well with different skin types. She is also cool as a cucumber and has great energy. She gave me the most flawless and natural-looking skin with highlighter in all the right places."
Many of the couple's guests joined them for the entire weekend, with the celebrations starting after the church rehearsal up on the hill and ending with a full English for brunch.
"We kick-started the weekend with a cosy dinner and lots of red wine. We had so many guests travel over to be with us and Friday was the start of the celebrations. We ended the weekend with a sit-down brunch for fifty of our closest family and friends."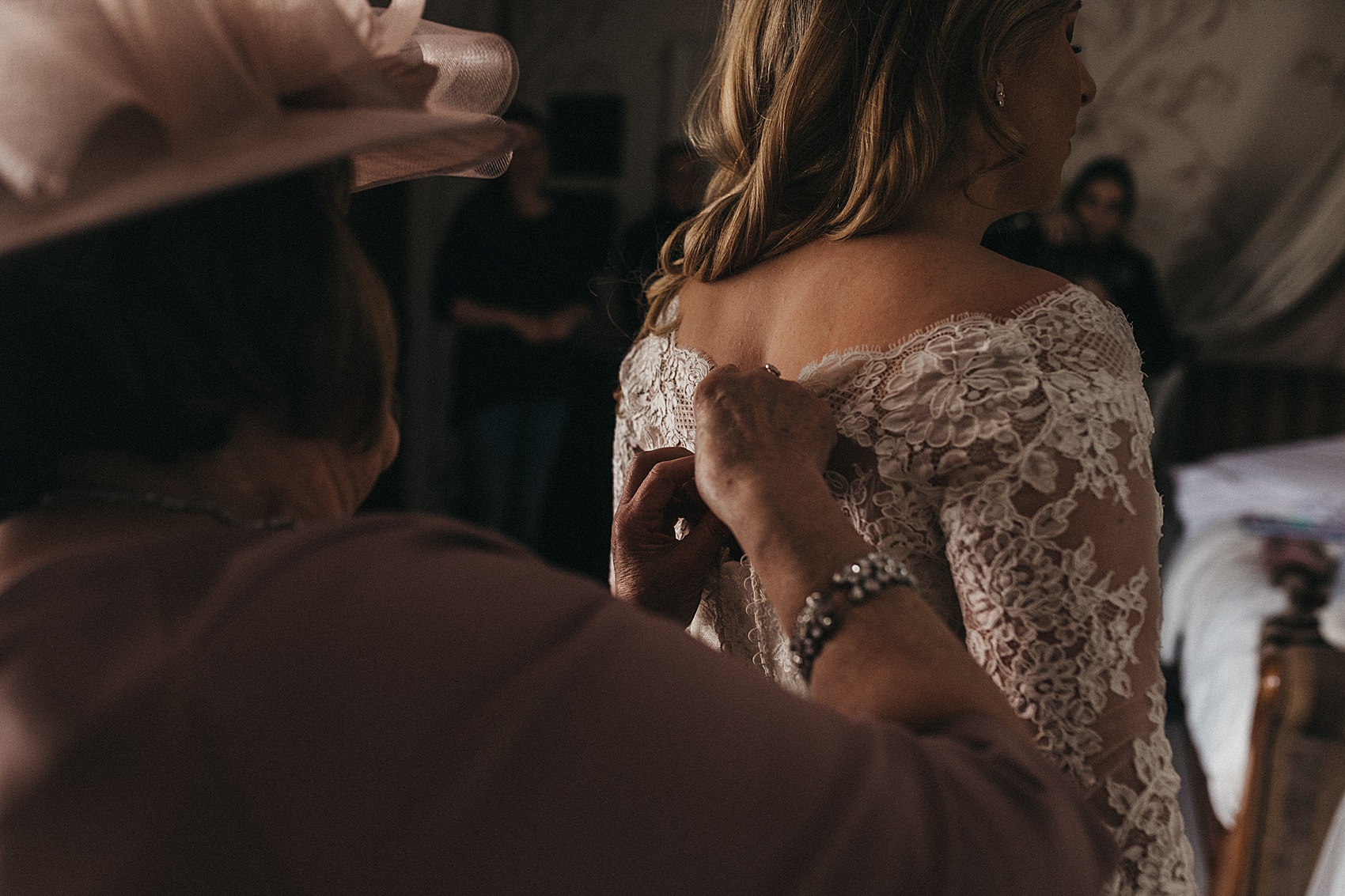 The following morning, Sarah and her bridesmaids got ready in the Court's Bridal Suite.
"The morning was so fun. It was really relaxing and I enjoyed hanging out in our gorgeous bridal suite with my favourite ladies sipping champagne, nibbling on sandwiches, listening to music and being pampered."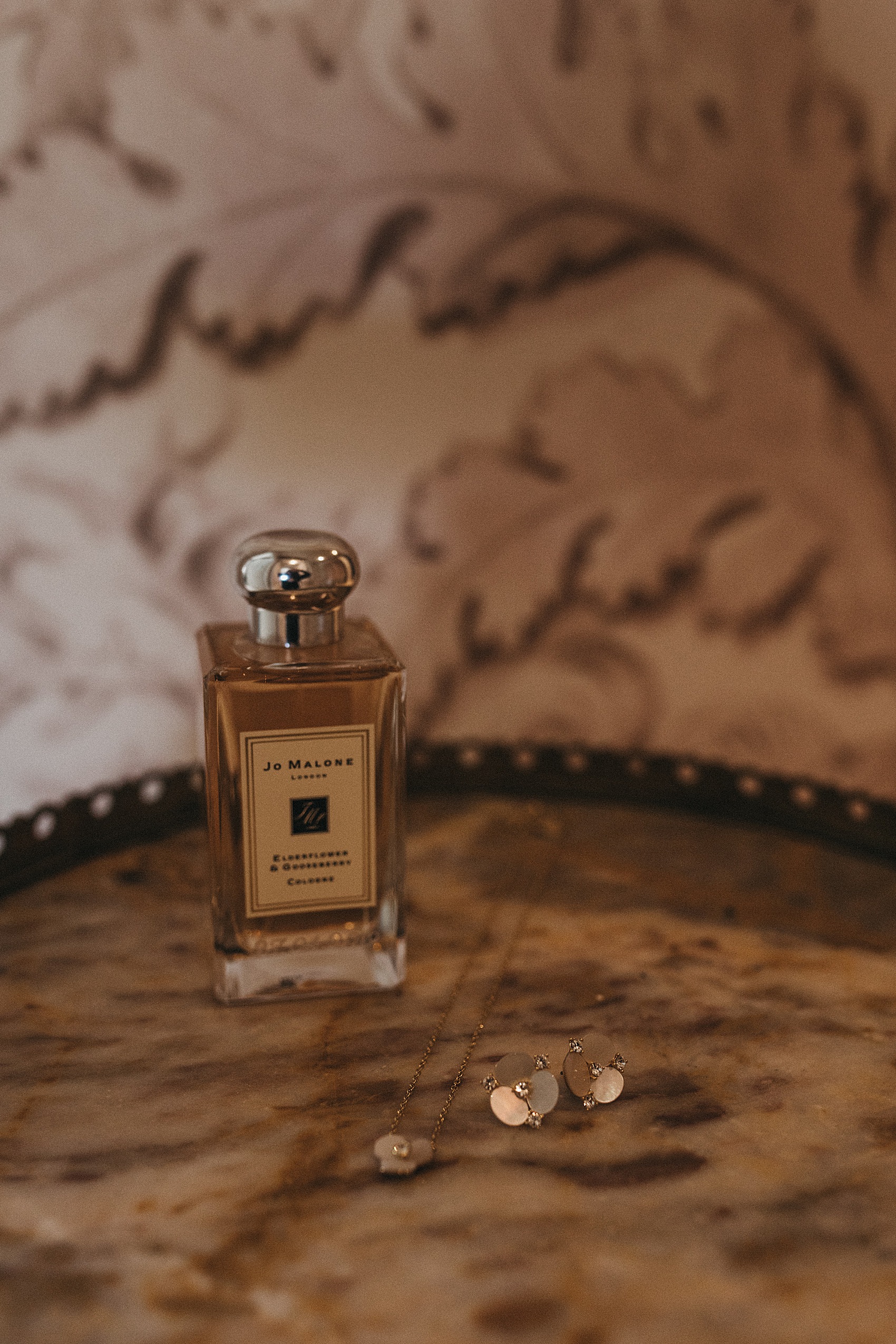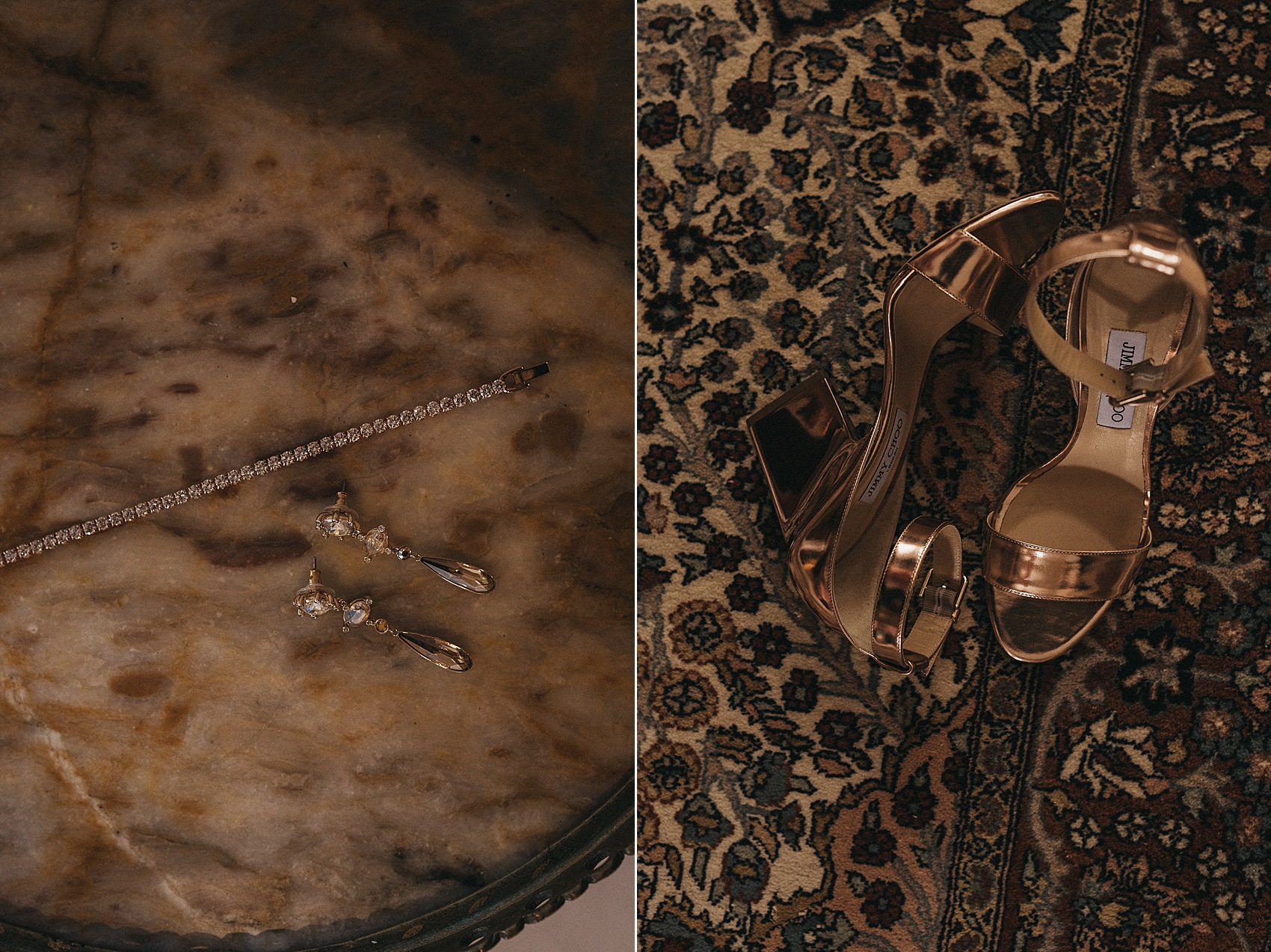 The veil was finished off with a hair clip of blowsy blush flowers made by the florist and, for a touch of metallic glam, Sarah chose rose gold Jimmy Choo sandals. The gold theme continued through to her jewellery.
"I kept it simple with stud earrings from the Kate Spade Disco Pansy collection. In the evening I swopped to a stunning pair of rose gold Swarovski drop earrings which my mom gave me on the wedding morning."
The bridesmaids' Phase Eight gowns are elegant and flattering, in the prettiest of pink.
"They had a halterneck, soft pleats through the bodice and a ruched waistband to create a flattering silhouette. They also featured a contemporary necktie which fell at the front and back of the dress."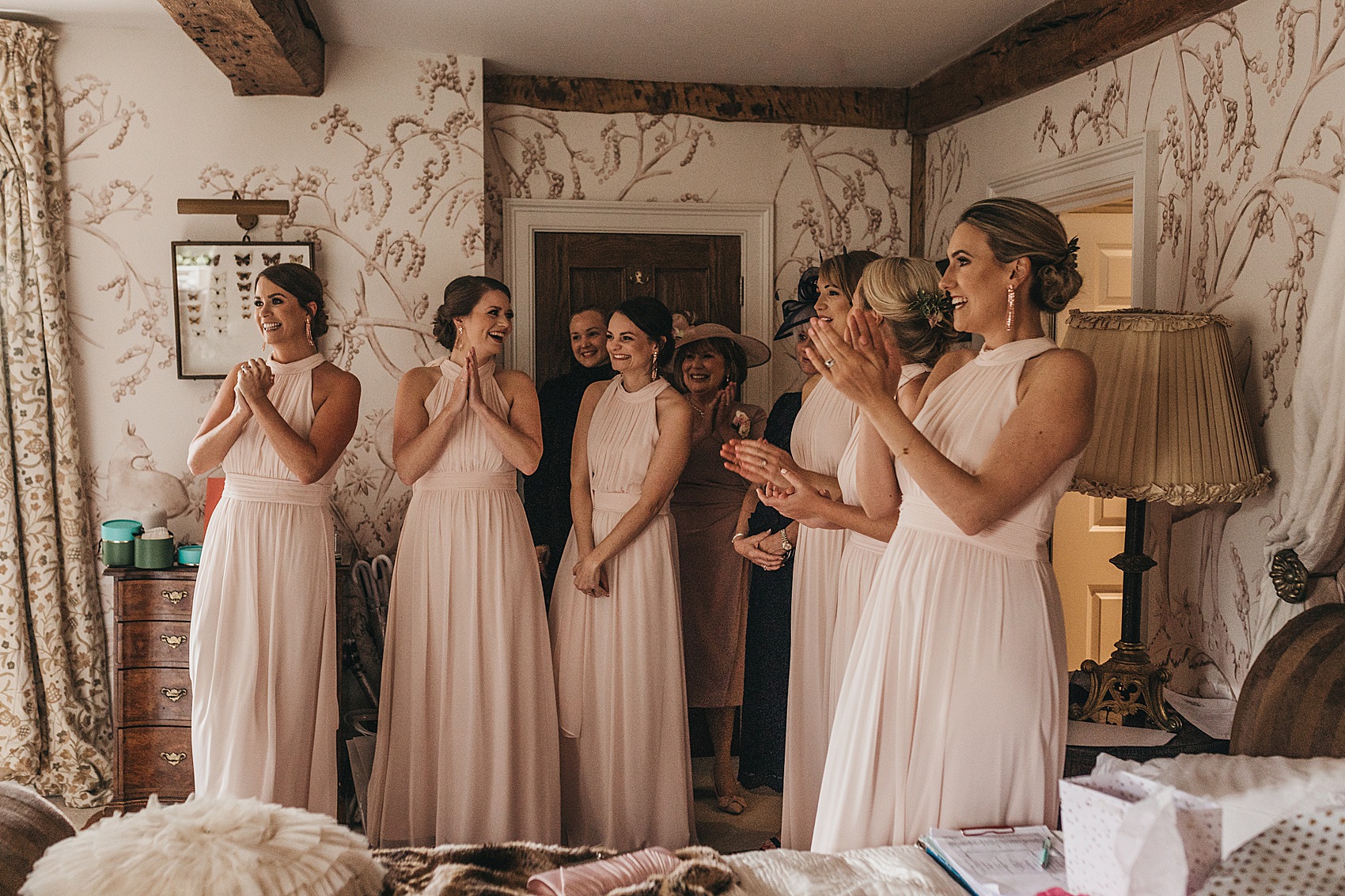 "I remember thinking that they would look beautiful in the breeze. My bridesmaid presents were Kate Spade crystal fringe earrings in light pink. They were very glam and added the perfect touch of sparkle."
"The dresses were all hung on pink hangers with custom-made disks with their names in letterbrush, made by Mother Wild. I also had robes custom-made in South Africa by Lilies & Lust."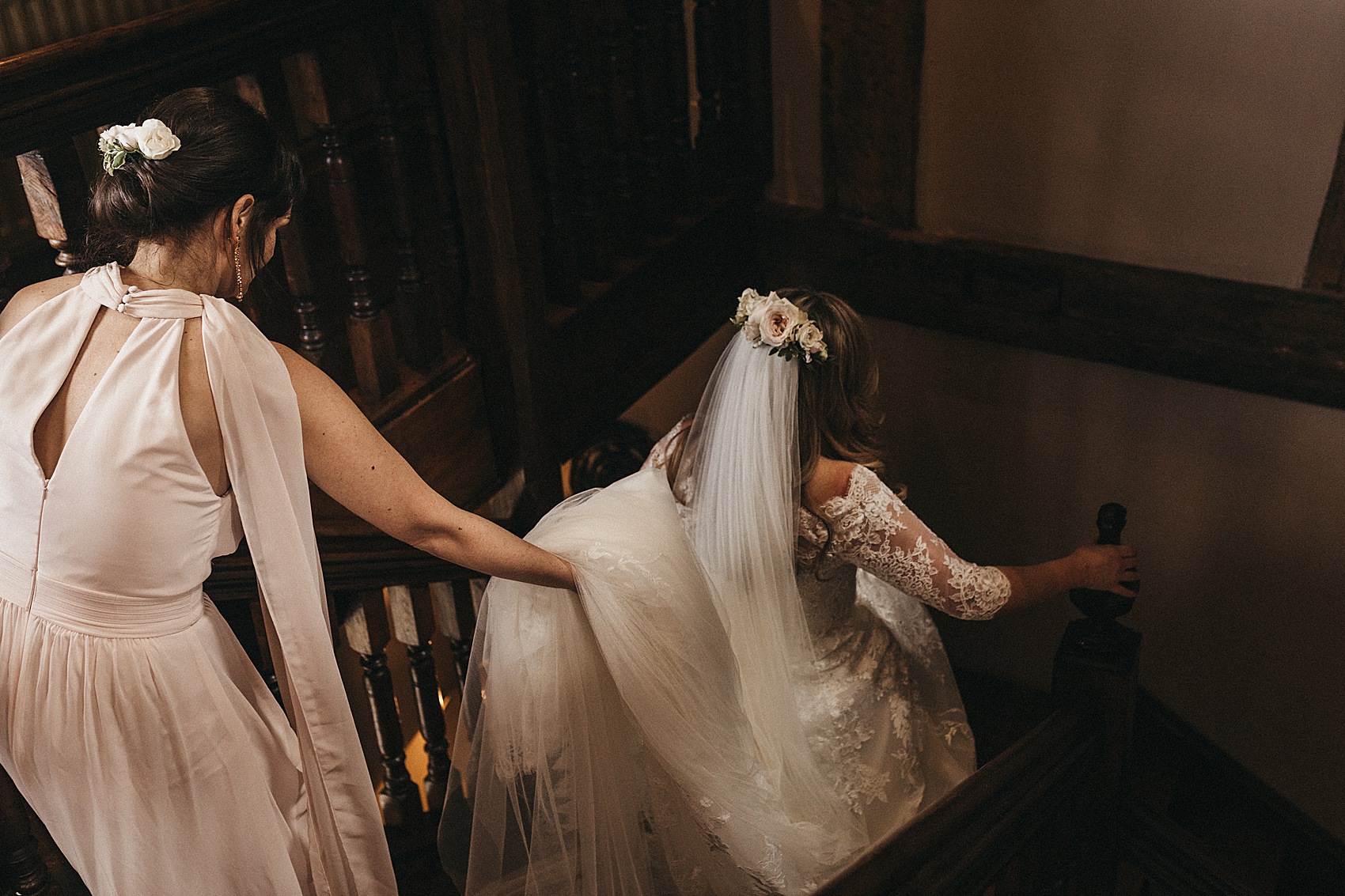 The groom's suit was a tailor-made dark navy suit from Yardsmen, which he had made for his sister's wedding the year before.
"He teamed this with a new, tailor-made crisp white shirt with his initials embroidered on the cuff and a pink and navy checked wool waistcoat from Yardsmen. He wore Reiss' 'Ceremony' tie in pink and a crisp white pocket square from Mrs Bow Tie. To finish off, he wore a pair of polished, double monk strap, burgundy brogues from Church's with a matching burgundy belt. They were the favourite part of Nick's outfit and looked so smart."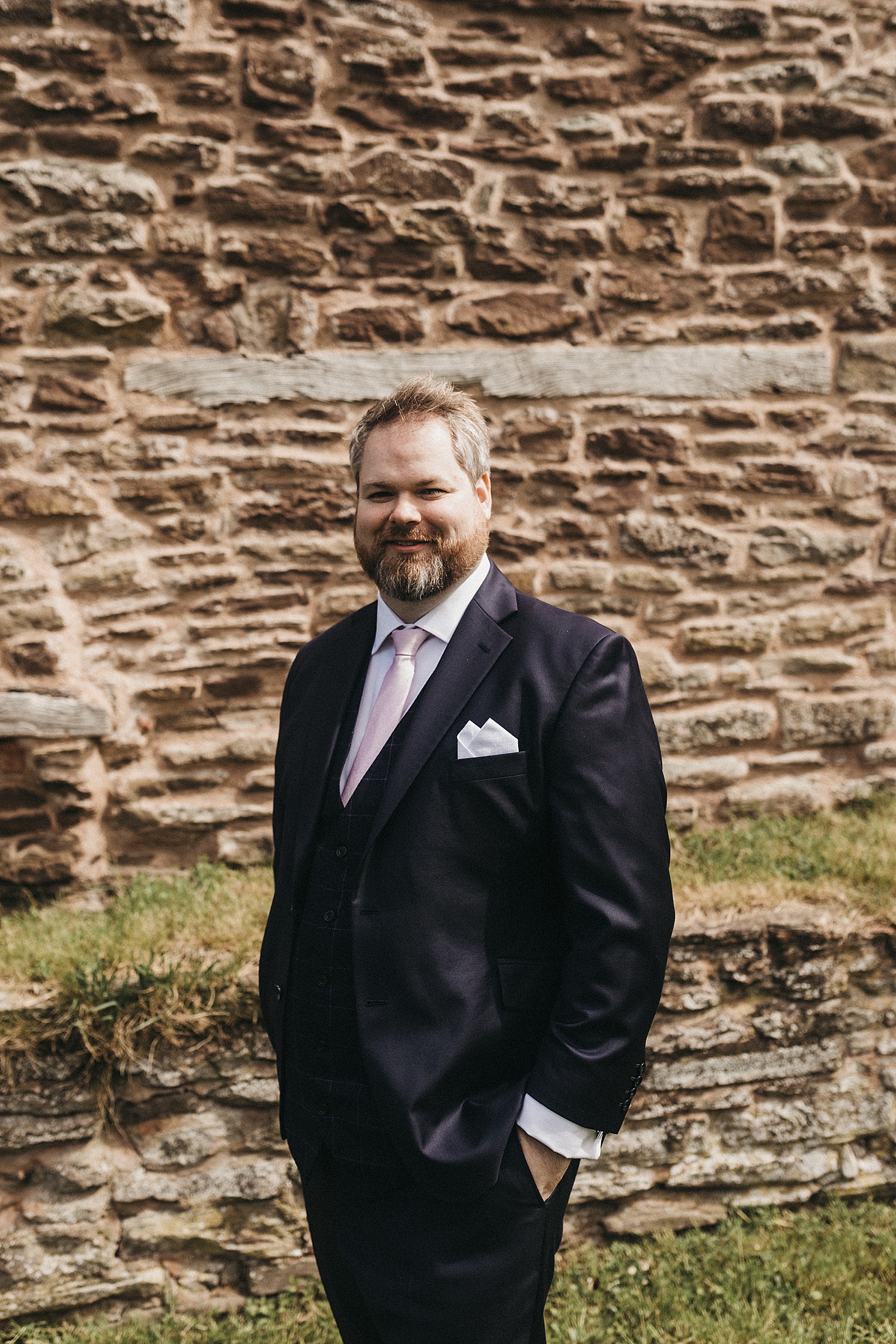 The overriding décor for the day were the hundreds of fresh blooms and garlands of greenery which had been so expertly styled by Love Lily and the bride and her father entered through the most gorgeously-full arch of flowers.
"Our florist was the amazing and experienced Love Lily. I had a rustic yet romantic unstructured bouquet of beautiful blousy roses, ranunculus, peonies and whispy jasmine in a colour palette of ivory, cream and pale blush with fresh green foliage."
"The church arch featured a soft, natural and rustic archway with textured green foliage and floral focal areas including roses, proteas, peonies and complimenting stems."
The couple first crossed paths on Tinder, although it took over a year for them to meet in person.
"Nick was finishing his second degree and I was getting stuck into London life having recently immigrated from South Africa. We spoke on and off for a year."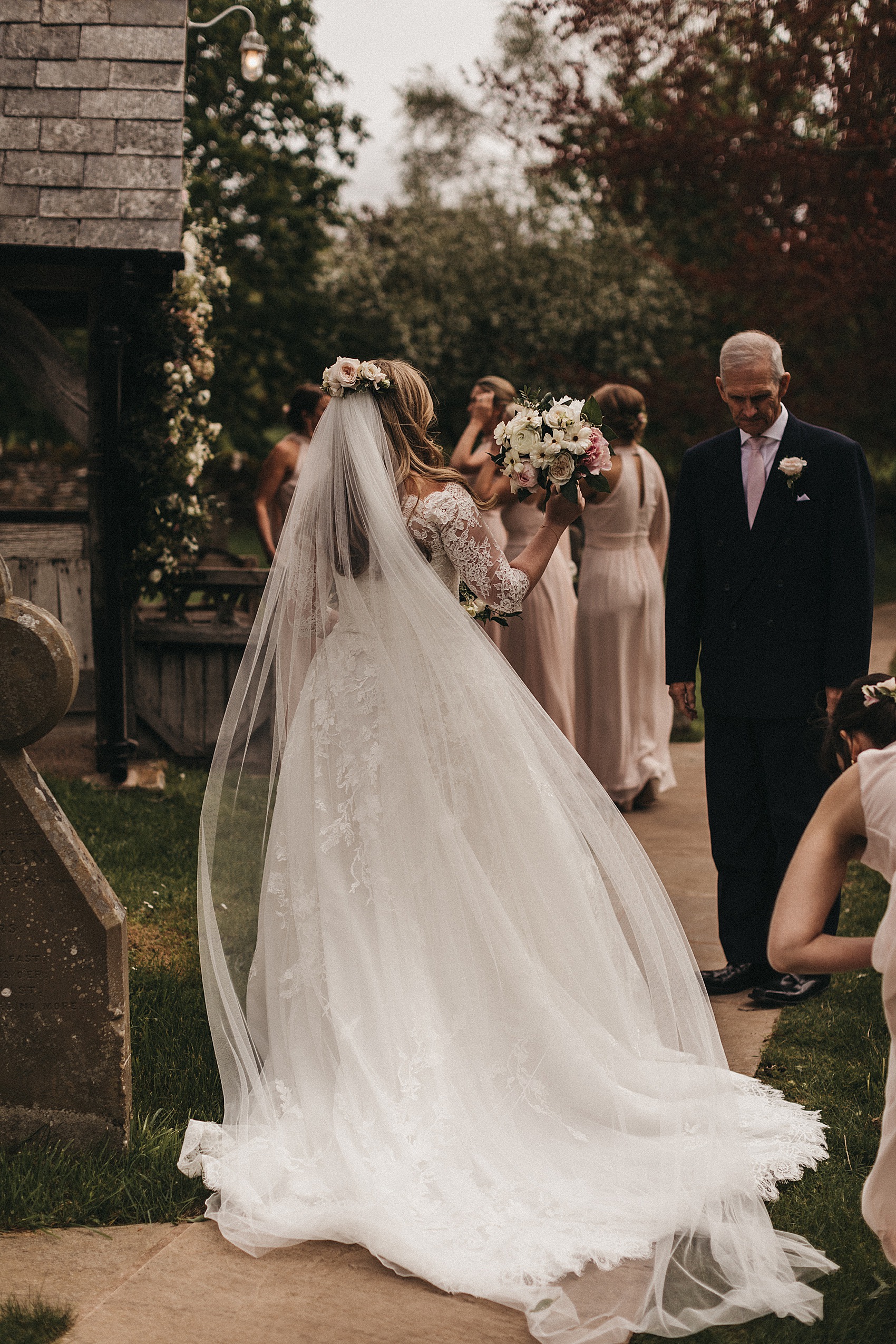 "I eventually plucked up the courage to say that we should finally get that drink. We met the following week at The Spread Eagle in Camden and had a lunch date which turned into a long walk, many drinks and eventually a promise to meet up again in a few days for date #2. The rest is history."
"We bought our first home in Wimbledon and my very own St. Nick proposed to me next to our first Christmas tree. We were engaged for a year and four months before our wedding."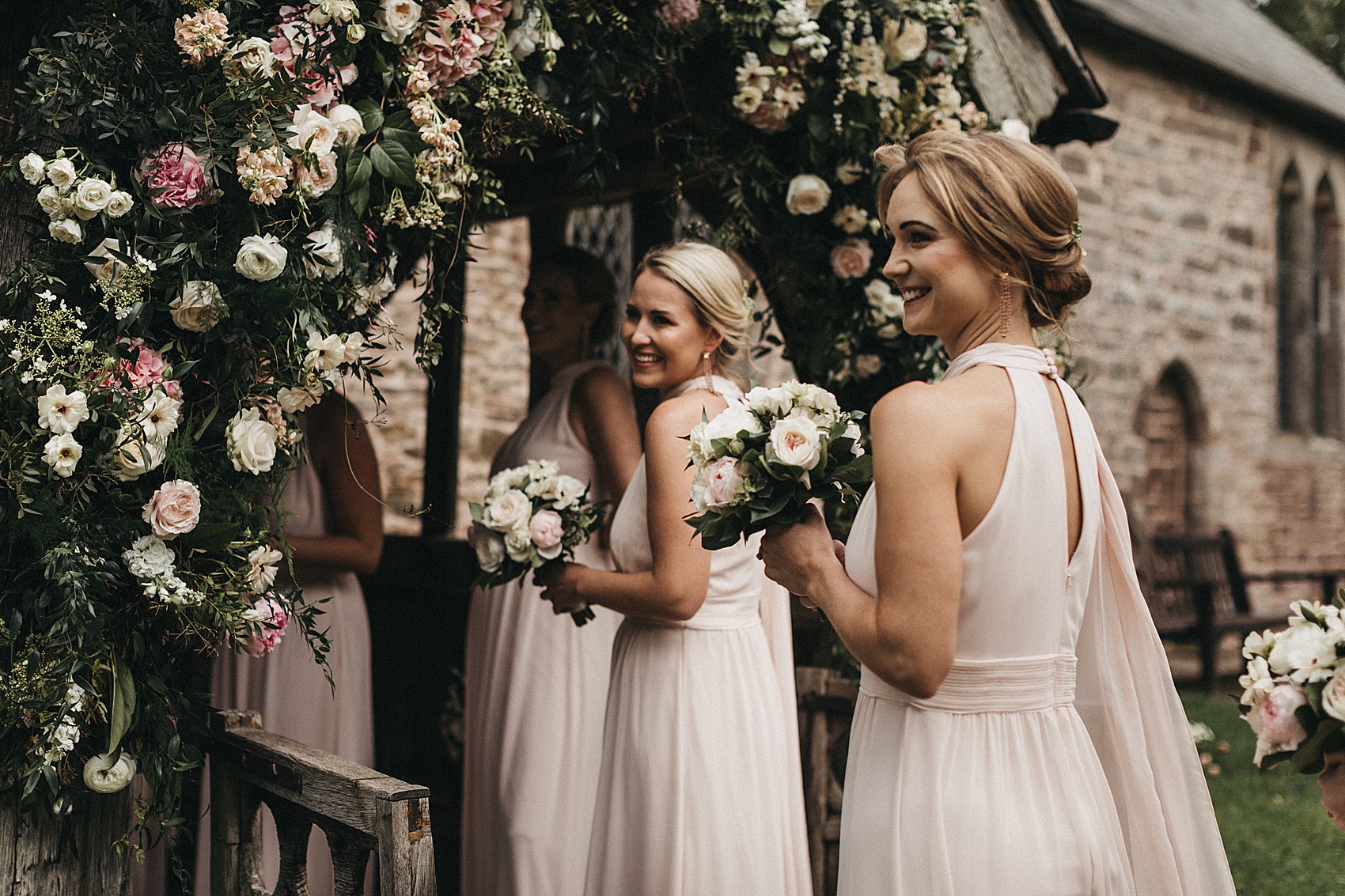 Sarah's dad had flown over from South Africa to be by her side as they walked down the aisle.
"He is a real character and during the wait outside the church he was quick with a joke. We walked in to Ben Howard's 'Old Pine'. This acoustic folk track is beautiful in every way."
"We were married by Reverend Mark Johnson. The service was special and light-hearted. We chose familiar favourite 'Union' by Robert Fulghum which we have heard read at two weddings. It is down to earth and a reading which we felt we could truly relate to."
The couple exchanged rings, and Nick's mother actually made his.
"My engagement ring is rose gold with a cushion-cut diamond and pave band which Nick had made in New York. I have a matching rose gold, plain band from James Allen. I wanted something traditional to wear when I am old and grey. Nick's gorgeous platinum ring was made my his very talented mother Kathy, who also made my rose gold bracelet for the day."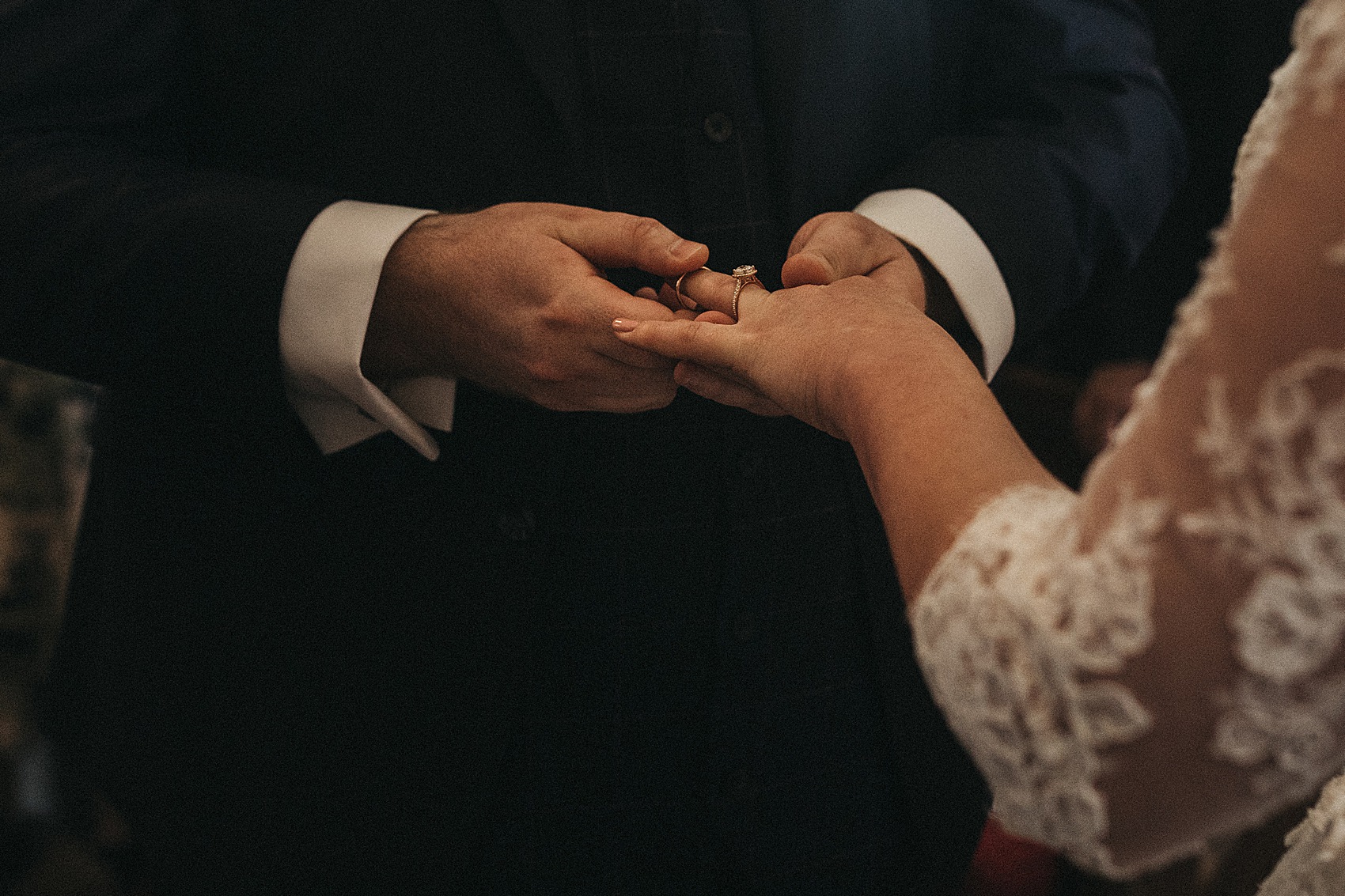 "We walked out to the upbeat cover of 'Sky Full Of Stars' by The Piano Guys."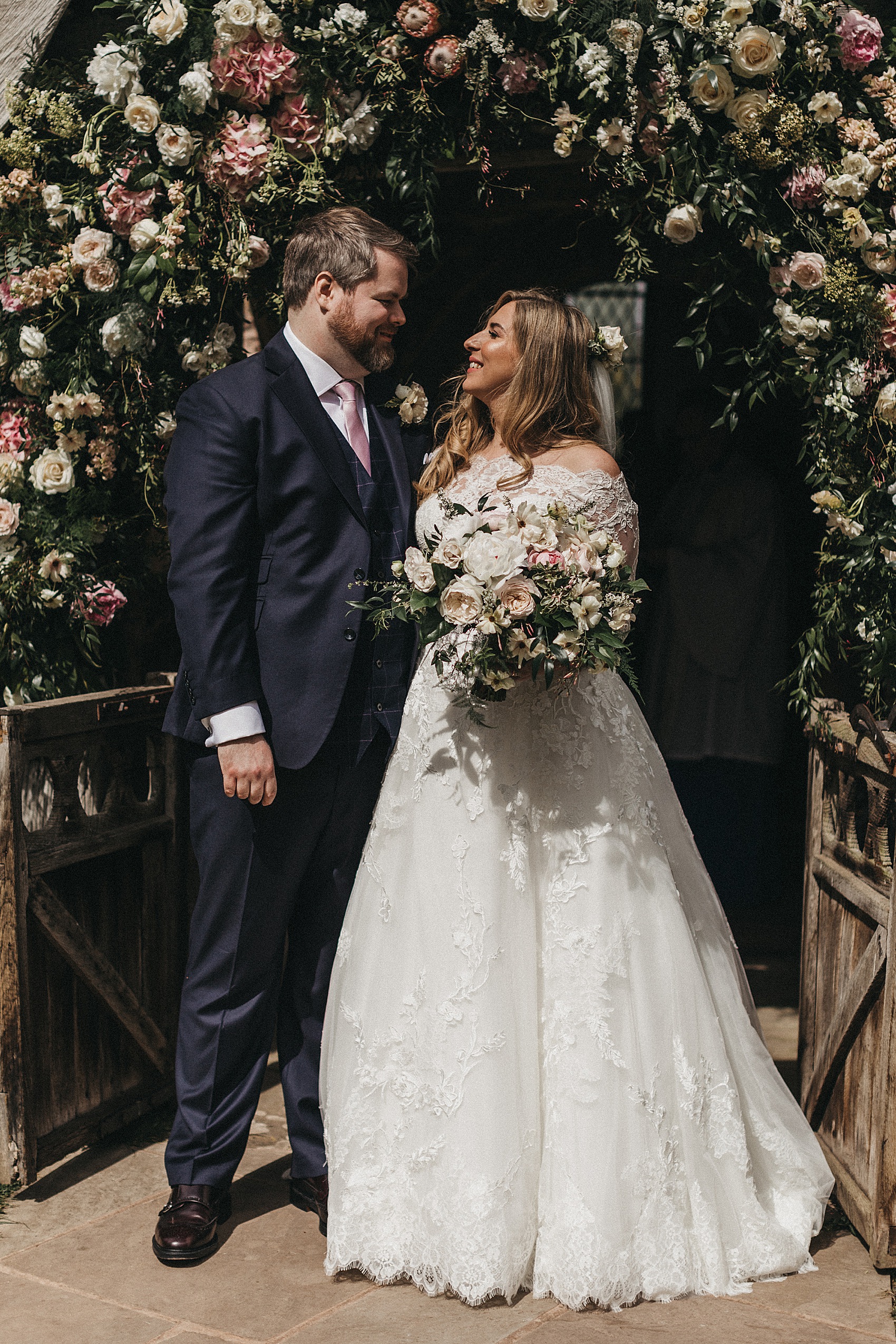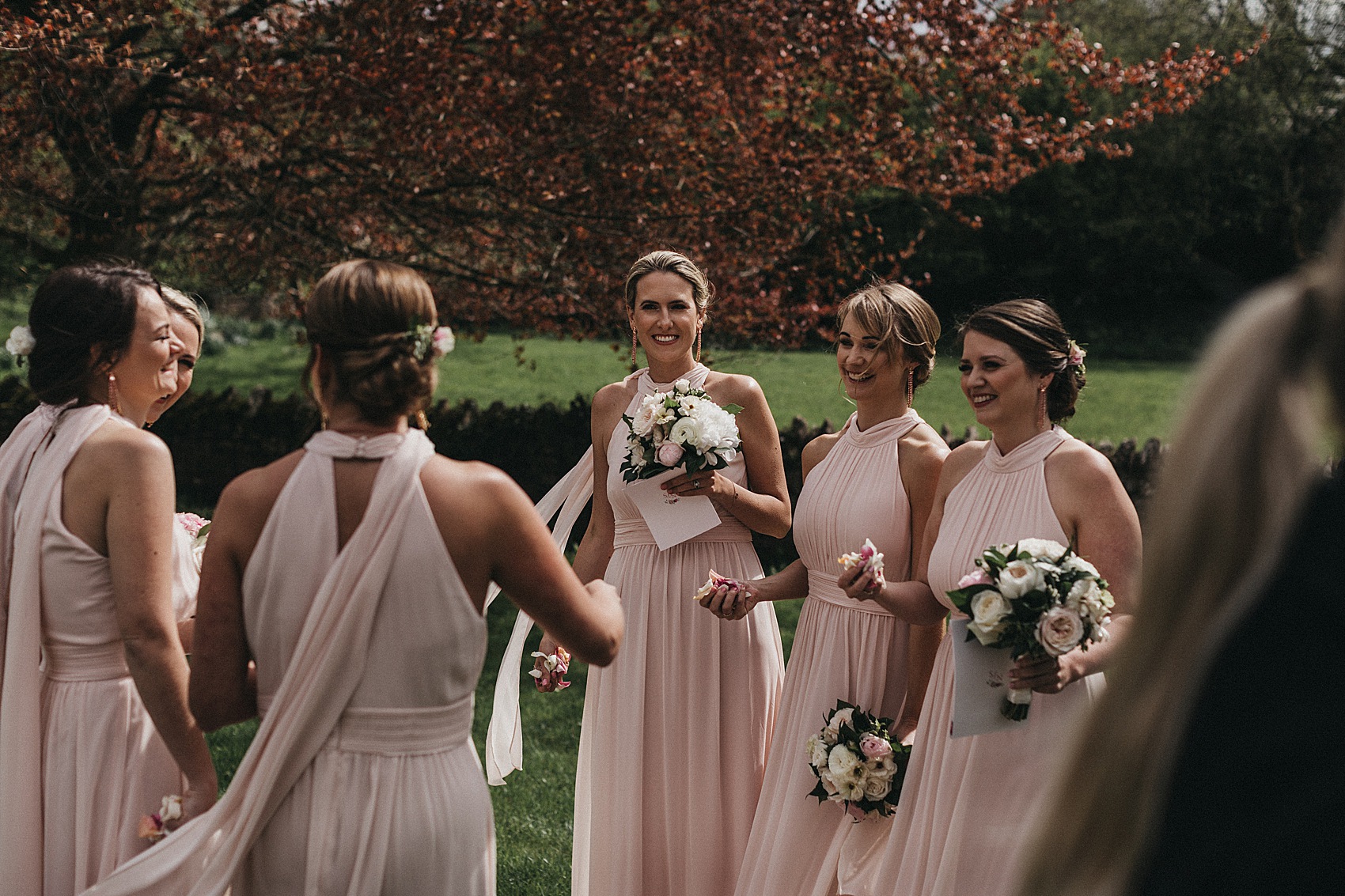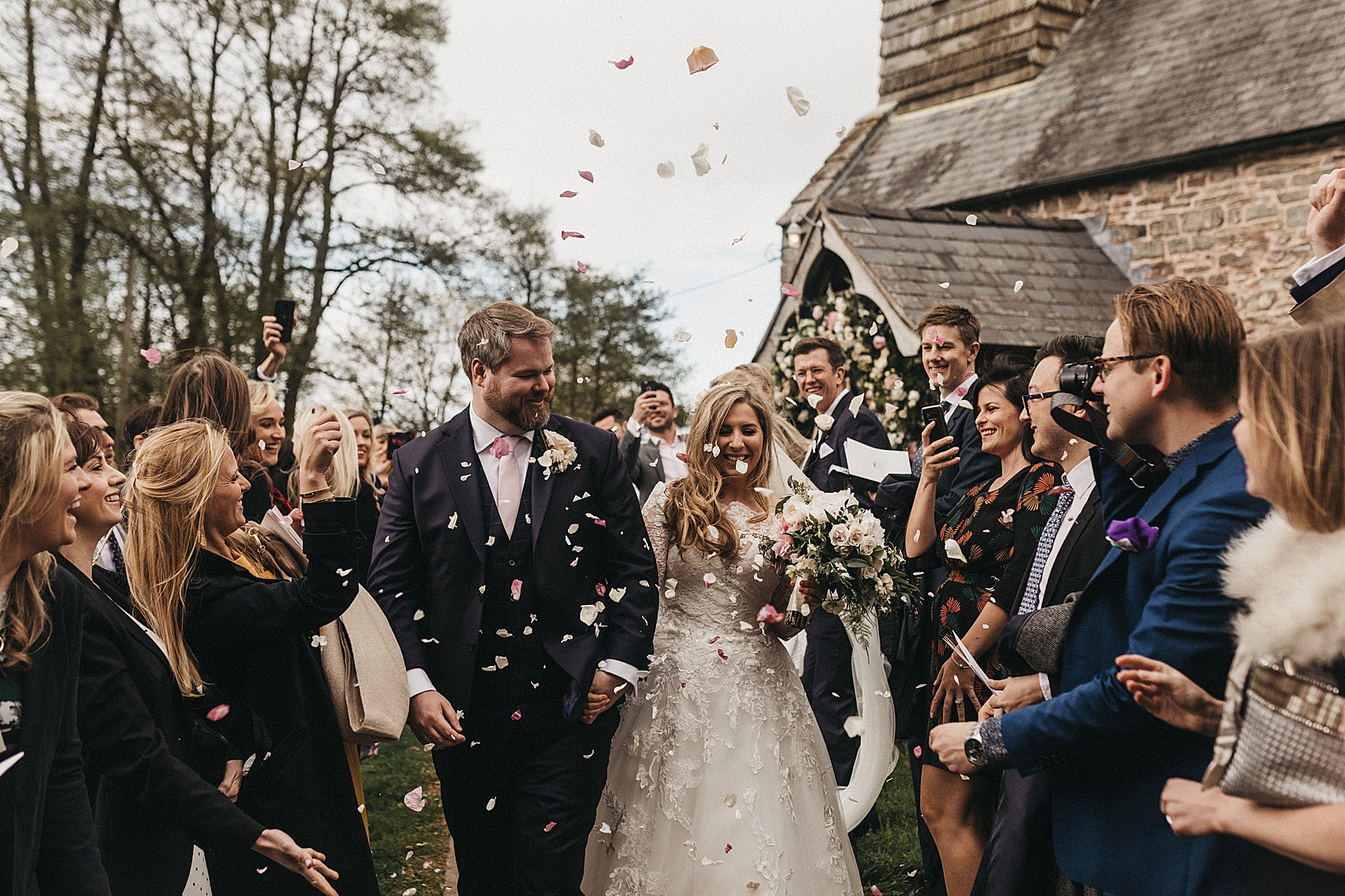 After the ceremony, the newly-weds braved the blustery wind to get their gorgeous, movement-filled portrait shots, all against the spring countryside, whilst the guests were entertained with canapés and live music from Michael Sebastian.
"I found Michael Sebastian busking during my lunch break in Camden Market. I knew I had to have him for our canapés and when I approached him after his set, I couldn't believe that he was South African too. He kept our guests entertained with his ambient, vibey music using guitar, beatboxing and building loops. He is so talented and such a humble, interesting human being."
With such a traditionally English country house as their venue, the bride wove in lots of charming elements from her native South Africa so that the wedding day itself, 27 April 2019, represented both of them.
Think proteas and roses, Amarula Cream Liqueur on ice and Earl Grey ice-cream and an enchanting colour palette of green, inspired by the English countryside and lipstick pink, drawing on the hue of the protea.
One of the South African elements was photographer Michigan Behn, whose work is soft, romantic and full of emotive moments.
"I flew her over from South Africa with her sister, and second shooter, Paige. They are incredible at capturing emotion and stolen moments. I loved having the girls around me. They are sweet, kind, and relaxed – just the kind of energy you need around you on what could be a very stressy day. The sisters were so incredible to work with and I highly recommend them."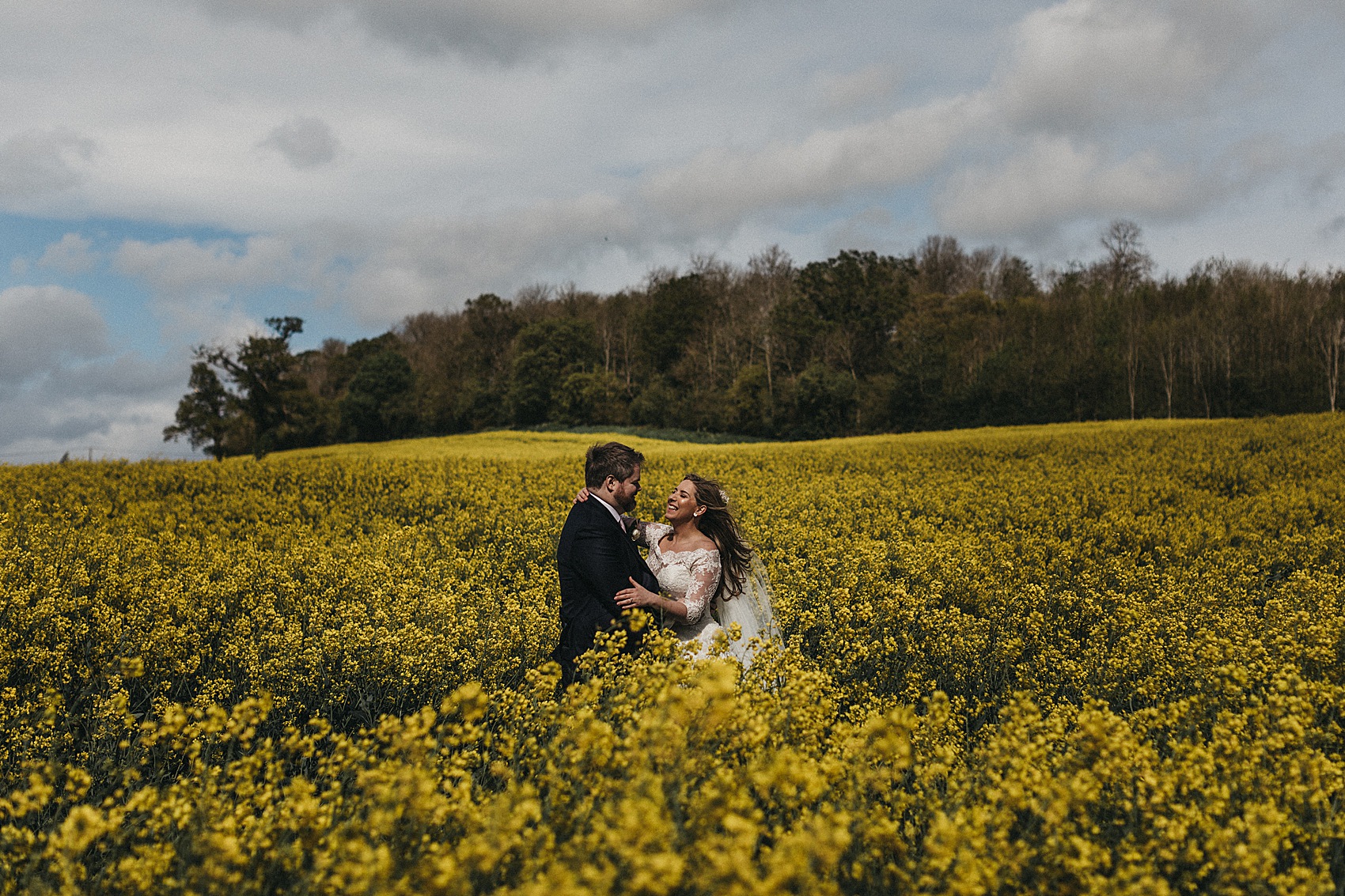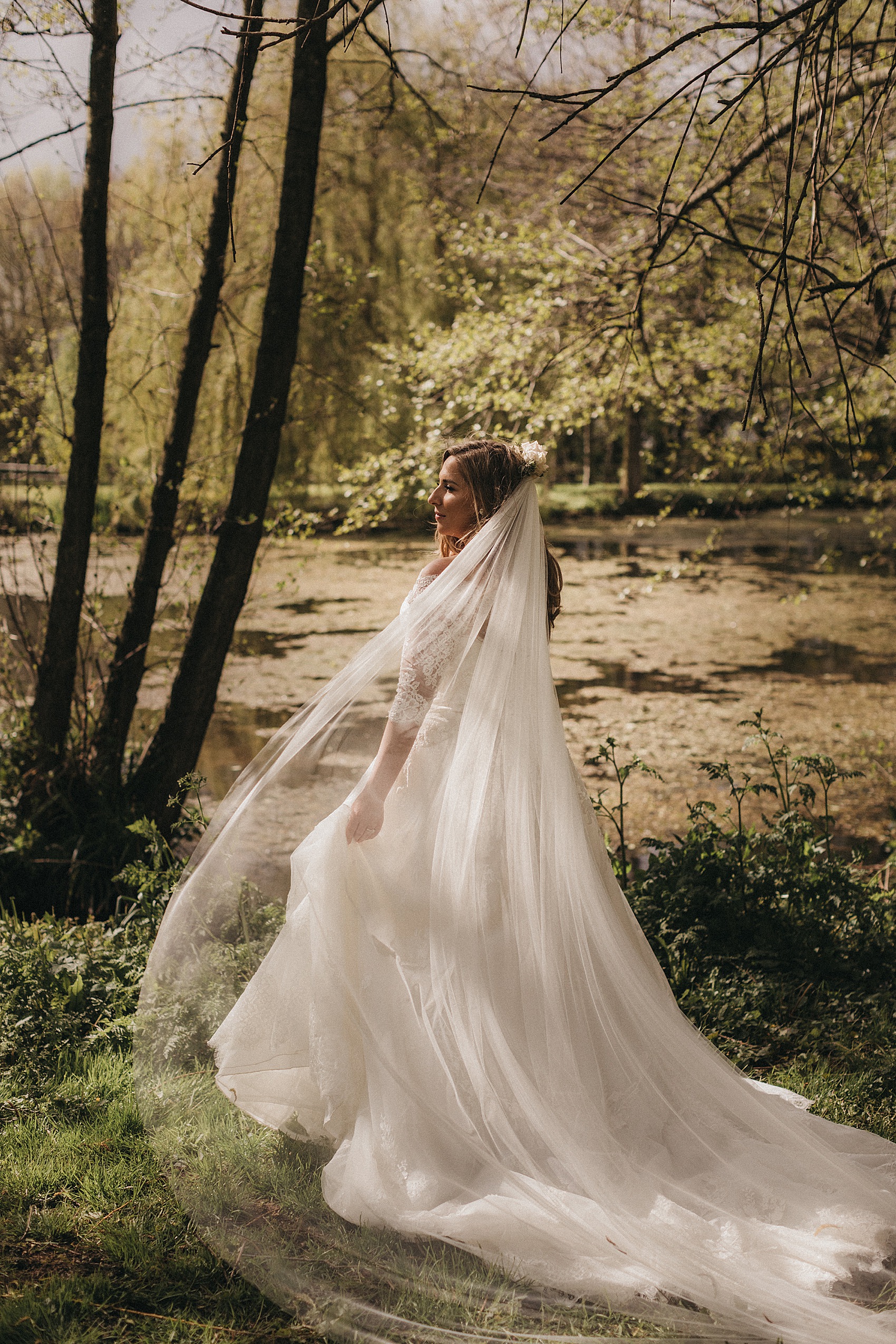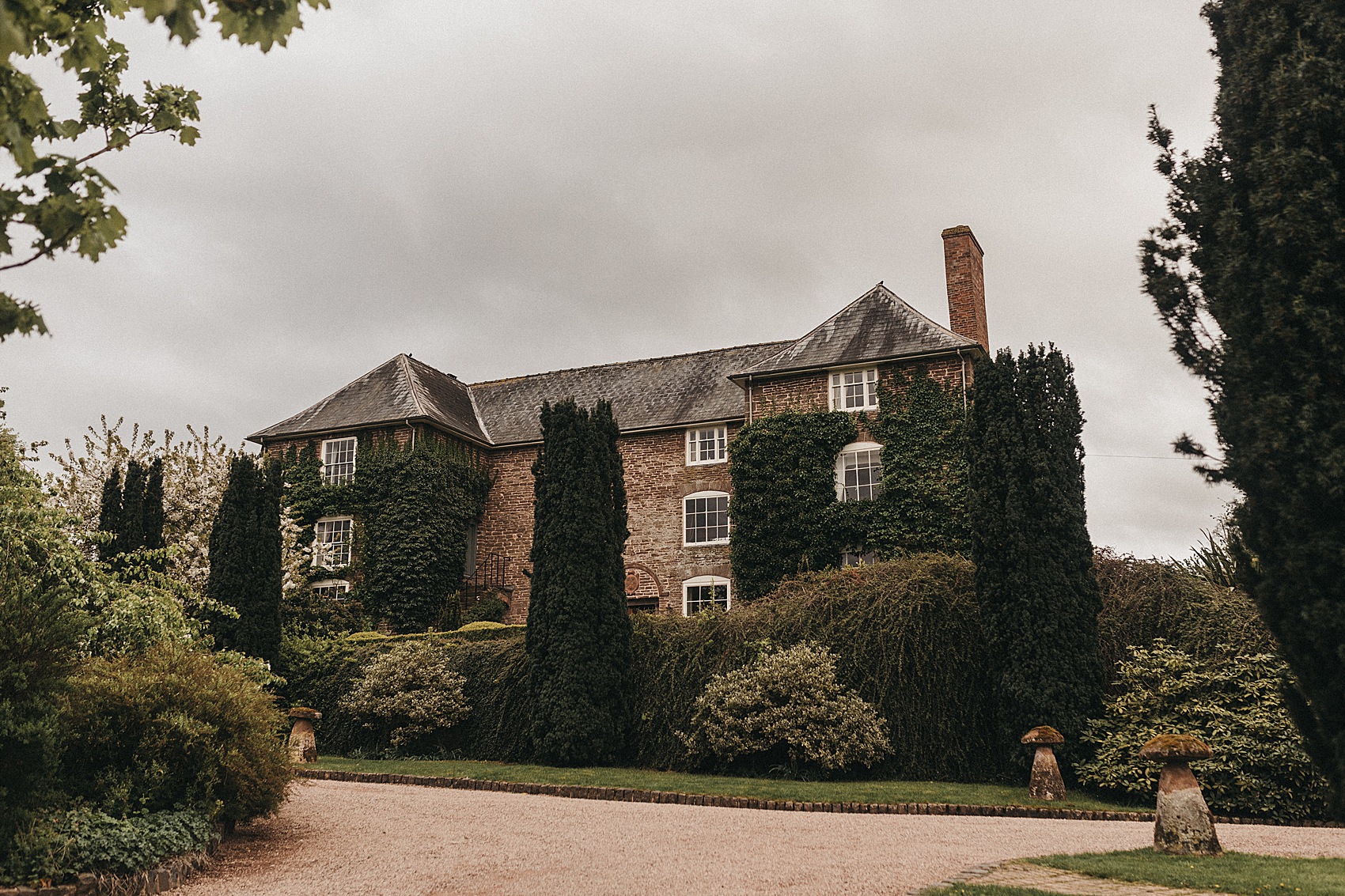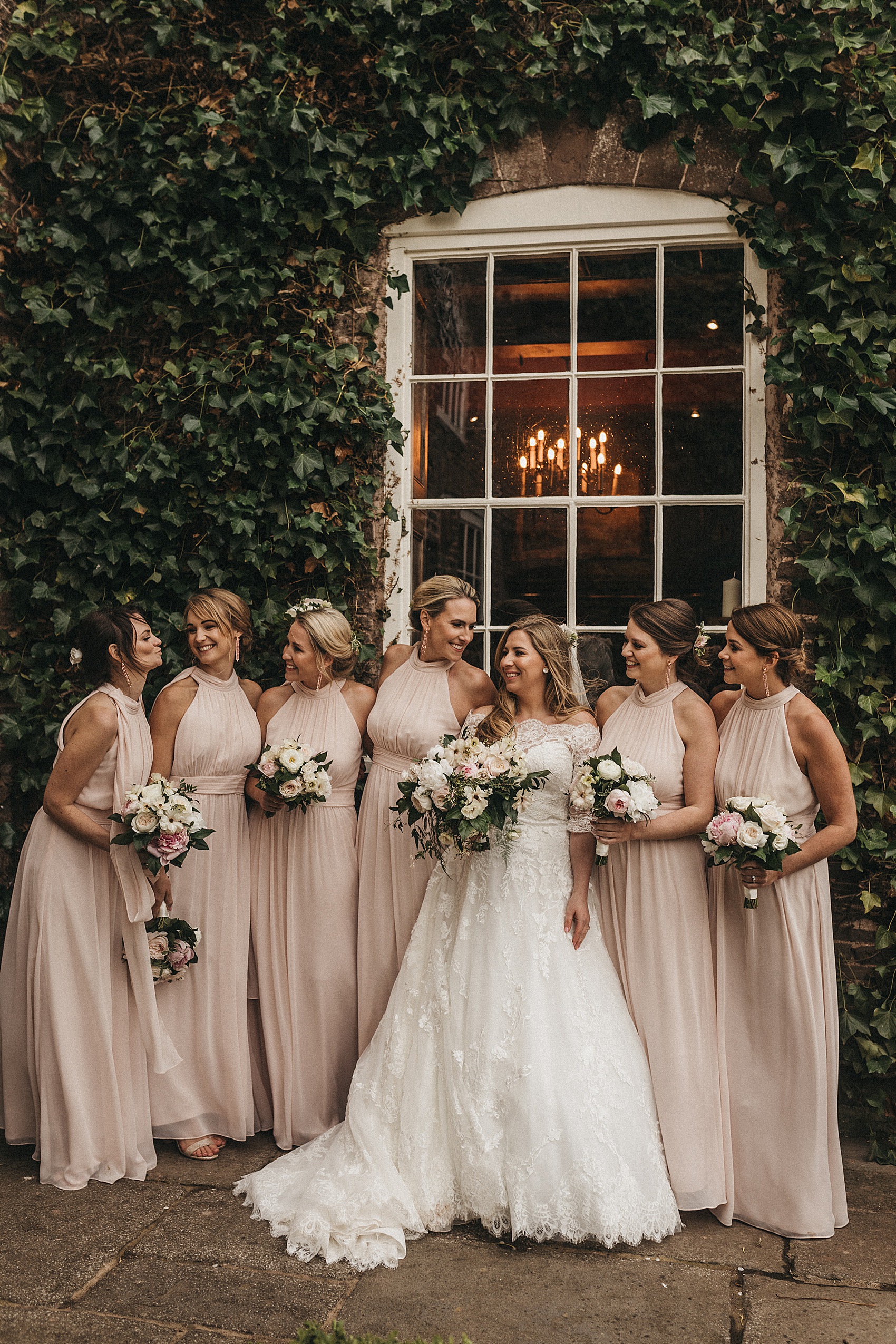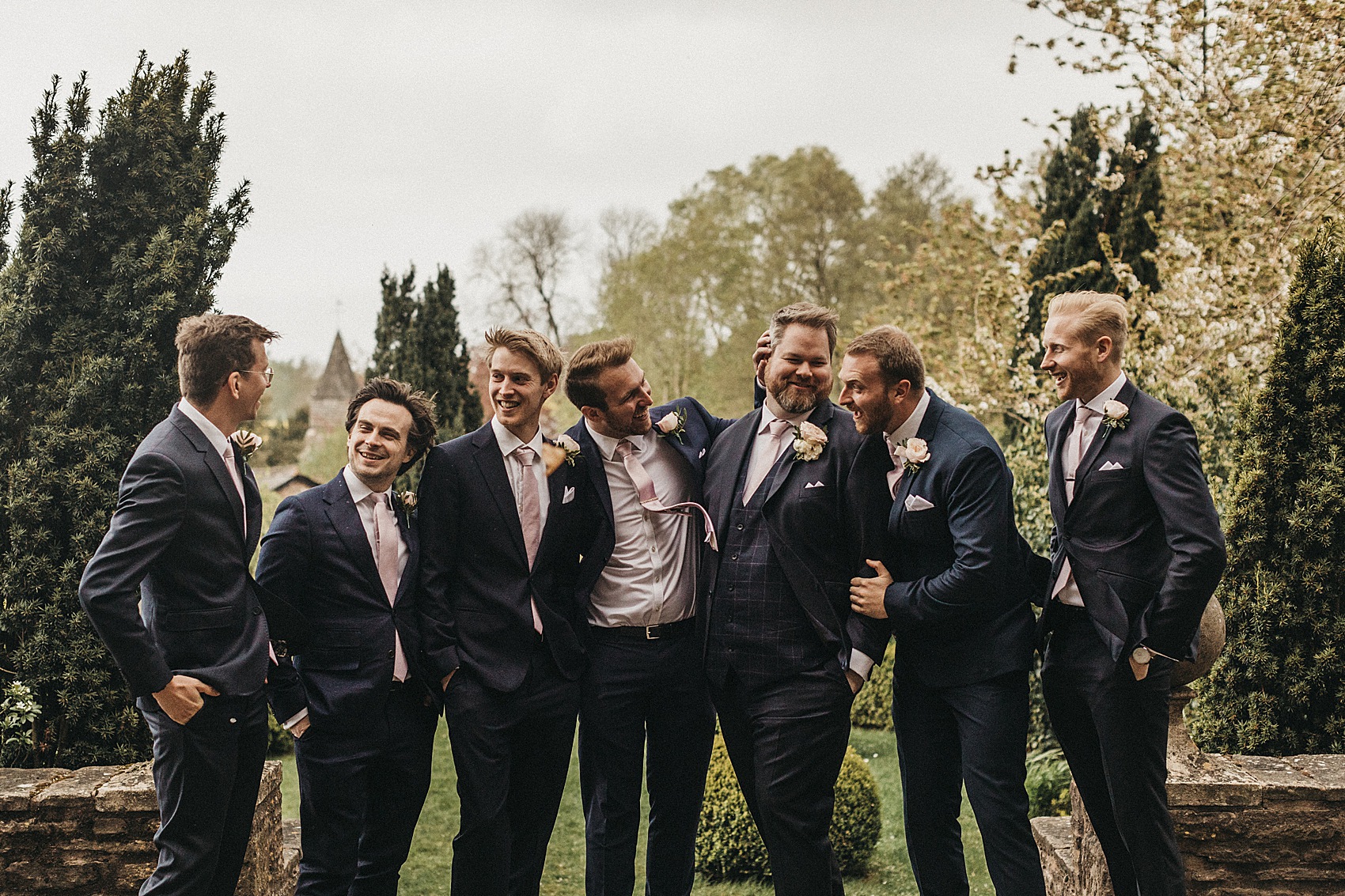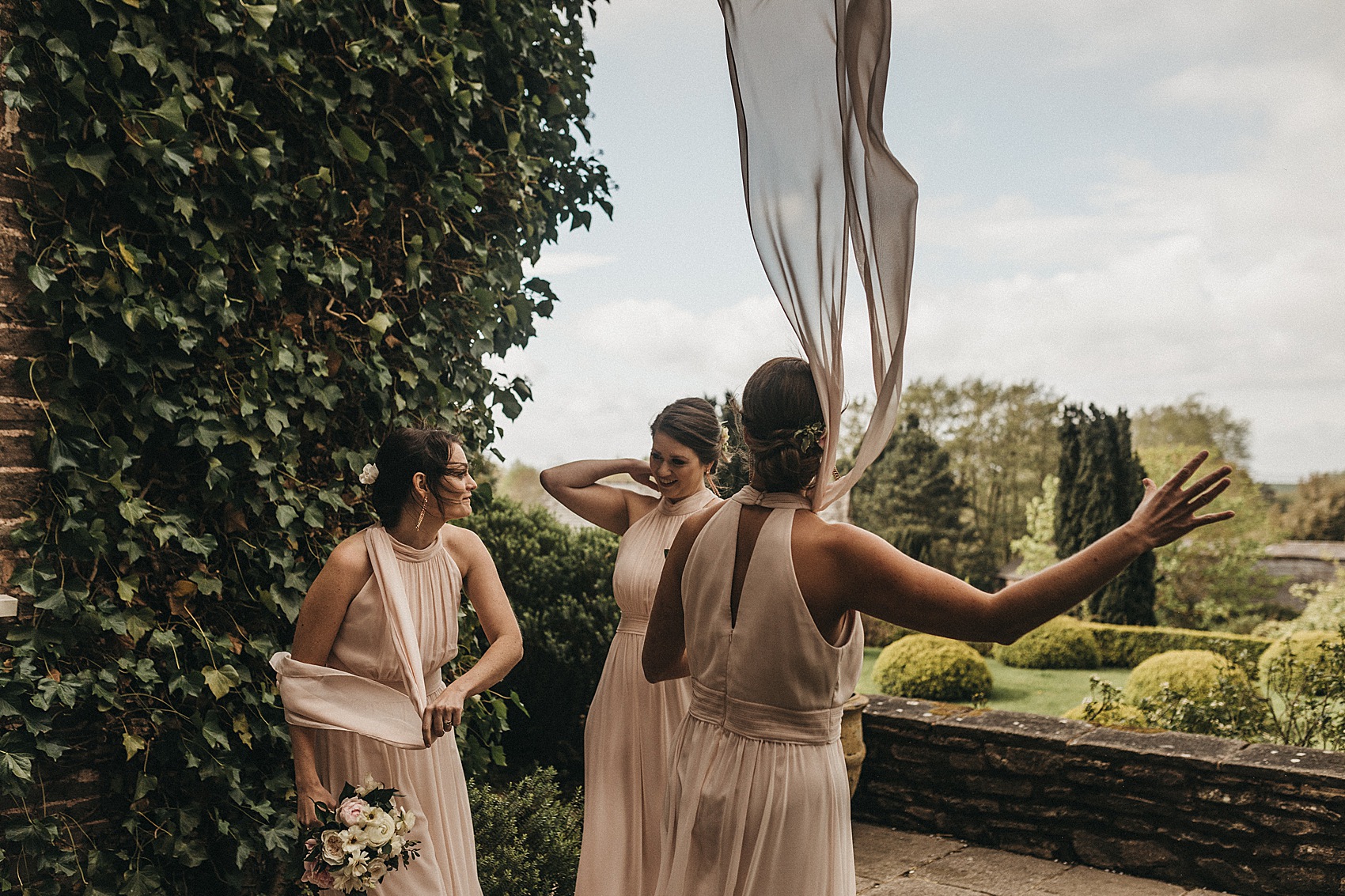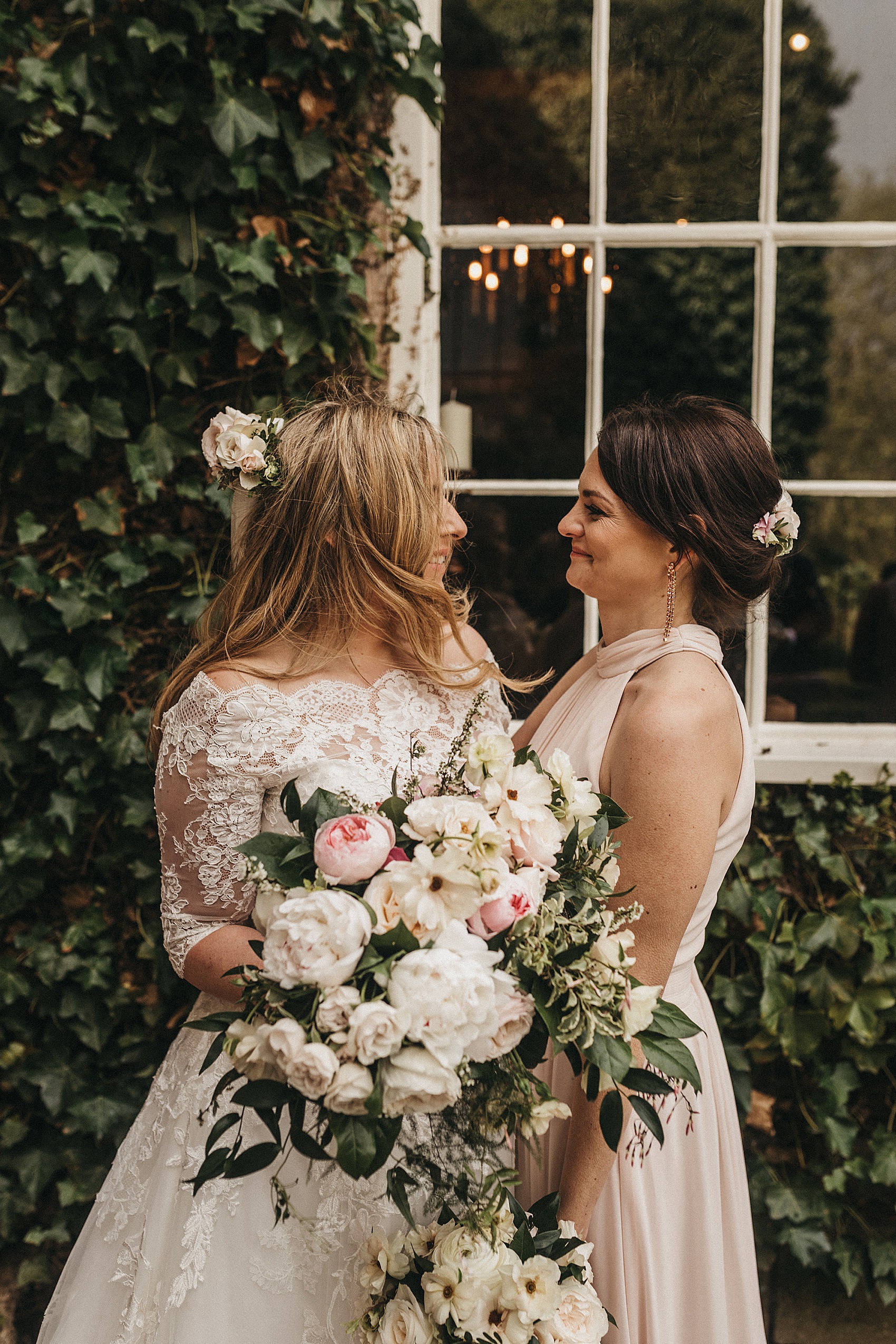 As a former wedding planner, the bride's mum was super-helpful throughout the planning, even finding the glorious venue for the couple. With guests flying in from all around the world, having everything in one place was essential.
Dewsall offered a beautiful ancient church – St Michael's and All Angels – and a converted barn, The Wainhouse, for the evening festivities.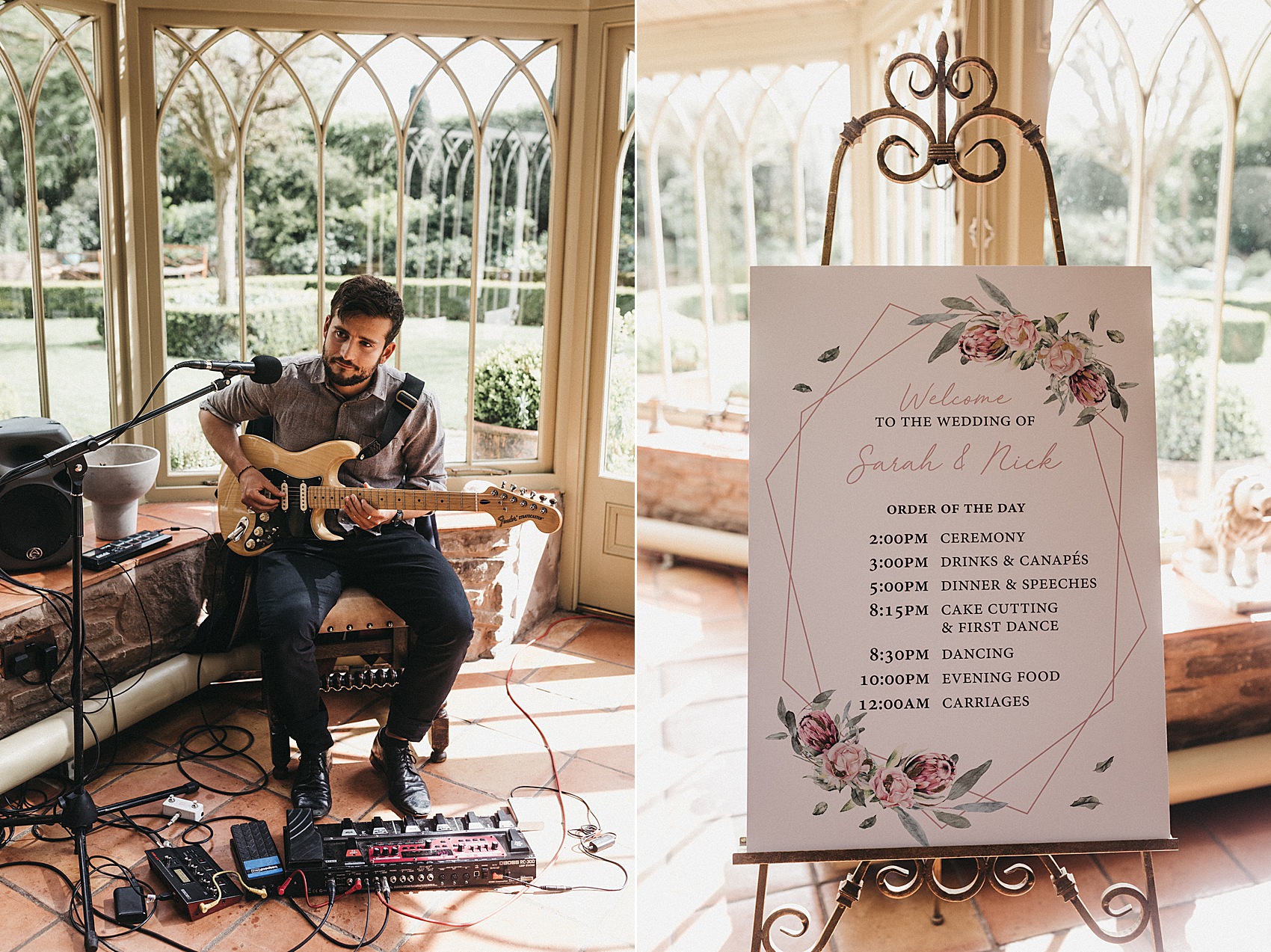 "My mum found the venue just six months after Nick and I met. She saved it on her phone and showed me the day after we got engaged. We visited Dewsall Court and knew it was for us. We wanted a countryside venue that we could have to ourselves for the weekend to maximise time with family and overseas guests. We also wanted everything in one place to make logistics as easy as possible."
Sarah styled and planned the day with the help of her wedding planner mum and the wedding co-ordinator at Dewsall,
"Our fantastic co-ordinator from Dewsall Court Hannah and my maid of honour Tamsin were amazing, as well as my mum, My mum has planned a few weddings back in South Africa so it was so great to bounce ideas off her and get tips."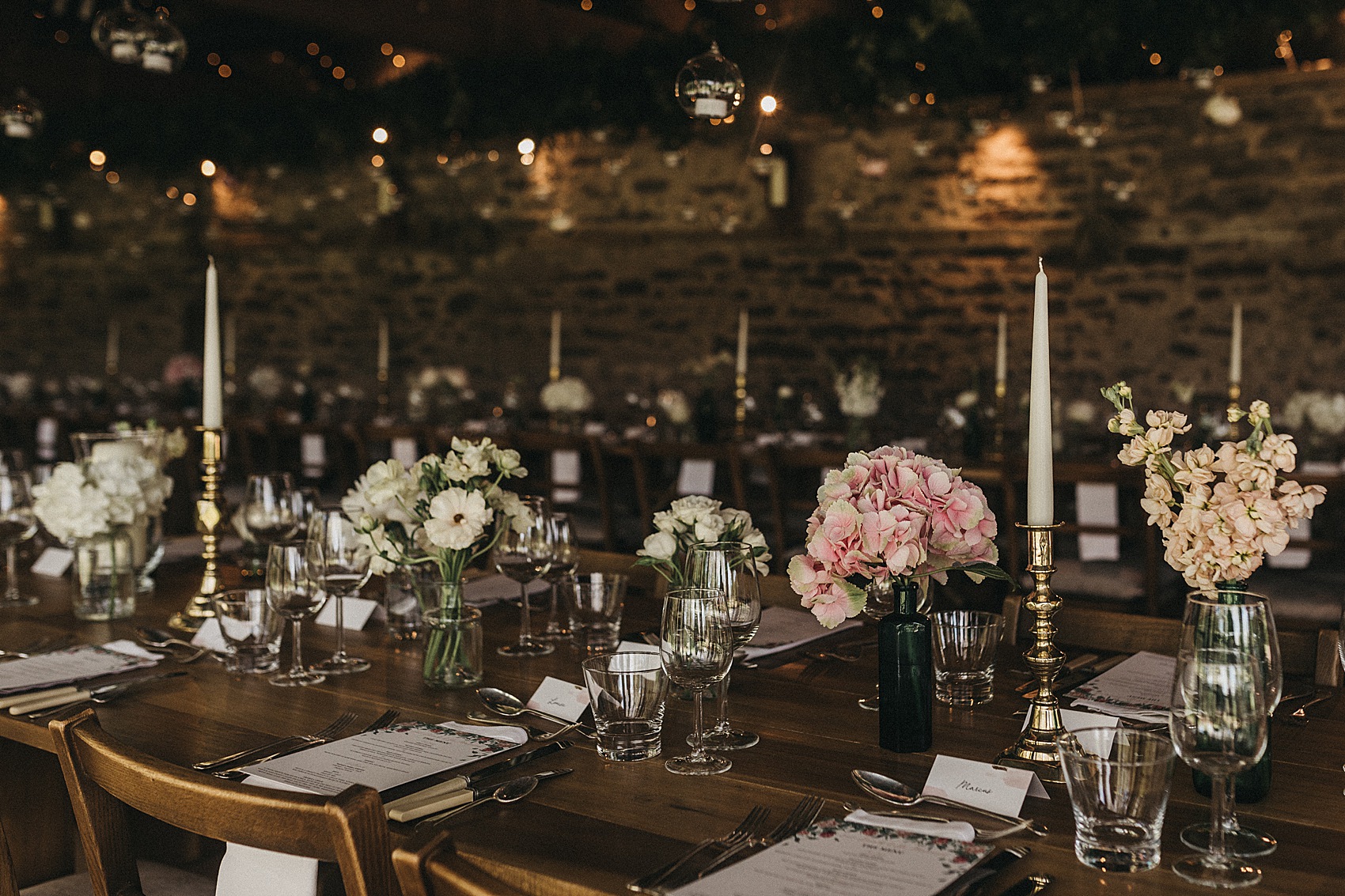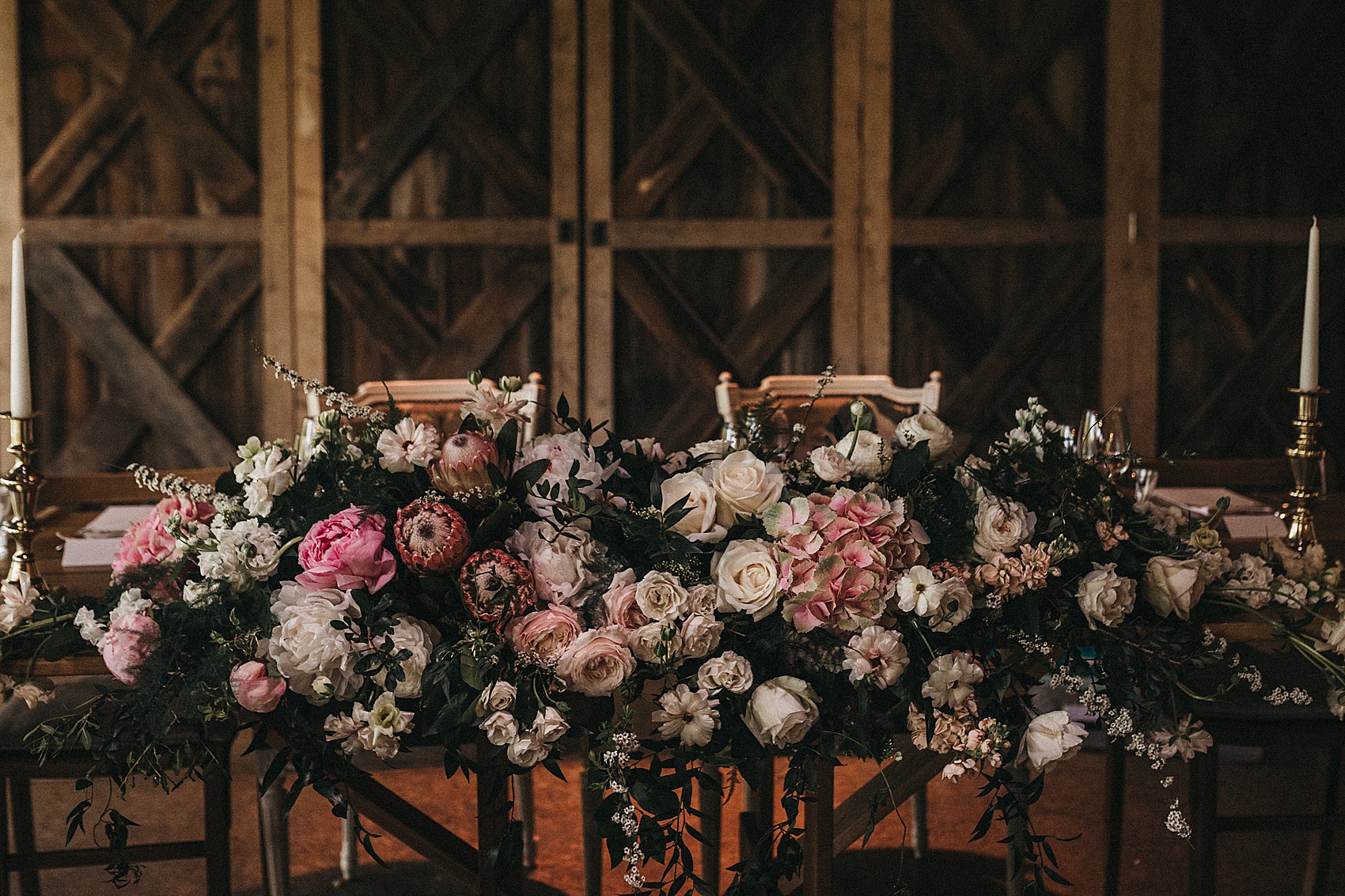 "I did the majority of planning and spent hours on wedmin. Nick was always on hand for input, moral support and final sign-off. I loved all the planning but at times did feel like it was an extra job."
"We brought in so many South African elements. A key theme was a mix of proteas and roses, our respective countries' national flowers to represent me and my lovely English Rose Nick. Not only is the protea the national flower of South Africa, in local tradition it represents change and hope."
The wedding breakfast was provided by the Dewsall Court team.
"We served a delicious four-course dinner and to finish we served coffee with tumblers of Amarula Cream on ice."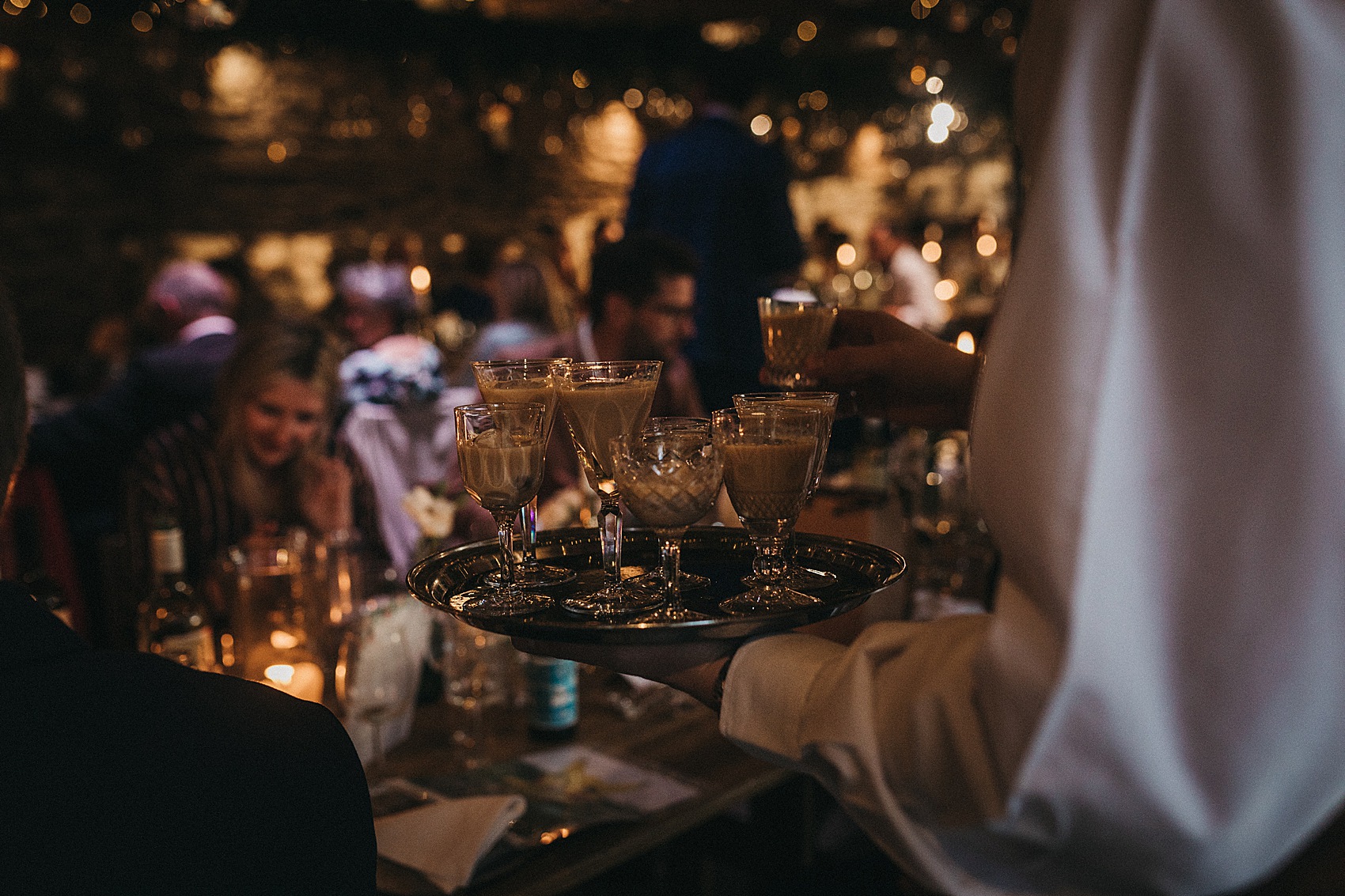 The dinner was held in the Court's beautiful converted barn, The Wainhouse, hung with yet more flowers and foliage.
"We had long foliage hanging installations attached to the wooden beams, greenery and hanging glass balls with candles and the odd ones with roses inside them. There was a focal beam above the top table with flowers and foliage and the top table had a beautiful large display. We had a twinkly canopy of lights and the whole room looked simply magical. On the tables were green and clear bottles with foliage stems, crisp white napkins, antique silverware, brass candlesticks with white candles and storm lanterns. The crockery was mostly mix and match vintage, which looked really pretty and added so much character to the food on the plates."
"My favourite part of the day was the dinner, speeches and dancing. I loved listening to Nick's speech which was amazing in every way and the source of many tears and giggles – I was so proud of him. Being sat at the top table just soaking up every moment and the energy in the room was incredible."
"We got our four-tier chocolate wedding cake from good old M&S. It sat on an exquisite floral base, created by Love Lily, and topped with a cake topper from Etsy. We had our cake cut up and served on platters, canapé style, with our now famous sourdough cheese toasties and pizza, in the evening."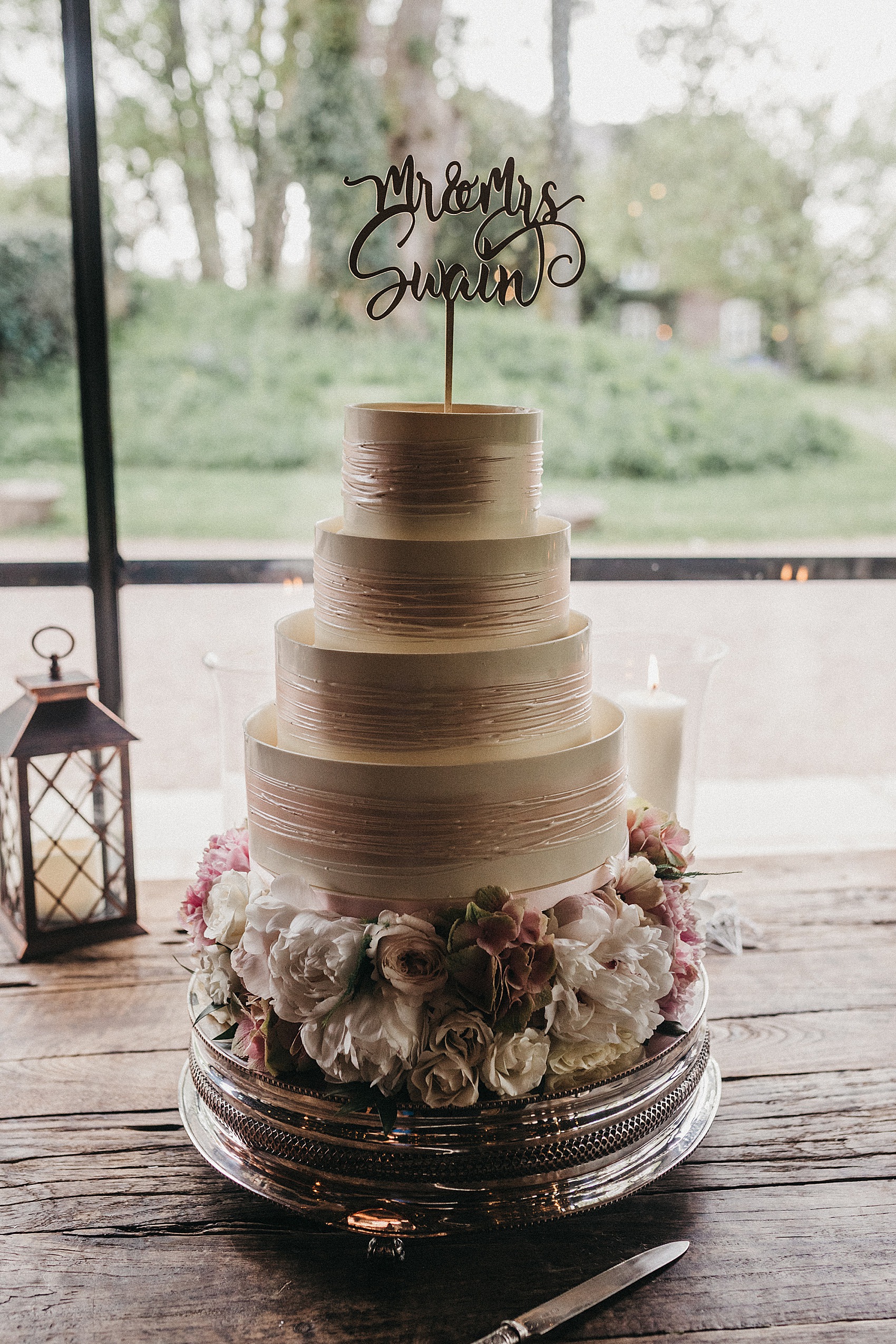 Before the dancing got started to music from DJ Pete Stead, there was a first dance for Sarah and Nick.
"We decided to play it safe with our first dance song with the classic crowd pleaser 'This Will Be (An Everlasting Love)' by Natalie Cole. It is such a cute song and has a good pace to keep up with if you have a big dress."
"DJ Pete Stead was recommended by the venue. He was great, kept the crowds going and stuck closely to the list we gave him – adapting based on the mood."
Words of Wedded Wisdom
"Don't feel pressured to choose a dress – or anything in fact – because it's different or trendy. The day is about the two of you and what makes you happy."
"Choose suppliers not only based on the quality of their work but on personality click. Getting along with someone makes communication so much easier and the moments on the day even more relaxed."
"Something WILL go wrong on your wedding day, no matter how much detail, thought and preparation you put into it. I promise that it won't be a big deal. You will learn to laugh at the mishaps and that it WILL be the best day of your life."
"Be prepared to keep a decent amount of your budget aside for flowers if you plan on having them as a big feature on the day."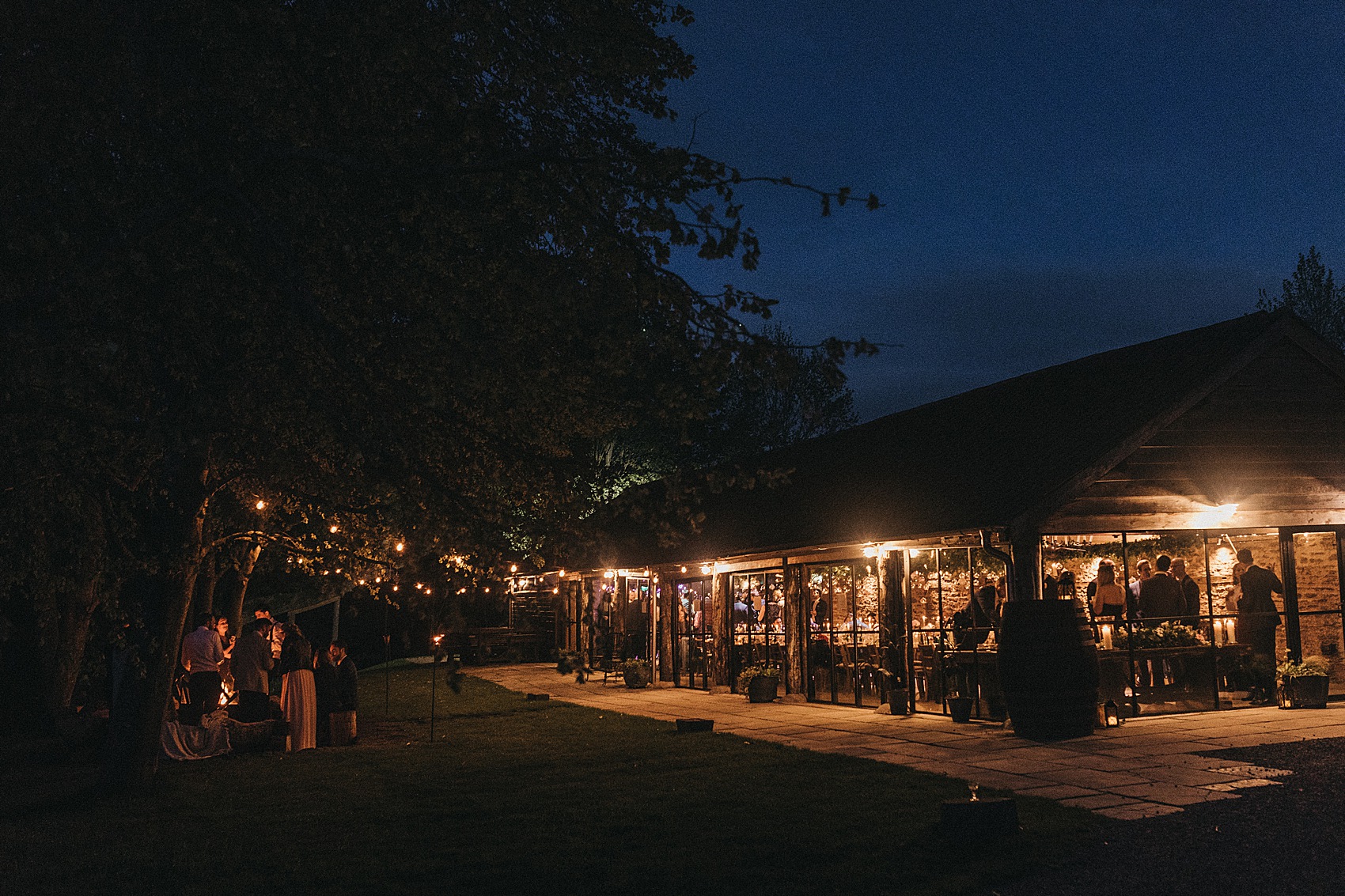 Sarah and Nick, many congratulations and thank you for sharing your day with us. It's been a real delight to see these photos from Michigan Behn, so many thank to you too.
Ele xx