I love it when a bride and groom mash up all of their loves and personal interests to create day that is totally true to them, and I've got a wedding just like this to share with you today.
Mr & Mrs Langlay-Smith infused their love for comedy in to their garden wedding, with some very unexpected faces popping up as a surprise to each other. So, let's go to Kent. Mr and Mrs Langlay-Smith, a senior recruitment consultant and blogger respectively, wed on 7 September 2019 in a charming and personal outdoor ceremony at the groom's parents' home in Cranbrook, Kent.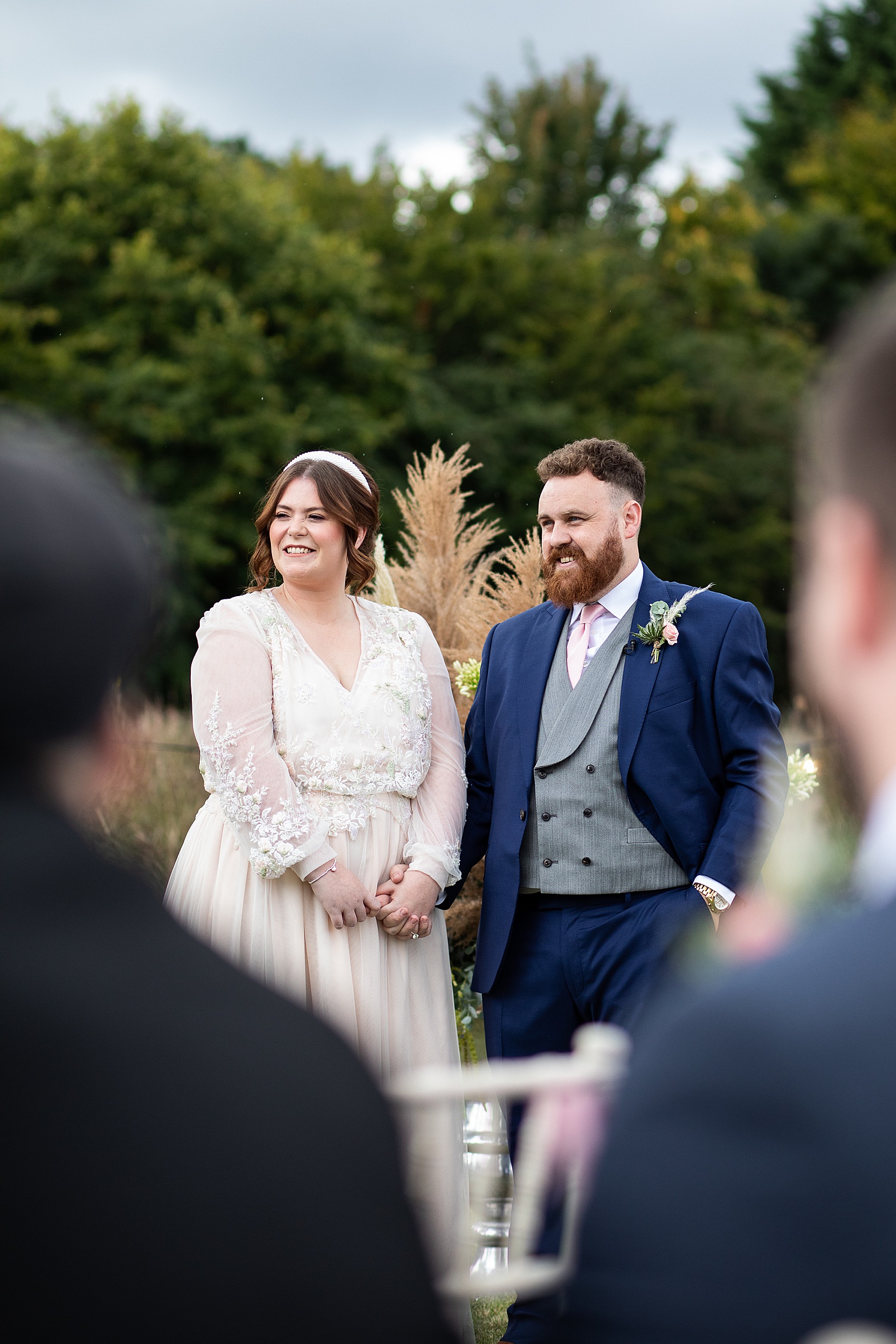 Late summer flowers, a sense of 'bringing the meadow in' and thousands of origami cranes, sourced from the bride's work added rich, warm colour and personality to their day. And, for an extra surprise, the couple each chose a secret guest to add laughter to the occasion. Added to this was the bride's bespoke gown crafted from delicate silk and the result it a day of relaxed, informal celebrations set against a beautiful and colourful country garden.
The bride asked one of her blogger connections, makeup artist Taylor Carey, to style their hair into romantic, elegant buns. Their make-up was defined but natural, just perfect for a meadow wedding.
"I met Taylor Carey through blogging years ago and have been watching her ascending MUA career so when I finally decided to get make-up done for the day, I hired her! She did the make up for me, the bridesmaids and Ben's mum and we were all so happy."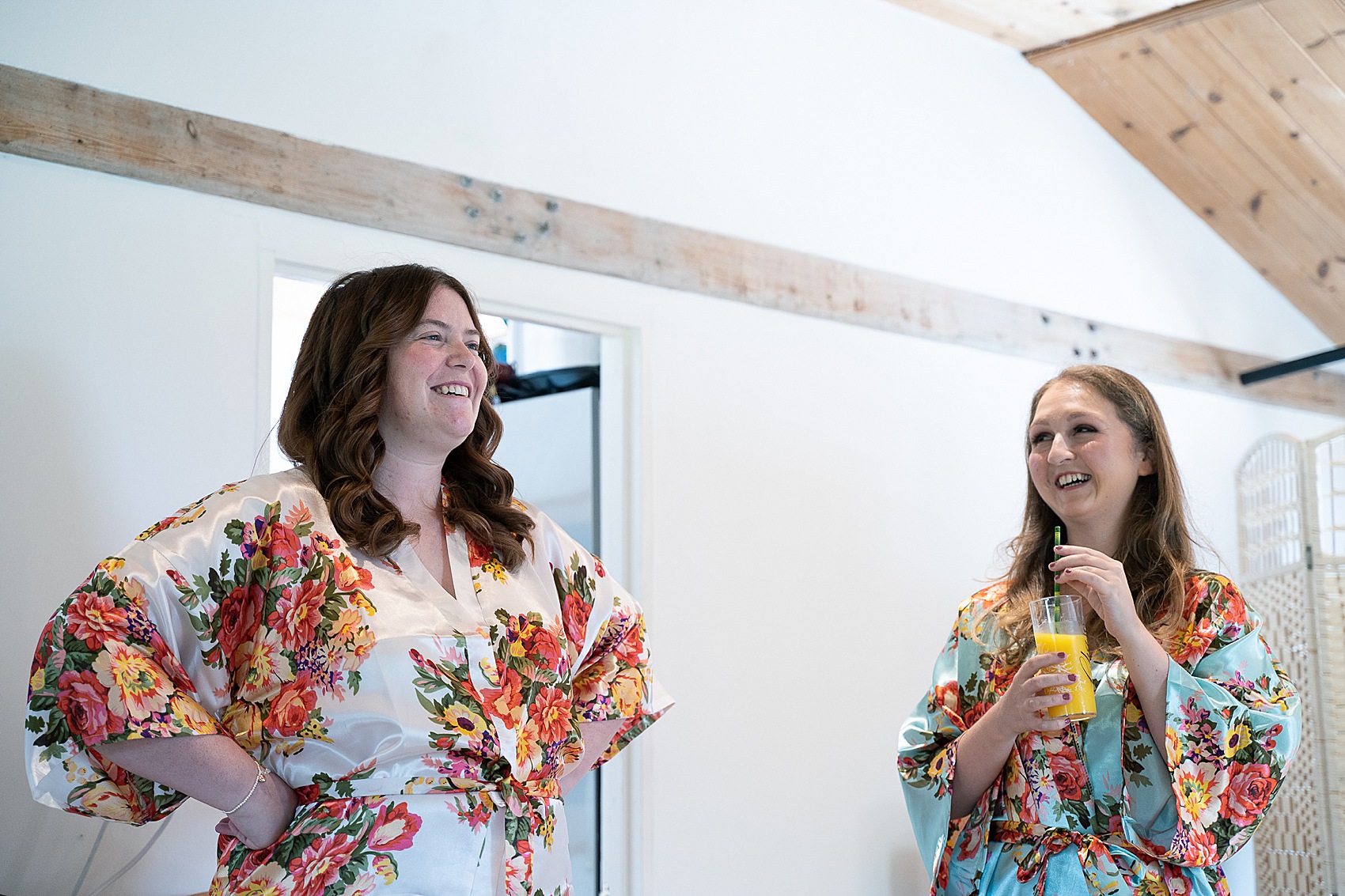 The bride opted for a bespoke gown of the most delicious silk, which flows so delicately and enhances her figure so beautifully. I love that Mrs Langlay-Smith selected the materials herself and got it made to her personal style by a family friend. The touches of green over the bodice are so fresh and the skirt has such gorgeous movement. But what really makes it special is the sass with which the bride totally rocks it.
"I went shopping at bridal boutiques and felt completely out of place. I've always been a bit casual in my dress sense and the thought of a bridal gown made me feel uncomfortable so I always knew I wanted something different! I was going to buy a dress off ASOS or The Outnet but then Ben's mum told me about her friend – a dressmaker named Sheila."
"My dress was completely bespoke for me. I bought all of the materials myself from Broadwick Silks in Soho, shared pictures with Sheila and showed her the shape I wanted. She pulled it all together for me. It was a relatively seamless experience but I didn't get my dress until the day before the wedding as we were still making alterations up until the last moment."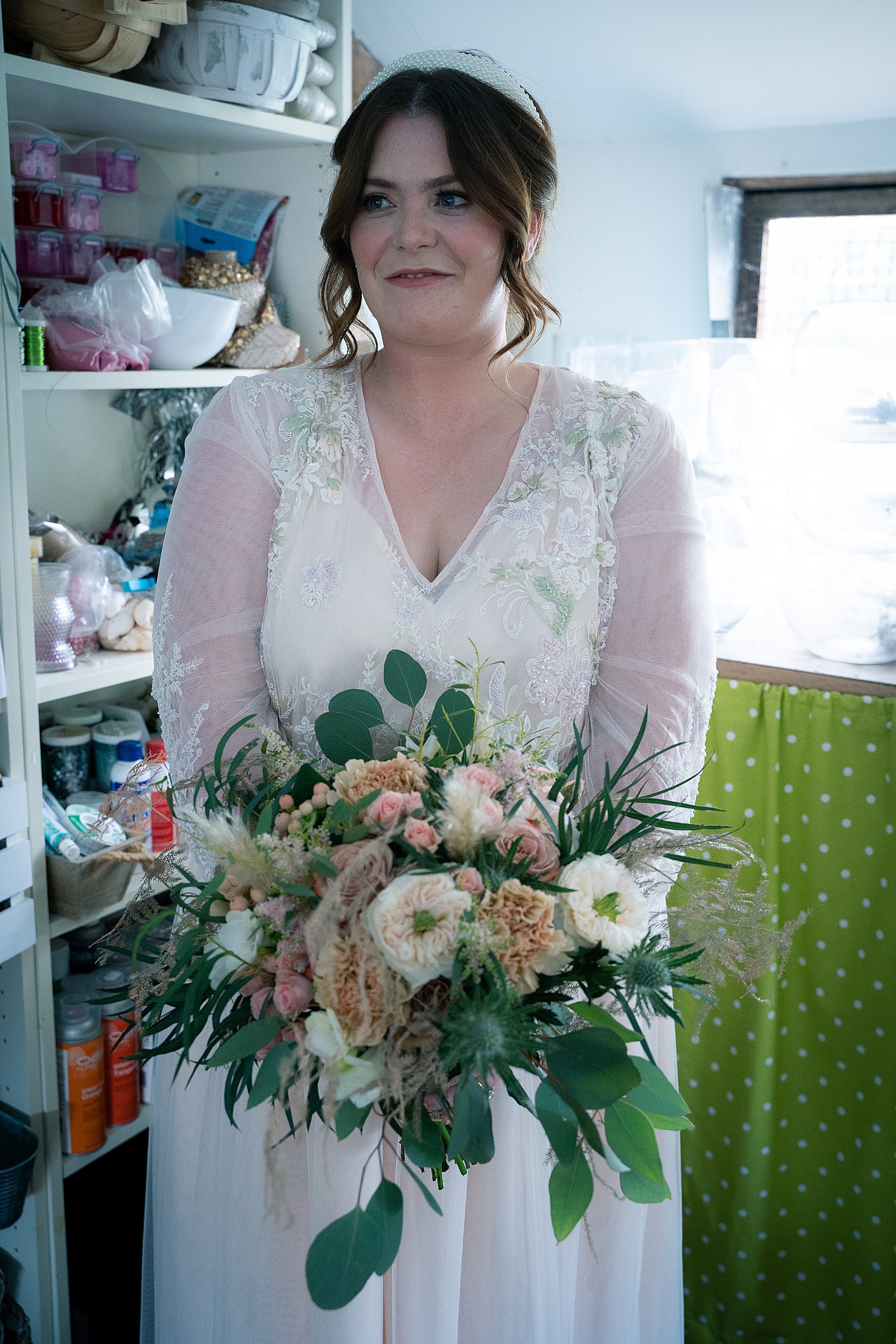 For a relaxed vibe and also to let the intricate lace detailing of the gown shine, she added a pretty white headband from Zara and nude mid-court shoes from New Look, kicked off for white Teva shoes after the ceremony. Her perfume was Jo Malone Orange Blossom.
"I always wear it. Ben gets it for me each Christmas. My sister got me a little bracelet as a gift."
The bride had three bridesmaids, all in multi-way, blush pink dresses from the New Look sale worn with their own sandals.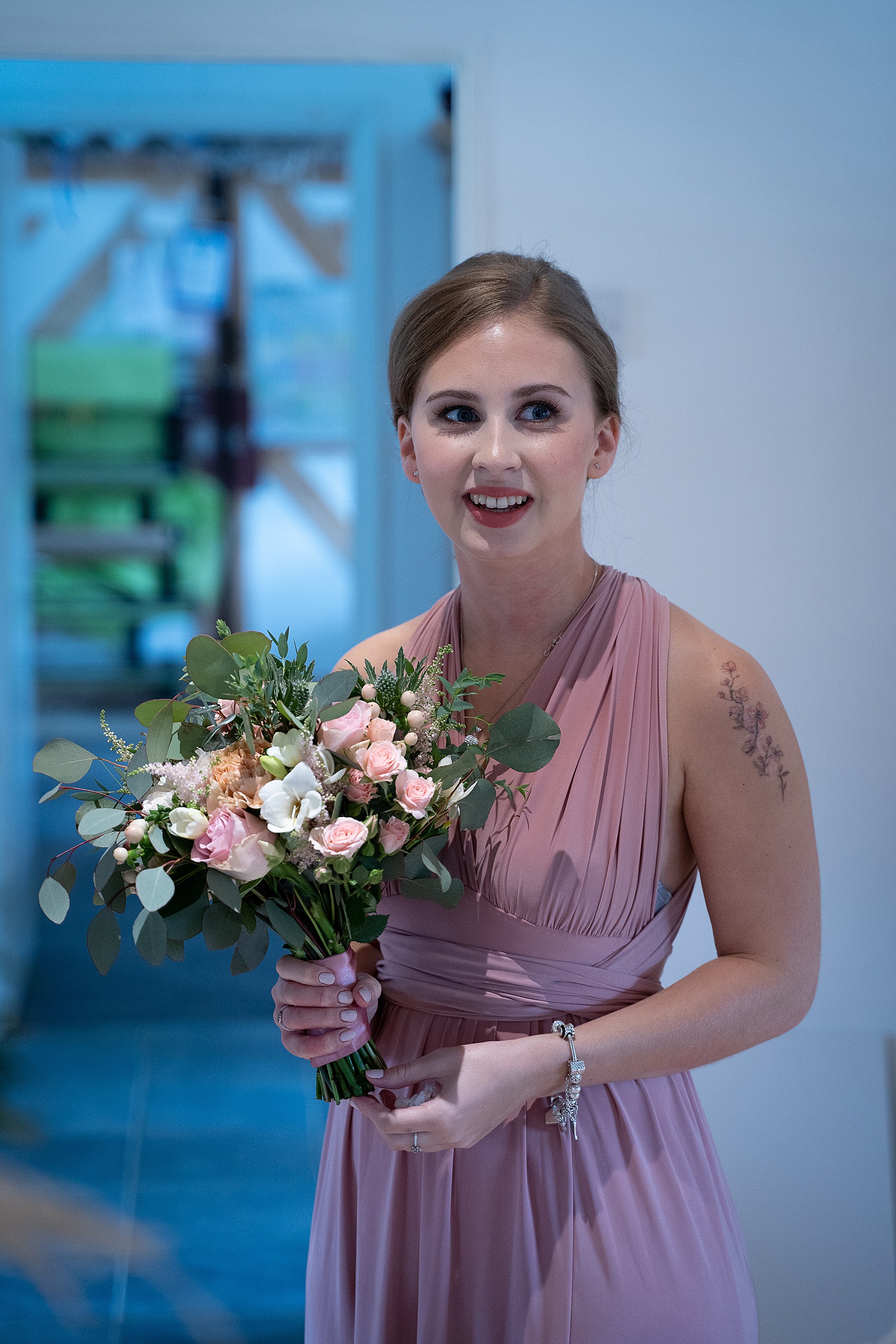 The groom also decided to wear a bespoke outfit for the wedding, getting his suit made at Charles Tyrwhitt on Jermyn Street.
An online dating love story, the couple were engaged for one year before their marriage and worked with event experts Home Gurr'own to plan and style their outdoor ceremony and marquee reception.
"We met on Tinder. I decided to lower my age bracket to 28-36 and Ben was the first 28 year old to pop up. We had our first date at a pub in Brixton and I closed the door on him, spilling his pint everywhere. Dates flowed after that and we moved in together six months later, engaged six months later."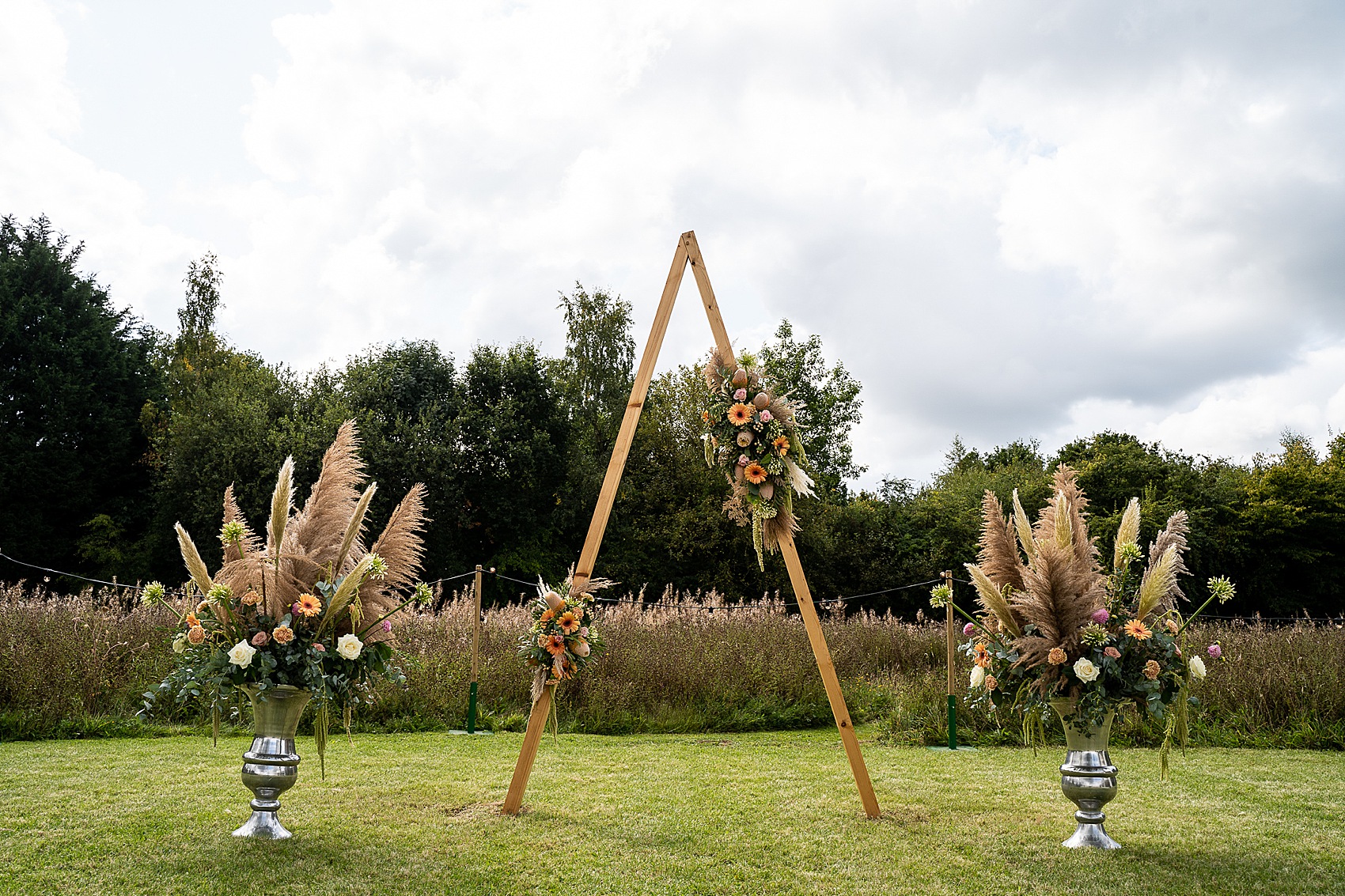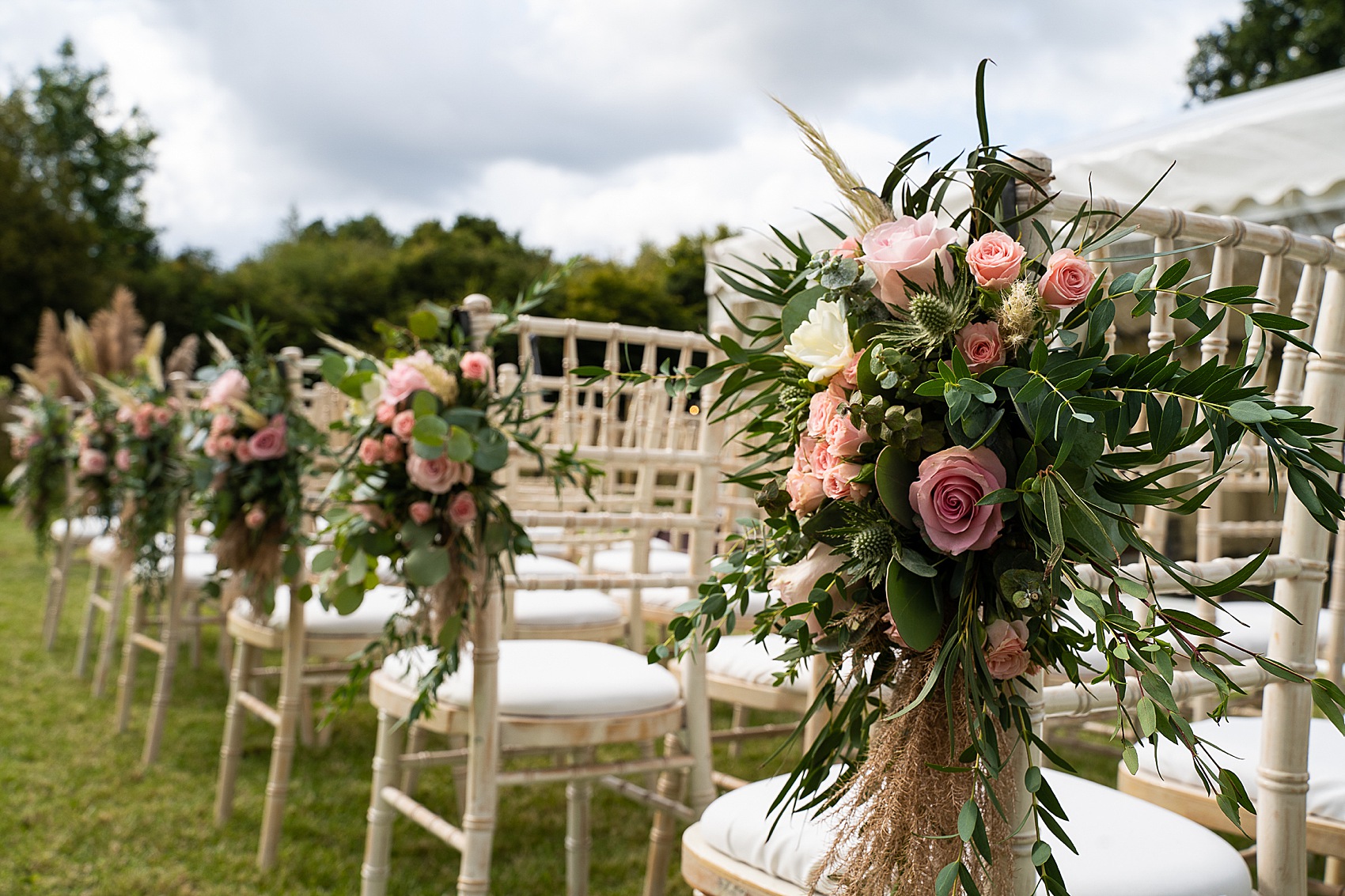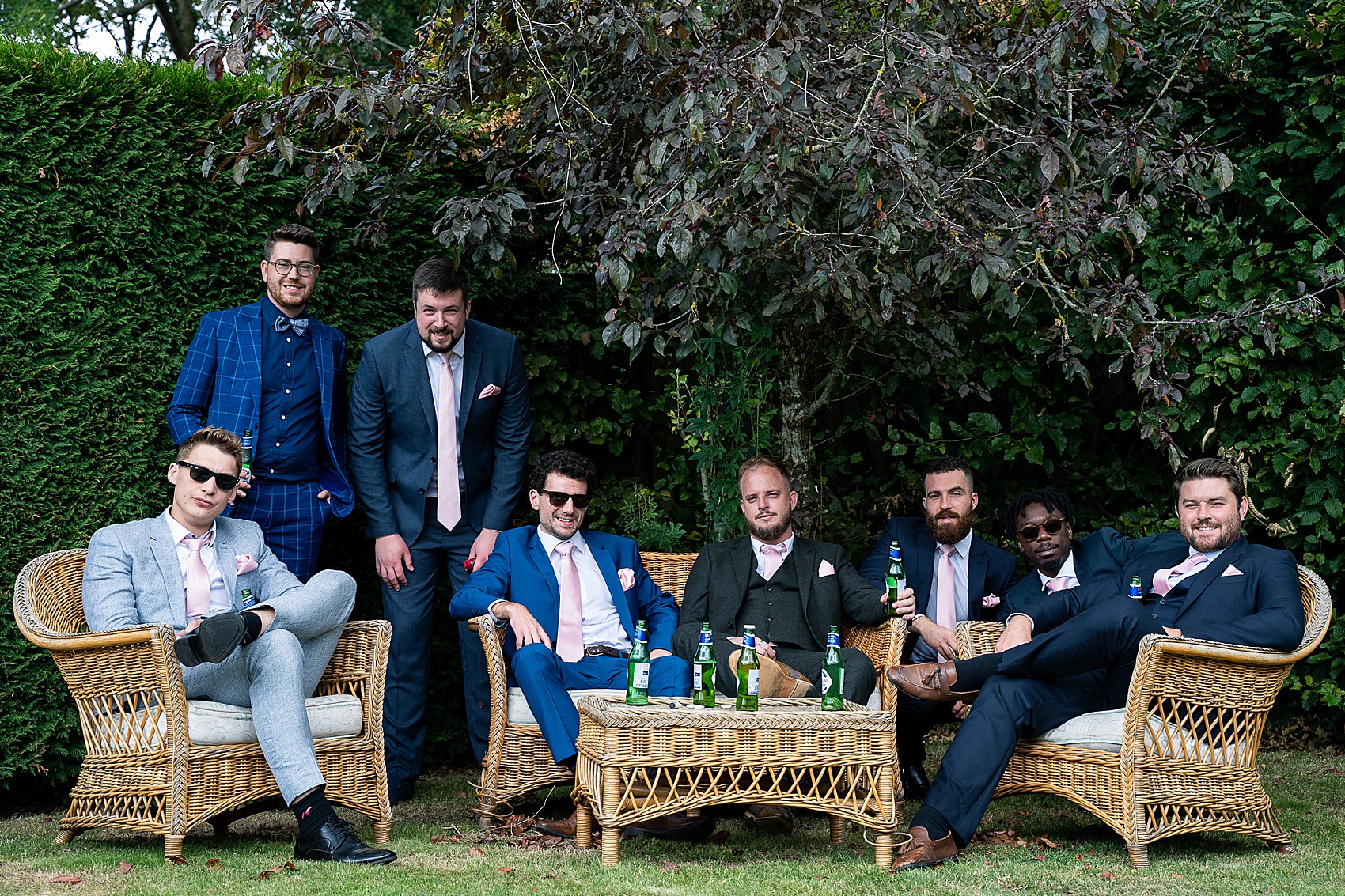 The ceremony was held under the wooden arbour in the garden, with the wild meadow surrounding the guests. Mr Langlay-Smith walked down the aisle with his father Graham who, along with his grandad Michael, were his best men. Super Spokes were on hand to provide music and the couple chose 'She's Electric' by Oasis for the bride's entrance song. She walked with her twin sister and maid of honour, Charlotte.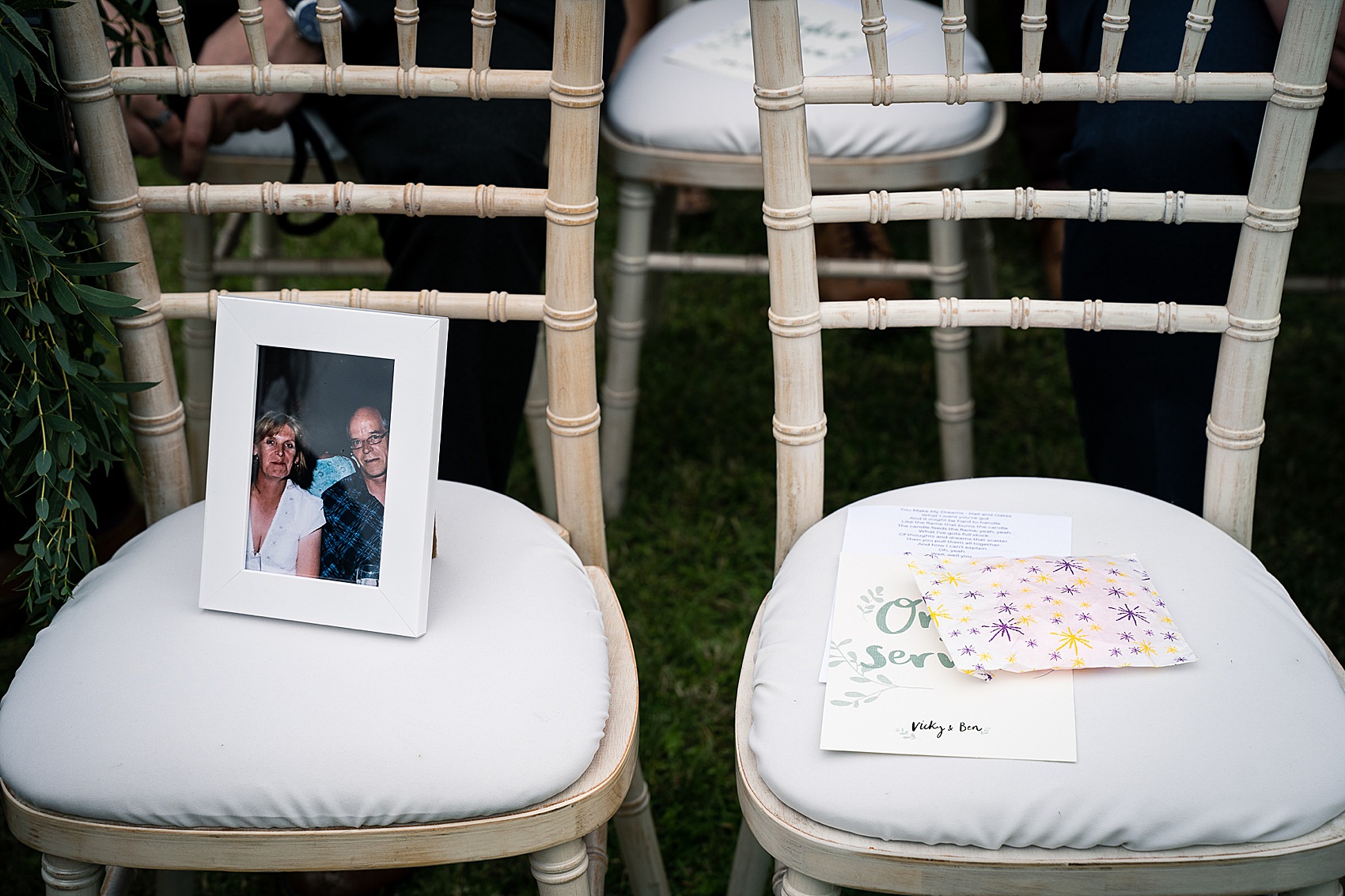 "My favourite part of the day was reaching Ben at the 'altar', holding his hand and then knowing the rest of the day would be perfect because we were together."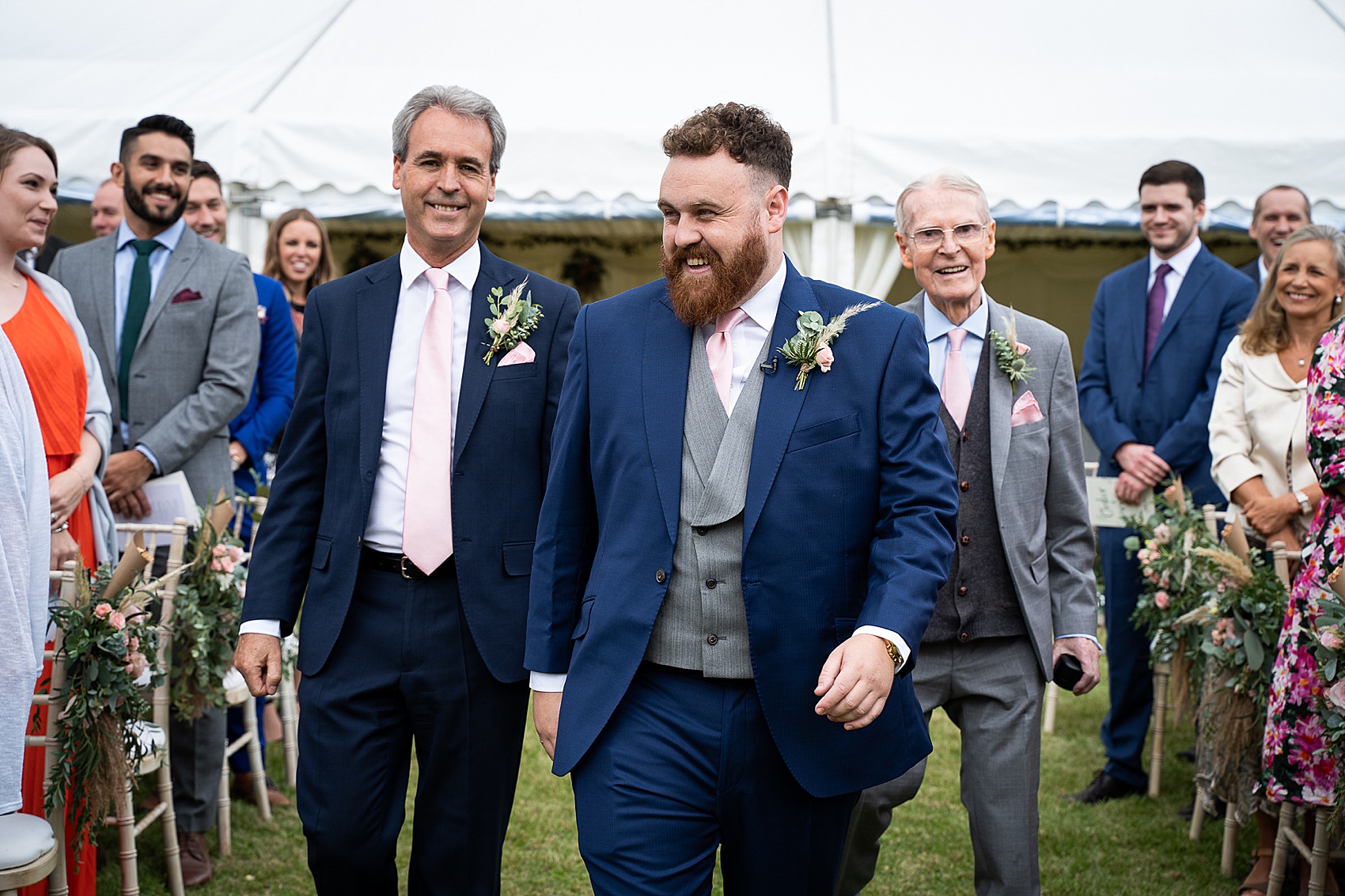 Celebrant Holly Smith led the ceremony and helped the bride and groom craft their personal, emotional vows.
"Holly helped us choose readings and coached us on how to write vows. We wanted a mixture of soppy, sentimental and funny. In mine I promised Ben I'd always laugh with him and at him and in his he promised to keep me stocked up with Diet Coke and not to make too many age gap jokes. We also promised to always be each other's best friends and family."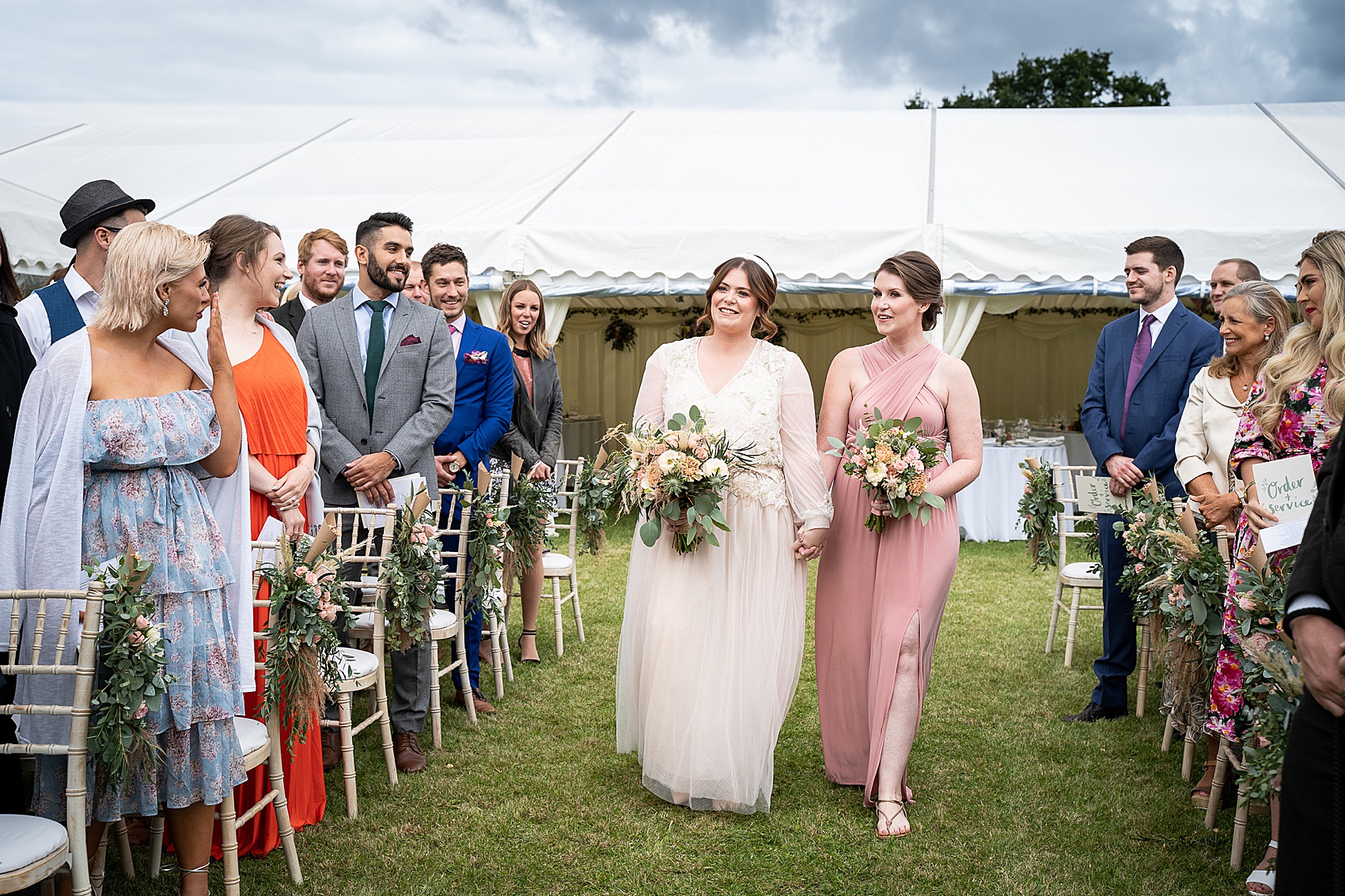 The couple asked their friend Sarah to read read 'Marriage is Ugly' and the groom's mum read a beautiful Apache prayer:
"Now you will feel no rain, for each of you will be shelter for the other.
Now you will feel no cold, for each of you will be warmth to the other.
Now there will be no loneliness, for each of you will be companion to the other.
Now you are two persons, but there is only one life before you.
May beauty surround you both in the journey ahead and through all the years.
May happiness be your companion to the place where the river meets the sun.
And may your days be good and long upon the earth."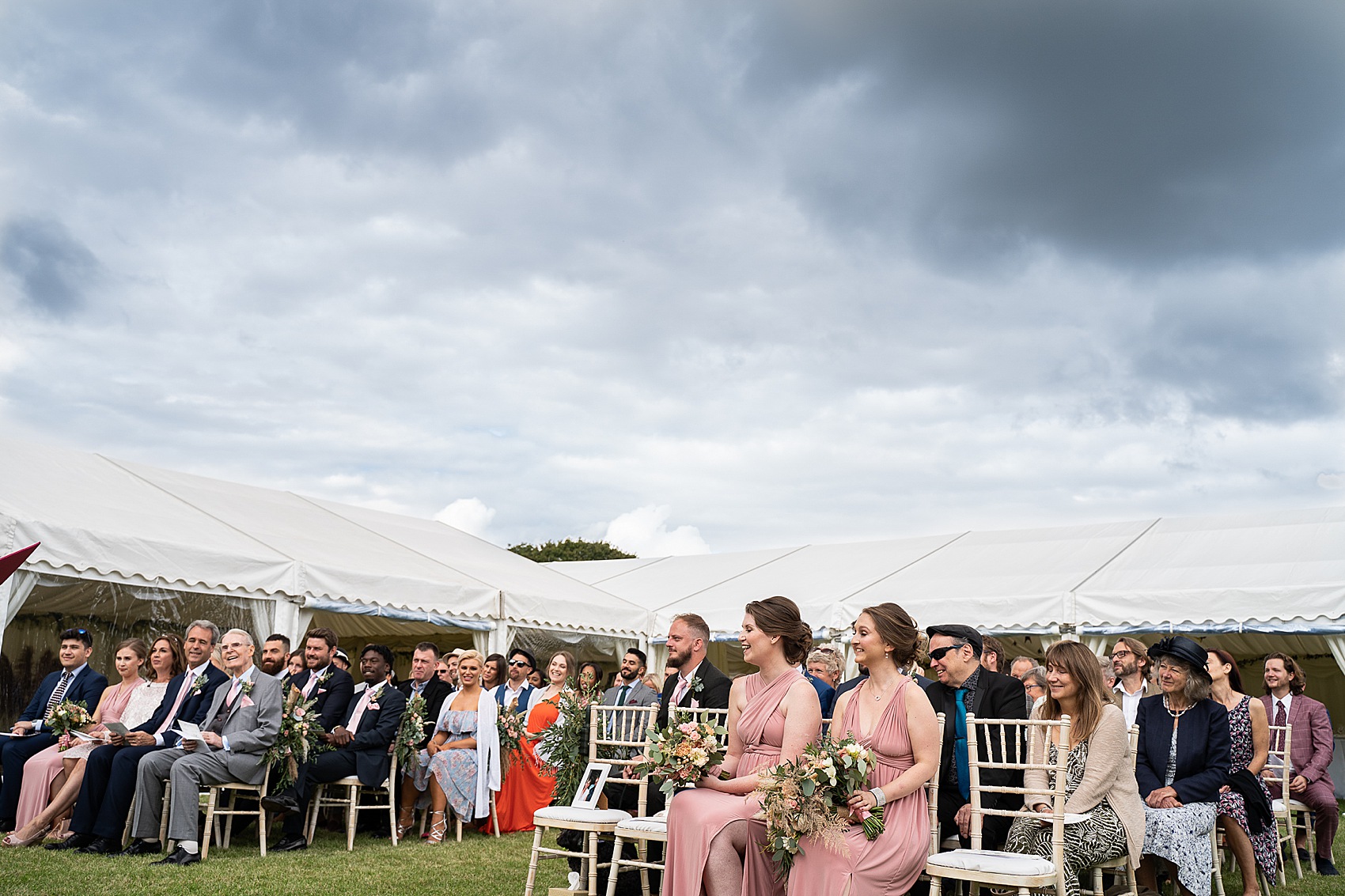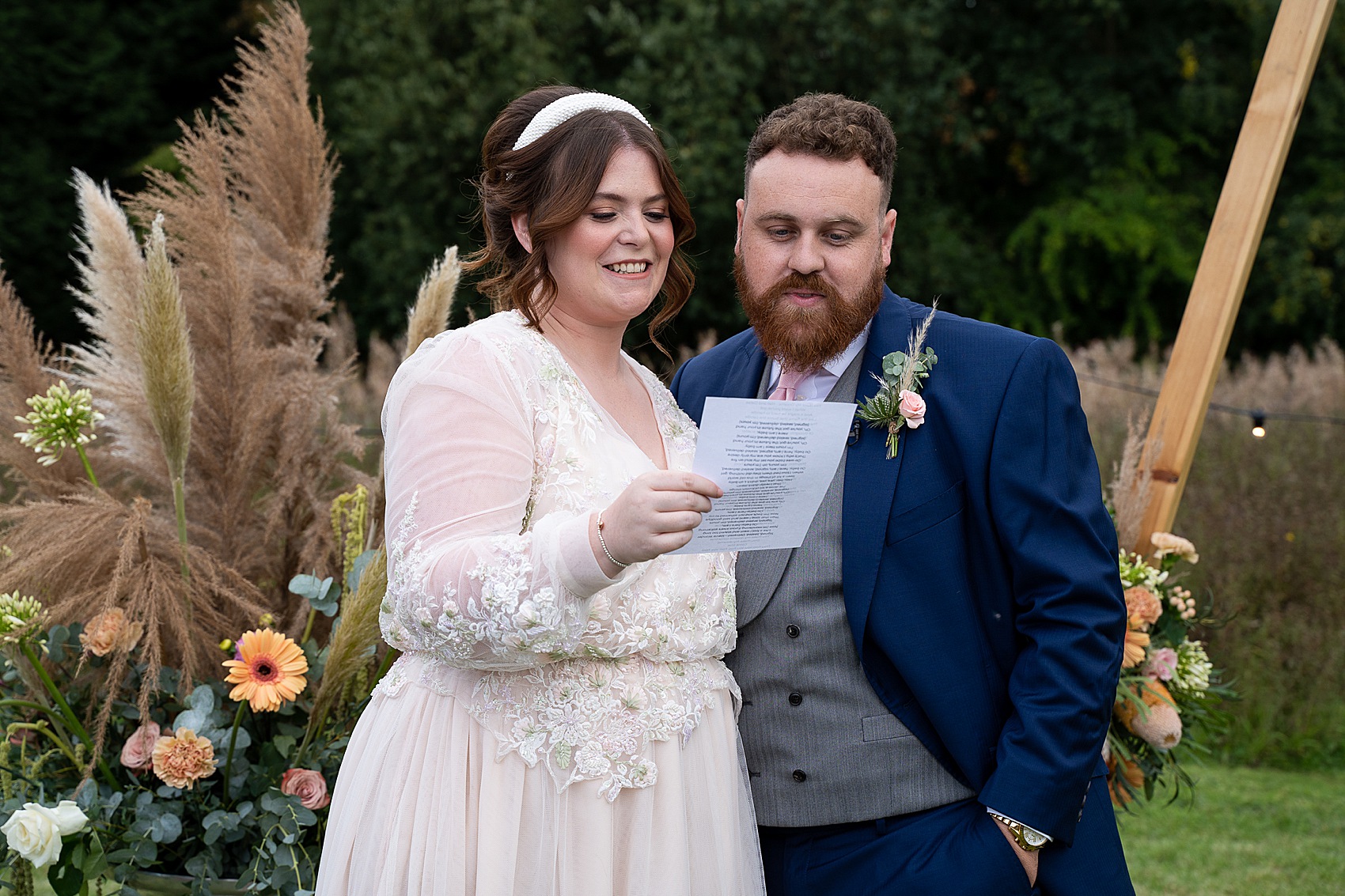 The couple's rings were made by Lionel J. Wiffen in Hatton Garden, and the groom's grandad Michael passed them forwards during the ceremony.
"Ben was recommended to Lionel Wiffen for my engagement ring and had him design and make it. We loved him so much we went back for our wedding rings."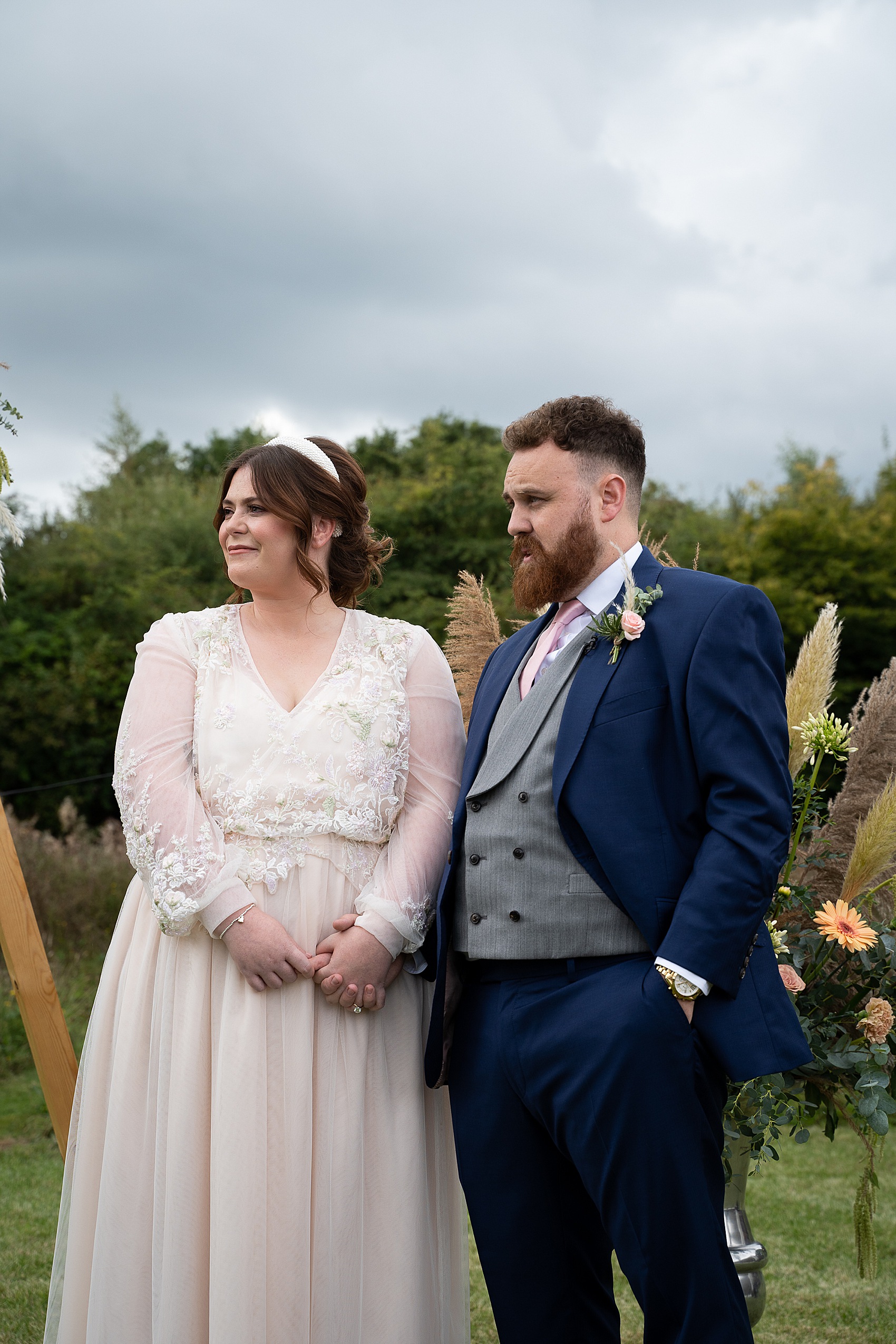 During the ceremony, Super Spokes played some crowd-pleasers to get the guests singing along.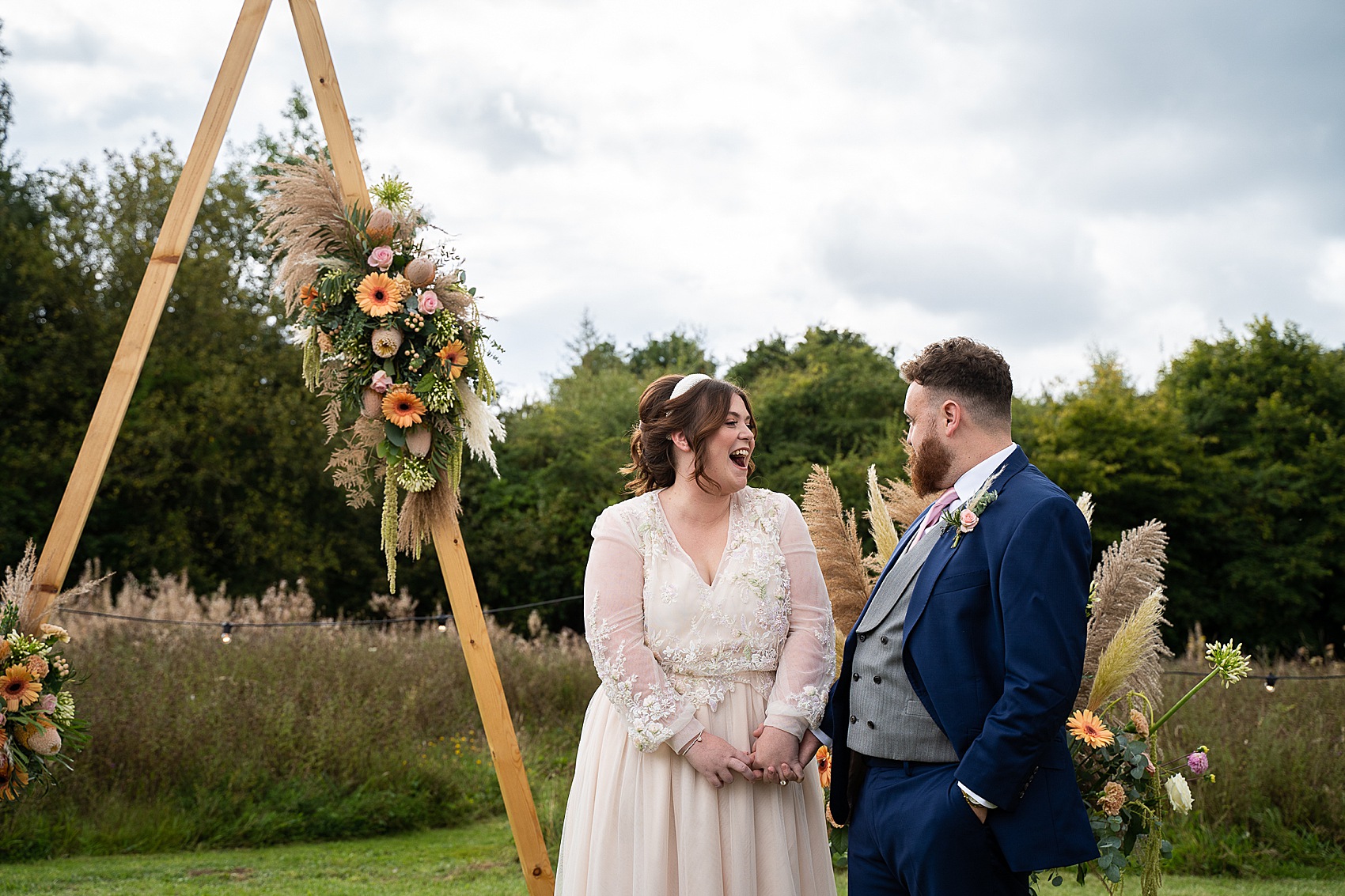 "We had Hall & Oates' 'You Make My Dreams' and 'Signed, Sealed, Delivered' for everyone to sing along to."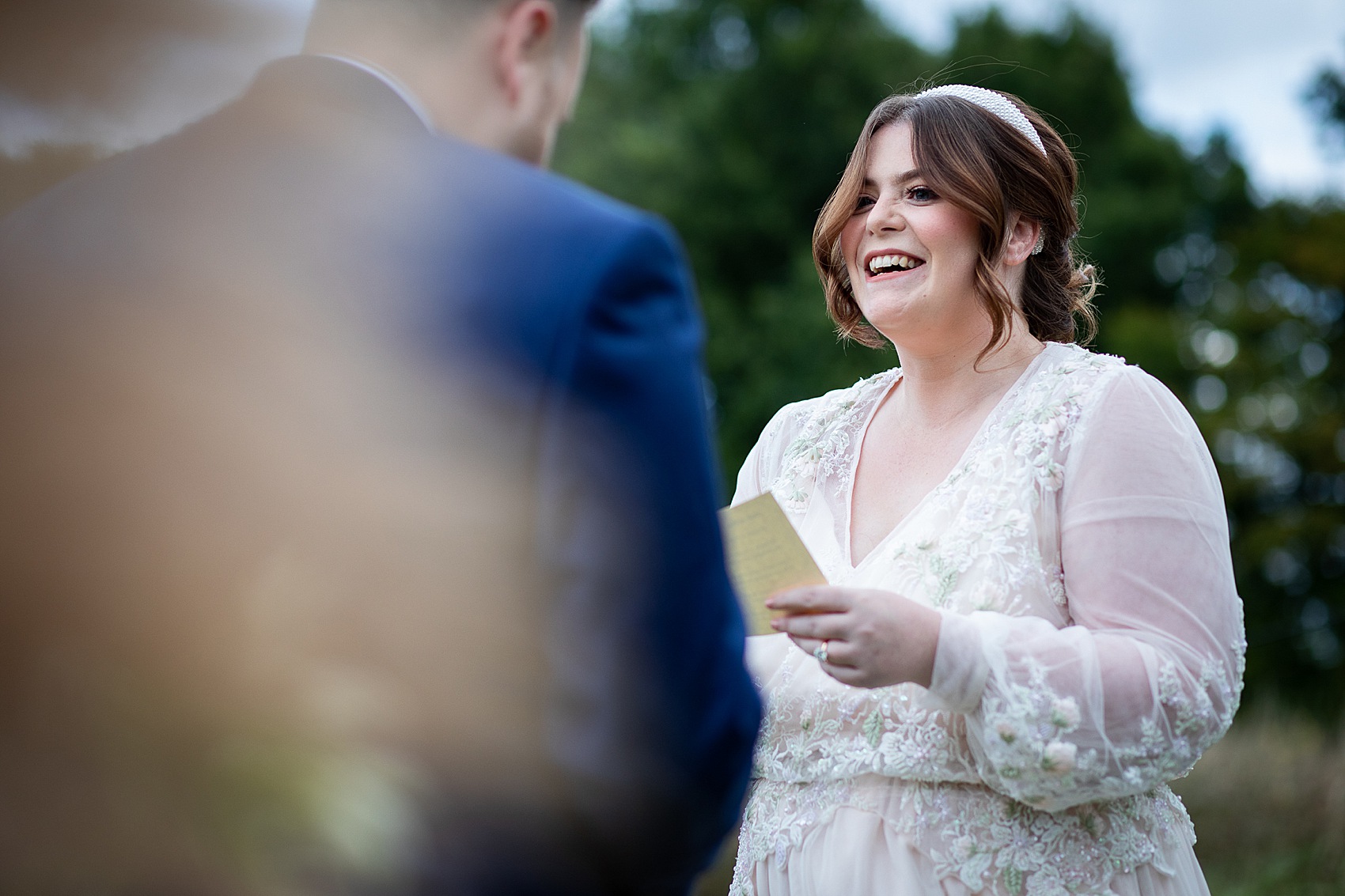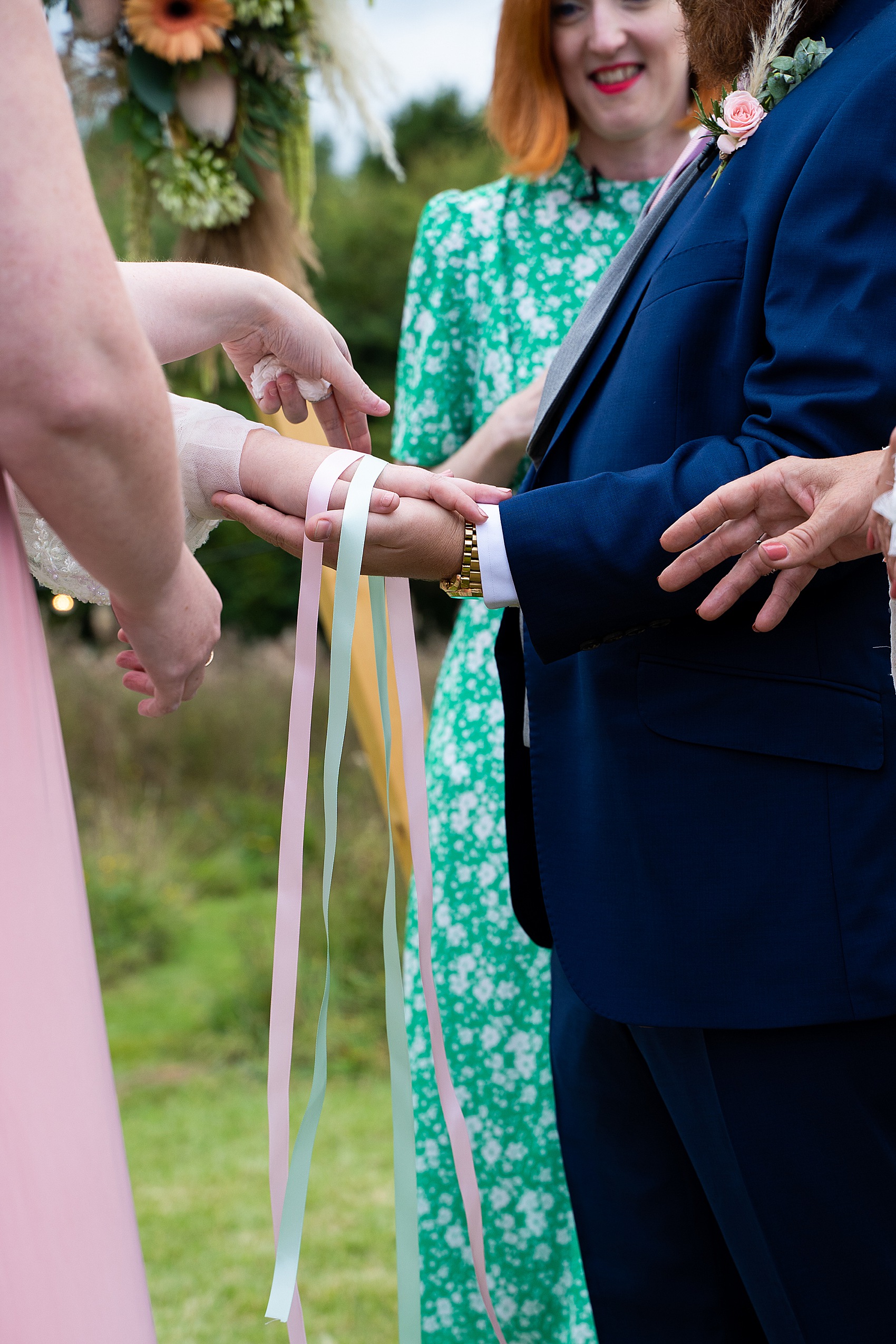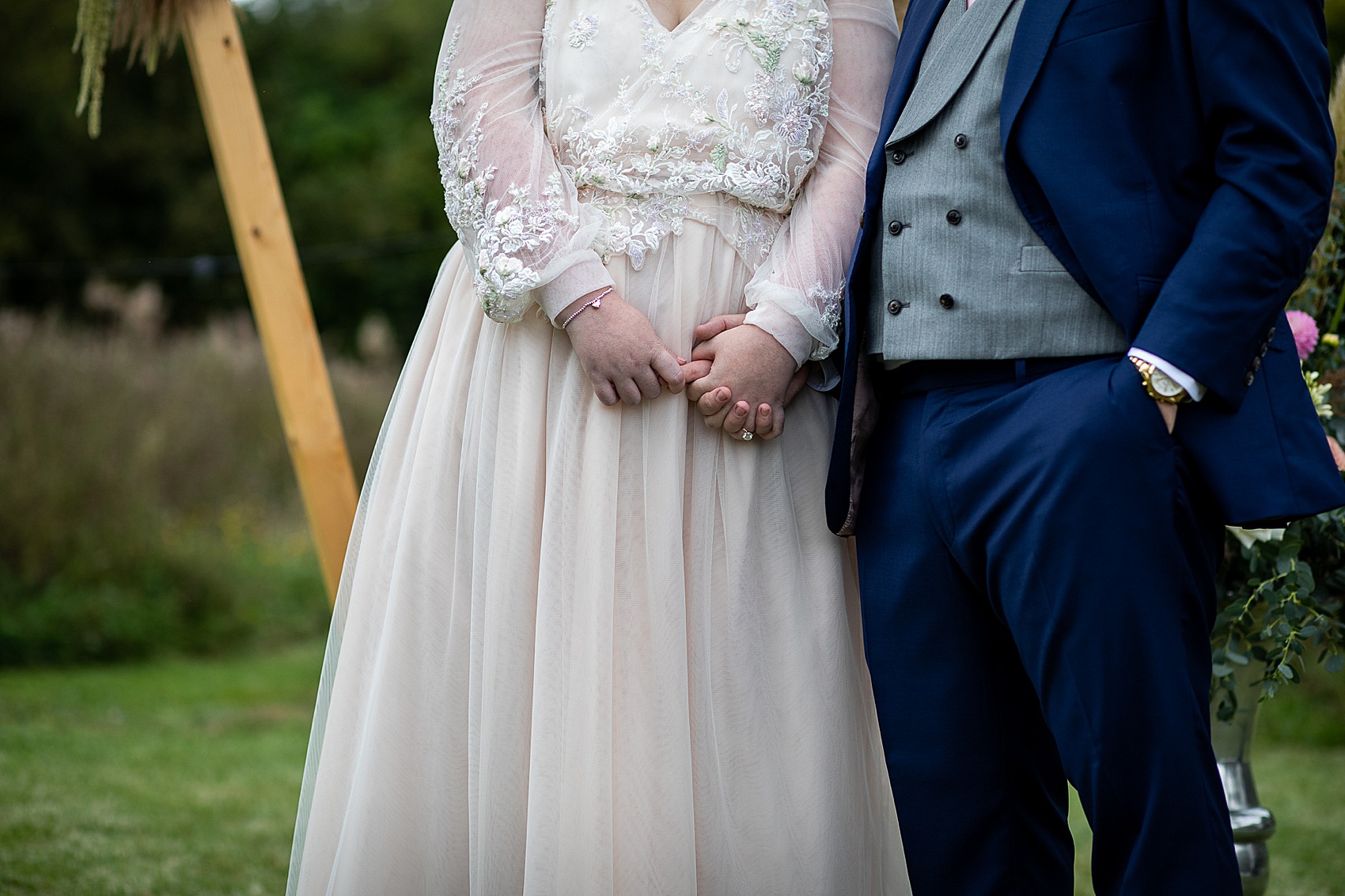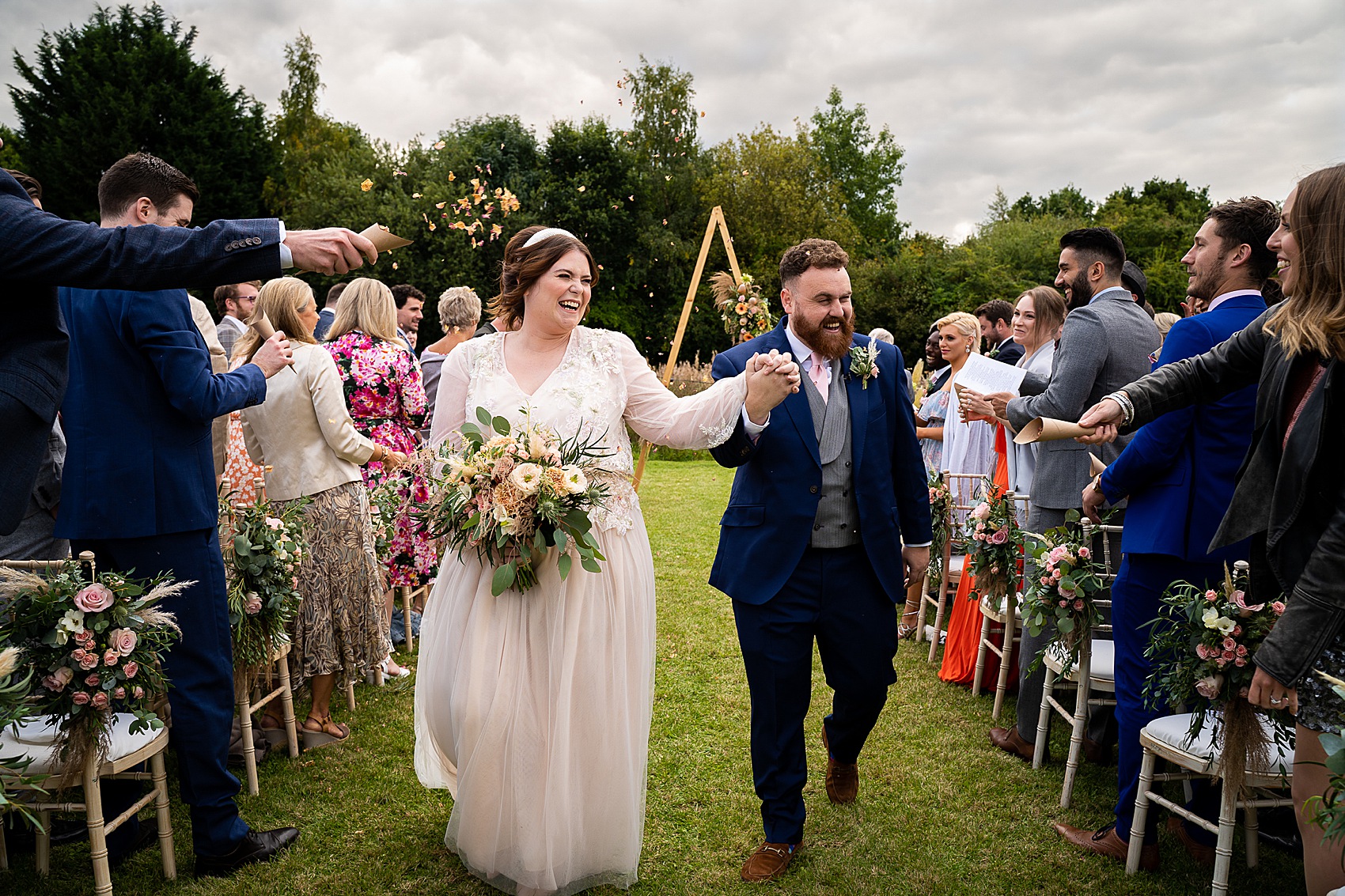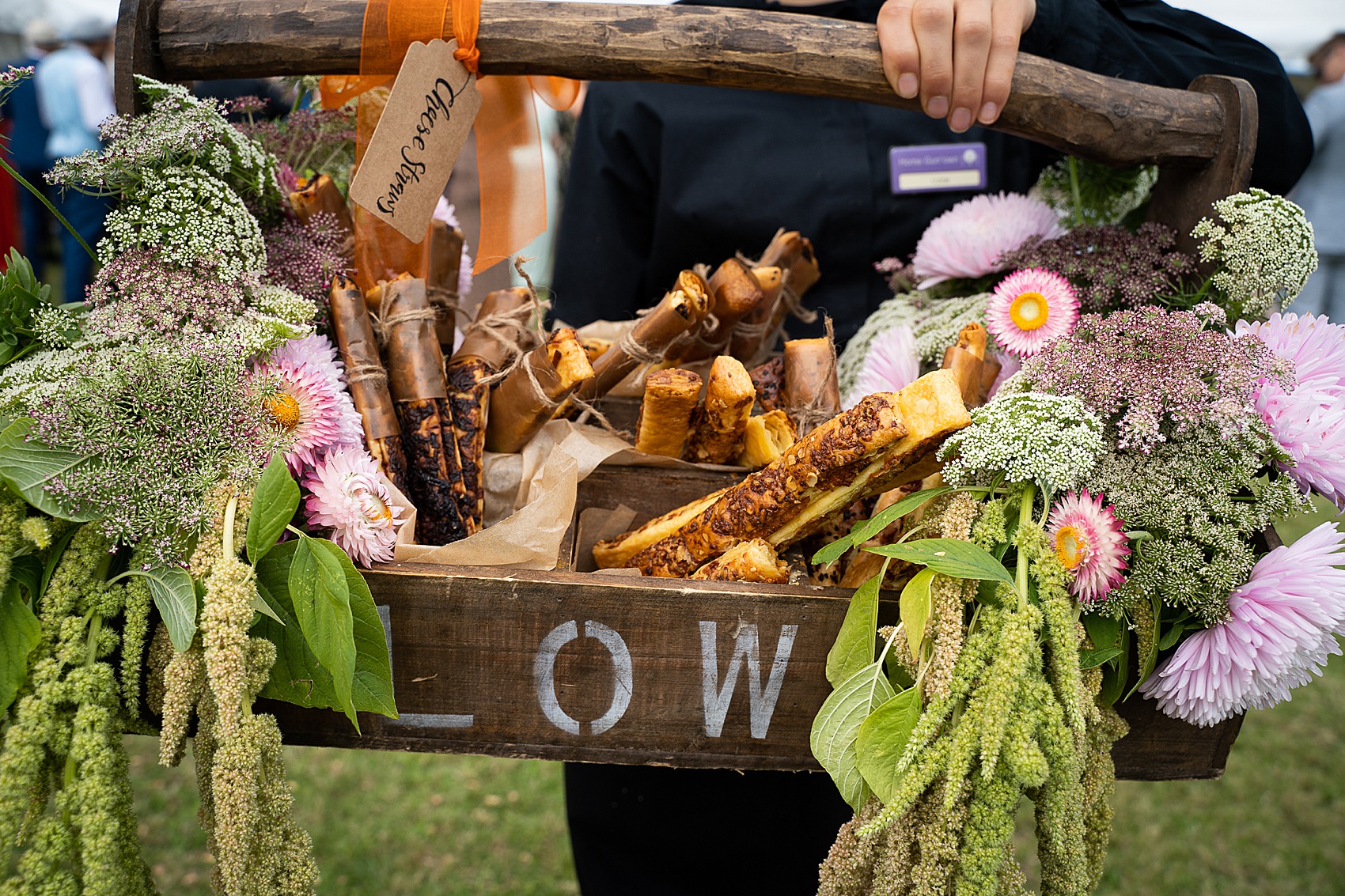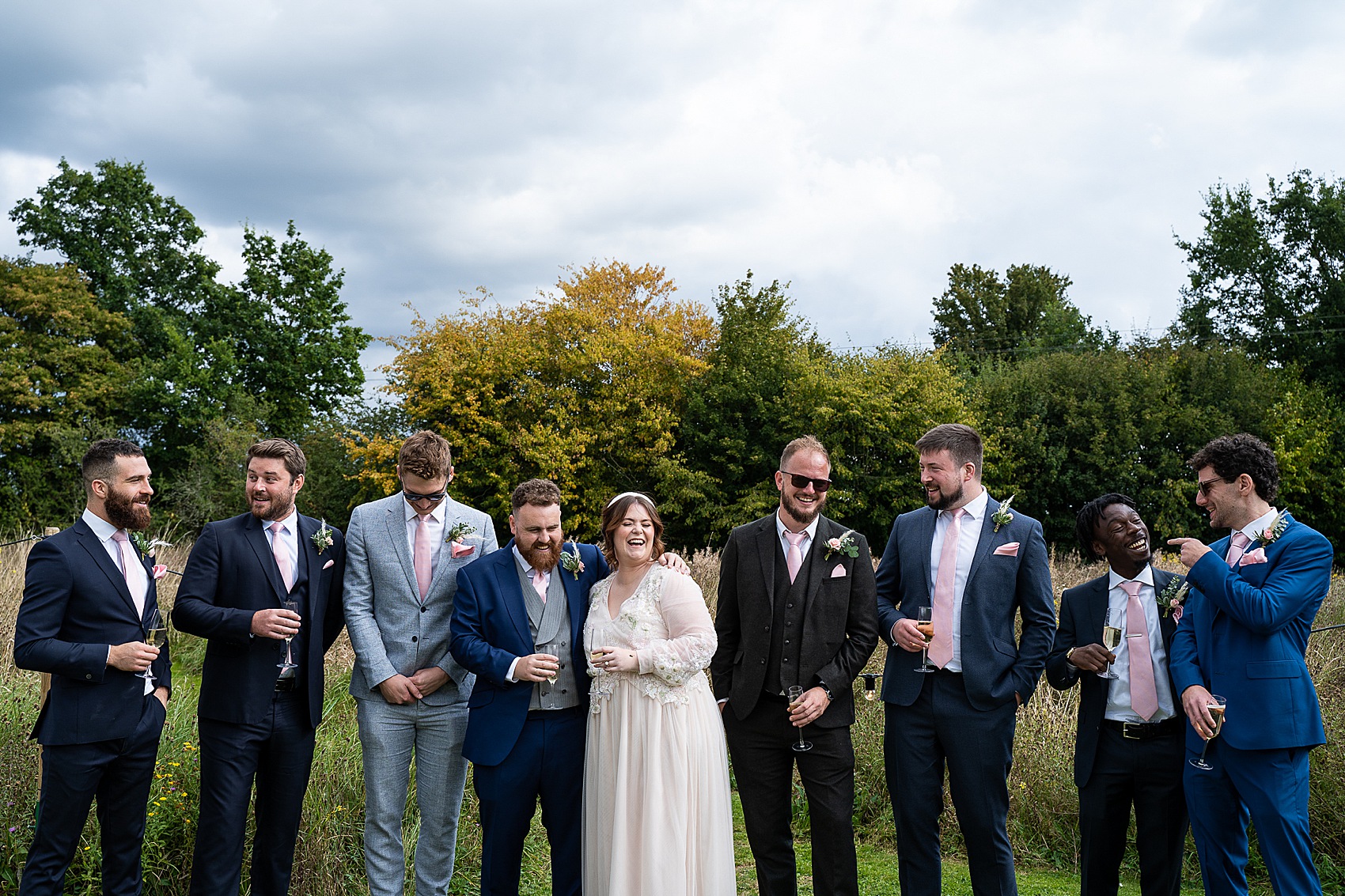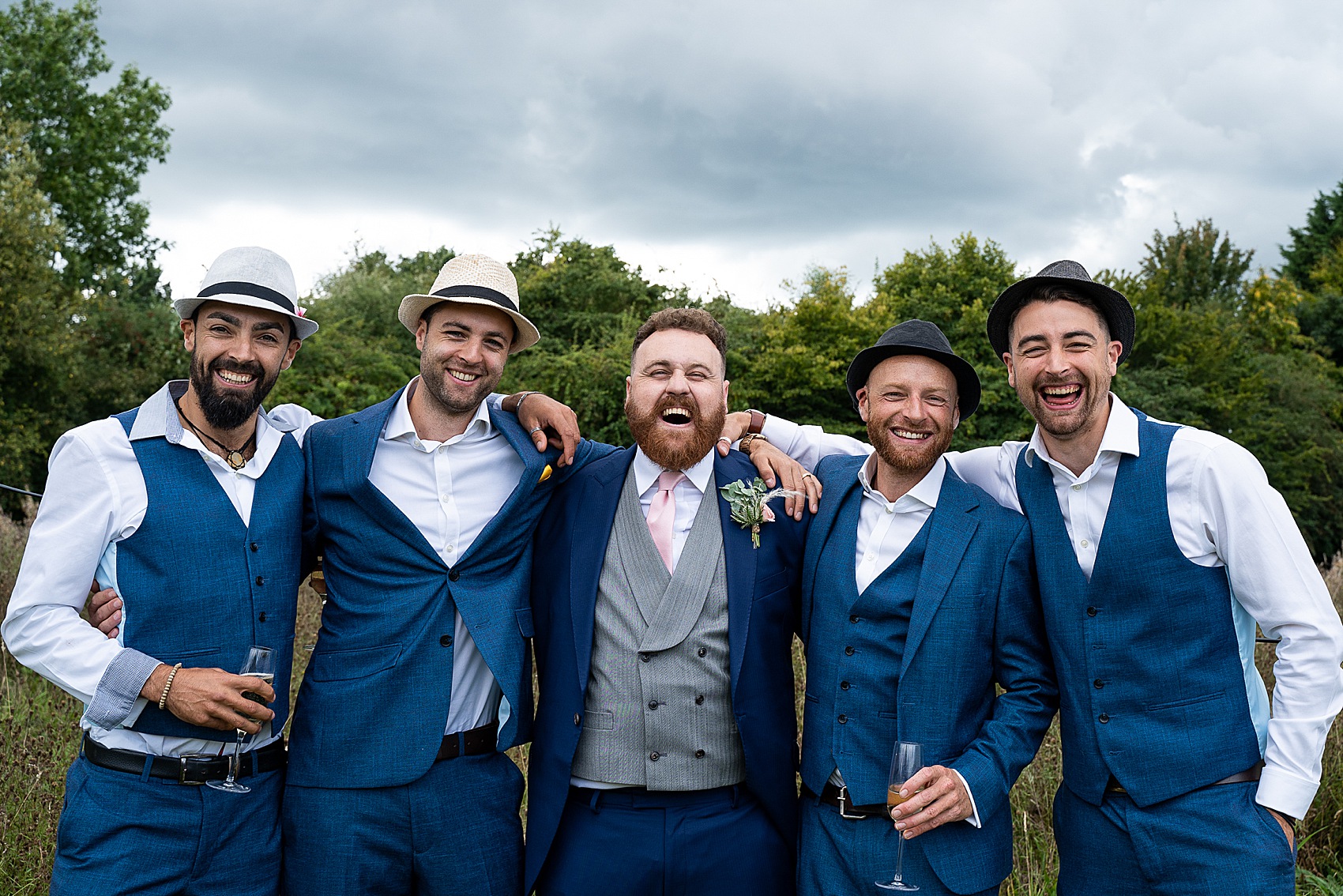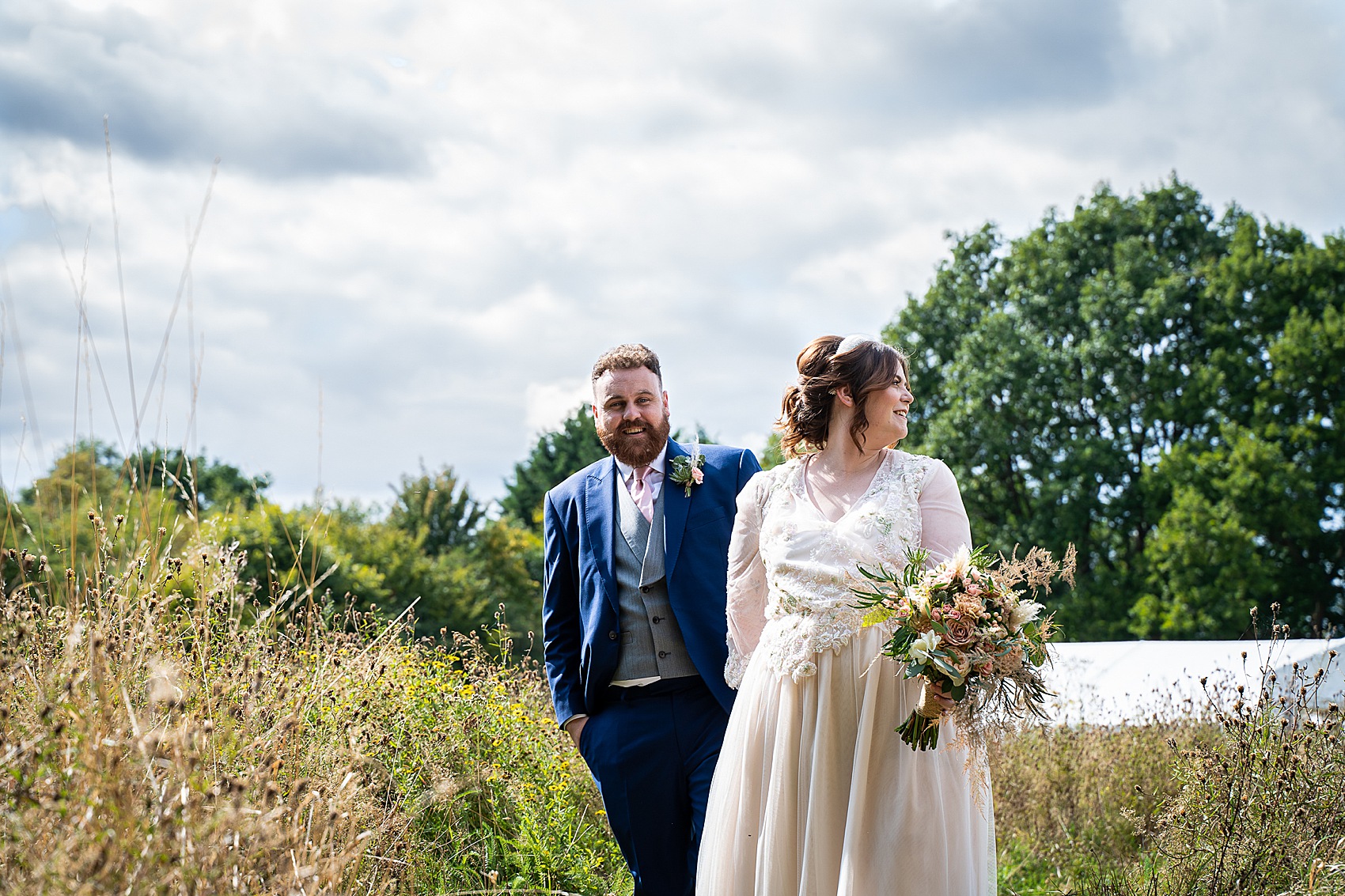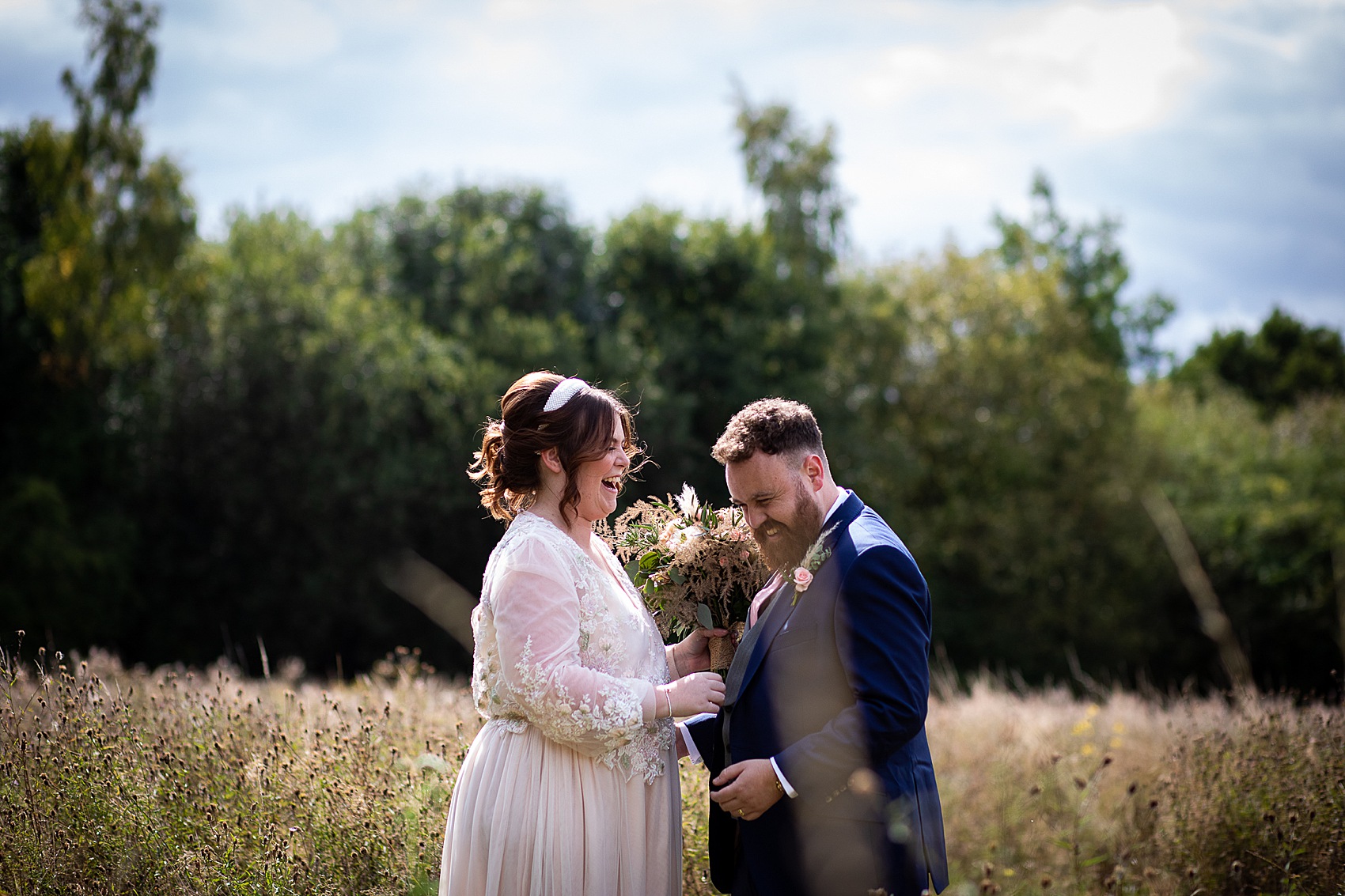 Doesn't the marquee look gorgeous set against the backdrop of long, swaying grasses? Inside it had been adorned with the origami cranes, as well as more colourful blooms, watercolour table names and garlands of foliage.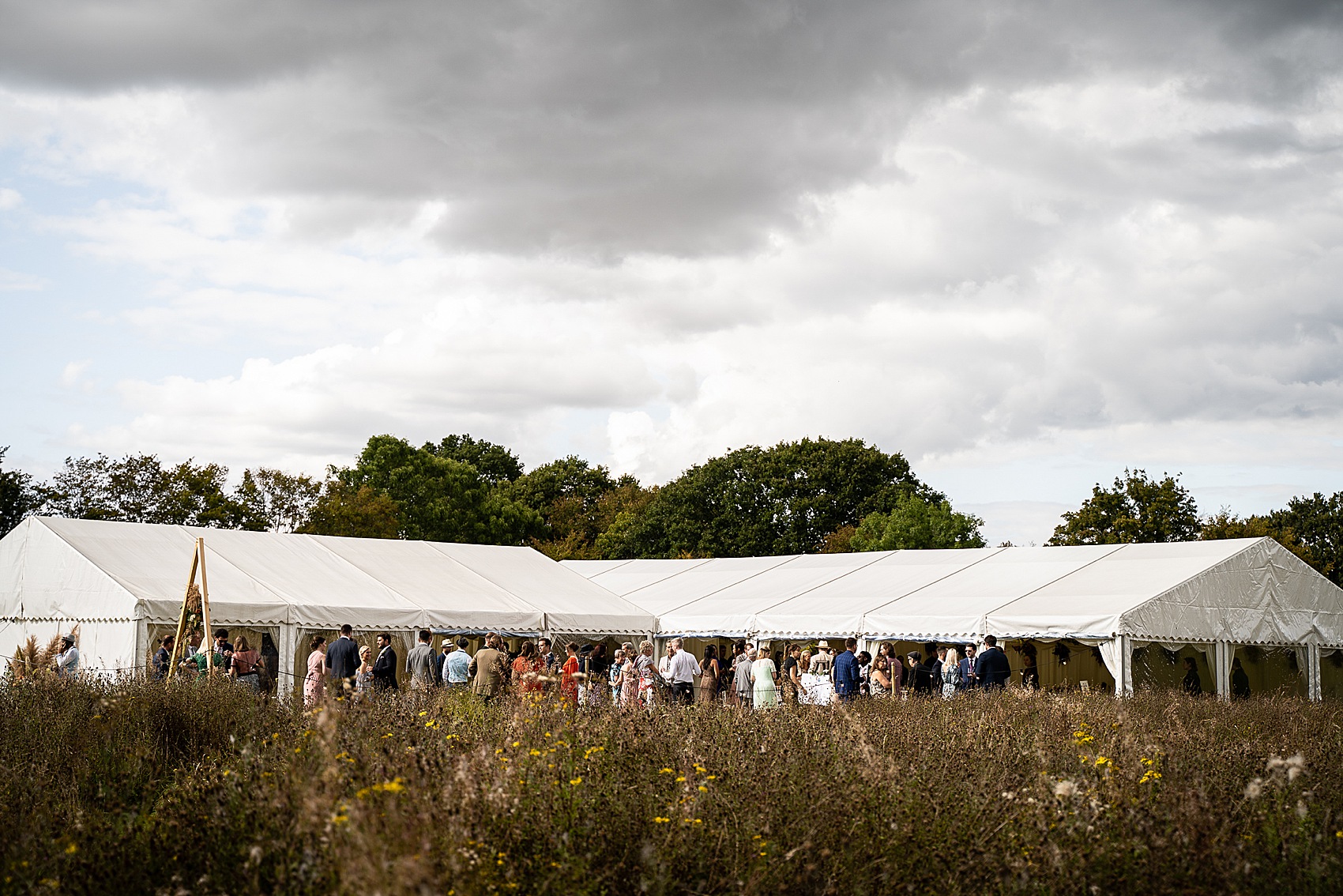 After making the most of the September sunshine, everyone moved inside for the wedding breakfast provided by Home Gurr'own, and a cake of cheese.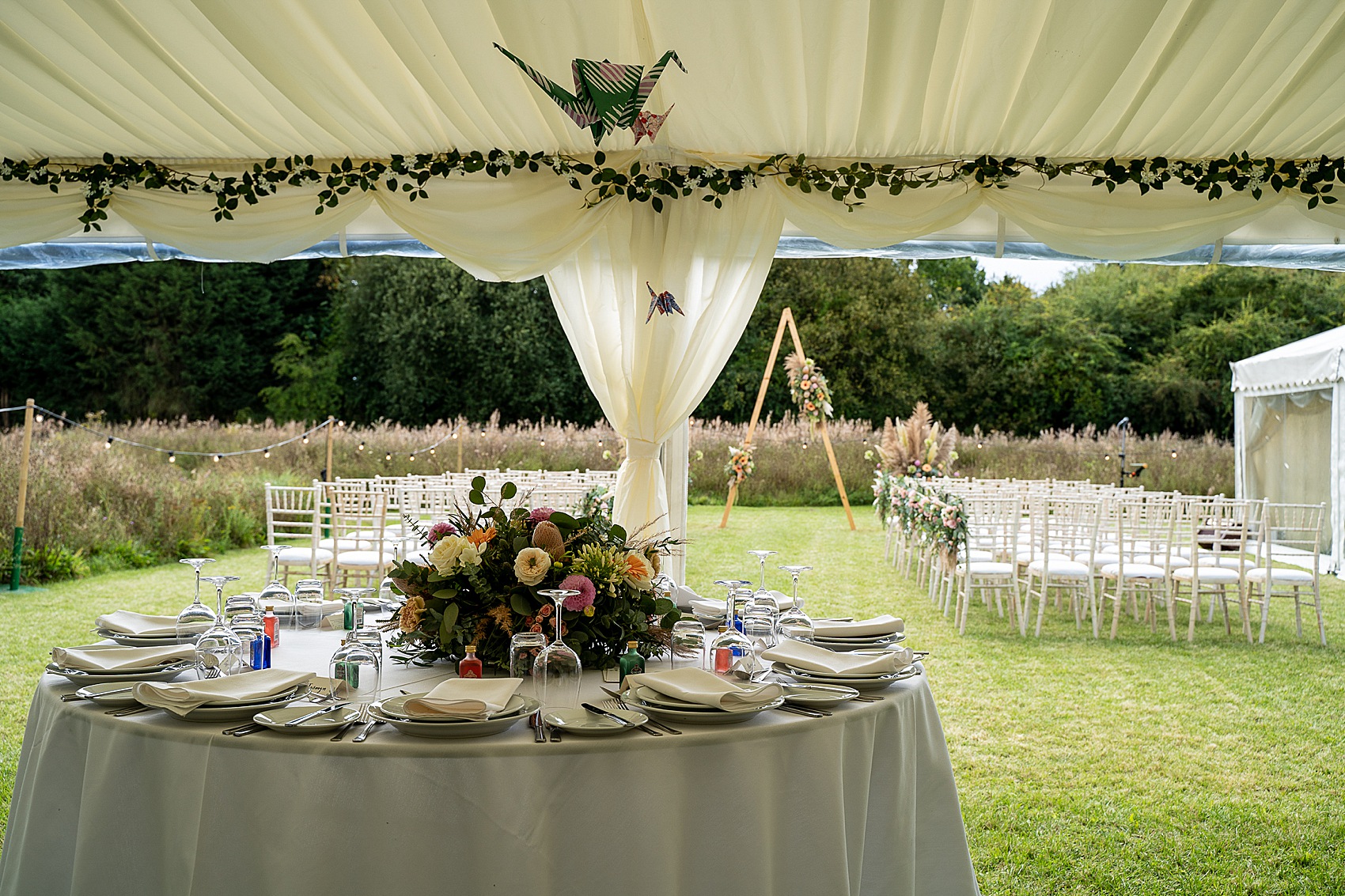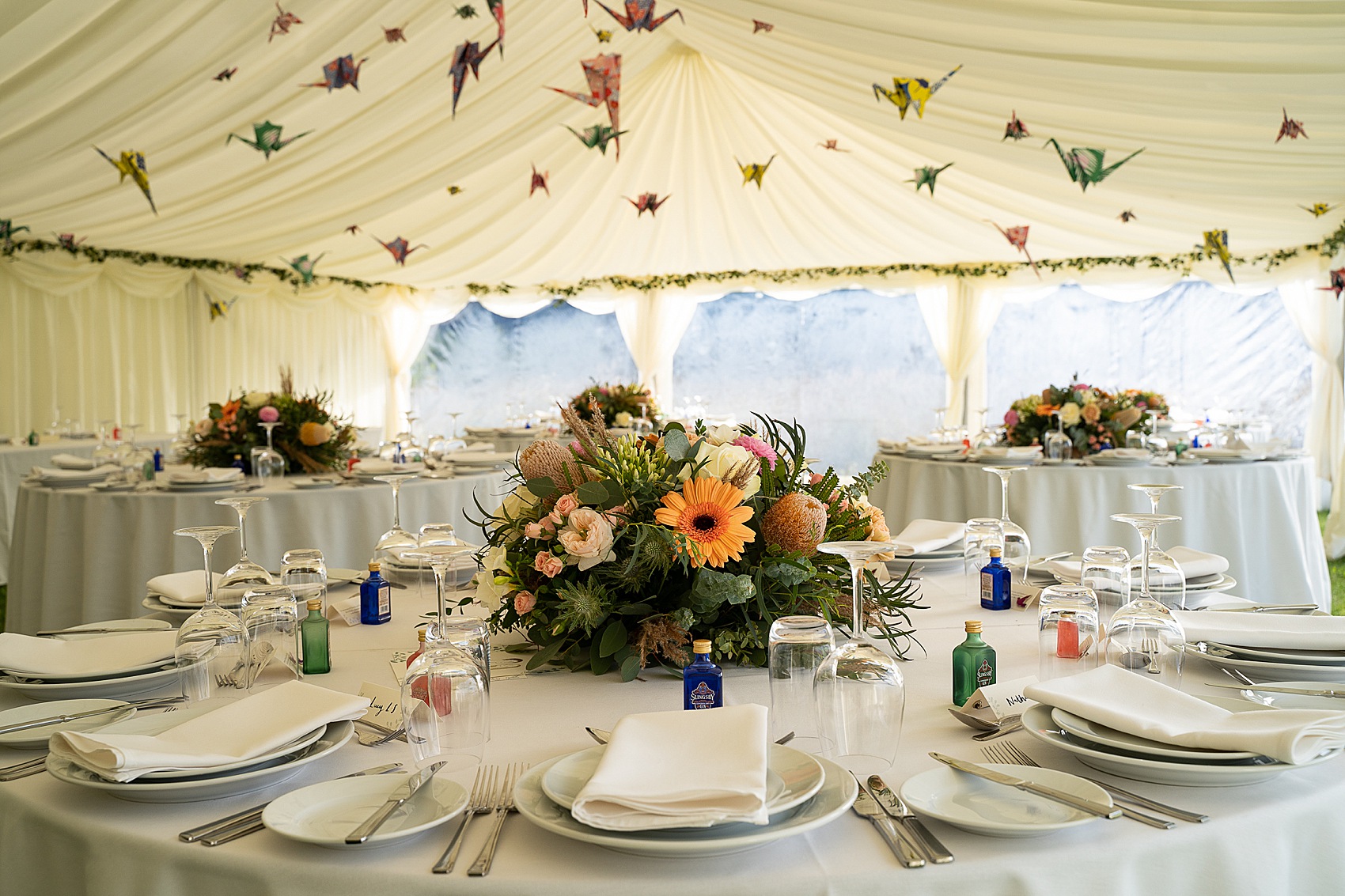 "We wanted something super-personalised to us. We bonded over British comedy so we knew our 'theme' would be loosely on that. We played that out with our table names being comedy duos and we hired a secret guest for each other. Ben secretly hired Shaun Williamson (Barry from 'EastEnders' and 'Extras') to perform and I hired Big Keith from 'The Office' to DJ."
The groom's mum, Alison, who runs Sissinghurst Flowers, played a major part in the day's look and feel, creating the spectacular floral displays of late summer blooms.
"I work with Oliver Bonas as a blogger and, during a meeting at HQ, I noticed beautiful origami cranes adorning their office ceiling. I asked where they got them, thinking they'd be perfect for the wedding, and they said we could have them as they were redecorating.
Other than the cranes, the marquee was decorated by Alison's flowers. Alison's handyman Marcus built us a triangular arbour to get married under and she decorated that with flowers, too."
"I sat down with Alison a few weeks before the day and told her that we really wanted the 'vibe' to be 'bringing the meadow in'. We were having the ceremony and marquee in their meadow so I wanted lots of wildflowers, grasses and greenery. We didn't want the flowers to be too traditional so Alison showed me all that were available and we selected the ones we thought represented that the best. Her arrangements and how she put them together were absolutely breath-taking – we were so lucky!"
The informal and personal vibe was set by the charming stationery made by Emma Mary Douglas, which featured a watercolour illustration of the couple.
"She designed our table plan and table names (with water colour illustrations of our comedy couples) and we were so happy with these we got her to do the order of service, menus and place cards."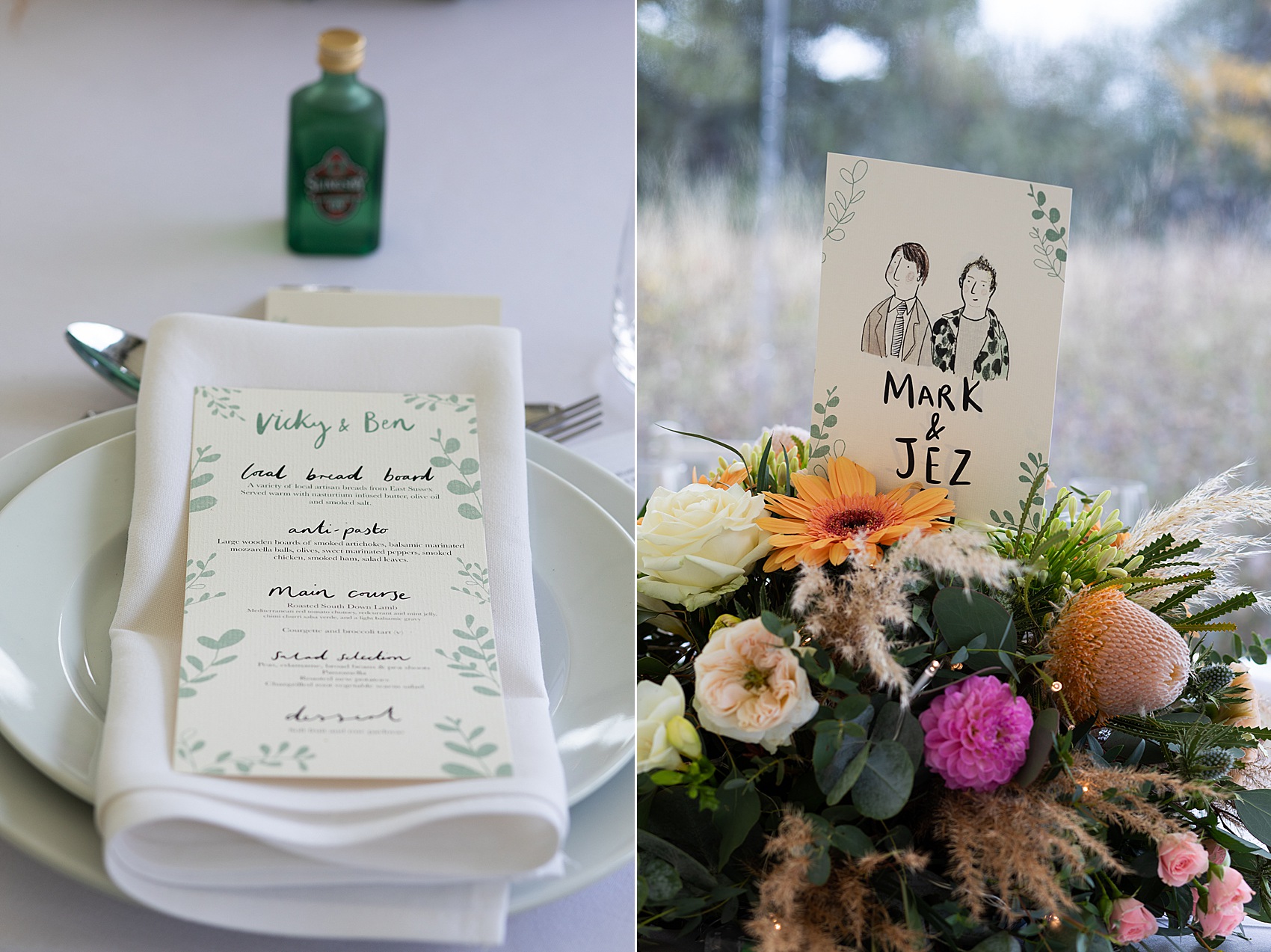 The couple's favours were a touching tribute to the bride's late mum.
"I lost my mum in 2016 so we picked up charity pins from St Alice's Hospice and attached those to the place cards. We were also gifted miniature Slingsby Gins by Slingsby."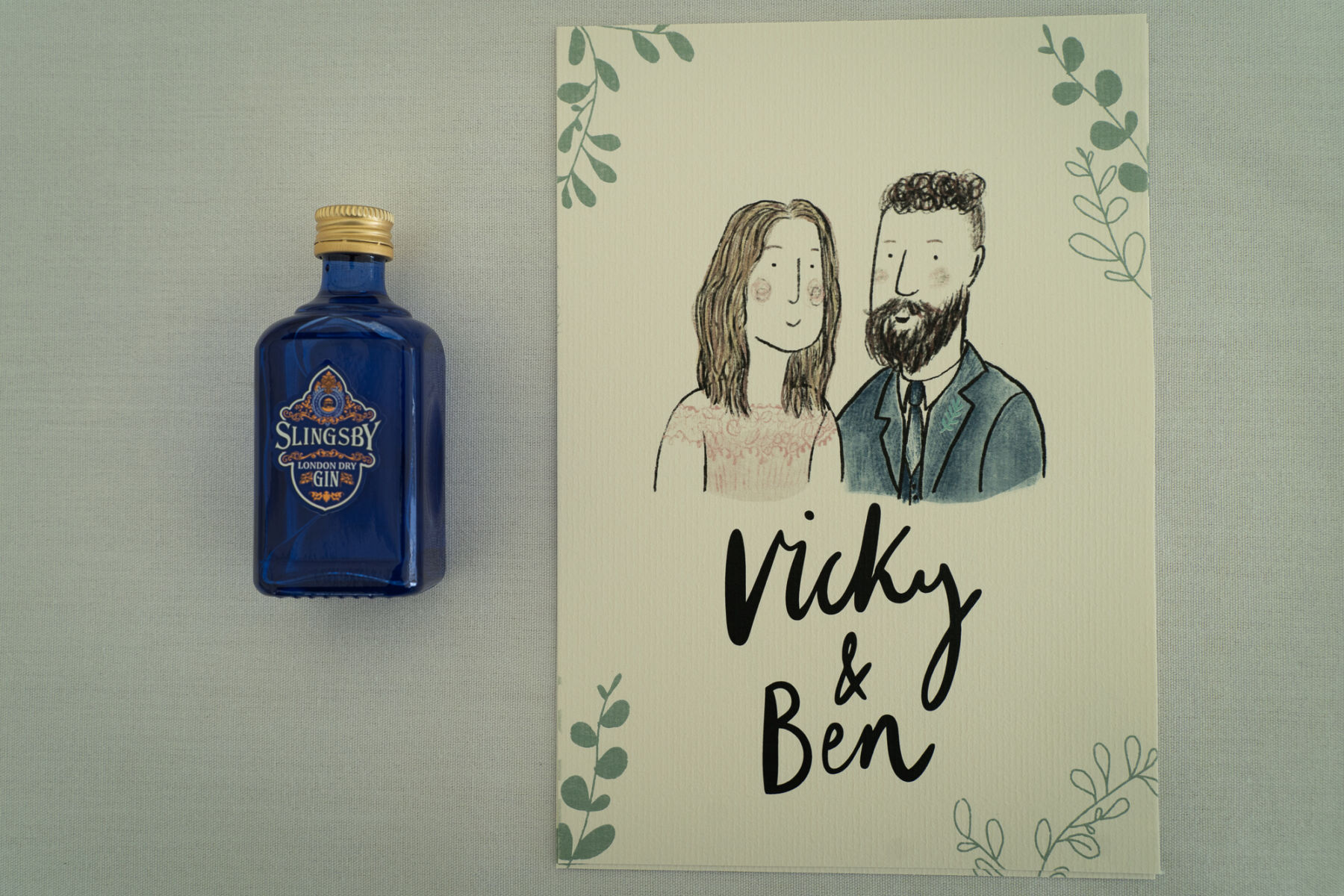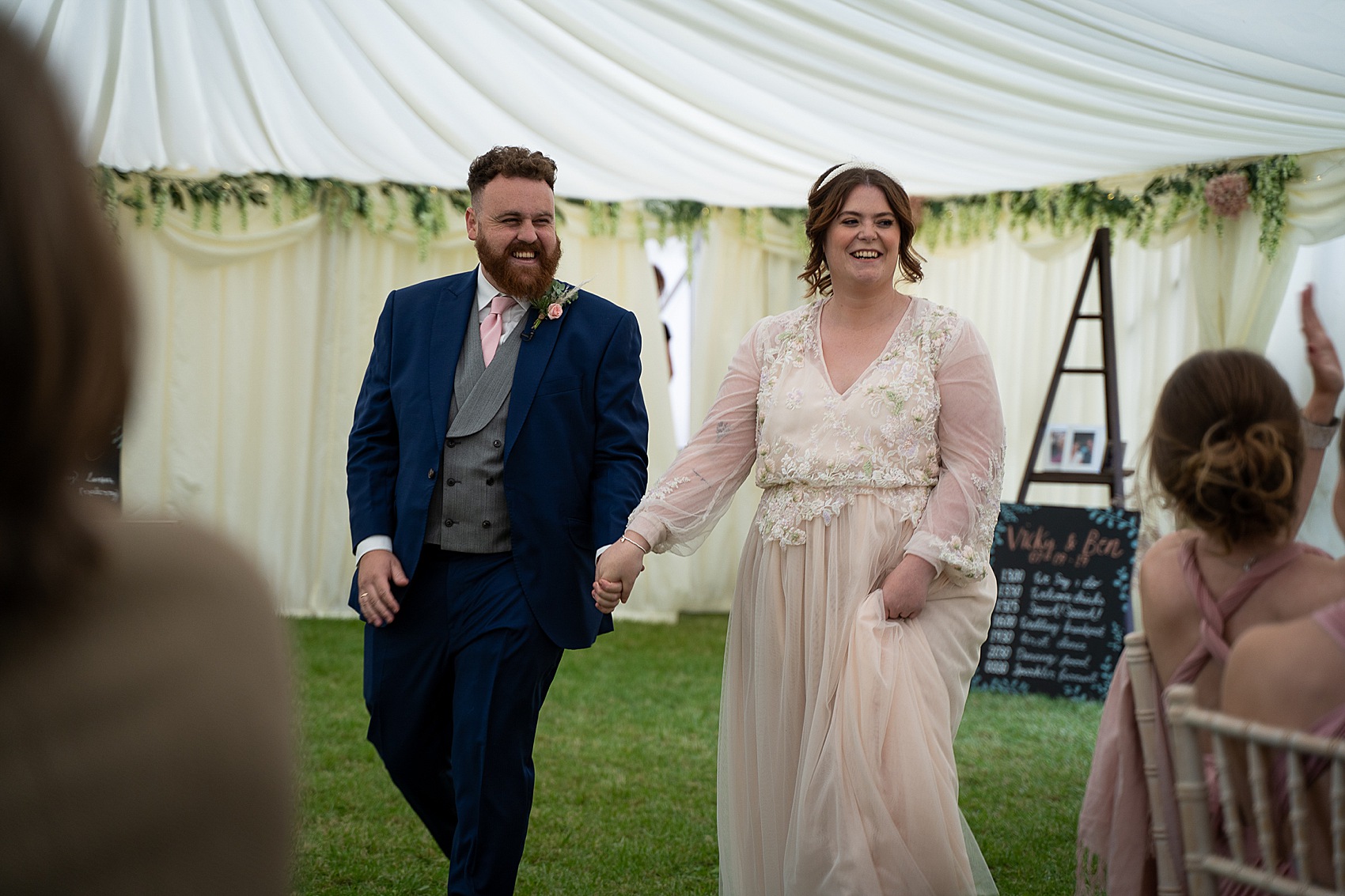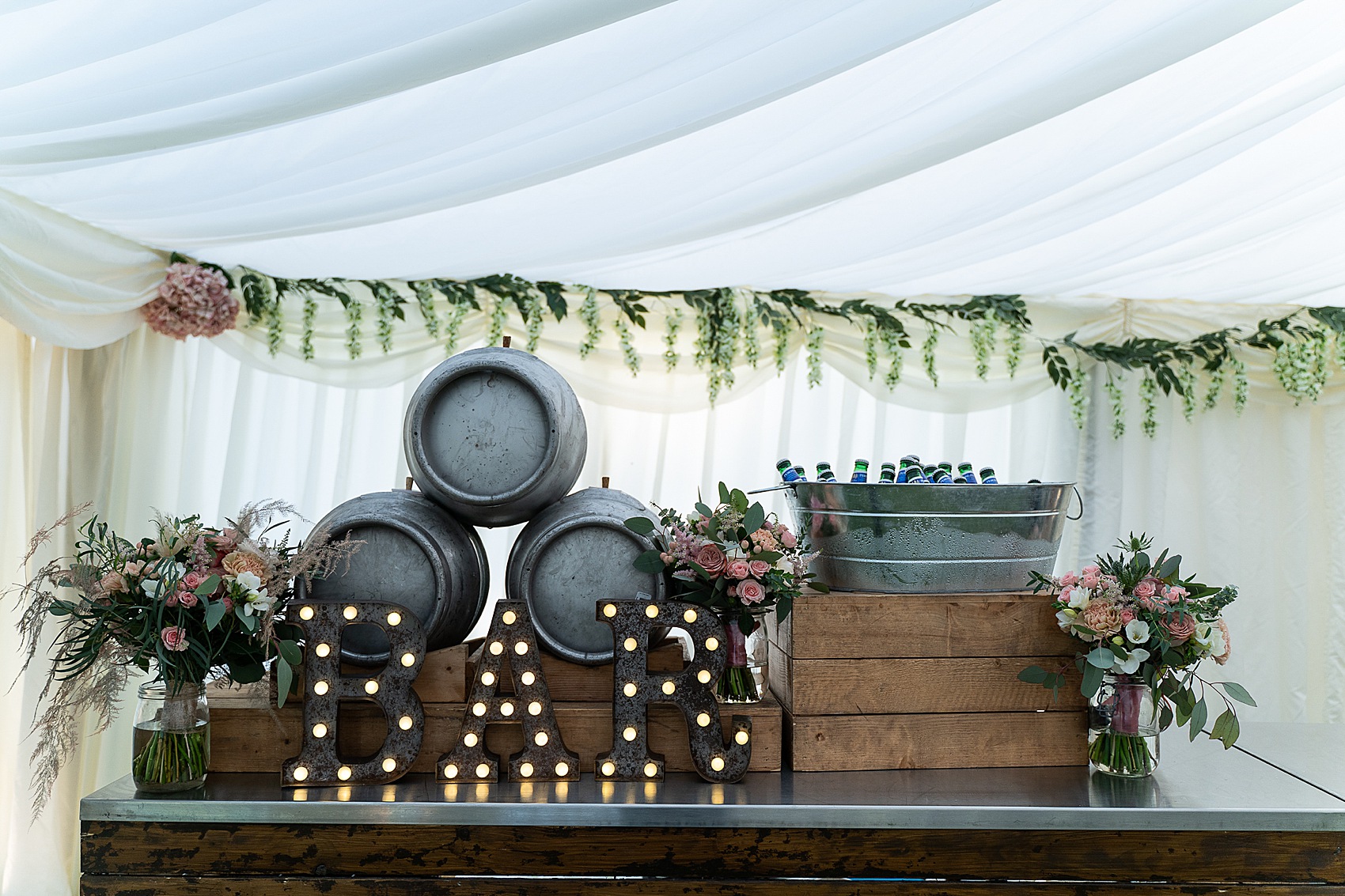 Capturing the day from start to finish was photographer Sam of S R Taylor Photography, whose reportage style and easy manner the couple fell in love with. My favourites of this series are the unexpected, unposed moments which are so natural and full of love.
"After first meeting with Sam via Skype Ben and I warmed to him instantly. On the day, he slipped right in with our family and just felt like an extra guest."
"He kept us both feeling calm, was a friendly face and he made us both so comfortable. He got all of the portraits we asked for and grabbed us when the sun started to set to capture some incredible lighting. We couldn't have had anyone better to welcome into our day."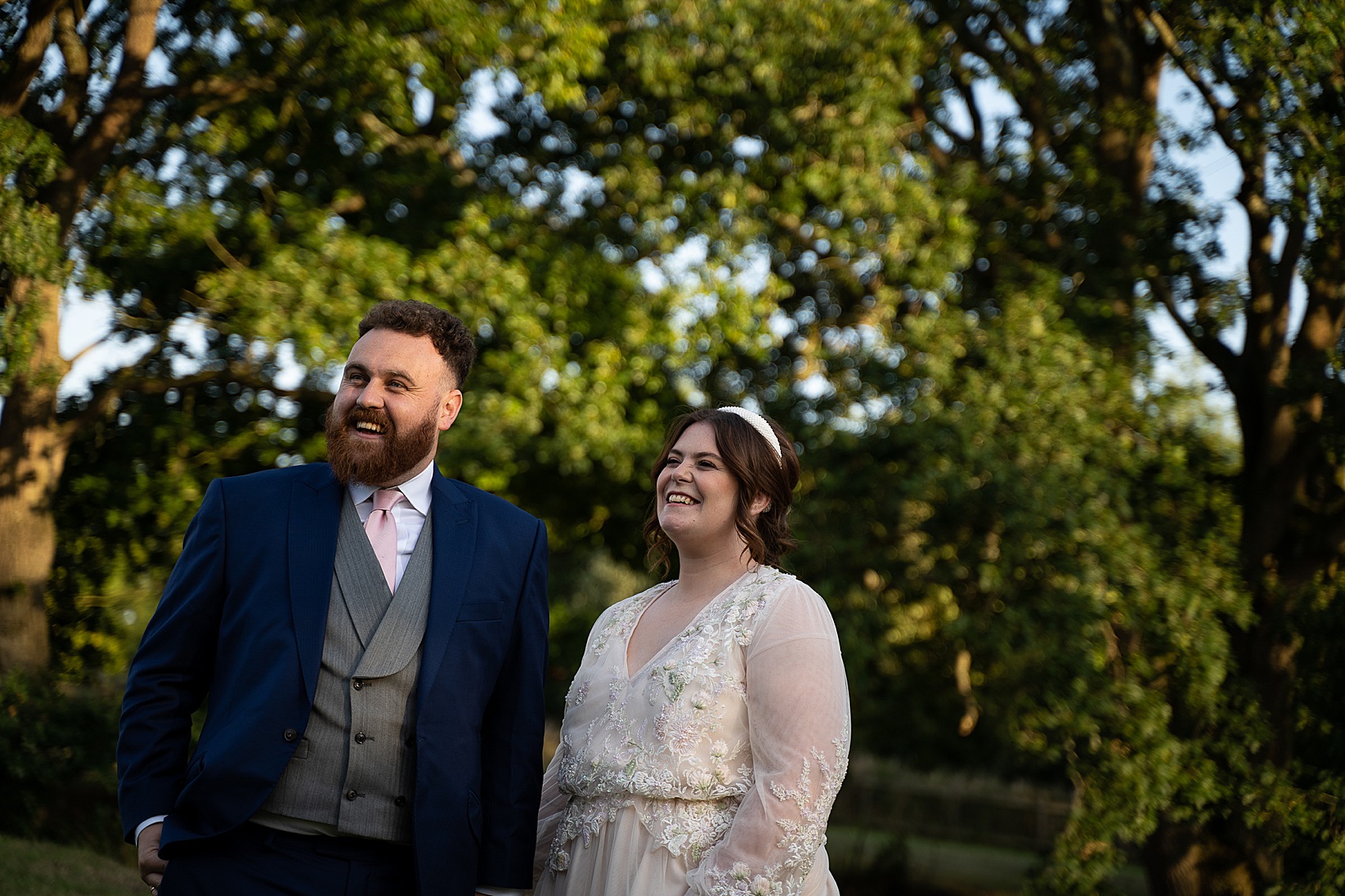 A moving record was created by wedding filmers Papertwin Wedding Films.
"I've wanted Papertwin to video my wedding way before I'd ever met Ben so when we got engaged, I showed him their show reel straight away. He agreed that they'd be amazing. We Skyped with the team before hand to go through the day and when the boys Alex and Scott arrived, we knew we were in good hands."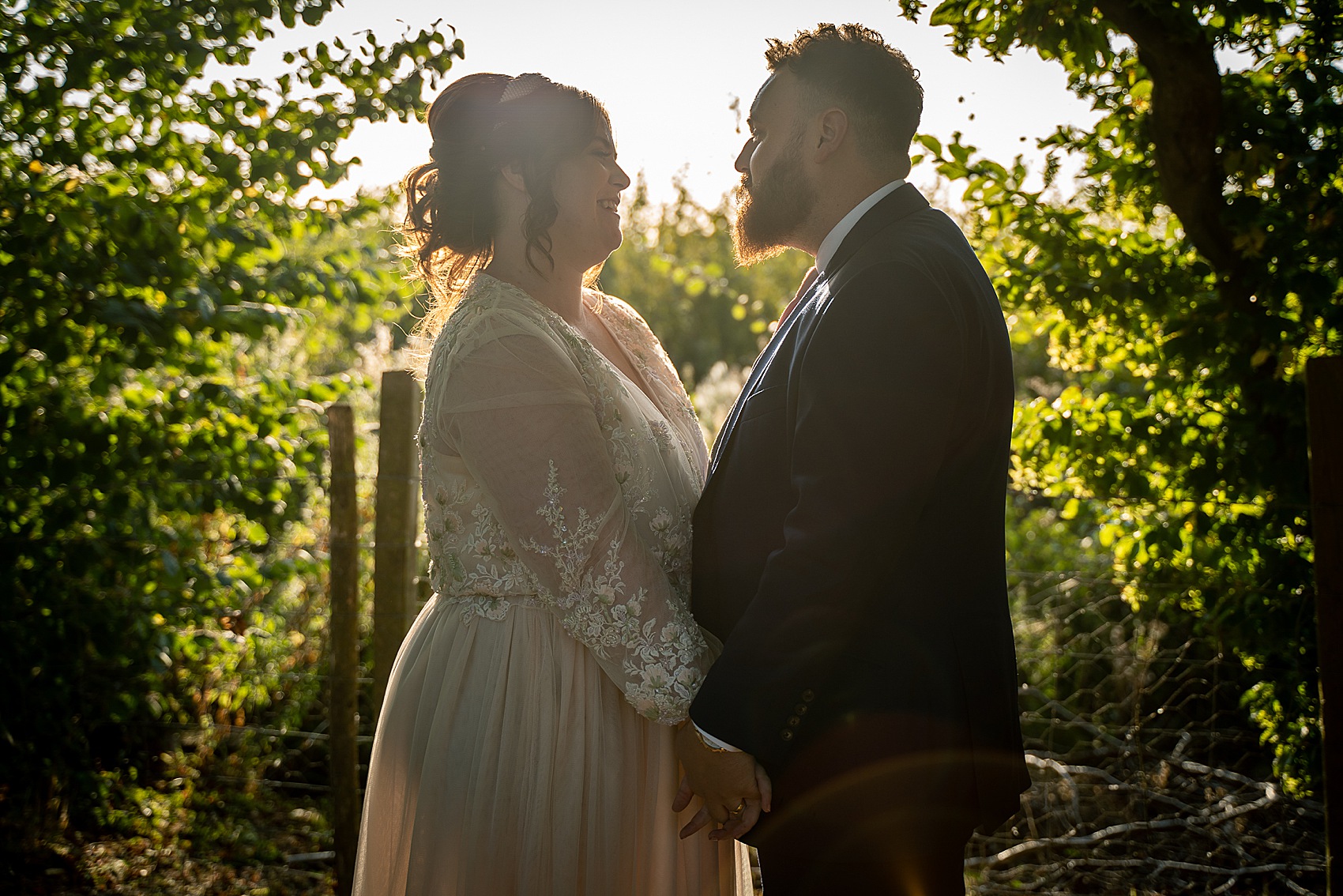 "They blended in so well and were as excited as we are over our special wedding guests. We've had the highlights trailer back from them already, a five minute video of the day and it's had us in tears every time we watch. We could not be more delighted with them."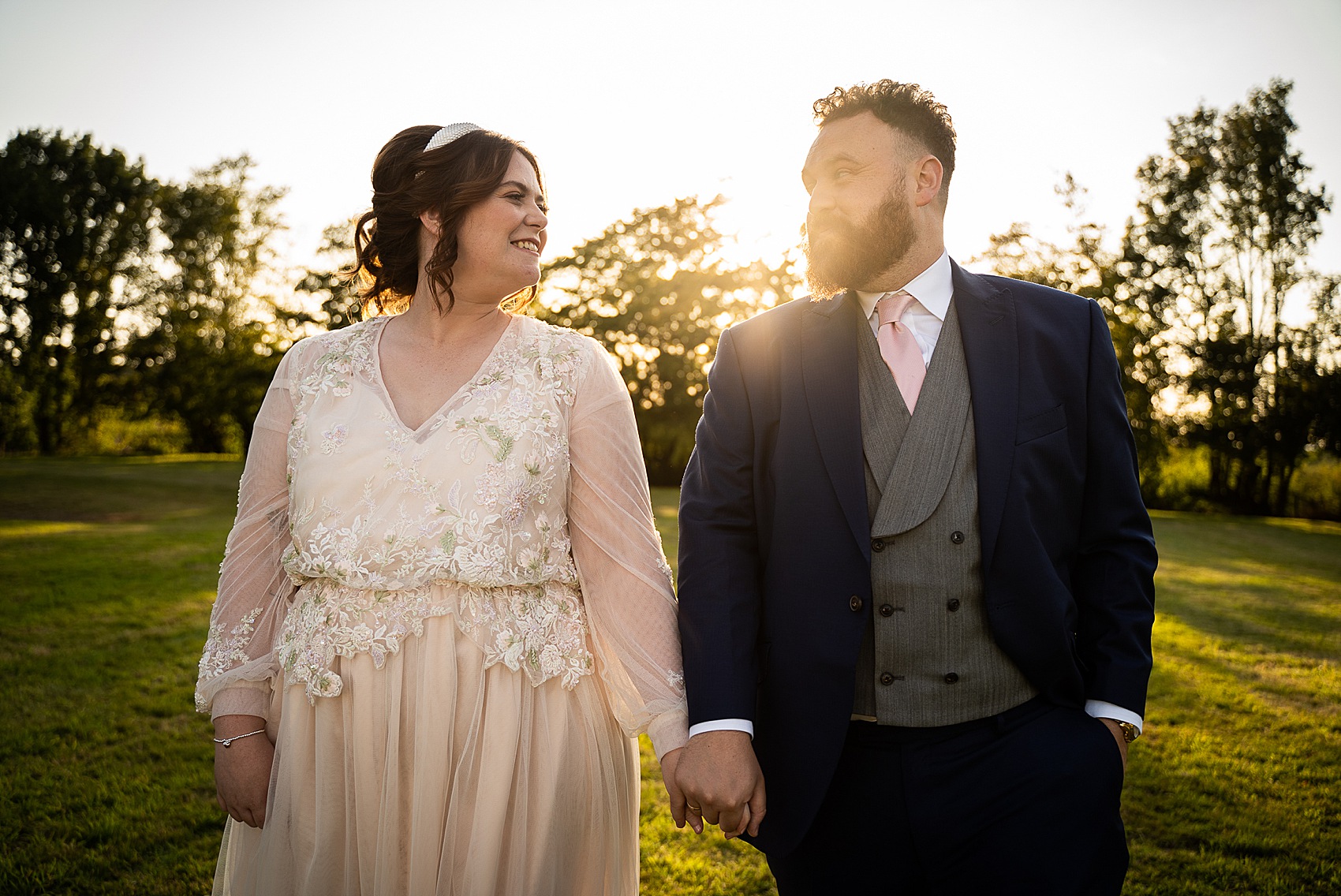 After the meal came the surprise entertainment and lots of dancing to Super Spokes, who played two sets as well as the first dance.
"Ben hired Shaun Williamson (Barry Evans in Eastenders) to surprise me and sing and I hired Ewan MacIntosh (Big Keith) to DJ between band sets."
"I vividly remember going for a walk together, at sunset – him with a beer in hand, me with an Aperol Spritz – and hearing the music and laughter coming from the marquee and just hugging, kissing and saying what a brilliant day we were having."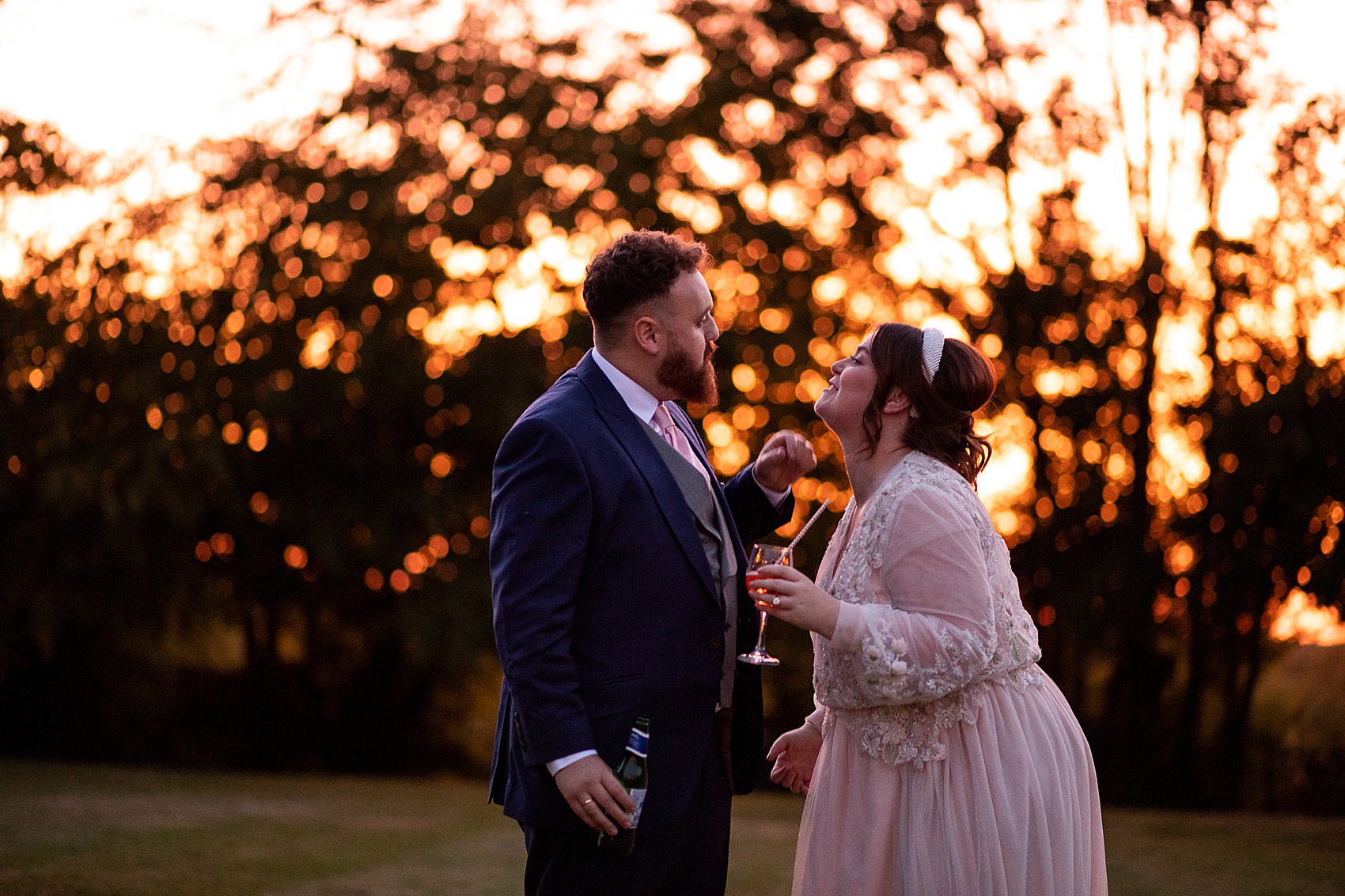 "Our first dance was 'Only You' by Yazoo, for our 'comedy' theme and when we were first dating, bonding over our love of 'The Office'. We watched 'The Office Christmas Special' one day after getting engaged and when they played 'Only You' at the end, we turned to each other and said we should have that as our first dance."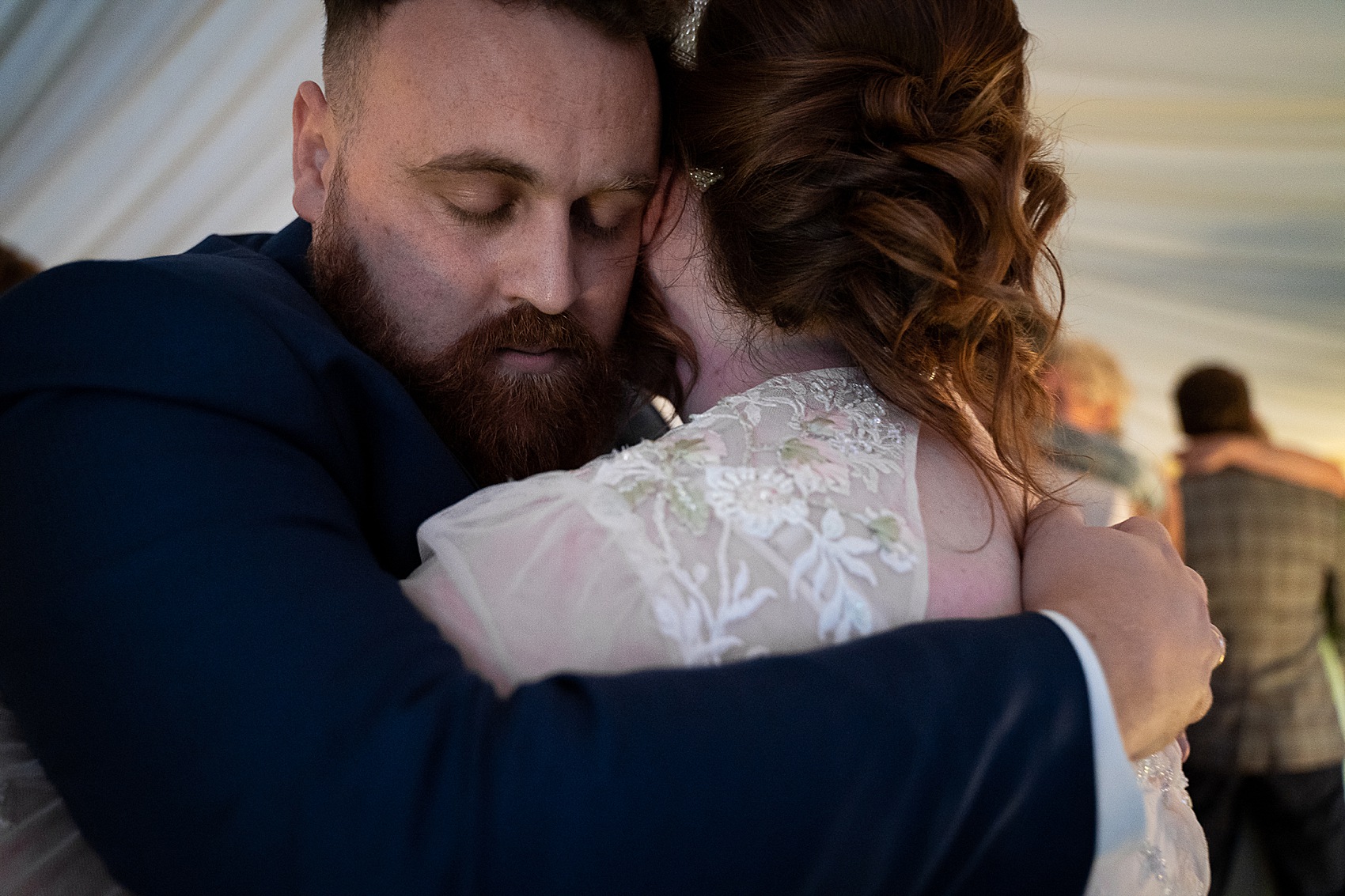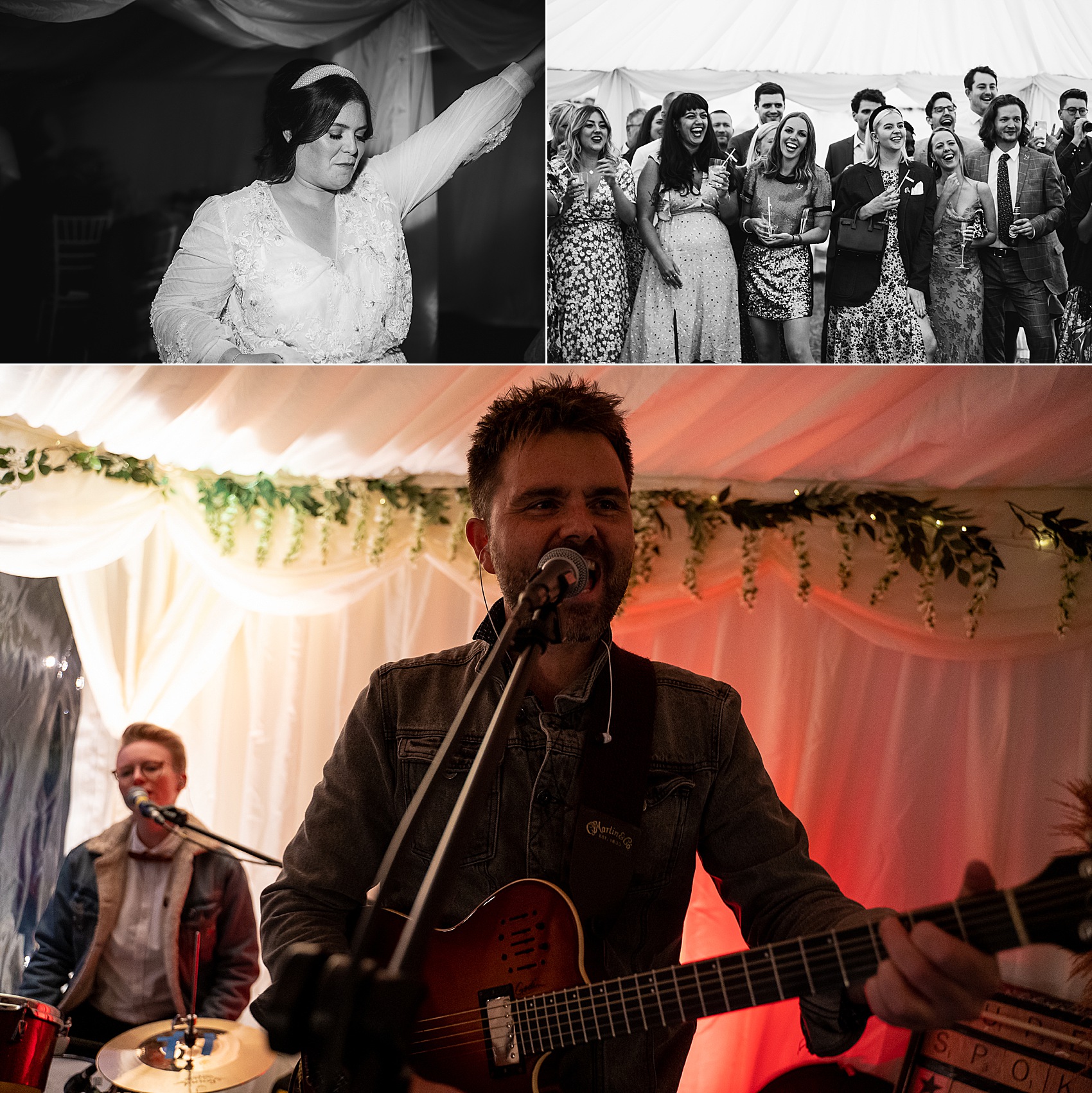 Words of Wedded Wisdom
"Remember that the day is about you and your partner. Try to include as many personal touches as possible as they are what you, your family and guests remember and love the most!"
"We didn't really have a 'budget' but wrote down a list of things that were a must – good food, good drink, a band, videographer, photographer and celebrant – and we paid for everything in bits out of our salaries each month."
"We were lucky that Ben's mum did flowers and his parents paid for the booze as our wedding present. Ben also had some savings for a house and we used some of that to pay for the caterers. We thought originally we'd like to have spent 5-10k but it ended up being double that."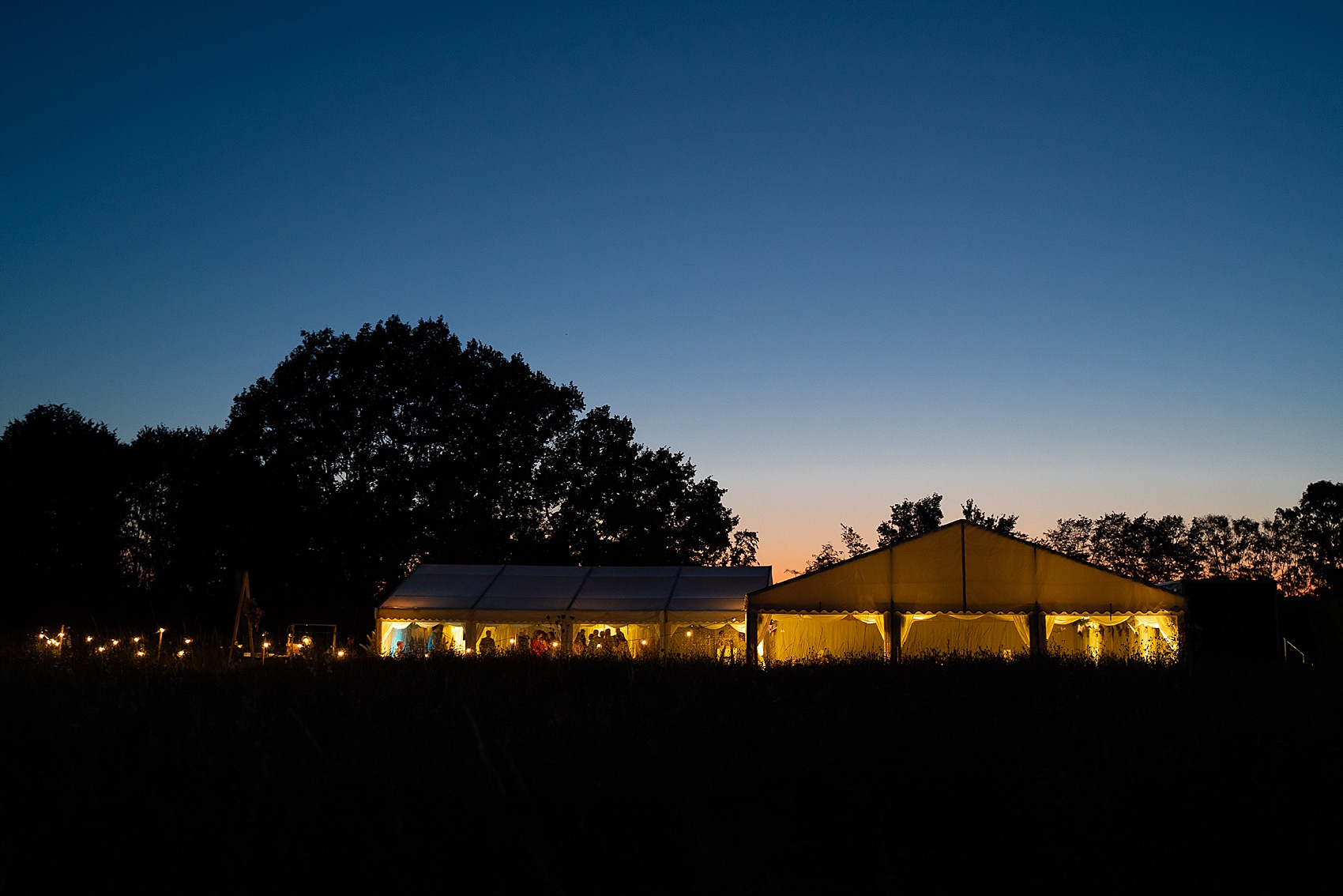 Mr and Mrs Langlay-Smith, what a pleasure it's been to share your relaxed, utterly gorgeous meadow wedding here, and what a gown. I adore everything about it, from the hue, delicate detailing and sleeves to the fabulous energy and joy you radiate on your day. Thank you to you both for allowing us to share these images, and thank you S R Taylor Photography for your work.
Ele xx