Rich jewel colours, the most elegant of gowns and magical fairy lights and candles… wherever the venue, these three elements always look sensational but put them in London's iconic The Asylum and they look even more fabulous.
Welcome to the wedding of Mary, a civil servant and Will, a renewable energy consultant whose wedding on 17 August 2019 took place in The Asylum, Peckham with a reception afterwards at the quirky blank canvas venue Shoreditch Studios in Shoreditch, London. The day was heavily influenced by two factors – Mary's Keralan heritage and the couple's shared love of music. If you haven't already, please do check out the gorgeously energetic, modern wedding film captured and edited by Hushabye Films.
"Jade. Is. A. Genius. Whilst I was always keen on having a videographer Will was not convinced. Everything we'd seen was either overly romantic (not our style) or more like a music video (too stylised for us). Then we found Jade who is not only super-talented but so open to making sure the video was what we wanted. We were more keen on a record of the day and capturing the joy from everyone than we were on a photoshoot of us."
"She only took us away from our guests for 10/ 15 minutes and  even let us find our own music since she knew how important the track would be to us. We totally lucked out with Jade, Alline and Chris (Alline's second shooter) as we had super-talented photographers and videographers who also felt like cool, new friends."
Beatrici Photography

+ Follow



The couple chose Beatrici Photography to capture the day and she did the most incredible job of absorbing up all those emotions and moments into these gorgeous, joyful images.
"Alline. Is. A. Genius. We cannot recommend her enough and we looked at a lot of different photographers before we found her.  She takes the time to get to know you, to understand the type of day you want and shares her incredible experience to make it even better. Both our venues had beautiful, but tricky, light which Alline mastered to create some incredible photos. She captured the full extent of the laughter, love and party of the wedding. The final photos are even better than we ever hoped for."
The wedding stationery was a cute and quirky suite featuring iconic London landmarks in a totally modern way.
"Our wedding invitation and table names were designed by Georgie Cooper – she's a friend of a friend and really talented. She does a whole range of styles and was great at creating the invite we had envisioned and amazing designs of our favourite gig venues."
I've fallen in love with Mary's sophisticated, fuss-free gown, with those gorgeous off the shoulder sleeves. Modern and flattering, it's also timelessly elegant. She found this Pronovias creation at London's Bridal Rogue Gallery.
"I cannot rave about Bridal Rogue Gallery enough – from start to finish the experience was amazing. I didn't really know what kind of dress I wanted other than the fact I wanted it to be quite simple. The boutique had the best range of dresses I saw and they made me feel really special every time I visited."
"They were happy making the smallest of changes to make sure it was just as I wanted it and had great recommendations for shoes and head piece suppliers. And they were honest – they told me what looked good and what didn't and I really appreciated that."
The bride's plain white cathedral veil was also from Bridal Rogue Gallery, as were her Ada Ivory shoes from Rachel Simpson.
For a touch of glamour, she slid a 1920s-inspired hair comb of pearls and crystals from Ivory & Co into her hair, which had a vintage, Hollywood-era vibe with glossy waves.
Her drop earrings and eye-catching marquise necklace were also from Ivory & Co and she wore Chanel Chance Eau Tendre.
The couple found each other on Bumble, and Will proposed on his birthday.
"Will was pictured with a beautiful husky on his cover picture and I called him out for using the dog purely for Bumble purposes and not actually owning the dog… I was right. We met for an after-work drink at my local pub, on a Monday, because I didn't have high hopes but I was totally disarmed when Will turned up."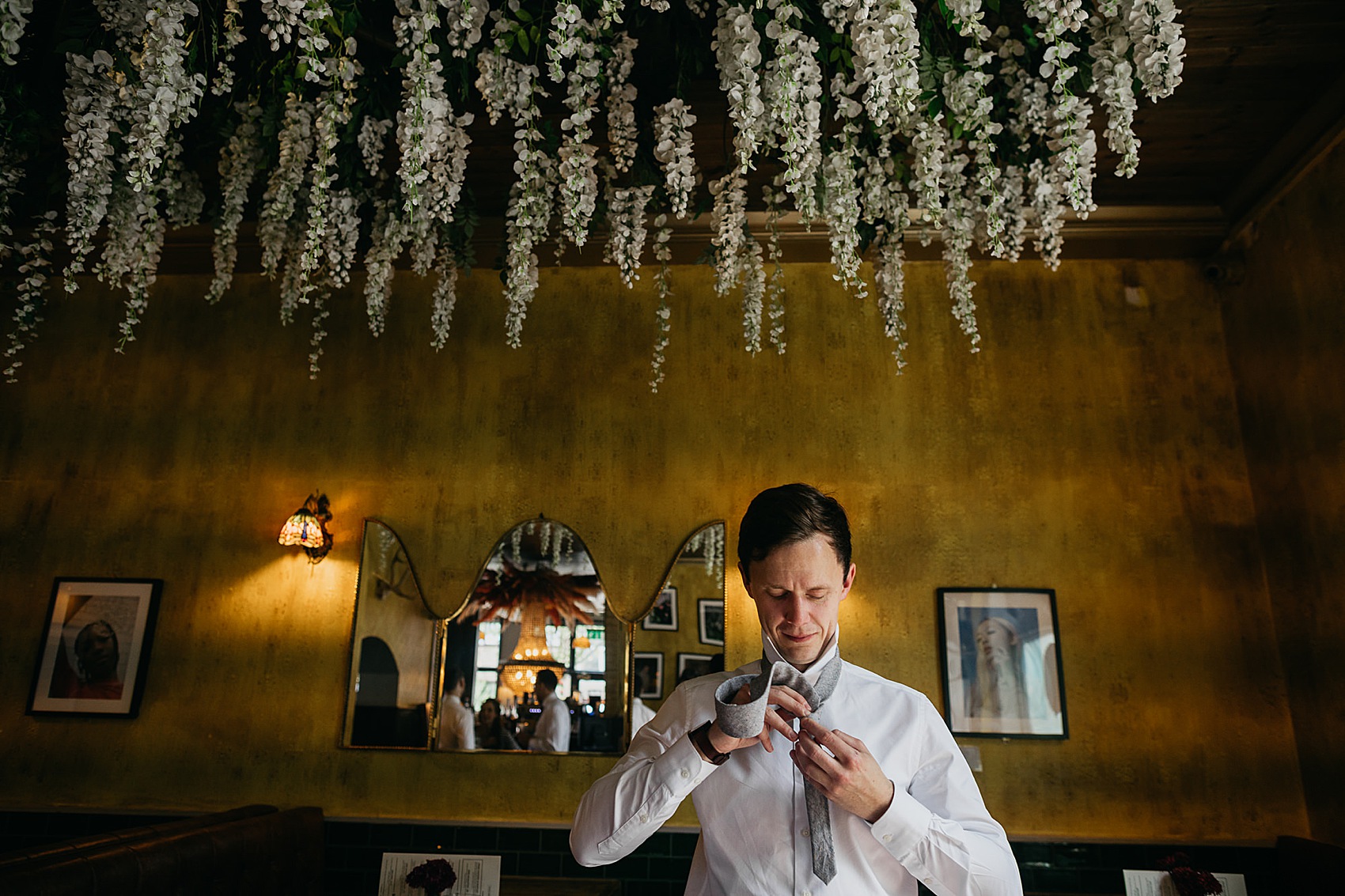 Over the eleven months between the proposal and the wedding, the couple worked with wedding co-ordinator Chris Adnitt of The Wedding Arrangers to plan their incredible fusion day.
"Chris was stationed at Shoreditch Studios on the day and liaised with all our chosen suppliers to load them in and out. He was incredible and definitely our Most Valued Player. He is a major reason why we didn't have a worry in the world and had the best time."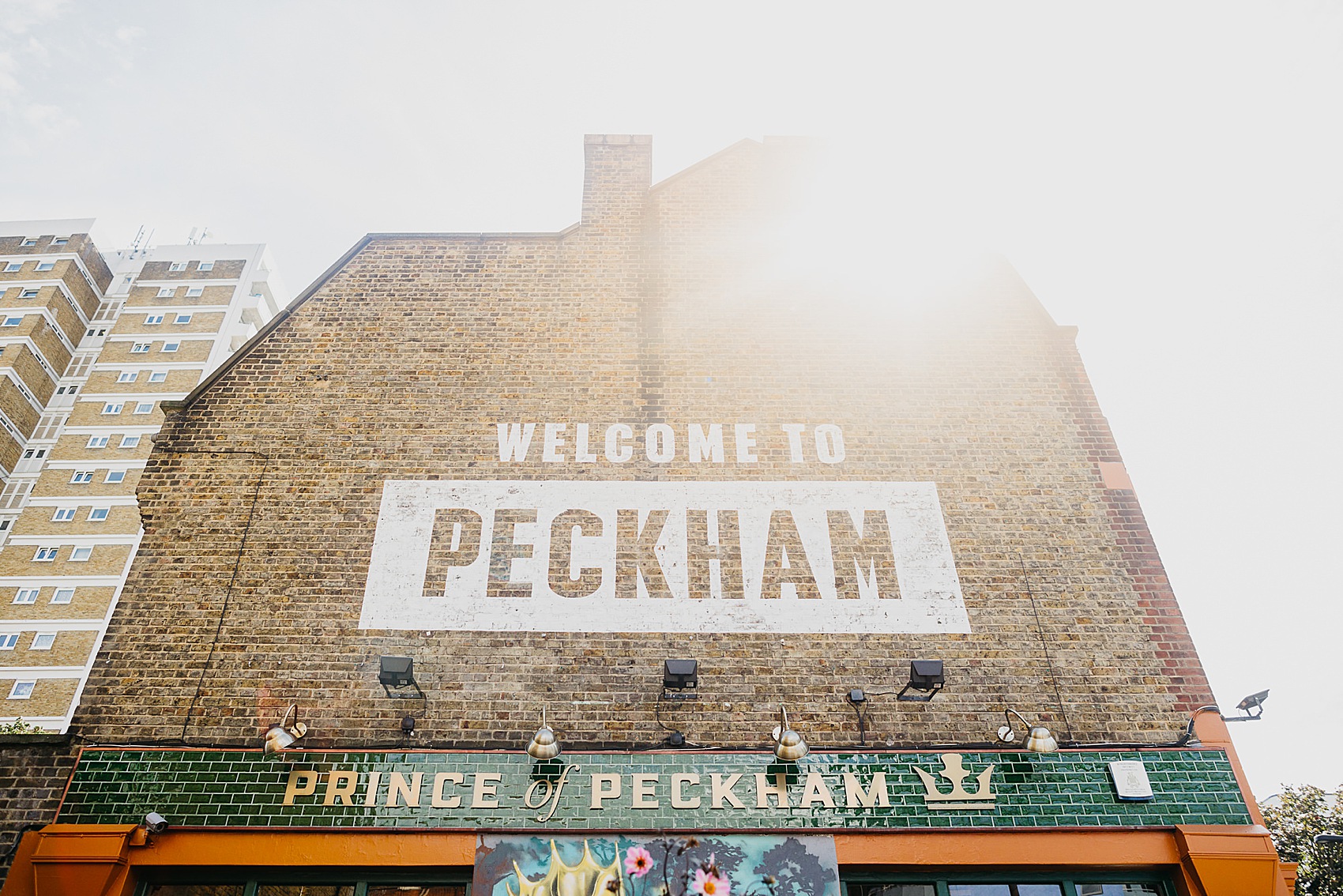 "Will proposed at home on the morning of his birthday which totally took me by surprise. After providing a lukewarm response to my excellent birthday present, Will asked me if I would like a gift and pulled out his grandmother's engagement ring. Will was very close to his grandmother and I had the privilege of meeting her a few months before she died."
"At that meeting she had told Will that he should marry me, without me knowing, so he did just that."
The bride travelled to The Asylum in a London black cab, and was accompanied down the beautiful, beautiful aisle by her mum to 'Everywhere' by Fleetwood Mac.
"My mum is the ultimate female powerhouse. Will introduced me to Fleetwood Mac and we both absolutely love this track."
"We had friends sing Fleetwood Mac's 'Everywhere' as I walked down the aisle, the lyrics of which were sewn onto a denim jacket that a friend made for me, we had gig venues for our table names and we spent most of our wedding planning time finding our band and DJ."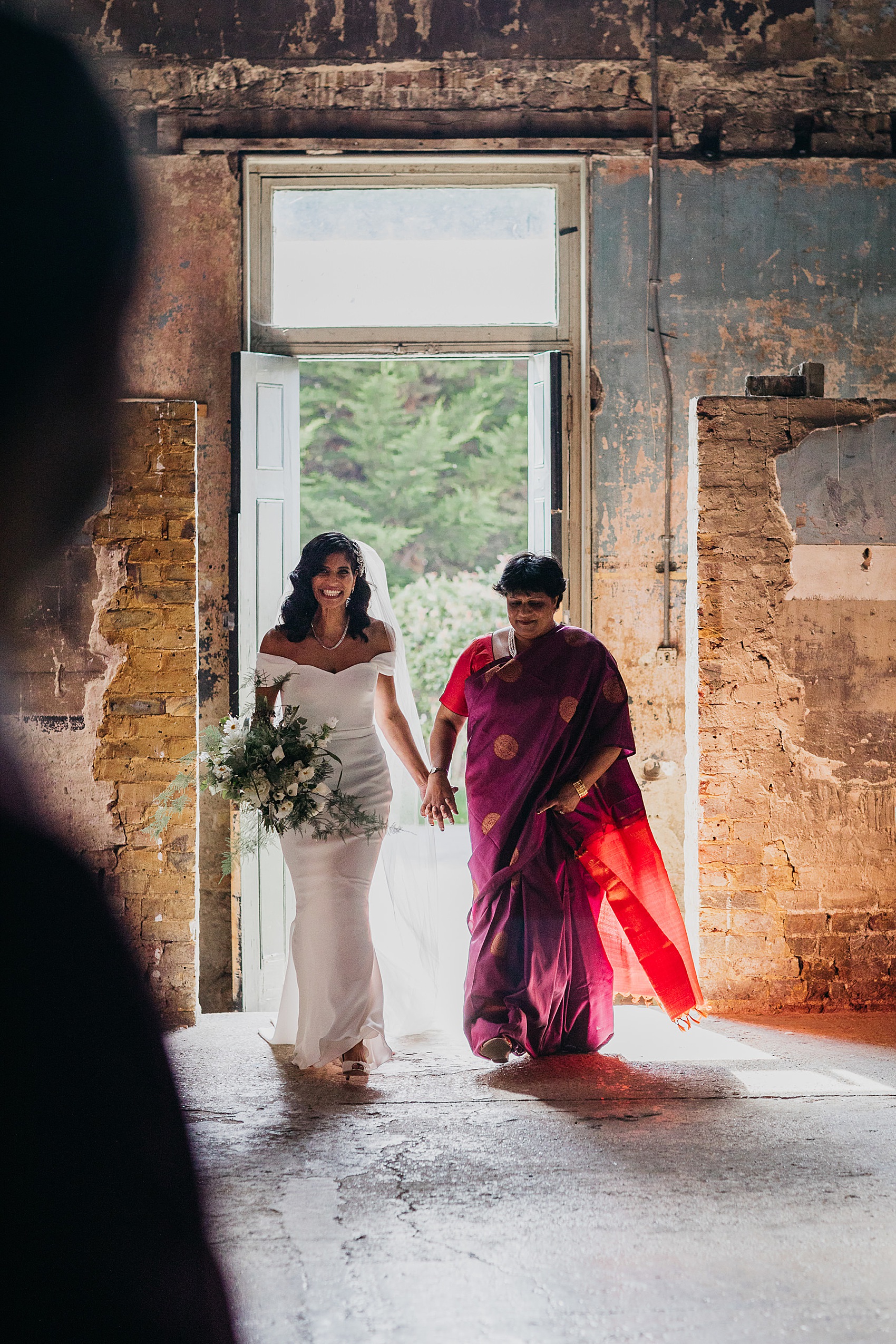 As there was so much colour from the girls' sarees, Mary chose white flowers from Birksen to complement them.
"We went for plain white flowers with simple foliage in quite wild bouquets. All we had in the chapel were two large vases of flowers on the pedestals by the altar as the chapel is so striking by itself. At Shoreditch Studios we had small jars of white flowers, foliage and peacock feathers to bring it back to India."
"Tim at Birksen is brilliant – he knows his stuff perfectly and doesn't try to oversell. We had total confidence in him pulling together beautiful, yet simple, flowers for our day."
Will and Mary's service was based around a simple civil ceremony but also included an Indian ceremonial part full of meaning and emotion
"We had a registrar from Southwark Council and we really lucked out with Jennifer Mitchell. She had real warmth but also gravitas and was perfect."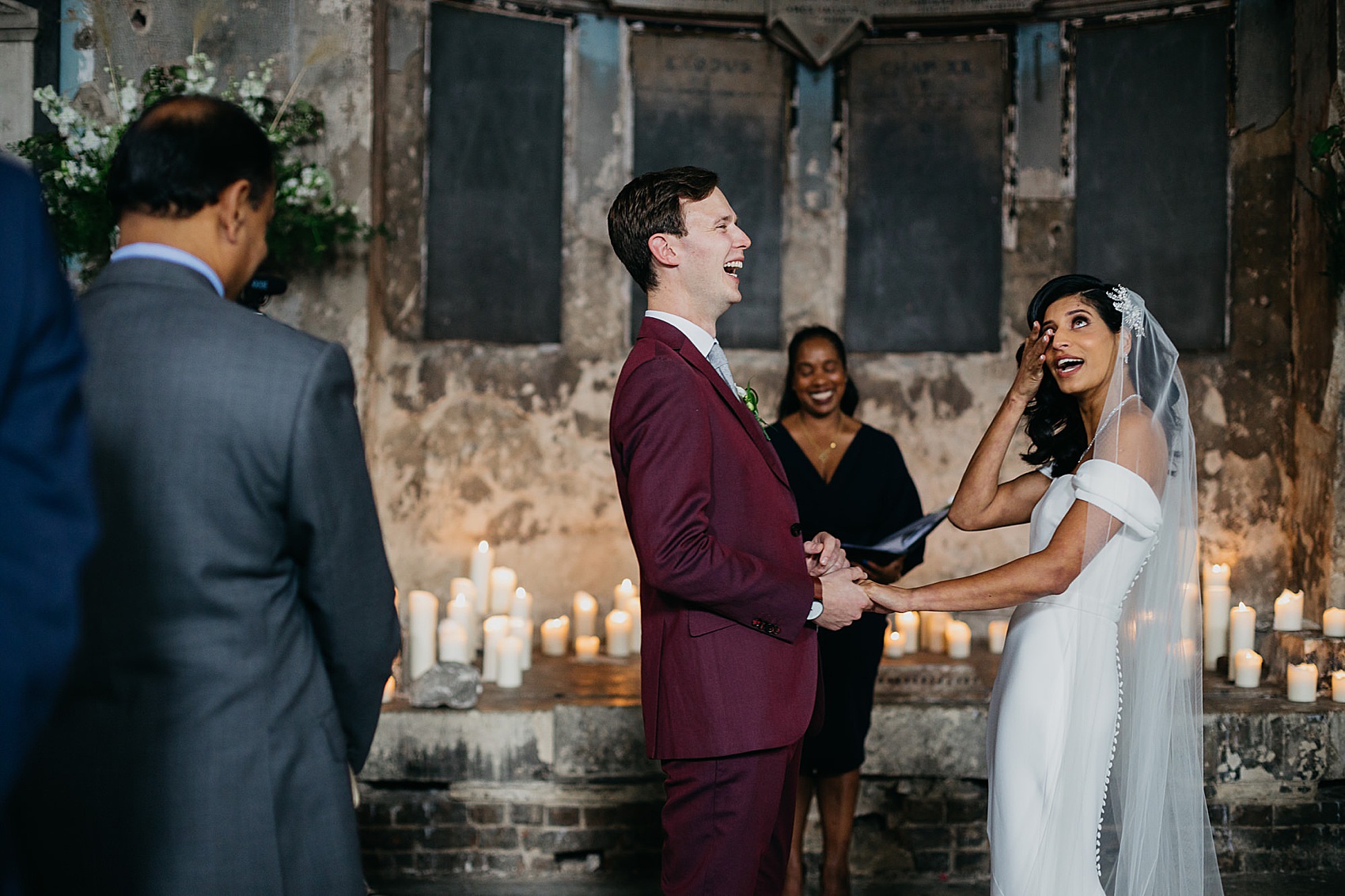 "As part of the Indian ceremonial part of the service, Will gifted me a purple and gold saree that had been bought in India. Alongside the saree, he tied a small gold pendant strung on seven strings from the saree around my neck."
"The seven strands represent the bride, the groom, the parents of the couple and the love between them. The groom ties the necklace around the bride's neck as a gesture of love and commitment between him and the bride as well as their families."
As well Mary's sister explaining the 'Gifting of the Minnu and Manthrakodim' the service included a reading of 'All I Know About Love' by Neil Gaiman as well as an extract from 'The God of Small Things' by Arundhati Roy.
"Arundhati Roy is a family friend from Kerala and the photo of the lily pad on the cover of her book is taken from my Aunt's garden in India. This book is beautiful and Will's mum actually gave it to him to read just before we met."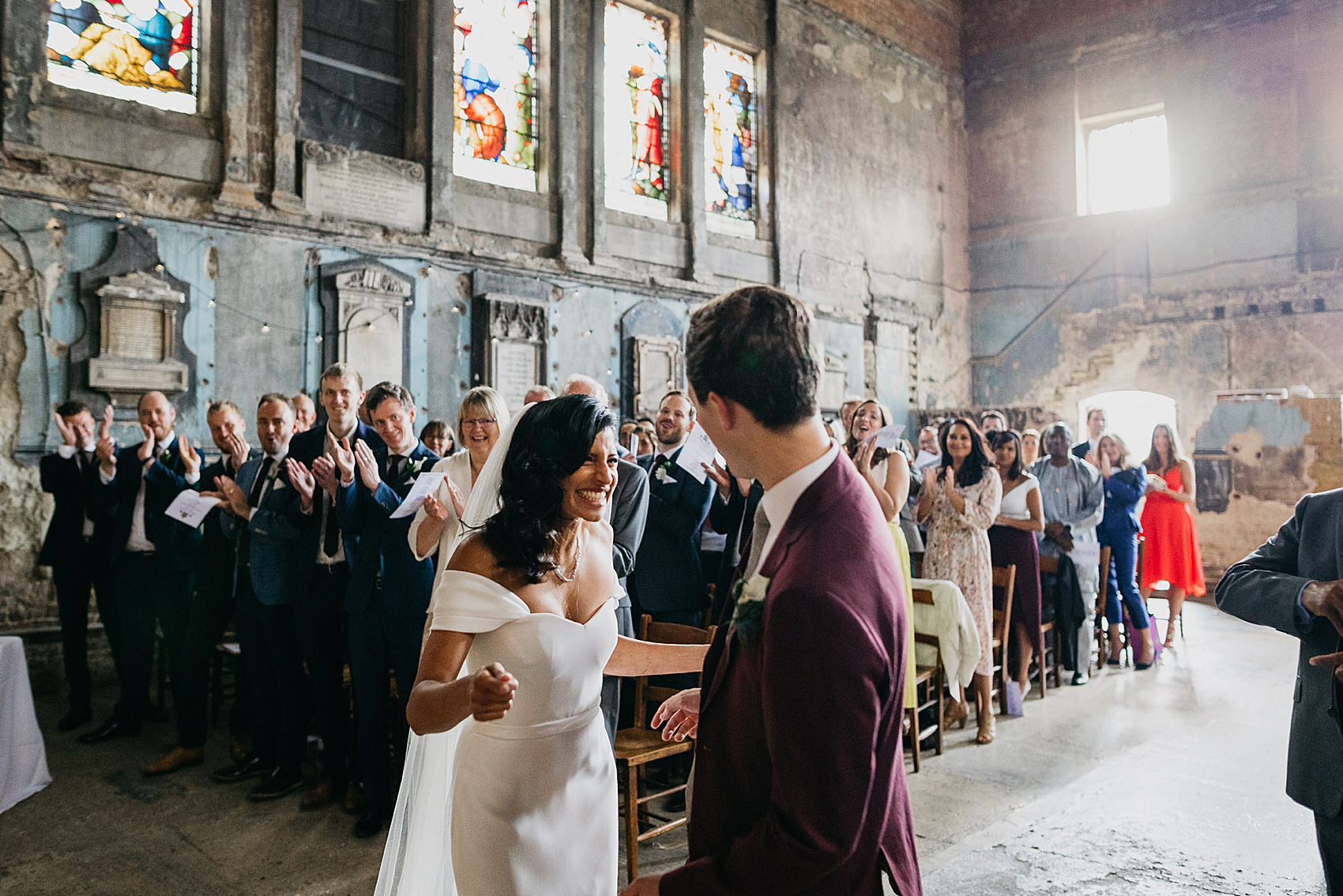 "The wedding ceremony itself was a highlight. Actually saying the words to the person you love most in the world is an incredible feeling – and was surprisingly emotional for me as a non-soppy person most of the time."
The groom's slim, rose gold wedding band was a bespoke design from a local silversmith in St Albans.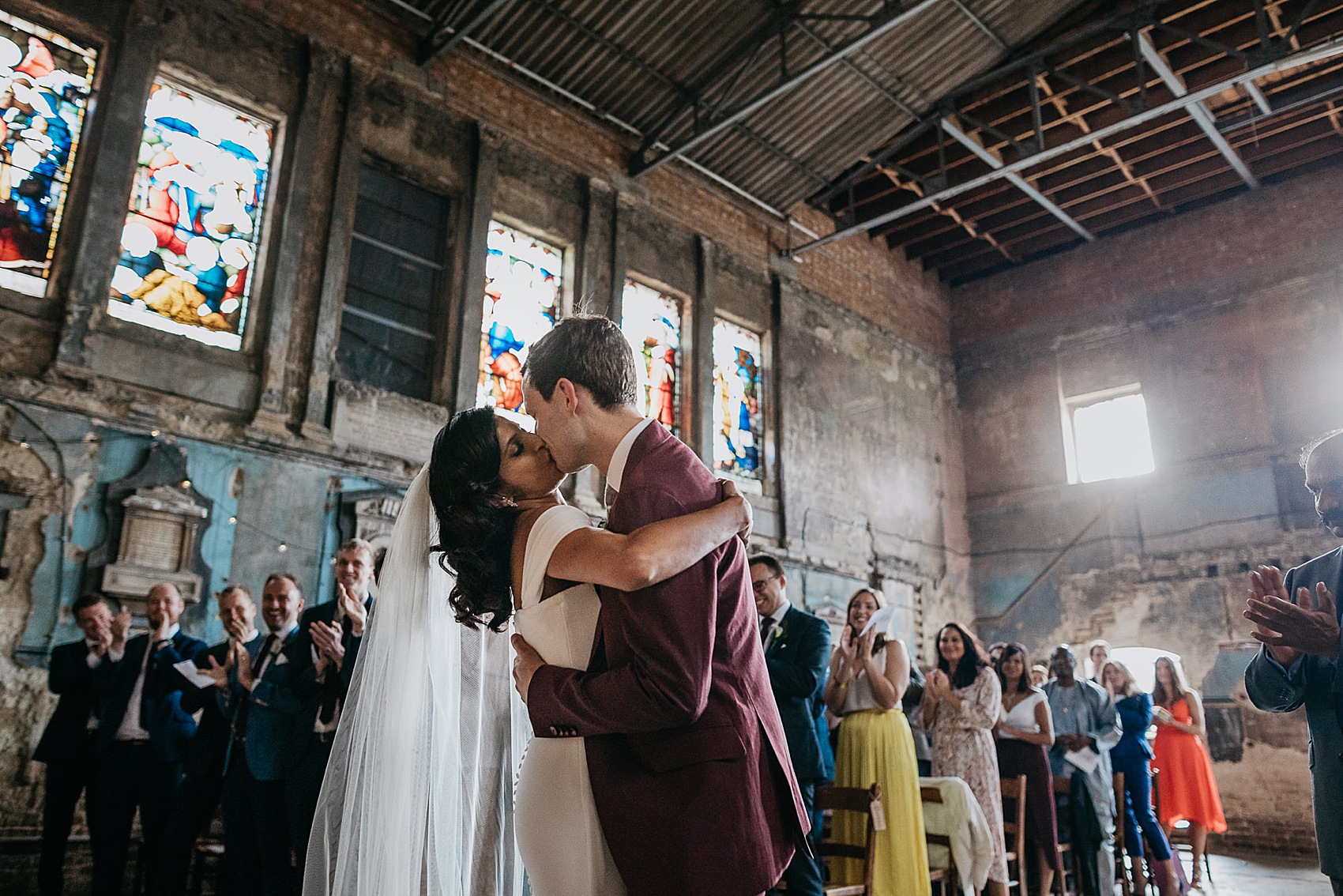 "My wedding ring was made bespoke to fit my engagement ring. It's a plain, thin, platinum band that we had made at Daniel Christopher in Hatton Garden."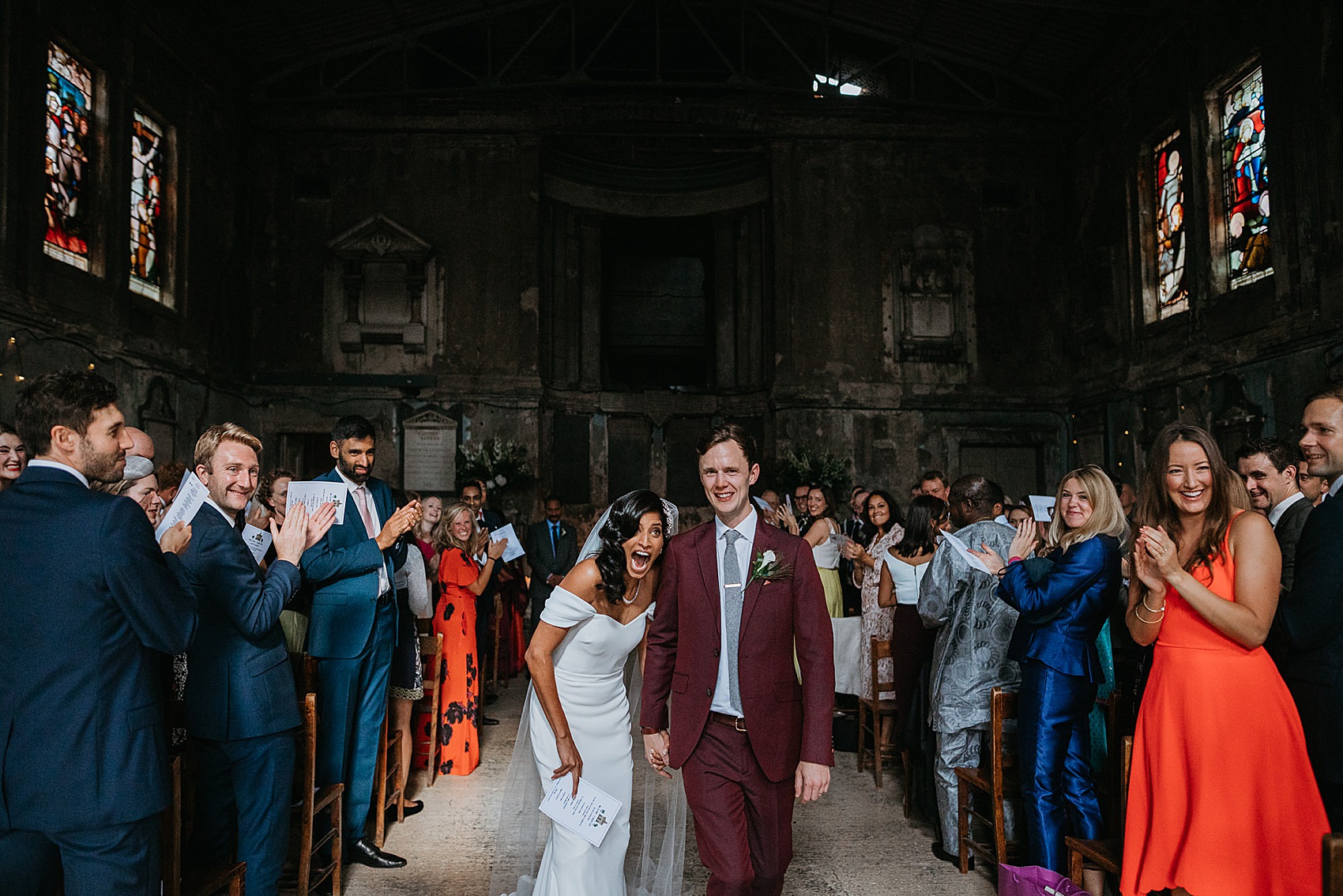 The Asylum is full of hidden, beautiful spaces, just perfect for the newly-weds portrait shots and, after these, they hopped on to read London buses, with time for another outdoor photoshoot in the cool Shoreditch cityscape before the celebrations resumed.
"We travelled with our guests on two old red route master buses – provided by Traditional Travel Ltd – from The Asylum, over Tower Bridge and to Shoreditch Studios. Our guests had 'Will & Mary' quizzes, copious amounts of bubbles and we swapped buses halfway through. It was the best!"
Will chose to go for a rich, jewel-toned outfit, finding his burgundy suit at Etro and pairing it with a grey tie from Etsy, a rose gold tie pin from Amazon and a pocket square made using extra material from Mary's wedding saree – more on this later.
"Despite having grown up in London, my family and my roots are from Kerala, South India so we were keen to pay homage to the culture through our wedding."
"Our bridesmaids wore sarees from my family's collection, we had an additional Indian wedding ceremonial aspect, we served Indian food and my mum made home-made lime pickle as our party favours."
"We are obsessed with music and spend most of our free time at gigs, festivals and raves so incorporating music was really important."
I love the personal element of the colourful, jewel-toned sarees which came from Mary's family collection.
"These were sarees that my mum, my sister and I had worn over the years. Each one had a memory and a story attached to it and it was a privilege to see the girls in them."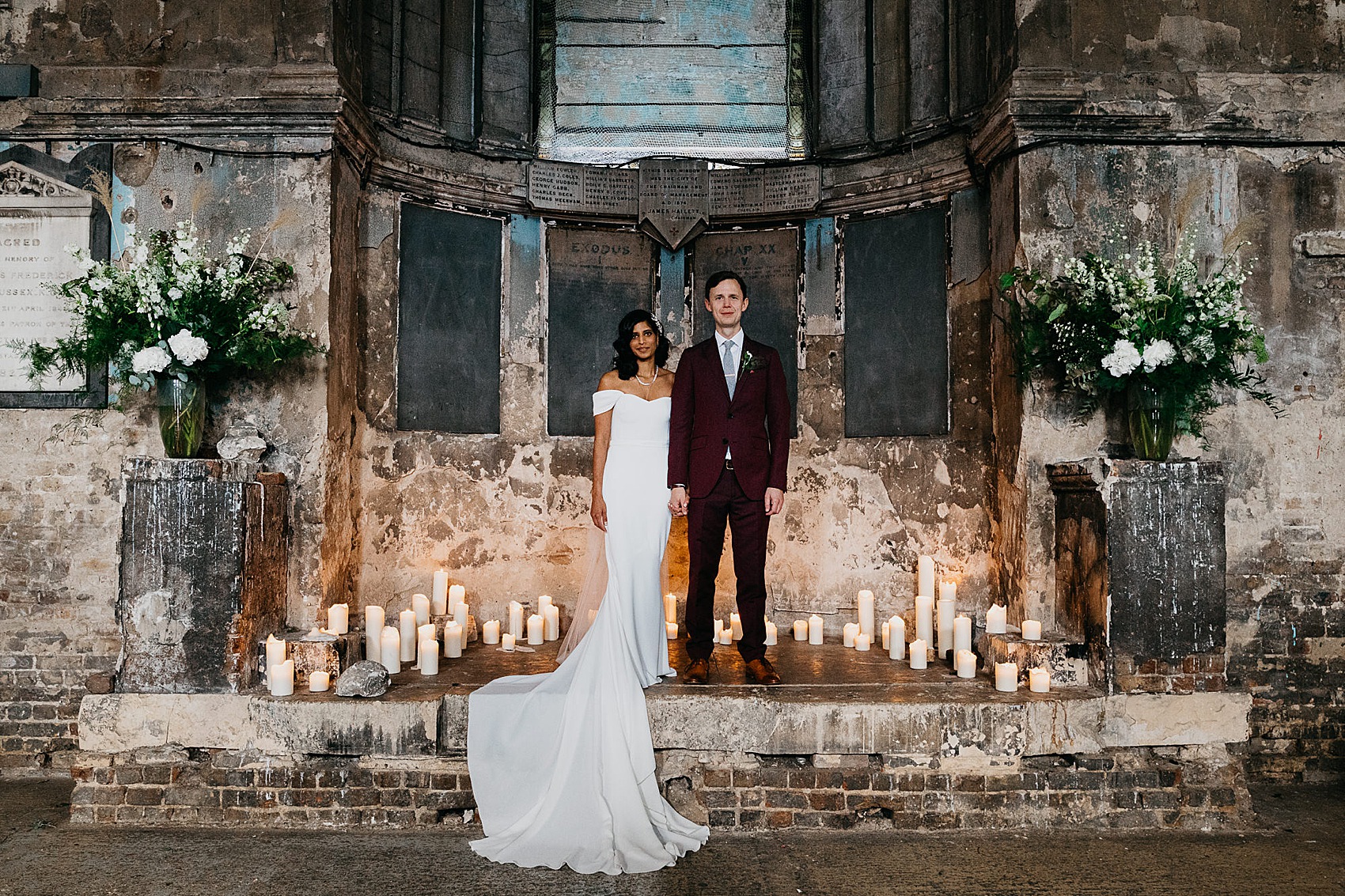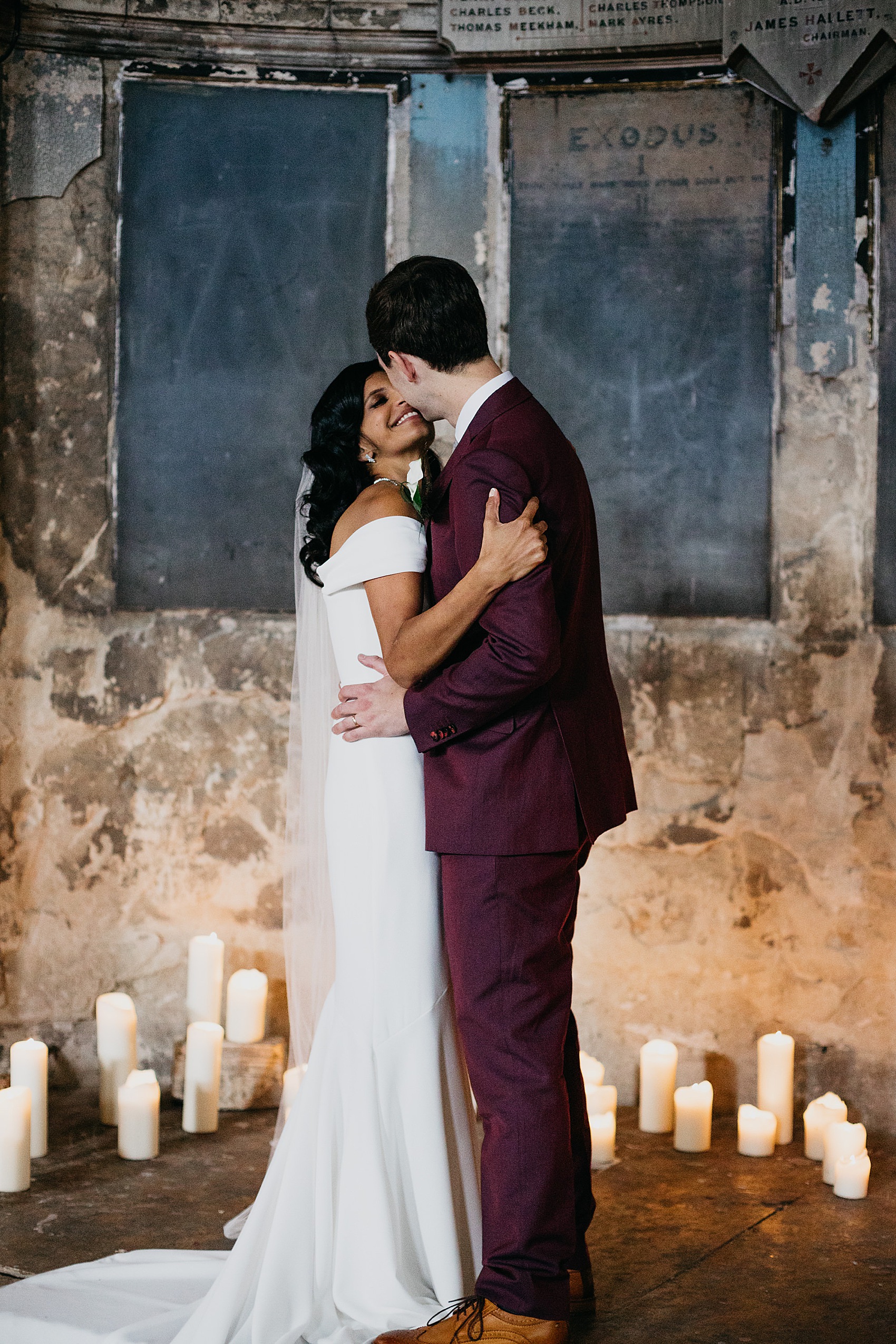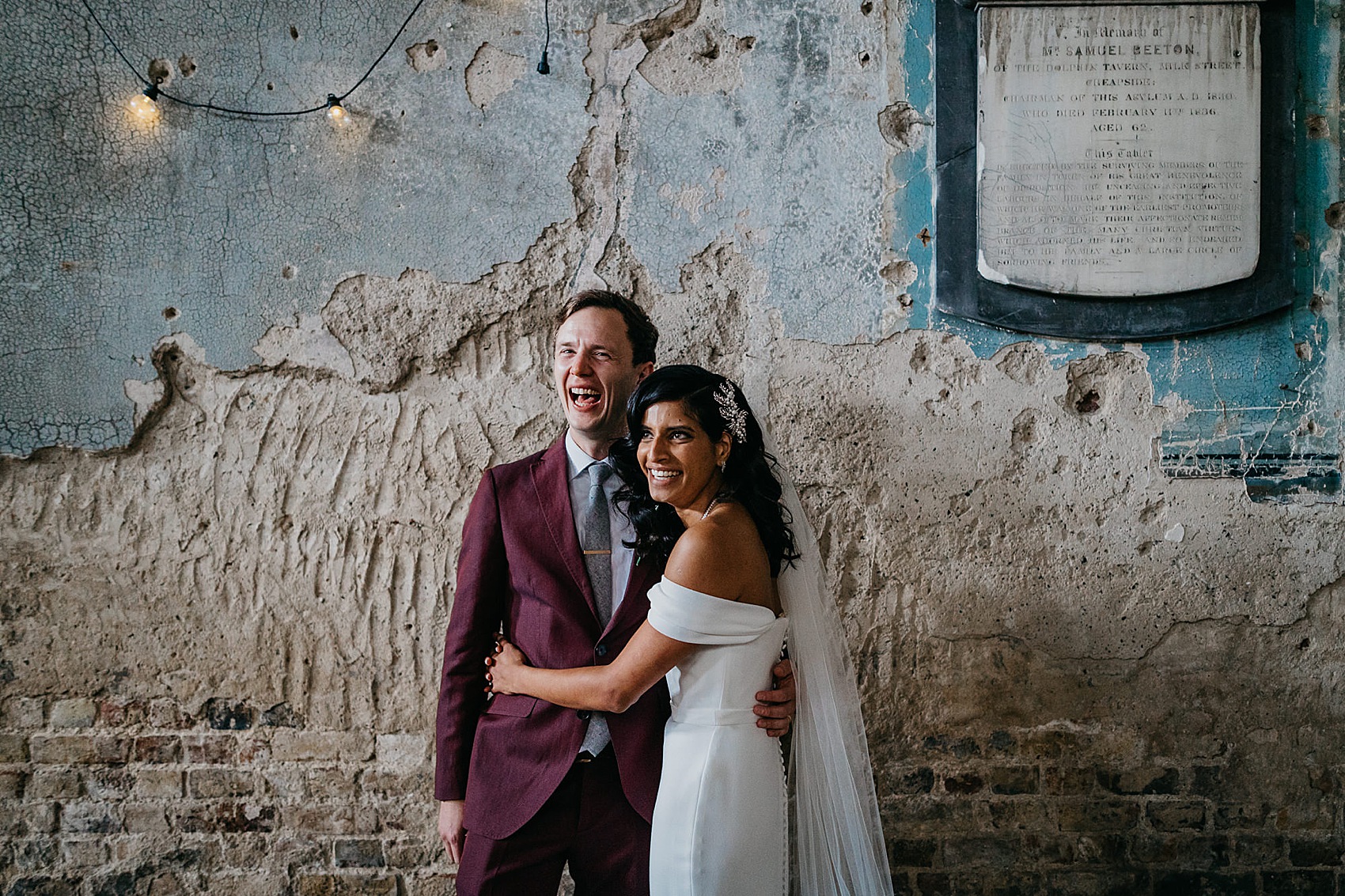 To flatter the bridesmaids' individual styles and looks, make-up artist Laila Kesavan and hair stylist Shama Mirza created their glowing, radiant looks.
"Both ladies are masters at their trade – they made me look like myself but at my best. I was really conscious of not being caked in makeup and hairspray so that I was unrecognisable from my day-to-day self. These ladies would never have let that happen."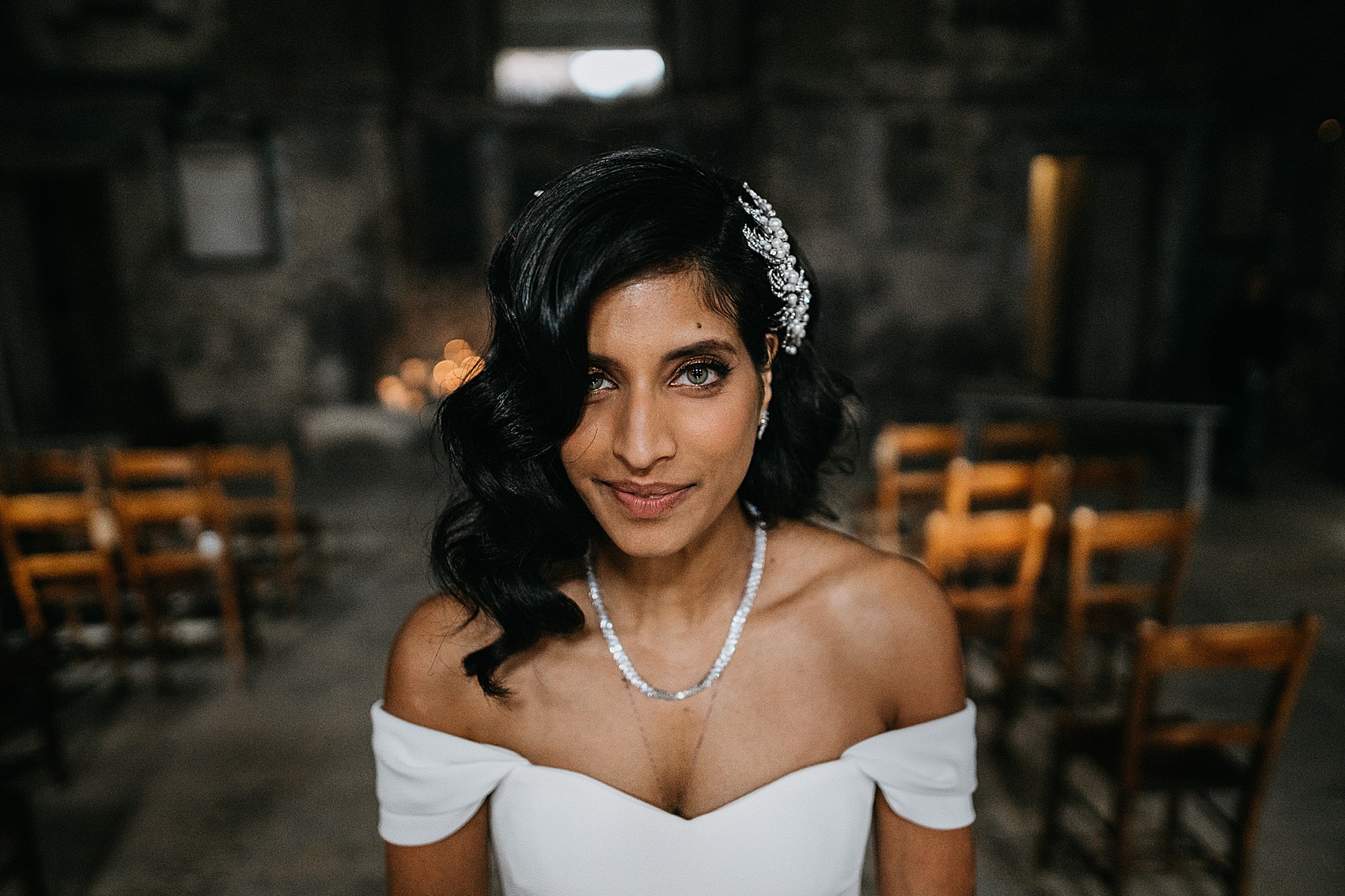 The blank canvas of Shoreditch Studios had been transformed with flowers, furniture and lighting for a cosy, intimate look.
"On top of the flowers we had lots of festoon lights and a light curtain from KSS Event Production for one of the arches. The other arch had uplighters, pin lights, scan lights and haze from KSS. We got our trestle tables, chairs, bar and barrels from Anthology Vintage Hire. We had one table with photos of our grandparents' and parents' weddings as well as our guest book (with Polaroid camera) and a second table with glow sticks and glitter.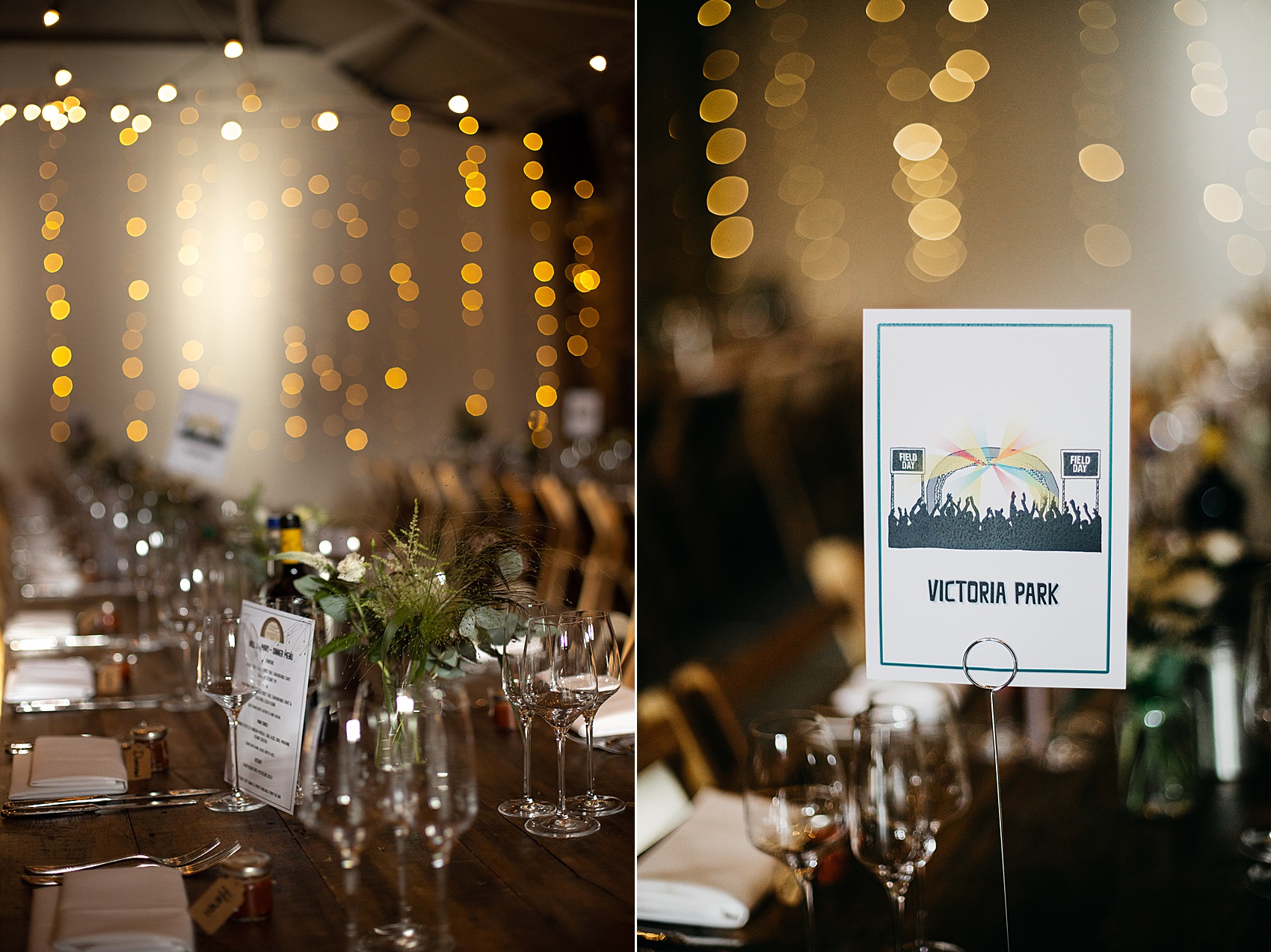 "My mum made a delicious lime pickle which we packed into small jars and tagged so that we could use them as place cards."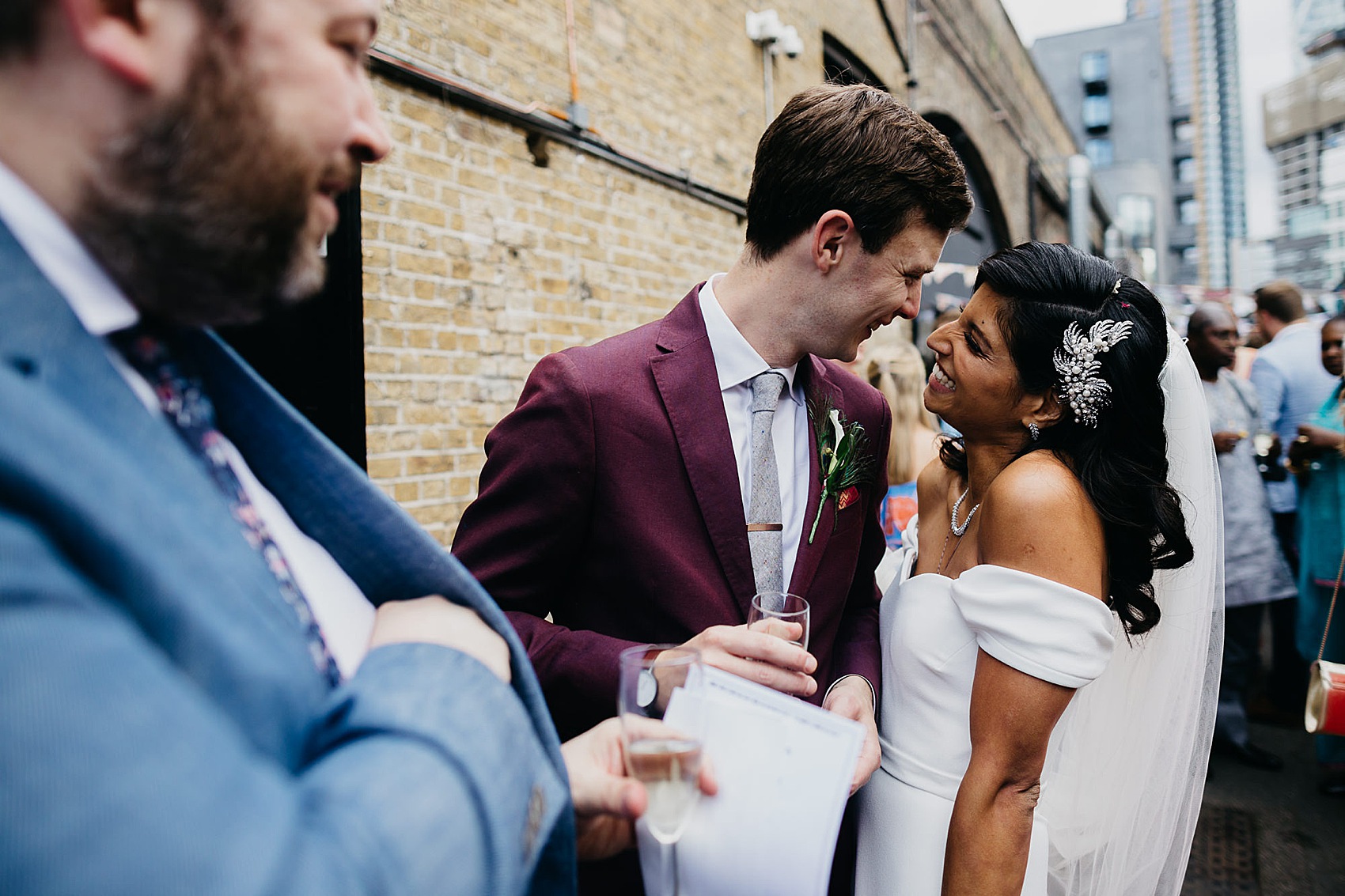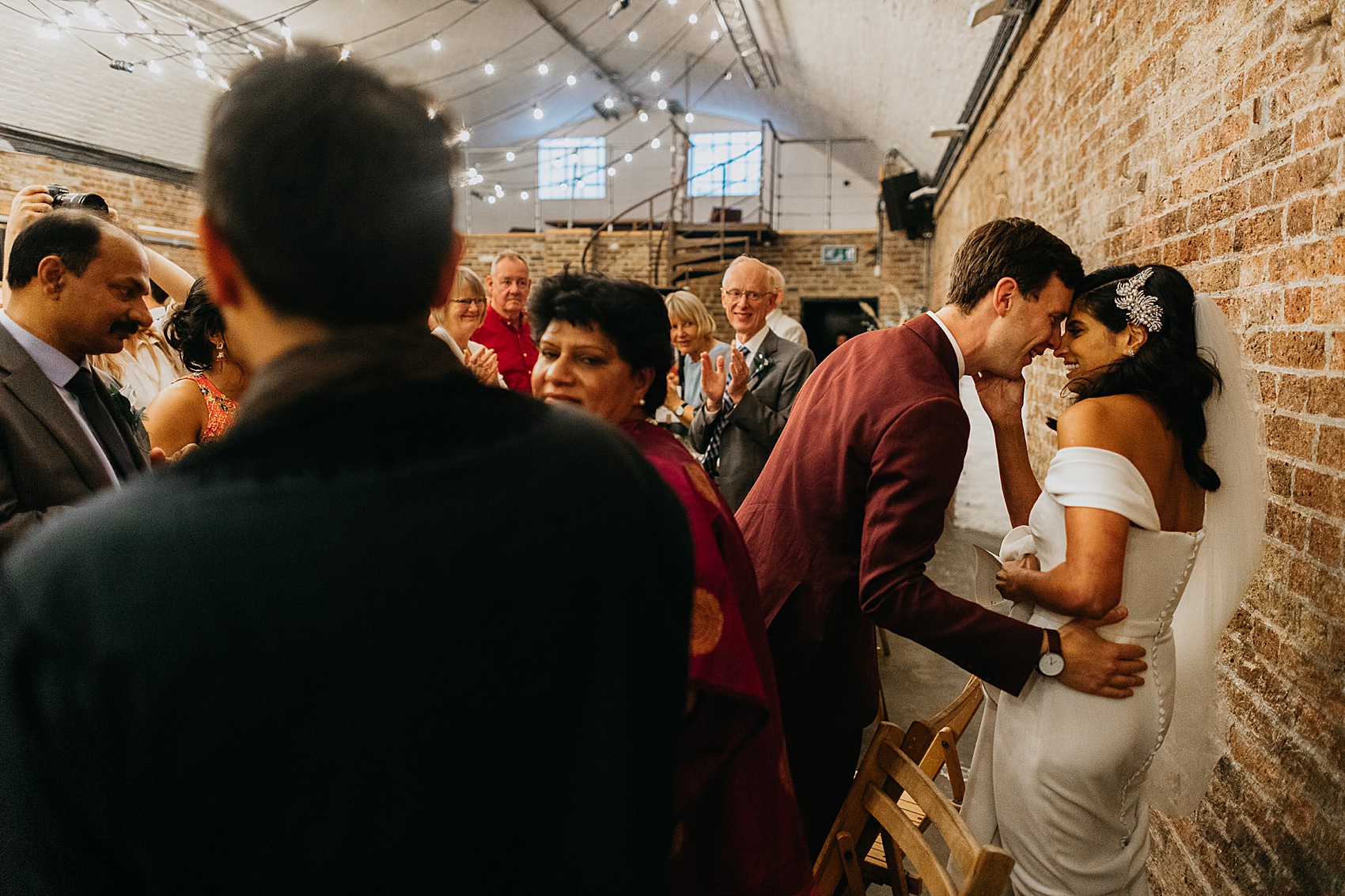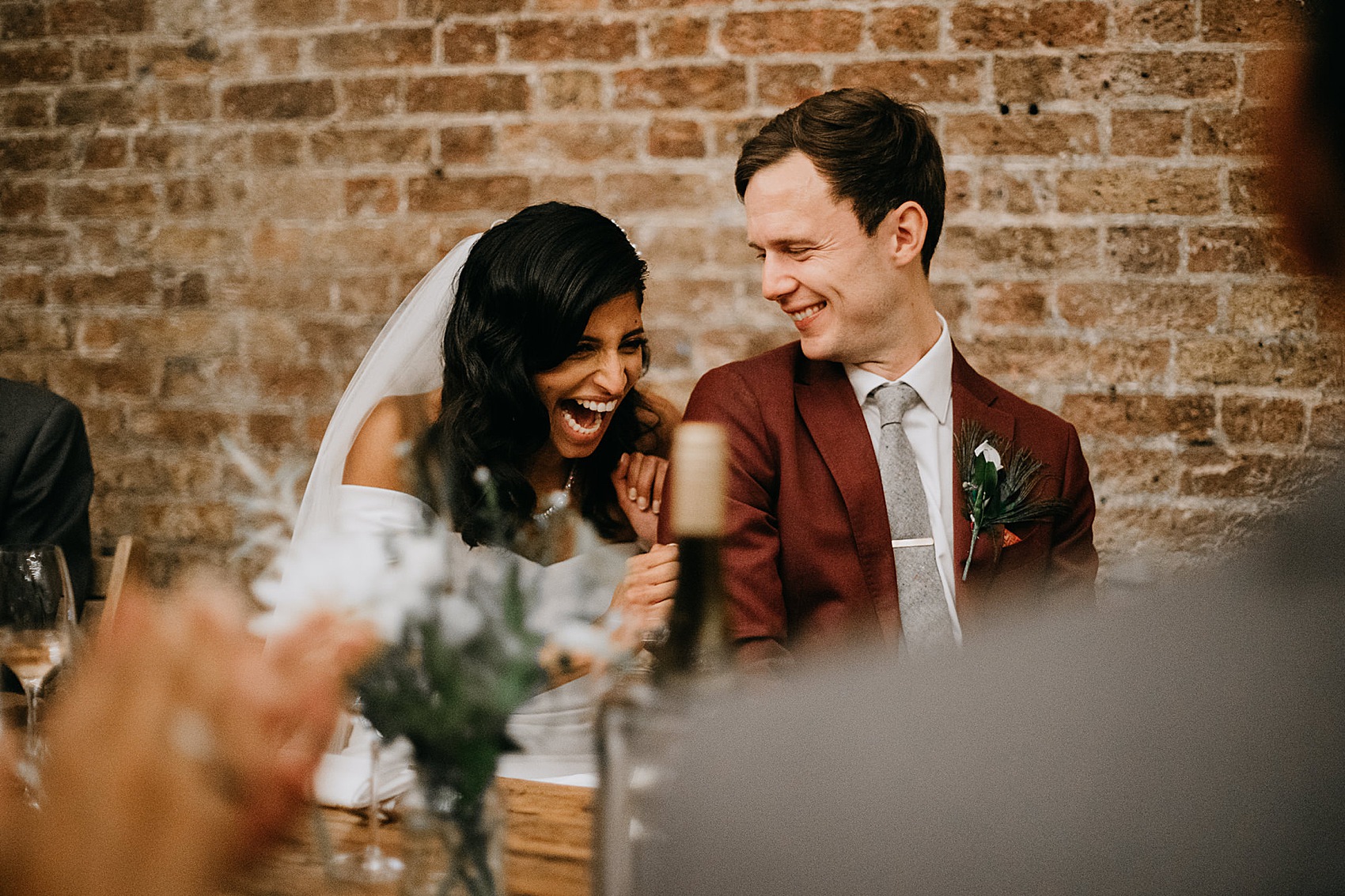 Food was a massively important part of the day and Saffron Culture was able to deliver and please the most discerning of guests.
"My family are fussy about Indian food that isn't cooked by my mum and this food was exceptional. So many of our guests described it as the best food they had ever had at a wedding. Manpreet who runs Saffron Culture is an absolute dream. We did two tastings and he was happy to tweak the menu to suit our tastes, which was amazing."
"He provided all of crockery, glassware and staff on top of the food and everything was perfect. There was no cake. Why have cake when you're serving an incredible Indian dessert?"
"There was an amazing moment where I looked up from my seat at dinner and looked out across the trestle tables and just saw 130 of our friends and family alight with chatter, laughter and a whole lot of love. It was such a privilege to have them all there for us."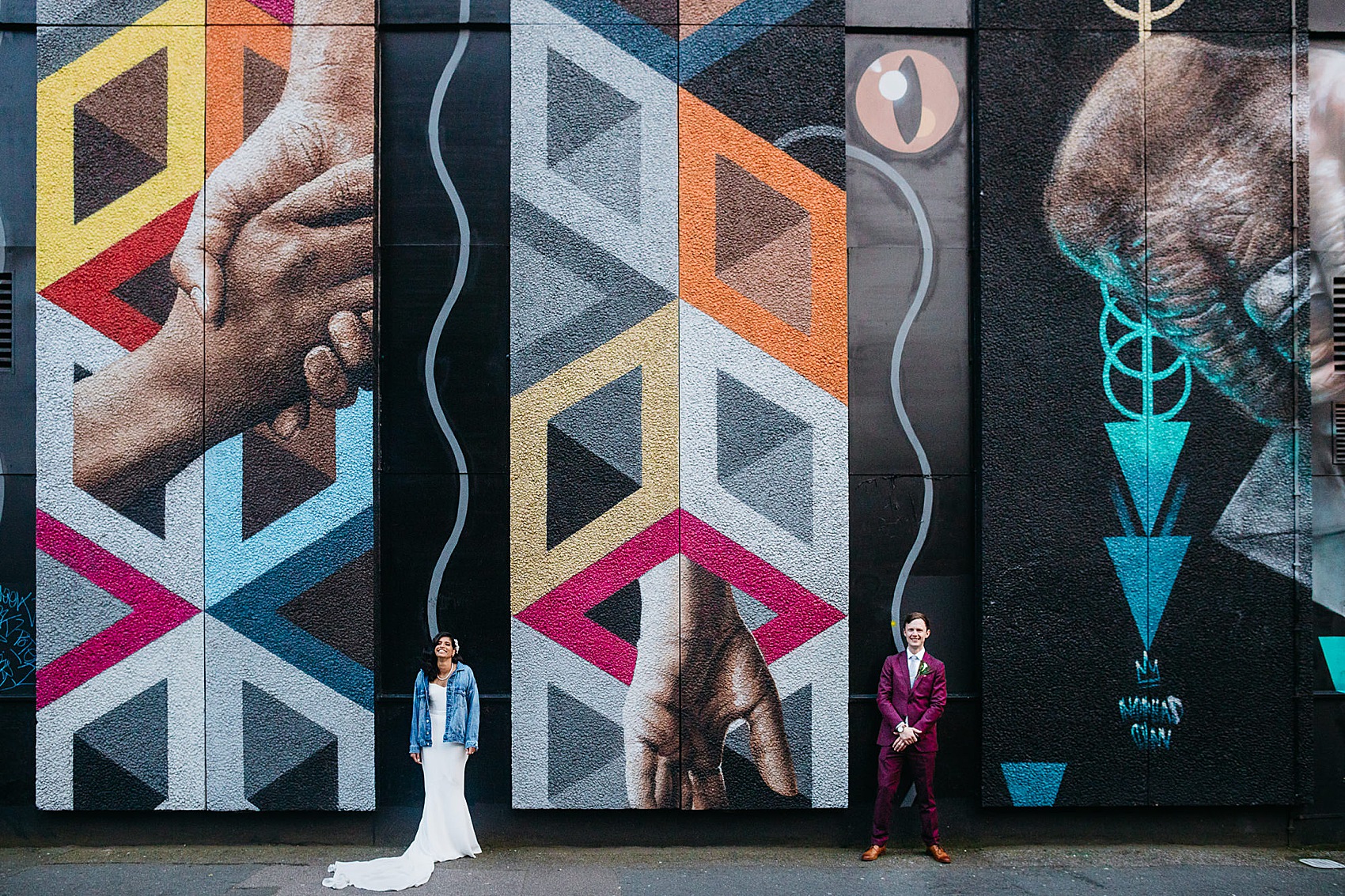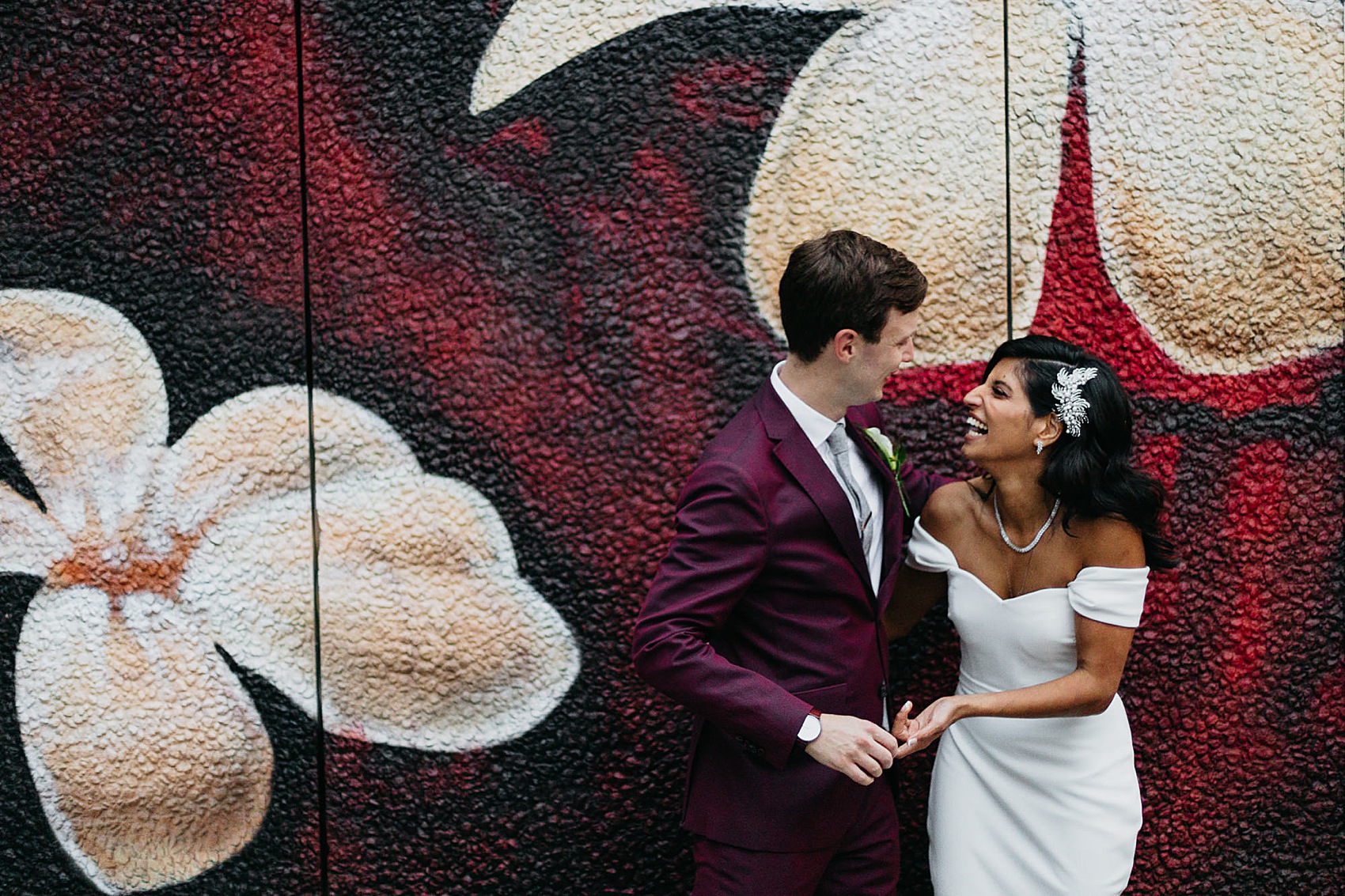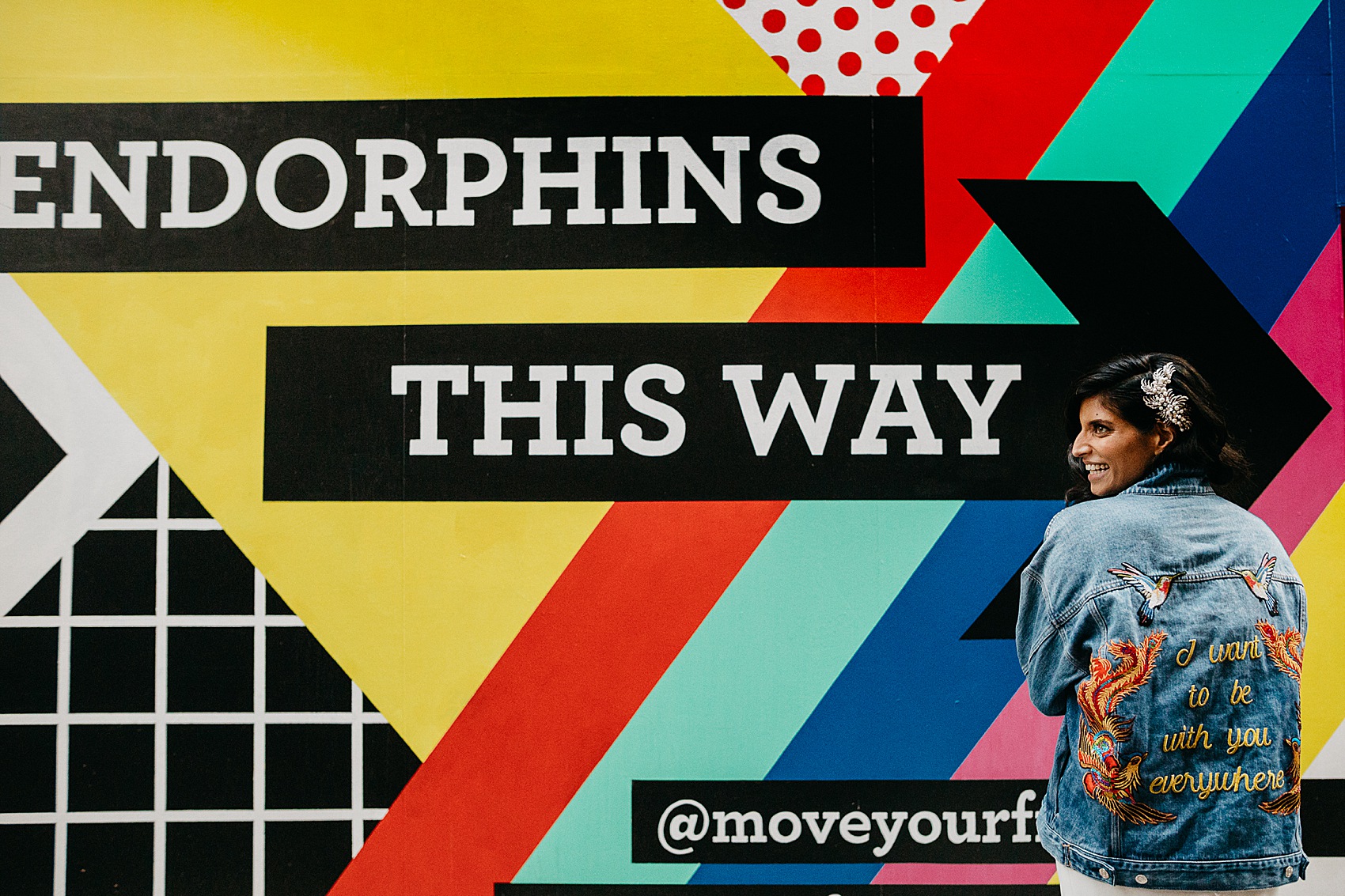 Daft Punk's 'Digital Love' really is the soundtrack to my sixth form years, so I loved that this couple chose it for their first dance.
"Daft Punk are one of our all-time favourite bands and this track is us all over – not least because we met through online dating! It's also a great jam to get people dancing, which is what we wanted."
"Rare Groove is a great band that got everyone on the dancefloor immediately and accommodated our significant veto list."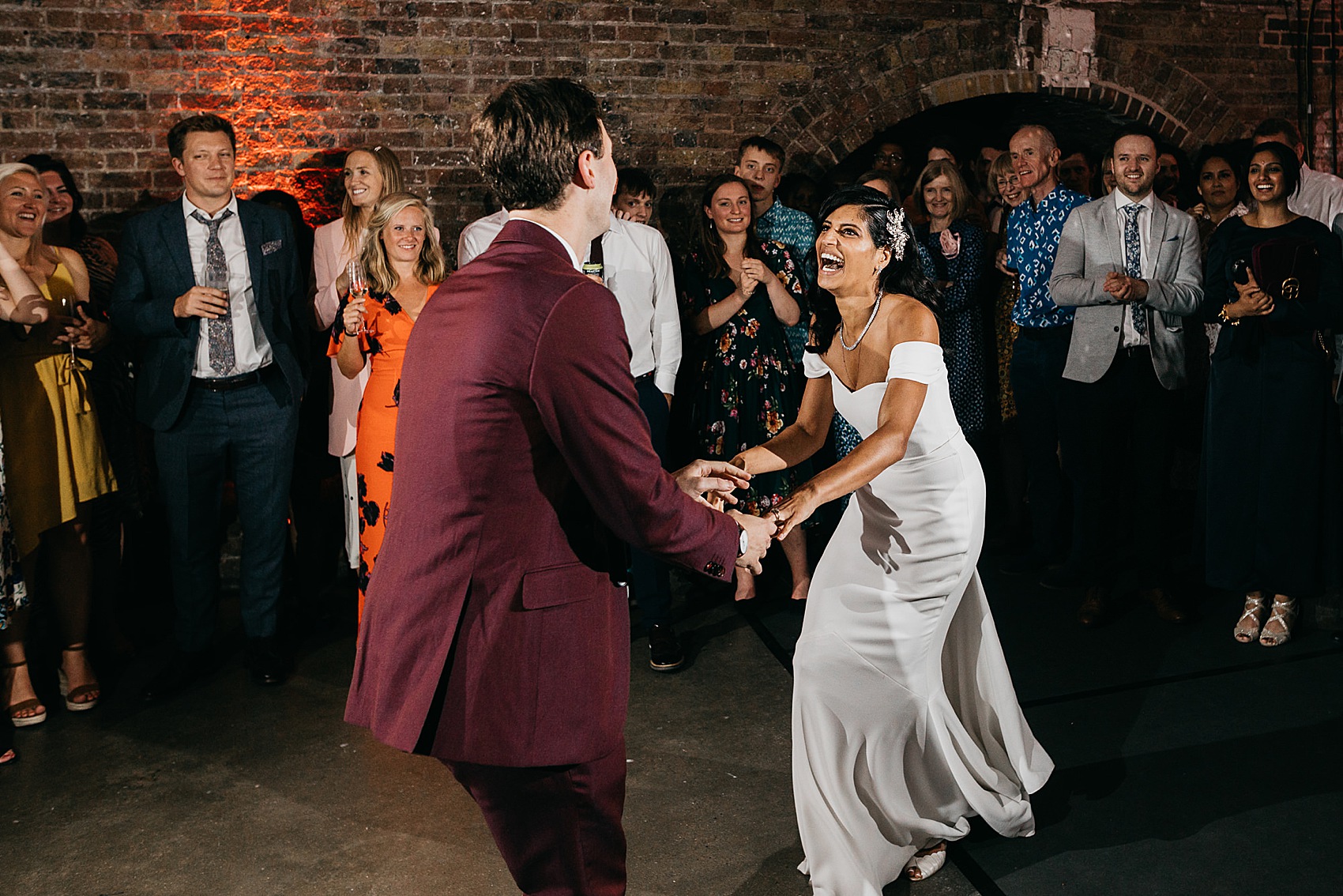 After Rare Groove there was more dancing to a set from DJ Tim Hinson.
"We weren't sure about having a DJ versus using a Spotify playlist but Tim is worth every penny. He took the time to understand the music we love and the type of party we wanted to create and he absolutely nailed it."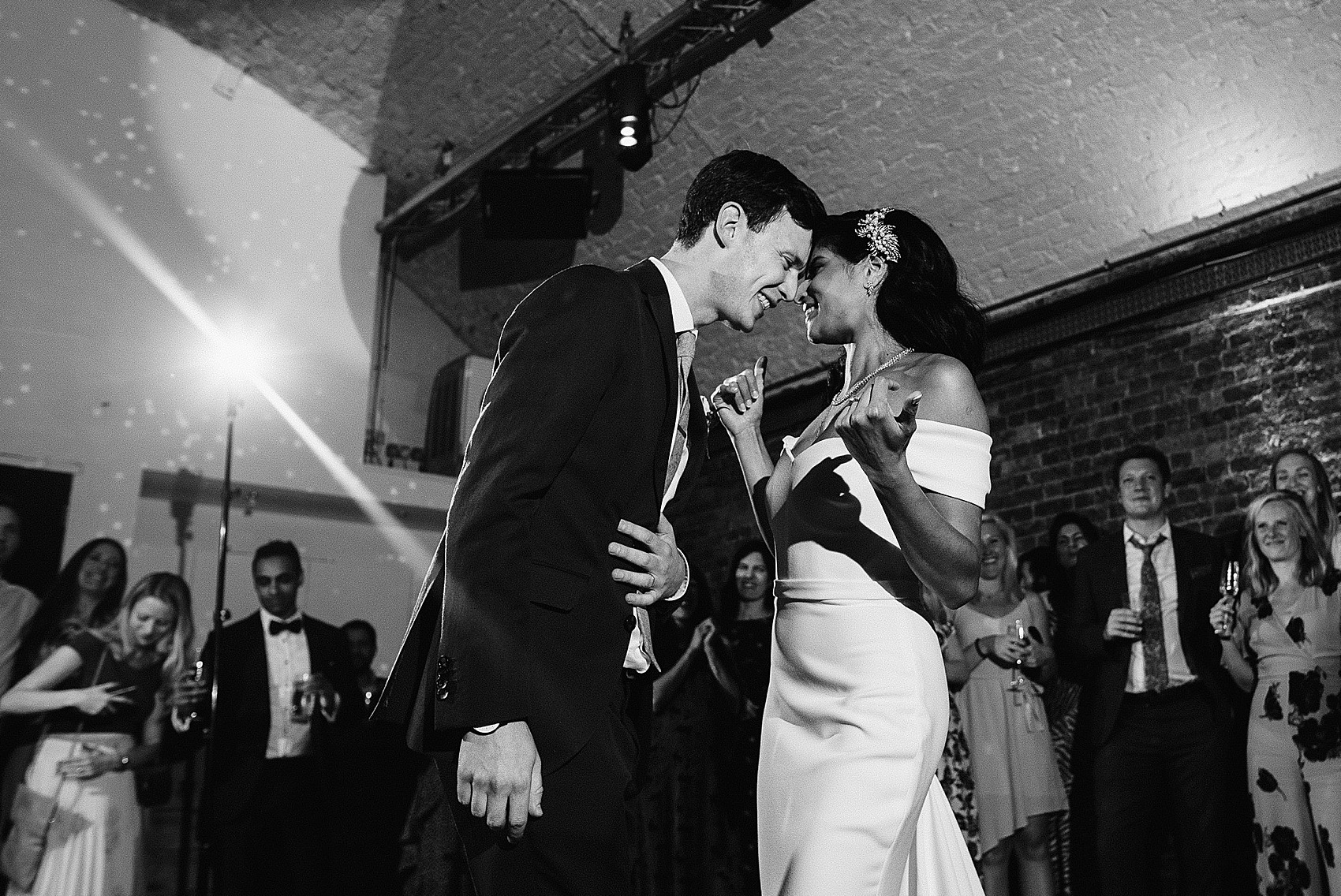 Words of Wedded Wisdom
"Go with suppliers you have total confidence in. They may not be the cheapest but they will be absolutely worth the money. Will and I were not stressed in the run up to the wedding or at all on the day because we had complete trust in all of our suppliers who were total experts in their field." 
"Agree between yourselves what your priorities are and focus on them – everything else will fall into place around that. For us we were all about the food, music and party so all our decisions centred around those points."
"Learn from others – blogs, Instagram, mates' weddings – but be careful not to get consumed by what everyone else is doing. If your wedding day is a reflection of you two then don't give a shit about what anyone else is doing."
"If you can bring booze into your venue then DO IT – our trip to Calais to buy all our wedding booze saved us over £1,000…and we had a bloody great time doing it."
"If you're thinking of doing a speech then do it! It's such a privilege to be a bride and hear your groom say wonderful things about you in front of everyone you love. They would absolutely love to see you do the same for them."
Mary and will, it's been a privilege to share your cool London wedding today. I love how you blended your two cultures together so beautifully, so thank you on behalf of all our Love My Dress readers.
Thank you to you too, to the uber-talented Beatrici Photography, for these gorgeous images.
Ele xx