Winter weddings can be such magically atmospheric affairs, and the one I'm sharing with you today has cosiness and enchantment in abundance.
It's a very special black tie wedding with a ceremony in a medieval barn, followed by an apres ski inspired tipi reception filled with the warmth and glow of fairylights and open fires, held in the garden of the bride's family home. This is the wedding of Beauty Buyer Clare, and Jamie, who is a Property Developer.
Images by Georgina Piper Photography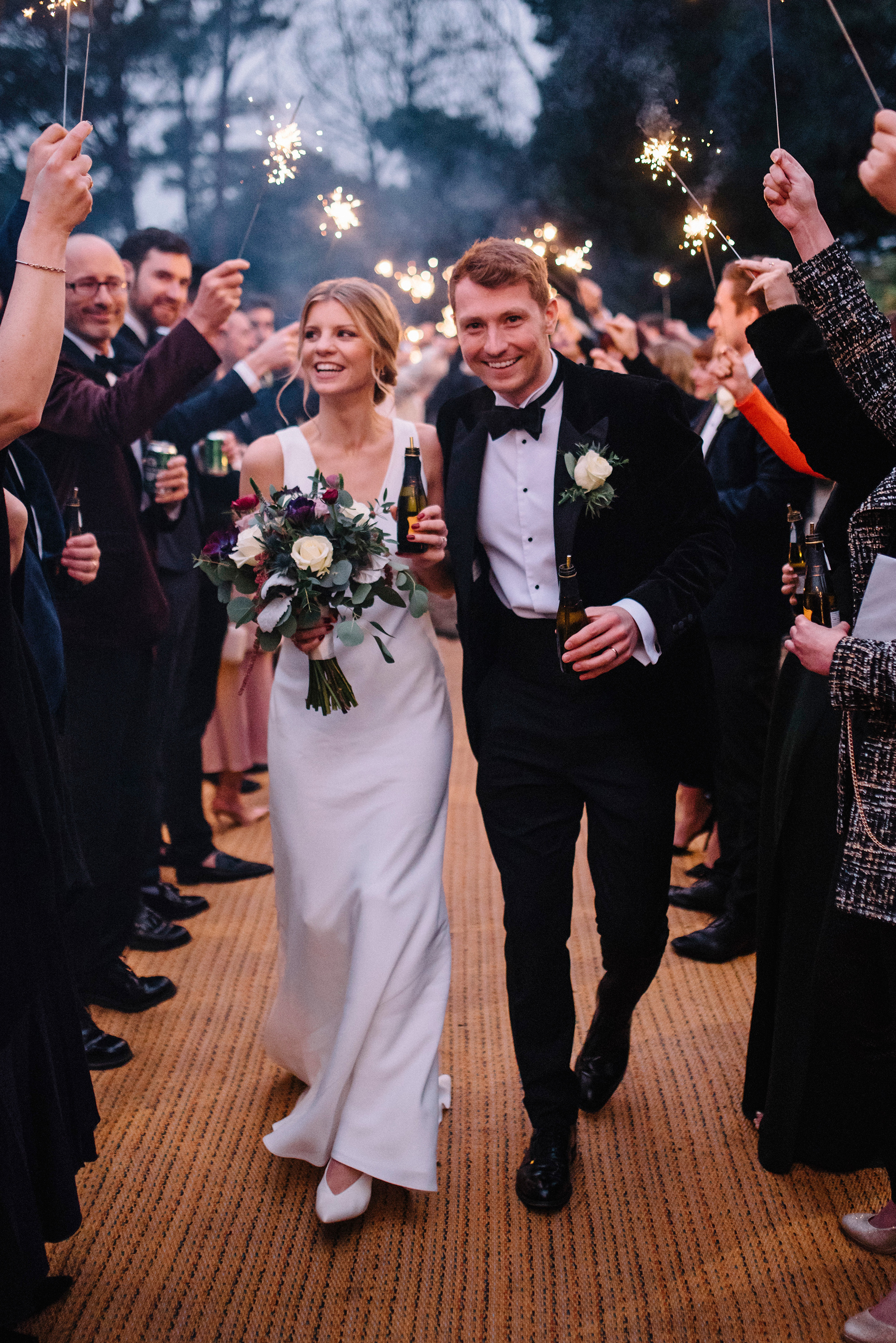 They were married on the 31 December 2018 at the Manor Barn in Bexhill, East Sussex, and then made their way to the village of Crowhurst, near Battle, for a tipi reception in the back garden of Clare's family home. The beautiful tipi was hired from Tentario.
"I had always dreamed of being married there, so when we decided on a New Year's Eve wedding we had to think of a way to make it possible. That's why a tipi was perfect – they were built to withstand the Scandinavian winter, so we knew it would be warm and dry inside. It was so magical. My family home had been sold a few months before the wedding, and the completion date was the week following the wedding, so it made it even more special to be married there."
For her wedding dress, Clare chose the simple elegance of Charlie Brear's 'Haliton' design; bias cut with a high waist and beautiful button detailing on the bodice. She discovered the dress at Frou-Frou Bridal in Tunbridge Wells – unfortunately the boutique is no longer in business.
"I went there as I knew they sold Charlie Brear dresses, because my best friend got her Charlie Brear dress from there. They were so helpful. They didn't have any rules about how many dresses you could try on, and they let you take as many pictures and videos as you like. Being able to take pictures for me was essential – I am uber-critical, so felt I needed that so I could really see what I looked like."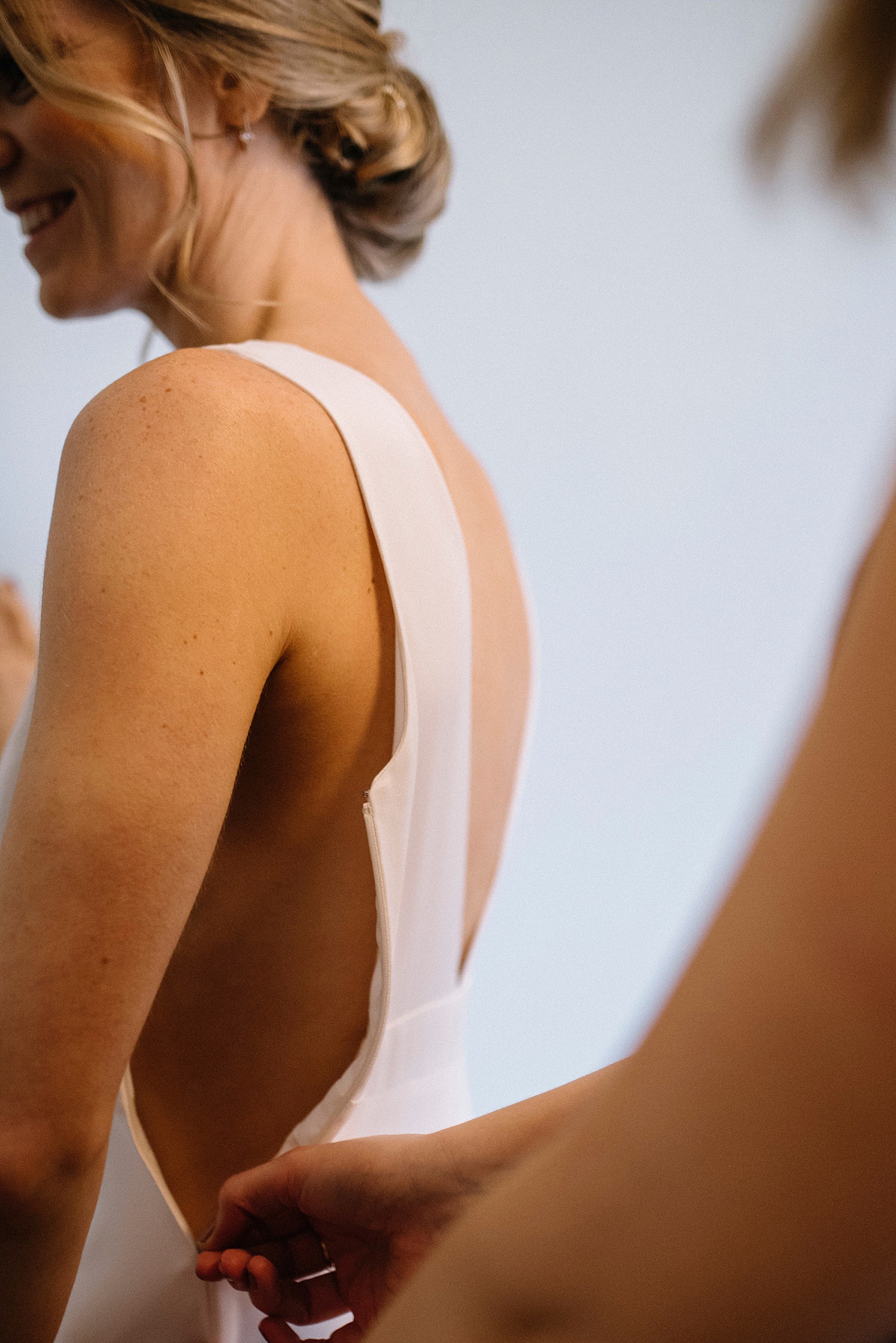 Sadly Frou Frou closed down in July 2018. They were so accommodating and arranged for a local seamstress to look after the dress until I was able get to Tunbridge Wells for my fittings."
"I felt really comfortable in the dress and also liked the simplicity. It went against everything I thought I would ever want as I always thought I wanted lace, or something with lots of detail, but I ended up with a very simple dress. I loved that I could dance without having to hook my train up. I wanted the beautiful line of the dress to be on show all day and night."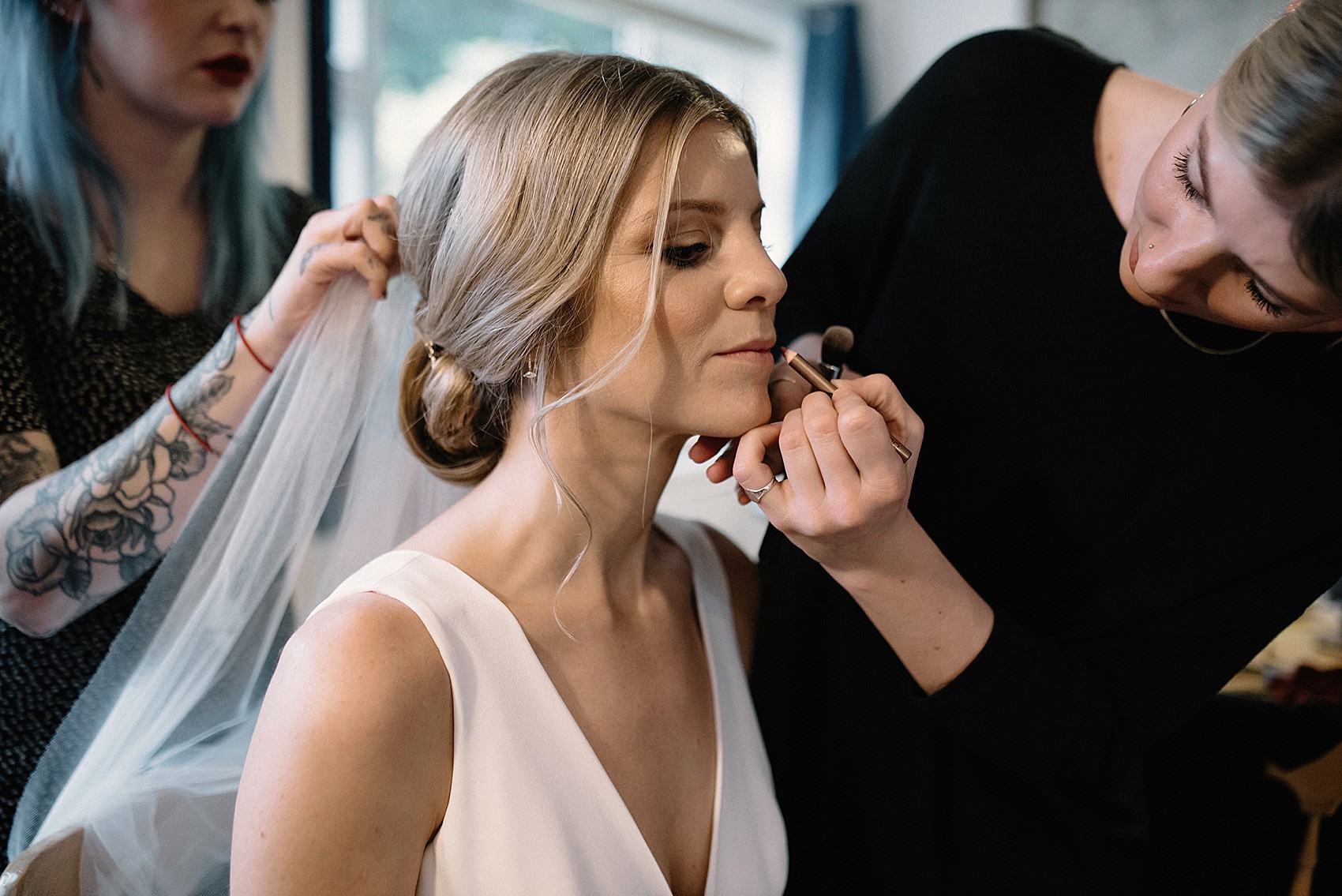 Clare's softly styled chignon was by Kitty Radford Earle (sadly unable to find any details for Kitty), and her beautiful, radiant make-up was by Natasha Valerie.
Dress alterations, as well as a lovely, bespoke veil were by the talented Judy Mott. On her feet, Clare wore off-white block heels from Office, and she also wore gold hoop earrings and pretty hair pins from Anthropologie.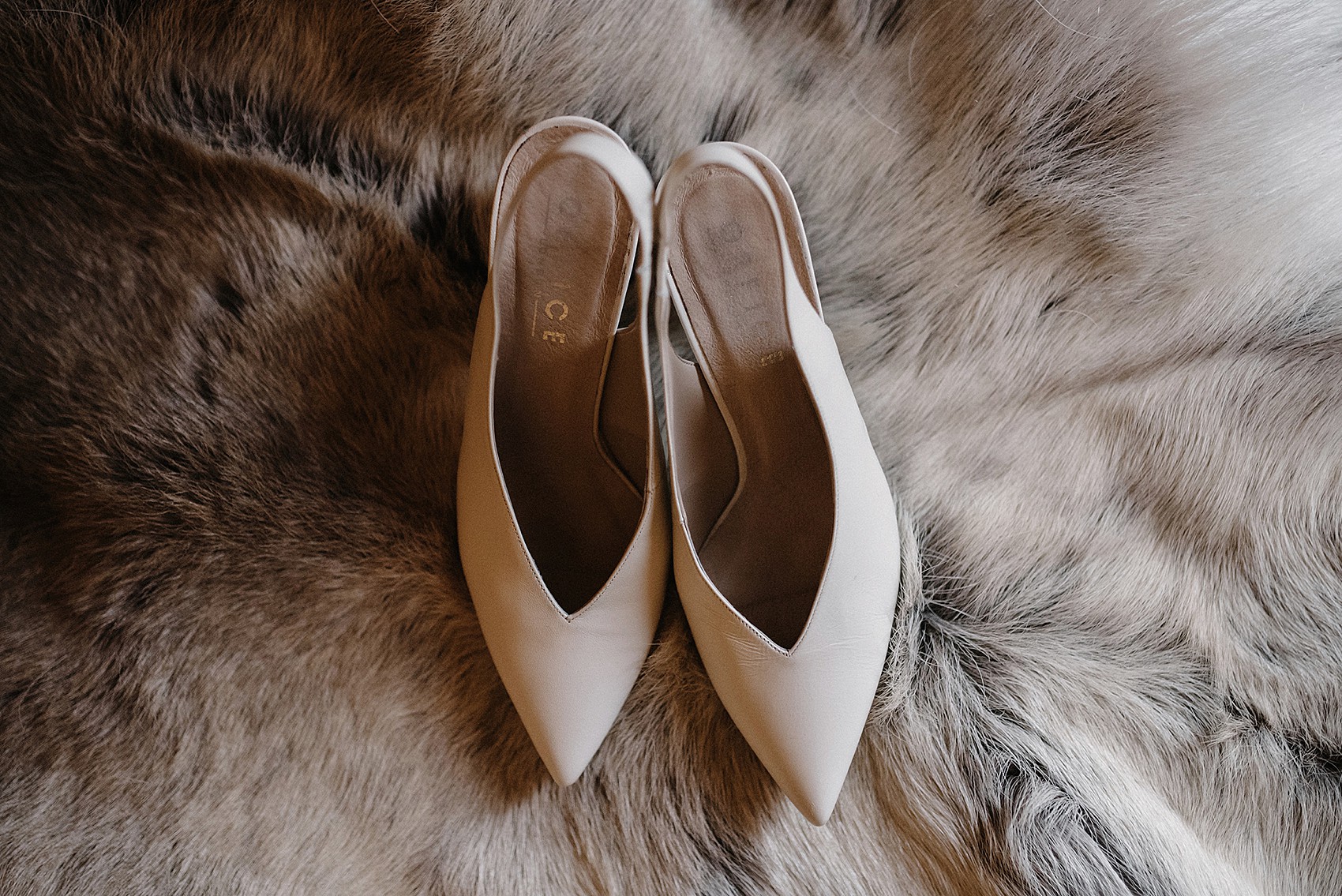 Wedding day perfume was Maison Francis Kurkdjian – Baccarat Rouge 540.
"It was a gift from my team at work after they did some digging on what scent I wanted to be married in. It will always remind me of the wedding day now."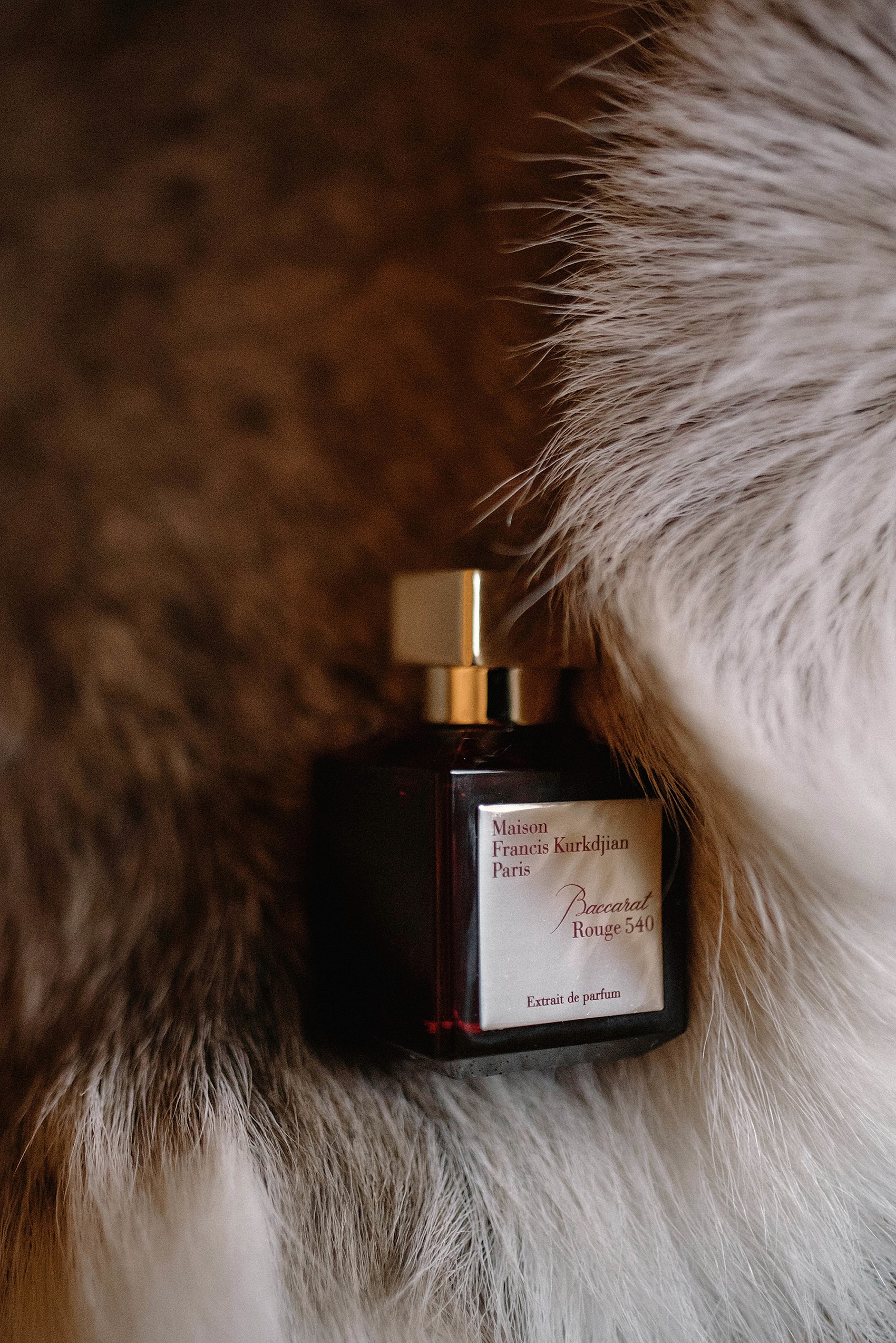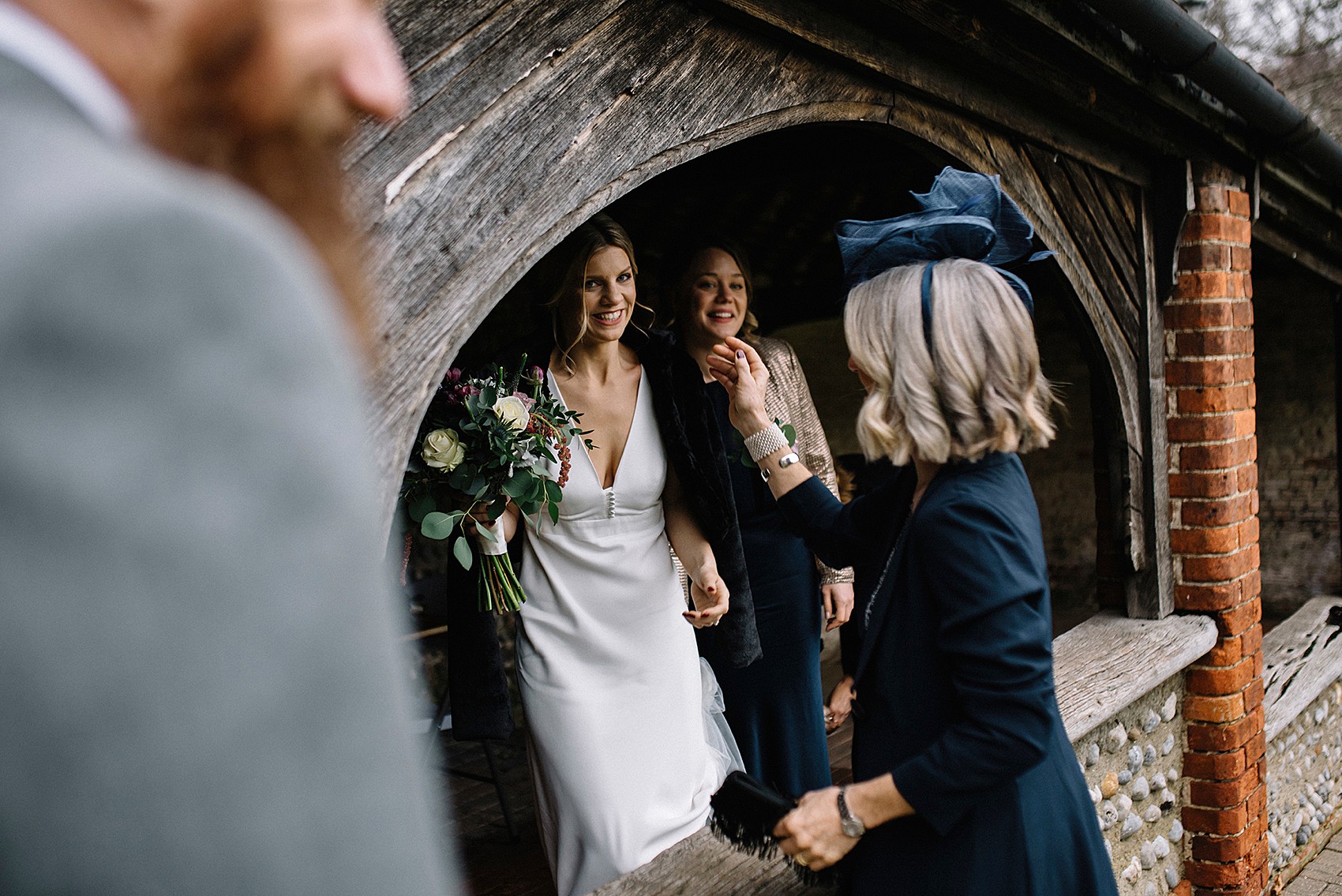 The ceremony room at Manor Barn was decorated with beautiful swags of white drapery, as well as festive greenery across the old stone fireplace. Clare's cousin, Rory, kindly played an acoustic version of Here Comes the Sun as Clare and her dad, Ian, made their way down the aisle together.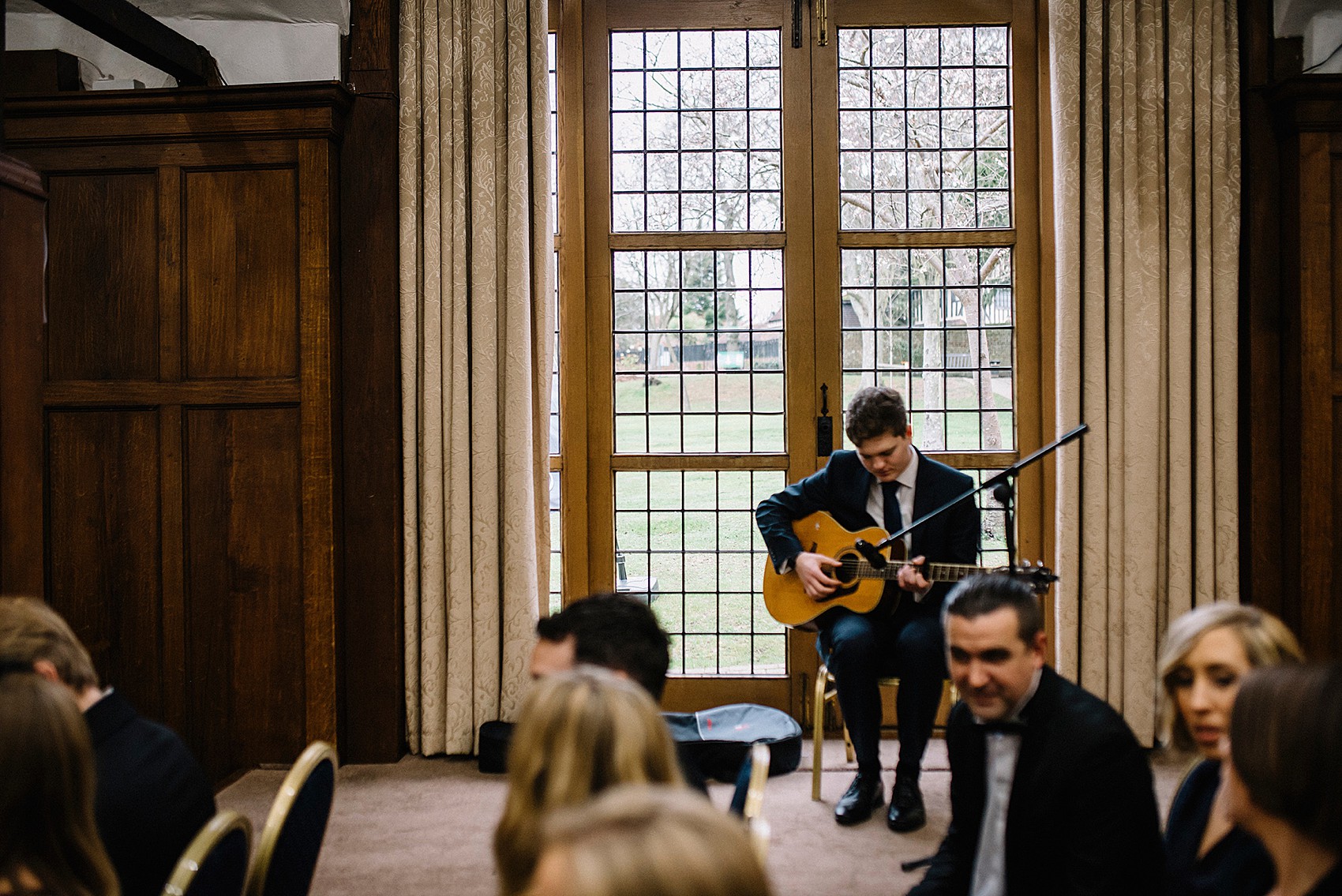 "We met through a friend, Joe; I had known him since we were babies, and Jamie was his housemate at university in Canterbury. It was New Year's Eve 2010, I had no plans, so a friend and myself planned a spontaneous trip to Canterbury to celebrate the New Year with Joe."
"I was introduced to Jamie that evening, and then eight years later to the day we got married. Jamie proposed to me whilst on holiday in the Alps in the August of 2017, and we got married 15 months later."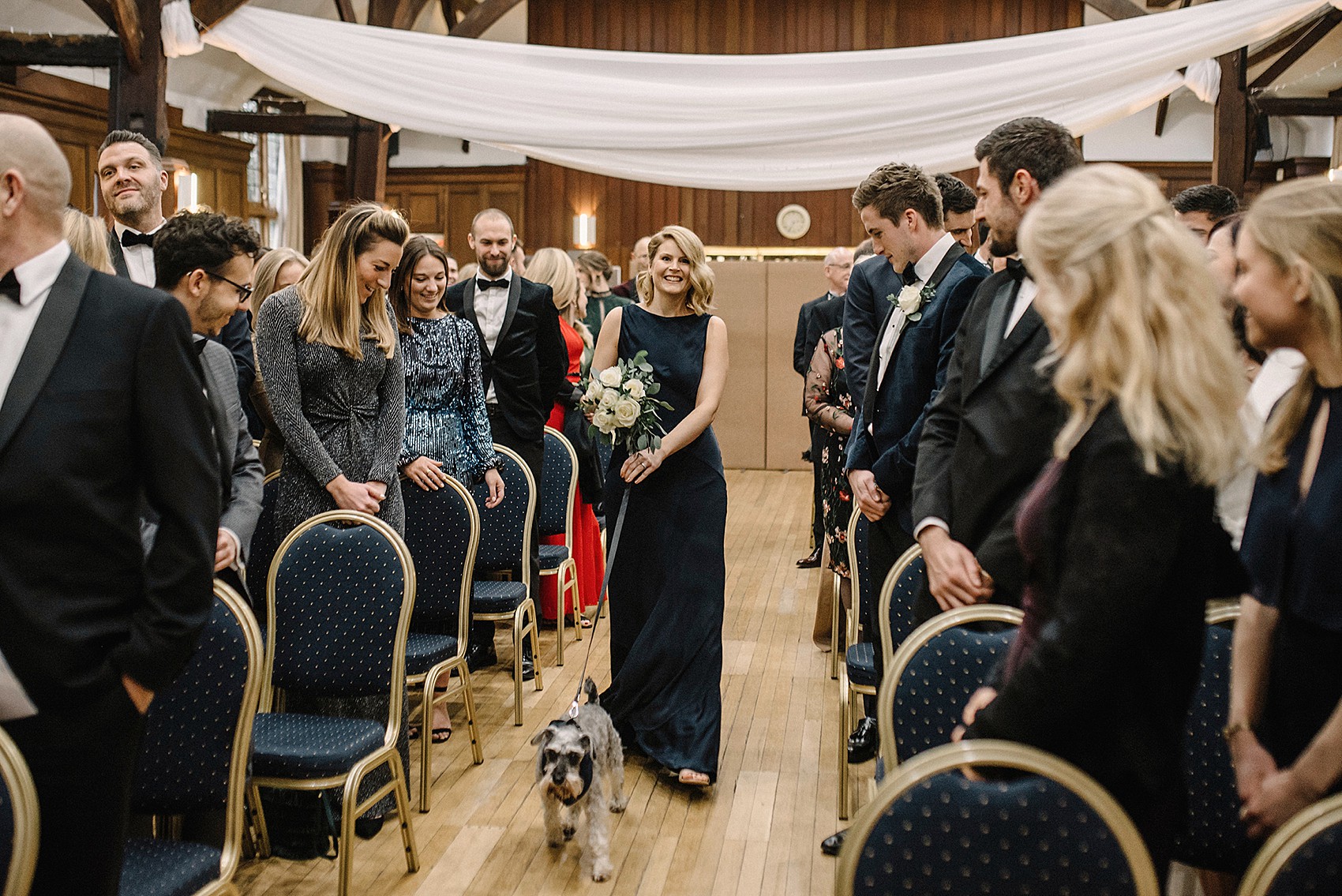 The couple's celebrant came courtesy of East Sussex Council, and they chose to exchange simple vows with each other, alongside rings from Goldsmiths. Clare's engagement ring also has a very special story attached to it, which she has very kindly shared with us – thank you, Clare!
"Jamie had my engagement designed and made using a diamond given to him by my parents. The diamond is extra special, as has been in my family for around 100 years. My maternal great-great-grandfather found a lump of raw diamond in Zimbabwe when he was 18 years old, and gave it to my maternal great-great-grandmother when he proposed. The diamonds were then extracted and set into several different pieces of jewellery, and passed down the generations."
"The diamond in my engagement ring was on a necklace, and worn by my grandmother until she died 4 years ago. When Jamie proposed and I saw the ring, I knew straight away it was from the family diamonds, and I was blown away. I couldn't believe my family knew for so long and didn't tell me! Jamie had the ring set in the most beautiful way, showing off the vintage cut of the diamond, and he then picked 14 diamonds to go on the platinum band."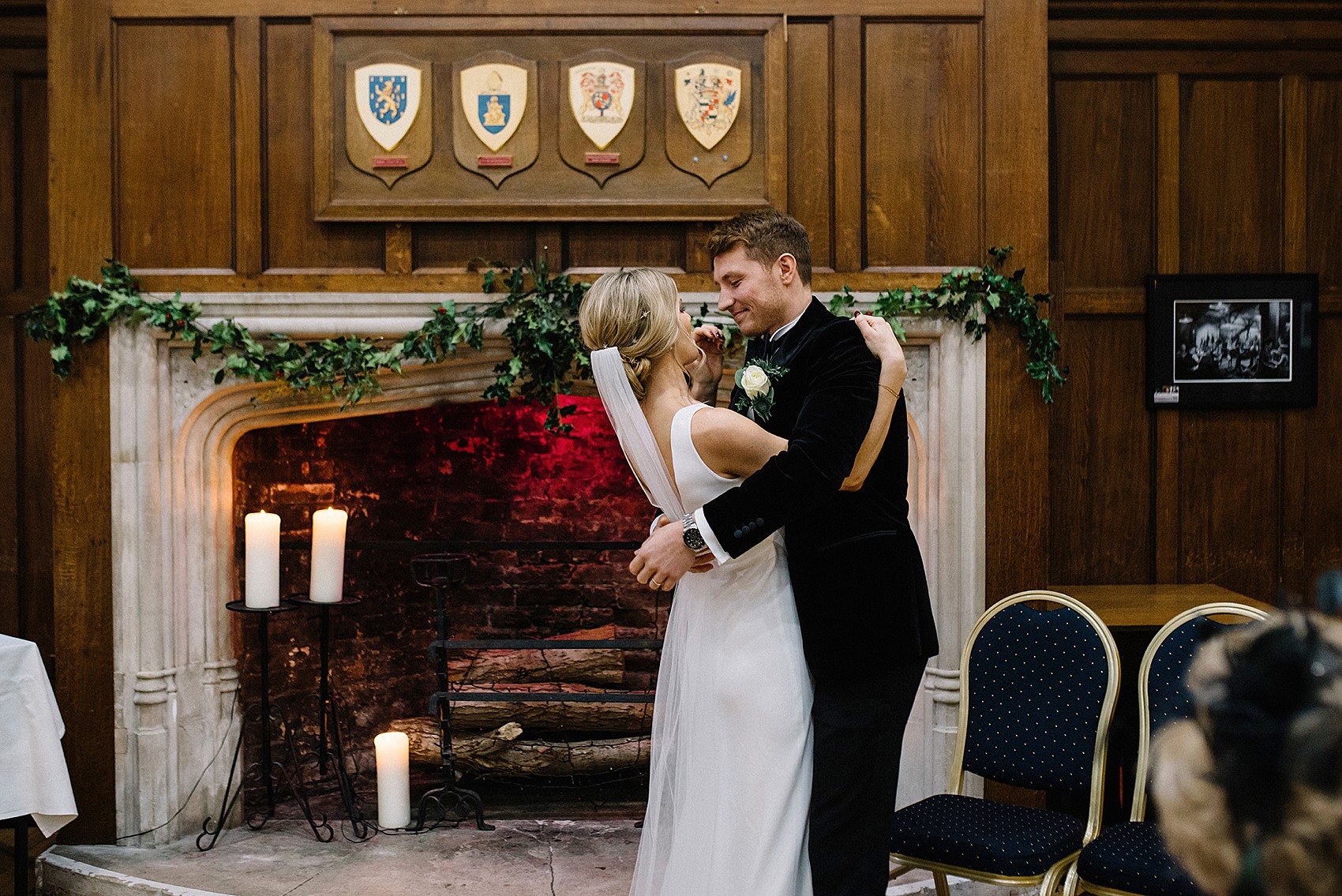 During the ceremony, Clare and Jamie decided upon two very special readings, with one becoming a poignant reminder of a much-missed friend, who they sadly lost a few months after their wedding day. Clare's sister, Katie, read Taylor Mali's lovely poem, How Falling in Love is like Owning a Dog, and Jamie's oldest friend Jake read the poem He Never Leaves the Seat Up (!)
"We wanted them both to be lighthearted and different to readings at other friends' weddings, and having gone to eight other weddings in 2018, it was hard to find readings that we hadn't heard. We loved the Taylor Mali reading as our dog sadly passed away a few months after the wedding, and was such an enormous part of our lives."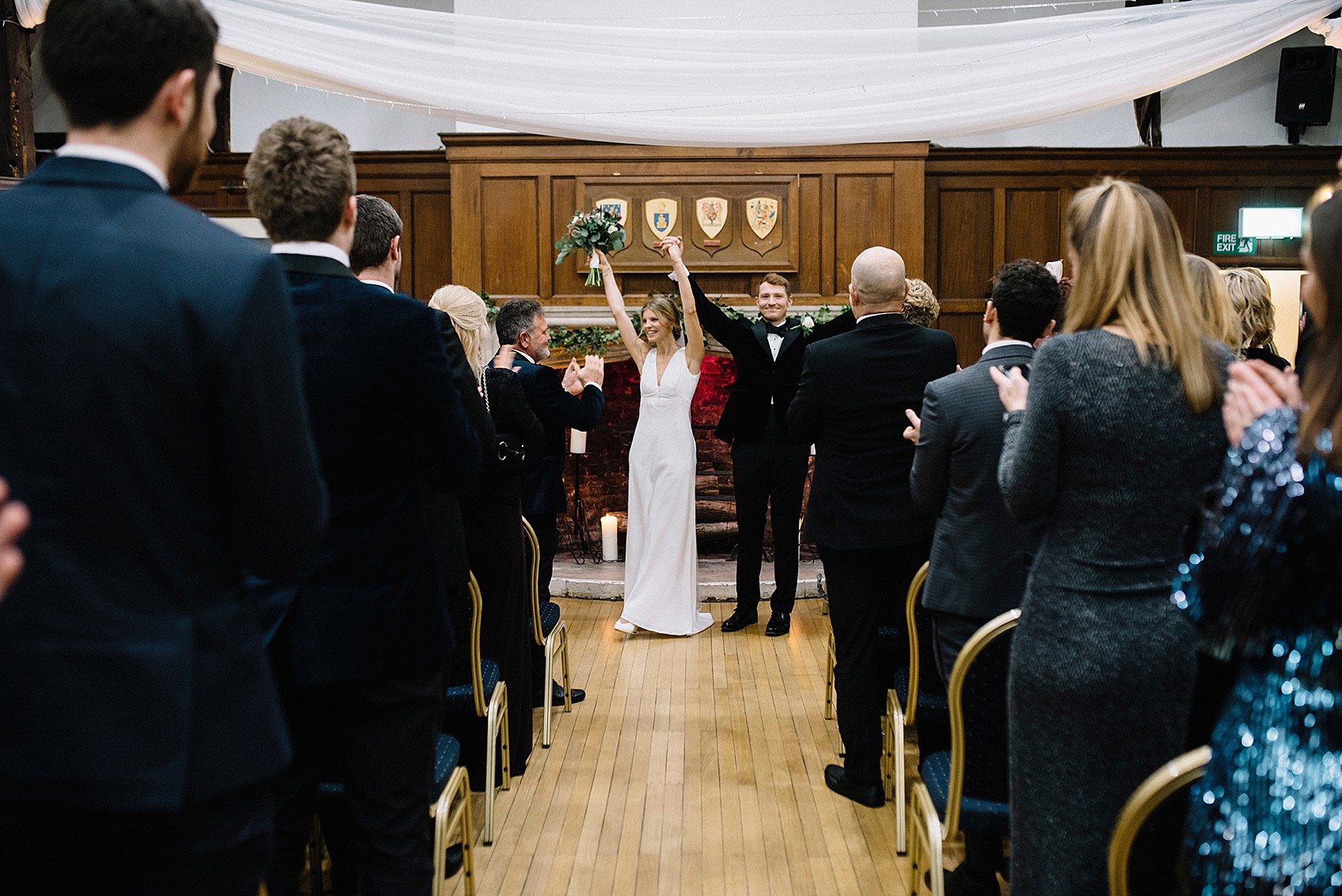 I just love Jamie's wedding outfit – a luxurious black velvet jacket by Gieves & Hawkes, worn with formal evening trousers (and cummerbund) from Next, a shirt and bow tie by Charles Tyrwhitt, and smart shoes by Church's.
Clare and Jamie's wedding party looked fantastic in their classic evening attire. The bridesmaids each wore era-inspired dresses in navy blue satin from Ghost London, with their own shoes and accessories. To match the bridesmaids' dresses, the groomsmen and respective dads wore navy blue velvet jackets from Next.
Clare wanted a soft and unstructured look for the bouquets, and hers was filled with ivory and blush pink roses, as well as accents of burgundy and red from anemones and love-lies-bleeding, blue sea holly and plenty of greenery. To complement her bouquet, the bridesmaids carried posies of ivory roses and fragrant eucalyptus.
"We used beau-k Florist of Battle for our flowers, as they were local. I felt quite strongly about not getting carried away with the flowers and keeping the budget tight. I am a huge flower fan, but I really did feel that the bouquets would be beautiful whether we spent £500 or £2,000, so we opted for £500."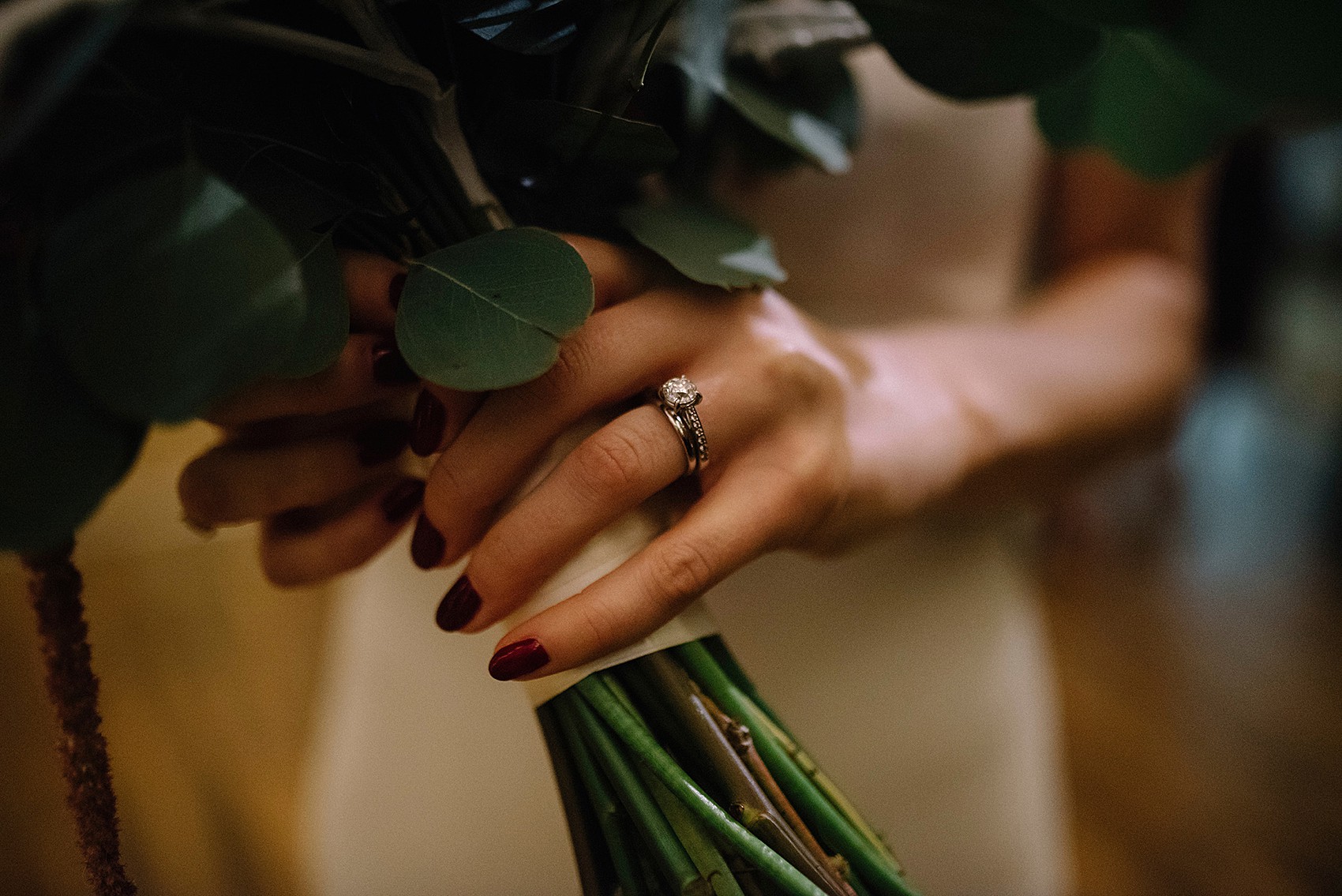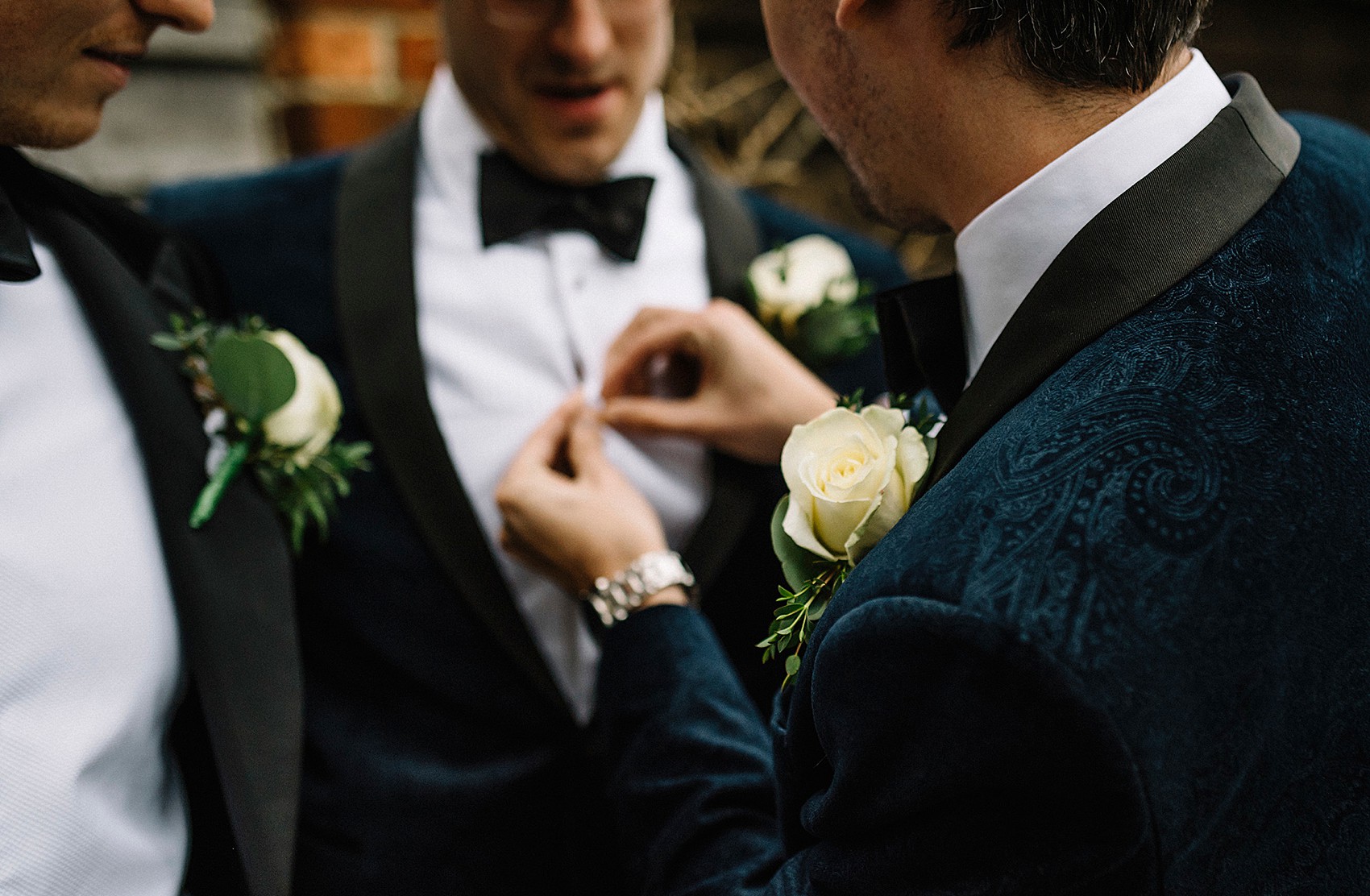 \
"Once we had decided on a winter wedding, we wanted to create a really magical apres ski theme. We are both keen skiers, so it just felt right. We also wanted it to be a black tie event, so had to think of ways to make the two themes work together. It all came together so well on the day – we couldn't have been happier."
"We arranged for a coach to take all our guests from Manor Barn to my parents' house for the reception. We had no parking at the house, so it was the best way to manage getting everyone there. We booked the coaches through Rambler."
Mini bottles of prosecco were enjoyed outside ahead of the wedding breakfast, as well as a magical sparkler guard of honour to send Clare and Jamie on their way into the tipi. This lovely moment was captured wonderfully by Georgina Piper Photography, and I just love her use of the beautiful, atmospheric winter light.
"Georgina was beyond amazing; she listened to exactly what we wanted, and we got exactly that.  We wanted our photos to tell the story of the day, and being on New Year's Eve, that involved a lot of dancing and celebrating.  Georgina captured the full day so beautifully and without interrupting the flow of it at all."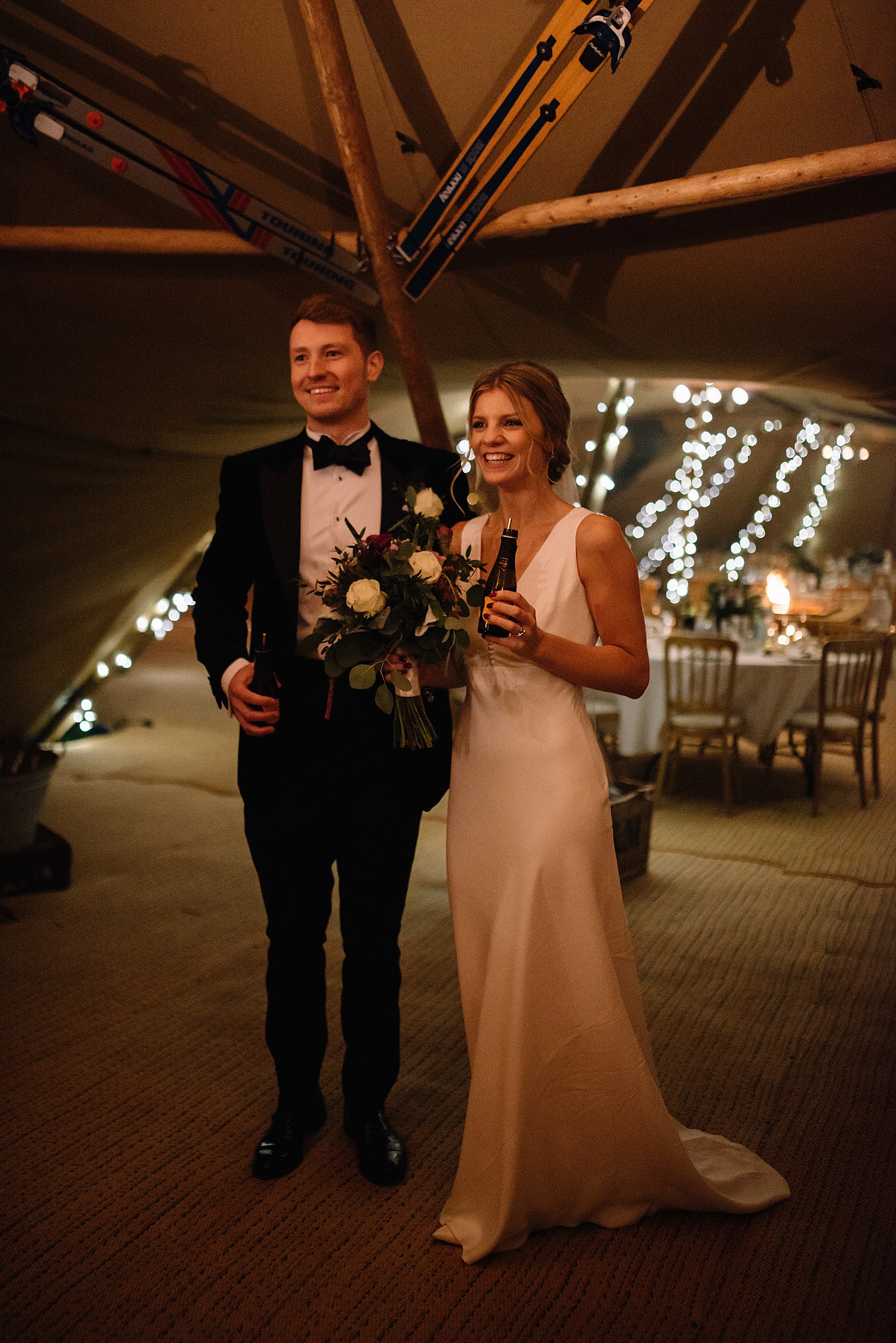 Inside the tipi, Clare and Jamie's apres ski theme really came into its own. There was the soft, romantic glow of fairylights, and two fire pits for warmth, with the space adorned with vintage skis and reindeer antlers and hides borrowed from a friend. Table names were presented on snow-capped paper mountains, too!
"For the wedding stationery we used Creationery via Etsy; they had online templates that you downloaded as a PDF and had printed yourself (we used Vistaprint). For us it worked perfectly as we wanted to keep it simple and keep the cost minimal. My cousin Yolanda is really talented at calligraphy, and offered to do the place setting names. They were so stunning, and I loved that she was involved."
Floral centrepieces were placed inside recycled ceramic Diptyque candle holders, which Clare collected from her place of work and cleaned out ready for flowers.
"They looked stunning, and several of the guests went home with one. I get pictures all the time from friends and family who are using them for all sorts of things!"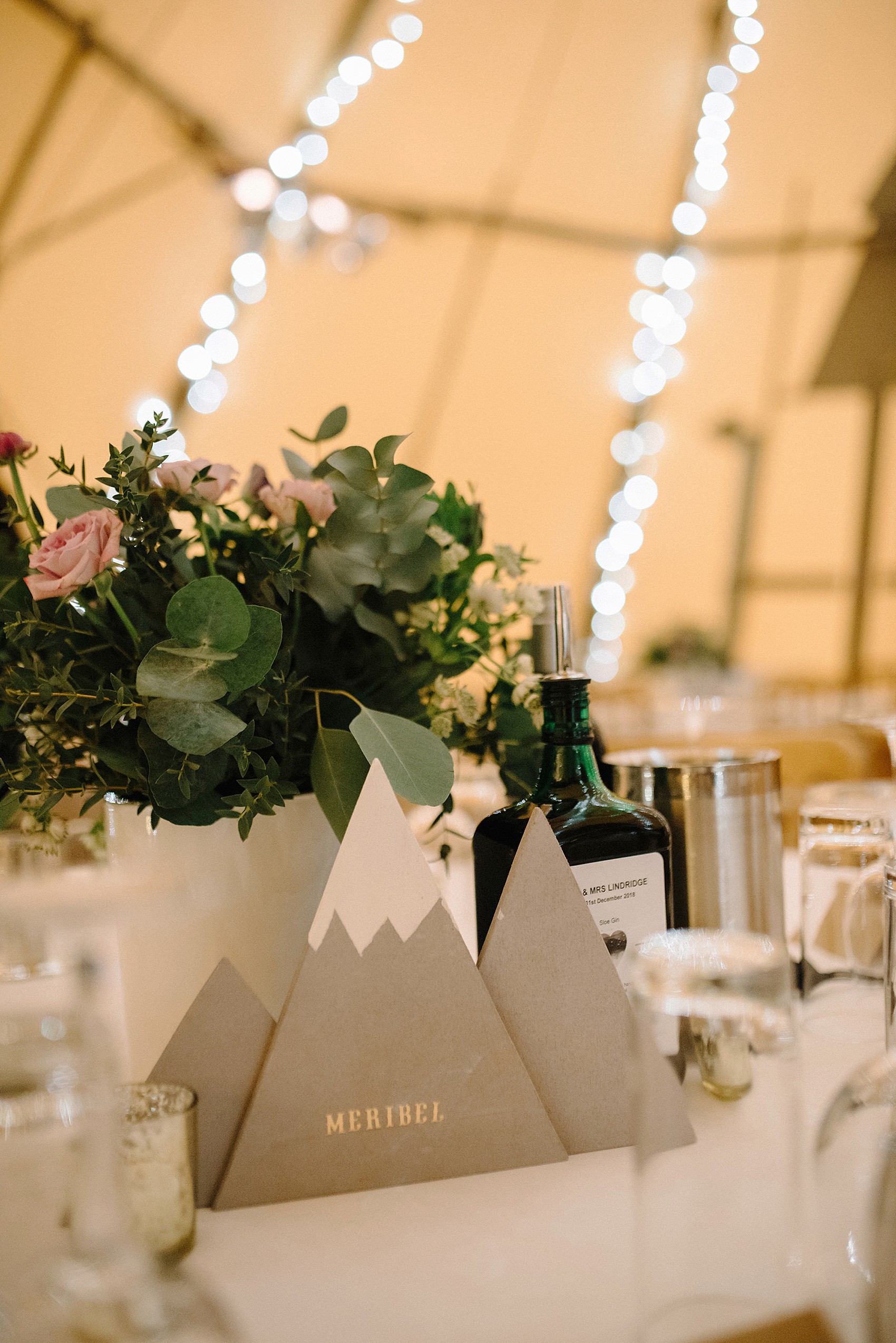 There were not individual guest favours, but on the tables the couple placed bottles of sloe gin. An amazing 14 litres of gin was homemade by Jame's mum, Debbie, and his Auntie Mel, using handpicked sloes, bottled and labelled with specially printed labels, all ready to be toasted with later on.
"We wanted the food to be relaxed even though we were having a black tie wedding. We went for a tapas style sharing starter and a hog roast, all beautifully prepared by Fraser and Annie from Sussex Spit Roast. Neither or us are huge winter pudding fans and wanted to do something true to us, so for dessert we ordered 130 Magnum ice creams and served them with an espresso martini. Sussex Spit Roast also catered to our 14 vegetarians and vegans perfectly, meaning that no-one went hungry."
Clare and Jamie's amazing Land Rover Defender wedding cake was made for them by a local baker named Jan (no further details supplied) – a replica of an engagement cake organised by Jamie's family.
"There were figurines of us and our dog Zilla sat on top. It was so amazing, and the details were incredible. We knew we would never top it, so we had Jan make us the same thing on a bigger scale for the wedding. We gave her pictures of my dress and Jamie's suit beforehand so she could get the details exactly right. She was so creative, and managed to get every detail of the wedding and our lives captured in tiny details on the cake."
Finding just the right music for their evening entertainment was greatly important to Clare and Jamie, and after an internet search, they landed upon band Motown Gold, who they booked through Earcandy.
"Our band sang our first dance for us. We chose Three Little Birds by Bob Marley. The song just came to us at a friend's wedding last summer, as their band sang it and we just smiled from ear to ear when it came on. In that moment we knew it would be our first dance."
"We went for a six-piece band. They also managed the DJ set that went in between the 3 band sets. They were truly amazing – we didn't leave the dancefloor all night. One friend of mine told me she had never seen a bride make such good use of her own dance floor!"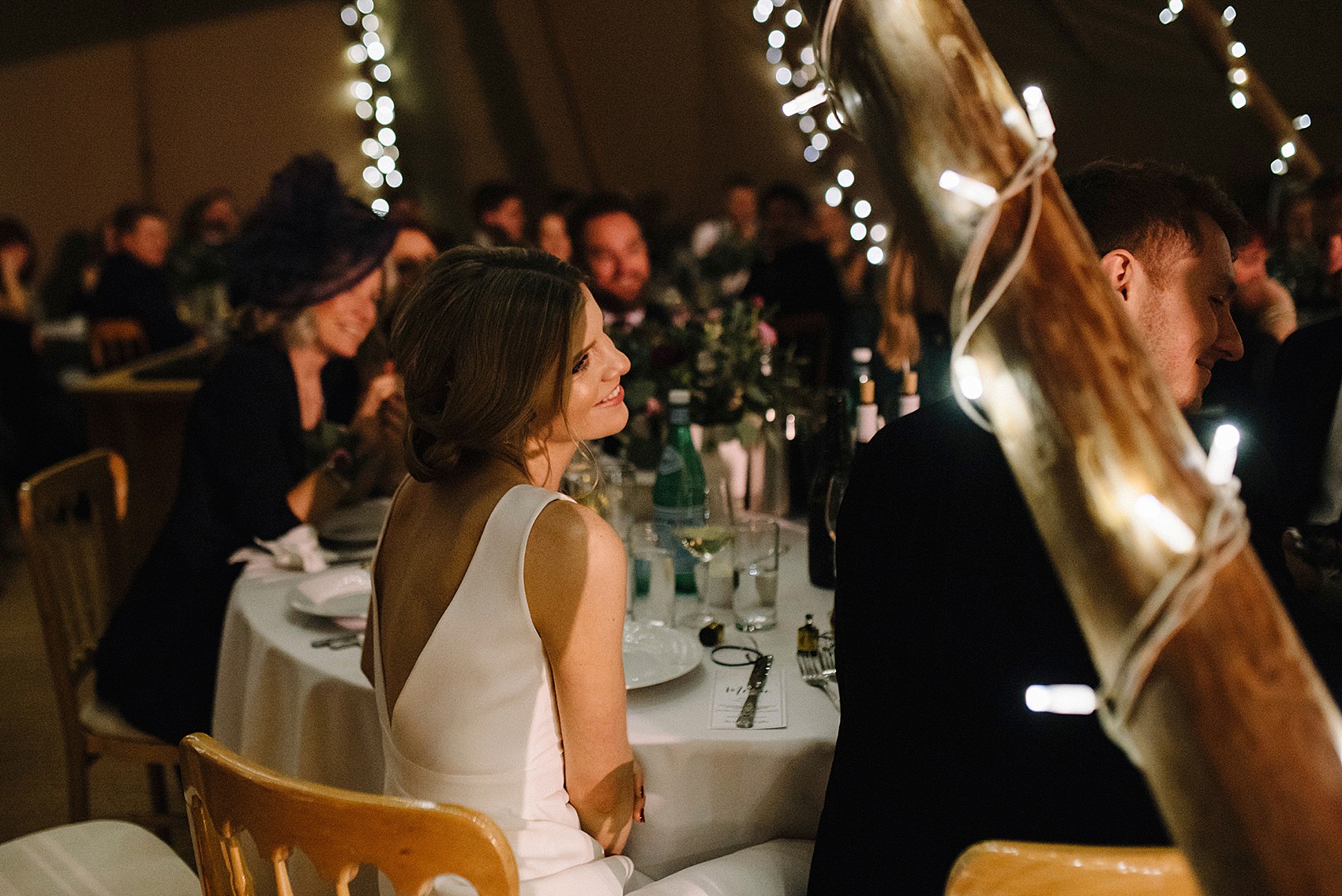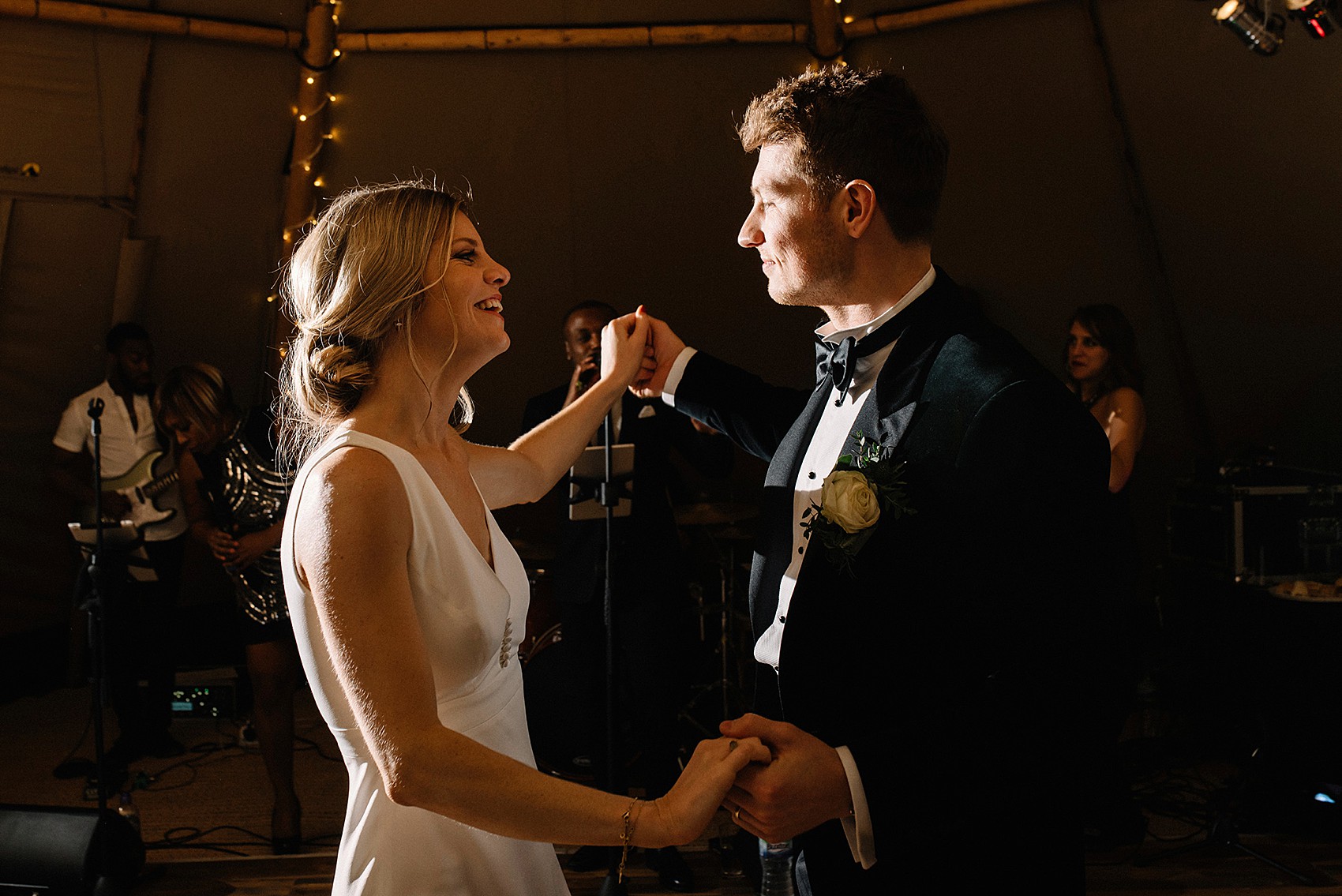 Favourite Moments
"It is so hard to choose just one part of the day; we honestly loved every second. The ceremony took us both by surprise, and was so personal and intimate. The midnight countdown was the most incredible moment, and we had 6 confetti cannons go off at midnight after the loudest countdown I've ever heard."
"Jamie and I were then totally drenched in champagne by all our friends – my hair was soaked and my dress was sticky, but I didn't care, it was magical; it felt like something out of a movie. We honestly wouldn't change a thing if we had to do it all over again tomorrow!"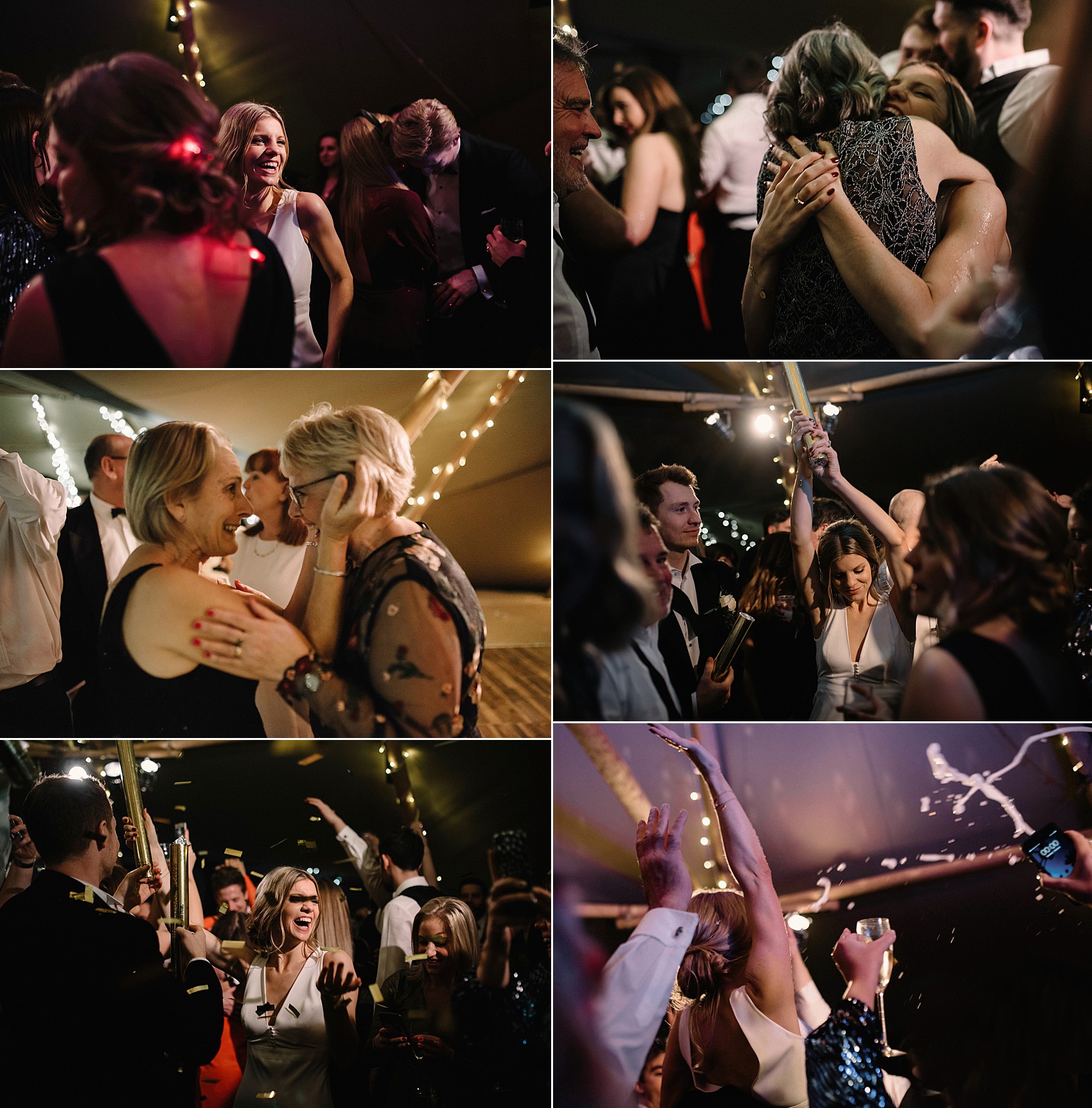 Words of Wedded Wisdom
"Don't feel pressured into following traditions or doing things because you feel you have to. Make sure the day is just how you want it to be, and reflects yourself and your partner."
"Allow friends and family to help if they want to. The details do get overwhelming at times, so accept the help if they offer. Most importantly just relax and enjoy the day. Let your suppliers do the work on the day so you can enjoy all the details you spent so long planning."
Well, wasn't that wonderful?! Thank you so much Clare and Jamie. How incredibly special to be married on New Year's Eve! Many thanks to photographer Georgina Piper, too. There's lots more of her beautiful work to enjoy on our pages, as well as more elegant Charlie Brear brides, too.
Until next time!
With love,
Laura