As we take our first steps in the new decade, we're setting out to discover and support more brilliant women leading the way with businesses.
Particularly those that let you express your personality and challenge those pre-conceptions that so many people have around anything and everything wedding related. And gosh, there are still sadly so many preconceptions.
Today, it is an enormous pleasure to welcome one such woman to Love My Dress who is smashing those preconceptions apart with style. Hannah is the immensely talented Founder and Designer of House of Ollichon, a bridal brand for the dress-less wedding. If you're looking for that rare combination of luxury, style, freedom and choice, you absolutely need to read on.
House of Ollichon

+ Follow



House of Ollichon is a bold voice in the bridal fashion industry. They've ditched 'the dress', offering women a quirky alternative to the traditional gown and they are, proudly, the only bridal collection in the world without a dress.
Simple, sleek without too much fuss or detail, the designs focus on shapes and quality fabrics, carefully choosing just one dramatic element for each design.
The brand's mantra, 'Be a special version of your normal self', calls out to every bride who wants something that allows them to be a confident, comfortable (and possibly surprising!) version of themselves.
"I was so frustrated with the bridal industry when I got married," says Hannah. "I wanted something fashion forward that still felt special. I couldn't find anything that bridged the gap between big bridal and the high street so I created the only dress-less bridal collection in the world. We designed a range of luxury bridal jumpsuits and two-pieces, without a dress in sight, to offer modern day women something different."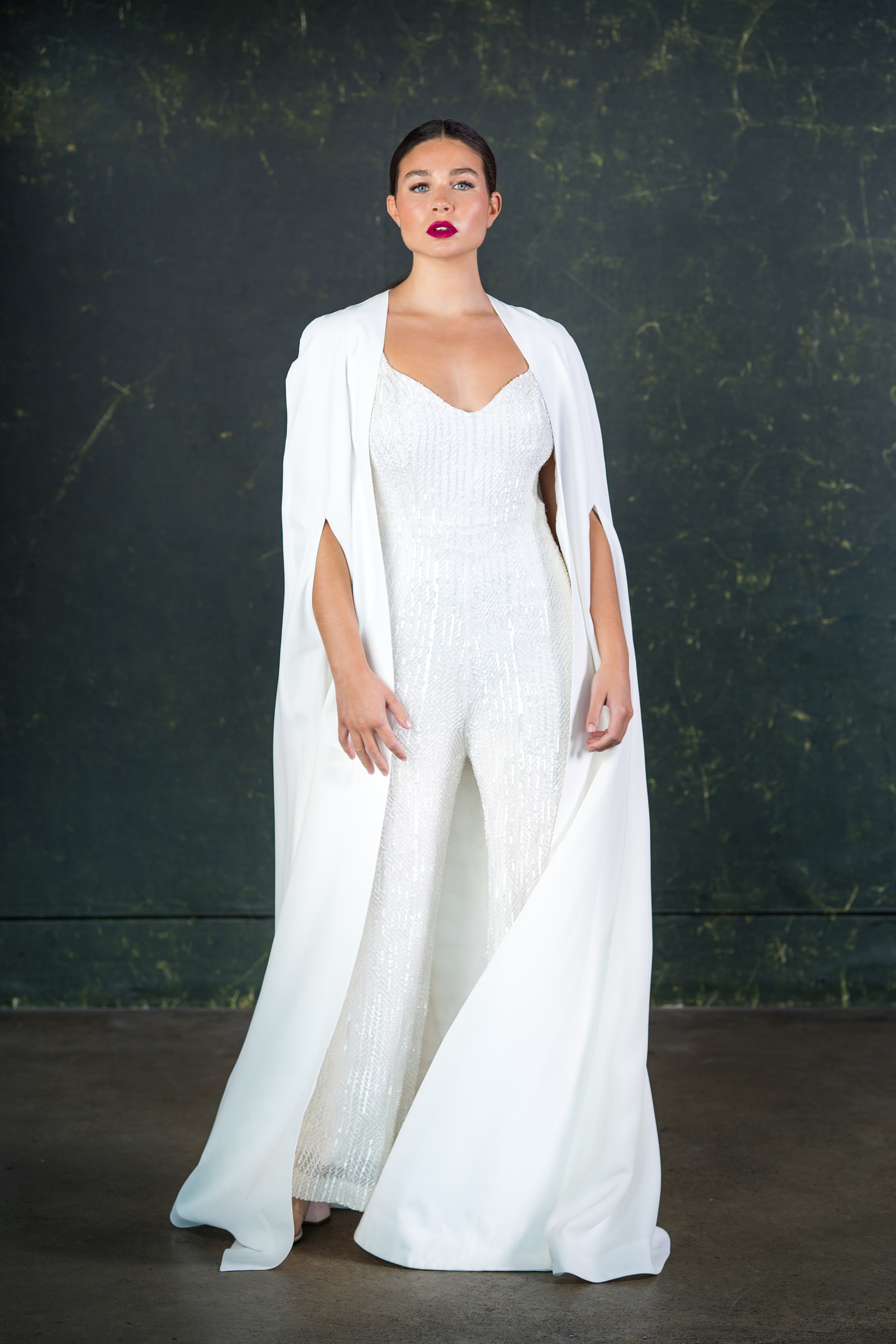 The House of Ollichon's latest collection is absolutely glorious. Hannah's allowed herself to be led by the beauty of fabric and she's moved away from floral laces to embrace geometrics and there's a play between heavier and lighter textures, which give beautiful movement to the pieces – take a look at those tassels on Izzard and fall in love with Valentim, a wonderful silk chiffon cape. Hannah's own favourite (although she admits to being rather fickle!) is Guilieri, a design that simply induces happiness and calls to your inner hippy…
As well as championing non-traditional options for brides, Hannah's also passionate about ethical and sustainable production and re-wear-ability. Her two-piece designs make this a doddle and clients wear their skirts or tops time and time again. The new collection is also all about body positivity, in so many ways:
"For years, I've heard women say 'I can't wear a crop top' or 'I'm not sure I can have my midriff on show'. We all have our issues and if a flash of tum isn't your cup of tea, that's fine! However, I kept experiencing this notion of 'I'm a size 14 so I can't'. I wanted to prove otherwise so I started my hunt for the perfect size 14 model so show everyone that YOU CAN!"
"It took me three days of castings to find the right curve model and I was stunned how hard it was. When Amanda arrived, before she even tried any of the outfits on, I knew she was 'the one', and I booked her instantly."
"She had this incredible happiness to her and was literally a ray of sunshine. It was only later that I found out she had suffered with anorexia for six years and had nearly died several times."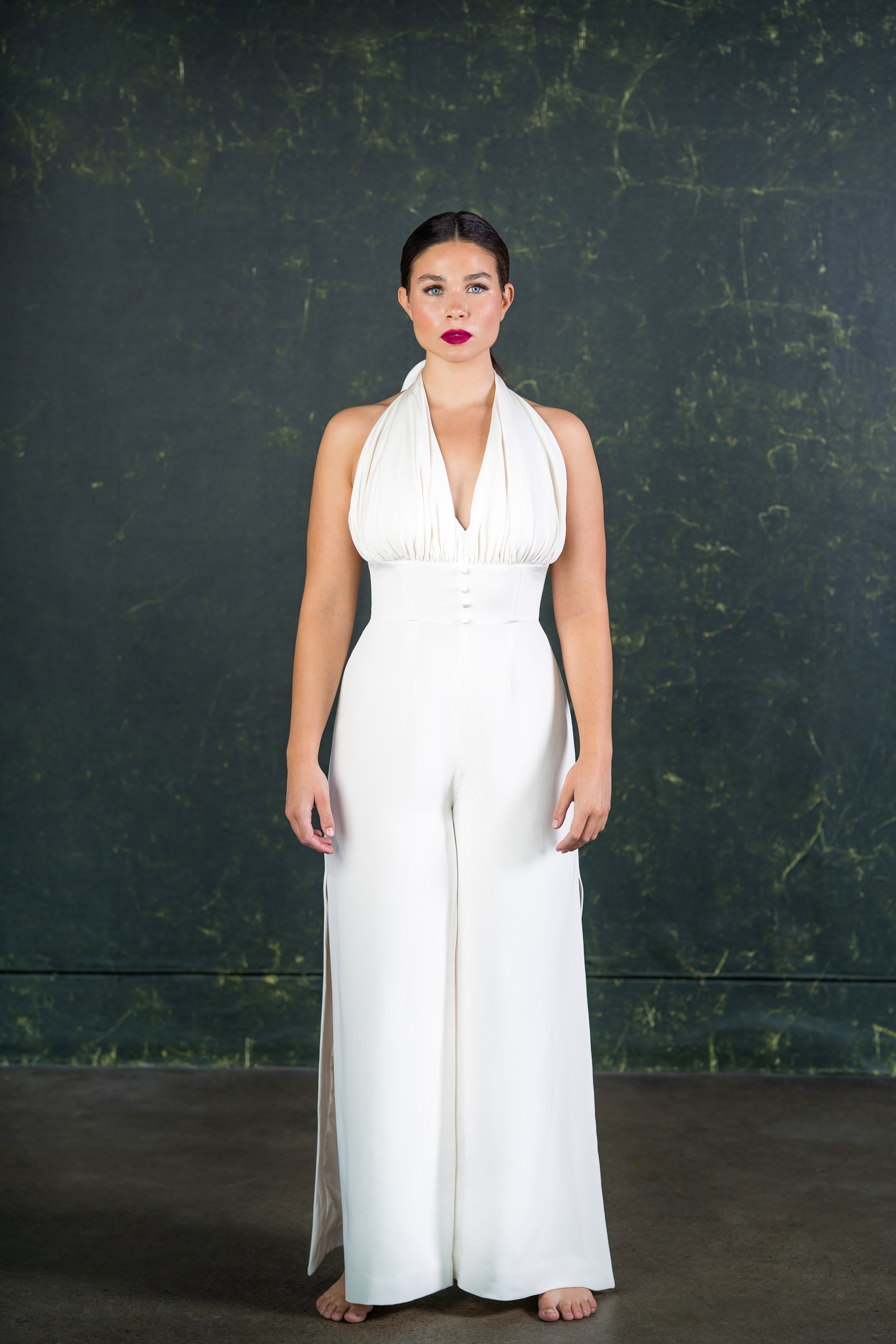 "She had been in and out of hospital and on death's door. Her story was mind blowing to me. To have gone from those dark depths to becoming a curve model was incredibly humbling and so brave. I felt huge amounts of respect towards her. She was the perfect woman to help me demonstrate you can wear whatever you want, whatever your size."
Hannah wanted to capture this story on-set during the shoot and so asked her husband to film an impromptu conversation – please do watch , this film contains a really strong message about body confidence.
As every piece is made to order, House of Ollichon can cater for every size so whether you're worried about your arms, tum, bottom or calf diameter, you'll be wearing something flattering and personally tailored.
And, just as your outfit is yours and yours alone, when you visit House of Ollichon, you'll have total privacy. No one else is changing next to you and there's no one wandering in at the wrong moment. There's a cool East London vibe in the space with bare brick work, raw textures and calming teal hues. It's the perfect space, where you can discover the bridal you. Dress-less, of course.
To find out more about the new collection from House of Ollichon, hit the website. You can also book your appointment at their all-new Islington studio.