A beautiful wedding veil is, for so many brides, an essential part of their wedding day ensemble.
Just like the dress itself, there's really only one day in your life when you can wear a veil so it's no surprise that vast numbers of brides choose to do just that.
However, modern veils are a million miles from the stiff, starchy net drapes of years ago, they're soft, sublime and feminine and there's so much more choice than you might imagine. Today, I'm delighted to say that we're welcoming Lynsey, Founder and Head Designer at The Wedding Veil Shop to Love My Dress so that we can enthuse about veils together.
The Wedding Veil Shop

+ Follow



The Wedding Veil Shop is exactly the kind of business that you want to engage with as you plan your wedding. Not only are all the veils handmade in their studio near Blackpool but the team are also beyond passionate when it comes to customer service. They're always happy to help if you have questions, there's a fantastic wedding veil Q&A on their website and the Custom Veil Designer lets you create your own veil with a few clicks.
"I imagine my story is quite a common one in the bridal industry in that my business was born during the planning of my own wedding back in 2005," says Lynsey. "I decided to make my own veil (and my invitations but let's not talk about those!) and from there, things just took off."
"I think veils are just so beautiful and ethereal. I know each bride is entitled to make her own decision on having a veil, but I have to confess that when I see a bride without a veil, I always try to envisage which veil I would have paired with the dress. It's just the perfect finishing touch in my most humble and completely biased opinion."
Lynsey's opinion is, however, anything but humble. When it comes to wedding veils, she really is quite the expert and her designs are simply exquisite, including playful designs right through to classic, elegant veils for the utterly romantic bride.
I adore Violet, a delicious 'barely there' fingertip veil finished with this year's embellishment of choice, pearls. For sophisticated simplicity, the chapel-length Riannah with its perfect satin bias binding would be my choice or if you prefer a shorter veil, Valerie, in a soft, light illusion fabric and a narrow ribbon edge gives the great effect of a veil without the worry of dealing with a longer design.
"I would be hard pressed to choose just one veil as my personal favourite, there are so many! But design-wise, I'm loving drop veils at the moment, like our Caitlyn and Matilda veils. They're so soft, sheer and feminine and they look great in photos." 
"When it comes to choosing your veil, I would advise brides to do lots of research. You might spend a lot of time thinking about your dress but it's possible you've not considered your veil and just end up going for the first one you see. Get yourself onto Pinterest and pin all your favourite looks and you might just start to notice a pattern of the veils that you're naturally drawn to." 
I'd also urge you to spend a little time reading The Wedding Veil Shop's guide to all things veil. It's a mine of information when it comes to choosing the right length, width and colour and definitely play with the Custom Veil Designer too. You can make your own veil online or, if you'd like a lace design, get in touch with Lynsey and she'll be super happy to help.
"Once the design is perfect, it's handmade to order in our studio and that's true even for our set style and non-custom veils. Each order travels through our workshop to each seamstress who specialises in a different aspect of the make. We attached each bride's name to their veil so even if you order online, you're never just an order number. Once complete, your veil is beautifully packaged and sent out and when it arrives, you'll feel as if you're opening a gift."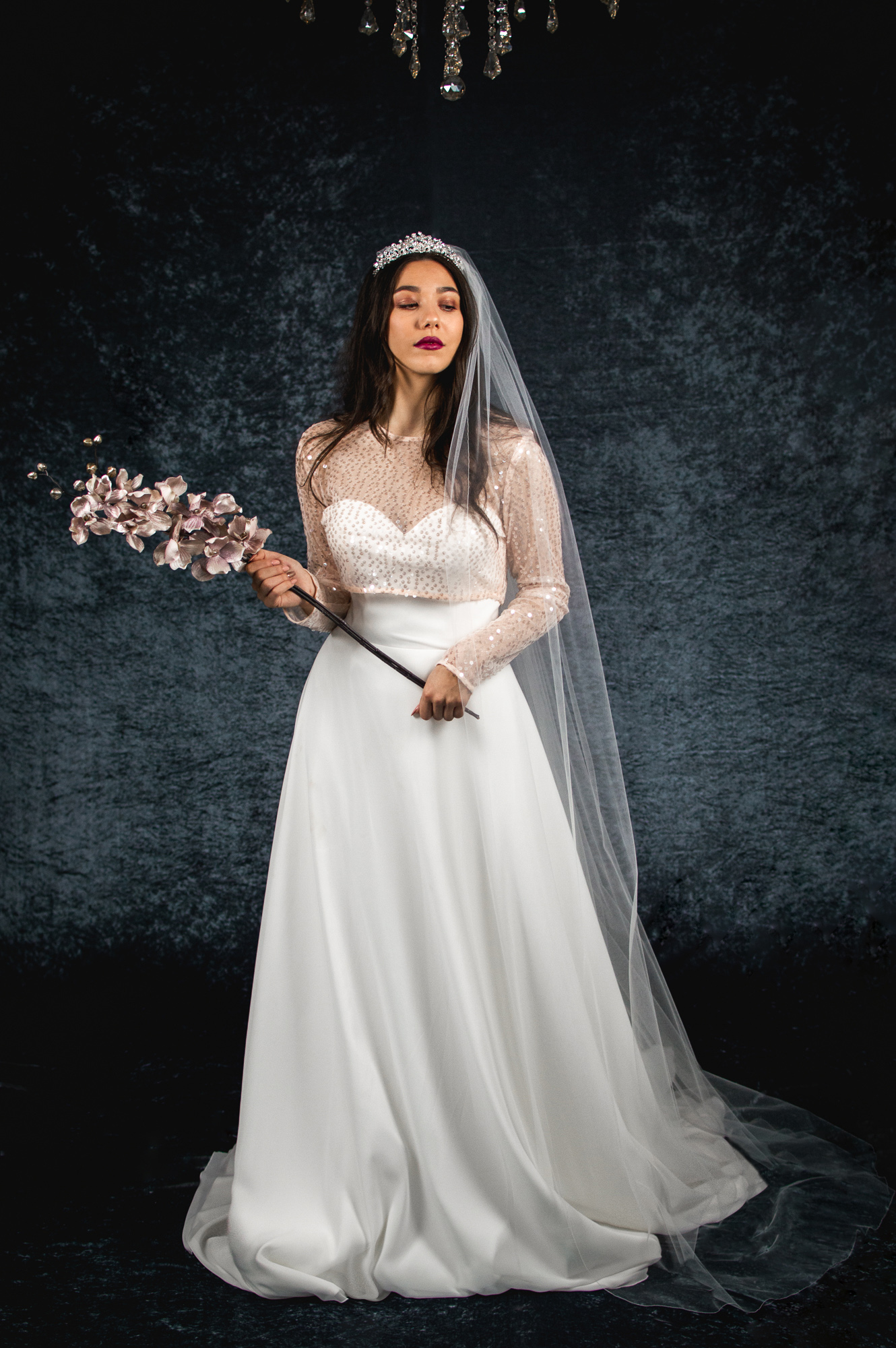 In addition to the brilliant online shop, you can also shop in person if you prefer. Lynsey opened her boutique, Taylors Bridal, in 2014 so that brides can visit to choose their veil in a wonderfully luxurious setting. You might even be able to spy Lynsey's team of extraordinary seamstresses working away on other veils as you choose yours. Taylors Bridal and The Wedding Veil Shop are truly the home of irresistible wedding veils.
The Wedding Veil Shop's veils start at under £50 for a shorter, simpler style whilst long lace, cathedral designs are around £300 with a huge selection of designs and price points in between. Until the end of January 2020, The Wedding Veil Shop are offering a marvellous 15% saving on all orders – just use code JAN15 at checkout.
To find out more, browse The Wedding Veil Shop right now – just click here to discover the wedding veil collection.