I love to introduce our favourite designers to brides around this time of year because we always have such an influx of new readers, thanks to all those seasonal proposals.
This is a designer who needs very little introduction from me, because she's just so fascinating and such a great conversationalist that she says everything herself below. But I invite you to go grab a cuppa and enjoy this in-depth interview with the incomparable Kate Halfpenny-Duffy, of Halfpenny London.
I was born a maverick and I will never change! Kate Halfpenny
Kate has long been one of my very favourite designers and biggest of inspirations. She has the most incredible drive to keep innovating in is one of a handful of people I believe are true creative visionaries. I love to recommend Kate to brides because I know without any shadow of doubt that anyone visiting her boutique to try on one her gowns will receive a magical experience. Anyway lovelies, let's get to know this brilliant human a bit more shall we? Over to you Kate…
Halfpenny London

+ Follow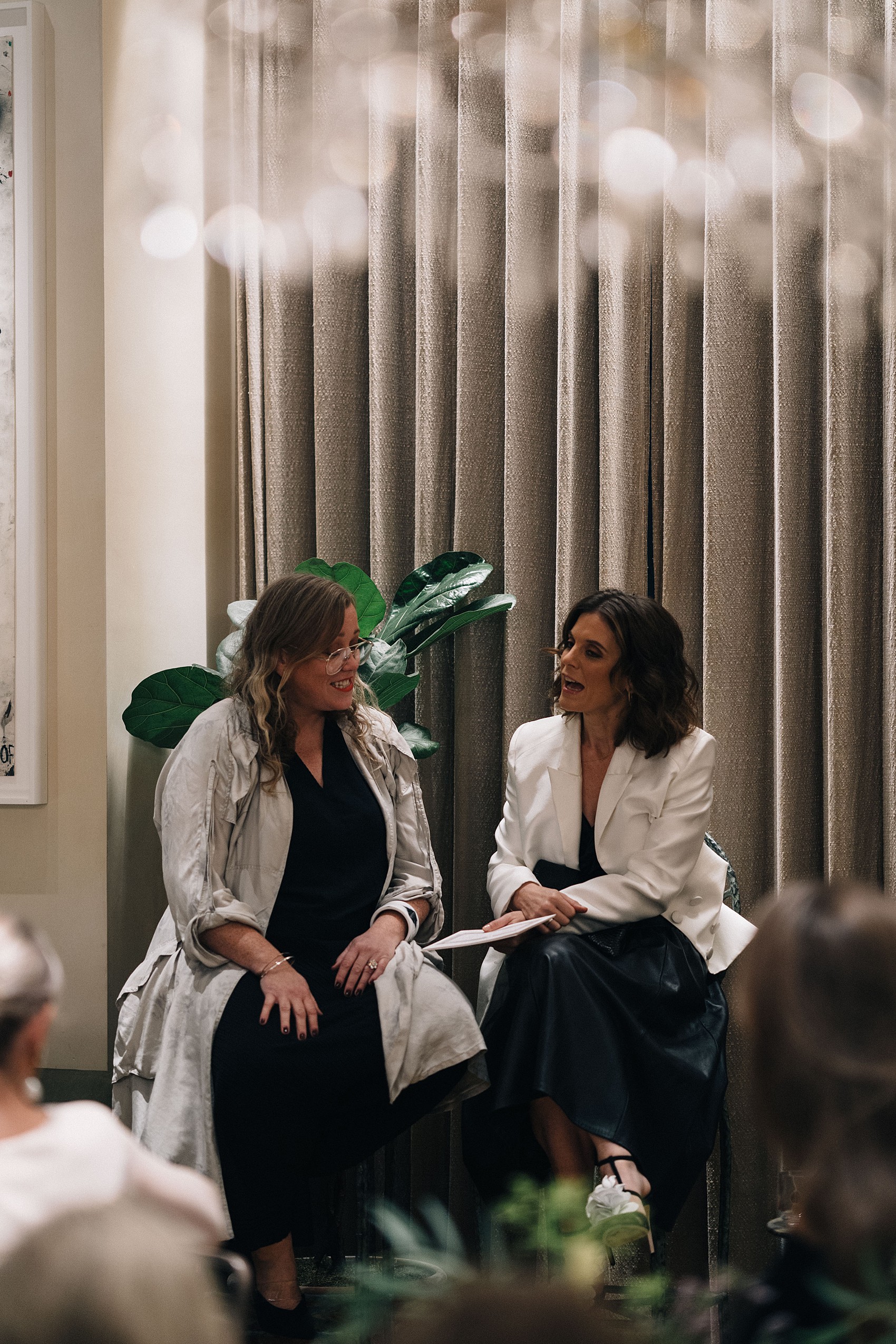 Kate, pictured with her muse and friend, Emilia Fox
Image by Zach & Grace for LMD Collective
Who are you, and what do you do?
I'm Kate Halfpenny, the owner and designer behind British bridal brand Halfpenny London. I live in Faversham, Kent where I relocated a year and a half ago with my husband, James and my four year old son Sylvester (our magic IVF baby), after living in Camden for many years.
I have a big soppy 11 month old Australian labradoodle, Rambo, and two cats called Punk and chicken.
Tell us how you started out in fashion and what drew you to bridal in particular?
I was always obsessed with dresses and fashion. I grew up in a small town called Ripley, in Derbyshire.  I wasn't very academic and school wasn't the dream for me that it was for many people.  As soon as my GCSE's were over I ran as fast as I could to Art college where I just had the best time.  I then was lucky enough to go to University where I did a four year sandwich degree in fashion with marketing and manufacture and specialised in bridal wear for my final show.
Film Zach & Grace for LMD Collective
It was the late 90's and I designed a collection of interchangeable bridal separates as I saw the potential back then for an alternative look to traditional wedding dresses. After an internship at Vivienne Westwood I knew I couldn't work for a fashion house and fell into styling and costume.
I started styling music videos and TV commercials and making my wedding dresses on the side. Who would have known this dreamy labour of love would ever become my full time job where I now employ 15 people.
Can you describe your signature style?
My signature style is definitely the interchangeable elements of my collection. I always keep my full collection in mind when introducing new pieces and very much design with interchangeability in mind.  I love the way a bride can select a base dress from 2005 and an overskirt from 2019 and they work together beautifully.
This allows brides to express themselves on their wedding day. There is simply nothing you can't do or create with my huge collection.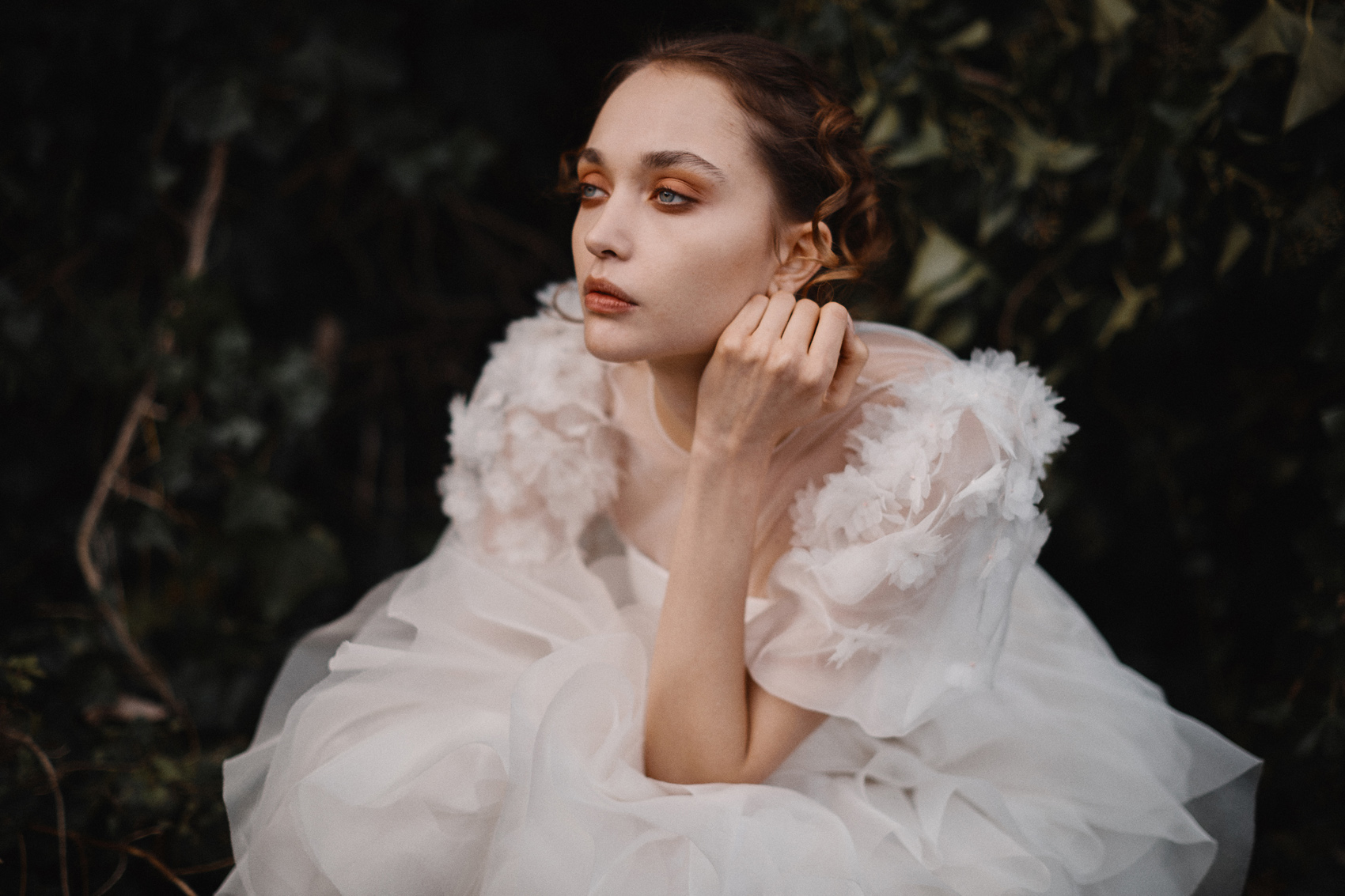 What do you think makes your bridalwear so appealing to brides?
I think the versatility is a big factor because a bride really can create her own, unique look with us with all the elements we offer.  They can really be a polished version of themselves when wearing Halfpenny London.
How would you describe the typical Halfpenny London bride?
There isn't a typical Halfpenny London bride.  No matter a bride's age or style, if she loves beautiful fabrics and gorgeous cuts then our doors are open!  I always say "be the bride you want to be" and if that means a simple, chic gown or a textured piece, or trousers, or a gorgeous corset with a dreamy skirt then go for it!  The problem our clients have is choosing just one outfit, the potential styling options are epic.
What do you love most about working in the bridal fashion world?
It's a huge privilege being entrusted to make such a special garment.  I love making my clients feel incredible. I love creating new styles and seeing the reactions to my designs, seeing the look on a bride's face when she puts on the dress of her dreams… I really do love my job.
Where do you start with each new collection – can you talk us through your process?
I start with a theme. I'm always very intuitive, my inspiration and my designs just evolve organically. I'm inspired by fabrics and textures, beading and a great cut. It's such fun creating new collections. We do two new collections a year, and then we also have the Net-A-Porter Edit that we design exclusively for them and the Black Edit for red carpet and parties which we add to annually.
I'm super excited because we're also launching a new occasion wear collection called 'Sister' (check Love My Dress this coming Friday!) and is perfect for the bridal party.  Every bride who walks through our door is completely unique and our differences should be celebrated.
I wanted to carry my mission statement of 'being the bride you want to be' through to the wedding party by creating an edit of ultra-flattering, interchangeable pieces which look fabulous together and also allows every bridesmaid to feel incredible on the big day and beyond.
The Sister collection has something for everyone – from my signature separates to dresses and even a jumpsuit.  They've all been designed to be worn on the wedding day, then incorporated into your wardrobe afterwards to wear again and again, styled in your own unique way.
How/where do you source your fabrics?
I am a fabric obsessive!  I'm absolutely fanatical about finding the perfect textiles to make my gowns.  I source my fabrics from as close to home as possible. My laces are mainly from France, my stretch duchess is from Germany and my silk crepe-back satin is from Italy.  I also work with some Asian manufacturers that weave some intelligent yarns to make our mixed fibre satin which we use for a lot of our slip dresses.
Do you have a/any design muses?
No one in particular but I'm constantly inspired by my brides.
(Readers, you can explore many beautiful real Halfpenny London brides here on Love My Dress)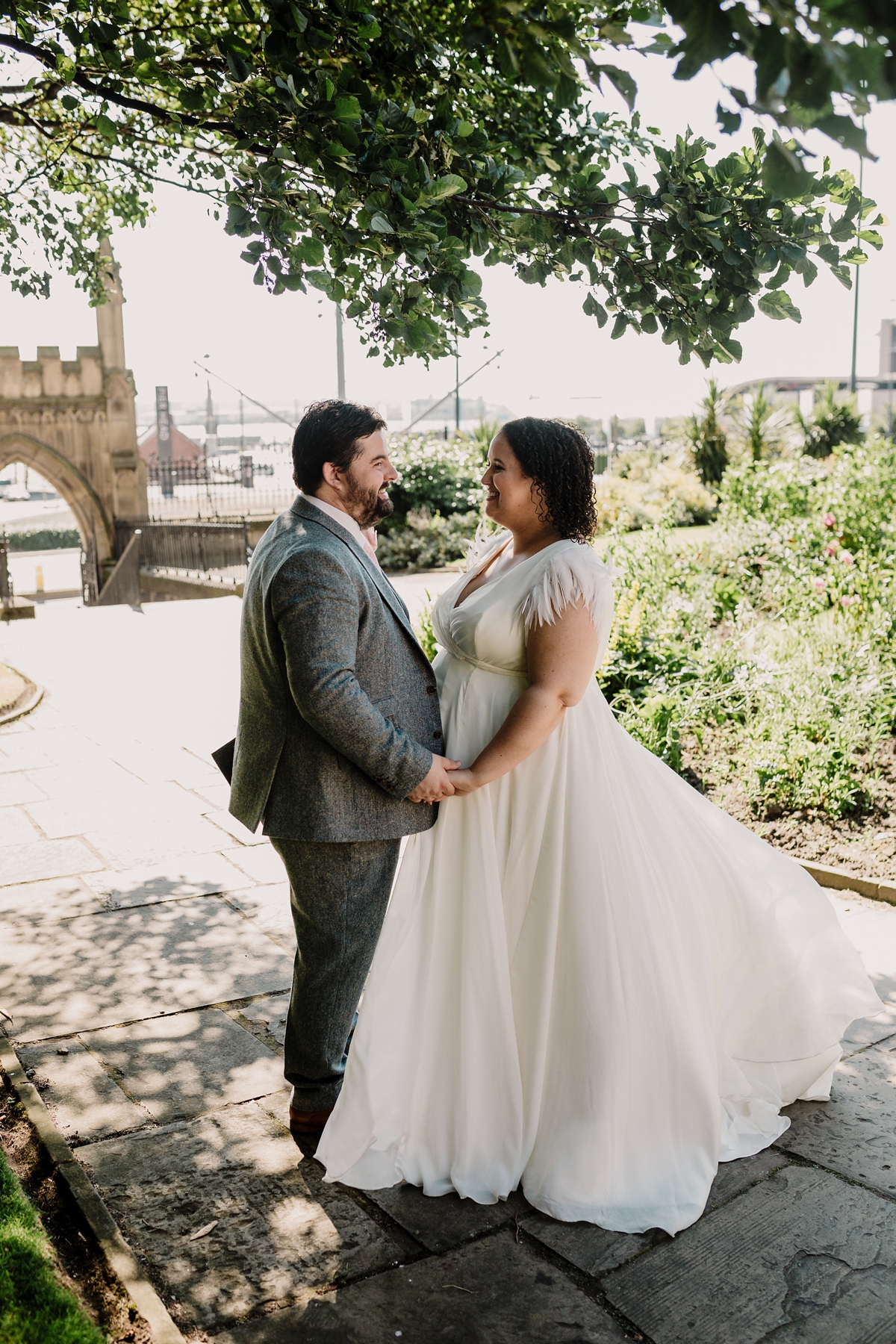 Pregnant bride Lianne wore Halfpenny London
Image by Amy Faith – see the full wedding here
Tell us about your latest collection, SONGBIRD, and what inspired you to create it?
The songbird collection was inspired by an abandoned bird's nest my husband and son found in the garden of our new house. It was in a fallen tree and the intricate woven nest blew my mind. It was incredible how – with just a beak – a bird could create something so precious and delicate, but strong. There's always a strong focus on craft and technique in my collections but I wanted to push this more and think of a way to repurpose some of our waste fabrics.
We make a skirt called the Riri, which is cut from meters of silk organza. The fabric is cut into circles, then the centre is removed to create the delicious frills. There's a lot of wastage created and I couldn't bear to throw all these small circles and off cuts away, so I saved them I came up with the idea to make them into the most beautiful little flowers for the Songbird collection, each and every one handmade by my darling mum. She always taught me to find the beauty in the tiniest piece of cloth and it's a philosophy I always try to live by.
Do you have a favourite gown in this collection or maybe one or two gowns you think might be really popular with your brides?
I love the Reece corset and the Wheatley skirt. I just love the silhouette and the construction of the skirt. It's circles and circles of silk organza. So gorgeous!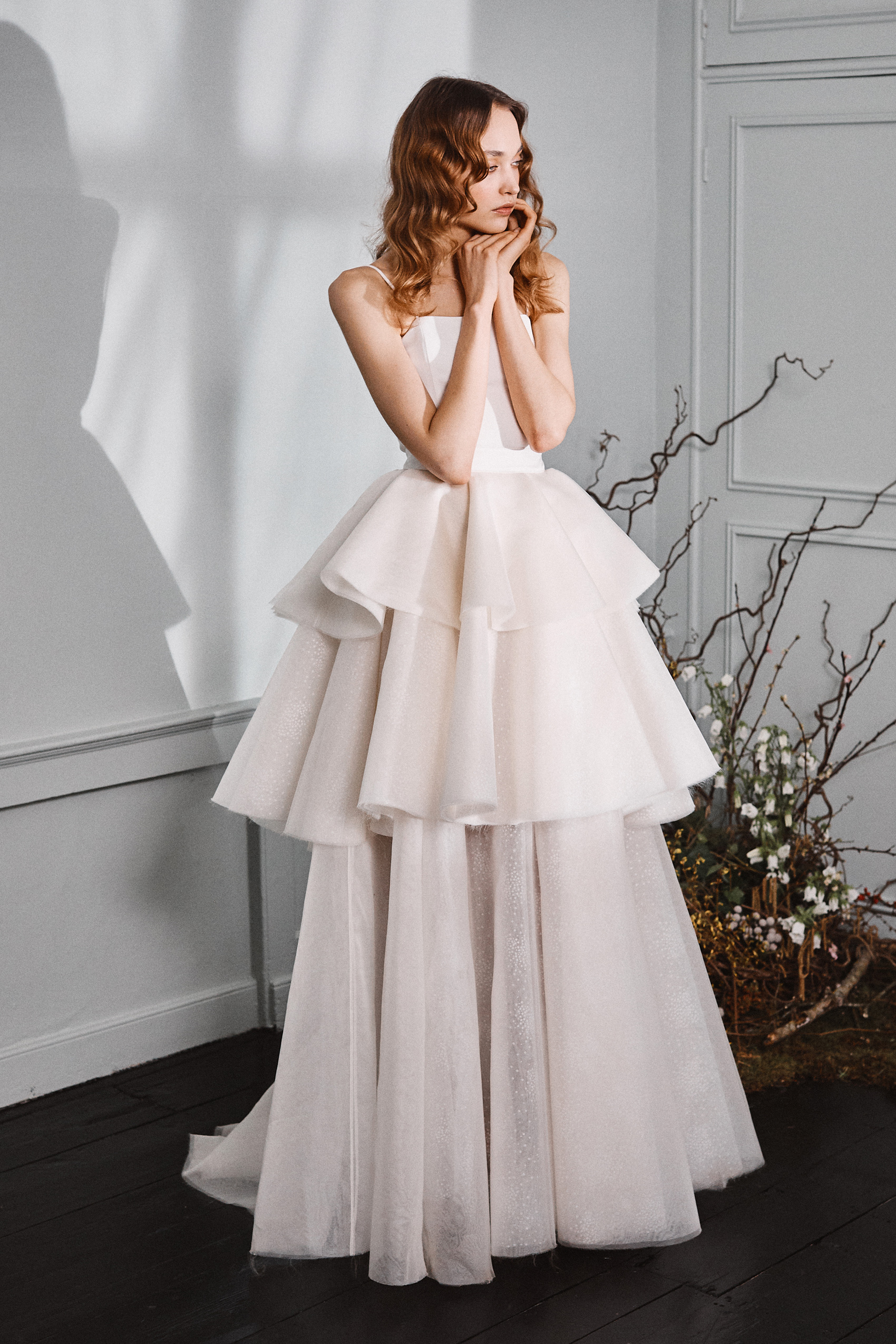 You have long embraced the notion of styling for all women regardless of size. Can you share some of your thoughts on this? Would you say your designs are for a variety of body shapes?
My collection is designed with all different body shapes in mind.  Again, we are all unique so it would be crazy to expect one style to suit all people! We've created an edit of inclusive samples in the boutique so that the styles that really work on curvy bodies are available for our brides to try on because it's super difficult being able to choose a wedding dress if you can't fit the samples.
In my opinion, a woman should wear whatever she likes on her wedding day as long as it makes her feel good.
What would you say to the bride feeling nervous/anxious about trying on gowns for the first time?
I would say try not to stress too much.  You know there will be something incredible out there for you to wear!  You aren't suddenly trying to be someone else, you're aiming for the best version of yourself, so if it's trousers you want, or you're feeling that white isn't for you, don't put pressure on yourself.
Remember your fiancé is marrying you for you, so find a look that simply makes you feel Incredible. If you come to Halfpenny London then my team of caring expert stylists will show you plenty of options and ideas.  You'll be spoilt for choice.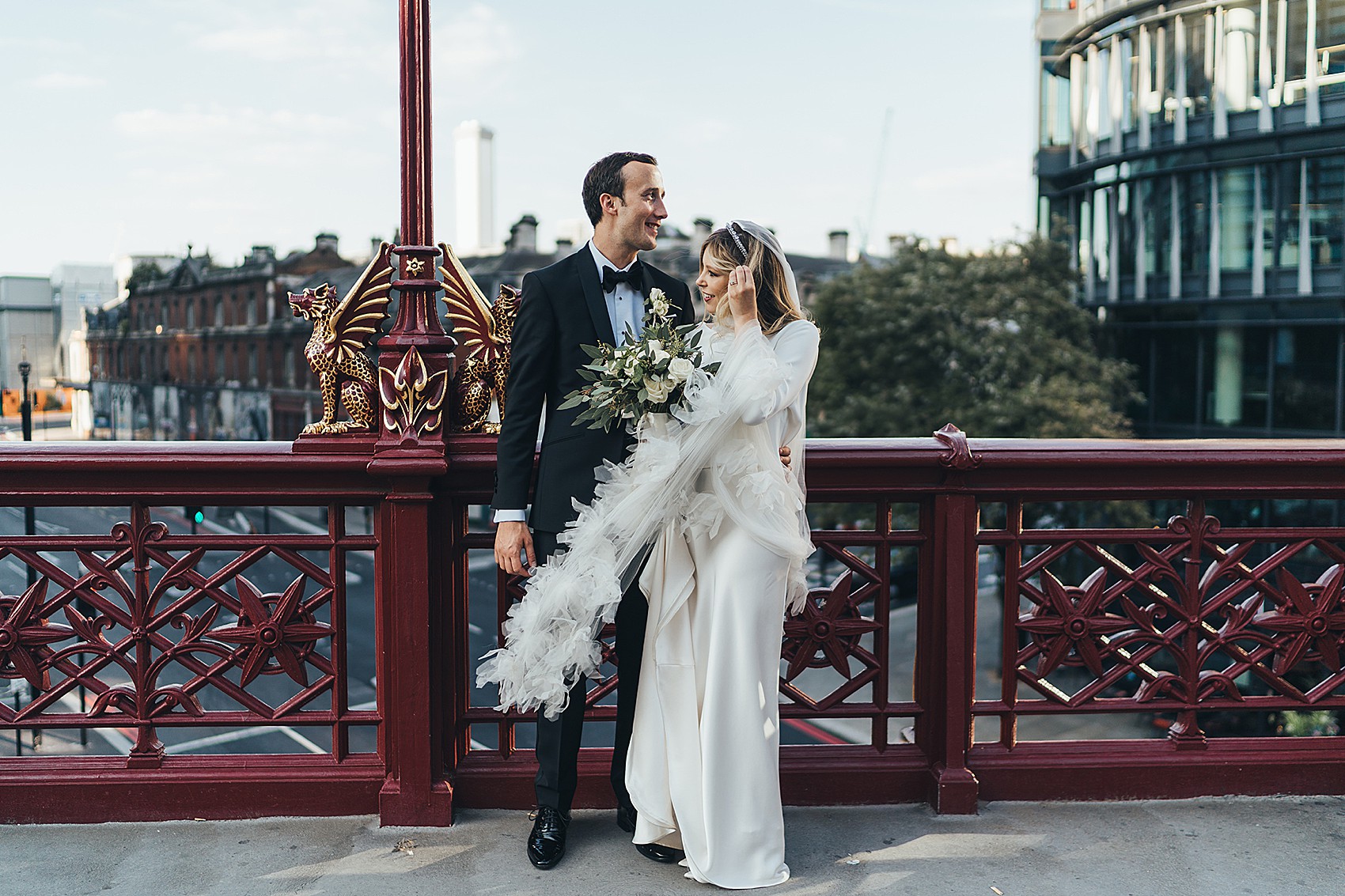 Sophie wore a Halfpenny London dress and veil
Image by Miss Gen – see the full wedding here
Are you noticing any change in your bride's attitude towards making more conscious and ethical choices?
I have long believed that British made is important where my manufacturing is concerned. We have always made our bridal wear in London and, in fact, a huge proportion is actually made in the atelier in Bloomsbury. I feel very lucky to have such talented artisans in my team that can literally make anything.
We outsource some of our embroidery to Kent and Sussex as well as some of our more specialised pieces being made in North London. We're trying to design with a conscience by repurposing what would be waste materials and are also creating a new collection of limited run pieces that are using up some fabrics from our archive.
We're trying to make changes to the way we operate on a daily basis to become more conscious of our footprint. For example, we're in the process of making sure all our packaging, ink and printing matter is recyclable and considerate to the environment and have lots of other pans for the future.  Little changes all add up.
What does an average day for a successful bridal fashion designer look like?
No two days are ever the same!  I have a strict design day on Monday where my team come to my home and we work on new collections and creative projects.  This could include any celebrity collaborations we're working on, or mapping out the range plan or moodboards for the upcoming season, testing fabrics and getting immersed in the design process.
Tuesday's and Wednesday's are similar, but in the London atelier where the pattern cutter and rest of the team can join in and brainstorm.
I'll typically have meetings with collaborators to talk about any projects we're working on.  I might also have some wonderful bespoke clients to meet in the boutique and I love to pop into appointments where I can and surprise some of my clients.
I'm constantly running between the boutique, atelier and head office so it's handy to have them all on the same street in Bloomsbury.  I work from home on Thursdays where I try to catch up on admin and pick up any loose ends.  Then, on Friday I try to have a day off and take my son to gymnastics and spend time with him.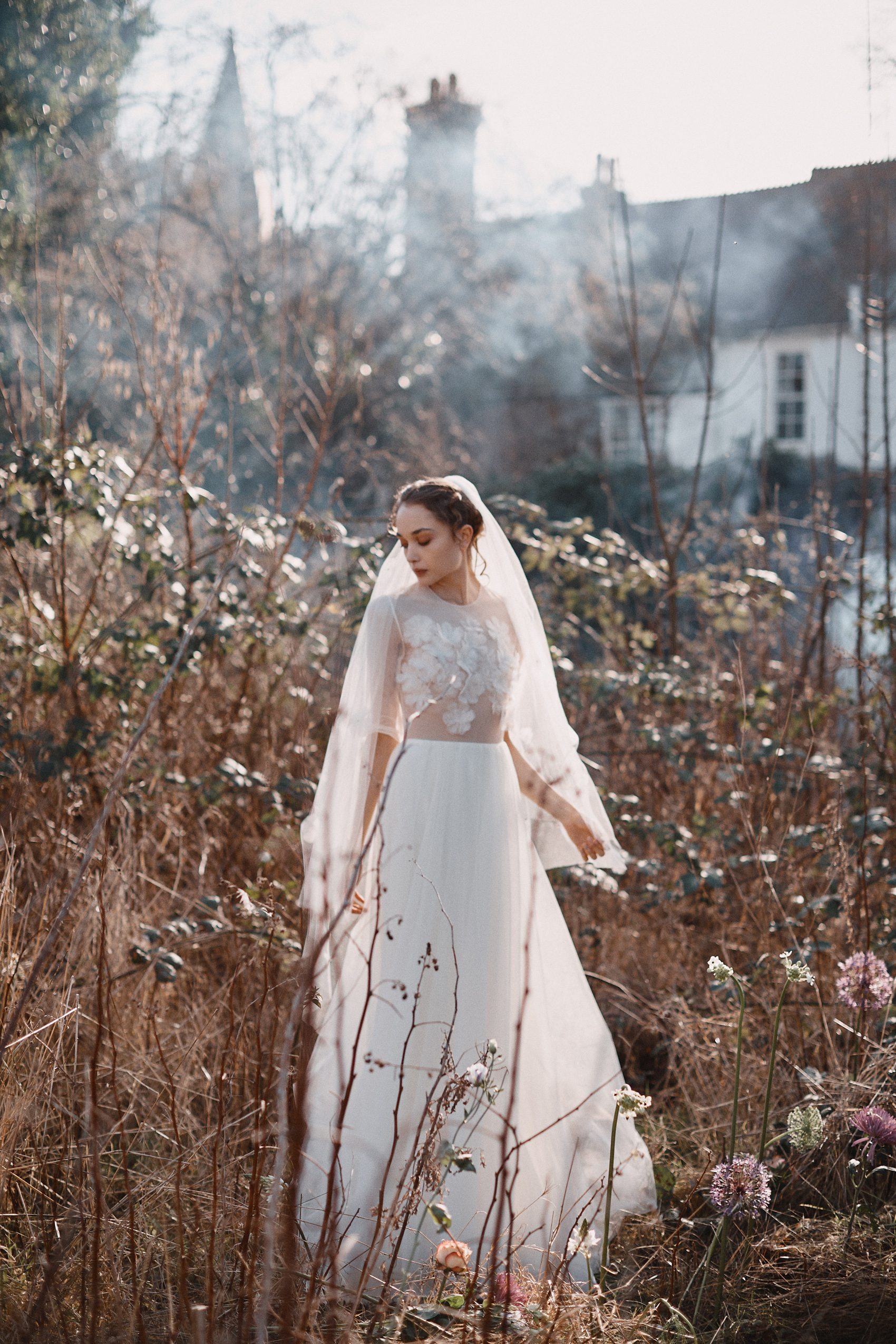 You moved out of the city to Kent quite recently, how has this changed your working life?
I highly recommend it to anyone considering leaving a big city for the countryside. I never thought I'd leave London but now I wish we'd done it sooner!  My life is a constant search for balance and the move has allowed me to make the most of my time with my family.
It's given me room to breathe and I feel much more creative and inspired by my surroundings.  The fresh air and seaside walks help to clear my head and give me a fresh perspective on my time spent in London at the boutique.
How do you balance your role as mum to your gorgeous son Sylvester and being a business owner/designer?
The struggle is real!  It's always a balancing act, but I wouldn't really have it any other way.  I love my work and I love being a mum and each one inspires me in a different way.  I try to do school drop off's and pick up's three times a week and my wonderful husband does the other two days.
I'm fortunate to have a husband so hands on as the mum guilt would be so immense otherwise.  It's so difficult to leave my son sometimes.  They're young for so short a time and it's important to be part of that wonderful growth.
You have a very close relationship with your family and a particularly special bond with your mum. Tell me about how she has influenced you in your work?
I got a lot of inspiration from my mum growing up.  She was a knitwear designer and she always crafted things.  Her imagination was wonderful.  For example, she'd take a curtain pole, chop it down into small discs and make them into hand painted brooches.
Mum was always creating something and taught me to look at everything differently and find the gold in the cracks. Mum's always helped at Halfpenny London in one way or another so when it came to the Songbird collection I really wanted to involve her more.
She cut out all of the beautiful little silk organza flowers used in the collection and hand-finished them with a French knot.  She still inspires me every day and we're working on new ideas all the time.
Can you share a bit about your work/creative space with us?
Halfpenny London started in the front room of my house many years ago so when I got the boutique I was really keen to make it feel like an extension of my home.  I've continued that vibe across to the atelier and now into the head office too.  There are dresses, fabrics and moodboards on the walls and it's truly a wonderful place to bring my designs to life.  The dark colours are the perfect backdrop for my wedding dresses and the space feels sumptuous and cosy.
My studio at home is painted in Dorchester pink from the Little Green Paint Company which I love!  I have an Irish embroidery machine which I'm desperate to use more and develop some more samples.  I'm surrounded by art books which offer endless inspiration and the walls have big prints on from one of our shoots.  The finishing touch is a big round marble table in the middle.  I love the decadence of marble. It transforms any space.
Tell us about your boutiques
I opened the boutique in 2013, which was Halfpenny London officially becoming grown up!  At first, everything was under the same roof in No.10 – the retail space and fitting room was upstairs and downstairs was the office and atelier.  We quickly outgrew that space so acquired the No.9 across the street in 2017, more than doubling our floor space.
We relocated the atelier and design studio to No.9 and two years later we outgrew that too, so now we have three spaces in Woburn Walk. Appointments are in such high demand so we're making the most of our beautiful boutique.
I won't compromise on the brides' experience.  It's so important to me that everyone has an incredible time with us and I want the boutique to be a warm, welcoming space, the dressing up box of dreams!
What would you be doing if you weren't running your own  business?
There's no other option for me.  I've always been an entrepreneur.  Nothing else made sense.  Even when I was a stylist, the buck stopped with me.  I always had my own business and carved my own path. I just love putting my own team together and creating our own, unique magic.
I was born a maverick and I will never change!
What's next for Halfpenny London
As well as launching the gorgeous new Sister collection, the new bridal collection is on its way.  We always have something up our sleeve!  It's Halfpenny London's 15th birthday this year and I can't wait to see what the next fifteen years brings!