Please welcome primary school teacher Margi and software developer Phil today, who chose The Winter Gardens in Hexham,  Northumberland for their relaxed ceremony led by one of their dear friends on 17 August 2019.
With a simple styling aesthetic with botanicals and a touch of boho at its heart, the couple followed the glasshouse ceremony with a relaxed dinner party, outdoor games and dancing.
Photography JPR Shah Photography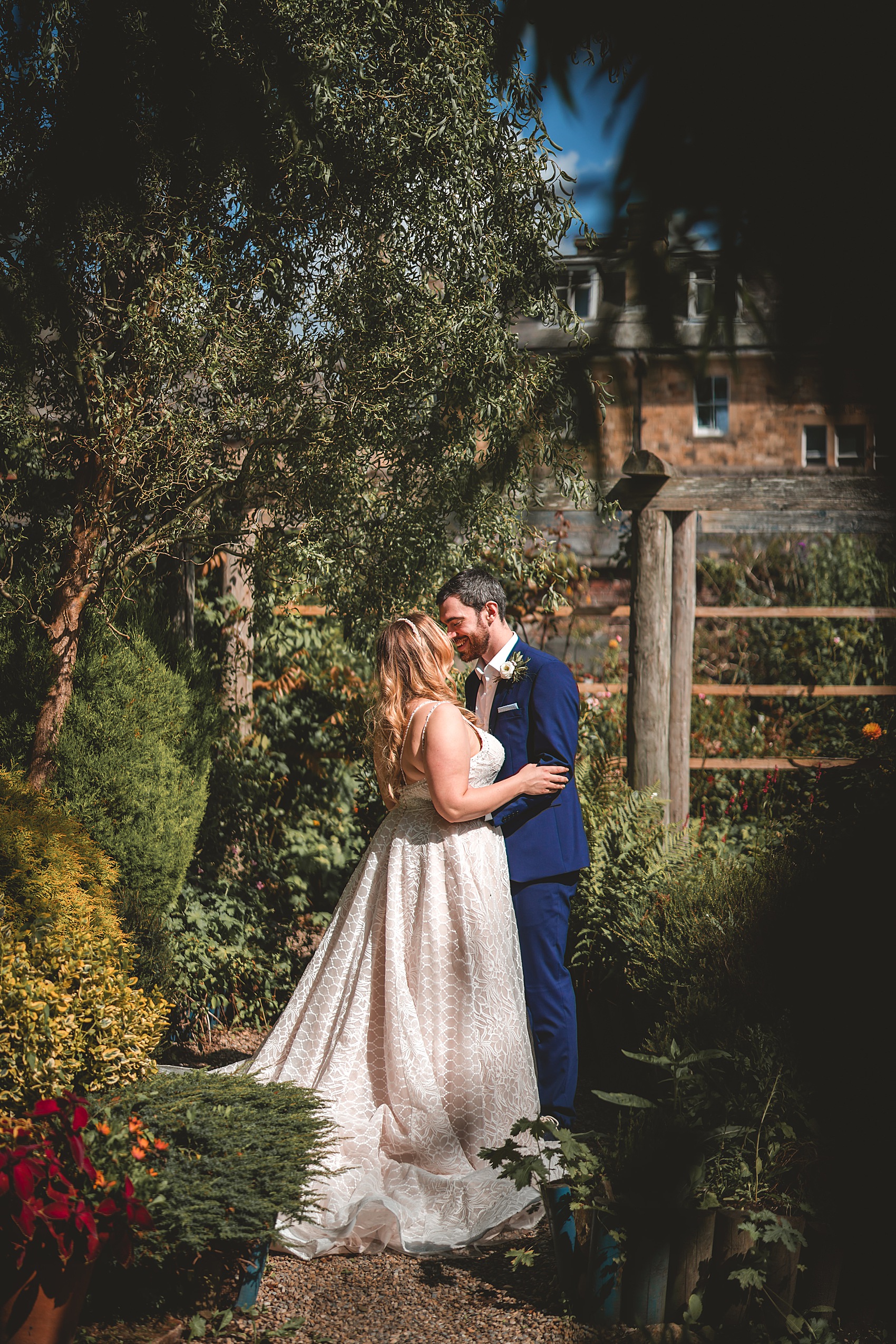 Although they attended the same university at the same time, it wasn't until after they graduated that they met.
"We had both joined Newcastle Upon Tyne Lacrosse Club in 2009 but it wasn't until I returned from university at Warwick that we became friends."
"After a year and a half of living together, Phil took me completely by surprise by proposing in our living room on a Thursday evening with a Haribo ring – something which I have preserved and still have now."
The couple were engaged for sixteen months before saying 'I do' and Margi used her school holidays to the max to plan the day, creating all the wedding signage and order of the day herself and designing and printing the wedding stationery on Vistaprint.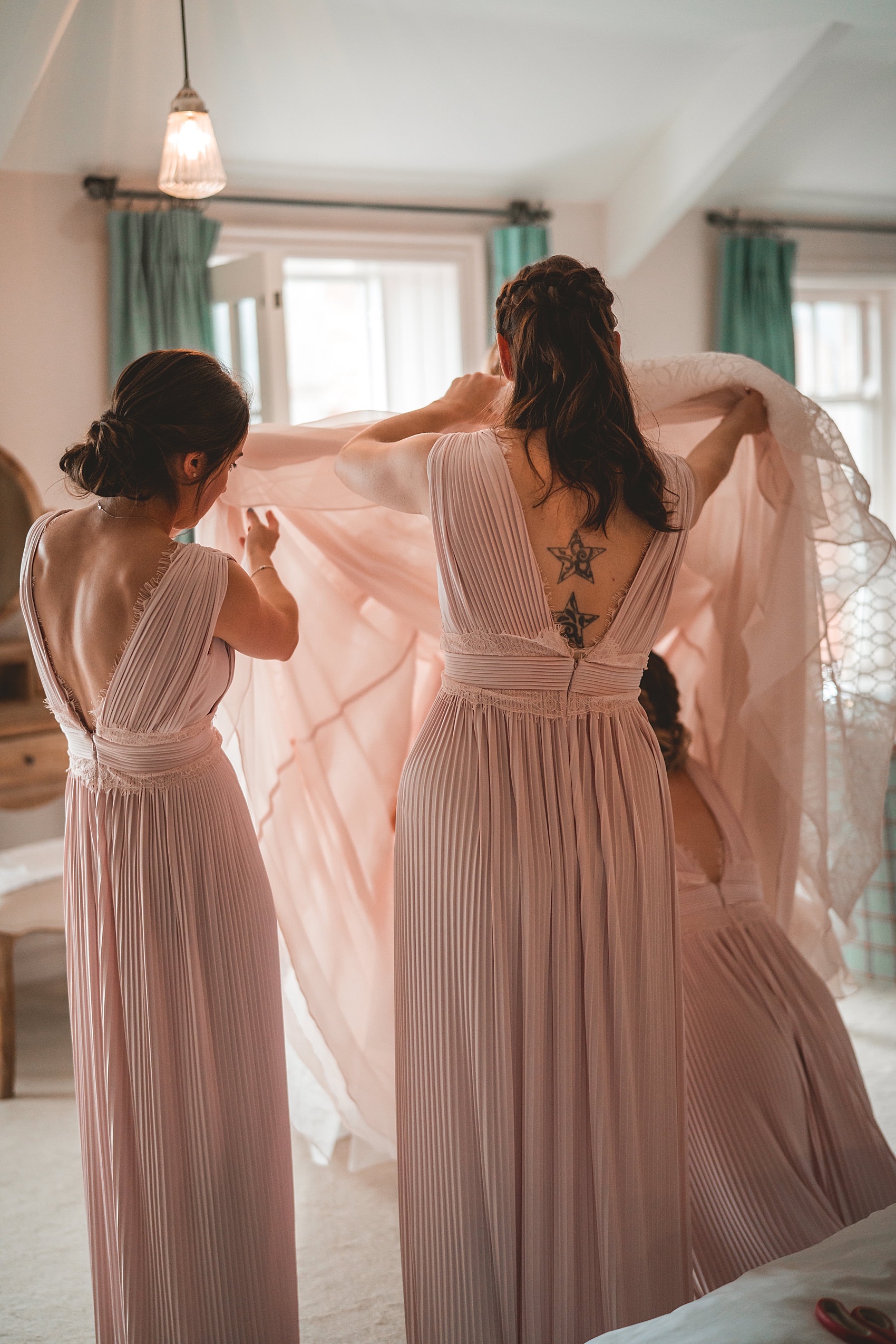 Margi's gorgeous, figure-hugging gown from Morilee, in a modern, geometrically-embroidered fabric, was chosen at Y.A.P Bridal in Newcastle. I love the detail of the deep, plunging neckline and pretty, embellished, double straps. Oh, and the impressive, full train too is so divine.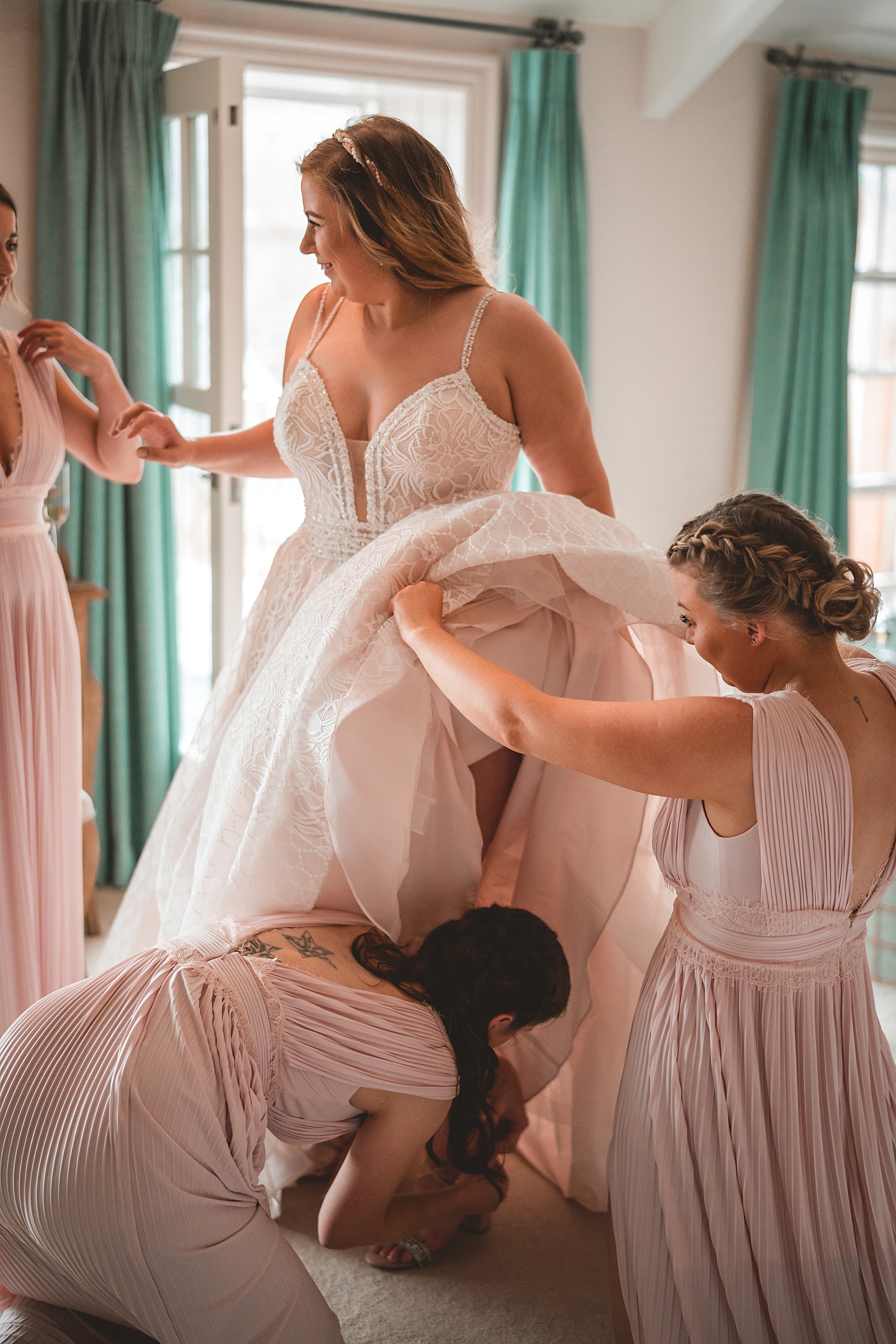 "It was not was I was expecting to choose at all but I found that it was quite flattering and I loved the embroidered detail across the fabric."
To match the straps, she added a pearl head band from French Fashion House and simple sandals from Kurt Geiger. Come party time, she swopped for glittered trainers from Kate Spade.
"Earrings were my mum's and I wore Flowerbomb Bloom by Viktor & Rolf."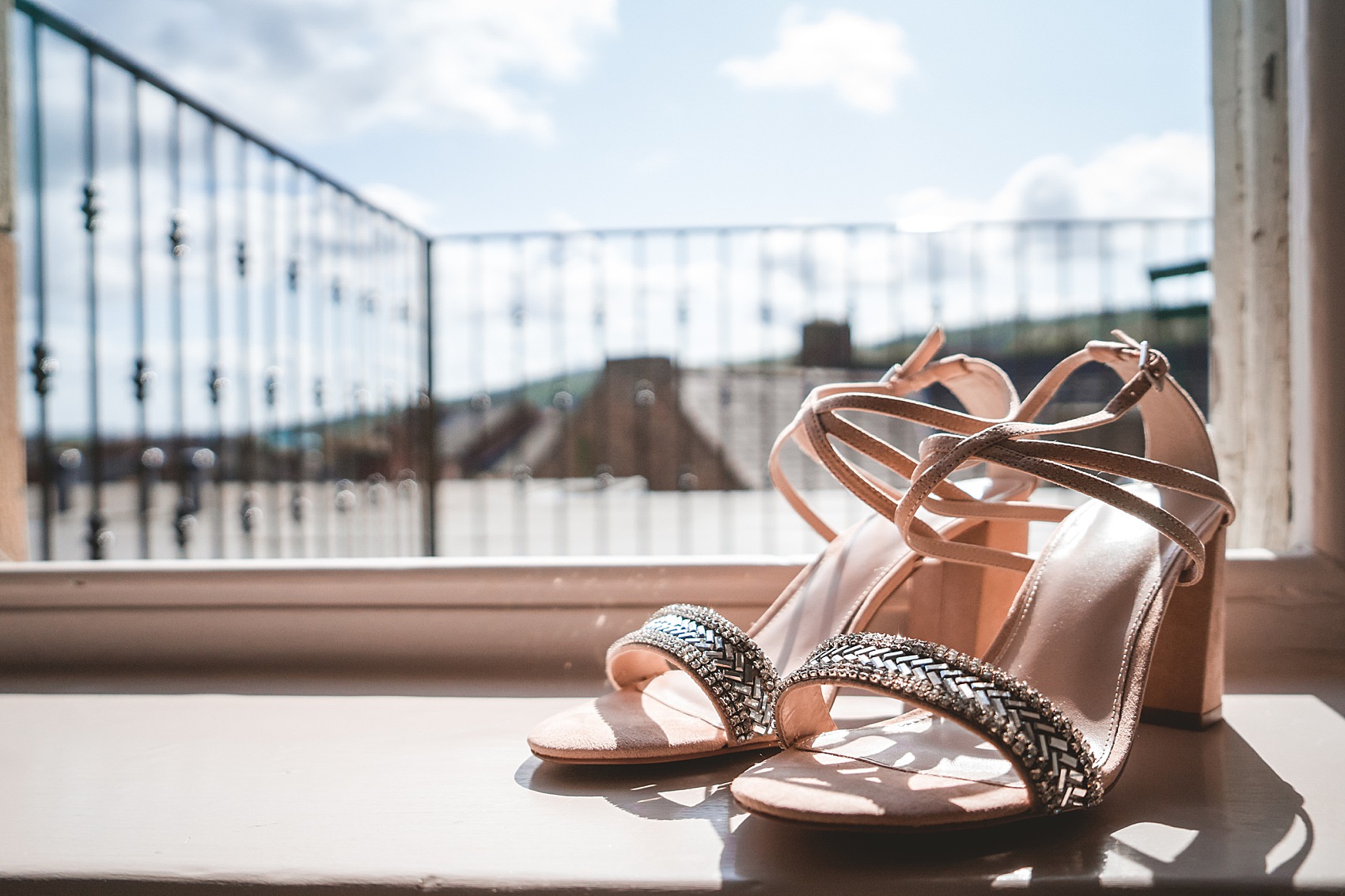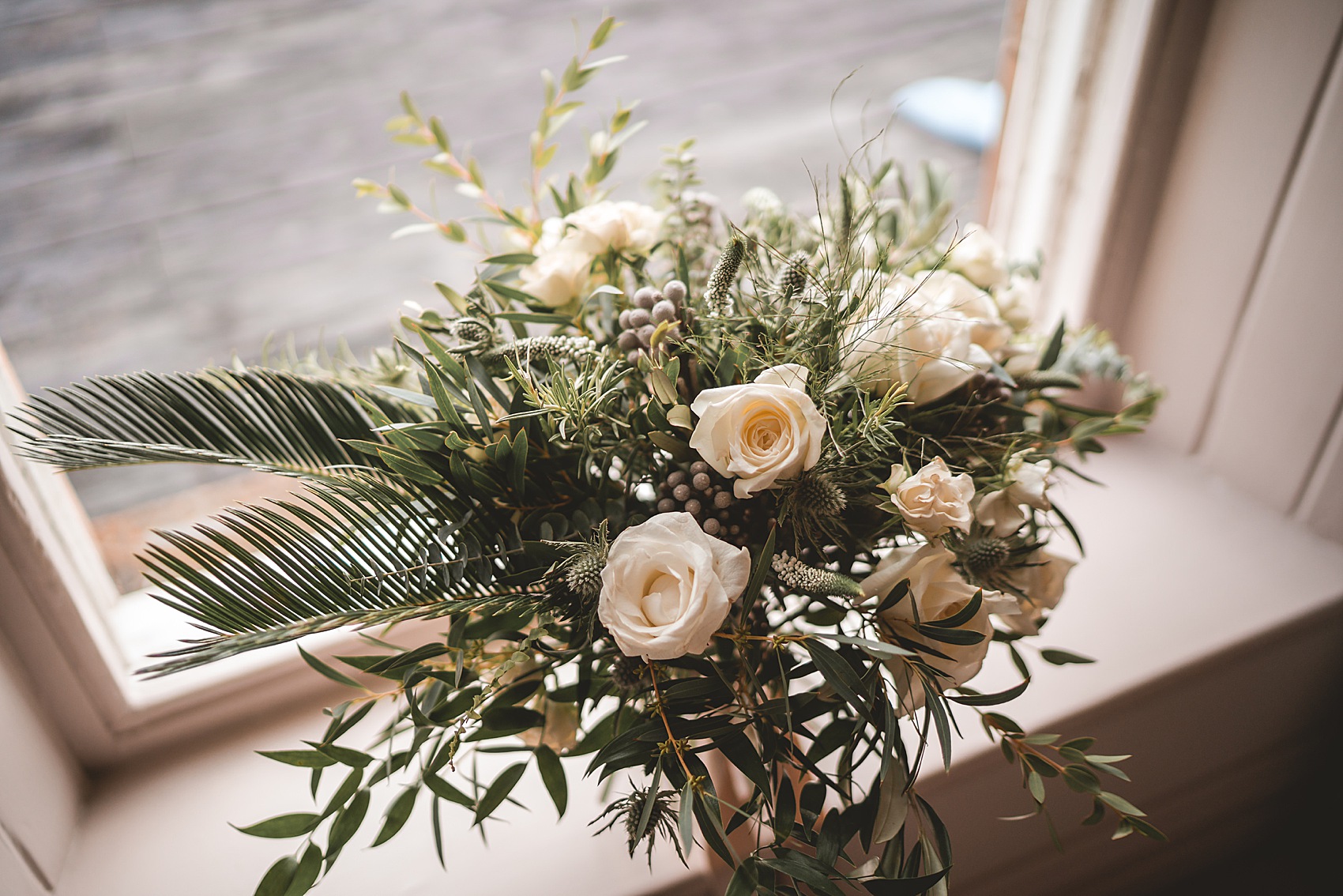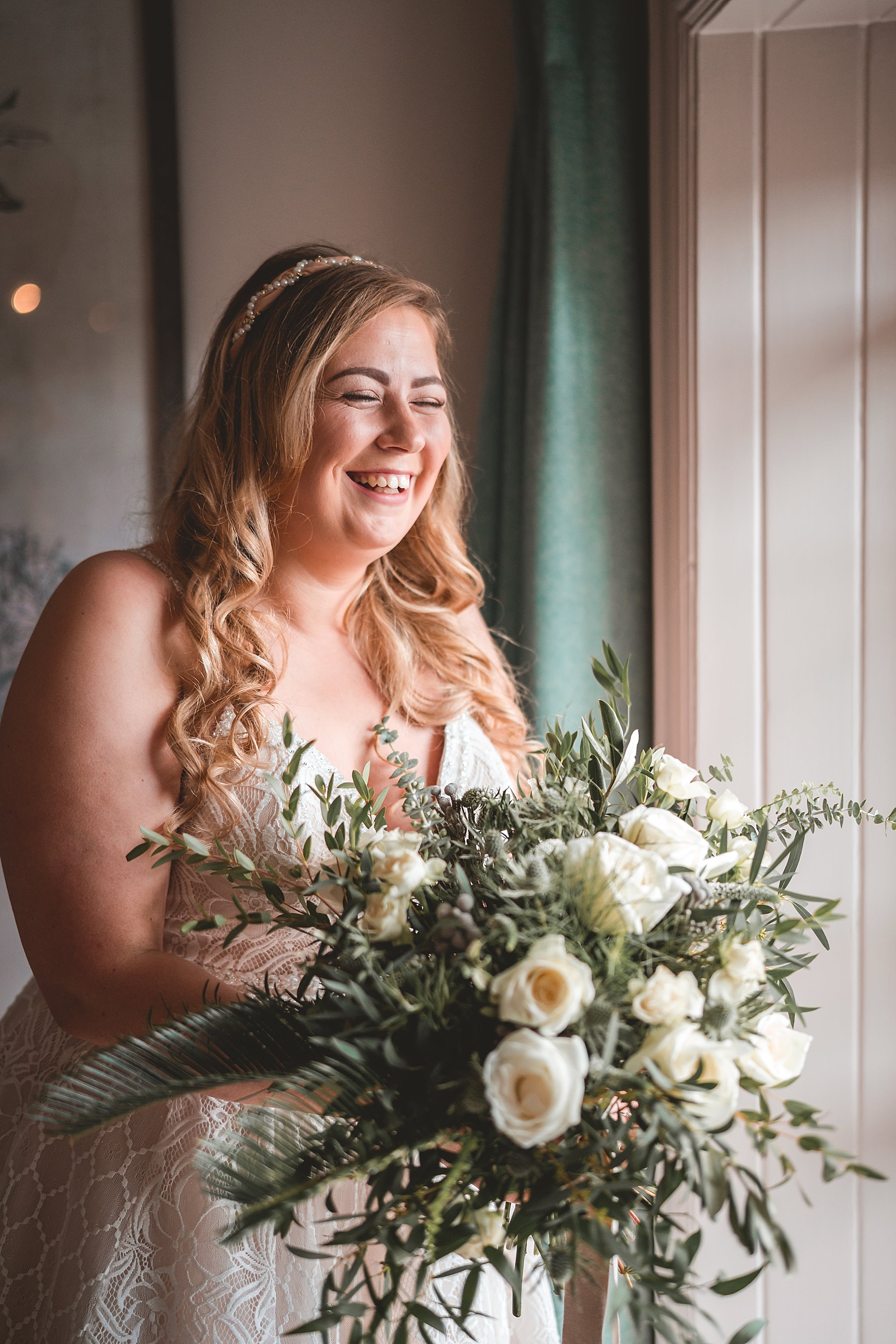 For a pretty and relaxed look, maxi-length gowns in pale pink from ASOS were chosen for the bridesmaids. Whilst they wore their hair in a variety of boho-inspired braids and up-dos, the bride chose to wear her hair down in long, relaxed ringlet.
The bride's friend and personal beautician, Leanne Sheills, styled her hair and her natural and pretty make-up look.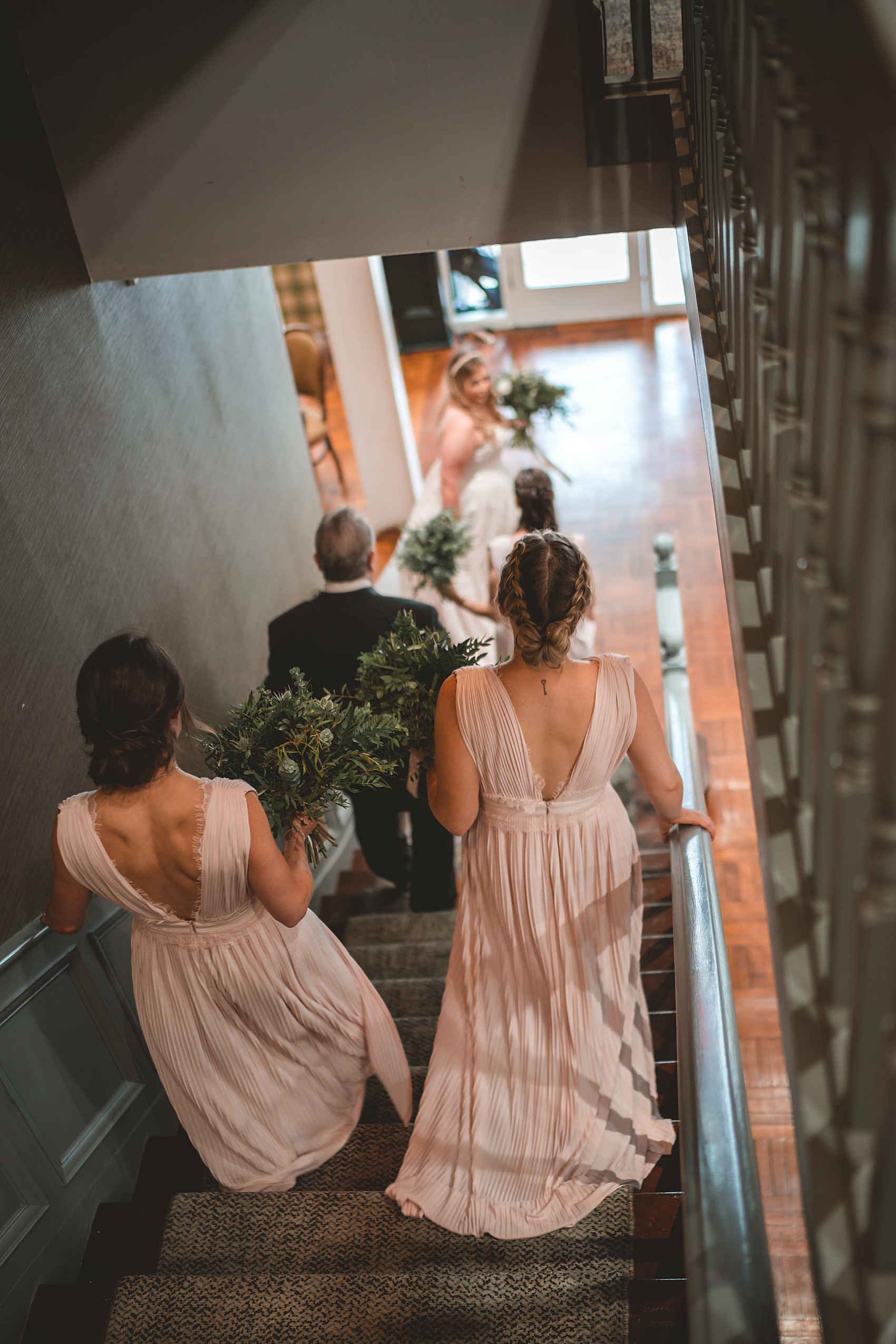 The groom chose to wear an open-necked shirt with his Next suit and Marks & Spencer shoes, and the overall look is chilled out and casual.
The bride and groom married in a formal, legal ceremony the day before, on 16 August, so had the freedom to do what they wanted for their Winter Gardens ceremony.
"We knew we wanted to get married in the North East as it was where we met. We both came to Newcastle for university and never left. We viewed three other venues but decided against them due to location, cost and planning limitations but came across Hexham Winter Gardens online and after viewing it on a rainy May day, we loved it and booked it straight away."
"We wanted a DIY wedding and the venue provided us with such a beautiful blank space to do with it what we saw fit."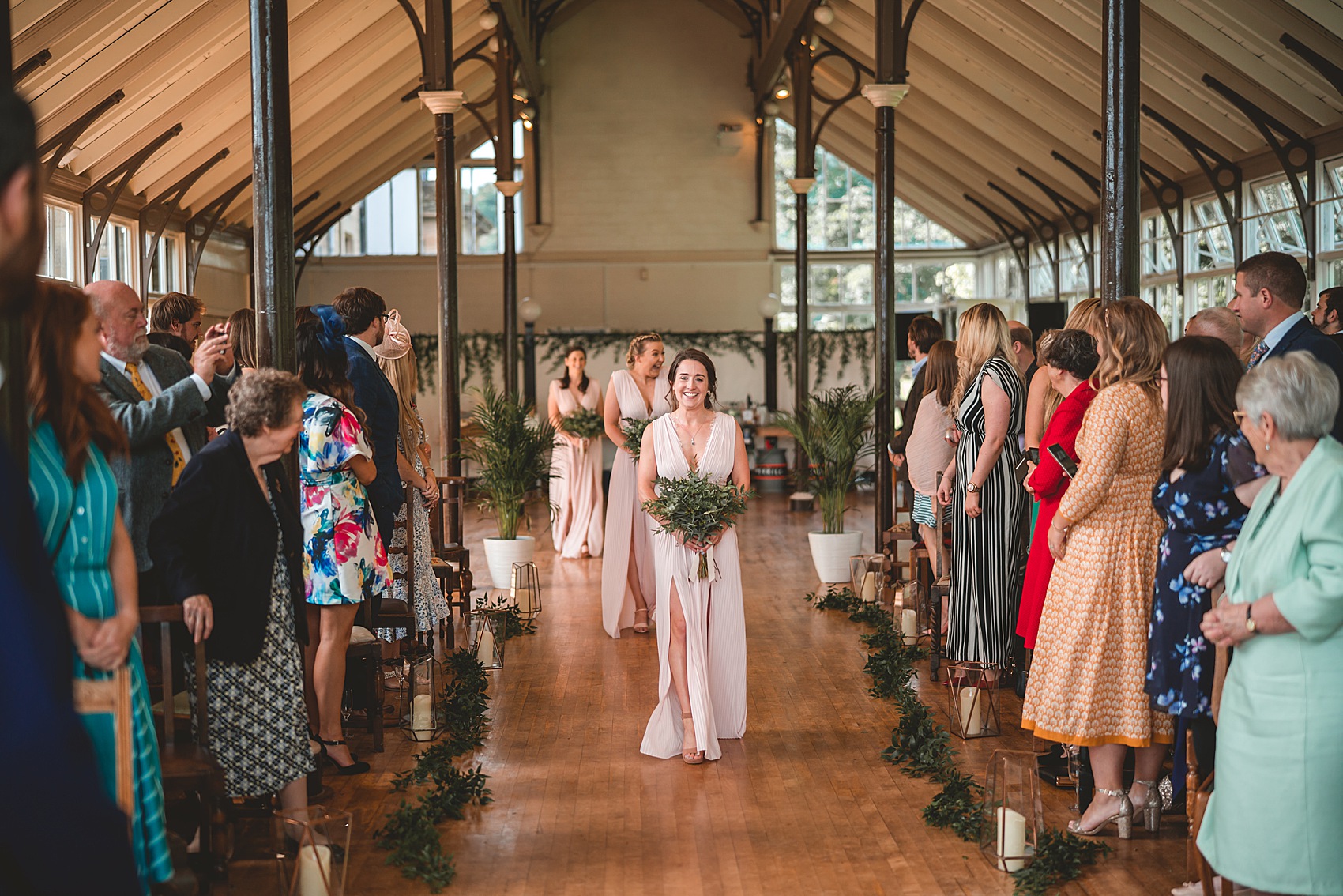 "We had our legal ceremony the day before at Newcastle Civic Centre with my parents, Kate (one of the bridesmaids) and Morgan, the best man, before going to brunch to have a low-key celebration."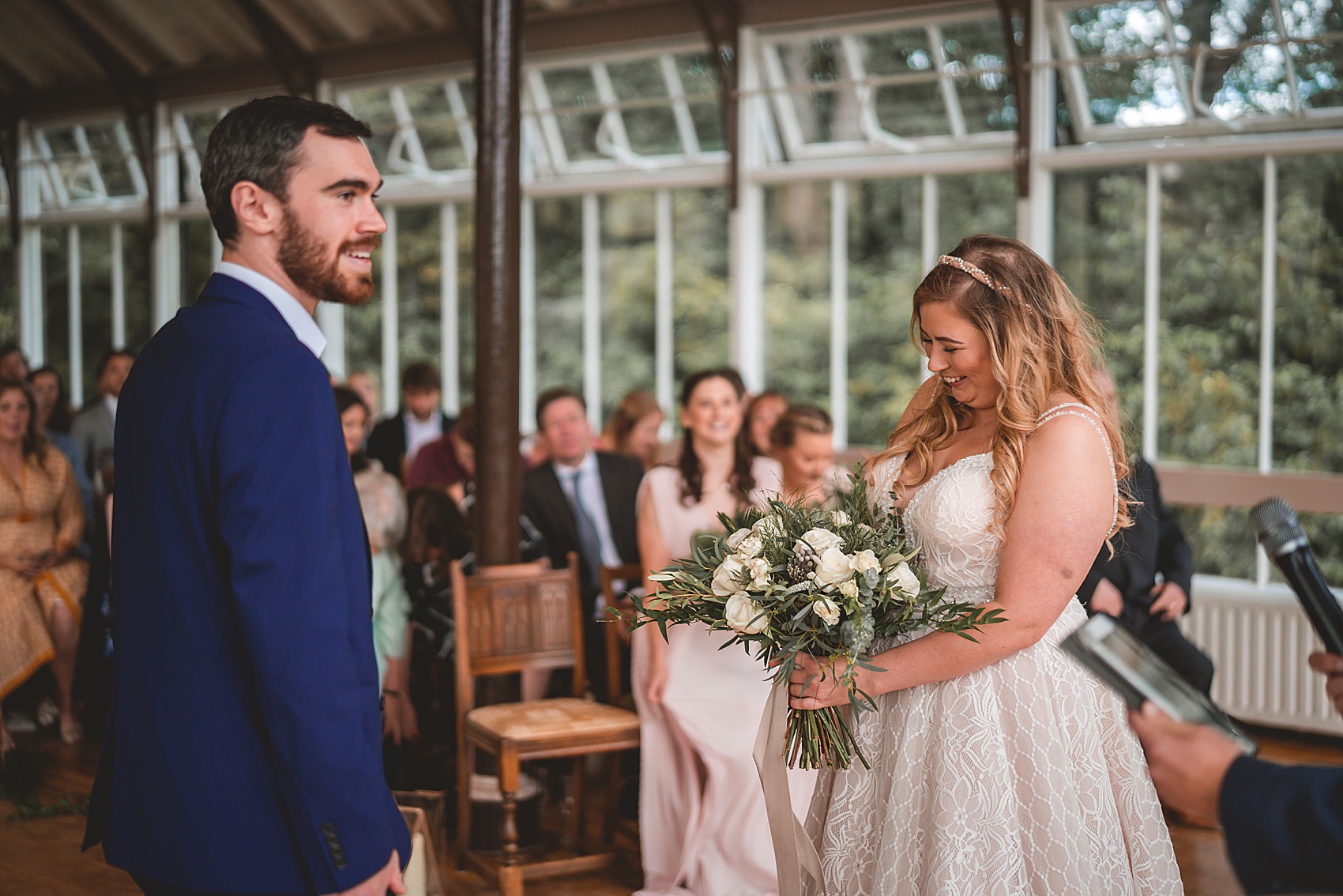 As well as capturing this light and airy, reportage-style set of photographs, JPR Shah Photography also lent his new Land Rover for the bride to use as wedding transport. She and her father entered the Winter Gardens to 'One Day Like This' by Elbow before the couple's friend Andy Higginbottom conducted the service.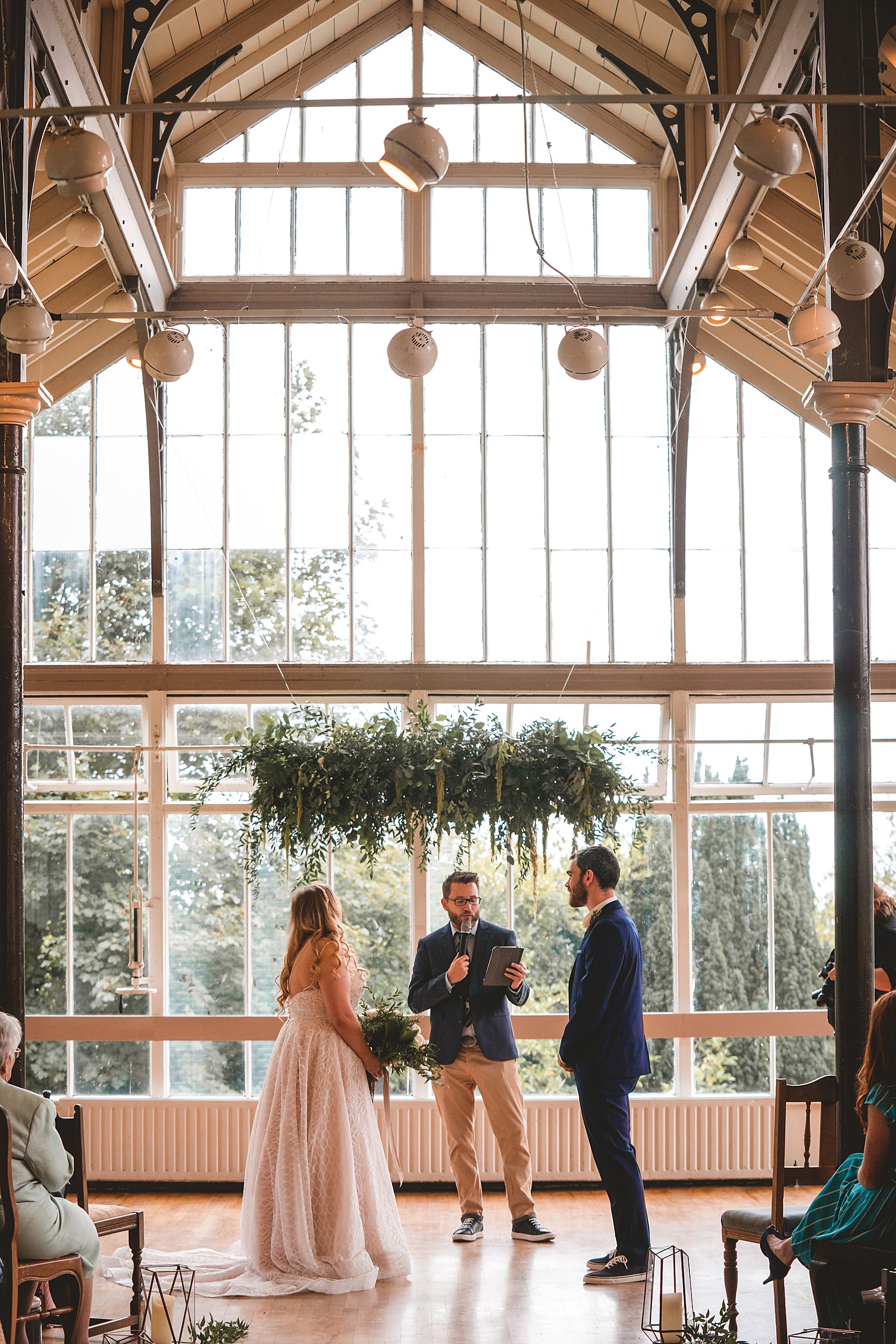 "As we had already had our official service the day before, our vows and the whole service were written by ourselves."
"We sat with our friend of many years, Andy, in a local pub and pulled together a skeleton of a service. This was embellished by him and we added in our own vows."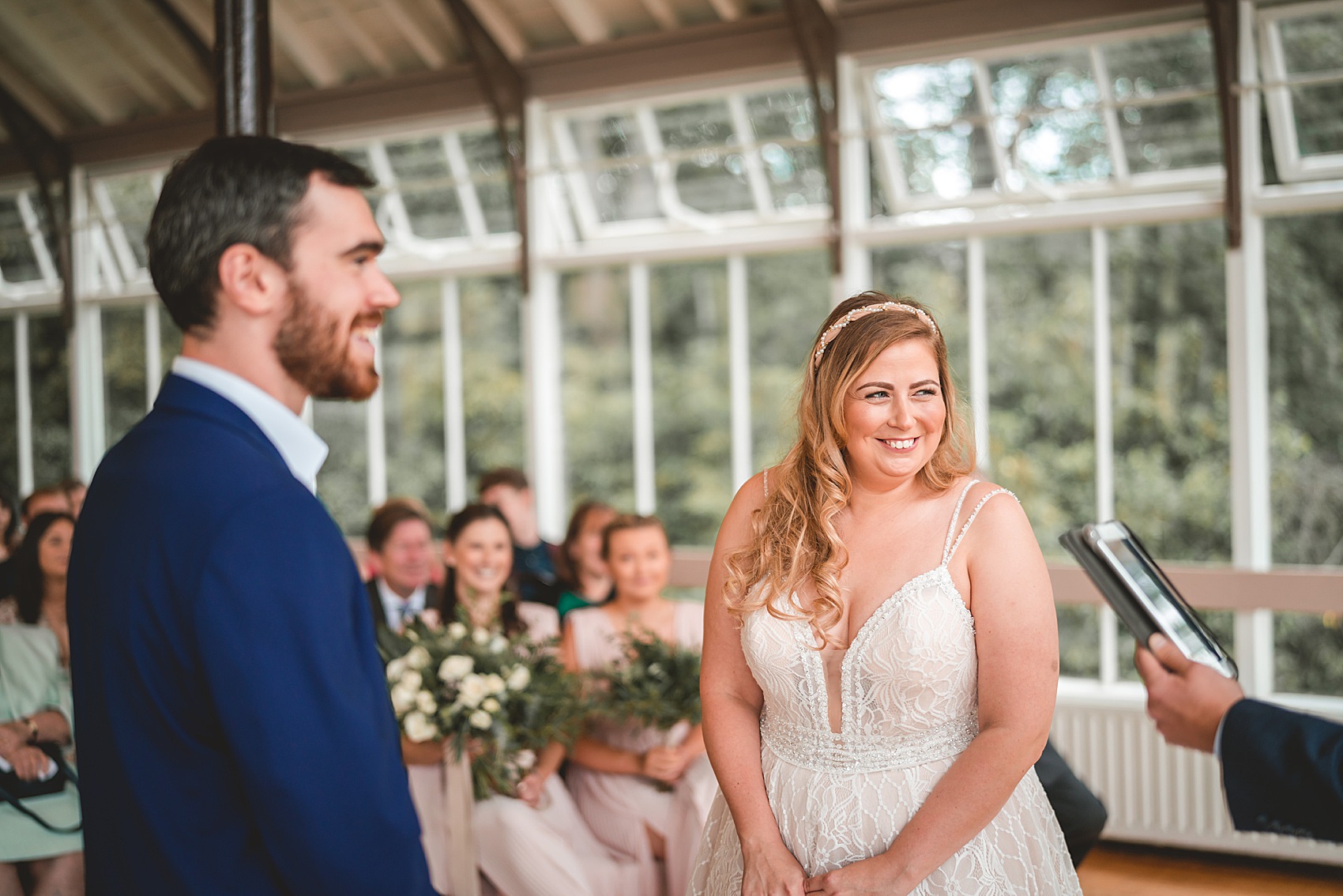 The bride's eldest sister, Erin, read 'Wide Awake' by Hilary T. Smith.
"People are like cities: We all have alleys and gardens and secret rooftops and places where daisies sprout between the sidewalk cracks, but most of the time all we let each other see is a postcard glimpse of a skyline or a polished square. Love lets you find those hidden places in another person, even the ones they didn't know were there, even the ones they wouldn't have thought to call beautiful themselves."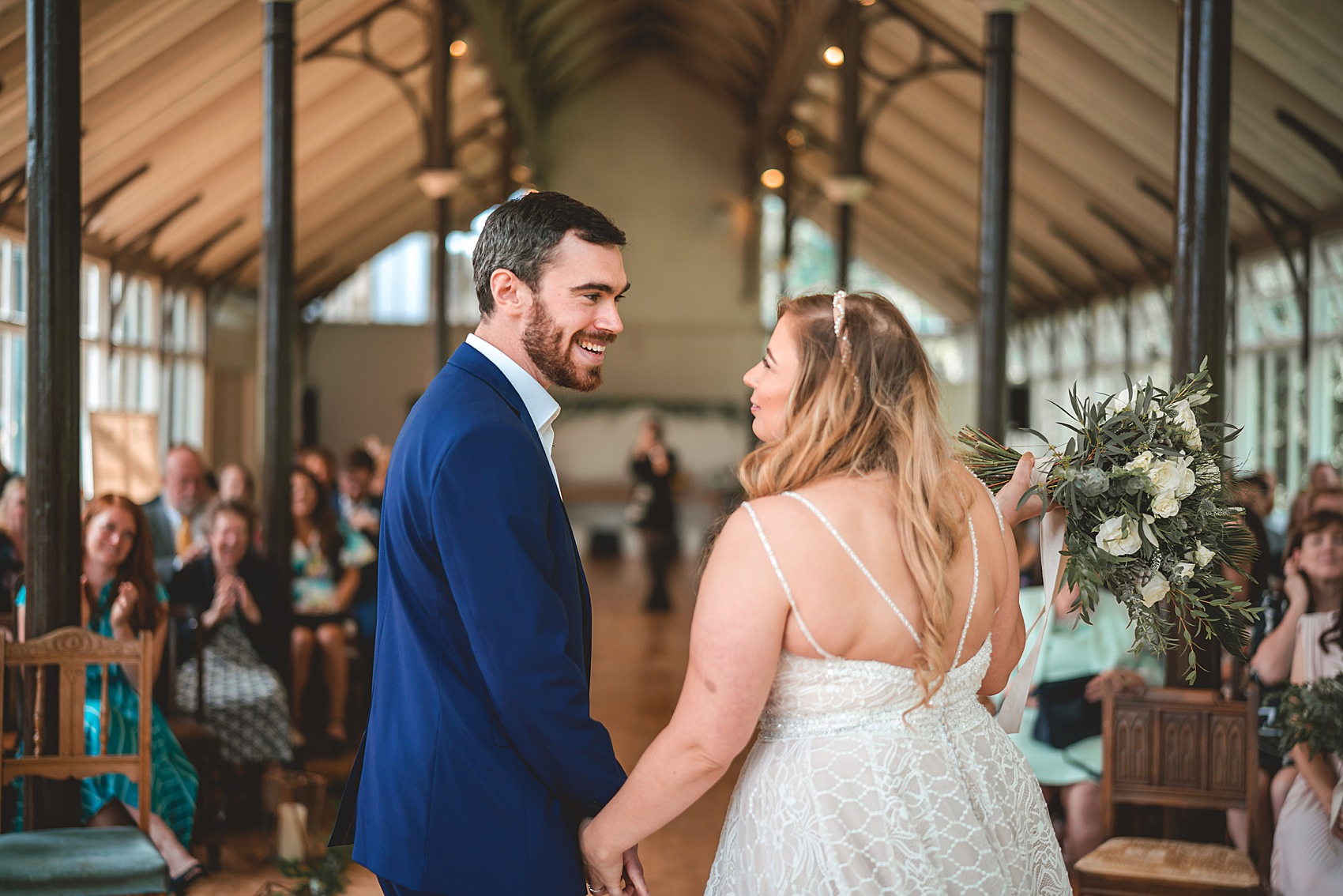 The couple returned to local jeweller Old Eldon Jewellers, who made Margi's bespoke engagement ring, for her wedding band.
"We were so happy with their service we chose to buy my wedding ring there too. Phil chose a metal and wooden ring from The Wedding Ring Company based in the U.S.A."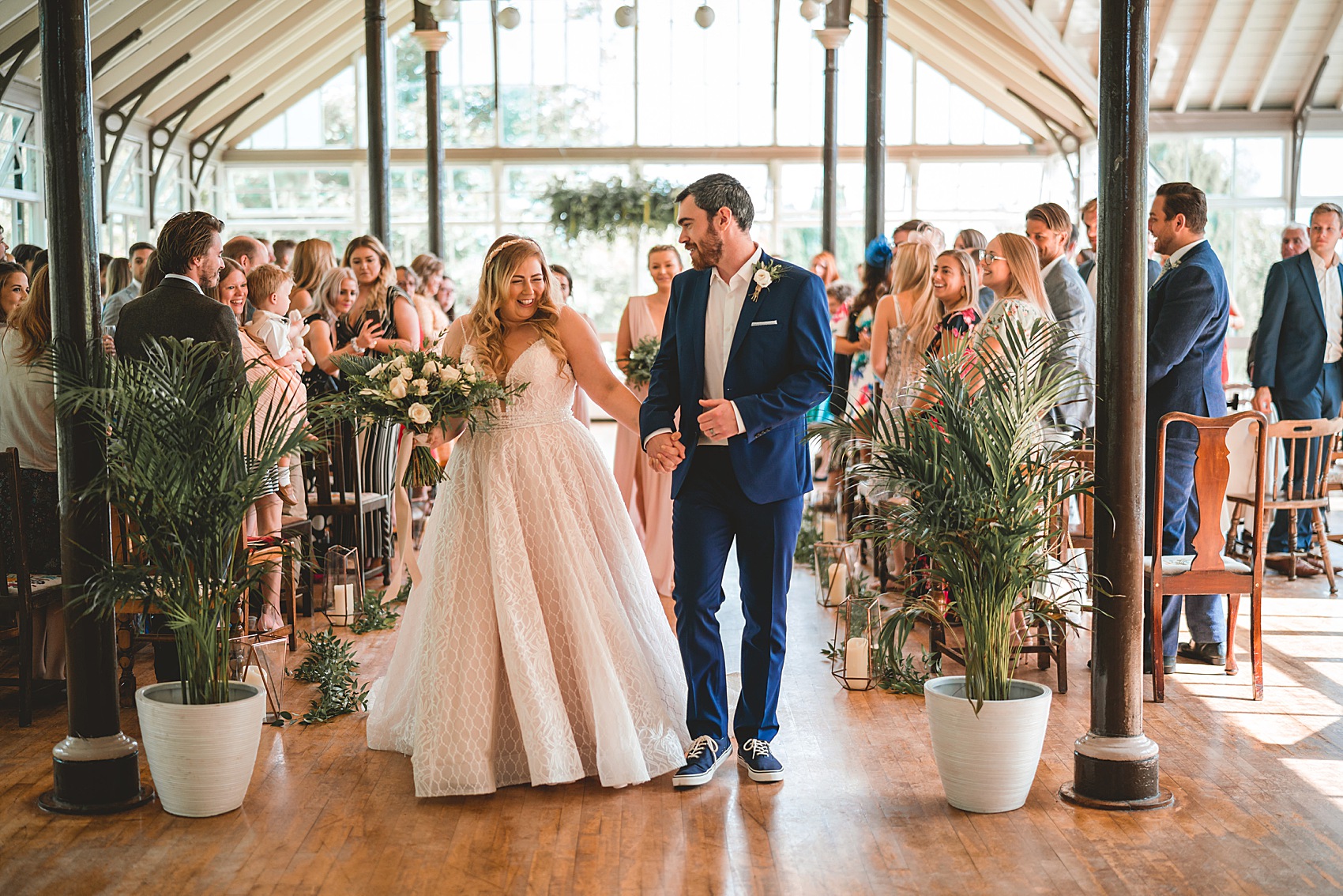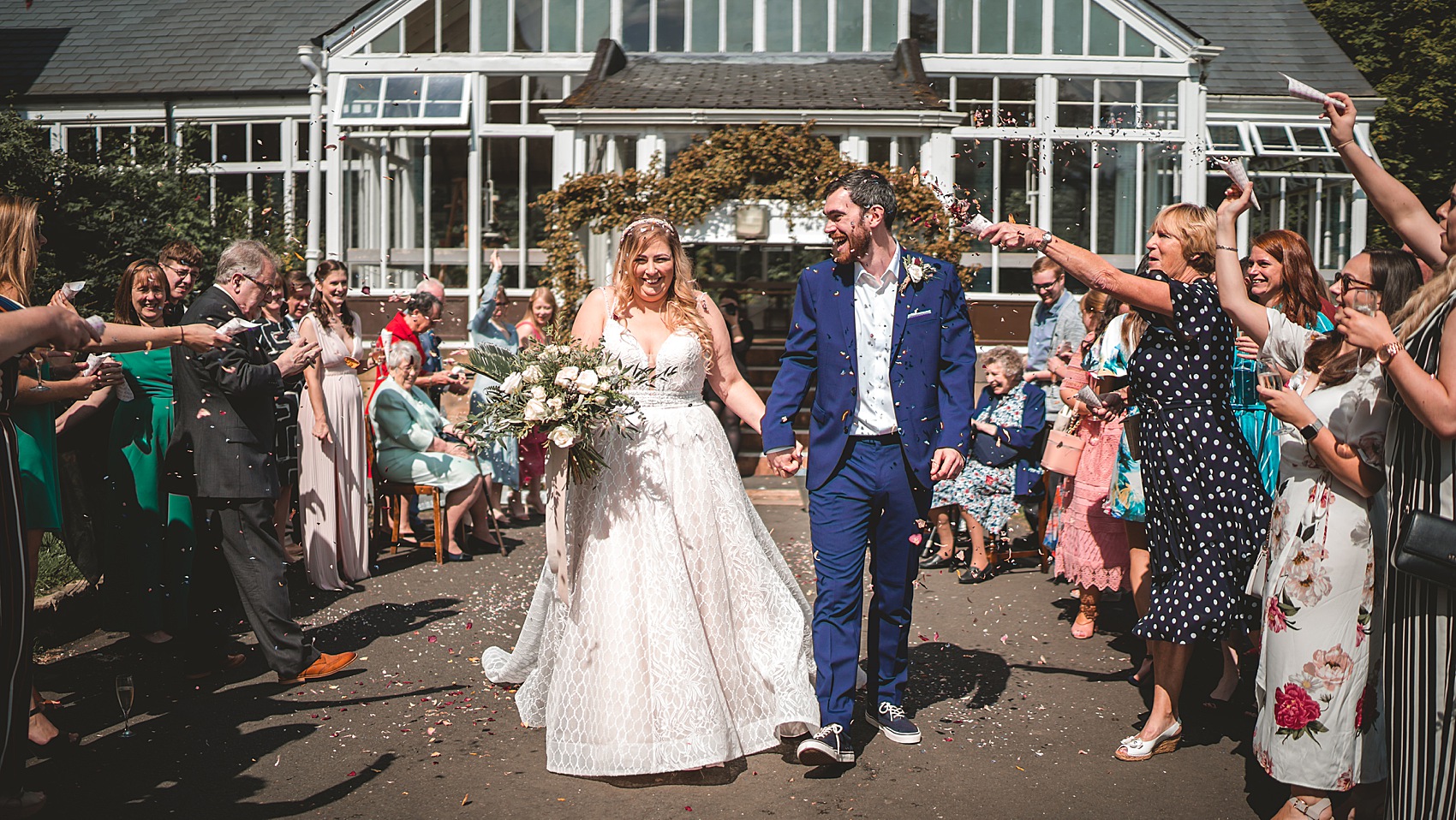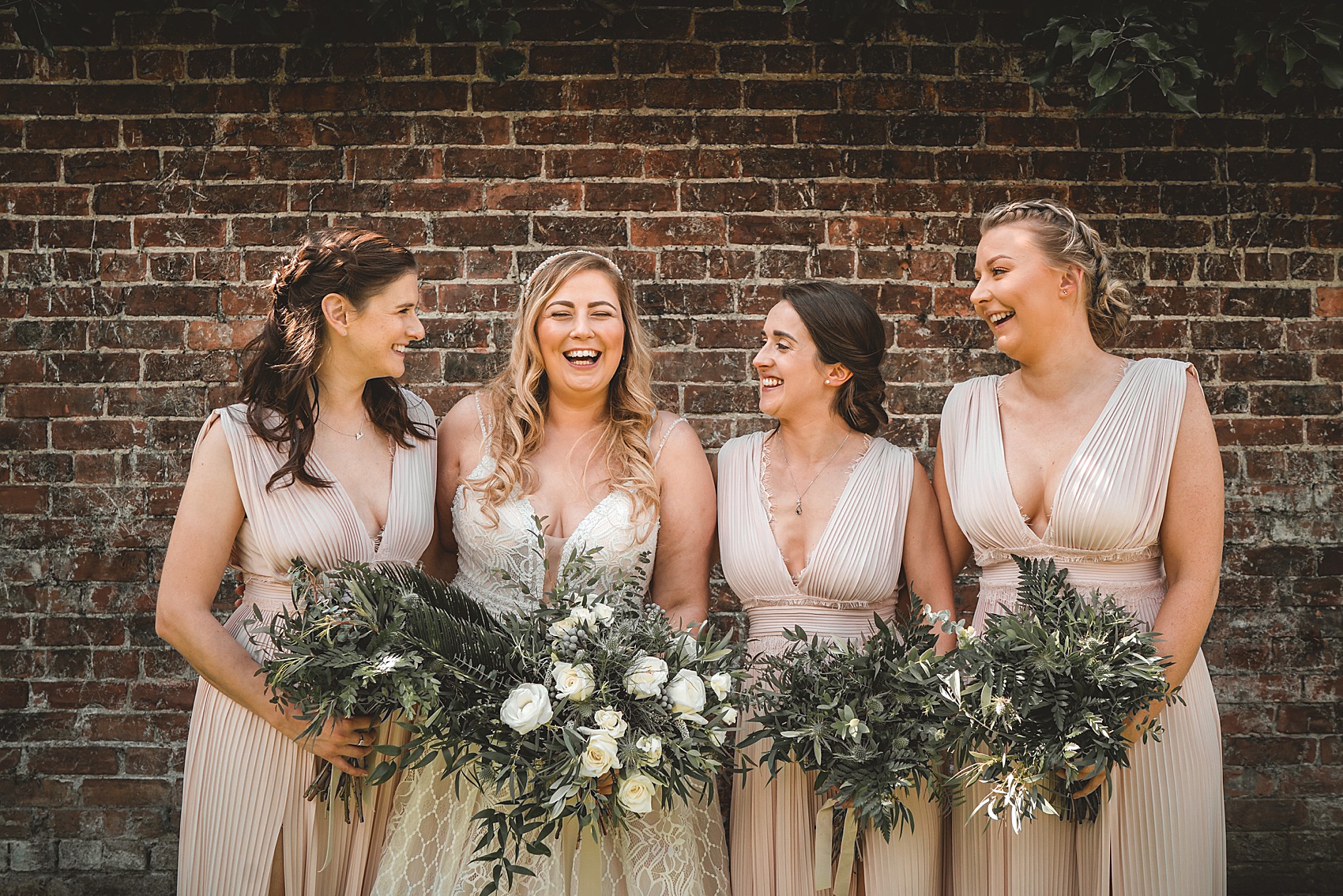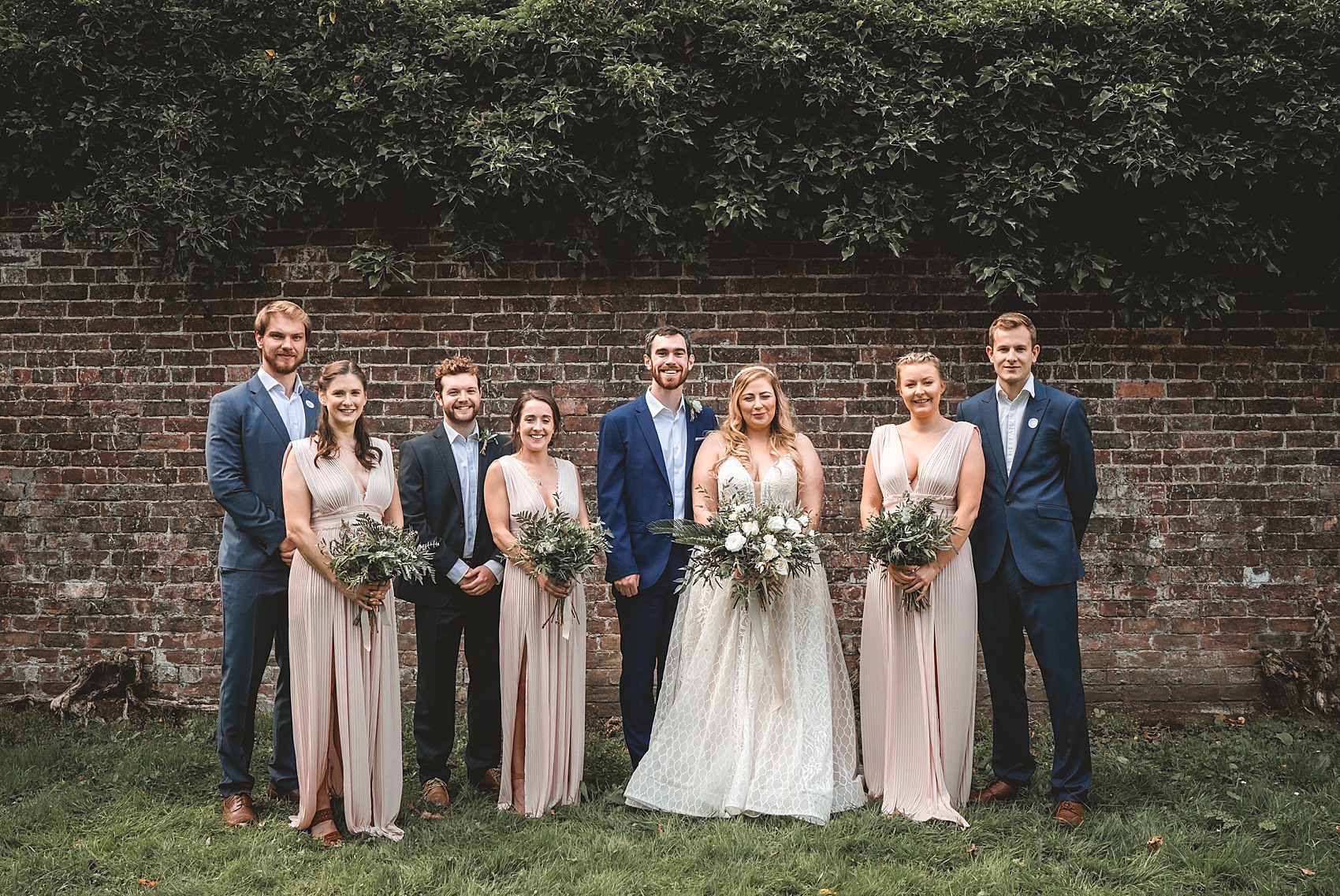 The Winter Gardens was such a magical backdrop for the newly-weds and their guests to relax and chat before the wedding breakfast, catered for by Jacob & Tori caterers.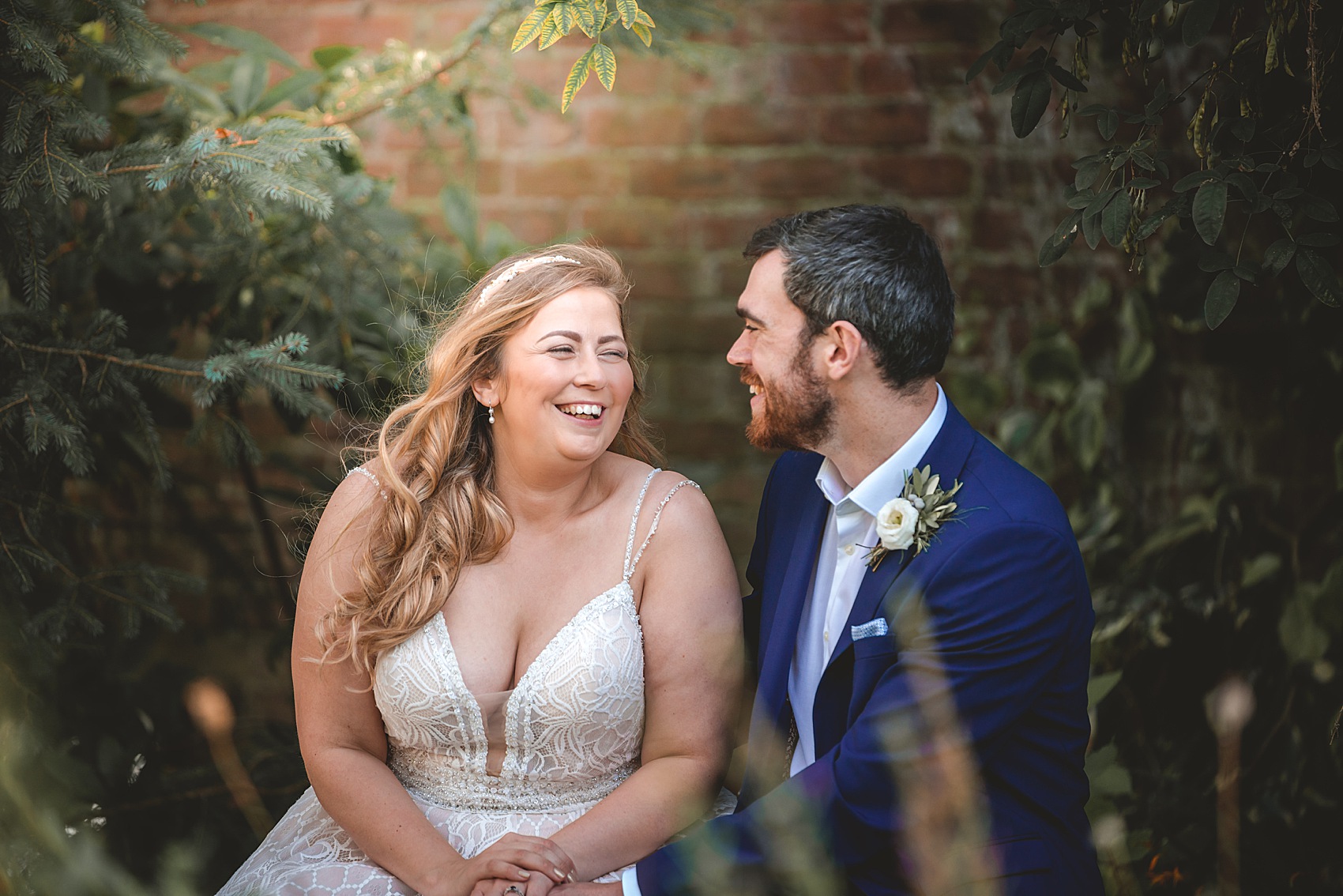 "When we had been announced husband and wife (for the second time that weekend) and walked back up the aisle (to Lizzo's 'Good As Hell') we were surrounded by our friends and family who showed us so much love and knew that the 'stressful' part of the day was over and the fun could begin."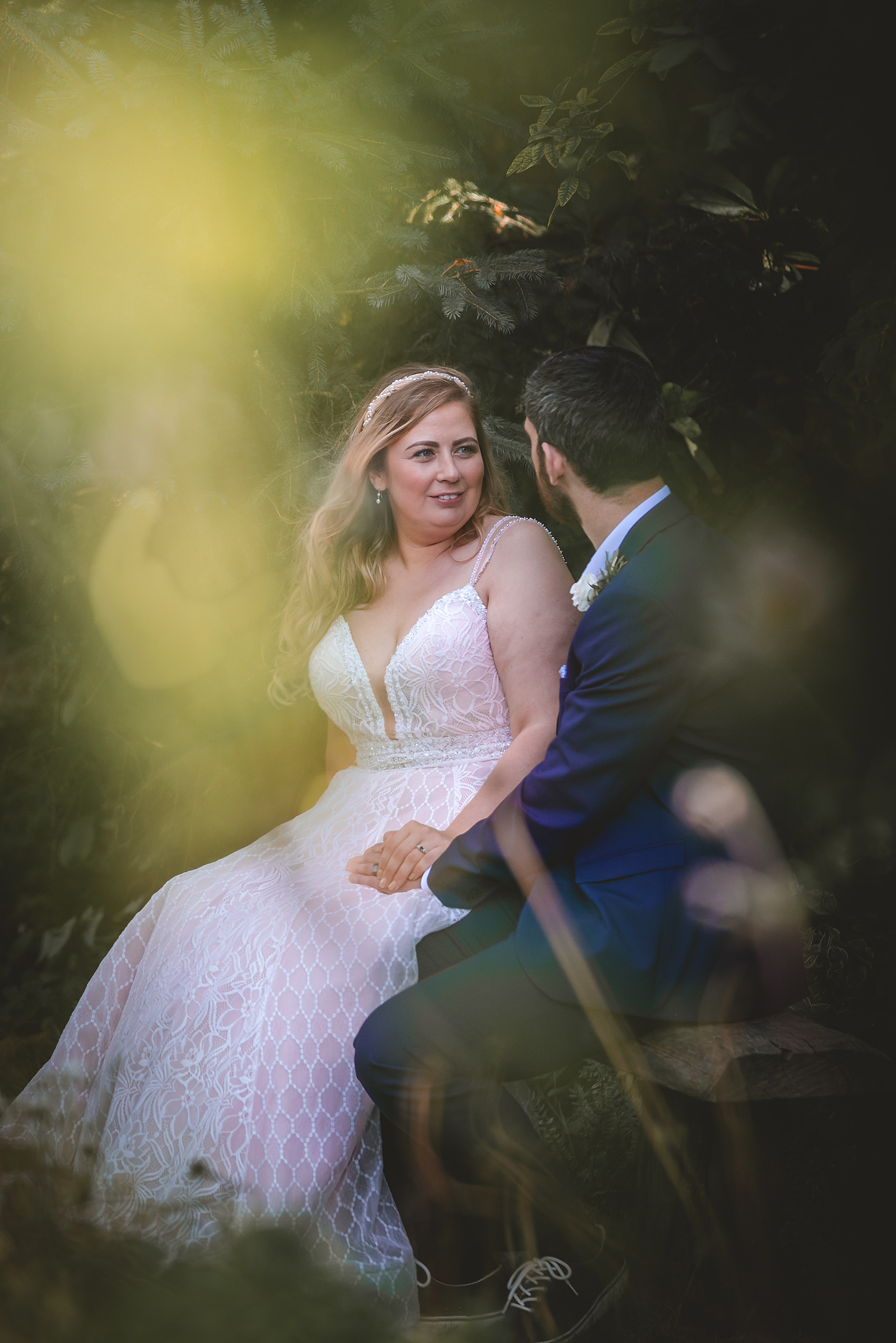 These photographs really do show the couple having so much fun together, and they must have made so many happy memories with their family and friends that afternoon.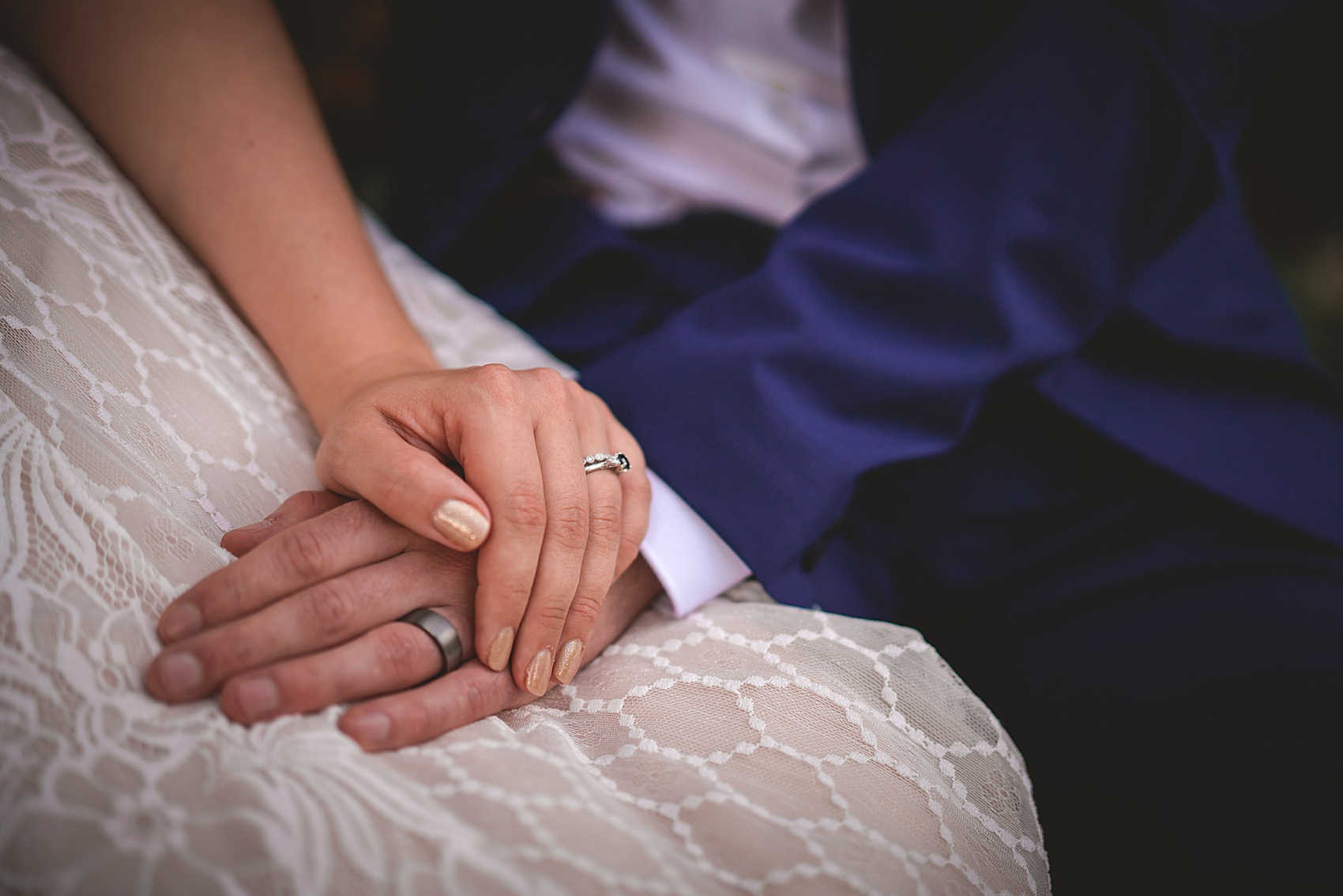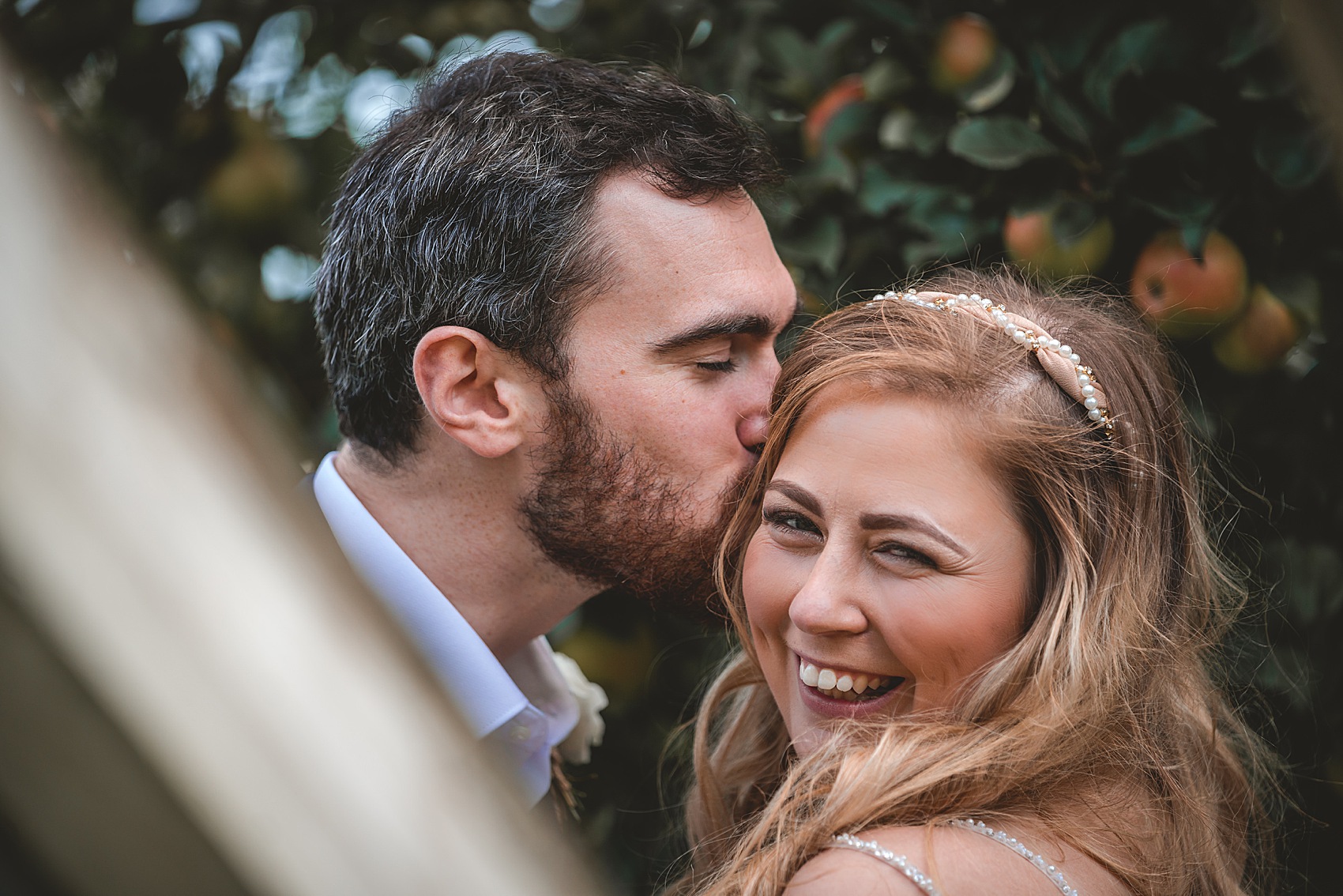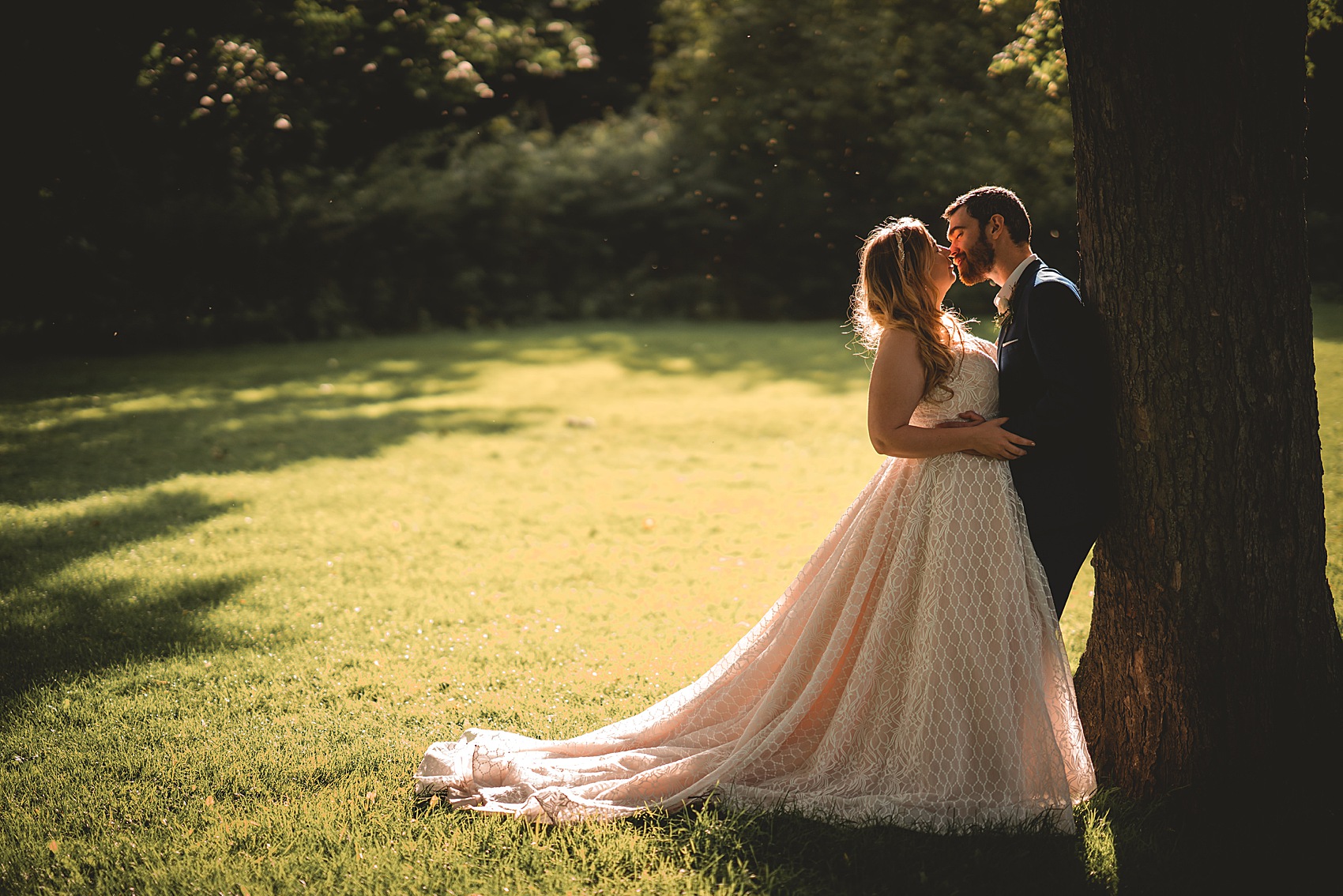 Greenery and botanicals played a key part in the styling, with chandeliers of foliage and candles dressing the Winter Gardens and delicate fronds in vases adorning the dining tables. Home-grown succulents and plants came from Margi's sister Fiona with additional foliage, and the bouquets, created by Amy at Muscari Events. The bouquet was a wild and natural hand-tied assemblage of roses and leaves, complimented by the bridesmaids' smaller posies.
"I contacted Amy fairly late into our wedding planning as I was let down initially but I am so glad of how everything turned out."
"Amy listened to everything that I envisaged and could not have worked harder during the run up, on the day itself and the clean-up operation."
I love the simplicity of the table settings, with elegant silver cutlery, fabric napkins and wooden place names from Confetti Print. After the savoury food, there was a table laden with desserts to tuck in to. The layered Kransekake, a traditional Scandinavian cake, was made by the bride's mum and friend Rachel Pratt baked the decadent brownies. There was also a cheese cake from I.J. Mellis Cheesemongers.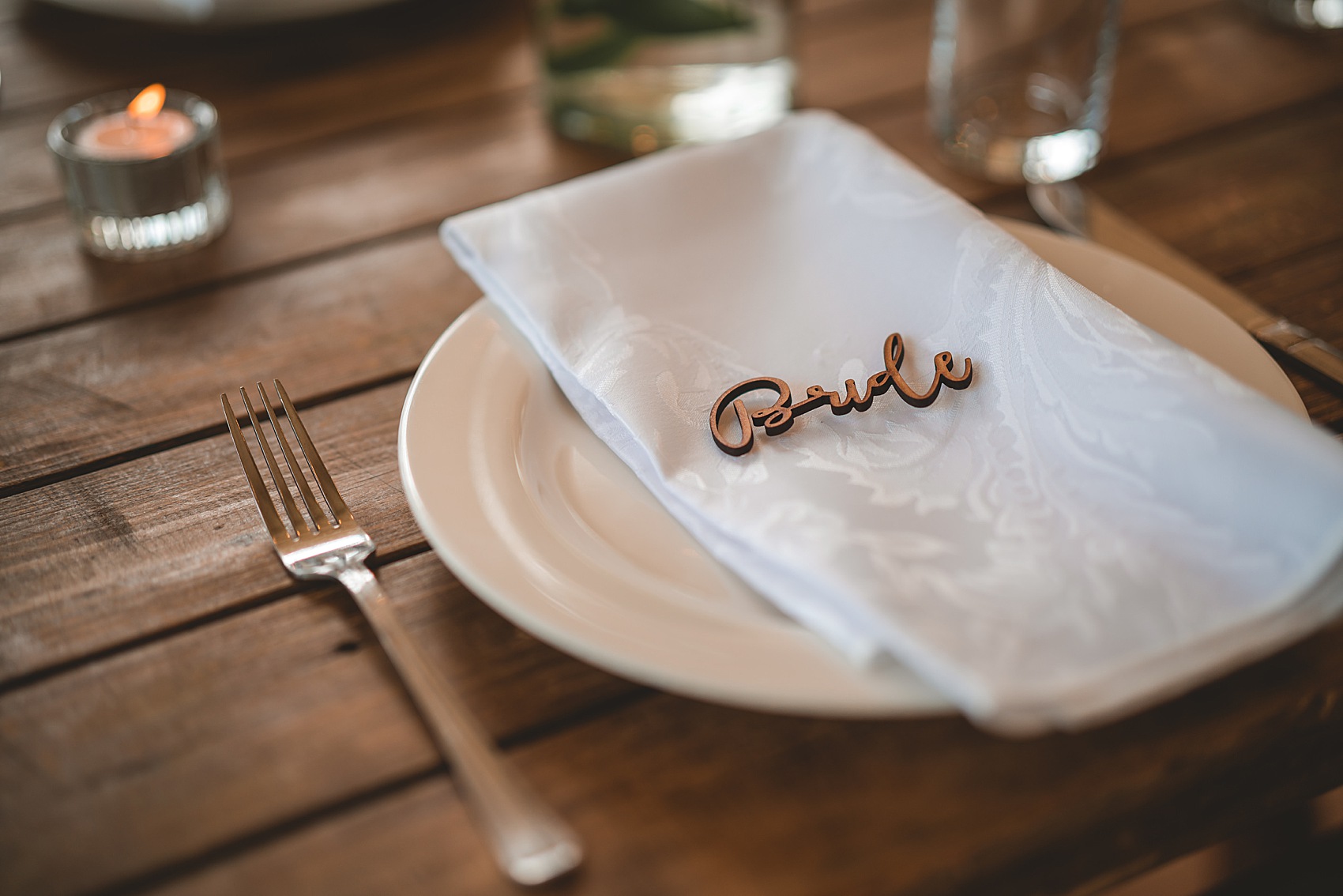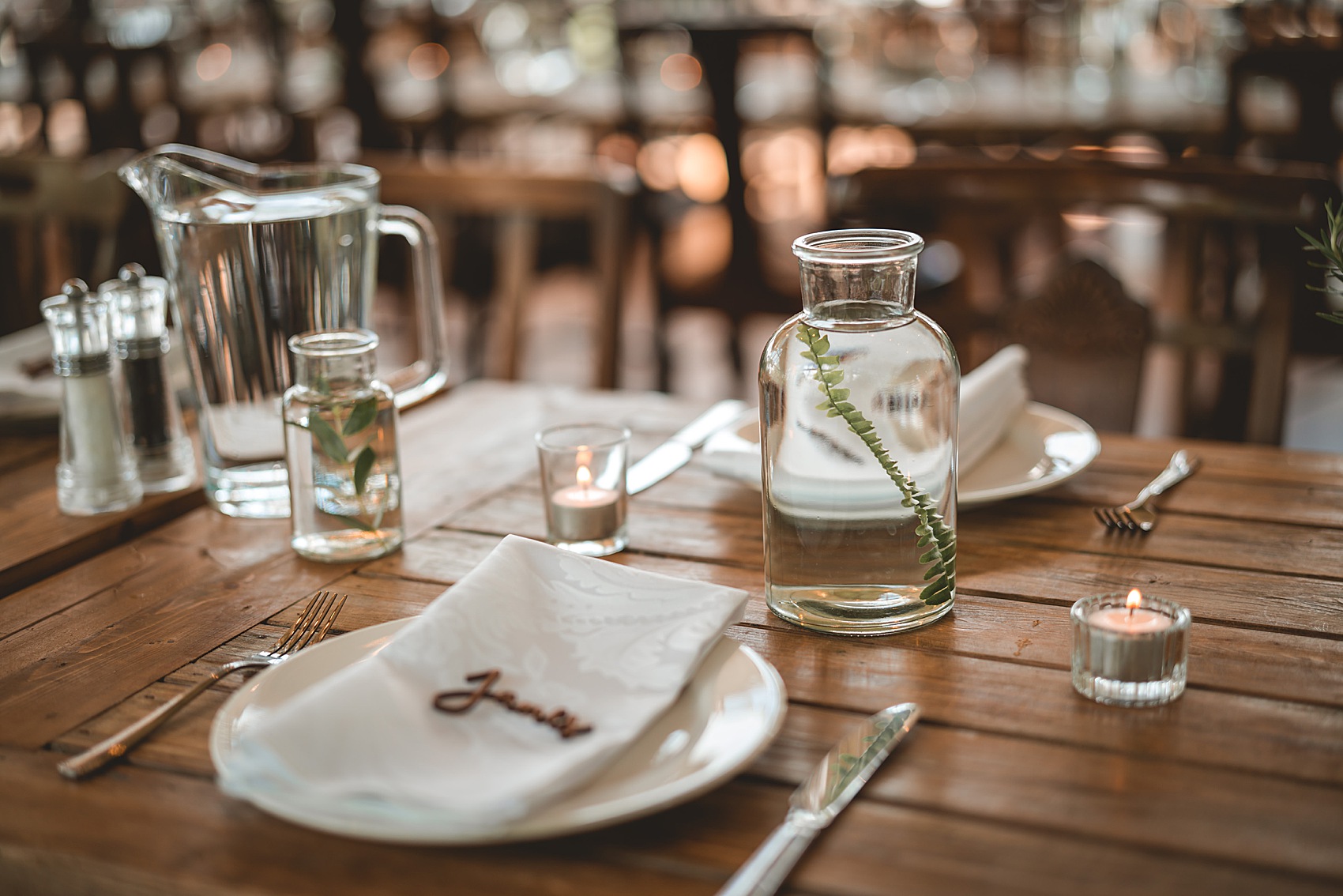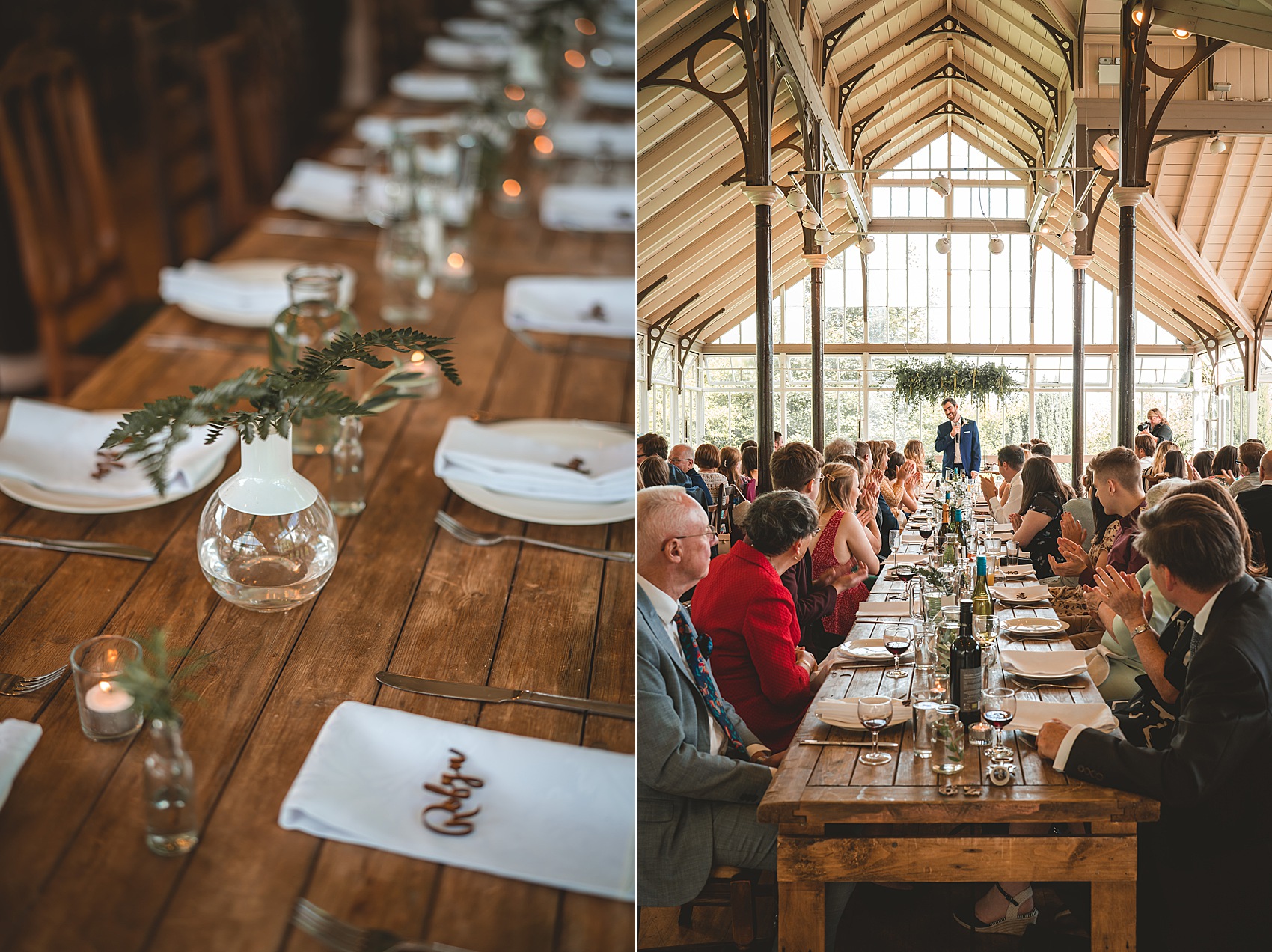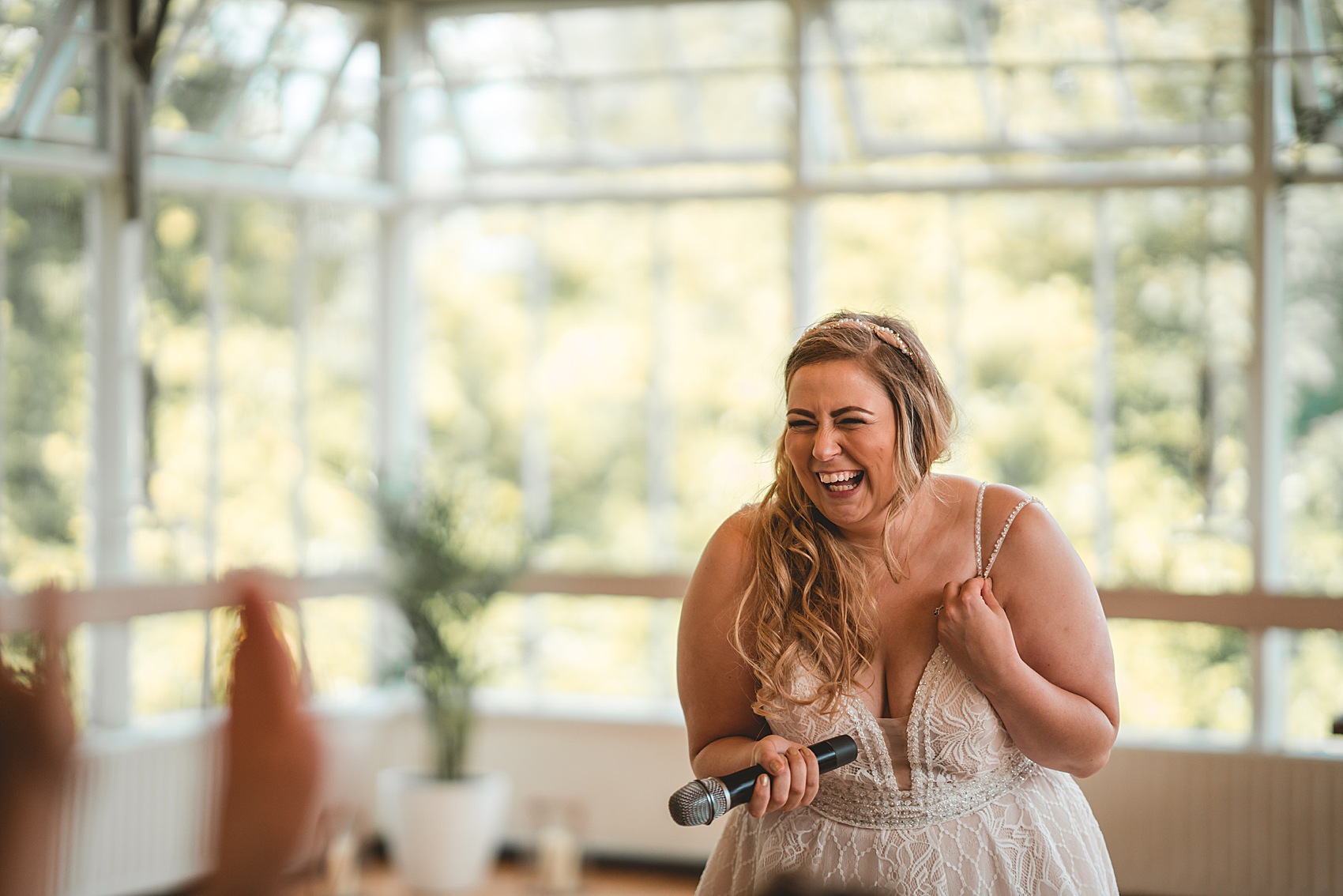 AM DJ Services arrived in the evening for the party reception, but not before a first dance to 'Lover Of The Light' by Mumford & Sons.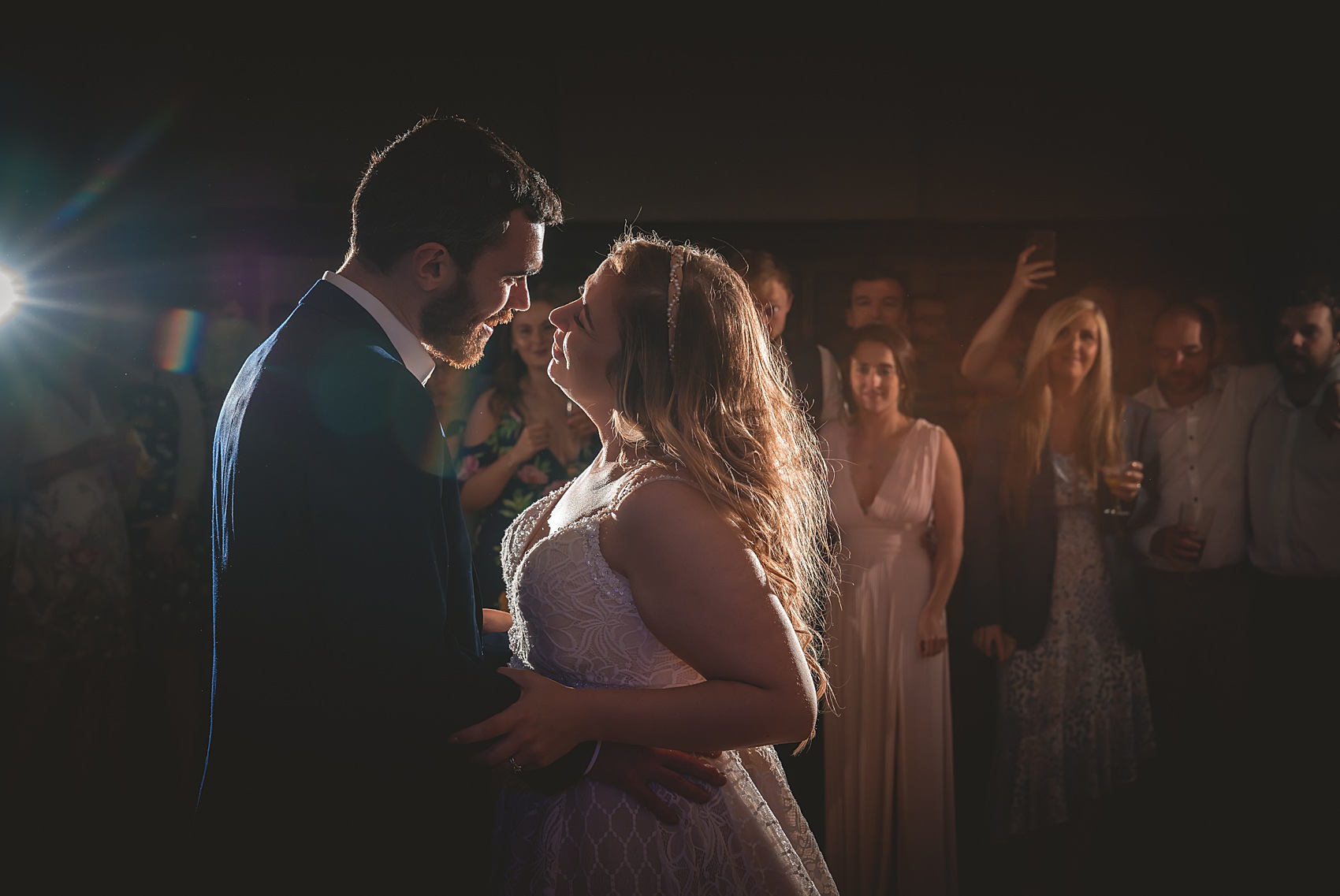 Words of Wedded Wisdom
"Focus on what you and your partner want. We had been to so many beautiful formal weddings during our lives but really felt that that vibe didn't reflect us at all." 
How lucky this couple were to find such a beautiful, light-filled venue for their summer wedding. It looks like a glorious venue and so beautiful with all of those plants and botanicals.
Thank you Margi and Phil, as well as JPR Shah Photography, for sharing details of this day. For all of you considering your own DIY wedding, we have plenty more here to give you ideas for home-made crafts and decor.
Ele xx