There are a group of designers who have been incredibly loyal to Love My Dress over the years. Designers I feel immensely proud to support, because they represent craftsmanship, couture and brilliant British talent at its finest.
I really hope that for anyone who frequents Love My Dress, that this is clear. It might sound silly, but my career shift 10 years ago into digital media and a world of weddings confirmed for me without any shadow of doubt, that I'm in the right job. I might not be saving lives, but I have sincerely found my passion in helping to connect such amazing designers with brides and those planning weddings. And one such designer who I will forever be proud to support is Sassi Holford.
A little low down for any of you lovely readers unfamiliar with this London based designer with an atelier based in Taunton, Somerset; Sassi has been working in design for 30 years now and has firmly established a brand reputation for high quality couture.
Here whole vibe is classic meets modern, feminine and flattering and pure, effortless glamour and elegance.
We have worked with Sassi for a number of years now and featured many of her beautiful brides within our real weddings. Sassi is one of those designers I encourage all brides to look up, her gowns are a perfect and beautiful blend of modern and classic and her silhouettes beautifully flatter the female form.
The film above and images you see in this article were captured at an event late last year at the gorgeous RSA House in London – a city wedding venue we adore – and with whom Sassi teamed up with to host an evening of wedding glamour.
We also caught up with Sassi earlier this week and asked her to introduce herself to our new readers who may have become engaged over the festive period.
Film + Photography by Zach & Grace for LMD Collective

+ Follow



Who are you, and what do you do?
"I am Sassi Holford and I have been designing and creating bridal and occasion wear for 39 years.  I live in Somerset with my husband, Martin, who runs the business with me, and we have three almost grown-up children.  My workrooms and first store are in Taunton and my flagship store is in London."
Tell us how you started out in bridal fashion and what drew you to bridal in particular?
"In my last year at school I volunteered to make a friend's wedding dress because she couldn't afford to buy one.  It was a success and produced two more commissions, and I realised here was a career."
What do you love most about working in the bridal fashion world?
"I am passionate about making the most memorable dress for a bride using extravagant fabrics and figure enhancing lines."
Can you describe your signature style?
"I believe a designer should develop with experience and with the changing world and to have a particular style would be a restriction."
What do you think makes your brand so appealing to brides?
"My aim is always to make my designs graceful and flattering and, most importantly, to have balance.  Offering a bespoke service and being made in England are also crucial for many brides who maybe can't quite find the perfect dress they might have had in mind from our collection. Being able to create a bespoke dress means we can literally create the most perfect dress for any bride – a process I adore working on."
Visit the beautiful new Sassi Holford website + explore the new collection in full.
How would you describe the typical Sassi Holford bride?
"A stylish, confident woman who values her time and appreciates quality."
Where do you start with each new collection – can you talk me through your process?
"I do not have a set approach but my collections come together over a period of time and are refined as the launch deadline approaches.  An individual design can start with a new fabric or be inspired by one of my brides."
By the way, that's my very favourite gown from Sassi's latest Enamour collection above. The smocking detail takes hours to complete by hand and is the most beautiful detail to see up close.
Tell us about your latest collection and what inspired you to create it?
"My 2020 collection is named Enamour.  It was partly inspired by two exhibitions at the V&A Museum – the modern rawness of McQueen contrasted with the femininity of vintage Dior."
How are you responding to the shift in culture around sustainability and ethical production?
"I have always made in England so this has been a core belief of the company long before the current global concerns.  The majority of my fabrics are silks which are both sustainable and biodegradable."
Are you making any particular effort to move to a more ethical and sustainable business model yourself?
"This season I am working with an eco fabric which is 90% from recycled plastic bottles, and we are at the testing stage with other ethical fabrics too. I'm really proud of the efforts we are making to become a more ethical and sustainable business over all."
Do you have a favourite gown in this collection and if so, why?
"Trying to pick a favourite style is like being asked to pick a favourite child!  In the Enamour collection I do love trying India (pictured below) on clients because of its fluid fabrics and modern lines – judging by its popularity, it will become a firm favourite of mine."
Visit the beautiful new Sassi Holford website + explore the new collection in full.
Would you say your designs are for a variety of body shapes?
"I have always made for every bride and have always been able to enhance the curvy bride with structure and corsetry."
Can you share a bit about your work/creative space with us?
"My creative space is either in the middle of my studio surrounded by gorgeous fabrics and bouncing ideas off my team, or in Cornwall in my calming weekend retreat (but not in high summer!)"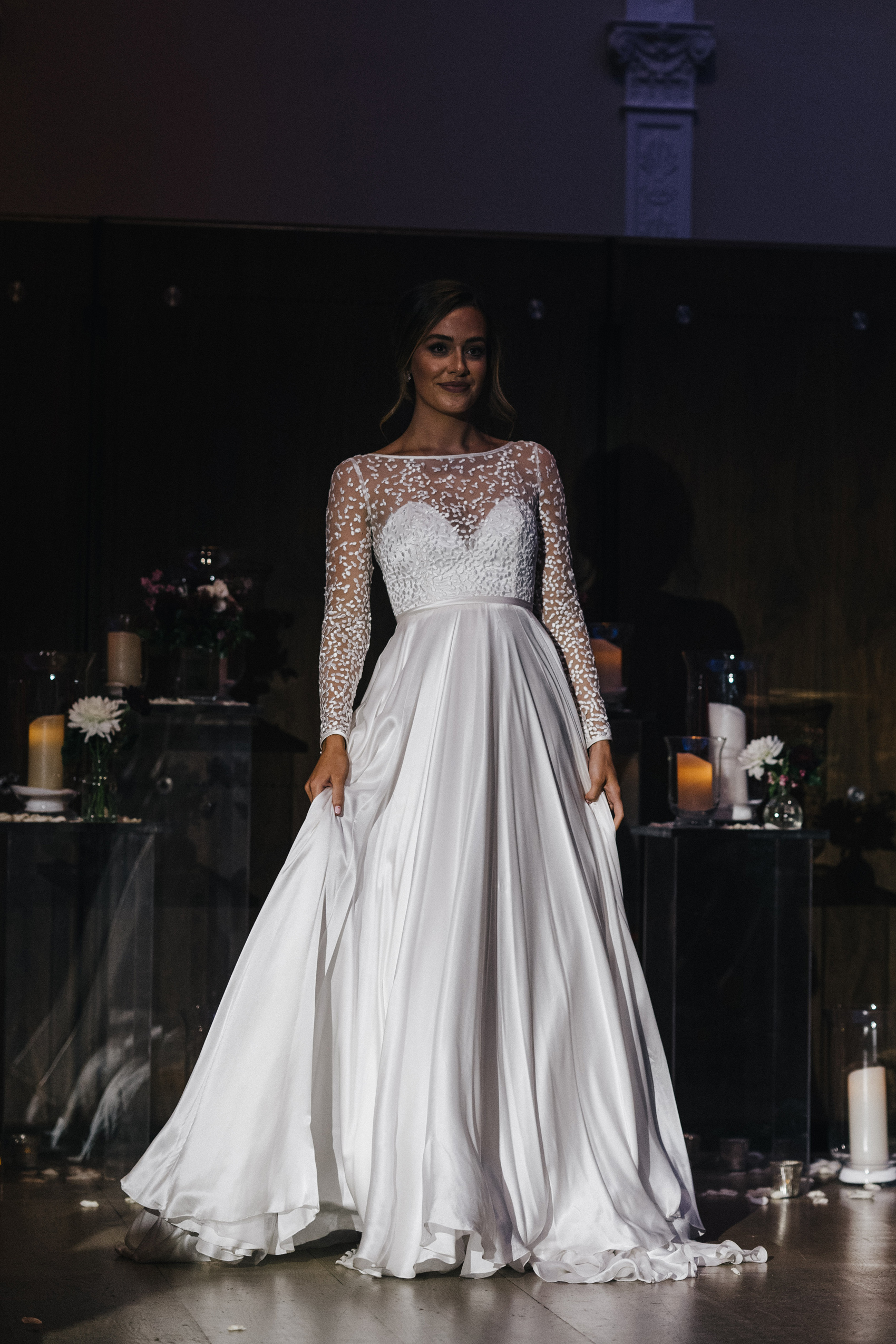 What does an average day for a successful bridal fashion designer look like?
"Very, very busy – but there is no 'average' day.  I can be answering a technical question in the atelier, supervising a bespoke fitting in one of my stores, or even on a train answering questions about myself and my business ;)"
What would you be doing if you weren't running your own design business?
"I cannot see myself not being involved in design in some way – it is in my DNA."
_________________
Sassi Holford has just launched her beautiful, brand new website, where you'll not only find the full Enamour collection, but a super glamorous new ready to wear collection too (check out the white shirts – perfect for a classy jeans and high heels look!).
I'd like to thank Sassi for taking the time to talk – keep an eye out for much more from our friend and talented designer this year. Also, take a peek at our Events Page as there are a number of boutique holding Sassi Holford events in the coming days and weeks.