The magical Irish countryside is the setting for today's utterly charming and whimsical celebration, which took place at a beautiful purpose built and family run wedding venue in County Westmeath, Ireland.
Here, two families came together for a wonderful day, honouring both the Irish and Swiss heritage of our couple and their love for one another.
Pauline, an Interior Architect, and Reggie, a Software Developer, celebrated their marriage on the 16 June 2019 at Mount Druid, in the village of Castletown Geoghegan, County Westmeath.
White Cat Studio

+ Follow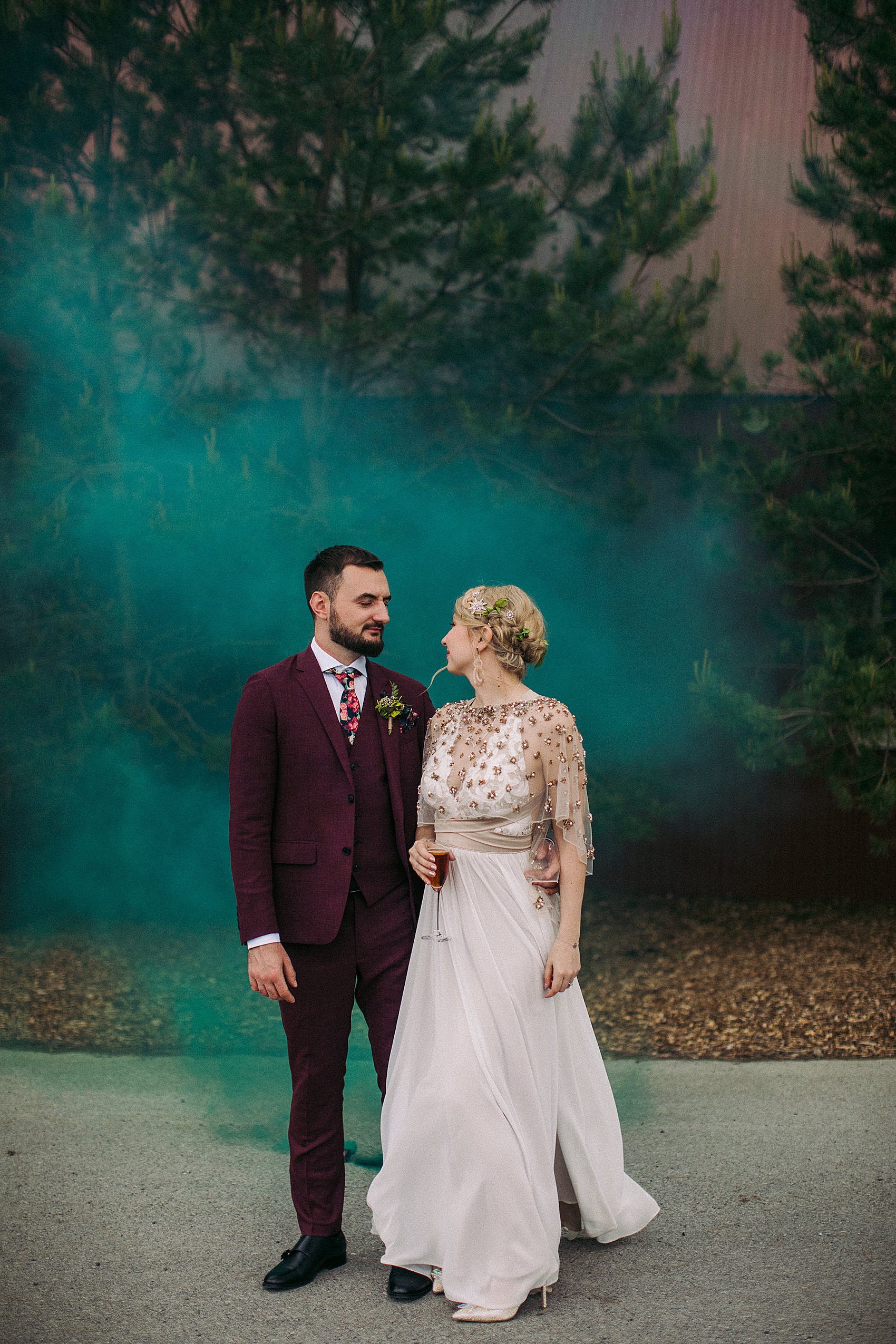 "Beau Bride was the first bridal shop I visited. It was only us in the shop, and Michelle helped us a lot. I actually visited for a specific dress, and following Michelle's advice, I chose 4- to 5 other gowns to try on. I only told her my budget, and she guided me through my selection." 
"The gown I went for was long sleeved and really fitted (all that I wanted) but it didn't make the cut at all. I did have a Truvelle gown that I was really excited about though, but was not yet sold on. Michelle then asked me where our venue was. Mount Druid is famous for being quite alternative. She then said she had another Truvelle gown, and how would I feel about colour?"
Pauline had two pairs of shoes for the day – firstly, glittery heels embellished with silver sequins and crystals by Moda in Pelle, and secondly, a pair of gold Converse.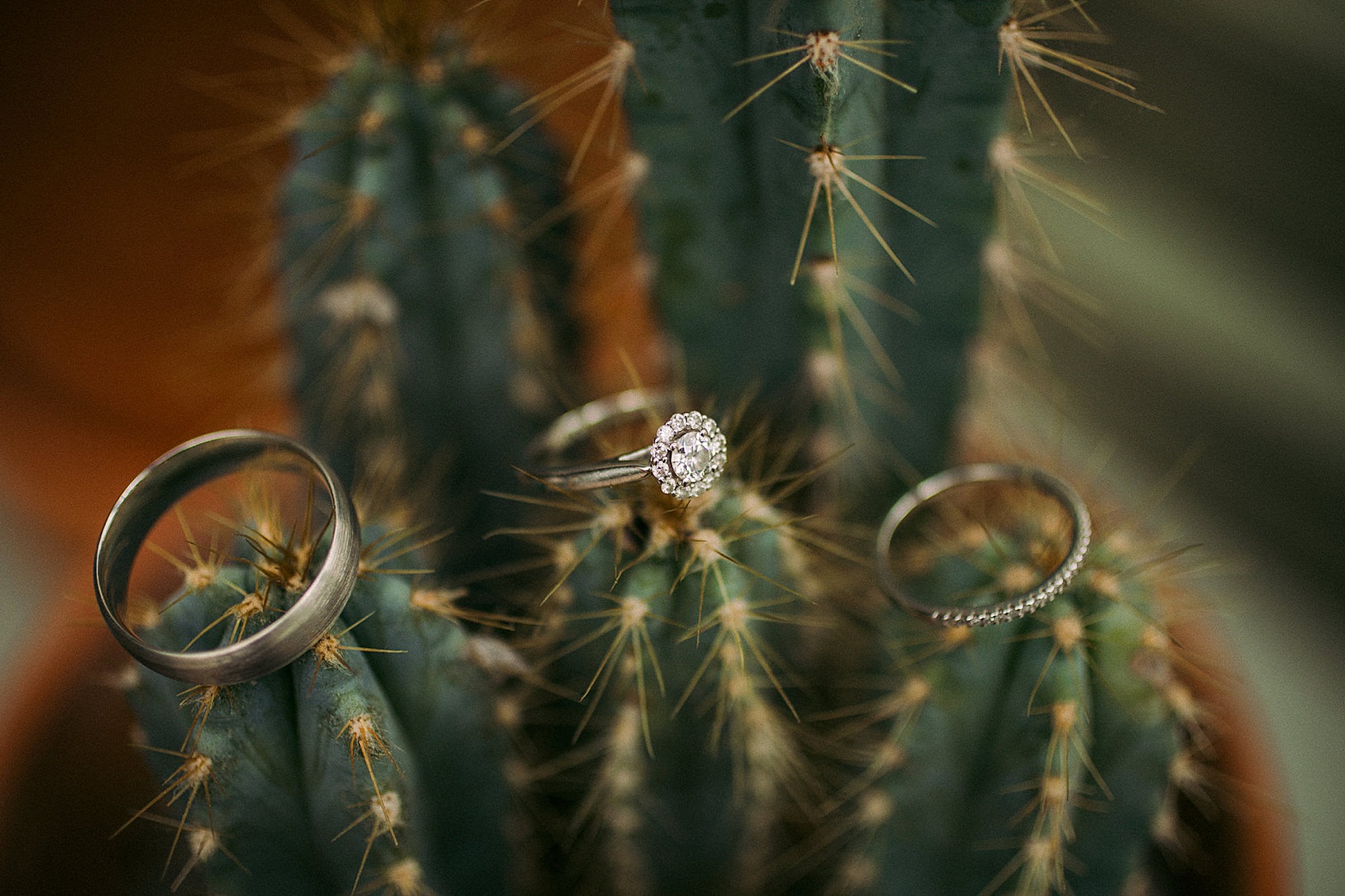 Pauline looked radiant, with her shimmering copper eyeshadow, and hair styled in milkmaid braids – as an homage to her mother, who wore a very similar style on her own wedding day. In her hair, Pauline wore fresh flowers, and sparkling star hair pins from Etsy.
"I wore a few bracelets; two from my best friend in Switzerland, who couldn't make the trip as she just gave birth to her daughter Sophia Pauline (named in my honour!) and another one, which was a Tree of Life design from another Swiss friend."
Hair and make-up artists Jennifer and Noleen from EF Creative Studios helped create a relaxing atmosphere for Pauline and her party on the morning of wedding.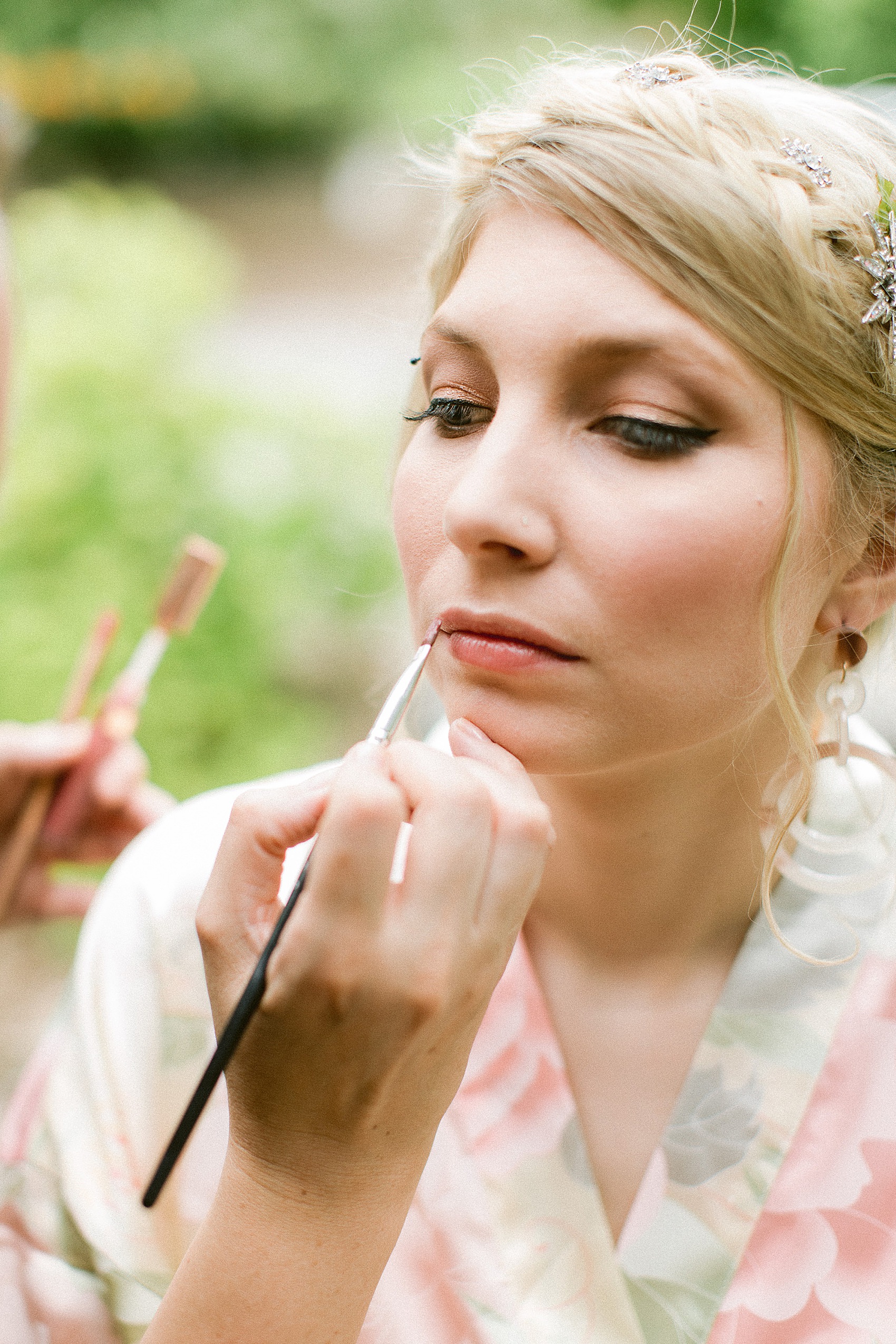 "She meant taupe and champagne, so far from the white gowns I'd chosen. But when I tried it on, that was it ! It was a sample dress, and it fitted me perfectly, which meant if I took it, I would have a really amazing gown that would fit my budget. I Skyped my mum in Switzerland, and she was really happy, and just added, 'You might be cold', (typical!) but I took it there and then and never regretted it."
Pauline's dress was Truvelle's 'Carrall' – an ethereal, backless beauty with a lace bodice and satin ribbon crossing over at the front and tying at the back, falling to a dreamily soft tulle skirt.
"I wanted something light that I could dance all day in, and it was exactly that! So comfortable. The cape was an extra to have something on my shoulders for the ceremony. I wanted something different."
Over the top of her dress, Pauline wore a sheer cape by BHLDN, embellished with gold sequins and delicate pearls, and her statement Lucite earrings were by Shashi via Shopbop.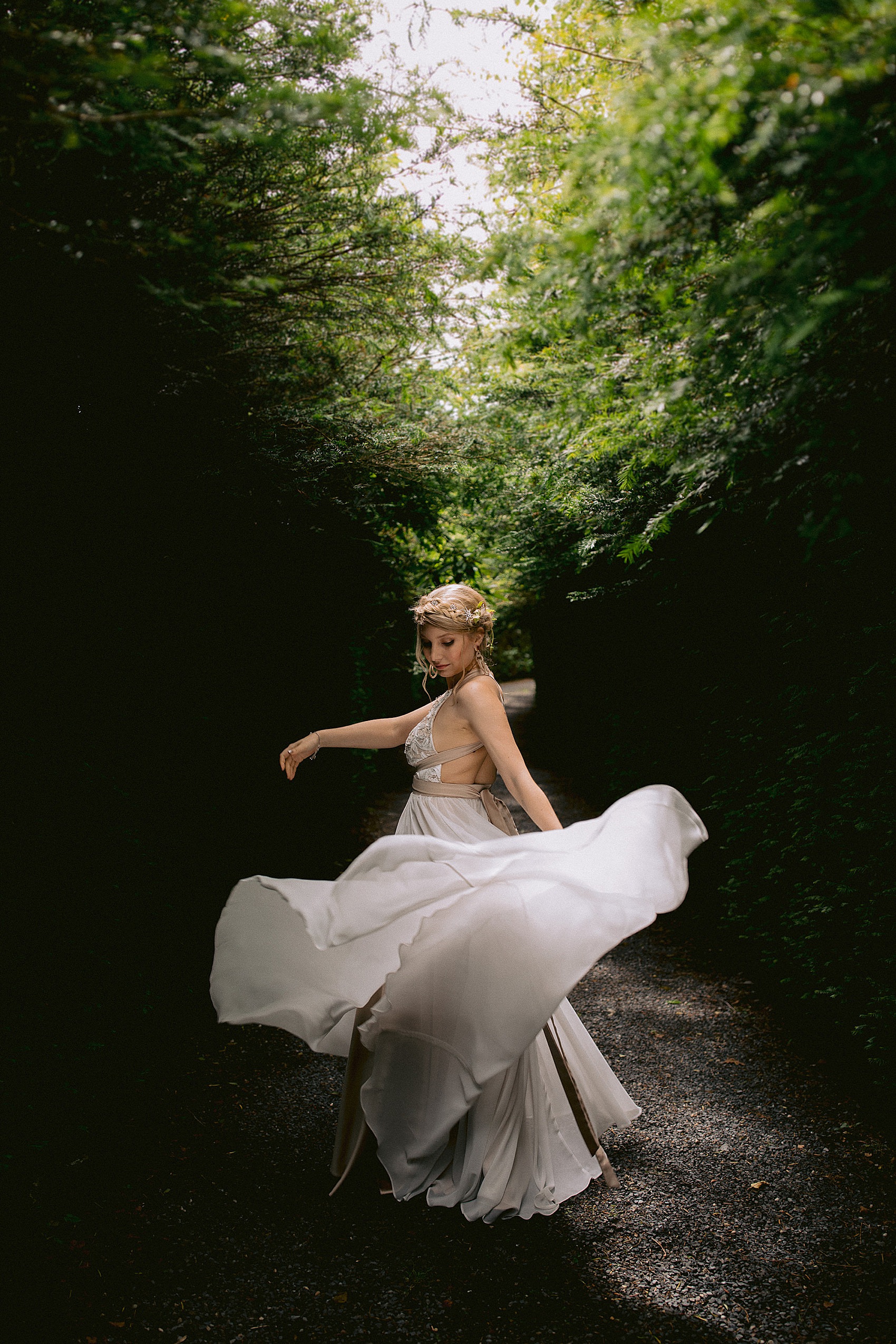 Reggie wore a super smart custom-made three-piece suit in a rich burgundy colour from Louis Copeland & Sons, together with a classic white shirt, and floral print tie and pocket square.
"I am Swiss and Reggie is Irish, and we met in Germany. I moved there from Paris. As an interior architect, I wanted to be able to speak German. Finding an apartment in Munich is really hard, and I looked to find a shared apartment."
"I organised a Skype call from Paris to talk to a group of lads that were living in an amazing duplex and looking for a flatmate. I got a call and a few emails from 'Peter Pan', always assuming his name was Peter, but it was Reggie!"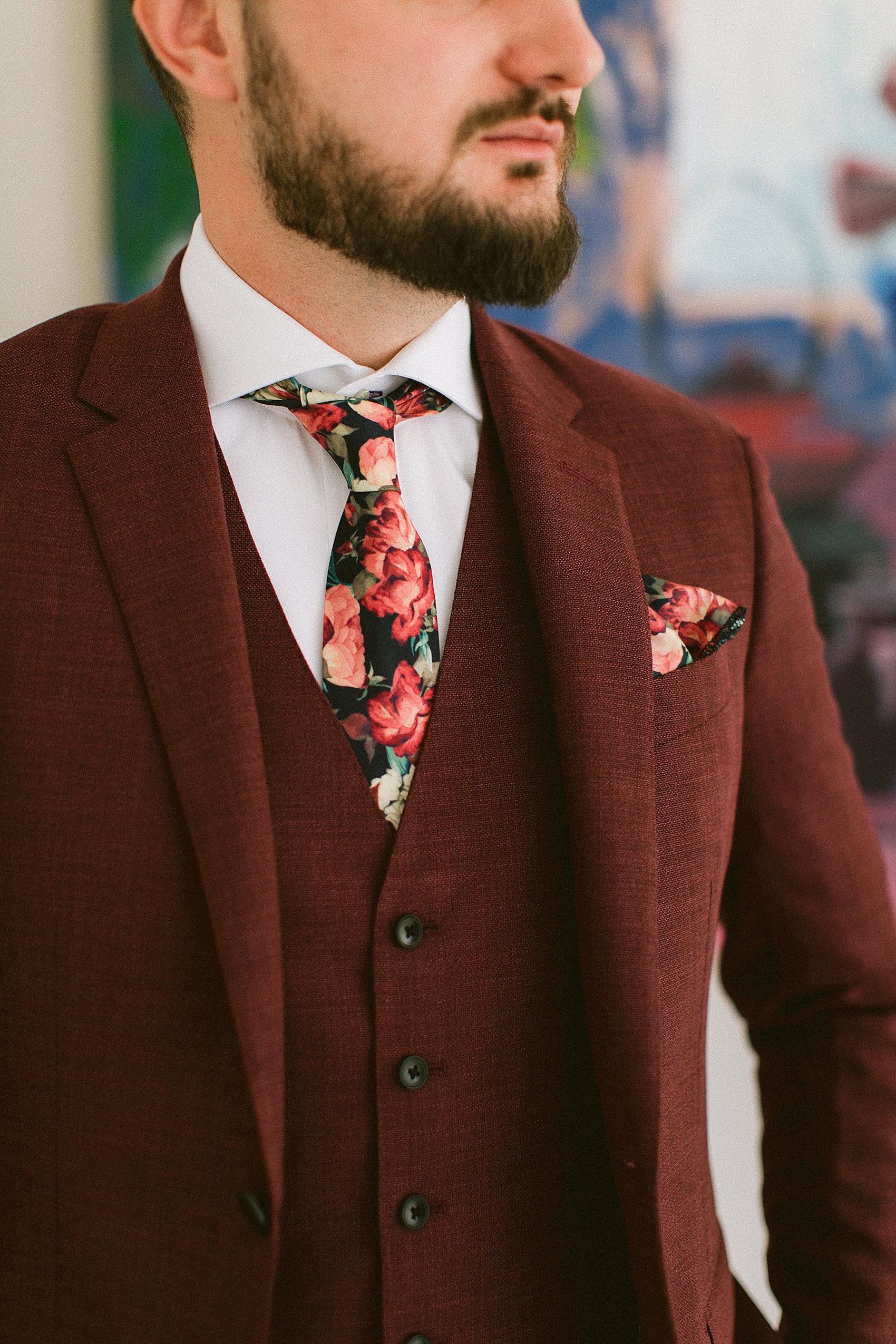 "We lived together, Reggie being away for the first few weeks though. When we finally met, as I was about to kiss his cheeks (normal salutation in Switzerland) he gave me his hand and said 'I don't do French kiss' . It was so funny and so wrong at the same time! We then spent few months discovering the city, him organising events with his Irish and expat friends."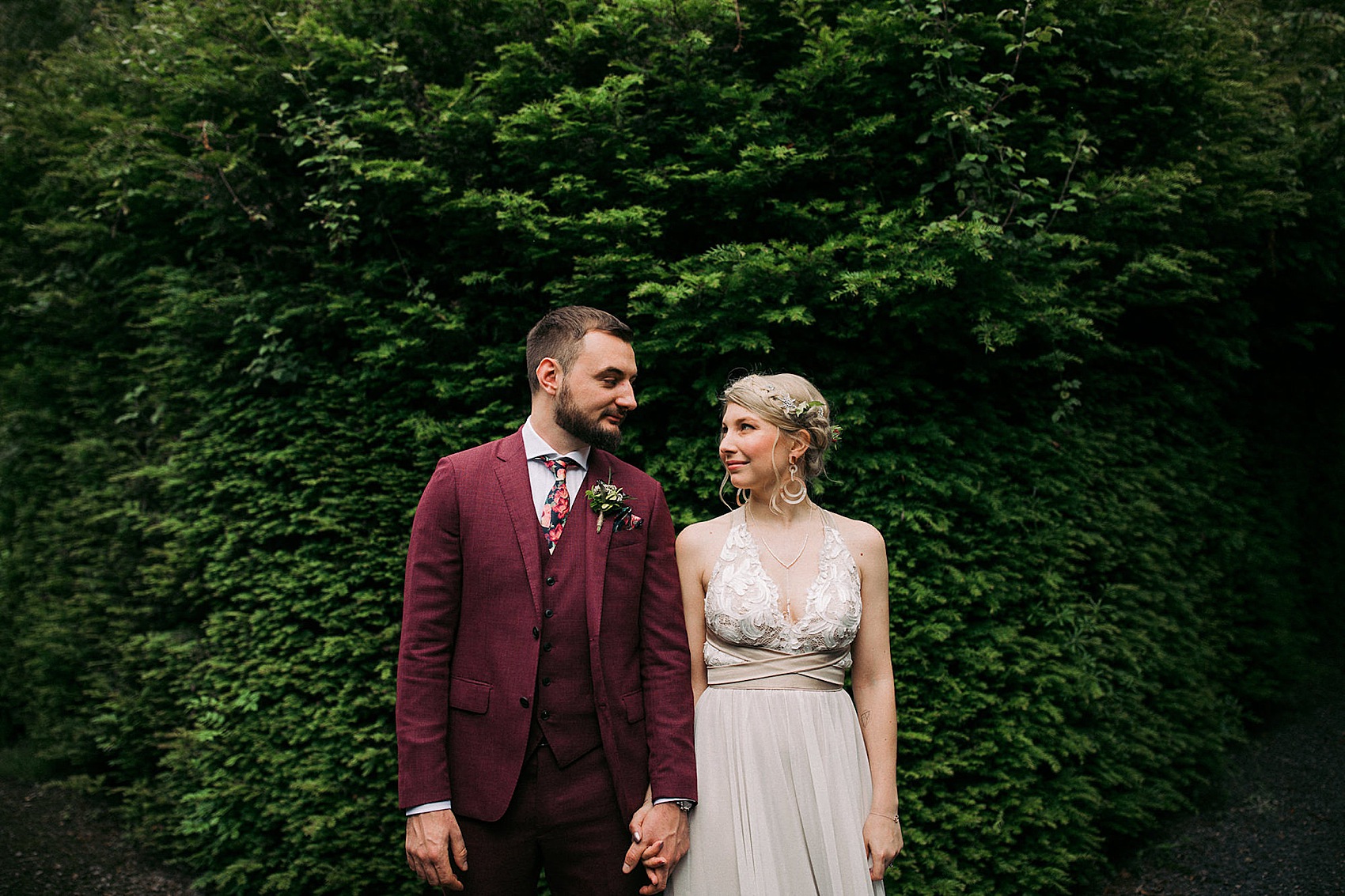 "Eventually, after another night out and going back home together, we decided to be 'secret lovers'. After all, that was the house rule, but after a few months we got busted! We then moved into an apartment together, and eventually (I still needed to learn English! ) we moved to Dublin."
"The proposal happened six years after we met. It was about 4 years after moving to Dublin, and we finally decided to go back to Munich for the holidays in November 2017. After a dinner in our favourite restaurant – where my brother announced his engagement back in the day, and where we had brought our parents and relatives when we were living there, we then decided to go for cocktails."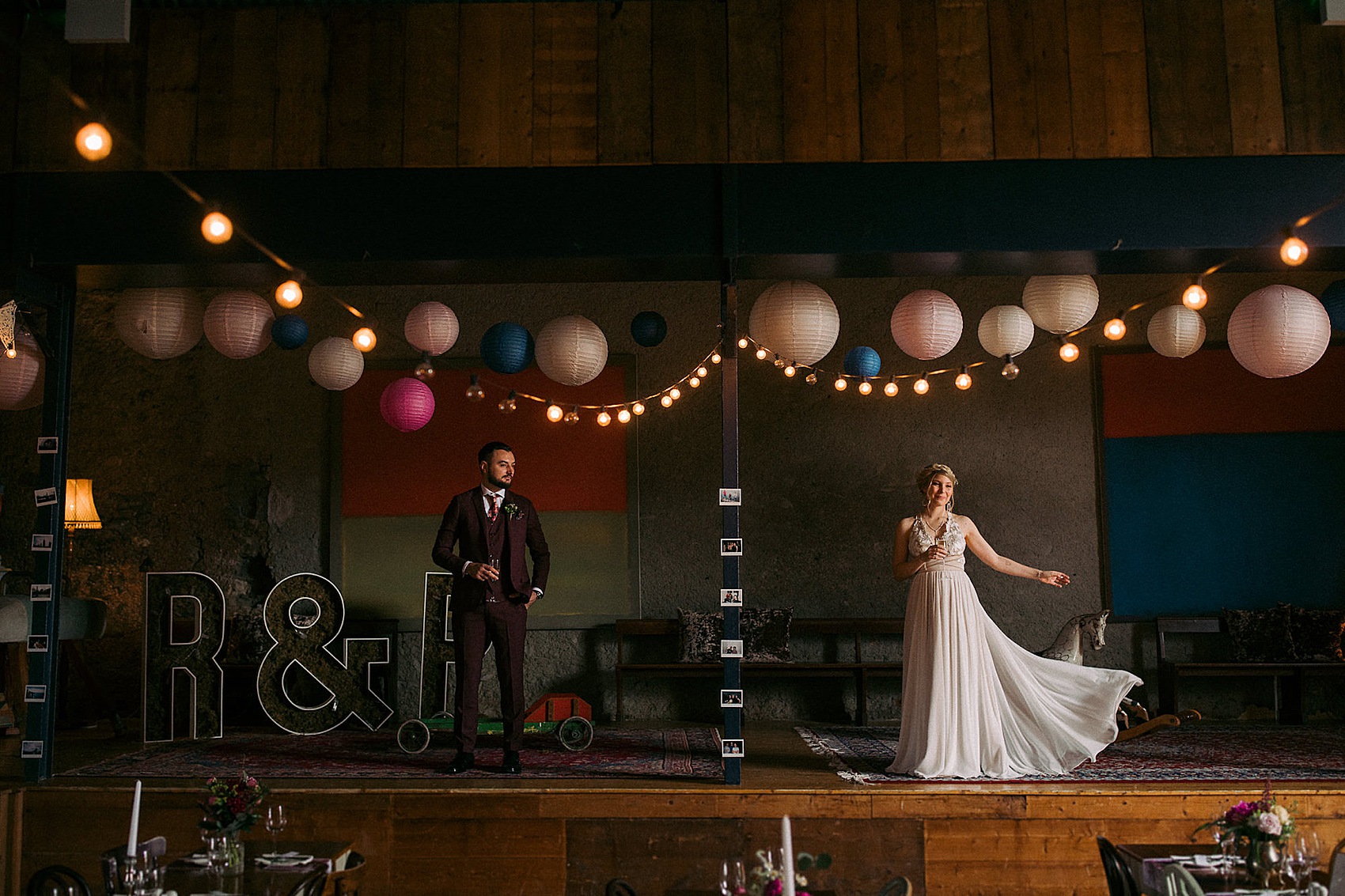 "Well that's what I thought! Reggie said we should walk through the park first, as we always used to that after a night out, and pass in front of our first apartment."
"It was raining, and cold but I didn't even notice. Reggie said 'Remember where we first kissed?' I said it was by our old front door, and he said it was on the other side of the street under an umbrella. We argued about who was right, and Reggie I should come over for a kiss. I am never wrong (!) so I rolled my eyes and went to give him a kiss."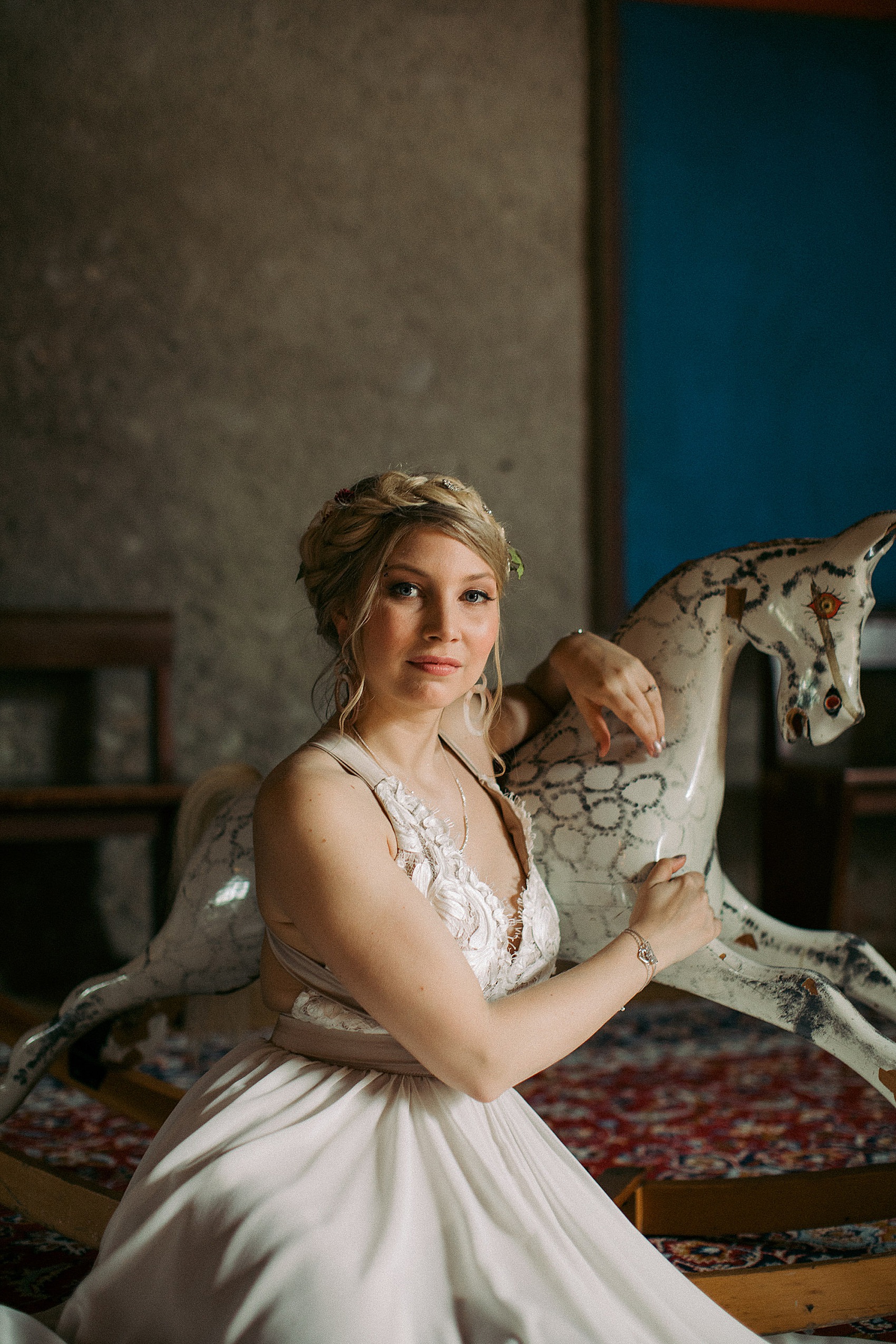 "Once I opened my eyes he had an open box with the most gorgeous ring he picked by himself, the one I would have picked to be honest! Then everything went blurry because I was crying!"
Postponing your wedding? Bookmark our Covid19 pages which are full of useful, practical & emotional advice.
"Trying to call my relatives after that was more than comical as no-one answered! Everybody was out partying on their own, which let us just enjoy the first hours of engagement back where it all began."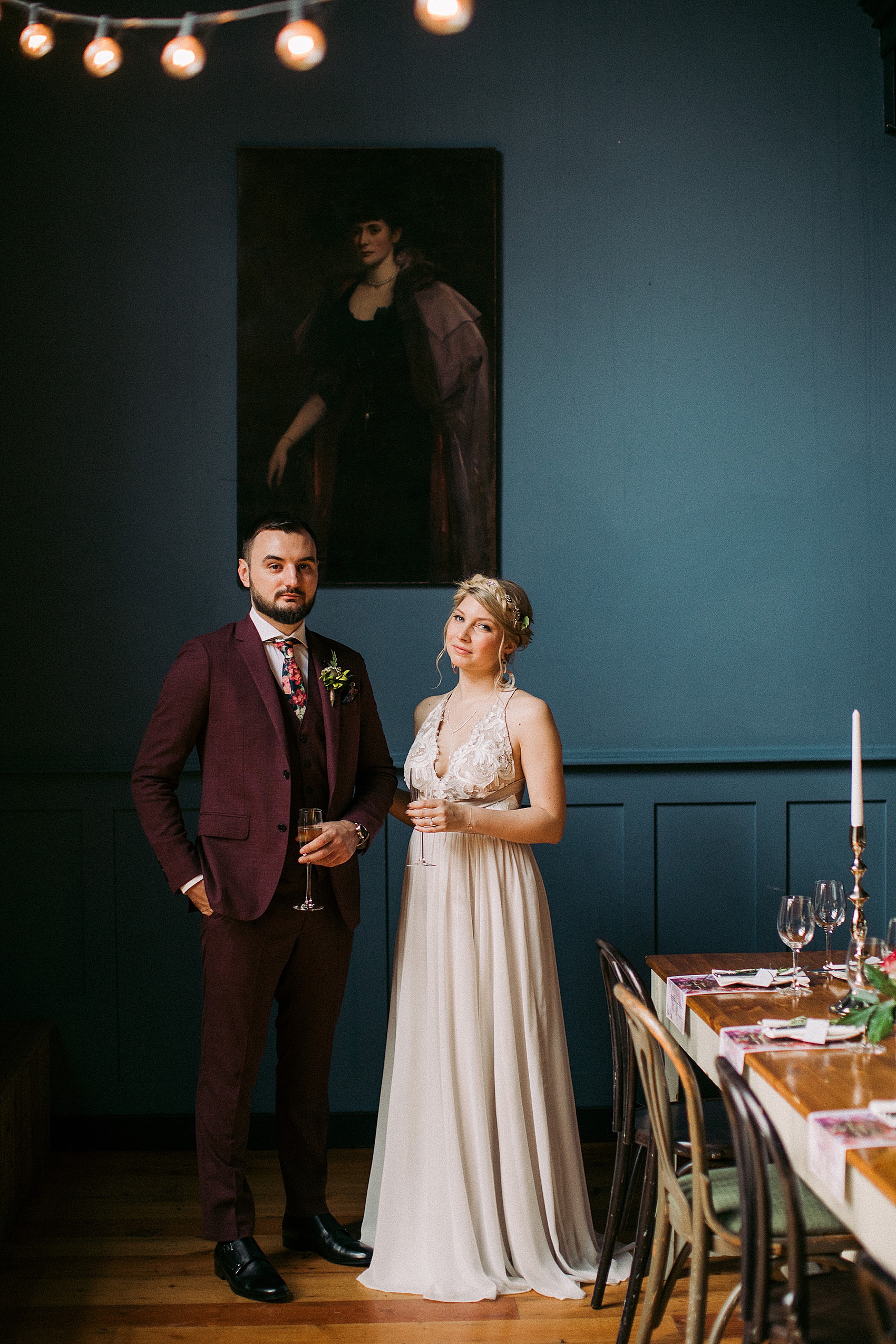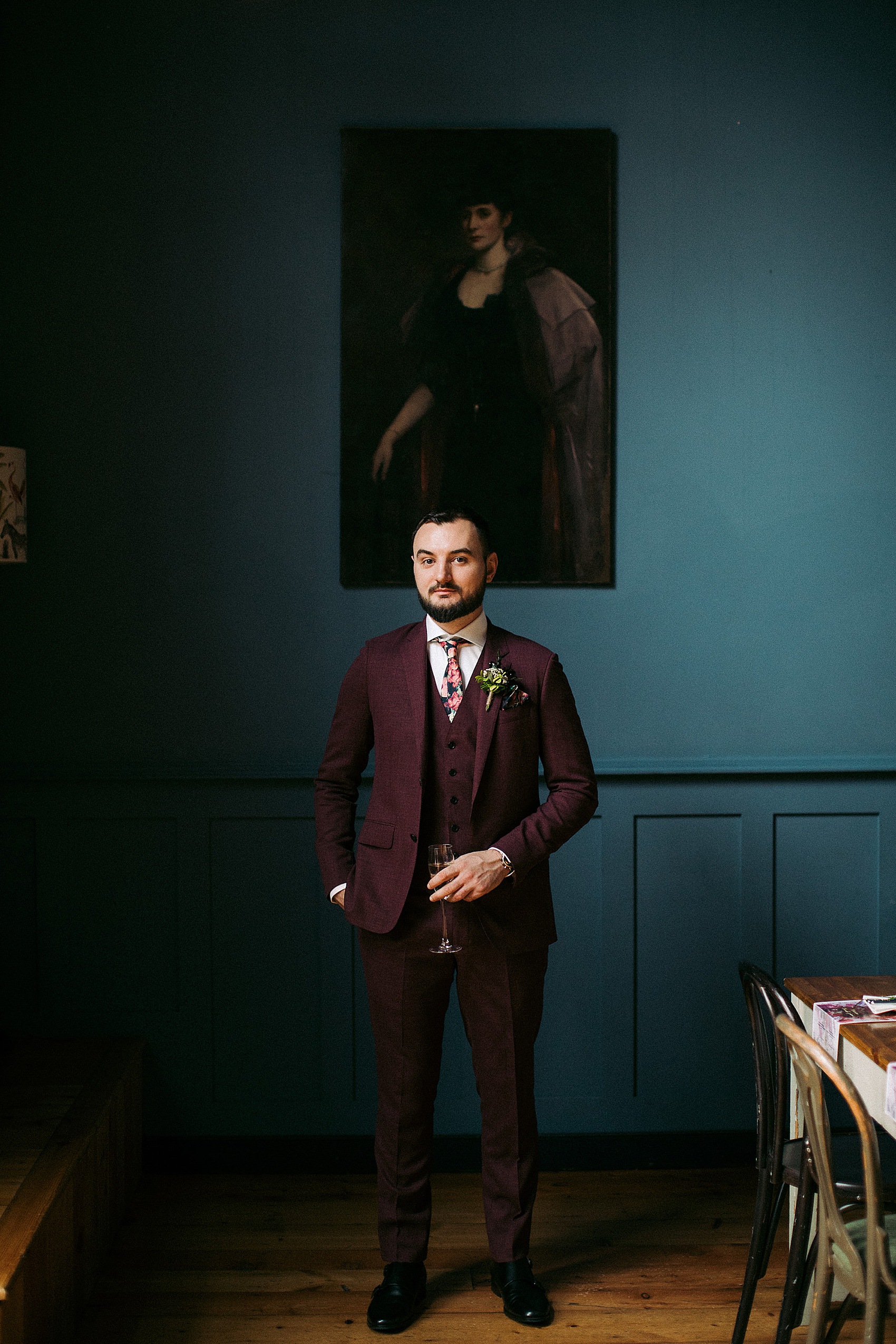 Pauline and Reggie decided on a first look ahead of the ceremony, and set off to meet each other down a winding country lane, with a beautiful canopy of trees overhead.
"My favourite part of the day was meeting Reggie at the corner of two paths uniting the two houses we spent the night in. Discovering each other on that green lane was magical, and running for our photographs before the ceremony with our photographer. It was no stress, just fun and lots of love."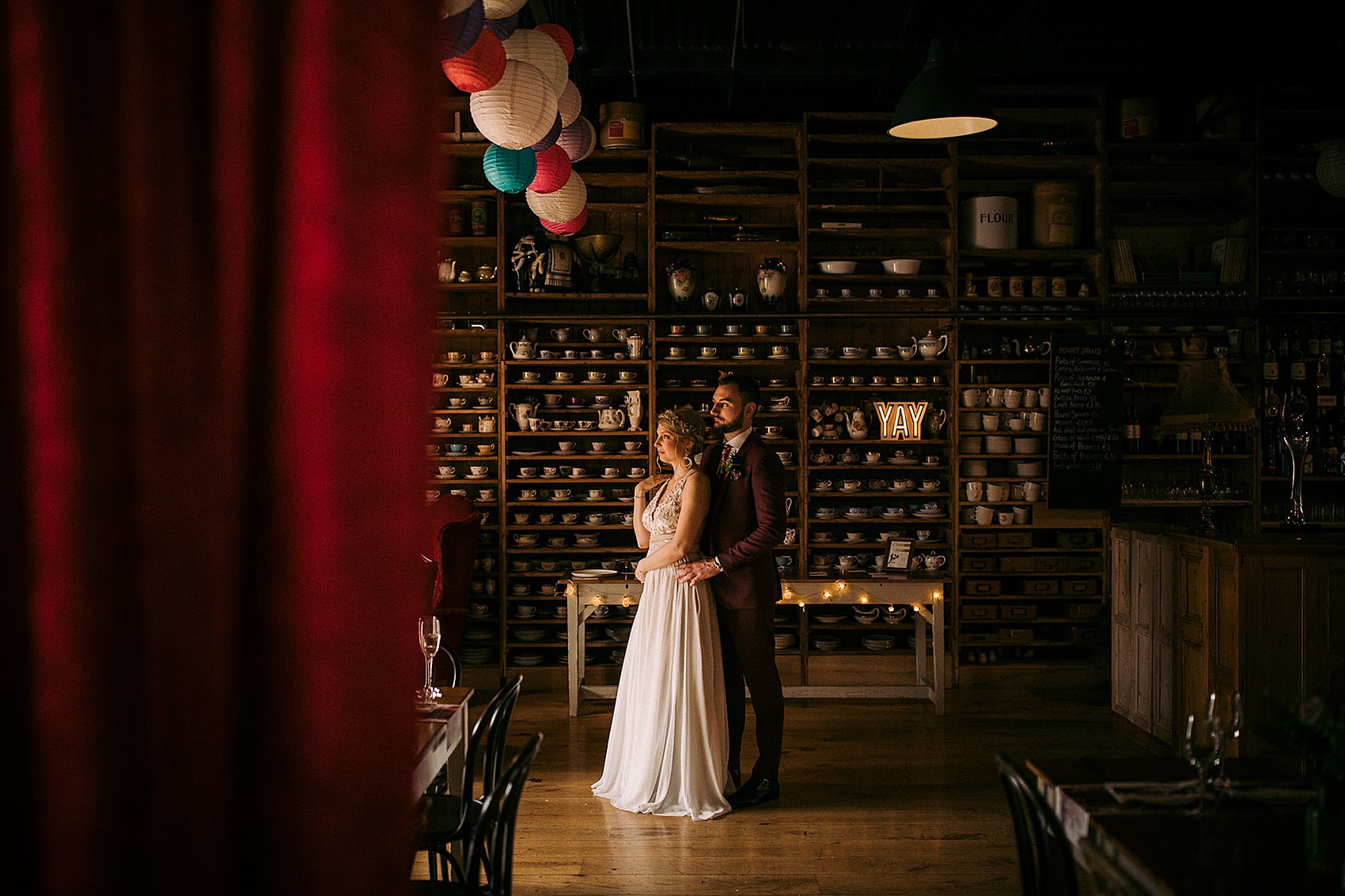 The bridesmaids wore pink dresses of their own choosing from Folkster, Zalando, Oasis and Quiz, and the designs and embellishment complemented one another beautifully. They also carried single, long stems of bright pink peonies.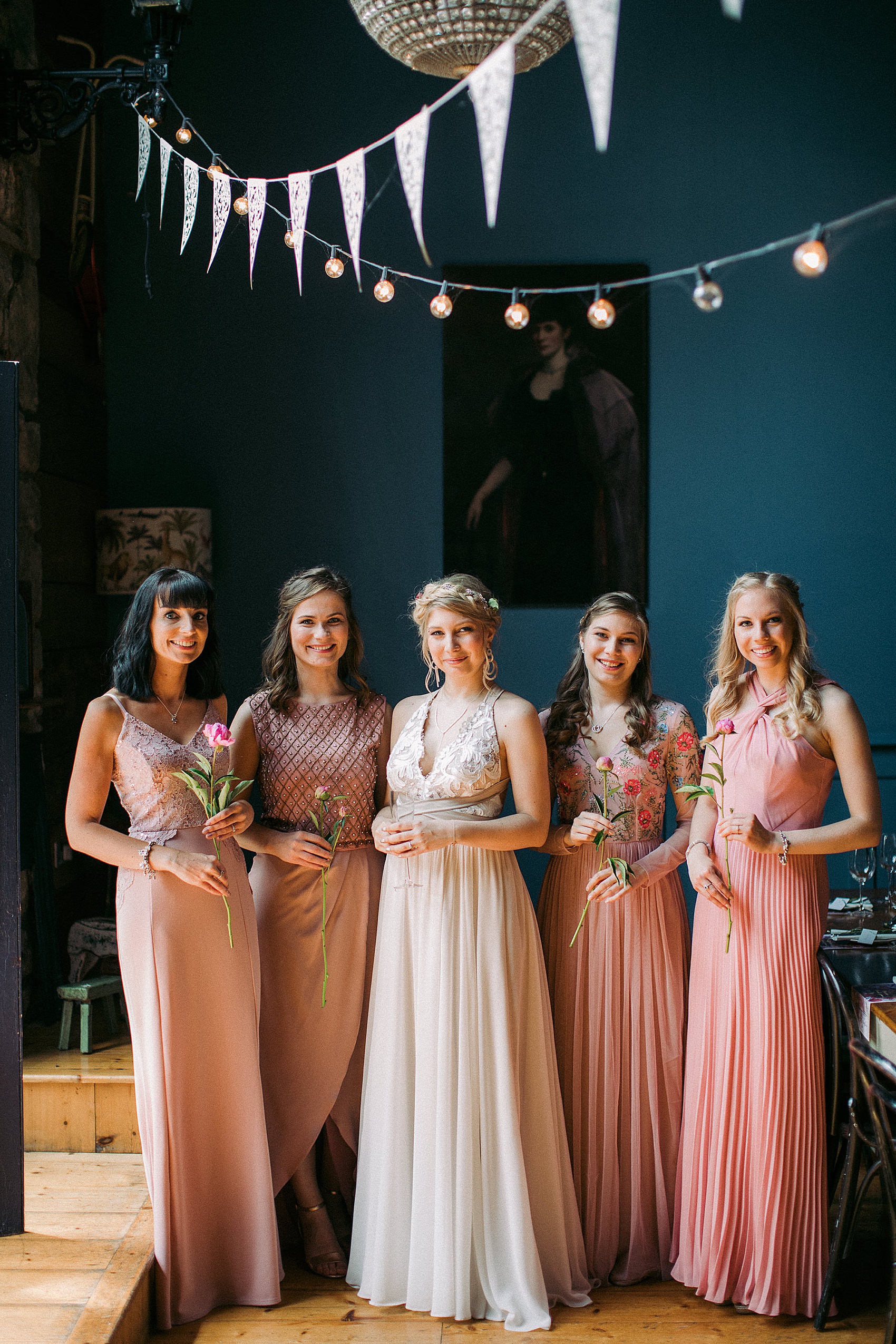 "Our florist, Les Fleurs, were absolutely amazing. Olivier is from the south of France, and has a lovely little shop in Dublin. It was really nice to be able to talk to him in my mother tongue! I was really impressed with his creativity and didn't want to direct him too much."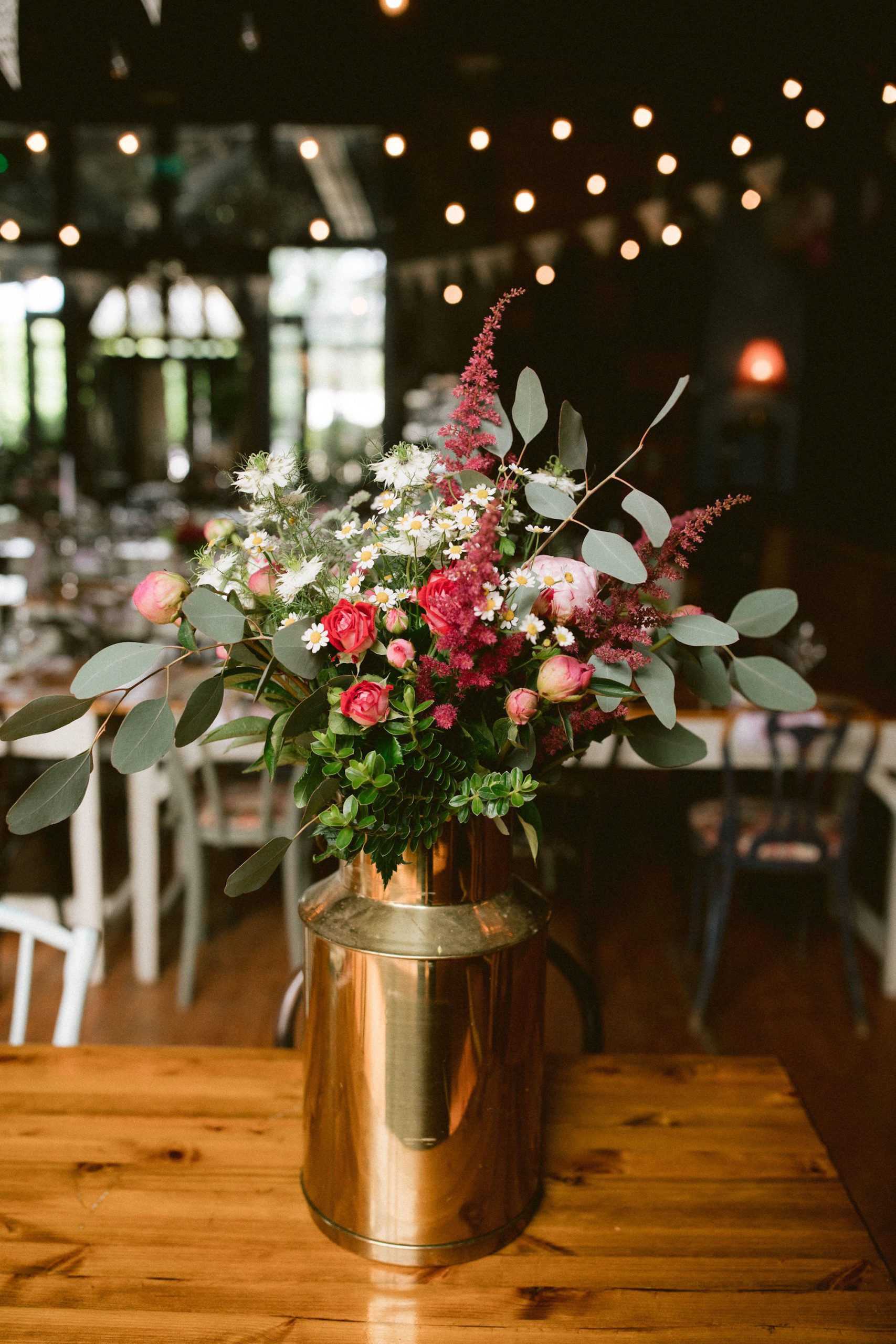 "I just wanted something wild, that smelled great, and that maybe had some chamomile daisies in it."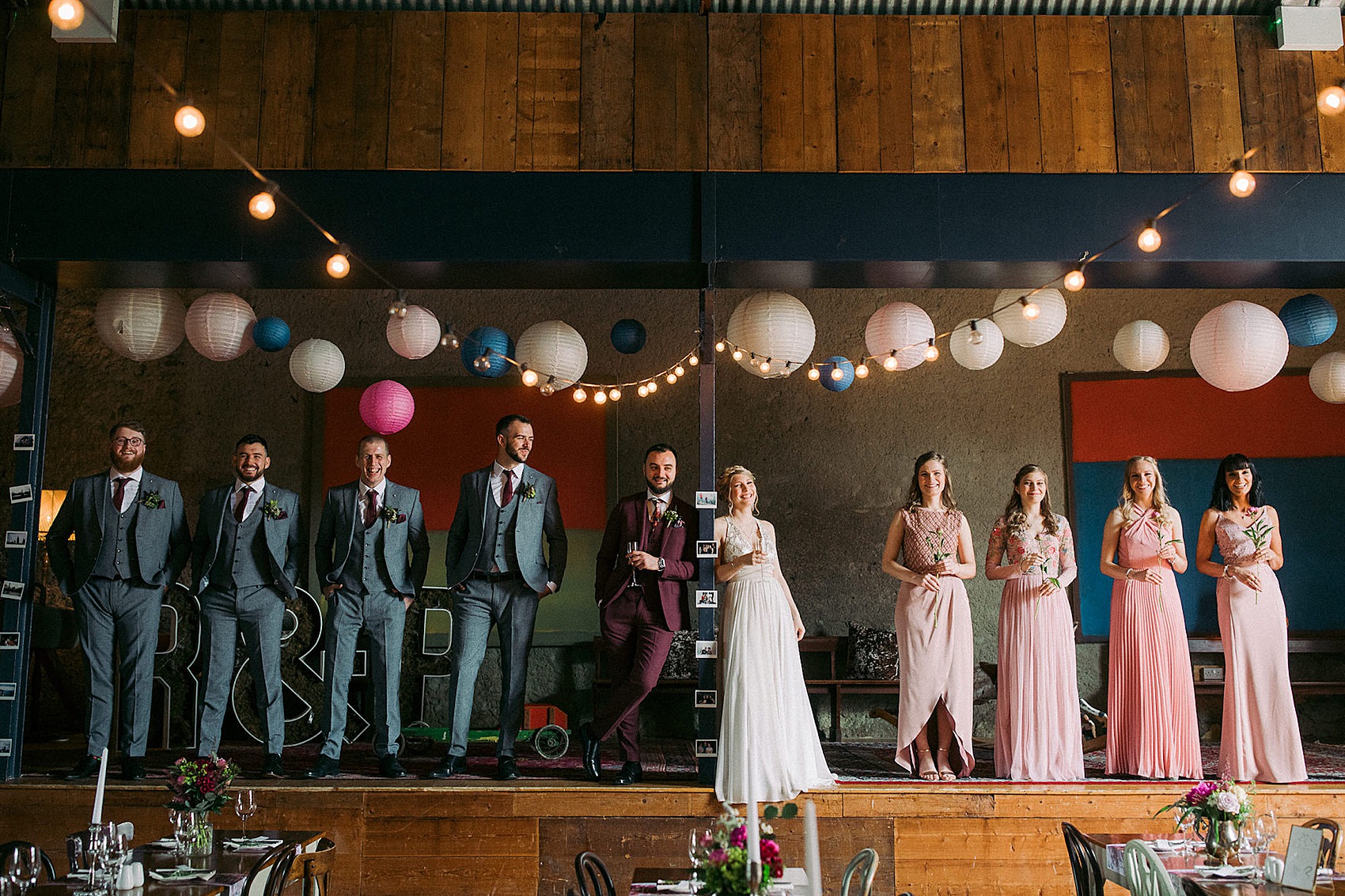 "I gave him a few pictures, a budget, numbers, and let Olivier get to work. He worked wonders! He even had his mother send some dried lavender from the south of France. Our confetti was lavender, rosemary, and some white rose petals."
"It was so special, and he used some of the silver teapots in the barn, and made a giant arrangement in a brass milk churn belonging to us. We found it in a flea market in Germany for our first apartment, and it's always come with us wherever we live."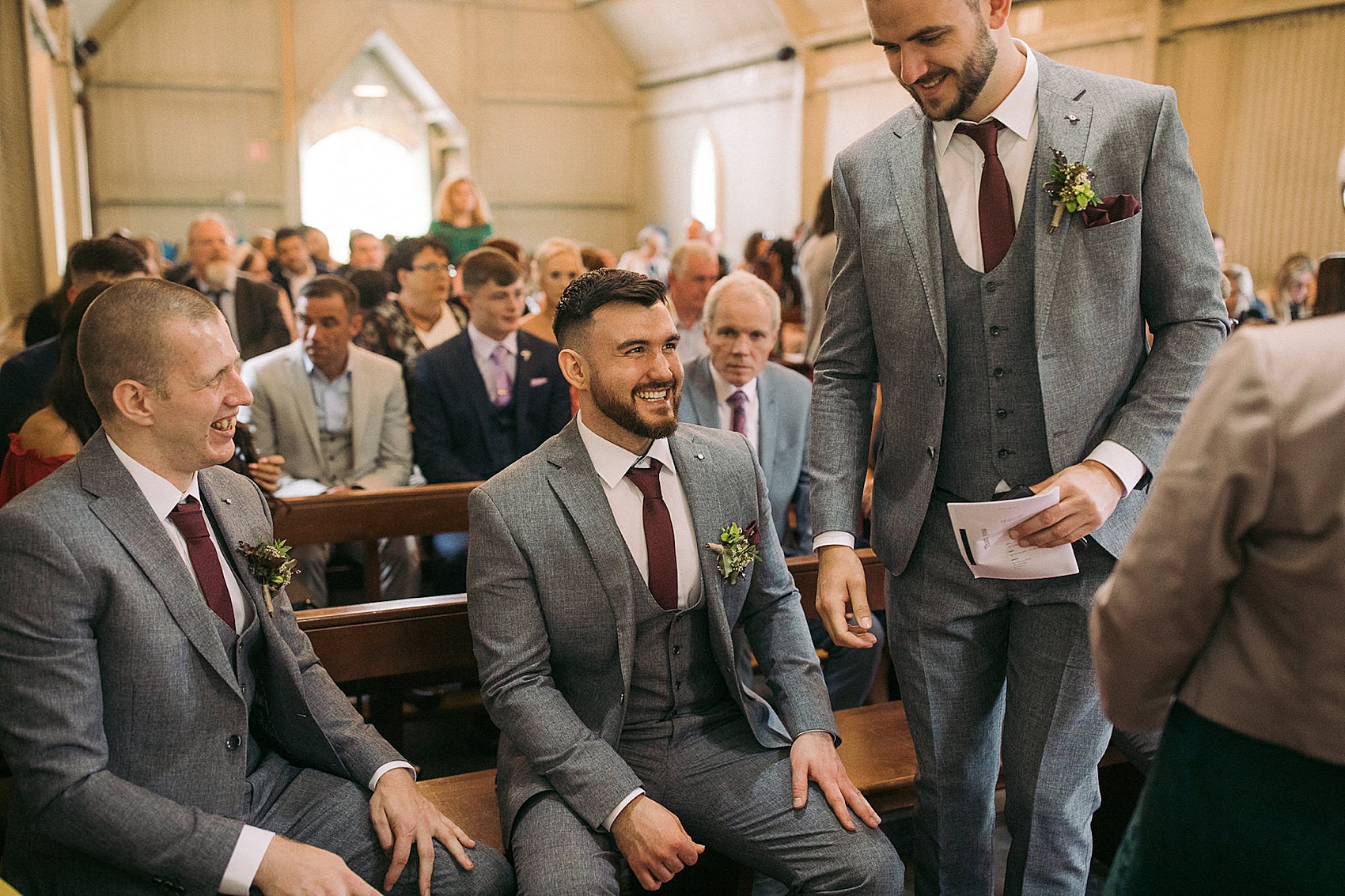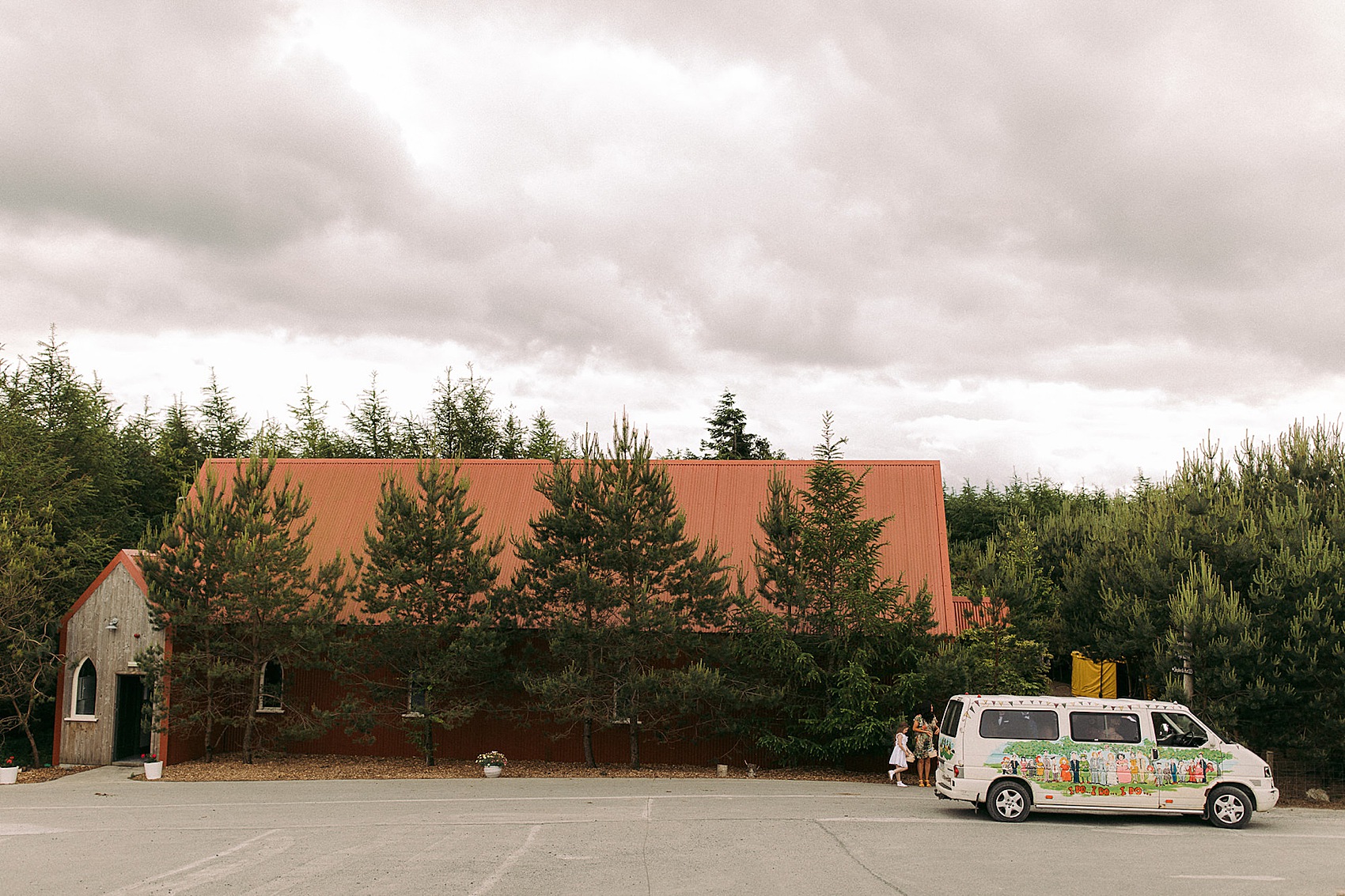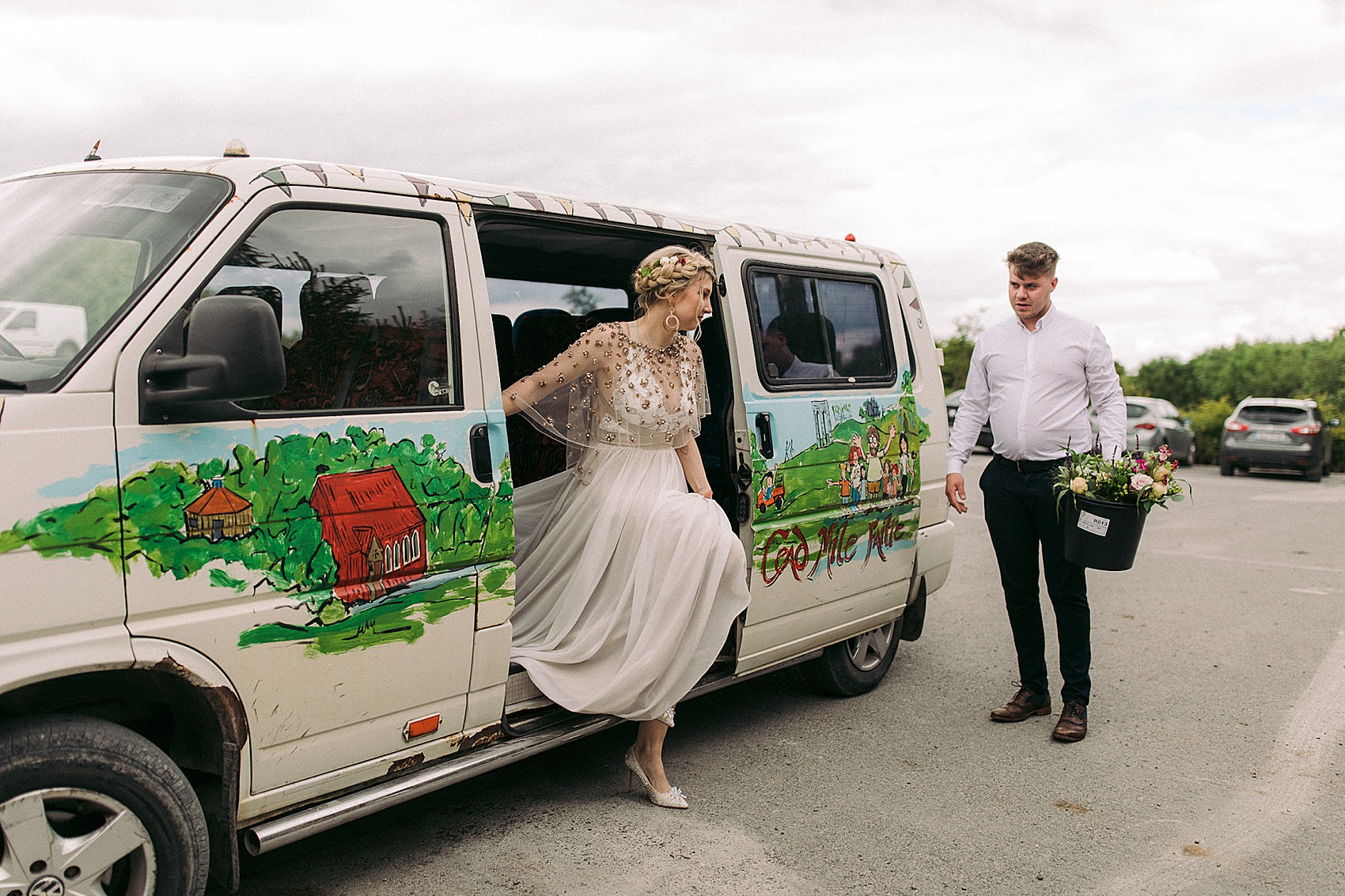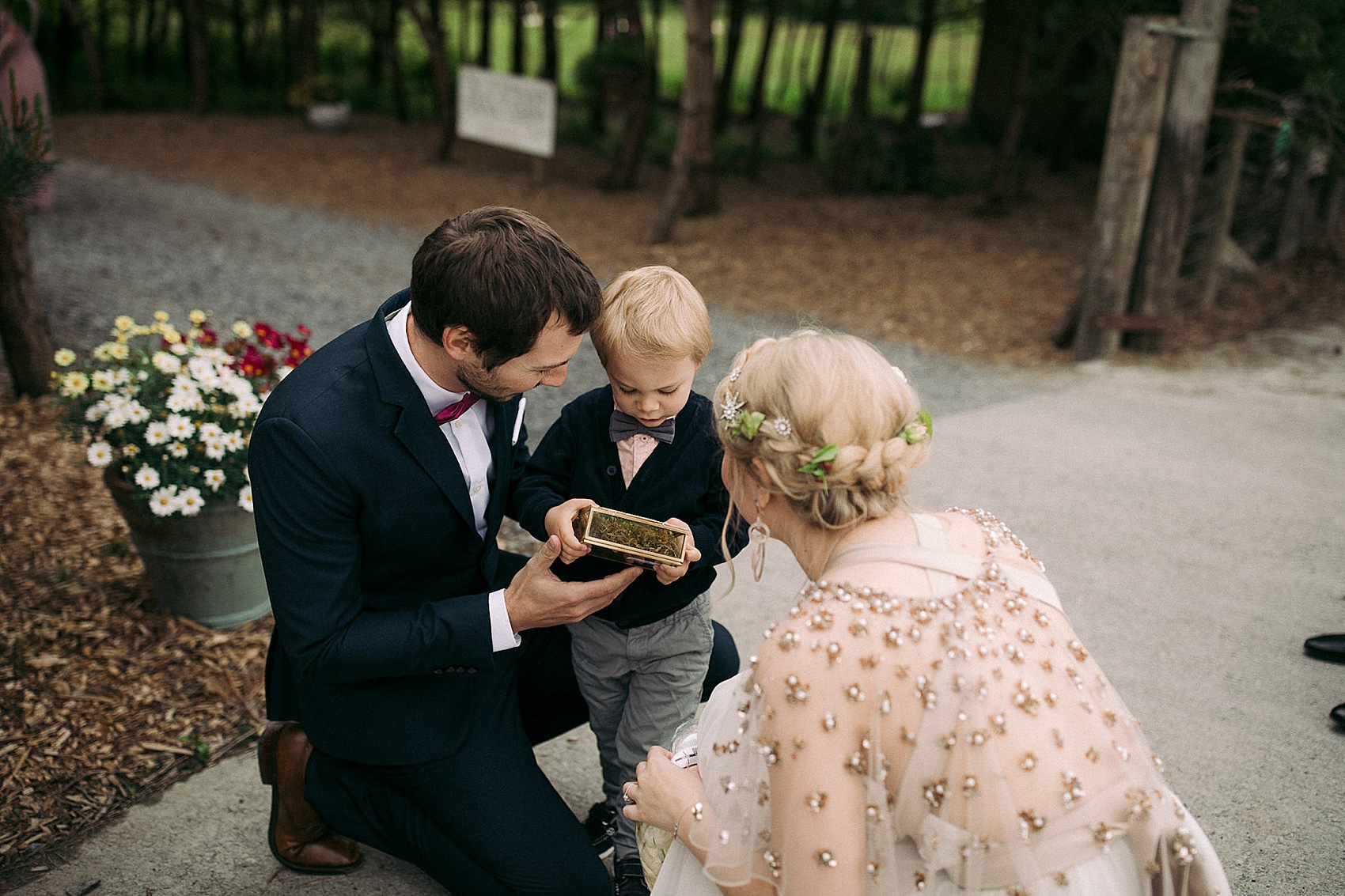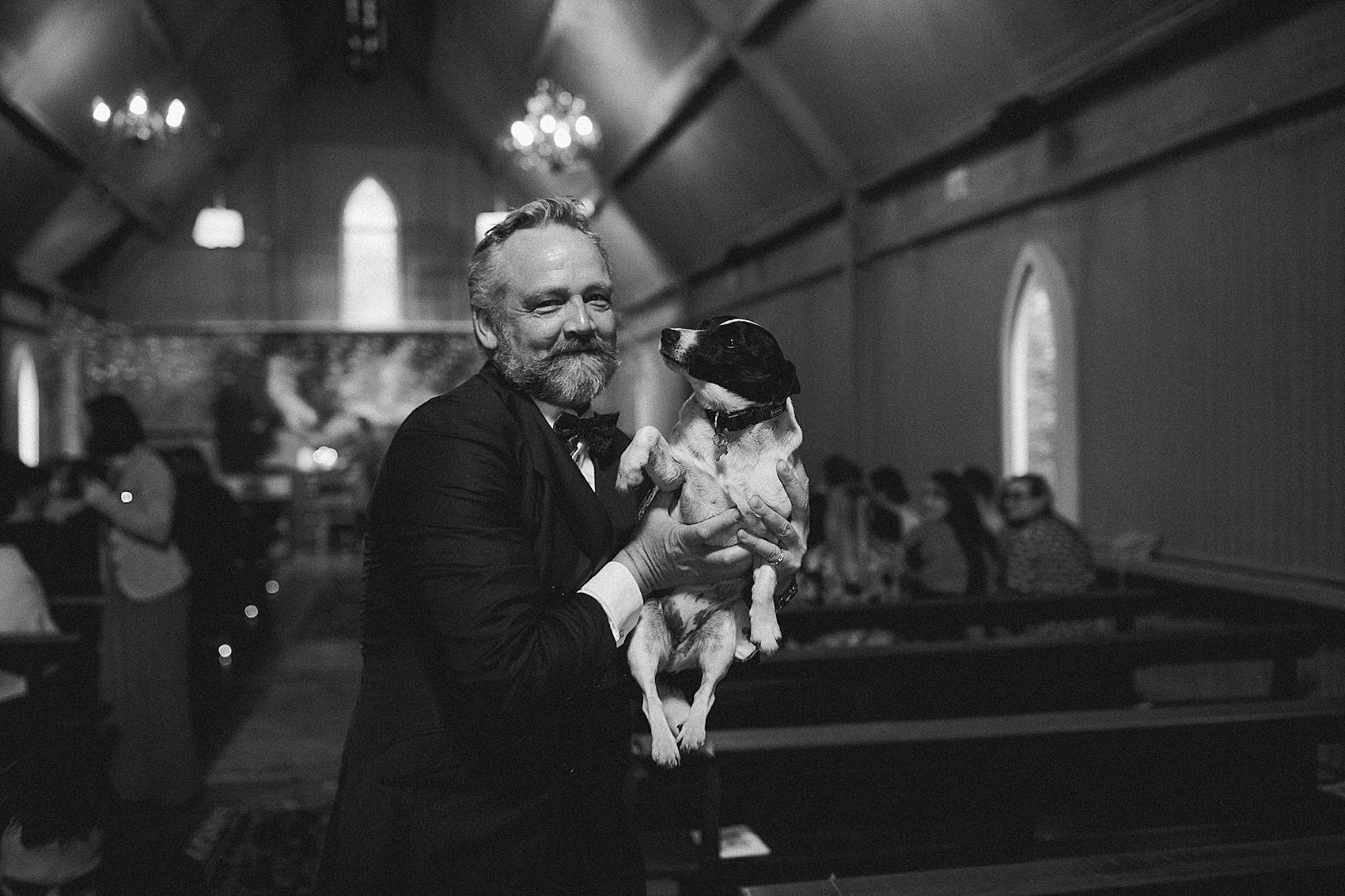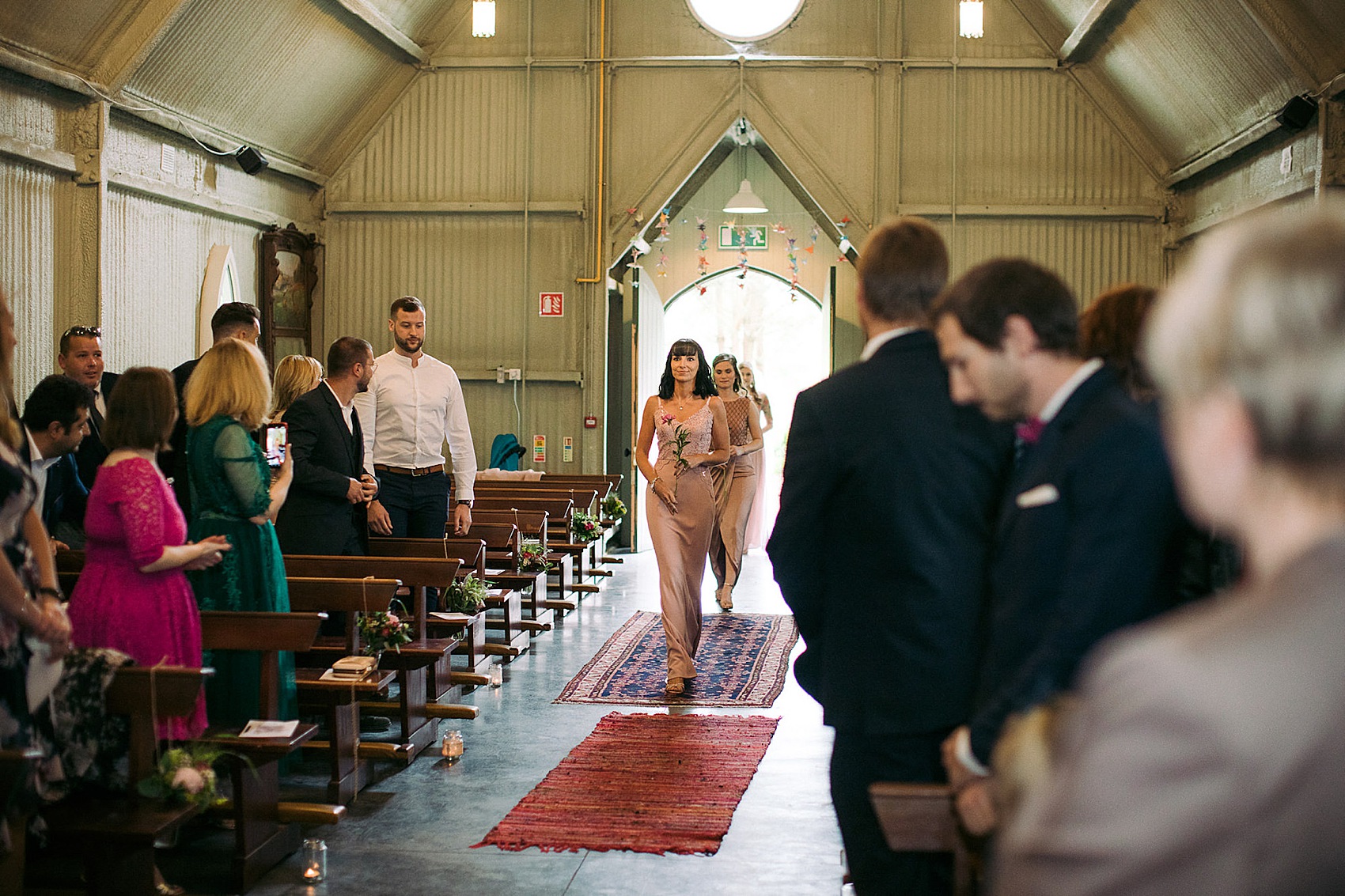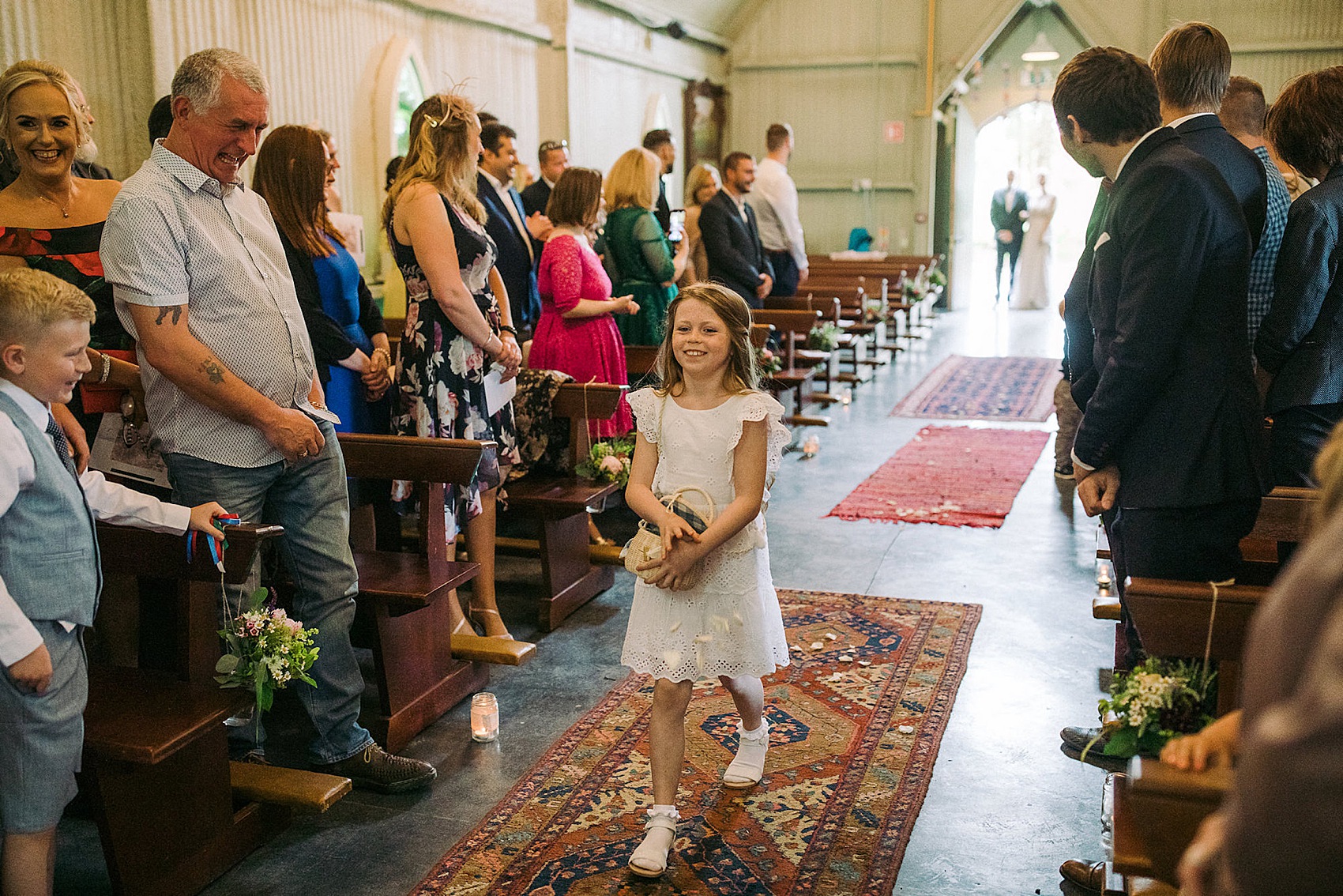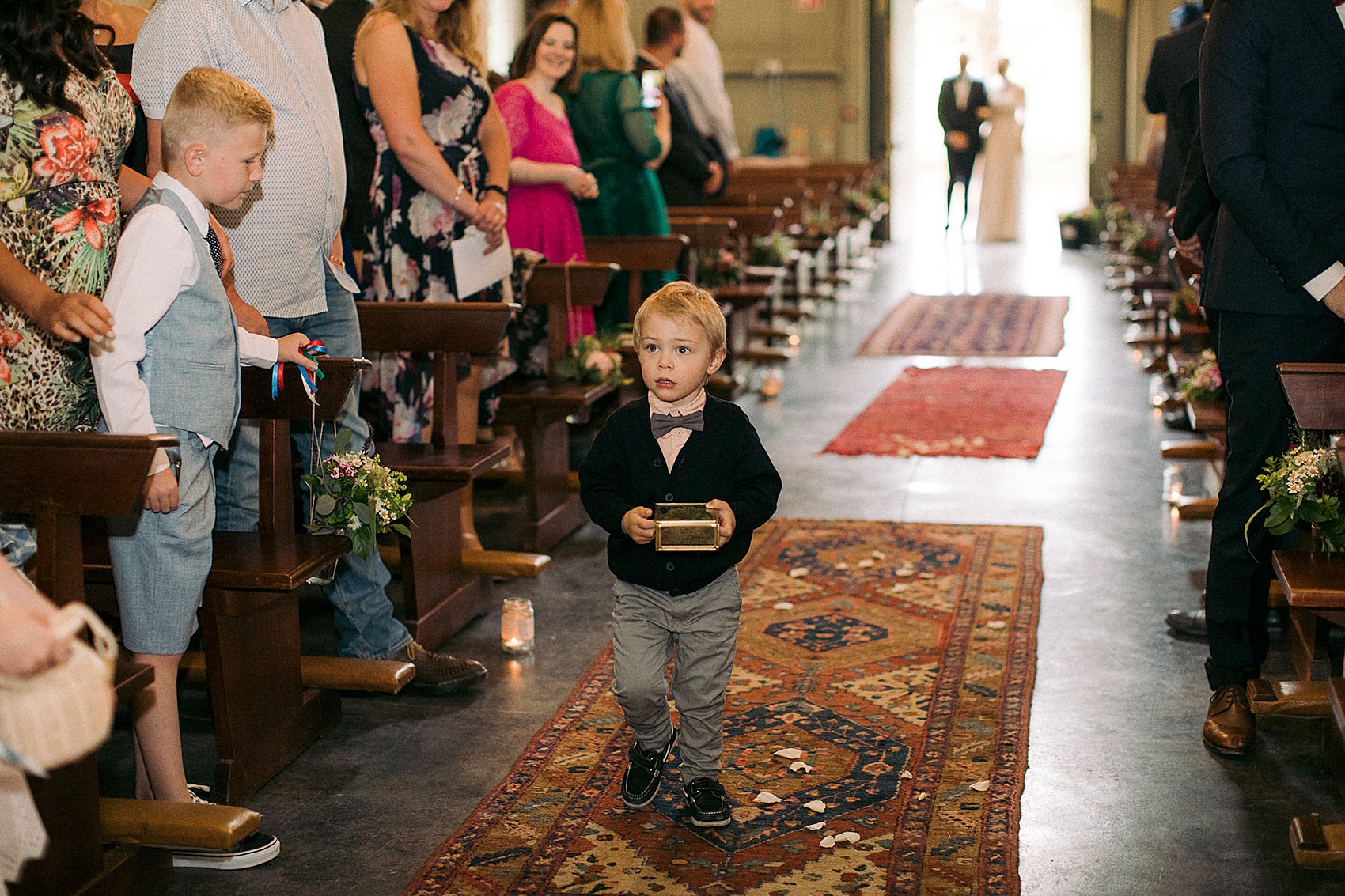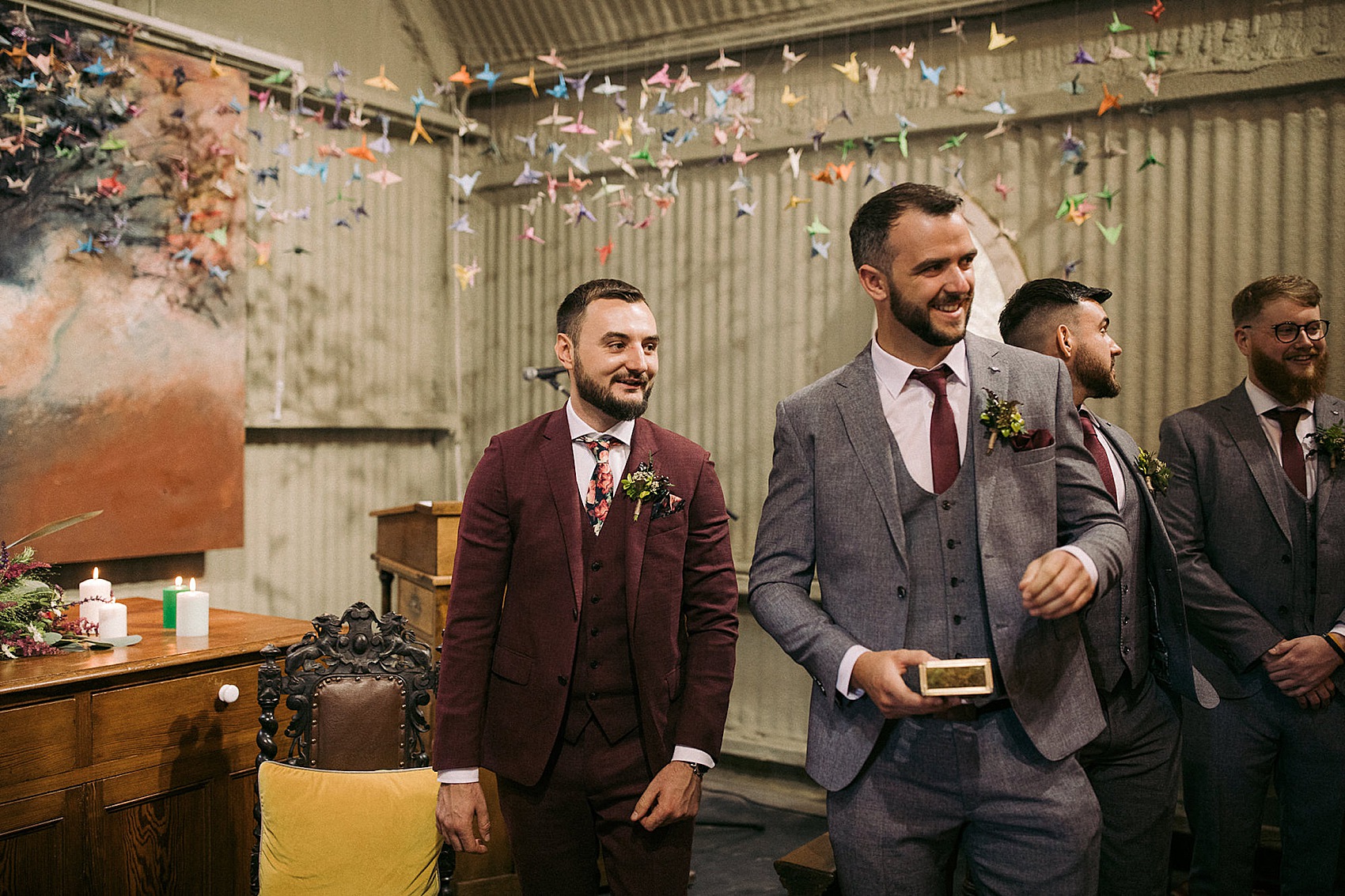 Pauline and Reggie chose to marry in Mount Druid's Tin Chapel, which was decorated with vintage rugs, flowers, and colourful origami cranes. To Kina Grannis' version of the song Beyond the Sea, Pauline walked down the aisle together with her dad.
"My dad was very proud. I was so excited, I even forgot my bouquet! My dad went back and then came back slowly, alone down the aisle holding my bouquet. Very funny!"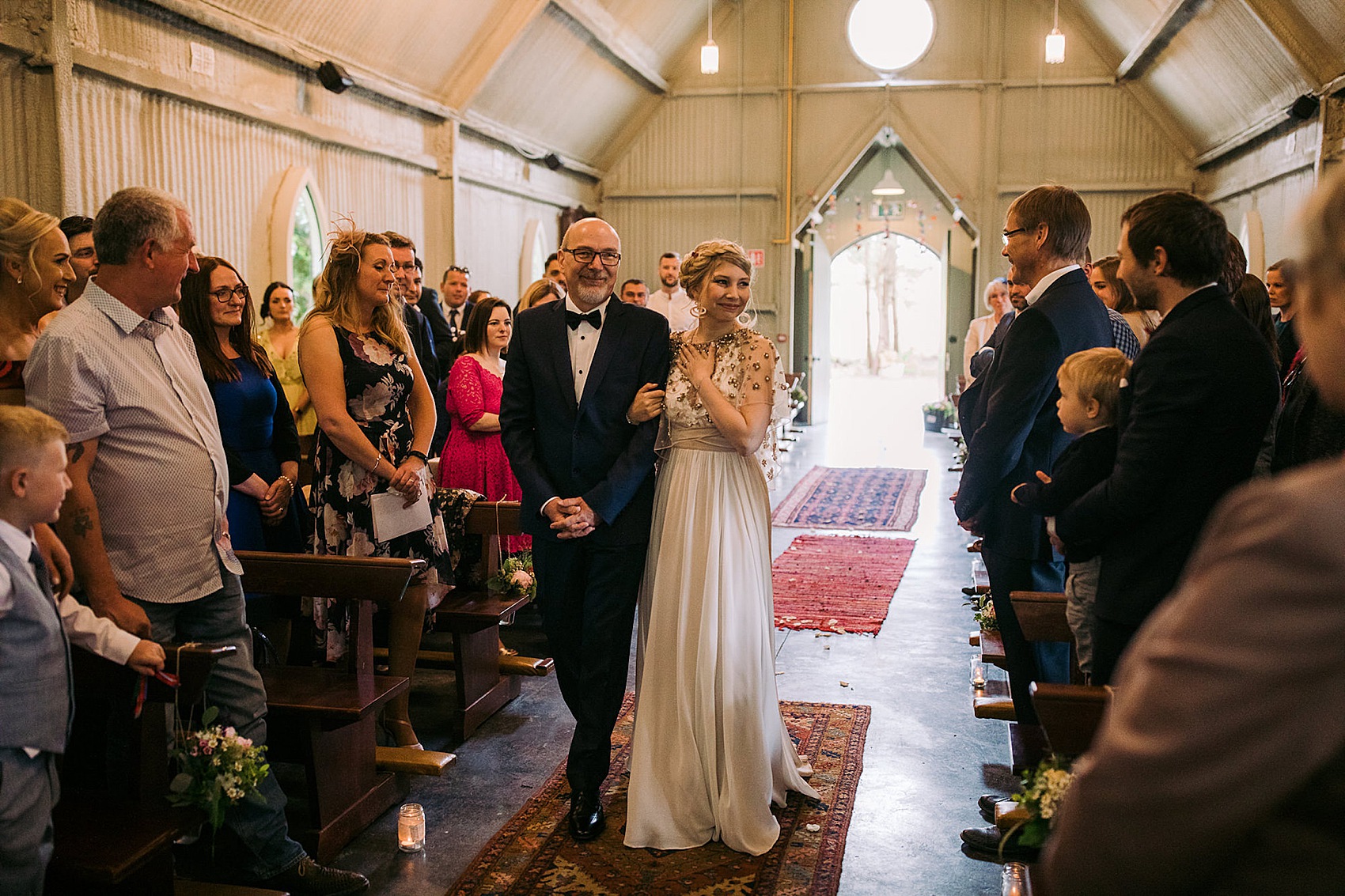 Three weeks ahead of their larger celebration, the couple were legally married in a small, simple ceremony with just four people present. To mark the occasion, they then went and got their first tattoos together. Reggie chose waves in a triangle to symbolise Ireland, and Pauline chose two triangles with dots for her beloved Swiss mountains.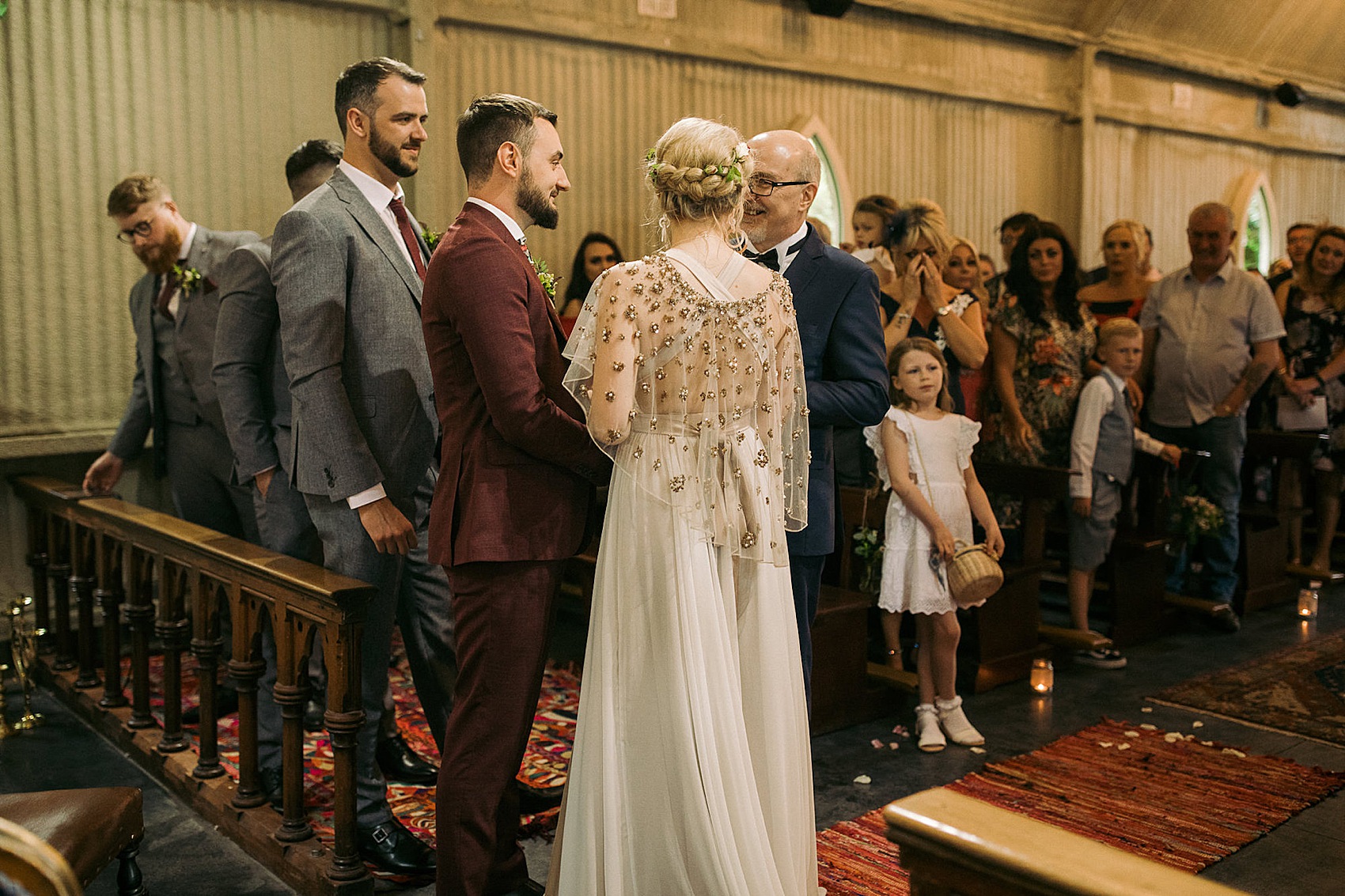 For their Mount Druid ceremony, they then opted for a personalised, bilingual Humanist service, with celebrant Aideen McDonald from Marry Me Ireland speaking in English and French throughout.
"We choose to do handfasting. Because our family don't speak the same language, the celebration was really important. My mum and myself wrote it with our celebrant Aideen McDonald. It made it very beautiful and very personal. It was lovely."
Pauline and Reggie wrote their own vows following the framework of four promises, four pledges, four vows and four beliefs. They also exchanged rings, too. Pauline chose her band at Ernest Jones, and Reggie chose his at H. Samuel.
"Our reading was A Heart beneath a Stone, which is Chapter IV of Les Miserables by Victor Hugo. A beautiful text both in English and French, and quite different from the classics we've seen and heard. Not too religious, but with lovely values and poetry. We had my sister-in-law (brother's wife) and Reggie's Best Man reading it in French and English alternately."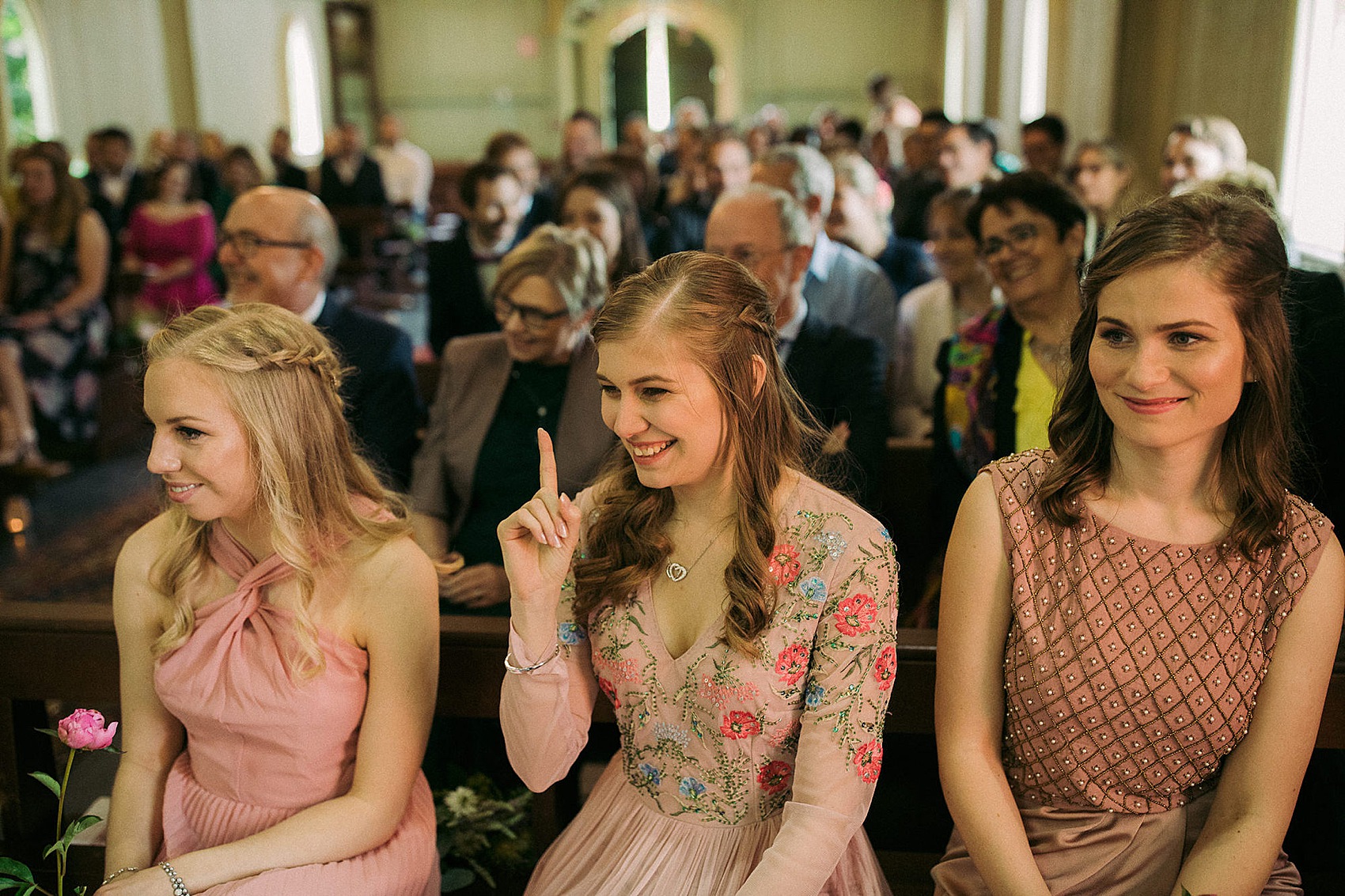 Decor inspiration came from flowers and stars, and from the vintage charm of Mount Druid. The reception was held inside the venue's barn, which was filled with antique curiosities.
"We had a welcome sign designed by myself. It was an acrylic sign that was made by Vision Branding Solutions, who are amazing people I work with in my job. It said 'You, me, oui'."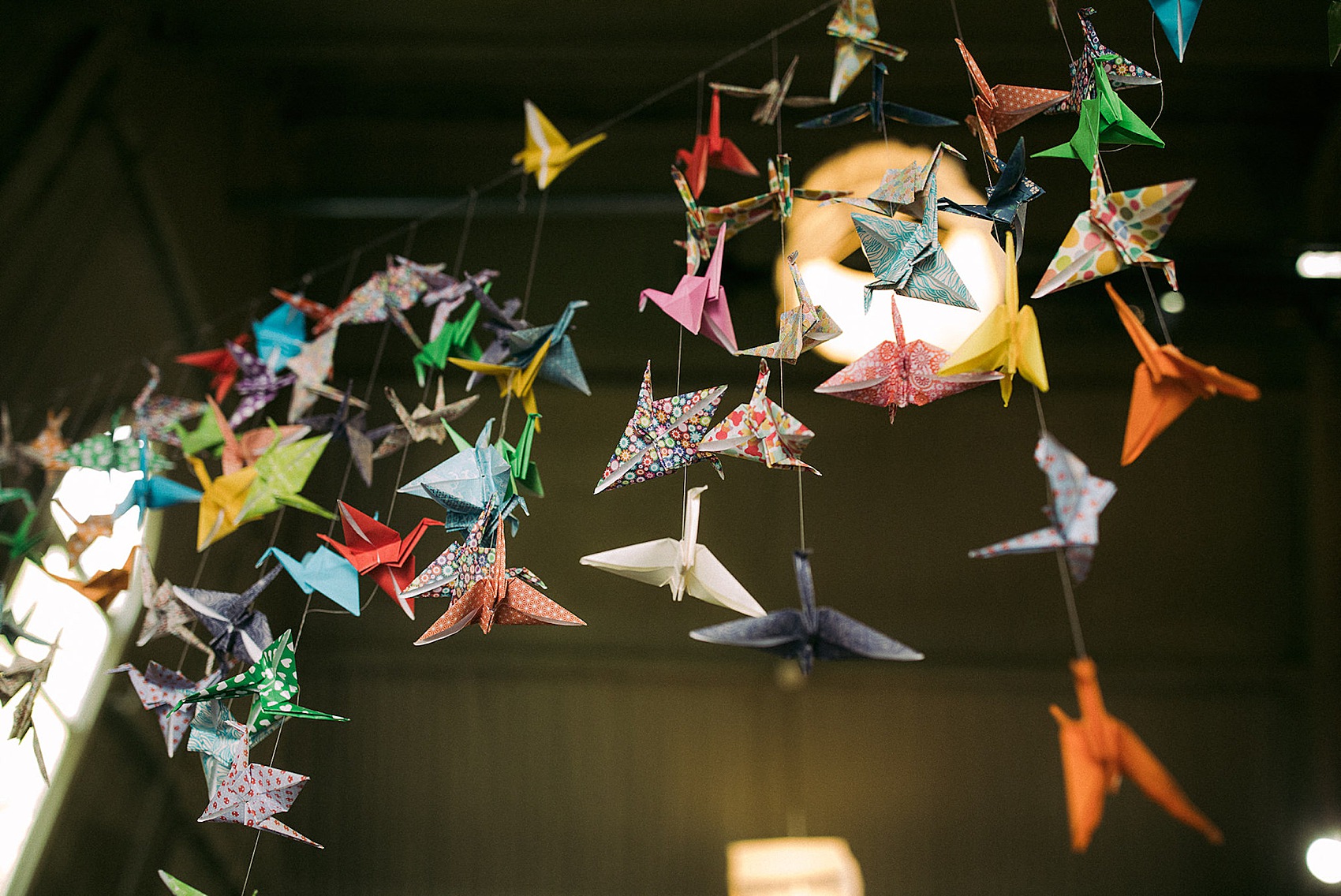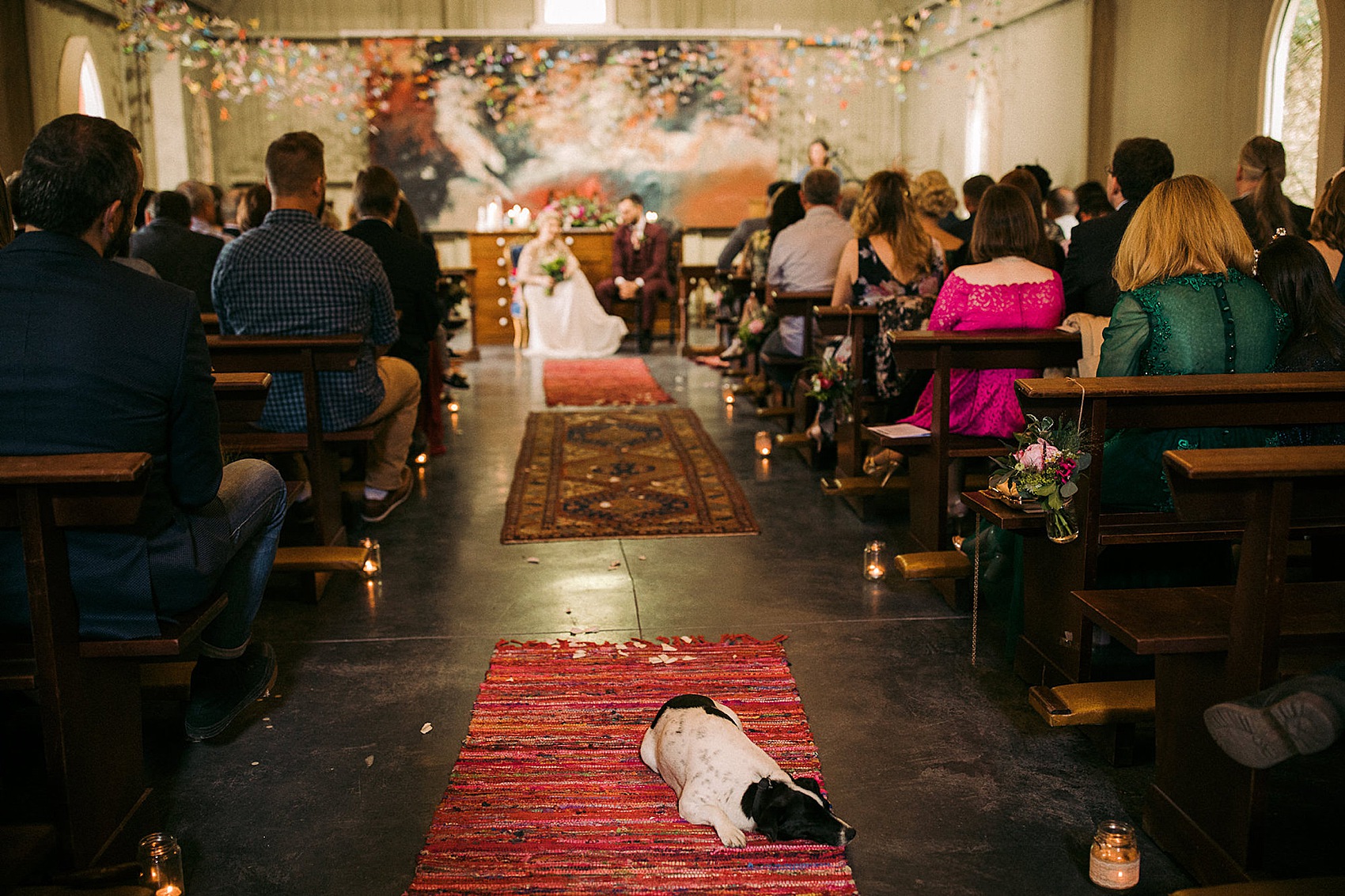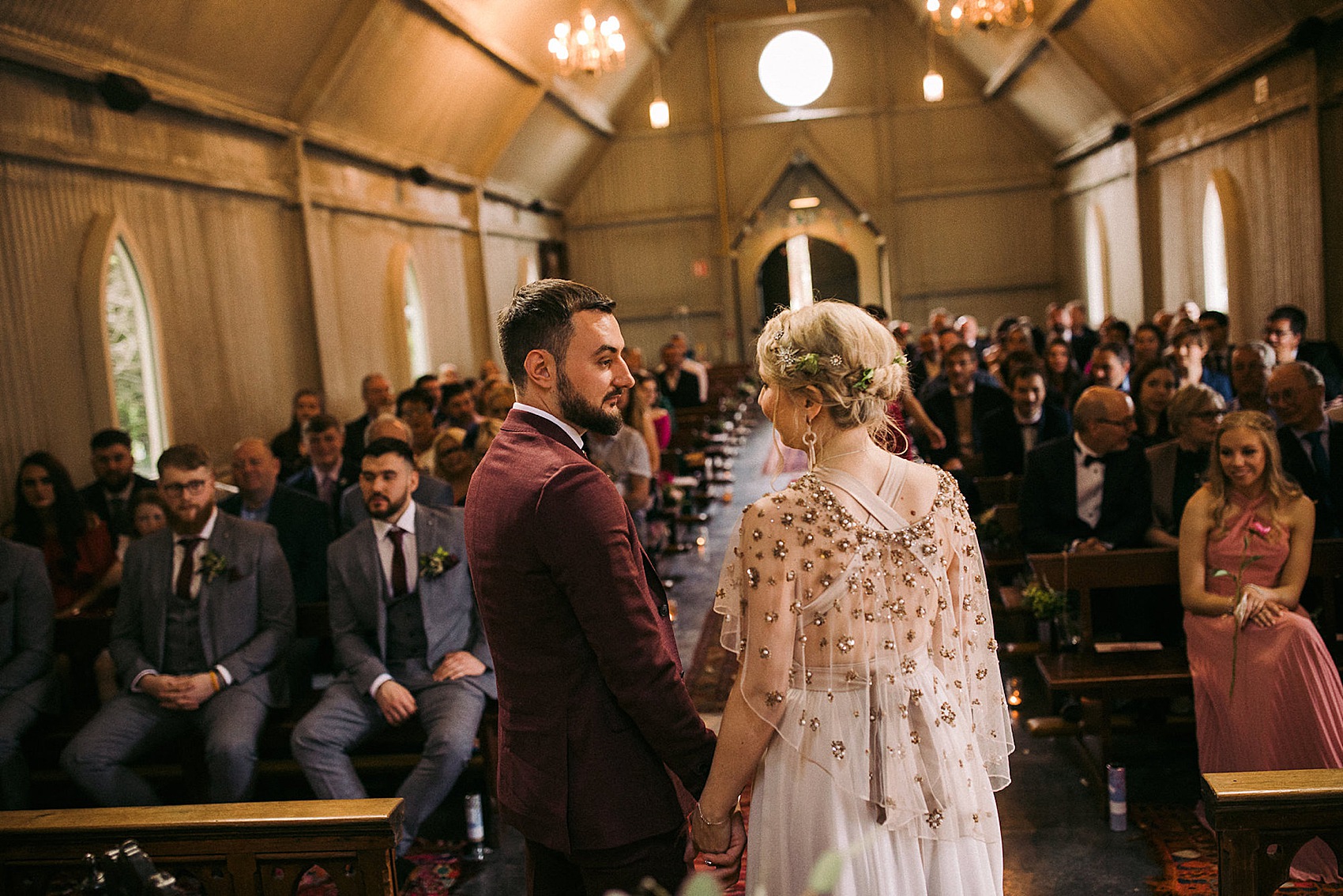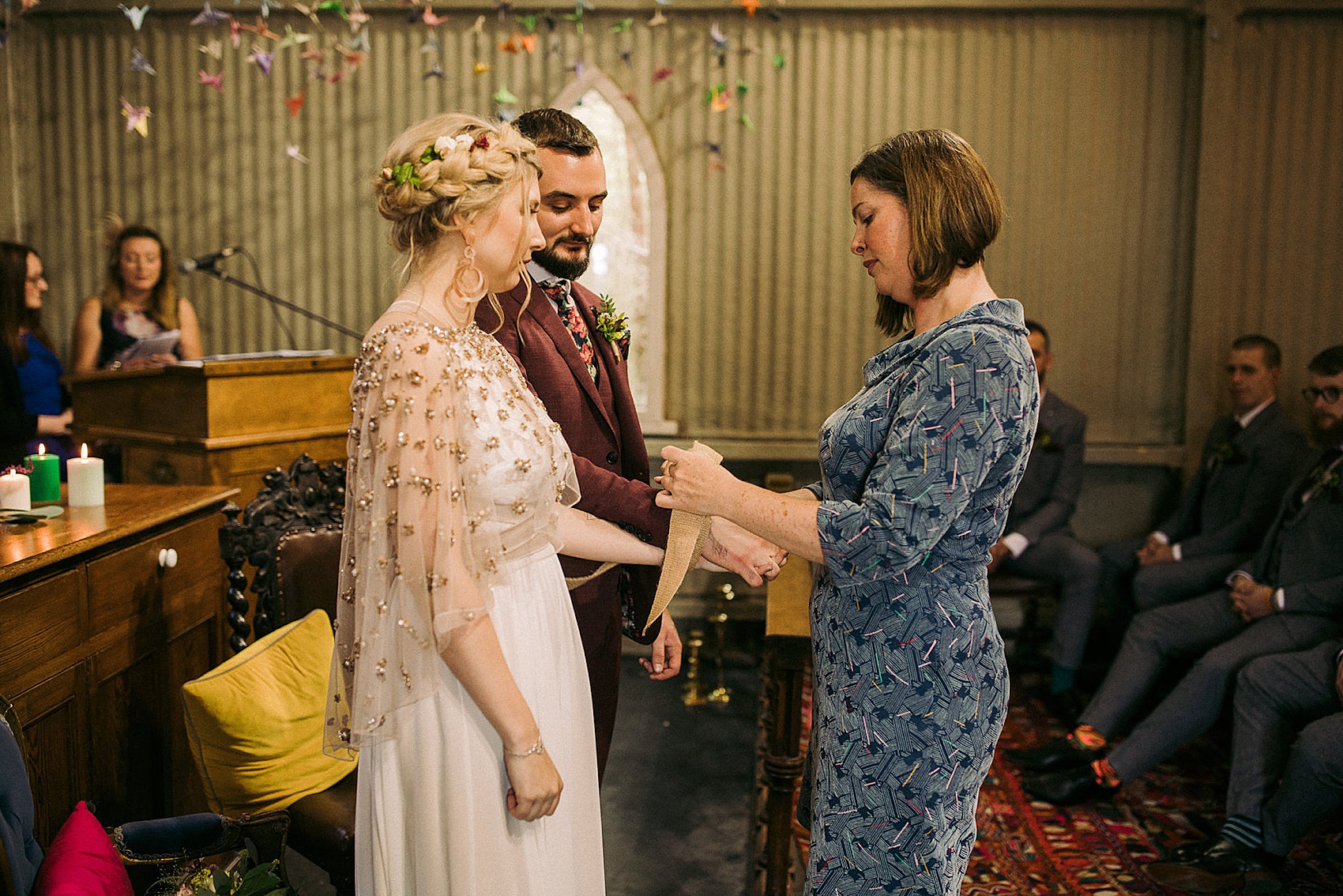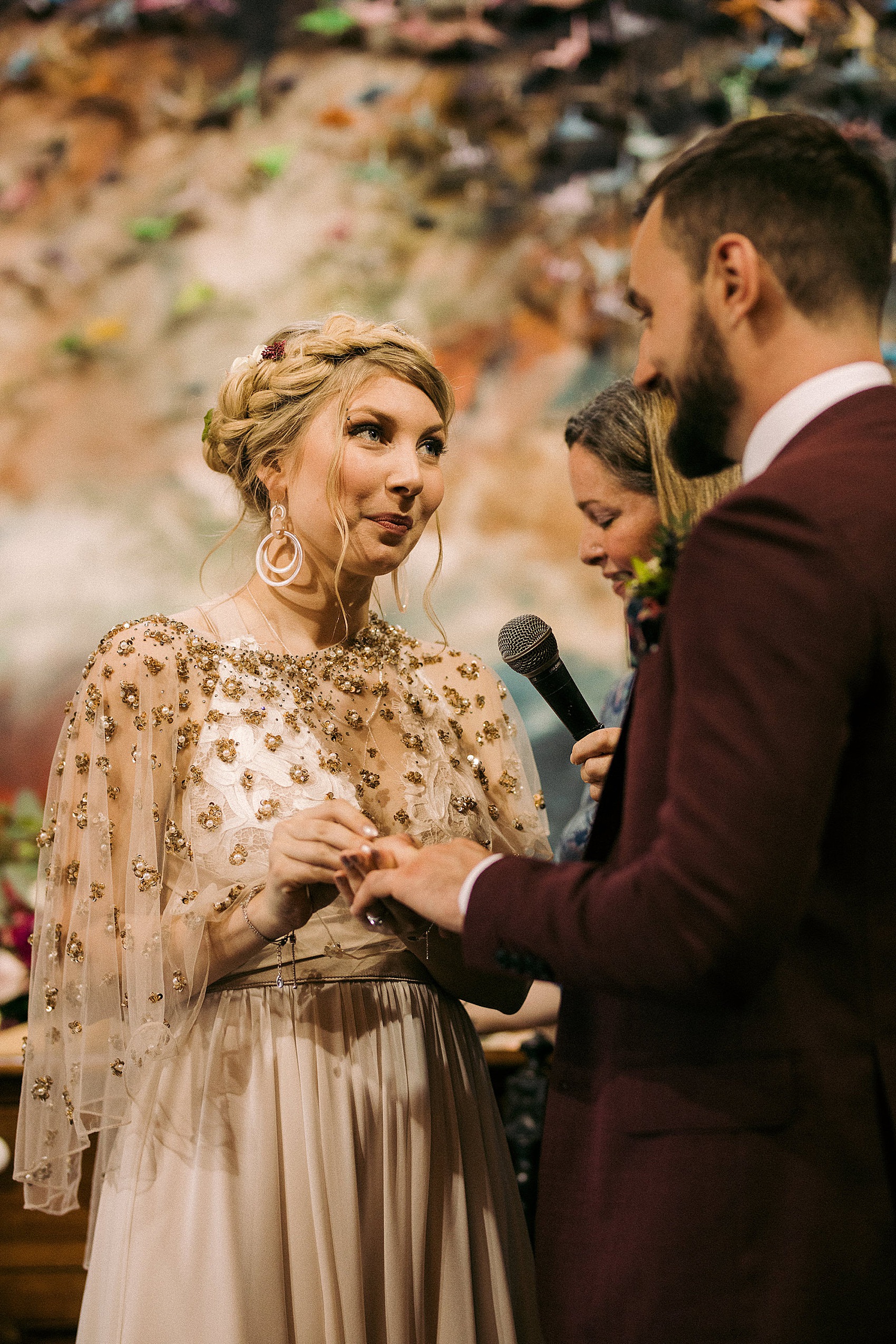 After the ceremony, Pauline and Reggie were showered with fragrant petal confetti, and there were drinks and canapes waiting to be enjoyed by all.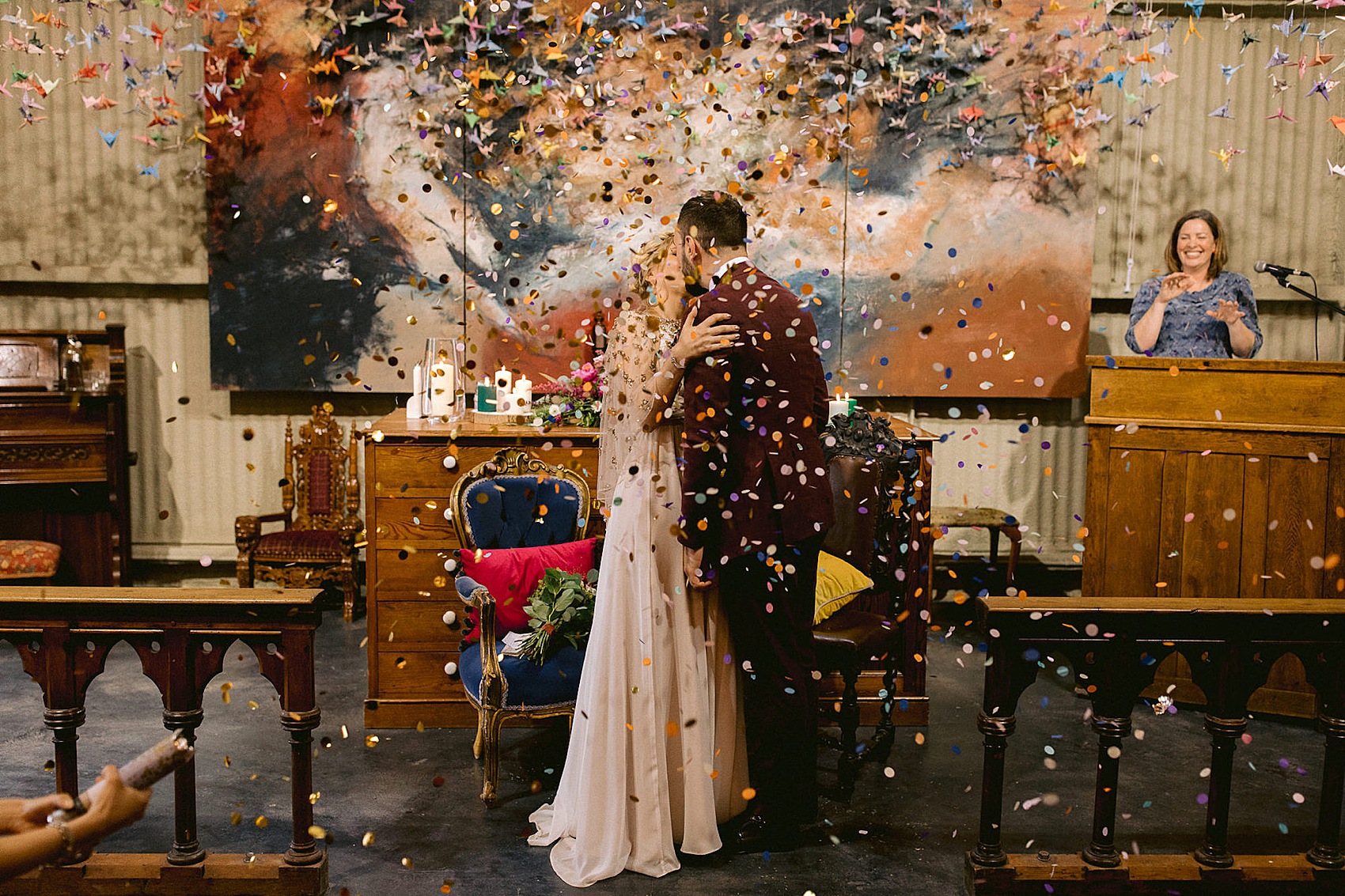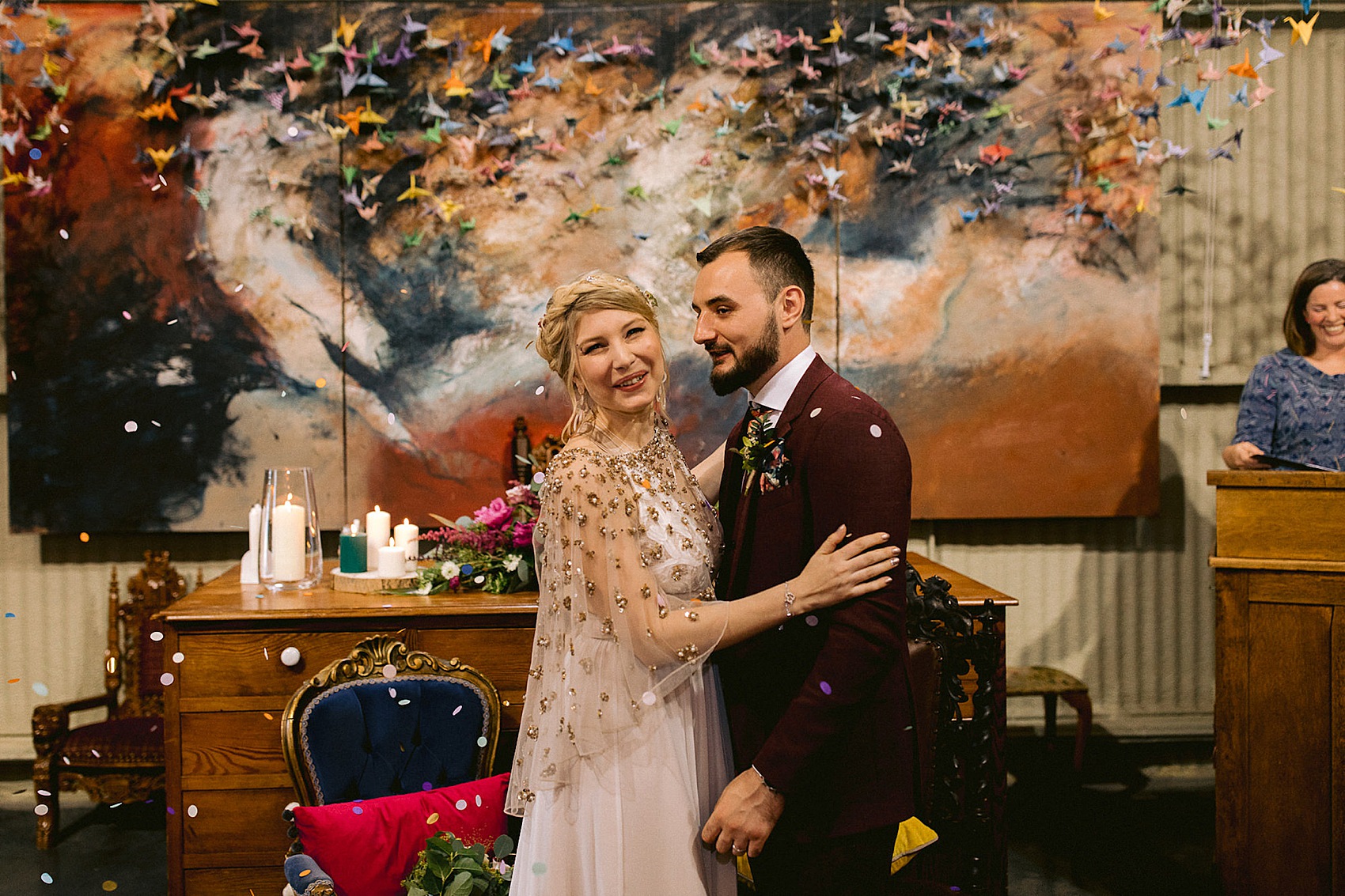 We have Egle of White Cat Studio to thank for these exquisite, fine art images of Pauline and Reggie's day. Everything has been so beautifully and sensitively captured, and it's wonderful to be able to share Egle's talent with you all today.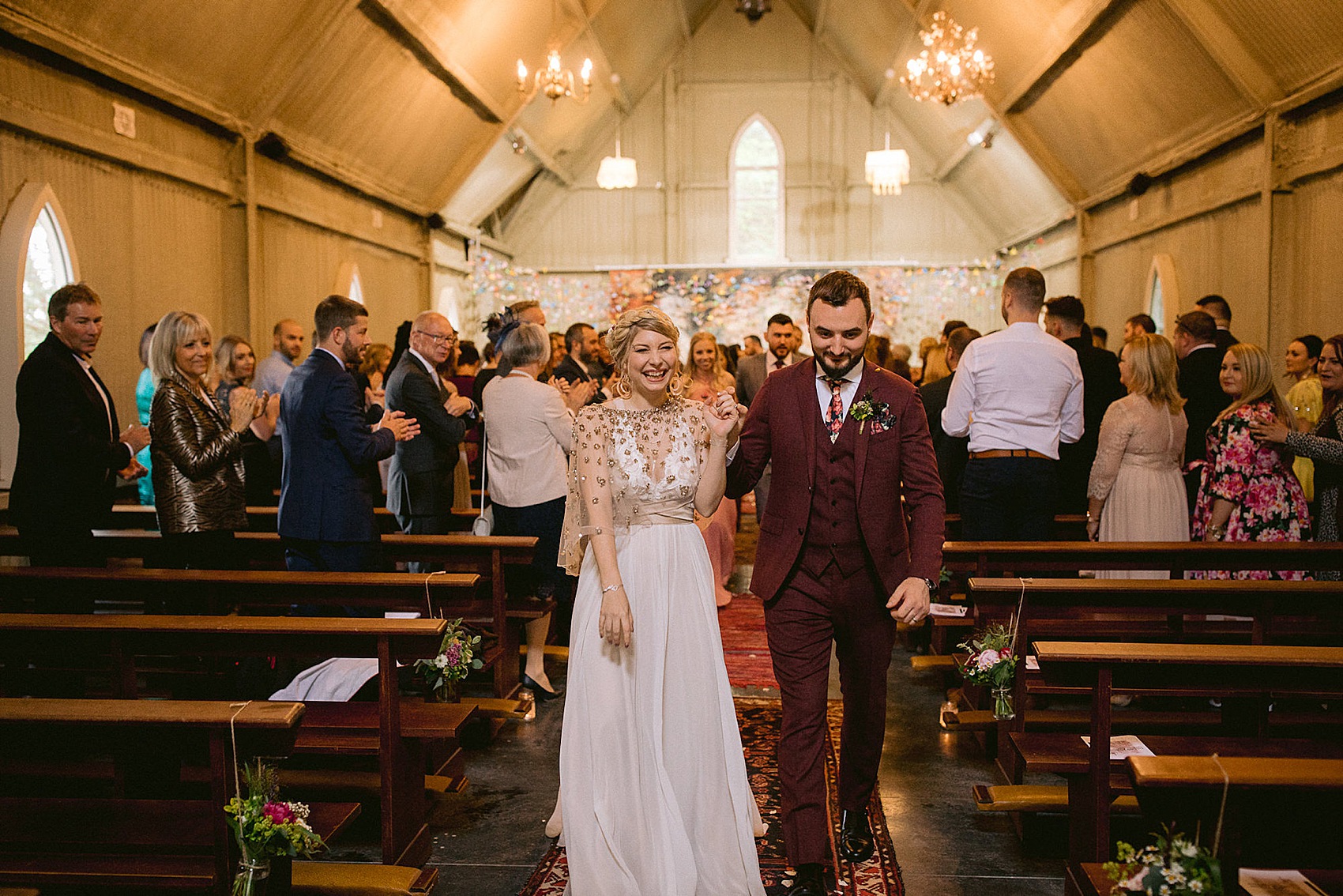 "Egle, what an absolute gem of a lady! I chose her based on her aesthetic, which was really lovely, but it's when we met her that we knew. She's really bubbly, funny and outgoing."
"She was what we needed to unite two cultures that don't speak the same language. She is a documentarian, seeing all details from afar, and zooming in on the emotion. After receiving our gallery, I was speechless – and it takes a lot to do that!"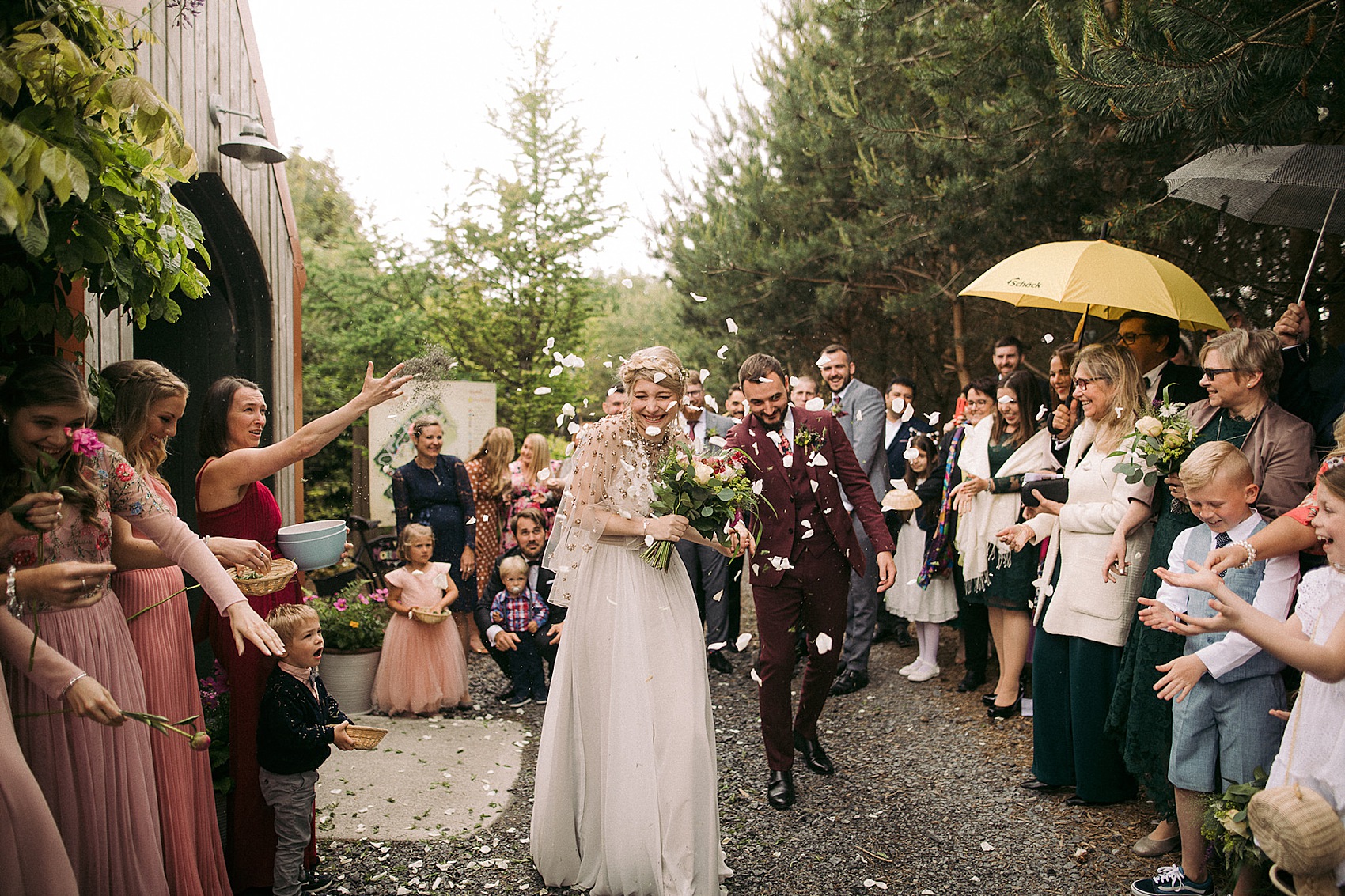 "It looks like an editorial, it is so much more than just photographs. I see such raw emotions in these pictures. I was really touched that she took the time to capture decor details."
"As an interior architect, I spent a year planning details, choosing the venue and props with history, for those details that were, for me, showing who we are: Quirky, eclectic, different, and yet somehow timeless."
"She showed our two cultures, our friends, our family! I've, for example, found a picture of my sister that captures her entire personality and it's what I will now forever see when I think of her – smiling and dancing her socks off!"
"I have pictures of me hugging my parents, so sweet and so rare as we live across the ocean from each other. She captured the tender look of my husband. It all looked magical, like a fairytale – just like it was in my head. We would recommend her 100%. No hesitation."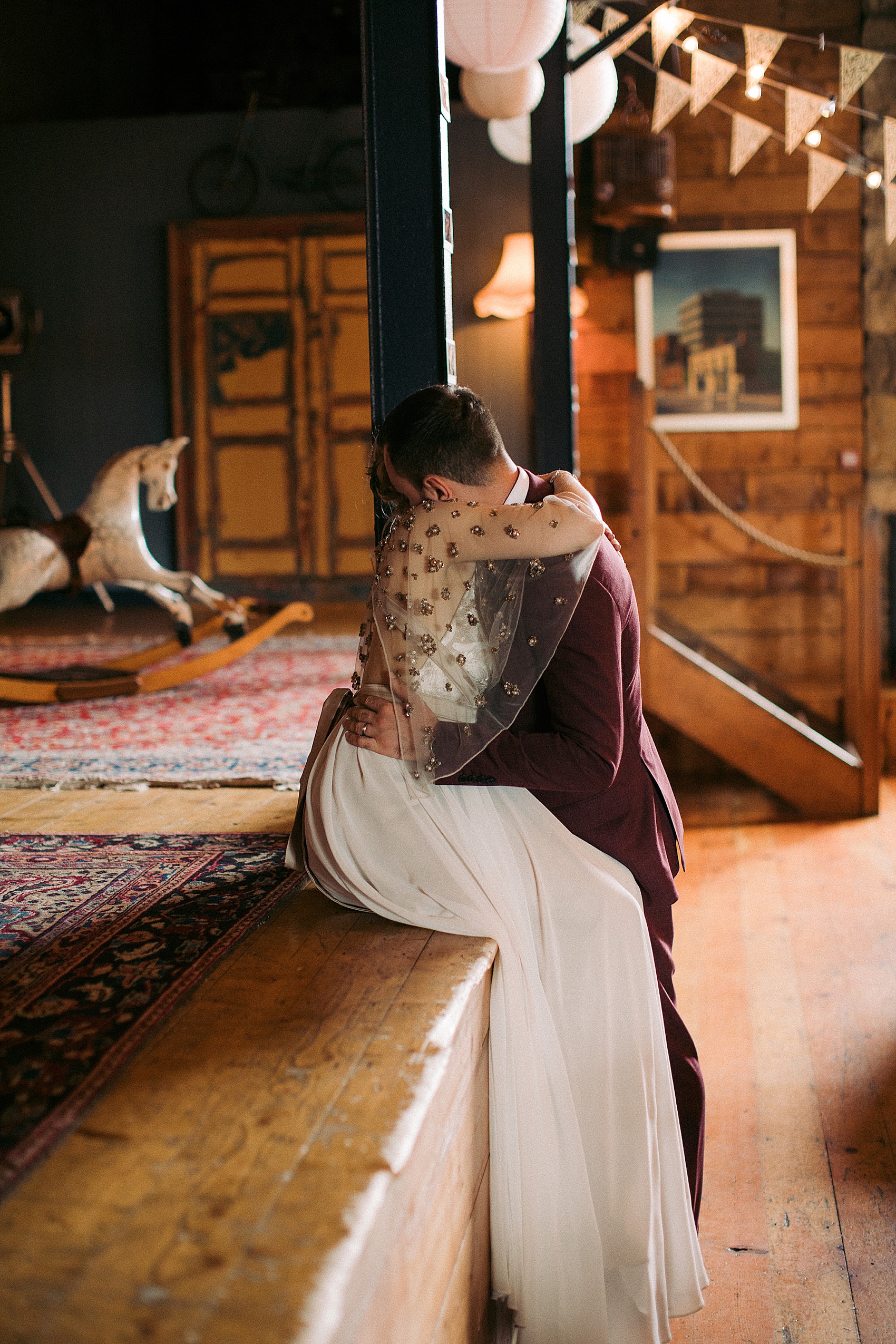 All other stationery was designed by the couple, with thank you notes on each place setting in English and French, and dining tables named after constellations.
"I also made our order of service booklet in French and English (with the vows written in French, as we told our love to each other in English). Reggie drew us on the cover! Menus and table names were constellations, and I drew those. We always said our love was written in the stars!"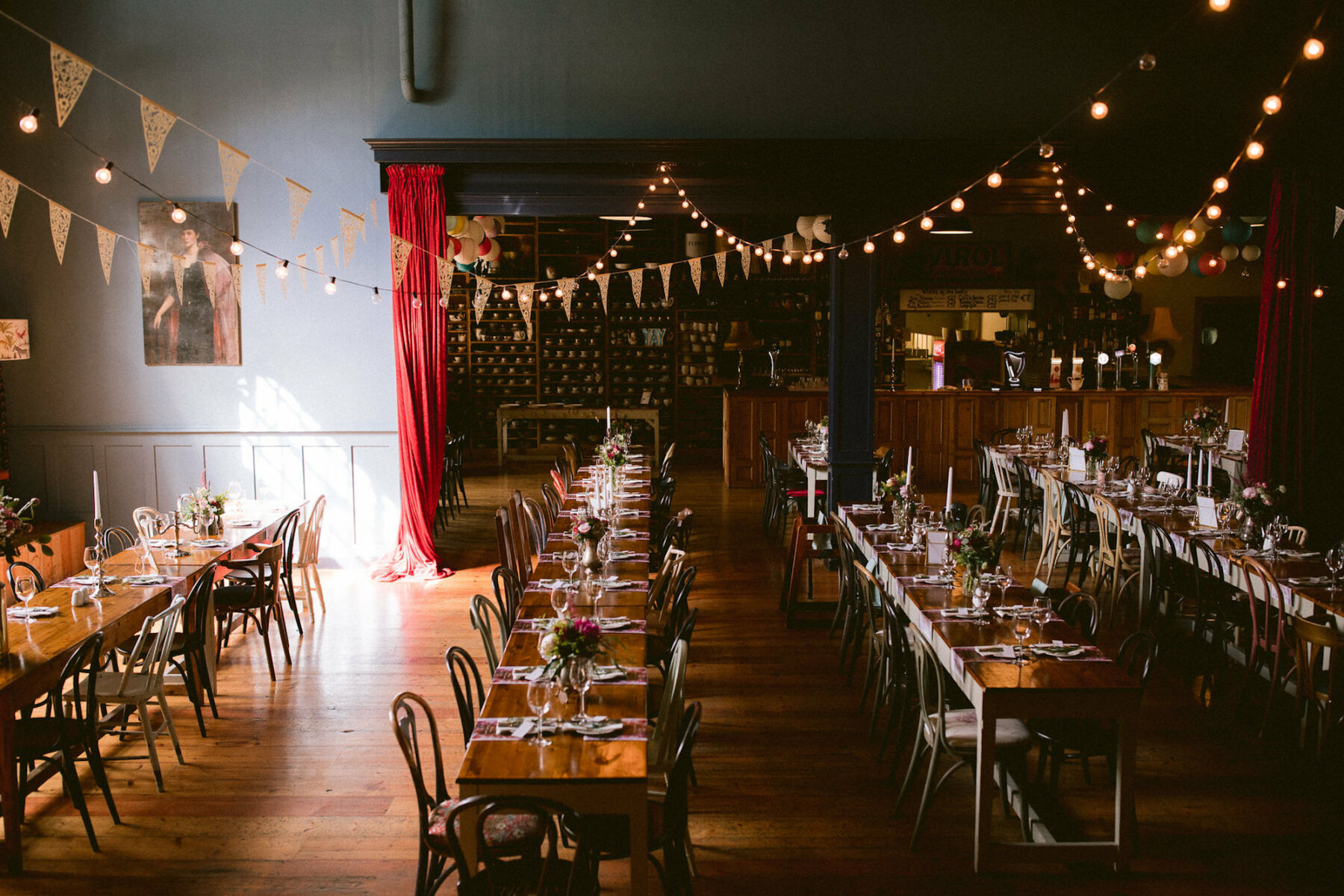 "The table plan said 'La deuxieme étoile à droite et tout droit jusqu'au matin' ('Second star to the right, and straight on till morning') in reference to Reggie's username Peter Pan, and the fact that I am a big Disney fan."
Bunting and festoon lights hung from the ceiling, and Pauline put together sweet care packages for the younger guests, which contained a colouring book and crayons, a mask to decorate, temporary tattoos and stencils, as well as bibs for the babies and toddlers.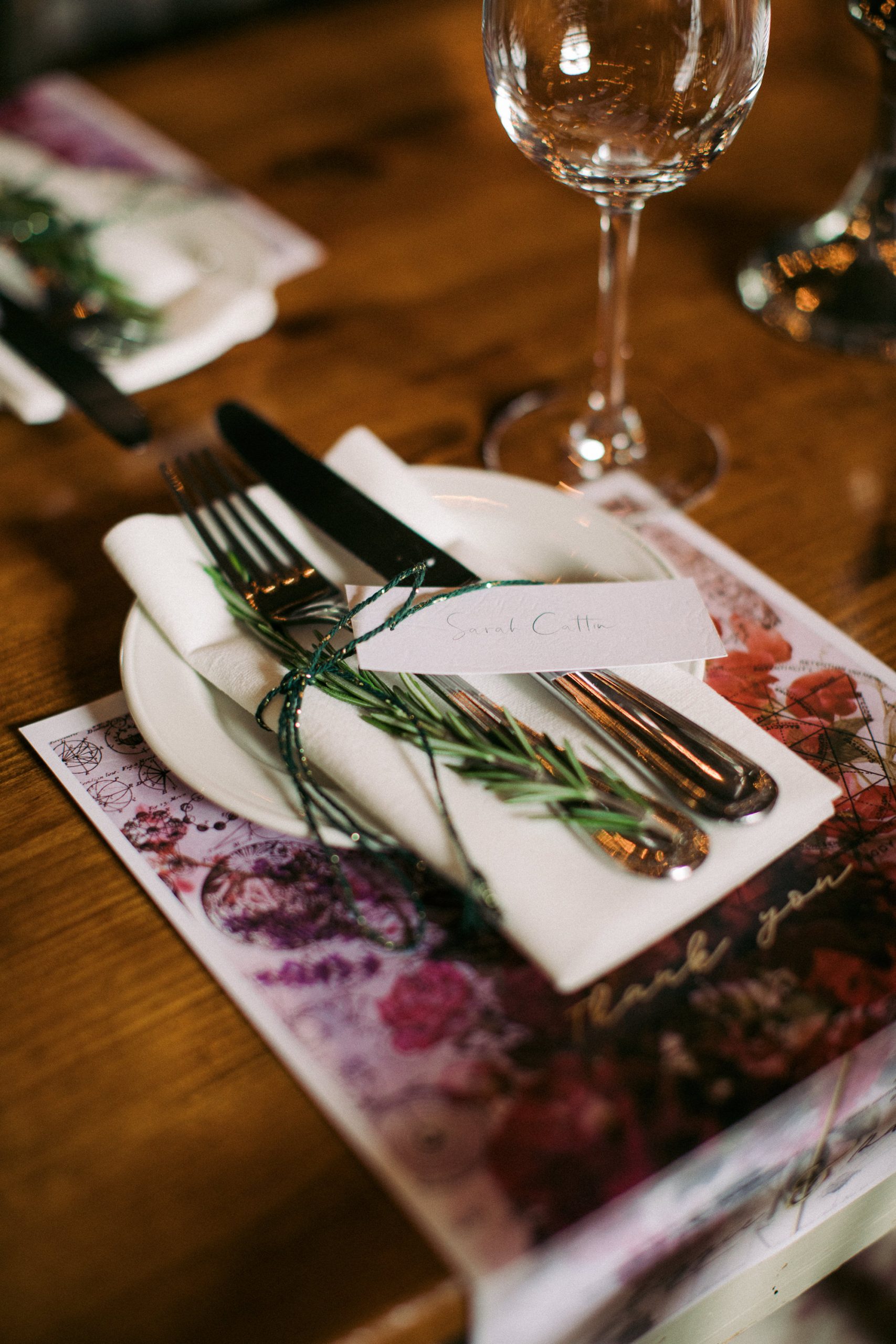 "I had our initials, P&R made in really big wooden letters filled with moss and lights. They were made by Redwood [unable to find any definitive further details for this suppliers, apologies] Jonathan the joiner is somebody I work with for my own work, and once I sent him a drawing, he very kindly offered to make the pieces, which we cherish."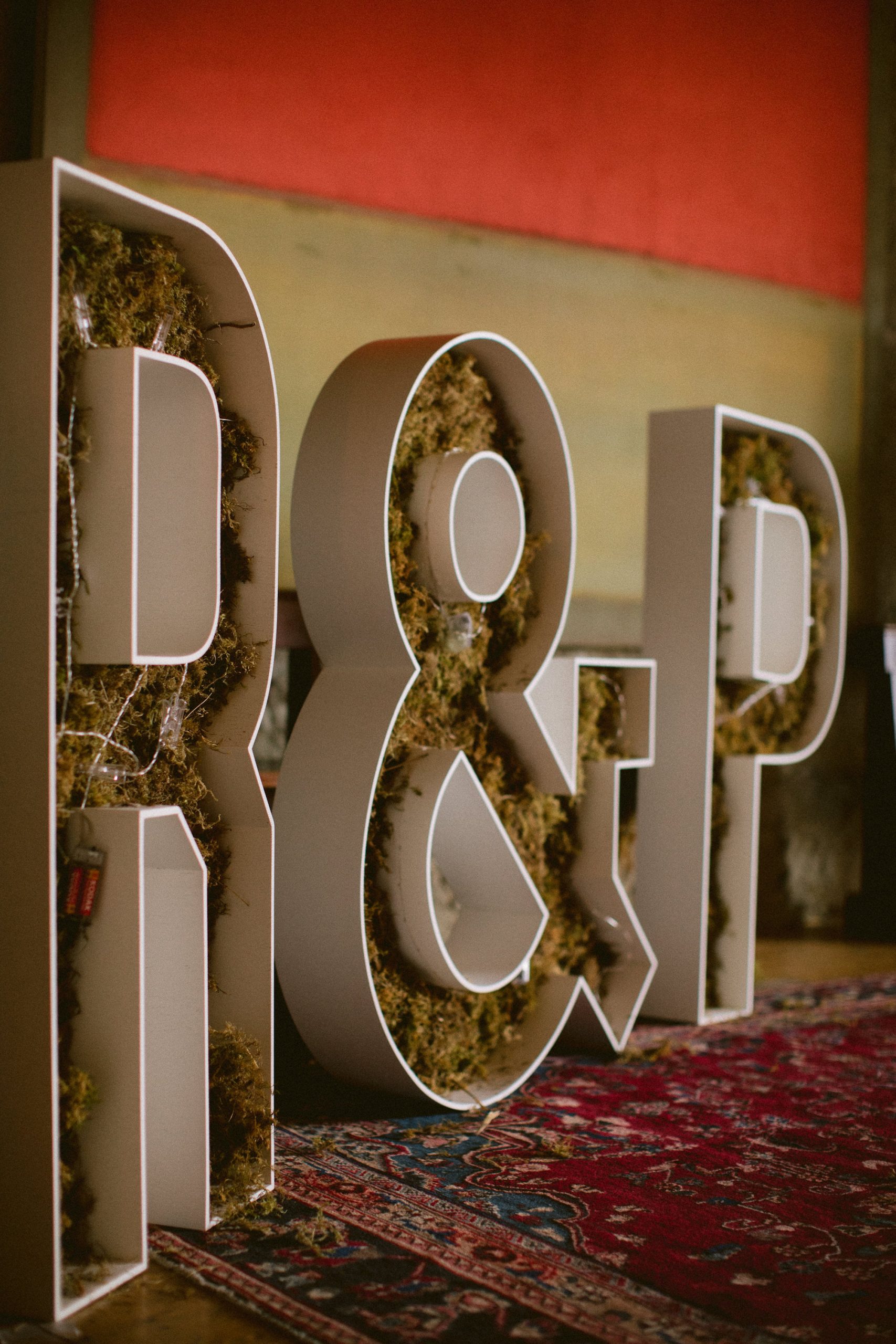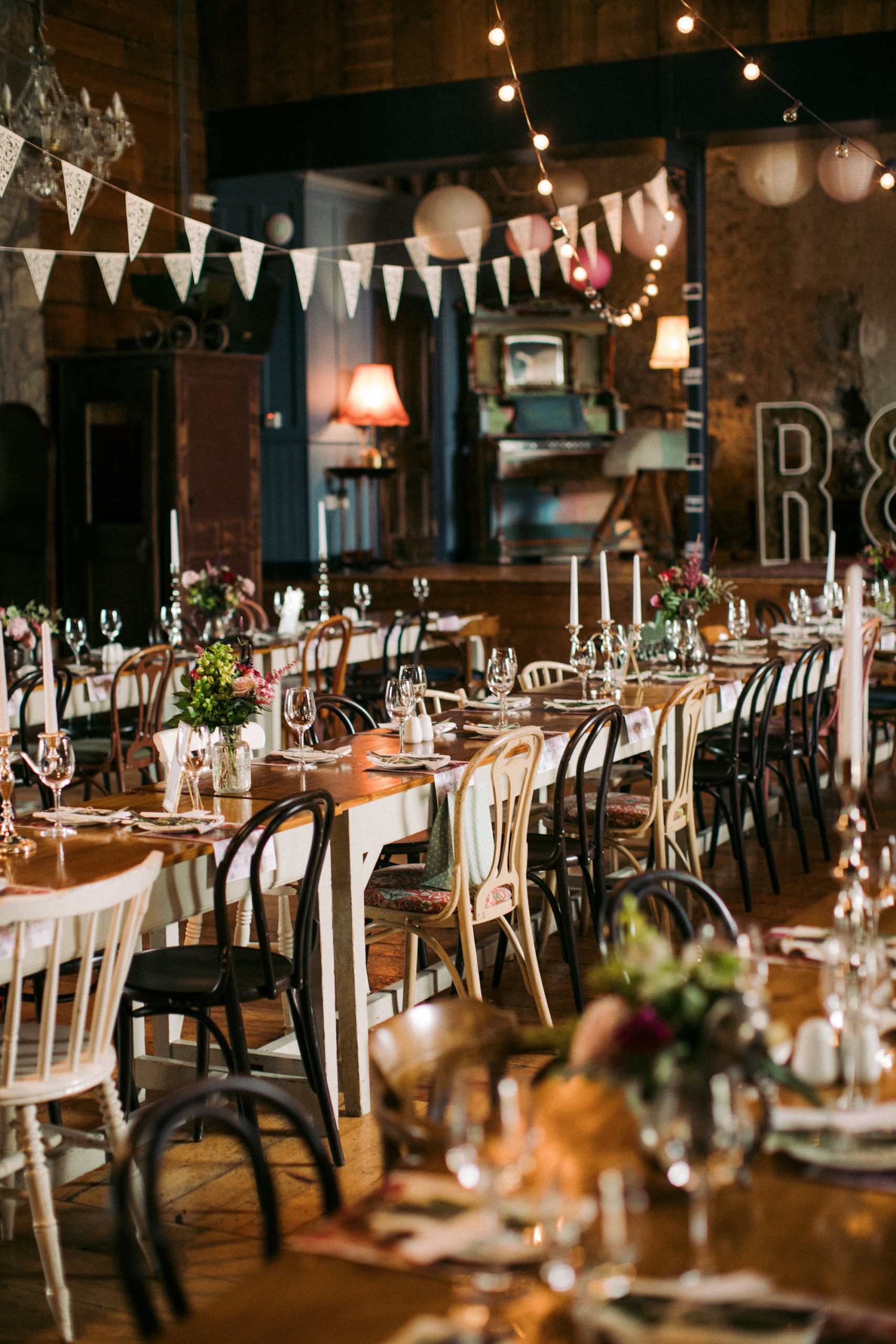 The couple's wedding feast was a delicious organic buffet from the Mount Druid team, which concluded with a cheese tower, as well as a selection of amazing cakes by Caroline Goulding Cake Design. There were five cakes in different flavours: Vanilla, elderflower and gooseberry ; raspberry, white chocolate and honeycomb; rustic zesty lemon; lime, coconut and passion fruit, and chocolate, Guinness and salted caramel.
"We also had a little photo of our dog Charlie, with the words ''Sweets dreams are made of cheese, who am I to diss a brie', etc. located beside our cheese tower/cake . He loves cheese and couldn't be part of the wedding because we were on farmland with lambs. Luckily for us, Piddles, Mount Druid's lovely Jack Russell was there! We had Jenga and a photobooth corner, too."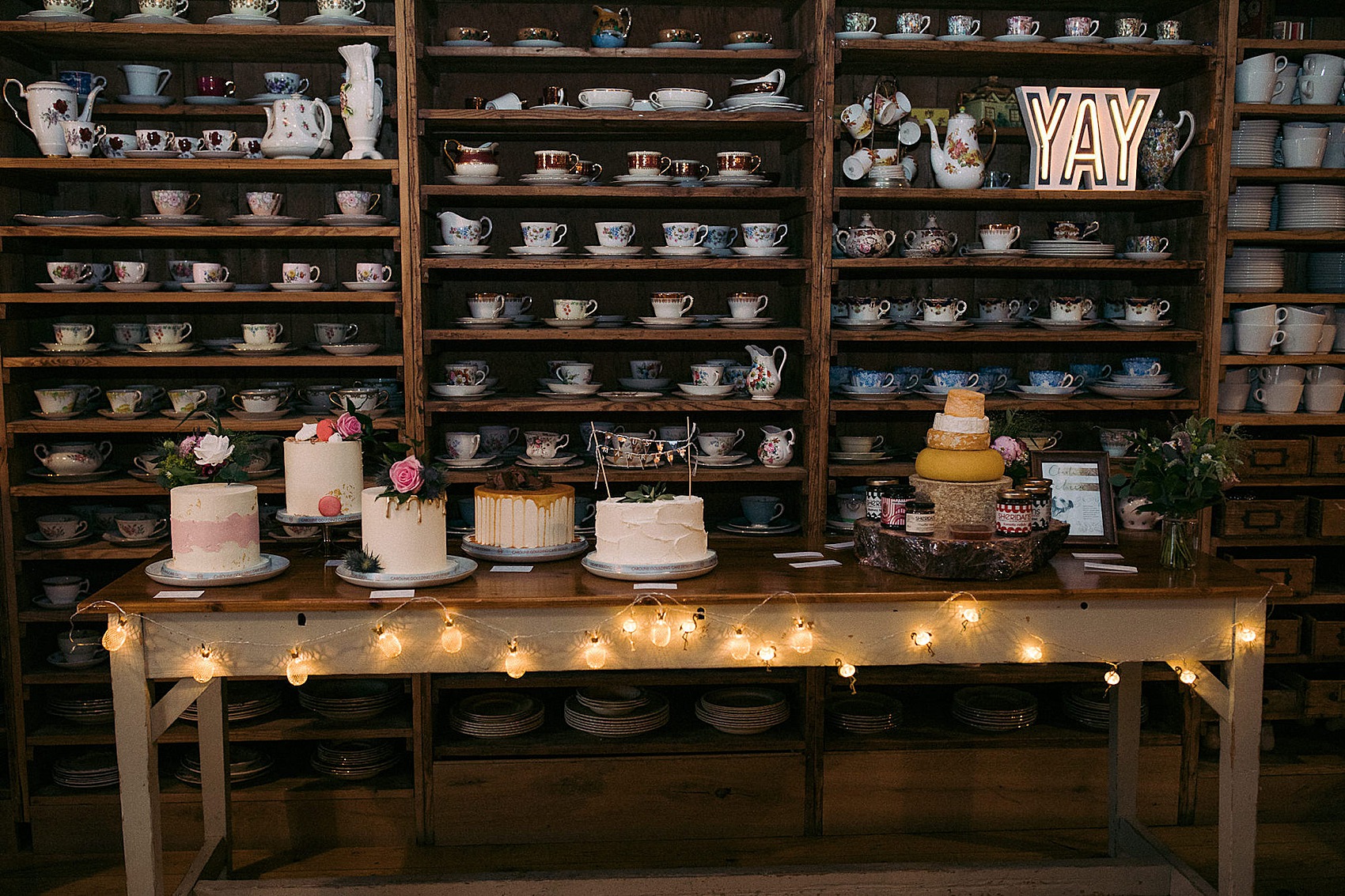 "At Swiss weddings, we usually have something prepared by friends or family, and my family gave me the best surprise. During dinner, my dad made a speech in both languages! My mum made a speech in French, translated by my brother using a book I gave her for Mother's Day when I was 10!"
"My brother made a slideshow with pictures of me from a baby through to a teenager showing my passion for princess costumes and travel, and included a clip pf little four year old me singing and dancing."
"And my sister made us a Disney quiz, which was set up for me to win obviously (!) and the prize was a collector's DVD collection of 54 Disney movies. She also showed the world how good her English is – incredible!"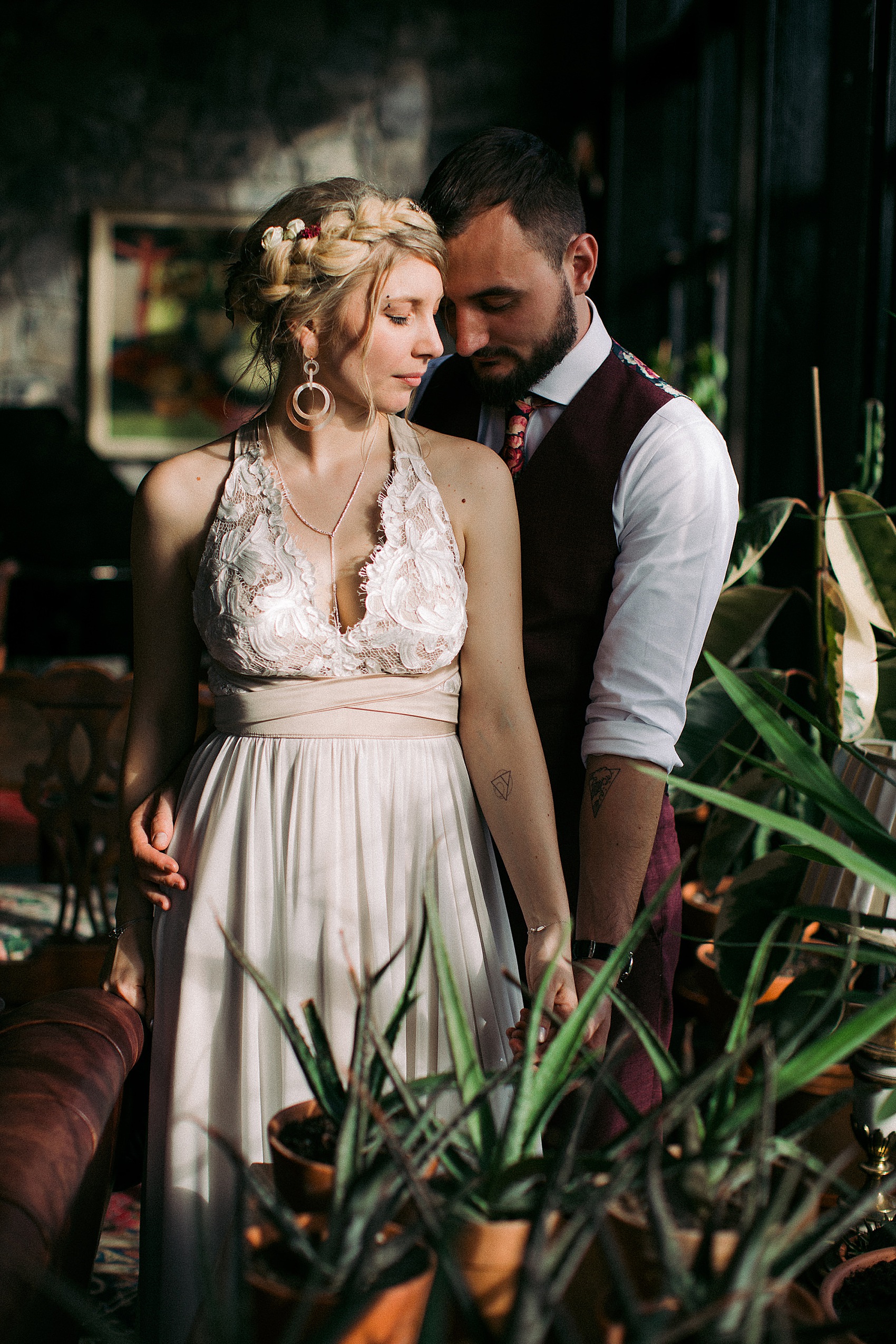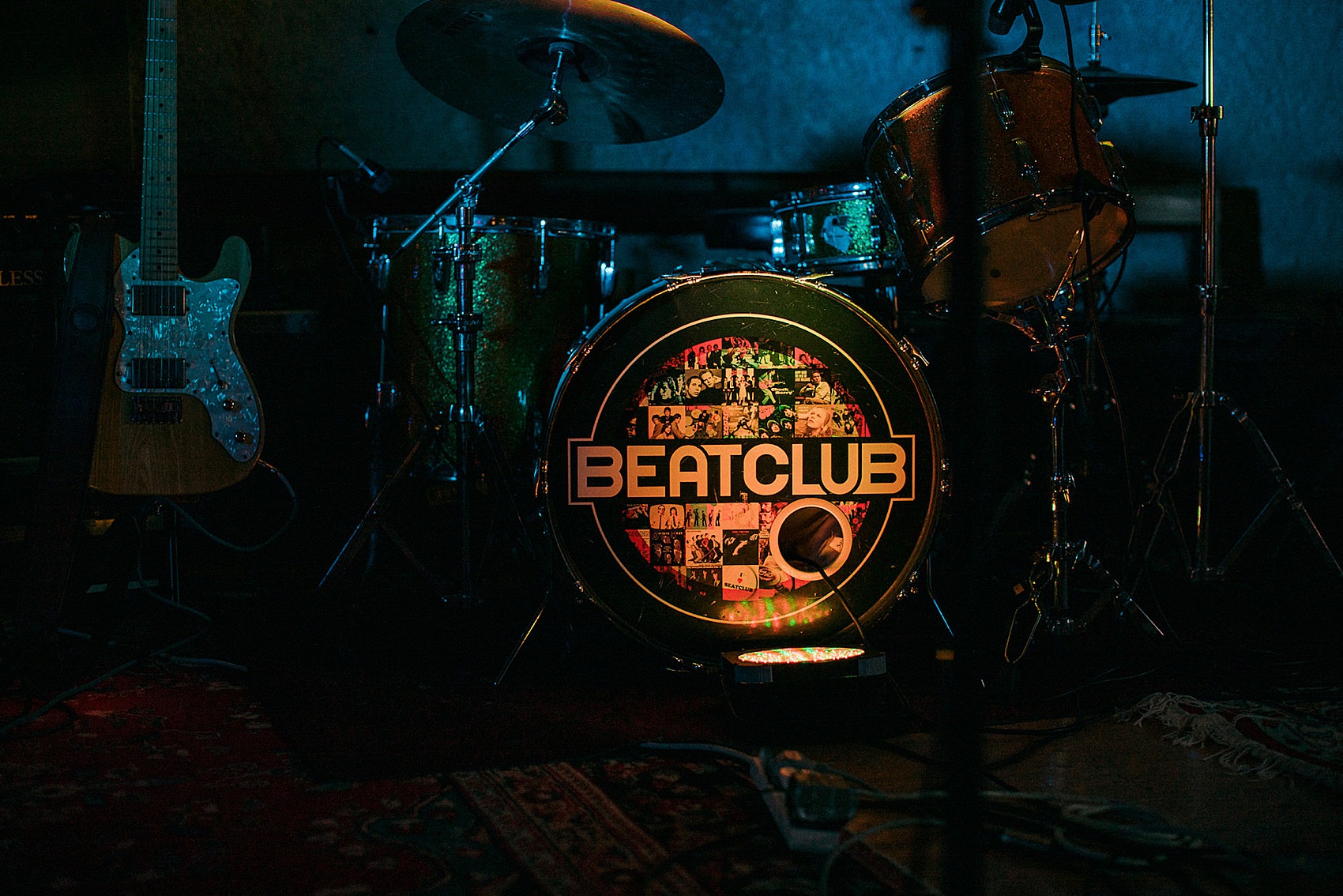 Pauline and Reggie's first married dance together was to the song Formidable by Charles Aznavour, followed by live music to dance the night away to from band Beatclub.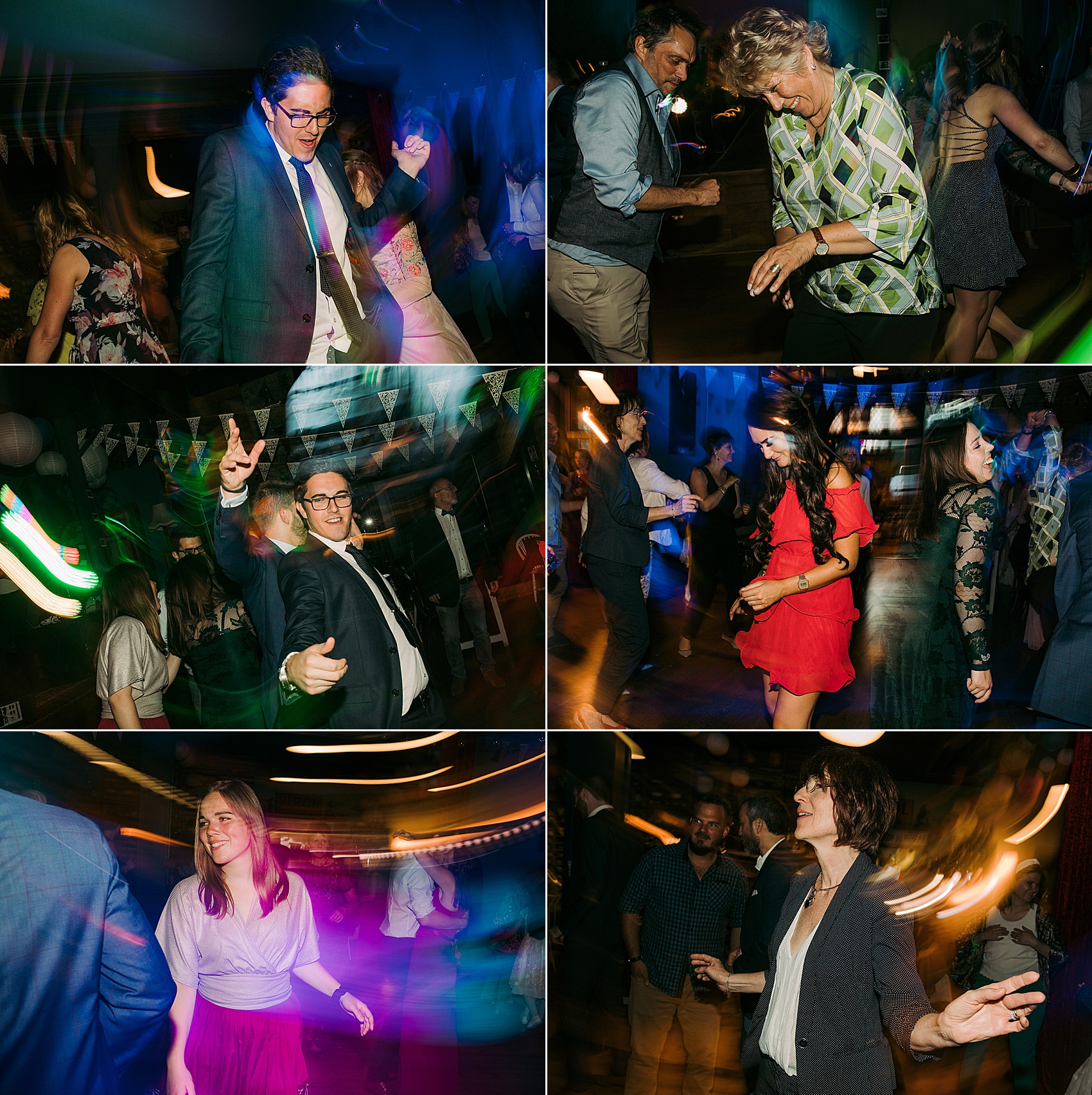 Words of Wedded Wisdom
"The night before, we had homemade pizzas at the venue with our families, the bridal party and a few guests who had already arrived. I'd just finished the decorations, the stress was fading, and that was when I realised 'This is it'. So we enjoyed our night with everything done and amazing food."
Postponing your wedding? Bookmark our Covid19 pages which are full of useful, practical & emotional advice.
"Spreadsheets are your best friend. Save a little bit every month. We had an engagement of 1.5 years to allow us to save up. We knew from the start we didn't want favours or wedding cars, that we wanted bridemaids to choose their own gown and pay for it, and we knew we wanted a buffet and not one giant wedding cake. From then on we also agreed on what we would not compromise: a wedding venue where a lot of people could stay (from Switzerland and Ireland as well as Germany), a really good band, a really good photographer and good food – those were our priorities."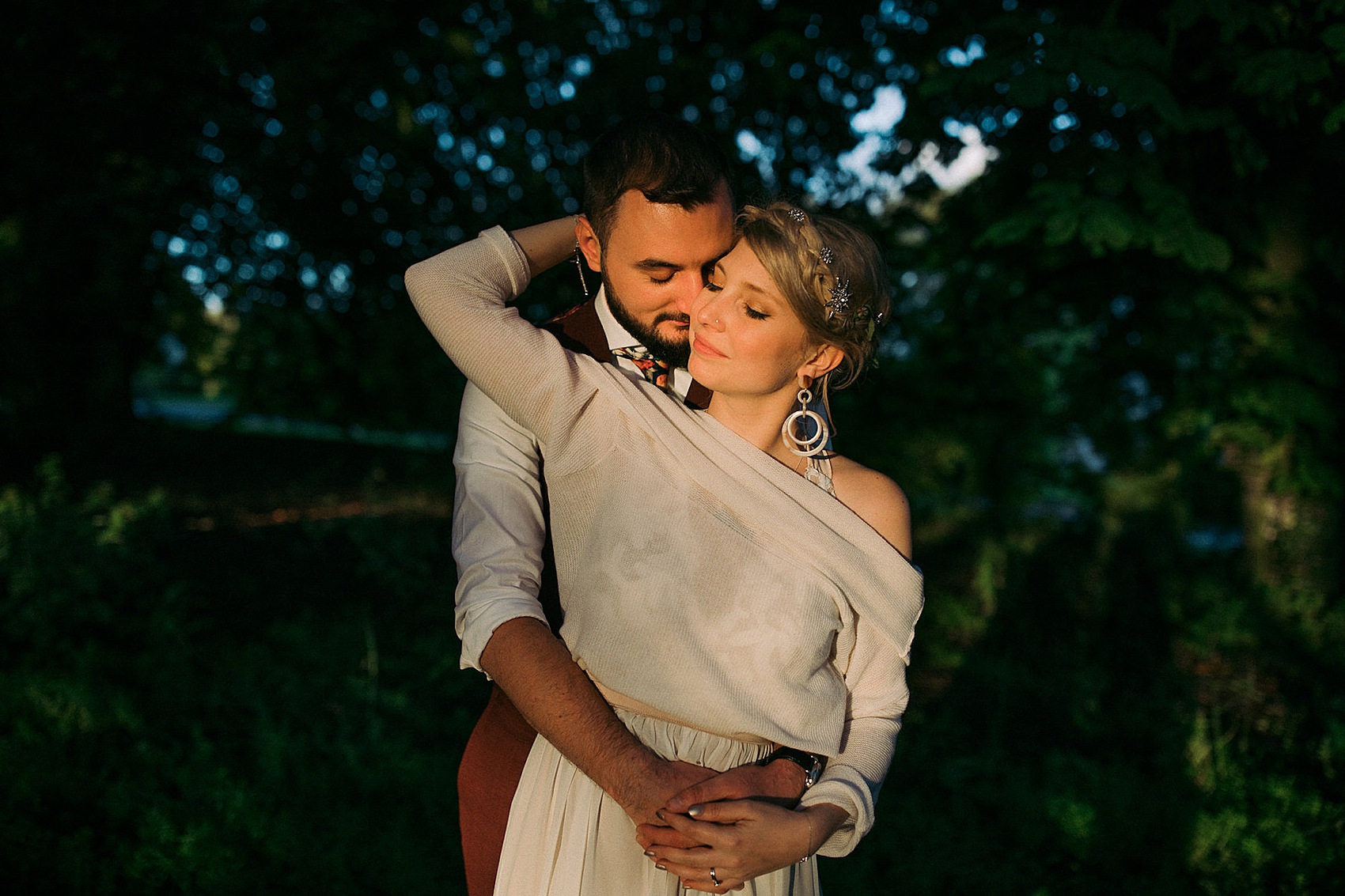 Pauline and Reggie, thanks a million! I've just loved seeing all the thoughtful, handmade touches all through your day, as well as the colourful flowers, the wonderful venue, and your happiness radiating from these images. Thank you to Egle from White Cat Studio for the beautiful way it was all captured. If you'd like to see more gorgeous weddings in Ireland on our pages, then do take a look right here.
With love,
Laura