Sometimes when you view a prospective wedding venue, you just know immediately it's the place for you. Sometimes, you feel so happy and sure, that it's the only place you need to see – it just feels right.
That's exactly the feeling today's beautiful couple had when they went to see our Little Book members The West Mill – a Grade I listed building and former cotton mill and warehouse, overlooking the River Derwent in Derbyshire.
On the 29 July 2019, University Lecturer Mel and Quantity Surveyor Kirsty celebrated their marriage at The West Mill, Darley Abbey. The couple have made their home in Leeds, and have families at opposite ends of England, in Cumbria and Suffolk. It made perfect sense, therefore, to marry somewhere between those two places, but not too far away from their own home.
Sarah Gray Photography

+ Follow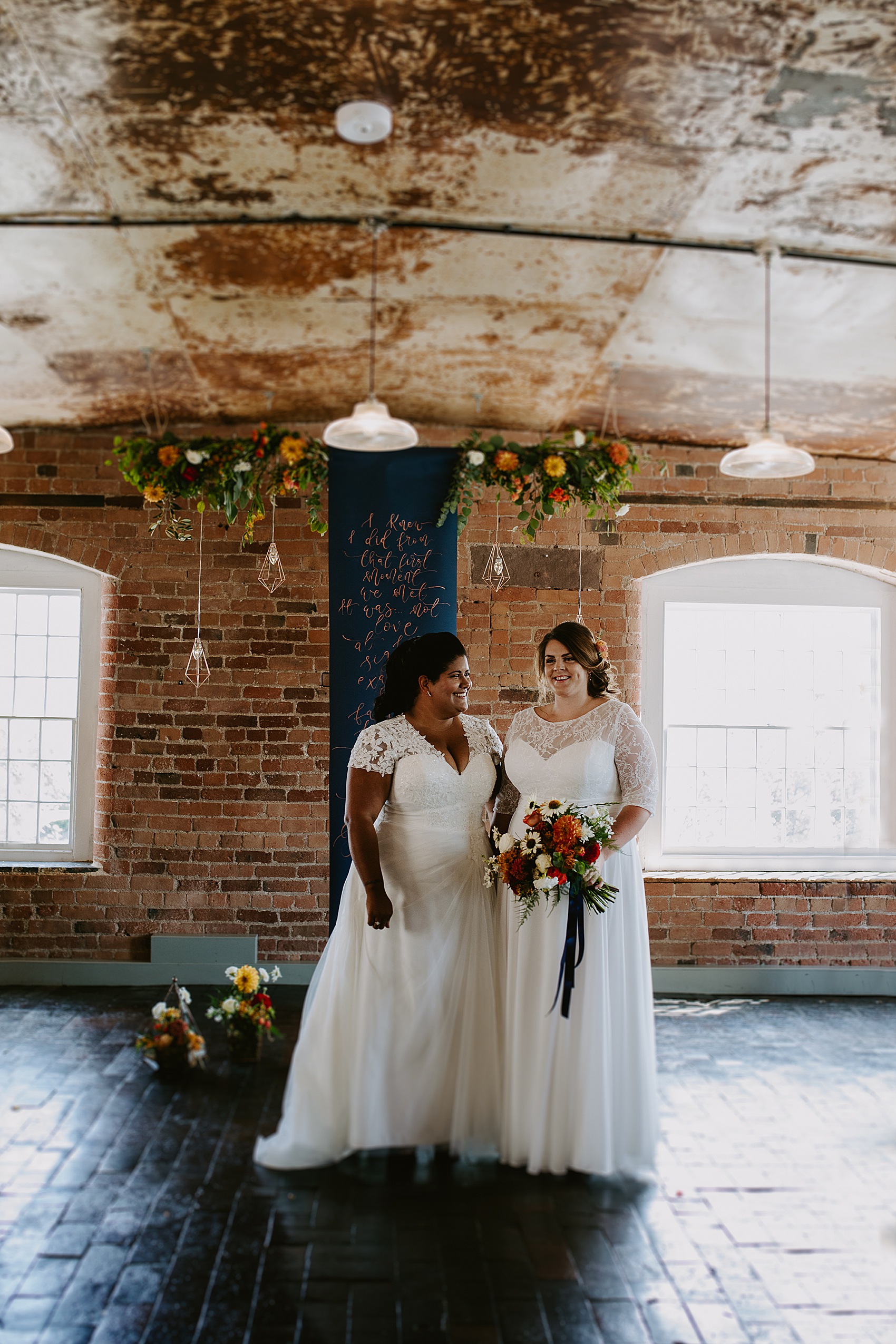 "We knew we wanted something a little out of the ordinary. As it turns out, The West Mill was the same distance each way to the mile between our families – it was like it had to be! When we visited, we just knew it was perfect. They also provided an event organiser for the day, and Emily really was the reason everything flowed so smoothly, and we can't thank her enough!"
I'm so pleased to be adding to the collection of work by wonderful photographer Sarah Grayon our pages. These images from Mel and Kirsty's day are beautiful and deeply romantic, not to mention filled with fun – like setting off colourful smoke bombs!
"We had a shortlist of photographers we liked who had previously shot at The West Mill. We really liked the relaxed style that Sarah had in her photos, and didn't seem to have too many forced 'Granny Pleasers', as we later discovered she called them!"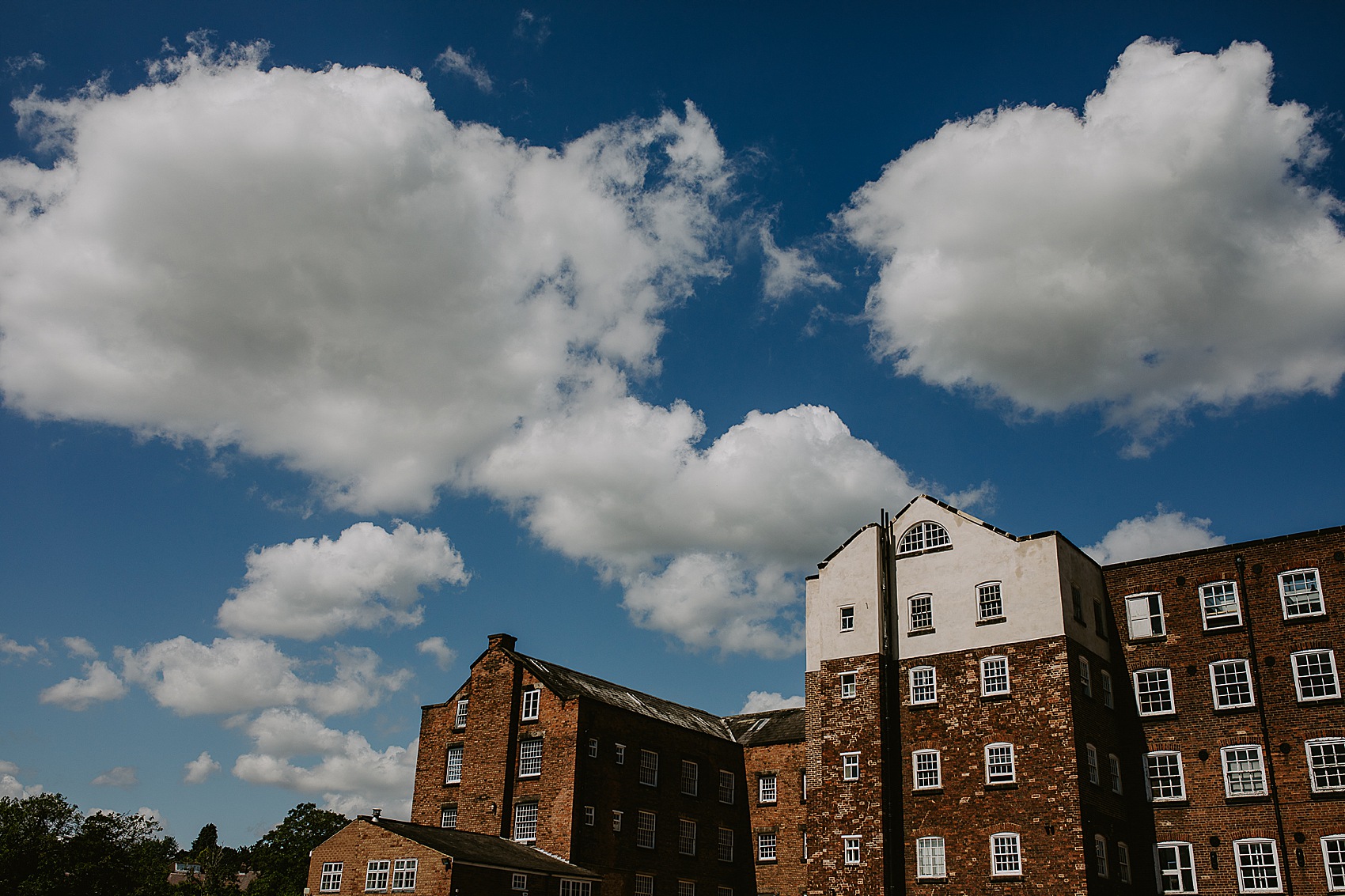 "When we first met, it was like we had known her for years. She was so upbeat and enthusiastic, and just seemed to get what we wanted, even though we weren't completely sure ourselves at the time."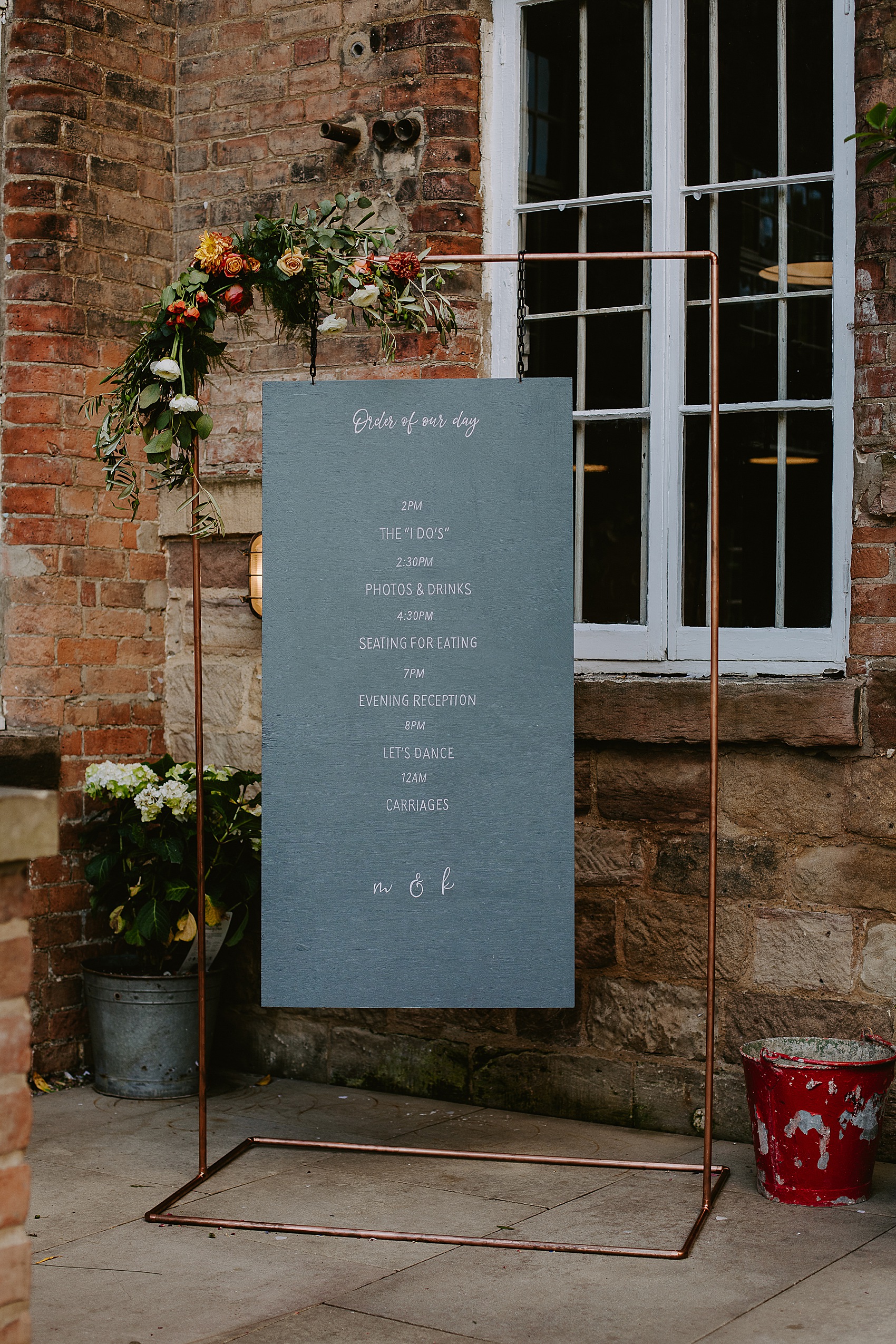 "On the day she really was like a Ninja, capturing everything (and more) yet everyone commented on how they didn't really notice she was there. The atmosphere effortlessly captured exactly what we wanted. We would 1000% recommend."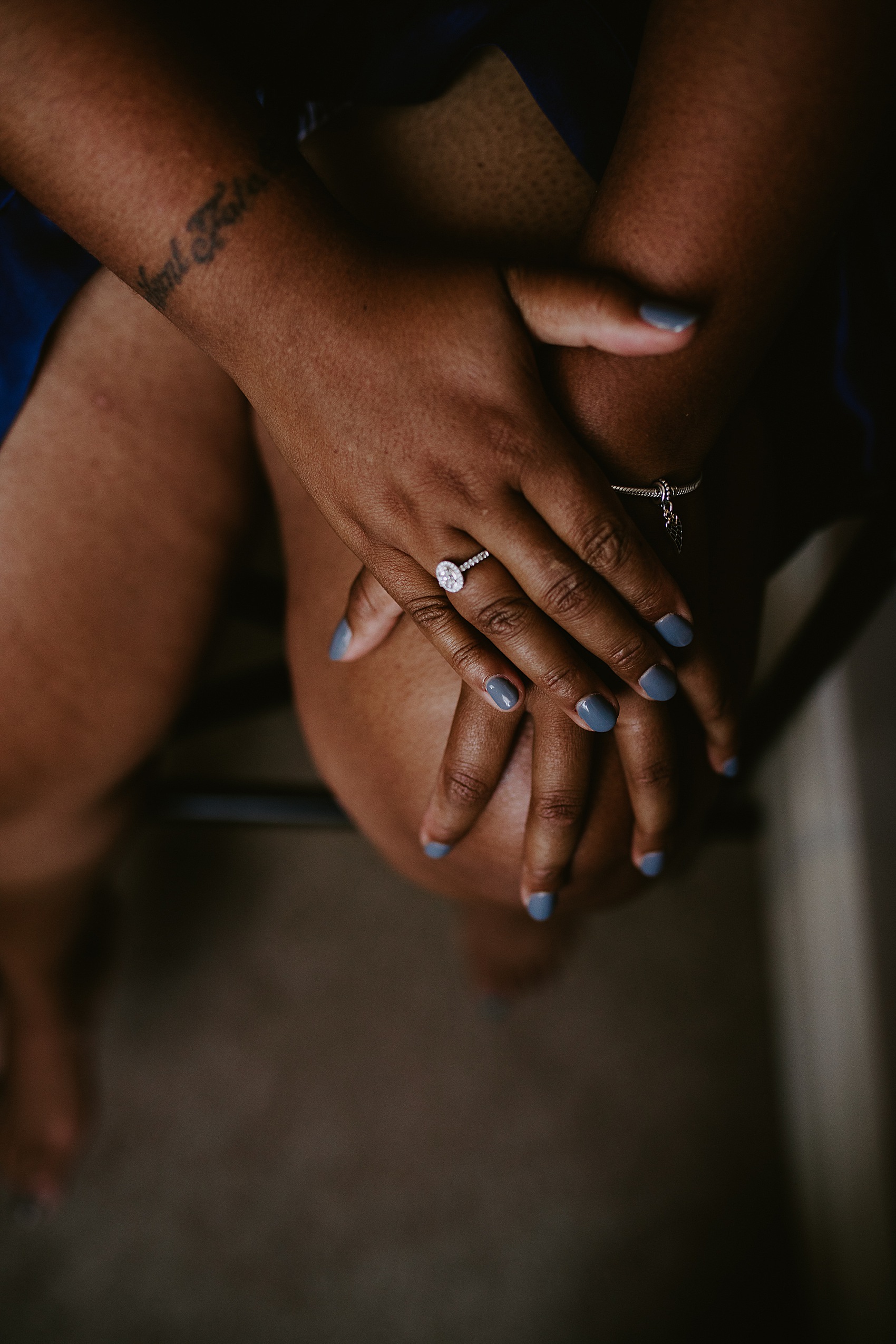 Kirsty's gorgeous hair and make-up styling came courtesy of Claire Lowe Hair and Make-up (unfortunately, Claire is no longer operating) and she kept accessories simple, just wearing a bracelet Mel had gifted to her.
Mel's hair was styled into a softly curled up-do by Saskia at Beau Hair, to which she added beautiful orange spray roses and dahlias, and she wore a Swarovski necklace and bracelet, which had been given to her by her sister on her 30th birthday the month before.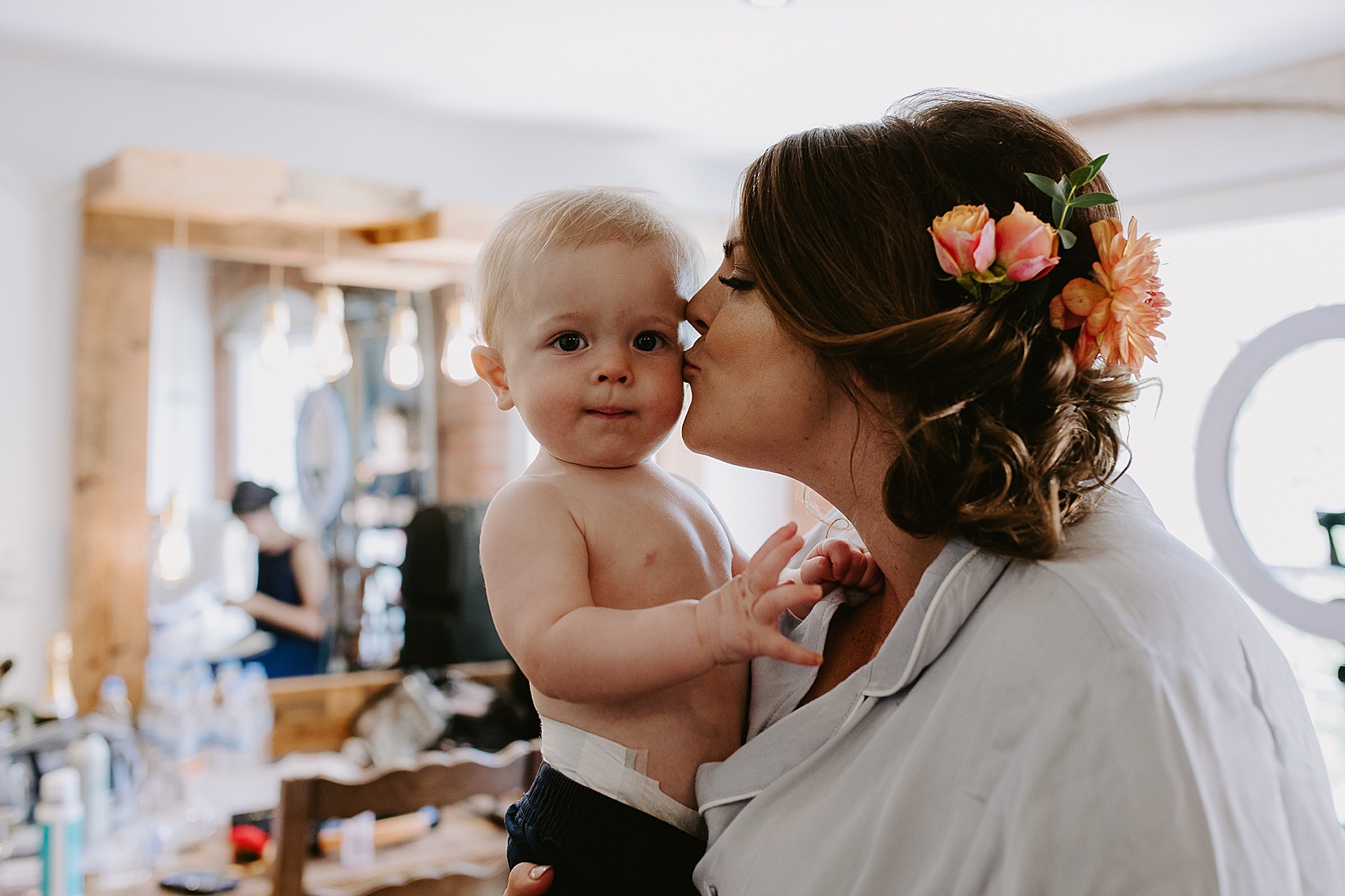 Both Mel and Kirsty wore the same heels from Debenhams in different colours, and Mel carried a magnificent bouquet of orange and white blooms (roses, chrysanthemums, dahlias, daisies and ranunculus and more) accented with eucalyptus and asparagus fern, all tied with a deep blue ribbon. This, and the other lovely floral arrangements were made by Maria's Flowers.
"We had stronger feelings on colours and textures than specific flowers. We wanted a bit of a non-traditional, informal style, and wanted the flowers to complement the overall theme, rather than be a specific centrepiece themselves."
"We wanted blues and oranges to go with the overall colour scheme, but also with foliage and ferns throughout. We vaguely knew what we didn't want, more so than what we did, and thankfully our florist Maria worked with our really vague description, and seemed to get what we wanted to fit perfectly."
Mel did struggle to find a dress she liked, but then she visited bridal boutique Champagne and Strawberries, who are based near Lancaster. After a chat with the owner, Lynn, Mel decided on a dress by Kanali K, with a sweetheart neckline bodice, and delicate lace, falling to a softly flowing skirt.
"Lynn suggested the more relaxed flow I was looking for might be found as a traditional bridesmaid dress – and she was right!"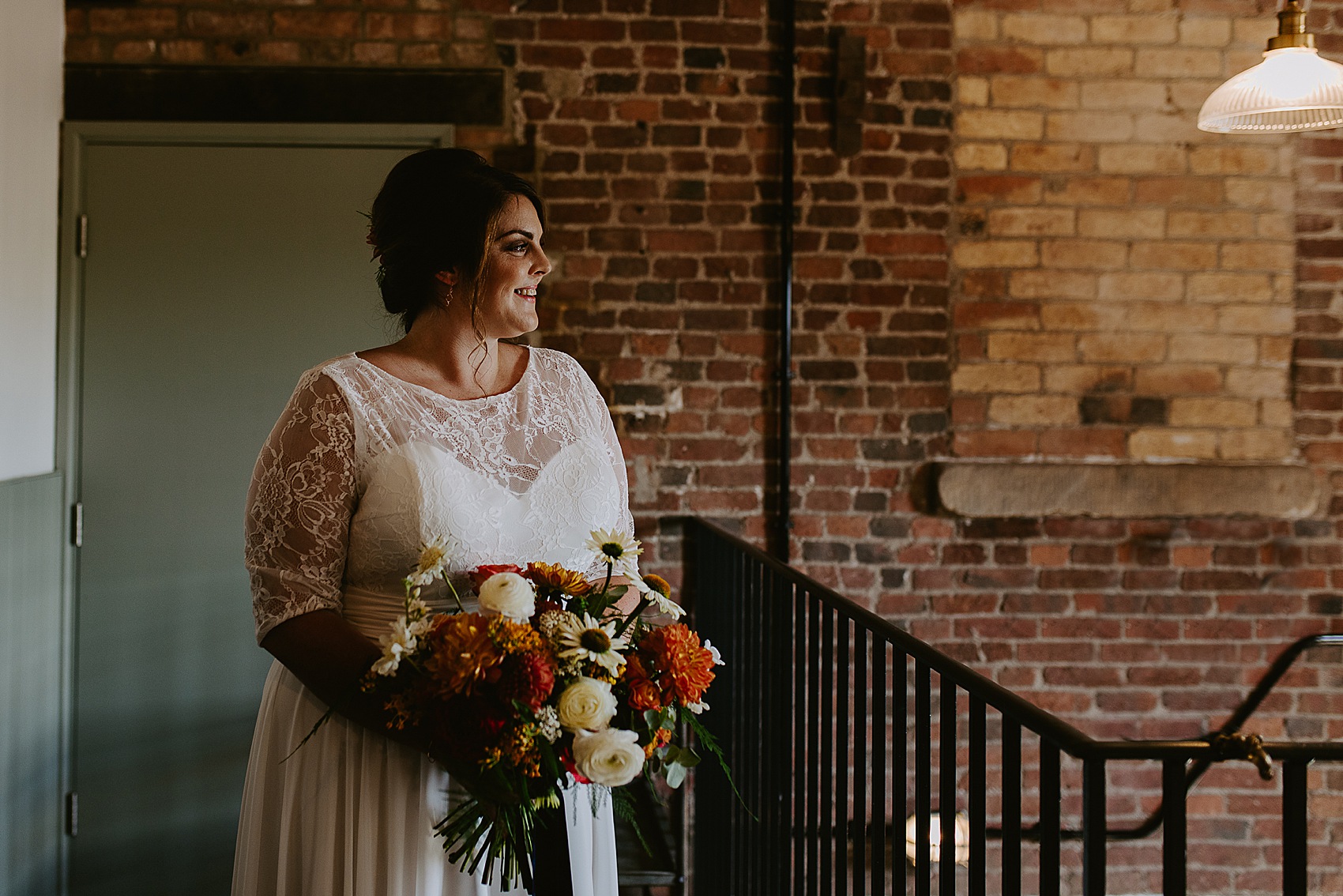 Kirsty's dreamy dress, with its pretty, botanical motif lace, capped sleeves, and beautifully draped tulle skirt, was by Emily Fox for Berketex Bride, who are sadly no longer in business.
"I thought I knew what I wanted and what I didn't. Turns out I was completely wrong, and I actually wanted what I thought I didn't!"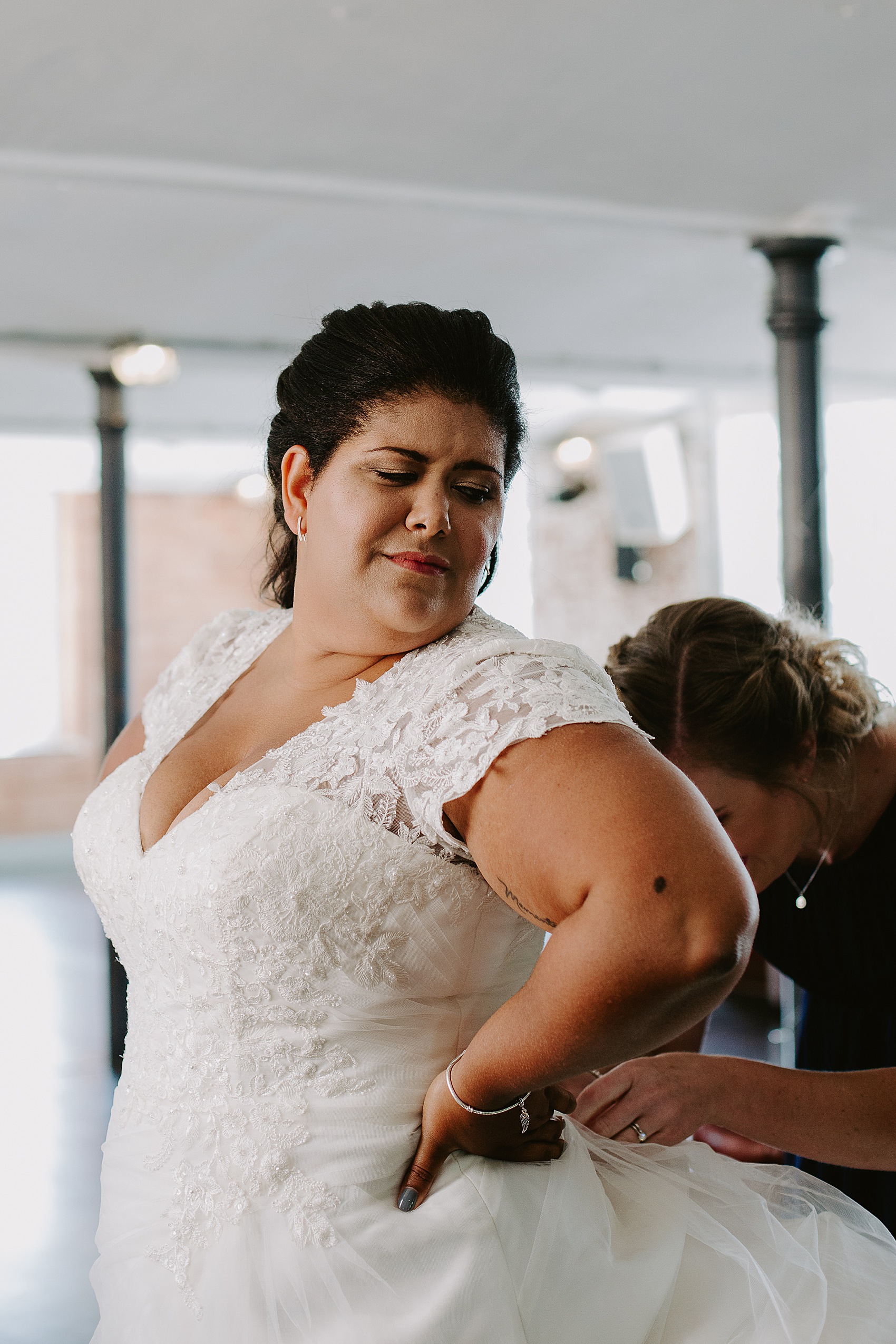 "I tried a dress on (at the 13th time of asking) I never would have gone for if I'd have picked it out, and it was perfect – also helped by the fact it was in the perfect size already, had never been tried on, and they offered it to me for half the price."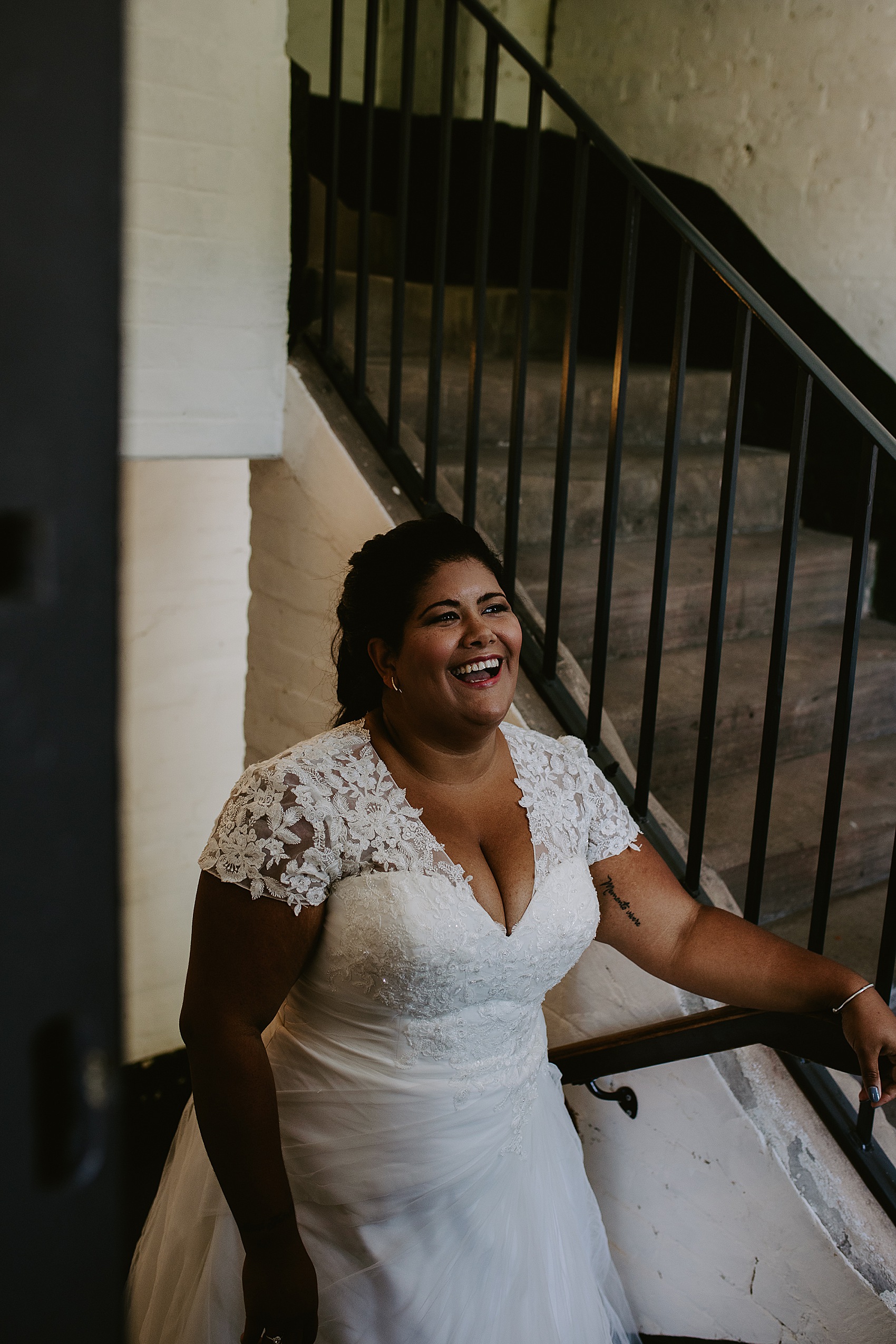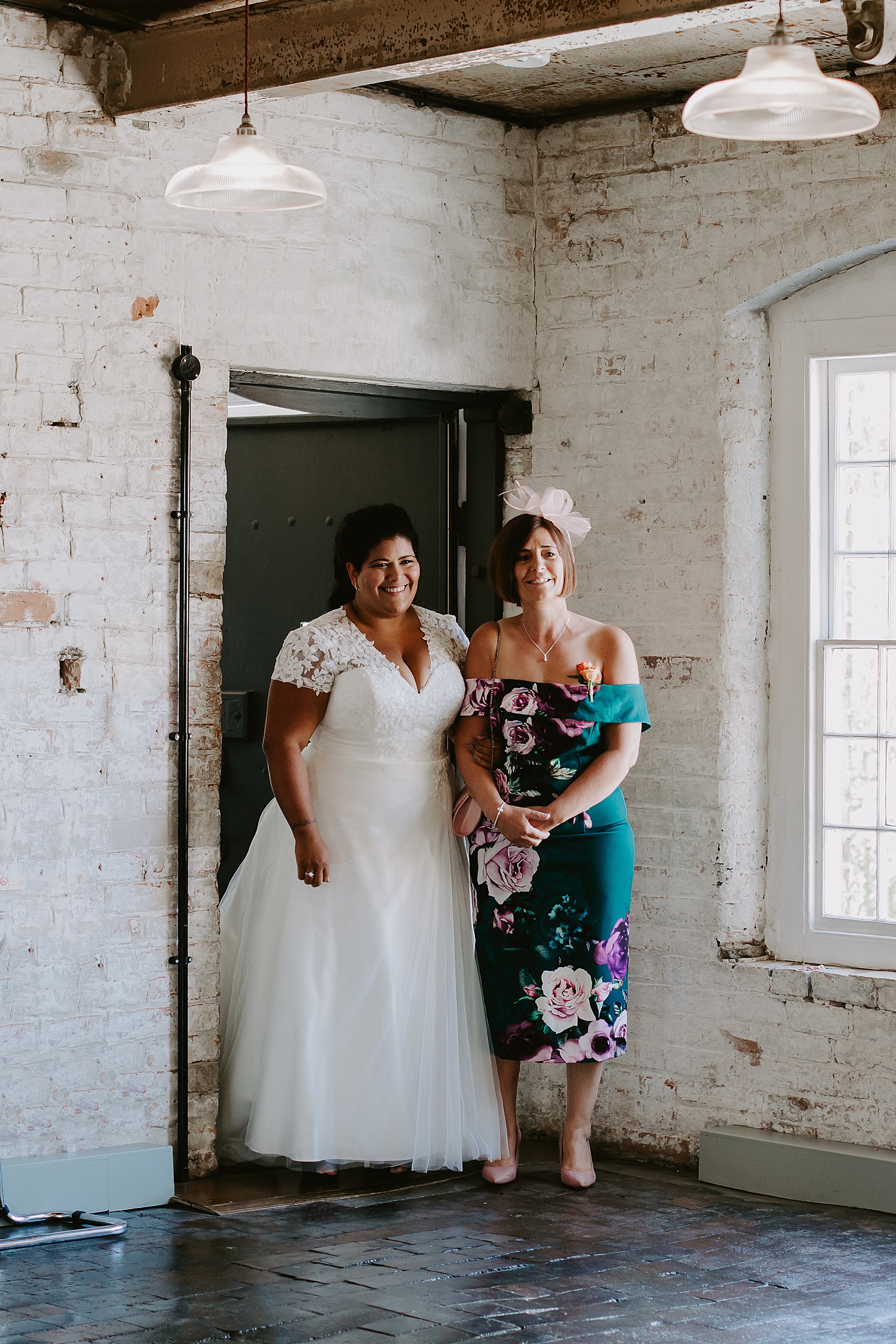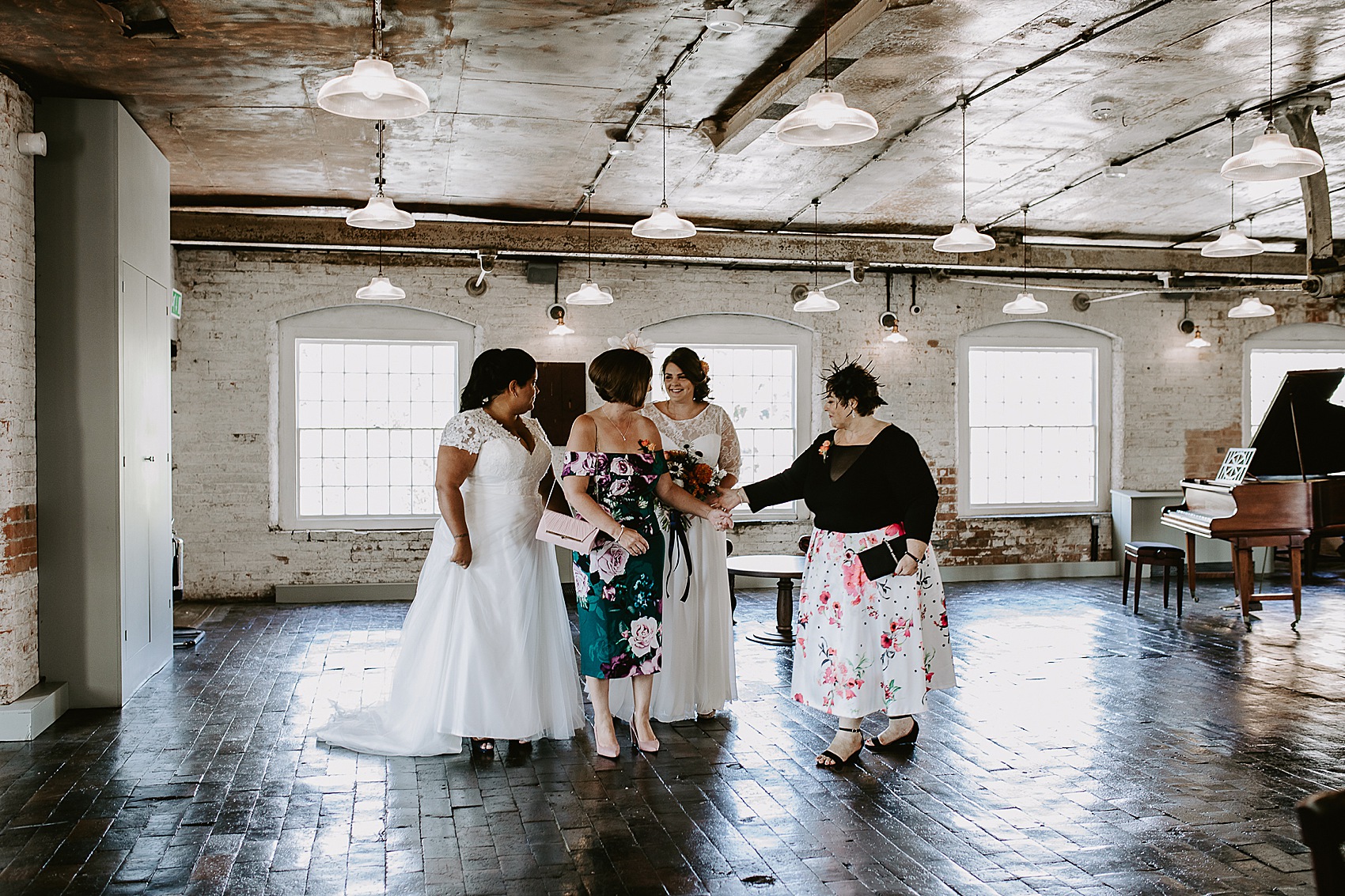 The bridesmaids carried flower hoops, and wore shoes from New Look, as well as bracelets from Penelopetom. Their pretty navy blue dresses were from Dorothy Perkins.
"We wanted a relaxed dress code, and so didn't want traditional bridesmaid dresses, and we found some we loved fairly early on."
"With the informal style we were trying to go for, we wanted to make sure our bridesmaids were comfortable, and as our wedding was in the middle of summer, we didn't want long dresses that they could get too hot in. We needed to make sure they could be on the dance floor all night long!"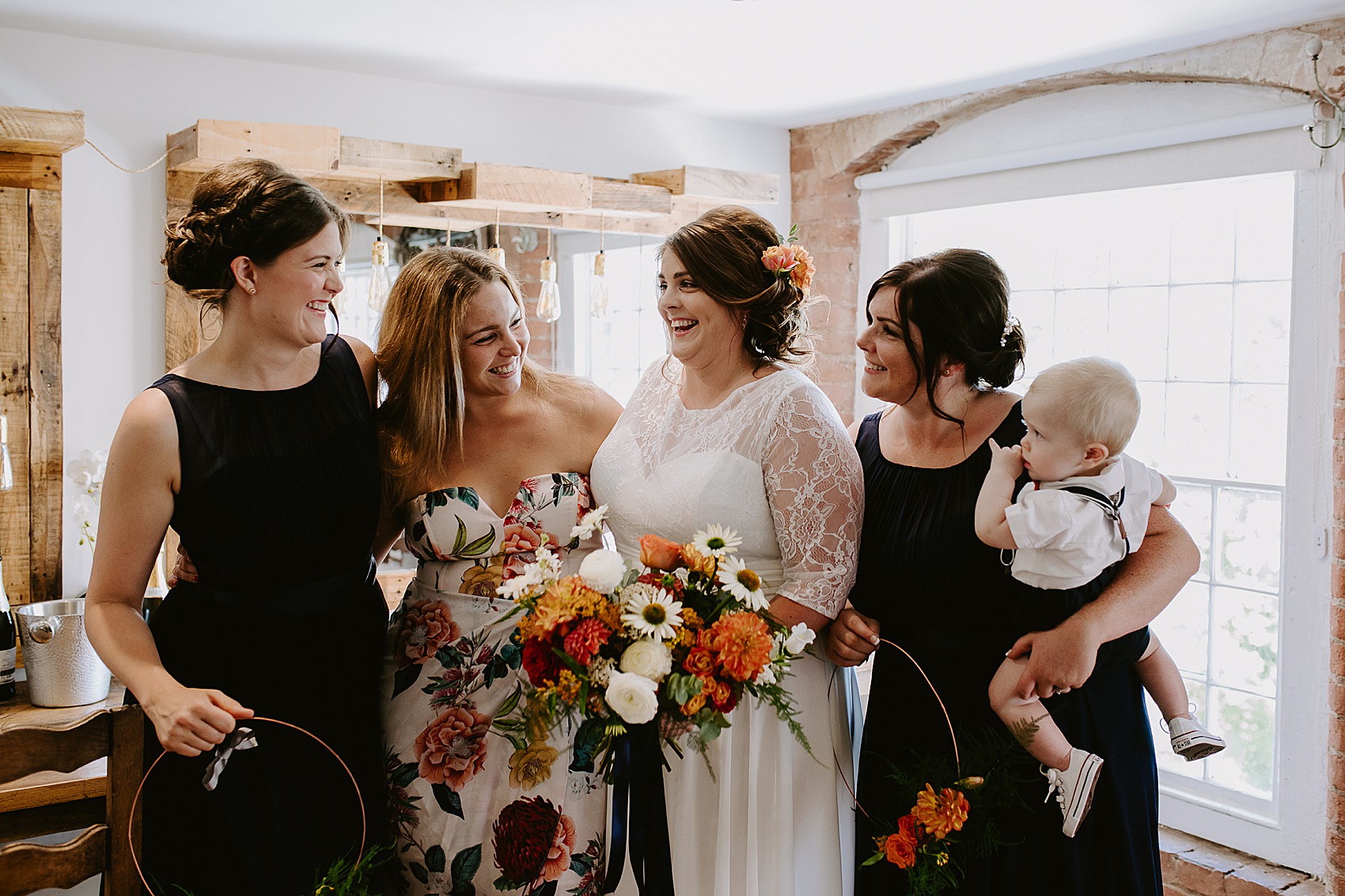 Allie at Polly & Me created a long hanging scroll – deep blue paper, exquisitely hand lettered in shimmering gold ink – which Kirsty and Mel now have hanging in their home. All other signage and stationery designed by the talented Mel, who had created signage for a number of friends' weddings prior to her own.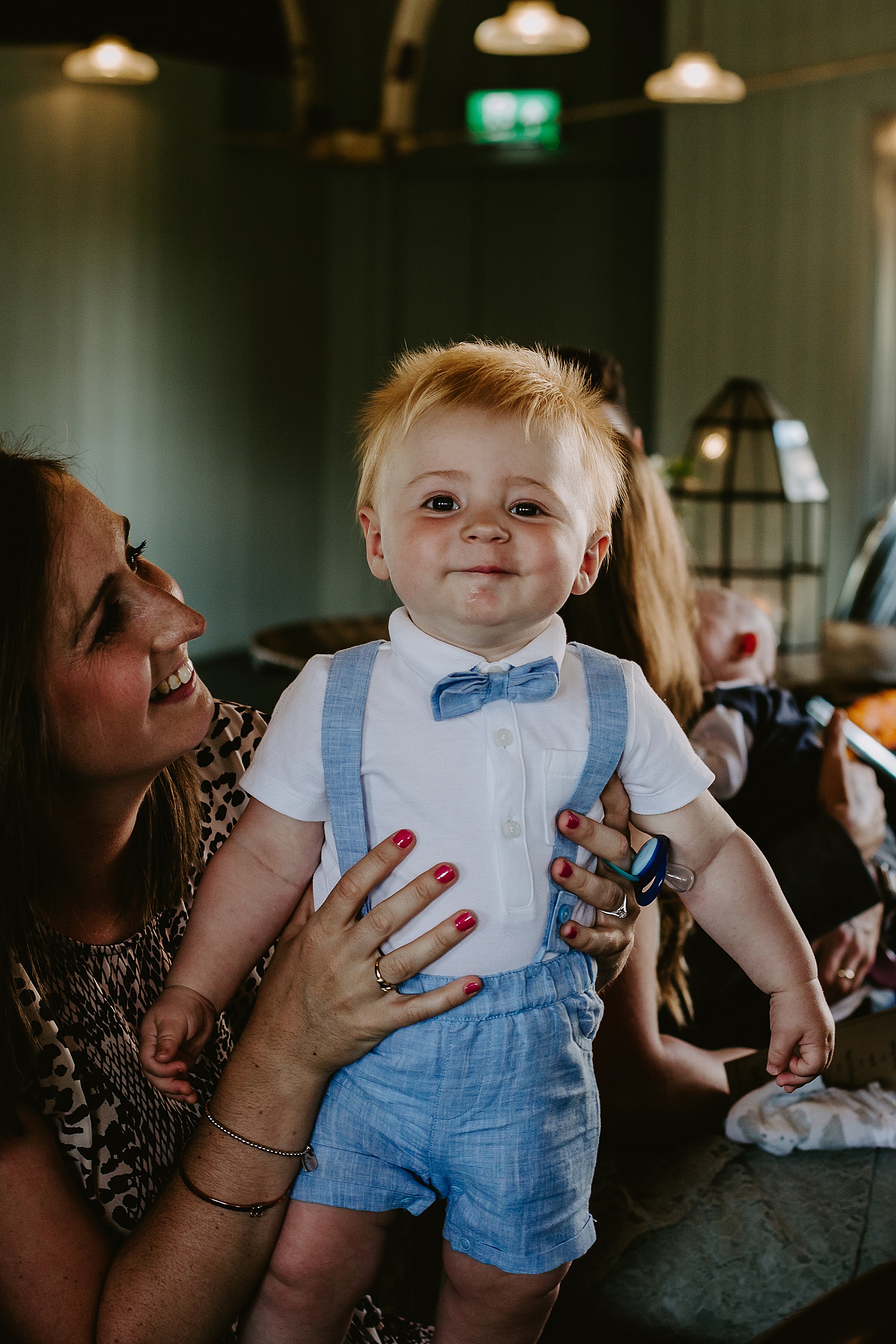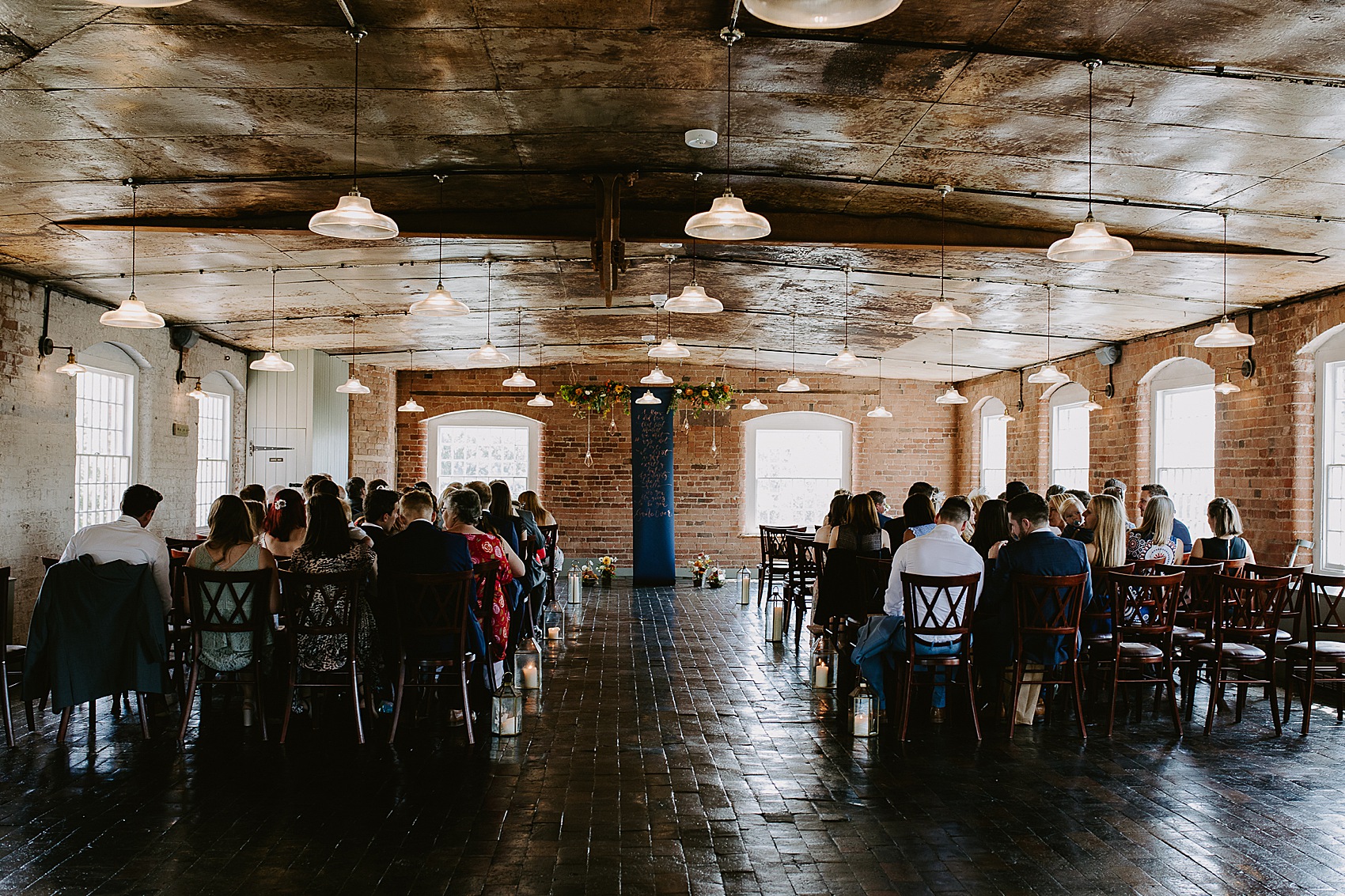 "We had our mums walk us to the top of the aisle, and then we walked down together as we wanted to really underline how we were entering our marriage together as a team."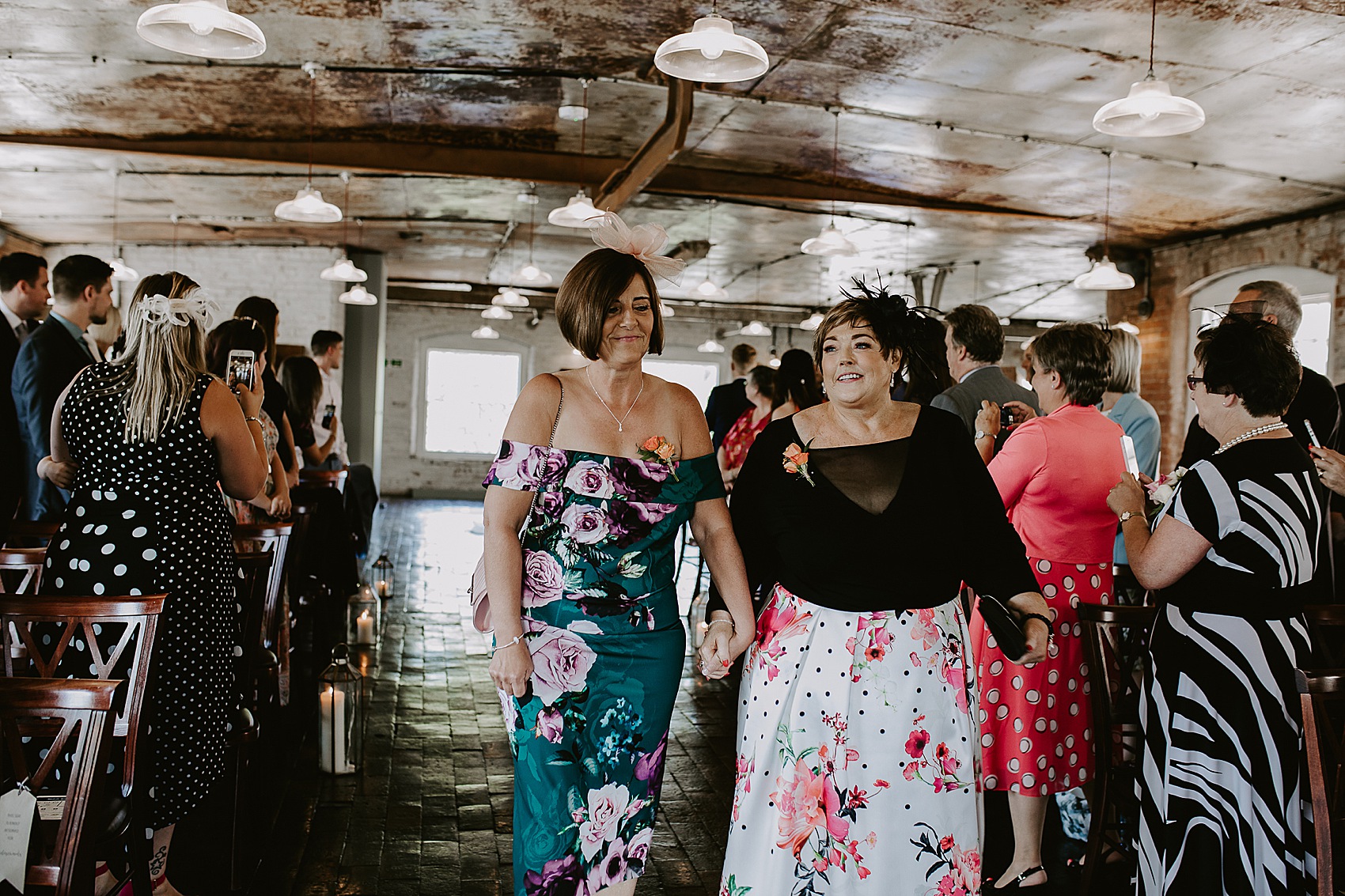 For their entrance music, Kirsty and Mel chose Lifehouse's You and Me, sung live by wedding singer, acoustic guitarist and DJ, Michael Mulholland. The ceremony was conducted by a registrar from Derby Register Office, and Mel and Kirsty chose their own vows, which they have very kindly shared with us here.
"Today I promise to be your wife. I will be faithful and honest, loving and trustworthy. I will seek to bring you stability and order in a chaotic world. I will be your partner and friend for life."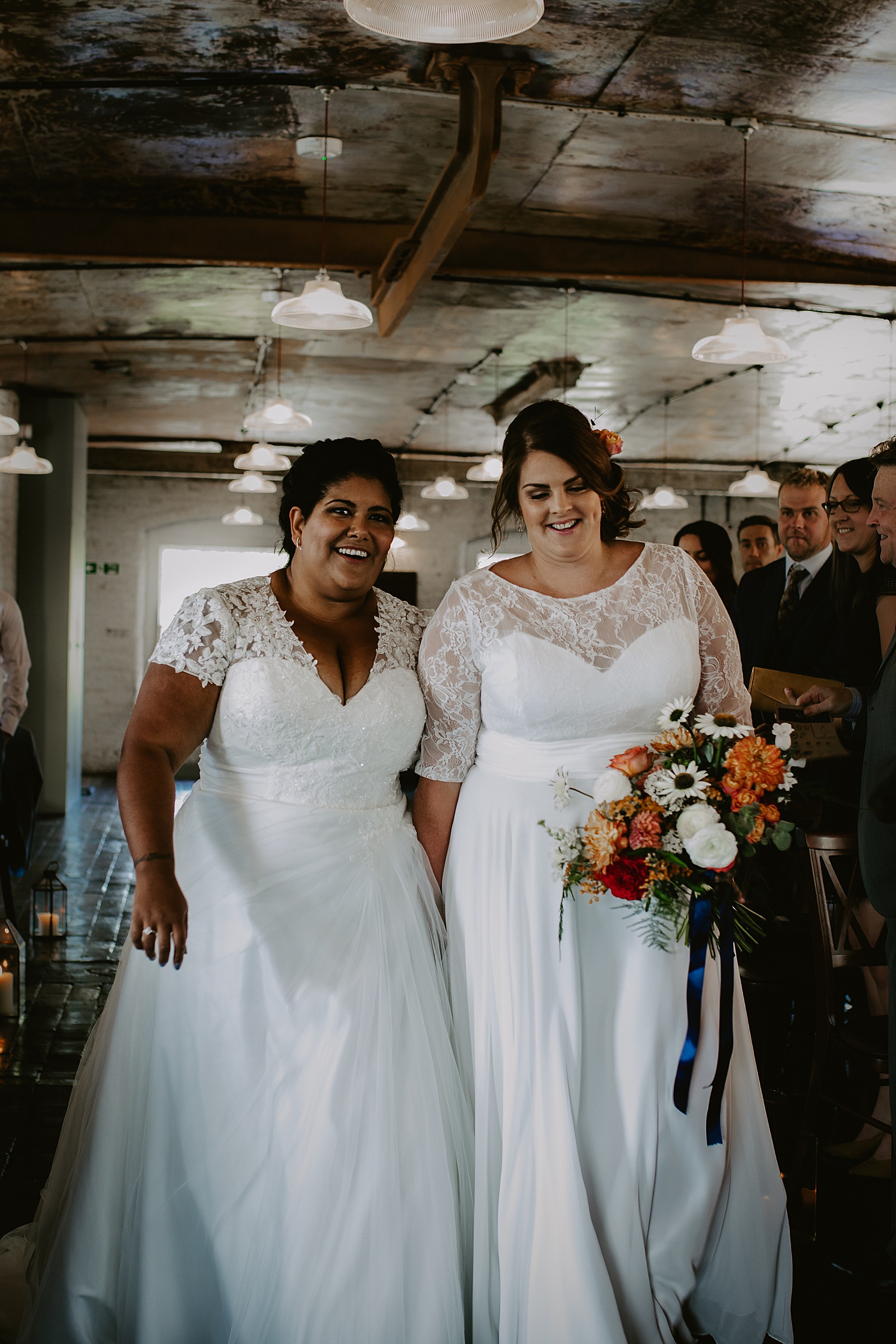 Kirsty and Mel took the same course at university (albeit one year apart) but didn't end up meeting until a few years after they had graduated. That was in 2011, whilst both volunteering, and their friendship blossomed into something more.
Postponing your wedding? Bookmark our Covid19 pages which are full of useful, practical & emotional advice.
"We got engaged in 2017, after Kirst aborted the first attempt in San Francisco earlier (sweaty and windswept after cycling to and across the Golden Gate Bridge wasn't the memory she decided we wanted of that moment!) and she did finally pop the question three days later in Lake Tahoe, after waiting what felt like years for the beach to clear after sunset, and then dropping the ring in the sand at the moment of asking!"
"Mel had described the perfect engagement ring she would have wanted a long time before we got engaged and when I (Kirsty) saw it, I knew it was perfect."
"After having it for a number of months before I proposed, I knew that I wanted a very similar one, and as it turned out, I ended up with the platinum version of Mel's gold, from Phillip Stoner."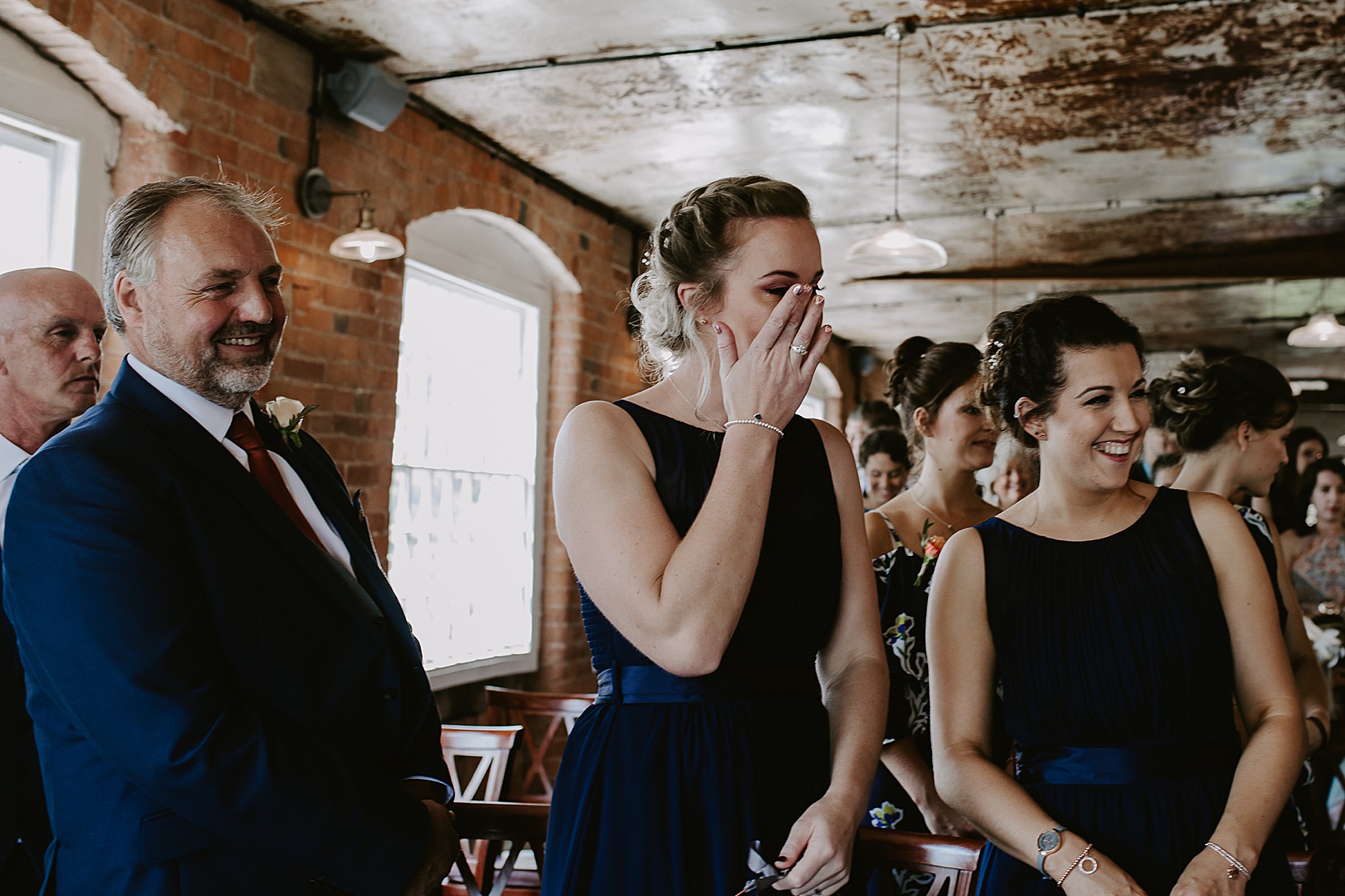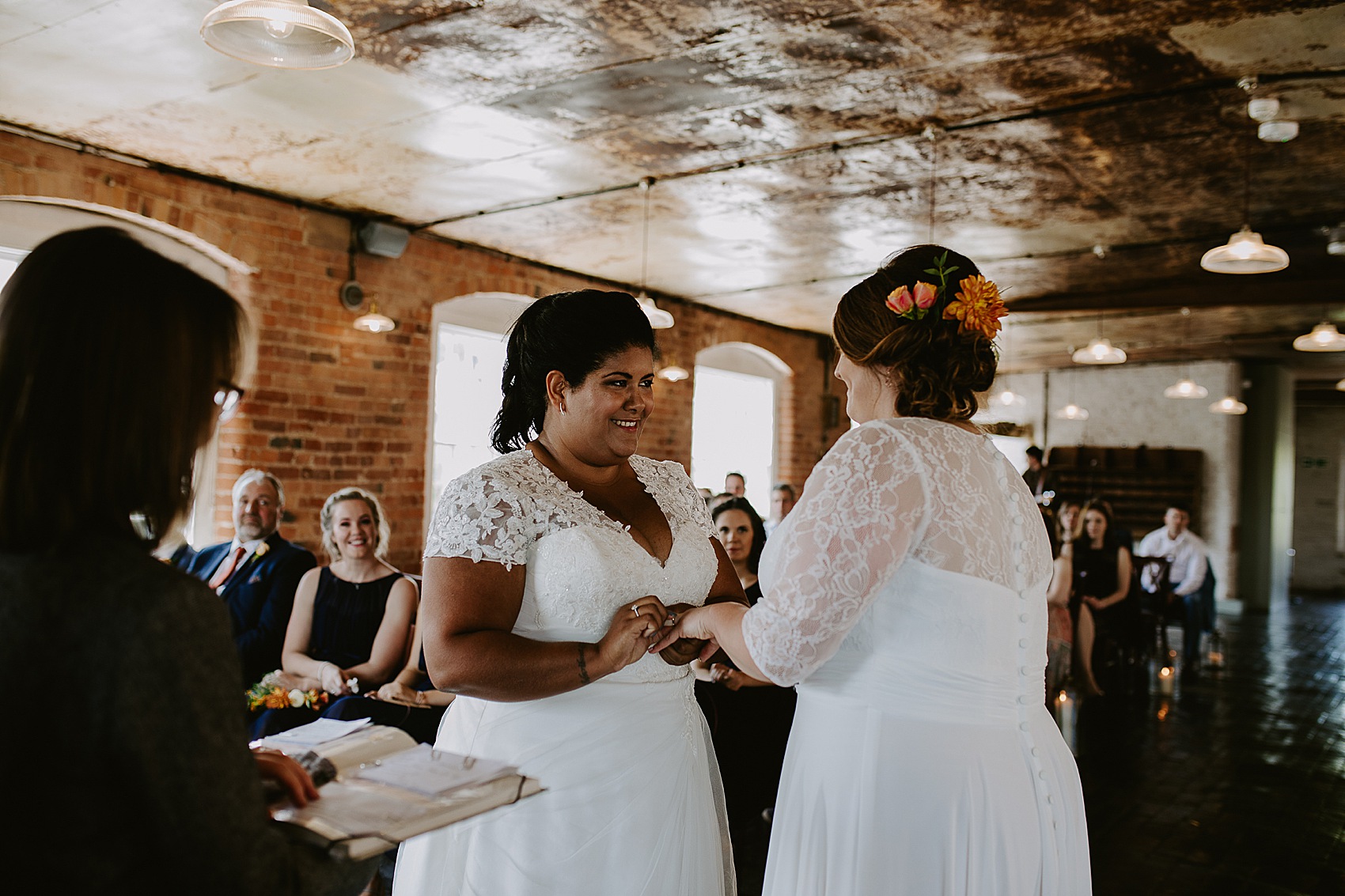 "It was also very important to me that the engagement ring either had a matching wedding band, or was at the very least sat high enough to fit one flush to it. Mel likes to comment on how only a woman proposing would have thought it through this far!"
Explore lots of more wedding readings here on Love My Dress
There were two sweet readings during the ceremony, the first being Love is a Temporary Madness, from Captain Corelli's Mandolin, by Louis de Bernieres. The second, introduced to them by the friend who read it, is a quote about soulmates by Richard Bach.
After the ceremony, Michael Mulholland played and sang through the reception, whilst guests enjoyed drinks as well as delicious ice cream, too.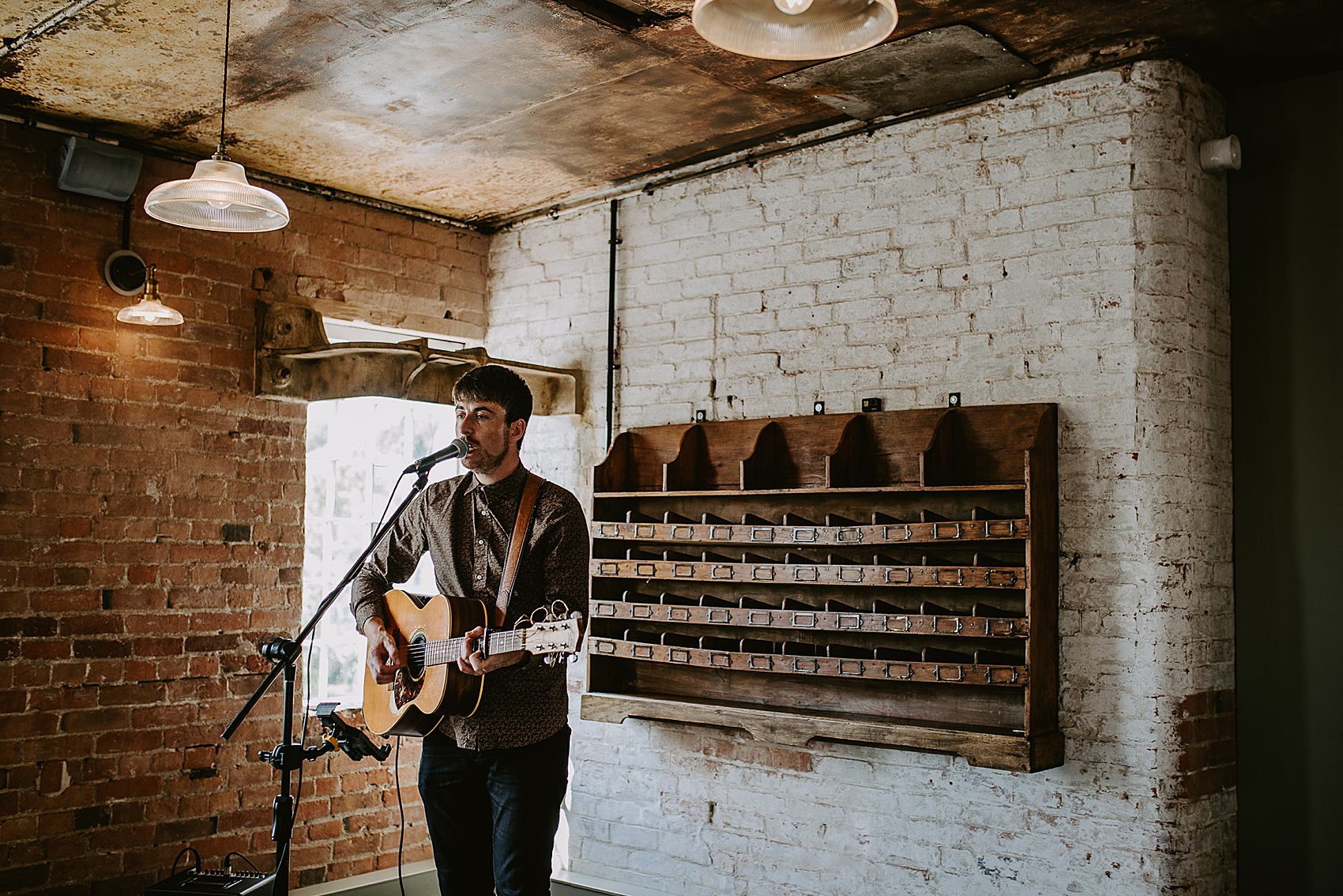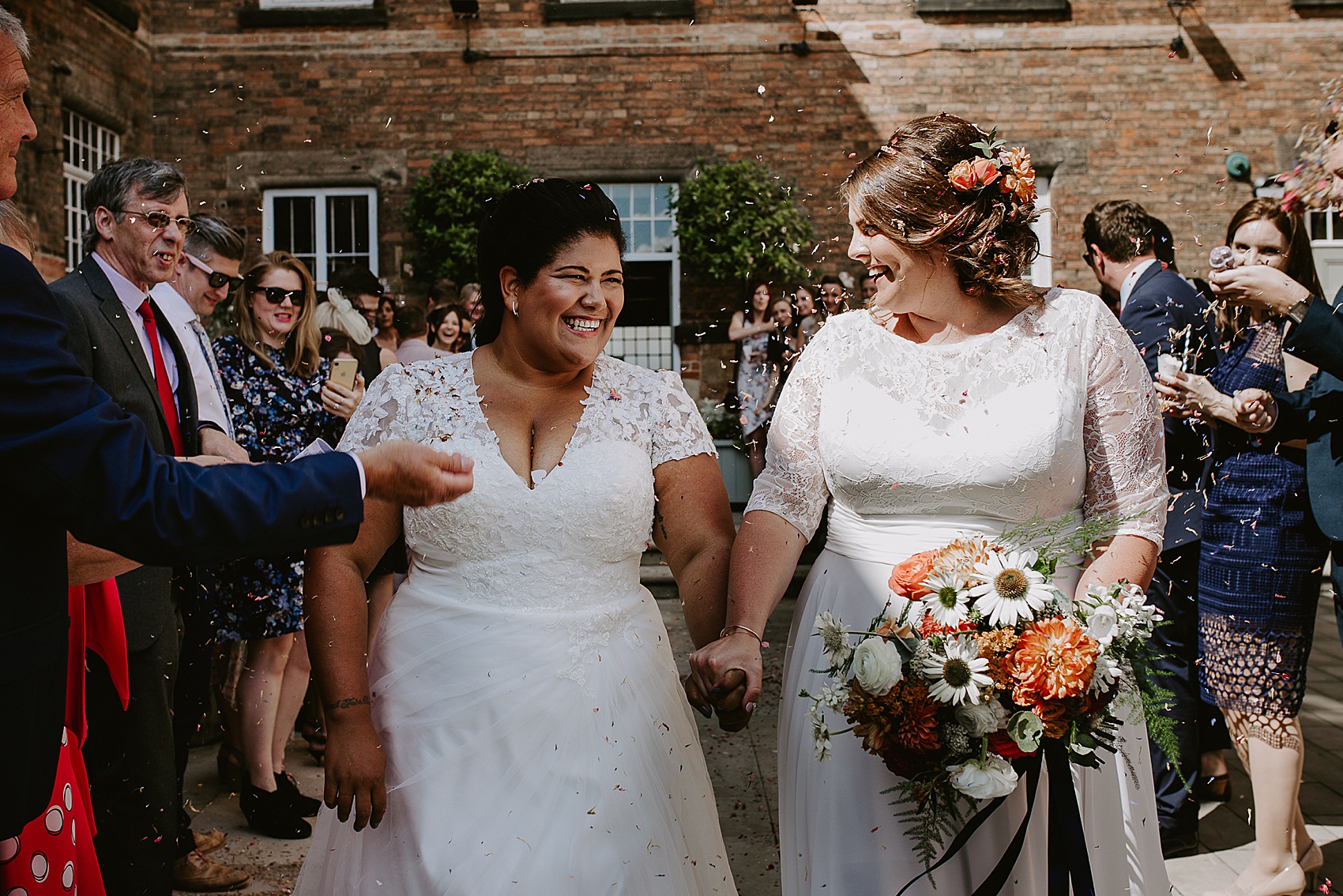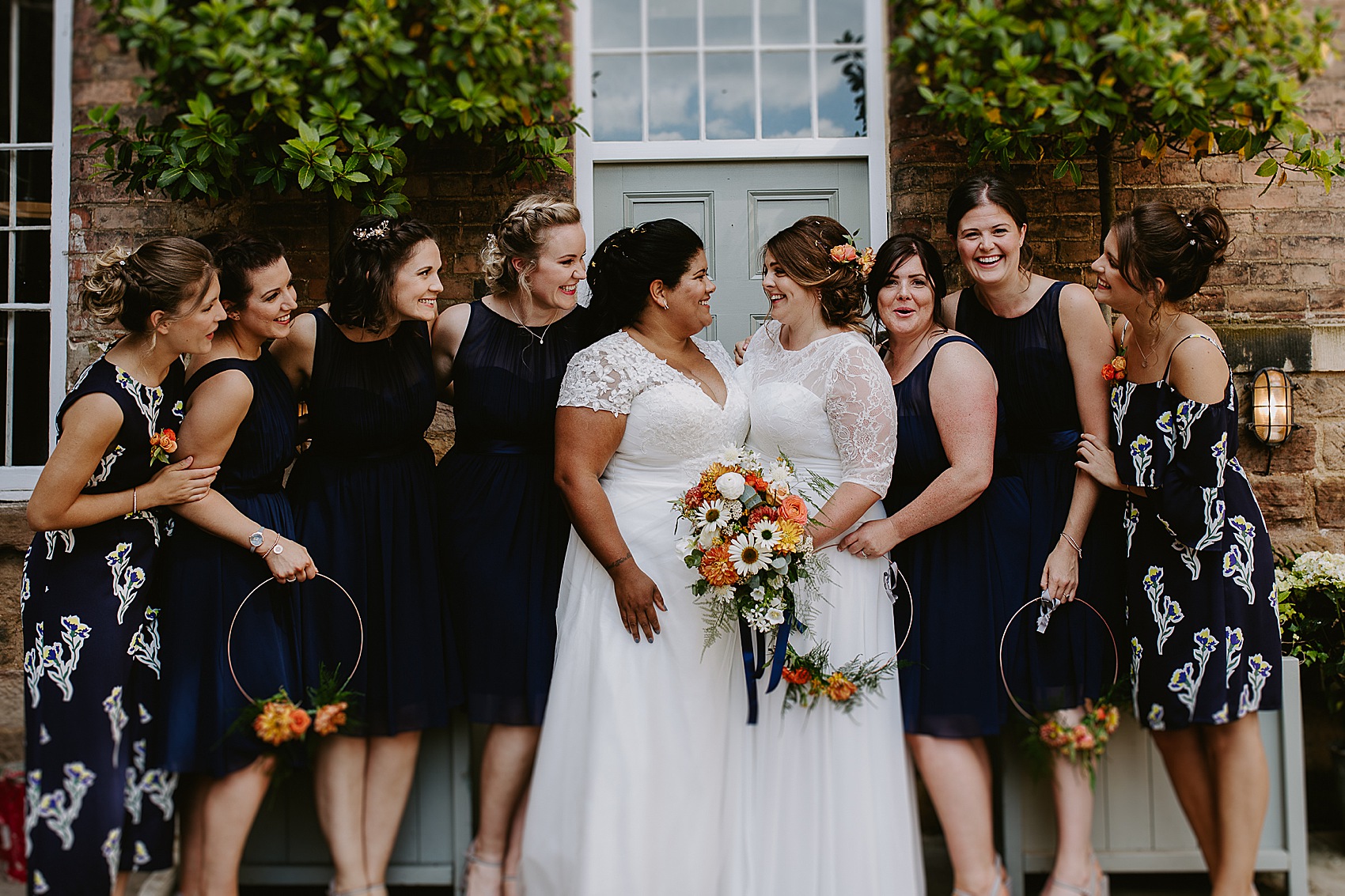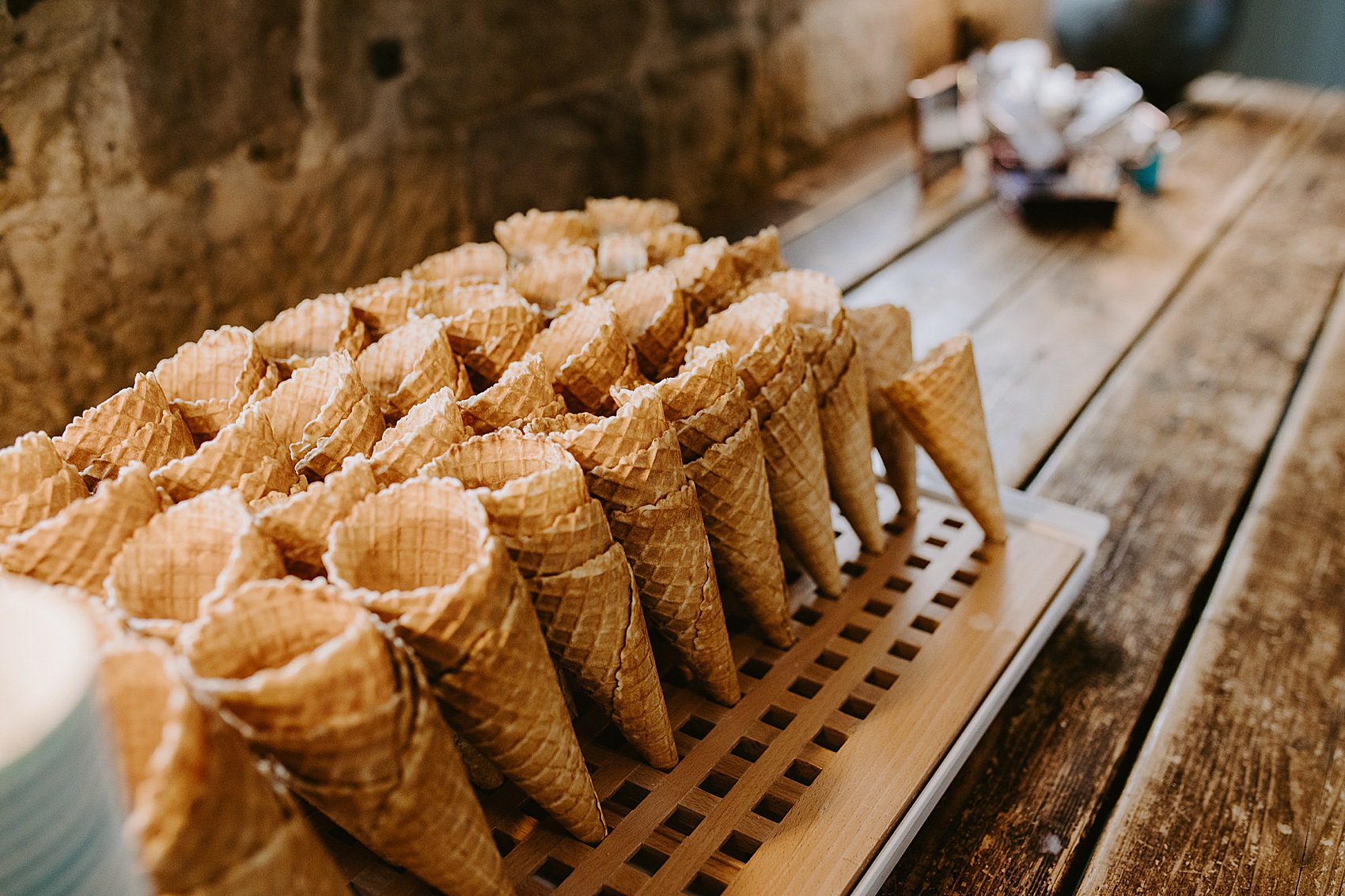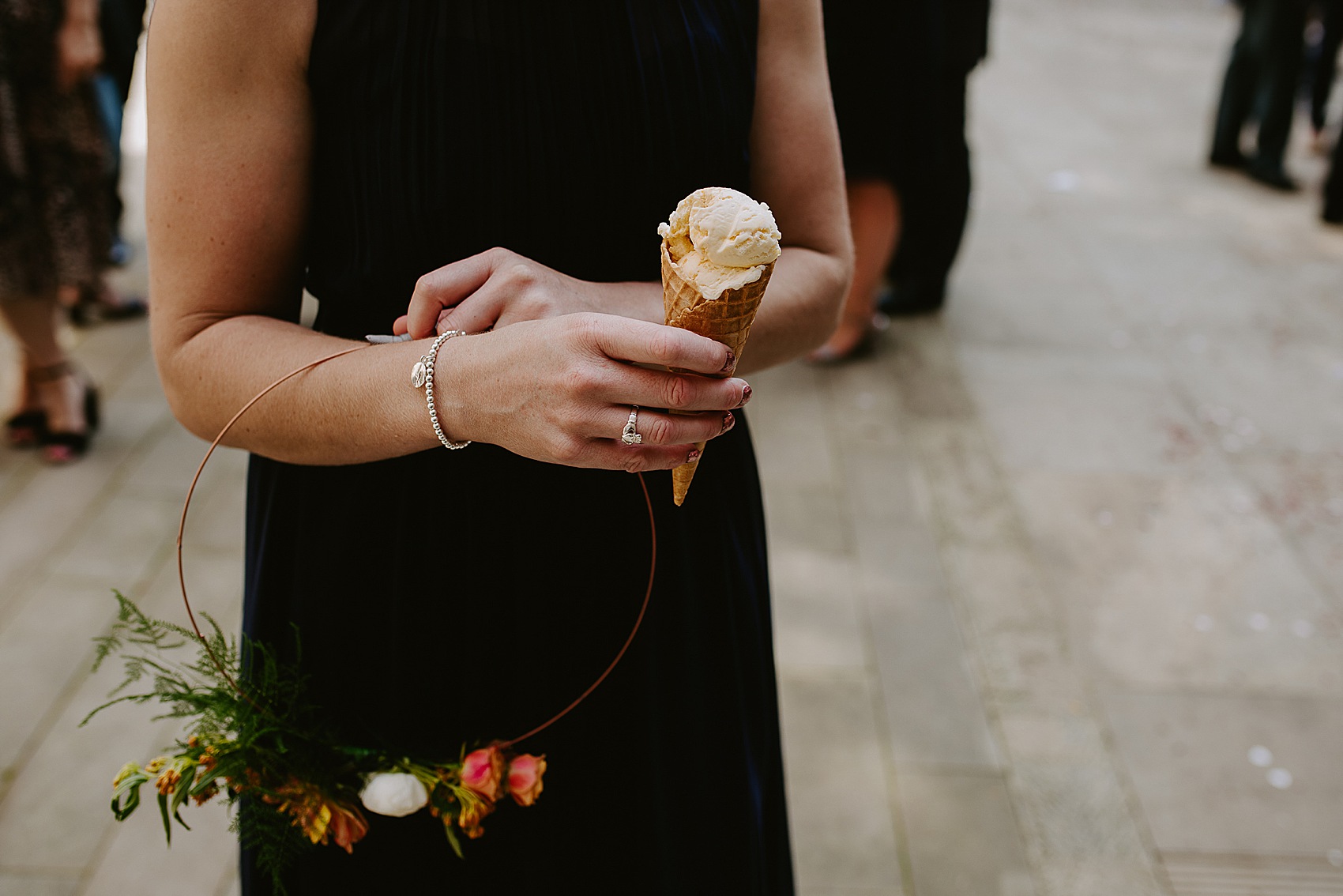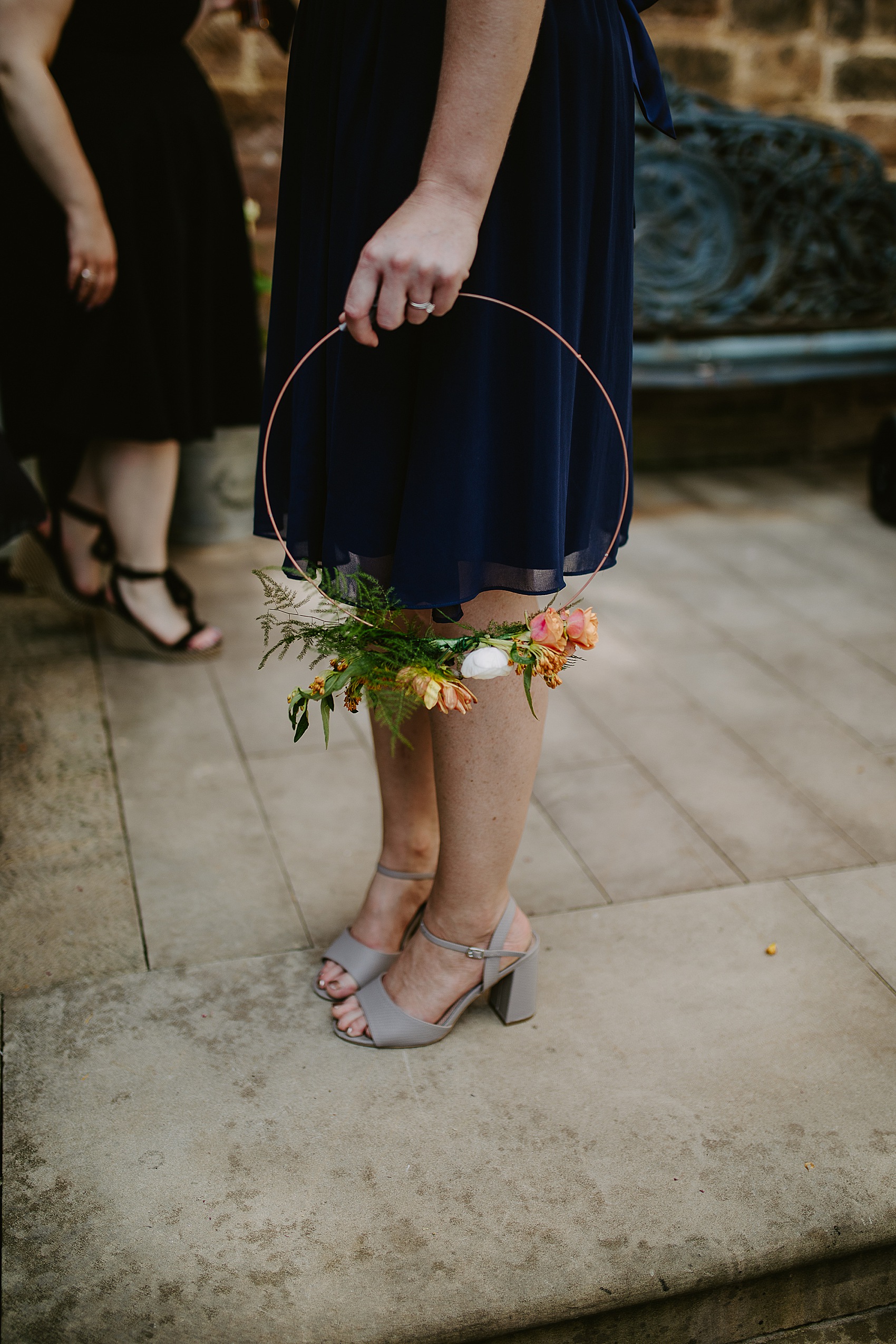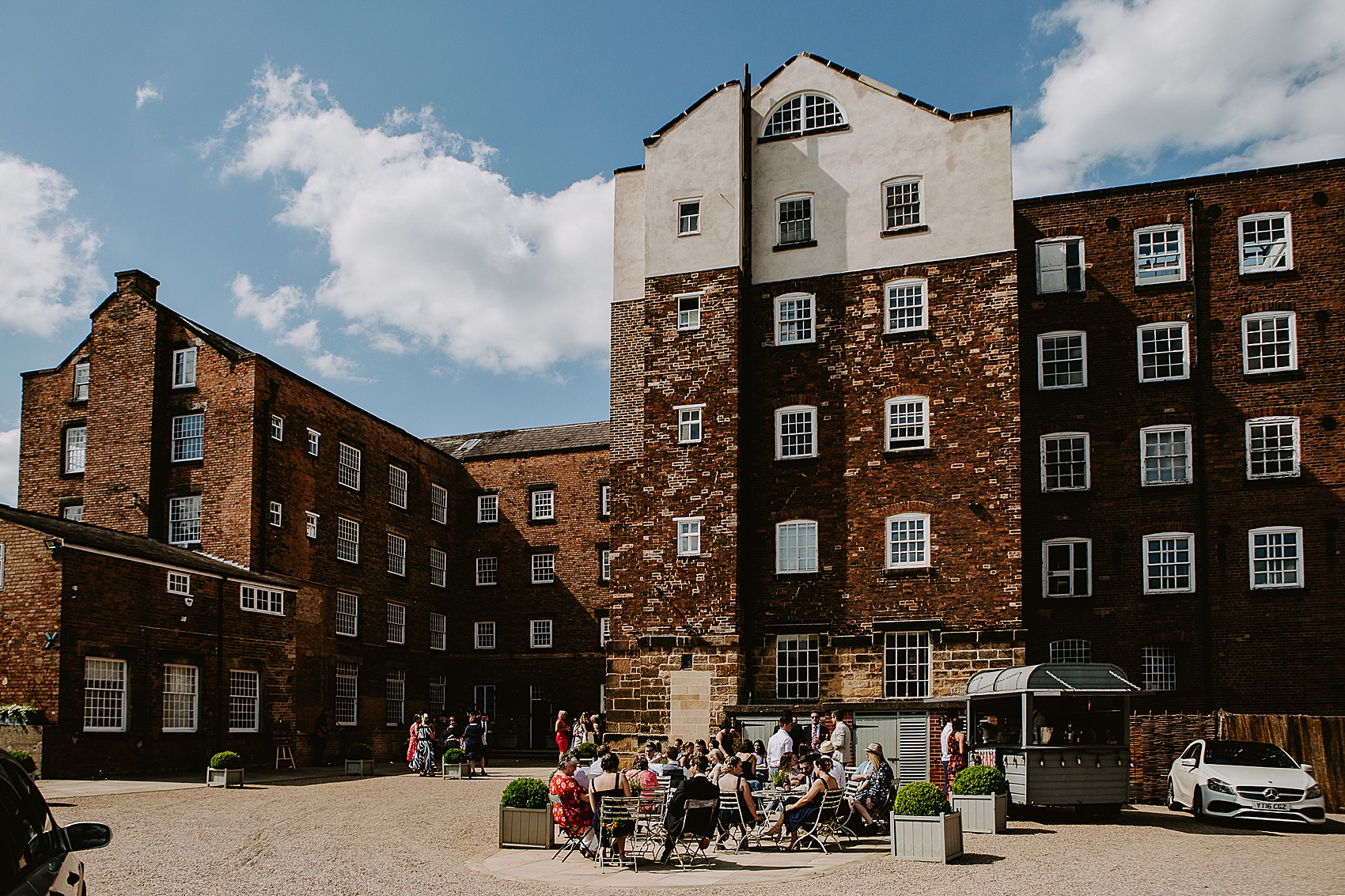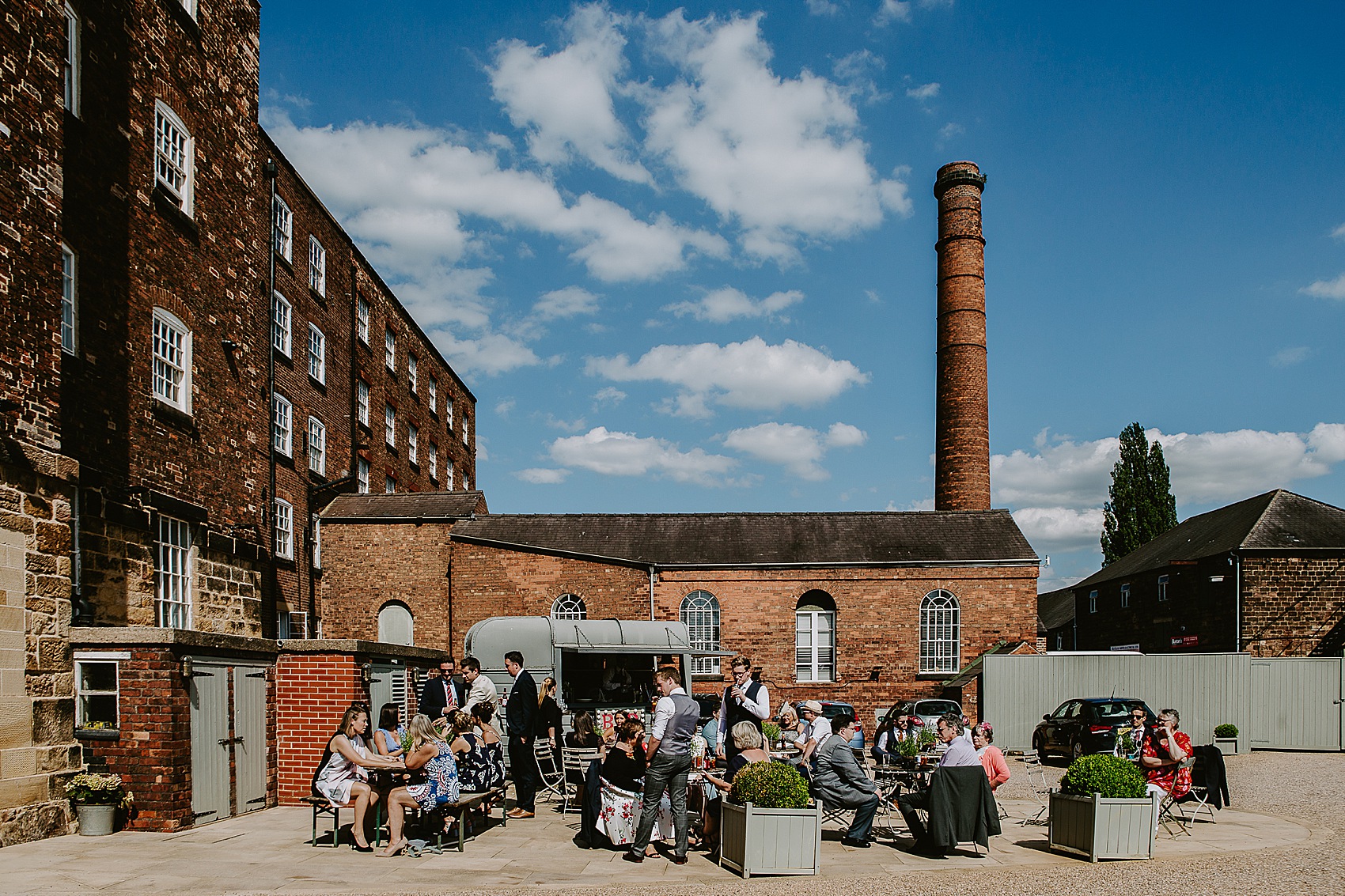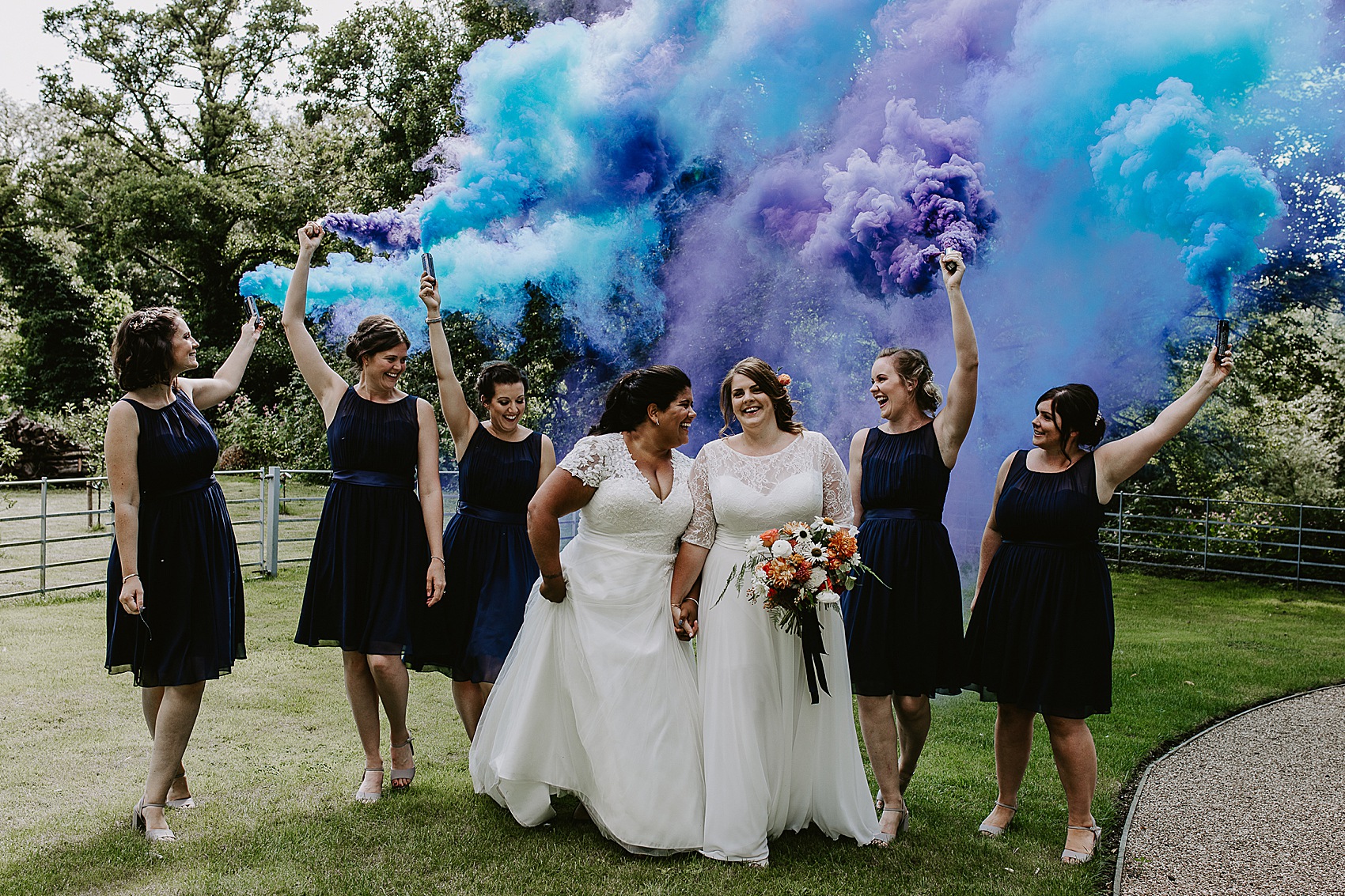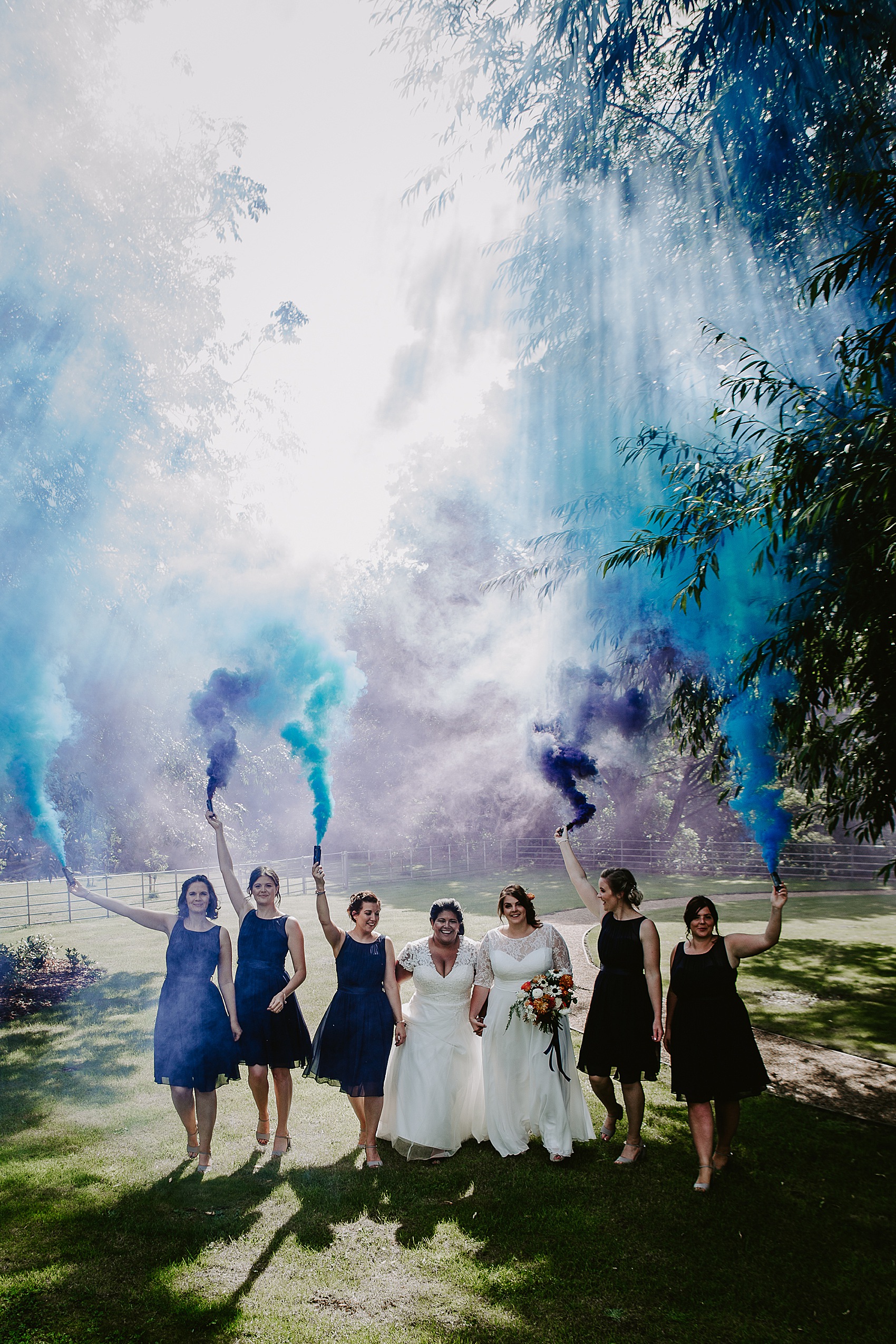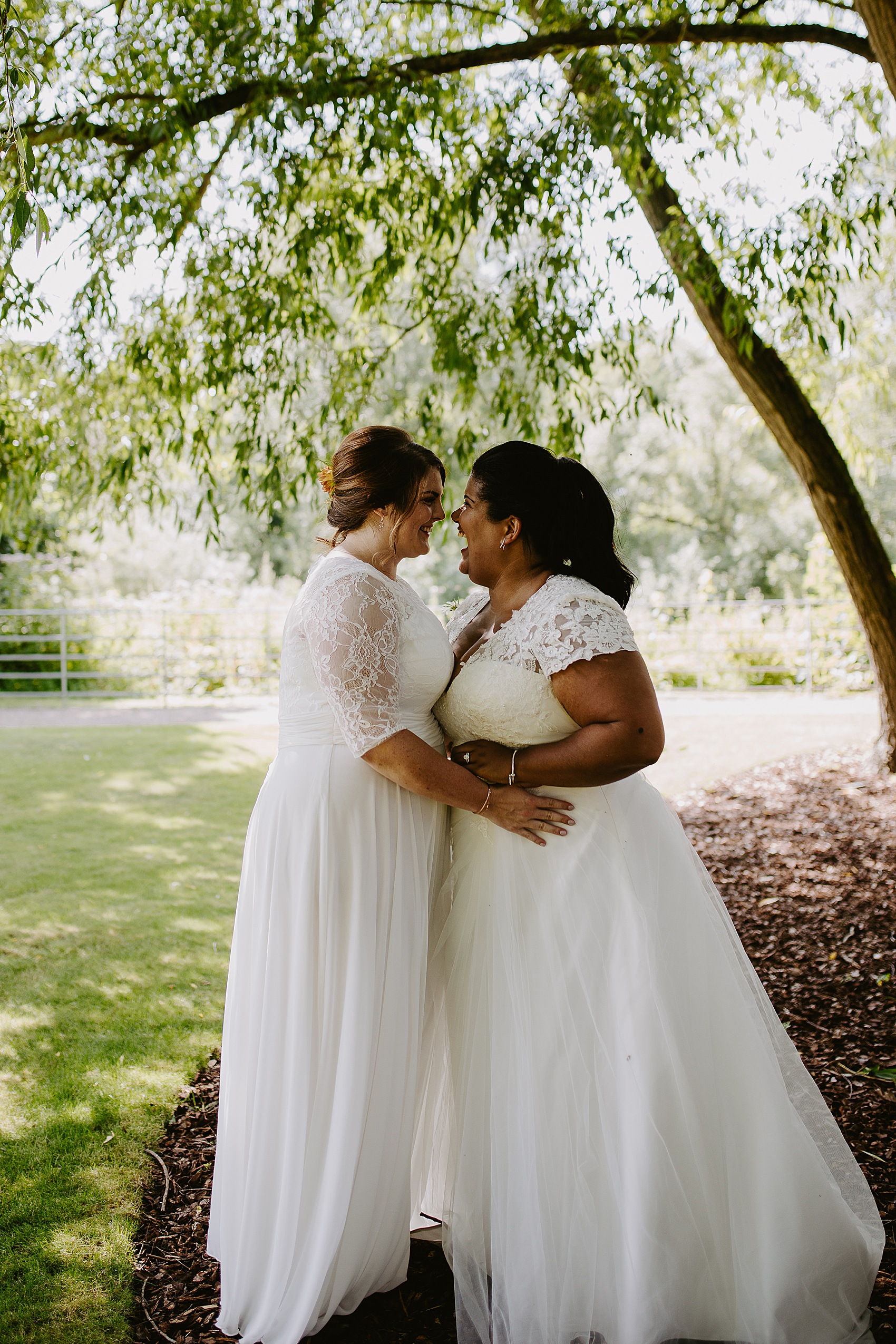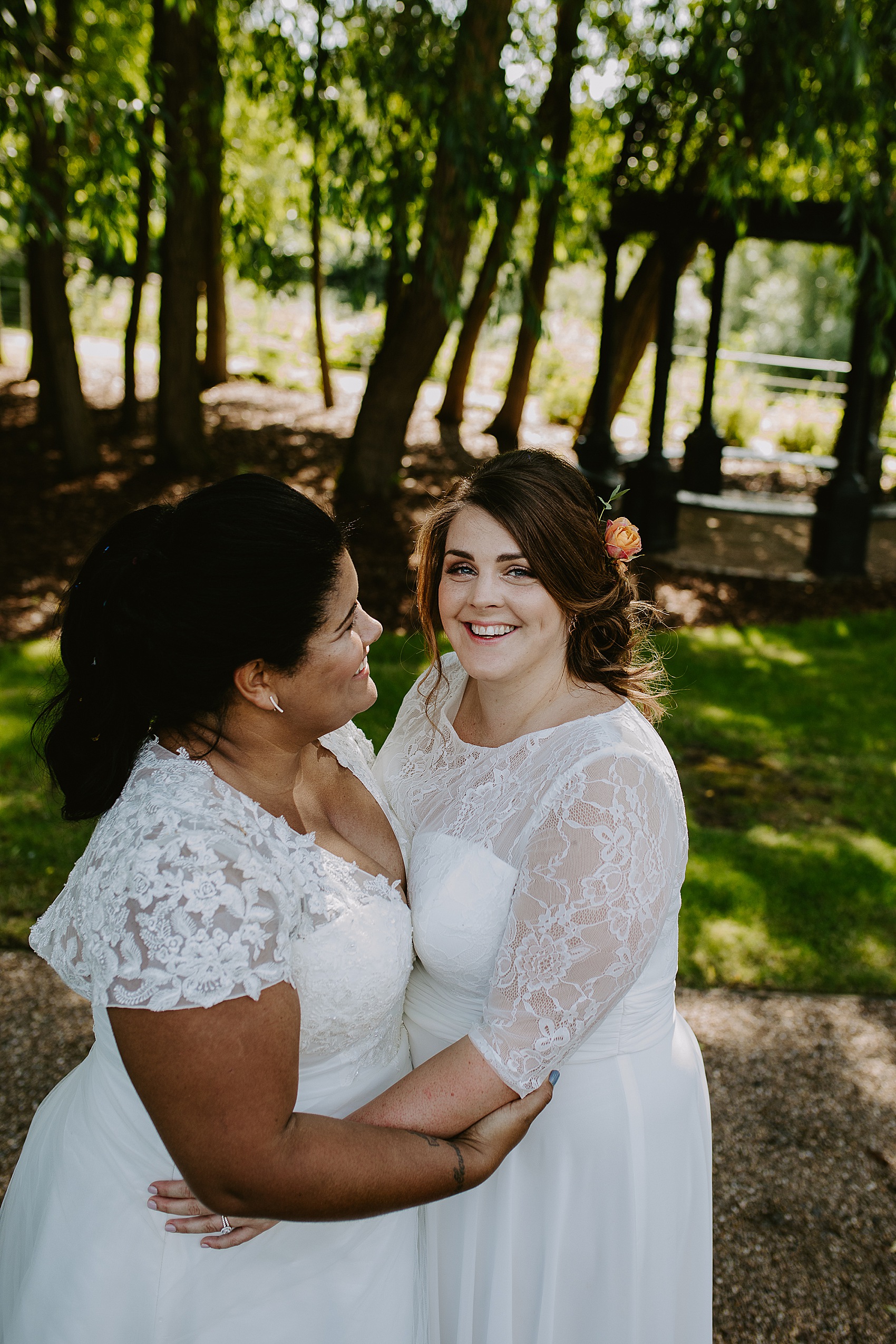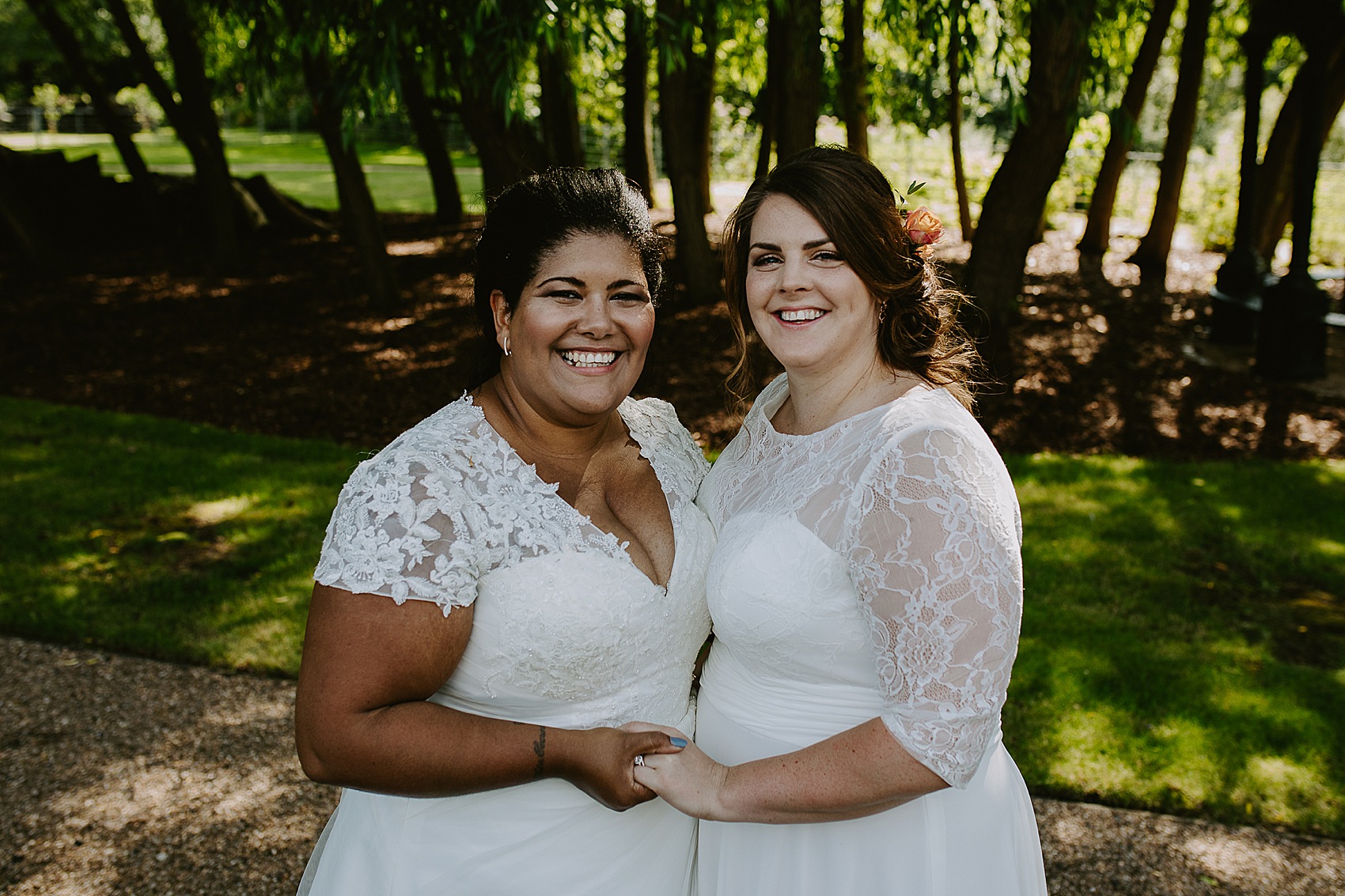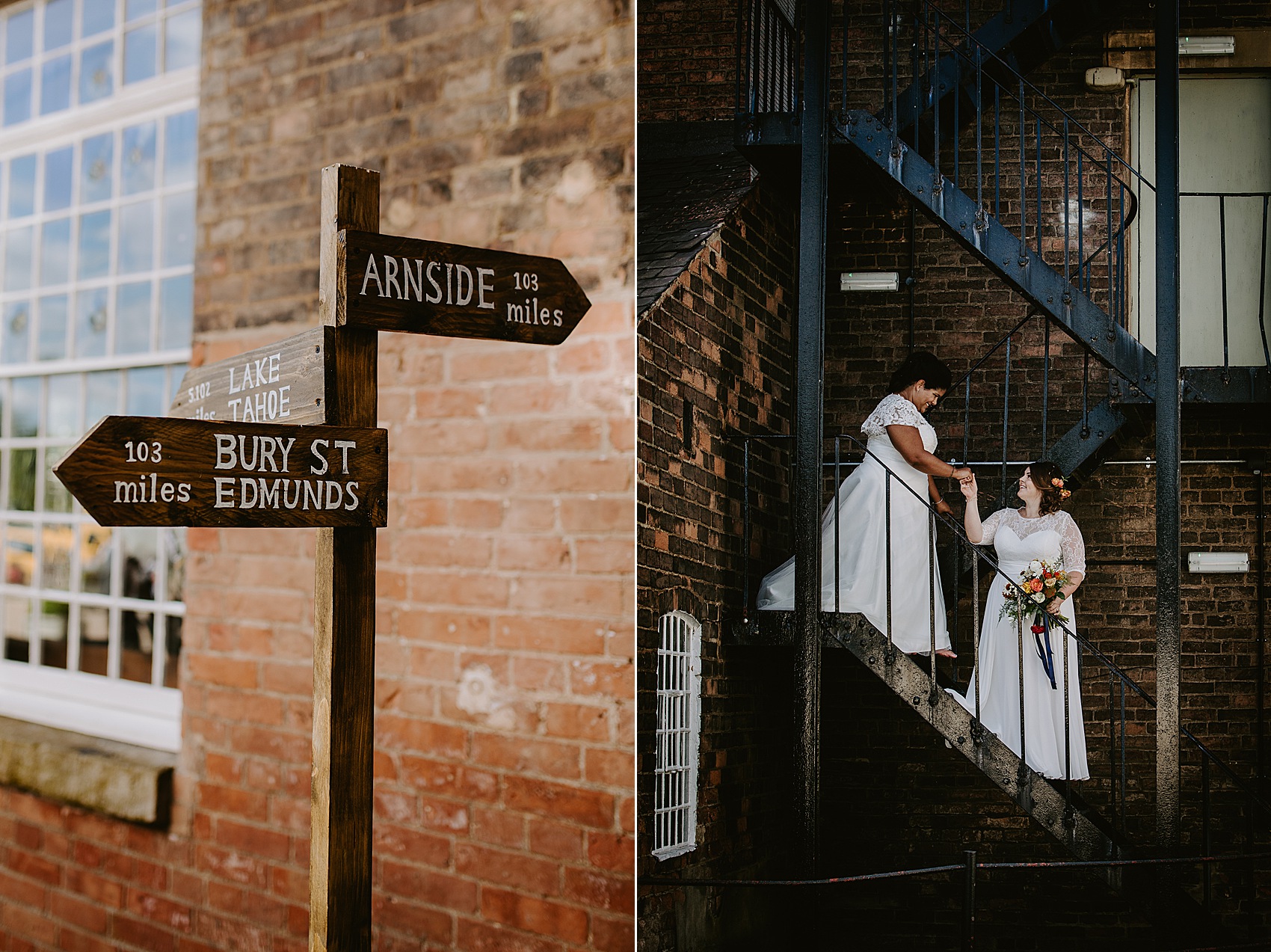 "There wasn't a particular style we chose, but The West Mill itself carries the industrial theme we like, and one of the major selling points of the venue was just how little we needed to dress it. We had chosen a lot of coppers and blues to complement the architecture of the building, without being too overpowering."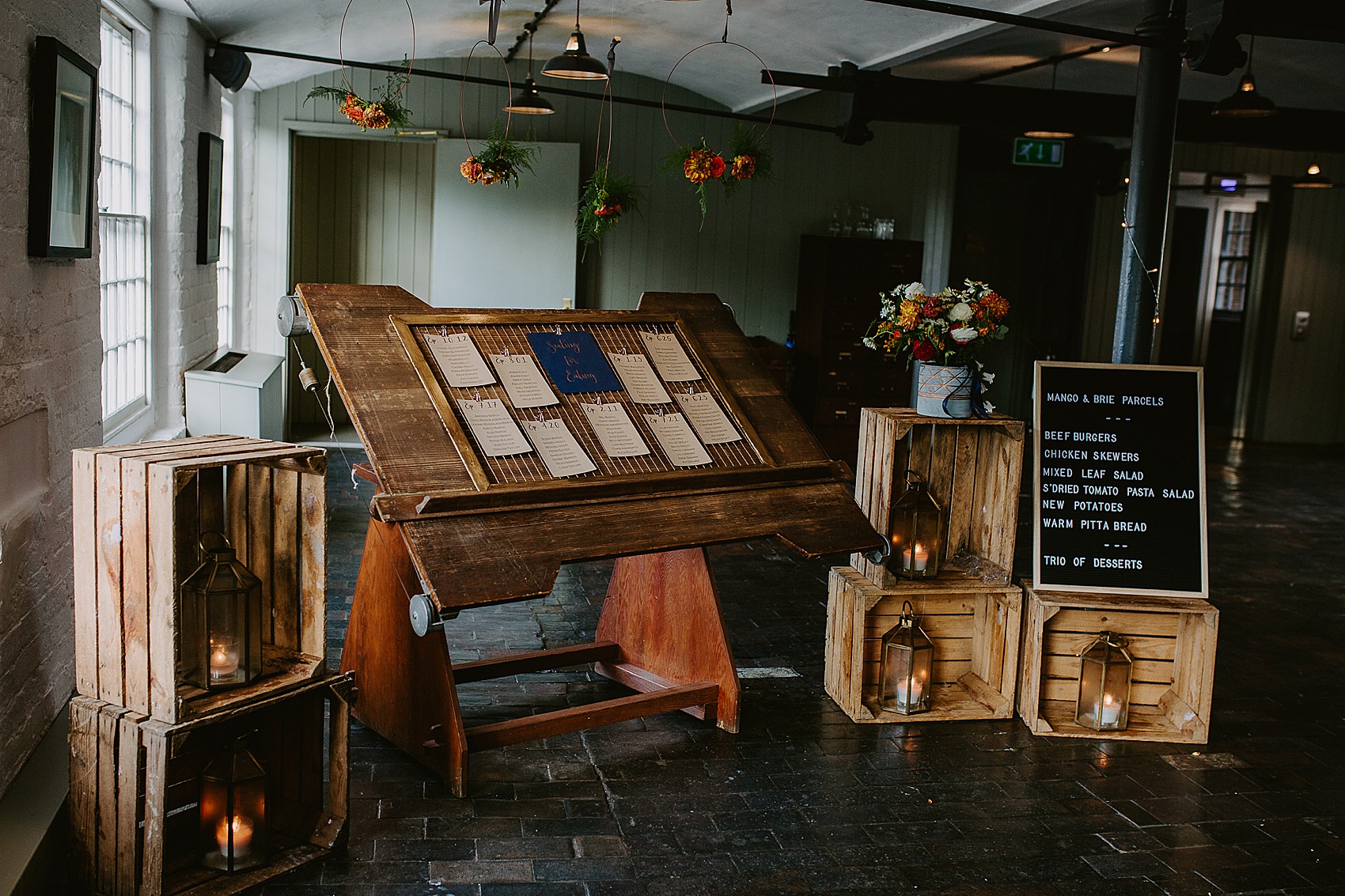 "We both also have a longstanding obsession with Friends, so we needed to make sure we got this in somewhere, and so we decided to identify our wedding breakfast tables by relevant (wedding or otherwise) episodes."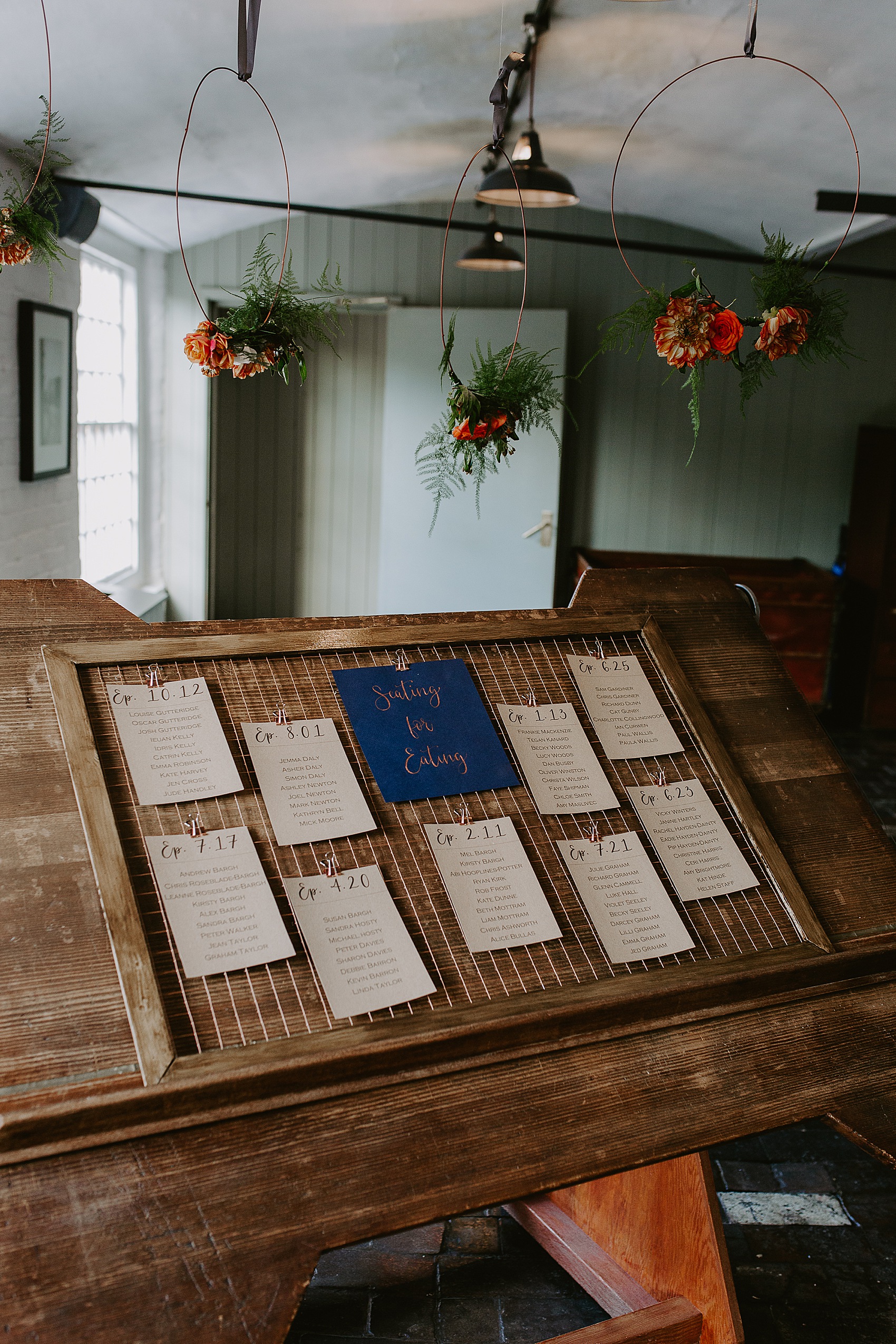 "We visited Liz at Mad Philomena, and she helped style our wedding breakfast tables and evening reception."
"Liz had done a number of weddings at The West Mill so really understood the overall feel of the venue, and we really appreciated her ideas and vision."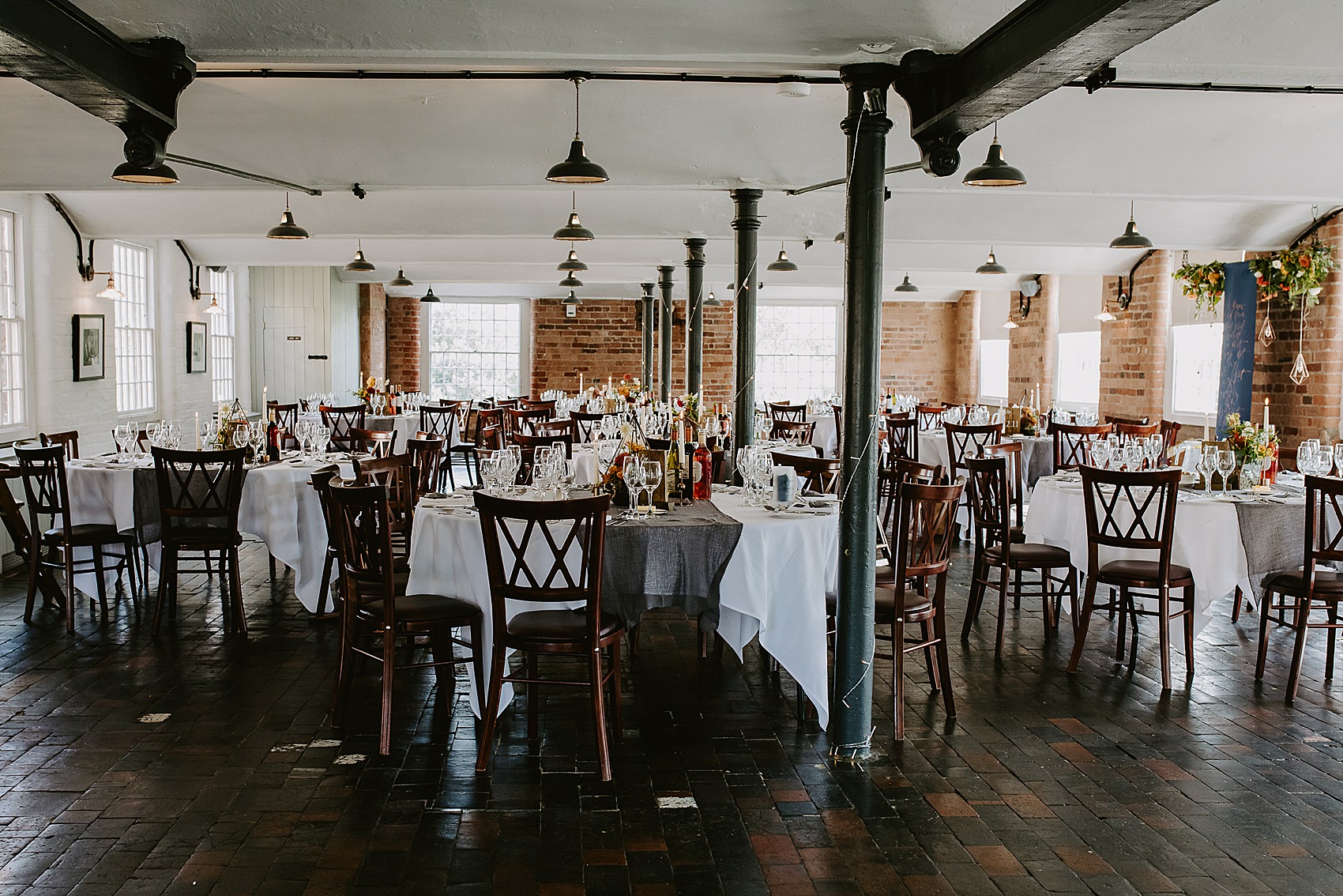 Table centrepieces were floral arrangements inside copper terrariums, surrounded by softly flickering candles. Lanterns were placed inside vintage wooden crates, and the table plan was set up on an old weaving loom, as an homage to the venue's former use.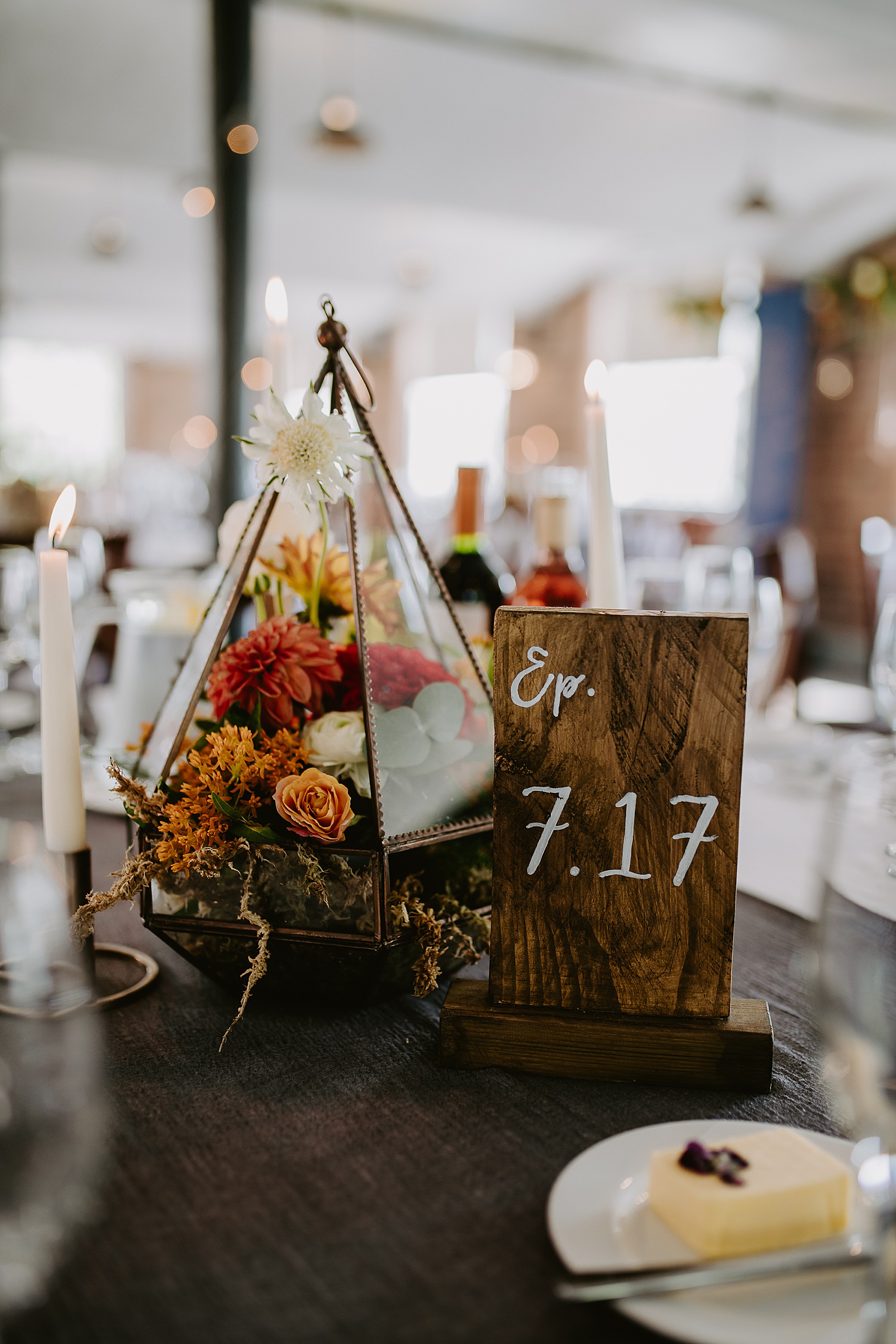 "We created favours ourselves. We decided we wanted something small that people could keep, but that wouldn't break the bank at the same time. We decided on keyrings with guest initials on, which were sourced from Etsy, with scrabble letters from eBay."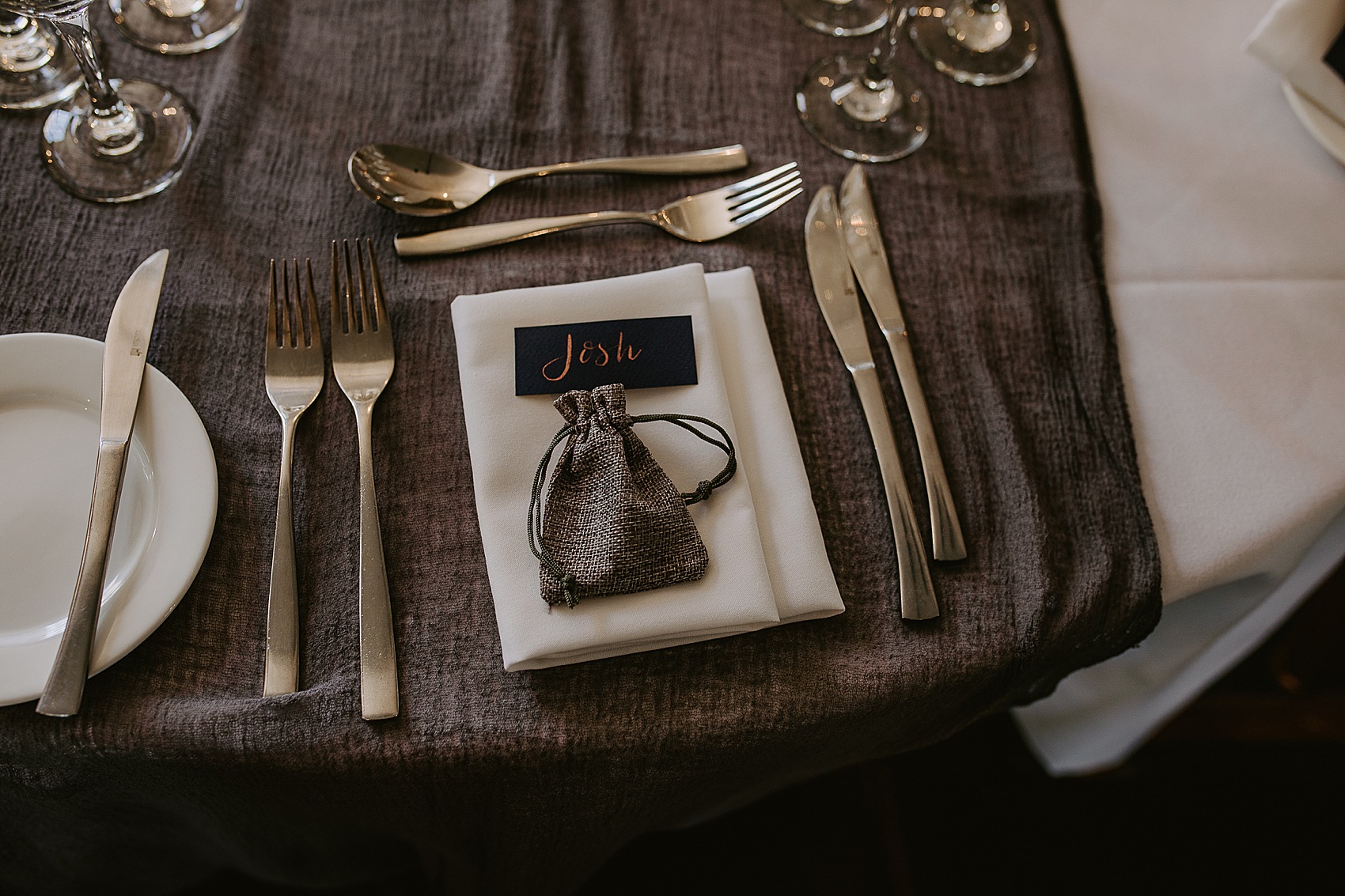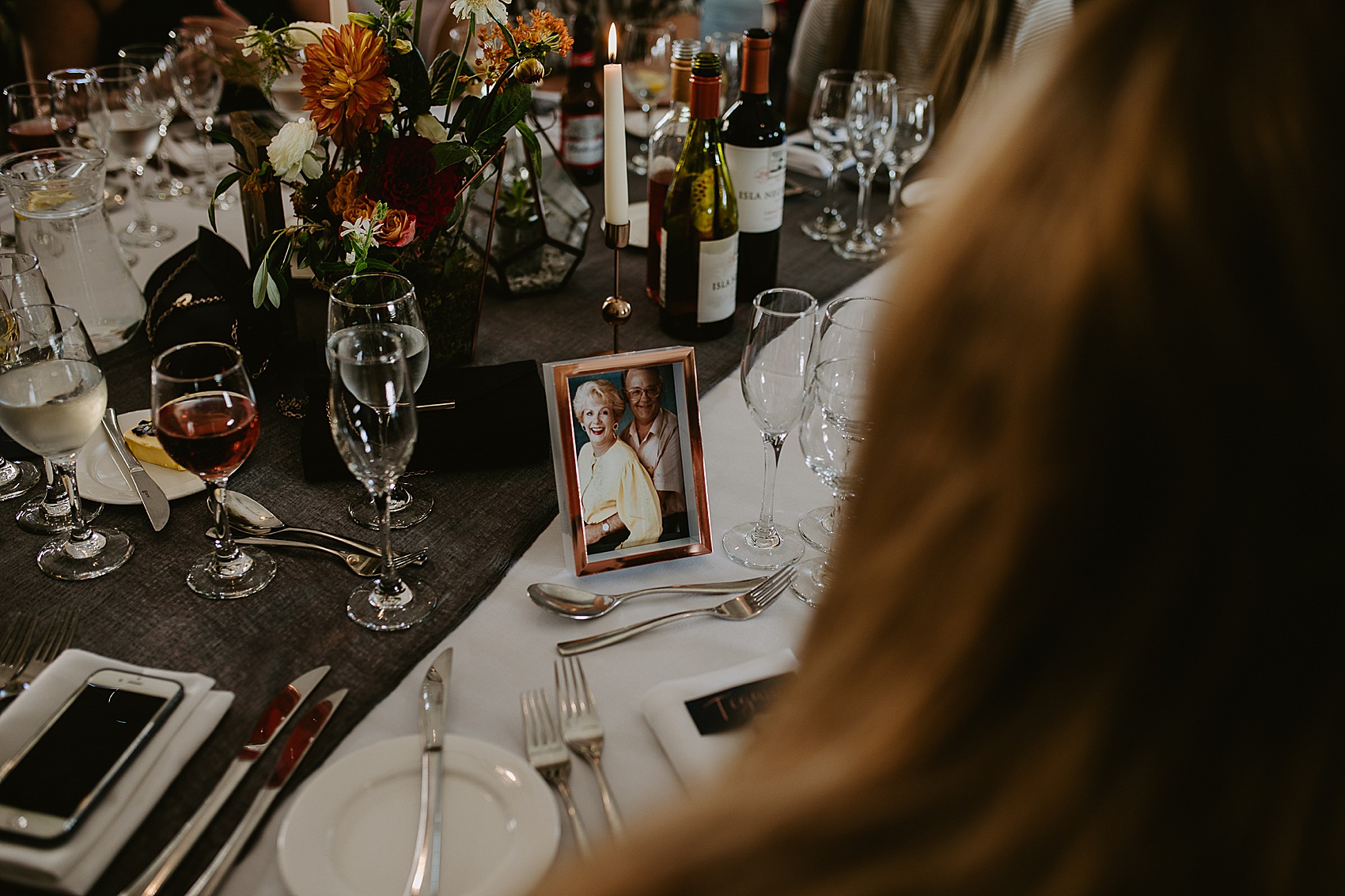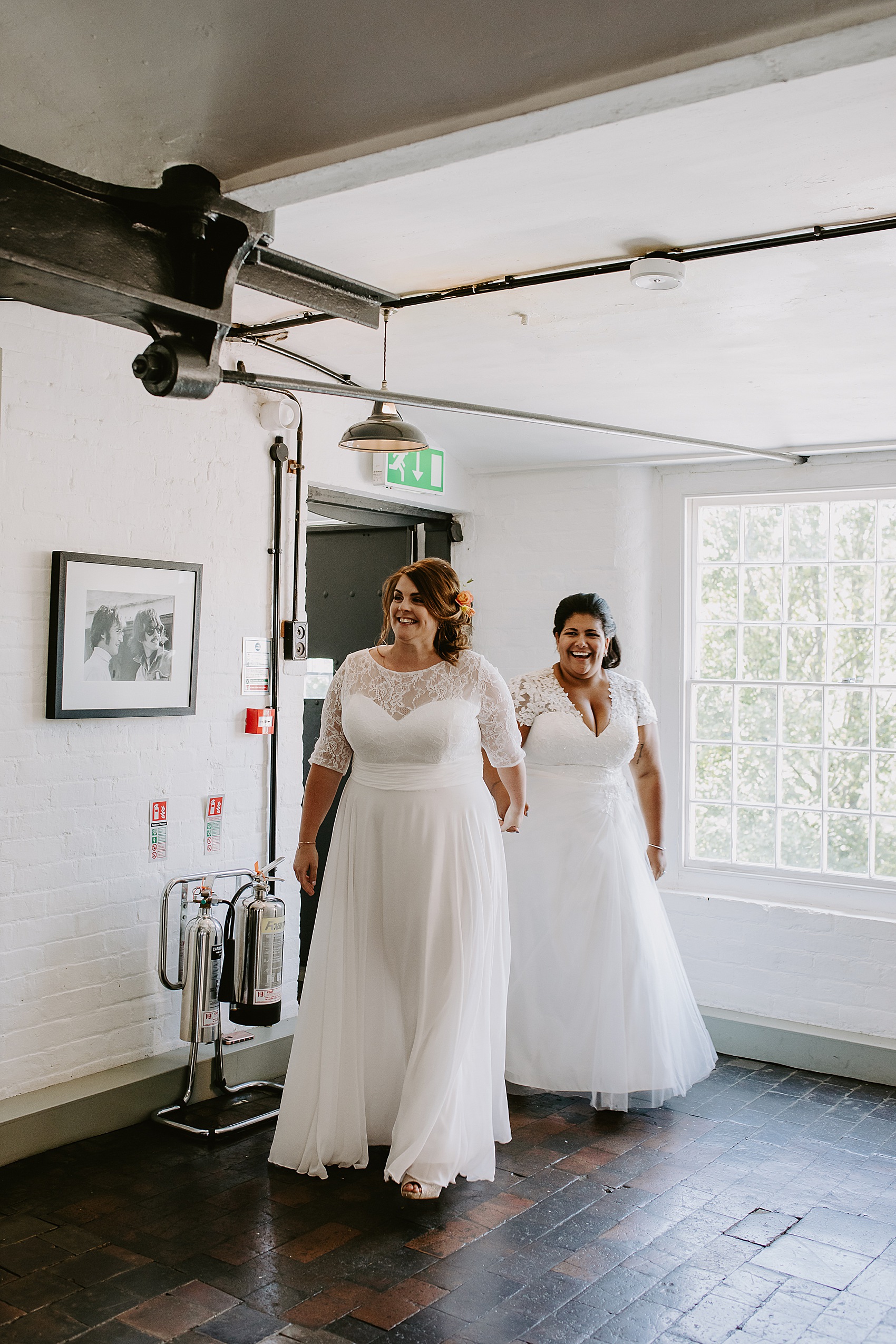 "We created signs and frames ourselves, and had a very handy stepdad for the bigger jobs. We also made a couple of games for outdoors, which seemed to go down well! Having the time and resources to do a lot ourselves really helped the budget, so we could spend money on people, rather than things."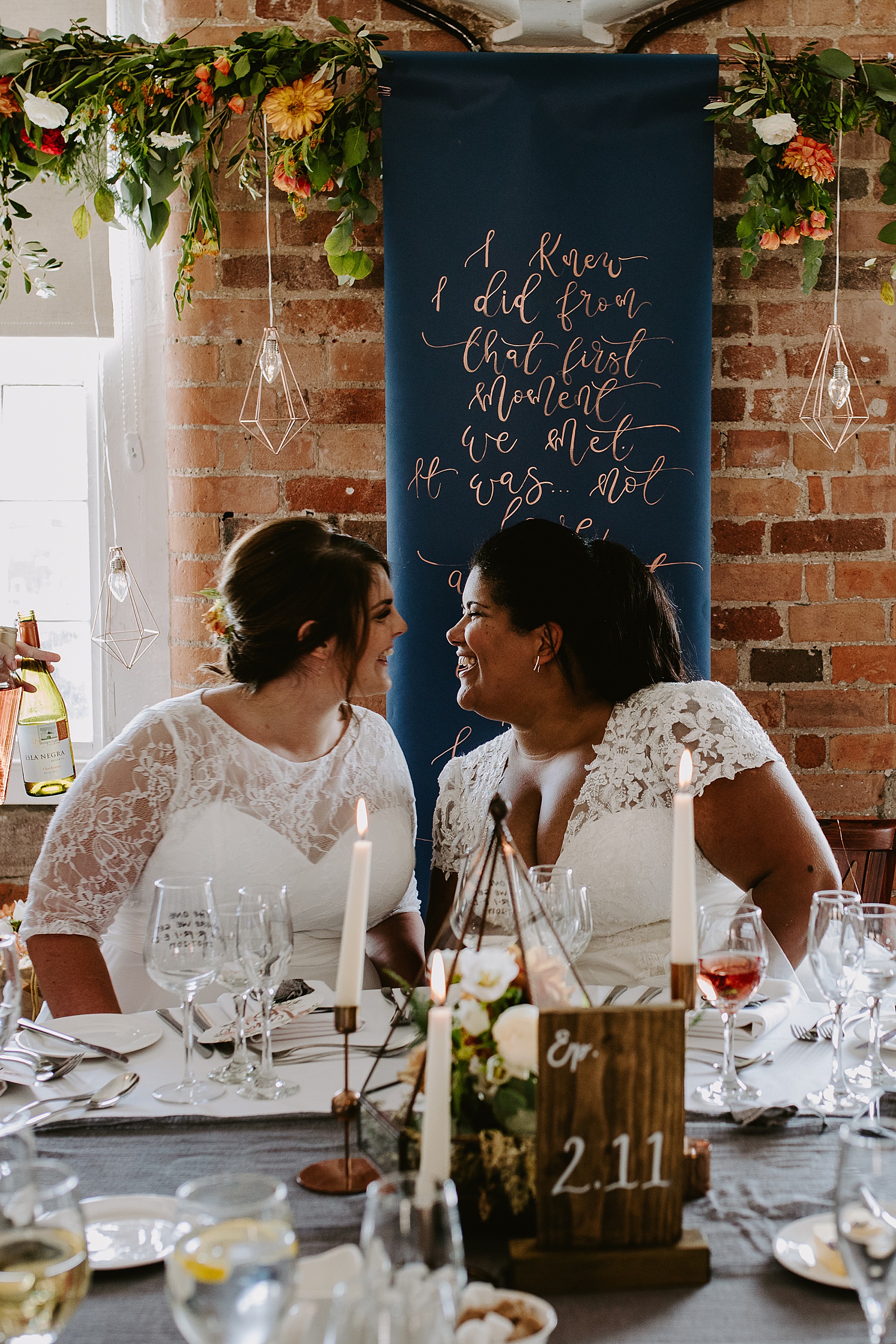 In keeping with the fun, relaxed feel of their day, the couple's wedding feast by Jenkinsons Caterers was also a relaxed (and delicious) affair. It began with mango and brie parcels, and was followed by chicken skewers, beef burgers, pasta salad, new potatoes, mixed leaves, and warm pitta breads.
"Cake was never a big thing for us. We are of the age that we'd been to a lot of friends' weddings, and we wanted to have something slightly different. Thankfully Kirsty's stepfather is extremely creative, and when we asked if he'd be able to fashion us some form of a doughnut wall, he did that and more! We still get compliments on it to this day!"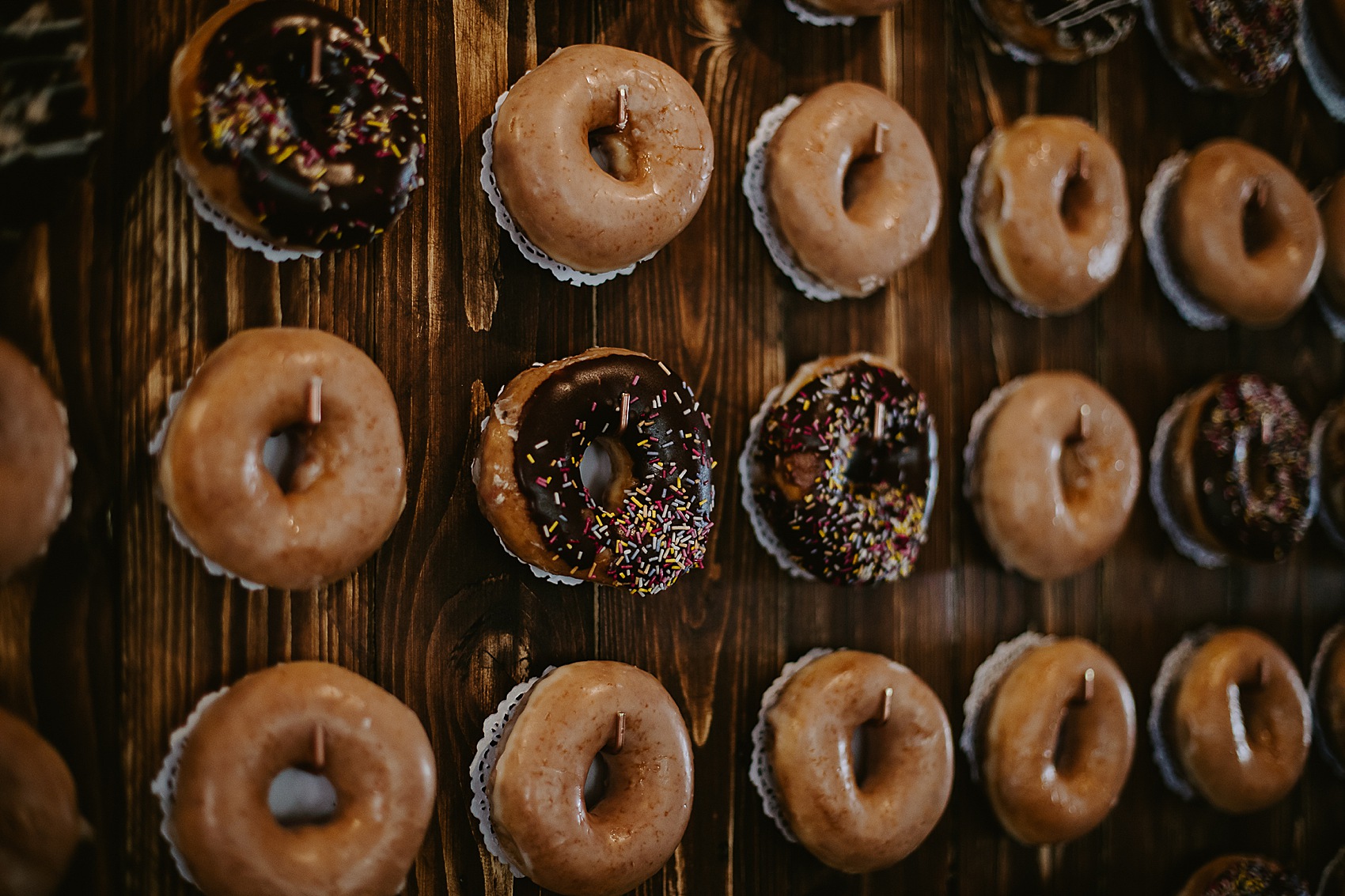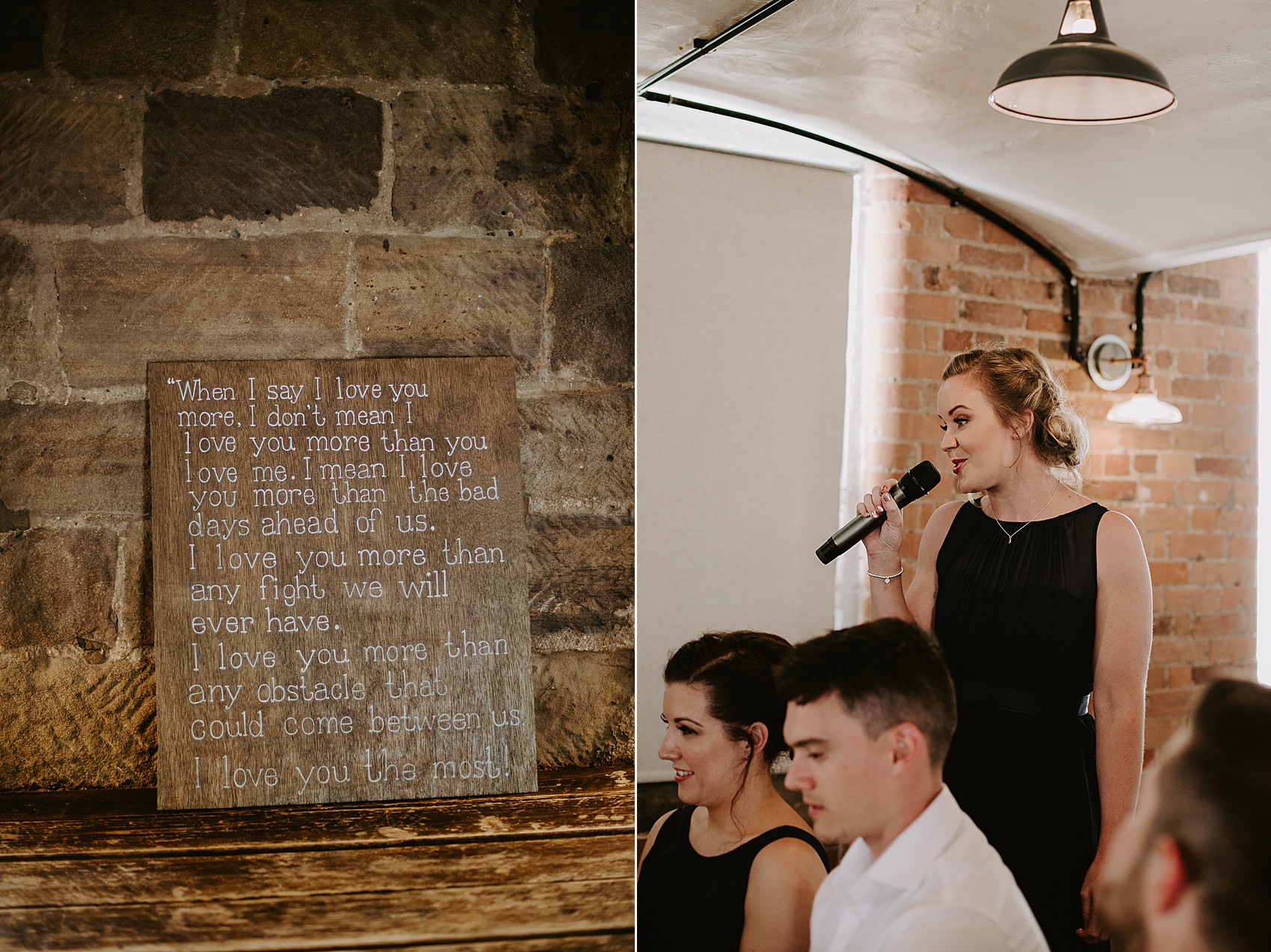 Band Dance Floor Fillers (booked via Entertainment Nation) lived up to their name, and when it came to Mel and Kirsty's first married dance together, the chose Parachute by Train.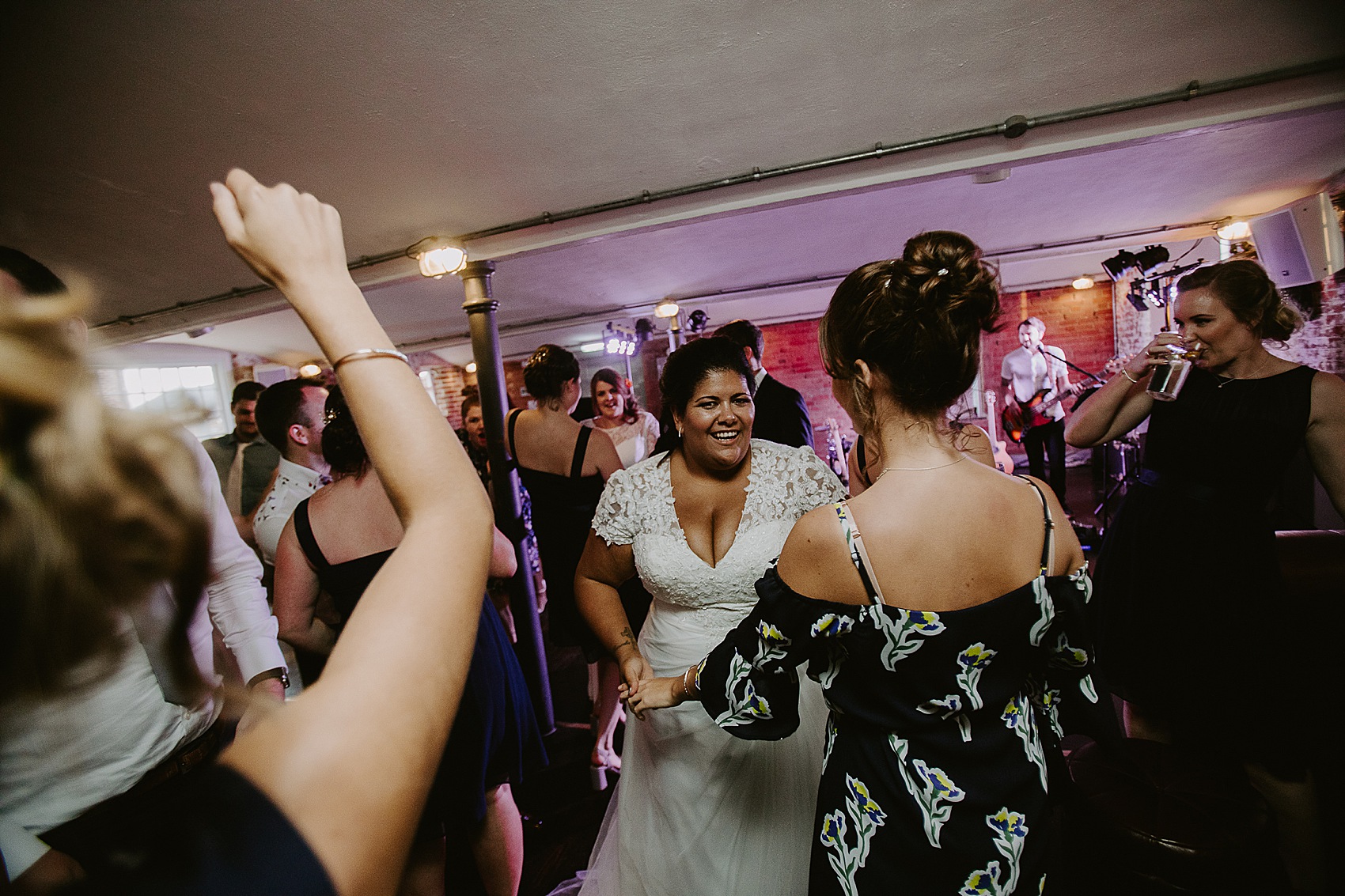 "We're not sure if it was anything more than an album track, but we had known for years that if we ever got married, this song would be part of the day."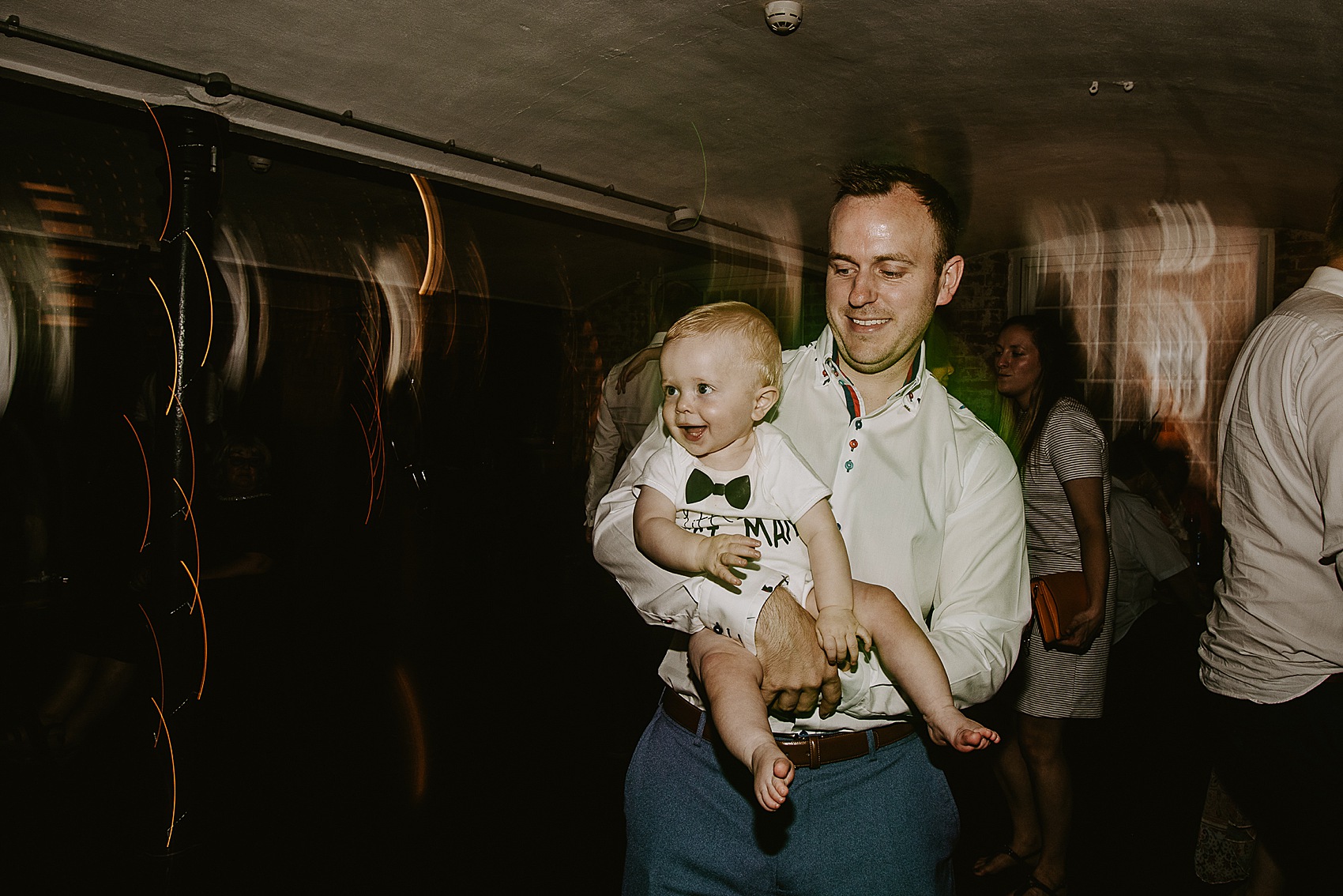 "Our favourite part of the day, I think was genuinely how happy everyone was for us. Someone said to us before we got married to enjoy, because never again will all the people you love be in the same room at the same time, and that really stuck with us."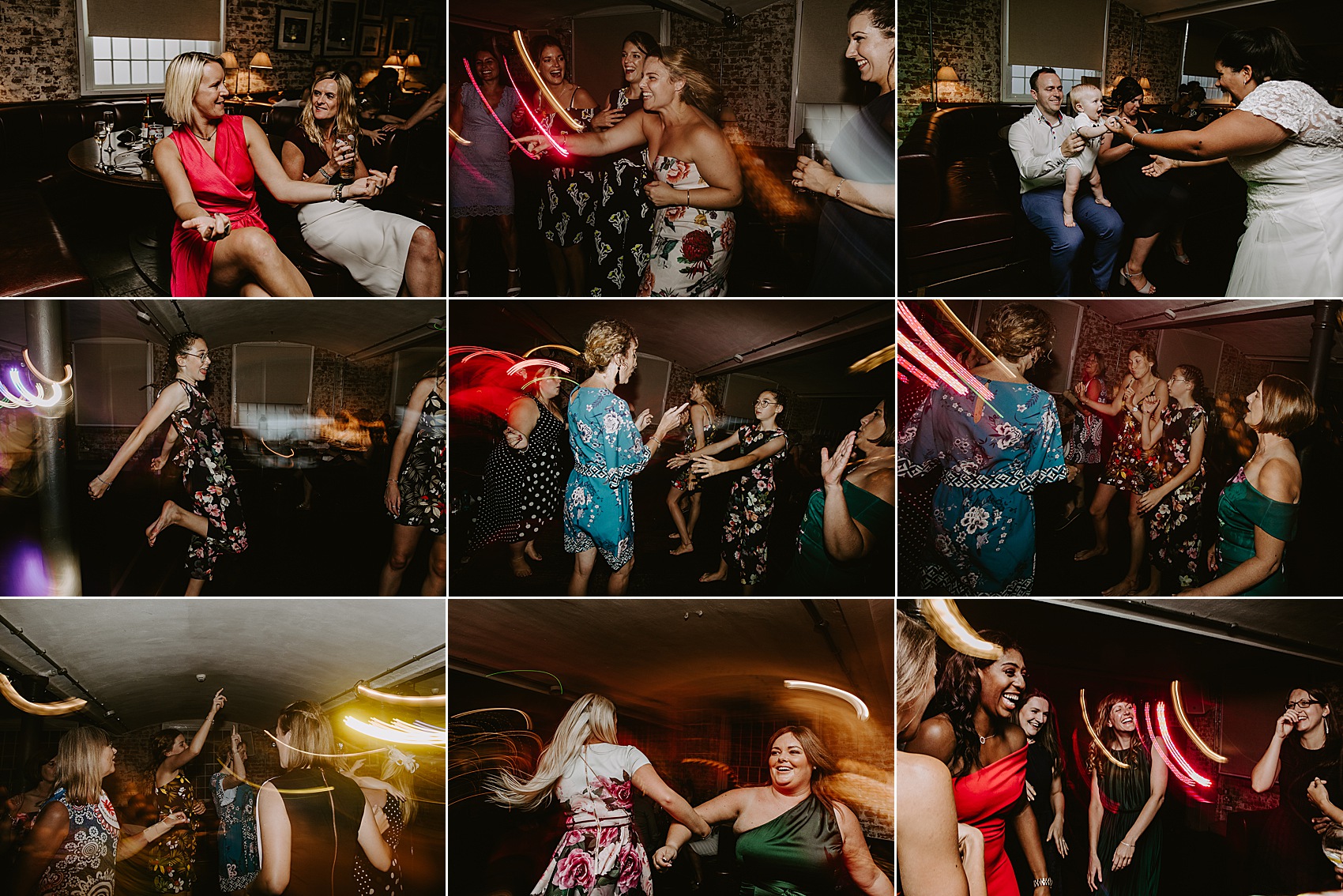 Words of Wedded Wisdom
"Make sure what you're doing is to make you happy and not others, and/or to pacify traditions."
"If you are gifted help with money or time for the day, remember it is a gift and you shouldn't have to compromise on things you want or don't want because of this (thankfully this never became an issue with us)."
Sign up to our mailing list today – we are utilising it to keep our community updated and connected during this period of global disruption
"Don't overstretch the budget. Our wedding day was incredible and everything we wanted, but we did so making sure we weren't going to be paying for it for years to come. The wedding day will be amazing, but remember the most important part is actually the marriage that comes after."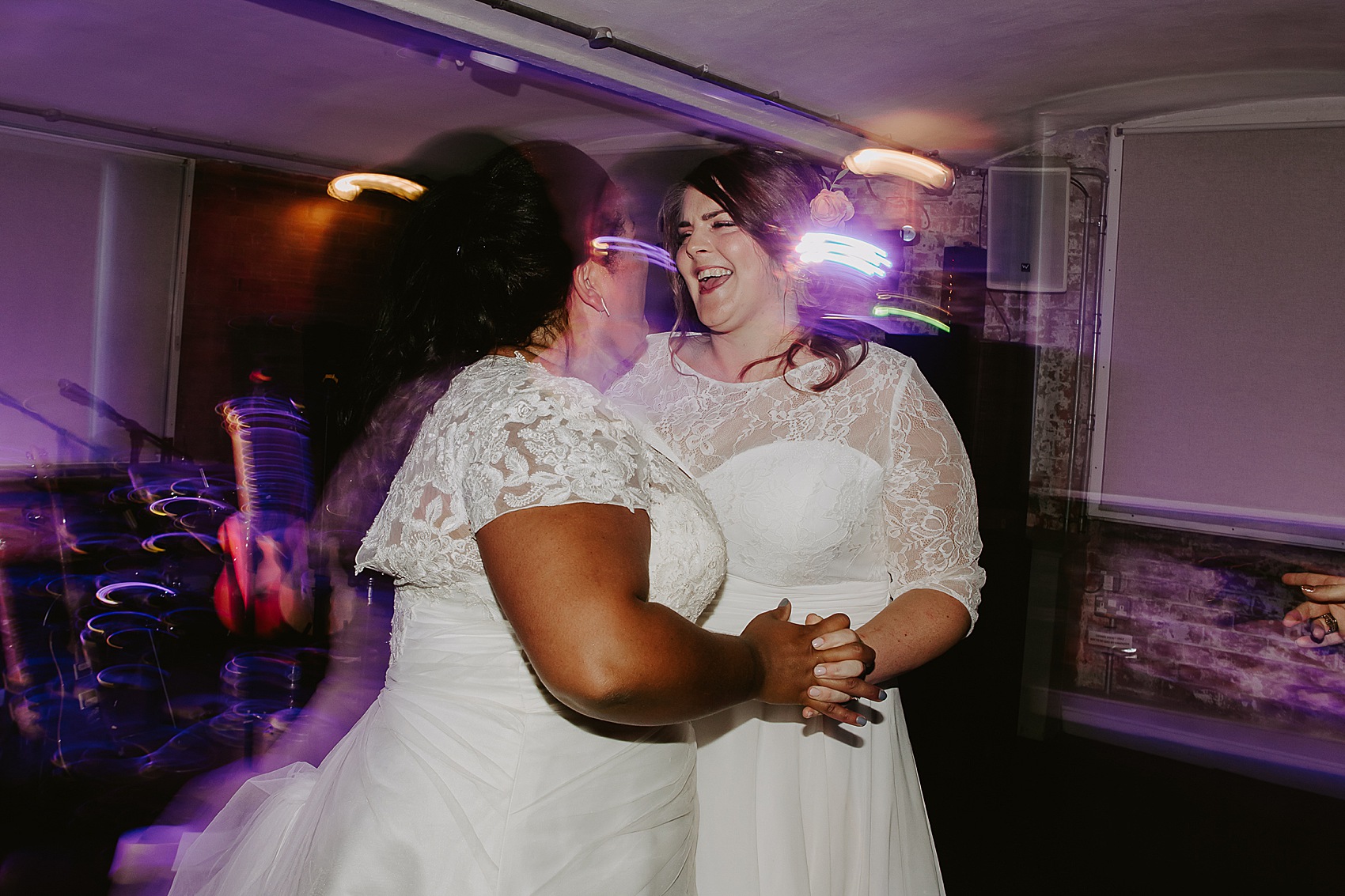 Kirsty and Mel, thanks to you both for your beautiful words throughout this piece, thanks for sharing your day with us, and as you approach your first anniversary, congratulations, too! Huge thanks to Sarah Gray for these truly lovely images.
With love,
Laura