For today's charming addition to our wedding blog,  you'll see it used to wonderful effect all around the country house our couple were married at. This is the wedding of Mr and Mrs Livesey: Caroline, who works in marketing, and Stuart, who is a graphic designer.
This lovely pair were wed on the 30 May at Knighton House, on the banks of the River Stour in rural Dorset.
Sam cook Photography

+ Follow
"We looked tirelessly for the perfect venue for our wedding. We had quite a long engagement, so the search spanned at least 3 years! We wanted something ideally in the countryside (a link to my country upbringing) and also something that looked beautiful and offered us the relaxed vibe that we wanted."
"Knighton House was perfect. It was a bit of a blank canvas in terms of styling, but the beautiful house and gardens spoke for themselves. The venue offered us several ceremony, dining and reception options, which was great, and it had a huge dancefloor, which was really important to me!"
Caroline looked like a dream in her gorgeous Willowby by Watters dress (the 'Heaton'), which she discovered at Stephanie Frances Bridal in Southbourne, near to Bournemouth. I love the cross-over plissé pleating at the front of the bodice, with delicate lace at the back, and its pretty off-the-shoulder straps.
"Both Stephanie and her gorgeous boutique are simply amazing. From the very start, Stephanie was so welcoming and kind. After picking out the dresses I wanted to try on, Stephanie asked if I would like to try on a dress she thought I might like – and I more than liked it – it was the dress I ended up buying, and wore on my wedding day."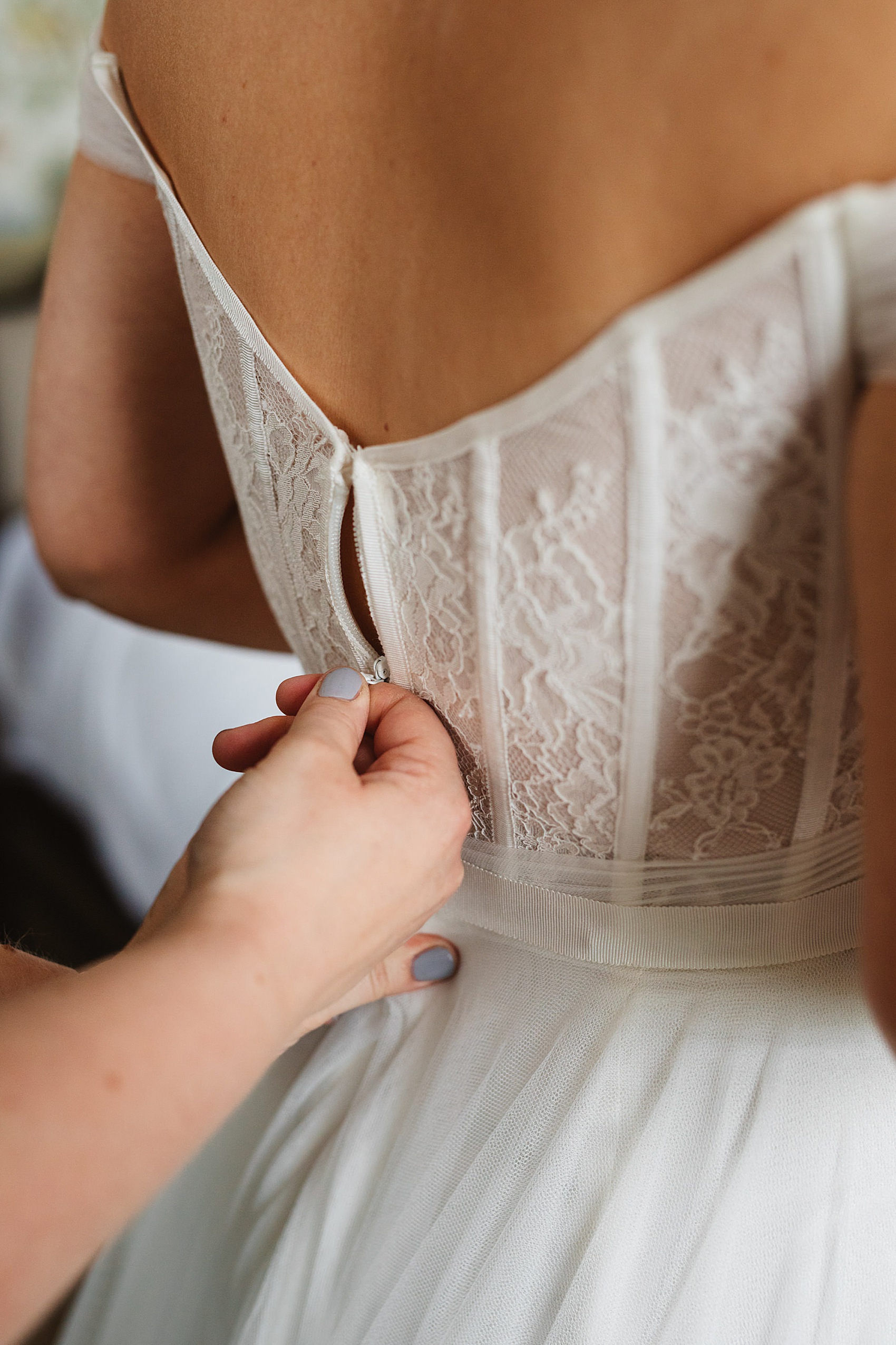 "Stephanie carried out all the fittings and alterations herself, and really listened to my comments and feedback during my visits. She is one very talented lady. She provided an amazing service from start to finish. She made me feel comfortable, reassured, and special. I cant thank her enough."
"I loved that the dress was quite simple in nature, yet it has this gorgeous lace back, which I absolutely adored. It also had a lovely tulle skirt, which was something I was keen on from the start, and it had the boho vibe I wanted. It was also just a little bit sexy, which was something I didn't really know I wanted!"
Caroline wore pink wedges in a soft, dusty shade from Matalan, and for jewellery, a delicate pearl pendant necklace from Liberty in Love. Her wedding day perfume was one of her favourite fragrances – Daisy by Marc Jacobs.
"I found Sapphire Styling whilst scouring the web for a local, professional and affordable hair and make-up artist. I was so thrilled when I found Wendy, as she was professional, had great testimonials, and her rates were very competitive. Wendy was so easy to get along with, and knew exactly how to achieve the look I wanted. She is organised, efficient, and super reliable, not to mention incredibly talented."
"At my trial, Wendy gave me great hints and tips for the lead up to, and on the day of the wedding. She kept to timings on the morning of the wedding, which made it very relaxing, and enjoyable. We even had time for a couple of glasses of bubbly."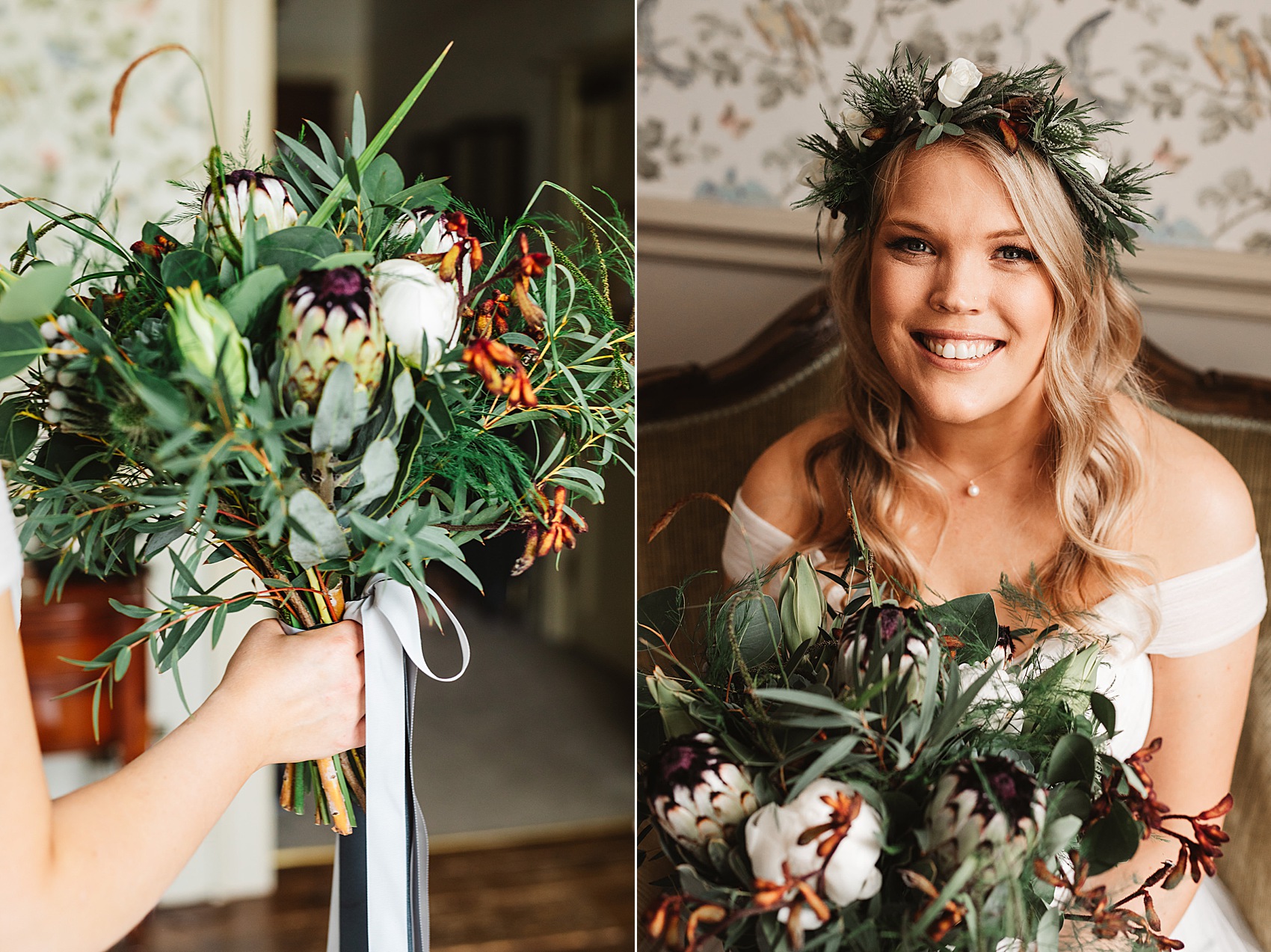 In her hair, Caroline wore a beautiful flower crown, which went perfectly with her spectacular, wild bouquet by Lesley from Flowers by Occasions. I love all the wonderful greenery – succulents and thistles, ferns and grasses, and the little bursts of colour from protea, peonies, hypericum and vibrant orange kangaroo paw.
"Lesley is an extremely knowledgeable, talented and experienced florist. She is truly a master as what she does. She was the florist that my sister used for her wedding. She was so amazing and came highly recommended, so it was a no-brainer to use her as a supplier at our wedding."
"There are two things that made Lesley so amazing. The first is her ability to create something so incredibly beautiful and 'on brand' based on a few meetings, and a bunch of Instagram inspiration. Lesley shows genuine passion for what she does, and loves a challenge, and to do something a bit different. The service offered was outstanding, she is affordable, and very reliable."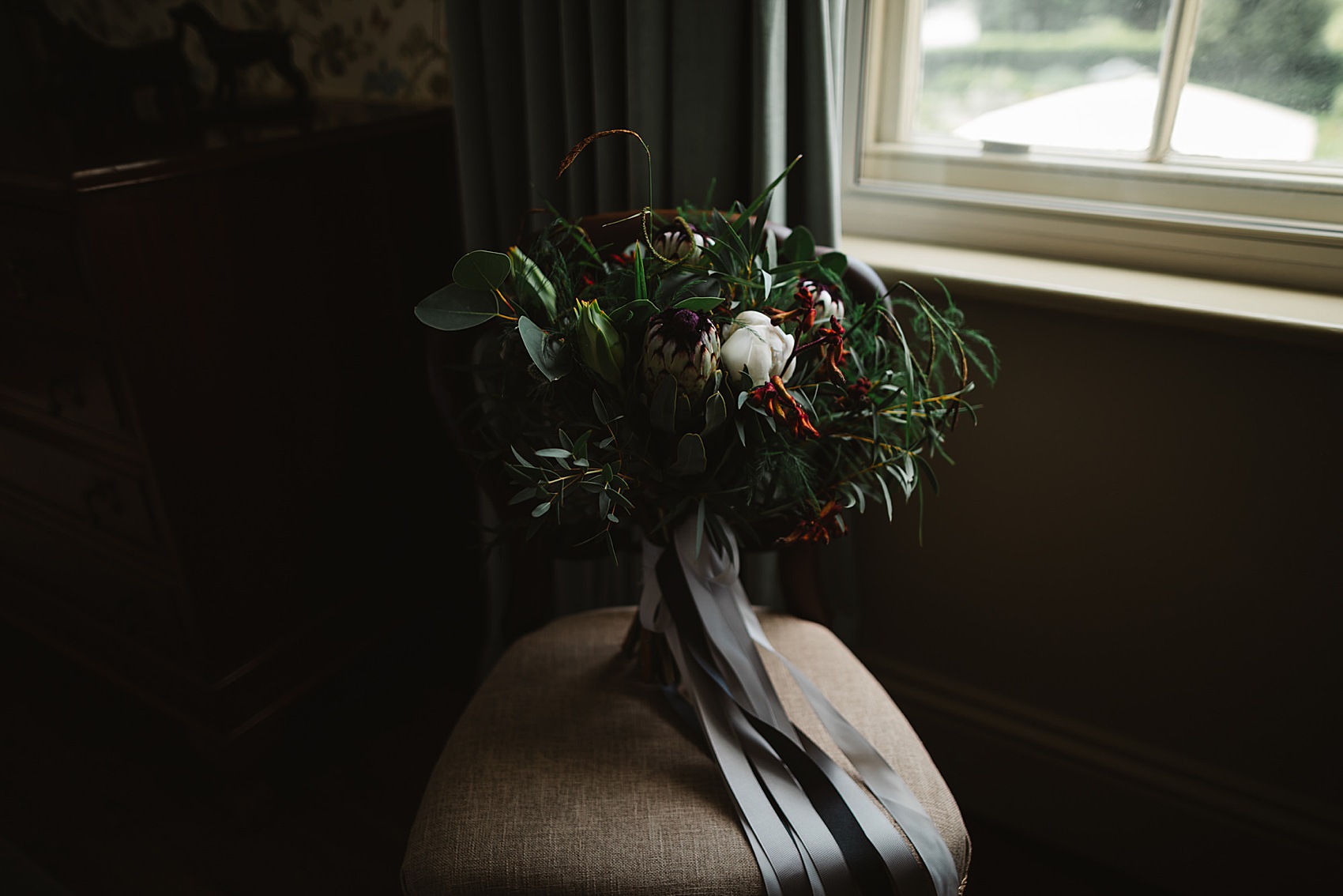 "The second thing that made Lesley so amazing was how understanding and helpful she was when we explained that my mum would be doing the venue decoration. She was not offended in the least that we wouldn't be using
her services for all the flowers."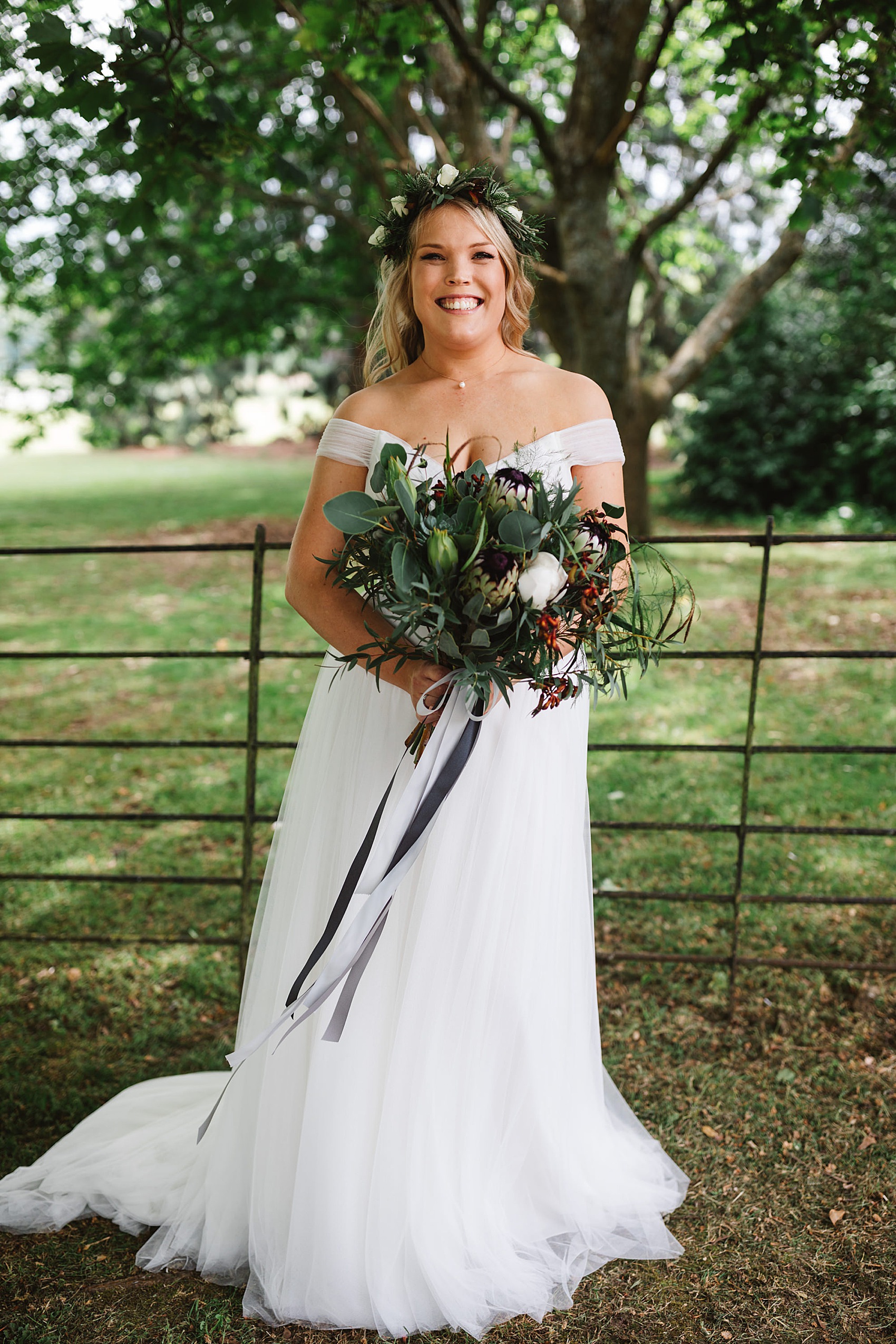 "In fact, she was the opposite – she offered to help my mum with supplying some of the foliage needed for the venue, and also gave her great hints and tips for how to use it. Lesley is incredible, and I would recommend Flowers by Occasions to any couple."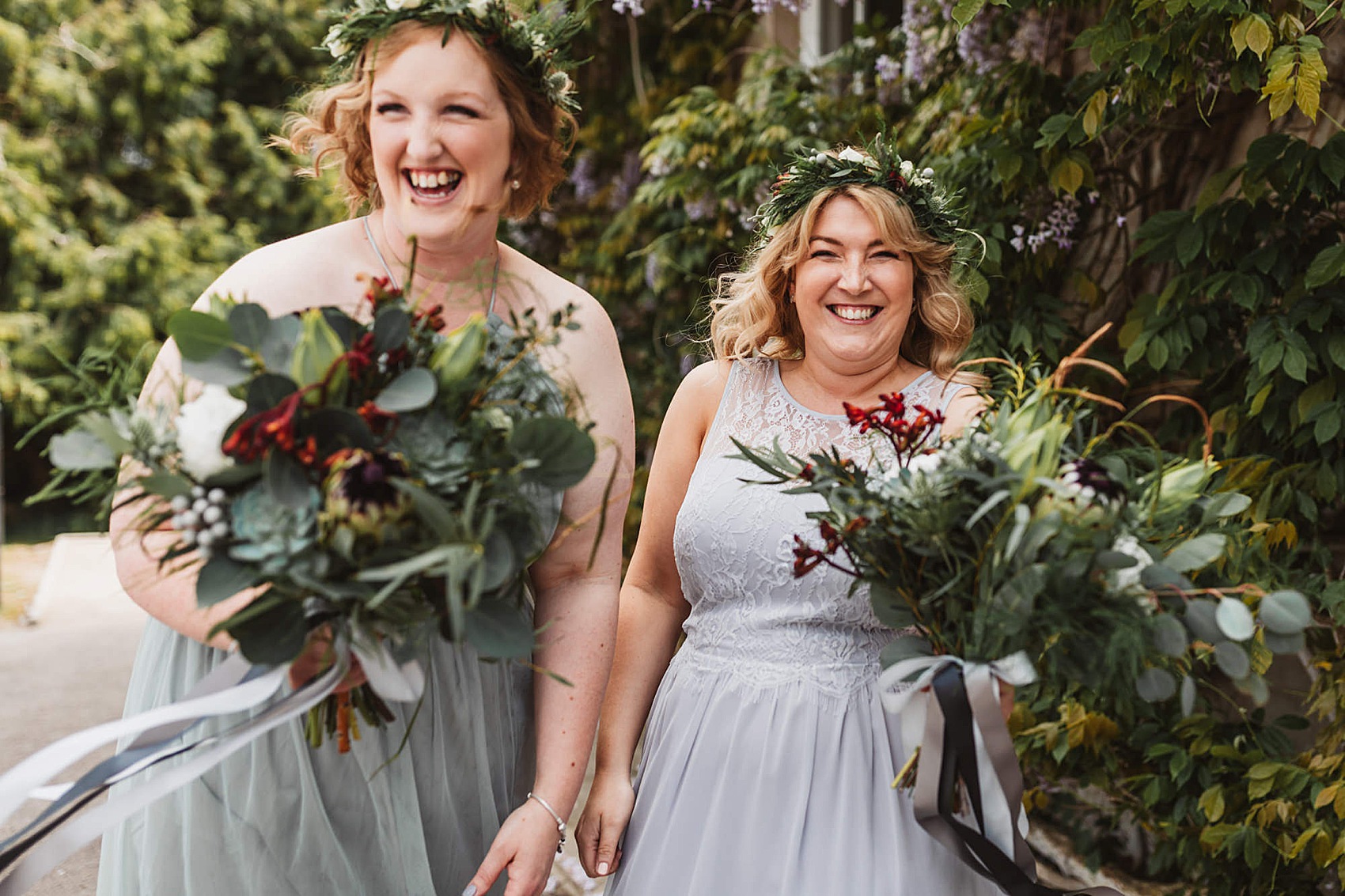 The bridesmaids wore flower crowns, and maxi dress from Dorothy Perkins and Little Mistress, and Caroline and Stuart's son Jacob (who was 2 when they were married) wore a smart little outfit from Next.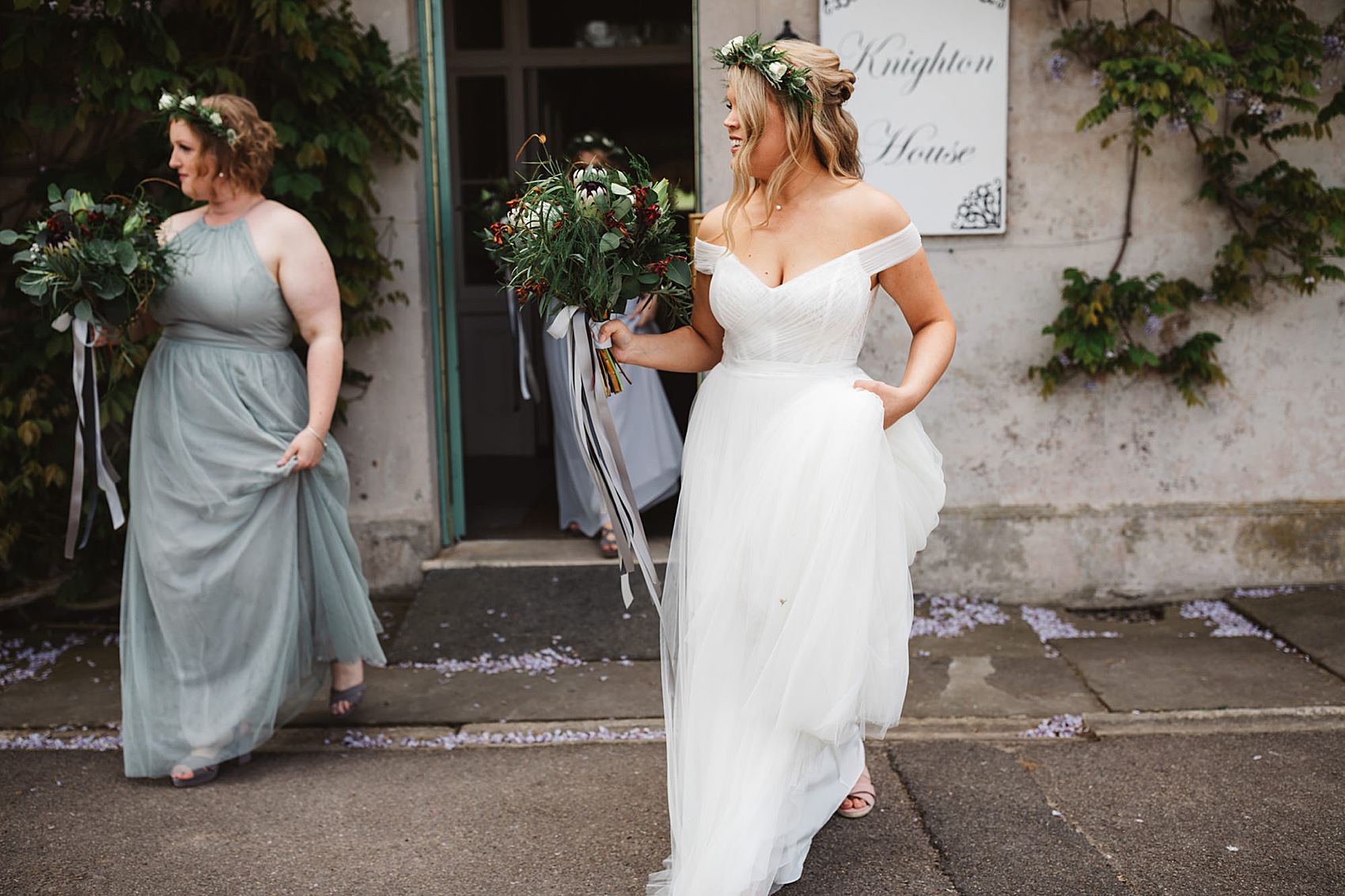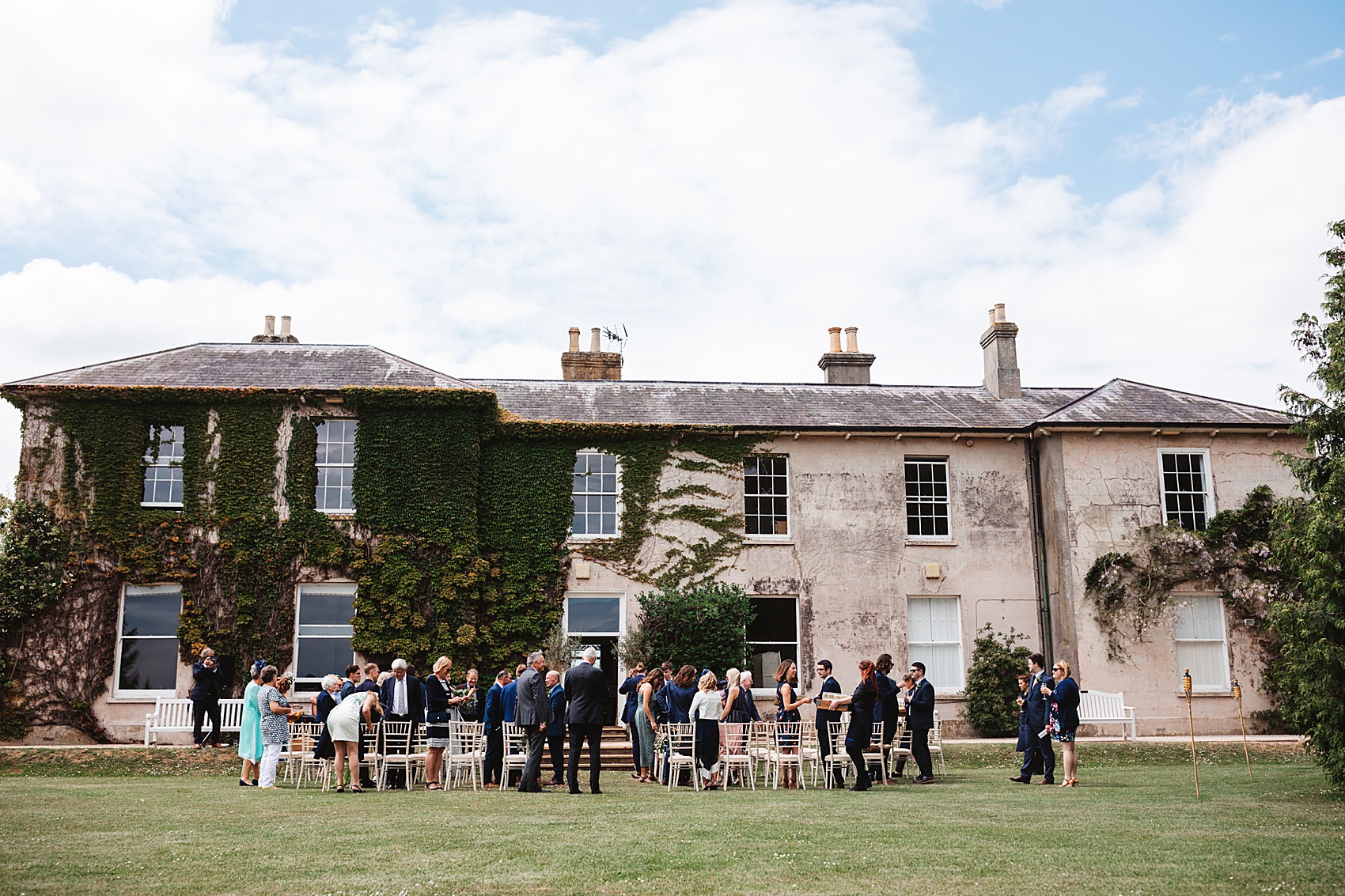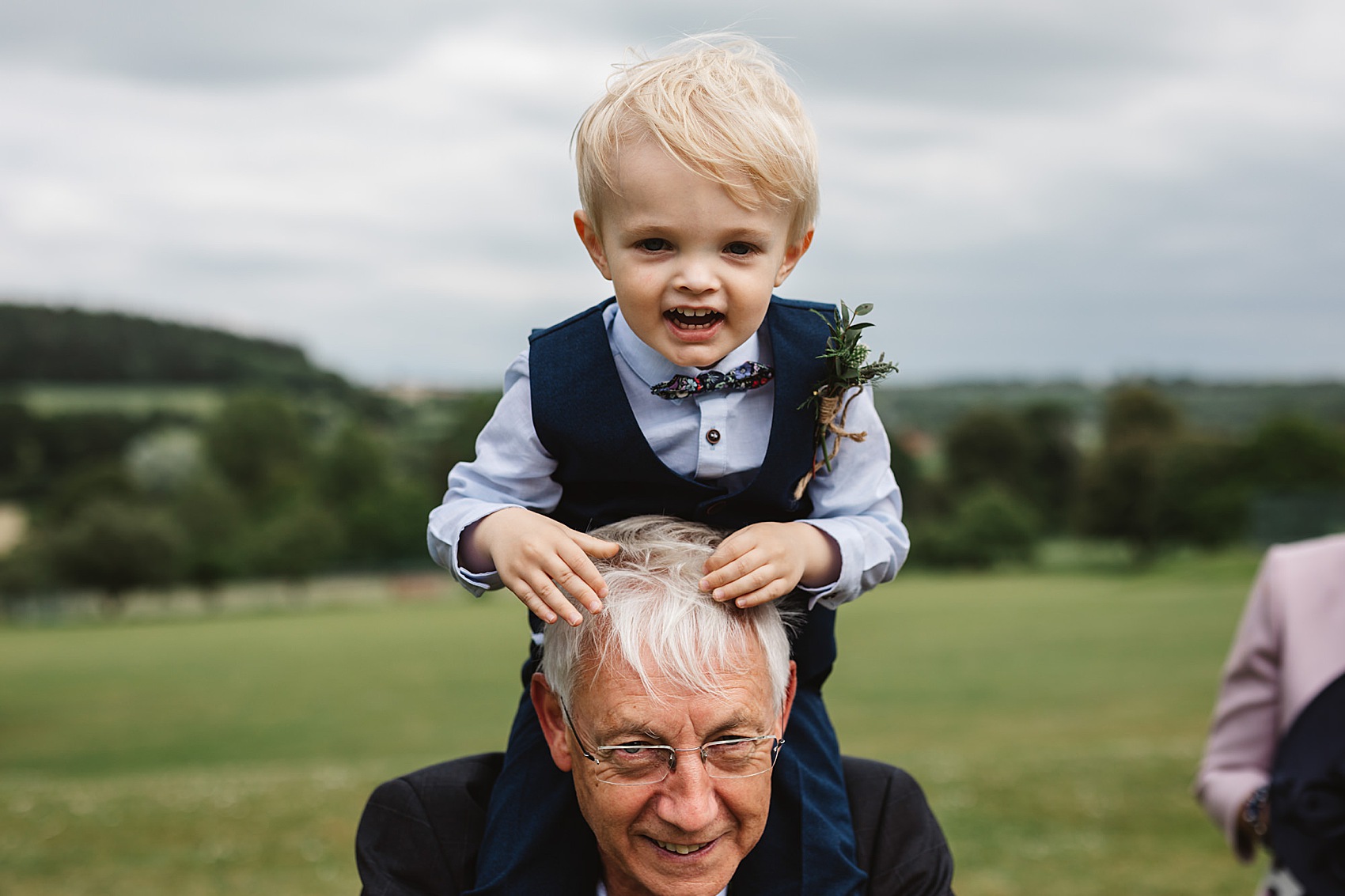 "My dad accompanied me down the aisle. I wouldn't have had it any other way. We asked Ant from our band The JetFighters if he could play Here Comes the Sun by The Beatles whilst I walked down the aisle."
Explore superb suppliers and beautiful venues in our Little Book Wedding Directory
"Stuart and I listened to a lot of The Beatles during our university years, and it is such a beautiful song that we both love."
Caroline and Stuart held an outdoor ceremony, and as loved ones looked on, they made their vows in the doorway of Knighton House, with its ivy covered walls as a lush, green backdrop.
"Stuart's brother's girlfriend, Saskia, read a beautiful reading during our ceremony. It was the lyrics to a song by Johnny Cash, Happiness Is You. I searched tirelessly to find a reading that was unique, and something short. I started looking through lyrics of artists both Stu and I like, and I found this, which I think was perfect."
The couple both wanted simple wedding bands – a half eternity ring for Caroline, and for Stuart, one made from titanium. They both found their perfect ones at Ernest Jones, where Stuart had also chosen Caroline's engagement ring.
"Stuart and I first met in Salisbury, when we were about 14 years old. We spent a lot of our teenage years together, either as friends or as a couple. We were together throughout university, and after graduation in 2011, we bought our first house together."
"After living together for 4 years, in 2015, Stuart proposed at The Headland Hotel in Newquay, on the cliffs, whilst we watched the sunset. It was a complete surprise! We started wedding planning straight away, but just 1 month later, I found out I was pregnant with our son. Wedding plans got put on hold, and we decided to get married after the baby arrived."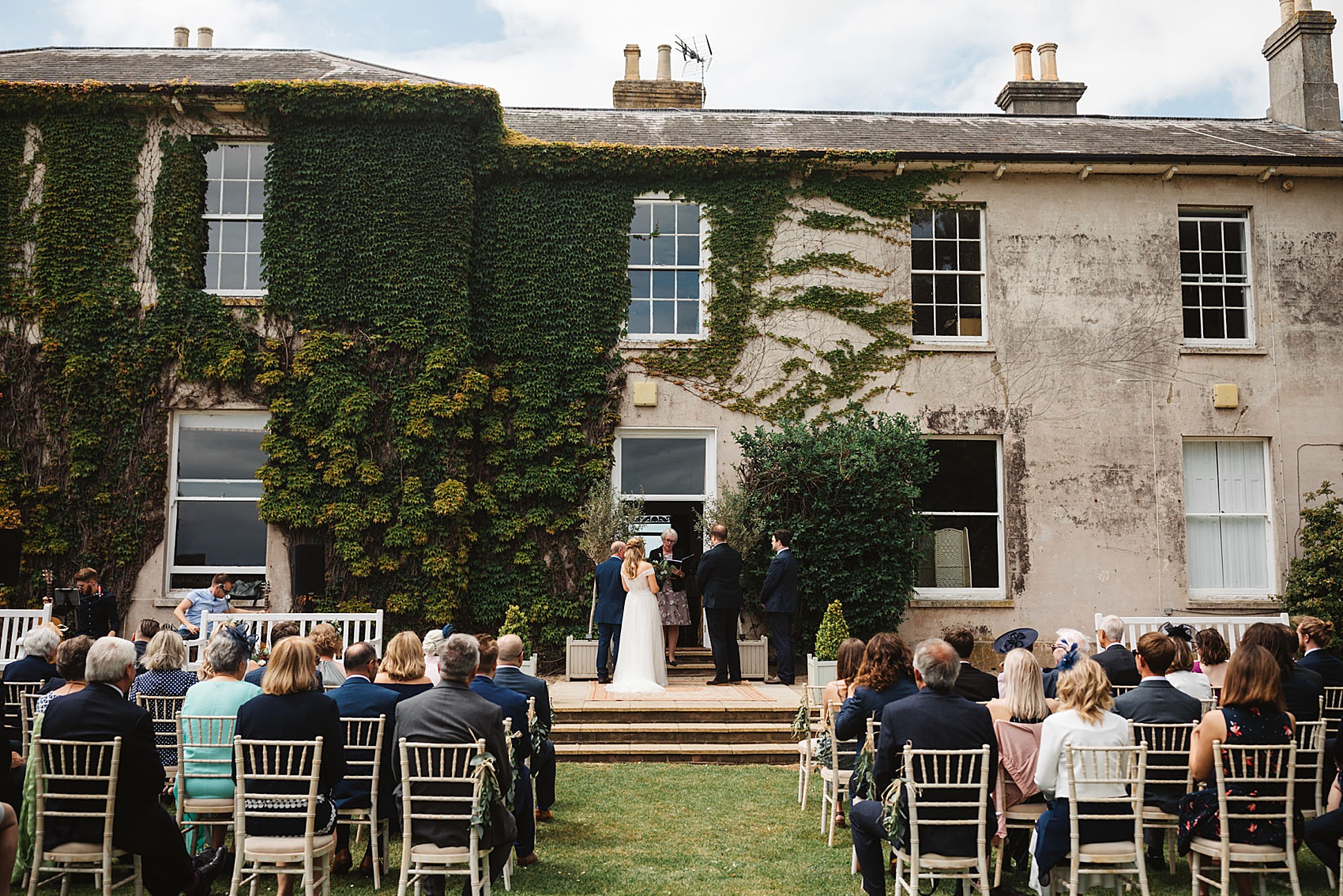 "After nearly 2 years, in early 2018 we started to plan the wedding again, and in spring 2018 we found Knighton House, and set the date for a year later in May 2019. We were really keen to have our son Jacob involved in the wedding, so setting a date when he would be old enough to enjoy the wedding was important."
Stuart wore a navy blue herringbone tweed three-piece suit from Racing Green at Suit Direct. He paired it with a Marks & Spencer shirt, and shoes by Clarks Originals.
"We want to give a special mention to James Lear of Arundel, as they were fantastic in helping to make and supply a batch of ties for the groom and groomsmen, and they had great customer service."
Glasses of ice cold fizz and delicious canapes were enjoyed on the lawn after the ceremony, whilst the newly married couple took a stroll and enjoyed a little time for just the two of them.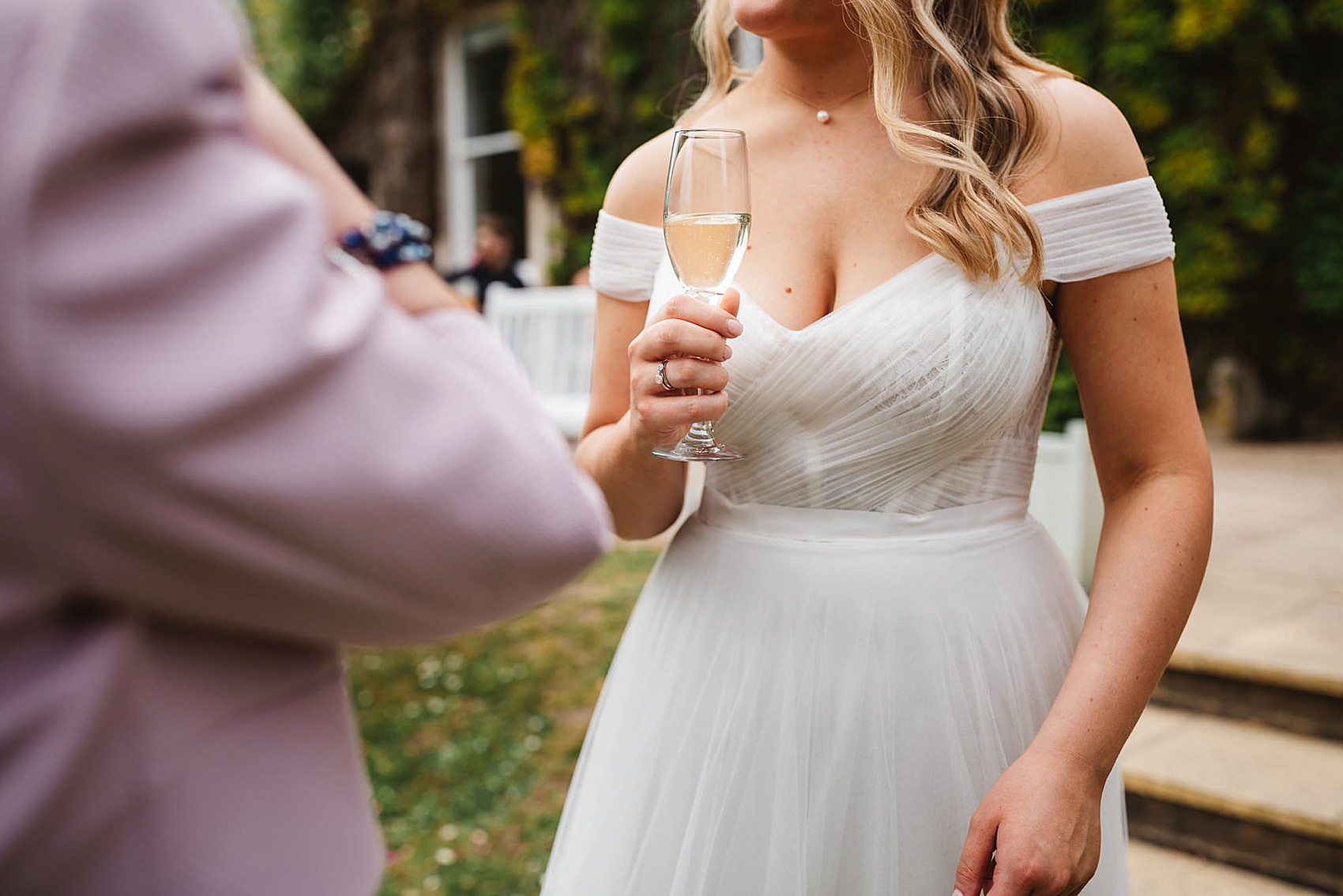 Everything was captured exquisitely by their photographer Sam Cook, who found the most beautiful settings, and picked up on all the gorgeous details.
"Sam was recommended to us by the photographer that shot my sister's wedding. We loved my sister's photographer, and wanted a similar style of photography, but at the same time, we wanted to use someone different. Sam was absolutely amazing from start to finish!"
"Her photos are so creative and beautiful, and captured so many lovely natural shots of both us and our guests. Sam is a very talented photographer, and also a fantastic people person. All the guests commented on how lovely she was."
It really was like having a friend there, rather than a supplier, she just blended in so easily. Stuart really doesn't like having his photo taken, so he was a bit worried about all the couple shots. but Sam made it so incredibly easy, and we just smiled and laughed the whole time."
"Sam has provided us with some beautiful memories that will last forever, and we can't thank her enough for that! We wouldn't hesitate to recommend Sam to anyone looking for a photographer for their wedding."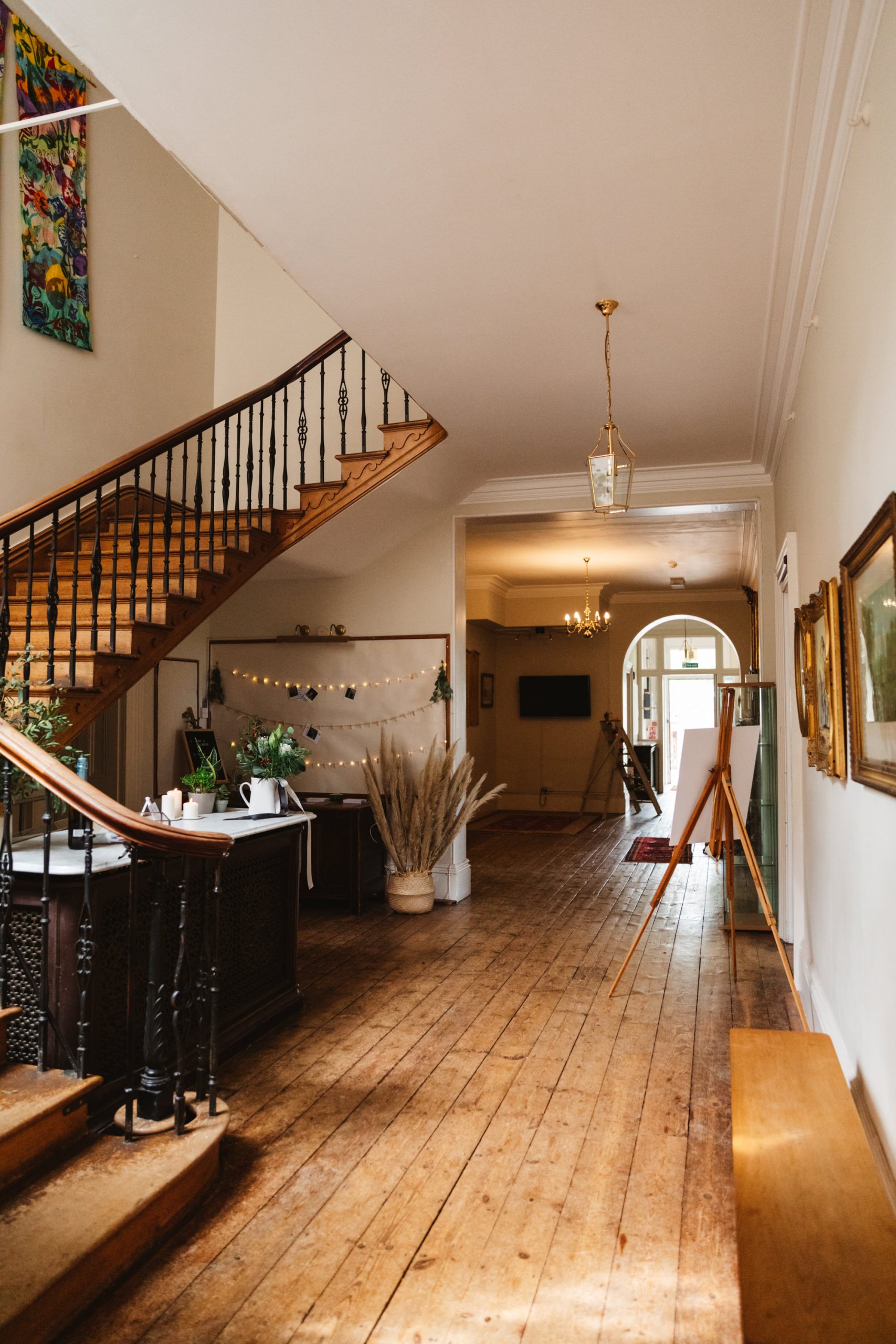 In keeping with the idyllic rural setting of their venue, Caroline and Stuart wanted the styling to feel natural and rustic, with a palette of complimentary colours for a relxed, boho feel.
"We were quite keen to include succulents into the day, and these influenced the colours and styling throughout the venue. My mum Vanessa took on the challenge of doing all of the venue decoration. She obtained the foliage she needed from our florist, friends' gardens, and from her own garden."
"Stuart created the most beautiful flag labels with the guests names on. Guests were able to put their succulents to one side, and take them home that evening. I was so pleased with how the favours turned out. They were one of my favourite parts of the whole wedding."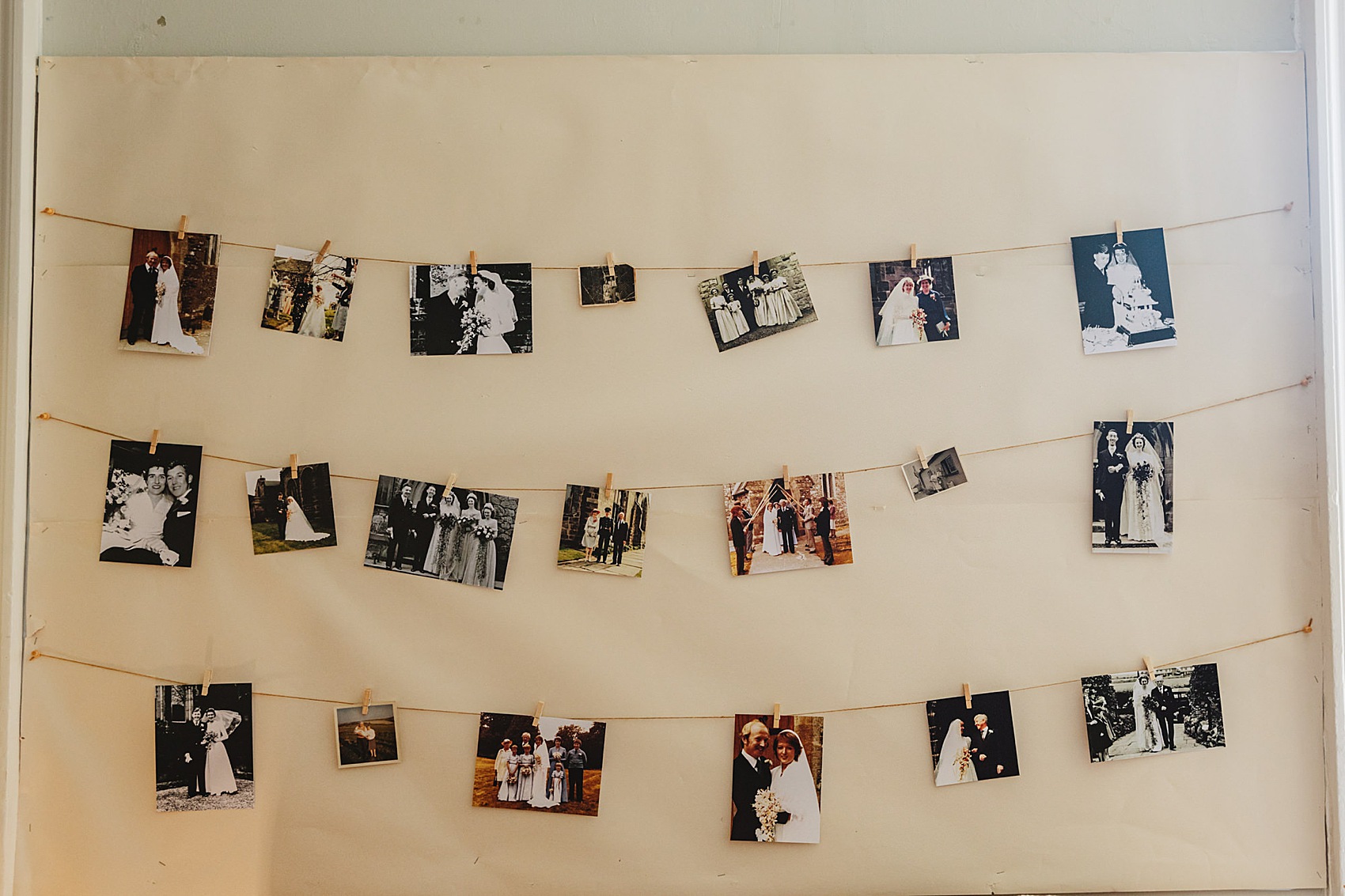 "She decorated the three fireplaces in the venue, the tables, the chairs, all down the aisle and much more. Not only this, but along with my Grandmother, she cultivated and grew over 100 succulents to use as decoration around the venue, and for the 55 table favours for the guests."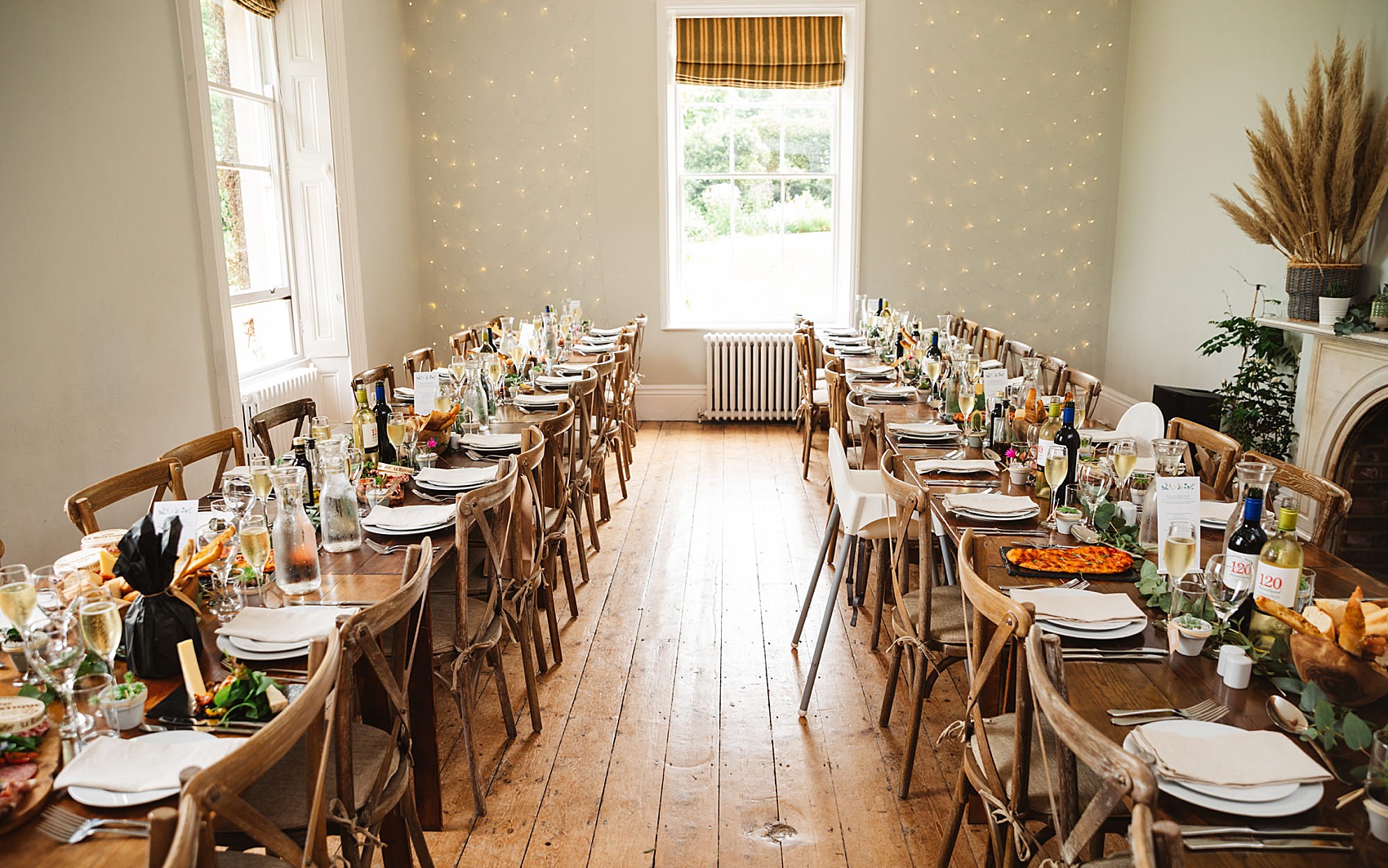 Providing the couple with brilliant support and guidance was Knighton's wedding coordinator Lucy Hinks, and Caroline and Stuart are full of gratitude for the way she helped with everything.
"Lucy was the most fantastic help from start to finish, and I can say hand on heart that our wedding would not have been the same without her help, support and assistance. Lucy has the most fantastic sense of humour, and is not fazed by anything."
"She was totally on board with all my ideas, and was always contactable with questions, etc. She made some fantastic supplier recommendations, and really helped us pull off the wedding of our dreams. She really is something special."
One such excellent supplier recommendation from venue coordinator Lucy was Caroline and Stuart's caterers, Indulge Catering and Events, who gave them great ideas – and served the most excellent food.
"Sarah from Indulge is one of the most creative, inspiring and passionate caterers out there. She was fantastic at giving us ideas of how we could make our wedding breakfast menu something really special. We had the idea of having a feast/sharing style dinner, where guests could pick and choose from some barbecued meats, halloumi and salad options."
"We also had a very relaxed sharing starter of breads and meats, which could be devoured whilst the speeches were happening. Guests seemed to love this as they didn't have to wait until speeches were over to eat! Sarah helped us to create a feast that was not only beautifully tasty to eat, but looked incredible on our long, rustic banquet tables."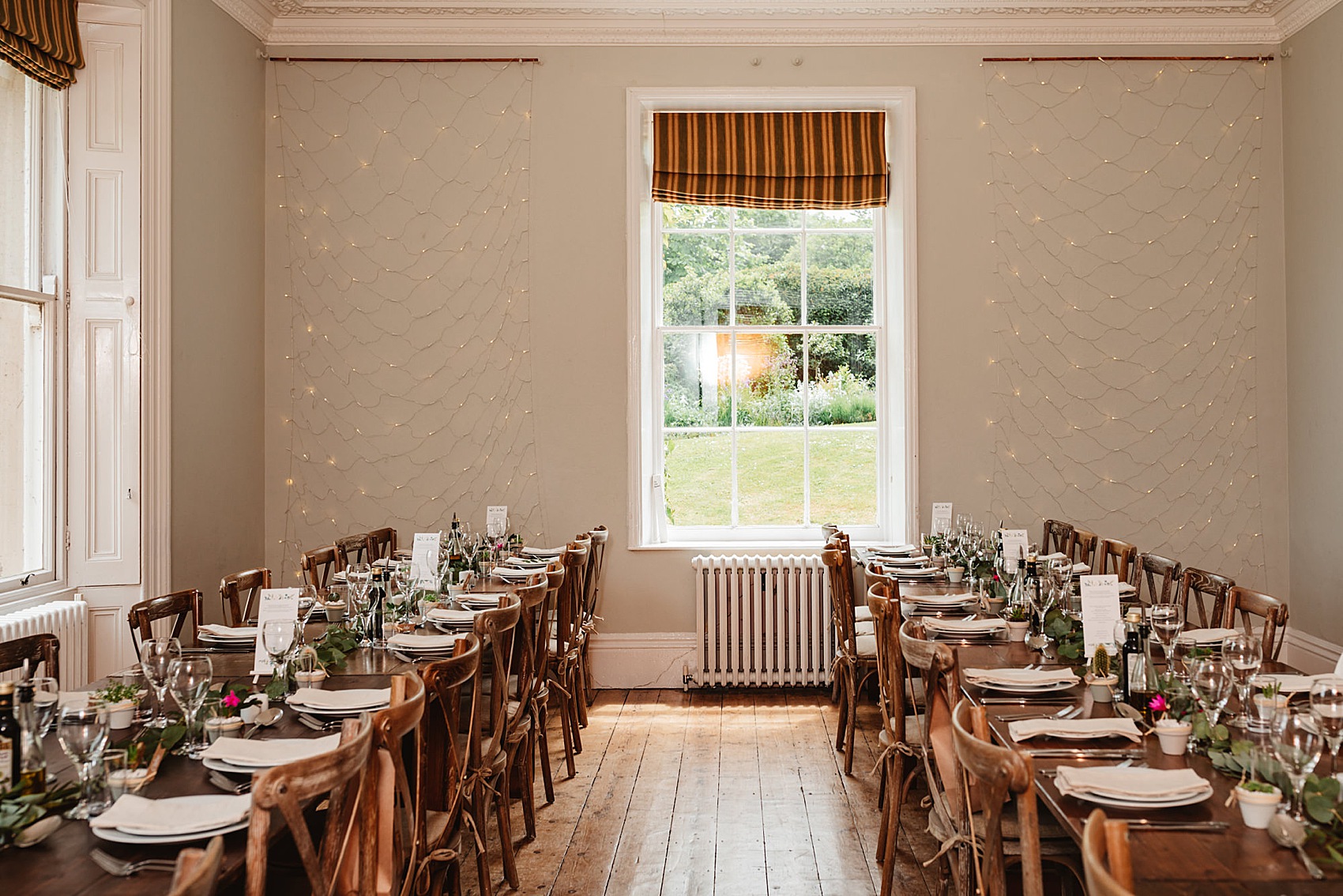 Caroline's mum and best friend Lyndsay were also able to call in kind favours from neighbours and friends, foraging branches of pampas grass from their gardens, which mum Vanessa then stored and arranged beautifully throughout Knighton House.
Dotted around the venue were candles, including some in copper geometric holders, along with strings of fairylights, baskets, and all of those lovely succulents, which were also sweet guest favours.
"We bought 60+ little terracotta plant pots, which we painted individually by hand using three different colours that tied in with the colour palette. Each pot had three coats, so it was quite time consuming. Meanwhile, my Grandmother grew over 60 mini succulents, which we could pot up as favours."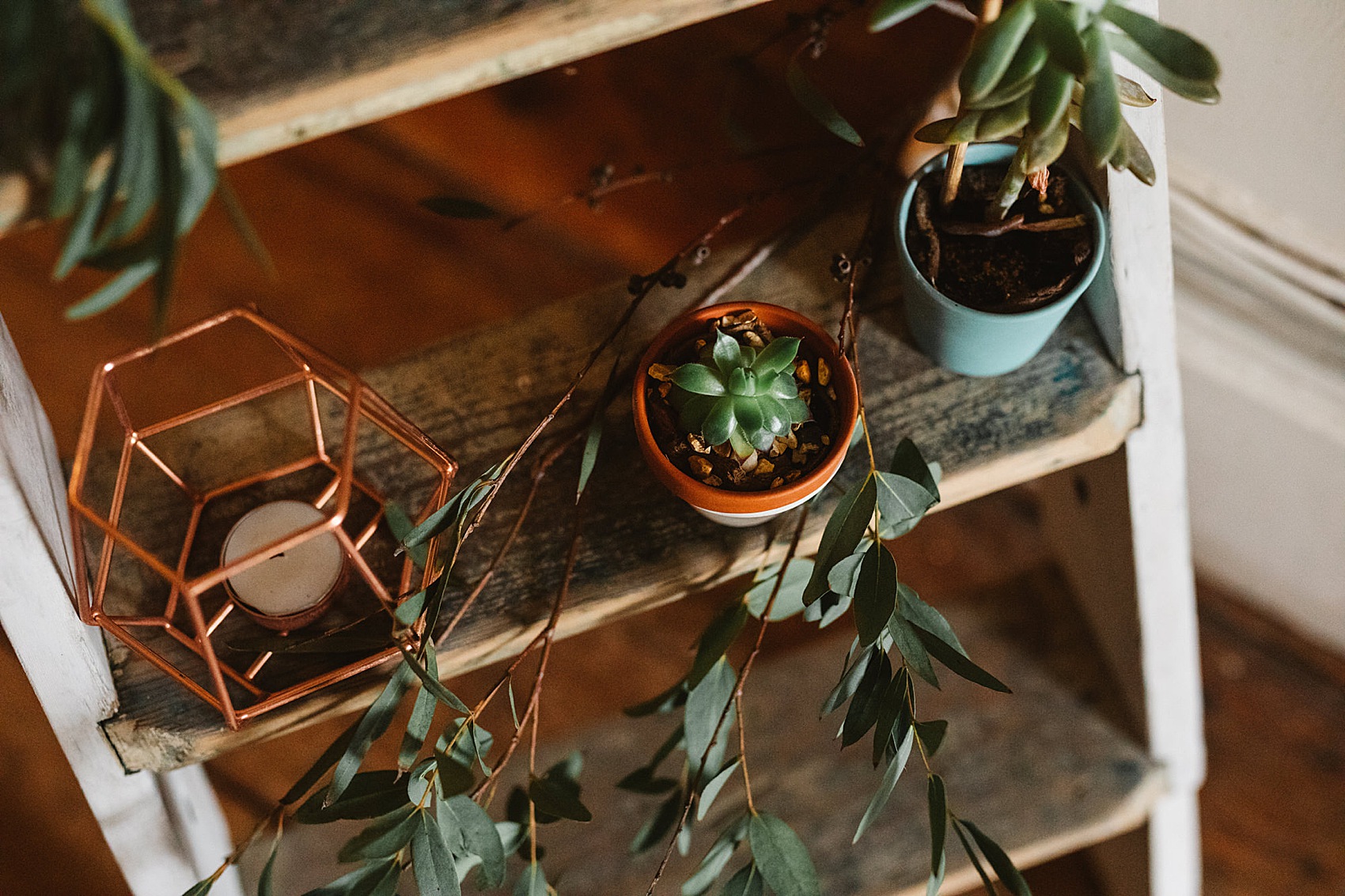 "All of our stationery was designed by Stuart. As a graphic designer by profession, it seemed silly to pay someone else to do it! Stu created all of the artwork from scratch, and used Printed.com to print it."
Indulge Catering and Events also baked Caroline and Stuart's lovely wedding cake: a two-tier naked cake decorated with succulents in Victoria sponge and cafe latte flavours.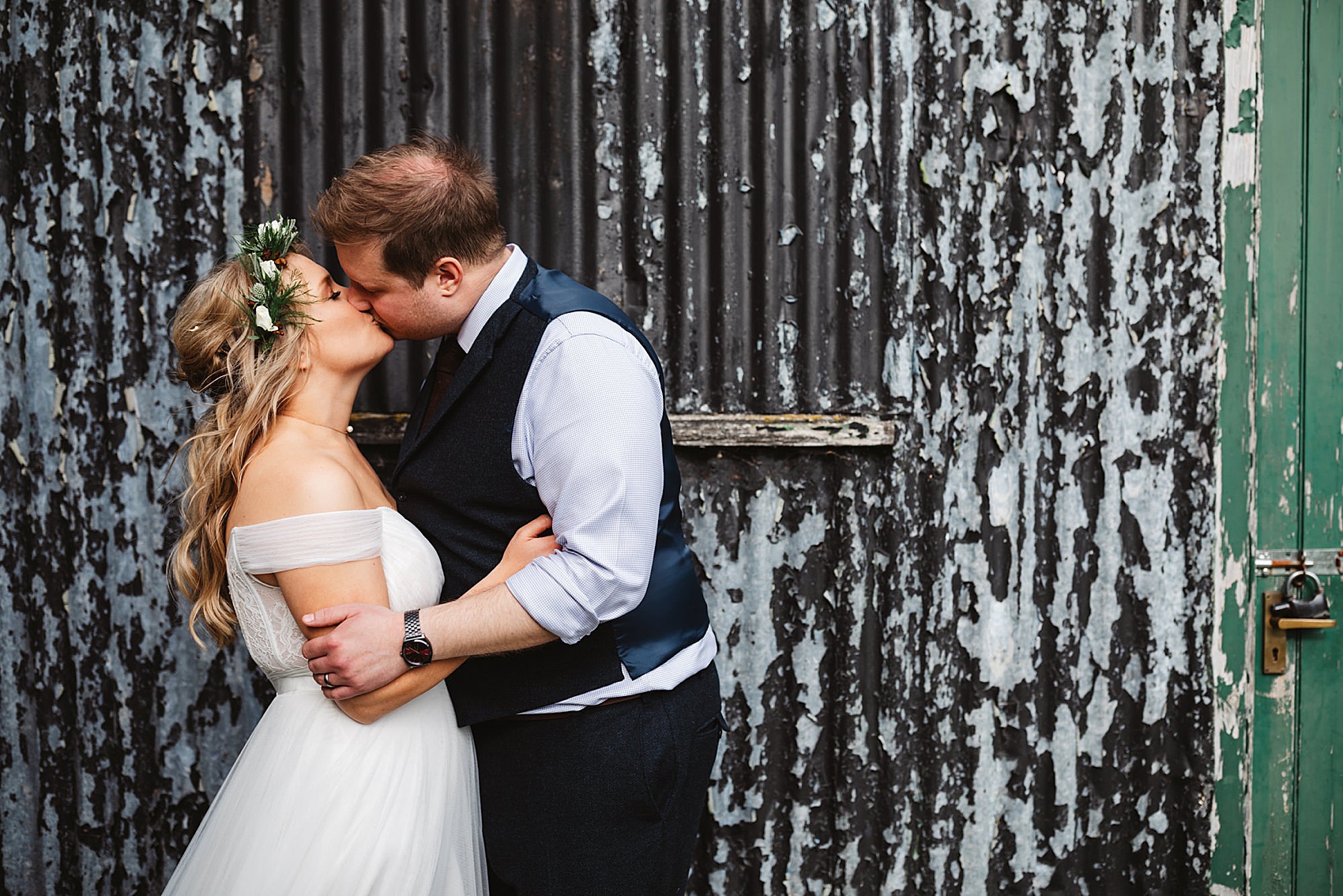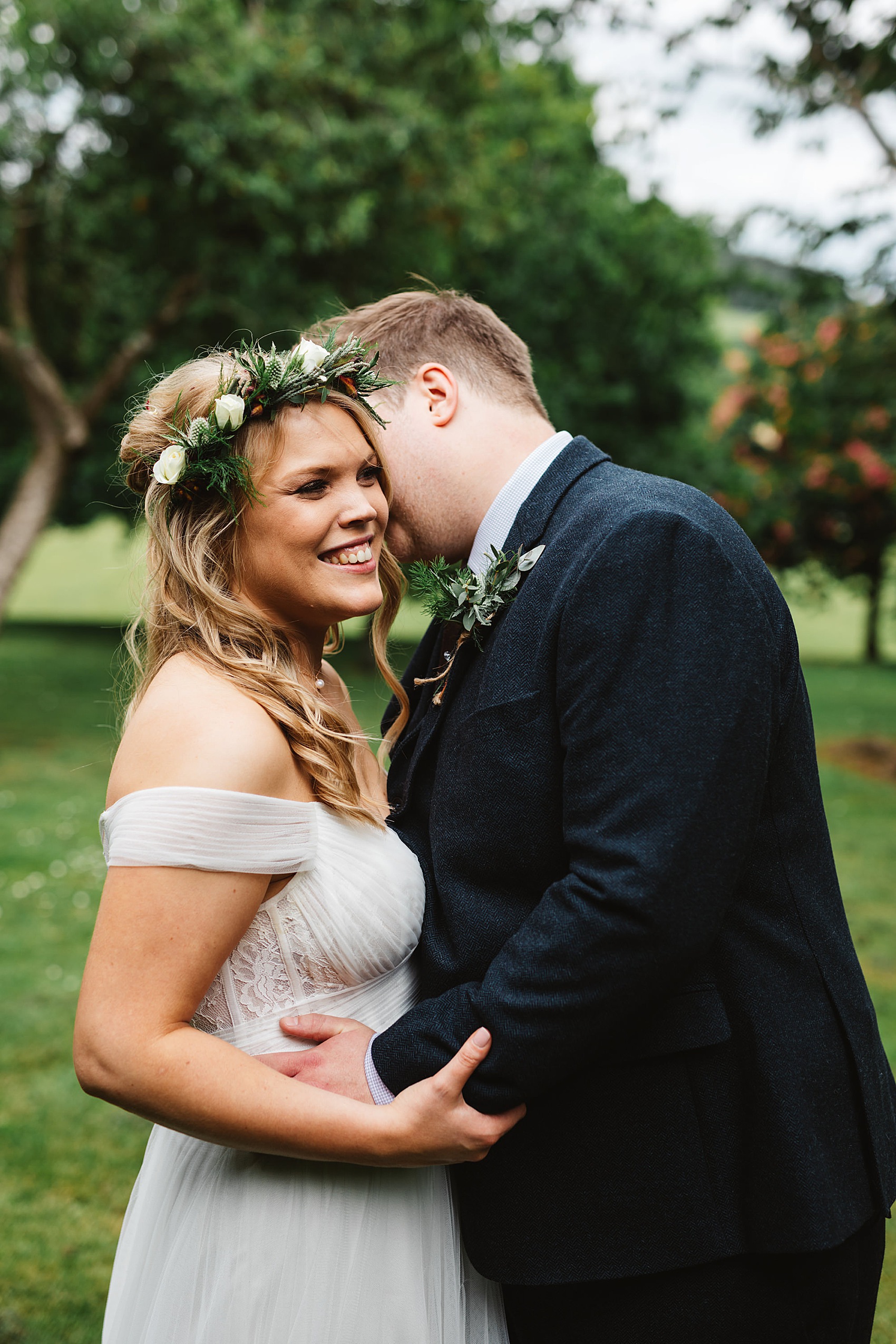 A friend of Stuart's recommended their band, The JetFighters, who played during the ceremony and drinks reception, and then into the evening, too.
"We contacted Ant from the band in the first instance, and we chatted through what we wanted, and our music taste. Ant is so very talented and experienced. He gave us some great advice about what works well at weddings and what doesn't. Ant and his band were fantastic throughout the day – they blended in, and provided amazing music to dance to in the evening."
Postponing your wedding? Bookmark our Covid19 pages which are full of useful, practical & emotional advice.
"I think the evening reception was our favourite part of the day. Just being surrounded by everyone you love celebrating and having such a great time is the best feeling. There is 100% nothing I would have done differently. I still can't quite get over how perfect everything was, and how it all went to plan!"
"Stu and I weren't keen on having a formal/official first dance. We wanted to keep it fairly relaxed, and so we didn't stick to all of the wedding traditions. Instead we asked the band to play a song we love, and invite everyone on to the dancefloor to start the dancing. The song was I Saw Her Standing There by The Beatles."
Words of Wedded Wisdom
"Our advice would be to research, research, and research your suppliers. Make sure they have testimonials, an abundance of experience, and come recommended."
"There were several times when I just thought it wasn't all going to come together, but with a group of very professional, friendly, reliable, and talented suppliers (that just so happened to all be women) we were in great hands! Without them the day wouldn't have been what it was."
"Remember to ask your suppliers for advice and tips. They will have been to many more weddings than you, and usually have fantastic ideas based on what they have seen before."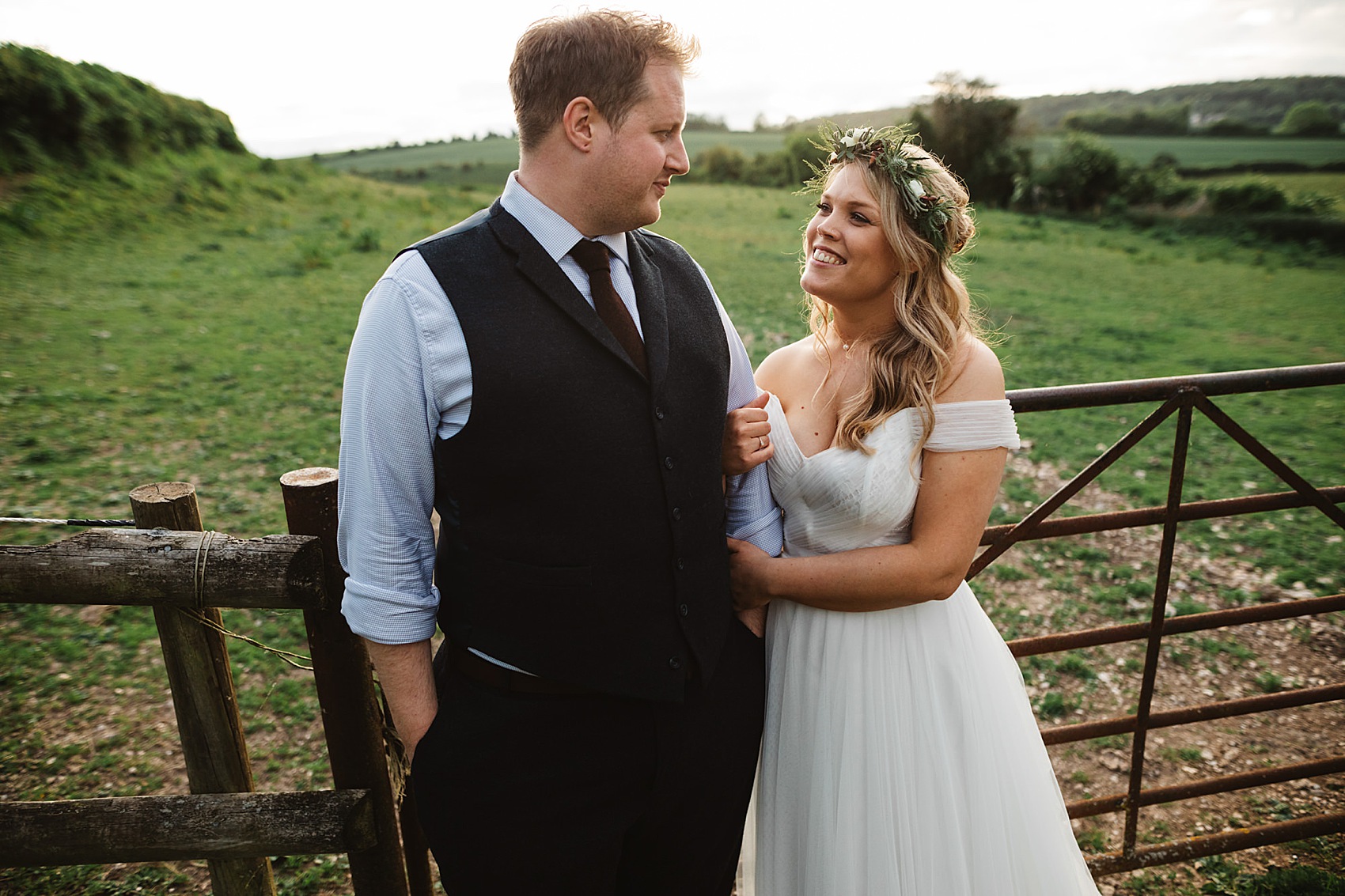 Lovely readers, I hope you've enjoyed all the beauty of this wedding as much as I have. Caroline and Stuart, thank you so much for sharing it with us, and huge thanks to photographer Sam Cook for this gorgeous collection of images.
Until the next time!
Love, Laura