I know that many of you who had planned your wedding to take place this year are, unsurprisingly and completely understandably, choosing to postpone.
The current government guidance for small marriages and civil partnerships permits only 30 people at a ceremony, 'where this can be safely accommodated with social distancing in a COVID-19 venue'.  Furthermore, as I write, wedding receptions shouldn't be taking place, and 'any celebration after the ceremony should follow the broader social distancing guidance of involving no more than two households in any location or, if outdoors, up to 6 people from different households'.
Hmm, these very tight restrictions makes it hugely challenging for most couples to go ahead and marry in the way they had always envisaged, or that feels right and acceptable to them, and we know that many thousands of you have thus postponed your weddings to a later date because of this. Sadly, too, on 1st August, the Prime Minister put a temporary halt to the plan to enable the holding of wedding receptions for up to 30 people – a decision that won't be reviewed until the end of this week. But I'm not here today to talk about the downside of restrictions. I want to shout for joy at how some couples are embracing the restrictions and proceeding with a legal ceremony, like Sian and Edd here.
Sian, a Business Management Consultant and Edd, a Maths/Games Teacher, tied the knot on 11th July 2020 in Warwickshire, the place they both grew up.
"Our wedding was meant to be a marquee wedding but we have postponed our formal reception to 2021, and chose to have a small ceremony this year instead – so no reception venue."
"We just wanted to be married and were determined to not let COVID stop us. We decided the ceremony was for us and the party was for our guests, so the idea of only being able to have a few people at the ceremony was hard to digest initially but we thought it would make it feel very intimate and make it extra special. We still wanted to be able to have the reception and party that we had planned so we managed to postpone this for one year's time following a blessing at the same church. I think a 1-year wedding anniversary party will become the next big thing."
Sian's father accompanied her down the aisle…
"We had some favourite tunes during the signing of the registers. I entered to 'Canon in D' by Pachelbel and we exited to 'Signed Sealed Delivered, I'm yours by Stevie Wonder! No organist was allowed due to numbers in the church so this was all played through a phone and controlled by an Usher, who will now forever be known as Music John!"
The couple got engaged on Good Friday 2019, on a lovely walk in the Surrey Hills on a freakishly warm day. Edd tells us more…
"I took Sian on a walk that I had found, which had lots of look out points along the way. At the second look out point I couldn't wait any longer, with the ring box shoved in my pocket with many other things in there too to try and disguise it (including a Crème Egg)."
Postponing your wedding? Bookmark our Covid19 pages which are full of useful, practical & emotional advice.
"I got down on one knee while Sian was sat on a bench and asked her if she would be my best friend forever and asked her to marry me. She cried and just about said, 'Of course!'."
"We then spent two nights at Pennyhill Park in the gorgeous sunshine relaxing before the wedding planning began. We have been together since school so Sian had most definitely been planning this wedding for a while, which I don't blame her for considering I made her wait 11 years."
"The planning was pretty straightforward; Sian is an organisation queen so we got all the big things sorted early on and decided to go for a marquee style venue so we could put our own spin on it. At that point I thought, planning a wedding isn't too bad! (….mainly because Sian just sorted everything,  asking the odd question here and there). However, cue one global pandemic – and everything changed. We ended up having to plan our wedding in the space of about 10 days."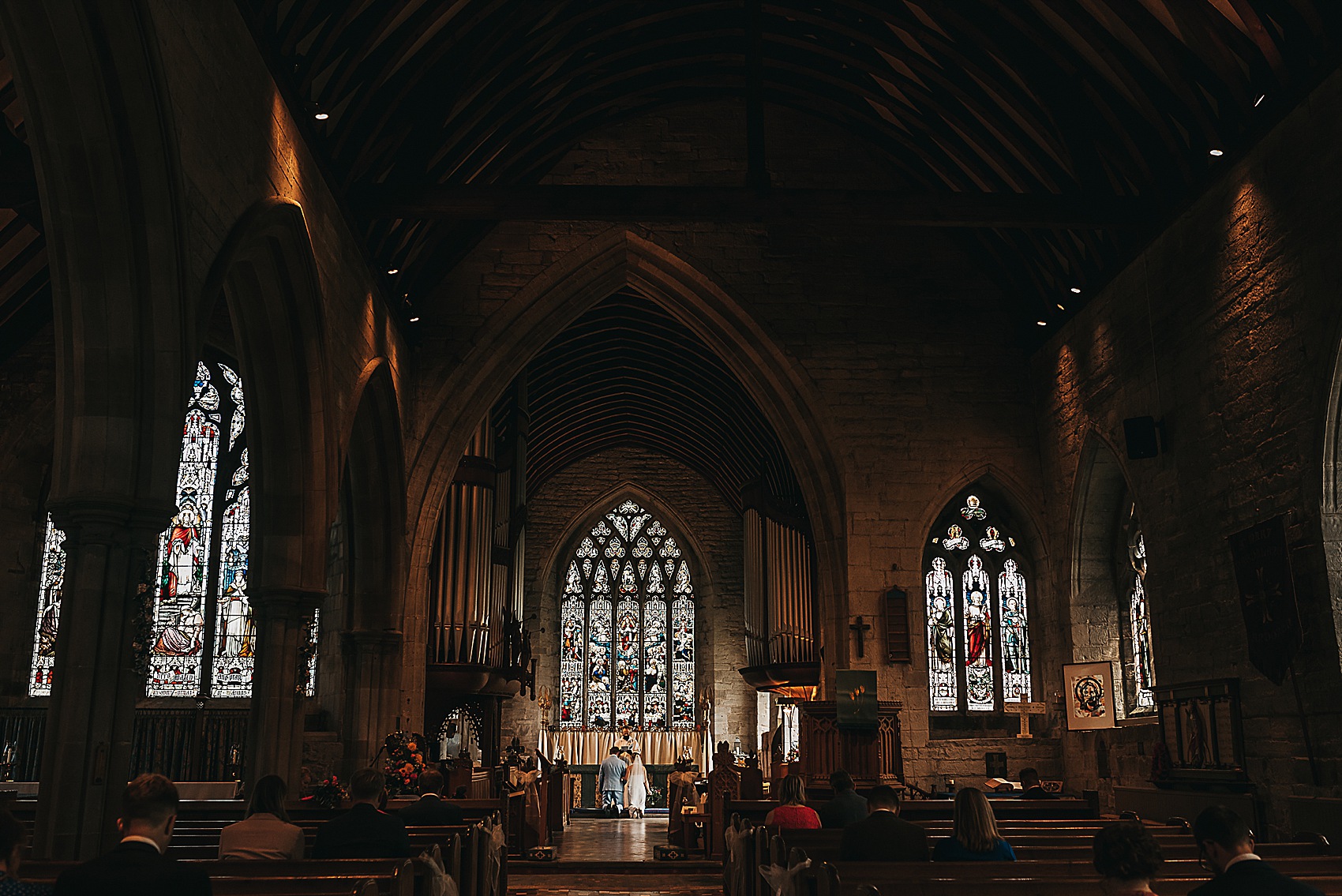 "Just over two weeks before our wedding date, while we were still wildly holding out hope that we may be able to go ahead, the government announced that weddings of up to 30 people could take place. This was much more than we had even considered and we got very excited."
"We still had to wait for confirmation from the church that this could go ahead, though. This took a while, as they had to plan around all the requirements and restrictions that COVID brings, but they suggested that we began to plan for the day. In fact, they only had approval from the Church Council to go ahead on the Thursday, a mere 48 hours before the wedding was due to take place!  But the vicar didn't tell us this until our rehearsal. Probably a wise decision!"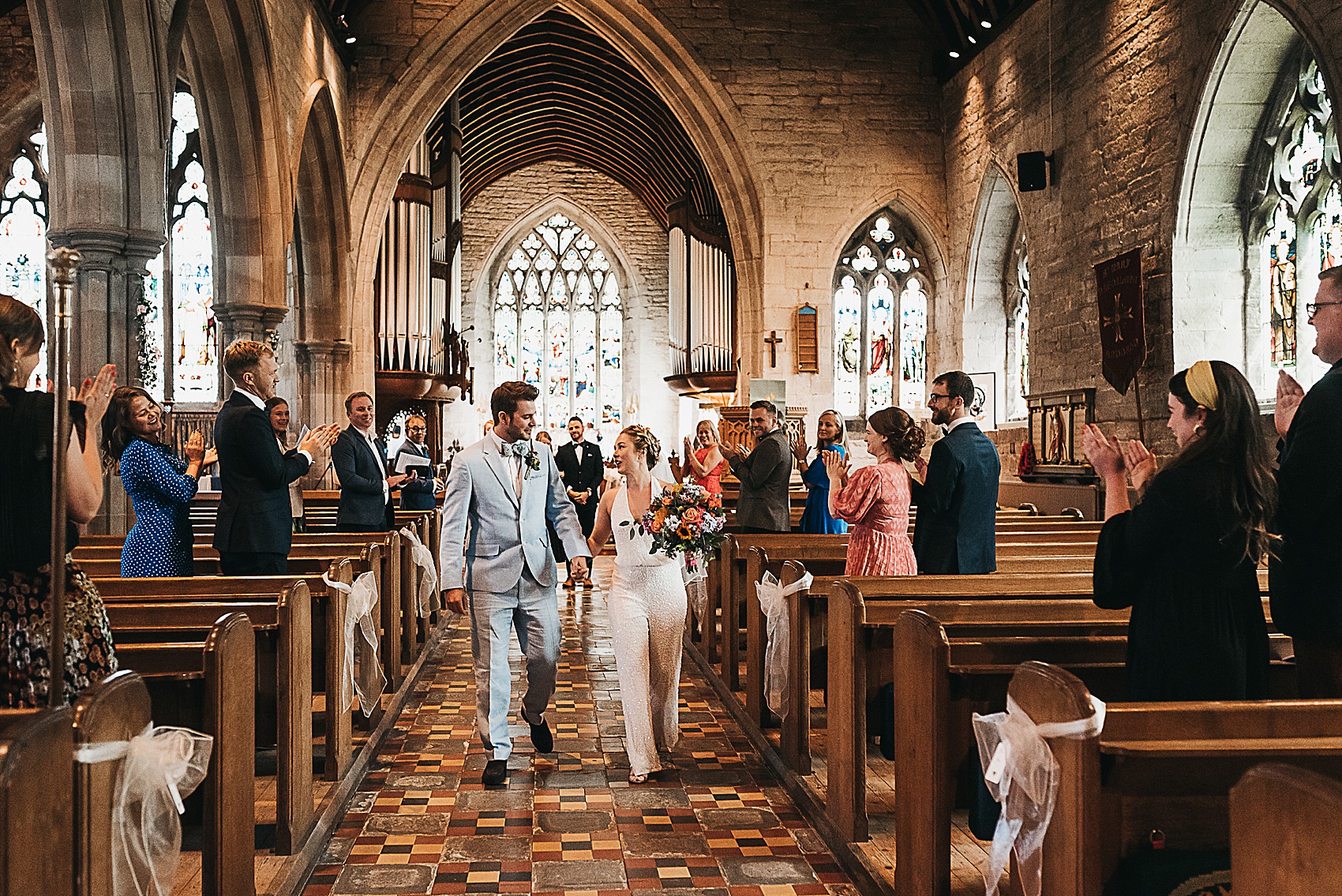 "With only ten days to go and us both working full time, our evenings were busy contacting guests, organising a seating plan for the church, designing and printing an order of service, contacting the suppliers we still needed to be part of the day, ordering decorations, cleaning stickers off jars and the list goes on…"
"With ourselves, the vicar, a church warden and our photographer it meant we were down to 25 guests, from a maximum of 13 households – who attended in socially distanced 'bubbles.' Luckily our immediate family, bridesmaids, ushers, and their plus ones took us to almost exactly the right number, allowing for 4 other very close friends. Unfortunately some of the wedding party and immediate family were unable to be present due to them living abroad and/or being unable to travel, but we were given approval to set up a Zoom call for them to watch from around the world and still be part of our day – we went global!"
"Some things had to change, for example, I had planned to have two Best Men, but due to social distancing and space in church I could only have one during the ceremony."
"An awkward conversation was however saved, and the decision was made for me as the Best Man needed to be at the rehearsal and only one could be. To ensure the other was still involved in the service, him and his wife delivered a beautiful reading during the ceremony."
"Sian wasn't able to have her bridesmaids stay with her the night before, which was something she had really looked forward to, but the girls joined her in the morning. They all had their hair done together and were still able to enjoy the moment Sian was ready and had her 'outfit' on!"
"She was unfortunately not able to have any dress fittings in the lead up to the wedding, so had to buy a new outfit (which I don't think she was too upset about…), and this also meant that she got to wear one of her best friends' veils! #WinWin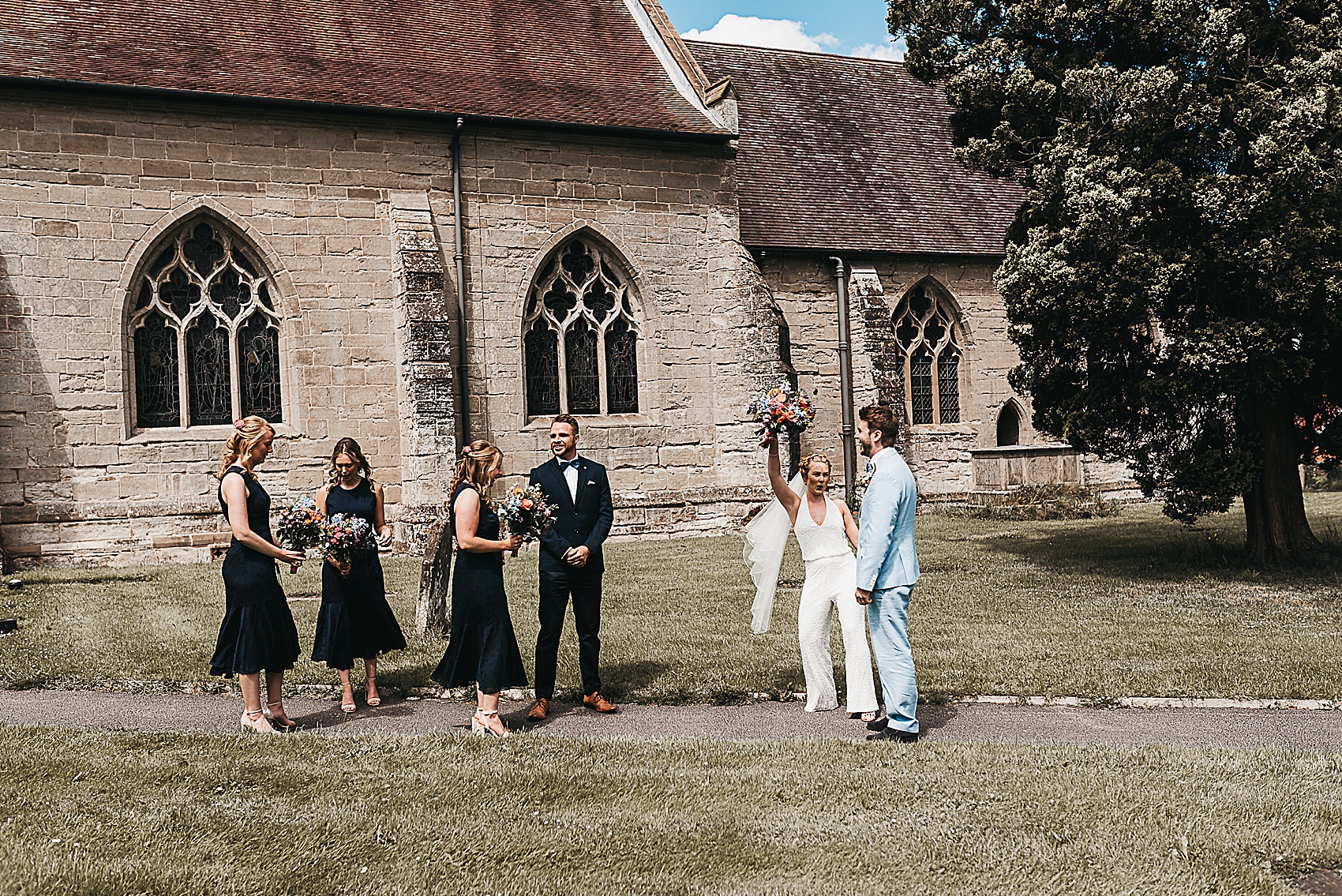 Sian wore the most fantastic sparkly jumpsuit from high street fave, Monsoon (a trusted and recommended member of our Little Book Wedding Directory – for those of you looking for affordable wedding day attire).
Edd wore a cute powder blue suit from Marks & Spencer, and Liberty print fabric floral bow tie from Etsy.
"These are definitely not the outfits we had planned for originally, but the change in circumstances meant we decided to keep everything to a much more relaxed vibe this year and wear our more formal and traditional wedding attire next year for our celebration."
"We are so, so happy to have gone ahead and got married, and after having seen our photos from the amazing Hannah Miles we are even more excited for next year – although we now know we need to work on not looking down and screwing up our faces when confetti is thrown at us. I never thought I would get a trial run at my wedding and get to marry the love of my life twice!"
"We certainly owe a huge thank you to all of our suppliers for working with us in these very strange times and for being so amazingly flexible. We can't thank you enough and can't wait to work with you all again next year as well as adding a few more to the mix."
The couple chose photographer Hannah Miles to capture their day and she did so beautifully – social distance group shots and all!
"We choose Han after being at a wedding that she was photographing, we loved her pictures and we loved how chilled she was on the day and blended in. It was so relaxing 🙂 we loved posing with her."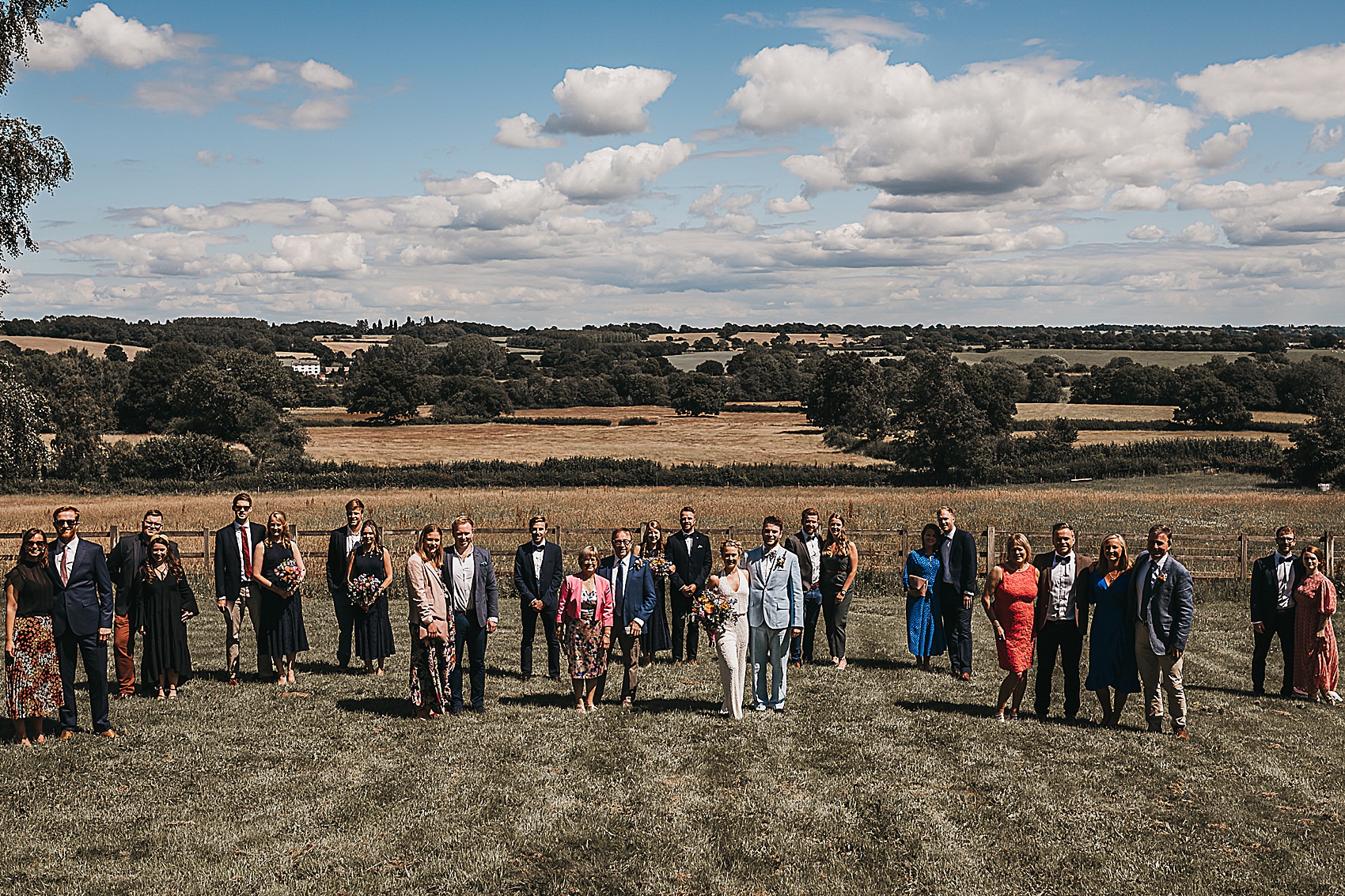 The couple expressed their joy that they could go ahead with what felt like such an intimate day – with no expectations at all.
"Everyone who was able to be there was sooooo jolly!
Warwickshire florists, Studley Florist, supplied the beautiful blooms…
"They were bright and wild – I just love the bright vibes, which was always the plan."
Due to COVID restrictions, Hannah wasn't able to have her makeup applied professionally, but she was able to have her hair professionally styled, and modelled a gorgeous halo braid, which she says she adored.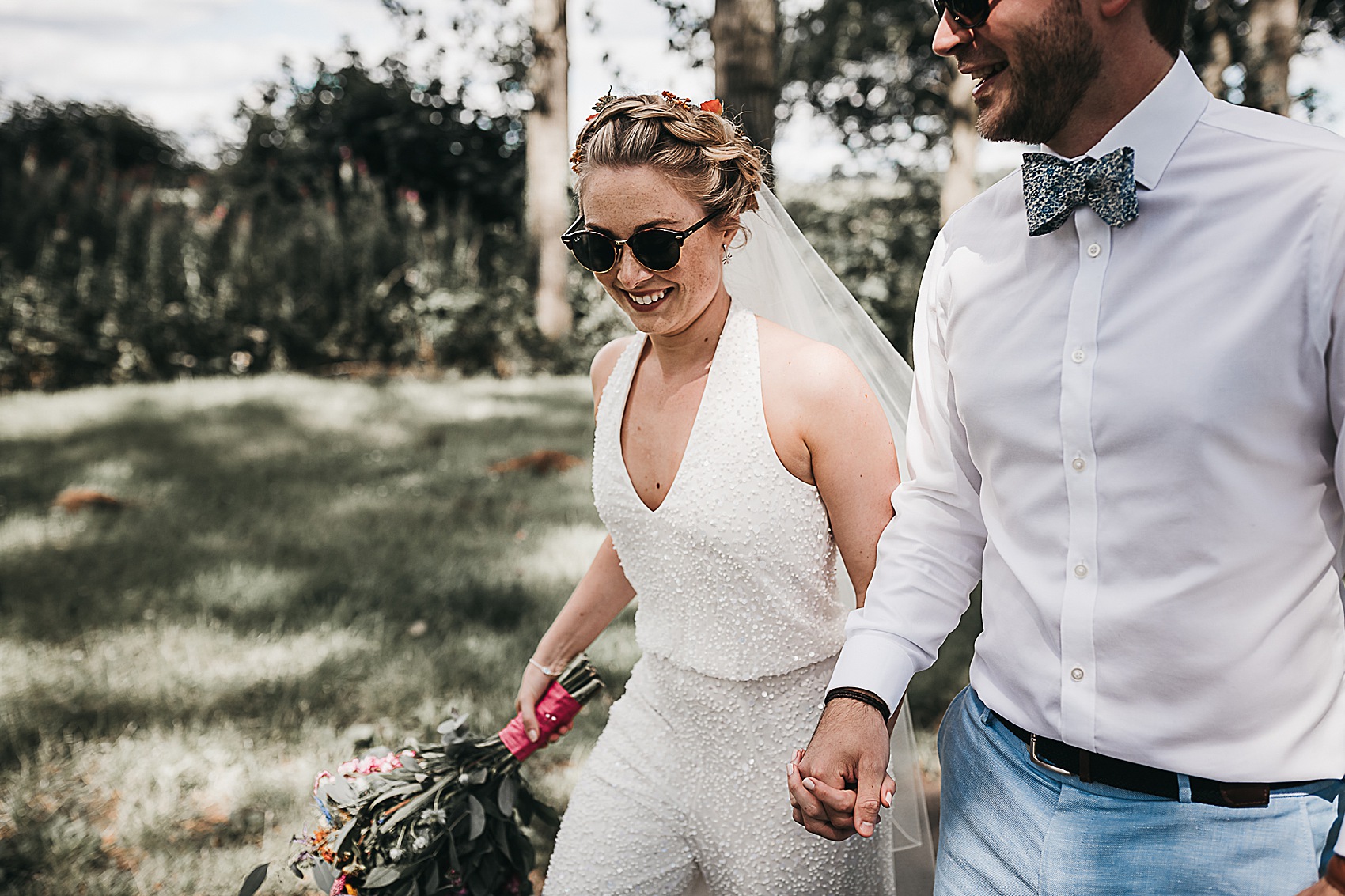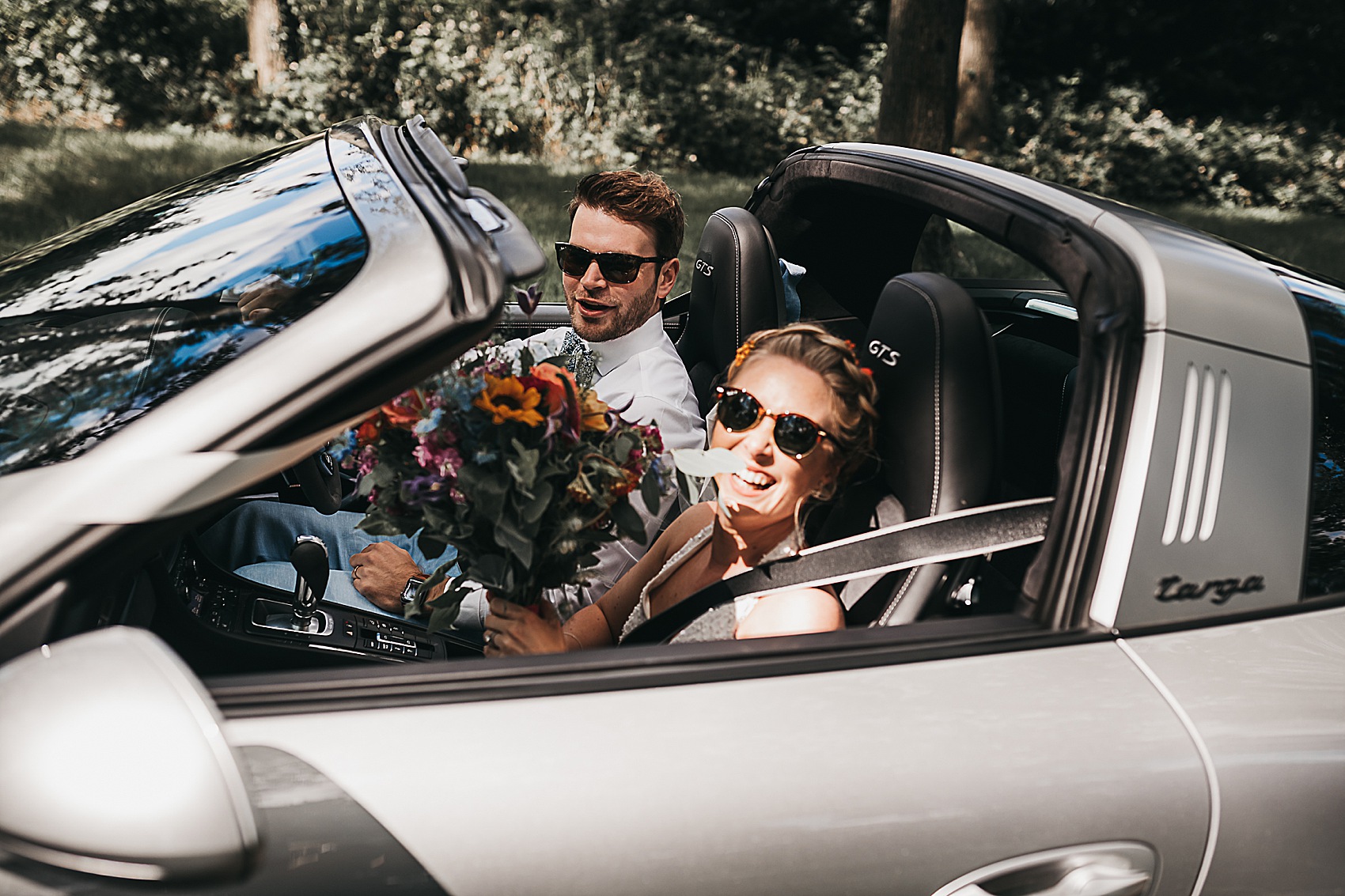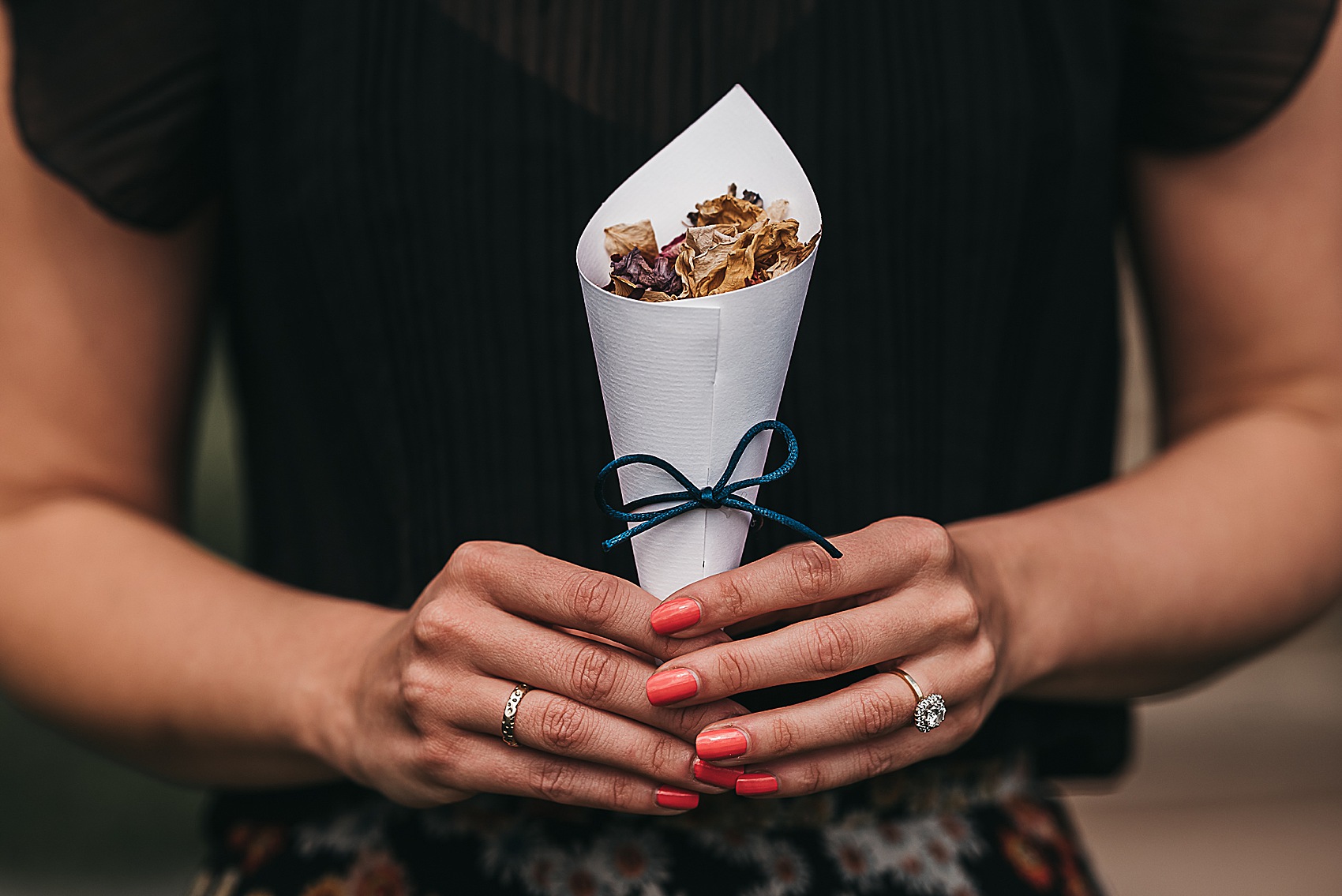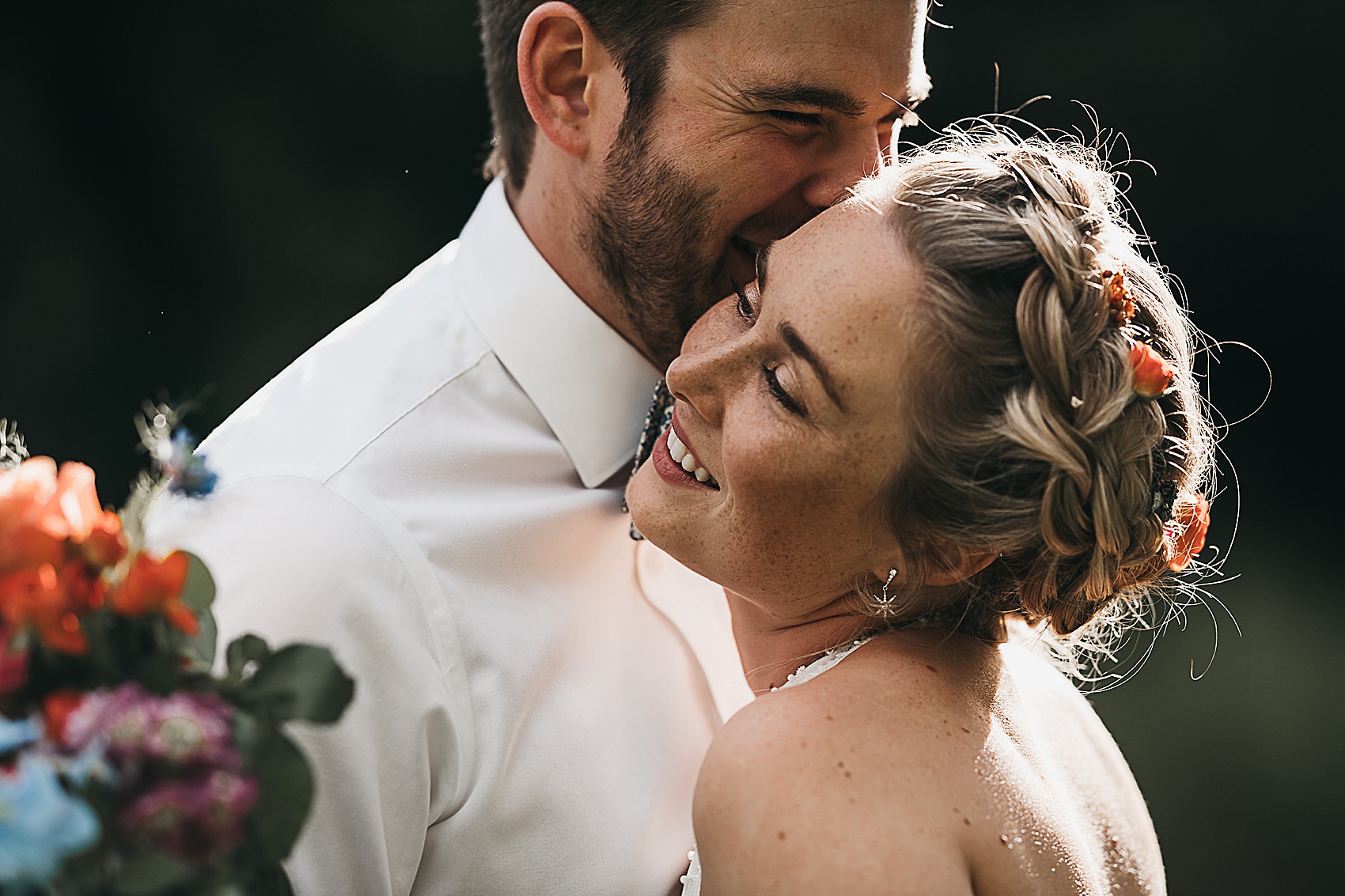 Words of Wedded Wisdom
"For anyone unsure about what to do in these circumstances – please just go ahead and marry the love of your life! It was worth every second! We reached the conclusion that the wedding was for us to become husband and wife and the party next year is for all our guests to celebrate with us, but just because we are married will not change the party next year! We can't wait and neither can all our guests."
"I think the one thing we have learnt about weddings given the circumstances is to remember the day is about you getting married and doesn't have to be about the money spent on the day. We were surprised how lovely it felt and how great without all the extras. As a result I think we will try and reign in a few of the extra things we had planned for next year, and think about what we want rather than what our guests will want."
Just so bloody lovely – honestly, it has been the hardest few months for so very many people and my wedding industry colleagues need all the love in the world right now just as much as all your lovely couples having to consider postponing your weddings do.
But for now, I want to smile and feel joy for all those couples who have so far managed to tie the knot safely and legally during the pandemic lockdown – it means EVERYTHING to me that I'm starting to receive these wedding submissions and I feel it responsibility as well as my pleasure to share these with you to prove that even if you might have to pause the main celebration and gathering, you can still do the legal bit beautifully and intimately and with all the joy required to make it an incredibly special day.
My love and thanks to Sian, Edd and their photographer Hannah Miles.
Love Annabel x