The very lovely Emma Blandford-Newson of Miavana Lifestyle (Destination Weddings & Lifestyle Events planner) sent in these classy images and I just adore them.
I know that many brides who follow Love My Dress are considering an intimate wedding, due to government restrictions on weddings because of COVID-19, and with that in mind, I hope these gorgeous images will inspire you. I know that things aren't ideal right now and I don't want to sugar coat the situation at all and pretend that the enabling of 30-person wedding receptions today means weddings are back on and that's that! But they are back in, in some teeny tiny form, and for many couples, this more intimate, small format will be just perfect. I truly hope that if you are one of those choosing to go ahead with an intimate wedding in the coming few weeks, that these images will inspire you and encourage you to style your scene beautifully if you wish.
Rebecca Goddard Photography

+ Follow
Words from Emma herself…
"This editorial shoot is aimed at couples with a vision for an intimate wedding celebration. With a breath-taking, privately owned home in Hampshire as the backdrop, the shoot highlights a love for the countryside, sustainable and contemporary fashion, and tasteful interiors."
"Together, we wanted to design a shoot boasting sophistication and charm with a subtle boldness of colour. Two different styles were created; a relaxed, outdoor rehearsal dinner look, and then a moody, romantic candlelit evening reception look."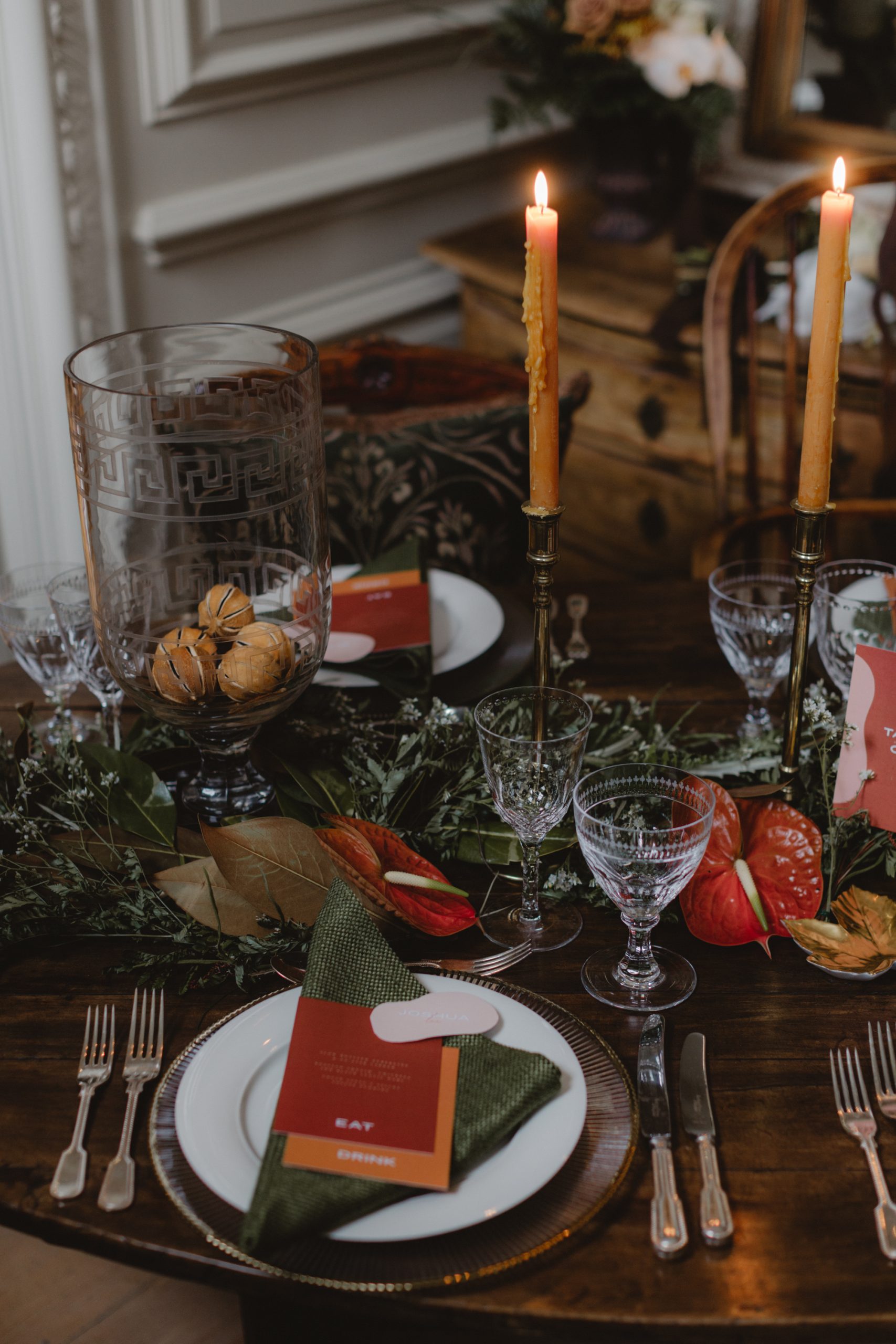 "Your wedding day and the days leading up are all about encompassing you – who you are and what you love, as individuals and as a couple – and so we wanted to show that you can mix it up with different style elements and it can still flow together effortlessly."
"We wanted our brides' looks to be simple and classic, yet timelessly chic. The first wedding dress of choice, a silk satin evening gown by Alon Livne, flaunted elegance with its clean skirt and train, long sleeve and ruffle detail cuff. The second, also by Alon Livne, a boho inspired all-lace gown for the modern bride – perfect for a relaxed, daytime wedding."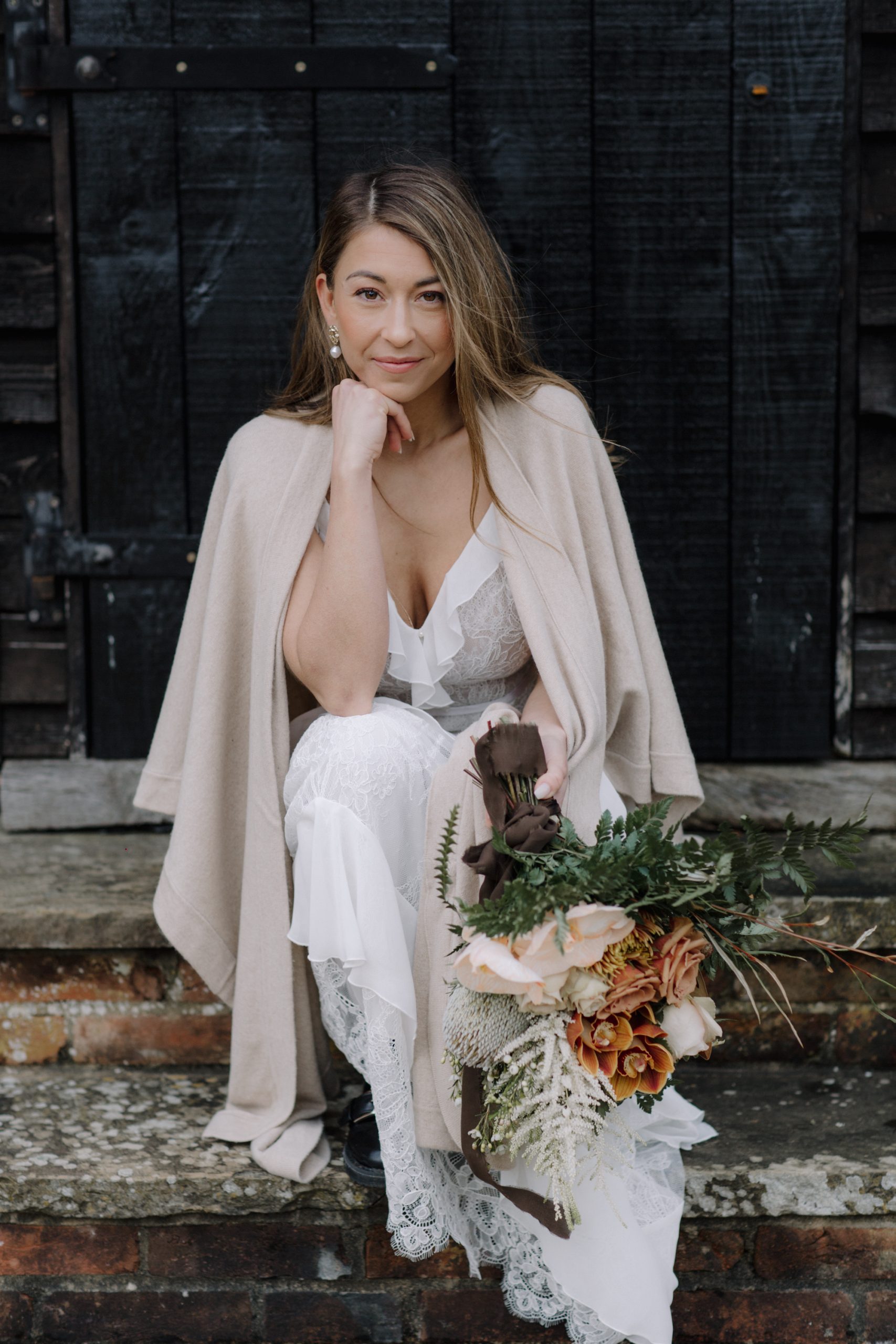 "Melissa Collins, of Melissa Jasmin Makeup, kept makeup fresh and modest on our gorgeous brides. Rehearsal dinner looks rammed up the glam and sparkle, in evening dresses from Needle & Thread and sustainable fashion brand, Rotaro."
"Our florist, Lex Hamilton, put a spin on the classic 'green and white' by combining orchids, anthuriums and a mix of fresh and dried flowers to create plenty of texture."
"Tableware, generously supplied by the team at Crystal Hire Ltd, completed our colour palette with bold blacks, and yellows for the rehearsal; and pops of golds, sage greens and blood oranges for the evening."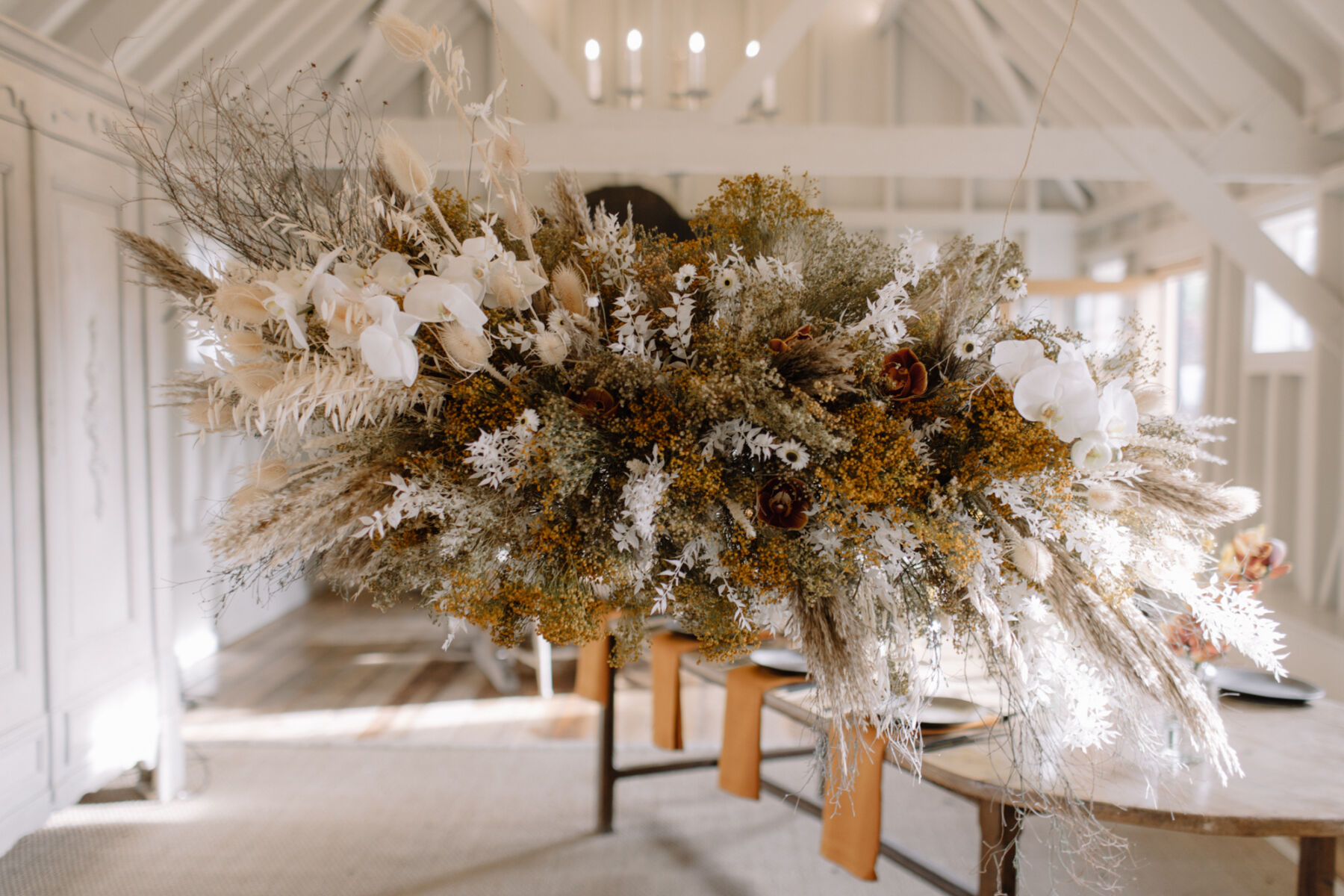 "Made by Wood and Wood added tone and a touch of zest with their stationery and signage creations, whilst Sue Blandford-Newson's antique furniture enhanced the grace and beauty of the venue."
"The lovely Sarah, co-founder and Head chef at Doggart & Squash, provided the most delectable dessert table which featured; a 3-tiered Victoria sponge cake, topped with dehydrated grapefruit and caramel drizzle; espresso martini shots; mini pavlovas and Oreo banoffee pies. Capturing the day with pure emotion and flair was the exceptionally talented Rebecca Goddard.
I was so lucky to have a such a wonderful team of creatives, designers, foodies and artists to help bring the shoot to life and to celebrate such amazing talent within the industry."