Well this is a treat – a wedding featuring two of our beloved Little Book Wedding Directory members and very much loved wedding suppliers; couture dress designer Sassi Holford and talented contemporary photographer, Heather Shuker of Eclection Photography.
Genevieve, a Theatre Artist and Moss, a Software Developer, tied the knot on 20th January at Islington Town Hall followed by a reception and festivities at The Rosemary Branch Theatre. Their city wedding day was full of sublime winter light and city charm.
"Aesthetically, winter colours and textures are a natural fit for my taste – I find them truly romantic. To me a winter wedding is organically filled with so much richness of colour with which to play around."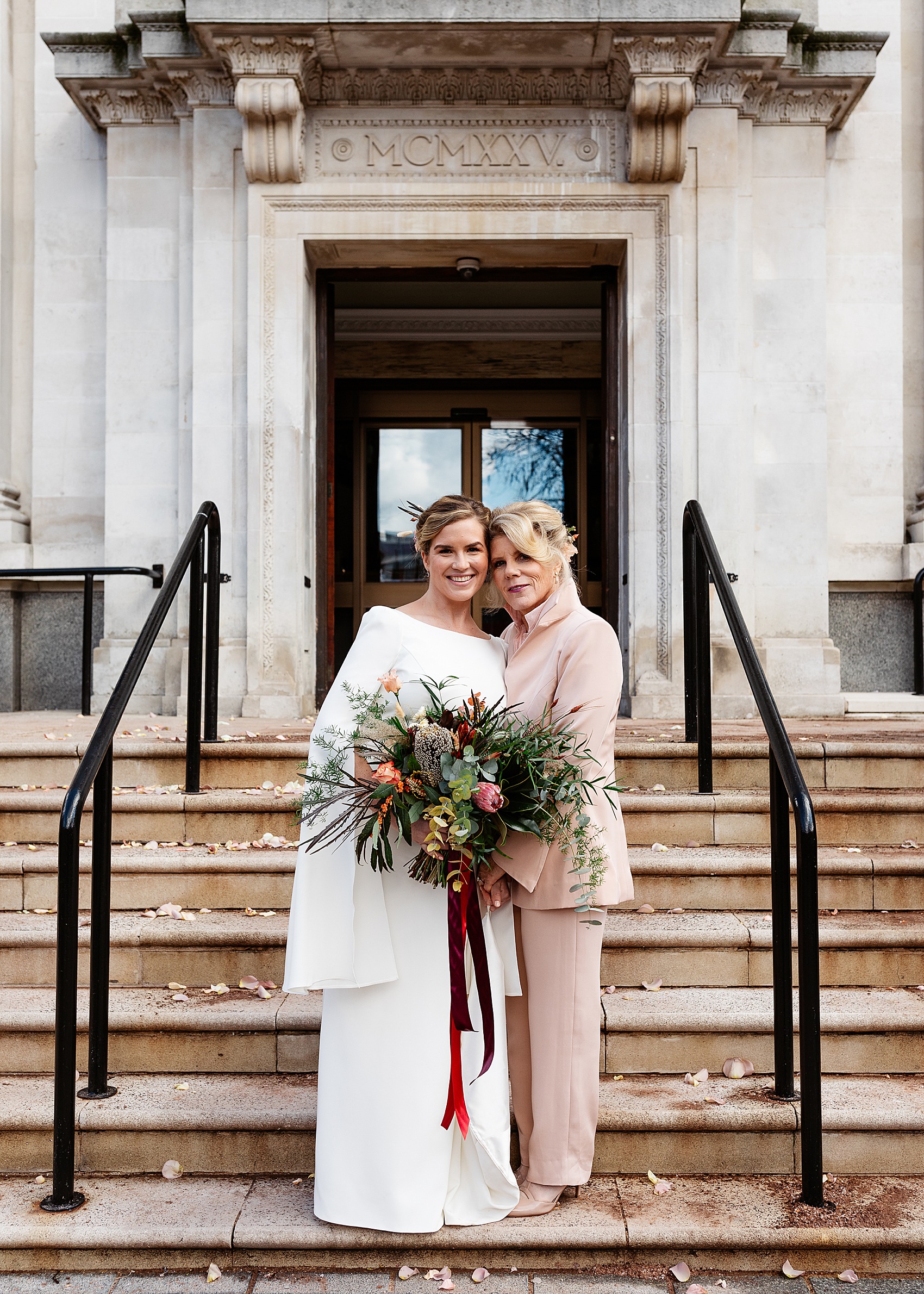 "Working in creative events and having previously styled a wedding I felt well equipped to plan my own wedding. I had a very clear sense of what I wanted our wedding day to look like aesthetically, which suppliers I wanted to use and how I wanted to integrate the creativity and talent of my friends and family into our wedding day."
Postponing your wedding? Bookmark our Covid19 pages which are full of useful, practical & emotional advice.
"In hindsight it would have been nice to have someone to bounce ideas off of or just reassure me that I was going in the right direction. Through planning my own wedding I've learned a lot about how I might help future brides through the planning process. I think having a good support person (who's taste and insight you trust) to listen, give educated feedback and reaffirm your decisions is the dream dynamic a bride can aspire to finding in a wedding planner."
Eclection Photography

+ Follow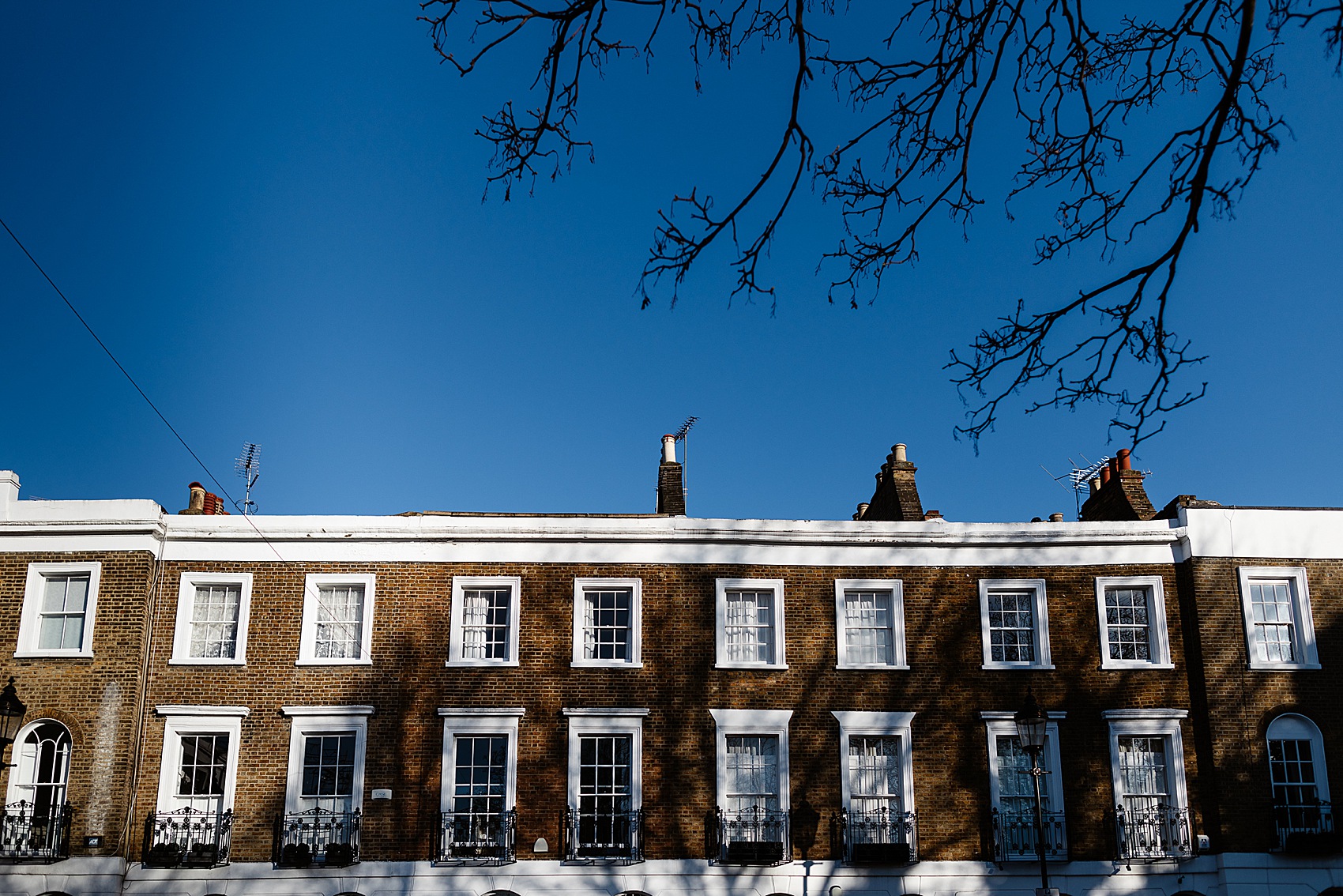 "Wanting our wedding to be a reflection of our shared design sensibilities meant being very hands on and involved in all the visuals of the wedding. Wingate made a moon and star logo that was used for our wedding invitations, menus and on the day itineraries."
"She also made us some wonderfully whimsical table decor referencing our in-jokes at both the Ivy City Garden and the Rosemary Branch. At the Rosemary Branch, Wingate surprised us with hilarious cake toppers; a pink haired unicorn to characterise me and a bespectacled baby donkey to represent Moss' childhood pet name."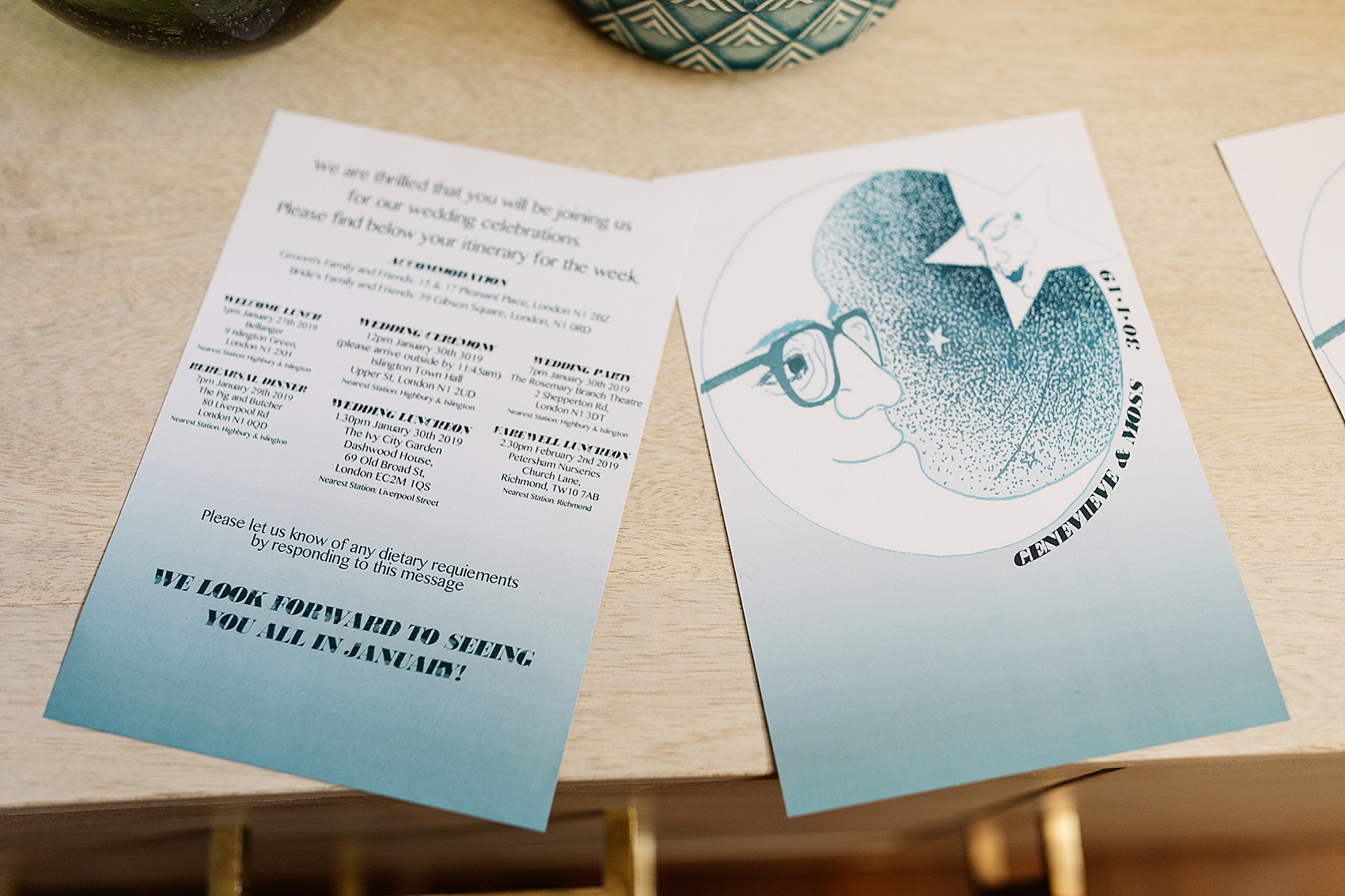 "My engagement ring is from Mociun, who I discovered many years ago when I was working for a jewellery line in New York. I knew I always wanted my ring from her and was lucky to find that Tomfoolery, in Muswell Hill, stocked her work. The ring is an asymmetrical design comprised of topaz, sapphire and black and white diamonds."
"Sapphire is the stone associated with the Turkish Evil Eye, which is thought to bring good luck and protect from animosity, so we thought that was a lovely way to incorporate a bit of Turkish culture into my ring. Leah at TomFoolery collaborated with me on the design on my wedding band as I had a very distinctive and certain vision. Overall Tomfoolery delivered, exceeding my expectations and helping to create the unique look I was aiming for."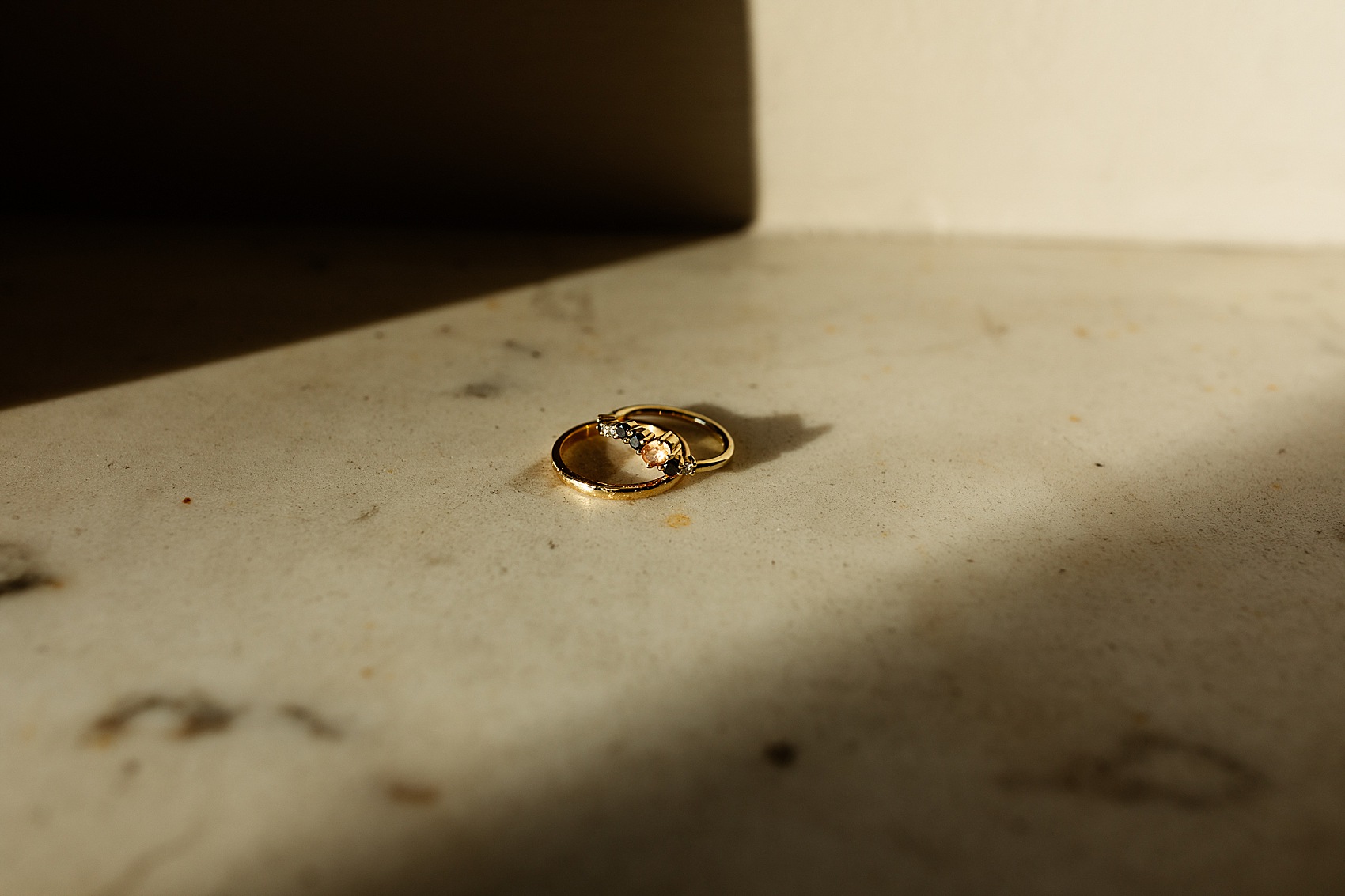 "I discovered Terri and Katie of Worm London through some other creatives that were on my radar. Aesthetically flowers were the most important element of the wedding to me."
"My mother had been a florist so growing up our house was filled with flowers and every special occasion was marked by floral displays in our home."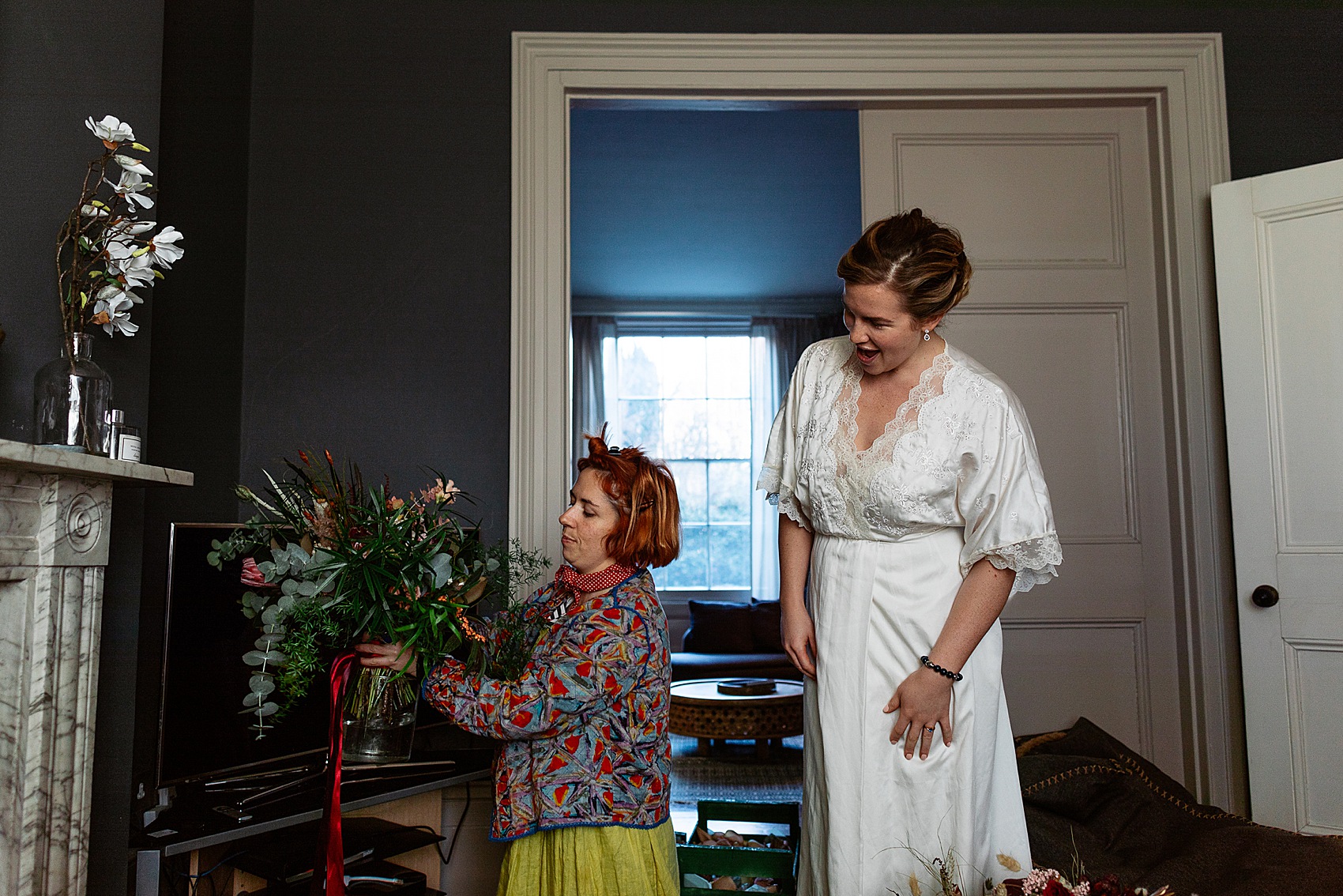 "Upon discovering Worm London I contacted them straight away to see if they were available to do my wedding. Even though they are so justifiably in demand and popular they were very kind and responsive."
One important detail of the wedding is that I wanted all of our guests to wear at least one floral accessory. Worm were so inventive and clever with designing the pieces. I think my guests were wary but once they saw them on the day everyone was overjoyed to integrate them into their looks."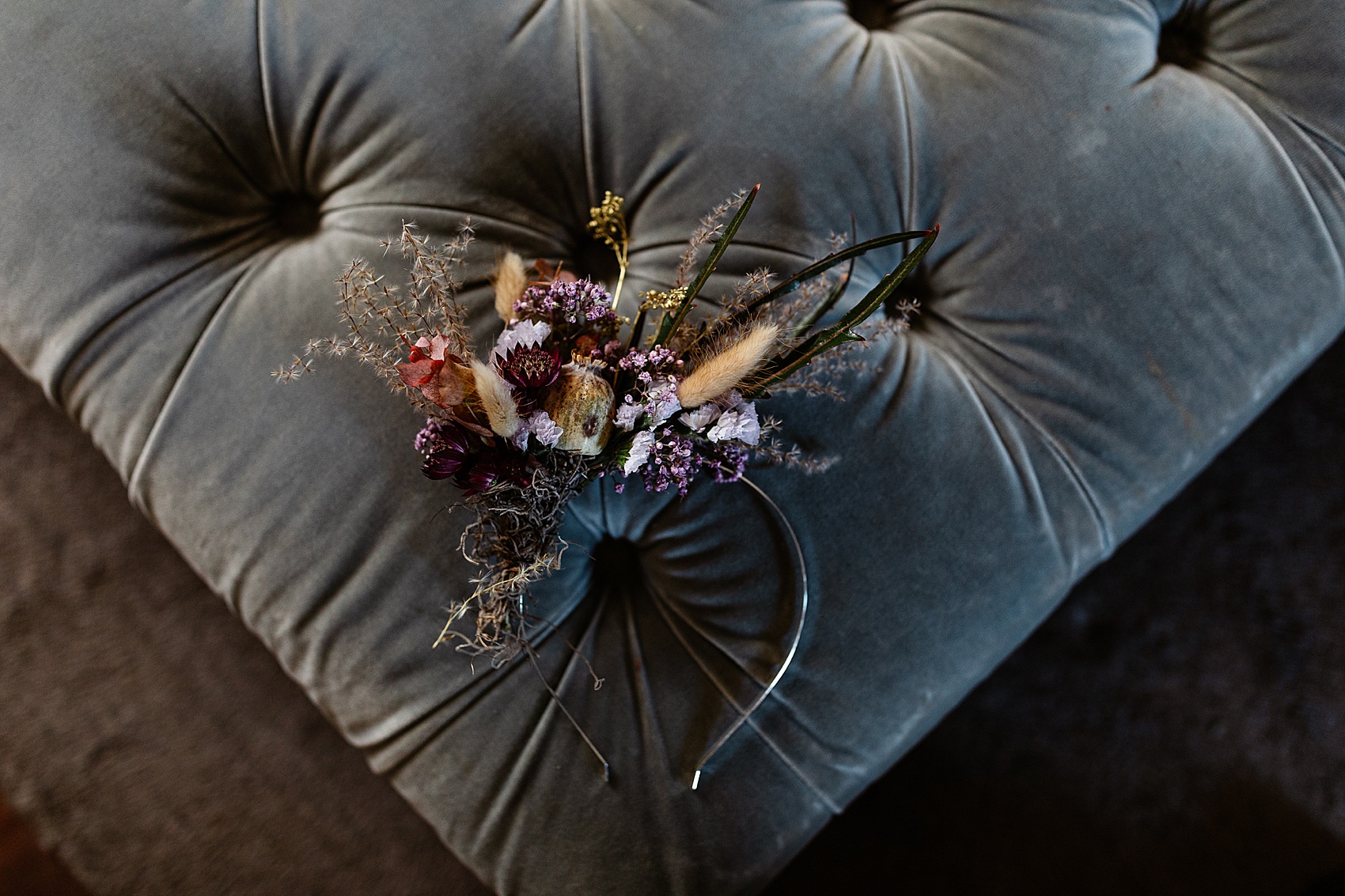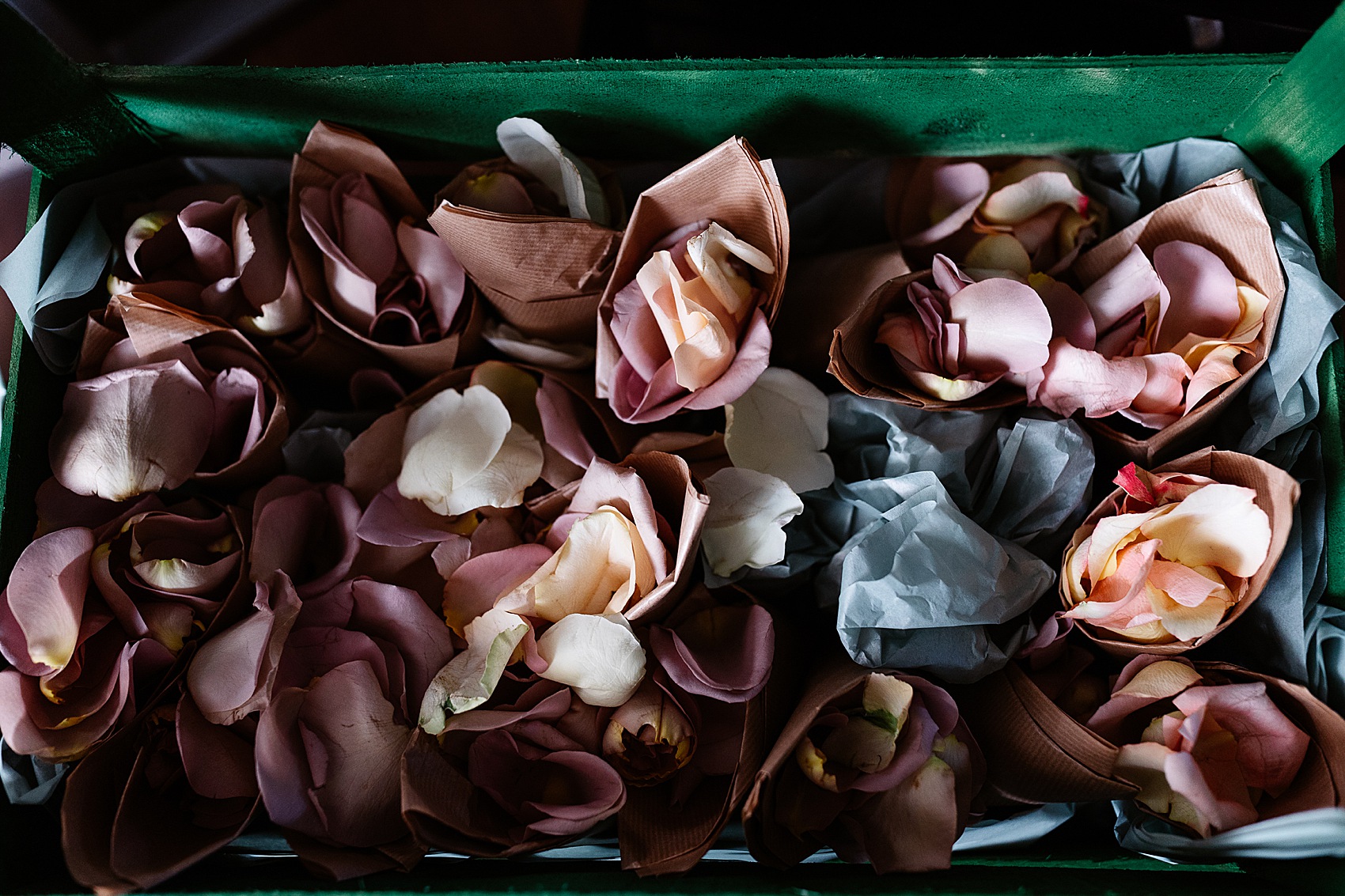 "Terri and Katie are such amazing artists and people that I decided to participate in multiple of their workshops leading up to the wedding. It was a fun way to spend more time in their magical space and was a great way to get ideas for my wedding flowers."
"They joked that from the pieces I made they had a very clear sense of what I wanted for my wedding and perhaps it would be something all their brides should do as part of the design process, which I would definitely recommend."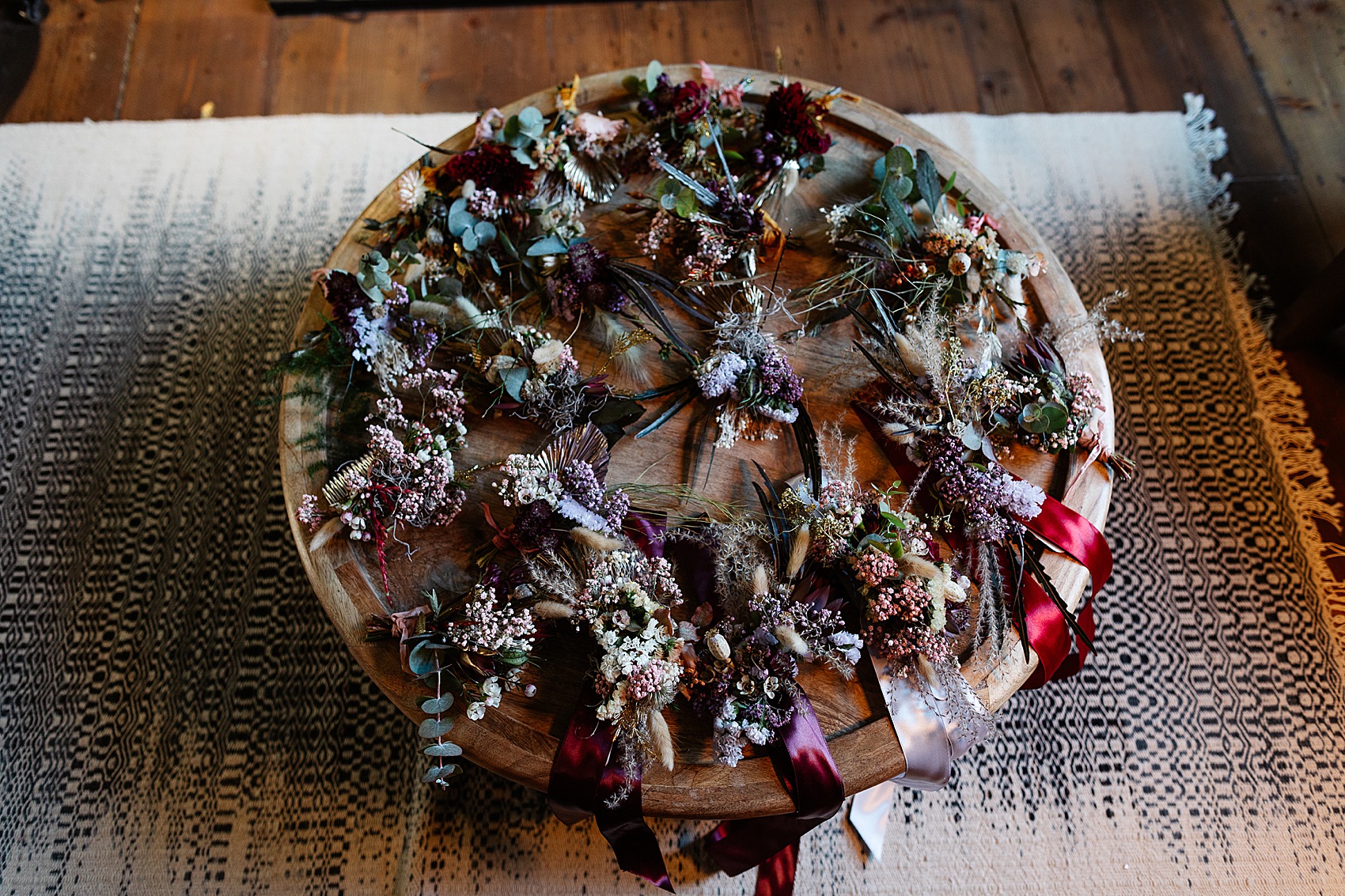 "I met my hair stylist, Ro, or Roseanne Abell many years ago when I first moved to London. She has since moved to Cornwall to open her own thriving salon. As Ro is immensely talented she's very in demand for weddings throughout the year so I was very fortunate that she was able to come over to London to do my wedding hair."
"The great thing about having someone who knows you quite well to do your bridal look is that they have a clear sense of what you look like naturally. To showcase the open back dress I wanted my hair done in an updo and Ro insightfully directed me to keep my side parting, since it is quintessentially me and getting rid of it would make me look less like myself."
Explore superb suppliers and beautiful venues in our Little Book Wedding Directory
"She did an incredible job at integrating the myriad of floral pieces Worm London had made for my hair. The result was truly a work of art. Also, Ro spent the night at our flat with us so she was the first person I was with on my wedding morning. We woke up together at 6am and she kept me calm and relaxed for the first hour of my wedding day. It was so special to have her expertise and grounded energy from the very early start.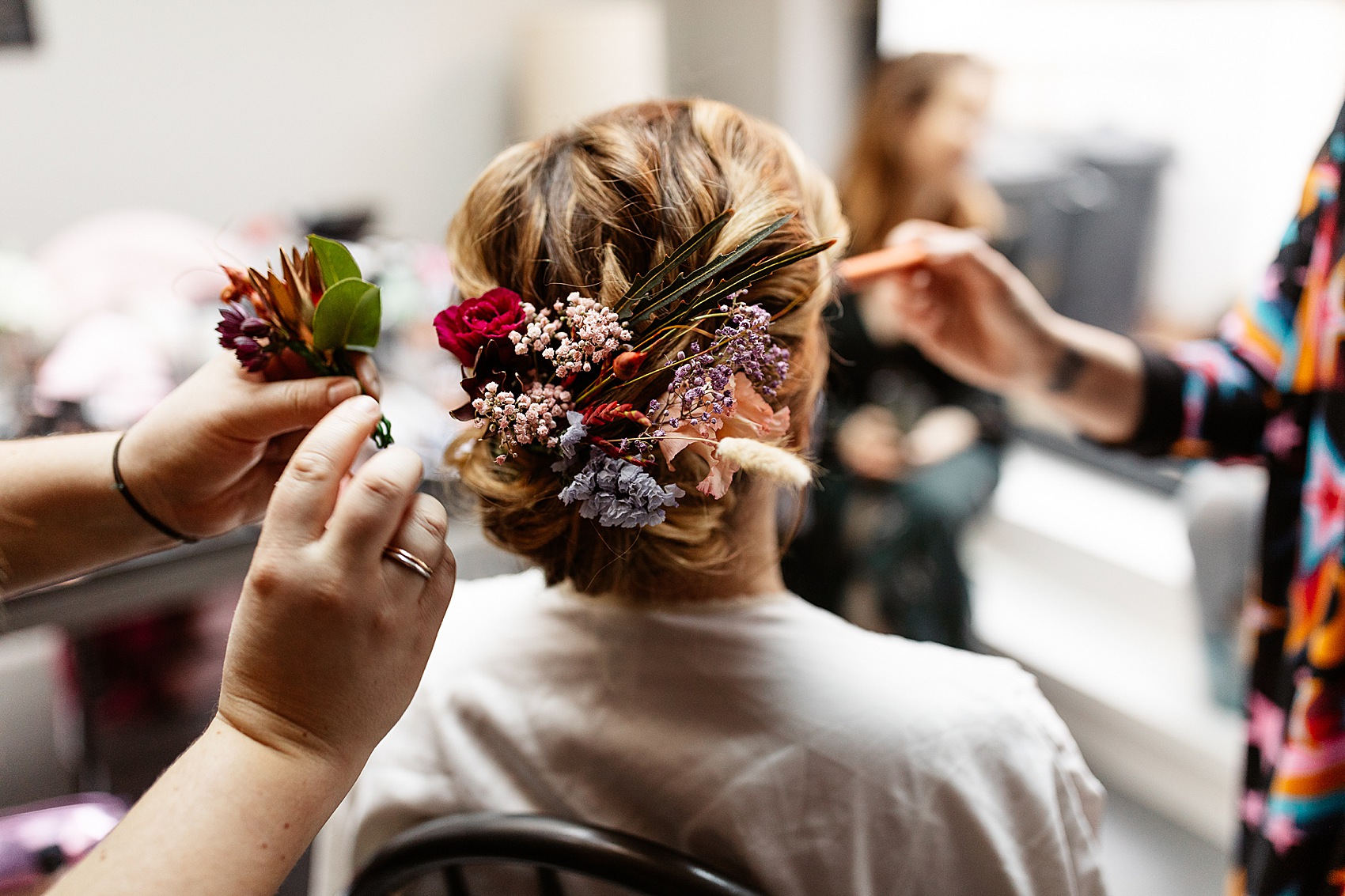 "When I started looking for my wedding dress I knew I wanted something that oozed classic glamour, and as we were getting married in London at the end January I definitely wanted to wear sleeves. I was open to layering but wanted to be able to wear the dress without coverage around London for photographs."
"Wedding dresses seem to be very much designed with summer in mind so even most of the dresses with sleeves were lace, which are lovely but not my style."
Explore all of Sassi's beautiful wedding dress designs
"Caroline at The Wedding Gallery was incredibly helpful and knew right away which look to put me in. The Sassi Holford dress is actually a simple white Sasha Slip dress, with a matching Harriet Jacket."
"The jacket is the magical transformative piece. The moment Caroline buttoned up the jacket I felt so beautiful and so like the best version of myself."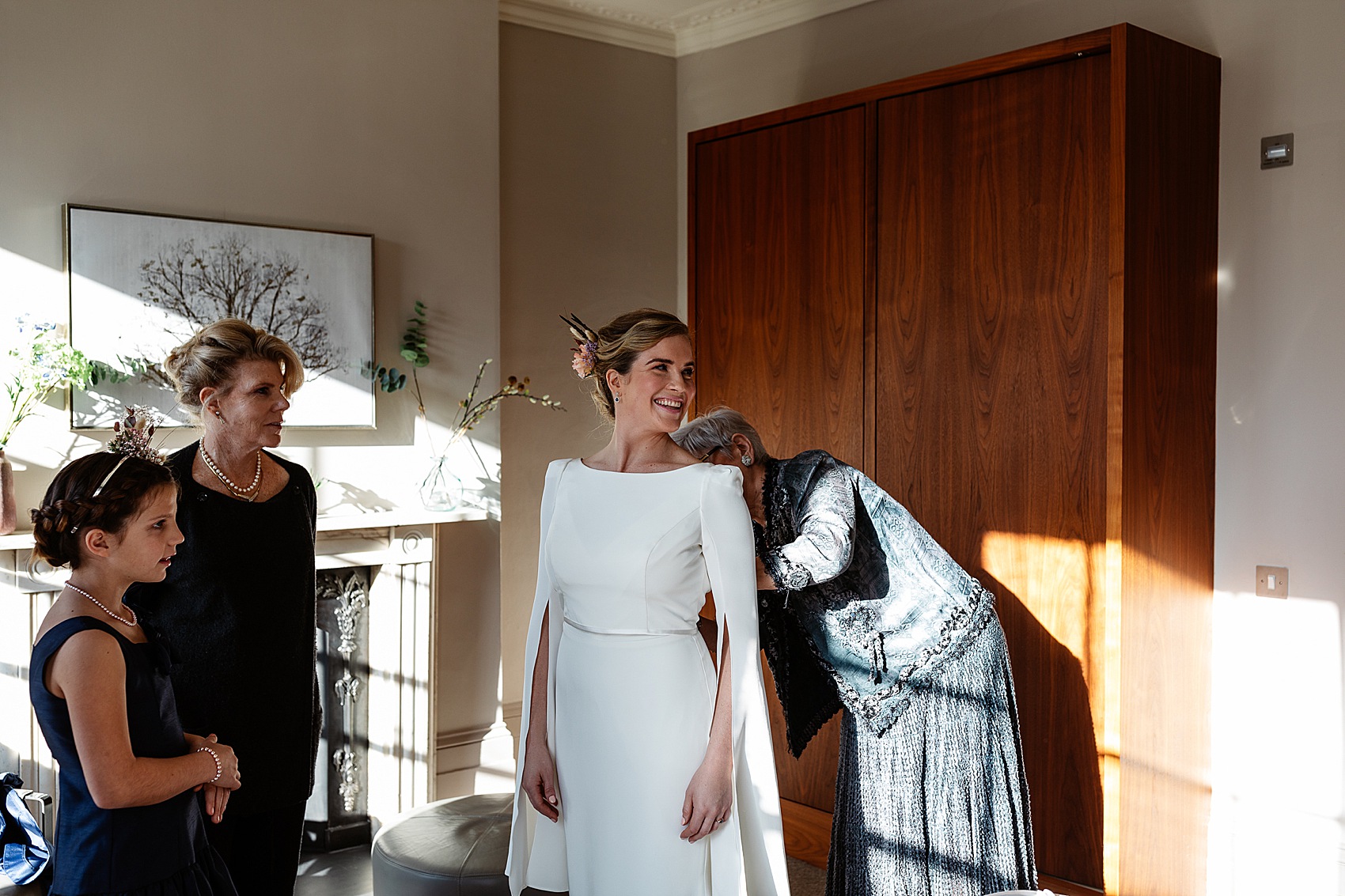 "Kate Balding came as a recommendation from Heather, our photographer. Kate and I became fast friends during my trial when we discovered we share the same birthday! Kate is such a blast to be around."
"Both during the trial and on the morning of my wedding she was such a joy to be around – not to mention she is an immense talent. She really took my direction and desires into account when creating my bridal makeup."
Join our closed Facebook group for brides – a safe, protected space with a wonderful community of supportive fellow brides
"We ended up going for dinner after the wedding to debrief. It's so pleasurable sharing the morning with wonderful women and the perfect foundation before you are off and running through your wedding day. It's very surreal to spend time getting to know these creatives so personally and then to say goodbye as you head off. I've felt very fortunate to remain friends with many of the people I met through our wedding."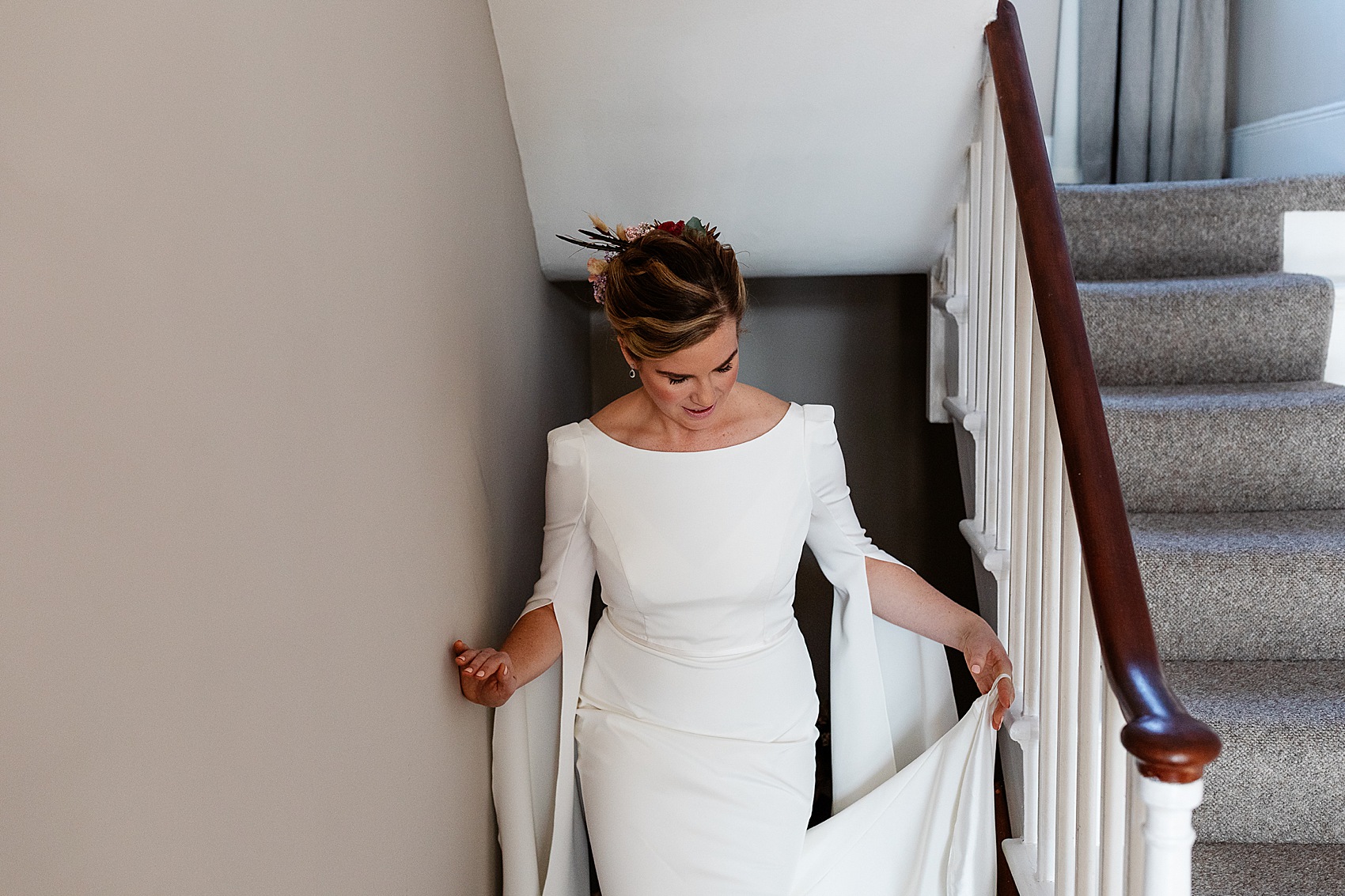 "I immediately began moving my arms around, and the drama of the sleeves enveloped my whole body so that all movement felt heightened and extraordinary."
"The dress seamlessly integrated all the elements of our wedding into one look – winter, city and theatrical."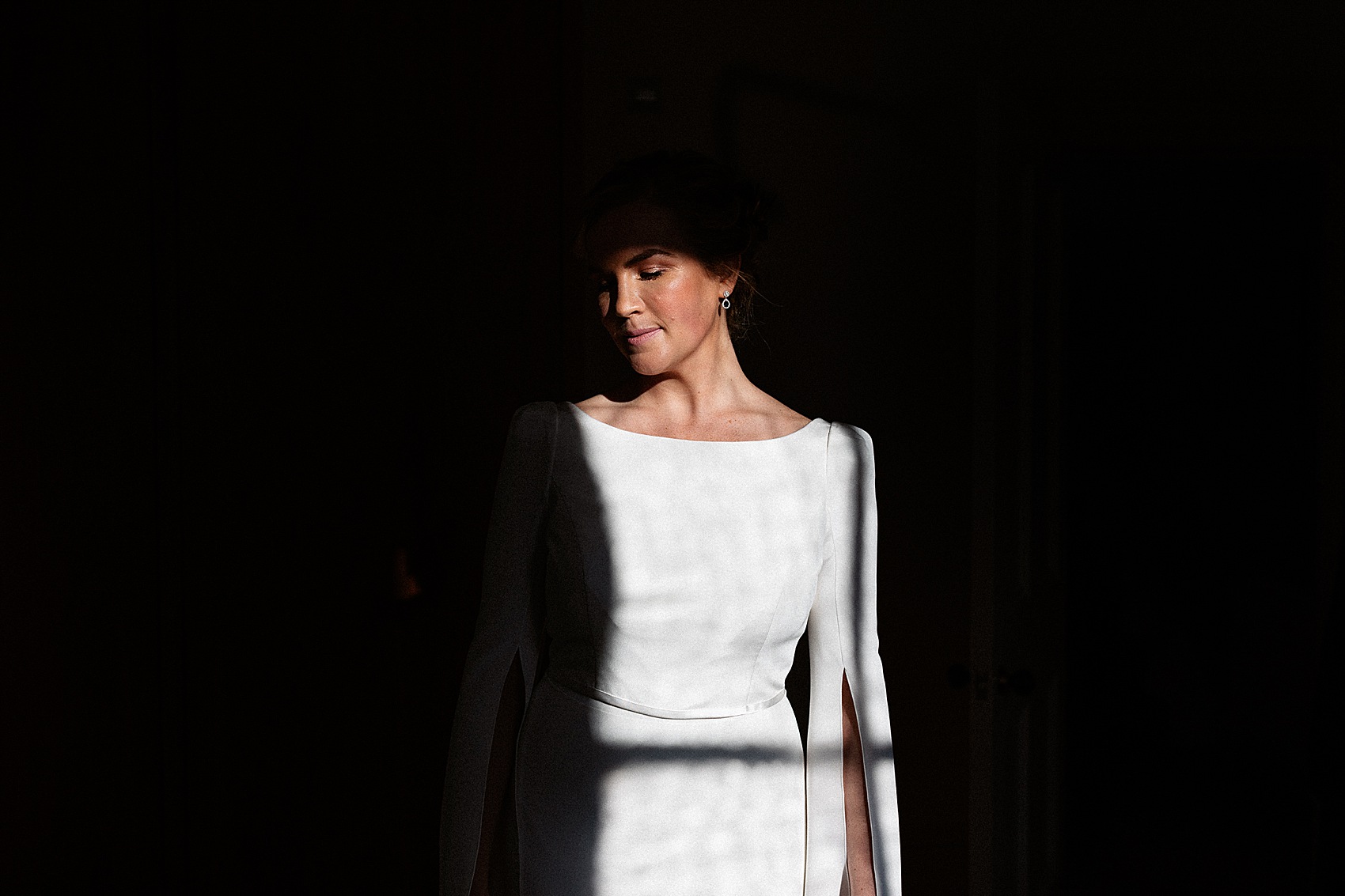 "I wore my mother's shoes from her wedding to my father in November 1985, which were embellished by my godmother."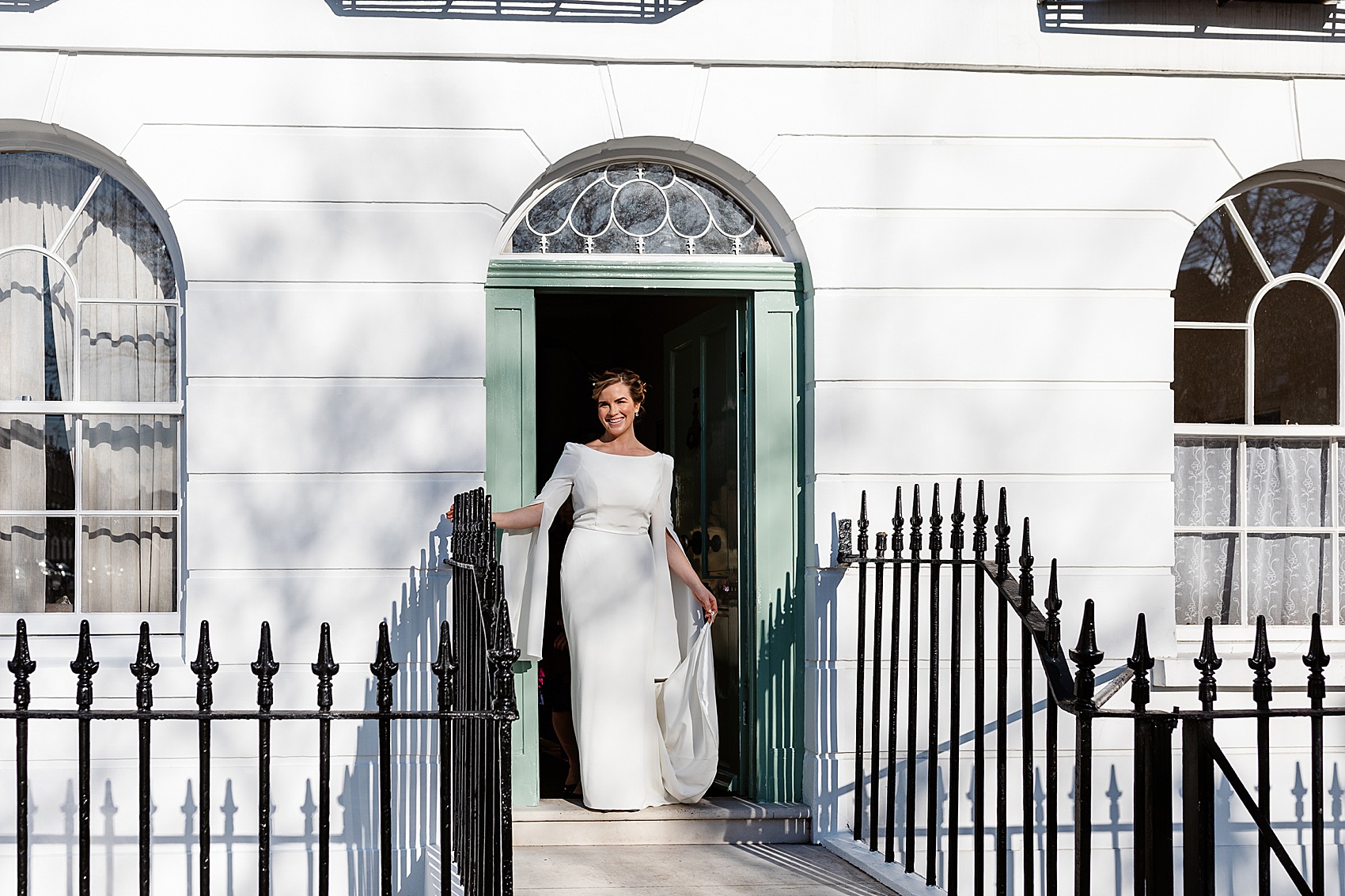 "Moss wore an Evergreen wool jacket, navy trousers, a paisley purple and gold tie and Loake shoes. We had a lot of fun shopping for Moss' wedding day look with Wingate, an amazing theatre designer friend of ours, even though the timing meant braving Oxford Street a fortnight before Christmas."
"He also wore a pair of silver cufflinks made by Chris Parry that were impeccably engraved with the moon and star logo that Wingate had created for our wedding stationery."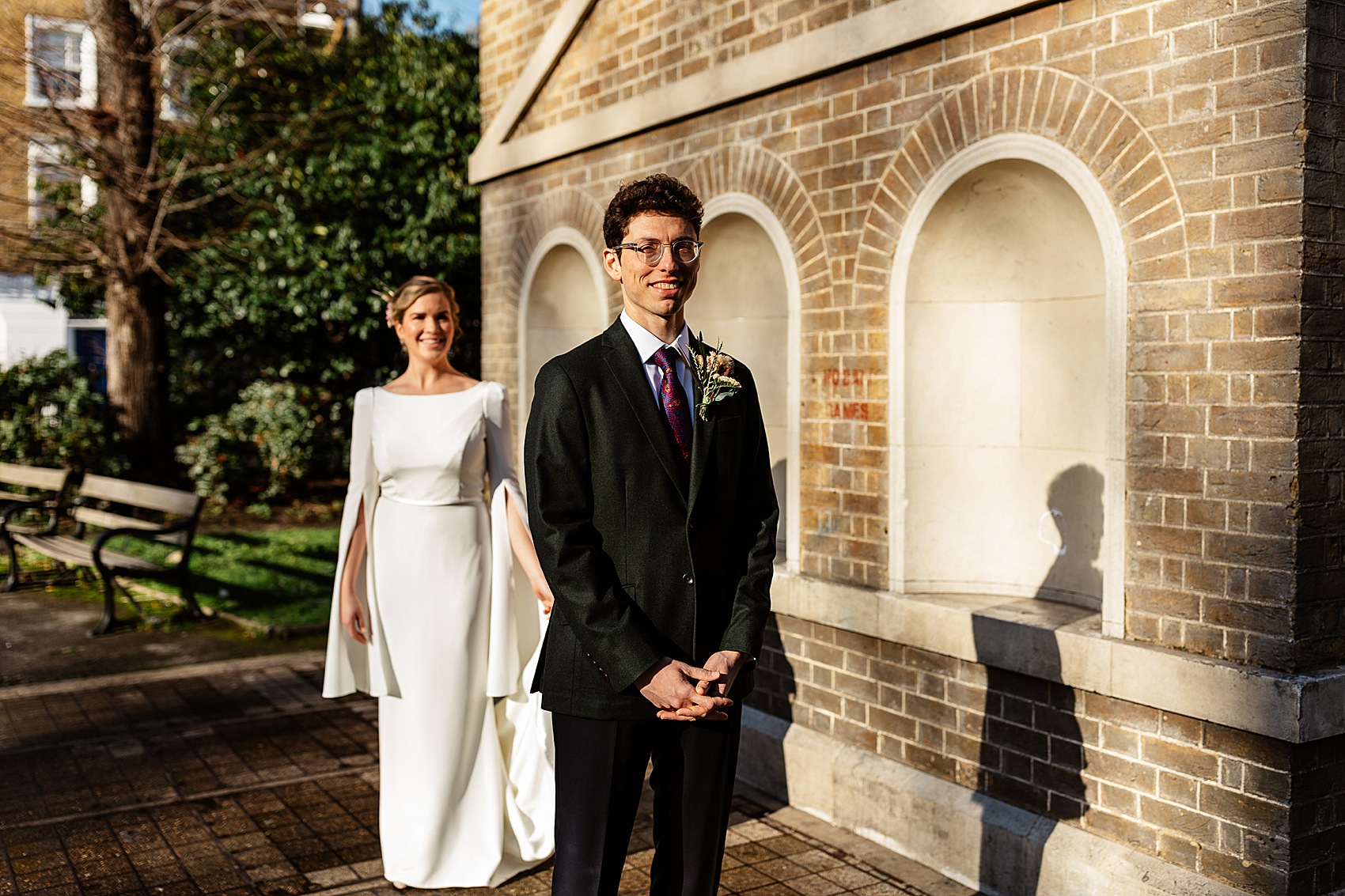 "I proposed to Moss on our anniversary weekend in May 2018. We were away doing a pottery course in the New Forest and on our walk home from the pub a huge storm started. We sheltered ourselves and watched the sky put on an incredible show."
"Pottery and epic weather are two of Moss' favourite things so I felt like I should take advantage of the opportune moment. Moss and I had talked about getting married before, but we like to think about this being the proposal."
"Later that summer on an eight hour hike whilst we were visiting his family at their summer house it was Moss' turn to propose to me with the ring."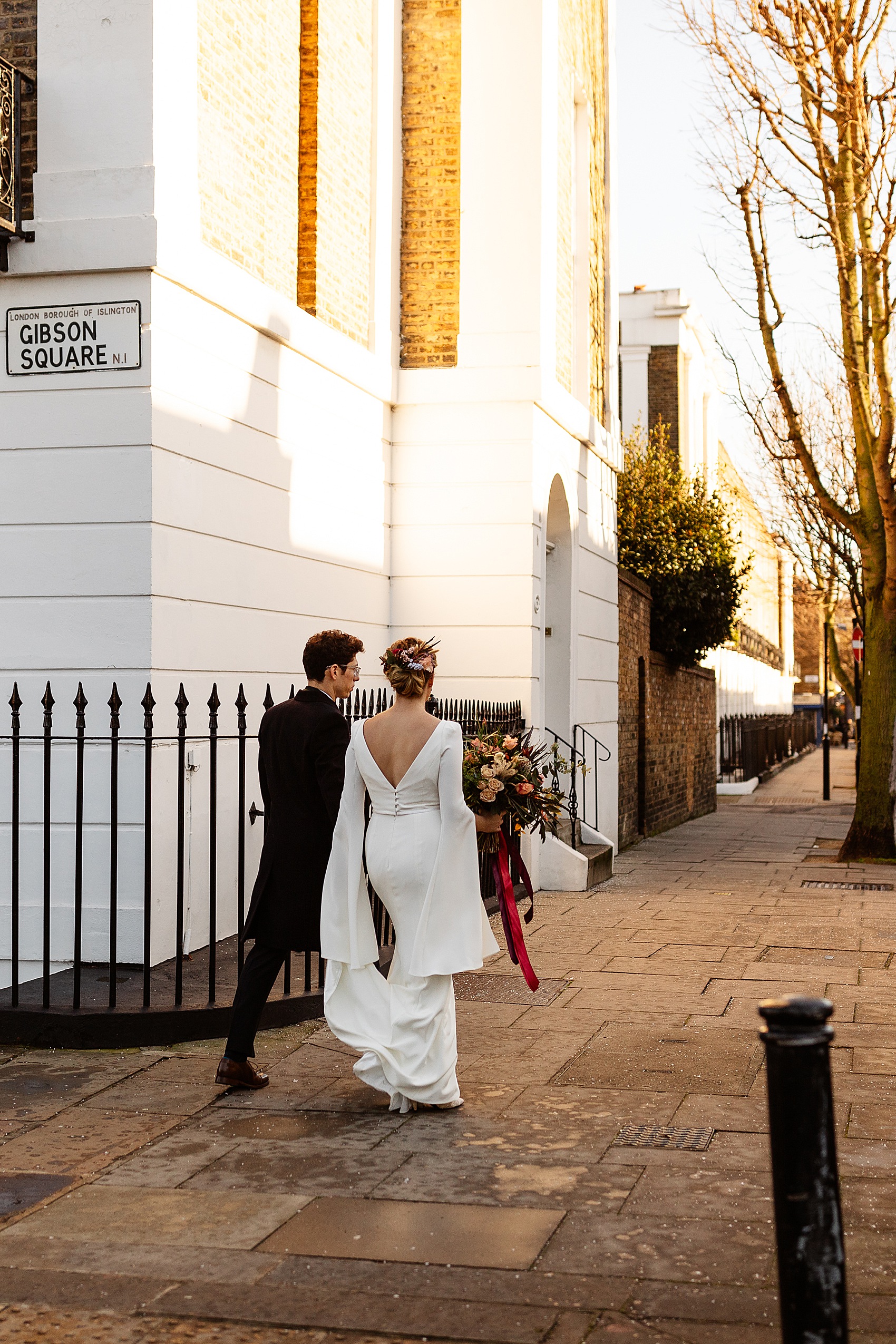 Once he had established his footing near the edge of a cliff, he got down on one knee and proposed. Hilariously the ring didn't fit because my hands had swollen up on the hike. I knew his parents were waiting at home for me to return with the ring on, so I requested a quick stop at a very cold natural spring nearby."
"After I jumped in the freezing water, we got back in the car and the ring magically slipped onto my finger."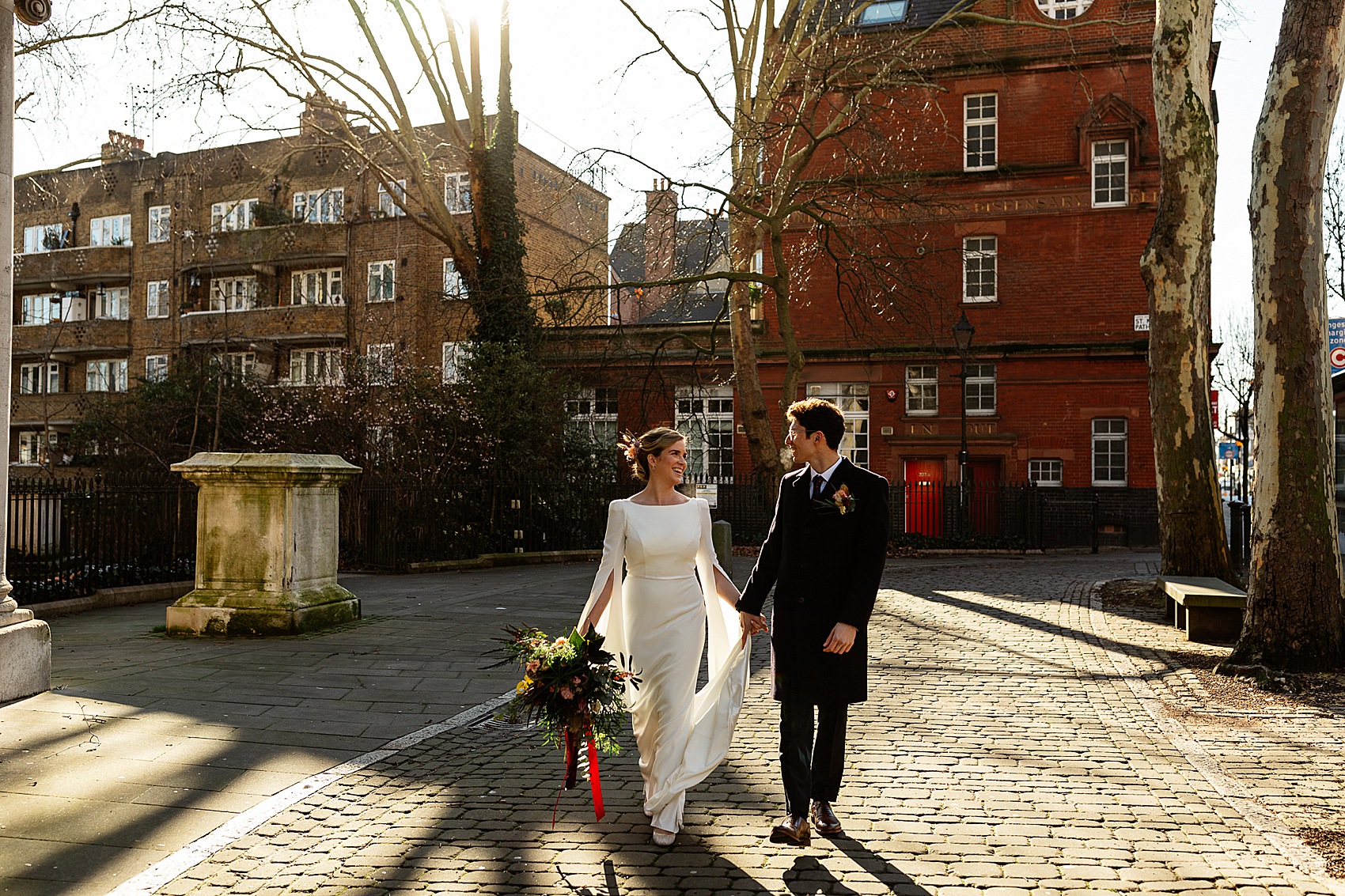 "Having the ceremony at Islington Town Hall and the evening's festivities at The Rosemary Branch Theatre made our wedding so meaningful and special. We don't live far from Islington Town Hall and it's so significant every time we pass by."
"It feels like such a gift to keep the dear places from our wedding day in our daily lives. Being the co-artistic director of the Rosemary Branch Theatre for three years made styling and personalising the space for our wedding day such a unique experience.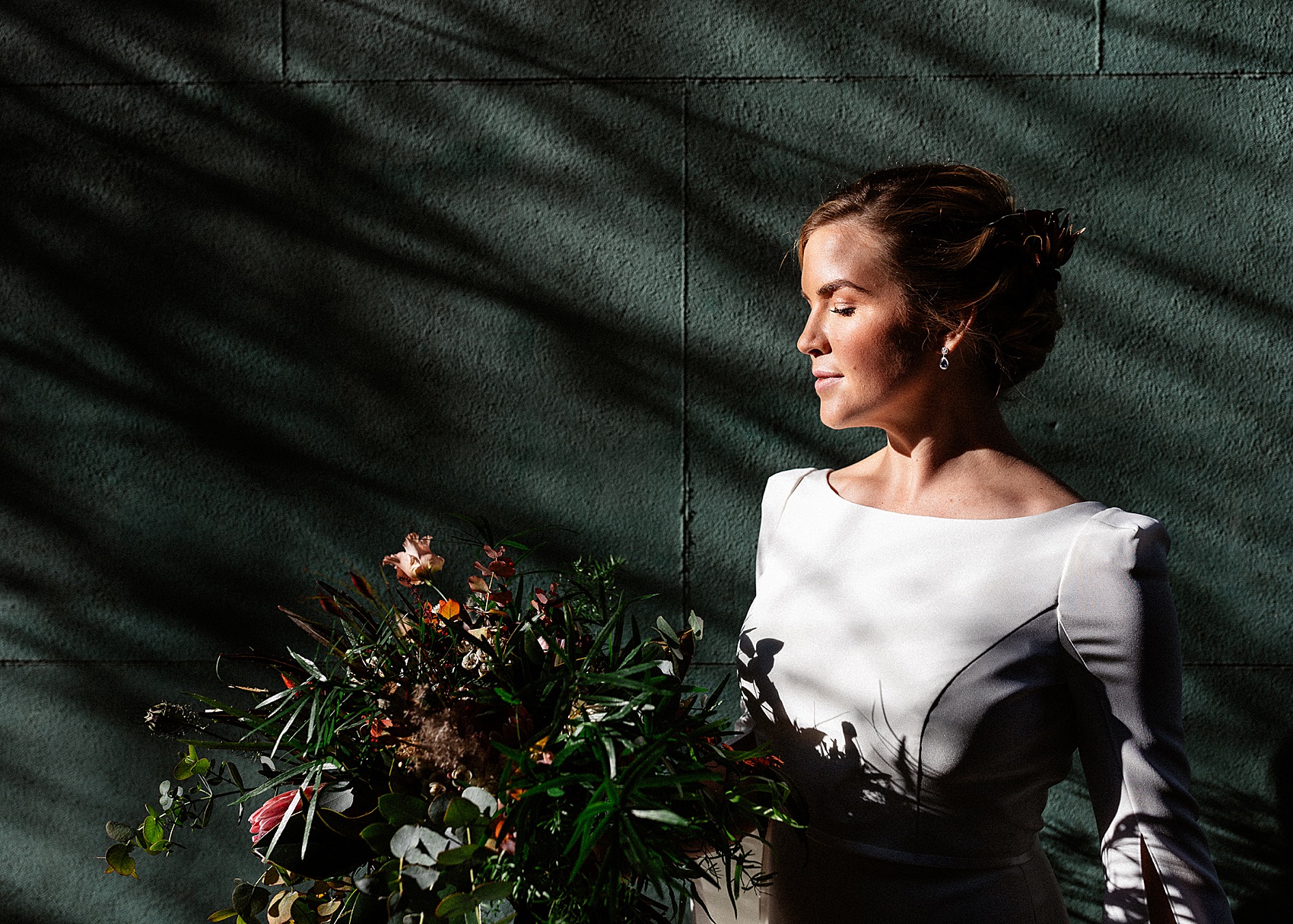 "I've always loved the crisp white winter light in the UK – an odd thing for someone from LA to say. Genuinely though I've always preferred the light in the UK to that of California, especially in the winter."
"The day before our wedding and the day after our wedding it snowed, but on our wedding day we awoke to a perfectly clear blue sky. It was unexpected to be asking our guests to take off their sunglasses for the photos outside of Islington Town Hall."
"Although our wedding day was filled with the most beautiful light, the real beauty of a winter wedding is that you fully accept that it might rain or snow, and you prepare accordingly. With summer weddings there is so much stress around the weather and making a rain plan. With a winter wedding you can embrace the weather fully – adding layers to your bridal look and coordinating umbrellas for your guests."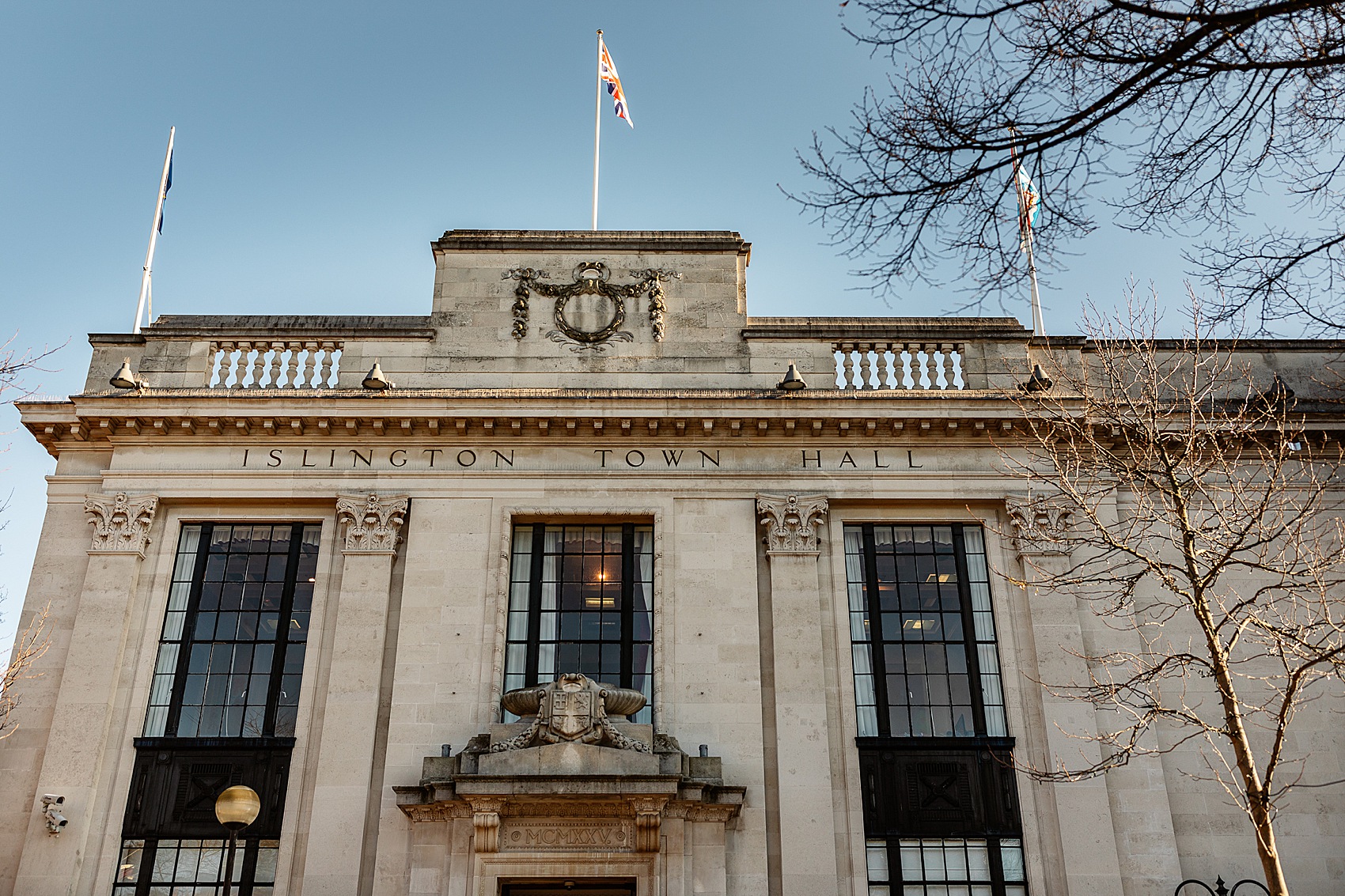 "My parents were married at the end of November, so I never thought of a winter wedding as being an outlier. Aesthetically, winter colours and textures are a natural fit for my taste – I find them truly romantic. To me a winter wedding is organically filled with so much richness of colour with which to play around."
"Getting married at the end of January really took the stress off our wedding planning. The flights and accommodations were less expensive for our guests travelling from Los Angeles, Europe and Istanbul, the venues and stockists had loads of availability and there was a total lack of stress about dates clashing with other wedding dates. Also, many parks and public spaces are unoccupied in the winter so you can have usually frequented places all to yourselves!"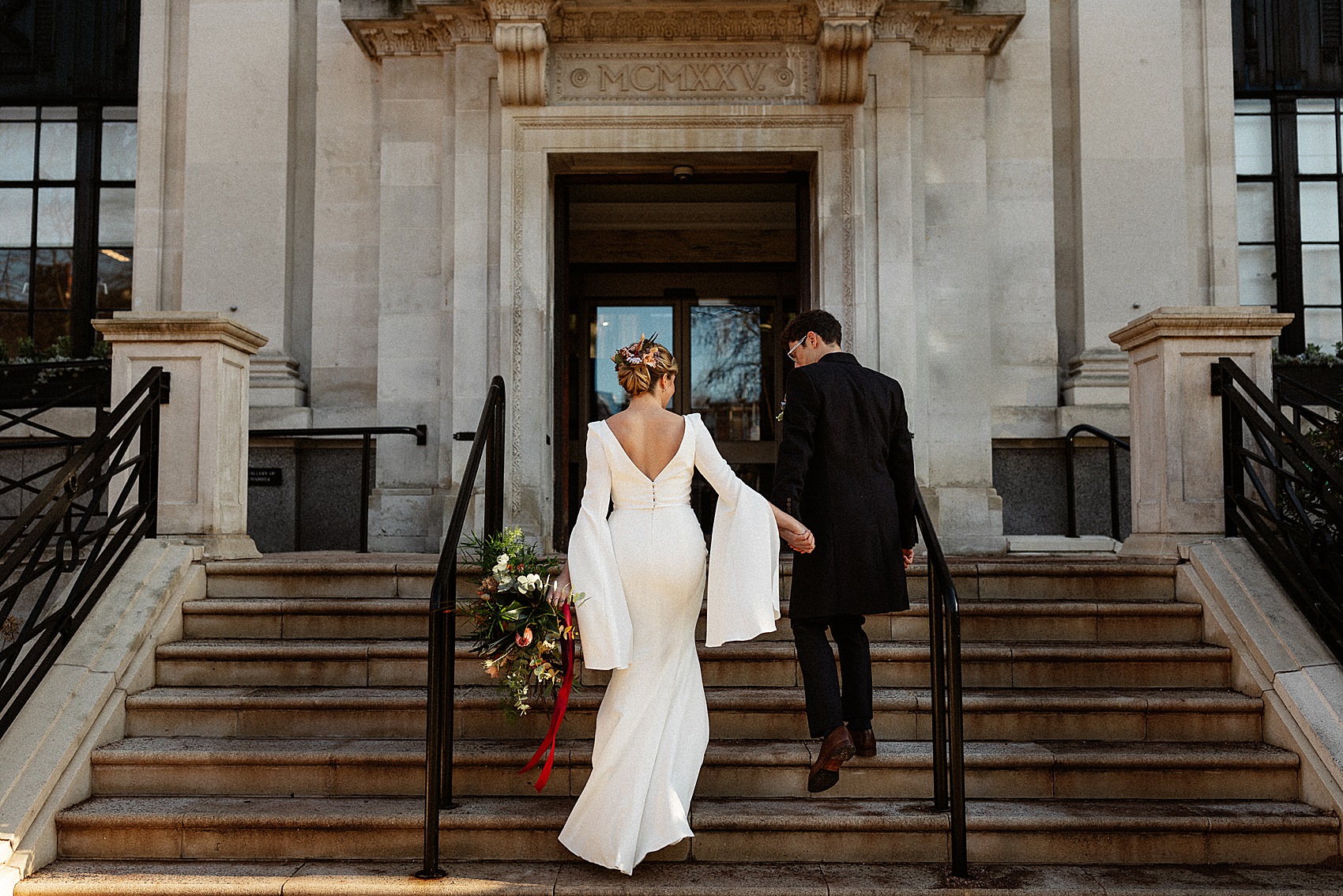 "We walked in together to the sound of 'Our Day Will Come', by Amy Winehouse. My father passed away in 2013. I suppose I could have asked someone to stand in for him, but in the end the person I wanted to walk down the aisle with was Moss. There was no pretending that we didn't see each other before the wedding. He even helped me go to the loo when we got to Town Hall."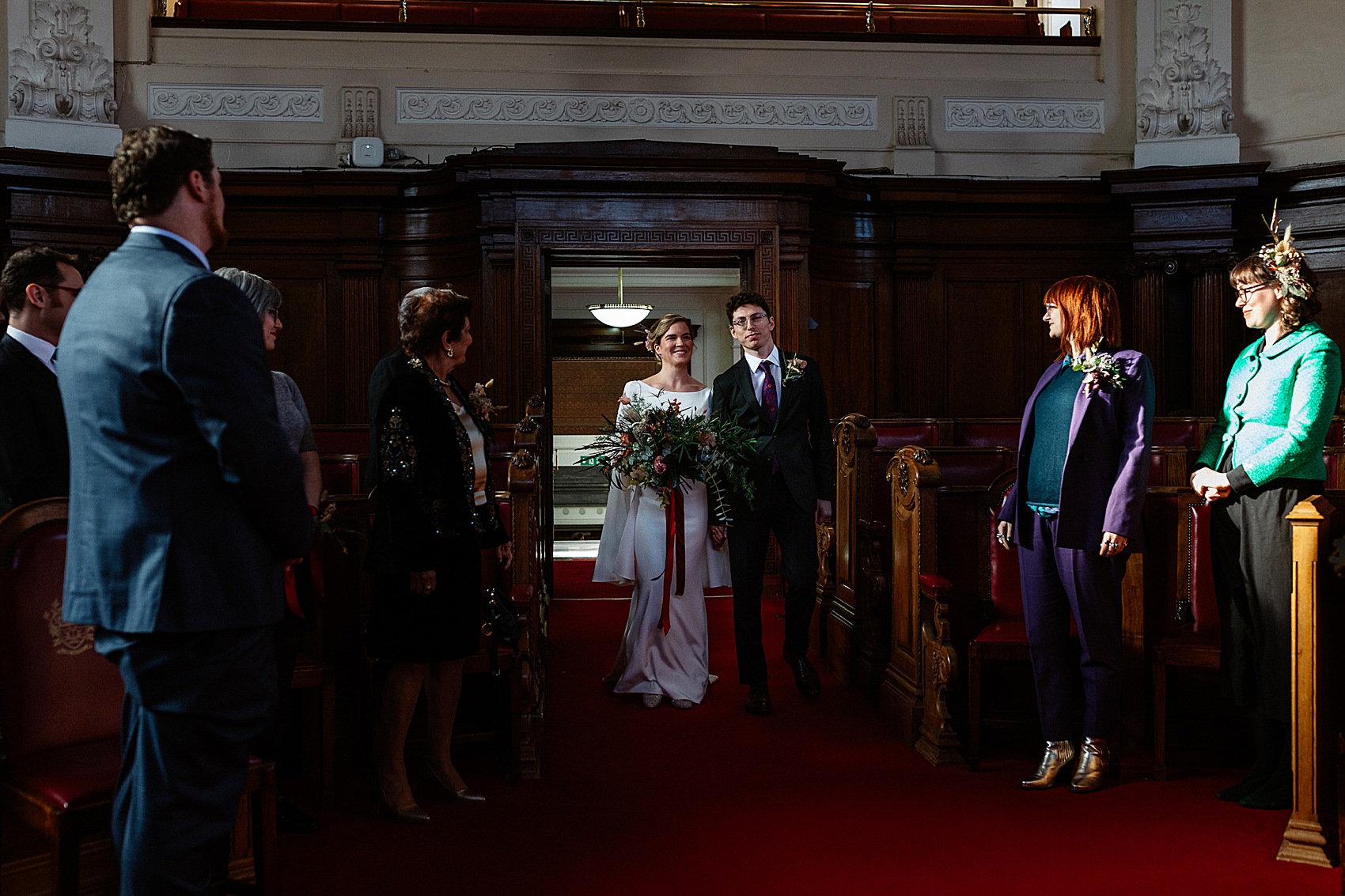 "During the ceremony there were many of our significant songs played by OJ Staines. He was a consummate professional and very accommodating to our unusual desire to have electric guitar played. The music was simply stunning."
"After the ceremony Moss commented that he wished he could have had the pleasure of enjoying OJ's set as a stand alone gig. The acoustics of the space were incredible and as the piercing white winter light streamed through the windows the Council Chamber took on an other worldly feel."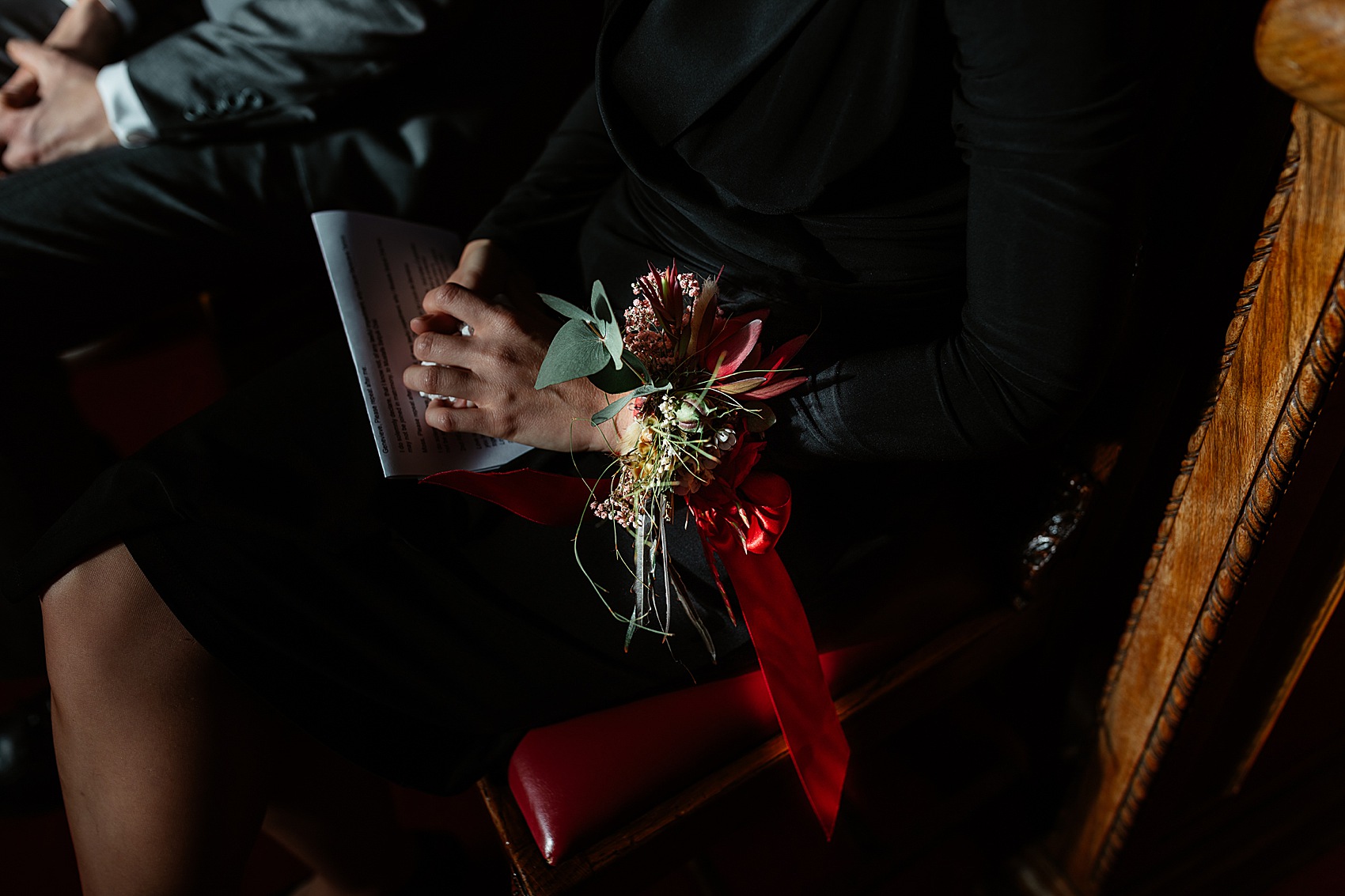 "Our ceremony was a compilation of the different scripts provided by Islington Town Hall. Appropriating selections from all of the Islington Town Hall scripts we were able to touch on all the elements of a marriage we felt like were a reflection of us."
"From cherishing each other's uniqueness to building a home filled with peace, happiness and love our ceremony was true to us and our values on marriage."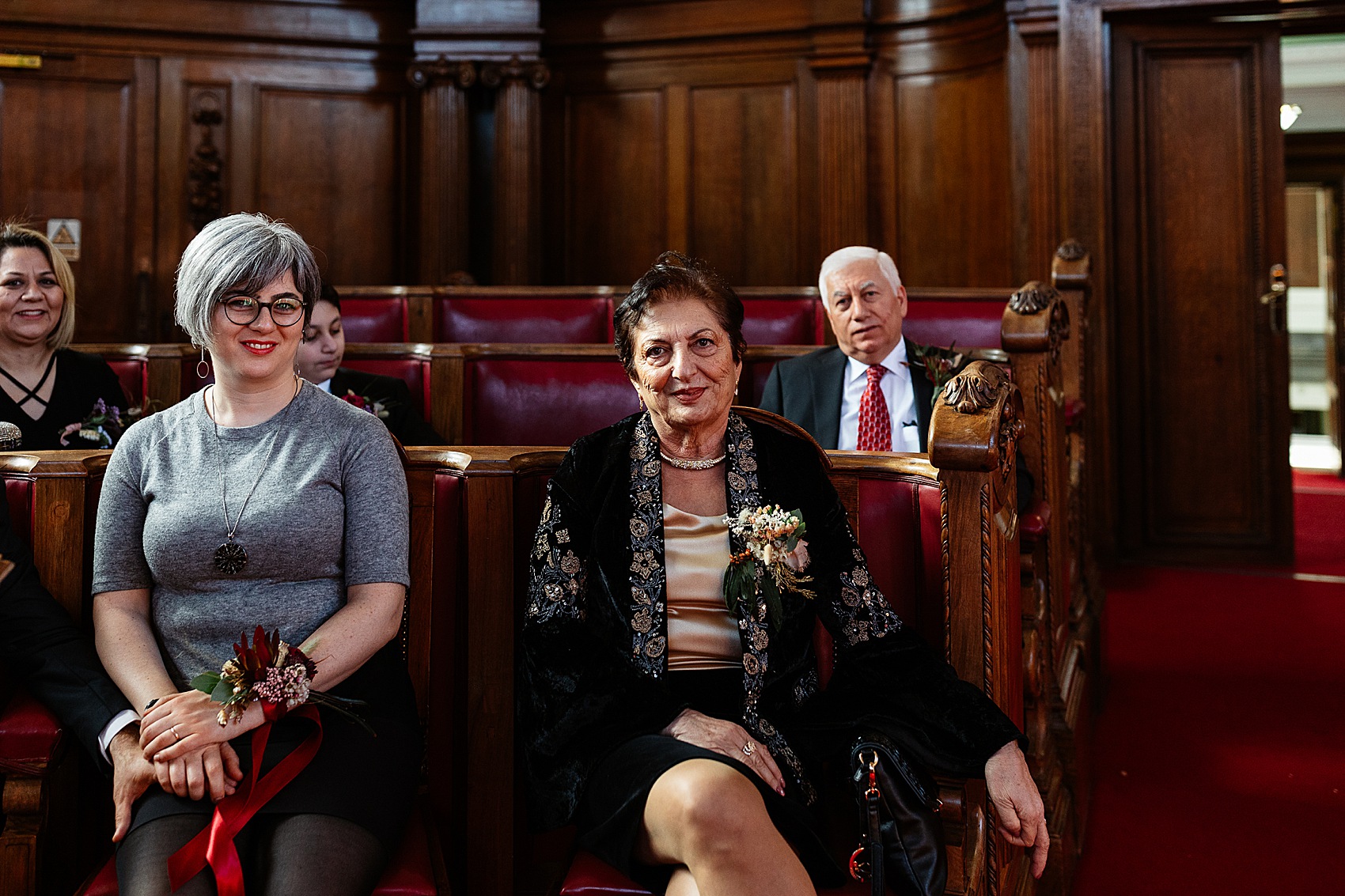 "We asked all three of our readers to select their own readings. This way they could each choose something they felt an affinity towards and would bring that affinity to their readings. Scarlett, my dear friend and co-artistic director was my witness."
"For her reading she chose a poem called 'So Much Happiness' by Naomi Shihab Nye which was such an amazing piece of poetry to compliment the part of the ceremony where my late father's absence was recognised."
Explore lots of more wedding readings here on Love My Dress
"My favourite section is 'Since there is no place large enough to contain so much happiness, you shrug, you raise your hands, and it flows out of you into everything you touch. You are not responsible. You take no credit, as the night sky takes no credit for the moon, but continues to hold it, and share it, and in that way, be known.'"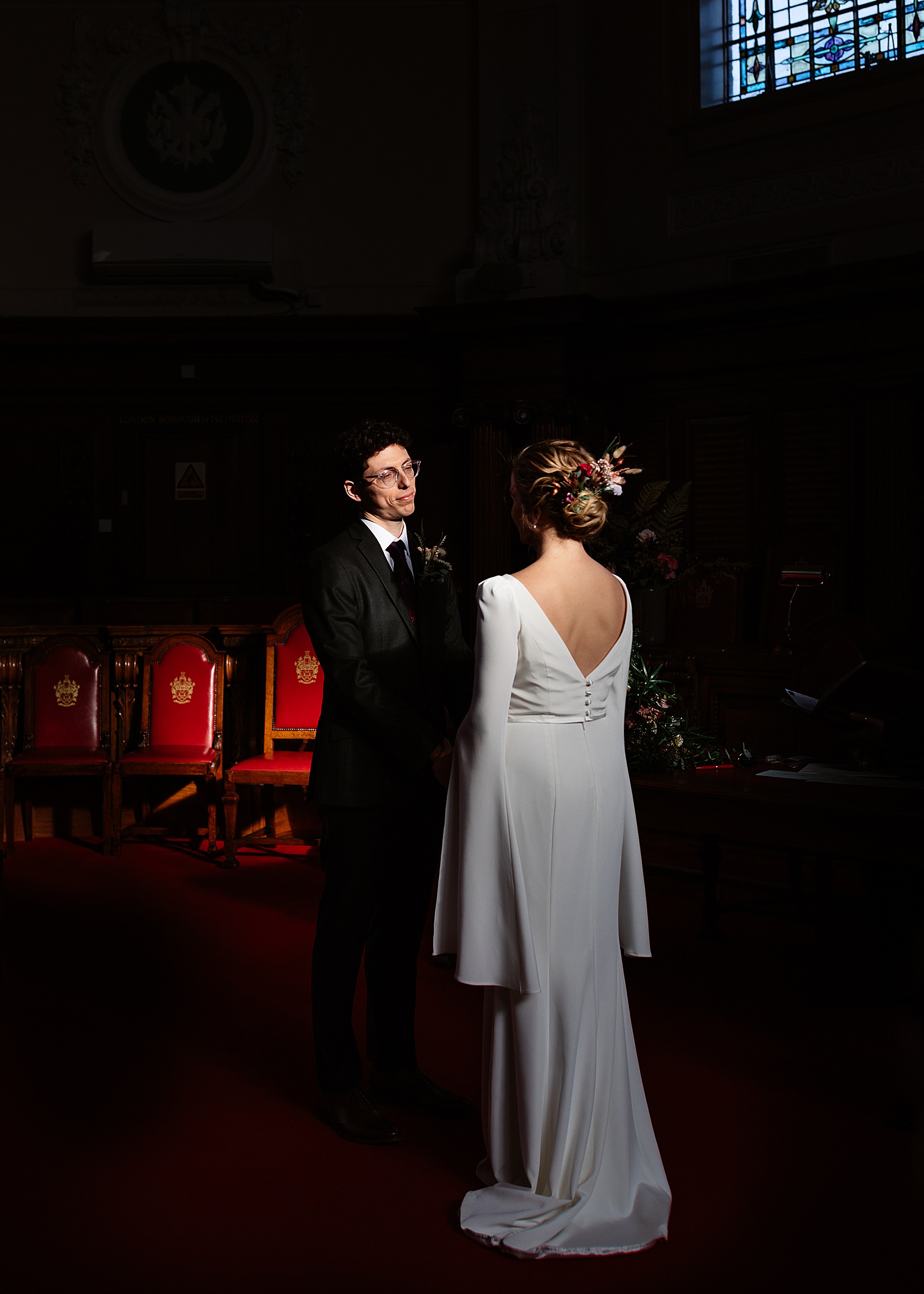 "Moss' childhood friend and witness Selen selected an expert from Captain Corelli's Mandolin by Louis de Bernières. My favourite line is 'Those that truly love have roots that grow towards each other underground, and, when all the pretty blossoms have fallen from their branches, they find that they are one tree and not two.'"
And lastly my cousin Tammy, who is much more like a sister to me, read an excerpt from The Velveteen Rabbit' by Margery Williams, which she used to read to me as a child. It was such a special moment I was completely shattered when she read, 'Generally, by the time you are Real, most of your hair has been loved off, and your eyes drop out and you get loose in the joints and very shabby. But these things don't matter at all, because once you are Real you can't be ugly, except to people who don't understand.'"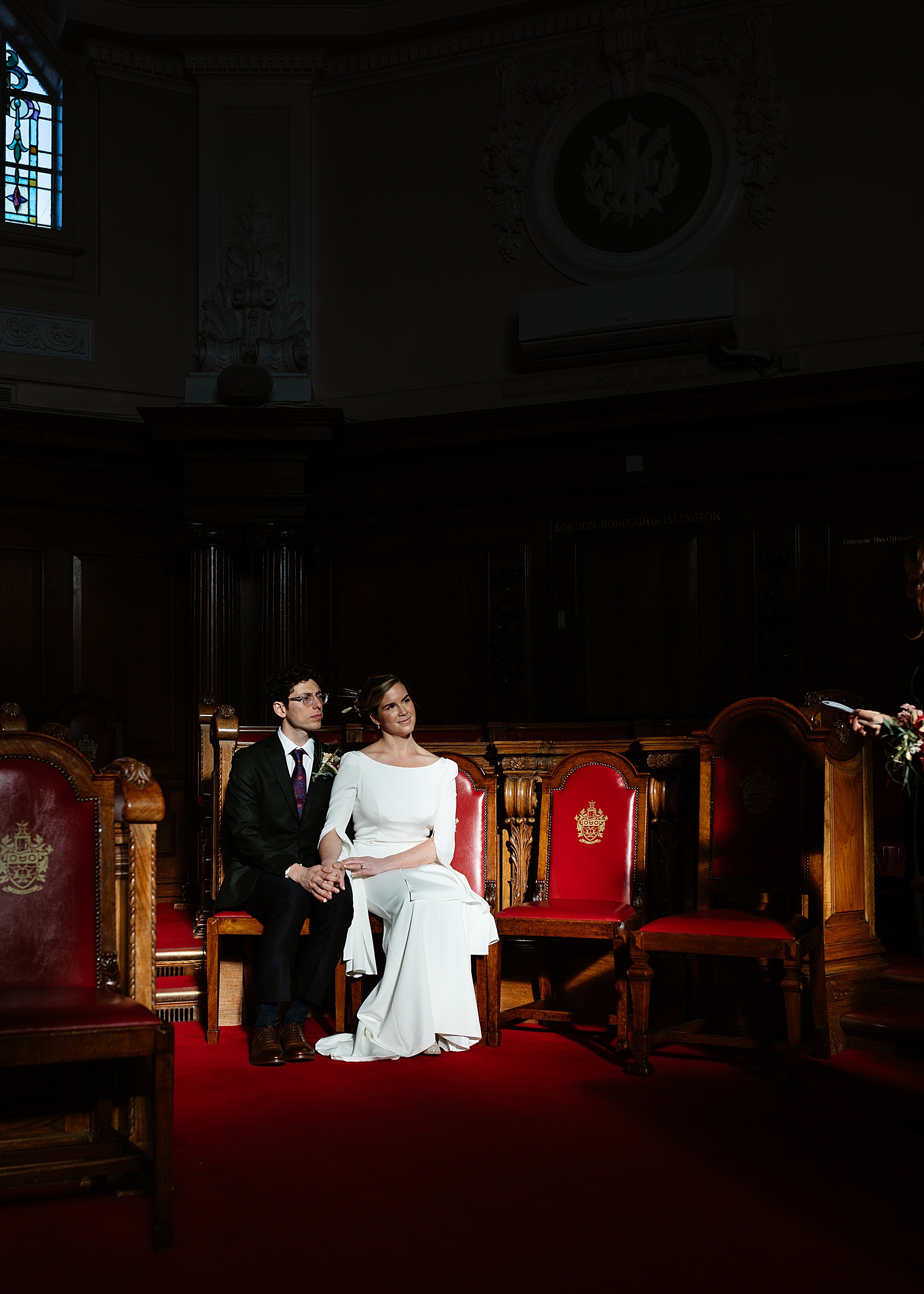 "Another fun element of our ceremony was my nine year old niece and rival for Moss' favourite person, Hazel, was our ring bearer. She has had the honour of being a flower girl many times over so she was overjoyed for an opportunity to have a change of role."
"She took great care of our rings showcased on a beautiful ceramic moon plate my dear friend Jenny had made. During the ceremony Hazel added a comic moment of straightening out my train at the exact moment the registrar asked if anyone had an objection to our union. I turned around to see who was objecting and she cringed at the realisation of how it looked like she was objecting to our marriage."
"It was such a hilarious spontaneous moment. The ceremony ended with some improved comedy when the registrar told me to step on Moss' foot. I followed her direction and the Moss' family laughed and the registrar explained in Turkish tradition this meant I was head of the household."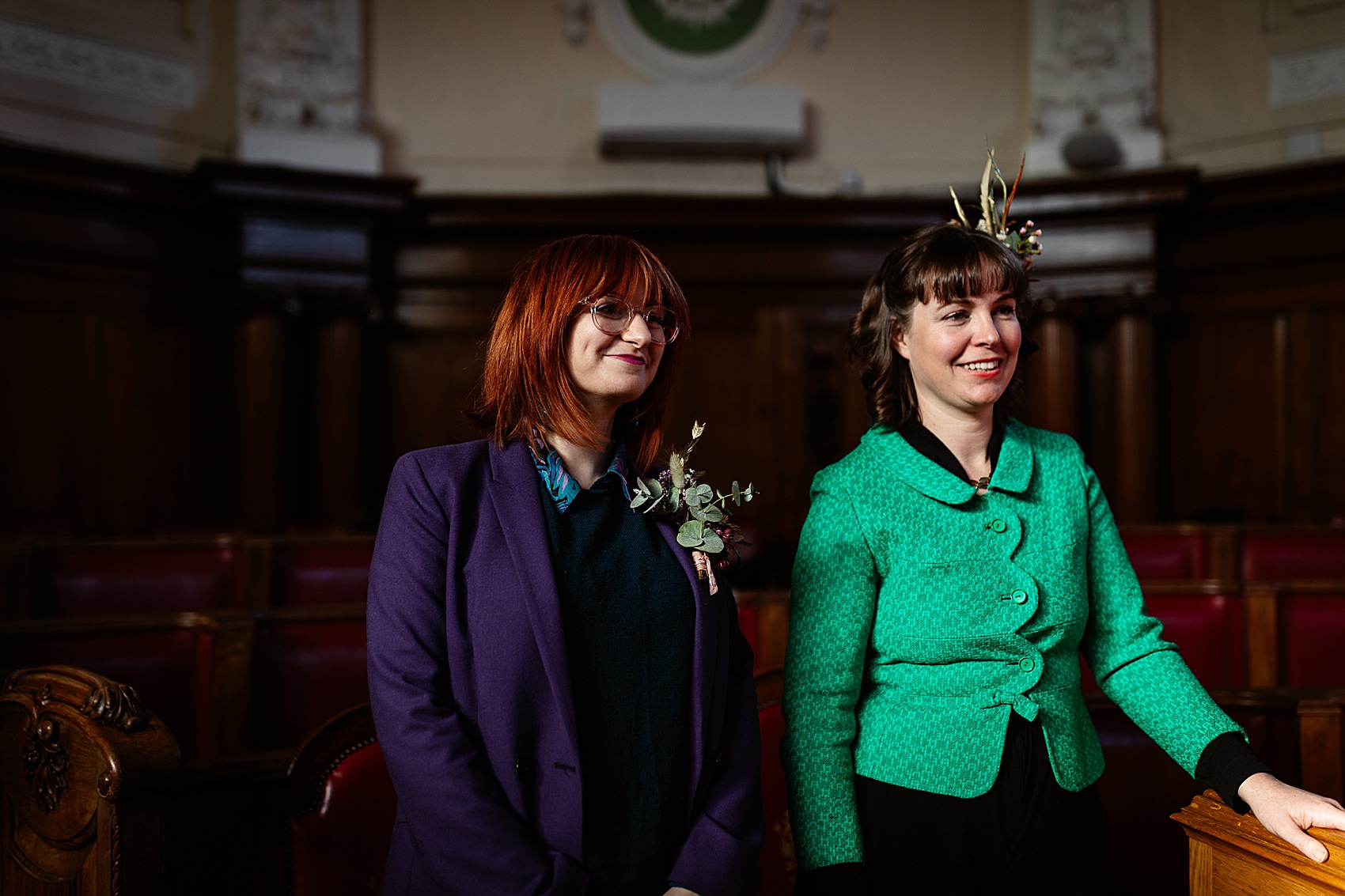 "During the signing of the register my best friend from university Suzanne, who is a professional opera singer, sang 'All of Me', and despite having a miserable head cold she sounded astonishing."
"She is such a hero she even graced us with an encore performance during cake cutting at the Rosemary Branch."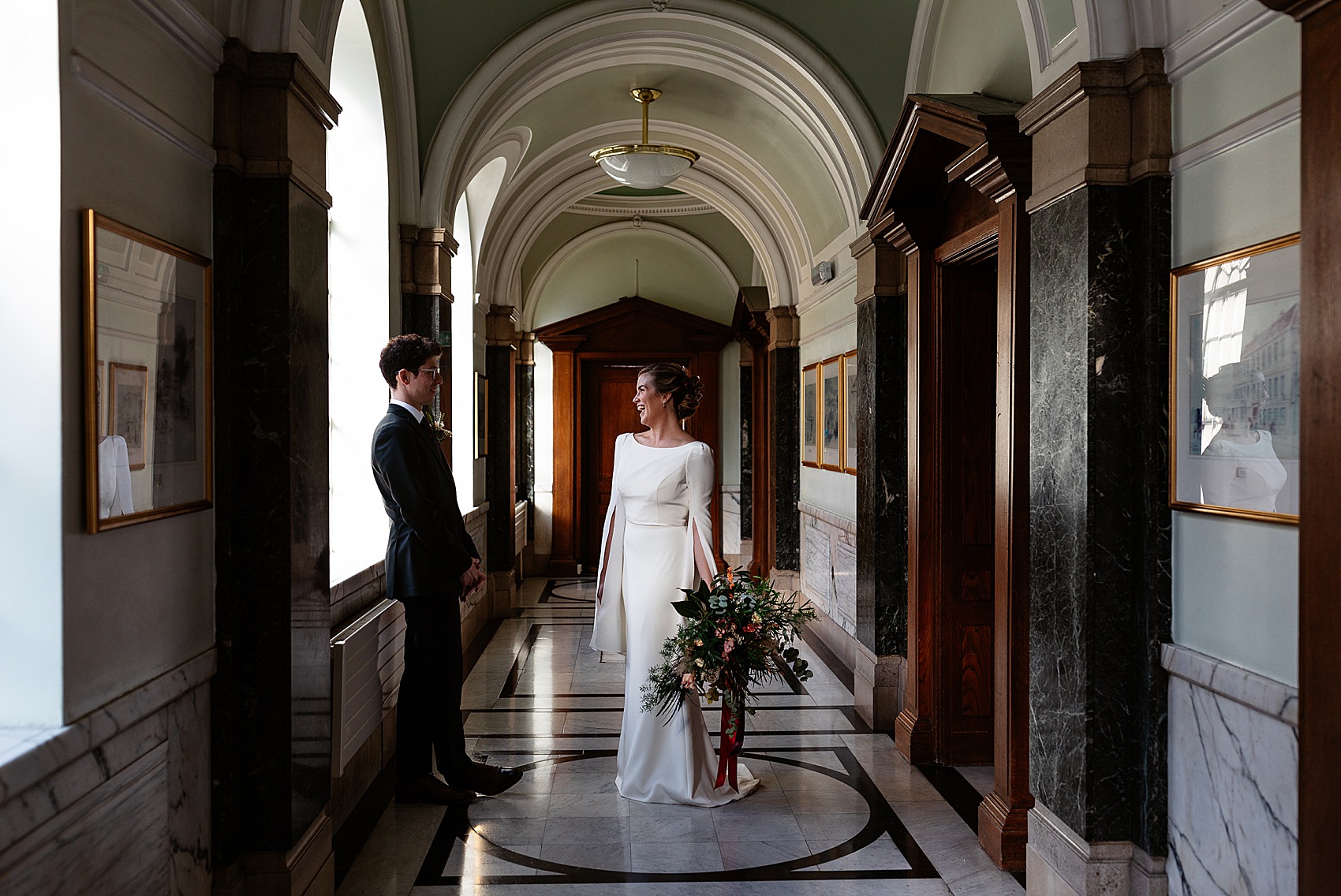 "The ceremony is definitely our favourite part of our wedding day. For us the ceremony was what the whole day was about – looking into each other's eyes and making our commitment to each in the company of our family and friends. From the moment the ceremony started we were both in tears and by the time we kissed there wasn't a dry eye in the Council Chamber. I knew I was going to cry but I didn't think it would be so prevailing. The happiness was so overwhelming."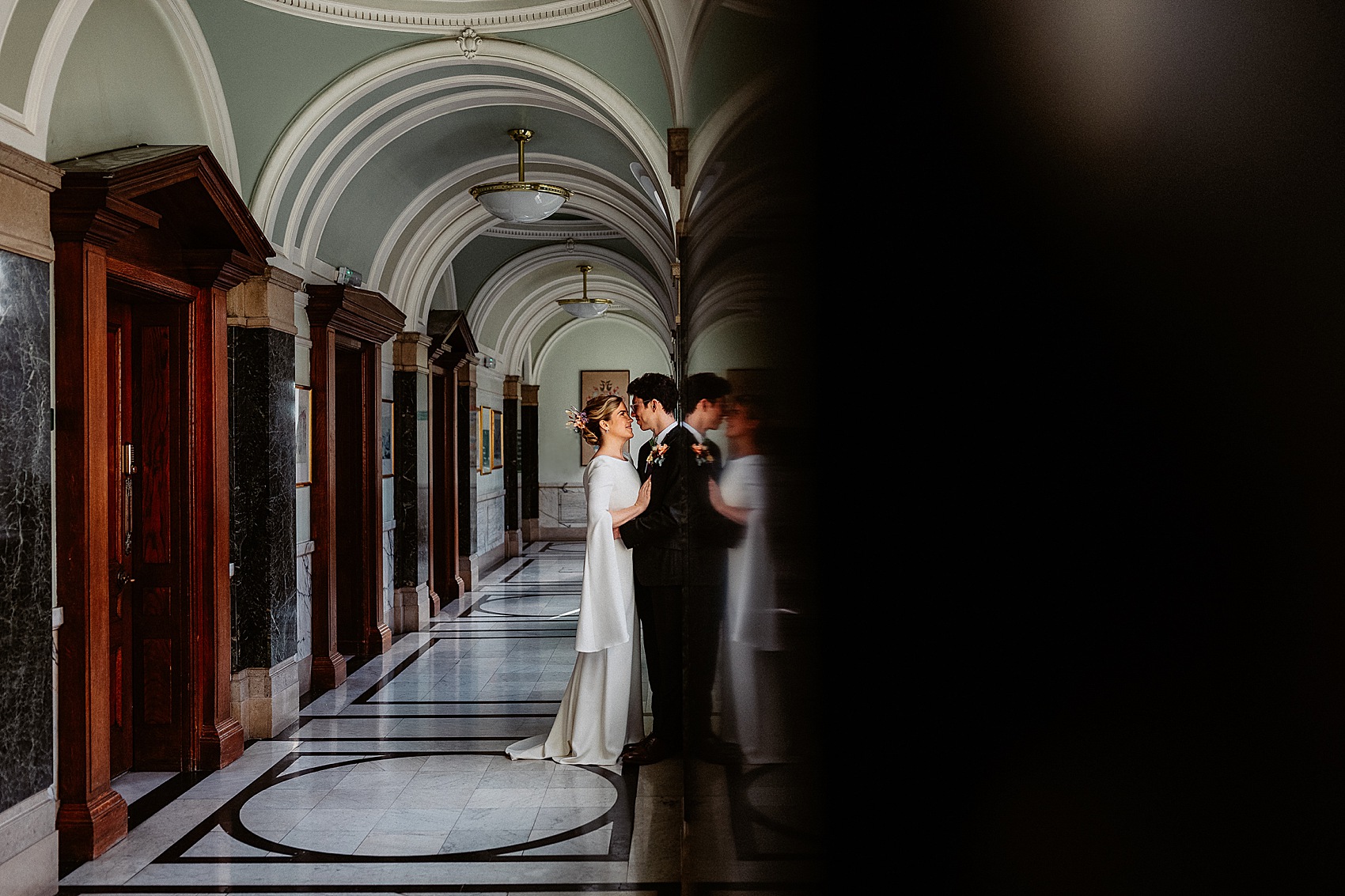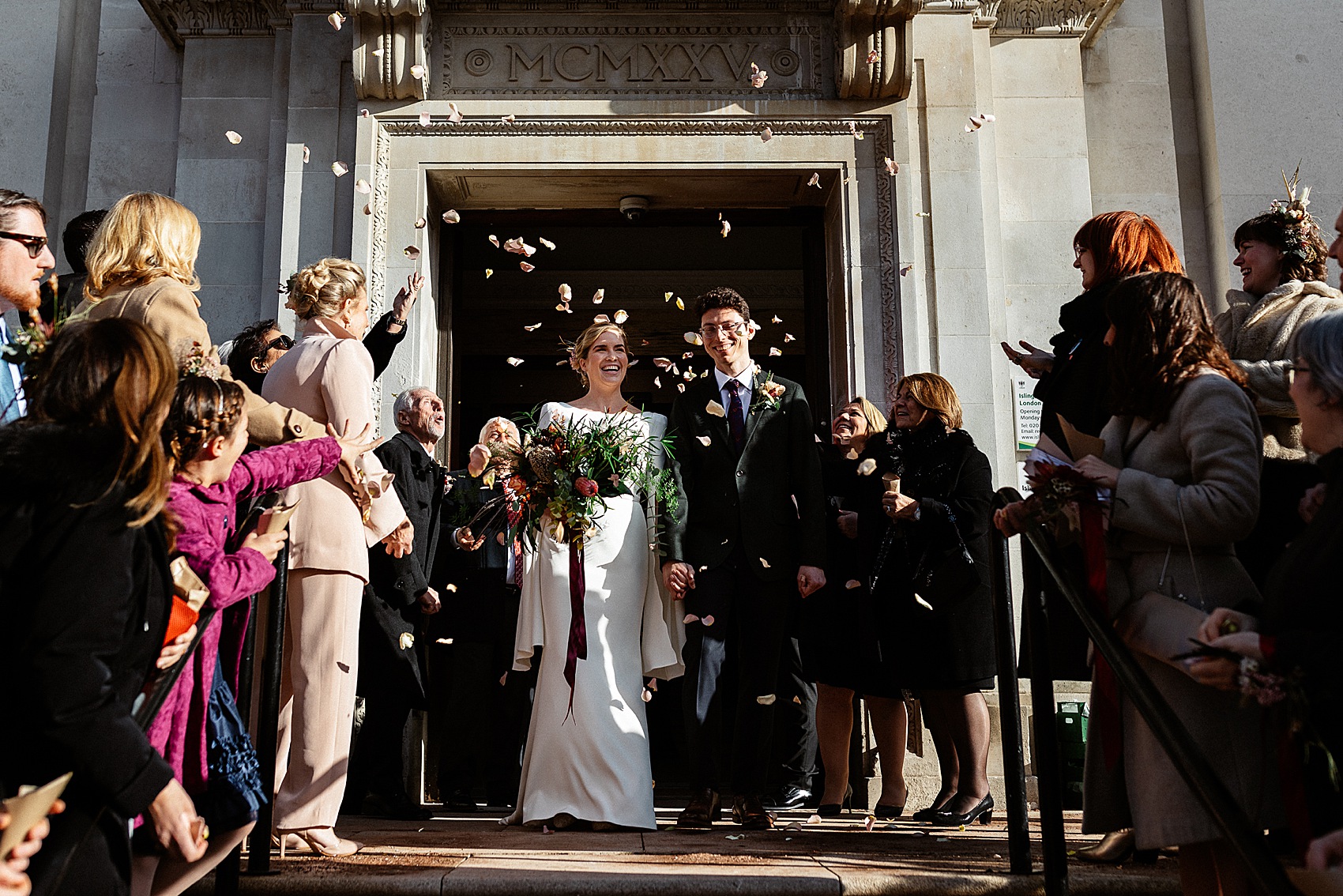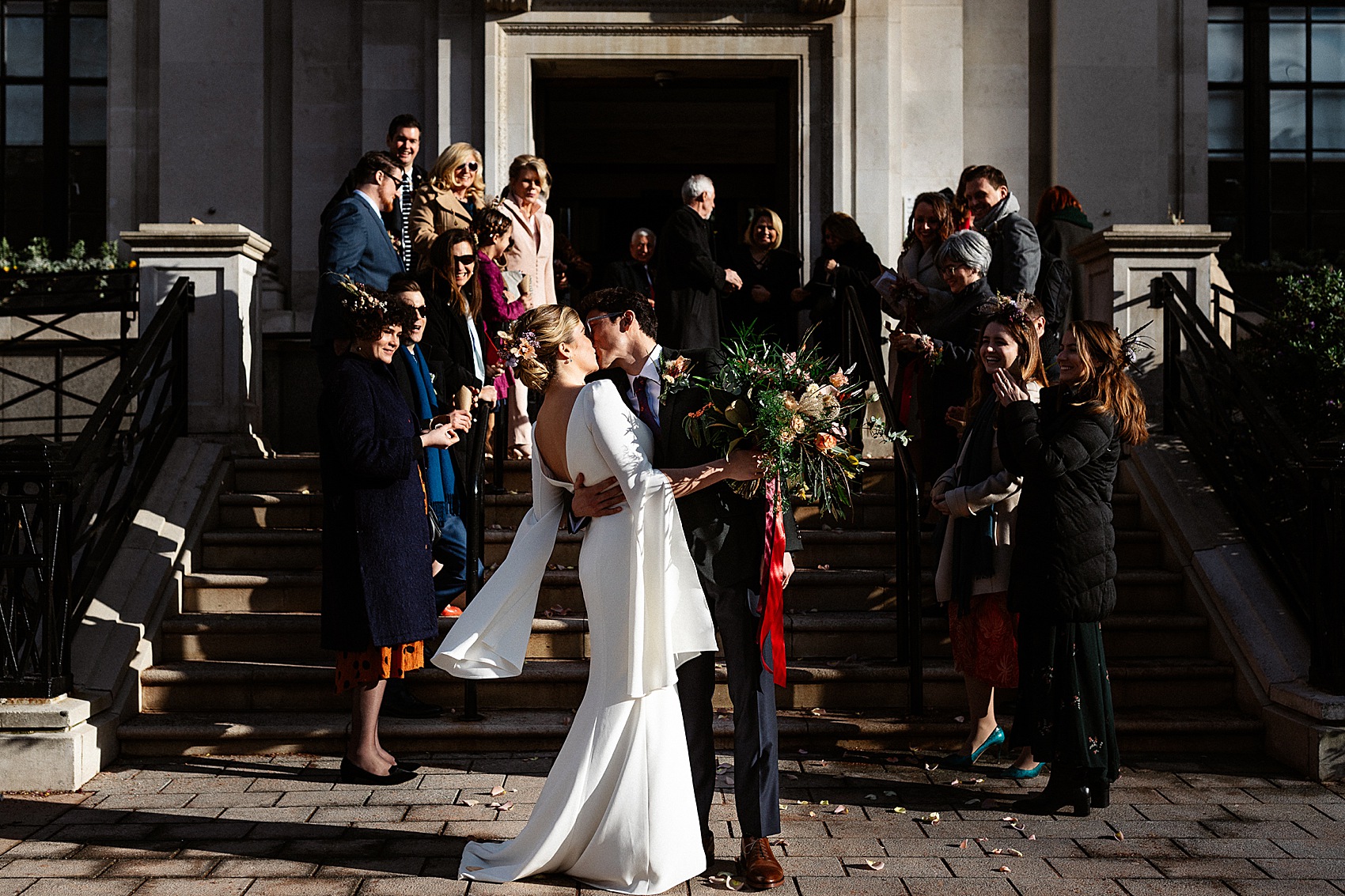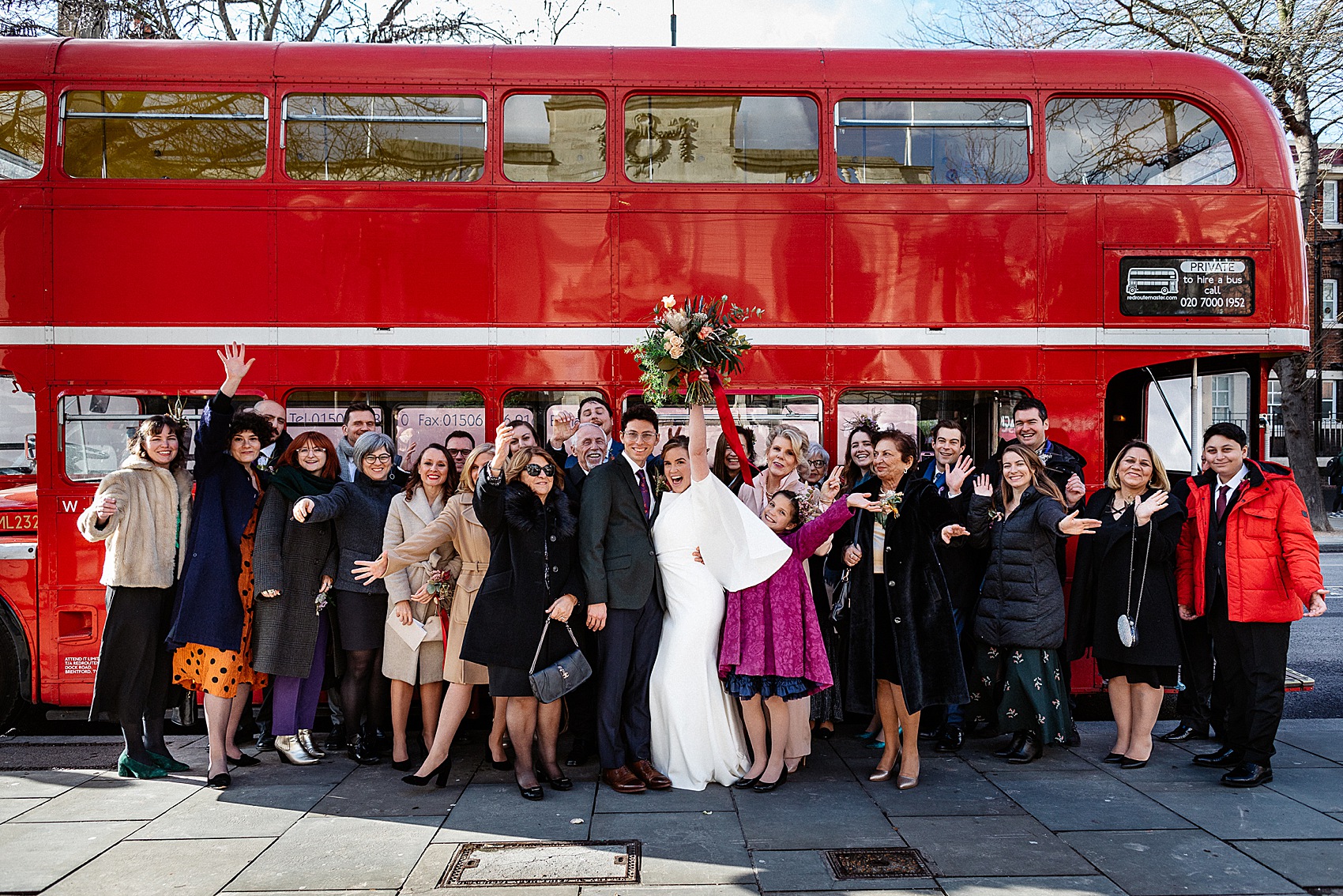 "I truly believed that I would manage without a coat, my father always called me his 'polar bear' for my ability to plunge into cold waters. My mother knew better and brought my grandmother's coat over from California with her. On the day I decided it would be special (and a welcomed warm relief) to wear it at the Barbican. "
"I never met my grandmother, Genevieve, as she passed away before I was born. There was a very magical moment that nearly brought me to tears when I discovered her name was stitched into the interior of the coat. I wore sapphire earrings that Moss' parents kindly gifted me for our wedding day and an amethyst ring that I never take off, which originally belonged to my mother."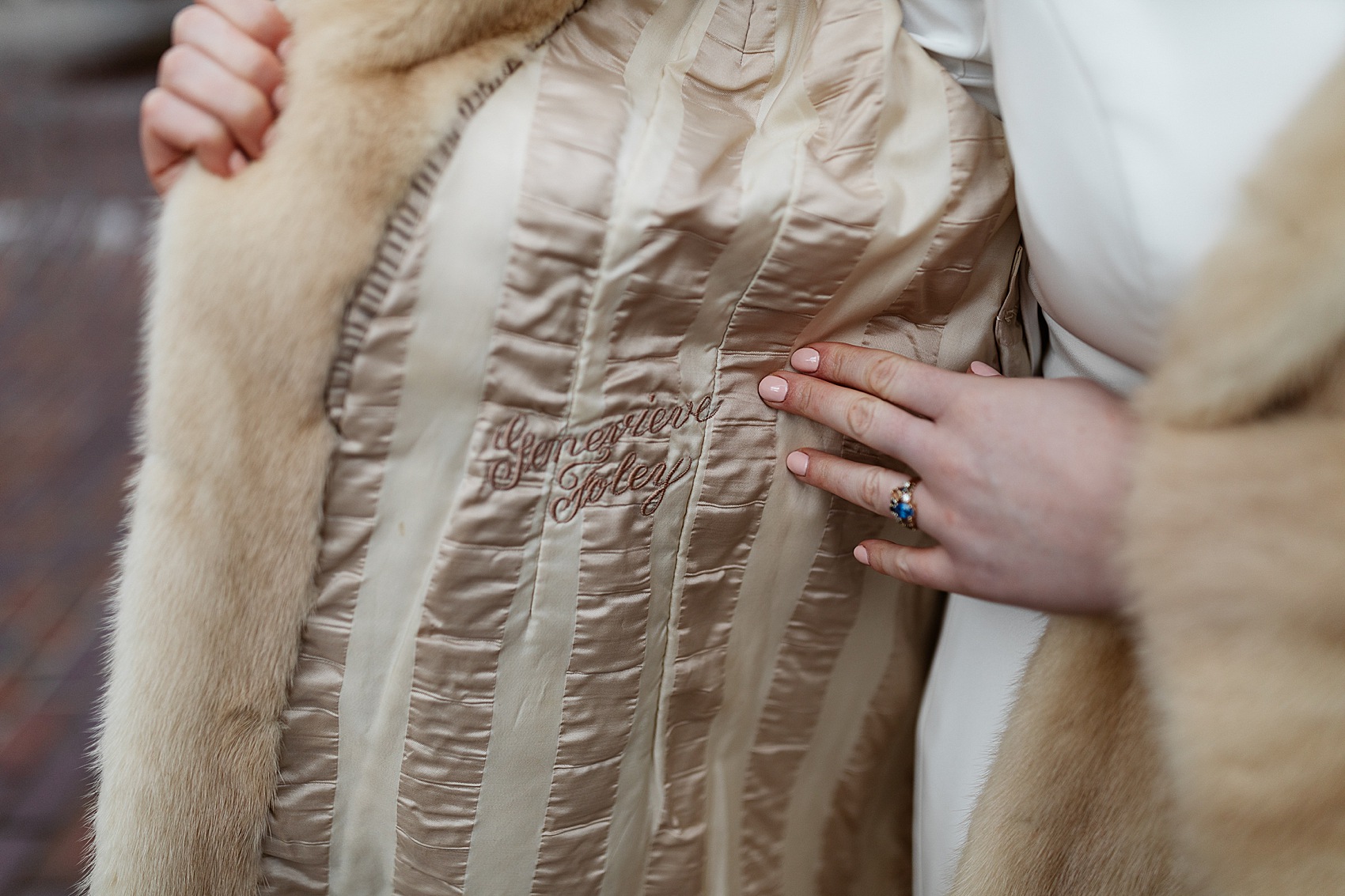 The couple hired our Little Book Wedding Directory member, Heather Shuker of Eclection Photography to document their day. I really adore how Heather has captured the beautiful winter light and made that gorgeous Sassi Holford dress shine.
"Heather was an absolute godsend on our wedding day. As photography and design enthusiasts ourselves, my husband and I were drawn to her incredible use of light, scale and composition."
"We have very few photographs together as a couple and wanted our wedding photographs to not only capture our personalities and our day but also be truly beautiful pieces of art."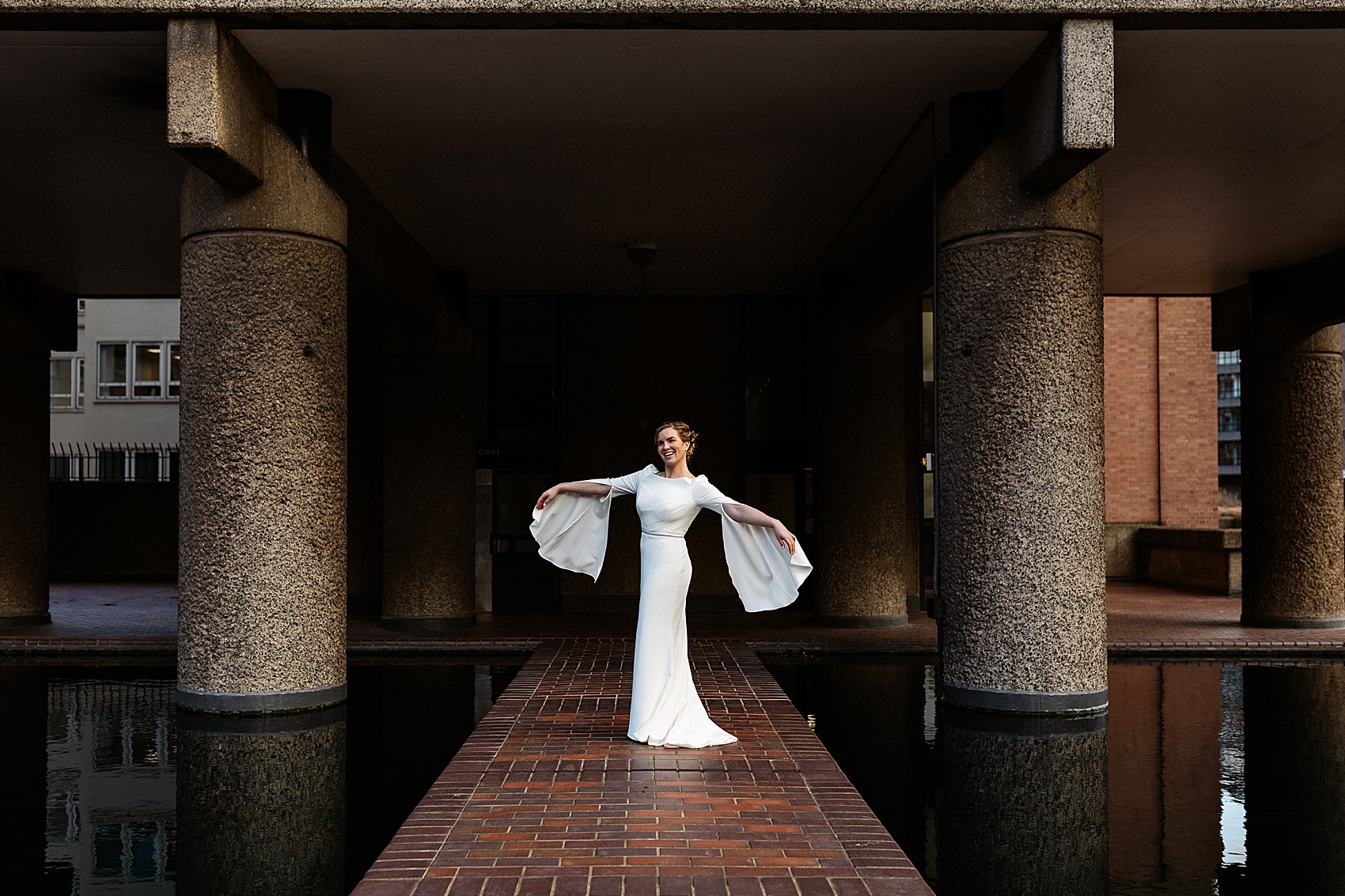 "Her results have certainly not disappointed. Not only is Heather a talented artist but she is also gifted with interpersonal dynamics. Heather's confidence with people and with weddings helped the overall flow of our wedding day."
"She is very easy to communicate with and helped us shape our day to get both the best experience for us and our guests, which I believe you can truly sense from our wedding photographs."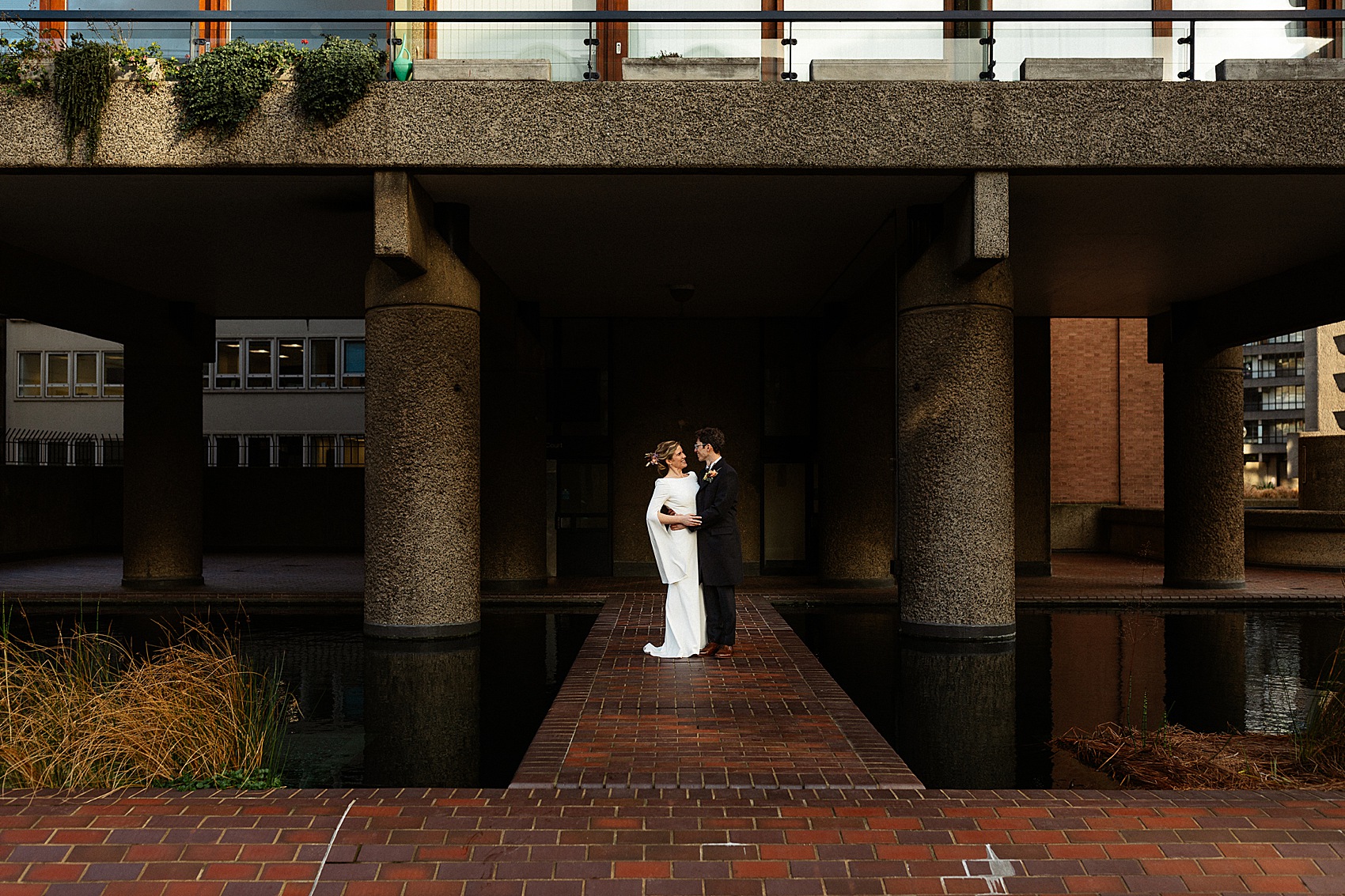 "Besides Moss, Heather was the person I spent the most time with on my wedding day. She was so involved in the shaping of how our day would play out so we could capture the best light in our dream locations."
"Her photographs of us at the Barbican are truly breathtaking – I still can't believe they are from our wedding and not from an editorial shoot."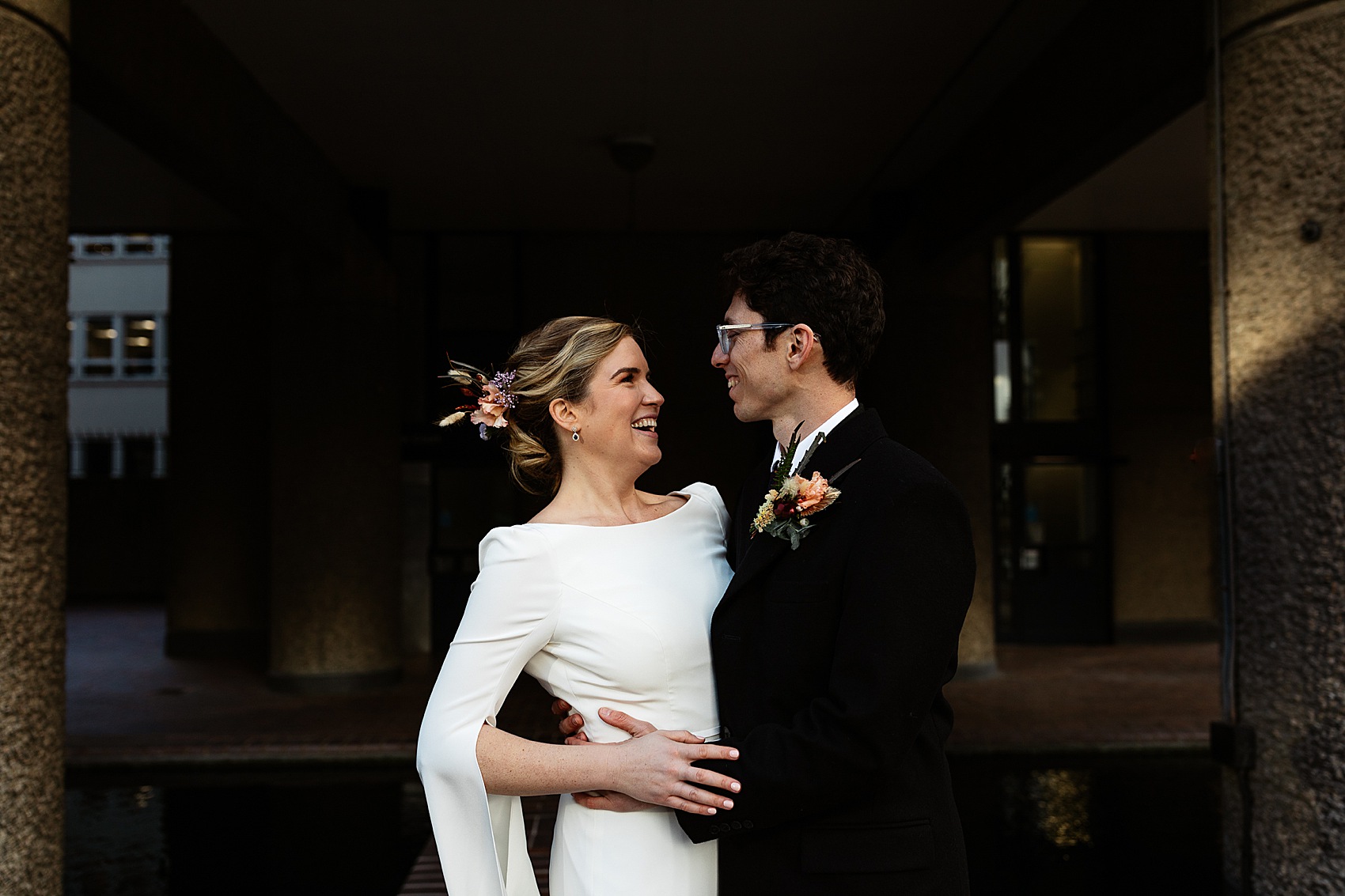 "She somehow juggles being both great at giving direction and gifting you a sense of anonymity. Allowing us to play and interact with each other authentically resulted in beautiful photographs perfectly capturing us and our relationship."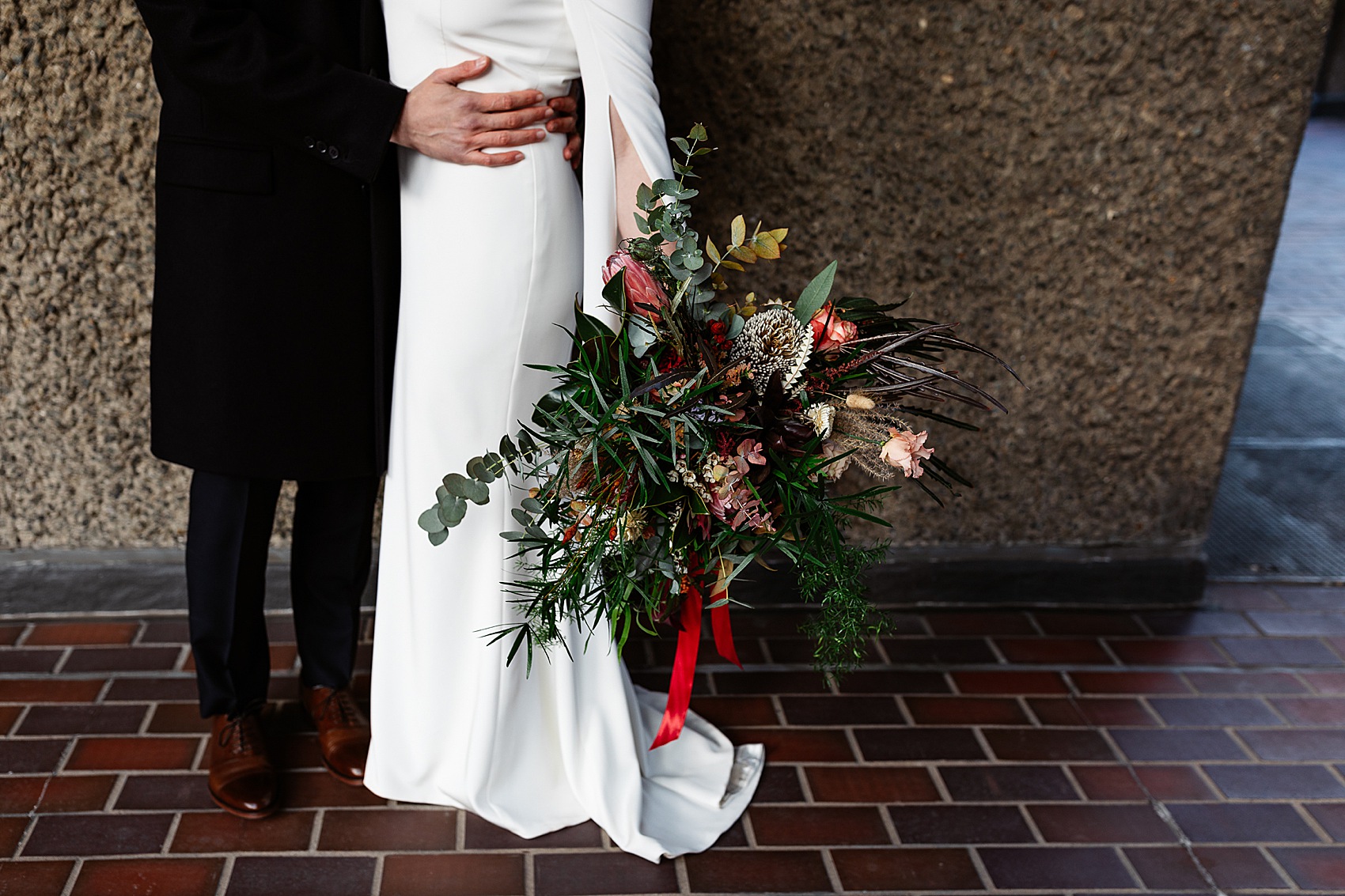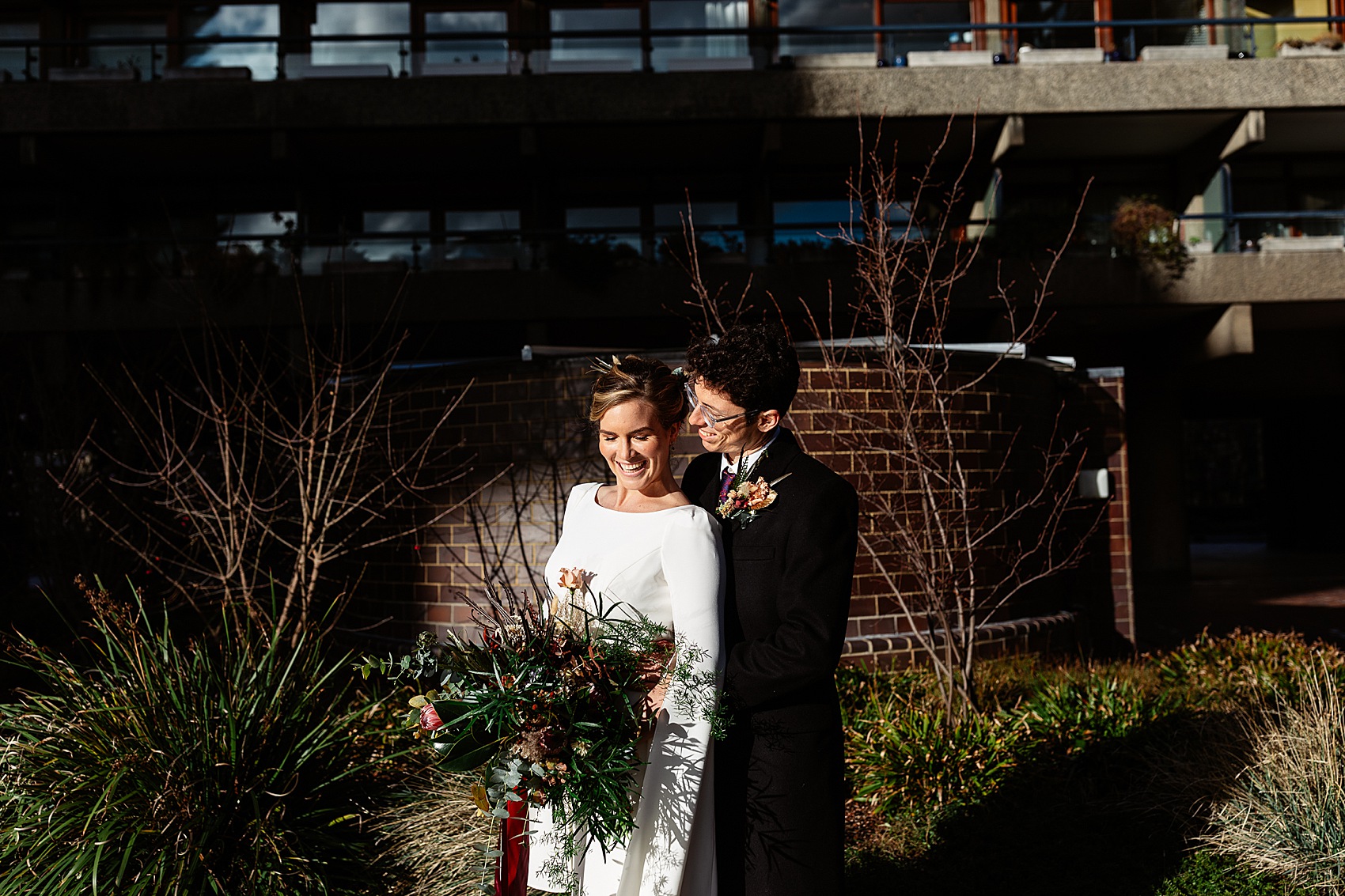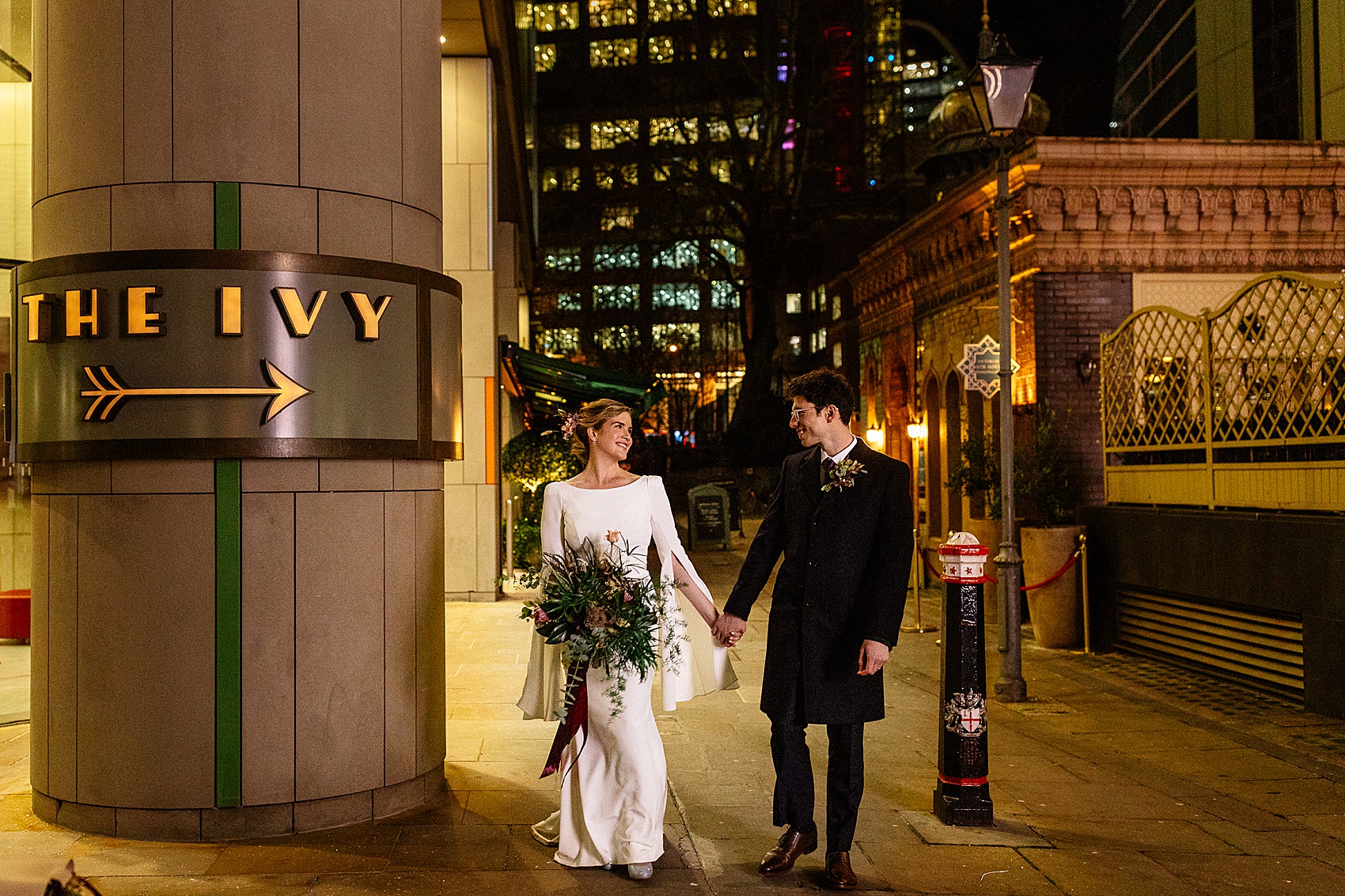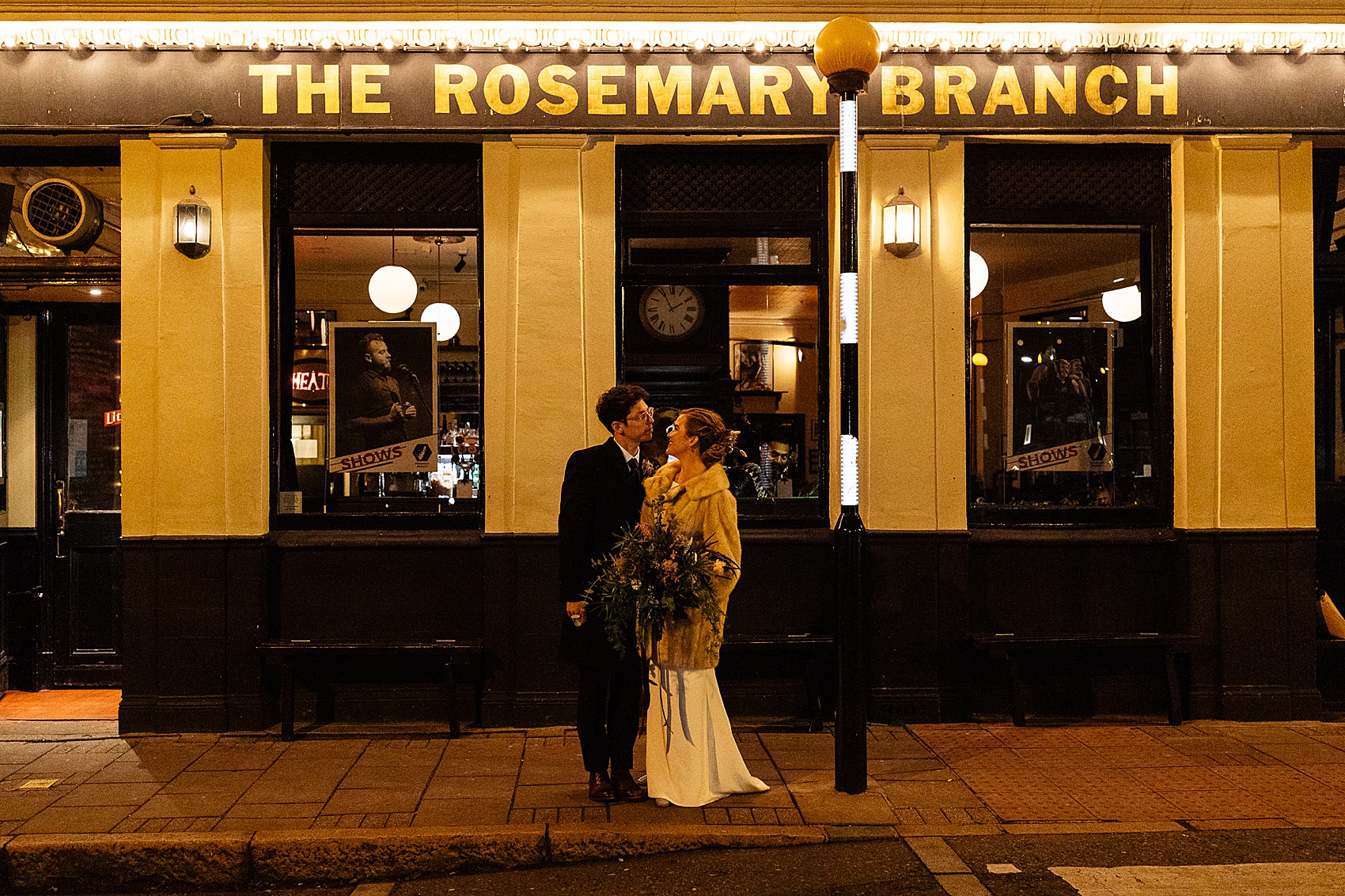 "Moss' family, my family and our friends were so involved in the decorating of the function room and theatre. We sourced an immense amount of flowers from a local stand on Essex Road and my mother did a wonderful job of transforming them into arrangements."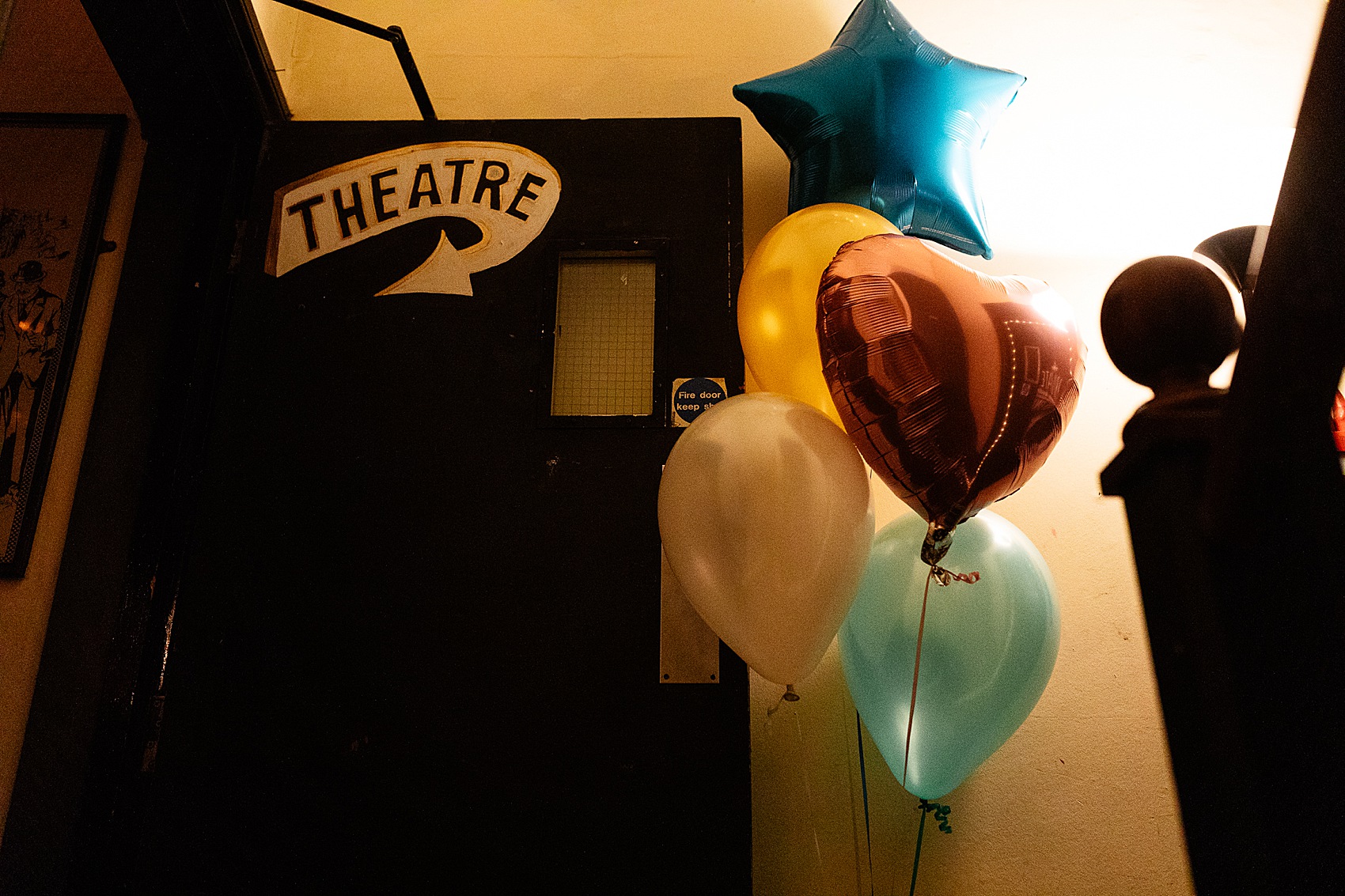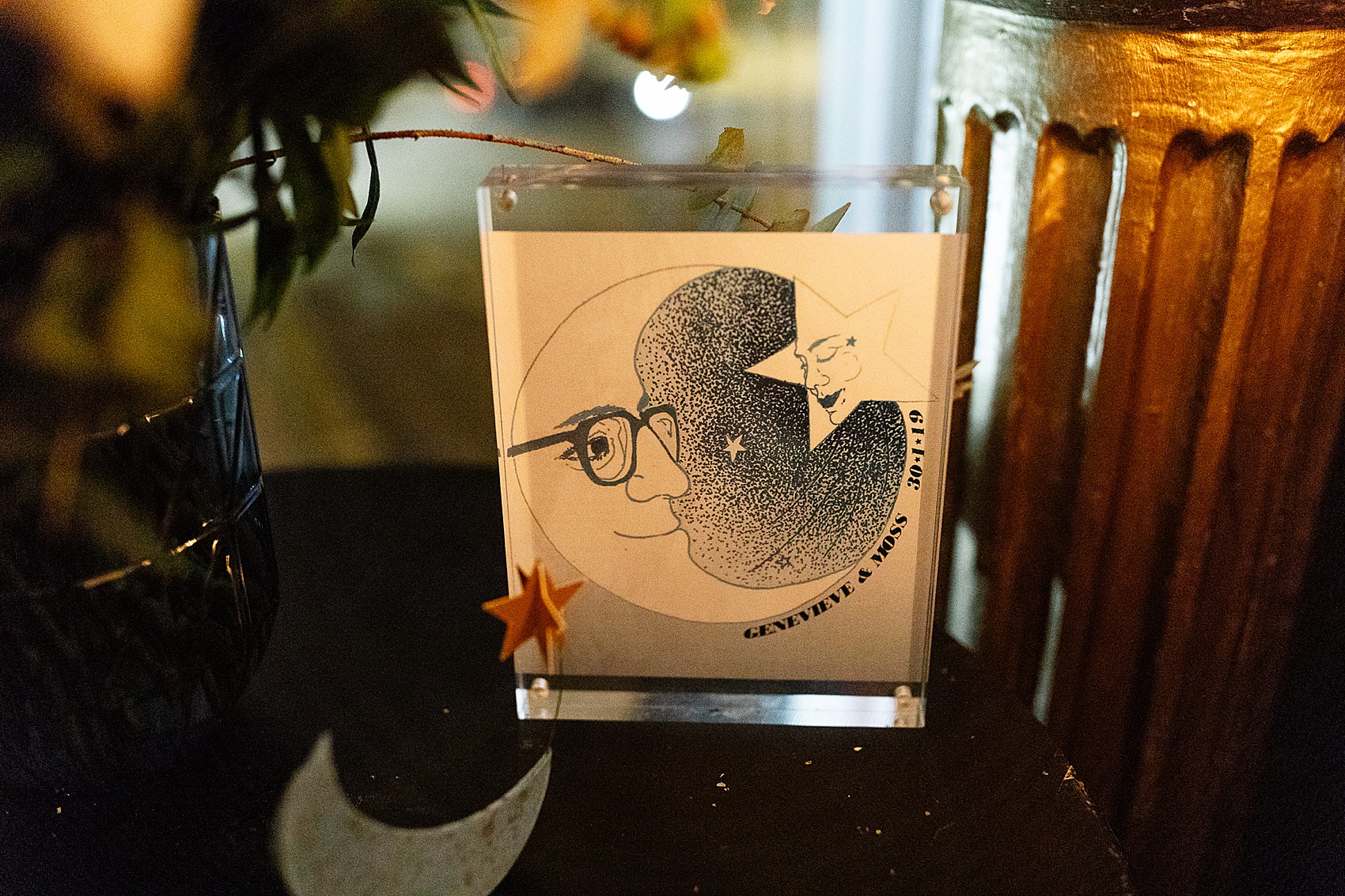 Some notable contributions were my brother, who is a visual artist, decorated the mirrors throughout the venue, my godmother, who is a clothing designer, lending her skills to draping and dressing the spaces and my friend Winners coming up with some resourceful ways of transforming the theatre into a colourful disco where we danced the night away to our favourite songs."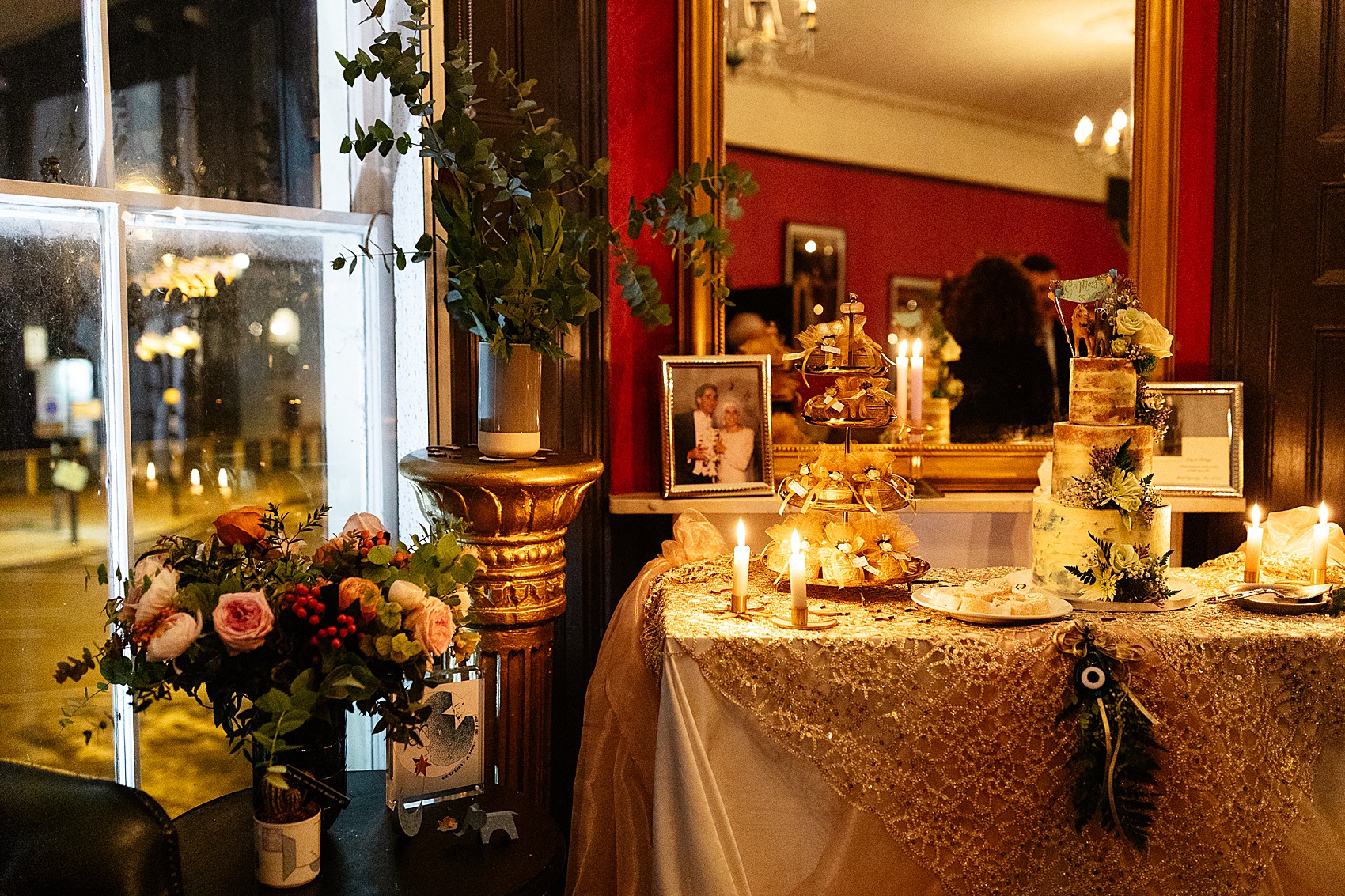 "Moss' family brought really beautiful monogram golden boxes of Turkish delight from Istanbul for all of our guests. And the day before the wedding I was surprised to discover that they also brought really lovely embroidered sachets of lavender as favours for all of our guests as well."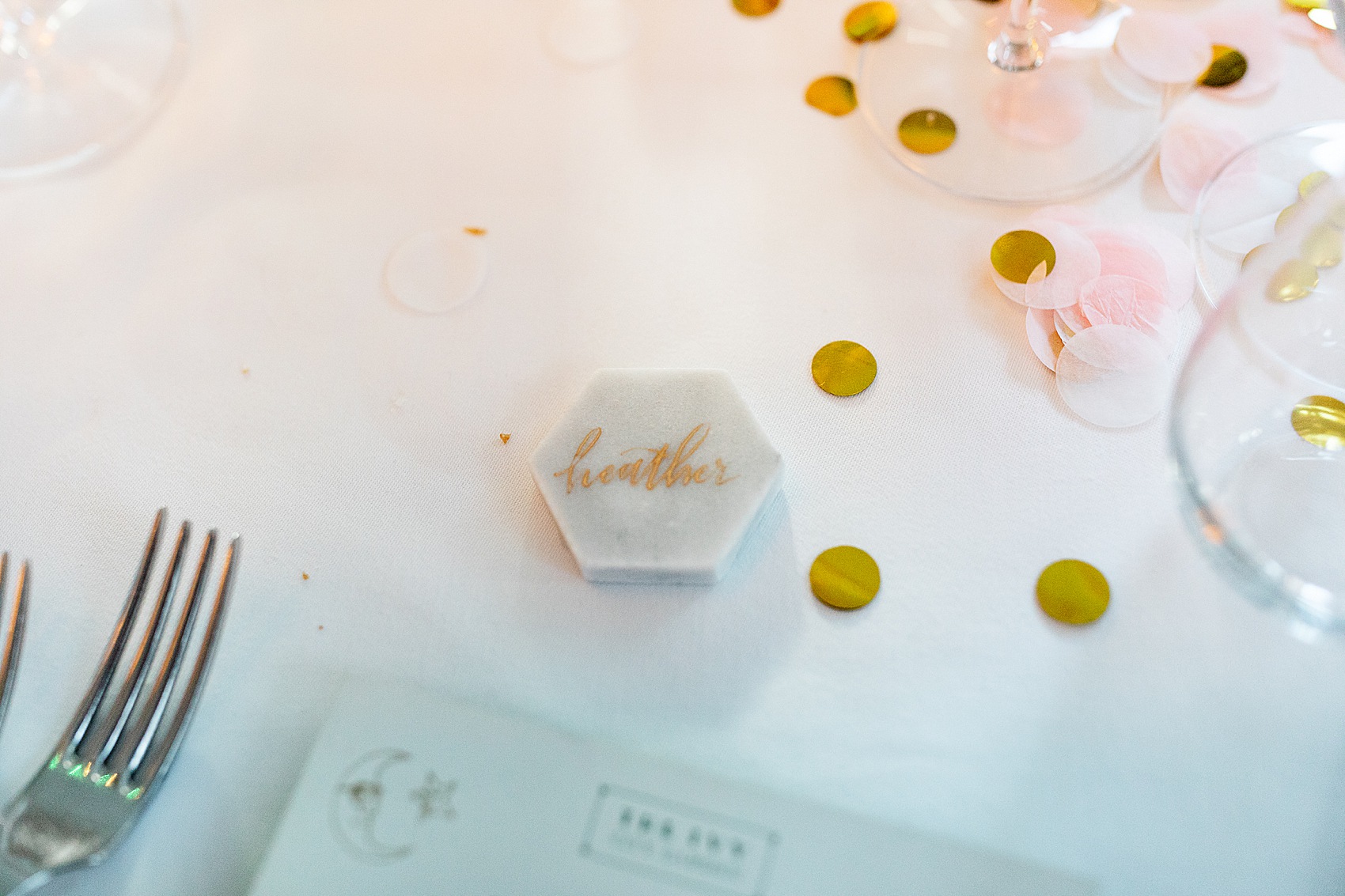 "We had Rosalind Miller's Watercolour Monet Cake, which included a single tier of rose and two tiers of raspberry and vanilla."
"Rosalind Miller's cakes are so beautiful, but in the end we chose the cake based on how great her cake's tasted. The only difficulty we had was picking the flavours, because they were all so delicious."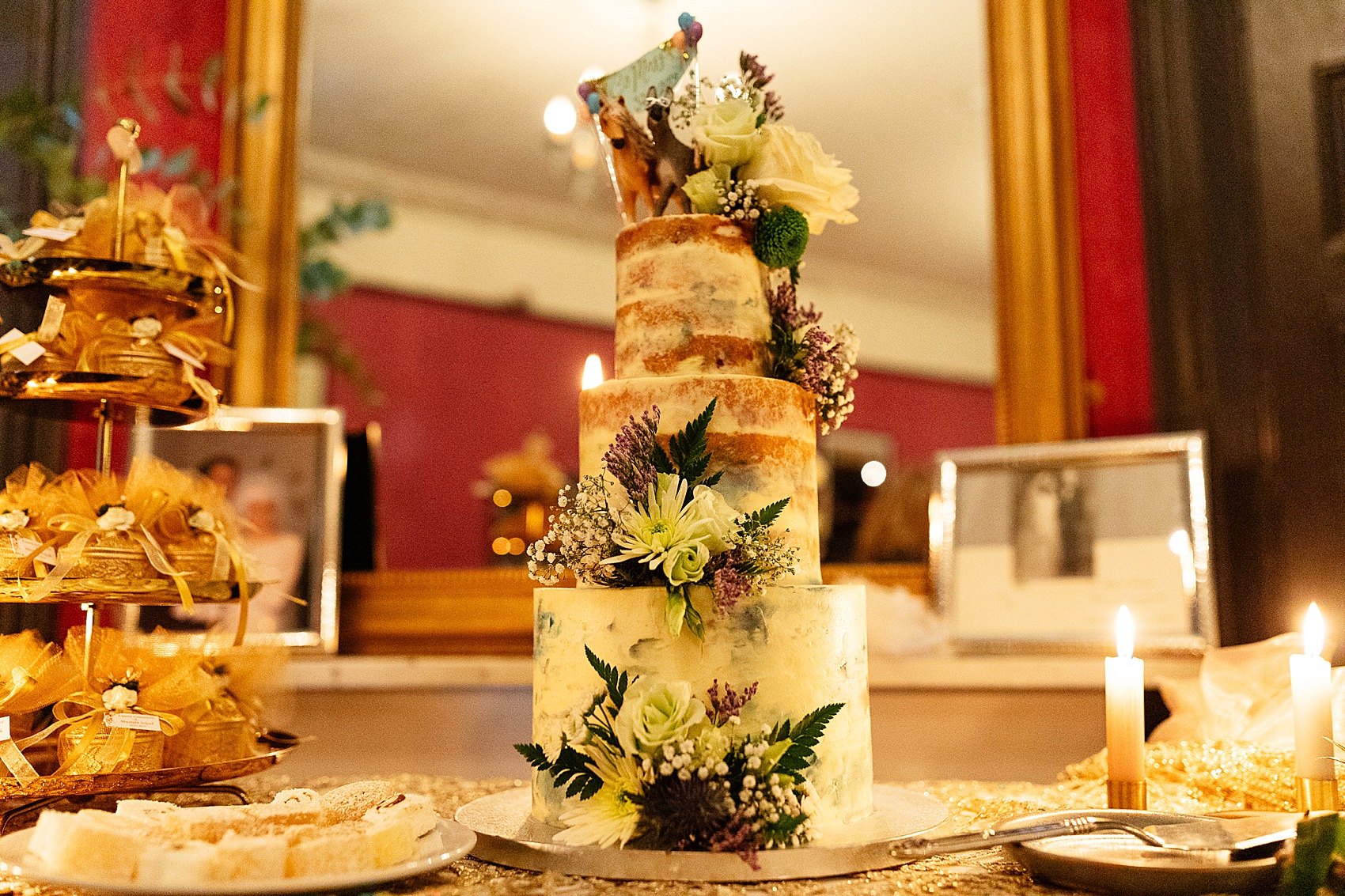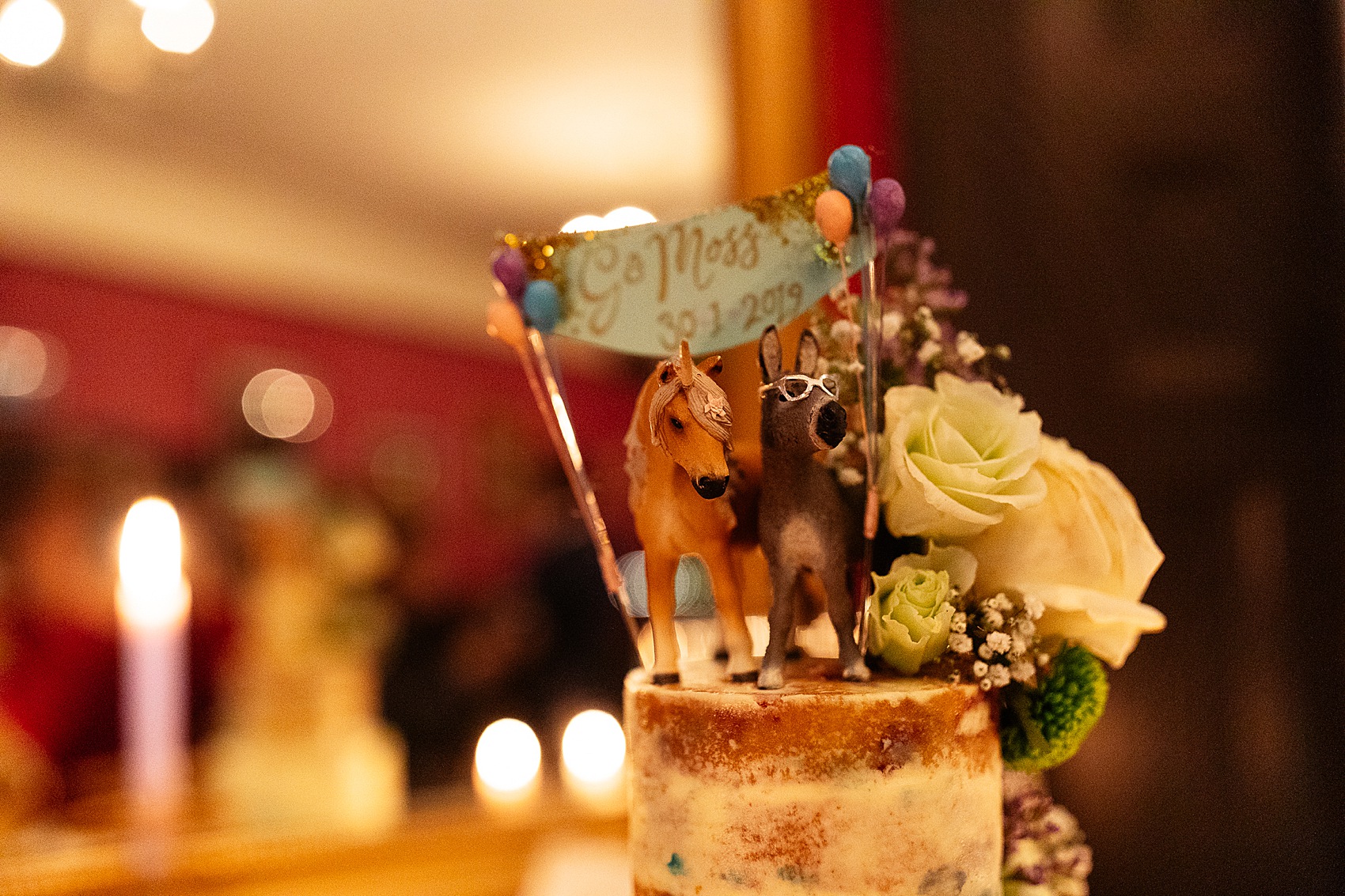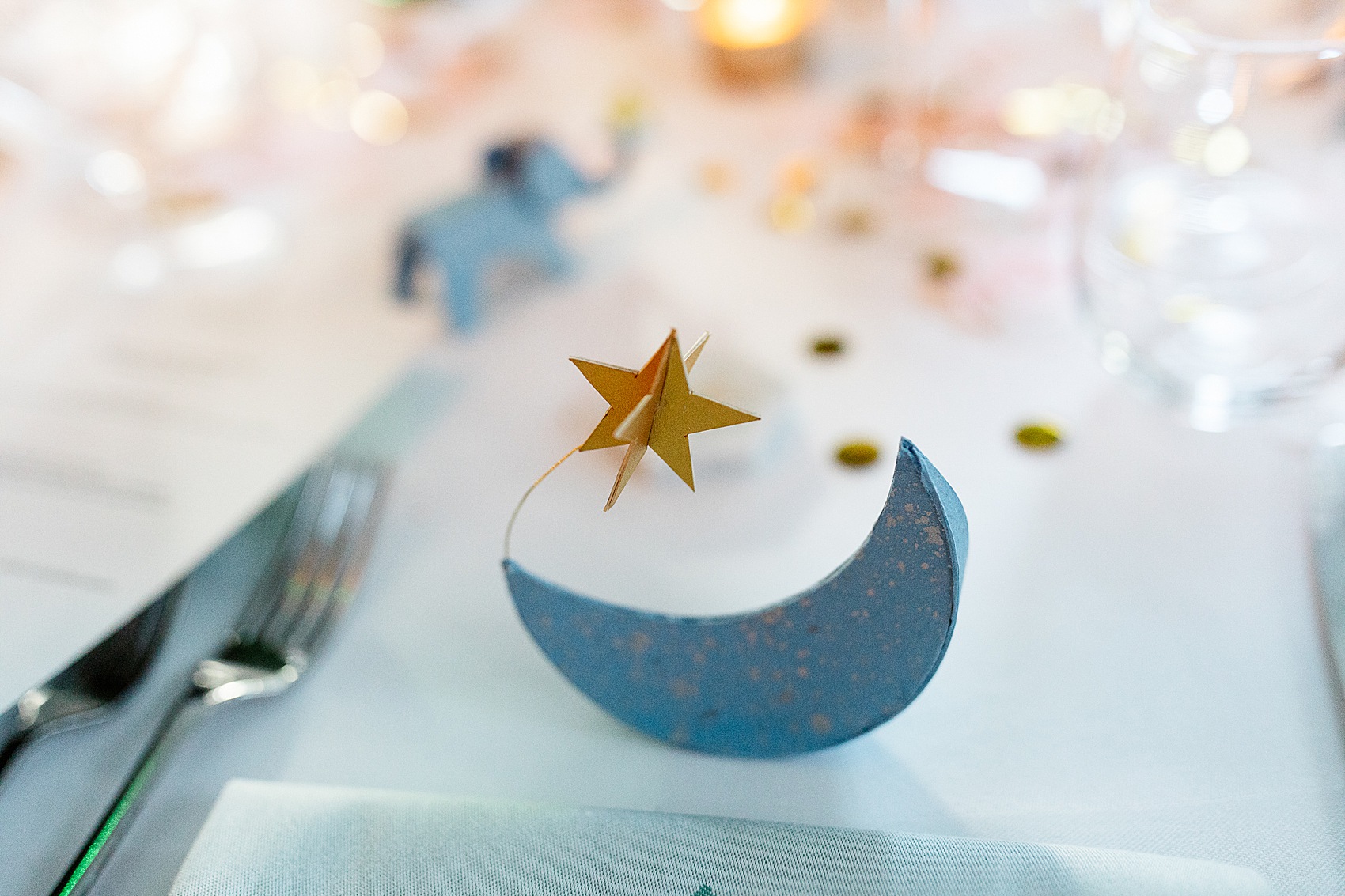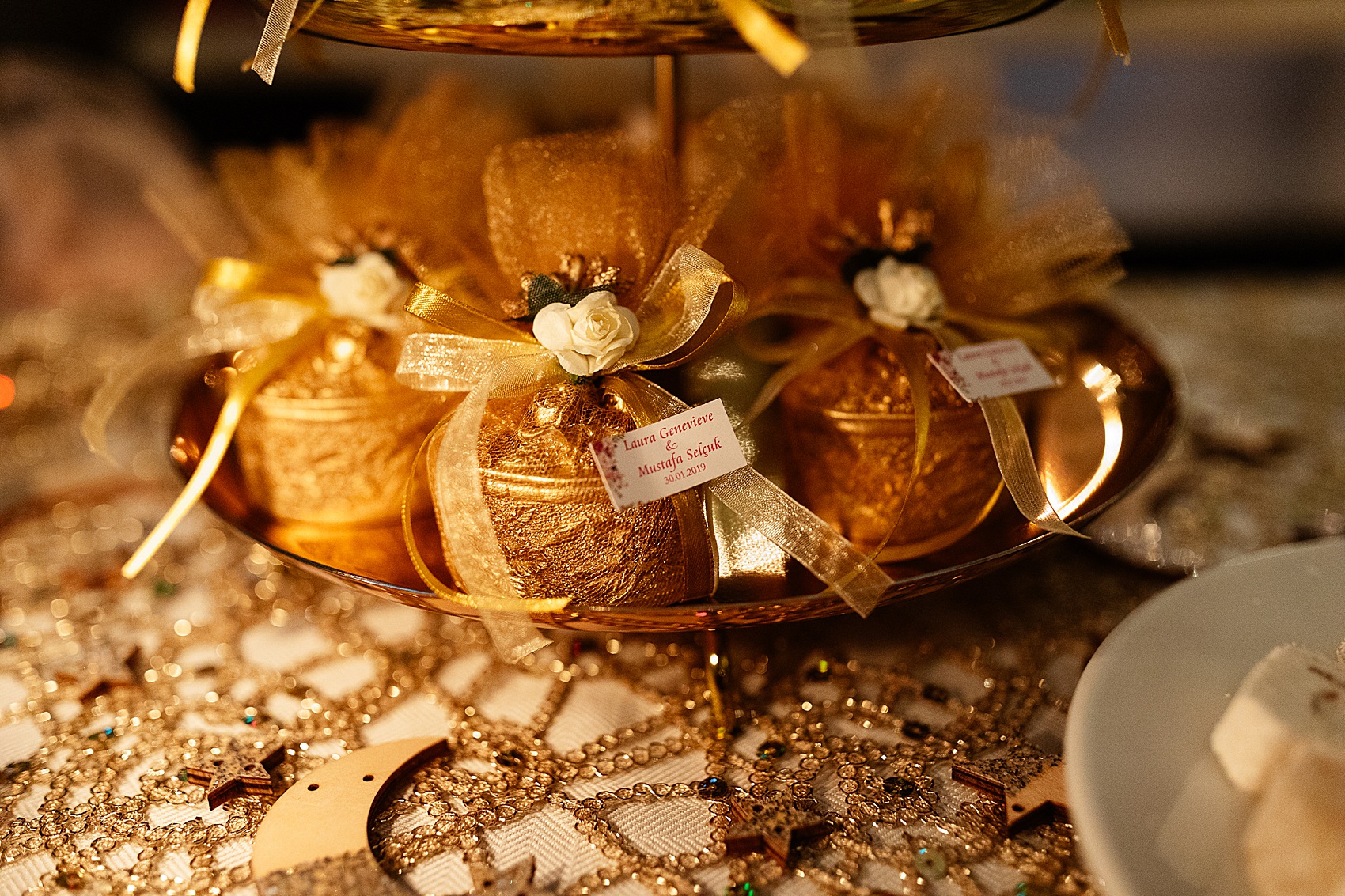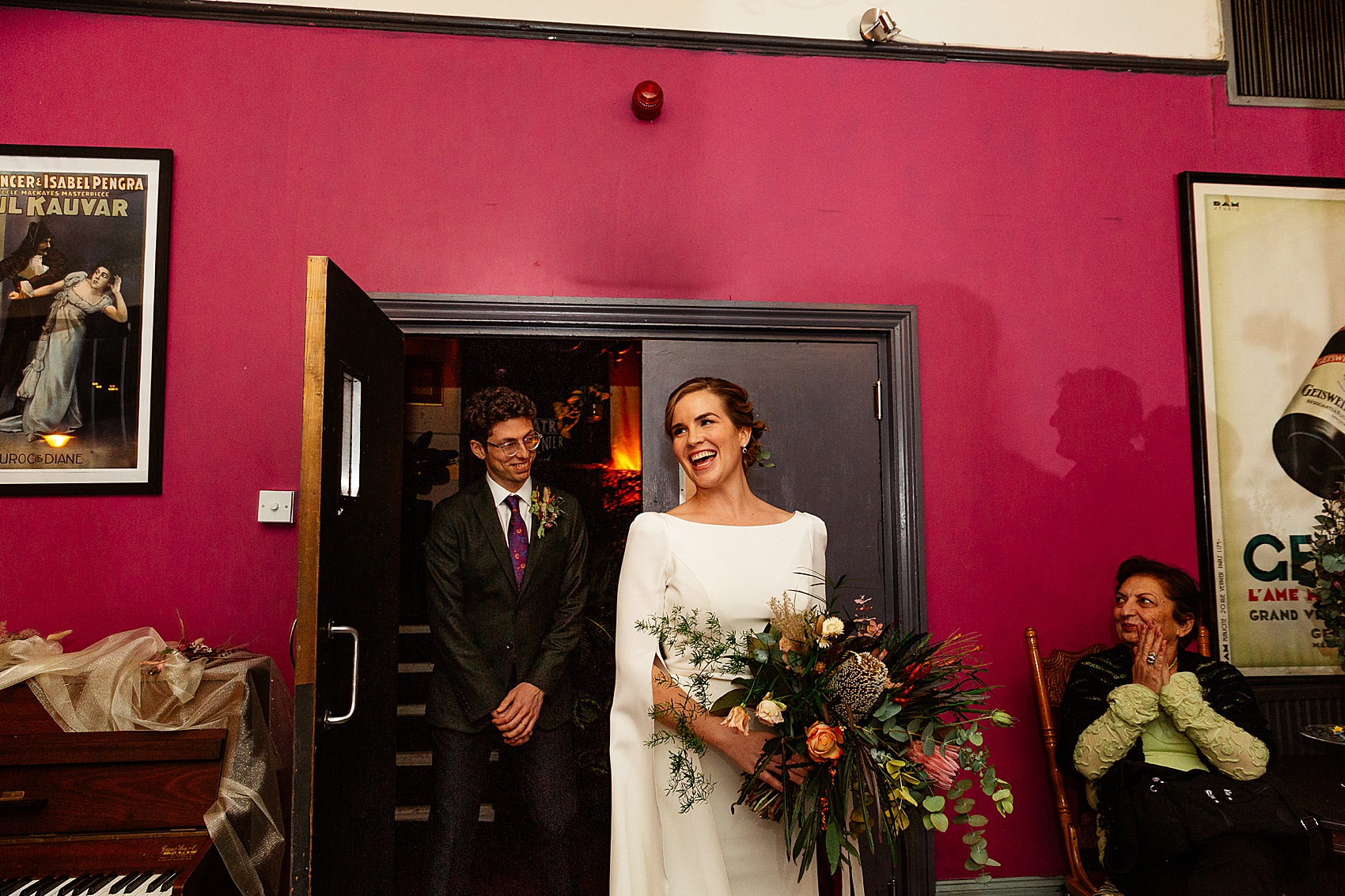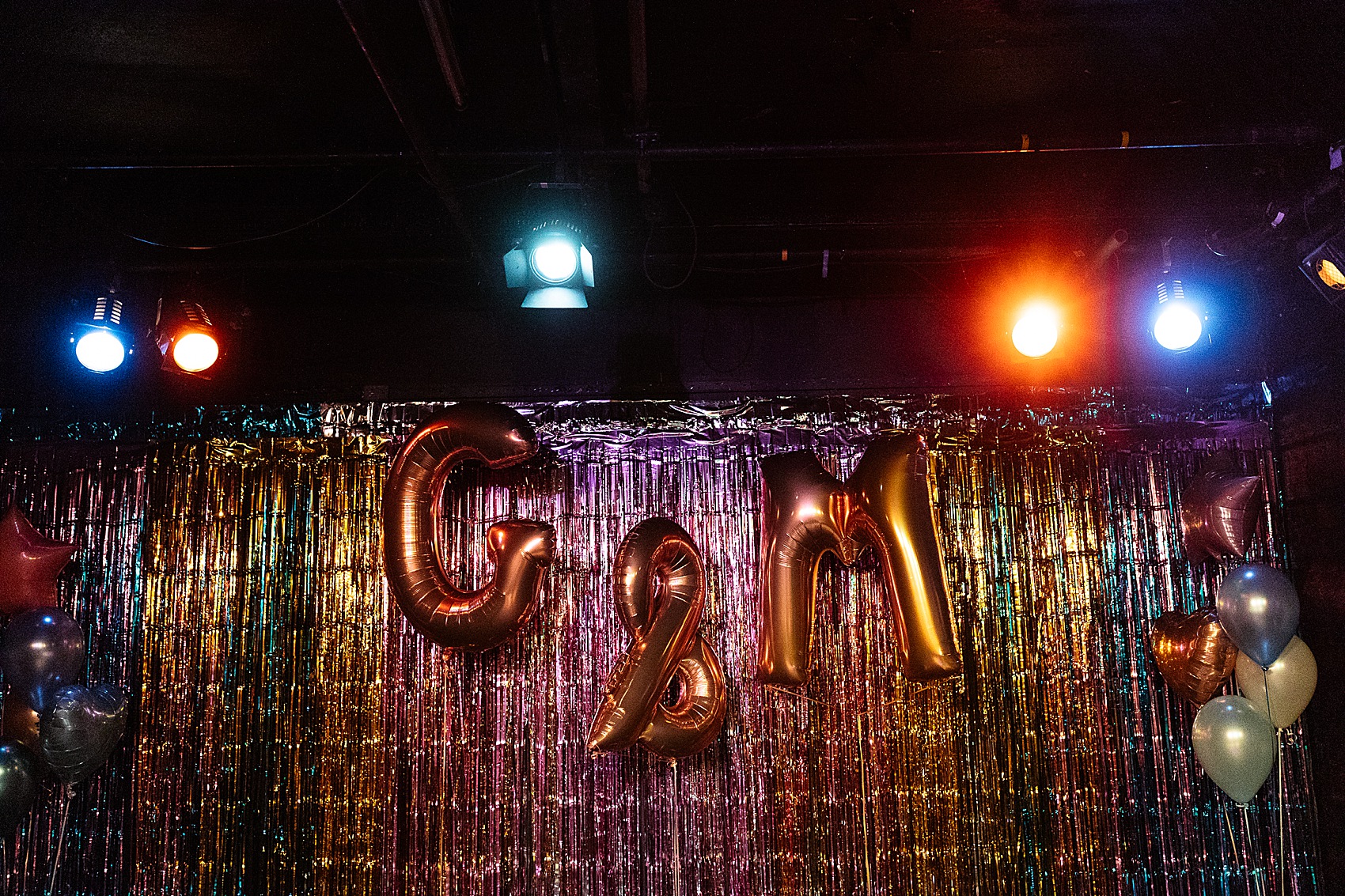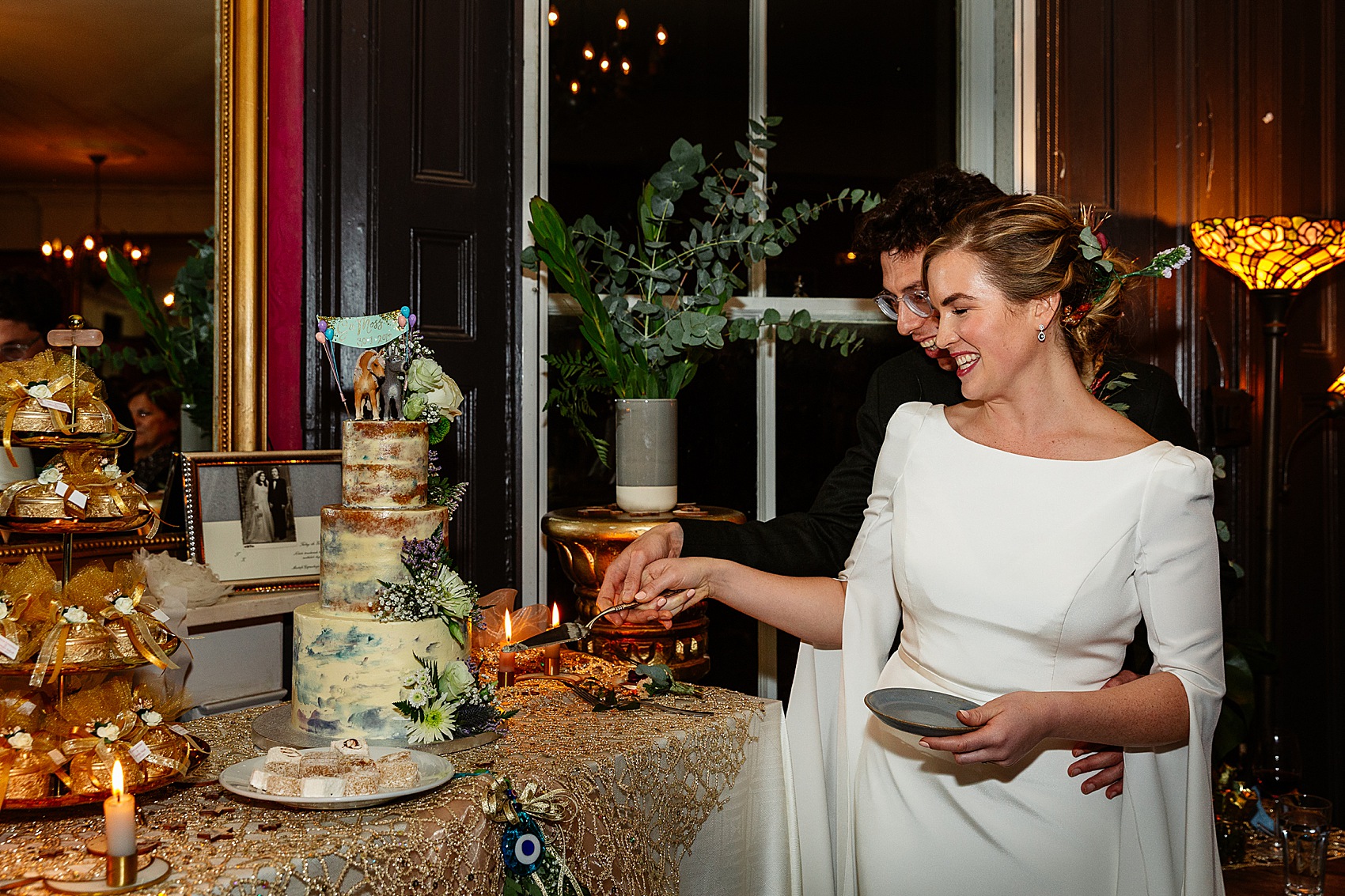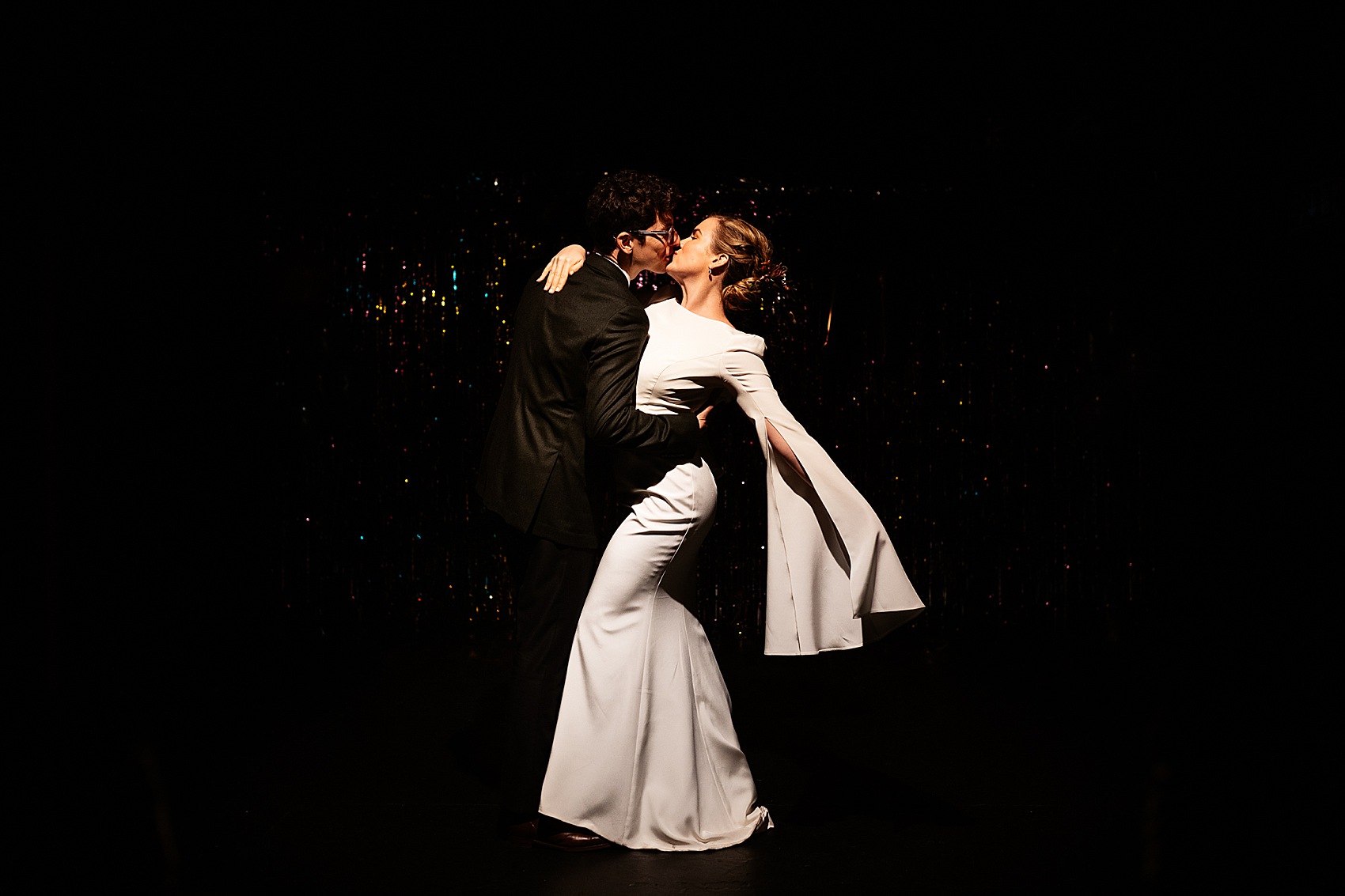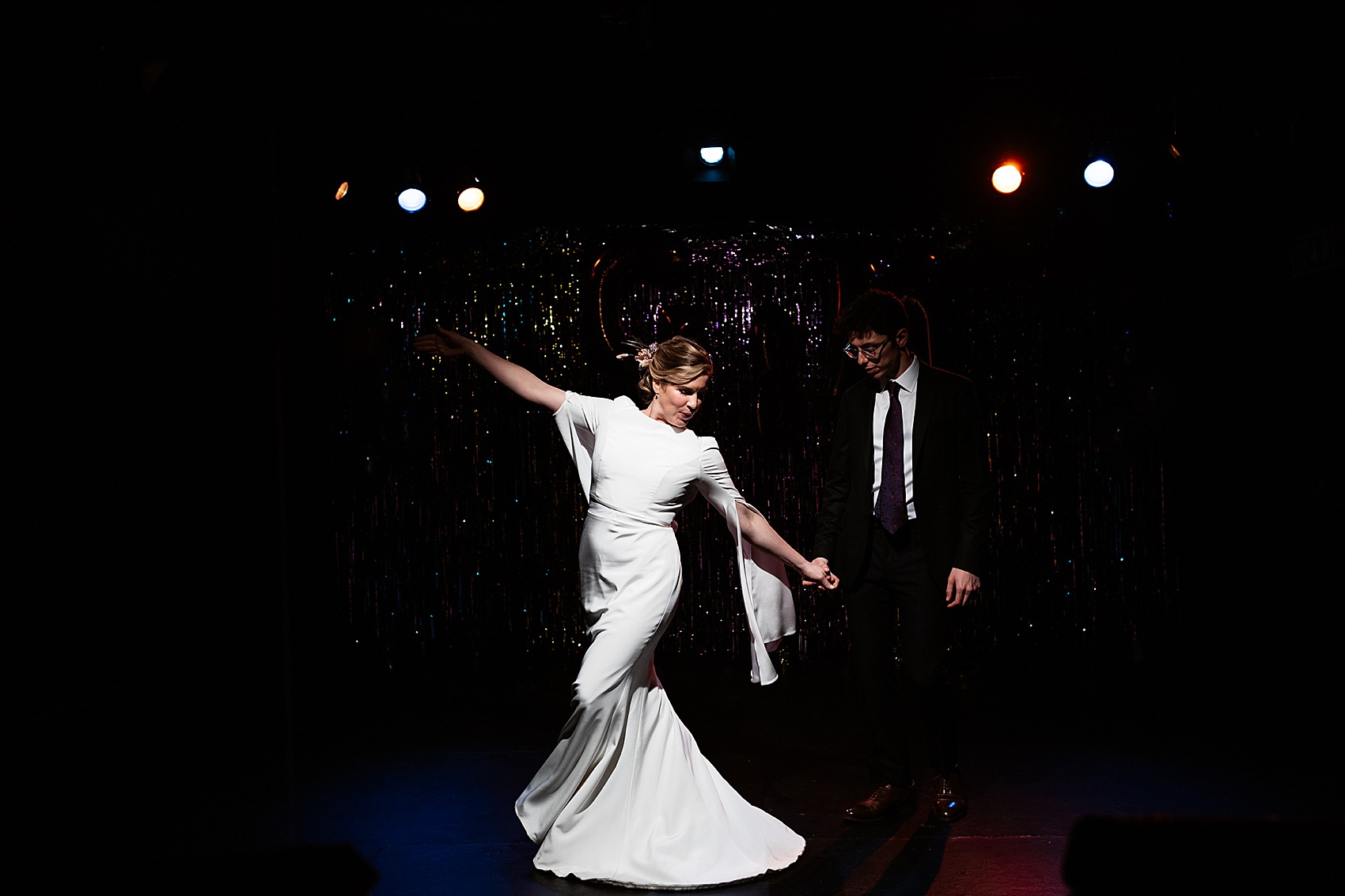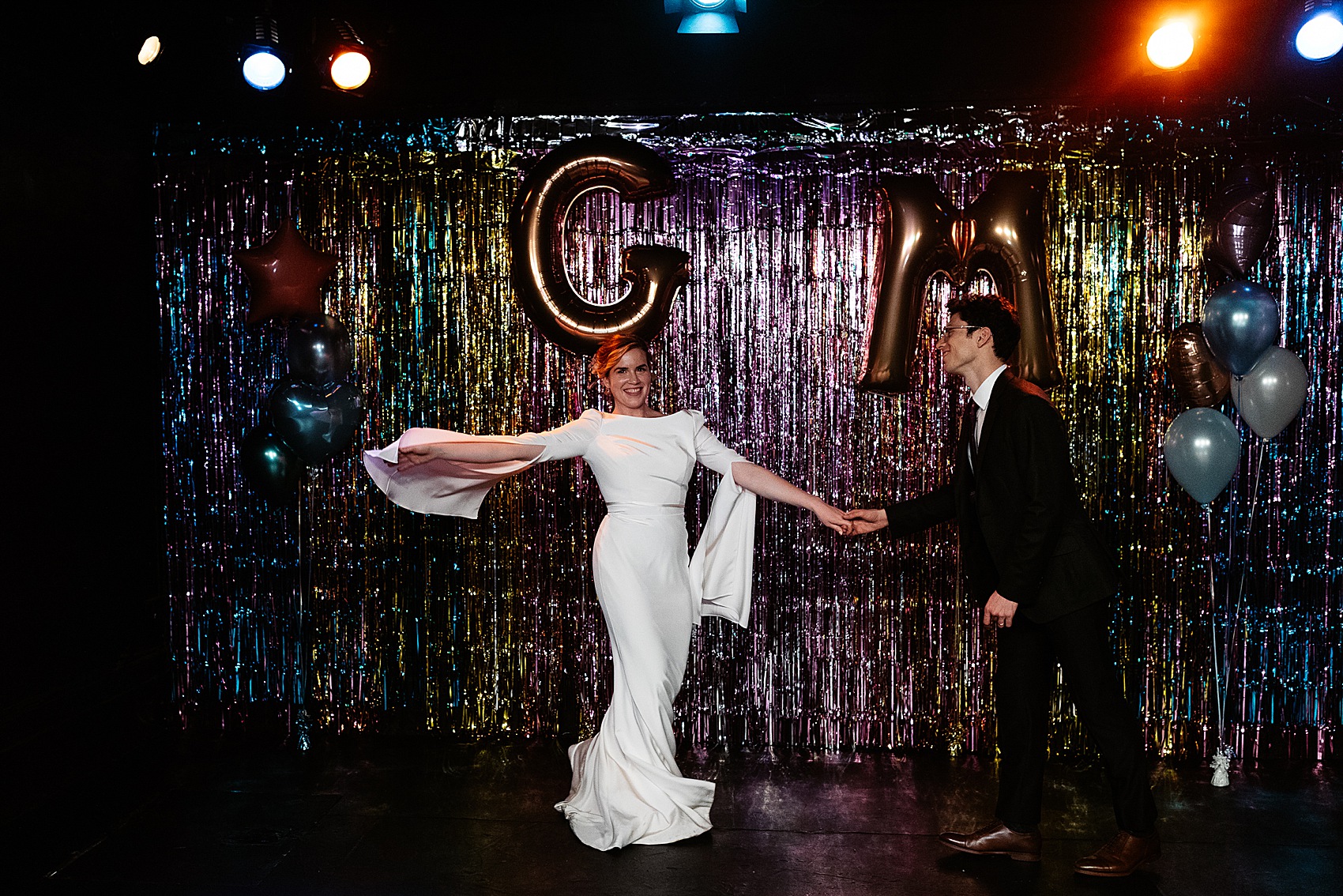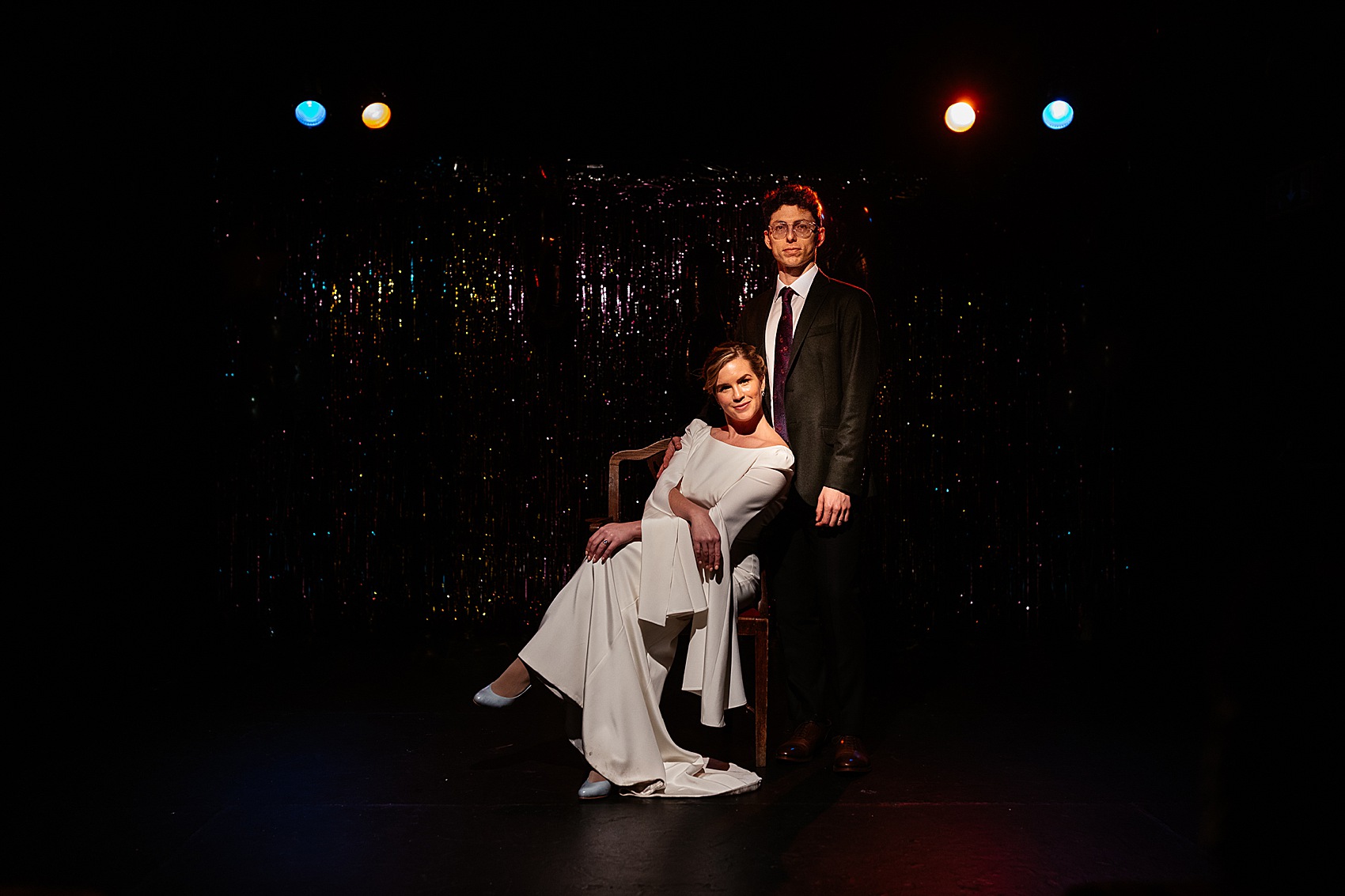 Words of Wedded Wisdom
"Having all our friends and family involved not only in the day itself but also contributing in such a variety of ways to our wedding makes it even more memorable. I've developed friendships with the professionals I didn't know before, and am really proud to have exclusively used female creatives and supported their practices. Alongside our beautiful photographs we have mementoes dotted around our house reminding us of our wedding, and more importantly the day we became family."
Postponing your wedding to the winter months? Explore all our gorgeous winter weddings on Love My Dress
"Hilariously, weddings feel like a much bigger deal now that I've had one. Now that I've experienced my own wedding I tell engaged friends to lean into the importance of your wedding day, and relish in the joy of the process of planning. And most importantly to savour your wedding day, trust that everything will fall into place and the things that don't you won't even remember."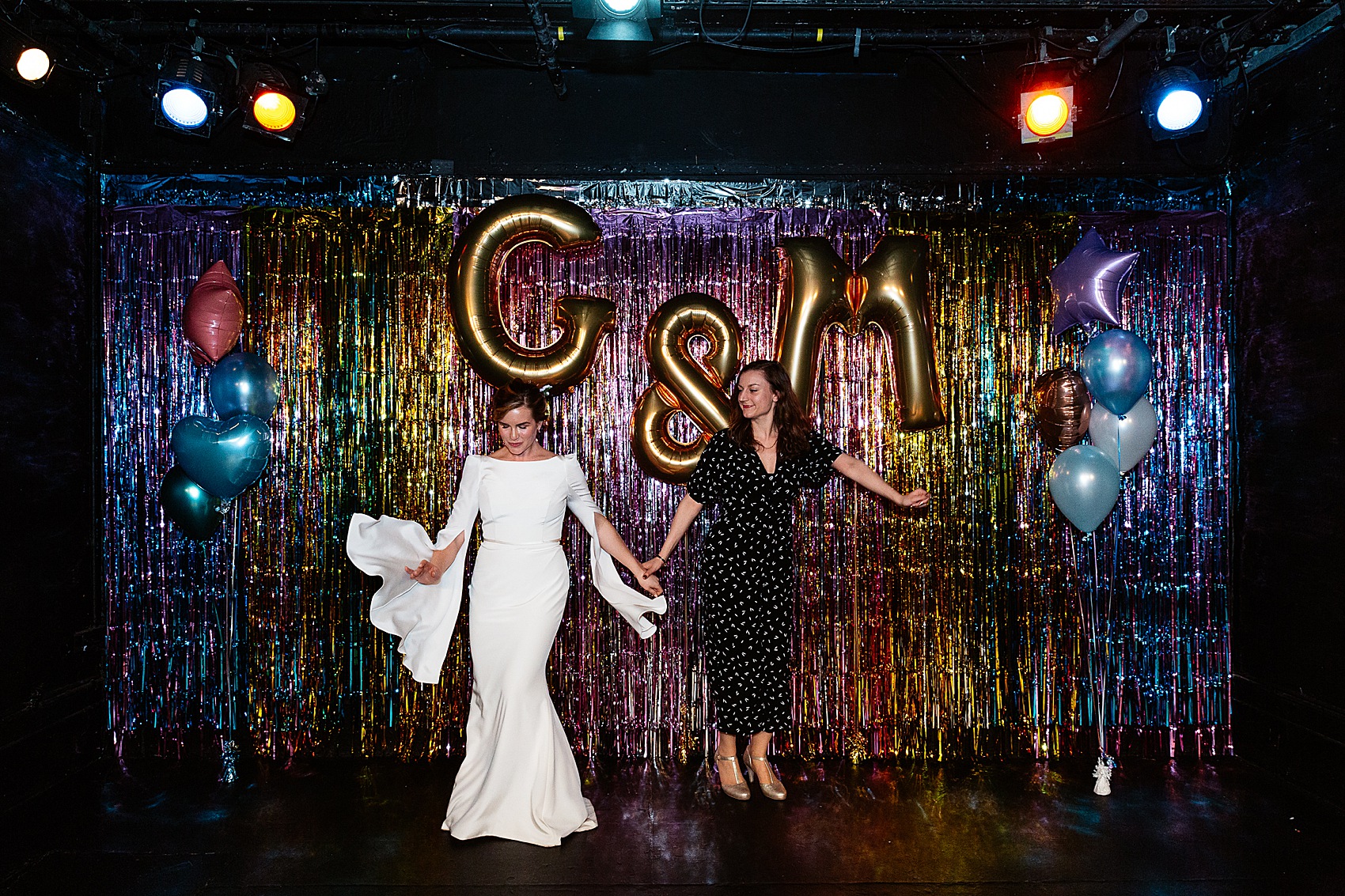 What a truly beautiful winter wedding – and utterly gorgeous dress! You can enjoy many more Sassi  Holford brides here on Love My Dress – and see more from the talented photographer Heather Shuker here.
Love Annabel x