It is such a treat for me to share today's wedding with you. Just a few weeks ago, I enjoyed a gloriously wintry walk at Rutland Water and chanced across this incredible church, located on a promontory into the reservoir with the most spectacular views. I couldn't help but think what a beautiful venue this would make, as you will see in Caroline and Dan's shoreline wedding.
Please meet Caroline and Dan who wed in a civil ceremony on 9 August 2021 at Normanton Church on the banks of Rutland Water, with an intimate dinner party reception afterwards at The Finch's Arms, Hambleton, Rutland. Rutland Water is a very special place for the couple, as they worked and met at its water sports centre. Caroline is now a freelance geophysicist and Dan is a freelance hydrographic surveyor, both working in the offshore wind farm sector. Minimal, elegant, green and white tones ran through the day.
Photography Shoot It Momma Photography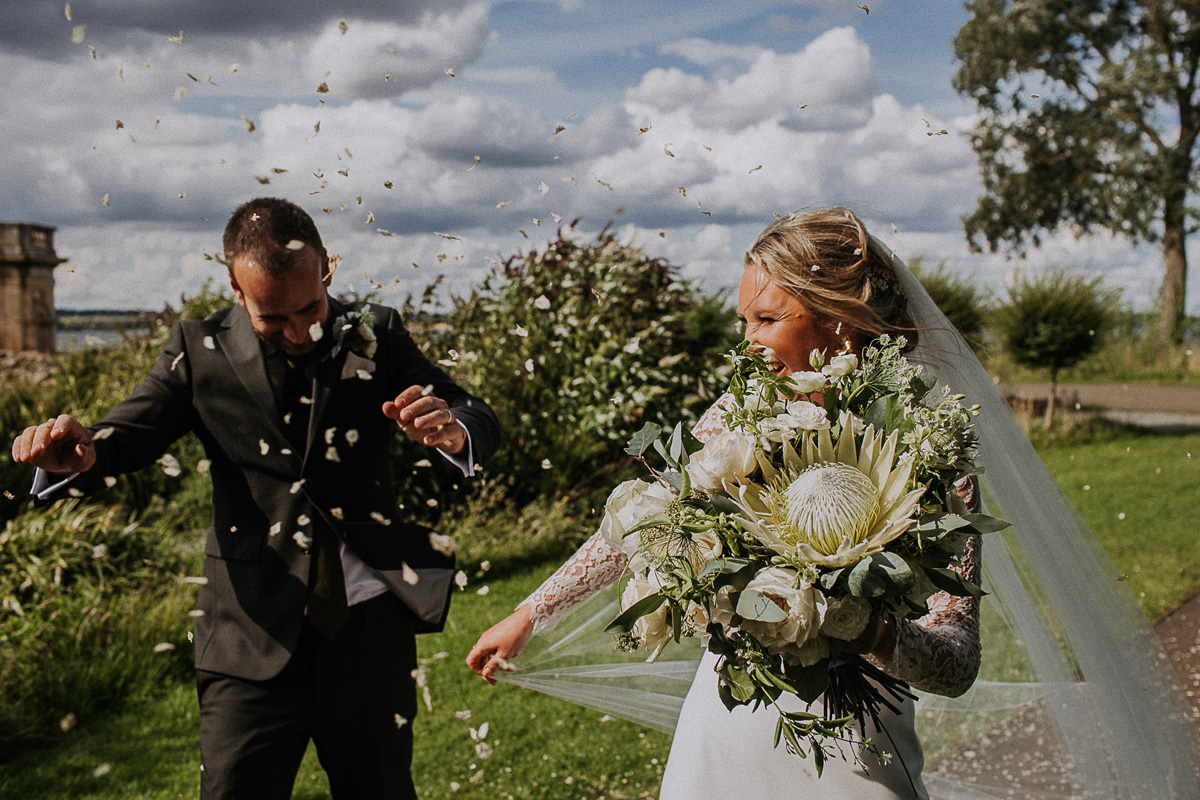 Shoes, Veil & Accessories
I had the bottom of my veil, also via The Mews Bridal, embroidered with the words 'love wins' by Charlotte at Sewn Right. I decided on the embroidery after making the decision to cancel our dream wedding in France. I felt that in this case, love really did win and wanted something to symbolise that. The embroidery was subtle, beautiful and perfect!
Our hair was done by a friend, Laura. She works at a local hairdresser and mainly does colours, but she's so talented she does occasion hair too. It was so easy having a friend with us in the morning. My makeup, bridesmaids and my mum's make-up were done by Michaela at The Boho Bridal. She has a natural, bronzed style which was just what I was looking for.
I wore Loeffler Randall shoes and, the Daisy' hairvine from Eden B. Studio and a pair of gold 'deconstructed flower' earrings from Maison Sabben. I also wore a gold and glass family stamp ring, which belonged to my grandma. It was my 'something old' with more meaning than that. My step-sister (who was meant to be my fourth bridesmaid and sadly couldn't be there on the day as she lives in South Africa, who were still on the red list) wore the same ring on her bouquet on her wedding day.
I wore a Diptyque scent, via Space NK – it was the summer 2021 edition, Ilio. There were a few reasons why I chose this perfume. The Mews was scented with Diptyque fragrances and it always reminds me of the day I chose my dress. Secondly, this summer edition was created around scents of the Greek Islands. I have been to many, and love the Greek Islands. They have a special place in my heart and we spent our mini-moon there.
The Delay
We were meant to get married in France in May 2020 and postponed to 2021. Unfortunately, the venue owner in France charged us a lot to postpone and wouldn't allow us to postpone again without paying in full. At this time, France was not allowing people in unless you were fully vaccinated and most of our guests, including ourselves, had only had one jab.
After the stress and uncertainty and trying to find more money to pay for the venue, we ended up cancelling the whole wedding in France and loosing £17,000. Not only was this upsetting due to the amount of money, it was always our dream to get married in the sunshine in vineyards. I am originally from South Africa. When we got engaged, we thought South Africa would be too far for people to travel, hence we chose Bordeaux in France.
We made the decision two and a half weeks before our actual wedding to go ahead with a very small (forty people) wedding with a pub dinner. My dress was still in London and hadn't had any alterations. Nothing was booked or planned and somehow, we managed to plan and create what I think ended up being a beautiful, intimate wedding.
I really felt that our decision was to choose love and to say goodbye to our dream wedding. We weighed up what was important and at the end of the day, that was getting married with our closest friends and family who were able to be there. In some of the photos you can see my brother with an iPad. He had my South African family on live video so they could be part of the wedding throughout the day.
The Proposal
We both worked at a water sports centre at Rutland Water during holidays and in between college and uni. It wasn't until we were twenty, when we had both decided to leave the uni courses we were on and start over on new courses, that we started to spend more time together outside of work.
What was only 'a bit of summer fun' ended up with us getting engaged in the bluebells at Rutland Water nine years later and marrying twelve years later. We were engaged for three years before our wedding. The plan was one and a half years. However, that doubled with Covid.
I always have loved white and green flowers and very neutral palettes. I think this informed the colour scheme of green and white with a touch of gold.
We are both very outdoorsy people and we love nice wine in the sunshine, so drinks outdoors were always a must.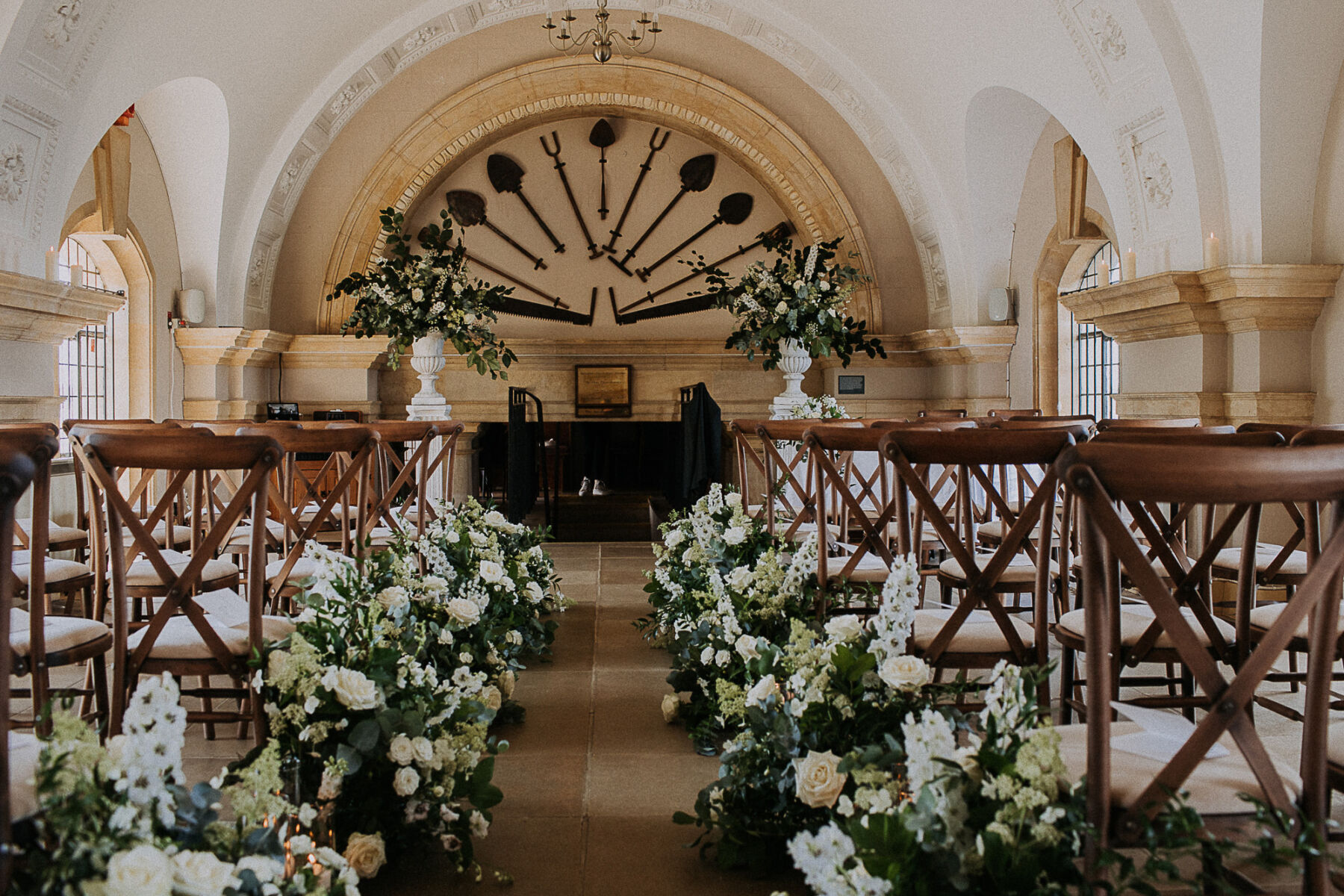 The Ceremony
We hired two separate cars from Lil & Blue to take me, my mum and the bridesmaids to the church from my house. The cars were just what I was looking for.
I wanted an old car but something different and the two cute cars were unique, stylish and in theme with our small, compact wedding. Amy, the owner, was so lovely.
She was very flexible and went out of her way to dress the cars to match our wedding theme. I loved them.
I could barely speak to my mum when I got into the car, I was so nervous. Our driver Amy kept the conversation going. I walked down the aisle myself. Surprisingly, I was not nervous to walk on my own.
It actually made me feel strong and happy, like I was in this tiny bubble.
That time and moment was only about myself and my husband-to-be and nothing else mattered but us.
My maid of honour's mum played the piano for us in the church. She played whilst guests arrive, when I and the bridesmaids walked down the aisle, signing the registry and when we exited. I have known her for years and she was always invited to our France wedding. She is unbelievably talented and it was so special her playing and still being able to be part of the wedding in some way. I chose 'Brothers in Arms' as it was the song my mum chose to be played whilst I was being born.
Our celebrant was very relaxed and made the ceremony very enjoyable. The church is not a religious church so our ceremony was legal only, about thirty minutes long. It was fun. We had one reading by our friend, Kelly. It was 'Love is a Temporary Madness' from 'Captain Corelli's Mandolin'. This is Dan's favourite book and we have been to Kefalonia together.
Dan got my engagement ring from Blue Nile, so it made sense to get the rings from there too. My band is a slightly thicker version of the band of my engagement ring, so it matches really well.
Photography
Lizzie from Shoot It Momma Photography was the photographer at my best friend's wedding and has done many other people's wedding I know. She lives in the same town as us so it worked well with the last-minute rush.
I chose her because I had already met her and been part of a wedding that she was shooting, and she is amazing!
Everybody, and I mean everybody, at our wedding commented on how great she is. Not only are her photos incredible, but she is also a wonderful, fun person who doesn't make you feel uncomfortable near a camera.
She captured the whole atmosphere of the day perfectly and didn't leave out any details.
On the day, she was more than a photographer. She was a wedding stylist, advisor, hair dresser, florist and MC! Honestly, her experience aids the day.
She even taught me how to turn around in my dress without tripping up. She's not imposing or in your face and she has the ability to read the room and your guests.
She captured every single moment and we are so, so happy with our photos. This woman works so hard and I would 100% recommend her to anyone.
Bridesmaids
The bridesmaids wore pretty, floaty white dresses from New Look, with nude, block-heel sandals, also from New Look.
During the time of the postponements, my maid of honour had a baby which meant the original bridesmaid dresses were no longer suitable. So that she felt comfortable on the day, I ended up looking for new bridesmaid dresses two weeks before the wedding. Luckily, I was having white and it was the summer so there were quite a few options.
I ended up getting all the bridesmaid dresses from New Look which, after already purchasing five dresses, was actually perfect! They were great.
I bought them small, gold, hooped, shell earrings from & Other Stories and a gold and pearl bracelet from Oliver Bonas. They also wore the gold Mila Hairpins in their hair from Eden b. Studio which I bought alongside my hair piece from the lovely Hannah. I was lucky enough to meet Hannah at a wedding fair, where I discovered her accessories. She was so amazing.
My two best friends' little girls wore blue and white striped dresses from Next.
Flowers, Decor & Detail
Our florist was Vicki from Paisley Flower Co.. She is local and also did the flowers for my friend's wedding. She is lovely, easy-going and so talented! I must have changed our brief so many times and nothing was an effort, she just went with it. I always wanted lots and lots of flowers and Vicki did not let us down. The aisle was so full we had to walk down it one at a time. They were all so beautiful. My brief was white and green, wild with roses. Vicki chose all the flowers and I wouldn't change any of them.
Our décor mainly consisted of flowers and candles. We filled the church with flowers and our drinks were outside so we were lucky enough to have the backdrop of Rutland Water. The room at the pub was filled with the flowers brought over by our florist from the church.
We hired cylinder vases from a local company to put in amongst the flowers and had lots of candles at the dinner. We had a banner behind us on the wall, too. It was made to hang over a painting in our wedding in France and wanted to try use it at our actual wedding. It was made by Chloe and Tom at Made by Wood & Wood and they matched the writing with our stationery.
Jinny at Vine In The Wild did our original save the dates and invites for France and just like all of our suppliers, she did all our stationery with two weeks' notice. It was all very simple, black and white, yet elegant and modern. I absolutely love her style and she was so helpful. She provided us with a welcome sign, an order of ceremony (which had the order of the day on the back) confetti bags, table plan, table numbers and personalised, named menus.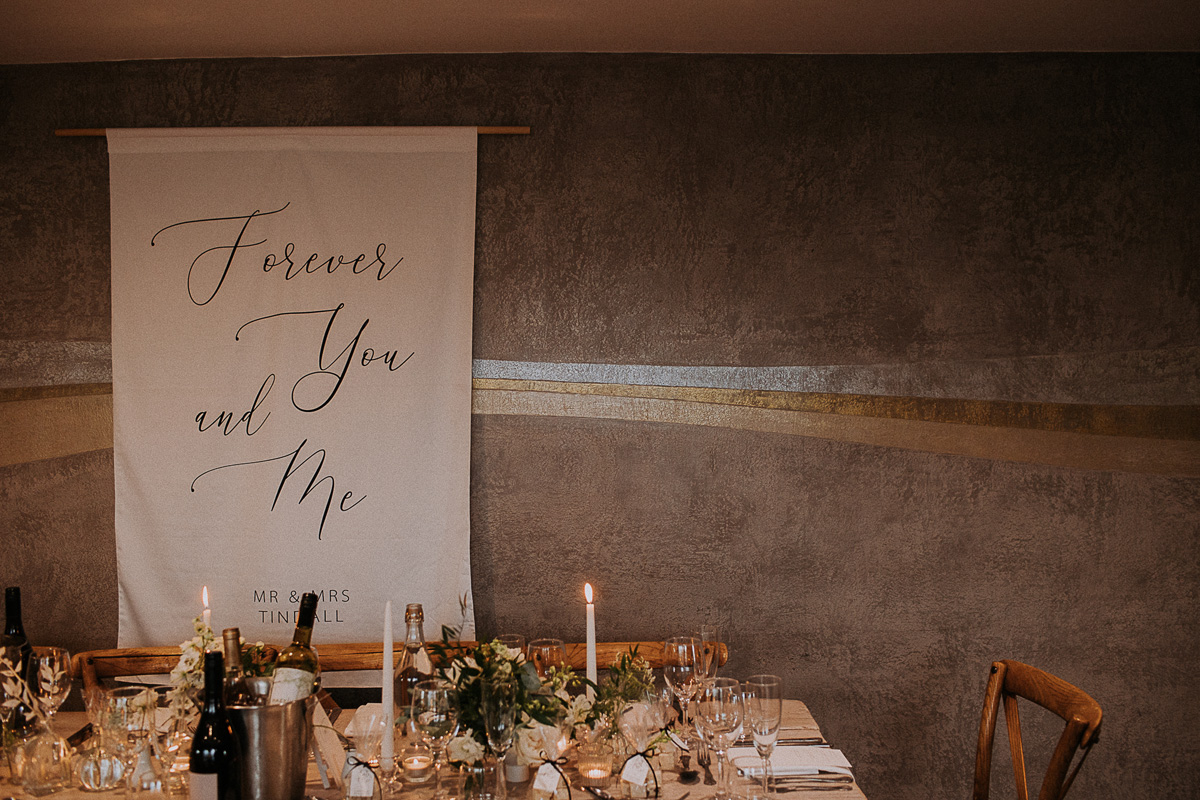 The Venue & Reception
After cancelling our original wedding in France due to Covid, Rutland Water was the only place close to home that meant something to us. Maybe it was always meant to be this way. The Finch's Arms is close to our hometown of Oakham and Rutland Water. We have spent a lot of time on the peninsula, where the pub is located, and had drinks here the day we got engaged so it seemed fitting.
We provided a wedding bus to pick guests up from our hometown and take them to Rutland Water. The bus then waited and took the well-watered guests from the church to the pub. This way, no-one had to worry about how many drinks they had at the church.
Our friends and their mums pulled together to make (and deliver on the day) the most incredible canapés! We could not be more grateful and they were absolutely delicious. The ushers handed them out to the guests on wooden chopping boards we bought from IKEA.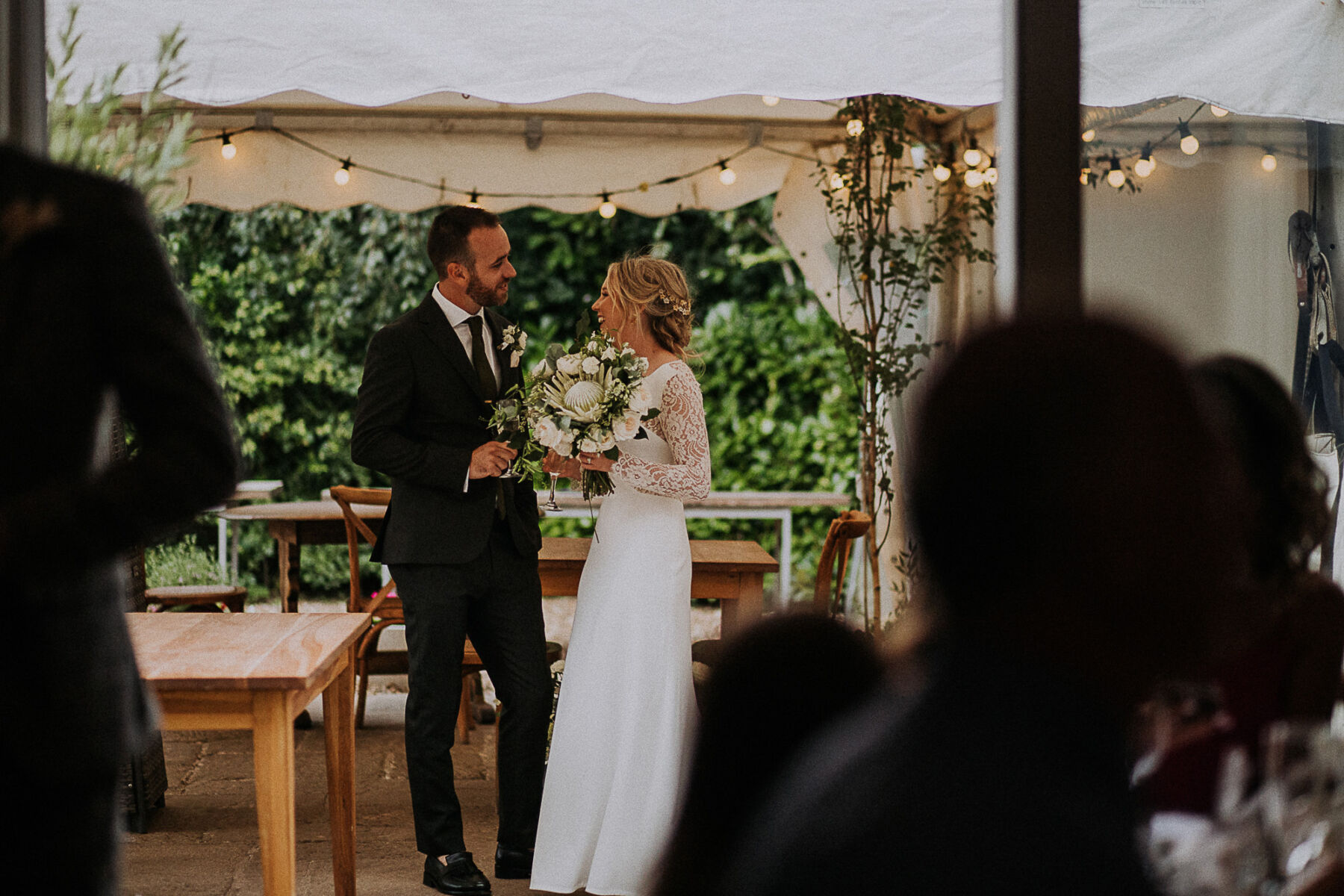 Reflections
The financial and emotional stress over postponement and the thought of not being able to have your dream wedding day is a lot. It is absolutely ok to be feeling and dealing with it in the individual way that each bride would. It was a complete rollercoaster for me, and no bride should ever be made to feel guilty for the way that they feel. It's not easy when you change all your wedding plans and that 'dream' wedding you had planned is nothing more than a distant dream and plan. I have struggled to get over the fact that we never actually had our dream wedding and I think that's ok too.
All that being said, I would not change our wedding for the world. It is so important to remember why you are actually getting married and what about a wedding is important to you. For me, as long as I had as many close friends and family as we could have on the day, I was able to get ready with my mom and bridesmaids and have my bridal entrance and sit down for a yummy meal with gorgeous tables, food and wine, I told myself I would be he happy. That is what we had and it was unique and perfect and possibly meant to be! It was where we met and got engaged. after all.
If you are postponing and lucky enough for your original wedding to go ahead then that is absolutely amazing! Try to not overthink the wedding during the postponement time. What you already have planned is everything you wanted. Enjoy some time off from wedding admin and then the run-up becomes just as exciting all over again. Your special day will come and no matter what happens, it will be incredible. The postponement won't even cross your mind on your day! So many people said this to me and I know it's hard to imagine, but it really will.
If you are turning around a very last-minute wedding like we did then trust me, it's amazing what you can do in 2.5 weeks. Trust you suppliers. Everyone is rooting for you.
Words of Wedded Wisdom
Everyone says this, but honestly do not fret the small things. As long as you have your friends and family, flowers, music and good food and wine, you and all of your guests will have the best day.
Make sure you choose your suppliers wisely. Do your research, and once you have, trust them. They really know what they are doing and they will deliver.
Trust me. From experience, when you think you haven't got enough time to plan, you have all the time in the world. It's amazing what can be done in a short amount of time. Accept help from the people around you and you will be fine.
Lastly, relax and enjoy it! It really is an amazing day, however you end up getting there.
Credits & Thanks