Alice Vine, a talented Somerset based wedding and event florist, married her love Rob on 4th September last year at St James in East Lambrook, a beautiful 12th century church, followed by a charming marquee reception which the couple hosted in the garden of their own home.
This charming and pretty, traditional English wedding, was inspired by the works of English rom-com script writer, Richard Curtis, most famous of course for his movie, Four Weddings and a Funeral. Their photographers and film makers, Bethany and James, new additions to our wedding directory, have produced the most exquisite memories for the couple.
A talented creative, Alice designed her own dress and had it made by a local seamstress. It featured a beautiful statement bow at the back. Enjoy…
The Dress
I designed my dress myself and got it made through a seamstress my Mother in Law introduced me to. I found trying on dresses a very different experience to what I'd imagined it to be. I've grown up watching films like 'Father of the Bride' or 'Four Weddings and a Funeral', where it's a glorious moment with champagne, surrounded by loved ones and you magically look glowingly good in everything.
With covid, the only option was to try on a few selected dresses on at home. Although a terrific idea and I was grateful to have some sort of experience, they looked dreadful hanging off of me in my badly lit bedroom and I couldn't have the opinions of my loved ones around me.
I'd recommend having an open mind, let your body make the choice too and even if you don't find the 'one' just appreciate your loved ones around you and this once in a life time experience.
I ended up using a lovely dress maker and enjoyed chatting to her every month for fittings in her little craft room. It fit like a glove and was more cost effective.
Fabric was important to me and I knew I wanted a big bow somewhere. I'd say these details were my two favourite things. I sourced some ivory Dupioni Silk from India which caught the light amazingly.
I ended up making my own tiara as I couldn't find exactly what I wanted. A risk, but the process actually uses a similar technique to making a flower crown. The more details we sourced or made ourselves the more special the day felt. It really did feel like we'd left our print on every detail.
The Inspiration
We've both been to and worked on some amazing but big weddings. Although they were beautiful we knew we wanted something a little more intimate, old fashioned and personal. We'd fallen in love with our new home so the decision to host it there was the first. This dictated a lot about the size, details and feel of the day. We're both traditionalists so loved the small English Richard Curtis wedding feel. I knew I wanted a real pop of colour somehow.
It was almost an opportunity to use some themes I don't normally get to exercise on my own wedding jobs. I love using fruits and plants on tables and have Geraniums spread around our house so continued on this theme. I also love bows so this became a running theme. I'd say chintz with a Somerset twist!
I've been lucky enough to collect a great little black book of suppliers and tips along the way in my own job and am used to scheduling and organising details so we didn't feel the need to.
I am a florist by trade so always had a particular idea of what I'd like. However it was the busiest season ever for weddings and I struggled to find help! Unfortunately it ended up just me and willing family. We streamlined back what to have and in the end I made a few focus features. With it being in a very small church and our own home there was no need for big floral transformations. I also wanted to avoid it feeling like an exhibition of my work.
We wanted seasonal flowers so I used a lot of apple branches from the neighbouring orchard and the last of the English garden roses, Japanese anemones and Limelight Hydrangeas. I love using herbs on tables and have geraniums all around the house so continued that theme into the marquee.
Shoes, Veil & Accessories
I tried on my mum's dress and veil one day with her for fun and the veil had to stay. We removed the 1970's pink trim but I loved the feel of wearing it on the day like a halo of her around me. An inspiration had always been Maria's stiff Cathedral veil from the Sound of music and the way the light caught it.
I saw these amazing handmade shoes by Pavillion Parade on Instagram and ordered a bespoke pair for a playful pop of yellow.  I wanted some shoes that were comfortable and that I'd wear again. I love slipping these on with jeans now for a dinner out and about.
I wore Jo Malone's English Pear and Freesia – it's just such a classic and takes me back to the day whenever I wear it.  I also wore a Monica Vinader bracelet Rob had given me the previous year but I had engraved his initials in to it. I also wore some little blue cameo earrings for my something blue from a tiny shop in Italy.
Louise Alway did such an amazing job at creating a casual down look for me. She was so chilled and in control that morning but such a pleasure to get ready alongside. She worked with my home made accessories so cooly. Great supplier!
Ceremony
We had a traditional service at a tiny 12th century church called St James's in East Lambrook. We loved how intimate, understated and beautiful it felt – there is a wooden gallery at the back for the sprightlier guests, where Rob's brother and usher tooted their trumpets accompanied by the reed pump organ as I walked down the aisle.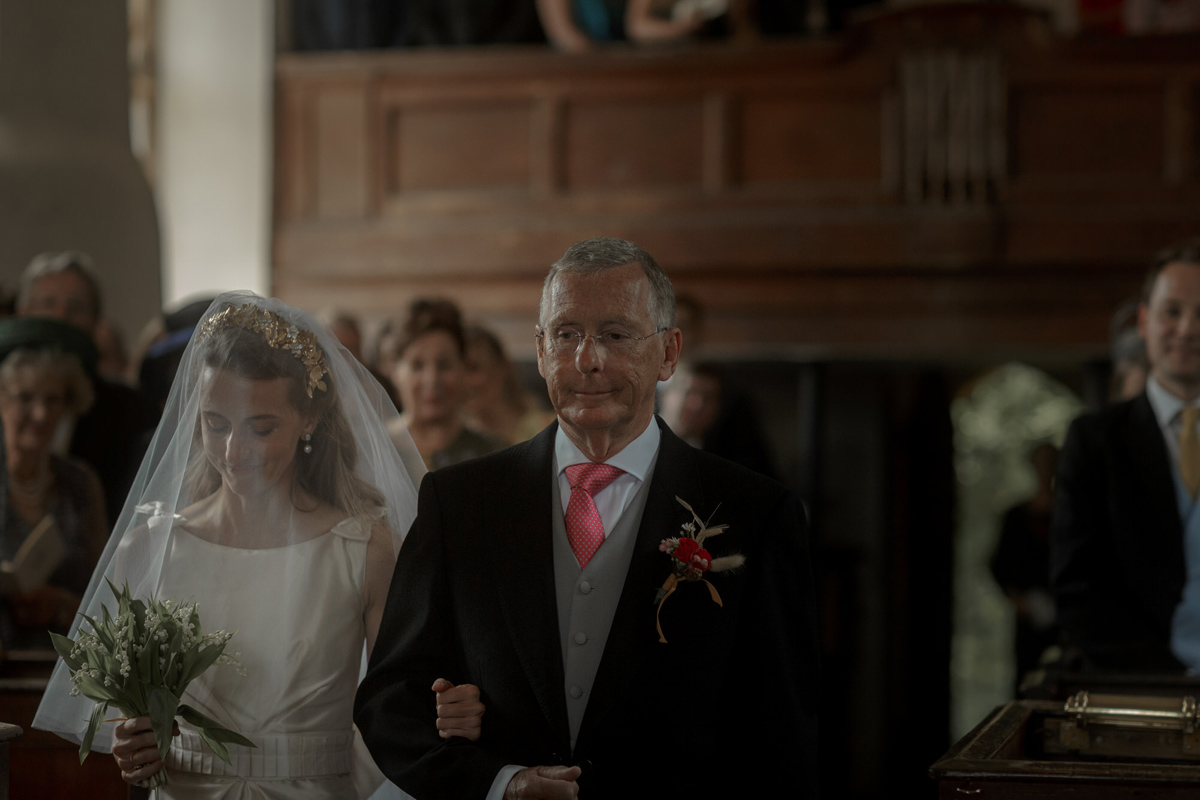 It was a magical moment with my Dad on the way to our wedding. A true milestone in life I've always dreamt of. A quiet few moments of chat like we were on route to the supermarket but still unmitigated reassurance and care. Of course we arrived bang on time and he walked me down the aisle.
I'll never forget the way he held me back to slow down and take in the moment as I tried to speed down the aisle.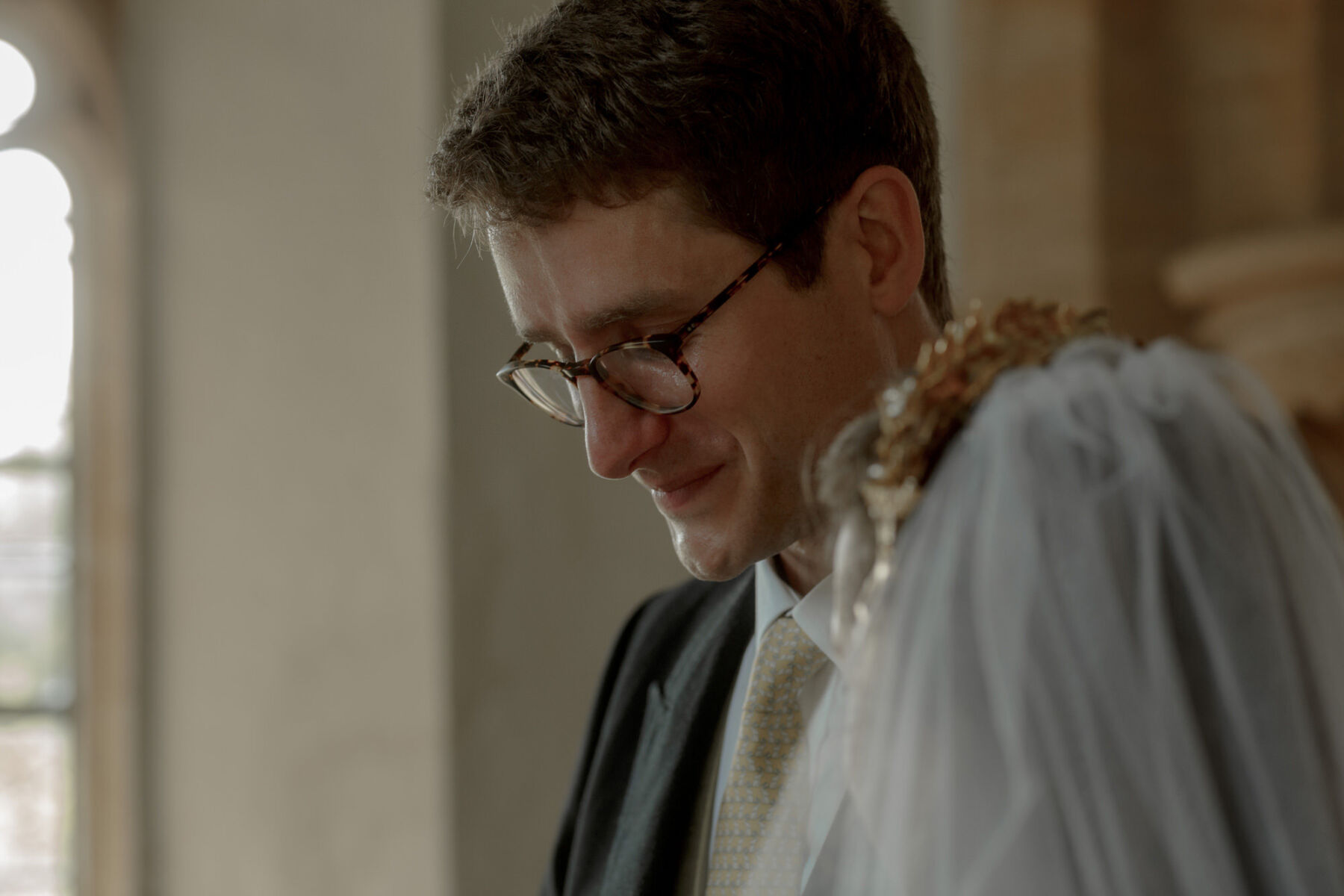 Robs younger Brother and great friend played 'Jesu Joy of Mans Desiring' on their trumpets from the gallery as we walked down the aisle. It was very 'love actually' meets old English wedding.. So very special to have them serenade us and perfect for this tiny church.
We asked both our mums to do a reading for us. Robs mum read a passage from the Song of Solomon and my mum read an adapted Laura Marling song called 'For You'. The first was read at my sister's wedding too and has a lovely line 'the vines are in blossom' that we love. The second is a beautiful song and we enjoyed the combination of traditional and modern.
Sophie Breitmeyer worked with Rob to make me the most stunning engagement ring with a yellow sapphire. We both wanted simple gold bands so we went back to her to supply these.
We loved sitting together in the ceremony taking in everyone's smiling faces listening to the music sung or played by our loved ones.
Photography & Film
We chose Bethany and James, a married duo of dreams simply because their portfolio was beautiful. We found them on Instagram and from the first message they were nothing but accommodating and friendly. We loved their ethereal style, compositions and had great pops of colour. Their observations were spot on and they were a joy to be with on the day. Since then we still keep in touch, I couldn't recommend them higher!
James is the videographer working along his wife Bethany. His video still makes me cry and is a true work of art. He caught the essence of the day perfectly and composes the music himself to complement it beautifully. Being a couple meant they worked in sync so effortlessly, it was like chatting to two friends all day.
How They Met
Rob and I met about eight years ago at a dinner through friends in London. We chatted and clicked but Rob was living in Wales at the time. We said our goodbyes and didn't see each other again for a couple of years.
Our mutual friend had heard us both mentioning each other since so decided to get us both to attend the Green Man festival in the Brecon Beacons. When I heard Rob was going I sold something on eBay to buy my ticket. I owe that buyer a lot because the rest is history.
I actually found old footage we thought we'd lost of that festival and made it into a surprise film for Rob to watch on the morning of the wedding. We then dated for five years in London and then bought a house in Somerset together.
Rob proposed an hour after we'd moved in practically on the doorstep. We celebrated with champagne and an Indian takeaway in a room with no furniture. It was perfect and our new home quickly became our ultimate favourite place.
44
The Bridal Party
I love traditional weddings where the bridesmaids wear white. I finally found some off white silky dresses with a more modern square neckline from online brand NA-KD.
There is nothing worse than being given a pair of shoes you can't walk in so the choice was theirs for shoes! My mother in law helped me make some padded hairbands in canary Indian yellow silk for them to get that fun traditional feel. I also gave them all red block print Indian shawls to wear if it was chilly. I made them matching hair slides (to my tiara) for them to wear if they wanted to change their hair for an evening look.
My flowergirl dresses were from Ghost. It was an utterly lovely little silky dress which matched the bridesmaids perfectly. We added a yellow sash from Amelia Brennan for that traditional English feel.
My 10 year old nephew was very patient with me and wore a mini cummerbund and bow tie that my mum made. For my little nephew Ralph, we could get away with the full Royal wedding look with knickerbockers and white shoes and socks. They both rocked the dancefloor with light up trainers later in the day.
Rob wore his morning suit he already had but added a lovely Sirplus waistcoat and playful tie from Salvatore Ferragamo in lovely soft yellows. He wore Cufflinks my parents had given him for his 30th birthday.
Evening & Dancing
The speeches were so very special but we also had a sparkler line up in the evening which went and on with Rob carrying me back and forth which was an epic memory too.
We were so lucky to be amongst so many talented friends and family. My own sister and brother in law gave a beautiful rendition of a very personal song in our ceremony. Robs brother and great friend played the trumpet as I walked down the aisle. A friend played the cello as we signed the register and another friend played in his amazing medley band called Truly Medley Deeply.
This had taken up many hours of discussion and listening in previous car journeys. We knew we wanted something fun and dancey to get our party going rather than sentimental and slow. Although Fat Boy Slim or 'Saturday Night' by Whigfield would have been our first choice, we decided on something friendlier as it was more important to us that our guests felt comfortable to dance. So we chose the lovable 'Heaven must be missing and Angel'. We hear it on smooth fm or in the supermarket sometimes and it always makes us smile.
I made my own padded hairband to wear for the evening dancing and embellished it with glittery stars for a bit of Elton John inspired disco fun.
Words of Wedded Wisdom
I would say to future brides that you may end up in a dress completely different to the style you had planned. I envisioned I'd wear a slinky boho number, instead I listened to my body to dictate the shape.
I think the most important thing is to remember that when you're old and grey you won't remember if you re applied your evening lipstick or plying people with favours and flipflops. We cut down on these things and focused our budget on good food, good music and making sure the day was recorded thoroughly with great photos and video.
I also feel like there is a lot of pressure to look perfect. I decided not to hire a make-up artist because I feel sometimes brides can look very different to their normal selves on their wedding day. It's a personal choice and you might suit/really enjoy makeovers. I may have looked a little less polished as a result, but that's me.
I'd also recommend grabbing five minutes to be alone to take in the sounds of your day. When I went upstairs to change my shoes, I remember the sounds of the muffled party so clearly, it's a lovely memory.
Finally, seek inspiration from everywhere and trust your artistic suppliers to make something one of a kind that suits the surroundings. Don't give them an image to copy but use it as a catalyst for your own one of a kind couple style and beautiful day.
It would have been great to have had more help for flowers so I wasn't working on that the day before. But I don't think I'd change anything. Even the things that don't go perfectly are all what makes the day our day.
We spent around 25k on our wedding with some of the budget paying for a few home/garden improvements to host everyone.
Credits & Thanks