Sarah and Adam's glorious summer countryside wedding took place on 2nd July this year, at the beautiful small and intimate Cornwall wedding venue, Treseren.
The bride wore a sublime Jesus Peiro wedding dress, which she discovered at the wonderful Morgan Davies Bridal boutique in London and accessorised with those iconic Loeffler Randall heels. The couple exchanged vows with a romantic garden ceremony surrounded by the most exquisite seasonal blooms, styled by Emily at 3 Acre Florist. Creative talent and real-life couple, Jon and Sarah of Lyra and Moth, worked their absolute magic to document this day beautifully.
Enjoy!
A Treseren Cornwall Wedding
I'm from Dublin and Adam is from Buckinghamshire, where we both live. We've enjoyed holidays in Cornwall and love the area.
It was also good to choose somewhere central were our guests from England, Ireland and Wales can all travel to. Not playing favourites!
The best thing about our wedding at Treseren Cornwall was we had the combination of a garden ceremony, and coastal and beach photos.
It was everything we could have wanted. We wanted relaxed luxury. Inspired by nature and the beautiful gardens.
We used botanical themes throughout. In the stationery and in Adam's suit lining, and of course his green suit.
Green gems in my engagement ring. The icing and decoration on the wedding cake. Green comes from the Irish link too. Our theme colours were Green, White and Gold.
Bridal Beauty, Jewellery & Accessories
I wanted a special wedding day scent, one different to what I usually wear, so that when I smell it I remember the day.  Guerlain, Aqua Allegoria Pera Granita  is so fresh and summery, smelling it takes me right back to the day.
I made my hair accessory myself. I tried on some lovely hairbands in store, but even though the shape was spot on I couldn't find one that colour-matched and reflected the original fabric of my dress. The only solution was to make it myself
My sunglasses were by Aspinal of London – and I'm so glad I bought new bridal sunglasses. These ones are pearlescent and suited my dress so much that I didn't mind wearing them most of the day. My bag was from Monsoon. Again, it was full of pearls and held my tissues, lipstick and mirror. My shoes were by Loeffler Randall.
My underwear was from The Pantry. The bustier was such a crucial buy and had to match the dress perfectly, which it did. Most didn't even know it wasn't part of the dress. My wedding dress brought most of the sparkle I'd need but I did get looped earrings with a pearl drop from Lily & Roo.
I had my sister, Naomi help me with makeup. I did the Charlotte Tilbury Bridal Makeup Session a few weeks before at their Covent Garden branch. They design a makeup look for you and show you how to apply it. It was so fun! I bought all the products they used (except a Lisa Eldridge lipstick instead).
The night before I crimped my hair with the Amika High Tide Deep Waver.

A Jesus Peiro Gown from Morgan Davies Bridal
My dress was by Jesus Peiro, from Morgan Davies London. I loved the experience! I bought the first dress I tried on. I credit lots of research before going into a shop for my swift decision. The stylist said we should try other dresses just to be sure, we did, but I knew I had my decision made.
I love wedding dresses with sleeves! I wanted romantic floaty sleeves on an A line dress with a bit of a train. Something mythical and classical, that I can easily move in. The one I chose was so prefect I can't imagine a better dress for what I was looking for.
With delicate sparkles I just couldn't stop admiring.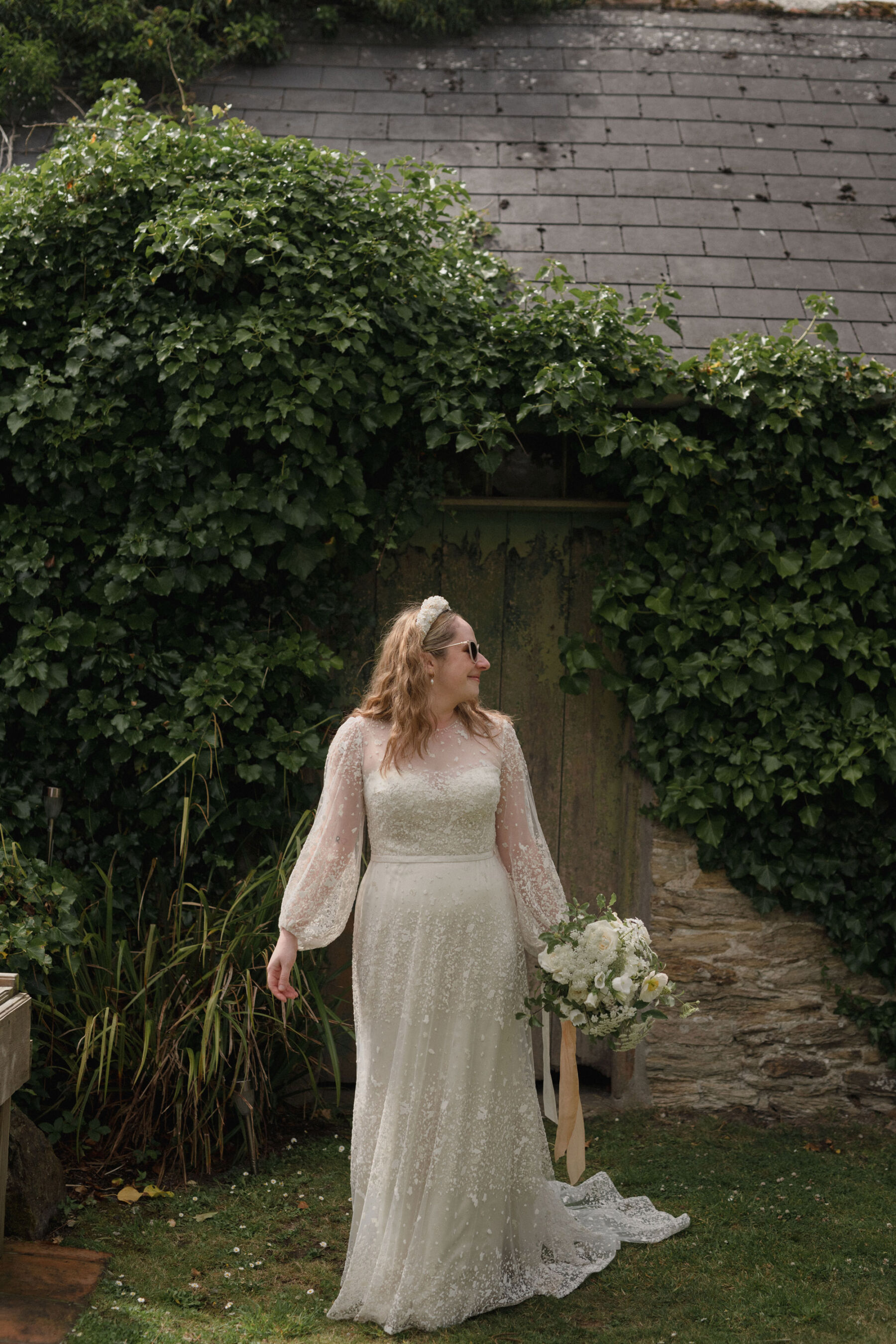 How They Met
We met via online dating 8 years ago in London. We planned and booked our wedding, bought our outfits, and planned the invites all before becoming officially engaged! Not the usual way to do things.
We were both involved in choosing and designing the engagement ring. Adam proposed in March 2022, a short 4 months engagement.
A Ceremony Where the Groom Took The Bride's Surname
I walked myself down the aisle. The Cornwall Quartet kindly arranged the music for the bride's processional, which was Vivaldi — 'Spring 1', recomposed by Max Richter.
Local to us in Thame, Oxfordshire, the team at Biagio involved us in every step of the design process of the engagement and wedding bands. With even the grooms band getting a hidden diamond and inscription on the inside.
We both wrote our own personal vows. Reading them was the most emotional part of the day for both of us, as we kept the vows private until the ceremony. Adam included an extract from Phillip Pullman's 'The Amber Spyglass' at the end of his vows.
Lyra & Moth Photography
After we booked the venue, photography was top of our list. We didn't want anyone else to photograph our wedding but Sarah and Jon of Lyra and Moth. I don't know what we would have done if they weren't free — we had no back up choice!
They're true artists and we were so lucky to have them. Plus they're fun people to have around on the day and made us feel totally relaxed.
Flowers by 3 Acre Florist
Our Florist was Emily Talling of 3 Acre Florist. Emily is local to the venue and was recommended by them.
Emily grows the flowers locally herself too. Her natural and wild aesthetic suited us and the flower arch was the centre piece of the ceremony, it was so beautiful.
Reception, Decor & Detail
We really tried to focus on the small individual details in the lead up to our big day, and then relax and enjoy the flow on the day itself. Sarah's love of stationery meant we bought our own special Visconti pen that matched our colour theme to sign the register, which was then filled with the special registrars ink for the day. The pen was only ever used to sign the register, it's since been framed and is now on the wall in our home!
We really went for it with lots of extra flowers from Emily at 3 Acre. Including a full flower arch, beautiful flowing flowers ascending the staircase as well as flowers for the isle which the staff at Treseren kindly moved to decorate the dining room as the day progressed.
The cake by The Cornish Cakery was as delicious as it was stunning! Baileys & Chocolate, Lemon, and Passionfruit for the 3 tiers. And beautiful hand crafted sugar flowers.
Favourite Moments
It's so difficult to narrow down an individual part of the day, because everything was just so perfect. It had rained all morning and then we had beautiful weather from the start of the ceremony, along with some fabulous evening light for our beach photos.
Perhaps the part that stands out the most is that we both felt so loved by having our family there with us to share our special day. Sarah loved wearing her dress and the food by Ali, the music, drinks and speeches were just incredible.
It's hard to put into words, we just want to do it all again!
Words of Wedded Wisdom
Everyone tells you the day goes so quickly and that's definitely true. Whilst we didn't feel too rushed at all as we had the availability of Treseren for the whole weekend, there's a lot to fit in on the day. So with foresight we would've perhaps had an earlier ceremony time than 2pm, to allow for more time with our guests in the afternoon and evening.
It's never too early to start planning! Especially if you're wanting to get married peak season. We first started making enquiries almost two years prior to secure our first choice of vendors.
Make the day about you, it's your wedding and it's important not to feel pressured by outside influences and follow every tradition. We started planning our wedding before becoming engaged and that gave us time to make sure every detail was what we both wanted.
Lastly on the day make sure your guests are fed and watered at all times. A full guest is a happy guest!
Credits & Thanks